Juicy red apples, pumpkins and leaves in all shades of brown, orange and red, can only mean one thing – fall! (Or autumn as it's known back where I'm from.) So it's time to find some fun and easy fall crafts for your 2 year old or older toddler.
These fall crafts should keep a 2 year old out of mischief for at least 10 minutes and will be easy enough for a 3 year old to have a good crack at with minimal assistance.
Importantly these fall crafts won't leave said toddler or the table/room/entire house completely filthy.
That's just not my idea of fun!
Toddler crafts, for fall or otherwise, also need to be mom-friendly.
These Fall crafts are quick, easy and ideal for 2 year olds up
They're super quick to prepare and use normal crafty materials I have at home or are easy to come by. Importantly, they don't result in one giant mess. Or several toddler-sized mini messes!
When it comes to the learning aspect, nearly all crafting involves some kind of fine motor skill. That's pretty much a given.
Double points when said craft involves some form of activity first, getting your toddler moving and burning off some energy.
There's plenty of opportunity for this when it comes to autumn and fall crafts; collecting and foraging for leaves and other bits and bobs you find on the ground is the precursor to many a fall craft.
So part fall activity and fall craft, perfect for 2 year olds, 3 year olds and older kids too.
I hope these fun and easy fall crafts for 2 year olds give you some ideas to keep your little ones busy, in a constructive way.
SUPER EASY fall crafts for 2 year olds – glue and paint-free!
For ease, I've categorized according to the type of fall craft – from leaves and trees, to apples, acorns and pumpkins.
But first, the easiest of the fall crafts – glue and paint-free and simple to set-up. For the moments when you're short on time and low on energy. (So all the time then? Just me?!)
The ones I've done with my toddler and preschooler mostly fall in this category! They've kept them busy, busy, busy… and me sane… Win, win, win!
There might be the occasional glue dot and there's no escaping contact paper, but other than that these are no-glue and no-paint fall crafts for toddlers. Cute fall crafts for 2 year olds that are about as mess-free as you can get.

Toddlers love cutting and even when they're scissor skills are still a little dodgy and leave raggedy edges this craft still turns out a treat! My toddler really hacked away as best he could as an older 2 year old and I think the rough edges add to the appeal
You can pretty much make any round fruit with the same method, just choose an appropriate color construction paper or card and switch out the leaf.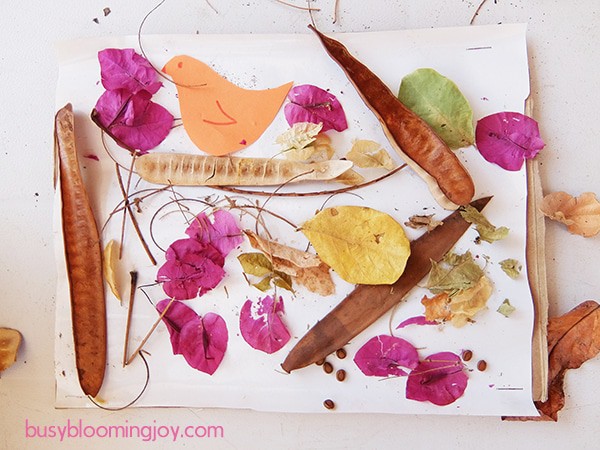 2. Birds nest scavenger collage
This is a double whammy of busyness for toddlers, part 'Fall activity', part 'Fall craft'.
First, the toddlers get to scurry around the garden burning off some much-needed energy while foraging for dried leaves, seeds, seed pods and anything interesting that'll work in a bird nest collage.
Then they should be able to sit still enough to create a true masterpiece (!).
Finally, to add the bird cut-out and the birds' nest collage is complete!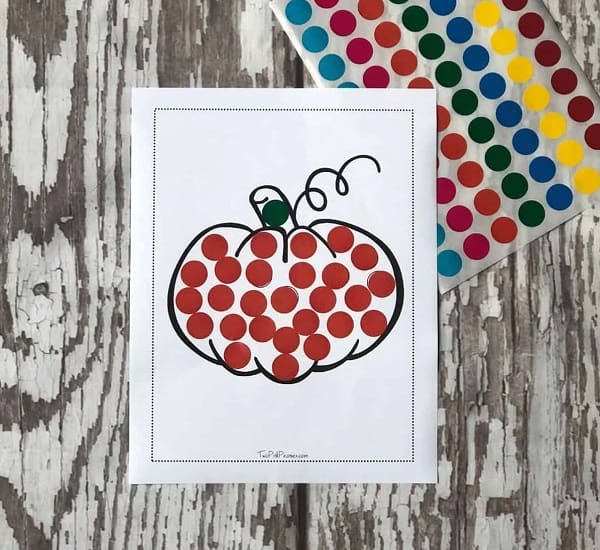 This printable dot sticker apple is an ideal fall activity for a 2 year old toddler and for mom too. Print off the free templates (there's a pumpkin, acorn, apple and maple leaf printable in the set) and you're good to go.
If you don't have dot stickers, don't worry! Dot markers would work just as well.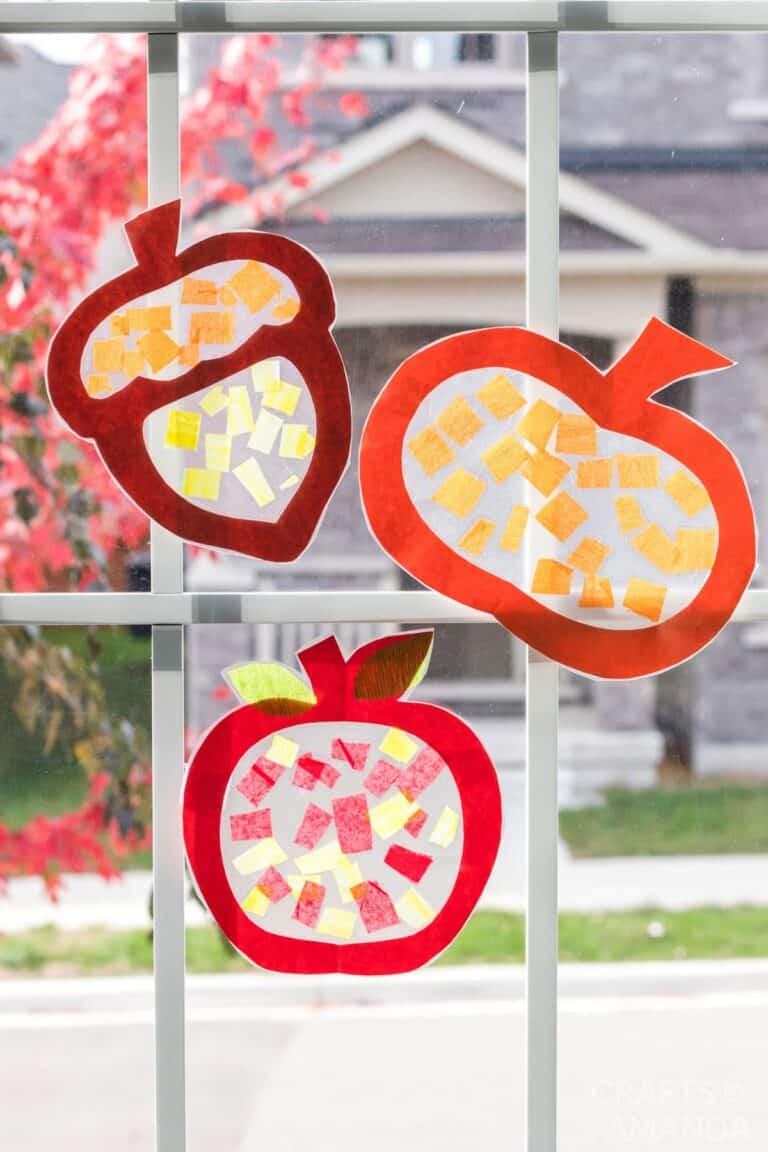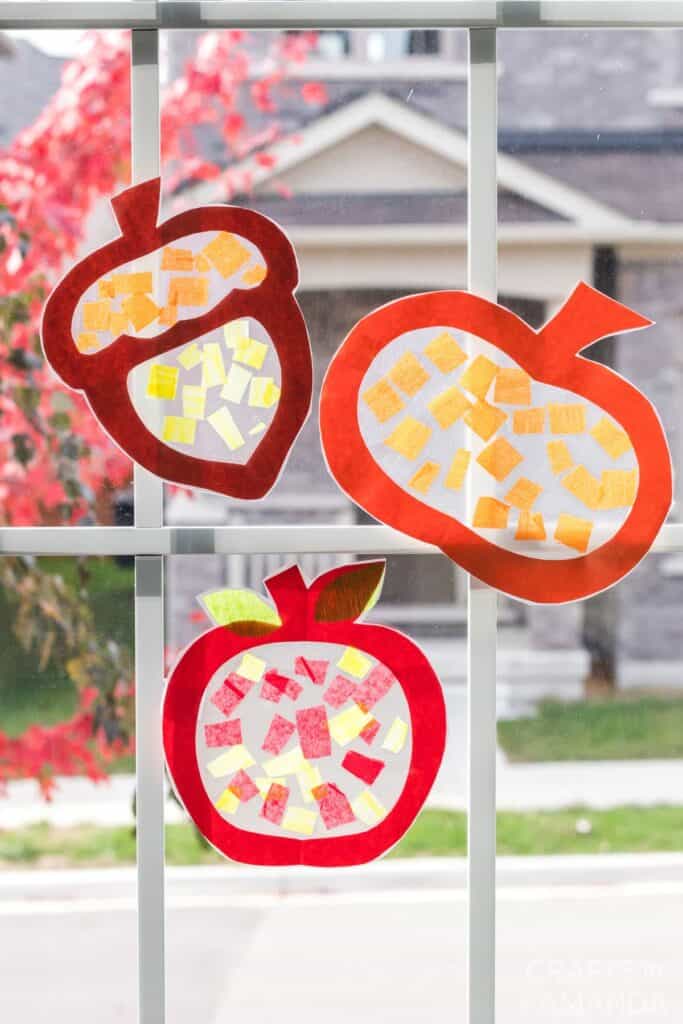 4. Fall Suncatchers from Crafts by Amanda (with free template)
How about making these gorgeous fall suncatchers with your toddler? Grab the free acorn, apple or pumpkin template to create an outline – contact paper fills the negative space of each shape.
Then it's plain sailing – all they need to do is stick color tissue papers to the sticky contact paper. This is such a lovely mess-free fall craft for 2 year olds.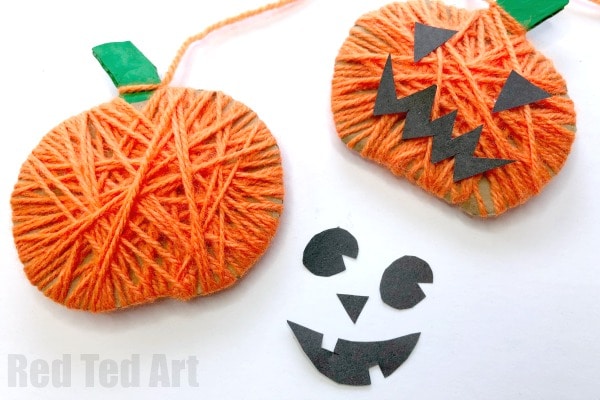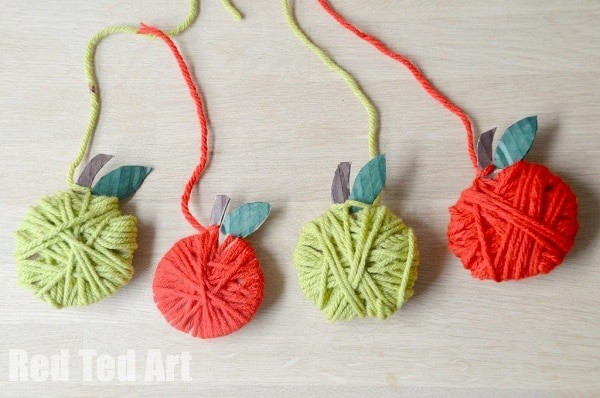 Wrapping yarn around a cardboard apple or pumpkin cutout can't get much simpler and cute looking.
String them into a garland or hang them on door handles for Fall and add some felt eyes, nose and mouth for Halloween.
Quick and simple looking even for a toddler so these are definitely on my list for another time.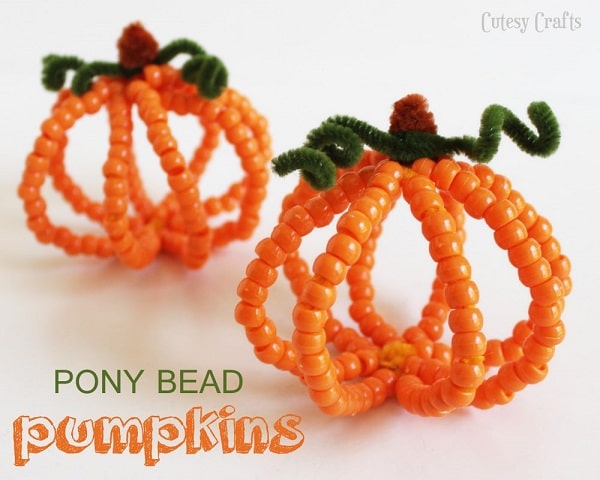 6. Pony Bead Pumpkins from Cutesy Crafts

These are going to be a must in our house – I know my eldest is going to love threading all those beads to make these little pumpkins.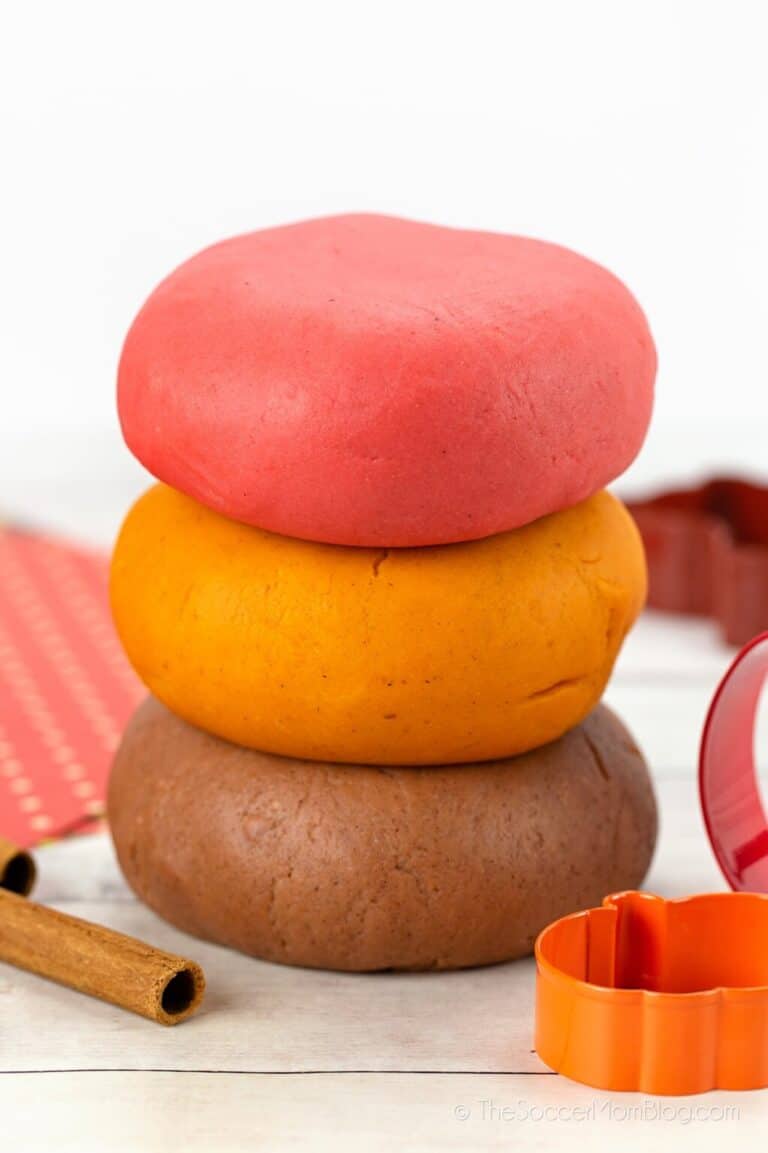 Not strictly a "craft" but in many ways better. Play dough is a lovely sensory activity especially when it has the fragrances of fall locked in.
Playing with play dough has loads of other benefits too, from strengthening the fingers and wrists to developing communication and language skills. There's sure to be a lot of dialogue as your toddler explains what it is he's making!
Once you've made a batch of this play dough you'll be able to reuse it several times over, making it a quick and easy fall craft for your 2 year old.
You can also try this homemade twist-top board to help strengthen little fingers.

This is a really easy one that the tiniest toddler can get stuck in to (or even on to, if you're not careful!)
Using some masking tape, attach a square of contact paper to a window low enough for your little one to reach. Then give your toddler free reign with a selection of craft leaves, super cheap from the dollar store.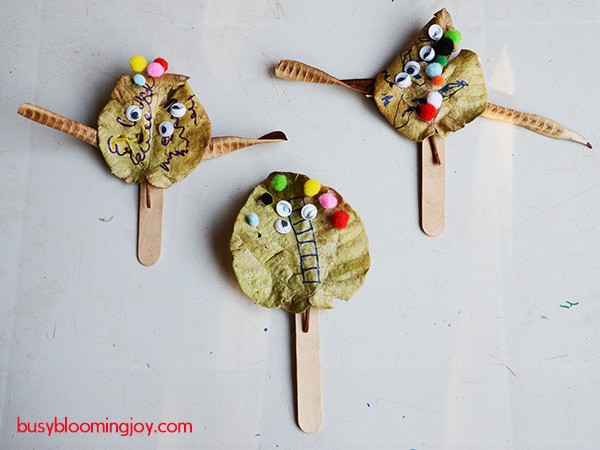 Another one that involves some foraging for leaves and other Fall debris before getting started – we used a leaf for the monster's body and seed pods for arms.
Then let your toddler go to town with sharpies, googly eyes and mini pompoms for hair. Use glue dots to stick them on – you may have to help your 2 year old a little with this.
But that's all there is to it. One not-at-all-scary but super cute monster done and dusted.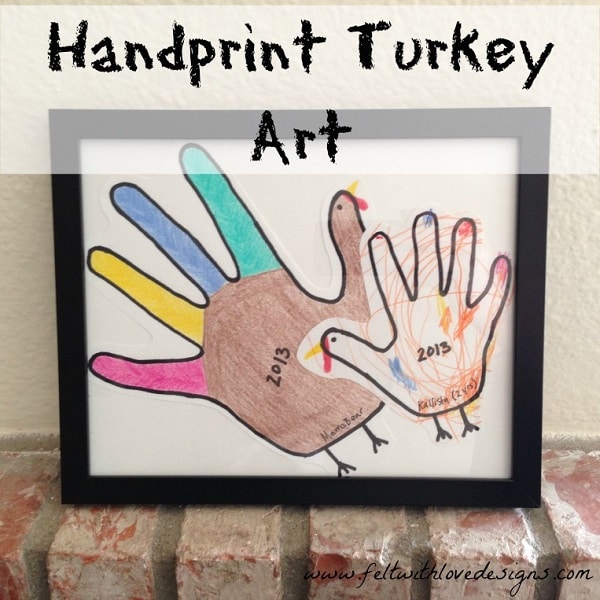 Help your toddler draw around her hand and then time to have fun coloring it in – painting or any other form of decorating would work too – if you don't mind a bit of mess that is!
Then you just need to add the turkey beak, eye and some feet and then finally the date. Stick it in a frame for a memory of this Fall and for many more to come!
Or this would make a lovely Thanksgiving gift for the grandparents.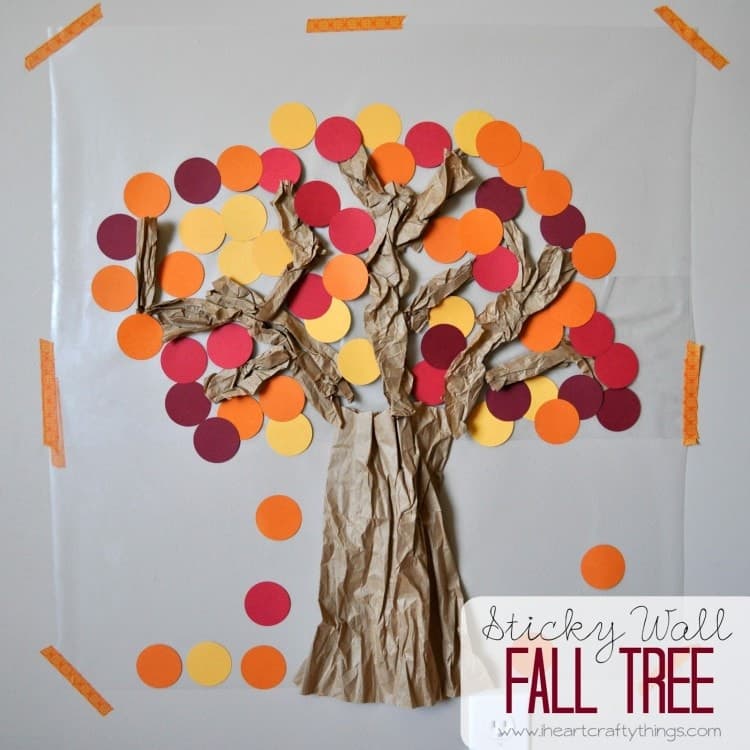 Another one that uses contact paper for zero mess and clean up. Simply punch circles out of construction paper, crumple some brown craft paper to form a trunk and then get sticking. This is such an ideal fall craft for 2 year olds.
Fancy a cute and simple spider craft this fall? These playdough spiders were a hit with my toddler and preschooler! All you need are furry fuzzy wires, googly eyes and play dough.
Love quick and simple toddler crafts?
Check these out next:
APPLE fall crafts for 2 year olds
These apple craft ideas are sure to appeal to toddlers – fall crafts for your apple-loving 2 year old. That must be 9 out of 10 2 year olds, right?!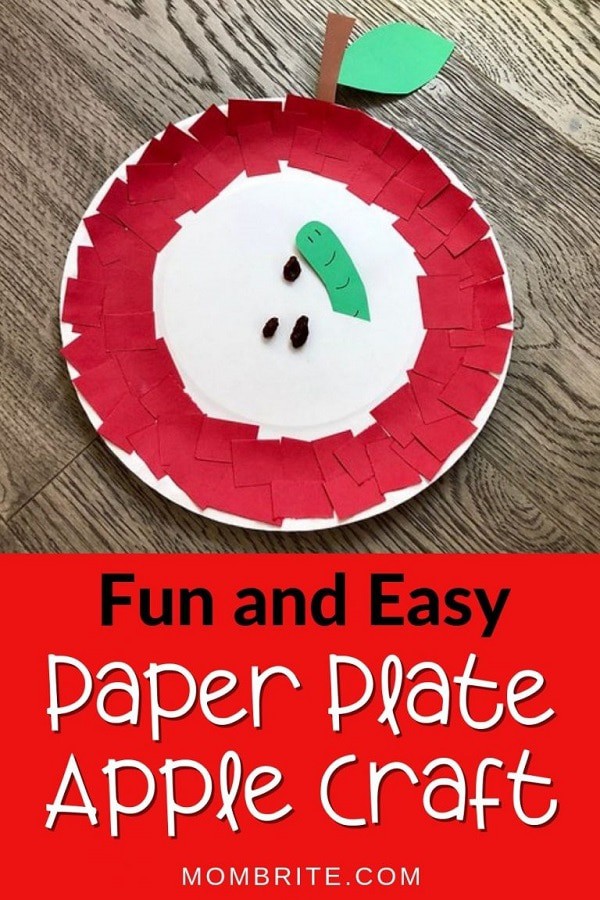 This is a lovely quick fall craft, turned learning exercise, perfect for toddlers 2 and 3 years old.
You can teach your toddler about all the different parts of the apple and then practise counting out the number of seeds inside (before they get eaten – since they are just raisins!)

This requires some slightly more advanced finger work and a bit more patience – it takes a while before it starts to resemble anything remotely apple-like.
So this fall craft is more suitable for 3 year olds and older toddlers.
My nearly 4 year old really enjoyed this (he loved making the apples 'fly' when he was pulling the thread through).
But like most preschoolers, after 10 minutes he was ready to move on, so it did take 3 separate sittings to finish the job. Worth it though!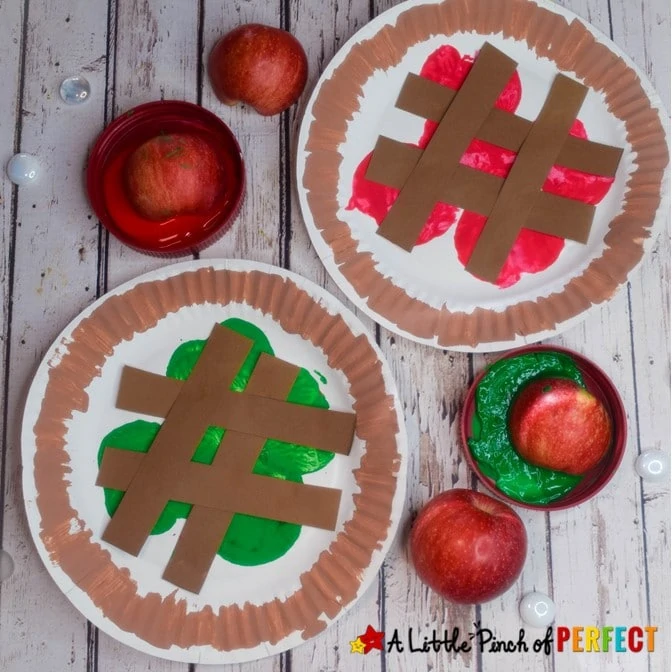 A fun and easy fall craft for any pie loving 2 year old, using real apples to stamp paint onto the paper plate. Clever and cute.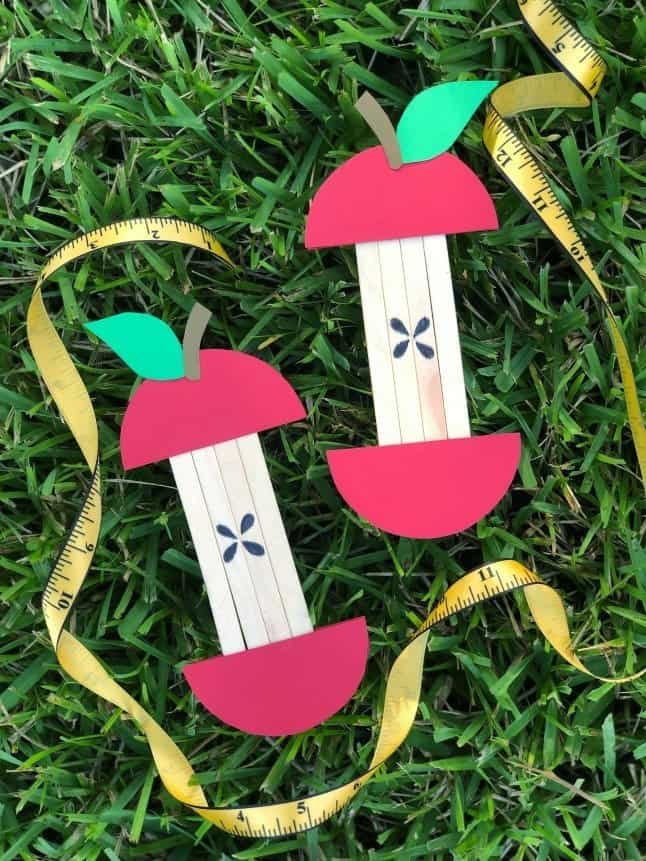 These cute popsicle stick apples would make gorgeous decor for fall. You're definitely going to need to help a 2 year old with this fall craft but I think the results will be worth it. There's also plenty of opportunity to practice shape and color recognition – bonus!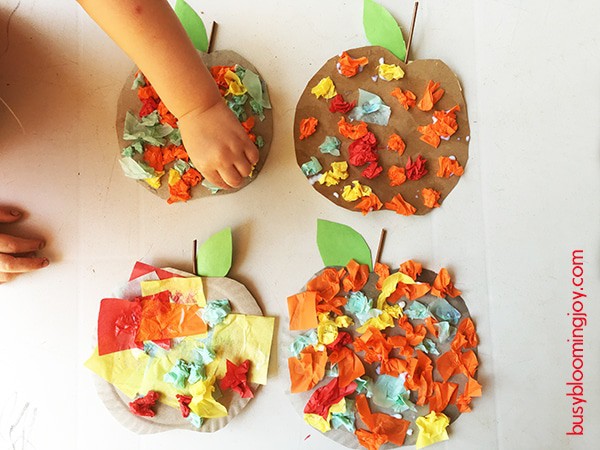 17. Tissue paper apple craft
Tissue paper scrumpling, a dab of glue and some paper plates or cardboard cut into an apple shape are all you need for this easy fall craft for toddlers.
My two kiddos insisted on using some very non-appley green which ended up looking blue, but there you go. They were happy, which means I was too.

To make the leaves of this tree canopy, dip a loofah into some green paint. Wait to dry and then add some finger print apples. A lovely process art and fall craft for toddlers wrapped up in this sweet tree painting.
LEAF fall crafts for toddlers 2 to 3 year olds
The gorgeous reds, browns, auburns and other beautiful colors of the leaves are what makes fall so special. One of my favorite fall activities is, or should I say "was", pre-kids, simply to wander the tree-lined streets, crunching in the leaves and admiring all the autumnal colors…
Anyway, here are some lovely toddler fall crafts using leaves in a multitude of creative ways.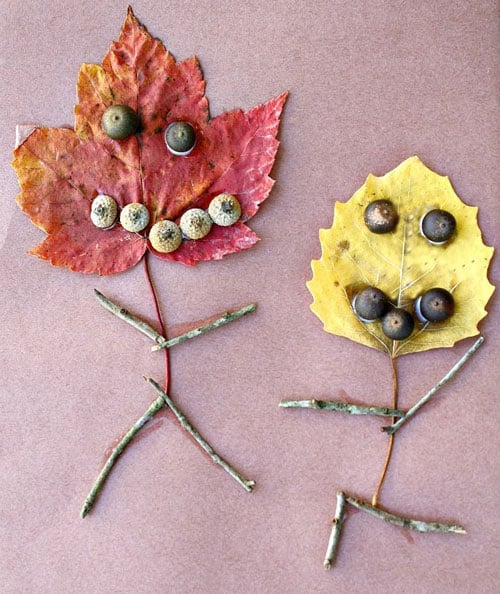 With acorns for eyes instead of googly eyes and no mad-colored hair, these are the 'people' version of the little leaf monsters we made. Such a cute craft and activity for toddlers to do during fall.

Another winning fall craft for 2 year olds that combines with playdough with craft leaves. Twist-up a stick-colored piece of playdough and stick some craft leaves on. Done.
This will work just as well with real leaves making this another two-part activity, starting with a good forage outside.
Leaves make up the lioins mane in this easy Fall craft – my eldest toddler/preschooler is going to love this one! He's yet to see a real lion but know that they have a big mane and 'big sharp teeth' – such a boy!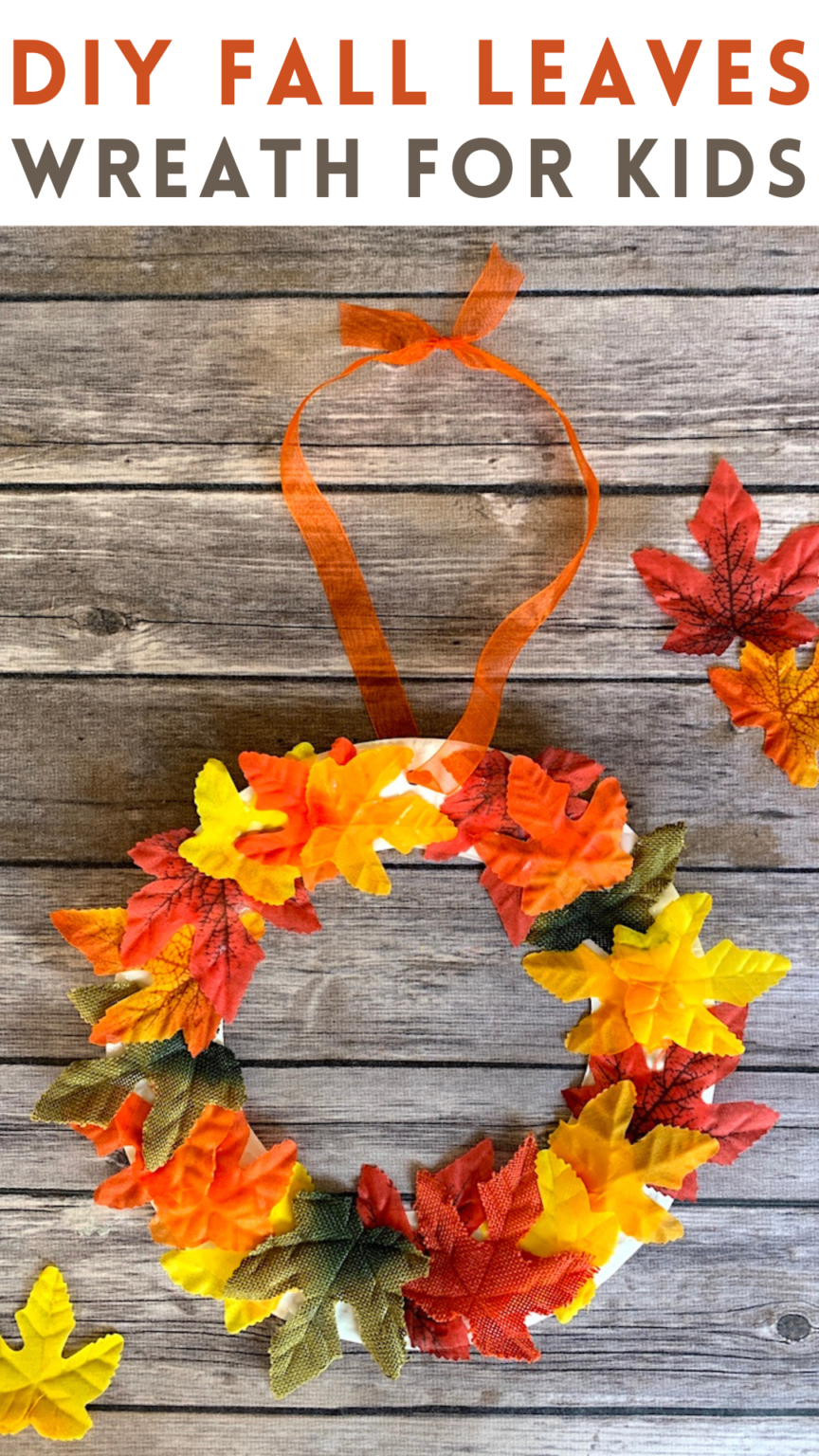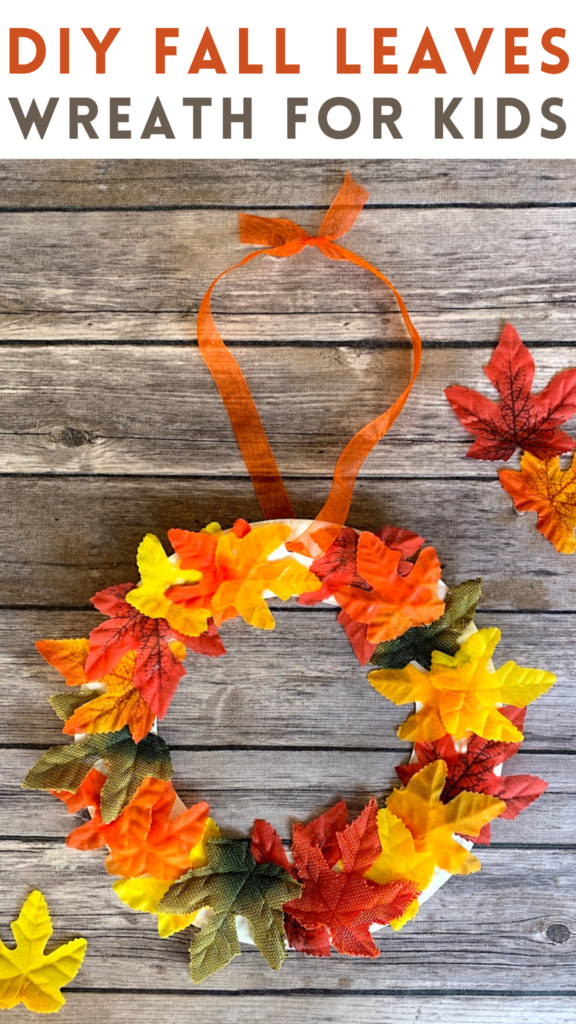 Cut the middle out of a paper plate and you have the perfect canvas for this lovely fall craft. Then simply have your 2 year old stick the craft leaves on. Thread some ribbon through a punched hole and hang it up. Isn't it gorgeous!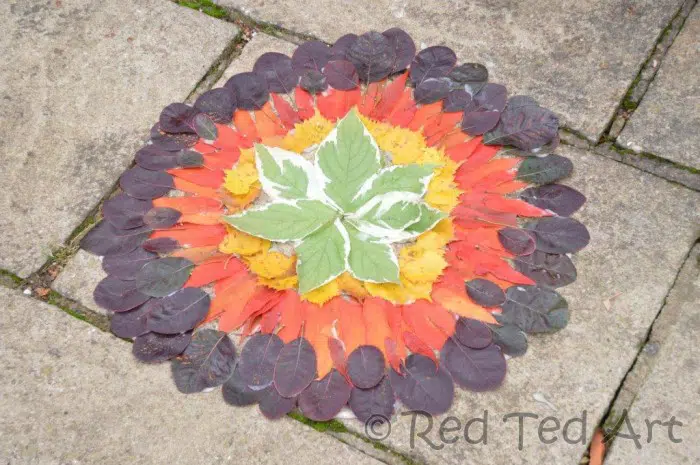 For a pretty outdoor craft activity, make a pretty pattern out of leaves. Over a few days, collect leaves in a variety of different colors with your toddler, so you can make a pattern as striking as the one above.
A perfect fall craft for 2 year olds which will also help develop important pre-math skills of sorting and pattern making.
Squish a toilet roll into a leaf shape and use that to stamp leaves onto a tree. Possibly not the best description – check out the link above for some pictures and to download the free tree template.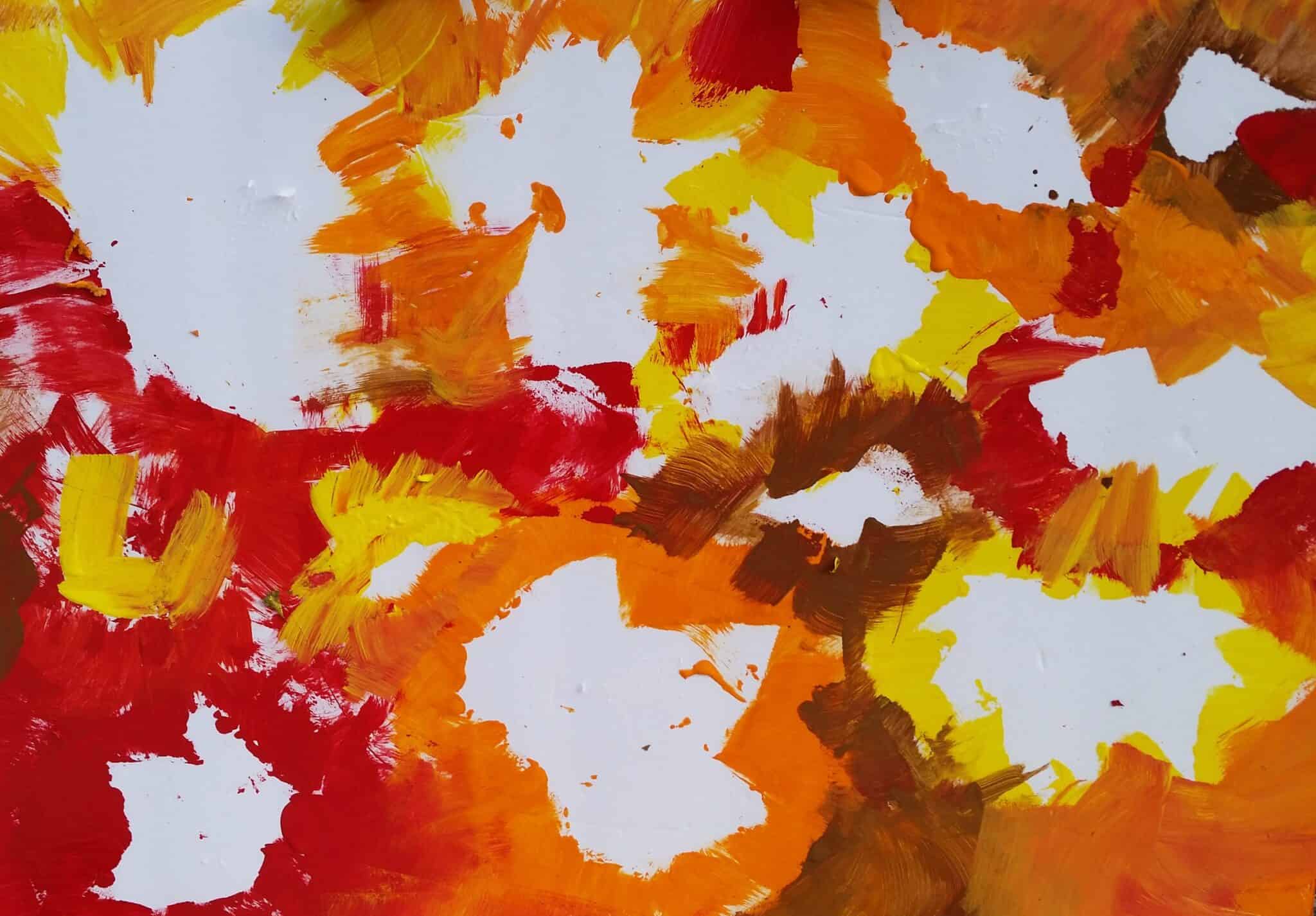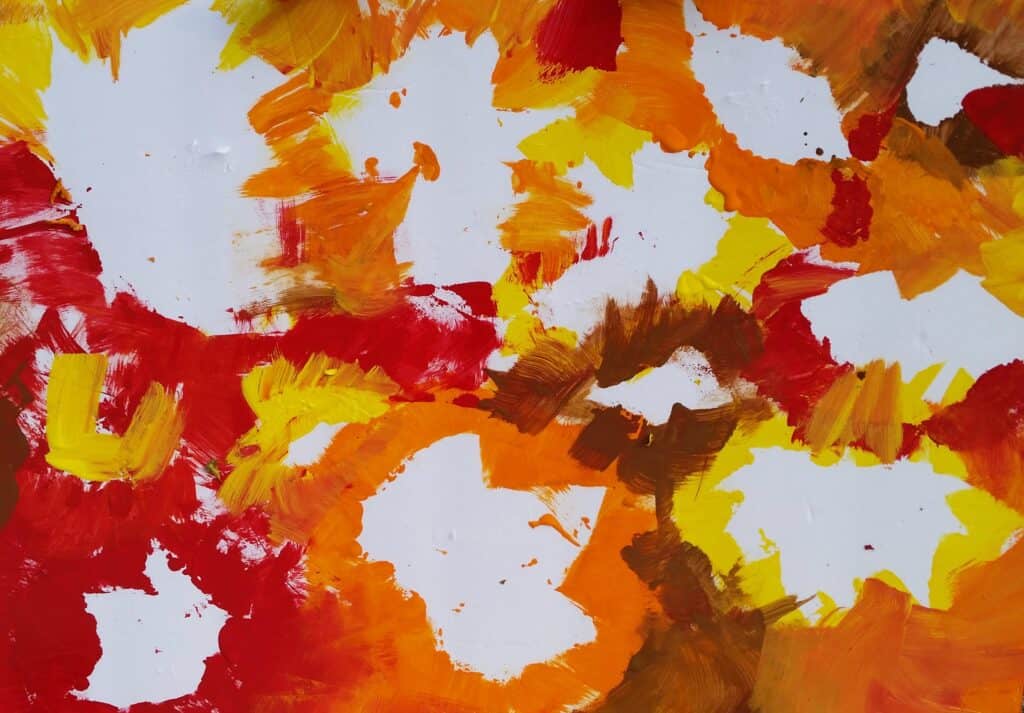 For a fun art activity and fall craft for 2 year olds, tape leaves to canvas or thick painting paper using double-sided tape, then simply start painting. Remove the leaves when the paint is dry and voila!
You may need to help your toddler with this fall craft and encourage them to paint from the middle of the leaf out. Painting the other way around makes it hear to get neat edges as paint will end up under the leaf.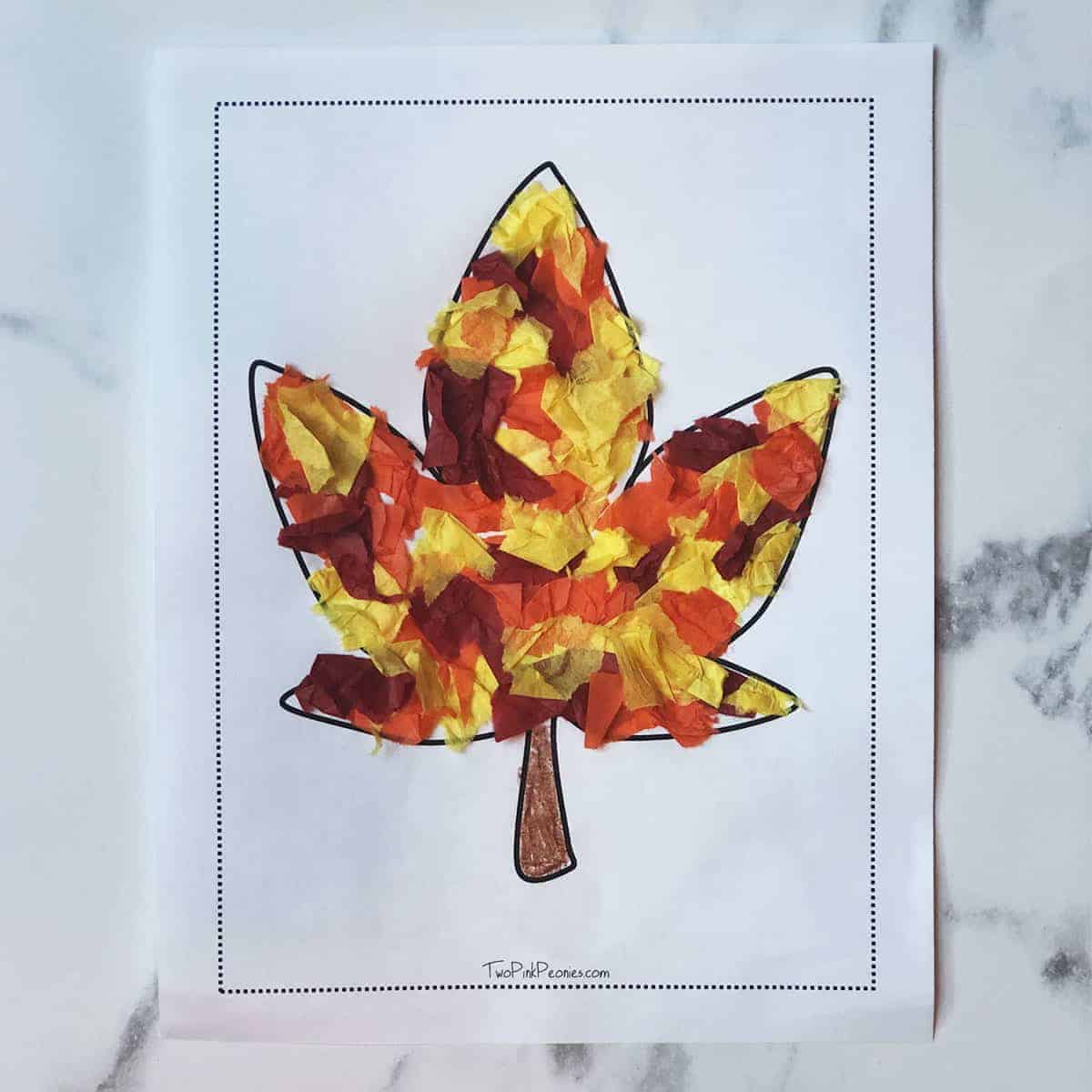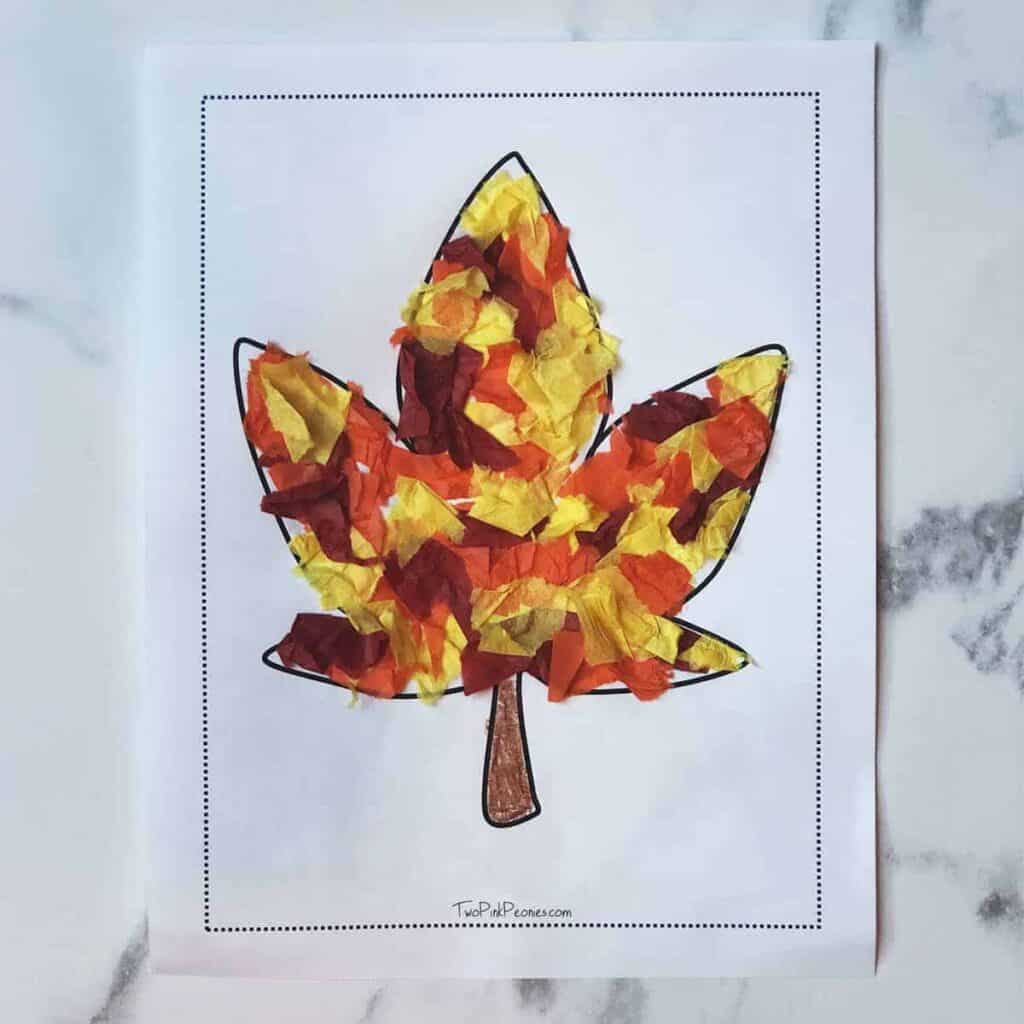 Using the free printable and template you can easily create this tissue paper maple leaf craft with your 2 year old. An easy toddler fall art activity that will help strengthen finger and hand muscles with all that tissue paper scrunching.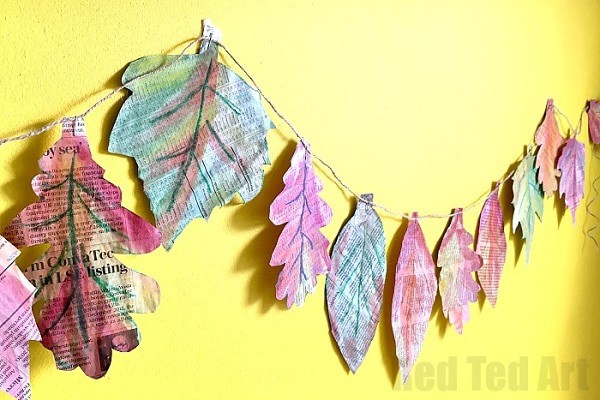 I love the rusticness of this Fall craft and would love to see it hanging in the house somewhere. You'll probably appreciate this one more than your 2 or 3 year old, but hey-ho!
This one also breaks my normal rule of not spending too much time helping (a toddler craft should be a craft that the toddler can do, right?!) But for this Fall craft, you will definitely be taking the lead while your 2 year old assists.
They're going to love the painting part but the cutting will be a bit tricky. This Fall craft will be perfect for older preschoolers with more advanced cutting skills though.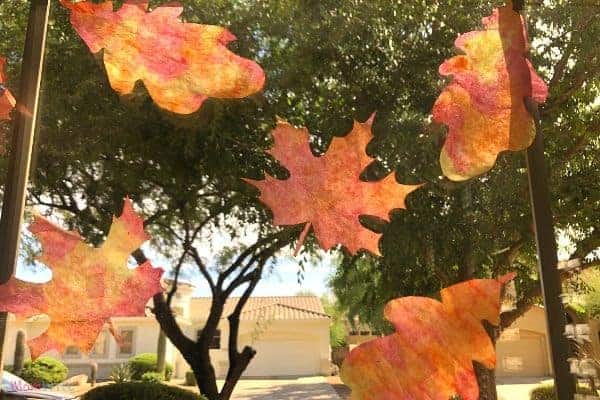 Fall leaves are just the prettiest, so why not make some with few supplies you have in your kitchen – coffee filters! Use the templates to cut the leaves and then your toddler can get painting. A fun and engaging fall craft for toddlers that'll make a lovely decoration.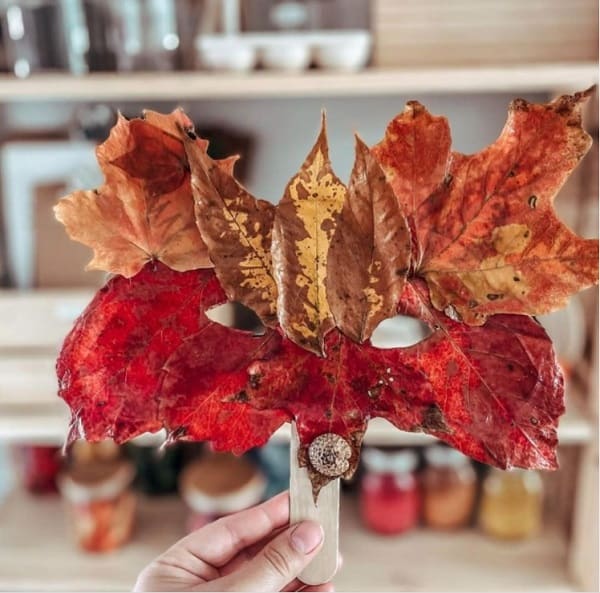 Why not create this gorgeous mask with your toddler? Use cardboard to make the base of the mask then simply stick some leaves on. Add a popsicle stick so they can easily hold it when they start playing.
A lovely activity and fall craft for your 2 or 3 year old.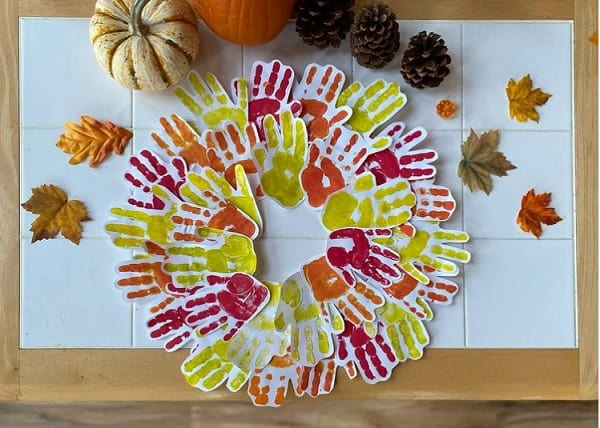 If you have a few kids to entertain and a bit of time on your hands, this handprint leaf wreath will make a lovely fall art project, ideal for preschool. Grab some non-toxic paint in fall-themed hues such as yellow, orange and red, willing hands and someone with good scissor skills.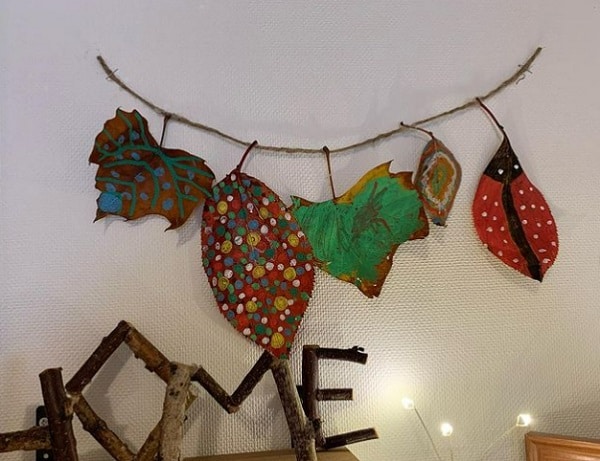 If you've been collecting leaves in all shapes and sizes, why not try this cute leaf banner. You can use paint or markers for this fun fall toddler craft – whatever is available. Then hang them up using jute twine or yarn.
Toddler fall TREE crafts for 2 and 3 year olds
With a tree trunk as a starting point, there are so many creative ways to add leaves and create a tree-themed fall craft for toddlers.
Forget paint brushes – think outside the box with these fall activities for toddlers. Let them explore painting and artwork with a sponge or another material.
Try cotton balls, Q-tips, leaves or pinecones… Or finger painting if you're feeling brave!
You can use what you have to hand that'll do the job of transferring paint to paper.
There are plenty of ideas below.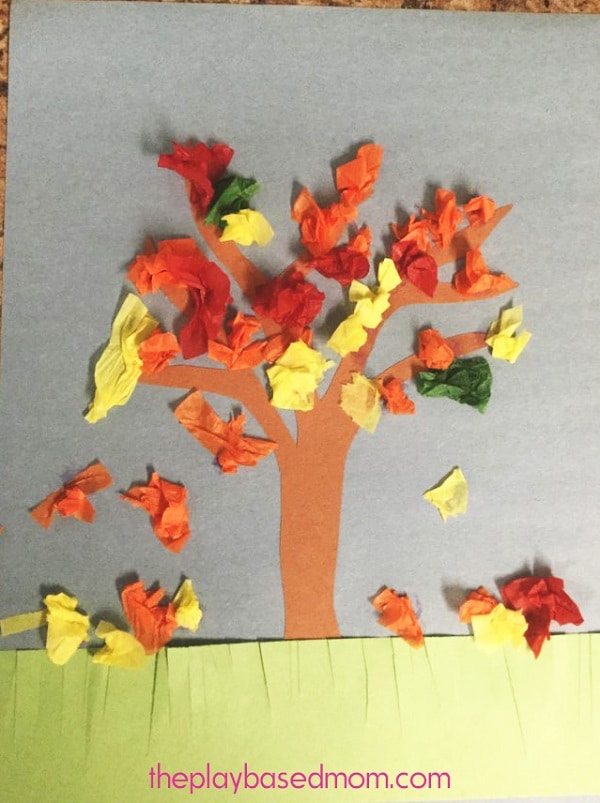 Another tissue scrumpling exercise to create a cute tree-themed fall craft for 2 year olds. You can also get your toddlers to practice their cutting skills by creating a lawn of green grass at the base of the tree.

DOWNLOAD THE ACTIVITY PACK + BONUS NOW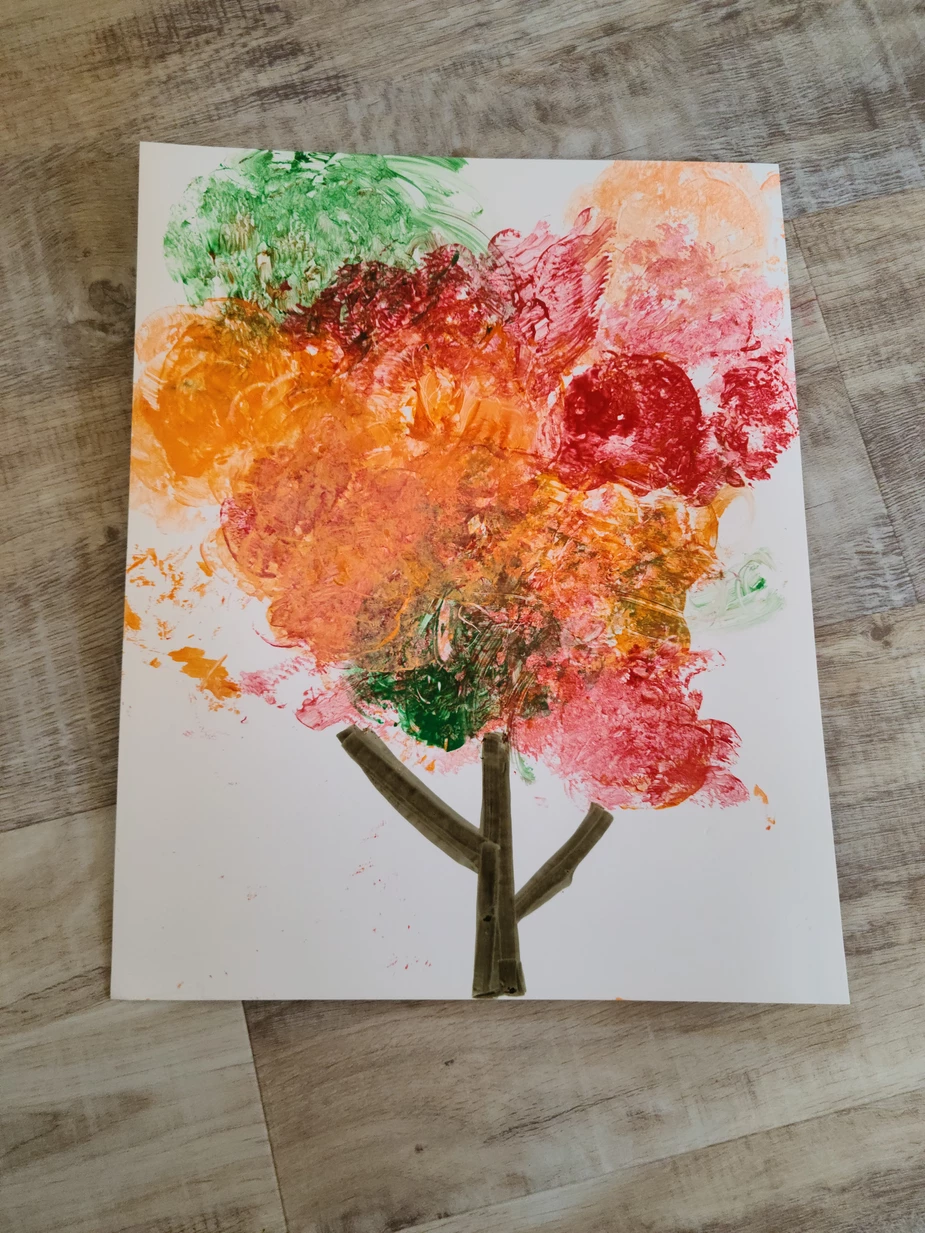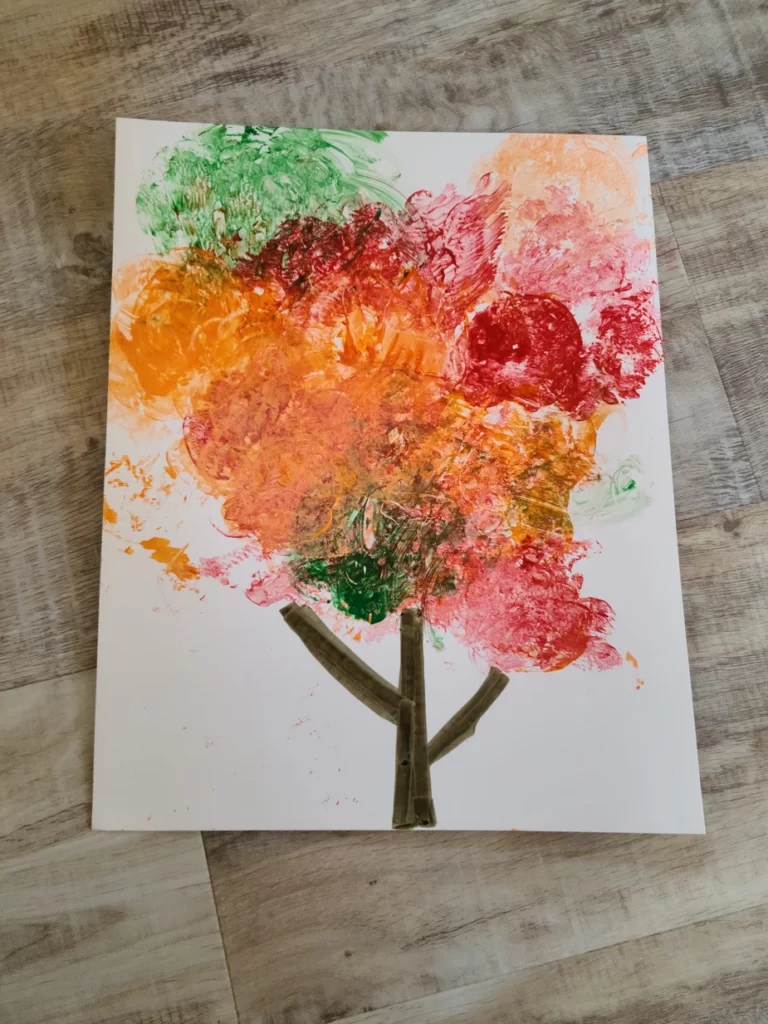 Draw the trunk of a tree, and supply your 2 year old toddler with apple halves and reds and greens. Then stand back and watch a masterpiece unfold!
Or not…
Your little one is sure to have fun, anyway.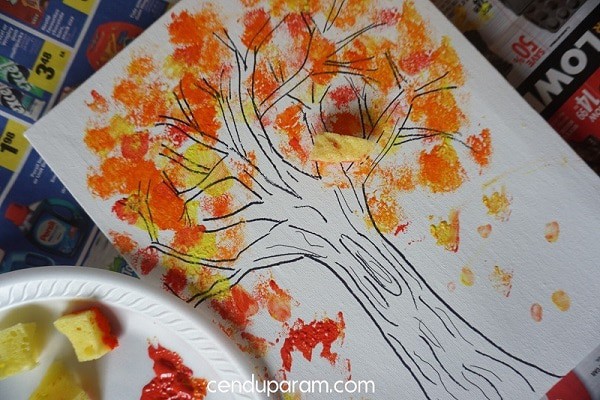 Using cut up sponges for the leaves and tree canopy works a treat! Sketch out a tree, grab your fall colored paint and let your 2 year old get to work.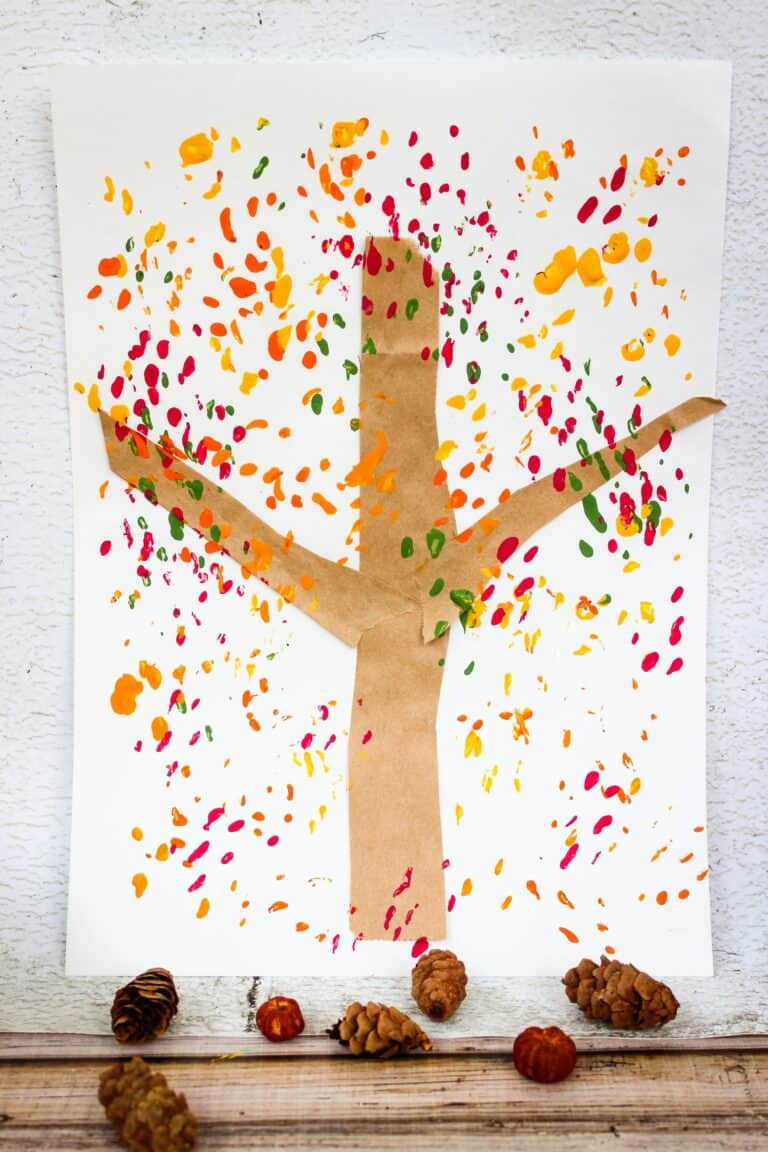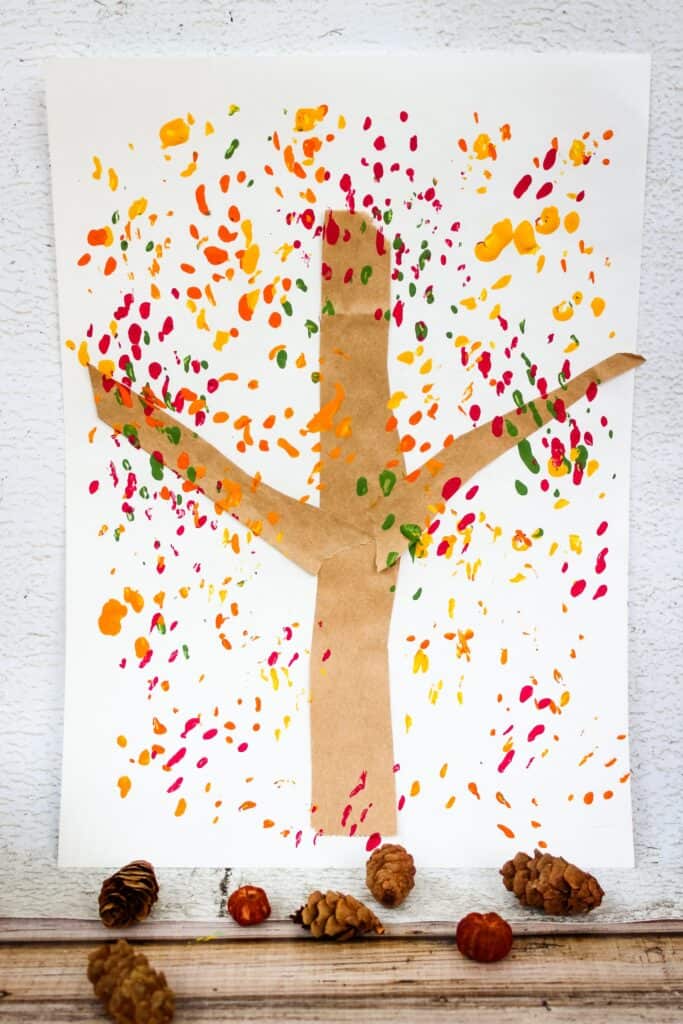 The leaves in this fall art activity for toddlers are made by the pine cone scales (yup, that's what they're called) and the tree trunk is simply brown construction paper, making for a super fun and easy fall craft for 2 year olds.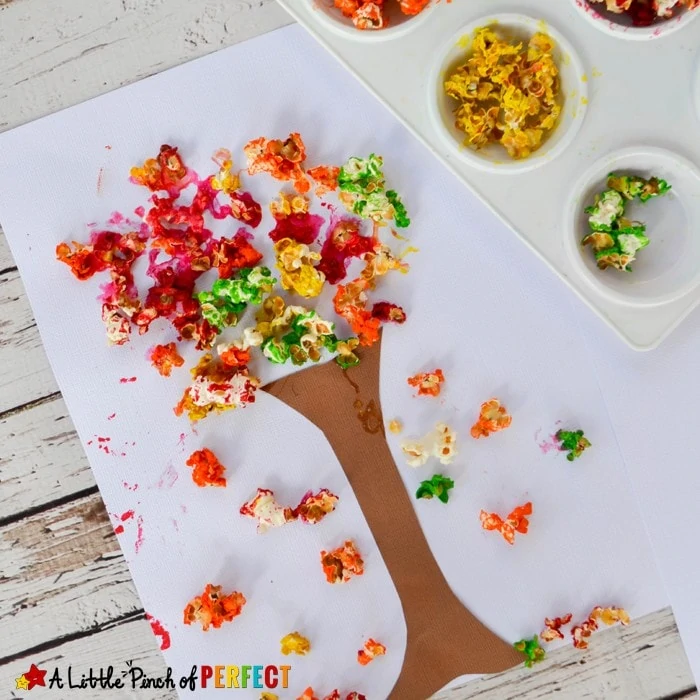 In this fall toddler craft you paint the popcorn first and then stick them on your tree. Sounds tricky, but by squirting the paint into a freezer bag and adding your popcorn, you can contain the mess completely.
Mixing up the paint and popcorn in this way makes a lovely mess-free painting and sensory activity for 2 year olds too.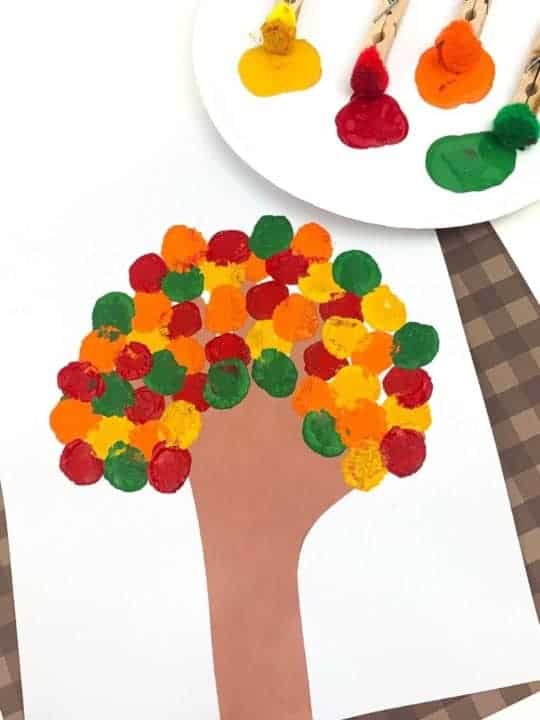 Rather than a paint brush, try a clothes pin and pompom, what a cute idea! Such a fun way for your 2 year old to paint the leaves on the tree.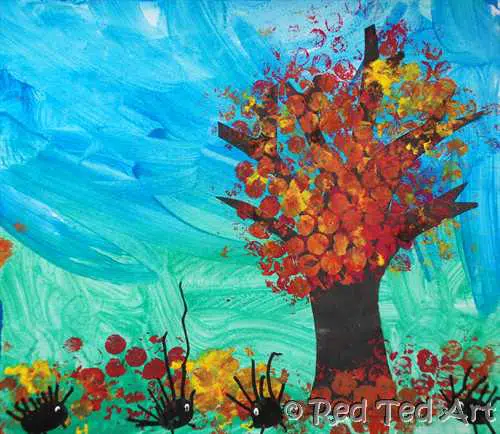 The bubble wrap produces a completely different effect in this fall tree craft for 2 year olds. Paint a sky and grass background first and add leaves to the ground to create a blustery autumnal scene.
The gorgeous fall tree craft in the photo above is definitely worthy of framing – I'm not so I could achieve the same with my toddler?!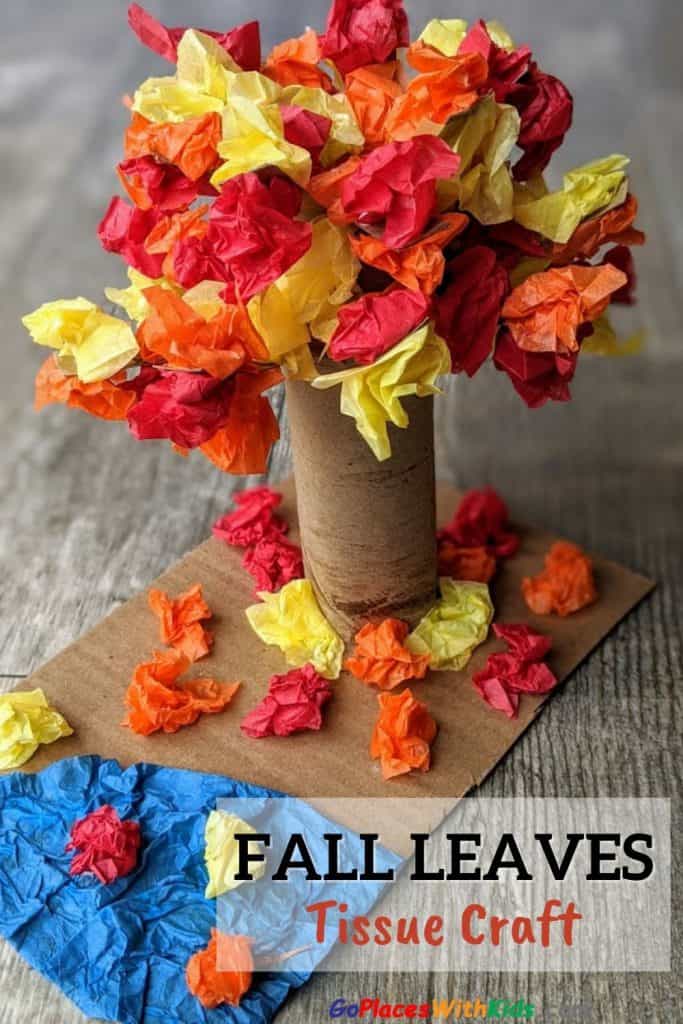 39. Fall Leaves Tissue Paper Craft from Raise Curious Kids
What is it with tissue paper scrunched leaves?! This time it's a fun 3D tree fall craft for your 2 or 3 year old.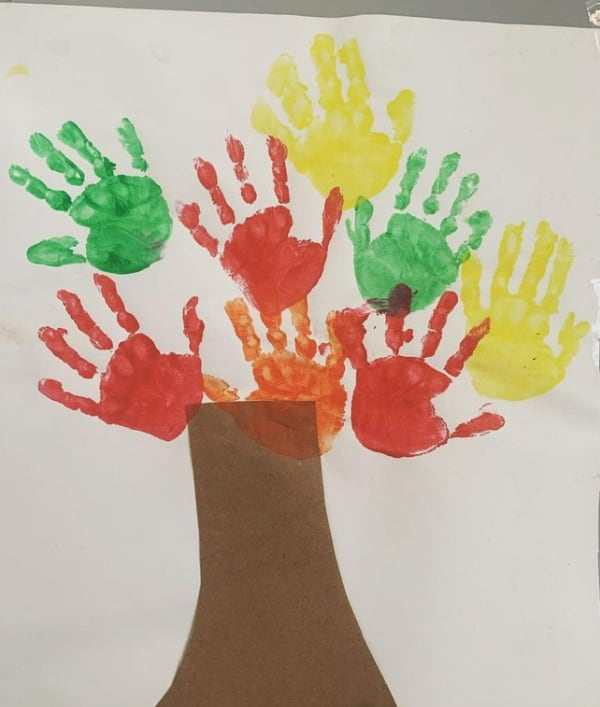 Handprint crafts make the best keepsakes, so if you want to remember this fall, try this toddler fall craft. Use brown construction paper for a trunk, or alternatively paint it on.
Then it's time for some toddler-sized hand prints for the leaves. A simply adorable fall craft for 2 year olds!
ACORN fall toddler crafts
Fall crafts aren't just leaves, trees and apples. Here are some adorable acorn crafts for toddlers 2 years and up this fall…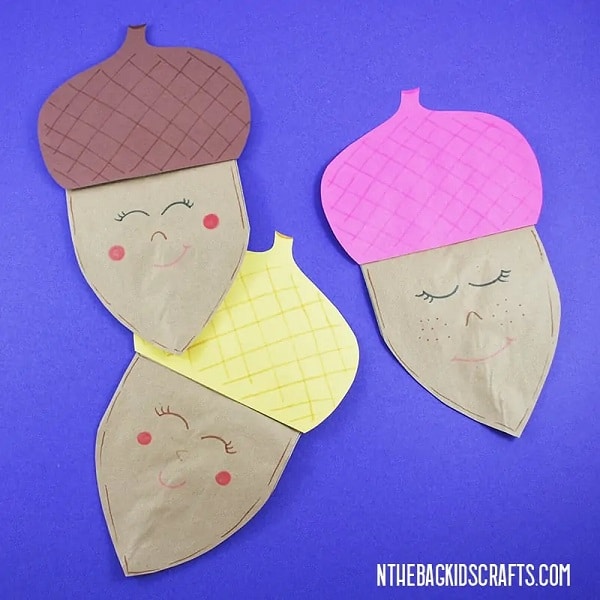 This paper bag acorn craft is not only adorable, but it can turn into a fall-themed puppet. Once your toddler has finished, they're going to love playing with their new acorn friends.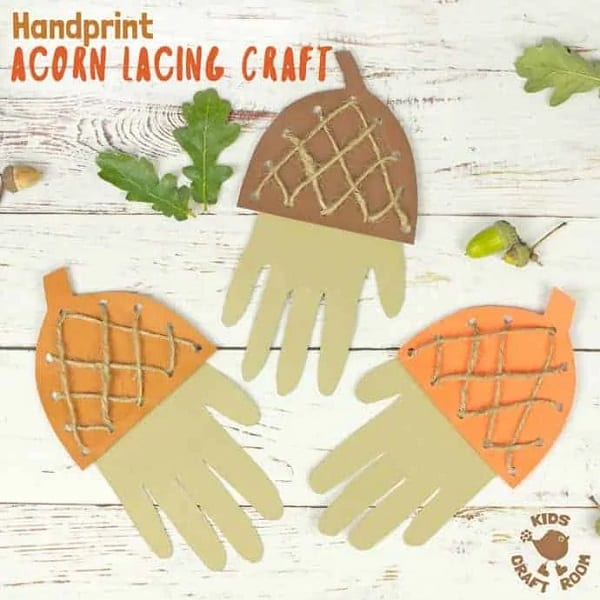 This handprint acorn lacing is a lovely fall craft for toddlers as well as a great fine motor activity for Autumn. The jute yarn adds a natural and rustic feel, doesn't it?
Quick tip: to make the lacing easier for your toddler, wrap the ends of the string with a sticky tape.
SCARECROW fall crafts for 2 year olds
The list wouldn't be complete without some gorgeous scarecrow crafts for toddlers this fall!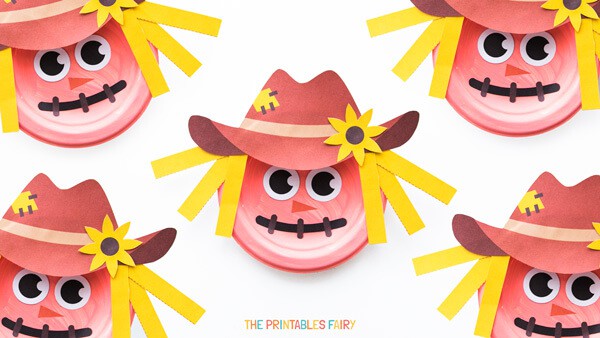 This silly scarecrow is such a fun fall craft for 2 year olds. Thanks to the free printable it'll be easy to prep. 2 year olds will have fun sticking the different parts of the scarecrow on, while 3 year olds can have a go at cutting too. Either way, this fall art activity will help strengthen fine motor skills.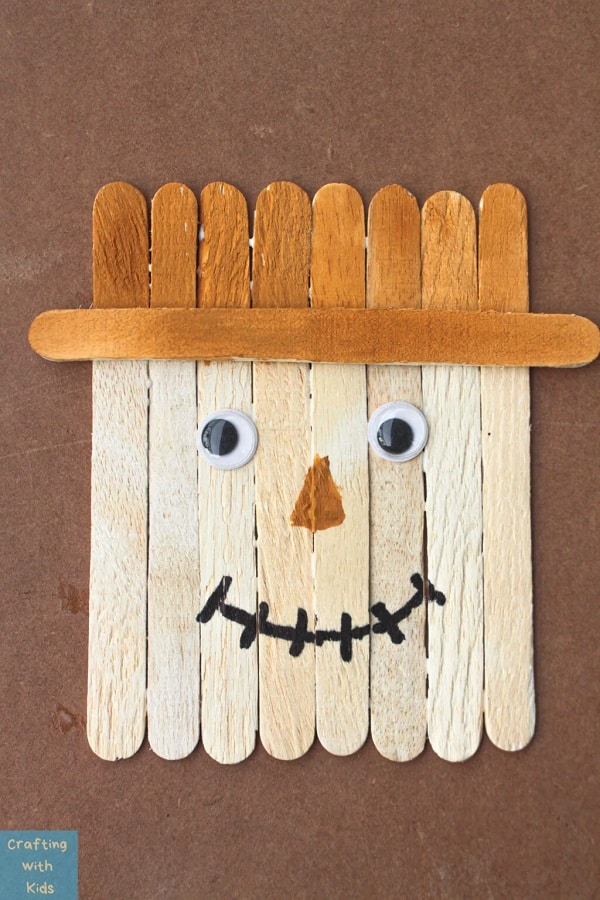 If you have plenty of craft sticks and googly eyes (like me, guilty as charged!), this easy fall craft for toddlers is a must. Just look how cute that little scarecrow is?
Let your 2 year old decide whether they'll be silly or scary. Or how about scarily cute?
PUMPKIN fall crafts for 2 to 3 year olds
Here are some cute pumpkin crafts to keep your toddlers busy this fall, perfect for the Halloween season. Hosting a halloween party? Keep the kids busy with one of these cute fall crafts with a pumpkin theme. (Then check out these spooky and festive toddler snacks.)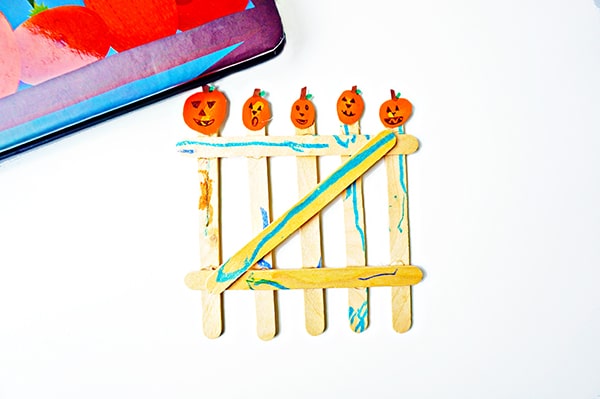 Why not learn a poem while you're crafting with your toddler? There are loads of benefits to learning nursery rhyme benefits, the key one being that's it's really good for language development. This fun fall craft for 2 and 3 year olds is based on the 5 little pumpkins poem:
Five little pumpkins sitting on a gate,
First one said "Oh my, it's getting late!"
Second one said "There are witches in the air,"
Third one said "but we don't care!"
Fourth one said "Let's run and run and run."
Fifth one said "I'm ready for some fun!"
Ooo ooo went the wind, and out went the lights,
And five little pumpkins rolled out of sight.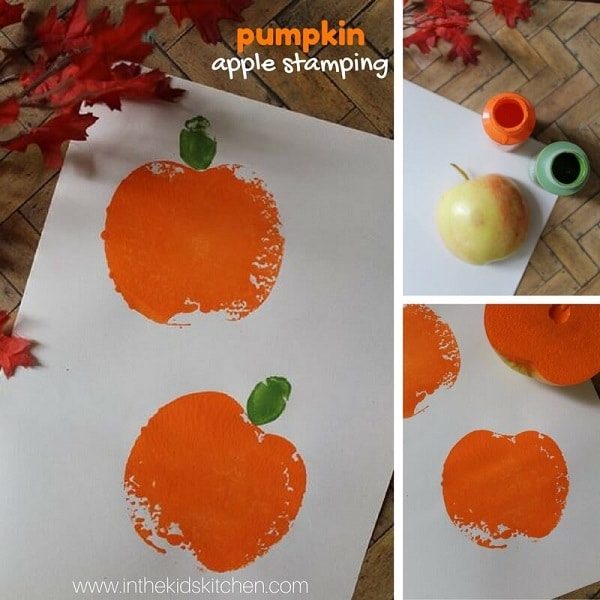 No one likes eating soft or bruised apples but don't chuck them on the compost yet! First, try some apple stamping.
This is a lovely process art activity turned craft that I've yet to try with my toddlers – with those two in the house, there's never an apple left!
But we did play at apple bobbing this morning and some of those apples are looking a little worse for wear… so we might be able to justify using some for stamping soon enough.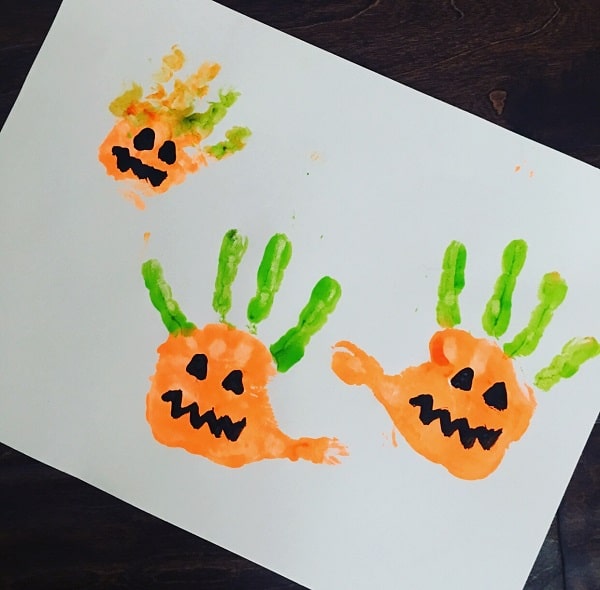 Another handprint craft, this time a pumpkin-themed creation. What an adorable keepsake for Halloween. Handprint crafts can be a bit tricky, even with an amenable toddler. Nevertheless, these Halloween handprint pumpkins look well worth a try!
This fall craft will make a fun and easy art project for a 2 year old and older toddlers will be able to help with the cutting out too.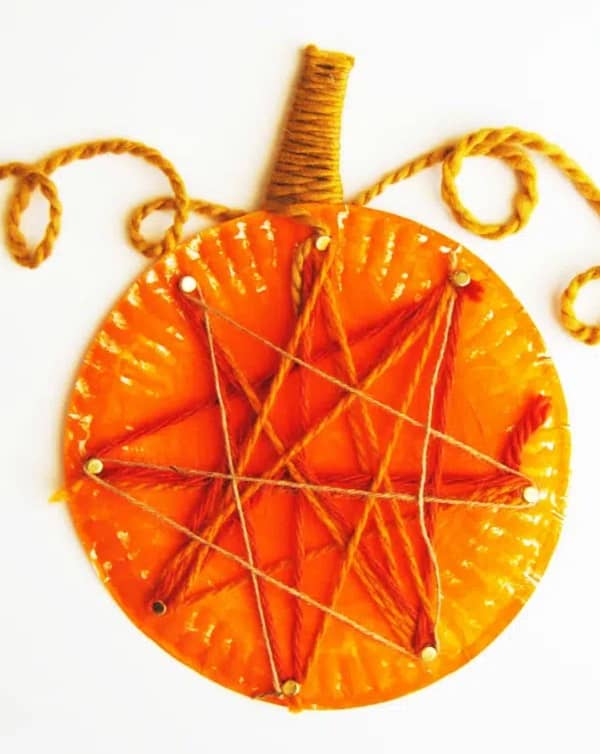 This fun pumpkin craft is a slightly simpler version of the paper plate apple lacing one. Here you wrap the yarn around paper fasteners rather than having to thread it, making it an easy fall craft for 2 year olds. It's sure to keep older toddlers busy too.
It's mom-friendly to0, only requiring a few basic craft supplies that are easy to prepare.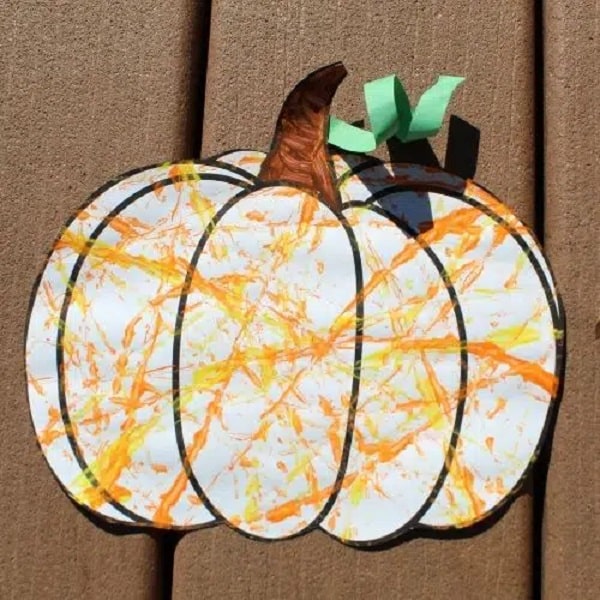 For an easy and fun fall craft activity, give marble painting a try using the pumpkin-shaped free printable.
You'll be amazed at how simple and adorable this fall craft activity is, and your 2 or 3 year olds will be fascinated by this process of painting while rolling marbles around. It's like killing two birds with one stone! A win-win situation I must say.
Looking for more Halloween inspiration?
Try these fun crafts and activities:
Other easy fall crafts for 2 year olds
This cute turkey craft does a look a little lonely, but not for long! We'll be sourcing yet more cute fall crafts for 2 year olds shortly….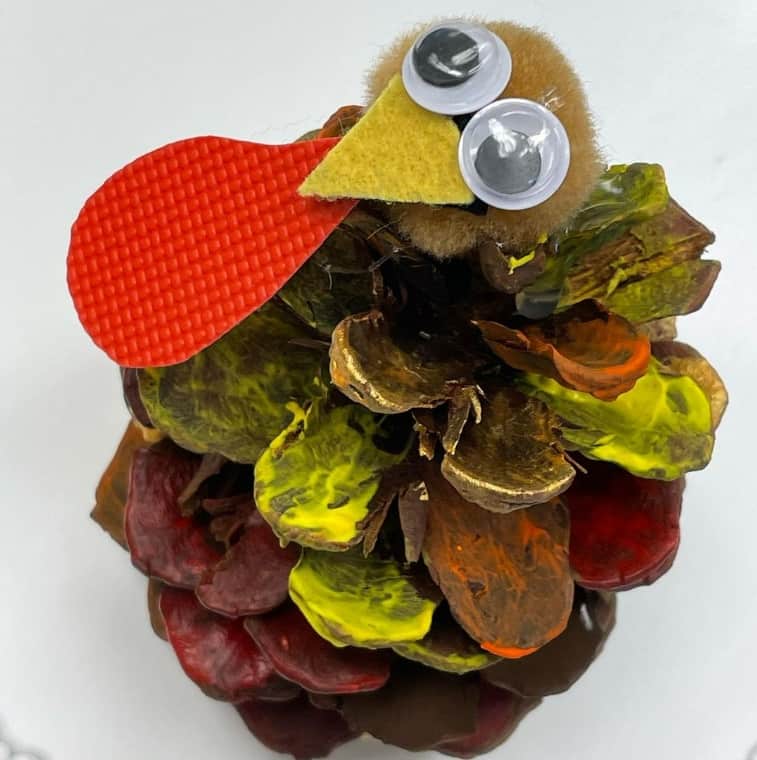 51. Pinecone Turkey from @millennialadventurer
This pinecone turkey craft will definitely keep your toddlers busy! Paint the pinecones with fall-themed colors, a brown pompom ball for the head, then finish with googly eyes, beak and wattle.
There you have it! A cute little turkey pinecone, perfect as a fall table centerpiece or put it on the mantlepiece.
Easy fall crafts for 2 & 3 year olds with PRINTABLES
Free printables always save the day in our house! Hence my keen interest in creating my own lately. (Check out these cute Christmas scavenger hunts, these festive bingo cards and Nice List Certificates for the latest on the blog.)
Here are some free printable crafts for toddlers perfect for the fall season.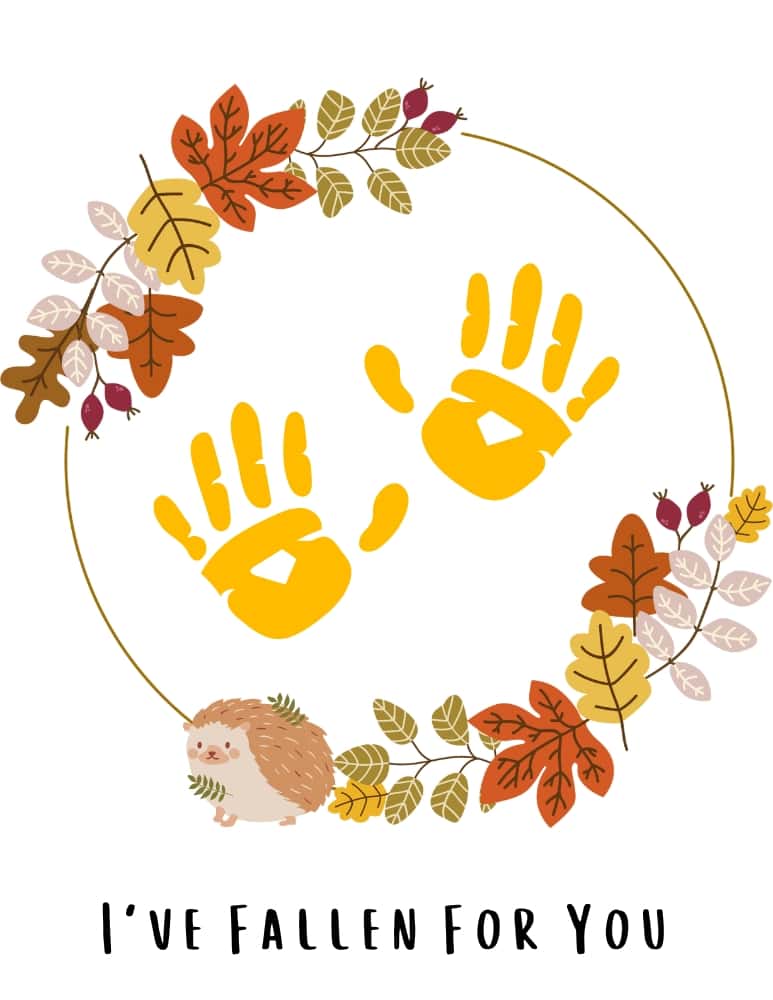 I started this fall craft post when my eldest kids were toddlers. I now have toddler twins! To celebrate their first fall I put this cute template together. It should easily accomodate the sqidgy hands of a 2 year old or 3 year old too.
So if you want an adorable keepsake and quick fall craft for your toddler, this one is a must.
Looking for a cute handprint craft for mom or dad? Bookmark these cute Father's Day Handprint Templates and these Mother's Day handprint craft ideas for later.

I really liked this one because it's both a craft that gets the fingers working and a learning exercise in counting.
Start by printing the template – you can find it for free on the link above. You can print in either color or black and white. I went for the black and white option partly because I'm bit of cheapskate but also because my toddlers love coloring!
My two spent a good 10 minutes coloring the tree green and the apples red. I then cut the apples out and we practiced counting different numbers of apples and putting them on the tree. Finally, we glued them all on.
A bit of crafting, a bit of counting. Done and done!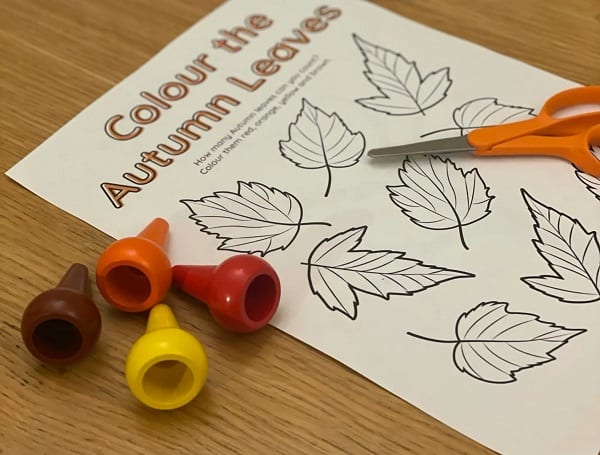 We all know Autumn is coming when the weather is getting colder and wetter. And what better way to keep the kids busy when stuck indoors all of a sudden than some fall-themed coloring pages for toddlers?
This easy coloring activity should keep older toddlers and preschoolers busy as they work on their fine motor skills while appreciating the wonderful colors of fall.
Tips for doing Fall crafts with 2 year olds and up
These apply to any toddler craft – not just those with a fall theme.
2. To craft or not to craft?
This sounds a little odd and I don't want to put you off. But if you're looking for a way to keep your toddler busy, you don't always have to pick a craft. If you're short on time or trying to do a million other things at the same time, why not set-up a simple mess-free activity instead.
Musical activities might be a better option or an indoor game. Or head outside for outdoor play to get those wiggles out!
2 – The process of creation is as important as the end result
Toddlers love to explore and experiment and have an incredible imagination. They probably don't care what it's meant to look like at the end. They'll be engrossed in the doing.
It's an opportunity for learning and development – not just about the finished article. If the craft looks anything like the picture, that's simply a bonus!
3 – Prep the craft out of sight
Toddlers can't keep their hands to themselves! Prep anything you may need to when they're napping or otherwise engaged.
IF YOU LOVE EASY ACTIVITIES & PRINTABLES YOU'LL LOVE THE FAB-BOO-LOUS HALLOWEEN ACTIVITY PACK!

CLICK HERE TO DOWNLOAD THE FAB-BOO-LOUS HALLOWEEN ACTIVITY PACK + BONUS BUNDLE
The Fab-BOO-lous Activity Pack includes:
fun games to play with family and friends
cute Halloween crafts, easy snacks plus sensory play ideas
activity sheets galore – from shadow match, to I-Spy, dot-to-dot, mazes and more
easy no-prep activity ideas for outside and indoors
your Halloween bucket list – decide what to do and check off as you go
Templates, directions and everything you need for a fun-filled and stress-free Halloween included!
Is it too early to think about Christmas?
Never! Bookmark these simple toddler Christmas crafts for later. Or what about these adorable Christmas ornaments. (Or these nature-inspired ones.) How about a Santa hat or nativity craft?
Which fall craft for toddlers will you try first?
Will you try a beautiful fall tree or perhaps a juicy red apple? There's certainly plenty of fall art for toddlers to choose from.
Whichever you chose, my hope is it keeps your little one busy for long enough for you to grab a cup of tea and enjoy this magical season!
__________________________________________
Feeling super organised? Check out these Easter crafts: