Juicy red apples, pumpkins and leaves in all shades of brown, orange and red, can only mean one thing – Fall!  (Or Autumn as it's known back where I'm from.)  So time to find some toddler-friendly Fall crafts!
By toddler-friendly crafts, I mean ones that keep them out of mischief for at least 10 minutes, that they can do almost entirely on their own and don't get them or the table/room/entire house completely filthy.
That's just not my idea of fun!
Toddler crafts, for Fall or otherwise, also need to be mom-friendly.
In my book that means super quick to prepare, using normal crafty materials I either have at home or are easy to come by and don't result in one giant mess (or several toddler-sized mini messes).
When it comes to the learning aspect, nearly all crafting involves some kind of fine motor skill.  That's pretty much a given.
Double points when said craft involves some form of activity first, getting your toddler moving and burning off a bit of energy.
Plenty of opportunity for this when it comes to Fall and Fall crafts; collecting and foraging for leaves and other bits and bobs you find on the ground is the precursor to many a Fall craft.  So part Fall activity and Fall craft, perfect for toddlers or even preschoolers.
I hope these Fall crafts give you some ideas to keep your little ones busy, in a constructive way!  They've kept my toddler and preschooler busy, busy, busy… and me sane!  Win, win, win!
Super simple Fall crafts for toddlers – glue and paint-free!
There might be the occasional glue dot and there's no escaping contact paper, but other than that these are about as mess-free as you can get.

1. Easy pumpkin or apple craft for scissor skills
Toddlers love cutting and even when they're scissor skills are still a little dodgy and leave raggedy edges this craft still turns out a treat!  You can pretty much make any round fruit with the same method, just choose an appropriate color craft and switch out the leaf.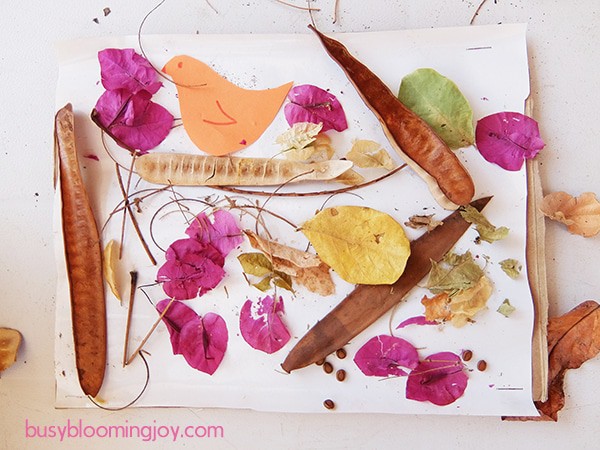 2. Birds nest scavenger collage
This is a double whammy of busyness for toddlers, part 'Fall activity', part 'Fall craft'.
First, the toddlers get to scurry around the garden burning off some much-needed energy while foraging for dried leaves, seeds, seed pods and anything interesting that'll work in a bird nest collage.
Then they should be able to sit still enough to create a true masterpiece (!).
Finally, to add the bird cut-out and the birds' nest collage is complete!
3. Autumn leaf suncatchers from Crafts On Sea
One to hang from the window where they'll catch the warm colors of the Fall sunshine.  Oh, and the toddlers will love making this Fall craft too!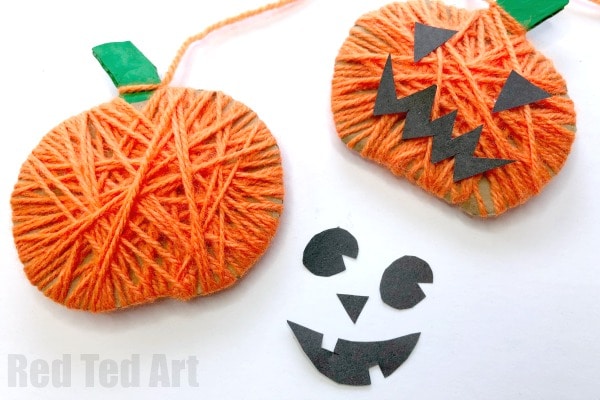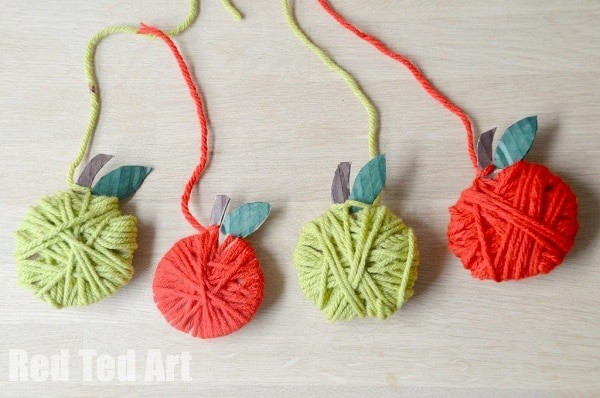 4. Reversible Yarn Wrapped Pumpkins  & Yarn Apple Craft & Garland from Red Ted Art
Wrapping yarn around a cardboard apple or pumpkin cutout can't get much simpler and cute looking.
String them into a garland or hang them on door handles for Fall and add some felt eyes, nose and mouth for Halloween.
Quick and simple looking even for a toddler so these are definitely on my list for another time.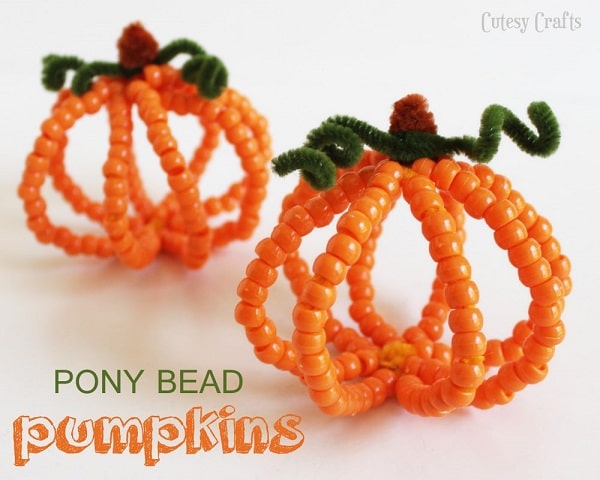 5. Pony Bead Pumpkins from Cutesy Crafts

These are going to be a must in our house – I know my eldest is going to love threading all those beads to make these little pumpkins.
6. Handprint Hedgehog Craft from Easy Peasy And Fun
No Fall craft for toddlers list would be complete without a hedgehog somewhere.  This looks a lovely easy one – great for scissor skills.
Note; the instructions say to paint but this would be just as good if just colored with crayon so I'm putting it in the no-mess list 🙂

7. Easy Fall Leaf Craft for Toddlers from Mom In The Six
This is a really easy one that the tiniest toddler can get stuck in to (or even on to, if you're not careful!)
Using some masking tape, attach a square of contact paper to a window low enough for your little one to reach.  Then give your toddler free reign with a selection of craft leaves, super cheap from the dollar store.

8. Apple lacing fall craft for older toddlers/preschoolers
This requires some slightly more advanced finger work and a bit more patience – it takes a while before it starts to resemble anything remotely apple-like!
So this Fall craft is more suitable for the older preschooler.
My nearly 4 year old really enjoyed this (he loved making the apples 'fly' when he was pulling the thread through.  But like most preschoolers, after 10 minutes he was ready to move on, so it did take 3 separate sittings to finish the job.  Worth it though!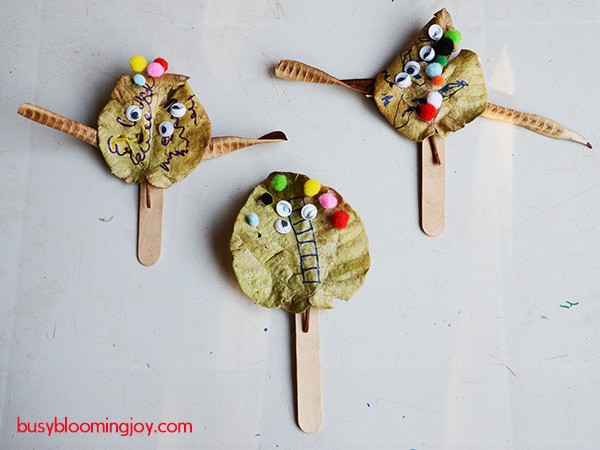 9. Leaf monsters
Another one that involves some foraging for leaves and other Fall debris before getting started – we used a leaf for the monster's body and seed pods for arms.
Then let your toddler go to town with some sharpies, stick on some googley eyes and mini pompoms for hair with glue dots and that's one not-at-all-scary but super cute monster done and dusted.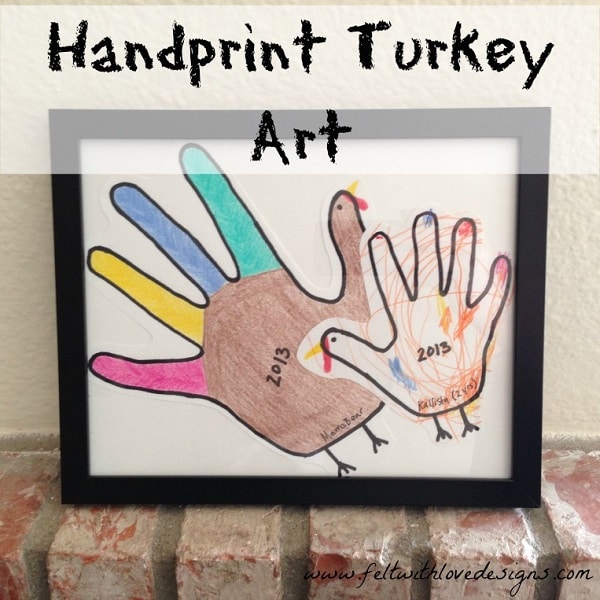 10. Turkey handprint art from Felt With Love Designs
Help your toddler draw around her hand and then time to have fun coloring it in – painting or any other form of decorating would work too – if you don't mind a bit of mess that is!
Then you just need to add the turkey beak, eye and some feet and then finally the date.  Stick it in a frame for a memory of this Fall and for many more to come!
Or this would make a lovely Thanksgiving gift for the grandparents.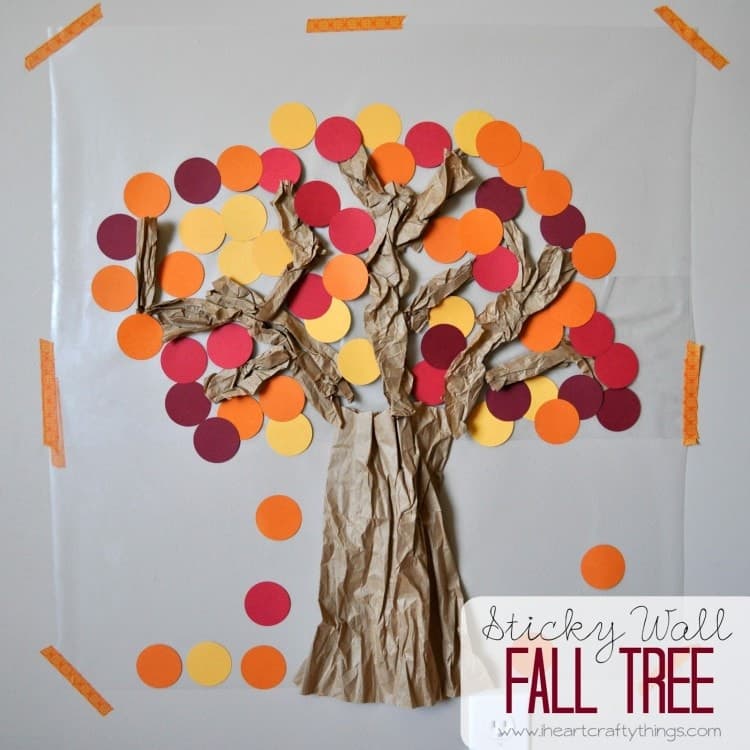 11. Paper Sticky Wall Fall Tree from I Heart Crafty Things
Another one that uses contact paper for zero mess and clean up!
Super simple Fall crafts for toddlers – with a smidgen of gluey stickiness
Think a simple glue stick and occasionally something messier like PVA/white school glue….
Shouldn't be all that bad as long as you don't vacate the room for more than 5 minutes, sorry seconds… Or is just my two?!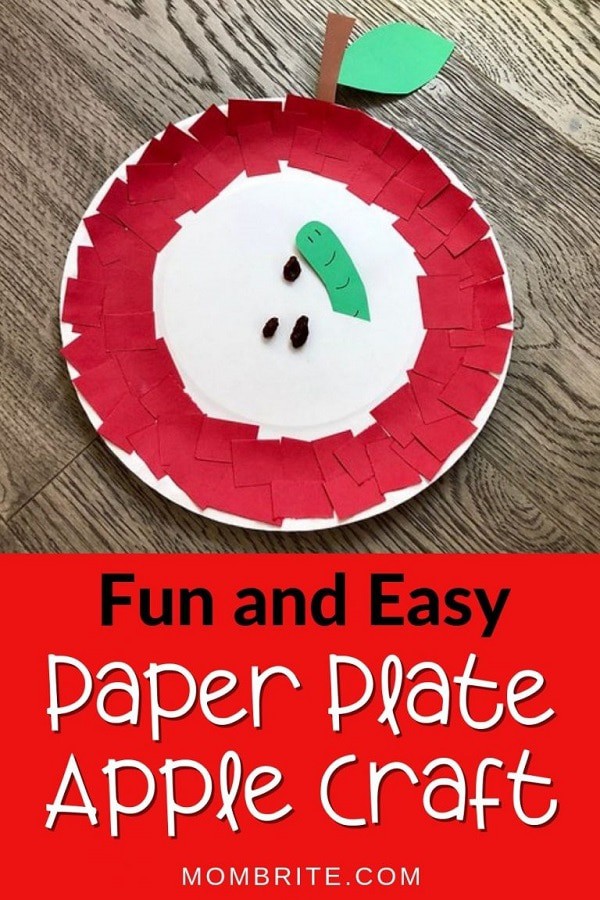 12. Paper plate apple craft come counting activity from Mombrite
This is a lovely Fall quick craft that turned learning exercise, perfect for toddlers.
You can teach your toddler about all the different parts of the apple and then practise counting out the number of seeds inside (before they get eaten – since they are just raisins!)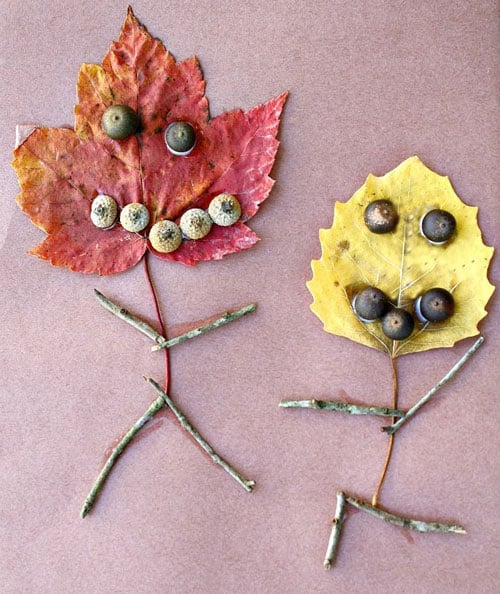 13. Leaf People Fall Craft from Fantastic Fun and Learning
With acorns for eyes instead of googly eyes and no mad-colored hair, these are the 'people' version of the little leaf monsters we made.

14. Learn Numbers Counting Game & Craft from Yes We Made This
I really liked this one because it's both a craft that gets the fingers working and a learning exercise in counting.
Start by printing the template – you can find it for free on the link above.  You can print in either color or black and white.  I went for the black and white option partly because I'm bit of cheapskate but also because my toddlers love coloring!
My two spent a good 10 minutes coloring the tree green and the apples red.  I then cut the apples out and we practiced counting different numbers of apples and putting them on the tree.  Finally, we glued them all on.
A bit of crafting, a bit of counting.  Done and done!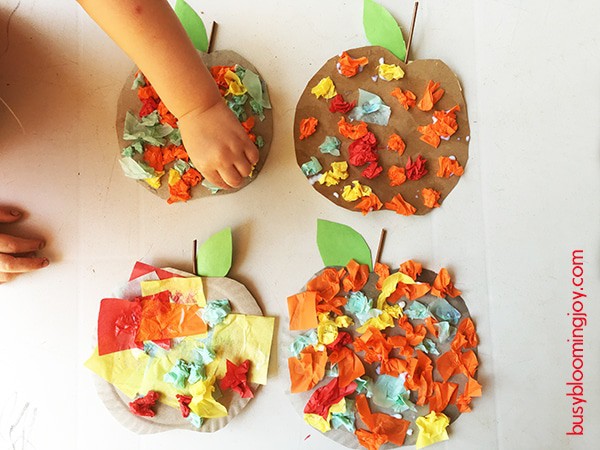 15. Tissue paper apple craft
Tissue paper scrumpling, a dab of glue and your toddler will love this easy apple craft for Fall.  Mine insisted on using some very non-appley green which ended up looking blue, but there you go.  They were happy, which means I was too!
16. 3d Paper apple tree craft from I Heart Crafty Things
This one looks a little bit more work but if it comes out looking as good as these photos it'll definitely be worth it.

17. Playdough Fall craft from The Inspiration Edit
Playdough is another winner with toddlers.  I'm so exctied to try this one next week as I'm sure my two are going to love it.  Twist-up a stick colored piece of playdough and stick some craft leaves on.  Done.
I don't have any craft leaves but this is going to work just as well with real leaves.  Which means this is another two-parter – more foraging in the garden!
18. Lion leaf craft with printable template from Easy Peasy and Fun
Leaves make up the lioins mane in this easy Fall craft – my eldest toddler/preschooler is going to love this one!  He's yet to see a real lion but know that they have a big mane and 'big sharp teeth' – such a boy!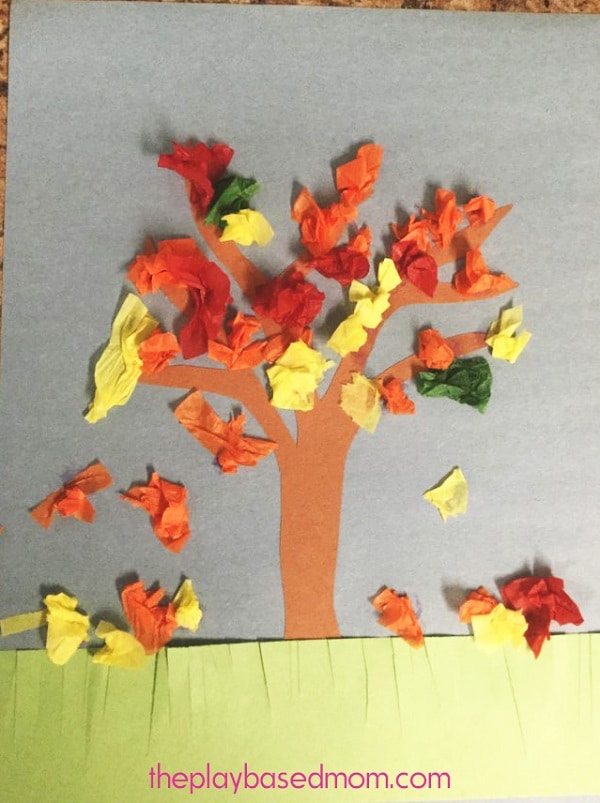 19. Fall Tree Craft for Preschoolers from The Play Based Mom
Another tissue scrumpling exercise to create a cute tree craft.  You can also get your toddlers practicing their cutting skills by creating a lawn of green grass at the base of the tree.
20. Fall cupcake liner tree craft from I Heart Crafty Things
Easy sticking fall craft to try.  My toddlers are just going to wonder where the cupcakes have gone!
Super simple Fall crafts for toddlers – involving… paint!
Much as I try and avoid toddler crafts that involve paint, there are so many cool things you can do with the stuff.  So painting really is a necessary evil of toddler development.
But forget paint brushes – think outside the box.  Let your toddler or preschooler explore painting and artwork with a sponge or another material; cotton balls, Q-tips, leaves, a bunch of spaghetti… whatever you have to hand that is going to do the work of transferring paint to paper.
Here are a few ideas.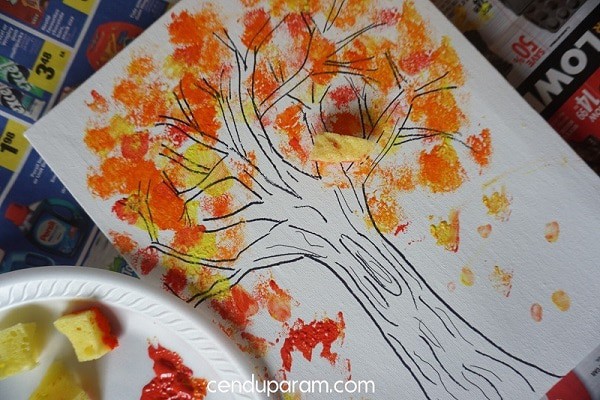 21. Autumn tree painting craft with sponges from Cendu Param
Using cut up sponges for the leaves and tree canopy workds a treat!  Sketch out a tree, grab your Fall colored paint and let your toddler get to work.
22. Toilet Paper Roll Leaf Stamping Fall Tree Craft from Crafty Morning
Squish a toilet roll into a leaf shape and use that to stamp leaves onto a tree.  Possibly not the best description – check out the link above for some pictures and to download the free tree template.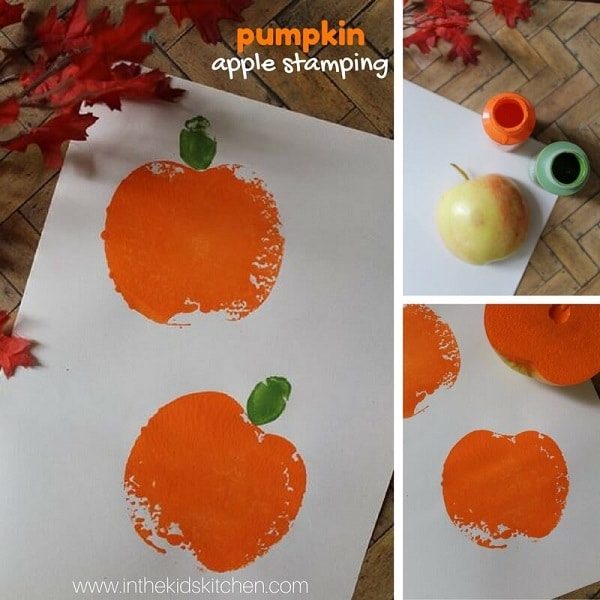 23. Pumpkin or apple stamping from In The Kids Kitchen
No one likes eating soft or bruised apples but don't chuck them on the compost yet!  First, try some apple stamping.
This is a lovely process art activity turned craft that I've yet to try with my toddlers – with those two in the house, there's never an apple left!
But we did play at apple bobbing this morning and some of those apples are looking a little worse for wear… so we might be able to justify using some for stamping soon enough.
24. Bubble Wrap Fall Tree from I Heart Crafty Things
The bubble wrap produces a completely different effect to in this Fall tree toddler craft.  Sure to keep your toddler amused.

25. Apple Tree Craft for Toddlers (loofah painting) from The Play based Mom
To make the leaves of this tree canopy, dip a loofah into some green paint.  Wait to dry and then add some finger print apples.  Lovely process art and Fall craft for toddlers wrapped up in this sweet tree painting.
26. Celery Stamped Owl Craft from Crafty Morning
This sweet little owl has colorful cut out wings and the feathers are where the celery comes into play.
27. Foil Printed Fall Tree Art from Play Teach Repeat
Same principle, but a scrunched up lump of tin foil is used to do for painting.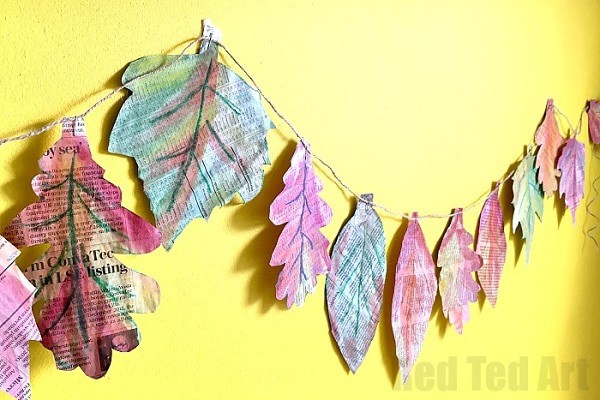 28. Newspaper Watercolor Leaf Garland from Red Ted Art (for older preschoolers or for toddlers with help)
I love the rusticness of this Fall craft and would love to see it hanging in the house somewhere. I think I'm going to appreciate this one much more than my kids given they are only 2 and 3.
So although my normal rule is to not spend too much time helping (a toddler craft should be a craft that the toddler can do, right?!) I think this one will be worth a little extra effort on my part.
They're going to love the painting part but when it comes to the cutting I'll have to take over. Otherwise, I'm not sure what kind of garland it'll end up, but probably not a leaf one!
This Fall craft would be perfect for older preschoolers with more advanced cutting skills though.