Is someone special celebrating a birthday? Want to make a gorgeous personalised birthday card from your little one?
Here are some cute and totally adorable handprint birthday card ideas that you're going to love. Because handprint crafts simply make THE best keepsakes,
So it's no surprise they feature in these Valentine's crafts, as well as these ones for Mothers Day and Fathers Day.
Nothing quite beats handprint art from a little one. Everyone say, "ahhhh!"
If you have a birthday celebration coming up, a handprint card is a must. Good for toddlers, perfect for the sweet squidgy hands of a baby (if not a tad more challenging).
Whether you're making something special for Mom, Dad, Grandma or Grandpa this list of handprint birthday card ideas has something for everyone.
This post contains affiliate links. If you click on one and make a purchase, I may receive a commission at no extra cost to you.
What paint to use to make kids handprints?
For hand and footprint art, use baby-safe paints that are gentle on the skin. You also want paint that's easy to clean up and a good consistency, allowing you to easily create a good clean foot or handprint. (Well, dependent on the cooperation of your little one!)
These washable tempera paints tick all the boxes. If you regularly craft with your little ones at home, I'd definitely have a stash of these in the cupboard. You can use them for loads of easy arts and crafts projects as well as fingerpainting.
You can also use them for other simple, no-prep toddler activities.
Handprint birthday cards for daddy
Want to put the biggest smile on Dad's face on his special day? Make one (or two!) from this list of super cute handprint birthday cards specially for Daddy.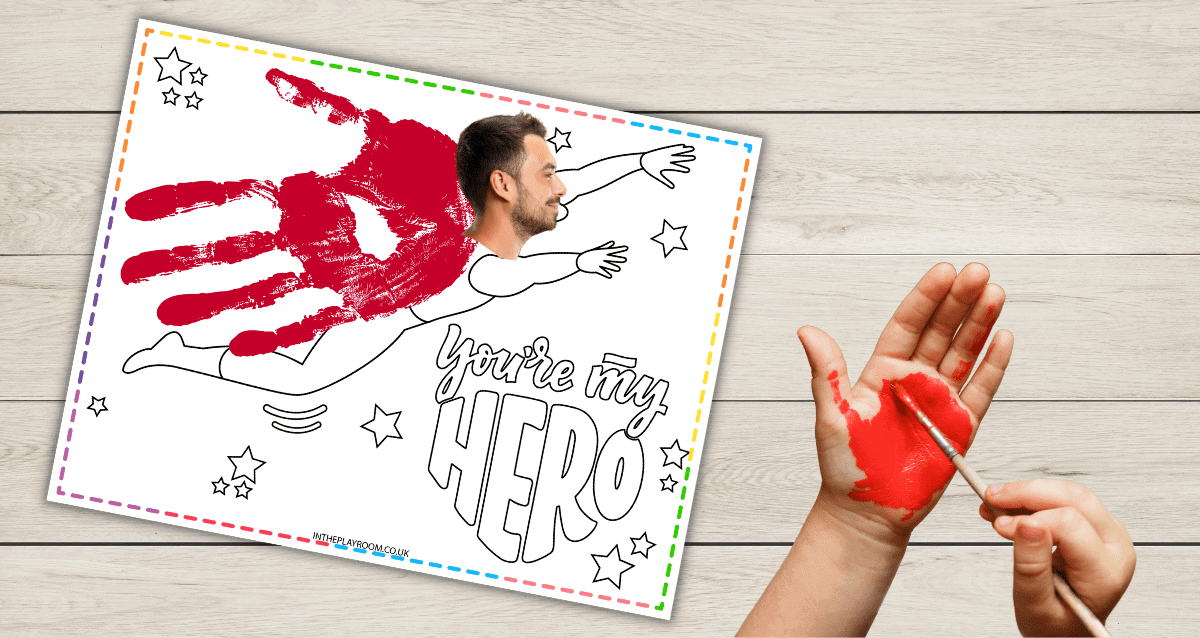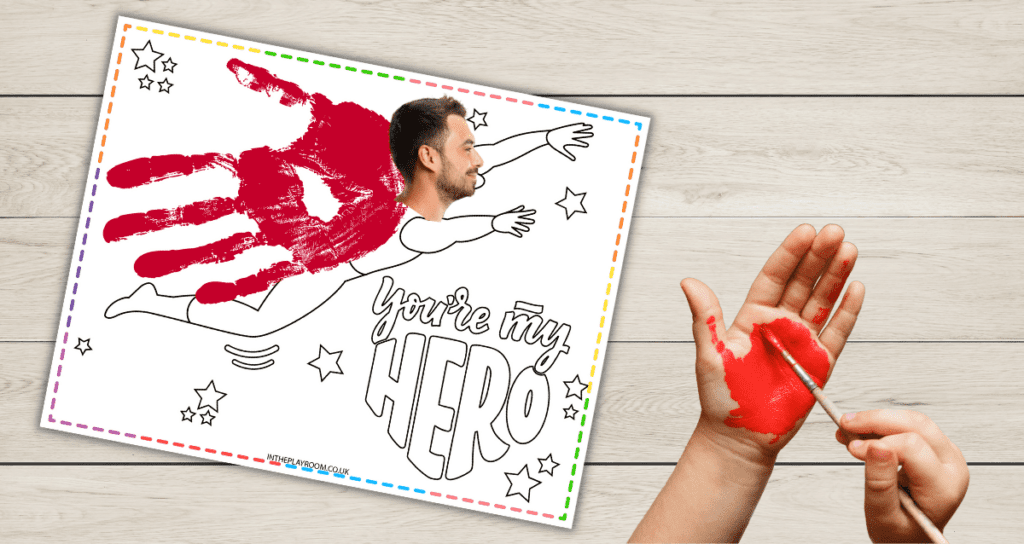 Superhero Dad Handprint Birthday Card (Free Printable Template)
In the eyes of a child, dad will always be a superhero. And what better way to show him how he is loved? With this cute toddler handprint birthday card for Dad! Ready to print, all you have to do is add your toddler's cute little hand as the cape.
Head over to In the Playroom for more.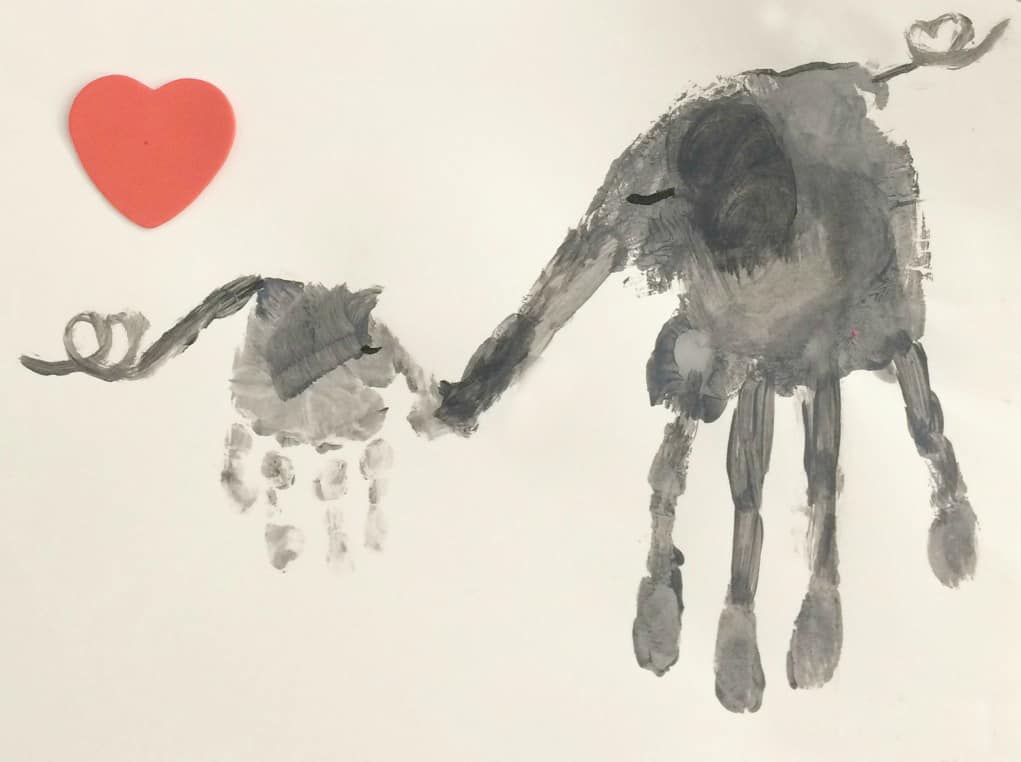 Elephant Handprint Craft For Father's Birthday
If your family love the giants of the African savannahs, then why not try this handprint birthday card idea for Dad. Look how adorable the two elephants are together.

Visit Seaside Sundays for details.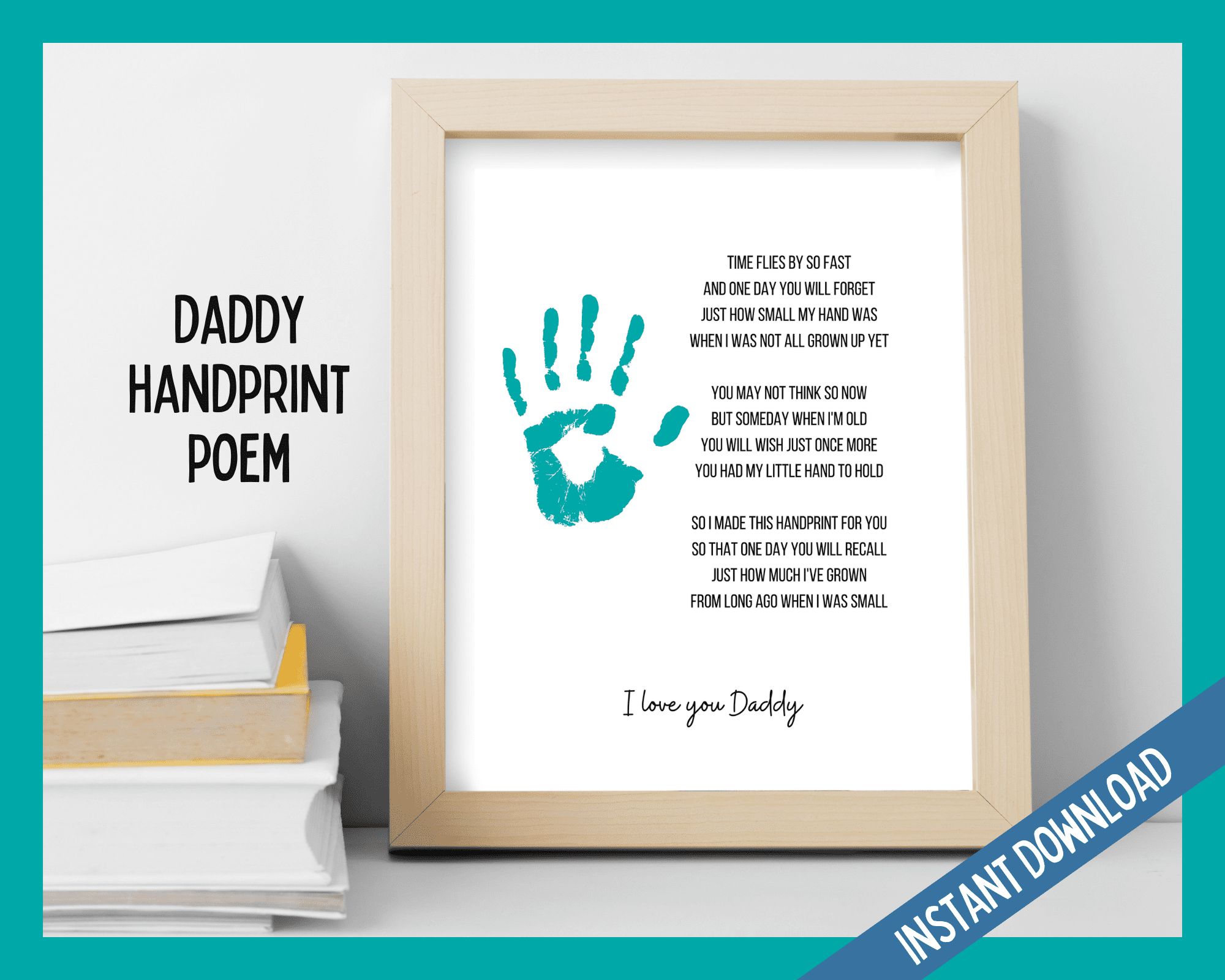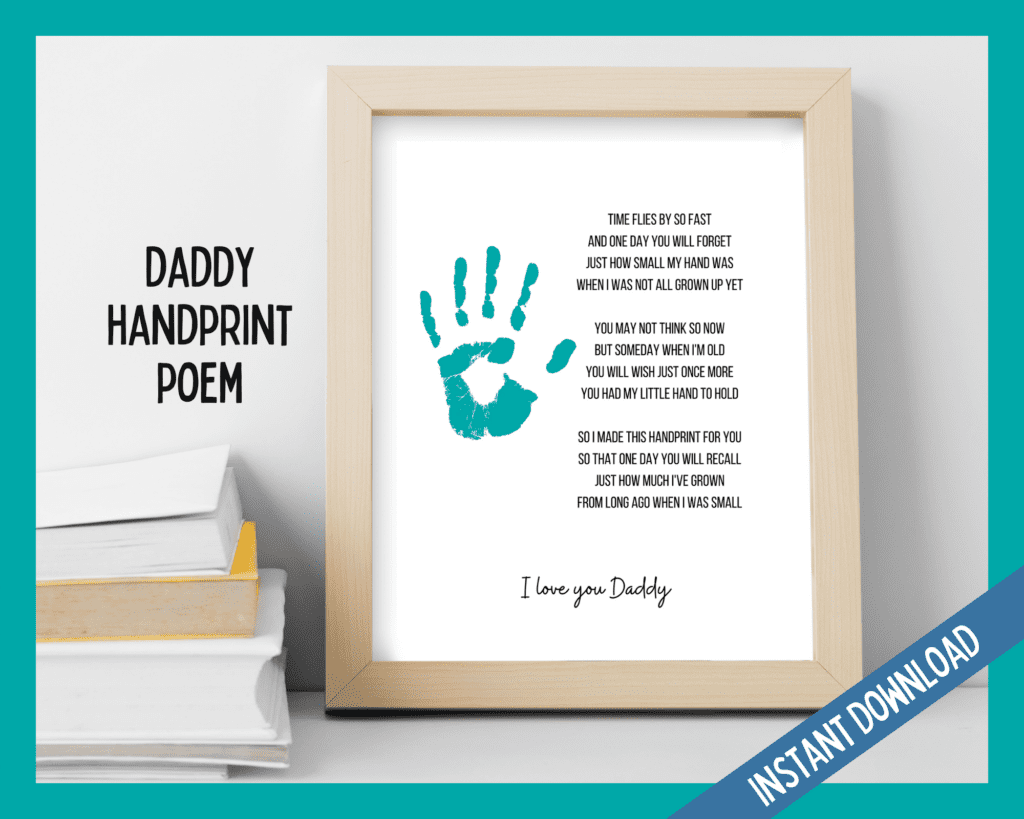 Dad/Daddy Handprint Poem
This cute and ready to print handprint birthday poem for daddy will surely make his day. Frame it as pictured or turn it into a handprint birthday card by sticking it onto a blank card. A handmade card and gift that he'll cherish forever.
Visit Little Halo J for more.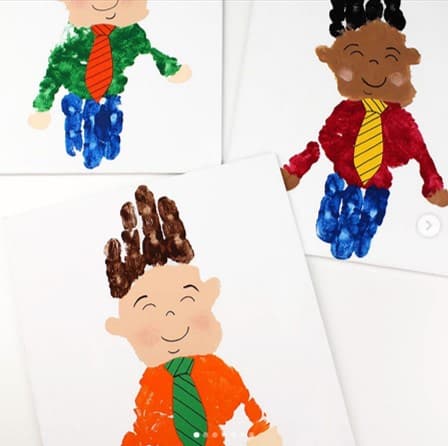 Handprint Birthday Card for Dad
Imagine Dad's face light up when your toddler gives him this homemade handprint birthday card that looks just like him! You could also have your child choose different clothes to dress Daddy in.
It'll be lots of fun making this handprint birthday card for daddy. Wouldn't it make a lovely card for Father's Day too?
Handprint birthday card for dad from messylittlemonster.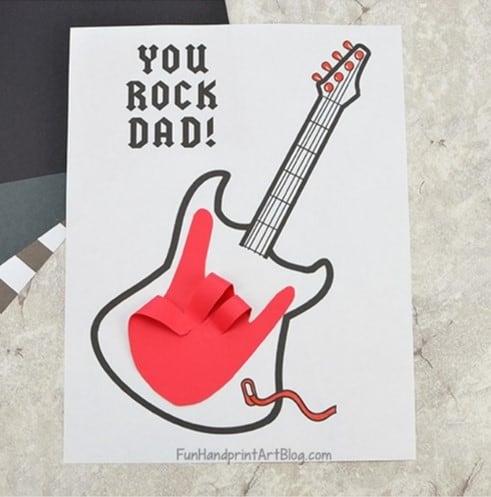 'You Rock Dad' Handprint Card Craft
Let Dad know he much he rocks with this fun handprint birthday card idea. Perfect for fathers who love music!
'You Rock Dad' handprint card craft from artsymomma_amanda.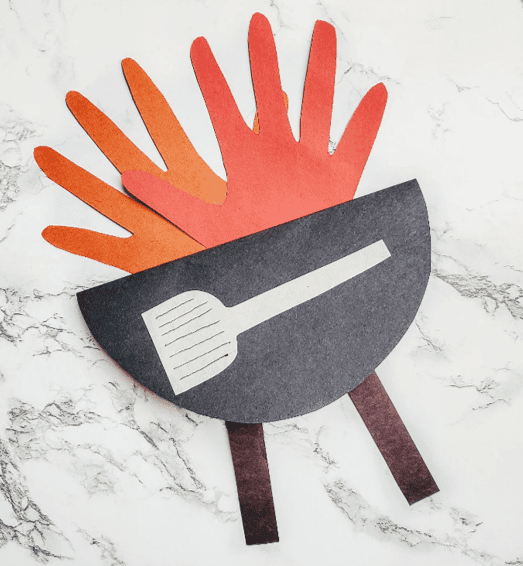 Handprint Grill Card
Flames made out of your kids handprints certainly made this a fun grill card for Dad. Such an adorable homemade handprint birthday card for a Dad who's the king of the grill!
Handprint grill card from alyssa.christinat.
Handprint birthday cards for mom
As a Mom, I love receveing any crafts from my little ones. Of course, handprint crafts are a favorite and a great addition to my memory box.
So for all the other Moms that are a sucker for keepsakes from their little ones, you've got to try one of these handprint birthday card ideas.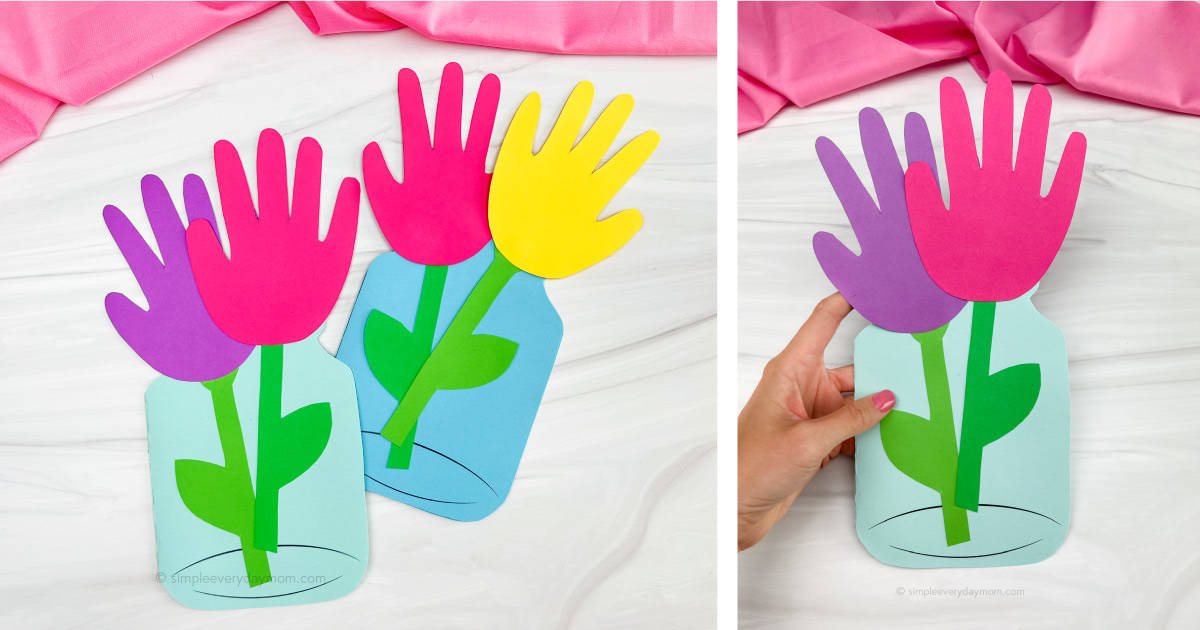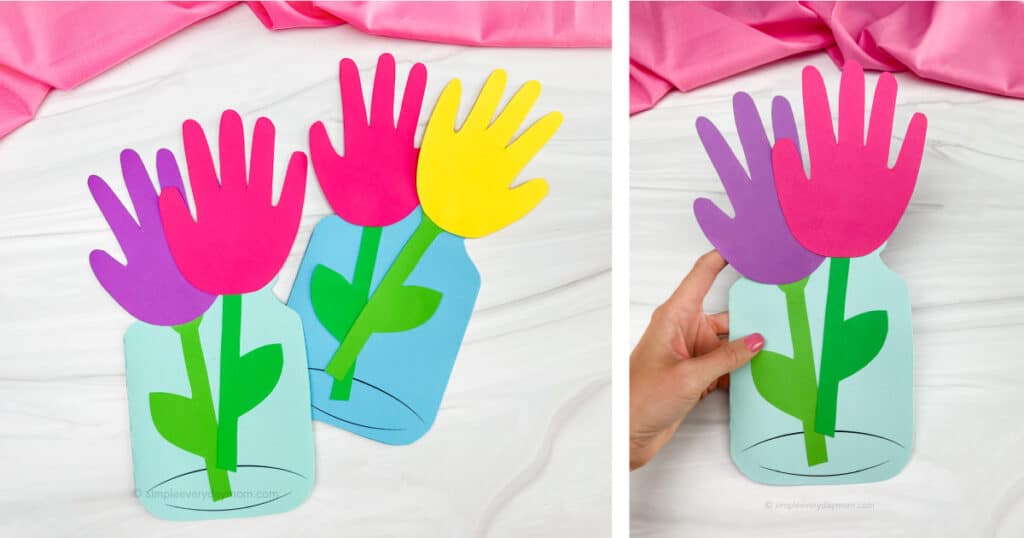 Flower Handprint Birthday Card [Free Template]
This homemade handprint birthday card is simply perfect for Mom. With the help of the template it's easy to make and you need is colored cardstock and scissors to get going. Mom can enjoy flowers on her birthday and all year round, no watering required.

Jump over to Simple Everyday Mom for instructions.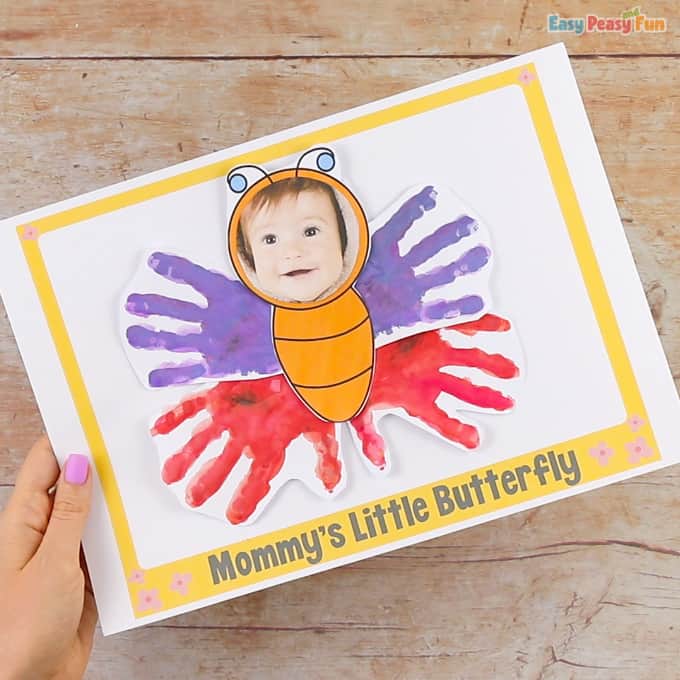 Handprint Butterfly Art for Mommy
This handprint birthday card idea will turn your cute toddler into an adorable butterfly. To add a little sparkle, your little artist can add sequins or glitters. Mom (or even Grandma) is going to love it. Stick the finished handprint art onto a blank card and, voila, a handprint birthday card for mom.
Head over to Easy Peasy and Fun for details.
Handprint Poem for Mom
If you're looking for a quick and easy handpring birthday card idea for Mom, then try this printable poem. A combination of hearts, handprints and a sweet poem. What more could Mom want?
Visit Messy Little Monster for instructions.
Of course, what else do hearts and poems mean? None other than Valentine's Day! For more love-themed inspiration check out these Valentines handprint art ideas. Or for an easy life, try one of these adorable (and free) Valentines handprint templates.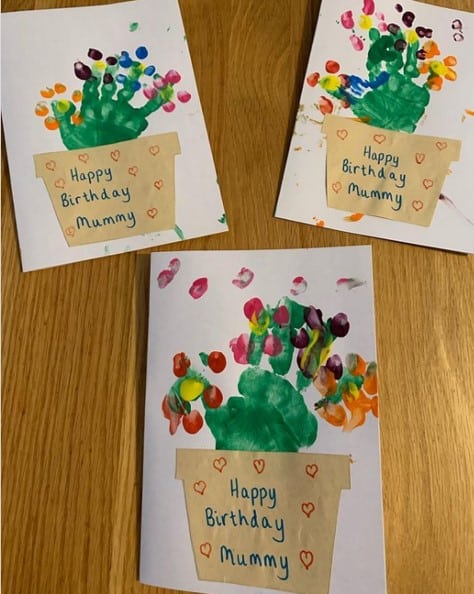 Handprint Flowerpot Birthday Card
Another handprint birthday card idea for Moms that love flowers. Here, their fingerprints are needed toot to make the petals. What a sweet handmade card for Mom.
Handprint flowerpot card from helpfulnanny.
Handprint birthday cards for Grandma
Give Grandma the sweetest birthday gift: a handprint art birthday card! Of course, lots of the handprint birthday card ideas for Mom will work well for Grandma. But these ones are just for Grandma, or Granny, as we call her in our family.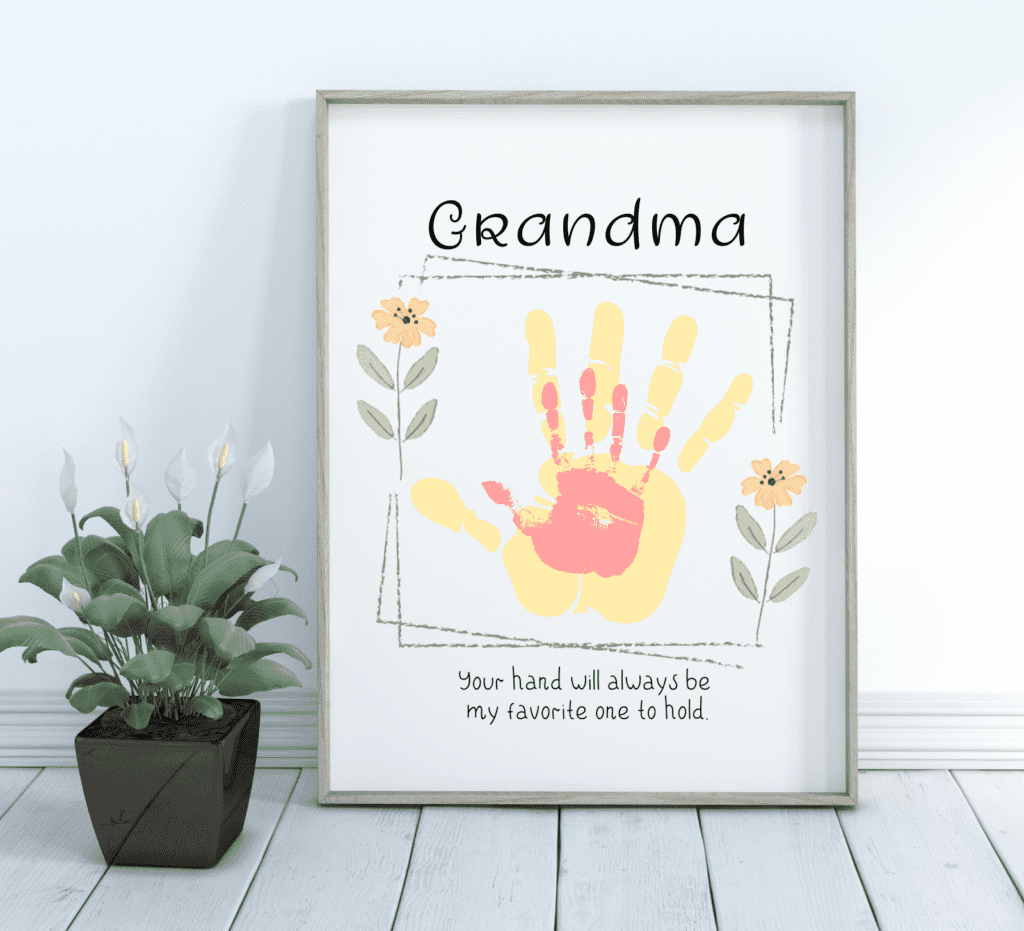 Grandma Hand-to-Hold Birthday Art
Tell Grandma how much she is appreciated and loved with this ready-to-print toddler handprint art. It'd make a gorgeous birthday card idea with handprints and is sure to melt her heart.
Jump over to A Hundred Affections for details.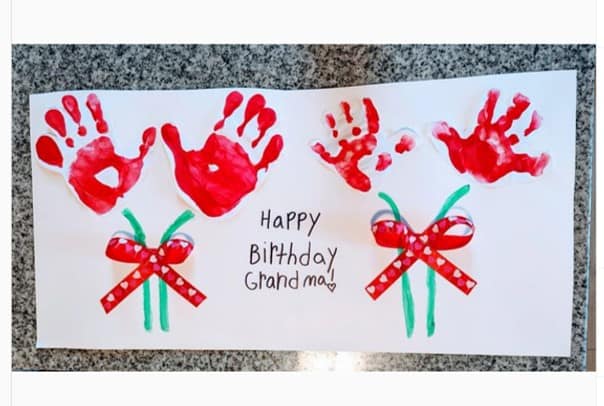 Handprint Flower Bouquet Birthday Card For Grandma
Here's another beautiful flower card for a special Grandma.
Simply cut around the best handprints and use them as flower heads. Stick them onto a blank card and instantly you've turned your little ones handprint art into a birthday card.
Any Granny will be so delighted to receive this homemade handprint birthday card from her grandchildren. Adorable and sweet, don't you think?
Handprint flower bouquet card from that_crunchy_mom.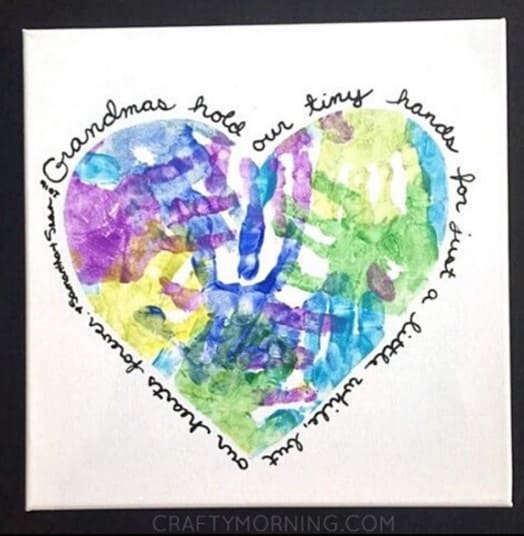 Handprint Art Birthday Card for Grandma
A lovely handprint art canvas that you can use instead of a card. It'd make the perfect gift for Grandma's birthday. One to do with all the grandchildren, perhaps.
I simply love the message in black marker around the handprint heart collage and I'm sure Grandma will too.
Handprint art card for grandma from crafty_morning.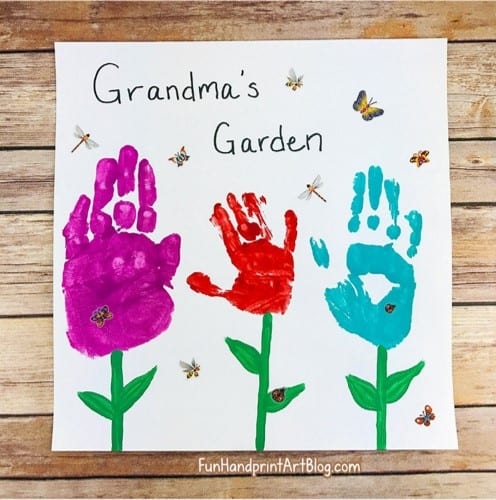 Grandma's Garden Handprint Art
Another cute handprint art idea that could easily be used for a birthday card for Grandma.
This could be a fun craft for siblings to make together. Or if that's going to be a cause for a tiff or two (as could well do in your house!) they can make their own.
Add stickers of their choice to complete the garden. I'm pretty sure we'll have some flying dinosaurs in ours! This garden handprint art would also make a lovely Easter craft for toddlers too.
Grandma's garden handprint art from artsymomma_amanda.
Handprint birthday cards for grandpa
Last, but by no means, least, some handprint birthday card ideas especially for Granddad, or Grandpa as we call him.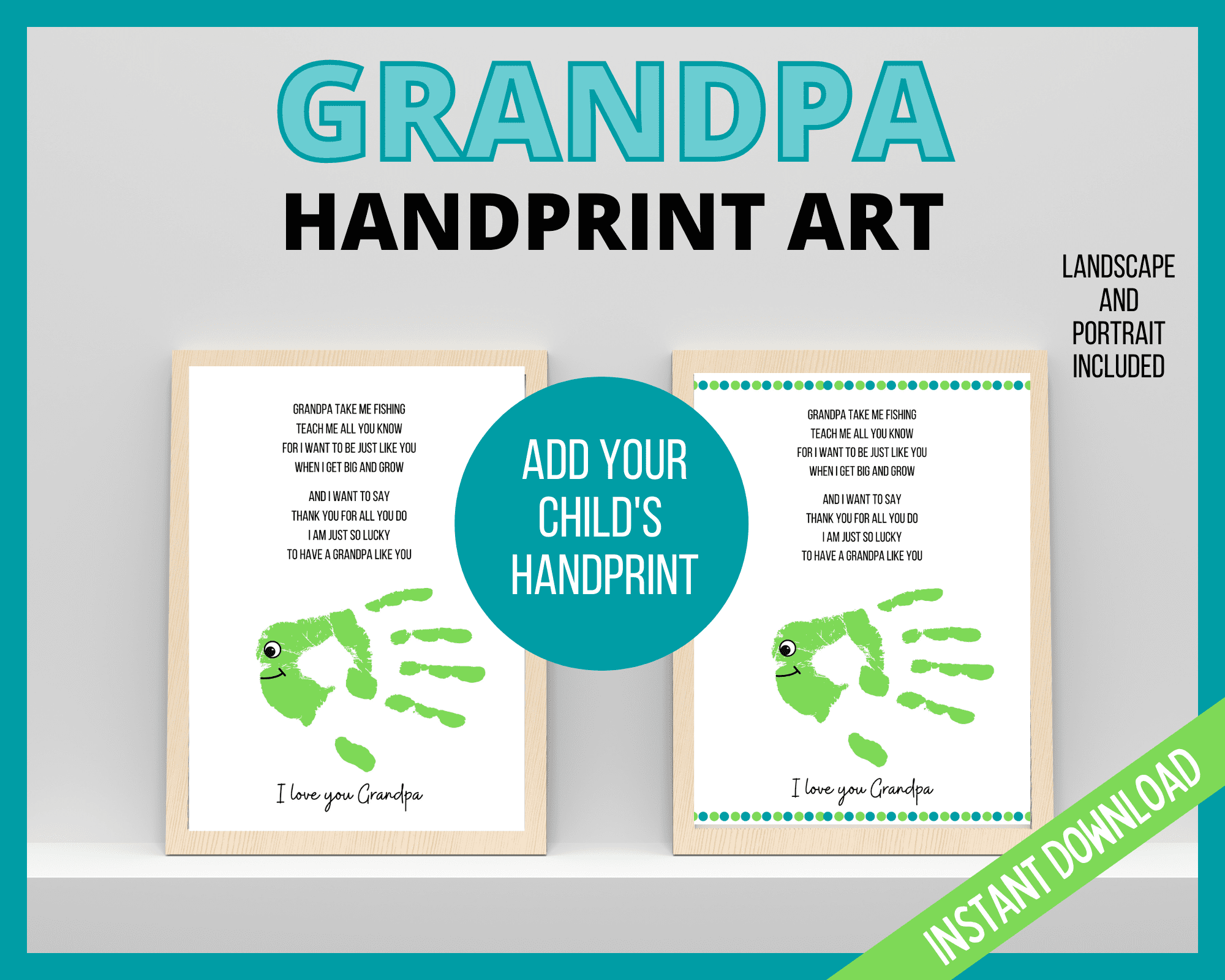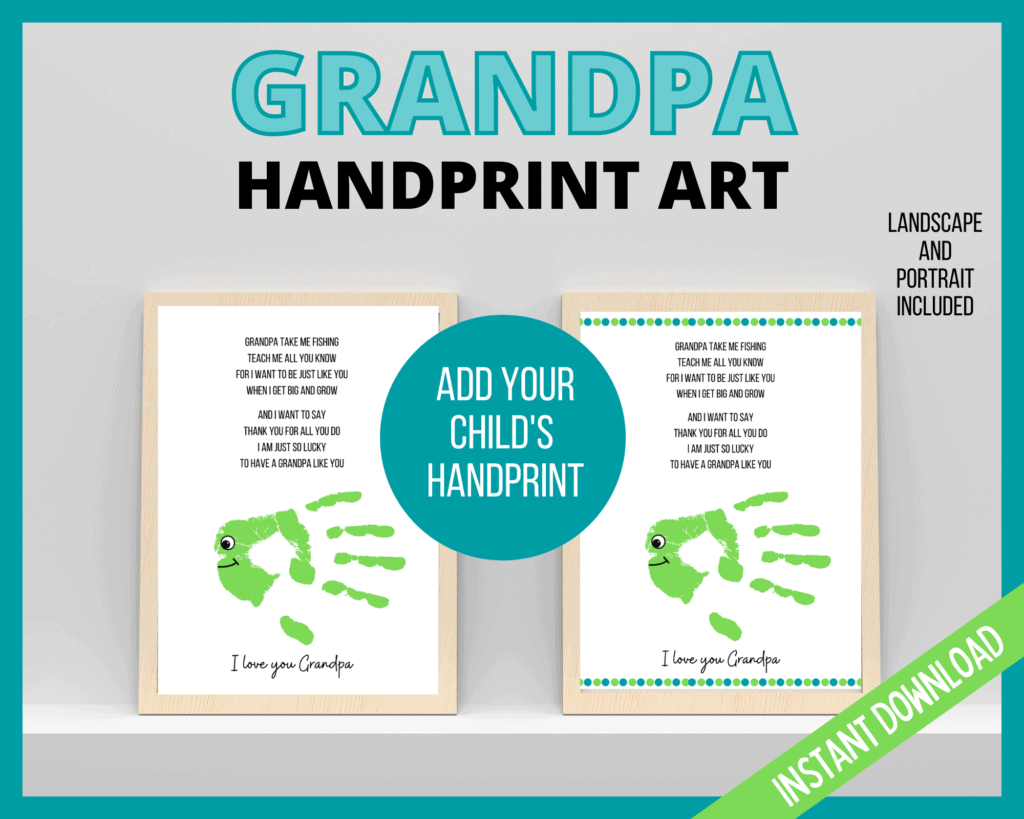 Grandpa Handprint Birthday Card Idea
Here's a cute printable handprint birthday card idea that's sure to make Grandpa very happy. Just add your little ones cute handprint below the poem, and you have a sweet gift and birthday card for Grandpa.

Head over to Little Halo J for more.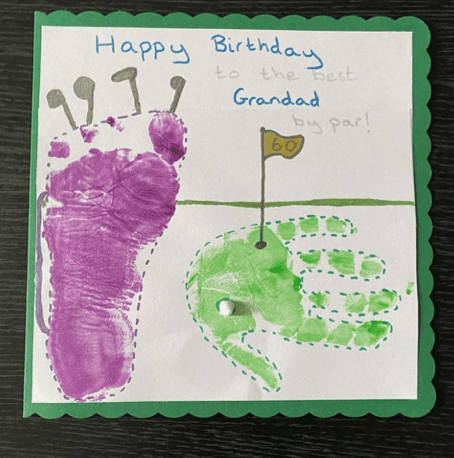 Handprint Footprint Golf Birthday Card for Grandpa
Grandpas who are die-hard golf enthusiasts will be delighted to receive this handprint footprint birthday card. You can even switch the greetings and give this card to Daddy if he's a lover of golf too.
Handprint & footprint golf card from starrydcrafts.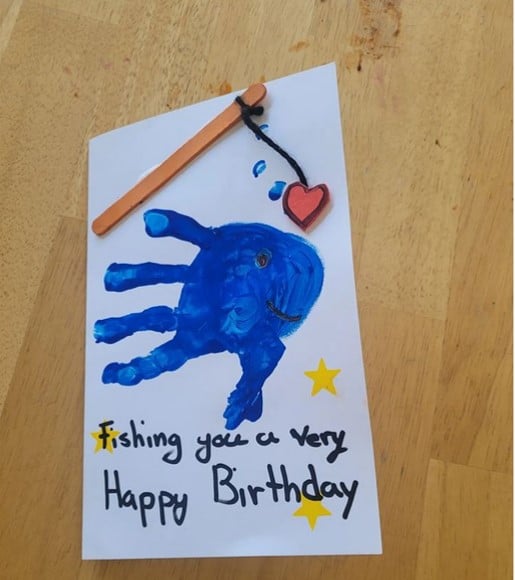 Fish Handprint Birthday Card for Grandpa
This would be the cutest homemade handprint birthday card for a Granddad who loves fishing. Simply add a cut out heart tied to a rod (craft or popsicle stick) pole to complete this fishy-themed handprint art birthday card.
Hooked on grand birthday card from bhappy.udeserveit.
More handprint birthday card ideas
Looking for more birthday card ideas with handprints? These ones could be used for Mom, Dad, Granny or Grandpa. Or what about for special friends or teachers?
Here are some handprint crafts that would make lovely birthday card ideas, sure to brighten up someone's special day.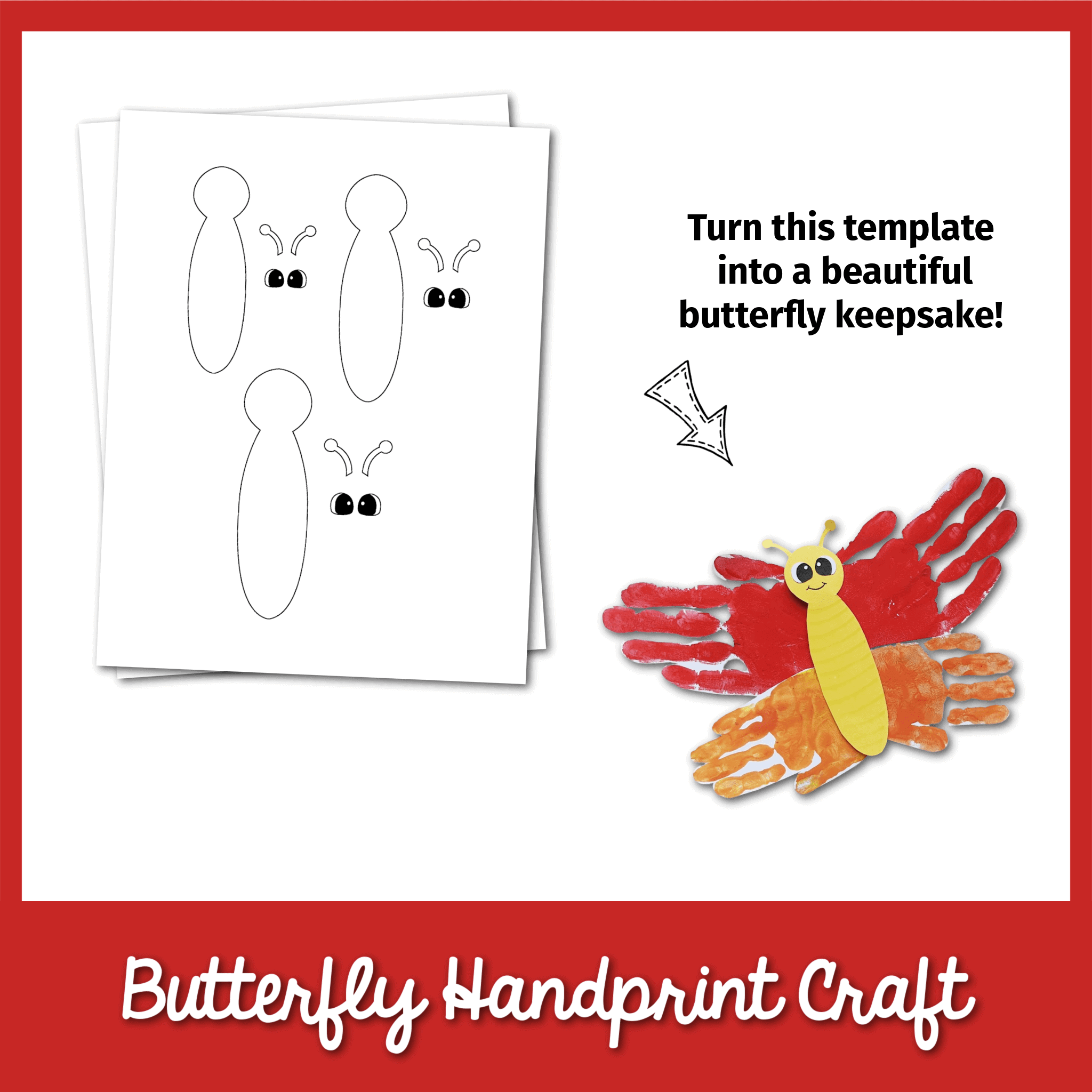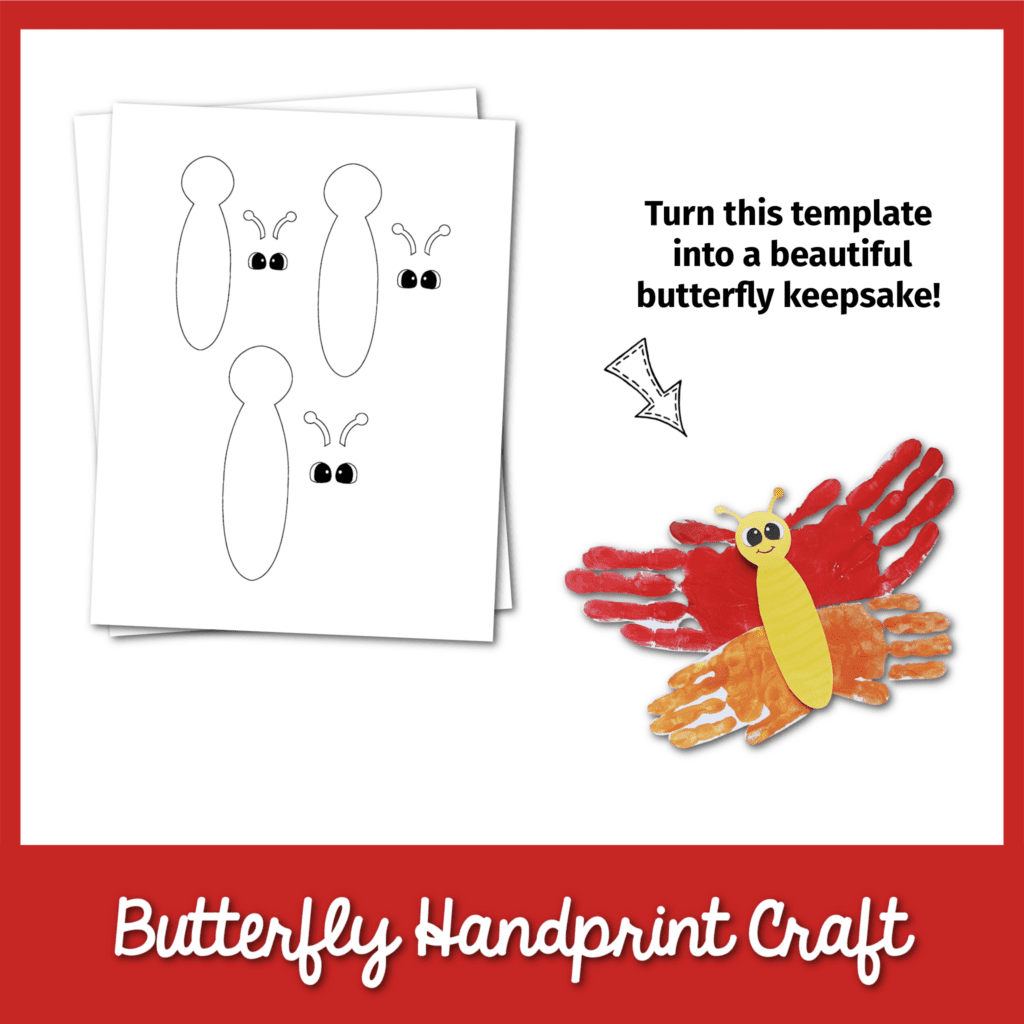 Butterfly Handprint Card Craft Idea
Here's a fun and easy craft to do with toddlers. Use the free printable to create a fluttering butterfly craft with their handprints. Then simply use the finished butterfly handprint art as a cute birthday card. Time to grab some paint and start printing.
Head over to Frosting and Glue for more.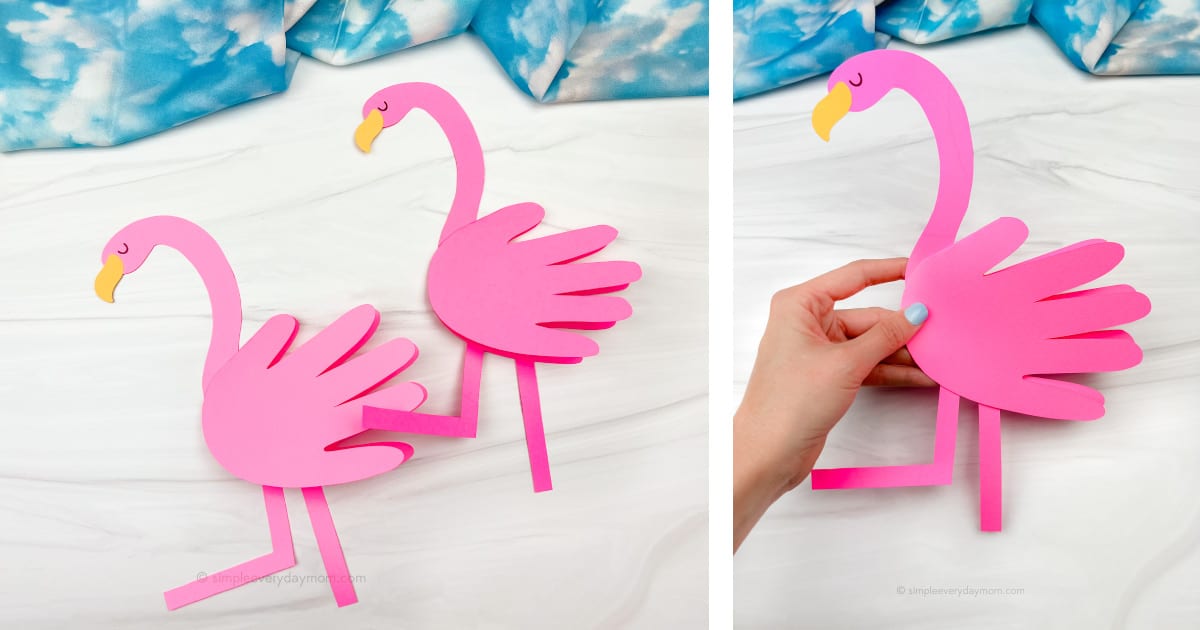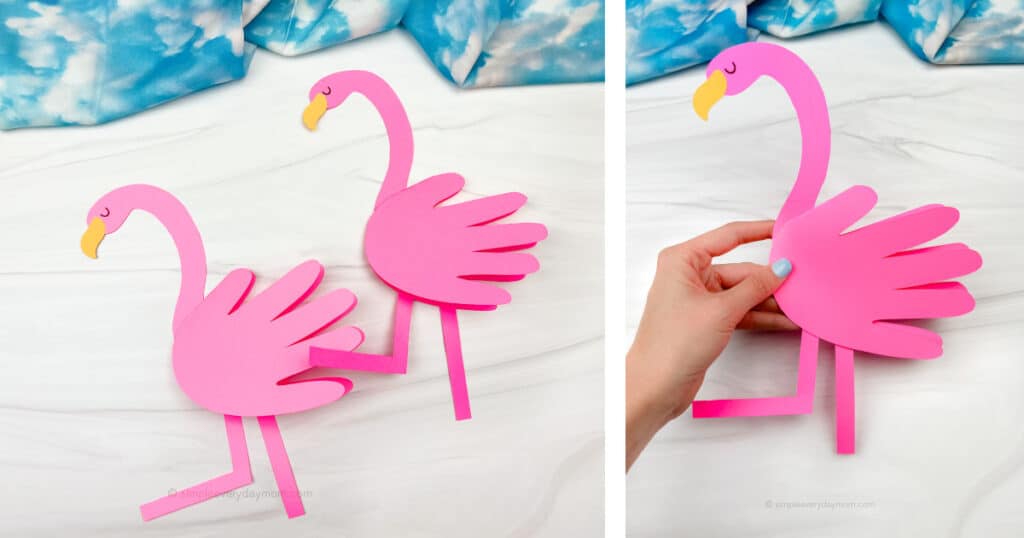 Flamingo Handprint Birthday Card for Kids (Free Template)
Flamingo, flamingle! A cute and super easy handprint birthday card idea for kids to make. I love how the flamingo's wings make the card opening. Write a little note inside for the birthday girl or boy. Or have the kids write inside if they're big enough.

Visit Simple Everyday mom for instructions.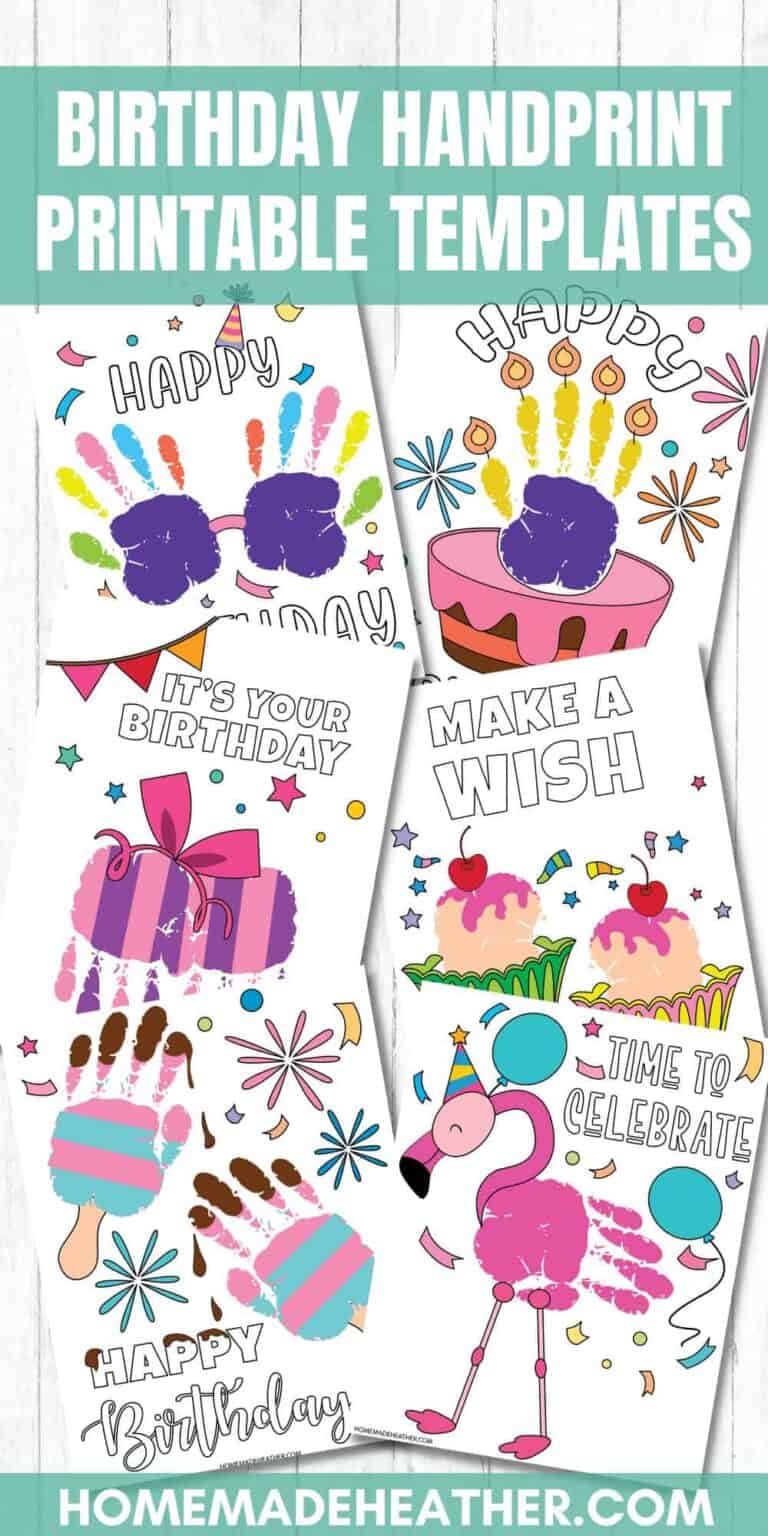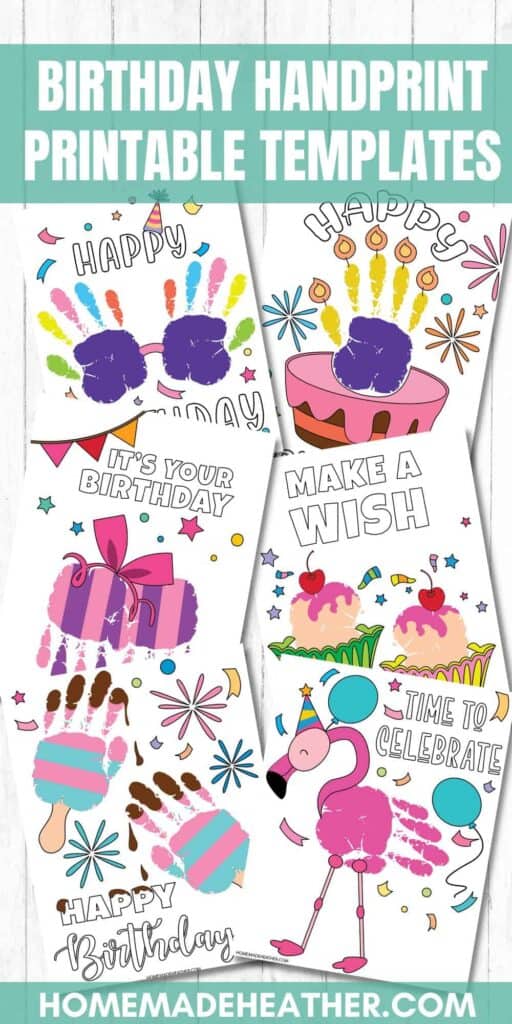 Birthday Handprint Art Printable Templates
Simply download, print and start crafting using these free printable toddler handprint birthday card templates. There are so many designs to choose from, or do them all and have a stash of homemade handprint birthday cards ready and waiting.
Head over to Homemade Heather for more.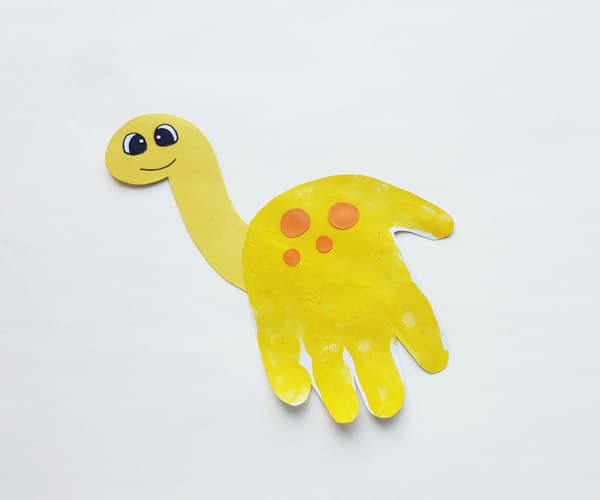 Dinosaur Handprint Birthday Card Idea
Are your kids obsessed with dinosaurs? Turn this fun dinosaur handprint craft into an adorable roar-some birthday card.
Head over to Frosting and Glue for more.
I'd also check out these fun dinosaur crafts and activities if you have a dino-mad preschooler on your hands.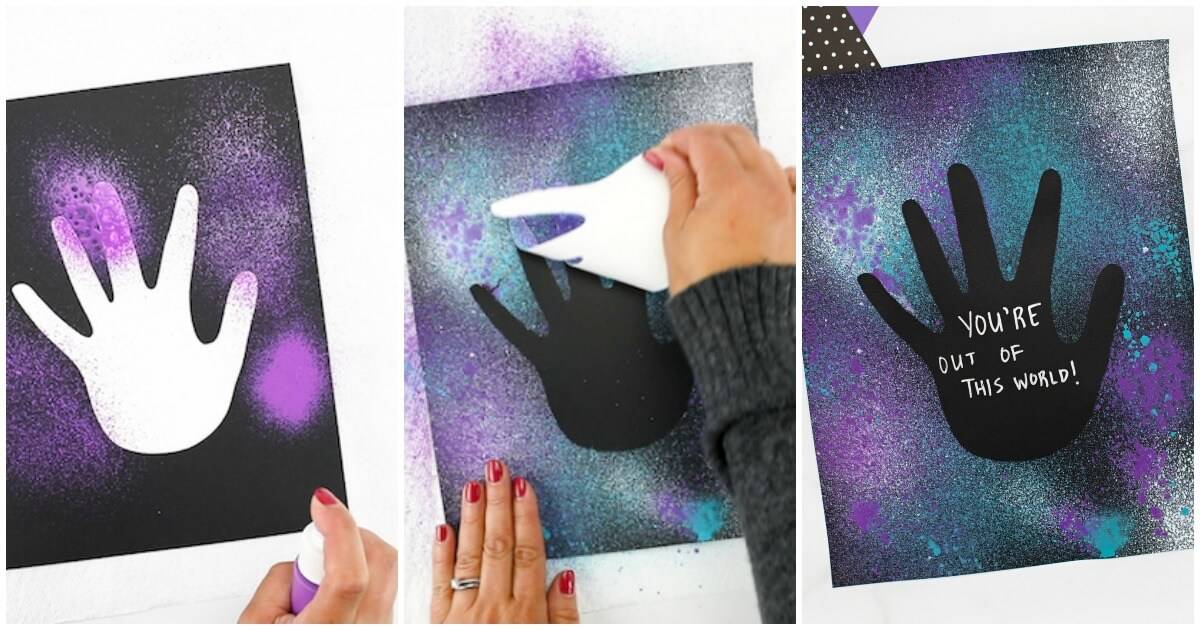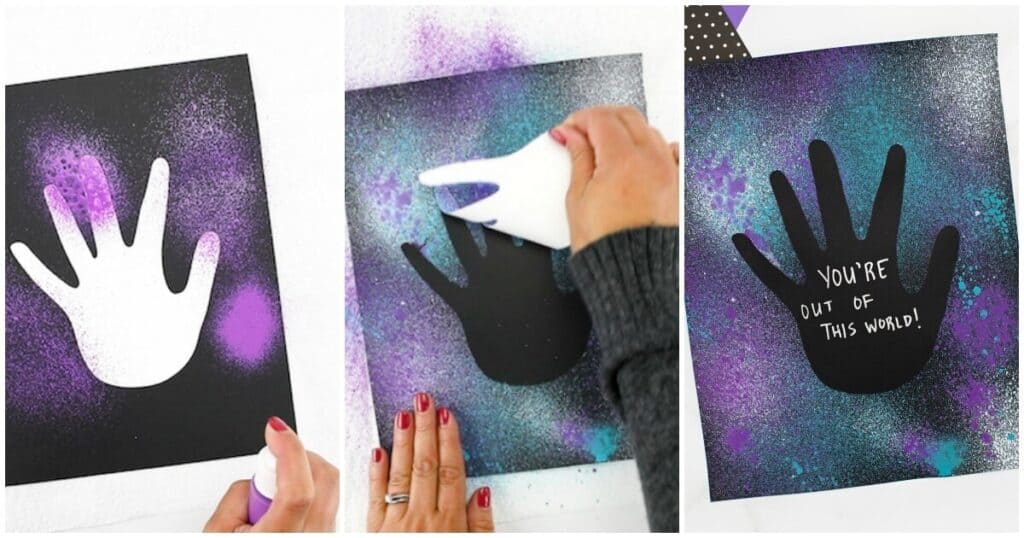 Handprint Spray Bottle Art
Here's a cute space-themed card new and a unique way to make a prints from your child's hands. It's a fun craft that can easily be turned into a homemade handprint birthday card. I can't wait to try this handprint art with my kids!
Head over to The Soccer Mom Blog for instructions.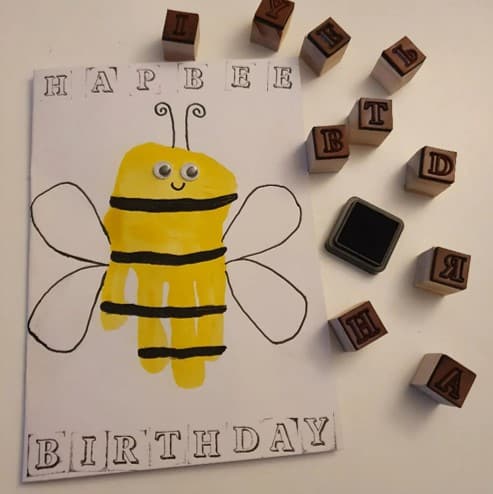 HapBee Birthday Card Idea for Toddlers
Hap…Bee Birthday! Get it? Grab some white cardstock paper, paint, sharpies and googly eyes and get busy, busy, busy making this adorable handprint birthday card.
Bee birthday card idea from josiejane18.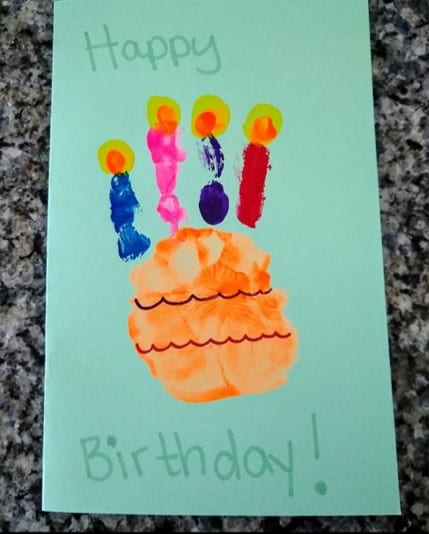 Handprint Birthday Cake Card
Turn those cute little hands into a scrumptious birthday cake, perfect for the front of a birthday card. Make each finger a candle by using different colors. If it's a birthday card for a girl, why not add some sequins and glitter for a bit of birthday glamour.
Handprint birthday cake birthday card from completelycustomizedbyjenna.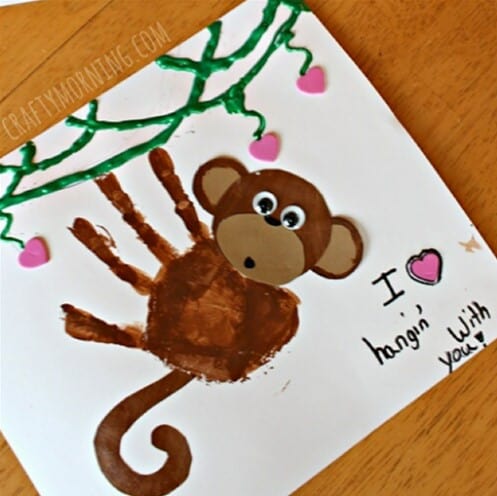 Monkey Handprint Birthday Card
I just love this monkey handprint birthday card idea – isn't it adorable? It'll be fun to make with young kids. They'll be so excited to give this out to people they love to 'hang out' with…
Monkey handprint birthday card from crafty_morning.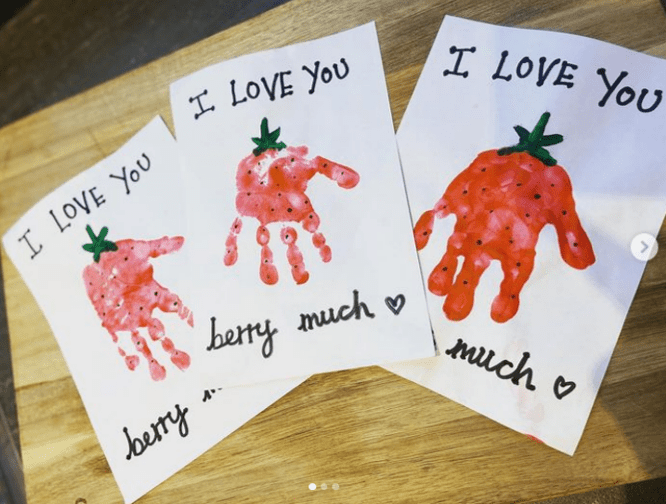 Handprint Strawberry Birthday Cards
Turn those little hands into a cute strawberry handprint art birthday card. What a "berry" sweet way to show someone you love them on their special day.
Strawberry handprint card from littlearrowschildmindin.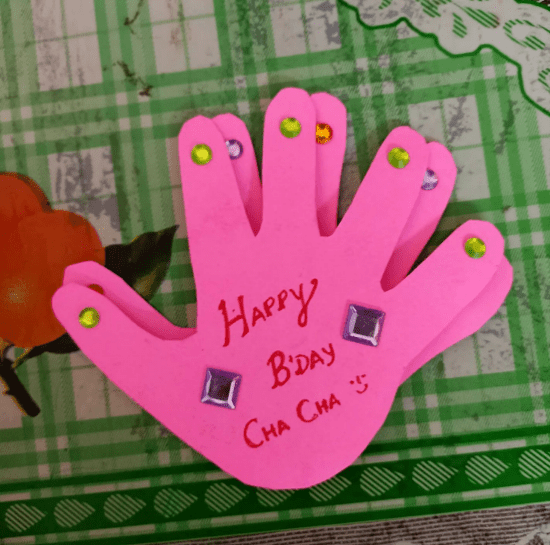 Simple Bejeweled Handprint Card
A simple homemade handprint birthday card using colored cardstock and a few sparkly jewels . Write a lovely message inside or on the front and that's all there is to it.
Simple handprint card from noorjahan_firoz.
Footprint birthday card ideas
There are so many fun handprint birthday card ideas, but let's not forget the feet too. Feet have such a different shape but are just as versatile when it comes to creating and crafting from their prints.
So here's a collection of cute footprint birthday card ideas.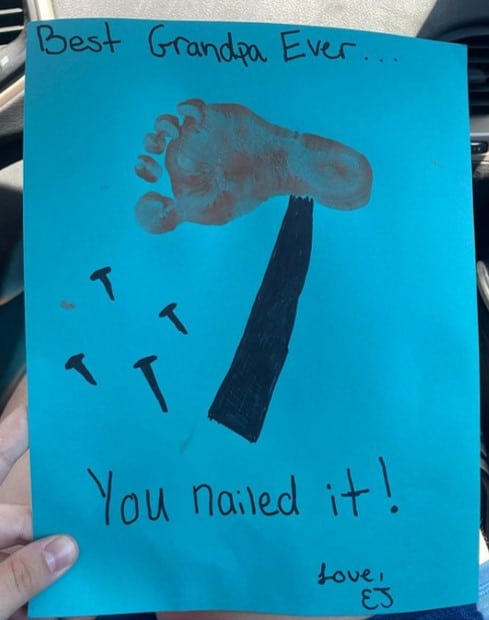 Hammer Footprint Birthday Card
If Grandpa is creative and likes to work with wood, then he'll surely love this personalized footprint birthday card. It's a fun and sweet way to tell him that he's a great craftsman and nailing it as a Grandfather too!
Of course, this footprint art would work equally well for the DIY Dad too.
Hammer footprint birthday card from miss_megs_crafts.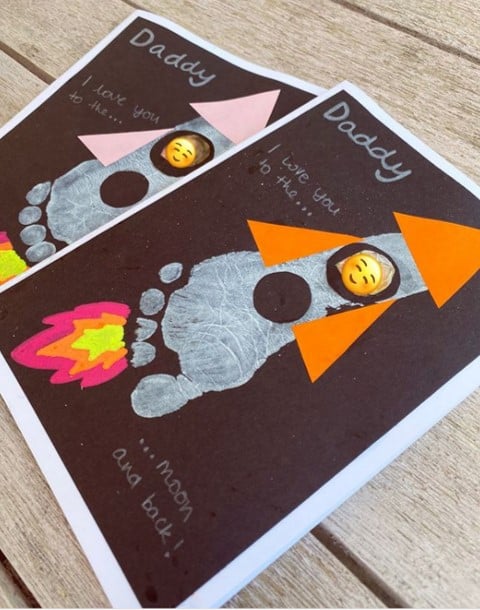 Footprint Rocket Card for Dad's Birthday
A cute rocket-themed footprint birthday card for Dad that will surely make him feel out-of-this-world amazing. To your toddler's footrpint simply add trangle cut-outs and draw or paint on blast off flames. Cute and simple!
Footprint rocket card of dad's birthday from nannychloandco_.
If you're little one is all about rockets, cars, ships and trains, check out these transportation crafts for toddlers and preschoolers.
Lion Footprint Birthday Card
Whoever receives this card is sure to have a grrrrreat birthday if they're given this adorable lion footprint birthday card. I love the cute pompoms tails!
Lion footprint birthday card from mummy_and_nanny_life.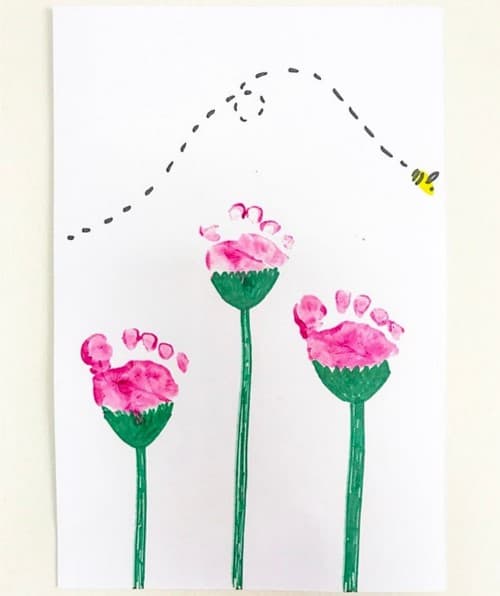 Footprint Blossoms Art
Footprint tips are turned into pretty flower blosoms. How clever! Fun footprint art that can easily be turned into a birthday card and enjoyed by everyone. Such a cute homemade footprint birthday card and my favorite so far.
Footprint blossoms card craft from hhayleyymariee.
Looking for more homemade card ideas?
A favorite Christmas tradition in our house is homemade Christmas cards. Why not try this snowman card or paint chip Christmas tree card this festive season.
For more unique and festive crafts, bookmark these toddler Christmas crafts and Christmas tree ornament crafts – both include plenty of handprint art ideas.

FAQS on handprint birthday crafts
How easy is it to get a baby handprint?
That depends a little bit on your baby. It can be relatively straightforward but you may have the odd occasion when getting a good baby handprint is almost impossible!
My tip would be to only attempt handprint art when your baby is happy, such as after a nap and a good feed or snack.
How do you make a good baby handprint with paint?
The best way to get a good handprint is to paint your baby's hand, then place it onto the paper. This is easier than trying to dip their hand into paint. Try to get the paint evenly distributed.
Gently squeeze your baby's knuckles and then press firmly down to separate their fingers.
What's the safest paint for children?
The safest paints for children are those which are non-toxic. There are also plenty of plant-based paint options that are made from natural ingredients and are safe to eat. These paints would be the safeset for children intent on putting everything in their mouth, such as young toddlers and babies!
Which paint is non-toxic to babies?
There are several non-toxic paint options on the market. You can chose from pre-mixed washable tempera paint, powder tempera, edible eco paints.
You can also buy non-toxic acrylic paint, but the advice is to patch test first. This would be necessary for any handprint art, such as listed in these birthday card ideas.
Which handprint birthday card idea will you pick?
If you're feeling crafty and want a personalised birthday card using your kids handprints, you should have plenty of ideas to get started. Most are easy to do and only need a few materials.
Feeling pushed for time, just one of the handprint birthday card ideas with a free template. Simply, print, paint and print!
Whatever you chose, you're sure to finish up with a homemade handprint birthday card that will be forever cherished by the receiver.
Happy handprinting and card making!
____________________
Looking for more craft and toddler activity inspiration? Check out these popular posts: