Inside: 75 Halloween arts, crafts & actitivities for toddlers, preschoolers and bigger kids too!
My toddlers really haven't caught onto the whole Halloween thing. It's not big here in Botswana (Southern Africa, in case you're wondering…)
Actually, that's rather an understatement. Not many people even know what Halloween is!
For this reason, Halloween crafts and activities for my toddlers are essential otherwise they're never going to get it. And that would be so sad, right?!
There are so many cute, or should I say spooky, Halloween crafts to try out there, it's going to be a case of picking and choosing.
On this list you'll find pumpkin and Jack-o-lantern crafts, ghost crafts, spider and spiderweb crafts, witch crafts, black cat crafts, monster crafts… Oh and let's not forget Frankenstein and some good old Mummy crafts..!
Of course, crafting with toddlers can be quite a challenge. It's definitely not an everyday activity.
Twice a week tops is probably our limit…
So I'm going to sprinkle in a few Halloween-themed activities and games too…
Yup, we're really going Halloween crazy this year! Whether my kids love it now or not, I'm going to do my best to make sure they're going to!
(If they don't love it I think they're going to be hard-pressed to not at least remember the craziness…)
This post contains affiliate links. If you click on one and make a purchase, we may receive a commission at no extra cost to you.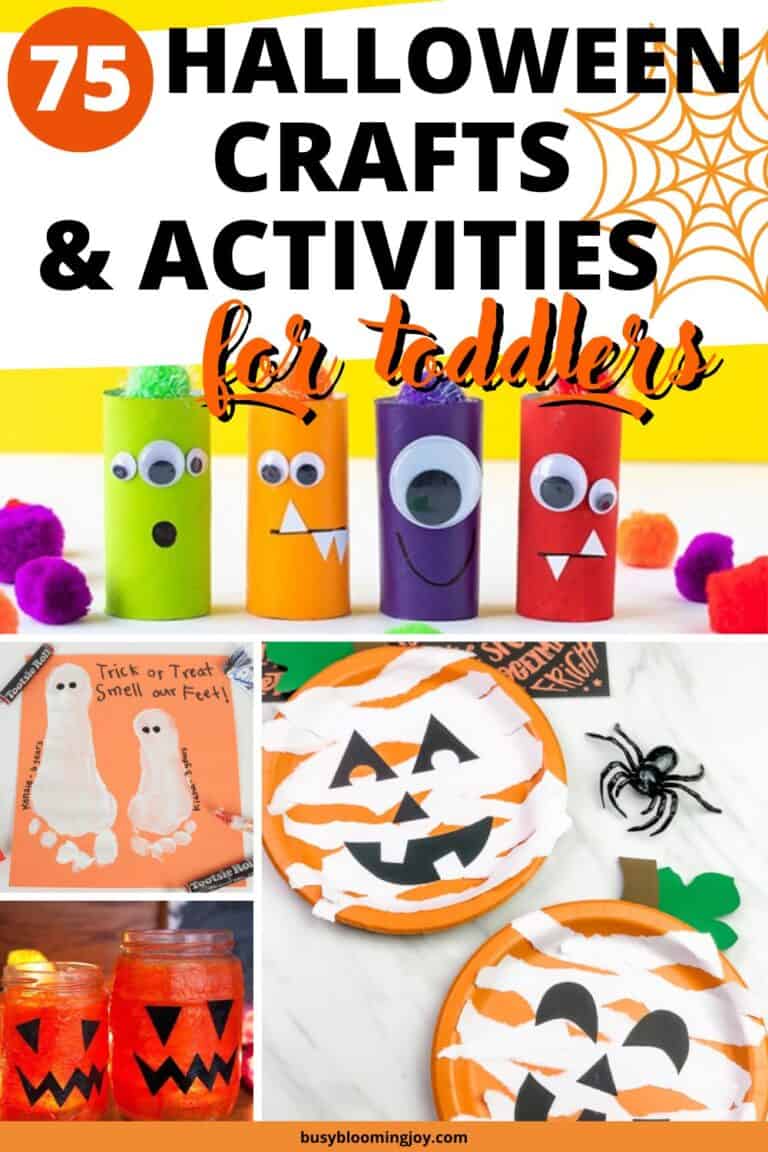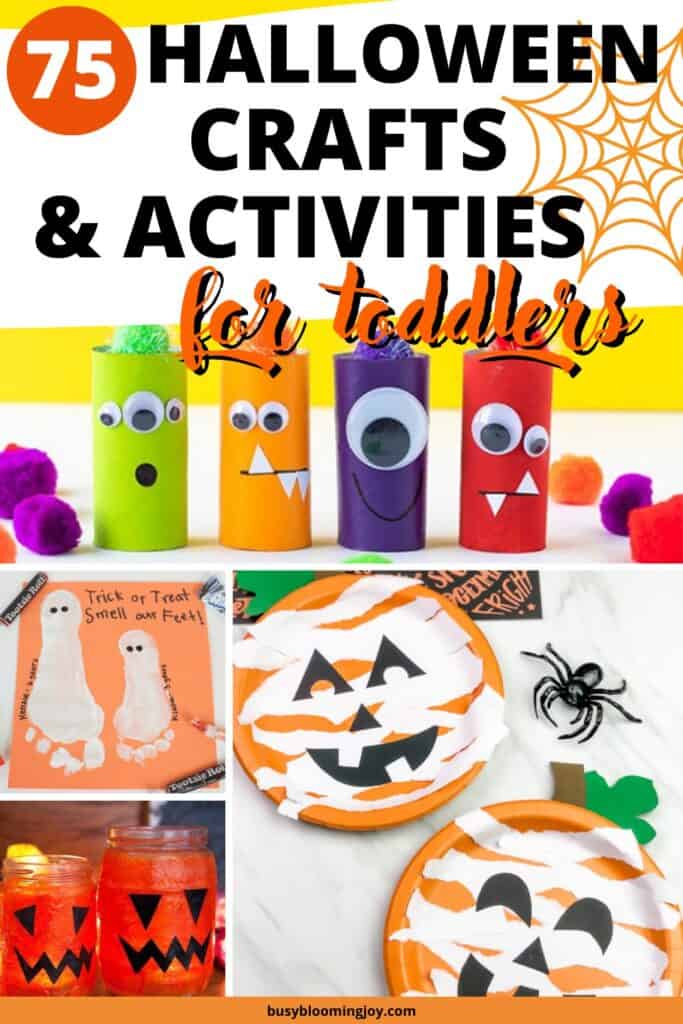 Tips for doing toddler Halloween crafts and activities
These apply for any craft, not only for Halloween.
1 – Pick activities based on how much time (and sanity) you have…
I often find I have limited time and often, if I'm honest, my sanity is also in short supply (is that just me?)
DON'T OVER COMPLICATE IF THIS IS THE CASE!
For this reason, I've arranged these Halloween activities for toddlers based on just how much prep I think is needed, how much you need to get involved and split games and activities out from crafts…
2 – Remember it's about the process of creation for your child, rather than the end result
I have to remind myself of this often!
It's in exploration with new materials and different textures, that's the learning comes. If the craft looks anything like it's meant to, that's a bonus, not a given!
3 – Make the craft yourself too to help your toddler visualize what it is they're trying to make
Hugely helpful for little ones when they have no clue what you're talking about. (Other than spiders, black cats and monsters, all those other Haloweeney things were completely new to my two!)
This also stops me from helping my toddlers too much with their craft (you know, so it looks just a little bit like it's meant to)
EASY quick-to-prep Halloween crafts for toddlers
If you're short on time or patience, look no further than this first section of Halloween crafts for toddlers!
We're talking crafts that take 5 minutes or less to prep. So you can see that most of the ones I've tried this Halloween, fall into this section.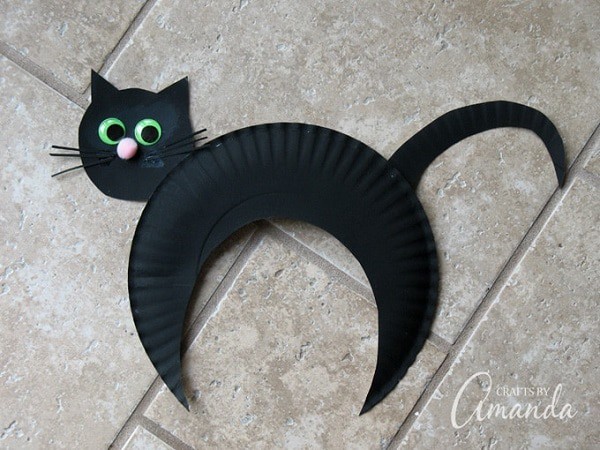 My kids love 'catties' – we have one called Ginger (no prizes for guessing his color…) so they're going to love doing a black kitty craft. So simple and effective!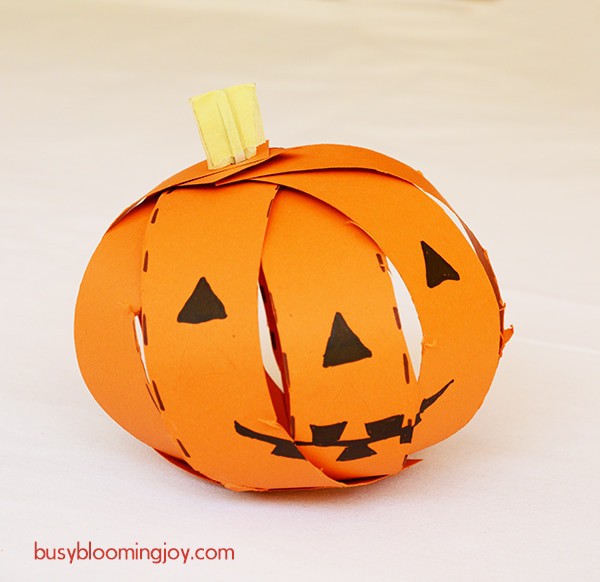 This simple toddler Halloween craft was a total hit with my two! It's a good test of fine motor, with cutting to start and then threading the card strips onto paper fasteners.
So easy to set up and, other than drawing the eyes and mouth on and holding the card while they cut, my toddlers managed this on their own. Even with jaggedy cut marks, the jack-o-lanterns came out really well as you can see.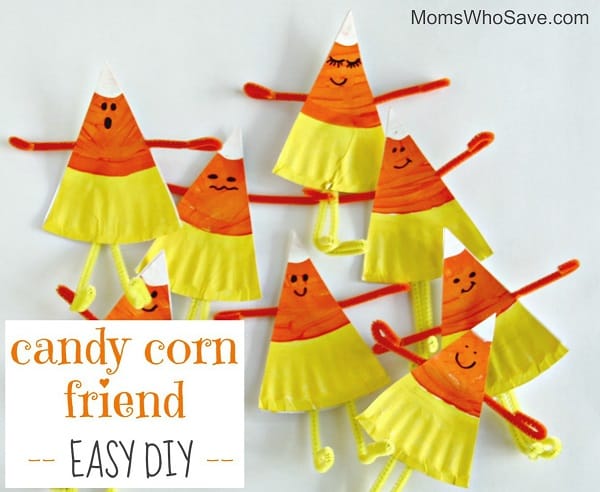 Another easy paper plate painting activity and a cute Halloween crafts for toddlers. Little ones are sure to love playing with their new candy corn friends once done too.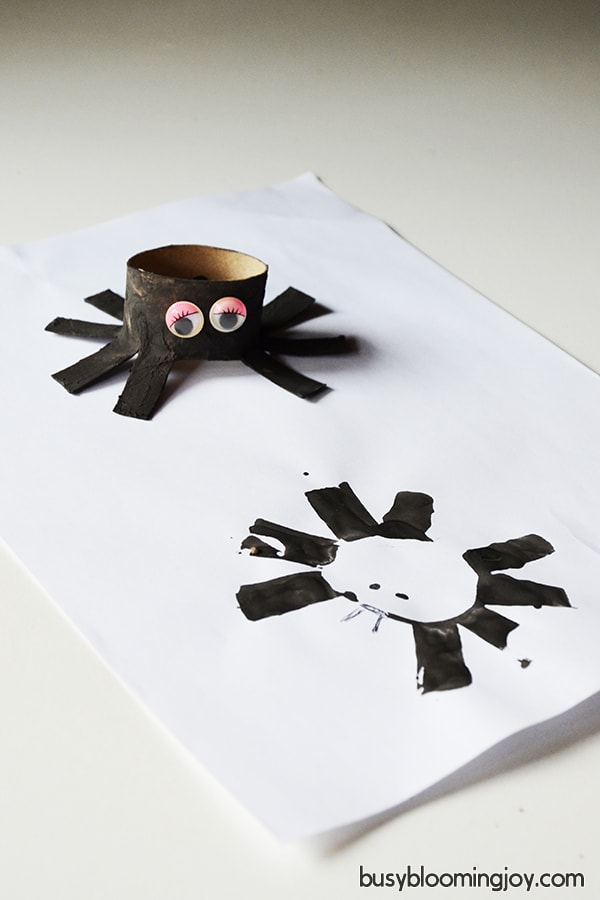 4. Cardboard tube spiders and spider printing from Busy Blooming Joy
Black paint, toilet rolls and googly eyes are all you need for this easy, if a tad messy, craft!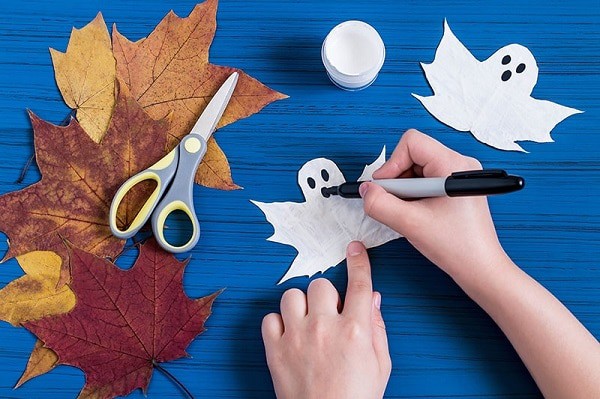 Sadly no Maple leaves here, otherwise these would definitely be on the to-do list this Halloween.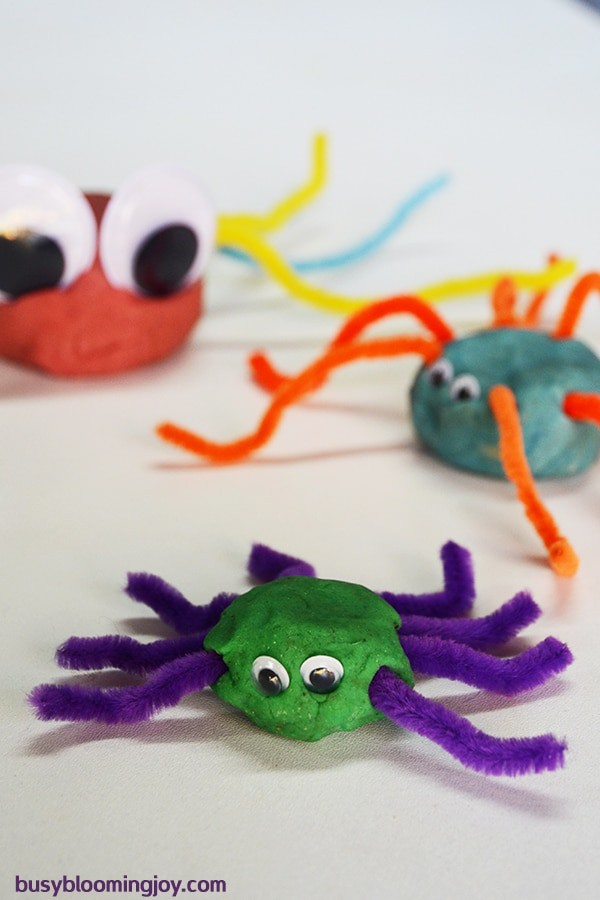 My two loved, loved, loved making these. Easy enough for my 2-year-old to do alone even if they did end up looking more like monsters (but that also works for Halloween!)
A simple sensory and creative Halloween craft for toddlers.
Easy enough for the littlest of toddlers to get involved in, this toddler-friendly craft is a must this Halloween.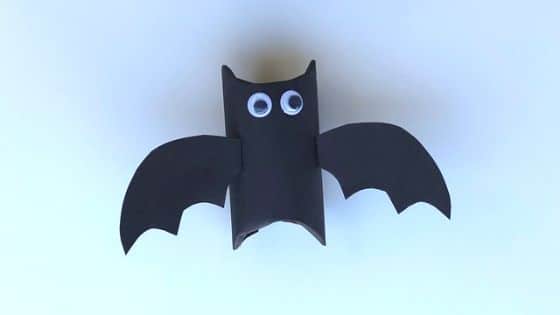 Here's a fun toilet paper roll craft for Halloween I think my toddlers will love. They've only seen bats once and were just fascinated by the fact that they were hanging upside down! So this Hallowen craft will be a fun one to talk about while we're crafting.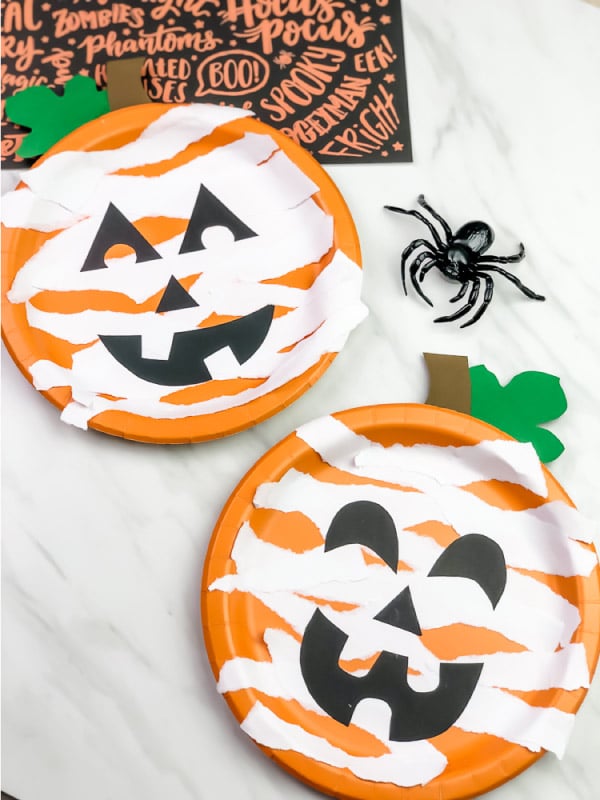 A twist on the normal pumpkin face, perfect for toddlers because they can stick on the strips of white paper any which way.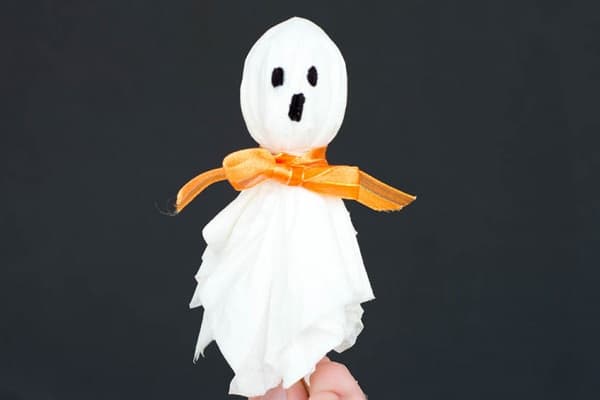 Here's a simple Halloween craft and treat for toddlers – a lollypop ghost. Spookify a lollipop with tissue paper, ribbon and black marker pen. Cute, fun, dead simple and tasty too.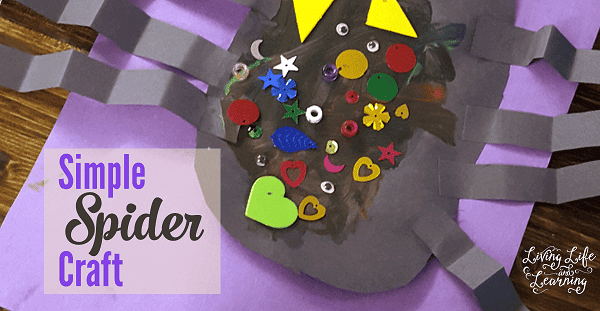 Here's a simple Halloween spider craft for toddlers. Even if they're not a fan of these creepy crawlies in real life, they're sure to love this friendly guy.
A fun craft and activity that'll allow littles one to get creative with black construction paper, googly eyes and sparkly sequins and stick ons.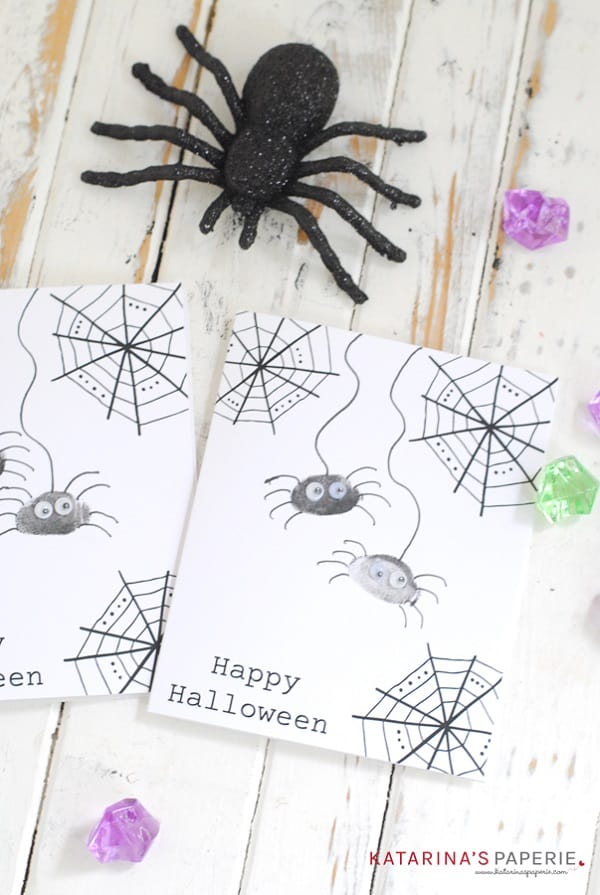 Do you want to make something spookily cute with your toddlers? Give this thumbprint Halloween art for toddlers a try. Add some googly eyes, and these spiders are sure give someone a scare!
Click the link for the free printable.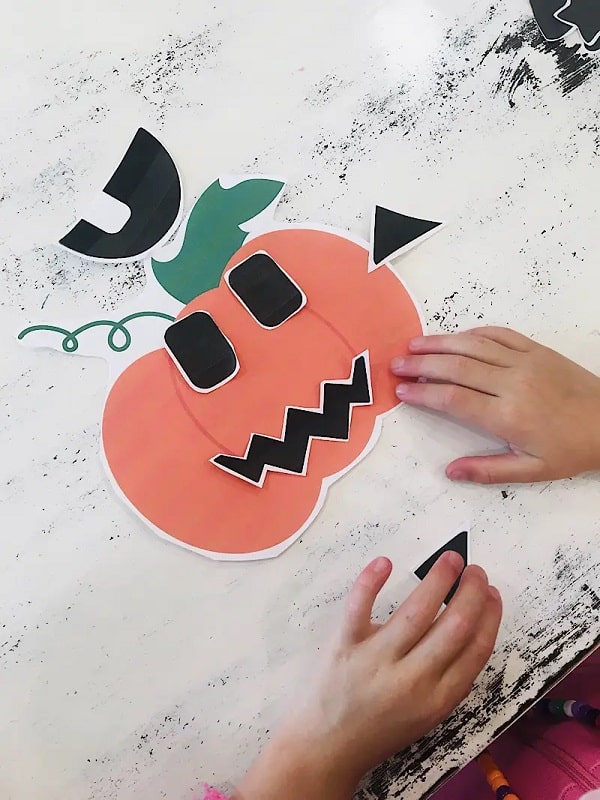 Running out of time and looking for an easy toddler Halloween craft? Don't worry! This Jack O'Lantern cut and glue activity will save the day.
Print out the free pumpkin template and your kids can experiment with creating different facial expressions. Such a fun craft and activity that's sure to get a giggle.
This Halloween paper ghost craft is simpe enough for toddlers to help construct, after you've cut the ghost shape out of the white paper. Preschoolers and older kids confident with scissors could do that bit too.
This would also be a fun activity for Halloween parties and get togethers – simply have your materials, including your ghost cut outs, prepped and ready before everyone arrives.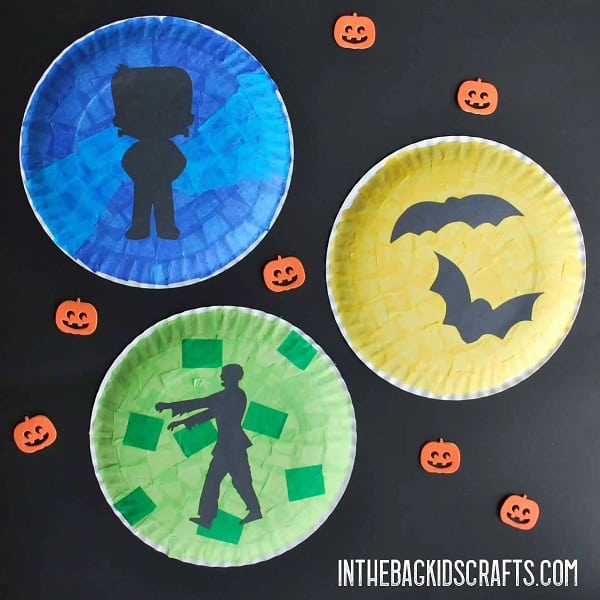 Here's a super quick and easy Halloween craft for toddlers, thanks to the free printable silhouettes.
It does require a bit of prep as you'll have to cut out the silhouettes. But the rest is all up to your little one. A simple exercise in painting and then sticking. Good to strengthen fine motor skills and fun too.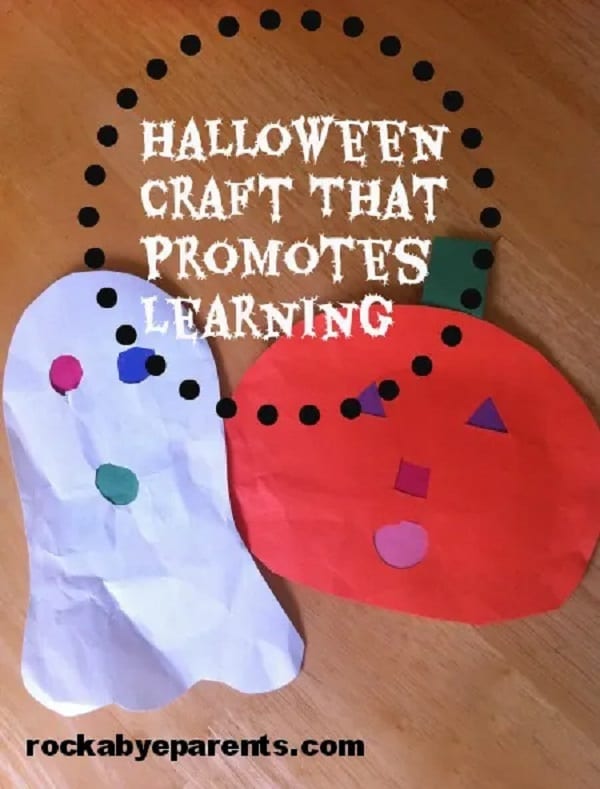 Here's a Halloween toddler craft that's simple and fun, while also teaching young kids about different shapes. More cutting and sticking too.
Halloween crafts for toddlers that need a tad more effort
There's a bit more prep involved in these toddler Halloween crafts and you might need to help your little one too. But I think these ones are totally worth the extra effort.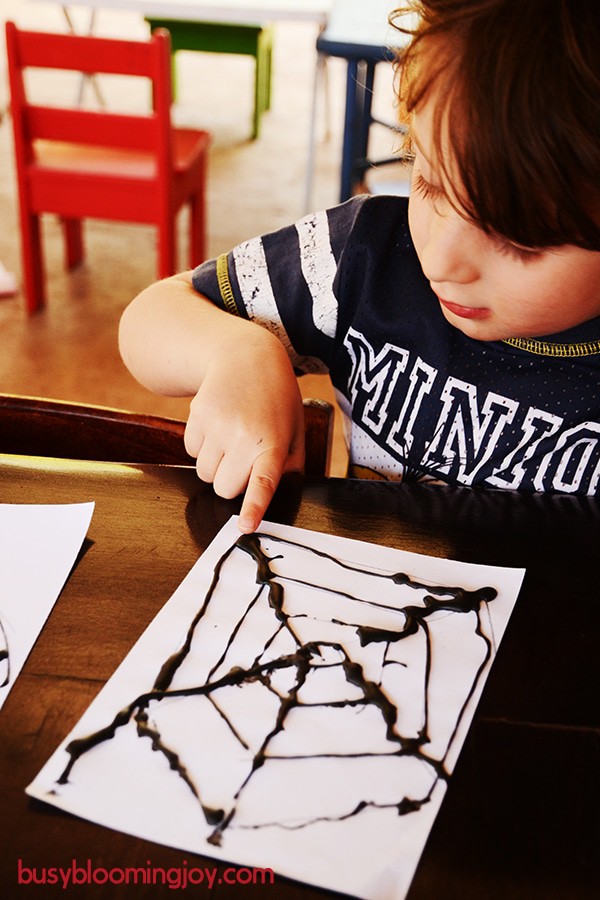 The only prep is making the puffy paint, but if you buy it instead this would belong in the easy Halloween craft section above.
Either way, these spider webs are a real test of fine motor skills so better for preschoolers. My 4-year-old had a good crack – but even so I had to lend a hand. But the stunning 3d effect of the puffy paint is well worth it – it's just so tactile.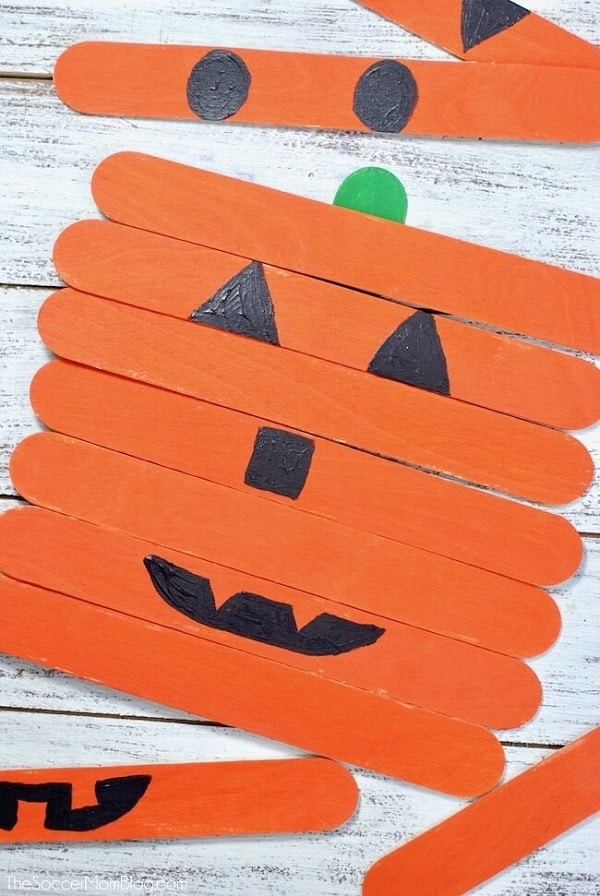 Part toddler Halloween craft and part activity – the idea is your kids can move the craft sticks around and make different faces. My 4 year old loves to build, construct, deconstruct…. this is sure to keep him busy.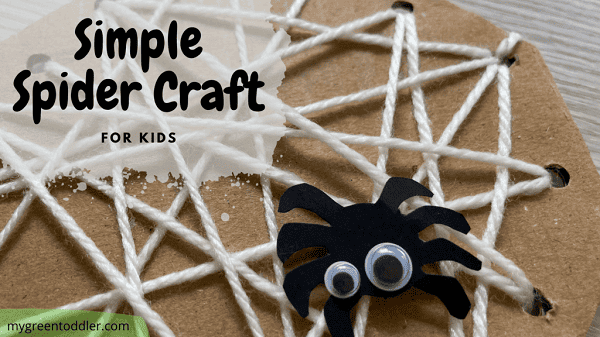 Here's a fun Halloween toddler craft for toddlers that'll help build coordination skills and finger dexterity. All while enjoying creating their very own web for their new pet spider – how cute is he?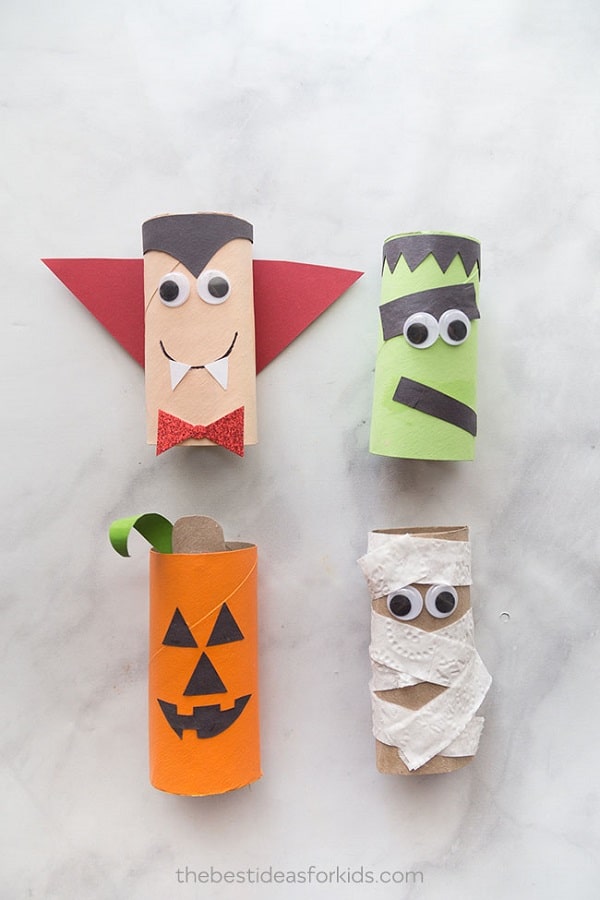 Cute and simple to get into the festive Halloween spirit (excuse the pun…)
Probably best to make these over the course of a few days with your toddlers – I think doing all 4 in one sitting will be too much for my two! (Or maybe too much for me..)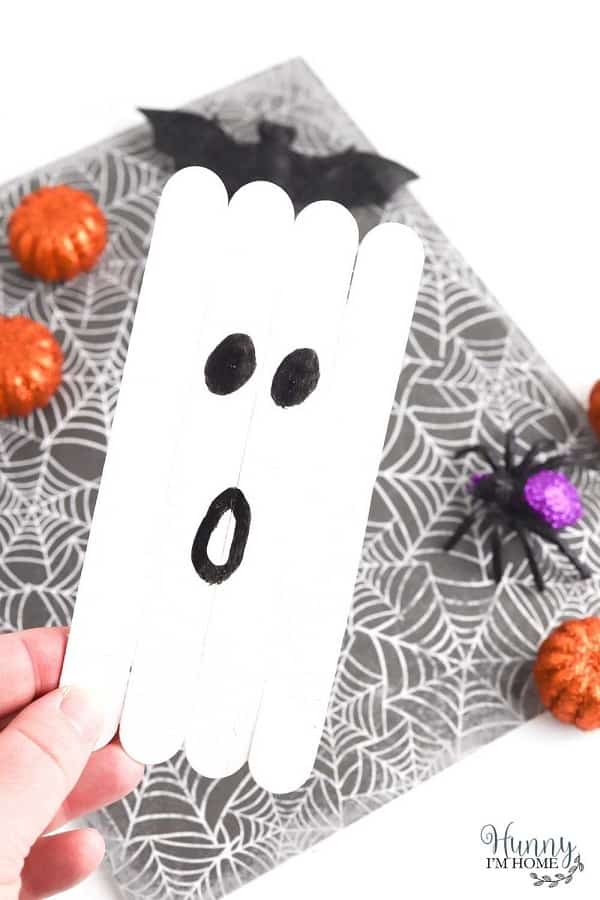 Take out those popsicle sticks once more with this toddler Halloween craft. It's time to make a spooky ghost! Your toddler will have fun drawing on the face and can experiment with scary and friendly expressions.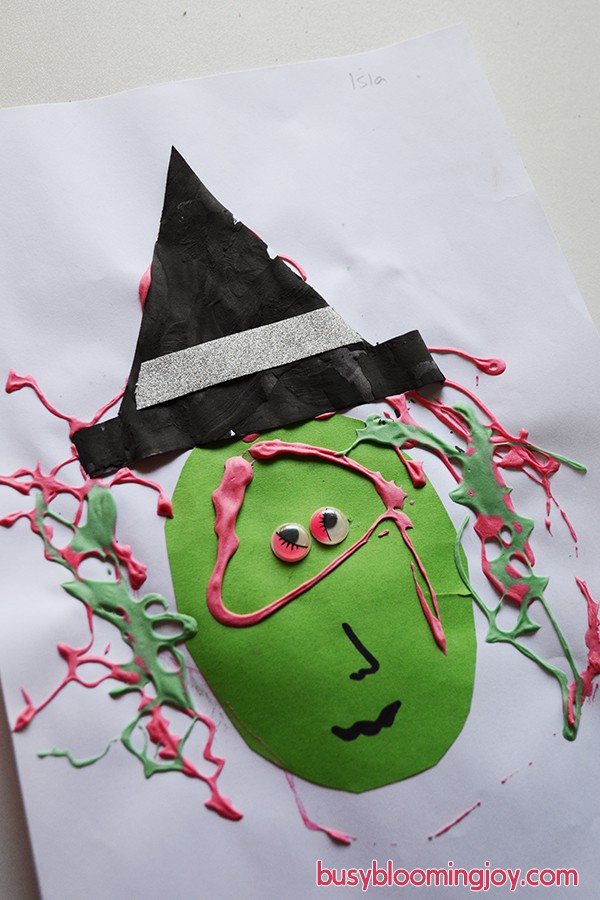 22. Halloween toddler witch craft with puffy paint hair from Busy Blooming Joy
I do love puffy paint (hence the puffy paint spider web) but wanted to use it for another Halloweeen toddler craft – tadah – a witch with puffy paint hair. Lots of fun and I particularly like the with facial hair.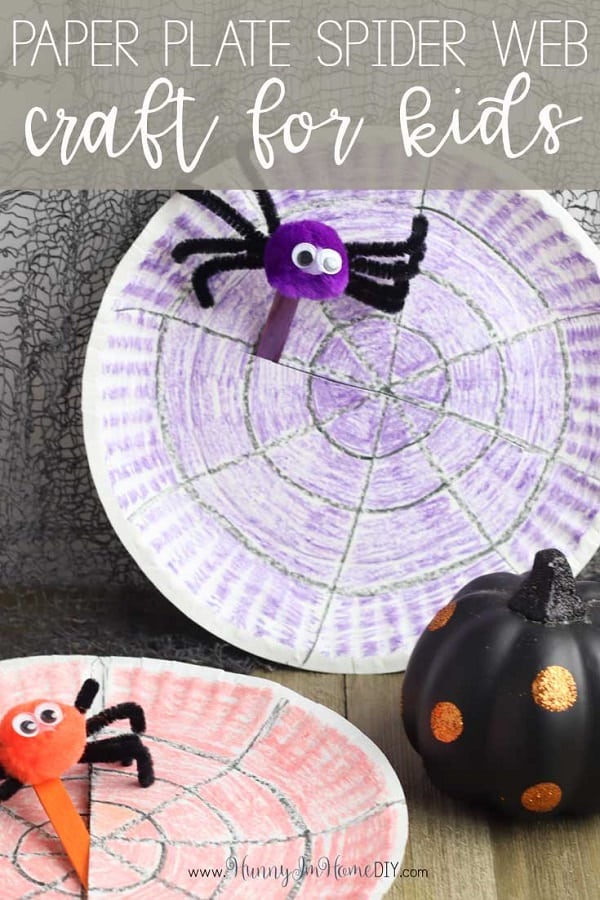 Another spider and spider web craft that's sure to be a hit with my two – they're going to love playing with it after, making the spider jump and dance over the web.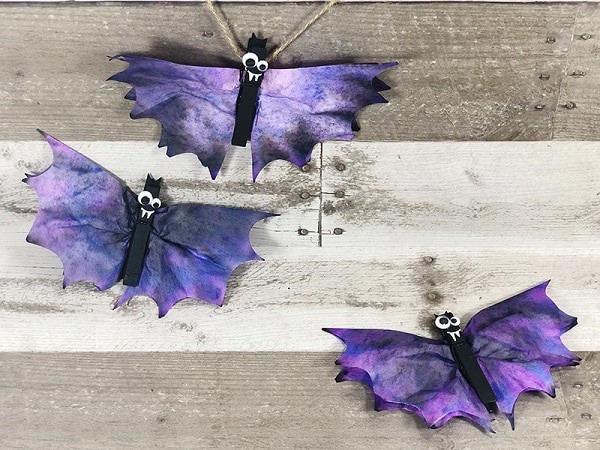 I have yet to try a coffee filter craft as I cannot find any coffee filters in town.
I'm sure my kids would love watching the colors merge and spread when making the bats wings. And they get to use a spray bottle too! A Halloween toddler craft for next year maybe.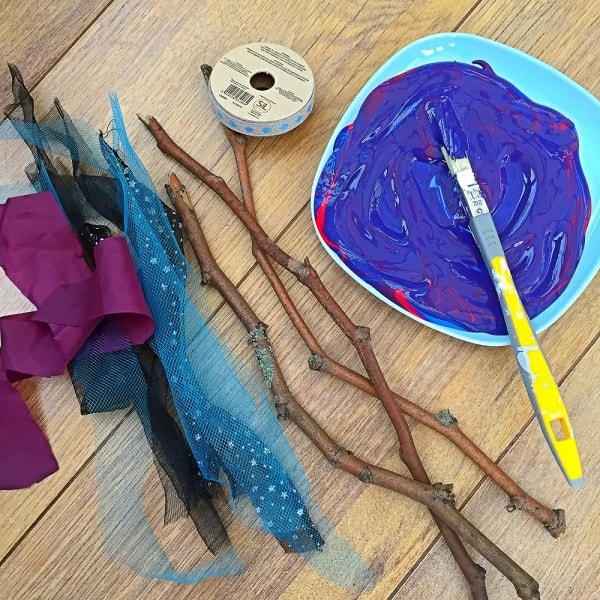 If you want to experiment with spooky spells, you need a magic wand! Such a fun and en-chanting toddler Halloween craft and activity that'll get their creative juices flowing.
I can't wait to hear what spells my little ones come up with!
Halloween arts & crafts for toddlers that double as decor
A few of these Halloween craft ideas are for you to do with your toddler since they require a bit more work… So if you like the crafting side of things, then you're going to love these.
Here are some Halloween arts and crafts for toddlers that will make lovely festive decorations that can go on display for many years to come.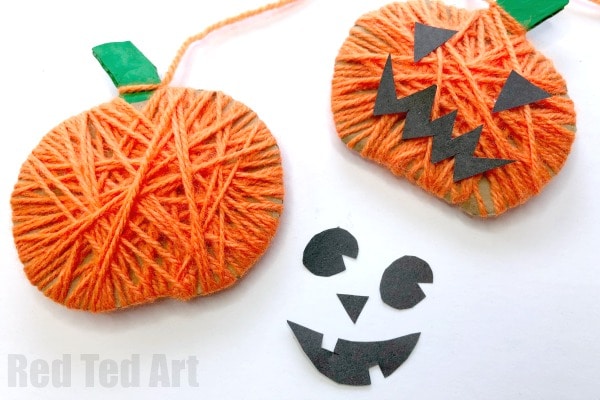 A simpler version of my apple paper plate lacing craft. Good for fine motor and when you've done a few you can string them together into a lovely pumpkin faces garland. No mess always has me sold!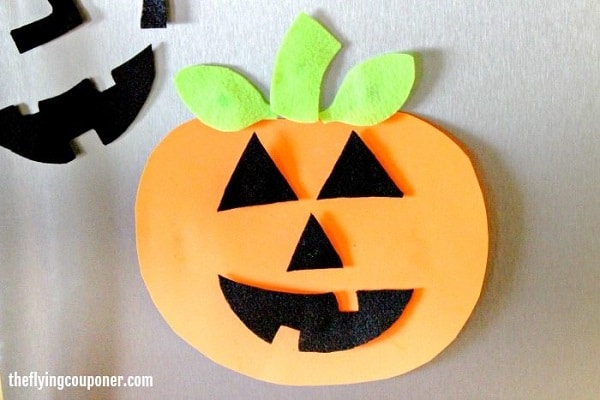 Here's a simple (Mommy and…) Halloween toddler craft that'll look cute on the fridge.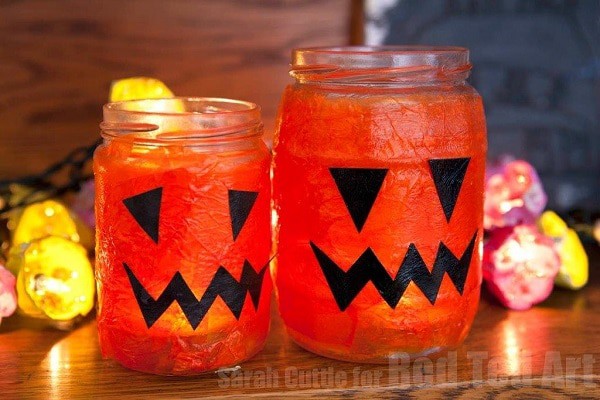 My two love gluing and sticking but I'm not sure their attention span is going to last… this'll be a joint Halloween activity I reckon.
Grab some glass jars, orange tissue paper, black construction paper, white school glue/modge podge and you're all set. (You could always use black permanent markers and draw on the faces to speed up the process.)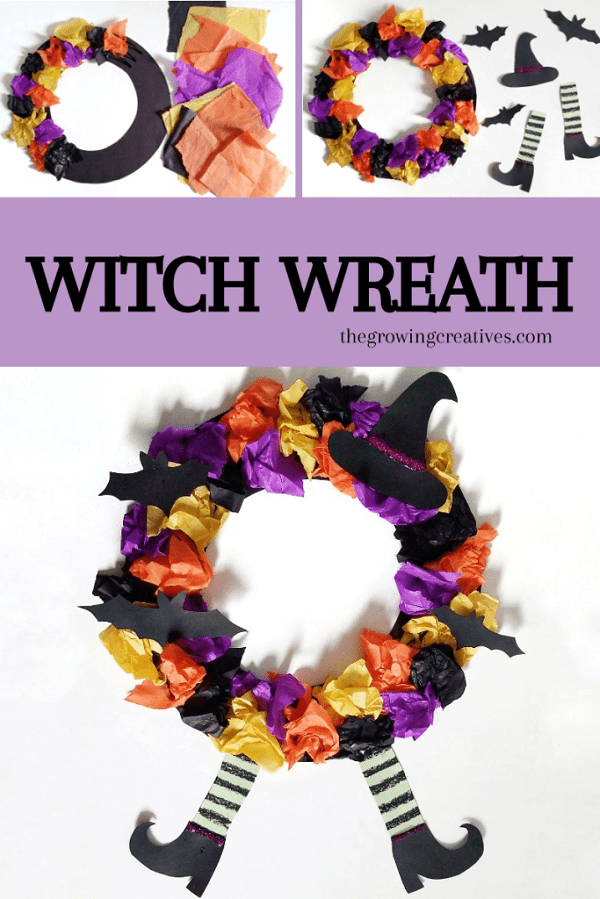 29. Witch wreath from The Growing Creatives
A fun Halloween themed wreath to jazz up your front door. Scrunching and sticking paper tissue balls is right up my little one's street! A simple Halloween craft for toddlers that'll help strengthen those little fingers.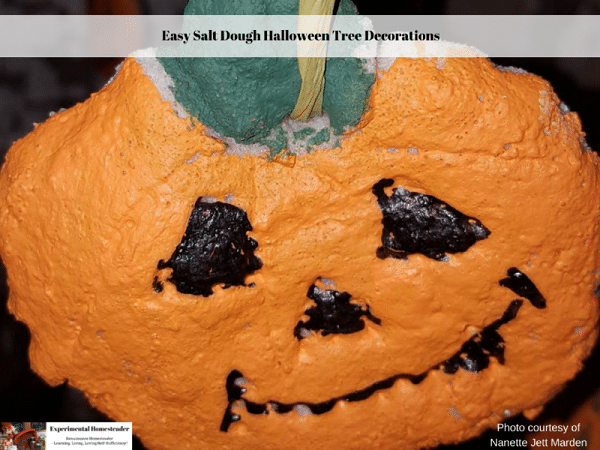 If your kids love playing with playdough, these will go down a treat! (Sorry, I couldn't help myself…) You're just going to have to bake them and then help paint them.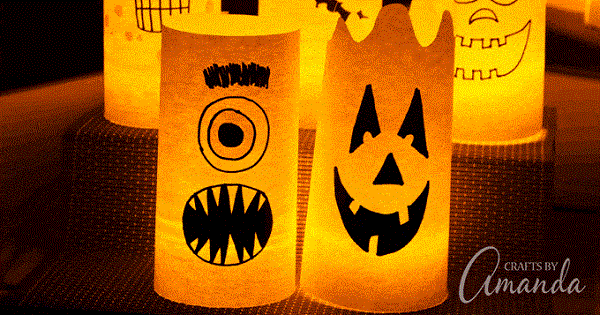 Time to make some spooky paper luminary lamps this Halloween. Fun Halloween arts and crafts for toddlers that will turn into cute, and a little spooky, decorations after!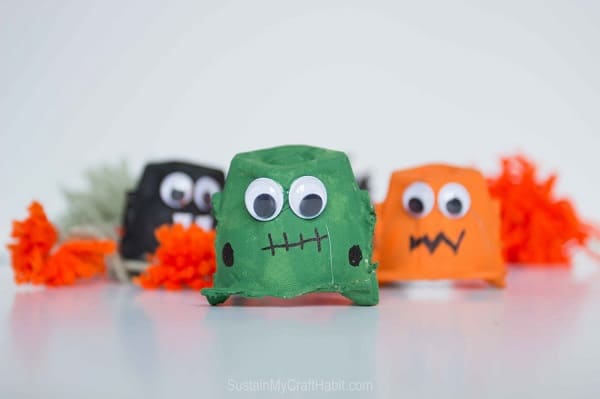 I must admit, spiders are not the most adorable creatures, but who couldn't resist this adorable Halloween toddler craft?
These colorful spiders are made by upcycling cardboard egg cartons. Then string them into a garland and use them as Halloween decorations.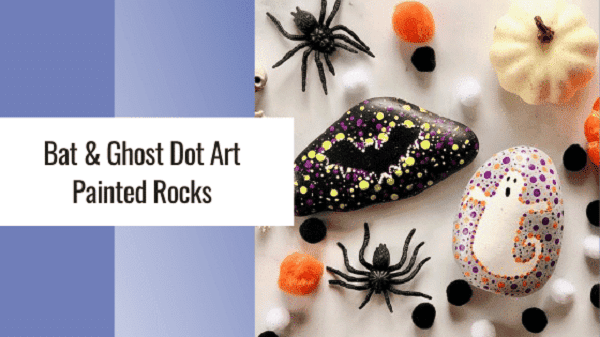 Here's a clever way to create something arty, without having to be artistic. Sounds like an ideal toddler craft for Halloween!
Start by painting your rocks in black or white paint. Then outline a ghost, bat or other spooky character and dot all around it. Cute Halloween art for toddlers that'll make a fab decoration this festive season.
Halloween hand/footprint arts and crafts for toddlers
I kind of have a love-hate relationship with hand and footprint crafts. They make the sweetest keepsakes (remember to name and date them) but are a little tricky to get right with a busy 2-year-old who just wants to make footprints anywhere and everywhere…
If that happens, there's rarely a decent keepsake at the end of it all!
So the trick is to get your one decent print and then let your toddlers just have fun making random smeary paint messes – and chuck those ones in the bin!
Handprint craft templates definitely make things a bit easier. We have a few here:
If you do go for any of these, be sure to use washable child-friendly paint, like this Colorations Powder Tempera.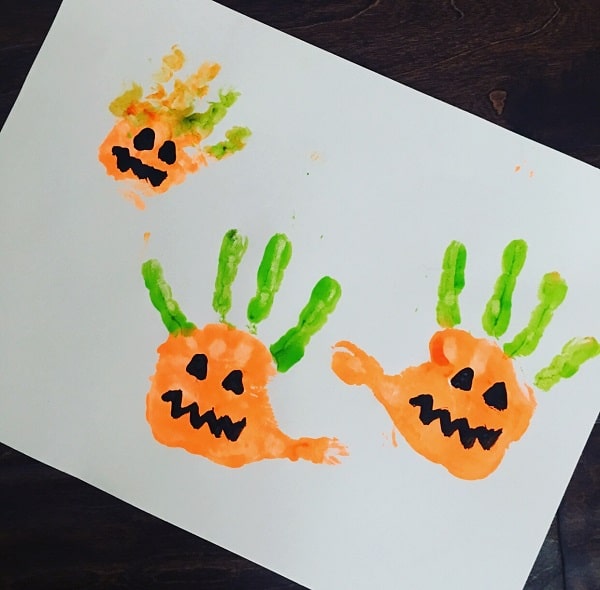 I love the two-color effect but it could be a little tricky to get right. I imagine I'll need a good few attempts at this toddler Halloween craft with either of mine before getting something worth keeping…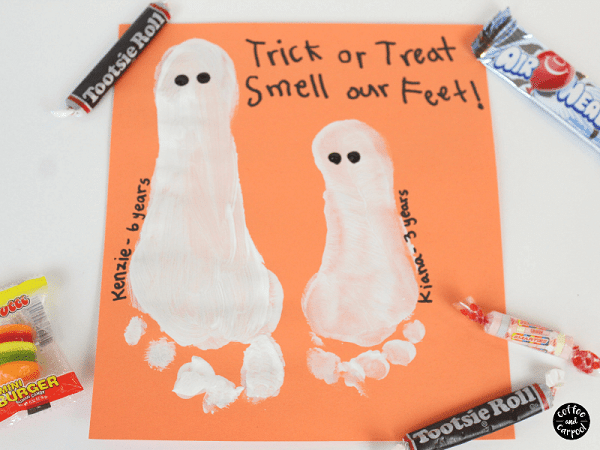 This ones looks a bit easier and would be super sweet to do every Halloween and see the ghosts grow and grow!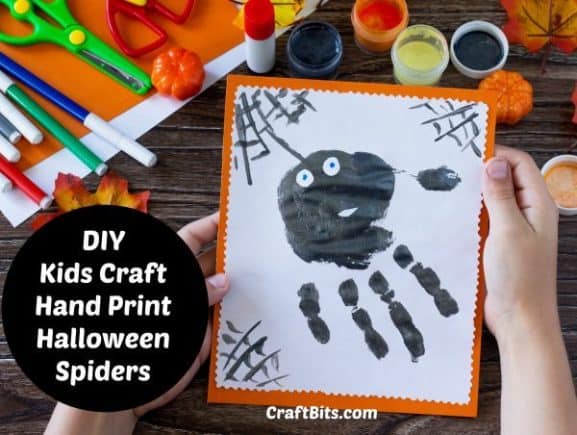 This time a cute handprint spider – I think this is my favorite Halloween handprint art for toddlers so far.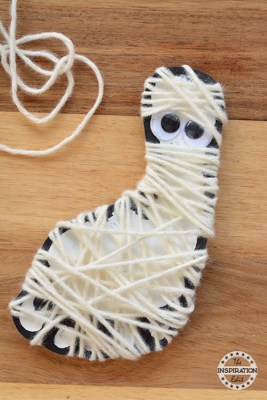 A footprint craft with a twist – the yarn wrapping will be good for fine motor.
Check out more mummy crafts here.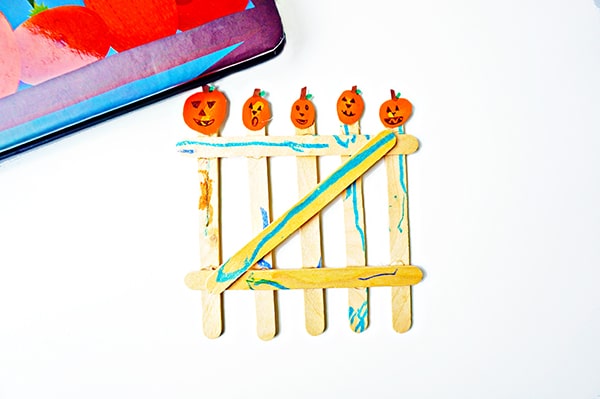 It's always nice to make something that's connected to a story, song or poem. This Halloween craft is one to do once your kids are familiar with the "5 Little Pumpkins Poem". See the learning section of this Halloween toddler craft post for the full poem.
My two love the poem so I'm adding this Halloween toddler craft to my list.

DOWNLOAD THE ACTIVITY PACK + BONUS NOW
EDIBLE Halloween crafts for toddlers to help make
Making a sweet or savoury Halloween-themed treat or snack will make a fun activity for young kids.
There are plenty simple enough for toddlers to play an important role in creating. And even if they look diasastrous it really won't matter – these are edible Halloween crafts for toddlers after all!
They're still sure to taste divine.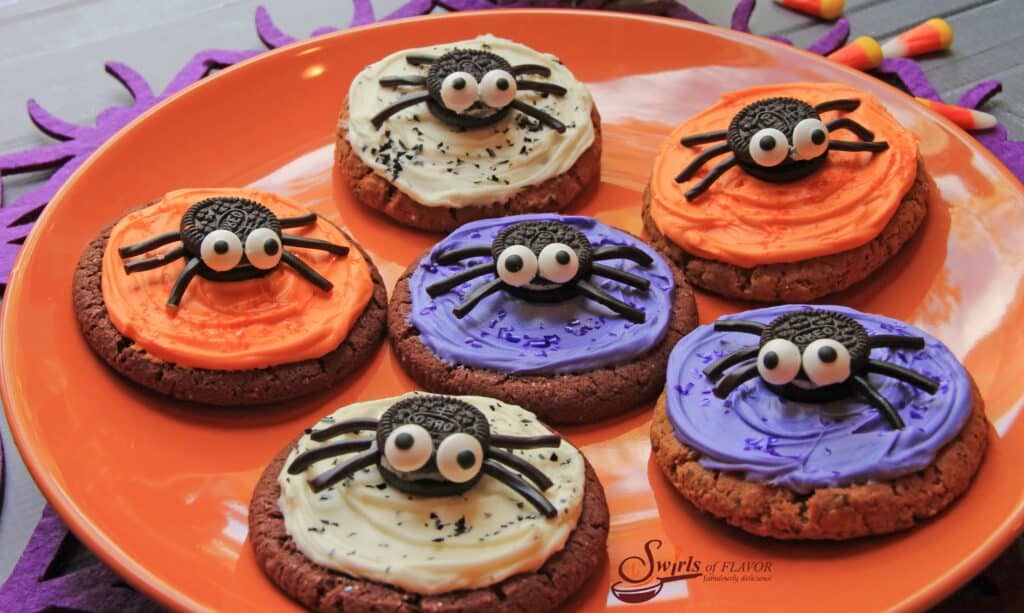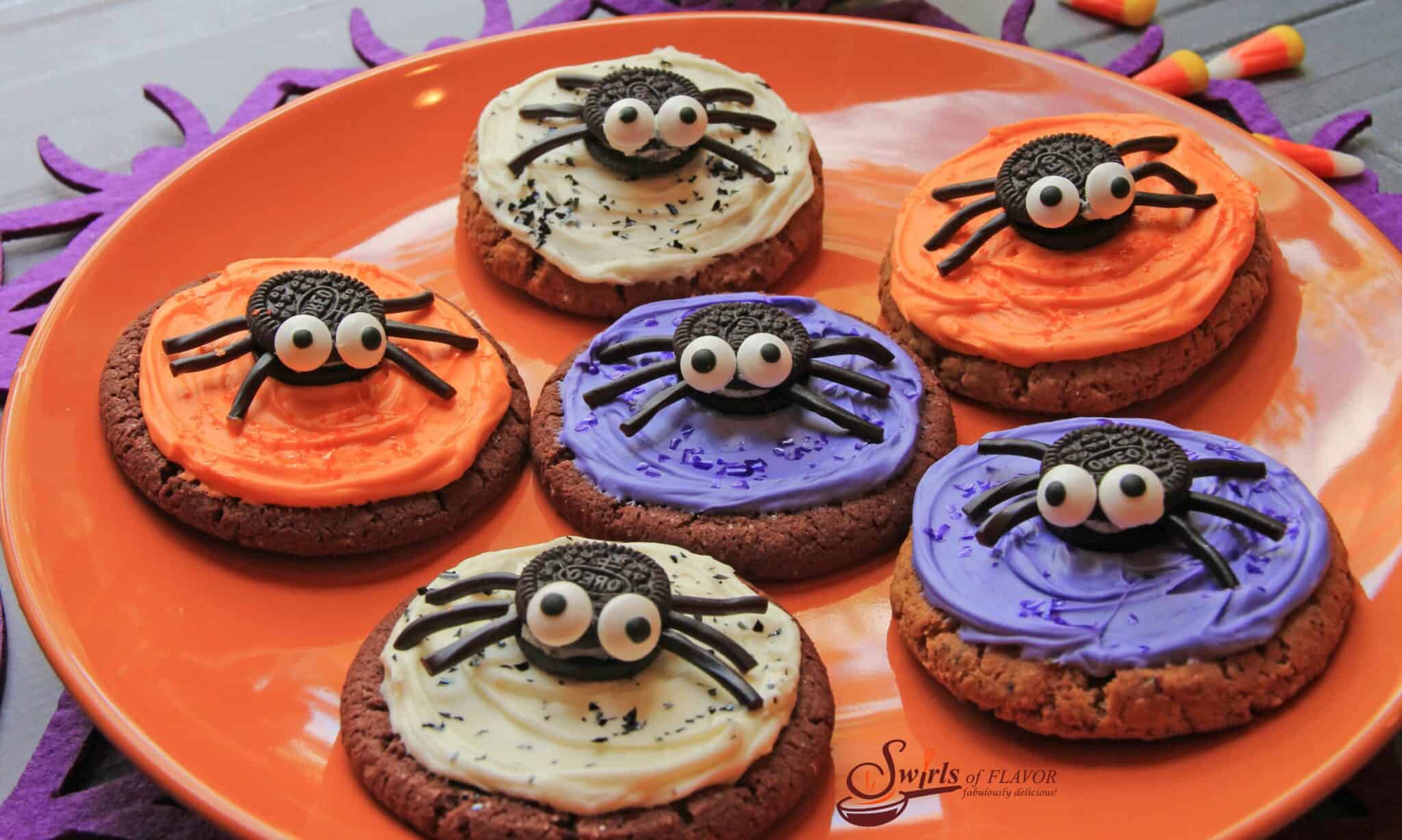 These creepy spiders on top of these tasty cookies are so darn cute and simple to make too. Keep life simple by buying cookies from the store then you and your little ones can concentrate on the decorating.
A fun and delicious Halloween activity for toddlers.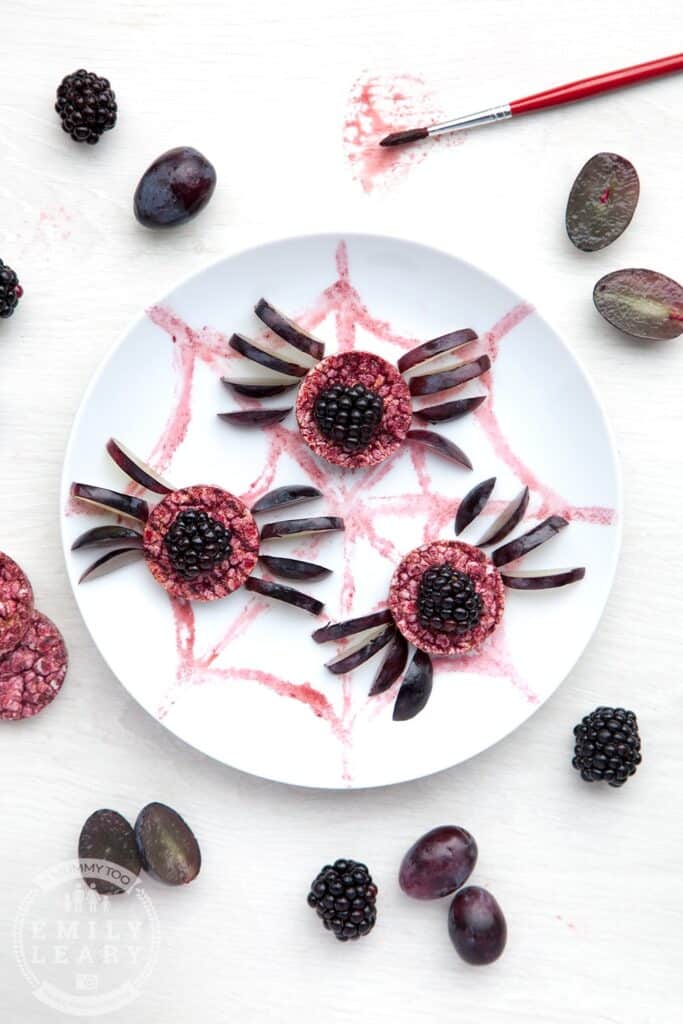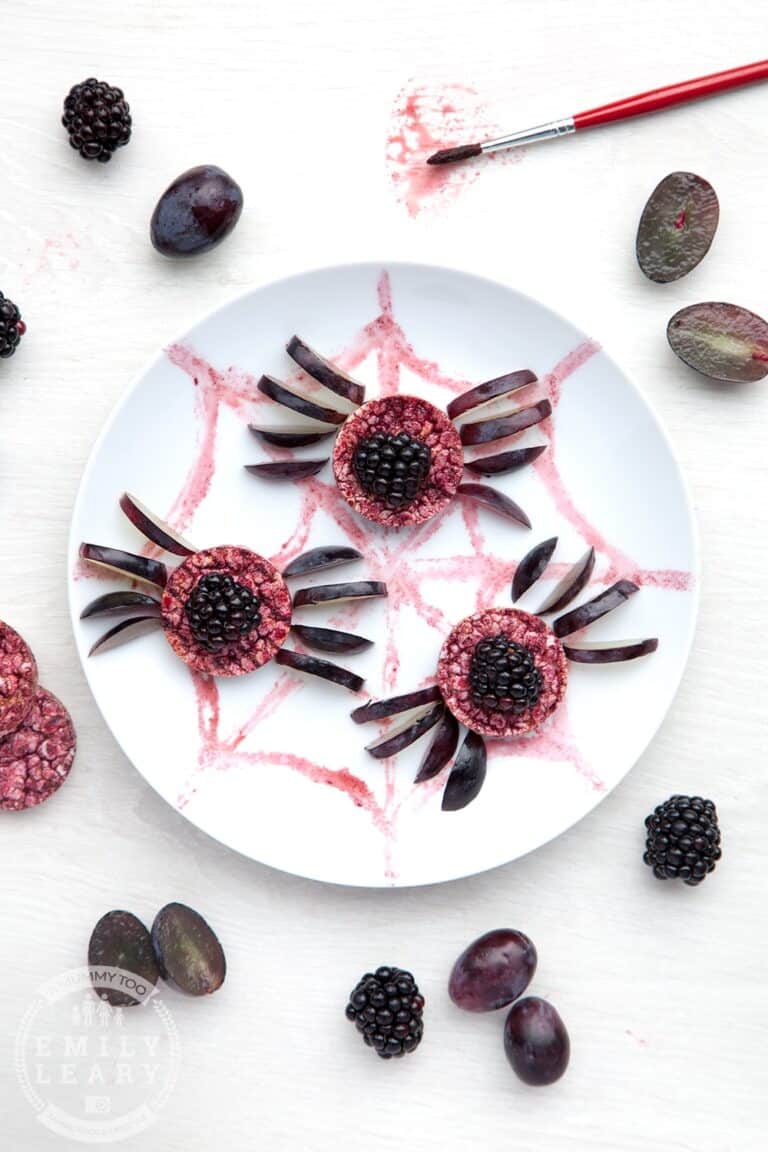 These spiders are a lot healthier and equally tasty, that's if you like rice cakes and my little kids love them!
The only other ingredients you need are blackberries and grapes making this a quick and simple Halloween activity for a rice cake loving toddler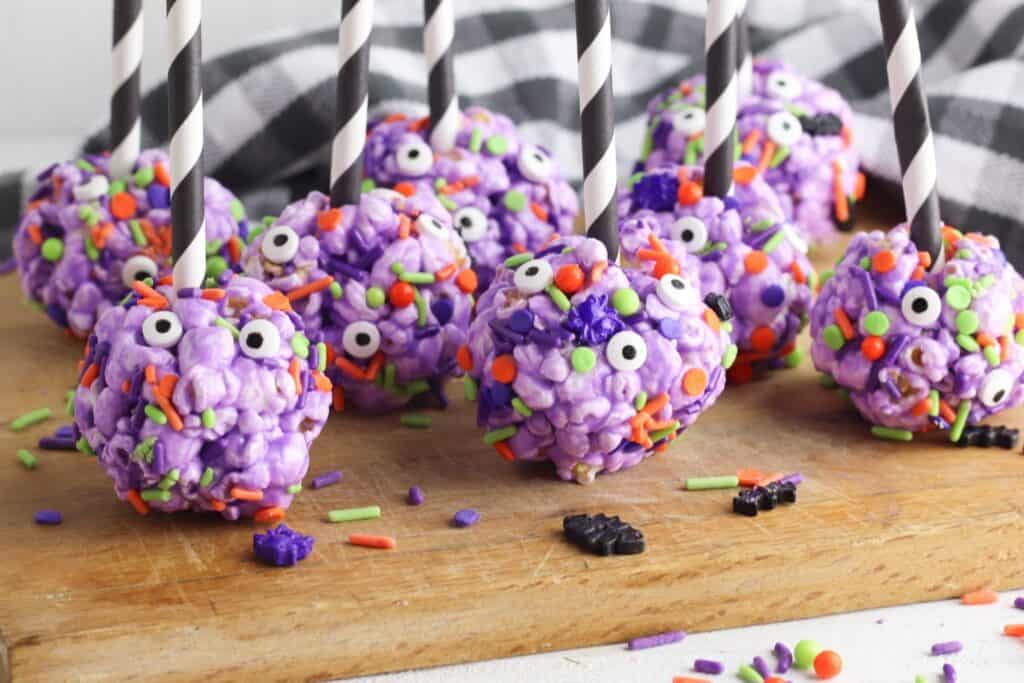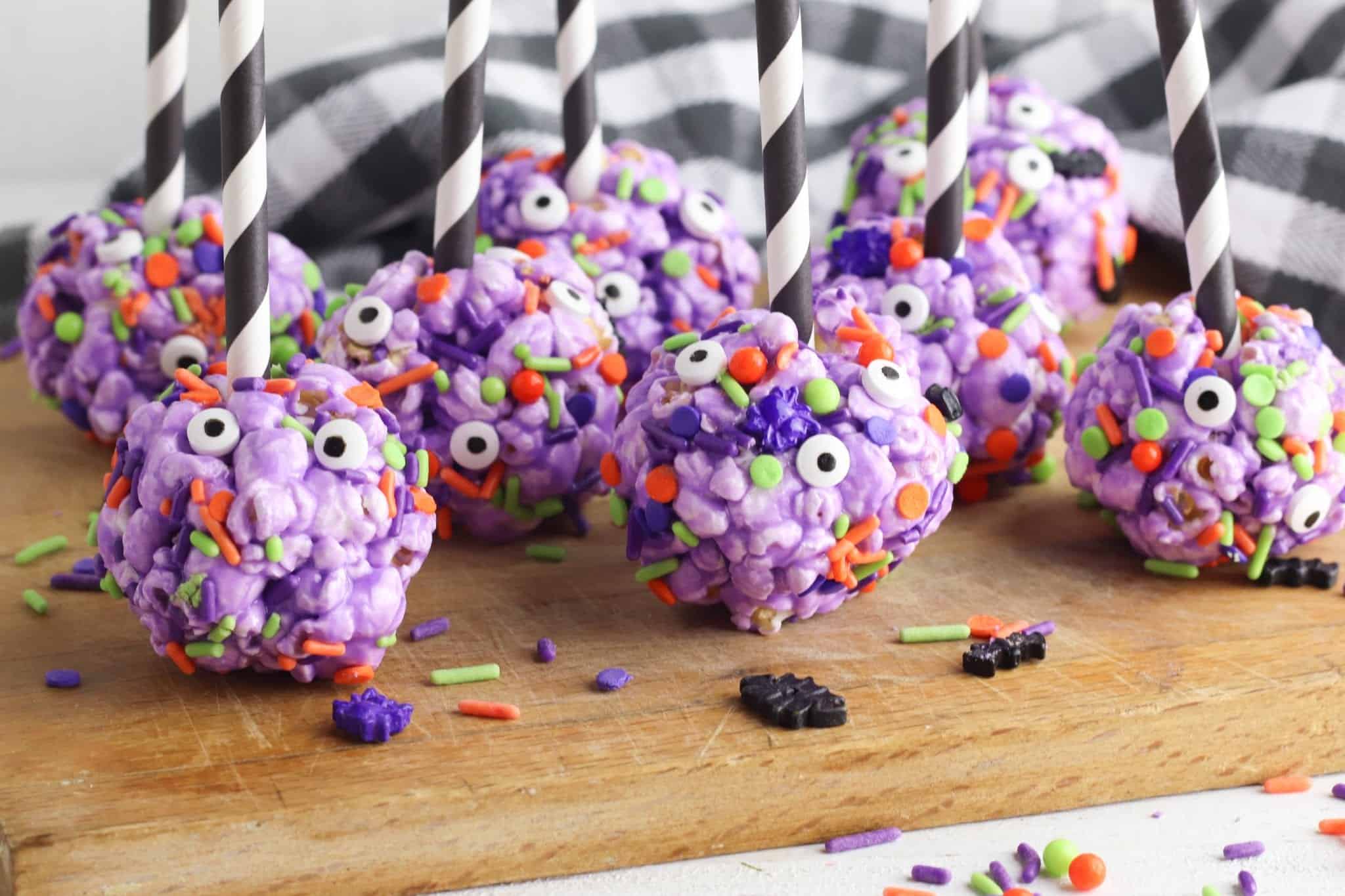 Popcorn and marshmallows rolled into one tasty treat? Sticky and delicious! Plenty of chance for llittle ones to get creative wtih this yumy toddler Halloween activity. They can add the Halloween-themed sprinkles and candies of their choice and experiment with different food colors.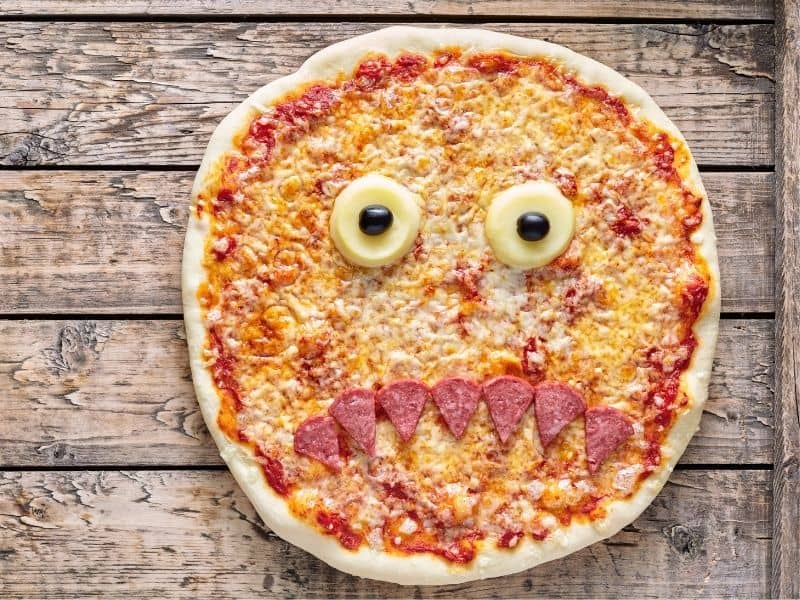 42. Monster pizza
With Halloween creeping around the corner, get the kids involved by making their own monster pizzas. To make one, all you need are chopped vegetables, meats, sauce, cheese and pizza dough. A filling and not-too-unhealthy lunch or dinner idea perfect for a Halloween celebration.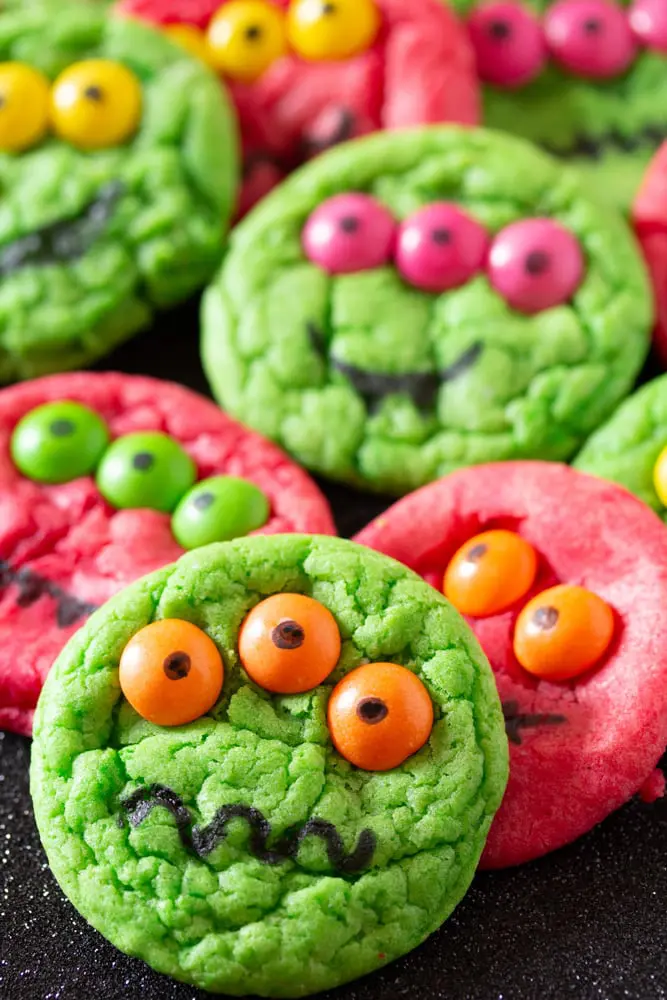 Keep it simple and make these three-eyed cookie monsters with your favorite cookie mix. Simply add edible eyes or smarties before baking and finish by drawing on a mouth with edible icing pens. An edible Halloween toddler craft that kds will love making over and over again.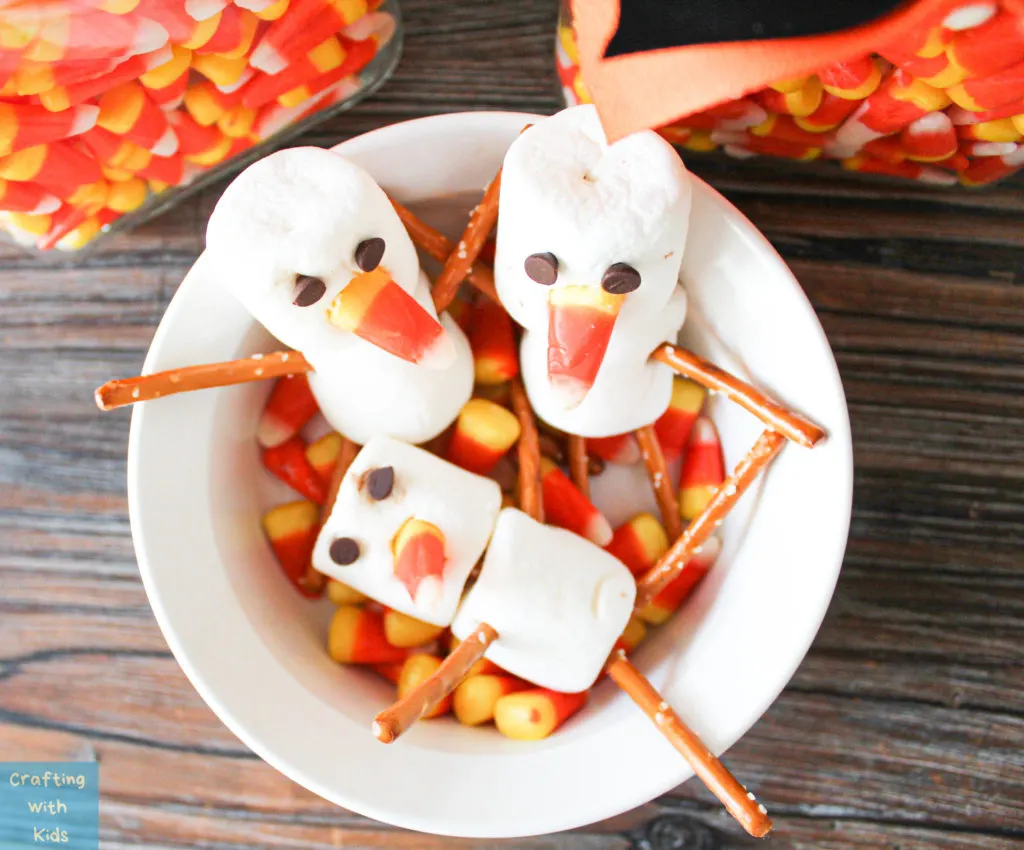 Marshmallows and pretzels are firm favorites with my kids so these Halloween snowmen will go down a …. treat (obviously…) Simple to make for toddlers and no baking involved.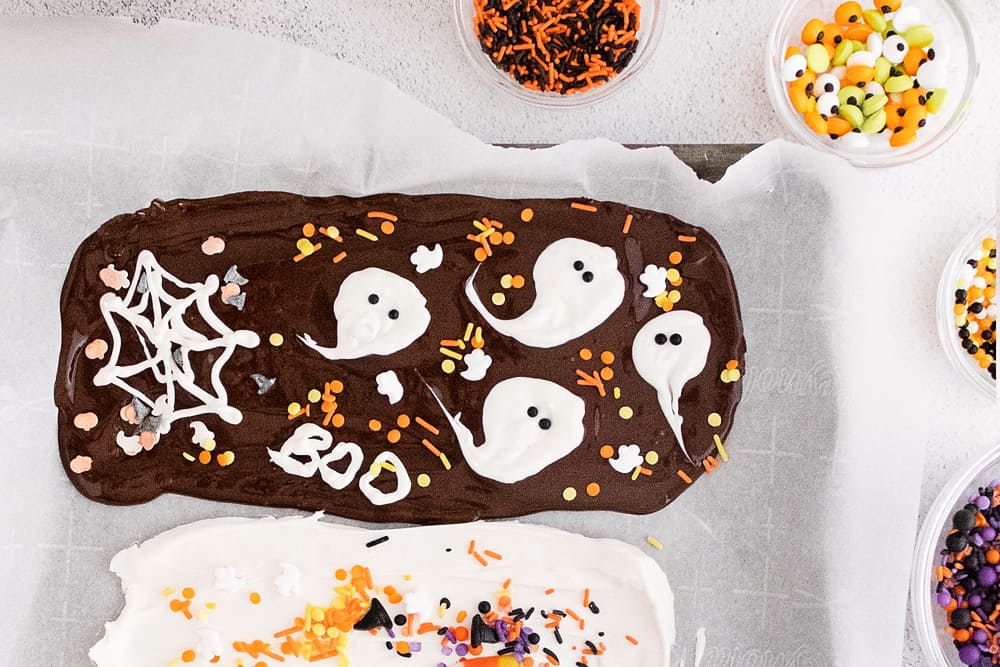 Another fun and easy Halloween activity for toddlers that's up there on the sweetness scale. This is not one for just before bedtime… Did I mention that the base is made from melted chocolate?
Let your kids take care of the decorating with candies, sprinkles, nuts, raisins and candy corns. When it's cooled and set, it's ready to eat. Then get ready for the sugar-fuelled outburst!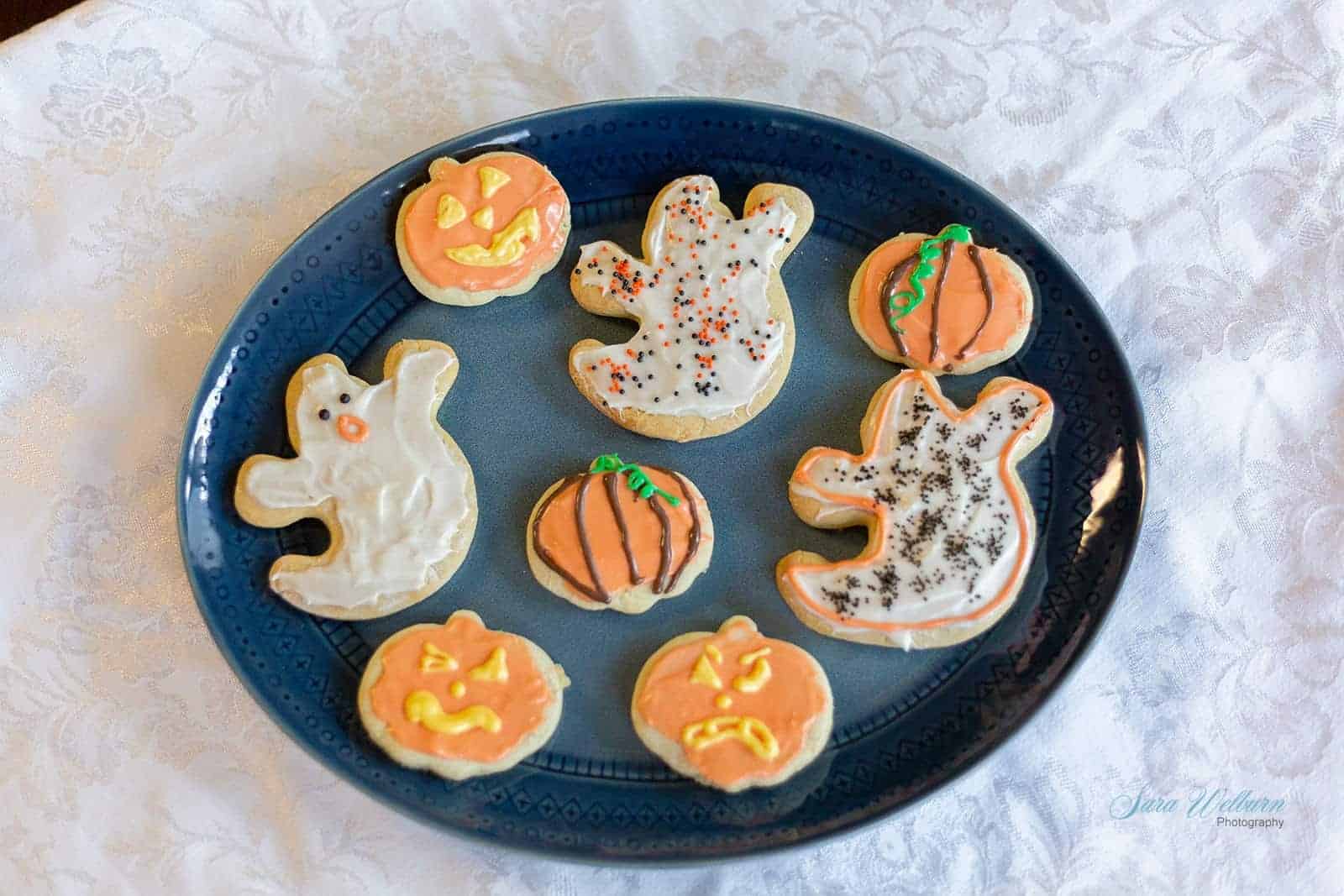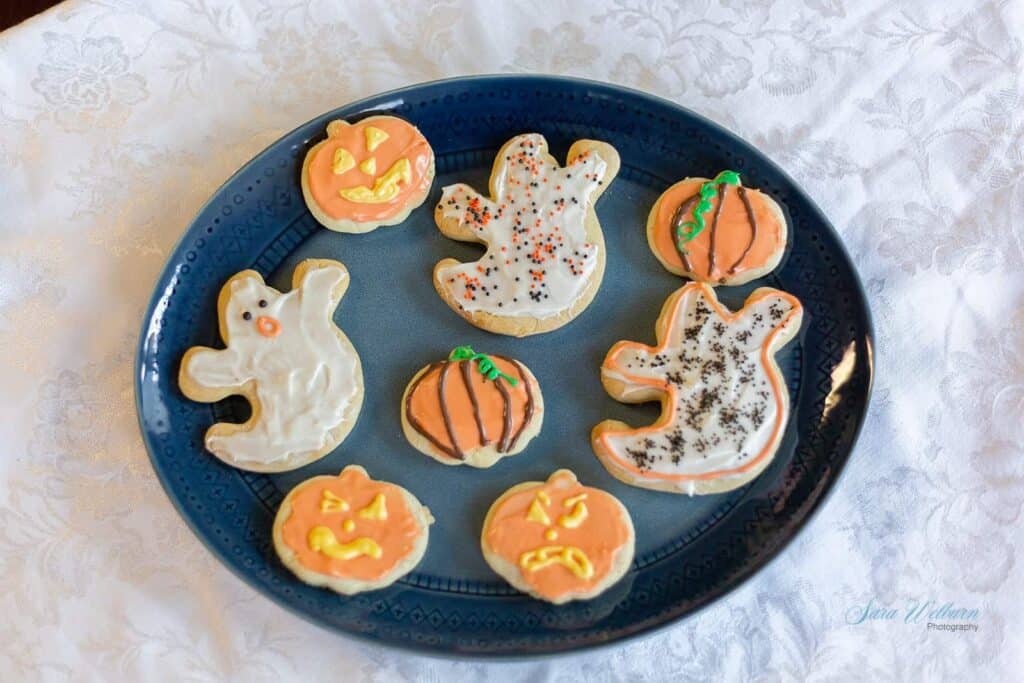 Why not try these delicious sour cream sugar cookies. Your toddler is sure to enjoy using spookily themed cookie cutters to cut them out, then helping to devorate them.
Or short cut the first step and decorate store-bought cookies. There's no such thing as cheating if you have a toddler in tow!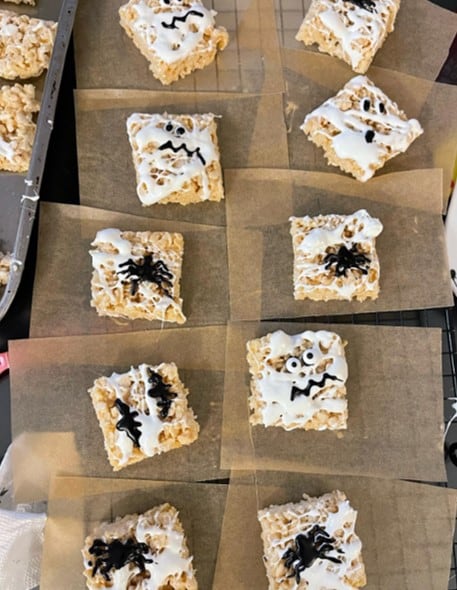 How cute are these ghost Rice Krispie cakes? A fun and not too complicated Halloween activity for toddlers that's yummy too. Add Rice Krispies, white and black icing and edible eye candy to your shopping list now!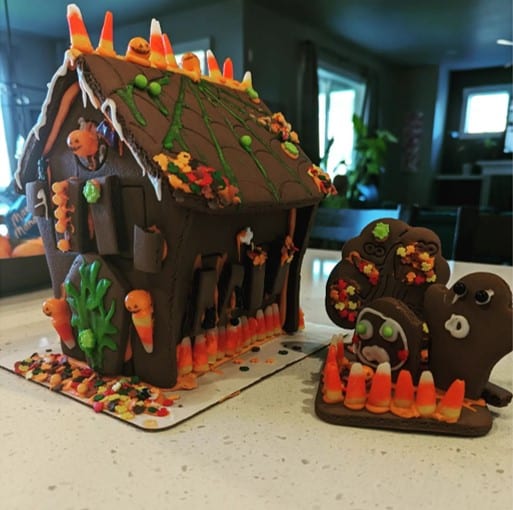 If you're up for a challenge and are a dab hand in the kitchen, this cookie house is a must. It's definitely as much craft as it is treat. Your little ones will love getting involved in the decorating side of things.
Once done, this'll make a cute centerpiece for a festive Halloween do. Your only challenge will be to keep the kids from picking bits off too eat!
SENSORY Halloween activities for toddlers
It's important to include sensory activities in your toddler's playtime to allow them explore and experiment with different materials. They'll need no encouraging – young kids love this type of play.
Sensory activiteis are normally simple to set up. A sensory table can help keep the materials and mess contained.
However, not all sensory play is, in fact, that messy. There is such a thing as dry messy play.
The Halloween-themed sensory activities below are more the sticky and gooey kind… Take cover!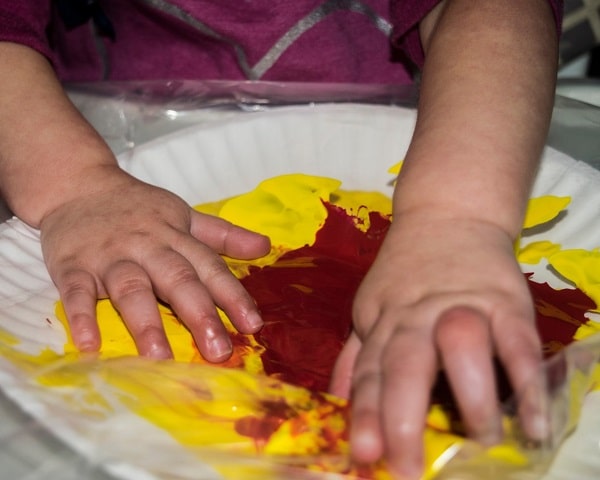 Sensory + learning activity + no-mess = me sold! Use a Ziplock bag with a white paper paint and some paint inside.
Alternatively, put blobs of paint on a large sheet of cardboard or cardstock paper and cover with contact paper.
Fun finger painting but without the mess means this is a must-try Halloween activity for toddlers.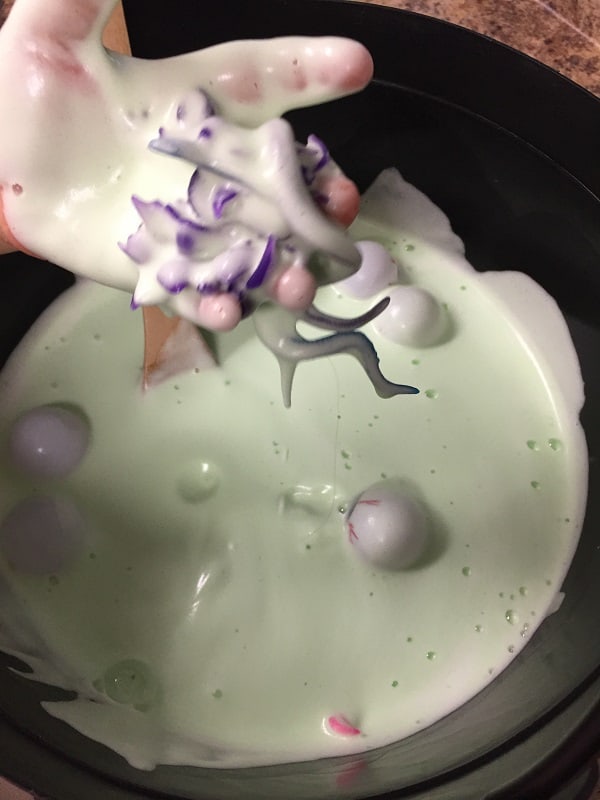 If your kids like experimenting with sticky, messy substances (I hear there are some that don't – not my two!) concoct this spookylicious vat of Halloweeney gloop and let them get stuck in.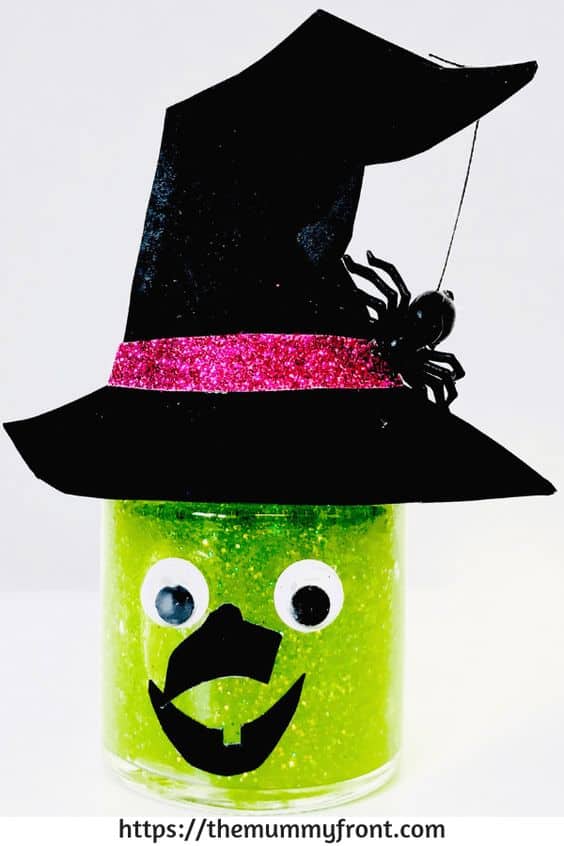 Here's some squishy fun wrapped up in cute witches outfits. Oh and there's a black cat too. These would also be perfect as Halloween party favors.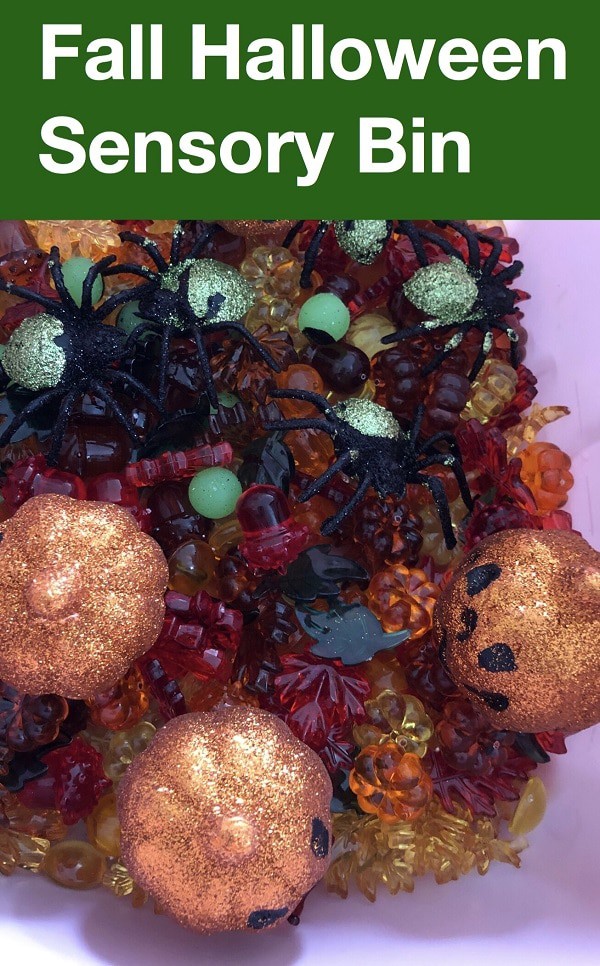 52. Halloween sensory bin and sorting activity from A flourishing Rose
This looks a lot of fun! Time to hunt down some themed bits and bobs to create a similar Halloween sensory activity for my toddlers.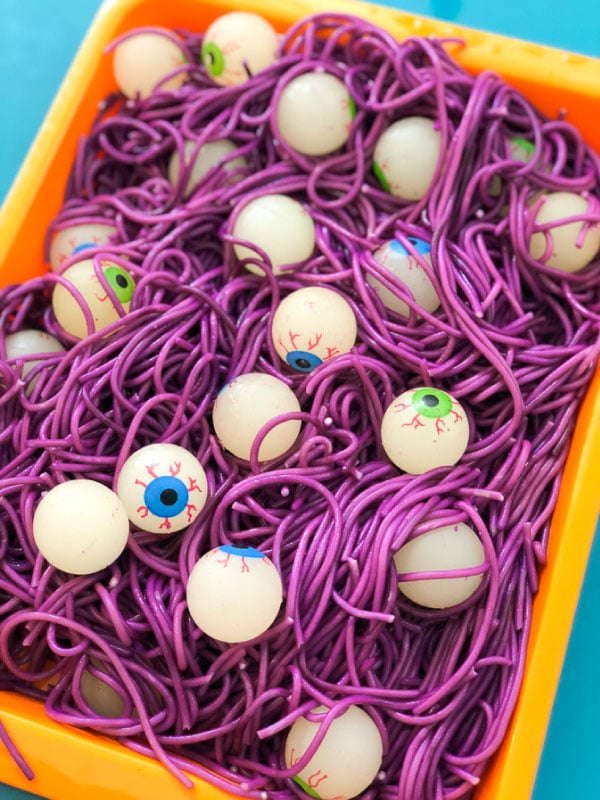 This'll be an easy sensory activity to sort out here (we have pasta in abundance, will just have to seek out some eyeballs – how hard can that be?!). My two are going to love the slimy, slippery texture of the pasta.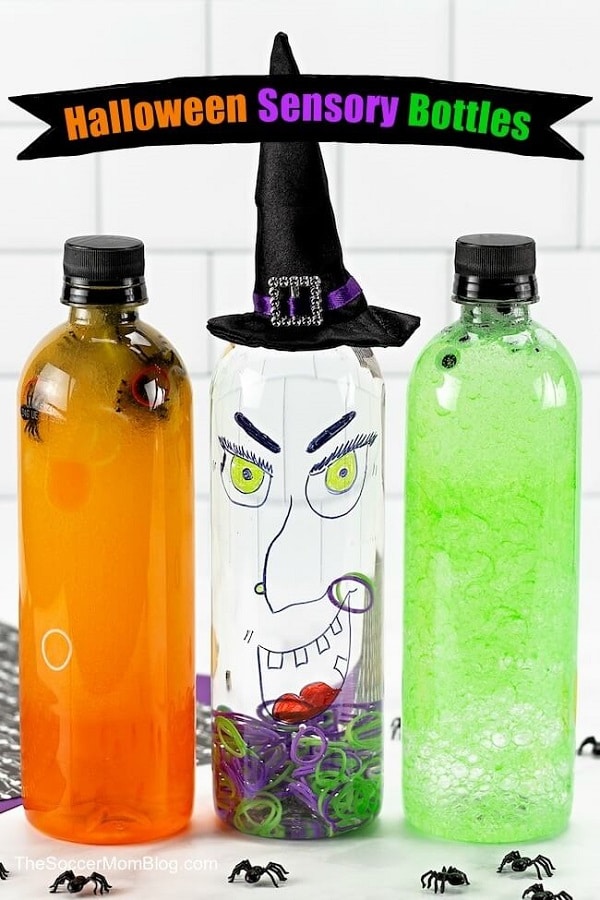 Sensory bottles are an easy and safe way to offer new and interesting sensory experiences to young children. Sensory bottles can work wonders as a calm-down tool too.
A bit of work for mom but if you have a toddler then the more calm-down tools you have to hand the better! I'd definitely recommend trying this Halloween activity with your toddler.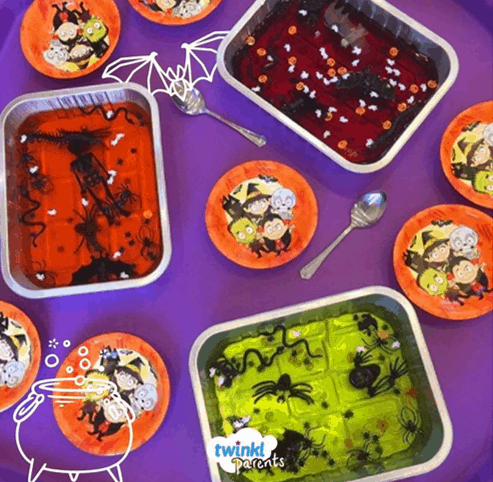 Do your kids love jello? Then they're sure to enjoy digging for creepy crawlies submerged in purple, orange and lime green jello. A fun Halloween sensory activity for toddlers and sweet treat rolled into one. Cool, right?
This eyeball soup sensory is one of the simplest Halloween sensory bin ideas out there! Just add green coloring to water and add plastic eyeballs, spiders and other spooky creatures.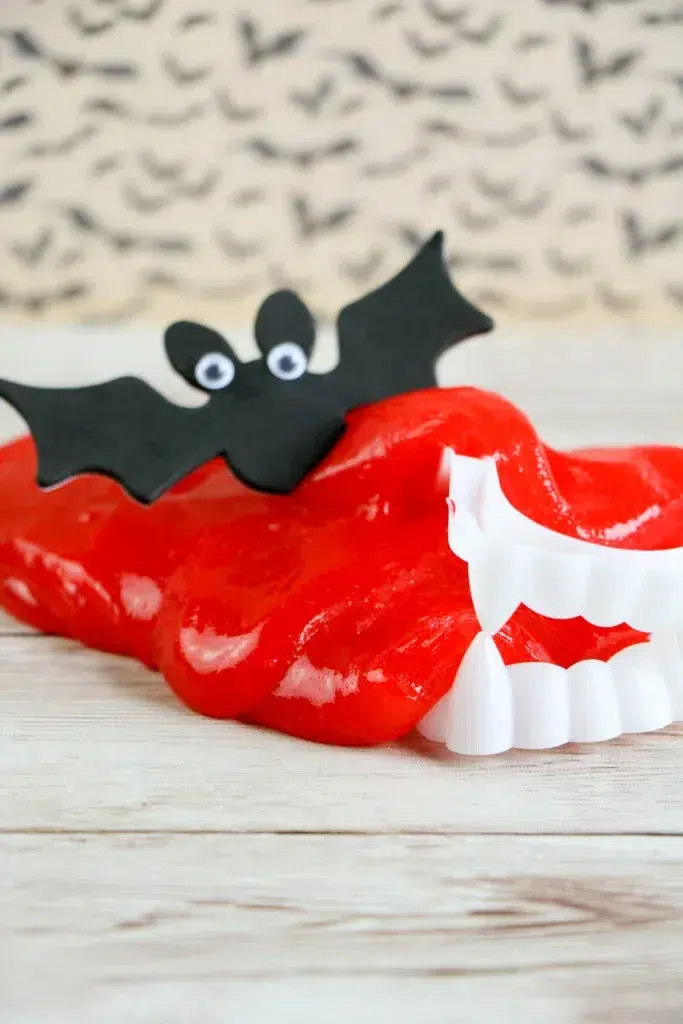 Want something spooky, sticky and a littlle gory this Halloween? Try making this vampire slime with your kids. They're sure to love squishing it and squeezing it and pretending to be vampires!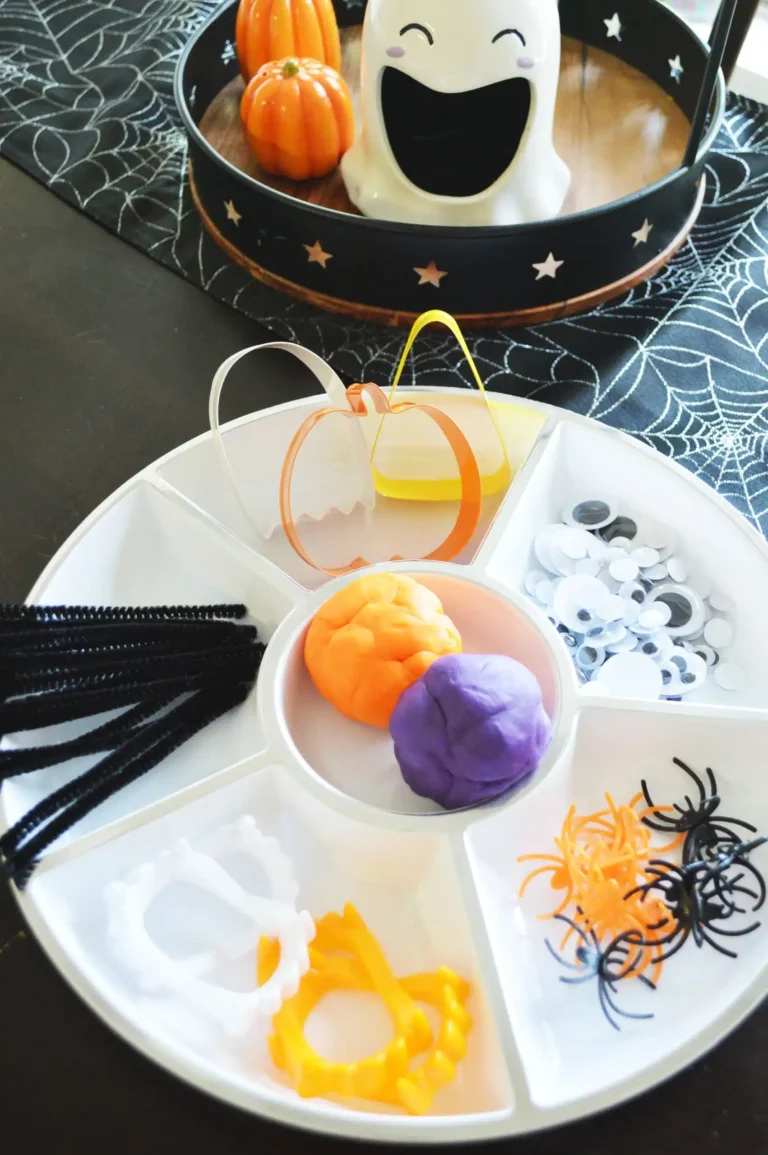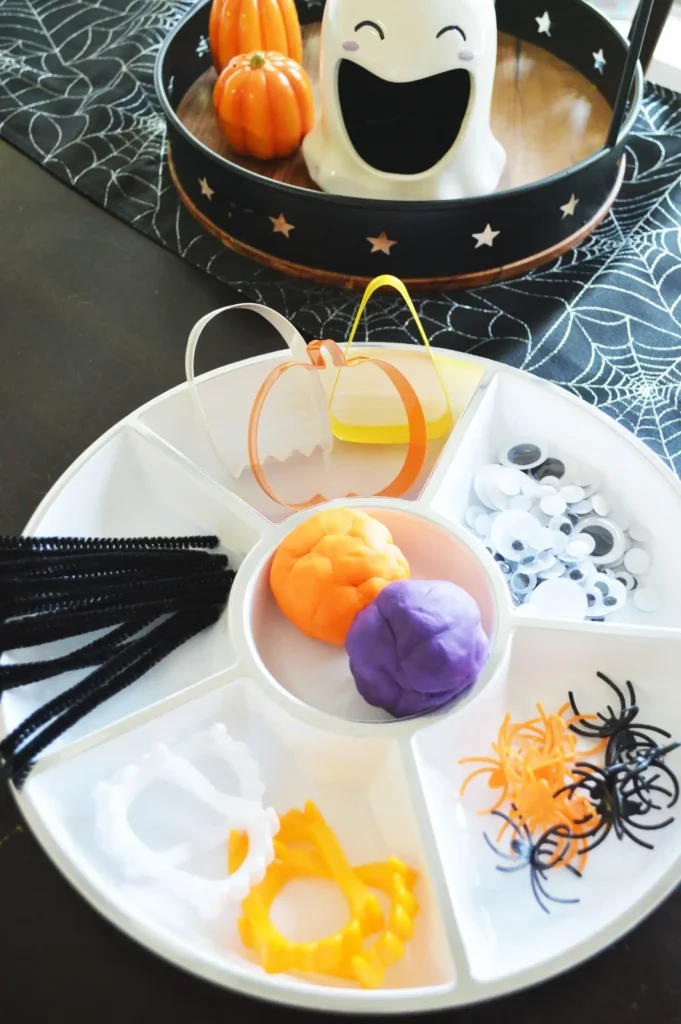 More squishy fun, but this time with a play dough tray. This simple toddler Halloween activity is sure to keep your little ones busy. Fill the tray with themed items and materials and your toddlers can get creative making different spooky creatures.
Try toy spiders, eyeballs and teeth plus pipe cleaners, cotton balls, beads and craft sticks in orange, purple and black.
For more sensory fun, bookmark these posts for later:
Halloween activities for toddlers – perfect for a party
These ones are less Halloween craft, more Halloween activity or game, so perfect for a Halloween themed party for your toddlers. They will require some prep from you but I think these activities will be well worth the effort.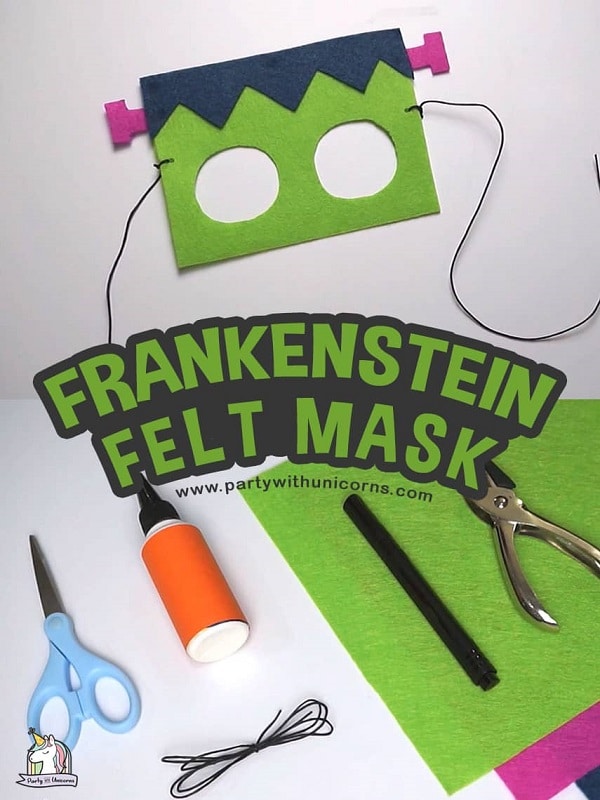 My toddlers have just got the idea of dressing up as part of their pretend play. It can keep them busy for a long time, sometimes up to half an hour, so I can't wait to give this one a go.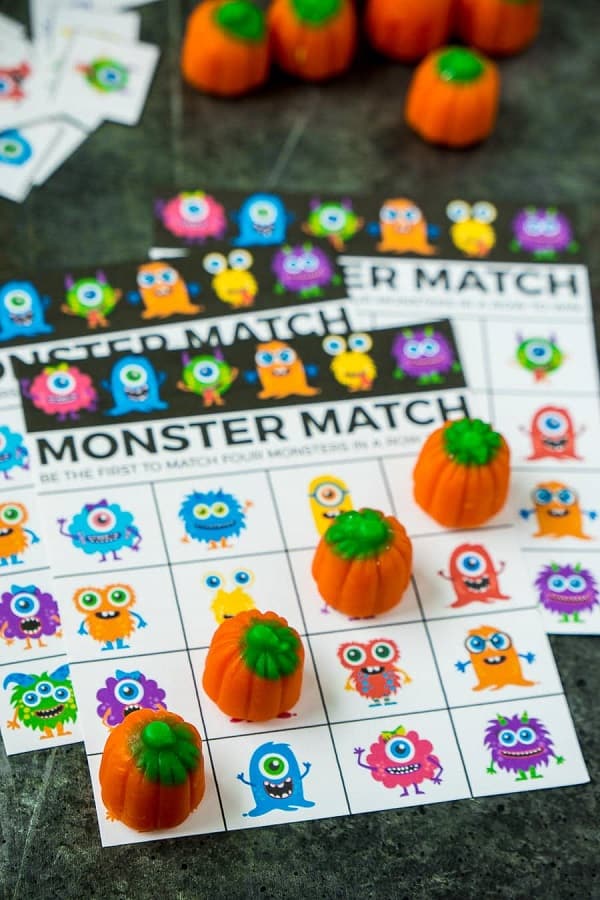 Great for your monster loving toddler who's started learning to match. My 4 year-old loves matching colours – "look mom this green cup matches my shirt!'. But this monster match will be a little trickier. Will have to see how he gets on!
Want more printable games and activities, plus easy crafts, snacks and sensory play ideas? Check out the Halloween Activity Pack here.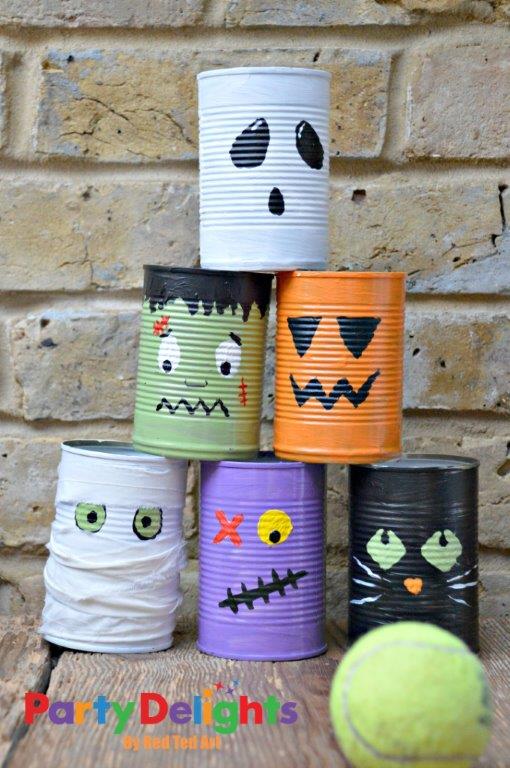 This could start off a Halloween craft for older kids but for toddlers this is going to be all activity. We've bowled many things over, but so far not Halloween characters… But it's definitely going to be me doing the bulk of the work. Maybe my two can help draw the faces on. Or not…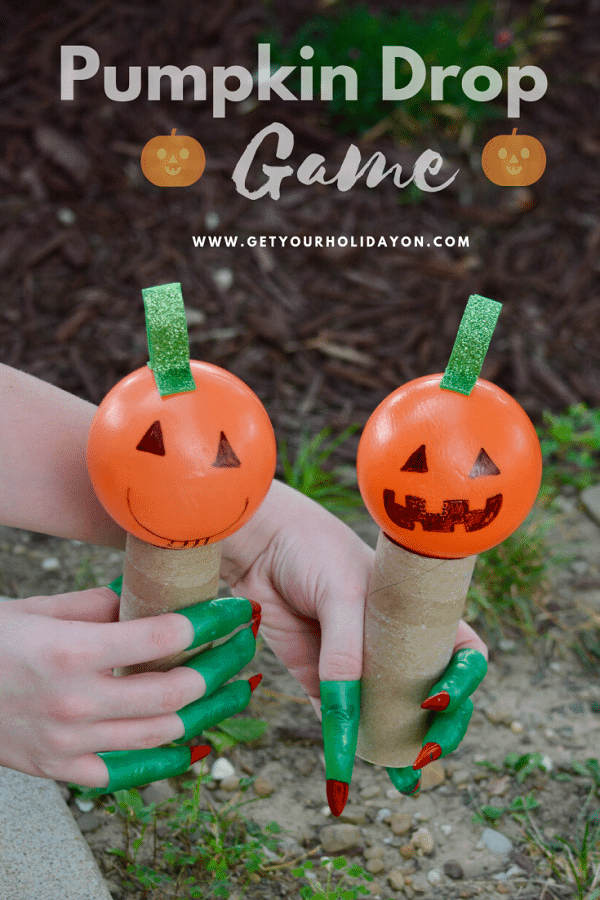 Think a Halloween version of the egg and spoon race – a tough task for toddlers so sure to keep them busy and amused.
If the weather is mild, why not move the play outdoors. Nothing better than fresh air and a good energy-burn after all those sweet treats.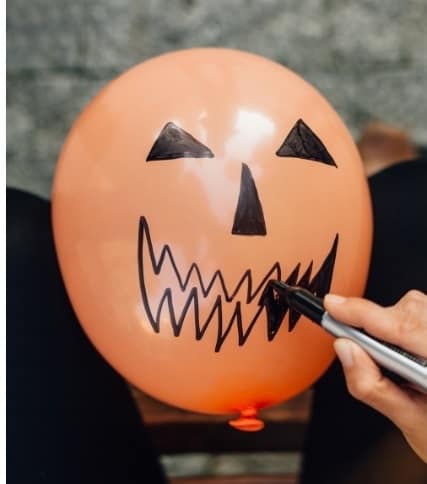 63. Candy-filled balloon popping
Have you ever thought of using balloons instead of pinatas? These are actually so easy to prepare compared to pinatas. Either draw a face on the balloon (like the one pictured above) – that'll make a fun Halloween toddler craft in itself. Or buy some Halloween-themed balloons.
Then simply fill up the balloon with candies and blow them up. Now the fun begins! The kids can poke and bash the balloons until they pop, to reveal their sweet treats.
Save this Halloween activity for toddlers for the end of the party as these baloons will make cute decor too!

64. Stickered pumpkins
For a mess-free and minimal prep Halloween craft for toddlers, swap pumpkin carving and painting for simple stickering. Stock up on funny looking pumpkin faces ready for the next spooky occasion.
65. Hunt the spider in the dark
Here's a scavenger hunt with a twist! Hide plastic spiders around the house, close the curtains and turn out the lights. Give your toddler a torch and then it's time to go spider hunting!
As a bonus, these mini LED torches and plastic spiders will make great Halloween giveaways too.
(This is a variation of torchlight teddy hunting – a fun and easy indoor game that we play several times a week in the winter months, my toddlers love it that much!)

66. Halloween mystery boxes/buckets
Here's a Halloween activity for toddlers and any kids that enjoy touch and feel guessing games. But in keeping with the spooky season, make this one a little bit gross! Some kids may not be brave enough…
All you need is a box or bucket and fill it with something a bit creepy. Whip up something that they'll make them jump and say EW! It's lots of fun! Get your camera ready…
Here are some ideas we've already tried:
socks floating on soapy water
canned raspberries sumerged in jello
cooked spaghetti with baked beans and shredded beetroot (it looks as awful as it feels and sounds!)
Then simply have your little party goers stick their hands inside and guess what's in the box.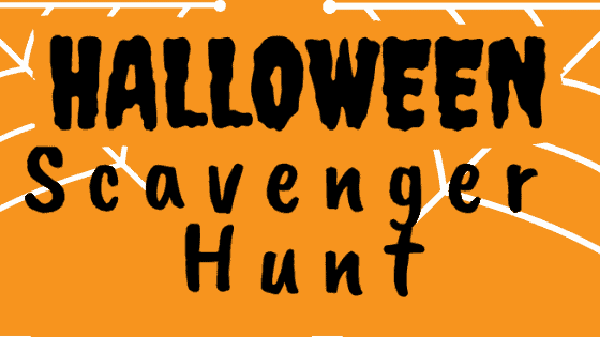 If you're looking for a fun Halloween activity that'll keep the kids moving, give this trick or treat scavenger hunt a try. Follow the link for the free printable.
A good way to introduce new words to little ones but it'll appeal to big kids too – they all seem to love a good scavenger.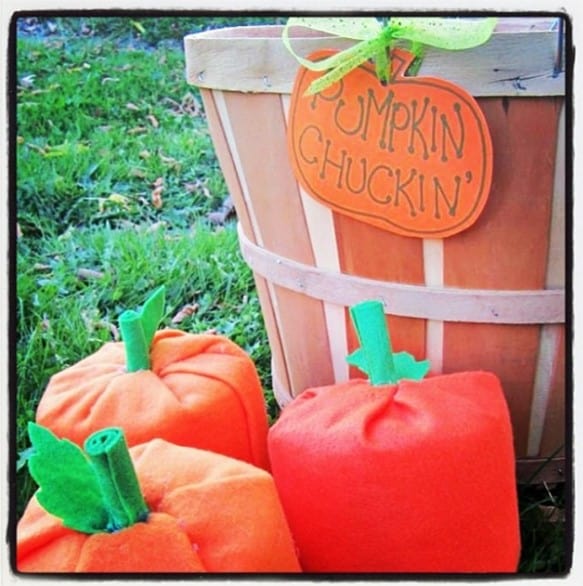 Here's a budget-friendly DIY Halloween party game for little ones. Have the kids stand an appropriate distance from a basket and then "chuck" or throw the pumpkins in.
The pumpkins are toilet rolls covered in felt – a simpe Halloween craft (mostly for Mom I reckon) that'll make lovely decorations too.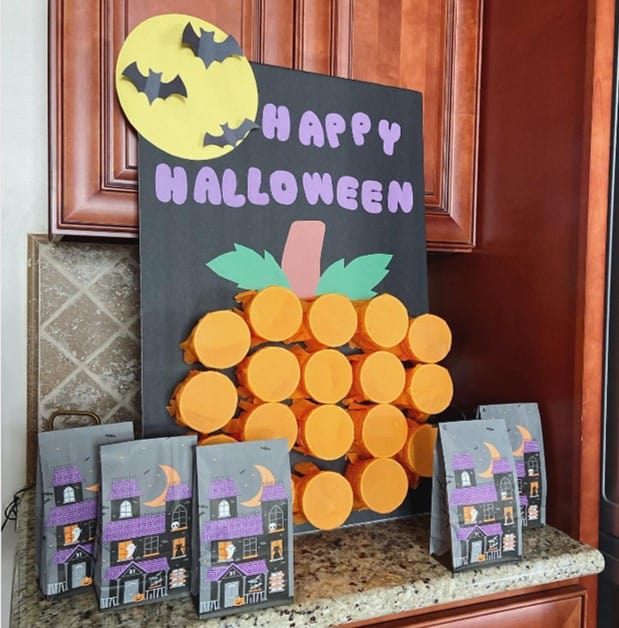 This poke-a-pumpkin Halloween activity for toddlers will be a sure hit! Place a toy, candy or other goodies inside the paper cup and then cover it with orange tissue paper. Watch the kids excitement as the poke the pumpkin to win a prize!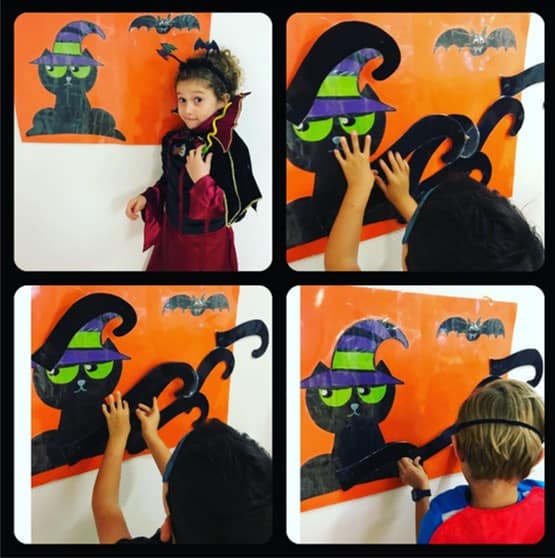 You can never go wrong when it comes to a "pin-the-tail" party game. And since it's Halloween, why not do a pin-the-tail on the black cat!
You could make one yourself, a fun cat craft to do with your toddler or buy a ready-made one here.
For birthday party fun try these:
Other fun Halloween activities for toddlers with a learning element
The fun is not over yet! Here are some Halloween activities for toddlers to try at home or in the classroom. Each as a specific learning element to it.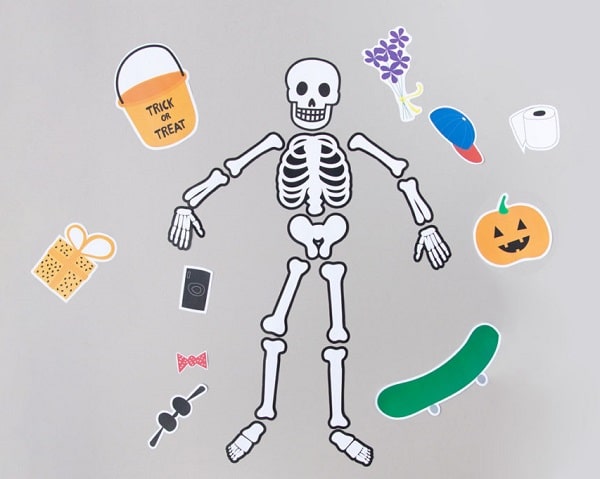 I've put this in the learning and activity section because I think my 4-year-old will be fascinated by the bones and different parts of the body.
Of course I could be completely wrong on this! Or it may go completely the other way and I'll have 5,000 'why' questions that I'll struggle to answer! We shall see.
For more skeleton craft ideas here.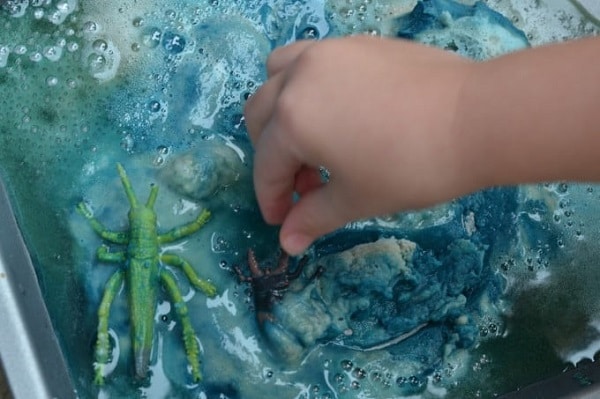 If you haven't tried a baking soda activity this is an absolute must.
I did a simple color reveal baking soda activity with my two toddlers and it was honestly the best thing since sliced bread… If you'd seen the look on their faces!
So I can't wait to try this fizzy rock version (hide a creepy crawly in a baking soda 'rock' and reveal it by dropping vinegar onto it – check out the post from Science Sparks for more details).
For dino-themed baking soda fun, check out these dinosaur activities.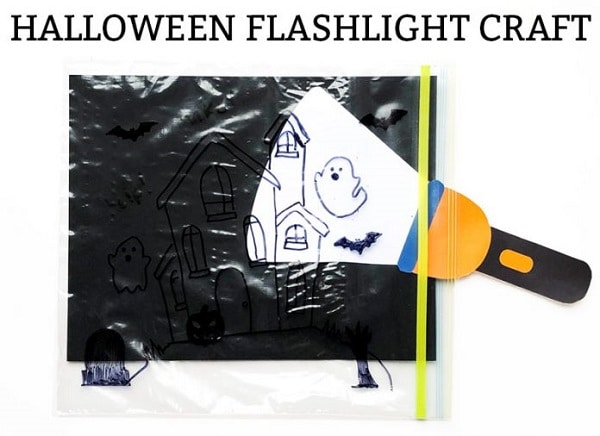 This one is for mom to put together, but with the free printables on the Mom Envy site it should be quick and can then be used time and time again!
You can also turn this into a fun letter recognition game (check the post to see how) so I could try this with my 4-year-old who's just starting out with letters.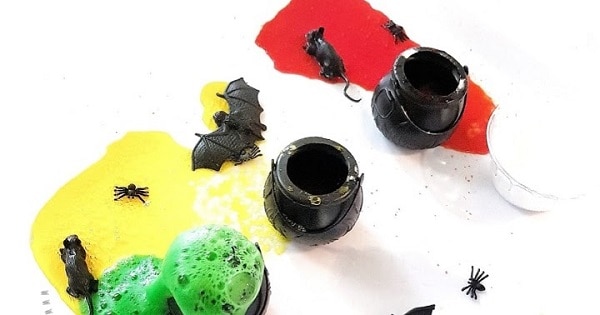 Here's a colorful and bewitching variation on the baking soda experiment, that'll help make science exciting. Toddlers, preschoolers and even bigger kids will be in awe as they watch their potions bubble up in the cauldron!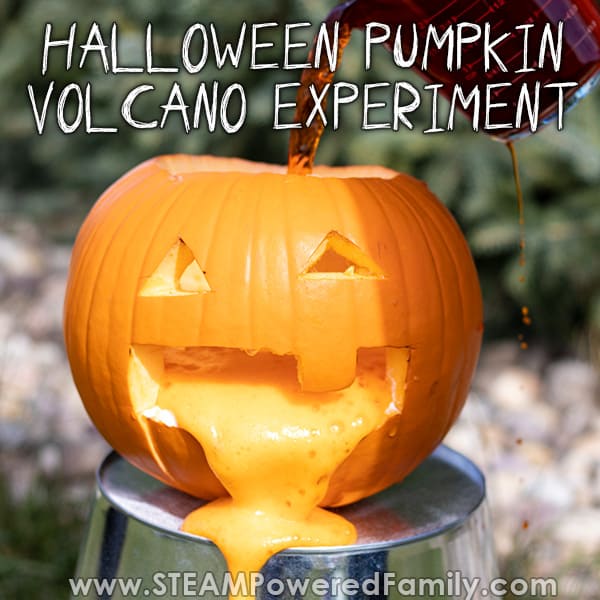 More baking soda and vinegar, this time to help make this Jack-o-Lantern come to life. Yup, it's puking! Expect lots of "ewws"!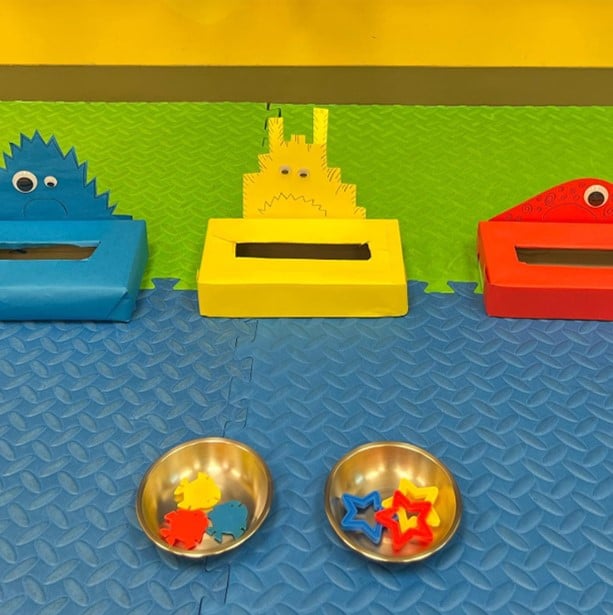 This fun color-sorting activity will keep your toddler entertained while learning this Halloween. Made with colored paper and cardboard boxes it'll be cheap and easy to make.
Just because they're monsters you don't need to reserve this for Halloween – little ones will enjoy it any time of the year!
77. 5 Little Pumpkins Halloween song or poem by Anon.
Every few weeks I teach my kids a new poem (or try to, should I say) – singing and rhyming is really good for language development, as well as a whole host of other developmental skills (more on nursery rhyme benefits here).
So with Halloween just around the corner, it's time to teach them the 5 little pumpkins poem. Here it is if you're not familiar with it:
Five little pumpkins sitting on a gate,
First one said "Oh my, it's getting late!"
Second one said "There are witches in the air,"
Third one said "but we don't care!"
Fourth one said "Let's run and run and run."
Fifth one said "I'm ready for some fun!"
Ooo ooo went the wind, and out went the lights,
And five little pumpkins rolled out of sight.
Which Halloween toddler craft or activity will you try first this spooky season?
There's nothing better than a little bit of crafting and some spooky activities to get into the spirit. Hopefully this list of Halloween crafts for toddlers has given you plenty of inspiration.
But which to choose?!
Will it be the witch paper plate craft? Or maybe the spaghetti sensory? There's so many to choose and there's sure to be plenty that'll get you and your kids into the festive Halloween spirit.
Enjoy!
Don't forget to check out the FAB-BOO-LOUS HALLOWEEN ACTIVITY PACK with BONUS content for 2023:

CLICK HERE TO DOWNLOAD THE ACTIVITY PACK + BONUS NOW
Is it too early to think about Christmas? Never!