Creating baby and toddler hand and footprint art can be a really fun and easy activity to do at home. Cards, canvas prints, ornaments, decorations, even mugs, and tea towels, can all be made at home, provided you have the necessary materials. This list of the best paints for baby handprints, as well as alternative materials, will ensure just that.
This blog focuses on what to use for your little one's foot and handprints – the best baby-safe paint for crafts, some alternatives to paint, and some tips on how to get some good hand and footprint art with a baby or toddler and avoid the mistakes I made.
It is important to consider what can safely be put on your baby's skin as well as think about what will give you the best result.
Older kids and toddlers will have great fun doing it themselves, and baby prints can be done relatively stress-free. Whether it be a way of treasuring those precious memories for yourself or something to send to loved ones, using your baby or young toddler's hand or footprints make such special keepsakes and gifts.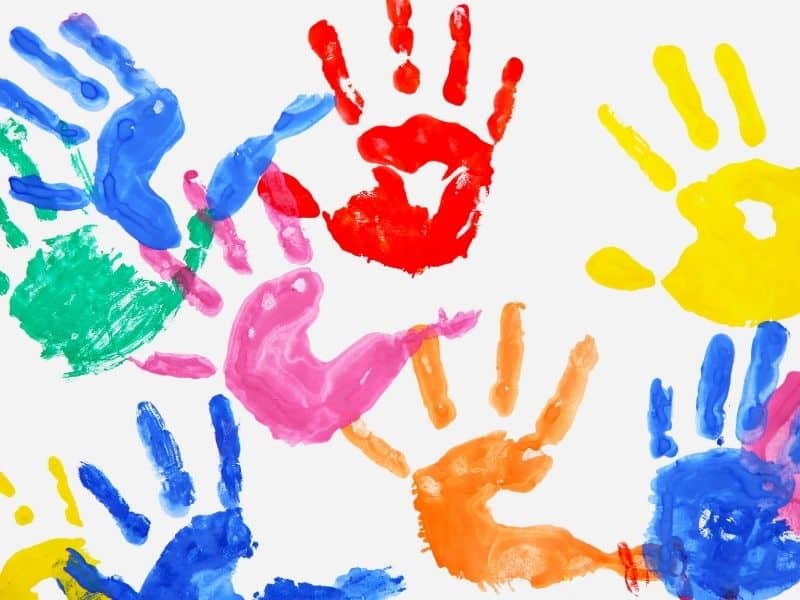 What Type of Paint to Use for Your Baby's Handprints and Footprints
So what are the best paints to use for baby handprints? You'll want to use paint that creates the perfect foot or handprint but most importantly that's safe for your baby's skin.
A baby's skin is so delicate and sensitive, you do not want to be using anything with harsh chemicals that could irritate or harm it. And depending on the age of your child, you may also need to consider the high potential of it going in their mouth. This is particularly applicable to younger toddlers,
The best baby-safe paints for crafts, therefore, and the easiest when it comes to cleaning up, are washable tempera paints.
There are most importantly non-toxic but are also easy to clean with soap and water, just make sure washable is stated on the label.
Safe for little hands and if using paper or card, you will get a good clear print.
If you are still worried about putting this on your baby's skin and the potential of it going in their mouth, there are also some really good plant-based paints out there that are totally natural and safe to eat. Or alternatively, you could look at making your own homemade paint. I'll go into more details on these below.
Is Acrylic Paint Safe for Baby Foot and Handprints?
Acrylic paint is favored by many, particularly when painting on canvas or fabric, however, is acrylic paint safe to use on a baby's skin?
Although acrylic paint isn't harmful, it does have some chemicals in it so it's not the best for delicate new baby skin. You can get non-toxic acrylic paint, but non-toxic does not necessarily mean safe for the skin. You may therefore wish to wait until your child is a bit older before using acrylic paint and stick with the safer tempera options for now.
However, acrylics are definitely the best paints for making permanent crafts using canvas or fabric. So if you want to make baby handprint art using these materials, purchase a non-toxic paint, and start by doing a patch test.
Use a little paint on a small patch of the palm or sole of the foot to test your child's sensitivity, wash off immediately and wait to see if there is any reaction. If there's no reaction, use it sparingly and you wash it off immediately after printing before it dries. Acrylic paint will also stain clothes so use with caution.
How to make baby hand and footprints without paint
If you don't fancy putting paint on your baby's skin there are other options that will give you the perfect keepsake whilst keeping your baby's skin paint-free.
Baby safe ink is a brilliant option, particularly for tiny newborn hands and feet, where it is more about creating a memory than providing an activity. Apply the ink by pressing the hand or foot directly onto the ink pad. Immediately press onto the paper and wipe the hand or foot clean with a wipe or some warm water and soap.
Really easy, and mess-free!
You can also get clean-touch baby print ink pads which I think are a fantastic idea. With these, the ink does not touch your baby's skin, instead, the pad goes ink side down on top of the paper and you push your baby's hand or foot onto it from the back, therefore, transferring the print straight onto paper.
Another really fun option is to use clay to make a decoration or ornament with your baby's handprint or footprint on. This is a really great option for seasonal gifts that will be treasured for a lifetime.
Best safe paints for baby handprint crafts
Here are my choices for the best paints for baby handprints and footprints on paper and canvas. For paper, I would recommend the washable tempera paint or plant and vegetable-based alternatives, and if using canvas, an even layer of non-toxic acrylic paint will give you the best results, just take heed of the note above and patch test first.
Best paints for baby handprints on paper
Even if you don't end up doing that many hand and footprint crafts with your baby or toddler, having a good stash of kid-friendly and baby-safe paint needs to be in your box of tricks for rainy days, looooong school holidays and last minute "gifts" for grandparents.
Related post: 39 simple & sanity-saving activities for toddlers & preschoolers to do at home (minimal prep, minimal mess)
They don't drip, wash really easily, and come in a pack of 6 classic colors, opening the door to loads of fun hand and footprint crafts to do with your baby and toddler.
Because who doesn't love glitter! Your baby may not notice the difference, but if you have a toddler you may have notice they're like little magpies and gravitate towards bright sparkly things…
Powdered tempera paint is a cheaper option – once you get started on those handprint crafts there may be no stopping you – and can be more practical. Just mix with water to your required consistency.
Most suitable for toddlers and preschoolers, finger painting is an excellent way to encourage self-expression and can help develop gross and fine motor skills. This option possibly won't give you the picture-perfect handprint but it is a great sensory activity and your child will have a huge amount of fun creating their artwork.
Be warned that finger painting can be messy but as it is a water-soluble tempera paint, it washes off fairly easily.
These edible eco paints, made from vegetables, come in powder form which you just mix up with a bit of water. Perfect for sensitive little hands and toddlers that love putting everything in their mouth.
Best paints for baby handprints on canvas
Remember, although described as non-toxic they may still irritate delicate baby skin, so patch test first.
A non-toxic acrylic paint that washes off well, when wet, with soap and water.
This non-toxic acrylic paint has a great selection of colors and washes well, whilst wet, with soap and water.
Best options for handprint and footprint crafts without paint
Here are some fantastic baby-safe alternatives to using paint. A great choice particularly for newborn footprints and handprints, easy to clean up and kind on your baby's sensitive skin.
This non-toxic baby-safe ink is super easy to use and to clean up. It works with any paper and card and you can get it in black or in a range of bold bright colors.
Designed specifically for newborns, this no-touch ink pad is a fantastic choice for a first keepsake, with no mess whatsoever.
This soft non-toxic modeling clay is perfect for hand and footprint casts. Mold into any shape you like and finish in the oven.
Best baby handprint kits for easy keepsakes
Looking for the perfect baby shower gift? These are ideal! You can buy baby handprint kits using clay, ink, or paint giving everything you need for the perfect keepsake. A beautiful gift that will be treasured by the mother-to-be.
This comes with baby-safe clay to cast the baby's hand and footprints into and even a stamp to print the baby's name and birth year. The clay goes into a frame with space for two photos also. The ultimate gift for an expectant or new mother.
Another clay casting kit but this time onto ornaments which can be displayed throughout the year on the stand provided, or they would make seriously cute Christmas or Easter decorations.
This one is just gorgeous. Display your baby's hand and footprints, taken with a no-mess clean-touch ink pad, along with a photograph in a really simple white frame.
#14 Canvas Handprint Kit
I love a canvas print, and this 'You Touched My Heart' customizable canvas print comes with non-toxic fabric paint and some helpful hints on how to get the best handprint on the heart.
This baby-safe, non-toxic, and really simple to use kit comes with everything you need to create the perfect cast of your baby's hand or foot. Recommended for babies up to 9 months old, you'll be able to capture every detail of those gorgeous little hands and feet, creating such a precious keepsake.
This one is much more suitable for older children but is too adorable to resist! I'd love to have one of these made from the handprint of one of my kids and I know they'd love making them too.
Best seasonal handprint kits
Handprint gifts and keepsakes make the perfect presents for loved ones. A Christmas tree ornament or a personalised craft or card for Mother's Day or Fathers Day will always go down well and will be treasured for years to come. Here is a selection of my top picks for seasonal kits, suitable for all ages from newborn upwards.
Using a non-toxic clay, this beautiful Christmas tree decoration is super simple to make and is a really special momento to hang on your tree. The clay is set in a classic wooden ring with glitter and a candy cane decoration.
I know I would love to receive this on Mother's Day! The card is designed for children to color themselves and then add a hand or footprint and a photo. Super sweet and your child will love creating it.
Something for the Dad's to wear with pride! Children will delight in handing this over on Father's Day and will have great fun creating it too. This t-shirt comes with three different colors of acrylic paint to add handprints to the preprinted message.
This one is designed for older kids, but there's no reason why you can't cast your baby or toddlers print onto the stone and then paint it yourself. It'd make a great gift for grandparents for Easter.
Best homemade paint for baby hand and footprints
It is surprisingly easy to make your own paint at home with just a few simple kitchen ingredients. Totally do-able, homemade paint is completely natural, non-toxic, and if your toddler is prone to putting paint in their mouth, it is a great safe option. It is also always useful to have a recipe up your sleeve in case you run out of your store-bought supply.
#21 Homemade Paint With Flour
Making your own homemade paint is super easy and gives you peace of mind that you know exactly what is going on your baby's skin. This recipe from Tinkerlab is made up of just three base ingredients, flour, salt, and water, and then the color comes from a few drops of liquid watercolor or food coloring.
#22 Homemade Egg Tempera Paint
This homemade paint recipe from Little Bins For Little Hands is so simple and is made up of just two kitchen ingredients. It lasts really well once dry and is a fun sensory activity to do with your child. All you need to do is separate an egg yolk from the white, put it in a bowl, mix it with some food coloring and you are ready to paint.
#23 Homemade Edible Paint
Another really nifty way to make totally safe edible homemade paint is using condensed milk. Juggling with kids has a recipe where you simply mix a couple of drops of food coloring into a small amount of condensed milk and you have your paint. The paint is on the thicker side but the end result is a super glossy piece of art, and there are no worries about the paintbrush going in the mouth.
How to do baby handprints and footprints with paint – quick tips
Follow these top tips on how to make the best baby handprints on paper to ensure a fun, stress-free, and as mess-free as possible, activity. If you are doing this with older children or toddlers, mess-free might not be so easy, but go with it and let them have fun. Just make sure you are using the washable recommended best paints for baby handprints!
Be prepared
Have everything prepared ahead of time. Lie your paper, thick craft paper is best, out on a hard surface, with your paint ready to go and your wipes at hand
Make sure your baby is happy – a grizzly baby is going to become even more grizzly if you try to paint their hand or foot! After a nap and once they have been fed is usually a good time
If it is warm enough, strip your baby down to their nappy. This avoids the risk of getting any clothes covered in paint
Wear an apron or clothes that you don't mind getting covered in paint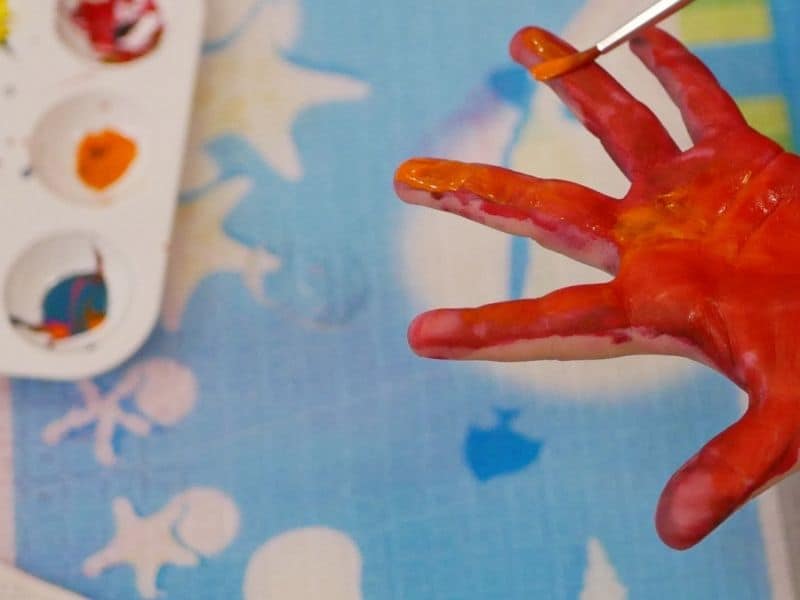 Getting the best print
There are two ways of getting the paint onto your child's hand or foot. The first way is to squeeze the paint, the size of a large walnut is about right, onto a paper plate to then smear your baby's hand or foot into. The second way is to get a paintbrush and paint the hand and foot directly. This definitely worked better for me – I was able to get a better distribution of paint and it was much easier than trying to maneuver my son's hand and foot into the paint
Make sure you have an even distribution of paint
When doing handprints, try to separate your baby's fingers by gently squeezing their knuckles and pressing firming down
When doing footprints, make sure the toes are straight
Have a couple of goes as there are bound to be a few that don't work out quite as you'd hoped
Clean your baby up before the paint dries with baby wipes or a damp paper towel
How to do baby handprints in clay
Using clay is a great way to get a nice clear print, and is the best choice if you are looking to make a long-lasting little hand ornament or decoration. Soft non-toxic polymer clay can be easily found in craft stores or online, and it is simple to work with. Add a hole at the top for hanging and paint once dry, and you'll have the perfect gift for loved ones or a keepsake to display at home.
Use polymer non-toxic clay
Work the clay in your hands until it is soft and malleable
Shape the clay into whatever shape you would like. A heart, star, or circle are nice options or there are plenty of seasonal ideas too such as an Easter Egg or a Christmas bauble
Place your clay onto a baking sheet ready to be put into the oven
Spread out your child's fingers and press firmly into the clay so you make a clear impression
If you want to hang your creation, use a straw to make a hole at the top
Use a knife or toothpick to write your child's name and the date under the handprint
Bake in the oven as per the clay packets instructions, keeping a close eye on it so it doesn't burn
Once the clay is totally cooled, it can be painted
Post a ribbon through the hole at the top and hang
Which of these baby-safe paints or materials will you use for your hand and footprint arts and crafts?
Hand and footprint art and crafts are all about creating memories, keepsakes, and treasured gifts. Whichever method you decide to go with now, it's quite likely you'll have tried them all by the time you have toddlers or preschoolers. I come back to handprint art time and time again with my toddlers, particularly during the holidays, for fun seasonal cards for the family. We know they love receiving them, and we have a great time making them.