It's without a doubt that all young children are enchanted by dinosaurs. There's something magical about these prehistoric beasts that fascinates and intrigues everyone, it seems,
This list of fun dinosaur crafts and activities for toddlers and preschoolers is specifically aimed at 2, 3 and 4-year-olds, it'll be appreciated by kids of all ages.
You're sure to find a dinsaur craft or learning activity that will fit the curious mind of your little one.
From creative dinosaur arts and craft ideas to STEM, literacy and language activities. Plus plain good fun pretend play and movement games, it should be easy to add some dino-love to your little ones' day.
So whether you have a budding paleontologist on your hands or simply need to entertain a busy toddler or preschooler, encourage their love for these creatures through one of these fun dinosaur crafts and activities.
Not only will your 2 or 3-year-old be entertained, but these easy activities will also help enhance their gross and fine motor skills as well as broaden their creativity.
What can we teach preschoolers about dinosaurs?
Our little toddlers and preschoolers are natural-born scientists. Their curiosity leads them to ask different questions, experiment with how things work and observe the world around them; dinosaurs are a particular fascination.
They're sure to have lots of questions about these majestic creatures. and there are lots of simple facts we can teach them while enjoying a dinosaur activity or two.
Here are 5 dinosaur facts that might surprise you and your little learners.
The word "dinosaur" comes from the Greek words "dienos", meaning "terrible", and "sauros" meaning "reptile".
There were more than 700 species of these terrible reptiles, They lived all over the world, across all continents.
The Argentinosaurus were one of the biggest and heaviest dinosaurs, each weighing the equivalent of around 15 elephants. How big is that?!
The Troodon were the most intelligent dinosaurs. Although only 2 meters long, small compared to others, they had excellent vision for hunting at night – better than wearing night-vision goggles!
Dinosaurs might be extinct but there are animals today that have descended from these creatures, like lizards, snakes, turtles and crocodiles.
Dinosaur Crafts for Toddlers
Here's a list of dinosaur crafts that are so easy to make, perfect for your littlest crafters. Through these simple dinosaur crafts for toddlers, your little ones will get an early start on learning about prehistoric giants while strengthening their fine motor skills, expanding their vocabulary and so much more.
Take a look at these cool dino ideas and start crafting.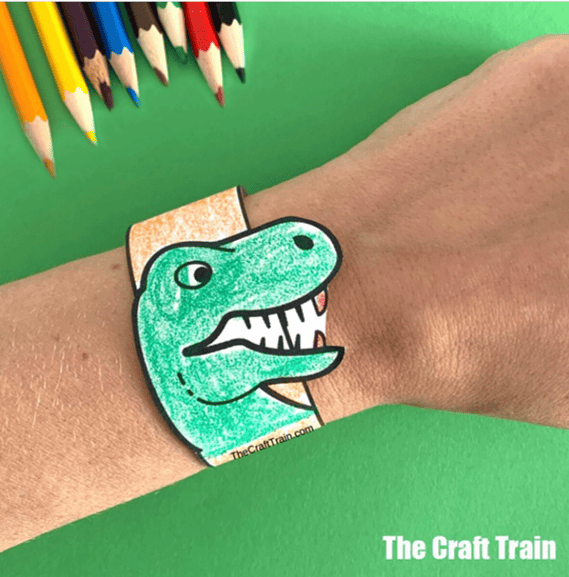 Dinosaur Paper Bracelet
Any dino-loving toddler will love these paper dinosaur crafts bracelets. They'll enjoy having their new best friend by their side and are sure to start roaring whenever anyone comes close… It could be a noisy household after you've finished this cute dinosaur craft for toddlers!
Dinosaur paper bracelet from thecrafttrain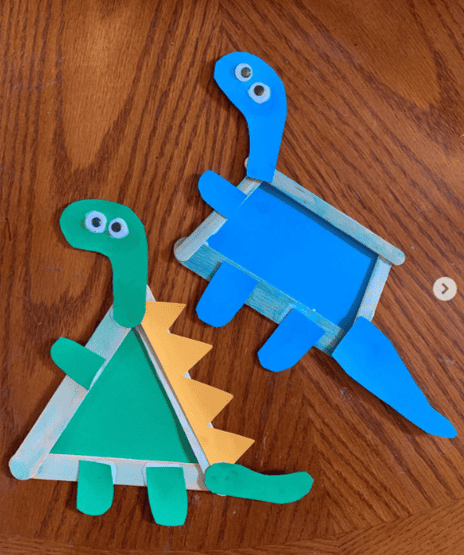 Popsicle Stick Dinosaur Craft for Toddlers
Got some popsicle sticks lurking in your craft cupboard? Don't we all! If so, try this popsicle stick dinosaur craft for toddlers – it's super easy to make.
Other than the craft sticks, you need glue, paint (optional), colored construction paper and googly eyes.
Try using different shades of green paper or let your toddler get creative with other colors such as orange and yellow for a funky and lively dinosaur!
Popsicle stick dinosaurs craftcrazykidz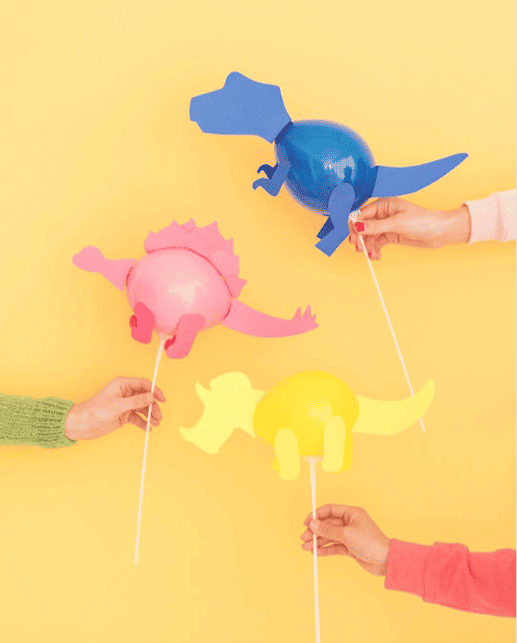 Dinosaur Balloon Sticks
Balloons and dinosaurs? This dinosaur craft for toddlers would make the perfect birthday party activity for a whole bunch of little dino-lovers! Or if that seems a little too much of a challenge, make them ahead with your little one and use them as cute decorations and party favors.
Dinosaur balloon sticks from ohhappyday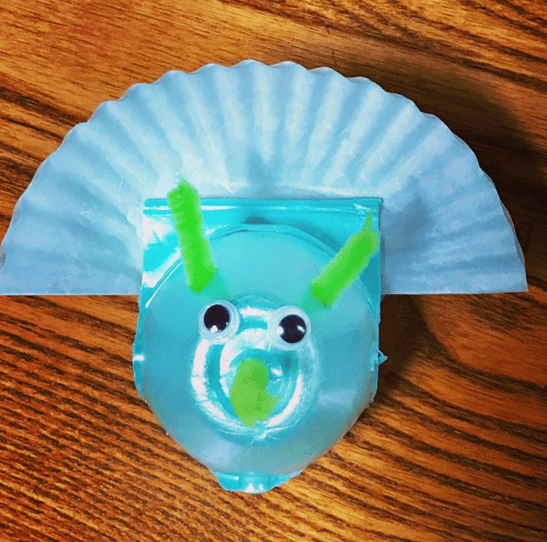 Egg Carton Triceratops Craft
Grab egg cartons, cupcakes liners, fuzzy wires and googly eyes if you want to try this dinosaur art with your toddler. If your little one's favorite dino is a Triceratops, this craft is a must!
Egg carton triceratops craft thatkidscraftsite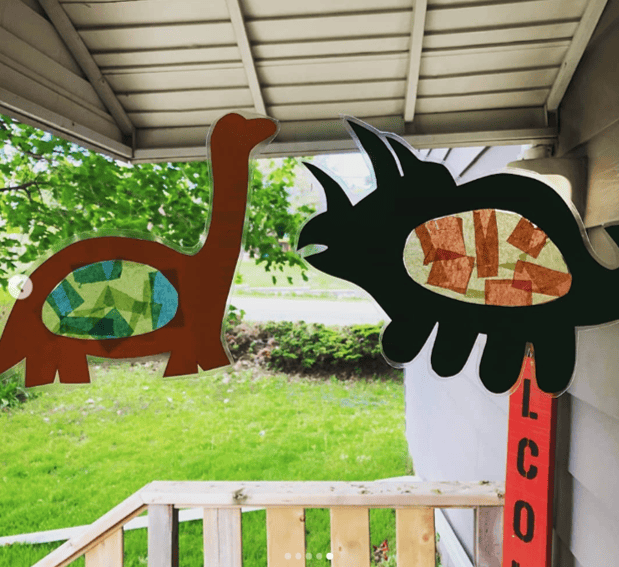 Dinosaur Suncatchers
Brighten up the porch or your windows with one of these cute suncatchers. They involve a little prep but this has to one of the simplest dinosaur crafts for toddlers on the list.
Flying pterodactyl puppets from thecrafttrain
Paper Plate Triceratops Mask
Here's a fun dino-themed craft and dramatic play activity for toddlers and preschoolers all in one! Your child will likely need some help with this one, so set some time aside and enjoy some parent-child bonding.
You'll need a paper plate, scissors, a pen, string, and acrylic paint in different colors. Then simply draw the pieces of the triceratops face (head outline, beak, etc.), cut them out and glue them together. One dinosaur craft and mask for toddlers complete!
Your child can then enjoy pretending to be a Triceratops.
For the step-by-step instructions see Taming Little Monsters
Dinosaur Crafts for Preschoolers
Here are some fun and easy dinosaur art activities for preschoolers – dino crafts for 3 year olds and up. However, if there are any that take your fancy for your toddler you could always give them a go.
These preschool dinosaur crafts will help develop fine motor skills and encourage creativity. But throw in the dino element and these fun dinosaur arts and crafts will also encourage imaginative play!
Any craft that doubles as a toy to be enjoyed for days to come is a double win.
Here are some more simple arts and crafts ideas for little ones. Or if you want the focus to be on the doing rather than the end result, try some process art or finger painting.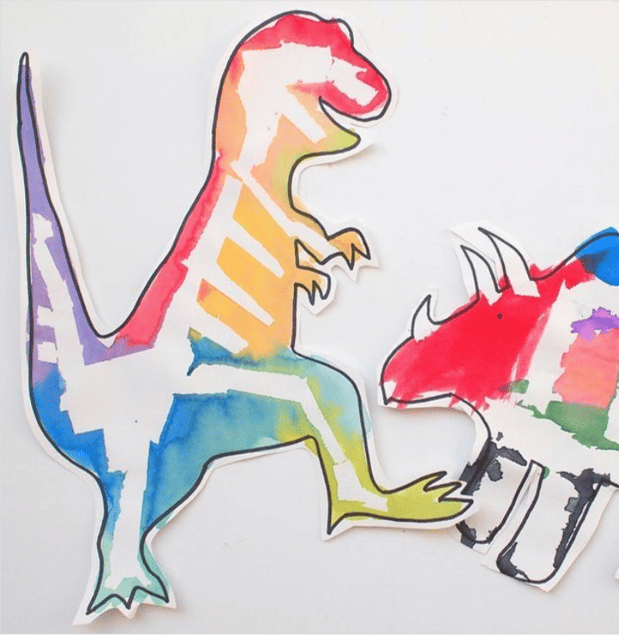 Tape Resist Dinosaur Art for Preschoolers
This tape resist dinosaur craft for preschoolers is a unique and creative way to give a colorful dinosaur picture a skeleton.
This art activity presents a great opportunity to talk about the role of bones: where they might be in the dinosaur's body and why – this is where you apply the tape. Once painted and dried, you then remove the tape to reveal the dino's skeleton. Clever and cute too.
Tape resist dinosaur bone art from pinkstripeysocks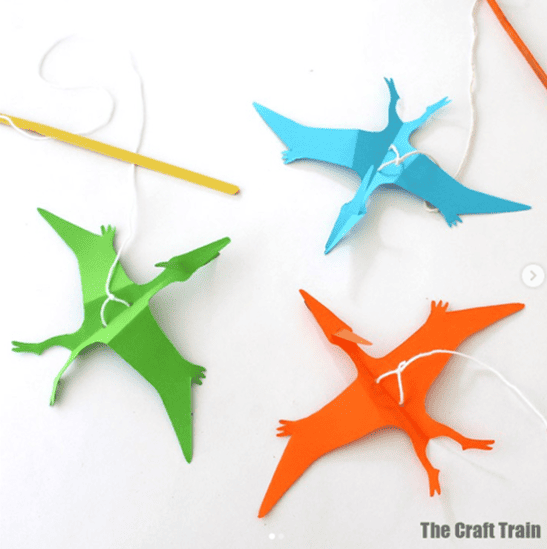 Flying Pterodactyl Puppets
This dinosaur craft requires some tricky cutting, probably a little above the skills of your preschooler, so best left to mom. But your little one is sure to love playing with them and zooming around the house, a flapping pterodactyl in tow! These would also make cute decorations for a dino party or even in the nursery.
Dinosaurs suncatchers from julie.lambert44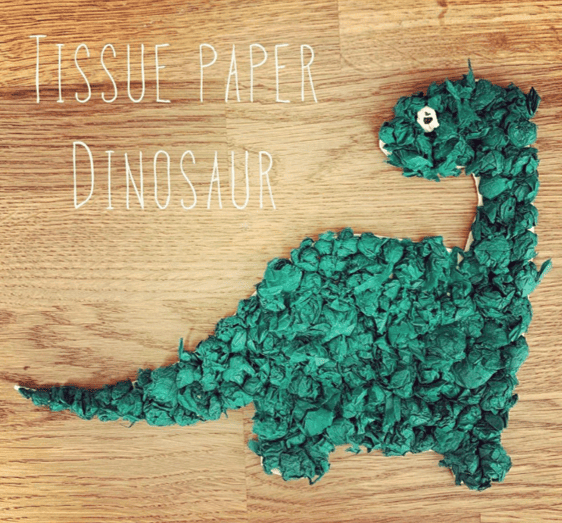 Dinosaur Tissue Paper Craft for Preschoolers
This cute and easy preschool dinosaur craft is a great way for little ones to work on their fine motor skills. Simply have the kids crumple and then paste tissue paper balls onto a dino cut out.
Dinosaur tissue paper craft from proyectosycuentos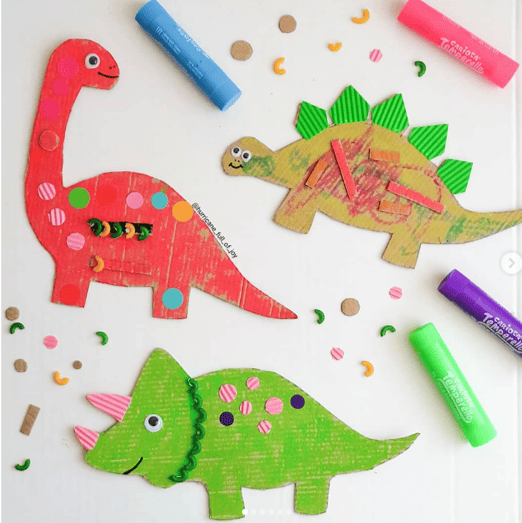 Mixed Media Dinosaur Craft for Preschoolers
Here's a lovely dinosaur craft for preschool or at home that encourages littles ones to experiment with different materials. They'll love creating a unique and special dino friend – why not give their dinosaurs spots or stripes or how about a shiny heart tattoo?! I'm sure my girls will be getting out the glitter too…
Dinosaur craft from hurricane_full_of_joy

Easy Paper Dinosaur Craft
For this easy dinosaur craft for preschoolers, you'll need the free printable linked below, plus crayons, scissors, paper fasteners (brads) and cardstock. Print the template onto cardstock and let your child color all of the different parts of the dinosaur.
Older children may be able to practice cutting out the dino pieces, while younger children will need help. Then attach the dinosaur's head, body, and legs with the paper fasteners. Your child can then play with their own dinosaur creation however their heart desires!
For the free template go to Simply Full of Delight
Love crafting with your little ones?
We have loads of simple and cute crafts you must try:
Love crafting during the festive season? Bookmark these for later:
Dinosaur STEM Activities
STEM means "science, technology, engineering and mathematics" – all-important to a toddler and preschooler's developing mind. With their love of dinosaurs and natural curiosity for the world around them, they're sure to be fascinated by these easy dino-themed learning activities.
You may not be able to bring these prehistoric creatures into your living room or classroom, but these dinosaur STEM activities are sure to engage, entertain and educate your little ones.
Volcano Eruption – In Dinosaur Land!
The classic baking soda and vinegar experiment with a dinosaur theme. The chemical reaction of mixing a an acid (vinegar) with a base (baking soda), produces a foamy explosion, that will fascinate your toddler preschooler.
Start by getting your littles ones to set up their dinosaur land, complete with sand volcano. We used a tealight holder for the baking soda and my preschooler and toddler squirted vinegar on top using a pippette. Then wait for the volcano to explode.
One to take outside, this is one of many outdoor activities we've enjoyed over the years. This is a dinosaur activity that your preschoolers will ask for again and again!
Dinosaur Literacy & Language Activities for Preschoolers
Learning about dinosaurs provides plenty of opportunities to enhance the literacy and language skills of young kids. If your toddler or preschooler is starting on letter recognition, "D is for dinosaur" is a must!
Simply discussing and talking about dinosaurs will help increase their vocab and improve communication and the activities below provide some ideas on how to do this.
Learn And Sing Dinosaur Poems And Songs
Poems and rhymes are a great way to help preschoolers memorize and it's through rhymes that they hear and discriminate between letter sounds, important when learning to read.
They're sure to love the dinosaur-themed poem below which also incorporates actions, burning off some much-needed energy in the process.
Dinosaurs – An action poem by Nancy Klein.
Spread your arms, way out wide,
Fly like a Pteranodon, soar and glide.
Bend to the floor, head down low,
Move like Stegosaurus, long ago.
Reach up tall, try to be
As tall as Apatosaurus eating on a tree.
Using your claws, grumble and growl
Just like Tyrannosaurus on the prowl.
A favorite of my toddler and preschooler is "The Dinosaur Stomp", a rhyming song with easy actions; the link will take you to the youtube video. It's also on Apple music.
Read Some Dinosaur Books
Books play an important role not just in classrooms, but also at home. They stimulate imagination, provide visual images and help diversify vocab and communication skills, laying the foundation for reading skills later in life.
To get you started, here are some best-selling dinosaur books for toddlers and preschoolers. If you have a dinosaur-obsessed youngster in your life, you can't go wrong with any of these!
Get to know these long-extinct creatures through this striking, earth-toned pop-up book which includes fun facts on fifteen different dinosaurs. The geometric patterns of scales and dotted feathers will surely mesmerize any dino lover.
2. Hello, Dinosaurs! (Animal Facts and Flaps)
This delightful lift-the-flap book will showcase the coolest dinosaurs and interesting information about them. Every spread will certainly please your dinosaur-loving preschooler.
This classic dinosaur book is filled with simple text, clear images and fun textures for your little reader at home. This will give them an idea what the dinosaurs were like from their scales to their horns.
4. Discovery Kids Dinosaurs Rumble Sound Book (Discovery 10 Button)
With fun facts, colorful pictures and 10 cool sound buttons, this dinosaur book helps teach toddlers about these long-extinct creatures in a unique way.
This book showcases the different types of dinosaurs – tall and small, fast and slow and everything in between. Through gentle rhymes and colorful watercolor illustrations, this is a great introduction for your preschoolers to learn about the world of dinosaurs.
I consider these five books to be a must-have for your dinosaur collection. They all pose a perfect balance between education and entertainment – each in their own unique way. I'm confident that your little preschoolers will enjoy them – Happy reading!
Ask your preschoolers some questions about dinosaurs
This activity is more about encouraging and developing communication skills, rather than testing their knowledge about dinosaurs. Their answers are sure to give you an insight into how their little minds work and are bound to amuse!
Questions to ask your toddler or preschooler about dinosaurs:
How big do you think dinosaurs were?
Where do you think dinosaurs lived?
Which dinosaur do think has the scariest face?
How long were the arms of a Tyrannosaurus Rex?
How fast could dinosaurs run?
Which is your favorite dinosaur?
If you were a dinosaur, which one would you be?
Encourage dinosaur dramatic play
Toddlers and preschoolers love nothing better than getting into character so pretending to be a dinosaur is an activity in itself. Lots of the dinosaur crafts above provide the opportunity for dramatic play, once the craft is complete. But a dinosaur costume or two is sure to go down well too.
How about this fierce T Rex costume or maybe this friendly Stegosaurus one? This type of creative play helps build communication and is just plain fun for little kids.
Small world dinosaur play
A set of plastic dinosaurs will also offer your little ones the opportunity for dramatic play, just on a smaller scale. Perfect for rainy days indoors or move into the undergrowth outside to create a dino world with real vegetation.
A fun dinosaur activity that engages and entertains for quite some time, this is a favorite of my preschooler. Now my just walking twins are getting the idea too. If their dinosaurs are missing I'm sure to find them outside in the garden somewhere!
For more engaging play ideas for younger toddlers, try these easy activities for 18 month olds.
Dinosaur Sensory Activities
Sensory activities can help stimulate your child's sense of touch, smell, sight, and hearing. Here are some with a dinosaur theme. They provide small world play too – so more opportunity for dramatic play which enhances communication skills.
Love sensory play?
We do! So for more of the same with a prehistoric theme check out these dinosaur sensory activities.
For the festive season, try these Christmas sensory activities and these fake snow sensory bins.
Or try these dry messy play ideas, perfect for any day of the year when you're trying to keep your toddler (as well as your house) as clean as possible.
Finally, here are some some sensory bins we recommend.
Dinosaur Activity Sheets for Preschool & Activities With FREE PRINTABLES
This collection of free activity sheets and dinosaur printables are your go-tos for when you need a quick and easy, quiet and calming activity for your preschooler or toddler. They also provide plenty of opportunities for number, letter and sound recognition while honing fine motor control.
For more simple, minimal-prep and minimal-mess fun, try these easy at home toddler activities. They got me through many days of lockdown!
Love free printables? Then you're going to love these posts:
Dinosaur Movement Activities for Preschoolers
More easy and fun dinosaur activities for preschoolers, this time focussing on movement. Time to get all those wiggles out and move that body! Also known as gross motor skills, actions and games, all these activities incorporate coordination, balance and much more with a dino theme.
For more ways to get little ones burning energy when stuck inside, try these indoor gross motor activities, Or if you want to add in some tunes, try these music and movement activities.
Walk Like a Dinosaur
We've already talked about dramatic play helping with language and literacy, This dino activity will do that too, but it focuses on having a good old dinosaur stomp, having made their very own DIY dinosaur feet! Visit Team Cartwright for instructions.
Then it's time to put on The Dinosaur Stomp and get moving!
Go on a Dinosaur Hunt!
Simply hide toy dinosaurs around the house or garden, then set your kids on a mission to find them. A fun dinosaur activity to get preschoolers moving and looking -remember not to hide those dinosaurs too deep in the undergrowth – obvious is best when it comes to hiding things for little kids. Wouldn't it be a fun and easy party game for little kids?!
Dinosaur Fossil Activities for Preschoolers
Has your toddler or preschooler ever wondered how fossils are formed? Let their imagination come to life and help them understand the process with these hands-on dinosaur fossil activities.
Other Fun Dinosaur Activities for Preschoolers to Do at Home
Want to keep your dino-loving 2, 3 or 4-year-old busy at home? Whether you're looking for a quick and easy dinosaur activity or one that's a little more in-depth, there are plenty of ideas right here.
Little ones are sure to grow their love for these mighty beasts with these fun dinosaur crafts and activities
Dinosaurs may be extinct but their ability to capture the imagination of young children is timeless! These dinosaur crafts for toddlers and preschoolers, plus STEM, sensory, learning and literacy activities should encourage this fascination, offering hands-on and engaging learning ideas, to stimulate the growing brain of your toddler or preschooler.
Great to try at home or at preschool. With so many ideas to choose from, the hardest decision you'll have to make is which one to try first!
__________________________________
We have tons more ideas to keep your little ones busy. Here are some of our most popular posts: