Got a young kiddo at home? Suffering severe lockdown fever? Sounds like you need some easy at home activities for your toddler or preschooler to keep them busy (and you sane).
Covid-19 aside, if you have a little one aged 2, 3 or 4, there's always reason to have a few good toddler/preschooler activities to do at home up your sleeve. (Err, hello Taylors of Harrogate coffee. Yes, I'm a coffee snob.)
You need activities to keep your busy toddler engaged and out of your hair. You need activities for your even busier preschooler out of mischief, just for a few minutes. Ideally with zero set-up and with things you already have at home. Heck, even easy activities to do with your kiddo when you so desire.
And absolutely DO NOT involve cleaning up some hideous mess. (These are paint-free and glue-free toddler activities that won't wreck your home….pinky promise.)
If you now have a sudden need to keep your young kids busy as a result of lockdown, because all the "sanity-saving nurseries are shut", as a dear friend put it, then I'd like to add that this is a skill that can be learned.
Keeping toddlers and preschoolers busy with easy activities is certainly not a skill I was born with. (Like a bunch of other things I kind of presumed would come easily as soon as I became a mom. Silly me.)
Like all things motherhood, you need practice, patience and perseverance. In buckets.
With no playgroups, daycare, softplay, toddler groups or tots classes of any kind where we live in this beautiful corner of the African bush, I've certainly got the practice covered. (And Covid-19 is now making preschool and school feel as far away as the moon so this won't change any time soon.)
With the help of certain resources (which I will share at the end) I've got a handle on what makes their little brains tick and how to bust that energy, all while maintaining a certain level of sanity. (Most days. As long as the Taylors hasn't run out.)
So for all those of you who are suddenly or not so suddenly on the hunt for easy activities to do with your toddler or preschooler at home, you've come to the right place.
This post contains affiliate links. If you click on one and make a purchase, I may receive a commission at no extra cost to you.
Let's define 'easy' toddler/preschooler activities
My definition of a successful and easy activity for my toddler and preschooler is one which:
is quick to set-up – let's say 5 minutes max
doesn't require printing or laminating
doesn't need fancy or expensive supplies (most are things you already have at home or can easily get the shops – if we can get them here in rural Africa I'm betting you can get them where you are)
keeps said toddler/preschooler busy for 15 – 30 minutes, with or without the help of mother dearest (and let's say more of the 'without' than the 'with')
can be easily adapted to kids a little different in age (my two are 15 months apart so that wasn't too difficult)
has minimal clean-up
So these toddler activities should tick all of these boxes and be good to keep your little one going while you have a cup of coffee, feed your newborn, cook or catch up on emails…
These are simple play-based educational activities for toddlers & preschoolers (2,3 and 4-years-old)
I think officially toddlerhood starts at the age of 1 but or when your little one starts walking. But that age is a whole different kettle of fish, given the total inability for this age group not to put things straight in the mouth… So watch out for a post specifically for 1-year-olds coming soon.
These activities are best suited to kids aged 2, 3 and even 4 – so older toddlers and preschoolers
At this age, there are a few common themes in the types of activities that interest kids. I.e. that kids learn from.
I've called them 'educational activities' because kids learn through each and every activity they're doing. They're not merely playing or actually trying to destroy everything they touch. Well, they are, but this is just their way of learning.
So this activity list is naturally geared towards things that toddlers and preschoolers what they want to play with i.e. what they're trying to master in terms of their fine and gross motor skills as well as in their want and need to explore the world. Maybe 'developmental activities' is a better term.
What I'm not talking in this post are more specific educational activities, for example, learning letter and number recognition. That's not to say your 2, 3 or 4-year-old isn't ready for these things, only that those types of activities will be coming in a different post.
The main aim of all these activities is to keep your toddler or preschooler busy, in a constructive way as possible (or in a destructive way, but under your terms!)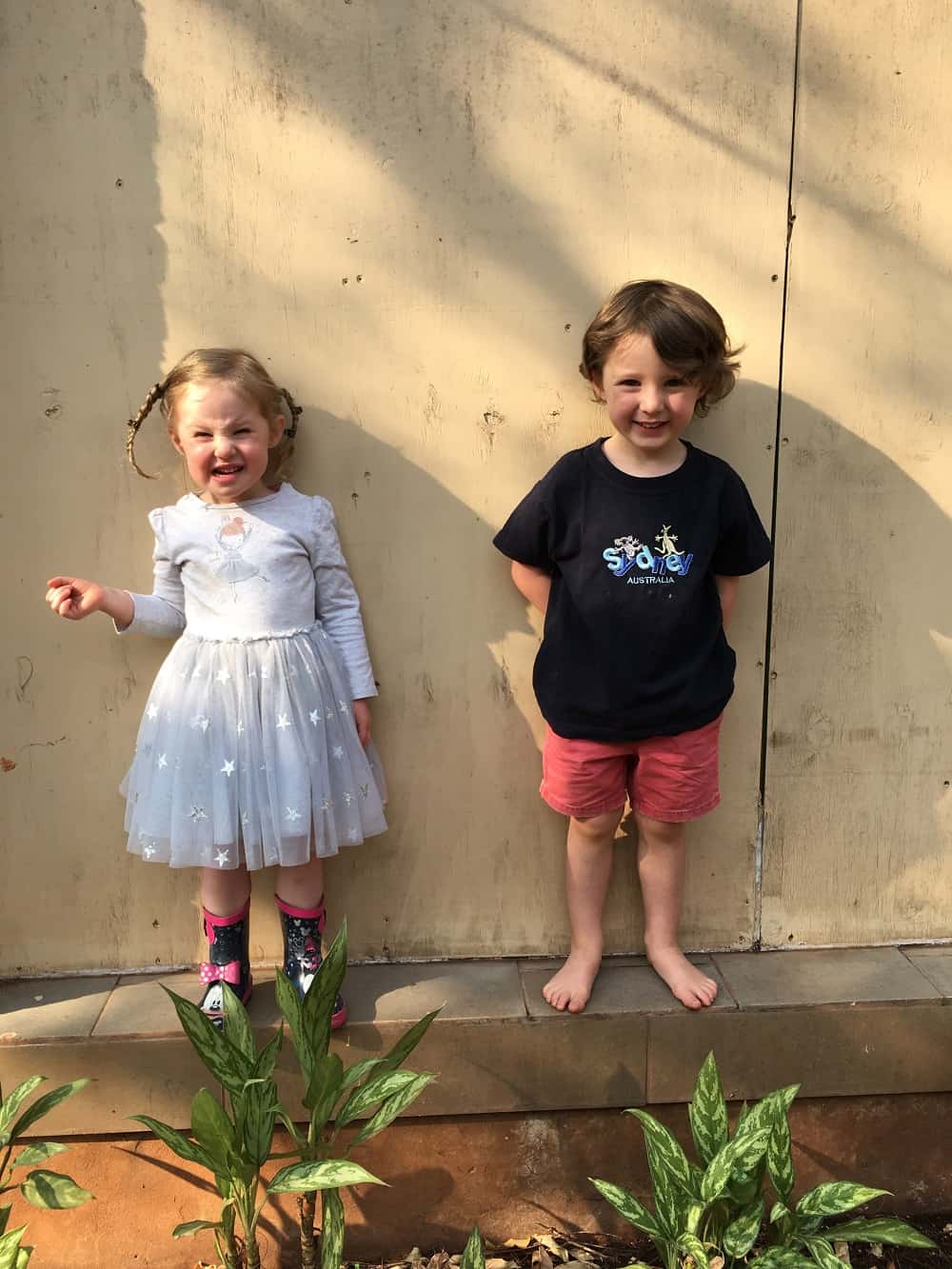 Adjusting activities for different ages, especially for siblings
Always keep it simple – so set the difficulty level for the youngest. Then adapt as you go along. You could easily turn lots of these into more 'educational' and learning activities by adding in a counting element or number recognition to the mix (hence, you'll see a lot of similar activities in the toddler and preschooler educational activity post coming soon).
So what kinds of activities to toddlers & preschoolers enjoy (& need)?
There are certain things that little kids gravitate towards. They love doing certain things and because they're learning, it's actually a very real need.
So this list of things that both toddlers and preschoolers love to do includes to:
stack things
sort things
pour and scoop things
rip things
throw things
touch and explore with their hands
cut things
post things
pack and unpack things
figure out how things work
open and shut containers
pack things into bags and boxes and get them out again
get wet and messy
move, move, move!*
*Physical energy-burning activities will come in a separate post coming shortly.
In all of these things, young kids are learning and practicing a skill. Or they're experimenting with and finding out how something works.
So you're going to see your toddler or preschooler trying to do some of these things when you really don't want them too – especially when it comes to the ripping, throwing and the touching ev.e.r.thing you have at home.
Most of the activities listed in this post involve one or more of the above. So instead of just saying "no", "don't do that" and "don't touch that", hopefully, this list will give you the means to offer your child that need in a way that you are ok with.
You'll also begin to see how you can easily adapt these activities to the materials you have on hand or what your toddler or preschooler particularly enjoys and start to quickly come up with ideas of your own. Plus, I've added ideas for 'easy alternatives' and 'easy extensions' to give you a clear idea of how to do this.
Tips for doing any toddler or preschooler activity
1. Be realistic
If your kids are only 2 or 3 then don't bargain on more than 20-30 minutes before it's time to move onto something else. Even at 4, staying content to do one activity for more than 30 minutes is a stretch, although there have been a few activities which have done the trick.
2. Let your child lead the way
Don't be restrained by the exact way your toddler is meant to play or do the activity. If he or she comes up with a variation of 'the right way' and it's safe and engaging and keeping them busy, then just go with it.
3. Simple is always best
If your toddler finds something too difficult and is getting frustrated, don't push it. Either adjust to make it easier if possible or move on to something else. I still continue to be amazed at quite how simple things need to be.
4. Keep open-minded
Some activities might sound the bees knees and get zero love from your toddler… because it's going to happen. Don't be disheartened!
While others you might be a bit skeptical about and are an instant hit. And you'll keep coming back to them again and again….
As the saying goes, you just never know until you try.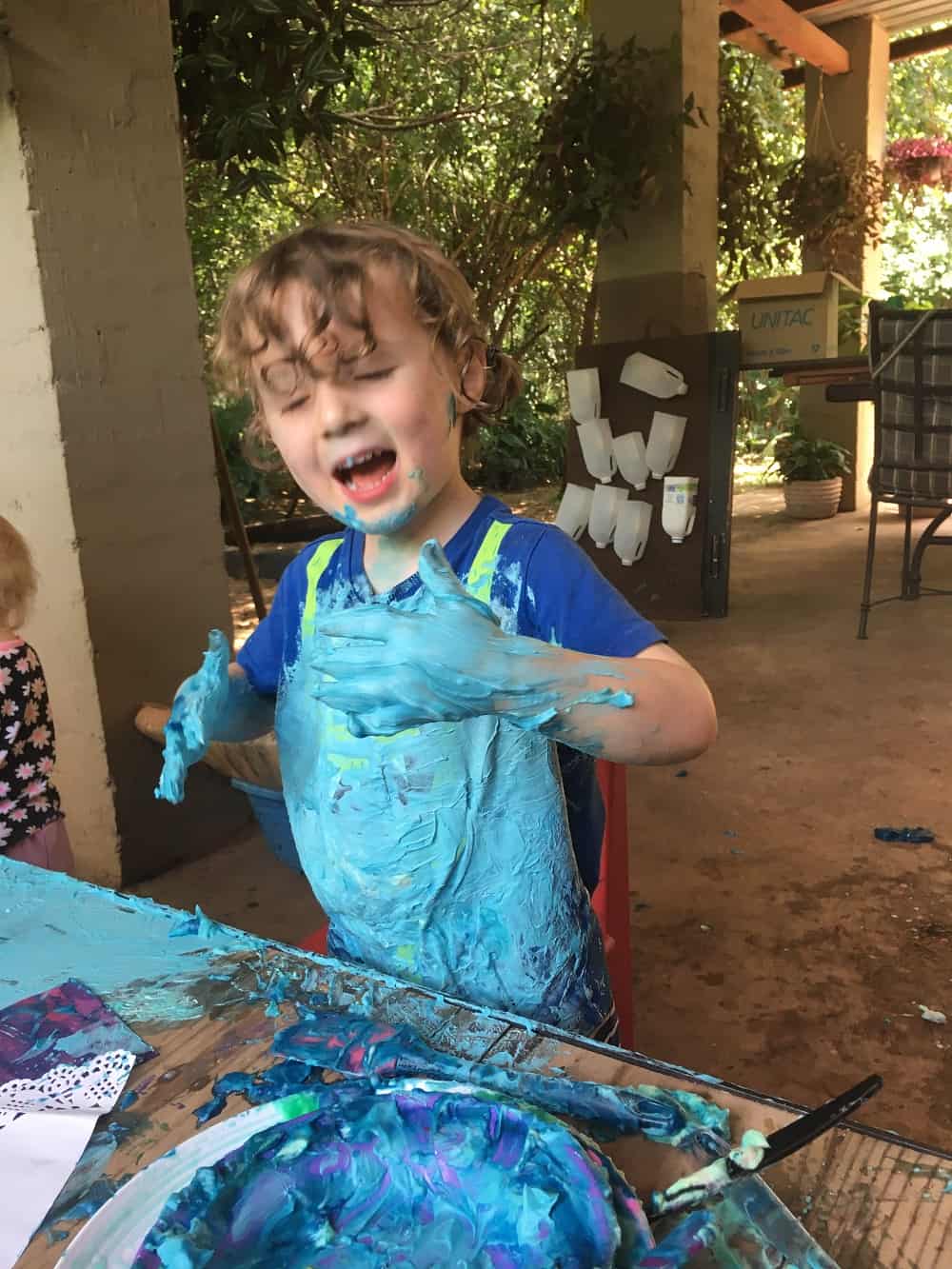 5. Set and state any necessary boundaries first
There are couple of activities here which could get messy if no boundaries are set or your toddler is not good at sticking to them. This can take a bit of practice! Clearly stating the rules and then a firm 'if we can't stick to these rules then we'll have to put these things away' has worked pretty well for us. Then, of course, you need to stick to what you say.
6. Safety first
Hopefully, this goes without saying, but any activities involving small parts need watching carefully and if your child is on the younger side and still loves to put stuff in her mouth, then skip those activities altogether.
Supply list for these easy toddler & preschooler activities
Like I said, you'll probably have most of these should already have these things, but for sake of ease, here's a list of everything that you'll need for these activities:
kitchen implements – salad tongs, ladles, wooden spoons, measuring spoons
muffin pans
cookie cutters
ice cube trays
whiteboard/dry erase markers + whiteboard (though the latter you can do without)
elastic bands
cocktail sticks
plastic straws
dry pasta
masking/painters tape
printer paper
crayons, coloring pencils
shoelaces
To add to this – here's a list of things I've begun hoarding in order to use in toddler activities:
bottle tops
jar lids
toilet rolls
cardboard tubes from kitchen towel rolls, foil and wax paper
cardboard boxes of all shapes and sizes (if too big to store I flatten them for use for painting projects)
old tupperwares
used spice jars
And lastly, a few specific items to purchase if you don't already have, that you'll use over and over again with your kids, through the toddler and preschooler years:
pipe cleaners
dot stickers
pompoms
toddler scissors
toddler sized rolling pins and playdough tools
craft sticks
pipettes and other tools
jumbo beads
marbles
plastic salad knives (or other kid-friendly knives)
You'll find a list of recommended products at the end of this post. Or you can jump straight to that section by clicking this link.
Toddler & preschooler activities to do at home indoors
Most of these practice fine motor skills in one way or another – there really are endless possibilities – and you don't have to look hard to see a very common theme…

#1 Posting toy cars into a large bottle
Small toy plus a hole just a little bigger = a toddler activity that can last a loooong time…then there's all the fun noise your little one can make shaking them around and around and around. Another task is to shake them all out again… literally a good 30 minutes of fun for a busy toddler!
It's always a good idea to check the toy will come out again, but in the case of toy cars into a 5 liter water bottle, I could easily have cut the bottle up to get them out.
EASY ALTERNATIVE ACTIVITY: plastic baby wipes container also work very well to shove toys (and most other things) into and then pull them out again.
#2 Dry pasta scooping & sorting
Dried pasta shapes and ice cube trays with a set of plastic measuring spoons. Or use muffin pans or silicone cupcake liners (I swear these get used for toddler play a million times more often than for baking) or just any small plastic container.
EASY EXTENSION: Amp up this activity by mixing different pasta shapes in one bowl and have your toddler or preschooler fill some compartments/cupcake liners just with bows, others just with noodles, others with shells etc.
You can also make this a little trickier by adding in some different means of transferring the pasta. E.g. salad tongs, ladels or plastic tweezers for kids (check the recommended products section for these).

#3 Puzzle mix-up
Those lovely easy chunky puzzles that used to keep your little one busy as a 1-year-old, are now too easy. But most other puzzles you end up having to help your toddler with, right?
So take those easy puzzles and dump all the puzzle pieces out together. Then have your older toddler or preschooler put all the puzzles back together at once.
Easy and fun and normally a good 15-20 minutes of peace in our house!
#4 Blowing pompoms with straws
This is as simple as it sounds…. my 3-year-old particularly loved this one.
There are any amount of ways you can set this up. I placed a bowl on a chair the other side of our narrow play table and she spent ages blowing pompoms across the table and into the bowl…
This is fun STEM activity for toddlers too. Smaller pom poms move easier but more wildly, and the larger ones are heavier and harder to move, but easier to maneuver.
EASY ALTERNATIVE ACTIVITY: use cotton wool balls or scrunched up balls of paper to blow. Can even be done without a straw altogether but for some reason, all kids seem to love straws…
Or why not turn this into a color-matching activity. Place clear plastic cups on the table, then blow all the green ones into one cup, all the red ones into another and so on. Mom Brite has a great post with more details.

#5 Cutting straws
Cutting is always a popular activity for toddlers and preschoolers. They just love to cut anything. And so easy to do at home.
But instead of always using paper for your kids, get out some cheap plastic straws (I know these are a big no-no environmentally so I'd like to add that we only use plastic straws for crafts and activities these days where they get used over and over…. very rarely for drinking).
Unlike paper, a straw is easy for a toddler to hold, and is long (or at least starts off long) so there's less likelihood of them cutting their fingers off. Bonus.
In addition, plastic straws seem to jump all over the place when cut – much to the hilarity of my two – which does mean a little bit of tidying up (send ours off on a 'straw treasure hunt' normally does the trick in our house) but does prolong the fun.
EASY ALTERNATIVE ACTIVITY: a good alternative to straws, that isn't paper, is long narrow strips of thin cardboard, think biscuit or cereal box cut into strips. Advantage or disadvantage is card doesn't jump into the air when cut!
Paint-chip cards are also perfect.
UPDATE: Just this morning I found an old jumbled up ball of wool… good for nothing… unless, of course, you have a 3 and a 4-year-old who love to cut! They spend a good half an hour cutting up wool… I'm sure that'll come in handy for another toddler activity or craft. (You'll see me on 'Hoarders' any day now.)
#6 Matching tupperwares with their lids
Who said toddlers couldn't be useful?! Got a cupboard in Tupperware hell? Haven't we all. Dump them all out and if you have any with lids on, take them off. Then get your toddler or preschooler to match the lids back to the correct Tupperware. (While you're at it, you can then throw the ones no longer with a lid away – or add to them to the box of junk really useful stuff for the kids to play with…)
EASY ALTERNATIVE ACTIVITY: match bottle lids to their bottles – a bit trickier to screw on so excellent fine motor activity for an older toddler or preschooler at home.

#7 Bottle top posting
There are an endless number of learning opportunities and educational activities for bottle tops (just write letters or numbers on them and you can conjure up all sorts of related activities).
But for this one, you just need LOTS of them and then something to post them into. I used an old formula tin and cut a few different holes in the top for tops of different sizes to fit through. Using a tin means that the lid makes a satisfying clink when it hits the bottom – that's a double win for a busy toddler!
#8 Tower building & then (obviously) tower destroying
Tupperwares, plastic cups, empty cans, small boxes, large ones… you name it!
If your kiddo who loves to line stuff up and for things to be very ordered, then finding lots of things exactly the same is the way to go if possible. This describes my preschooler to a tee.
So stacking empty (and clean) cans into various orderly arrangements and then knocking them down is his idea of heaven.
Because he loves the knocking down so much, it definitely suits him to use cans, rather than plastic cups – unless you don't mind them being ruined. (He was determined to stamp on the cups having knocked down his cup tower so I swiftly put those away and delved into my stash of empty tin cans.)

#9 Make a pipe cleaner bracelet
Wonderfully engaging toddler or preschooler activity for girls and boys… pipe cleaners are perfect for threading activities because they're dead easy to poke through a bead without a needle. Pipe cleaners are super useful for all sorts of toddler crafts.
Related post: STUPIDLY EASY pipe cleaner spider craft for toddlers (no prep & no mess!)
EASY ALTERNATIVE: thread noodles or buttons onto shoelaces.
#10 Rip up egg box cartons
Another activity for destructive little boys! Babies and young toddlers love to rip stuff – so paper towel, magazines or newspaper. But for the older toddler and definitely the preschooler that's just too easy – and can create a lot of mess in minutes.
So to burn off some destructive energy, egg box cartons are the way to go, my friend.
These ripped up pieces are then perfect for dump trucks, diggers and rubbish trucks to play in (yup, even the rubbish gets reused in our house).
EASY ALTERNATIVE ACTIVITY: old cereal and biscuit boxes.

#11 Tiny toy rescue & recapture
Tape some little toys (toy dinosaurs, cars, ponies, Playmobil characters… anything really) to the side of the fridge with painters/masking tape.
Rescuing the taped toys is an engaging activity for the younger toddler, who will need to work those fingers hard to peel the tape off. But even the older toddler and preschooler will enjoy it.
I thought my two would be too old for this, but no! They added in a recapture element and spent a good 30 minutes resticking their Playmobil figures upside down (as in photo above), then making them fall by gently peeling the tape back. Then they'd re-rescue them and start all over again…
EASY ALTERNATIVE ACTIVITY: tape long lines crisscrossing over each other and let your little one peel them off. Alternatively, stick toys or just tape to a table with plastic tablecloth or to a tiled floor.
#12 Make a noodle necklace
Another deja vu… yup, more jewelry and another threading activity for your toddler or preschooler. We painted our noodles first but totally not necessary. Then threaded using some decorative twine – stiff-ish and easy enough for little fingers to thread.
EASY ALTERNATIVE: thread Cheerios for an edible and (probably) short-lived necklace. Or for a similar non-jewelry toddler activity, stick some spaghetti, toothpicks or wooden skewers into a lump of playdough and create a noodle or cheerio tower by threading them on.

#13 Dot sticker shapes & patterns
Dot stickers are amazing for all sorts of things when it comes to toddlers and preschoolers, especially when it comes to counting practice, number recognition and basic math… So we'll save those ones for another day.
So for a toddler or preschooler activity that focuses just on the stickering itself (taking the sticker off and sticking it in a certain place) then you can just draw a pattern or outline of something very simple (my preschooler – above – asked for a square and a triangle, my toddler asked for a heart) and have your little one trace it with stickers.
Such a simple toddler or preschooler activity and soooo effective to keep little minds occupied.
#14 Decorate a cardboard box
This can be a huge cardboard box to play in after, or a smaller one that can become a 'special' toy box or something else.
My two recently wanted to make our new jack Russell puppies a dog house. I quickly taped up a small cardboard box and cut out a door and window and my two toddlers/preschoolers went to town for a good 20 minutes 'decorating' it. (AKA scribbling with pencils and crayons, stamping with ink stamps and stamping pens.)
Needless to say the puppies are not at all interested in sleeping in it and so my 4 year old decided he'd try to hang it in a tree… Then we switched the sprinkler on and mmm… it's now even less likely to be used as a dog house. But since the real aim was just to keep the two terrors busy for a few minutes I'm counting it as a win.

#15 Pipe cleaners and a colander…
…and thread. That's it! My two loved using the finished articles as hats for their ridiculously enormous teddies…
EASY ACTIVITY EXTENSION: Make this activity a lot trickier by challenging your toddler or preschooler to push pipe cleaners through a sieve.
#16 Rubber bands & a can
What is it with toddlers and elastic bands? Well, give them a job to do with them: putting them on to a can and taking them off again, simple. Or if putting them on is too much of a stretch (see what I did there?!) then you can put them on and let your toddler take them off.
EASY ALTERNATIVE ACTIVITY: use a plastic bottle or empty cardboard tube for smaller bands or for bigger bands that can go around twice.

#17 Apple or potato poking
Use a felt tip pen to mark dots on an apple or potato and see if your toddler can stick a toothpick into the fruit/veg on the dot. I was so surprised by how much my two loved this simple activity.
A quick peel and said fruit/veg should still be good to use. (Having tried this both apples and potatoes I'd recommend using the latter, since they're less likely to bruise on dropping a few hundred times.)
EASY ACTIVITY EXTENSION: if your kiddo has a small toy hammer or you have a lightweight wooden meat tenderizing hammer, you can help your toddler hammer the toothpick in. You will probably need to help hold the toothpick (I did) but this is sure to keep them entertained as it's quite tricky and you need to be gentle – something most toddlers or preschoolers are not good at!

#18 Trace simple pattern with pompoms
This is a little like the dot sticker patterns, but without the stickering part. Draw any shape, and have your toddler line up pompoms or any other small loose item along the lines.
EASY ALTERNATIVE ACTIVITY: Pasta, cereal or small toys work really well too.
#19 CD/DVD stacking
Got a bunch of old CDs that skip every few seconds? Haven't we all… well if you have one of those CD stacker storage thingy-m-bobs then taking the CDs off and putting them back on again could well keep your toddler busy… Just know that you'll never be using them for music or film again.
EASY ALTERNATIVE ACTIVITY: this is not a direct alternative, but if you have old CDs in boxes that are destined for the rubbish then your kiddo is probably going to love just taking them out and putting them back in again… actually not all that easy for a toddler to get them in the right place so the box shuts nicely.

#20 Pompom transfer & sorting
Bunch of pompoms in a bowl, a muffin or mini-muffin tray and something to transfer them with. Salad tongs, ladels or plastic tweezers or just a small spoon.
Sounds suspiciously like pasta scooping and sorting, right? Yup, that's the beauty with toddlers and preschoolers; virtually the same activity, just with different tools!
Younger toddlers will love the transferring part to create pompom 'cakes'. (Stand by imaginary oven.) Older toddlers and preschoolers tend to gravitate towards sorting colors… Whatever keeps them happy and busy goes as far as I'm concerned.
#21 Encourage toy mixing
As adults, it's so easy to get caught up encouraging our kids to play with toys in a certain way. But the mind of a toddler or preschooler is of course very different and actively encouraging different toys to be played together leads to a huge number more 'games' that can be invented.
My preschooler loves his train set and has made endless additional bridges with duplo blocks and wooden blocks. He's made salt dough hills for the track to go around. We've made cardboard houses too…
Mixing and matching those toys keeps it fresh – I highly recommend it.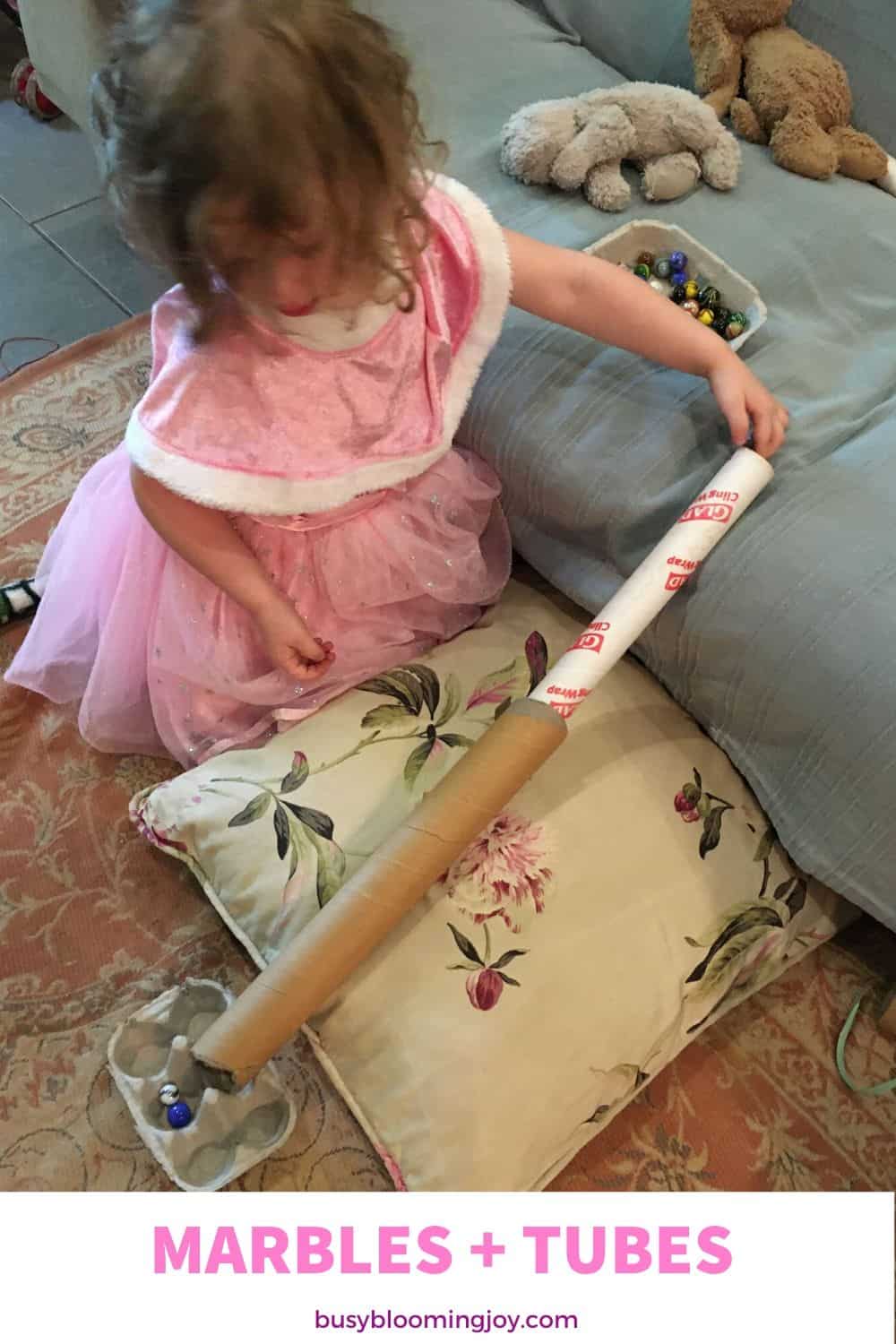 #22 Marbles and cardboard tubes
Grab a few tubes, some marbles and then something to catch them in and let your toddler or preschooler play.
A very simple and also educational activity for toddlers and preschoolers, as there's a certain amount of problem-solving involved in getting the tube to stay up, and to position the cup, bowl or egg box in the right place to catch the marble. So a good one for lots of experimentation. (We found that egg box cartons work the best to catch the marbles as they don't jump out as easily as from plastic bows or cups).
You could also make a more permanent marble run by hot gun gluing tubes to a big sheet of cardboard but I wasn't all that successful and my two just wanted to move the tubes all the time…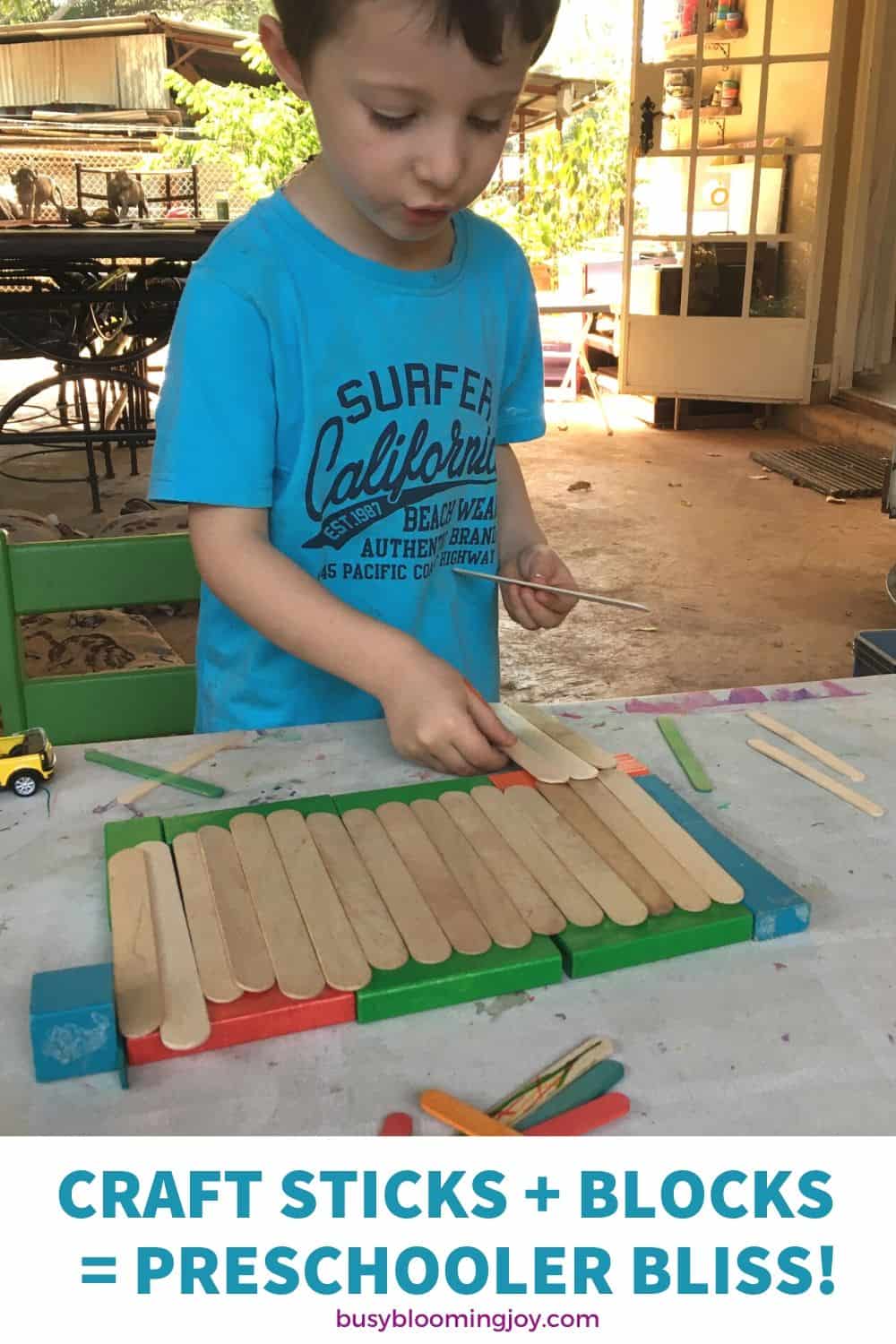 #23 Craft stick & block building
I saw this activity on Frugal Fun 4 Boys and knew this would be a hit with my preschooler, who loves to build!
If you click here you'll see the different ways they build and balanced towers, using crafts sticks, blocks as well as plastic cups. H was intent on the low, wide bridge and ramp that's in the picture!
Given there's so much potential in this activity, I can see us returning to it again and again.
#24 Listen to stories on audiobooks
I was hesitant to include this as it's not so much an 'activity' but my preschooler, in particular, loves to listen to audiobooks. Great for screen-free resting and relaxing, which we do every day after lunch.
We only got into this in a few weeks ago at the beginning of the Covid-19 pandemic when Audible started offering free audiobooks. We've been listening to The Timeless Tales of Peter Rabbit & Friends and Winnie The Pooh ever since. (This offer is still on until the end of May; click this link to take you there.)
Indoor water-play activities for toddlers & preschoolers
Toddlers and preschoolers love to play with water! So even if you can't get outside, try some of these water-play activities which shouldn't get out of hand.
These activities are mostly to be carried out at the kitchen sink (or similar) or in the bath, with a couple to be done at a table, well covered with a plastic table cloth.
#25 Pour and scoop water at the sink
Stool at the kitchen sink, sink full of water and some empty yogurt pots/tupperware with some measuring cups… Yes, this is exactly the same as playing with stacking cups in the bath. Different location, different tools, completely different activity!
#26 Play with ice cubes in the sink
Toddlers and preschoolers alike just love ice. So an ice activity is a must once in a while. It can keep my two busy for ages…
EASY ACTIVITY EXTENSION: Add some food coloring to the water before freezing for a bit of color or some pompoms for a hidden surprise.
#27 Wash plastic toys in the sink
As above but make out that your toddlers toys (battery-free of course) need a good scrub. Let's face it, you won't need to 'make out' that they need a clean, in all probability they're fairly grubby.
Just remember to be clear that 'only Mom or Dad' can put the dish liquid in though. And then hide it unless your toddler has an insane amount of self-control.
#28 Play with non-bath toys in the bath
So not regular bath toys, other water-friendly toys (think duplo, plastic animals, plastic characters etc). Our rule is nothing wooden and nothing with batteries.
Building towers in the water is completely different to building them on dry land. Obviously Mommy because now it's boat, not a house. Or a houseboat. Or a submarine… I lose track.

#29 Bottle tops & pipettes
First, fill a few small cups with water – you can add a drop of food colors to each if you want so each cup of water is a different color. Then lay some bottle caps and jar lids out on the table (preferably on a plastic table cloth or plastic tray, or both). Take a plastic pipette and show your toddler how to use it first – this can be quite difficult for a younger toddler. When my youngest was still 2 she struggled with this (see the easy alternative below) but now at 3 she's got it nailed.
Then show them how to transfer water from the cup to the bottle lid – without it overflowing of course.
EASY ALTERNATIVE: if your toddler can't manage to figure out the pipette, then you can do the same activity using a 1/4 teaspoon measuring spoon. You need to use a small teaspoon otherwise those bottle tops overflow very quickly.
#30 Water transfer with pompoms
This activity is good fine motor practice for your little one and can be done at the sink or at the table. We've tried it at the kitchen counter, with a shallow oven dish full of water and a bowl of pompoms and then a few small bowls and cups.
Younger ones will just enjoy picking them up and squeezing them but an older toddler or preschooler can transfer water from the dish into the cups and bowls by squeezing the pompoms. Just don't set the cups up too far away from the dish to minimize water dripping too far.
Minimal mess sensory activities for toddlers & preschoolers
Since this post is all about easy activities to do at home with minimal clean-up (we don't need to add to the craziness of life with toddlers do we?) this list of sensory activities is short and sweet. All of the below involve minimal mess – dry mess that can be fairly well contained and swept up quickly.
Remember to state those boundaries/expectations upfront!

#31 'Bake' with playdough
I could say 'anything' with playdough because playdough never ever seems to get boring and can be used in a million and one different ways, but thought it more useful to name something specific. So baking it is – a firm favorite and something we do almost weekly in our house.
Our equipment list of choice is:
playdough, homemade or store-bought
muffin pans
silicon muffin cases
cookie cutters
toddler sized rolling pin
cut straws (cake candles, of course)
some kind of unit that will double as a pretend oven (we use a white plastic kitchen trolley – finishing the homemade play kitchen is still on my to-do list…)
This is a case of less is more – toddlers get easily overwhelmed with too much choice in the cookie-cutter department…
For a winning playdough recipe, mix the following together, heat gently and stir until you have a lump of the stuff – dead simple. Even works when my 3 and 4-year-old are doing the measuring!
flour – 2 cups
salt – 1 cup
cream of tartar – 4 tsp
vegetable oil – 1 tbl
food coloring – a few drops
That's enough to make 4 different colored decent-sized lumps.
More on everything homemade playdough here.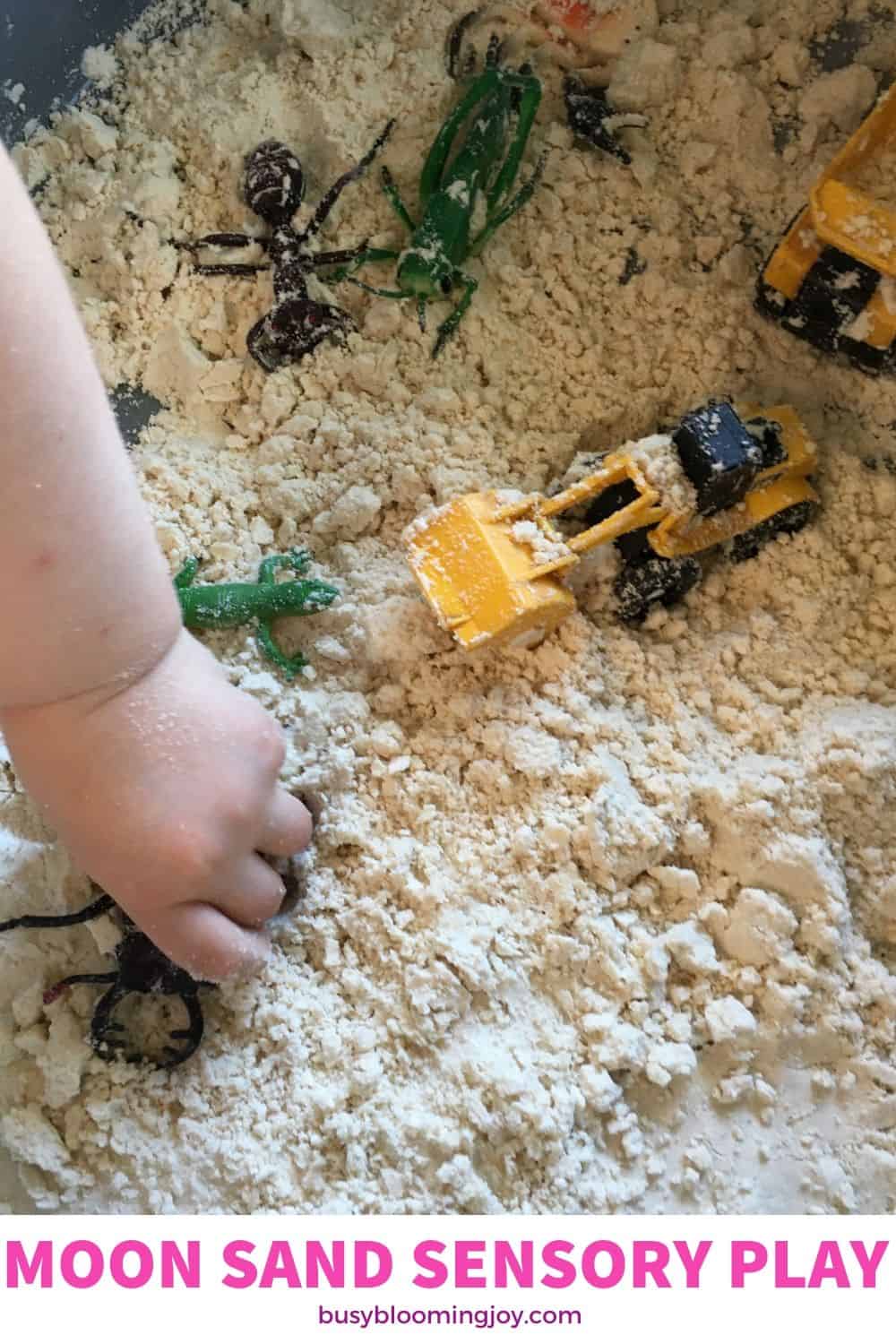 Mix flour and oil together (any types will do, whatever you have to hand) in a ratio of 8:1 and you have some lovely soft and fluffy moon sand.
Put it in a large plastic container or crate – at least 40cm by 80cm (think underbed storage container) or use a sand or water table. Then throw something in: a bunch of sand toys, little diggers or cups and spoons or small plastic animals. Then let your toddlers scoop with it, smush it through their fingers and just play.
My two loved burying their plastic insects in a moon sand mound and then rescuing them with toy diggers… whatever floats their boat, right?!

#33 Rice bins
Very similar to above – a scooping and sensory play activity that shouldn't be too messy (remember, state the rules of play first and stick to them!)
Cheap, uncooked rice in a large plastic container, as it is or dyed if you want to get fancy (just soak in food colored water overnight).
You can take this one a bit further and tape some cardboard tubes to the side and add a funnel or too.
My toddlers loved to put a little dump truck under the tube, pour the rice down the tube and be incredibly excited to watch the truck collect their cargo. Simple minds, remember!
EASY ALTERNATIVE: Instead of rice use, cereal or small pasta shapes.
Toddler & preschool activities that might be semi-useful
Who said toddlers and preschoolers can't be useful?! If you haven't got your kiddo involved in a few household activities at home yet, I'd urge you to, for a few reasons:
toddlers and preschoolers love to feel useful at this age and love to help with things – capitalize on this because it can only last so long, right?
although most activities will take long with a little one in two but at the same time said toddler/preschooler is busy and out of mischief
they start to learn the importance of being tidy and responsible and other general life skills
Of course, they're not going to get it 100% right but remember to praise anyway. (And re-do if necessary.)
#34 Cutting food up
Set your toddler up in the kitchen close by (this is obviously not to be done unsupervised) and hand them a normal eating knife or plastic salad knife (I bought these especially for my toddlers to use – great for playdough too.)
Fruit and veg that work well for us have been potatoes, cucumber and lettuce. For the first two, cut them lengthways in half first so that they don't roll around. Warning – things will end up very small – fine for cucumber but probably only good if you want mash potatoes.
#35 Folding pajamas or other clothes
Folding pajamas and night blankets up is now firmly part of our morning routine. I do still lay them out so it's easy for them to get started, but they both love this. Racing to see who's the fastest normally motivates them when they're dwindling.

#36 Washing up
Well, if they can play at the sink, why not take it one step further and get them to wash up?
Not glasses, china or sharp knives, obviously… but their own plastic crockery and cutlery, plastic cooking utensils and small metal saucepans are well within a 3 or 4-year-olds capability.
They're probably going to spend much of the time just playing, scooping and pouring the water, but that's ok. If it gives you 15 minutes to clean up the kitchen or think about what to get out the freezer the next day then I'd count that as a win.
#37 Sorting the clean cutlery back into the cutlery draw
I.e. putting the forks back with the forks, the spoons back with the spoons and so on… A classic matching activity for toddlers.

#38 Breaking spaghetti
I think you can see that my daughter loves this one! Super simple activity to do at home with your toddler or preschooler and surprisingly time-consuming. It can take little hands a good 10 minutes or so to break up enough spaghetti for a meal for 4. It also minimises the mess of your toddler or preschooler eating spaghetti if you get them to break it up nice and short…
#39 Tidying their own toys
This may sound silly to count this as an activity – but since it can take a good 15-20 minutes plus an additional 5-10 minutes while your toddler or preschooler stops to play with the toys they're meant to be tidying up, toy tidying is easily a half-hour activity!
Recommended products for these easy at home activities for toddlers & preschoolers
Here are all the links to the recommended products that are included in various places in the activity list. Here they are all in one place as well.
All these links are 'affiliate links', which means that if you click on one and make a purchase, I may receive a commission at no extra cost to you.
US affiliate links:
UK affiliate links:
Recommended resources for more toddler & preschoolers activities to do at home
These are my go-tos:
Inspired by these easy at home toddler activities for your 2 or 3 year old?
I hope that's given you a good few ideas to keep your toddler or preschooler busy at home and give you a little peace. I'm sure before you know it you'll be coming up with more ideas of your own!
Looking for more preschooler or toddler activities? Check out these posts now:
For Fall & Halloween:
For Christmas: