An easy fine motor activity for toddlers you can make at home in minutes!
Little kids love to fiddle and faddle with things. Their little hands want to explore everywhere and everything. All the time. Not only is your toddler finding out how things work, but fine motor practice is also going on.
Toddlers both need and love to practice fine motor skills on a daily basis. They need plenty of fine motor activities.
Luckily even without our help they will manage just fine finding their own ways. Aka touch all the things. Open all the things. Poke, prod, squeeze and twist….All. The. Things!
Hence this DIY twist top activity board for toddlers.
And come the age of 3 and 4, I've found a few ways to incorporate some more specific learning elements turning this into an easy preschooler letter or number recognition activity.
It's made with things you have at home already (if you're a hoarder like me) or can quickly collect in a week or two of saving everyday household items.
The importance of fine motor activities for toddlers
Fine motor skills involve the use and coordination of the small hand muscles. Anything that requires any kind of precision and strength by the hands is working on those fine motor skills.
Practicing these skills is a precursor to writing skills; young children need to be able to hold a pencil and move it with small and precise movements.
Learn all about pencil grip development here.
But way before writing, well-developed fine motor skills can open a whole world of new possibilities for your toddler – when it comes to independence.
In other words, they're able to do things without the help of mother dearest. (Yeah!)
As much as I've loved helping my toddlers with ALL the things, life can get a little more fun for all of us when they can start to do little things themselves.
I was so chuffed the first time my two managed to change from their jammies into clothes for the day, fold and put away those jammies… they were proud, I was proud, it was a great start to the day!
Activities that practice fine motor skills
There are loads of other things that your toddler will be doing or can start to do daily to practice and refine their fine motor skills:
eating – finger food and with cutlery
opening and closing lunch boxes
scribbling
playing with blocks
playing with playdough (and other easy sensory activities)
dressing dolls
brushing their hair and teeth (their own and their dolls!)
cutting with scissors
zipping and unzipping clothes
exploring loose items, like cotton wool or dry pasta (and other dry messy play)
More on the importance of practicing fine motor skills here.
There are plenty of ideas for ways in which little ones can practice these skills in this list of indoor activities for toddlers. And if the weather is good, why not take them outside and try one of these outdoor activities.
At 3 years old, my son could easily take the lid off the milk bottle, pour milk into his cup and screw the lid back on the bottle.
Much to his little sisters' frustration! She was 2.
Hence this twist-top fine motor activity – the perfect fine motor activity for practicing screwing bottle tops on and off.
On and off. On and off.
(Toddlers love repetition too, right?)
It specifically works on the first 3 fingers – the exact fingers used in the tripod grip for holding a pencil.
She actually still loves it at the age of 3. What's more, I put it together one Sunday afternoon in about 15 minutes and it's still standing today.
Fun crafts & activities that will help fine motor skill development
Here are some crafts and activities that'll provide fine motor practice themed to the season:
Instructions for this easy DIY fine motor activity board
1. Gather supplies
a variety of empty plastic bottles, complete with lid – I used 2 different milk bottles – fresh milk plastic bottles and UHT milk cartons.
a variety of empty squeeze pouches – I used baby food puree pouches and tomato past pouches
an old wooden chopping board, small piece of wood or strong cardboard
hot glue gun
kitchen scissors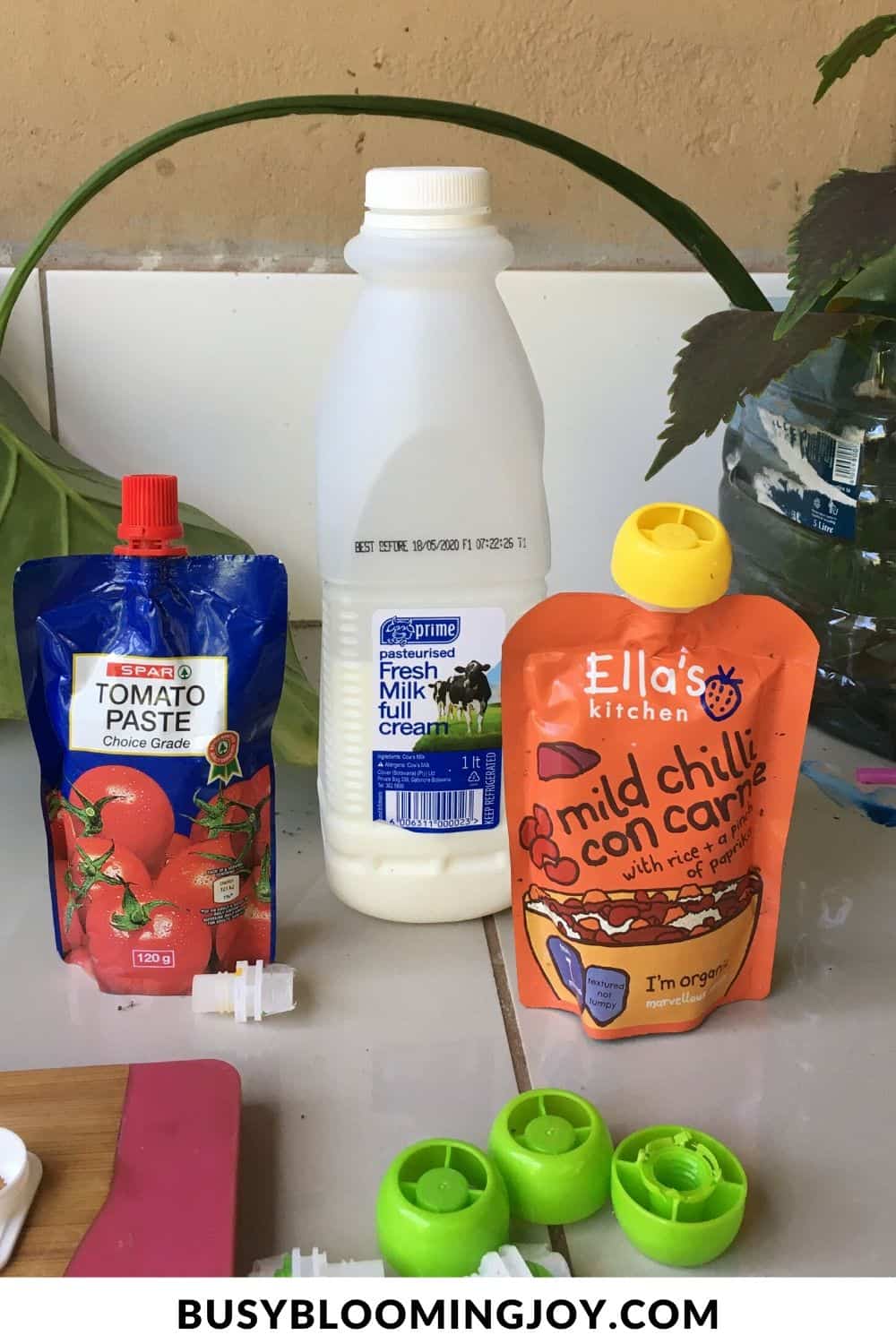 2. Wash the bottles and lids thoroughly
You don't want your twist-top board stinking of off milk after a few days.
3. Cut the base of the lid off
Decent kitchen scissors will do the job just fine – better than a craft knife in my experience.
For plastic milk bottles, you want to cut along the crease to ensure a good contact to glue to your board.
Squeeze pouches are the hardest to get right; you need to cut the bit that's normally hidden inside the pouch off (check the photo to see what I'm talking about) and get a nice flat finish otherwise they don't stand straight or can easily be broken off.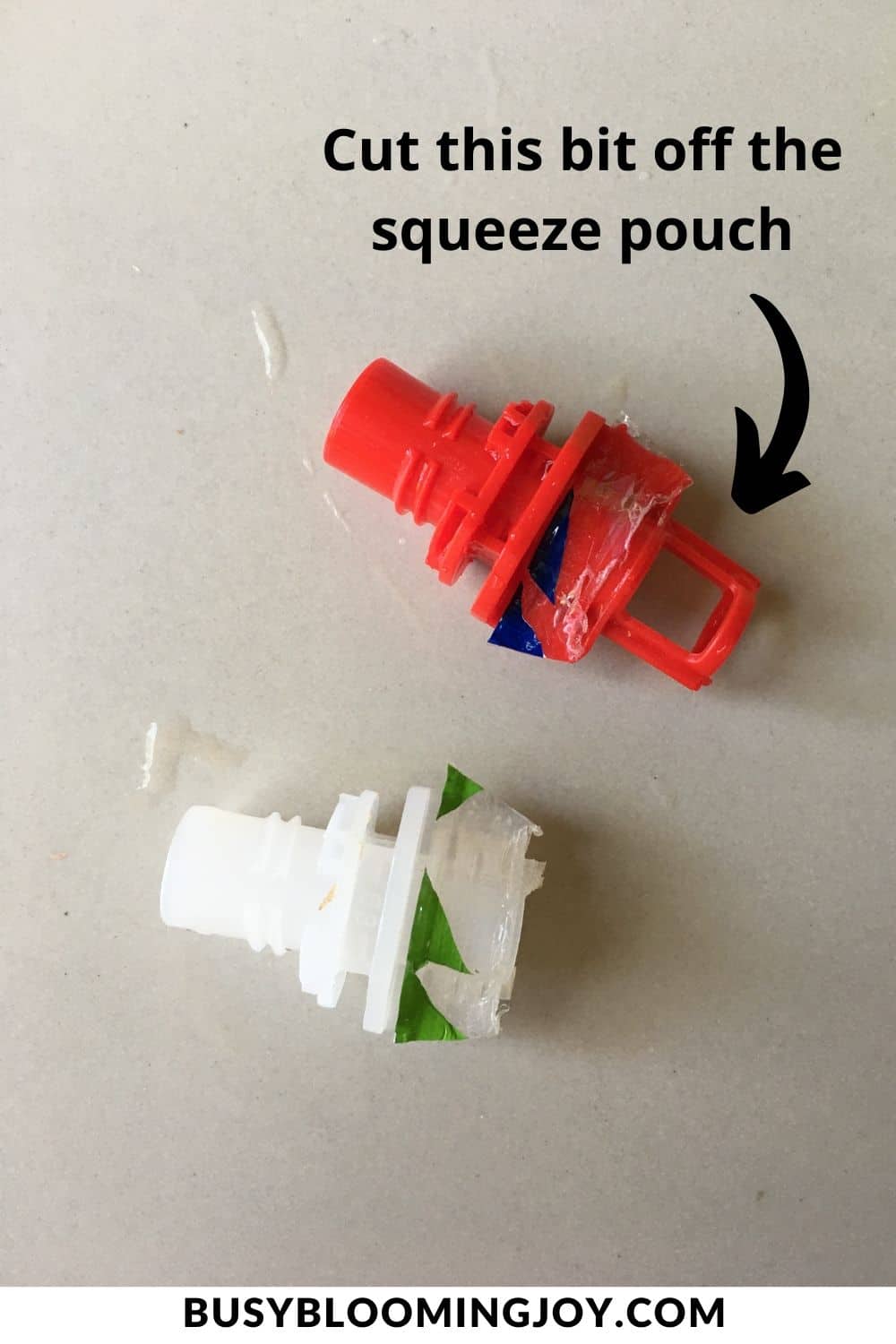 4. Position the bases on the board
By 'base' I mean the top of the bottle you've cut off, that the lid screws on to.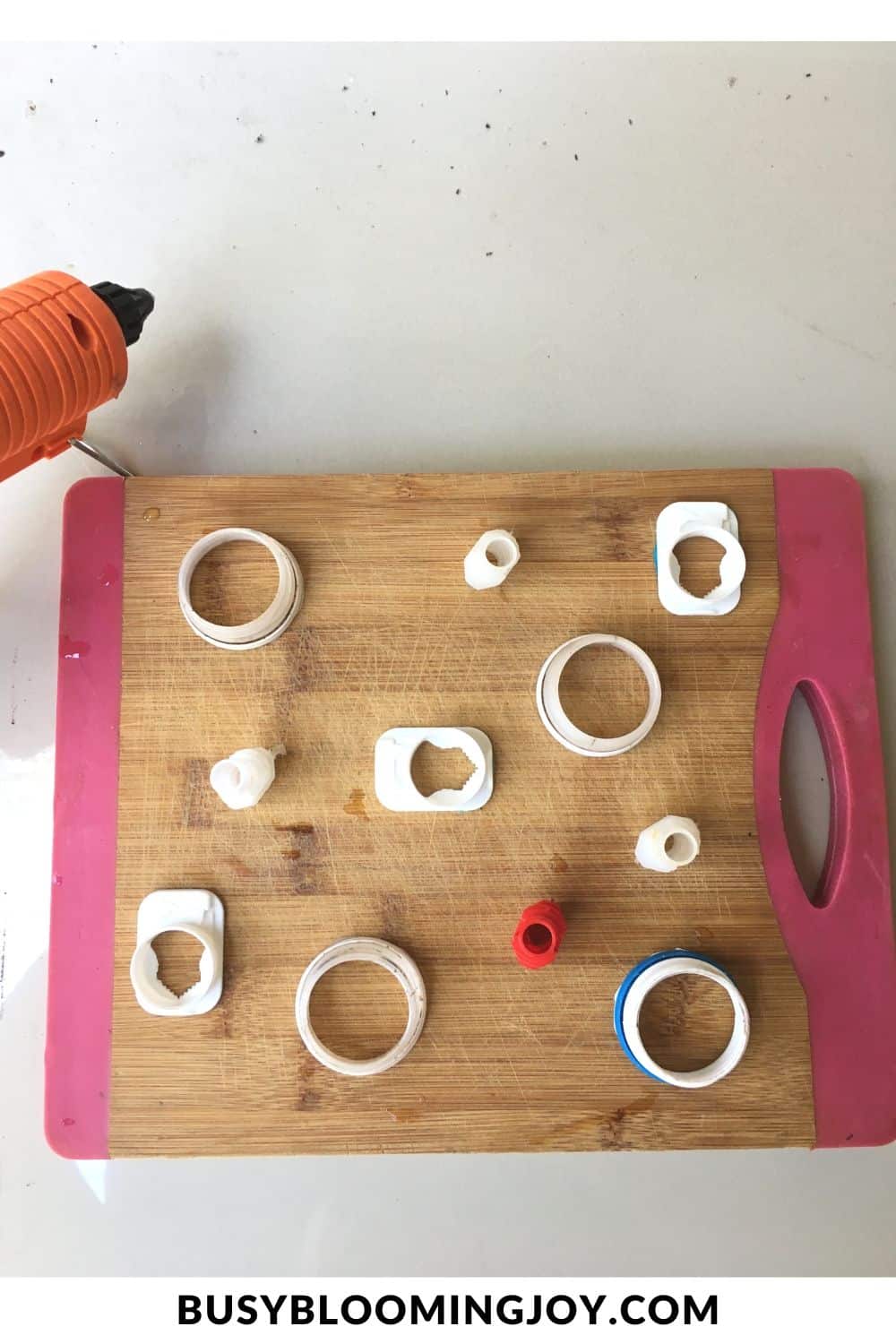 5. Glue & leave to dry
Keep hot glue out of reach of toddler hands.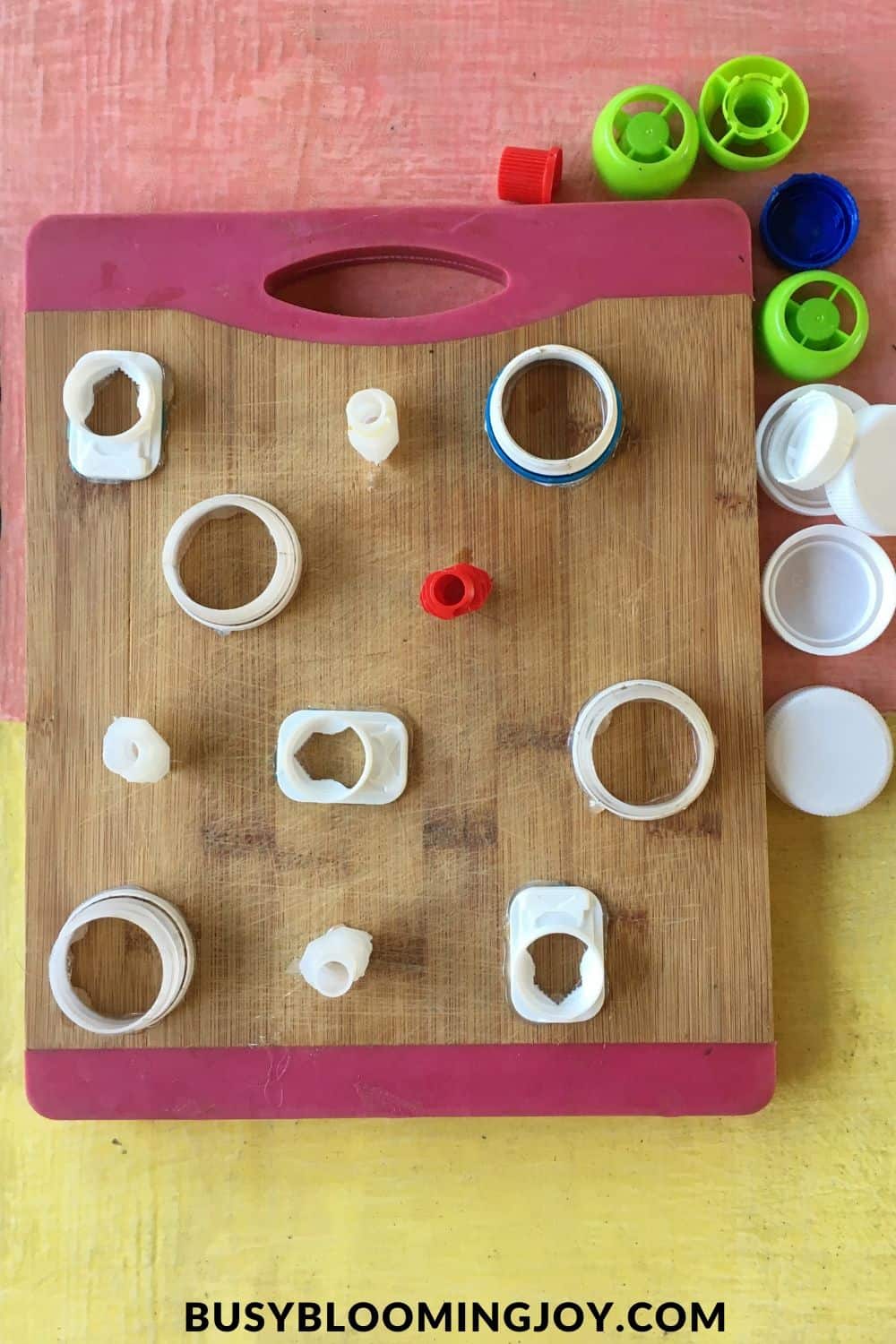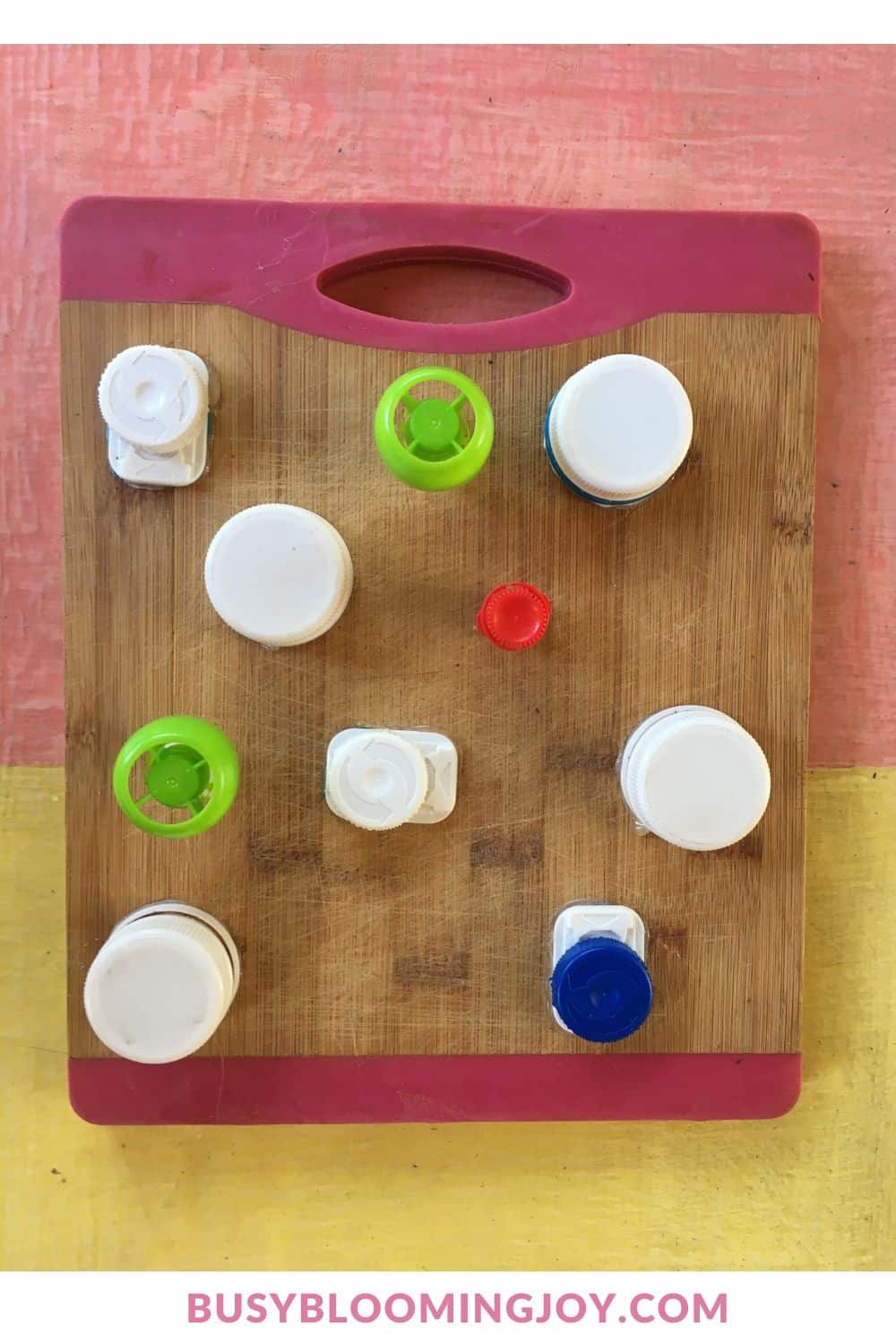 6. And play!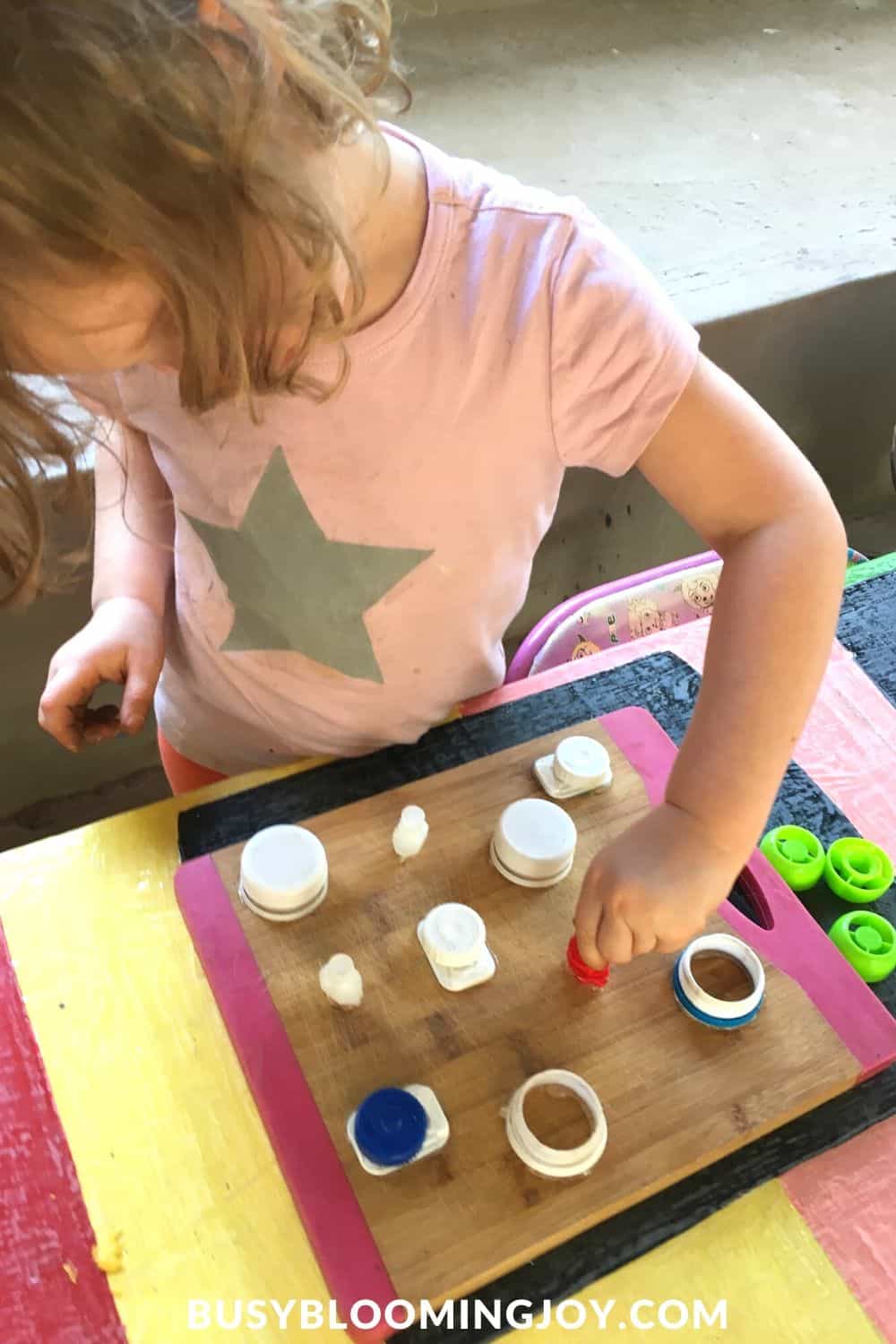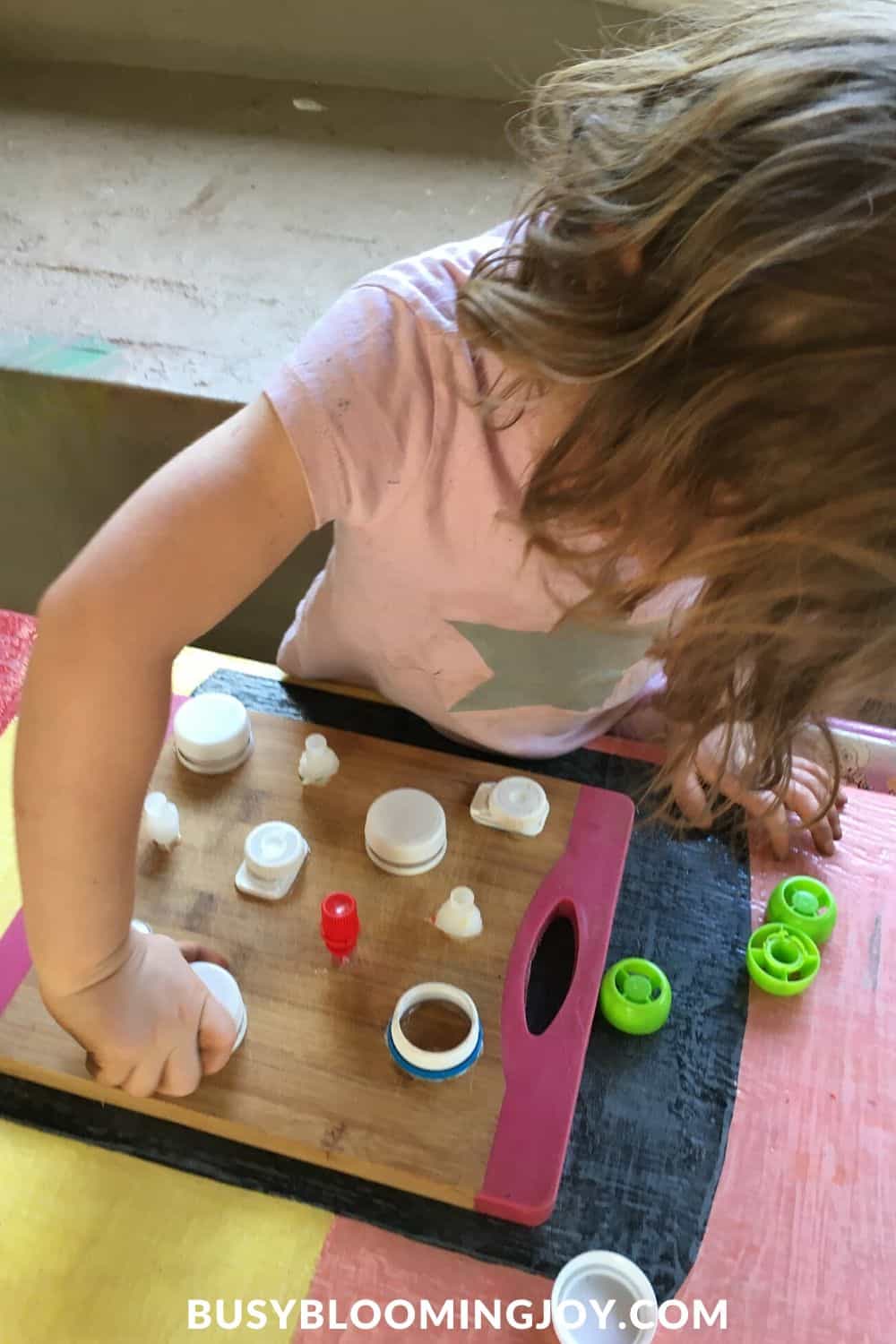 Other skills practiced during this twist-top activity & an update for preschool learning
I chose to use a variety of bottles when making this twist-top toy. By default, they were different shapes and different colors. So even before your toddler screws the top on, first she needs to match it to the correct base. Matching is a very basic math skill.
But there are a few other learning elements you can easily add.
I recently made another twist-top board but this time all with milk bottle bases and lids since these are the biggest lid I have a lot of and these lids are brilliant for all sorts of learning activities for preschoolers, because you write letters and numbers on them.
So for number recognition, I wrote a number inside the base (on the board) and put the corresponding dots on the lids. Then my two preschoolers (now 3 years old and 4) practiced matching them up. For example, the lid with the 3 dots gets screwed onto the base with the number 3 written inside.
Pictures to follow!
Wrapping up
Hopefully, this DIY twist-top board will be an easy addition to your bag of entertaining-a-busy-toddler tricks! It can never be big enough, right?
____________________________________________
For more fun ways to keep your little ones busy, try these popular posts: