Inside: A bumper list of easy sensory activities for 1 year olds, to keep your young toddler engaged at home.
Once your infant reaches the 12 month mark and is more physically active, alert and inquisitive about the big wide world, you may find yourself wondering what next?
How can you entertain your 1 year old at home all day?
How can you provide your young toddler with the opportunity to continue their healthy development?
It can feel a little overwhelming, but don't worry.
There are just so many easy sensory activities for 1 year olds you can try at home.
There's no need for expensive baby classes! (Although these are a great way to get out of the house and meet other moms.)
You'll likely have all the tools you need already to provide easy sensory play ideas for your 1 year old.
Here you'll find plenty to inspire you. Once you've got the gist, I'm sure you'll find yourself conjuring up even more sensory activities for your 1 year old on the fly.
This post contains affiliate links. If you click on one and make a purchase, we may receive a commission at no extra cost to you.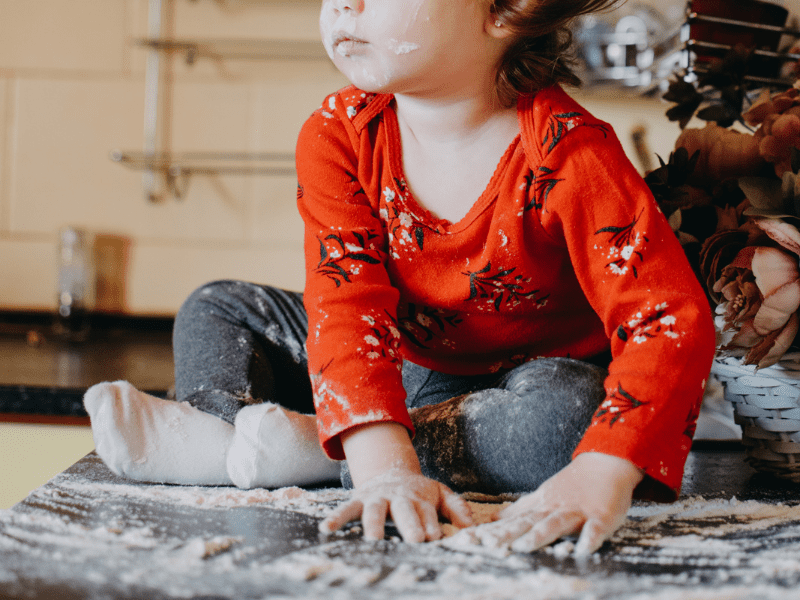 What sorts of things are 1-year-olds learning & exploring?
1-year-olds are a blank slate. They have much to learn. They're learning about themselves and the world around them. They're exploring colors, shapes, textures and concepts constantly, experimenting and taking it all in. Their little brains are working so hard!
Here are some specific skills your baby will be learning at a year old:
Fine motor and gross motor skills
Musical instruments, wooden chunky puzzles, shape sorter toys, and blocks are some fine motor manipulatives that 1-year-olds love to explore. Through playing with these types of toys, your baby is learning the different shapes, spatial relationships, cause-and-effect, problem-solving, and more.
Your child will begin to learn body awareness through gross motor play. Climbing structures, age-appropriate swing/outdoor sets, push-and-pull toys, and water/sensory tables work to develop your child's gross motor skills.
1-year-olds are learning how to walk, jump, throw, and climb. They're also learning how to balance.
Language skills
A child's vocabulary is built primarily through observations and experiences.
Through play, your 1-year-old is learning many new words, and phonetic sounds. They're also learning about the letters of the alphabet. This comes together nicely to build their literacy skill foundation that will promote their language and speech development.
Cognitive abilities
1-year-olds are beginning to learn problem-solving skills through play and exploration. They're learning to make connections between objects and experiences.
What are sensory play activities?
Sensory play is the expression and acquisition of knowledge and skills through exploration. Simply and more deliberately put, sensory play activities are focused on a child's use of their five senses and engages them in learning.
If you're wondering, what activities can you do with a 1-year-old? How you can stimulate your baby to ensure healthy development? How can you entertain your young toddler all day?
The answer to all of these is sensory play.
MESS-FREE Sensory Activities for 1-Year-Olds
If you're looking for a quick sensory activity to set up for your 1-year-old baby at home, this is the place to look first. Clean and dry, these sensory play ideas are a cinch to both prep and tidy up.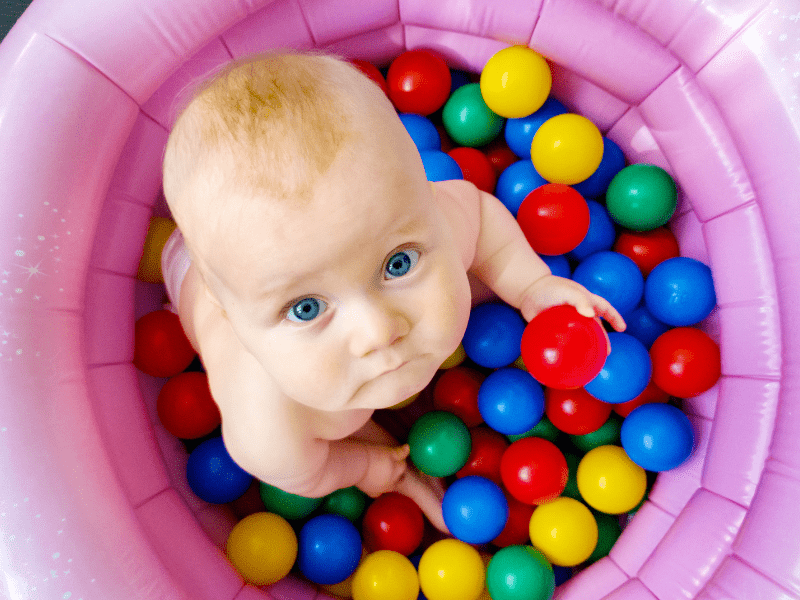 1. DIY Ball Pit
All you need to make a DIY ball pit is a baby pool or large cardboard box and colorful plastic ball pit balls. And of course your willing 1 year old, who will need no invitation to get involved in this fun sensory activity.
You could facilitate this indoors or outdoors, making it fun for any time of year. You'd be surprised at how many ways your child will engage in this activity, as it is very open-ended.
In the summer months, add water and bubble solution to the colored balls and let your 1 year old enjoy a jacuzzi like experience!
2. Contact paper fun
Tape some contact paper to the table, wall or even a window. That may be all you need to do! The stickiness may be all they need for an entertaining and experimental sensory activity.
You can also provide your 1 year old with different safe objects for further sensory experience. Furry pipe cleaners, tissue paper, pieces of felt, strips of newspaper… paper or plastic straws.
See what intrigues and entertains your 1 year old and simply follow their lead. One of mine got such a kick out of sticking his pacifier to the contact paper wall, taking it off, and sticking it on again.
3. Plastic Egg Play
Plastic eggs aren't just for Easter time. Your child can create egg towers using the plastic eggs in halves. They can scoop them up with kitchen utensils, hide toys inside, rattle them in a closed plastic container, sort by color… a fun activity with endless possibilities.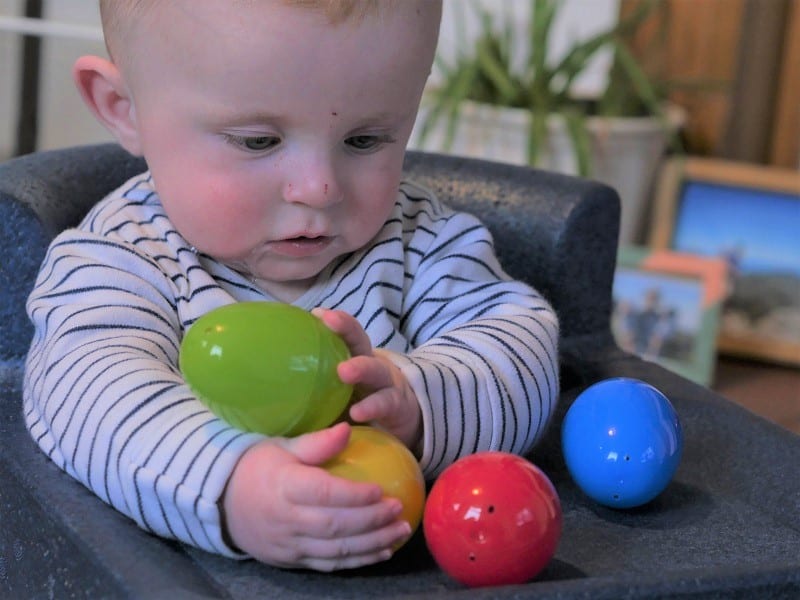 An easy sensory play idea for babies under a year old is to turn plastic eggs into rattles, by filling them with rice or dry pasta.
Related post: 19 Cute & simple Easter activities for babies (sensory, art & more!)
4. Toys & Muffin Tins
Playing with small toys and a muffin tin is a great and easy way to introduce your child to early counting and sorting skills. As they move each toy object from compartment to compartment in the muffin tin, their fine motor skills particularly the pincer grasp, and cognitive abilities are strengthened.
You could also try placing balls into muffin tins for your 1 year old play and experiment with.
5. Tupperware Exploration
Everyone has a dreaded Tupperware drawer, right?! You open it, everything spills out, you can never find the right lid… This will be heaven for a 1 year old – a great sensory activity and opportunity for exploration.
I specifically keep all our plastic containers and lids in a drawer easily accessible to our 1 year old twins. They have fun emptying it then trying to lid and unlid all the various Tupperware in the drawer nearly every single day, while I'm cooking. Fun and such a good exercise to strengthen fine motor skills.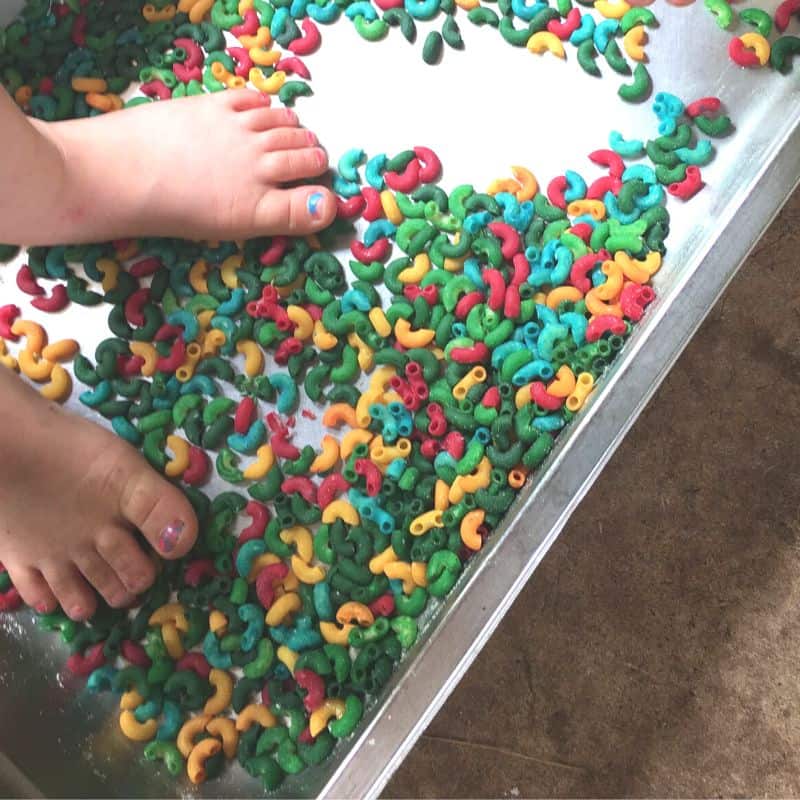 6. Texture Walk On
The sense of touch shouldn't just be limited to the hands. Little feet like to explore too!
Provide bins full of different textures and materials for your 1 year old to walk in, and move to and from. Of course they may well want to prod and explore with their hands too, but the idea is to provide ways in which they can walk on the different textures.
You could also simply place different textured items on the floor for them to walk over and through, such as bubble wrap, piles of ribbon/paper scraps, aluminum foil, cardboard egg cartons and other household items.
Be sure to tape large slippery items to the floor, for safety.
7. Explore Silicone Kitchen Utensils
Silicon has a lovely soft feel to it which your 1 year old may not be familiar with. In addition, versus traditional metal ones, silicon utensils are safer and easier for little hands to handle.
You could also use them to create a scoop-and-pour sensory activity with a sensory bin and water. They also work well as musical instruments (my children's preferred method) or why not paint with them.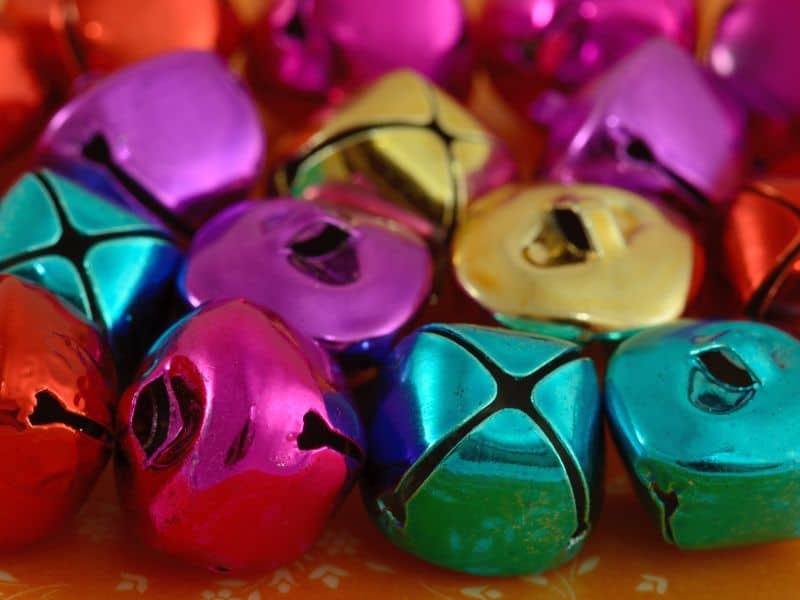 8. Play With Jingle Bells
Play with jingle bells all year long! Turn on some music and create a dance party with the jingle bells. You could also make a sensory bin or bottle and fill it with jingle bells, or put down a piece of contact paper for your baby to stick the jingle bells on. Again, be led by your 1 year old.
9. Tissue Paper Ripping
This activity is as simple as it sounds. Simply provide tissue paper in various colors for your child to explore and rip up.
This is a tactile experience and involves three of the five senses: touch, sight, and sound. Such a simple sensory play activity for babies and young toddlers.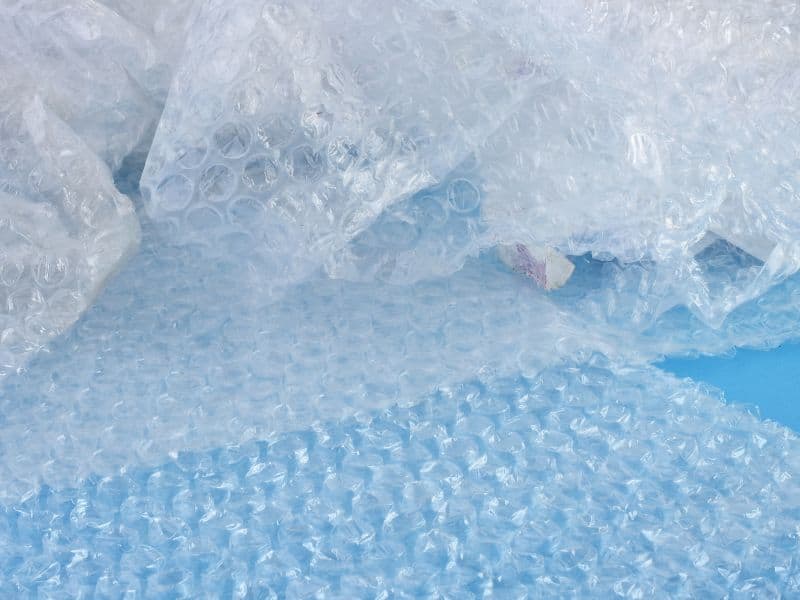 10. Walking And Crawling On Bubble Wrap
Bubble wrap is engaging and intriguing for infants. Simply tape bubble wrap to the floor to secure it and then let them follow their curiosities.
The simple joy of walking and playing with bubble wrap underfoot has become a favorite activity for all 4 of my children. My elder 2, at 5 and 6, still enjoy this now so it can keep them and their toddler siblings busy for quite some time!
11. Crinkly Paper Play
This activity is so open-ended. Simply gather various types of crinkly paper, for example large chocolate wrapper, baking parchment, newspaper, aluminum foil and so on.
The plastic tray inserts from boxes of chocolates make a lovely crinkly sound and are also very robust so can provide a fun sensory activity for many days.
Crinkly paper and other tactile materials are great to include in a busy basket. Simply fill the basket and let your child explore however they choose.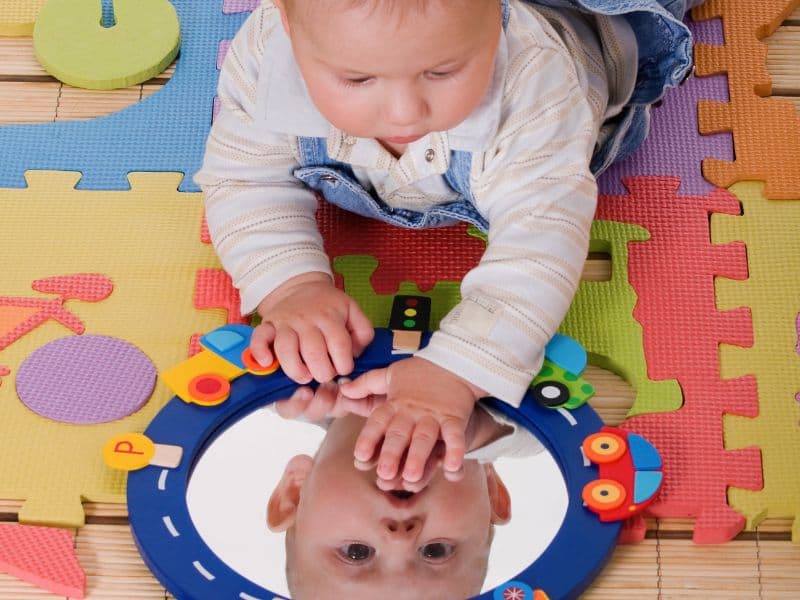 12. Mirror Play
Provide a soft tummy time infant mirror or a Montessori mirror for your baby to explore their physical features and the texture of the shiny mirror. Or you can simply use a full length mirror as long as it's secure.
If you want to extend play you could turn it into an artistic sensory activity for your 1 year old. Simply put a couple of drops of paint on the mirror and let your baby experiment with their fingers scribbling and color mixing.
You can then transfer their "artwork" by pressing a blank piece of paper on their work.
13. Rubber band play
Wrap rubber bands around a plastic bottle and let your 1 year old stretch them and fiddle. They may even try to take them off. A simple sensory activity that'll also challenge fine motor skills.
14. Masking Tape Stick And Peel
Provide your 1 year old with pre-cut strips of masking tape while at the high chair or sitting on the floor. Let your child press tape strips on and remove them over and over.
Your young toddler might enjoy sticking the tape to various other objects too. Try a erase board, ball, board book or toy. Such an easy sensory activity for 1 year olds.
Recommendation: fold over one side of the tape creating a small tab so it's easier for your infant to grab and pull to remove.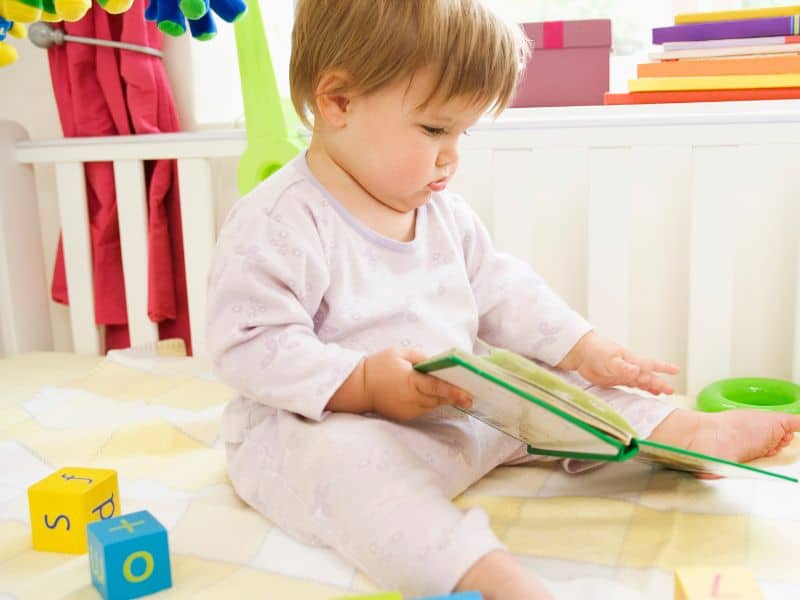 15. Touch and Feel Books
Touch and feel books present the perfect opportunity for on-the-go sensory exploration. They introduce different textures to your baby in a mess-free, low key way, providing an easy sensory activity for your 1-year-old.
16. Play Silks
Play silks/dance scarves are fun to play with and can also be easily incorporated into other activities Stuffing them into a tissue box or Oball makes for a fun sensory activity for a 1 year old who will enjoy pulling them out and stuffing it back in.
They're also a great addition to a dressing up box for the toddler years, to use as capes, wings or a wrap dress for a princess. With all their different colors, they can also be used to create a huge sea, river or landscape. The possibilities are endless!
17. Mess free painting
This should be a way to get your little ones artistic creations on record, without any mess! Sounds too good to be true, right? Simply purchase a small canvas, apply blobs of paint and then loosly but securely wrap with plastic wrap. Then let your 1 year old enjoy this fun mess-free paint sensory activity.
You could also use regular paper taped to a large wooden board or plastic chopping board instead of the canvas.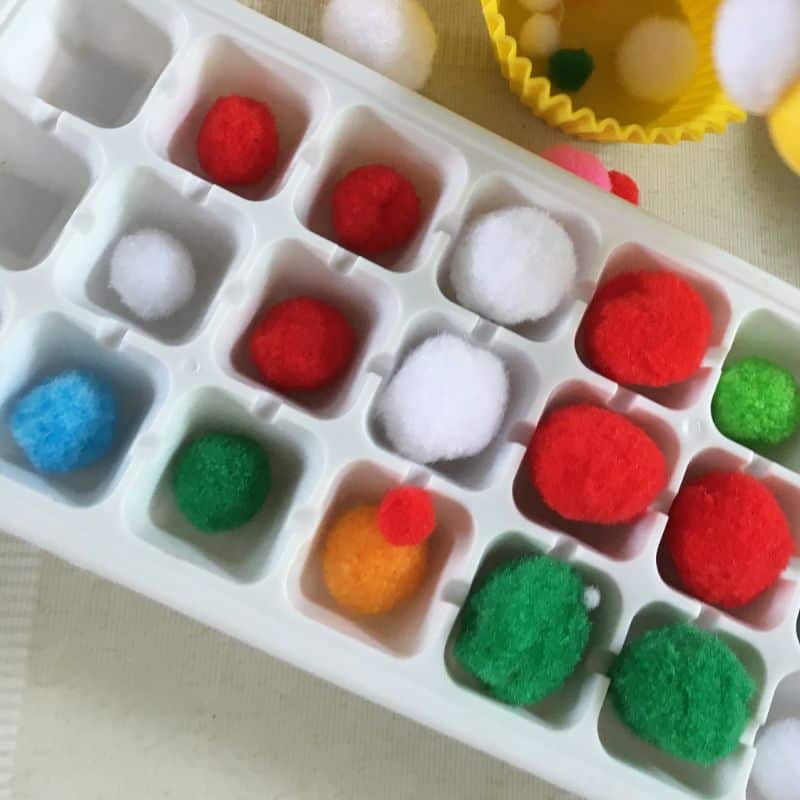 18. Pompoms and ice cube trays
Large colored pompoms are fun for young toddlers to play with – just be sure they don't make it into their mouth. Your 1 year old will enjoy placing them and moving them around the compartments of ice cube trays. You can add toddler-friendly fine motor tools for them to use too.
You could also use colored cotton balls.
Sensory Bottle Ideas For 1-Year-Olds
Sensory bottles are a wonderful way for infants to explore smaller items that may pose a choke hazard. So save those used plastic water bottles, because you'll be able to put them to good use with these sensory bottle ideas.
Sensory bottles make great DIY sensory toys for taking out and about. They make a good sensory activity to keep a 1 year old engaged while waiting at the doctors or sat in a high chair at a cafe.
Just make sure the lid is taped tightly shut so the contents don't empty into your handbag!
19. Glitter Calm-Down Bottle
To make a glitter bottle, you can keep it simple and just use water, glitter, and drops of food coloring. You could also jazz it up if you want by adding small toys like lego, sequins, beads, craft gems, and more.
If you want to slow down the movement of the bottle's materials, add glitter glue, glycerin, or gel hand soap to increase the viscosity of the liquid.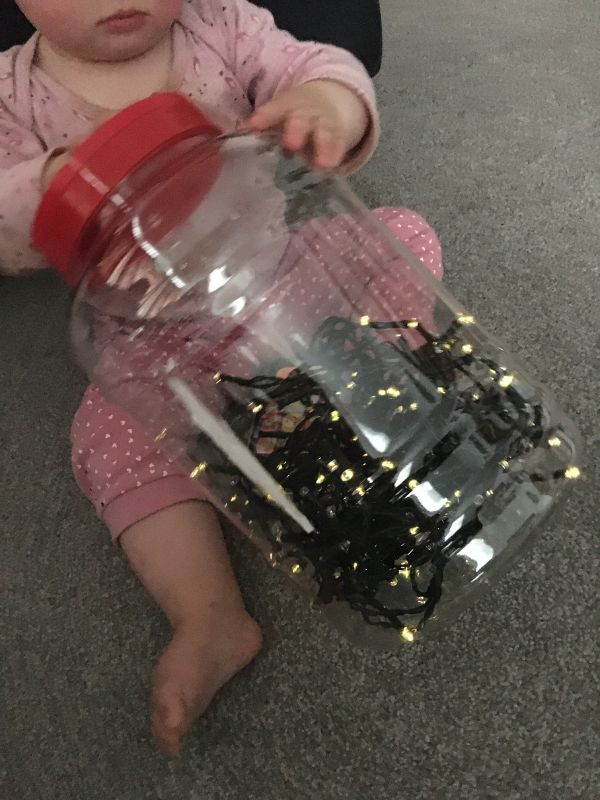 20. Themed Festive Bottle
Fill a clear plastic bottle with items relating to the current time of year so your child can enjoy seasonal concepts.
For example, you could try jingle bells at Christmas or twinkly lights – pictured above in a giant plastic bottle. Or how about acorns during autumn, seeds during spring, and flowers during summer. An easy way to provide a themed sensory activity for your baby or toddler.
Check out more Christmas sensory activities here: 50 Christmas sensory activities & bins for toddlers & preschoolers
21. Rainstick Sensory Bottle
Rainstick sensory bottles are easy and fun to make. Add dry materials such as dry rice, sticks, dry pasta, dried beans, and other materials to create homemade rattle that makes a rain sound.
A rainstick bottle can be used as a DIY musical instrument as your child can shake it to the beat of their favorite songs. This activity presents tactile, auditory, and visual learning.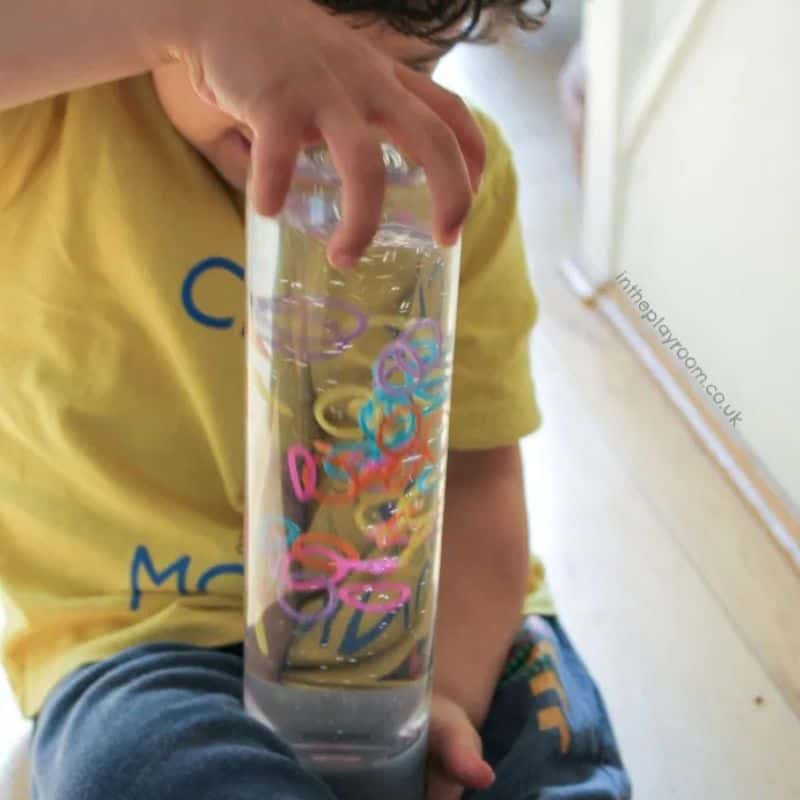 Loom bands make for a fun filler for a sensory bottle – they float and almost dance around. Simply add a handful of them to a bottle filled with water. Then add a few drops of glycerin.
23. Lava Lamp-Style Bottle
Bring some '90s-era inspiration into your child's play with a lava lamp. You could make a homemade version (using water, oil, food coloring, and Alka Seltzer tablets), or you could purchase a pre-made lava lamp.
Sensory Bag Ideas For Your 1-Year-Old
Just like sensory bottles, sensory bags allow the exploration of small items that could potentially be dangerous for a baby or young toddler. They're also simple to set up and can be used time and time again, just like the bottles.
So grab some resealable plastic bags and get ready to provide your 1 year old with plenty of easy sensory activities.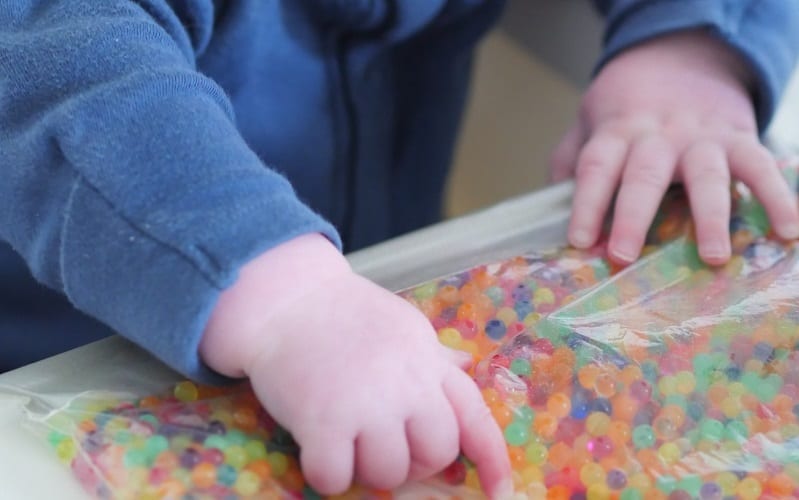 24. Water Beads Sensory Play
Water beads are an exciting new texture for your baby to feel and play with, as long as they're contained in a securely fastened bag. You can find them on Amazon or at a craft store.
Fill a container with water beads and water and let it sit overnight so the beads soak up all the water.
The next morning, simply place them in a resealable plastic bag, tape to secure and let your child explore.
25. Mess-Free Bag Painting
Fill a resealable plastic bag with a sheet of paper and some drips of paint. Seal the bag and tape it to a surface for your child to press and manipulate and create their own masterpiece.
This method of painting is great for kids that don't like to get messy. You'll appreciate the lack of cleanup too!
26. Window Hair Gel Bag Exploration
This activity is a great, introductory way to expose your baby to colors, which builds the foundation for color identification knowledge later on.
All you need to do is to fill resealable plastic bags with clear hair gel and food coloring. Make each bag a different color and tape to the window to create a rainbow.
They're fun to look at and, if you can tape them to a window low down, your 1 year will enjoy the sensory experience of squishing and prodding them.
Other Easy DIY Baby Sensory Toys
Here are some more DIY baby sensory "toys"' that can be used repeatedly once created. They're easy and straightforward to make with things you'll likely have at home already.
Like sensory bottles and bags, plenty of them make for easy sensory activities for young toddlers and babies when you're on the move and need to keep them entertained.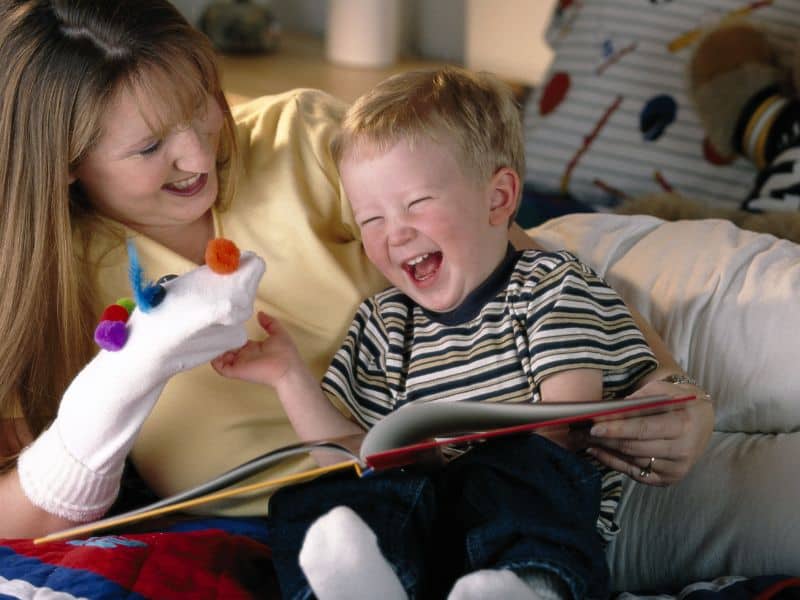 27. Sock Puppets
Turn socks into fun friends! This is a classic and easy activity. Simply gather a few socks from around the house.
You can use the socks as is, or you can add googly eyes to them to add some extra fun. Use your sock puppets in read-alouds to further engage your child.
28. Wipe Dispenser Sensory Box
Does your baby or toddler think it's a fun idea to empty the wipe dispenser? If I accidently leave a box of wipes on the floor, next minute half the wipes are out. All over the place!
The answer: give them their very own wipe dispenser box filled with things they're allowed to have and will enjoy playing with. Think fabric scraps, washcloths, paper scraps.
You could also use a tissue box to stuff things inside.
A fun sensory play idea for your 1 year old that will also strengthen their fine motor skills.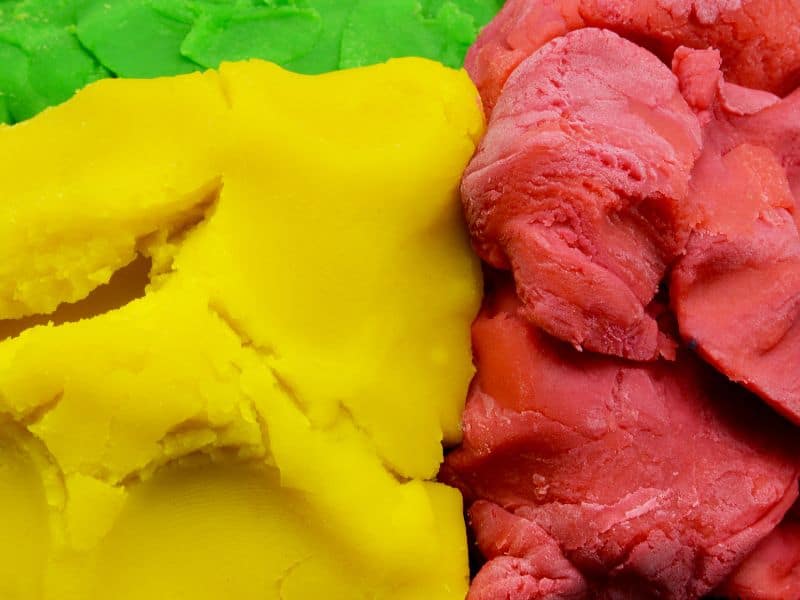 29. Homemade Taste-Safe Playdough
You can easily make edible homemade playdough using 1 cup of frosting and 2 cups of powdered sugar.
Helpful hint: Funfetti frosting comes pre-colored. You could use food coloring with white frosting too.
Playdough is so versatile, and with a recipe this simple you may be able to get your 1 year old involved in this making it too.
30. Touch And Feel Board
This is a wonderful sensory activity for 1-year-olds. Simply attach multiple materials of different textures to a poster board, and allow your child to touch and explore.
Some examples of materials you could use are paper scraps, wrappers, dried uncooked rice and/or pasta, craft poms, cotton balls, bubble wrap, and more.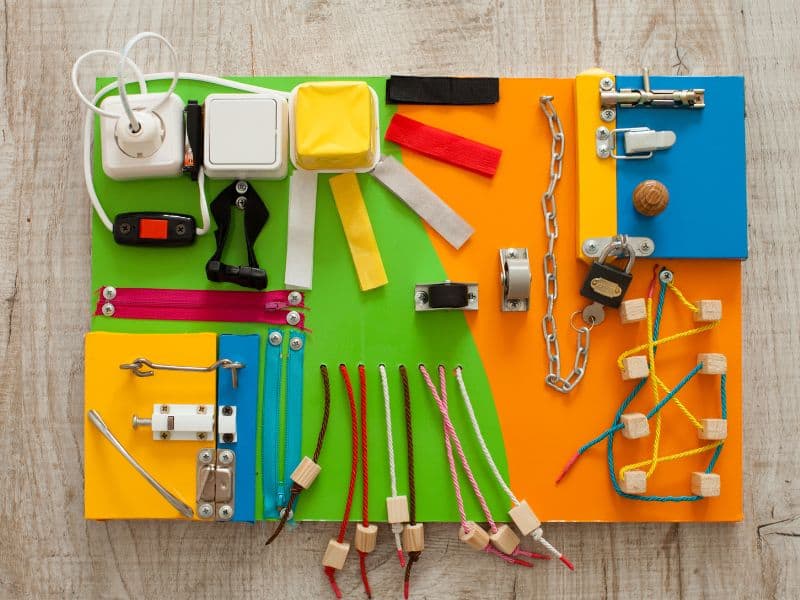 31. DIY Busy Board
You can make this as complex or as simple as you want. Simply attach multiple buckles, snaps, and locks to a wooden board.
You could also make a busy board with felt or poster board and glue on lighter items such as velcro strips and shoelaces.
If dad or grandpa is a keen DIYer, this is one for them.
32. DIY Snow Globe
A DIY snow globe is a little like a sensory bottle, with craft and nature items floating around a water, glycerin and glitter mixture.
However, you can make it more like a shop bought snow globe and glue characters or interesting objects to the lid of a Mason jar, which becomes the base of the snow globe.
Since the jar is made of glass, this a sensory play activity you'll have to do together with your 1 year old. Also, stick to carpeted rooms rather than those with tiles.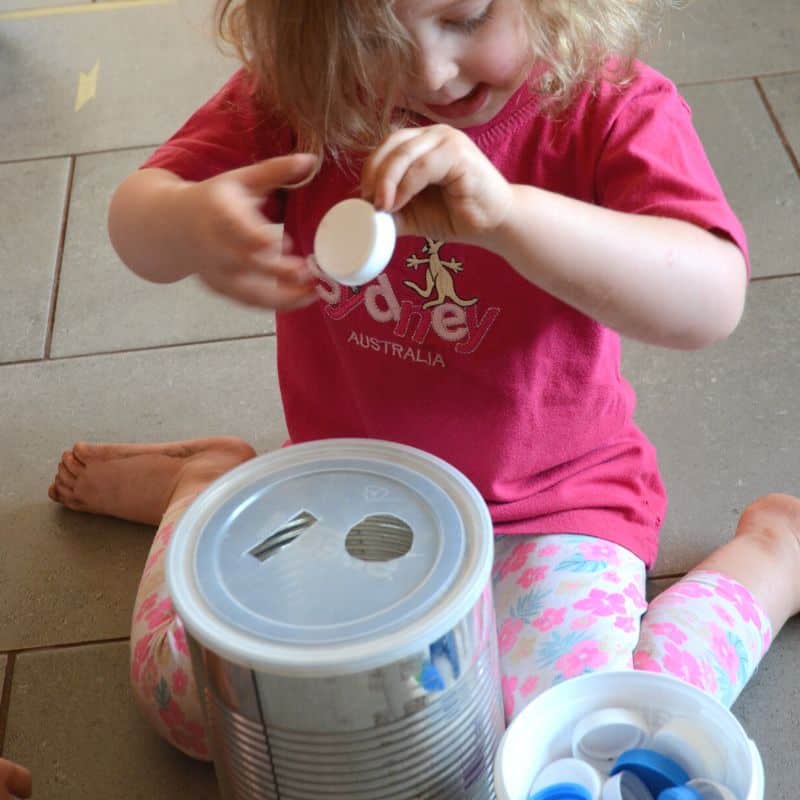 33. Bottle Top Posting Tin
All you need for this fun and noisy sensory activity for your 12 month old is a large tin or plastic box and some bottle tops.
Simply cut a slit in the top of the tin and show your child how to push and drop the bottle tops through the slit. This is a sensory activity that your 1 year old will love! Young toddlers just love to post things.
An aluminum tin is ideal as it makes the sound louder and more exciting.
Once full, your toddler will probably enjoy shaking the tin or bottle like a maraca and making "music".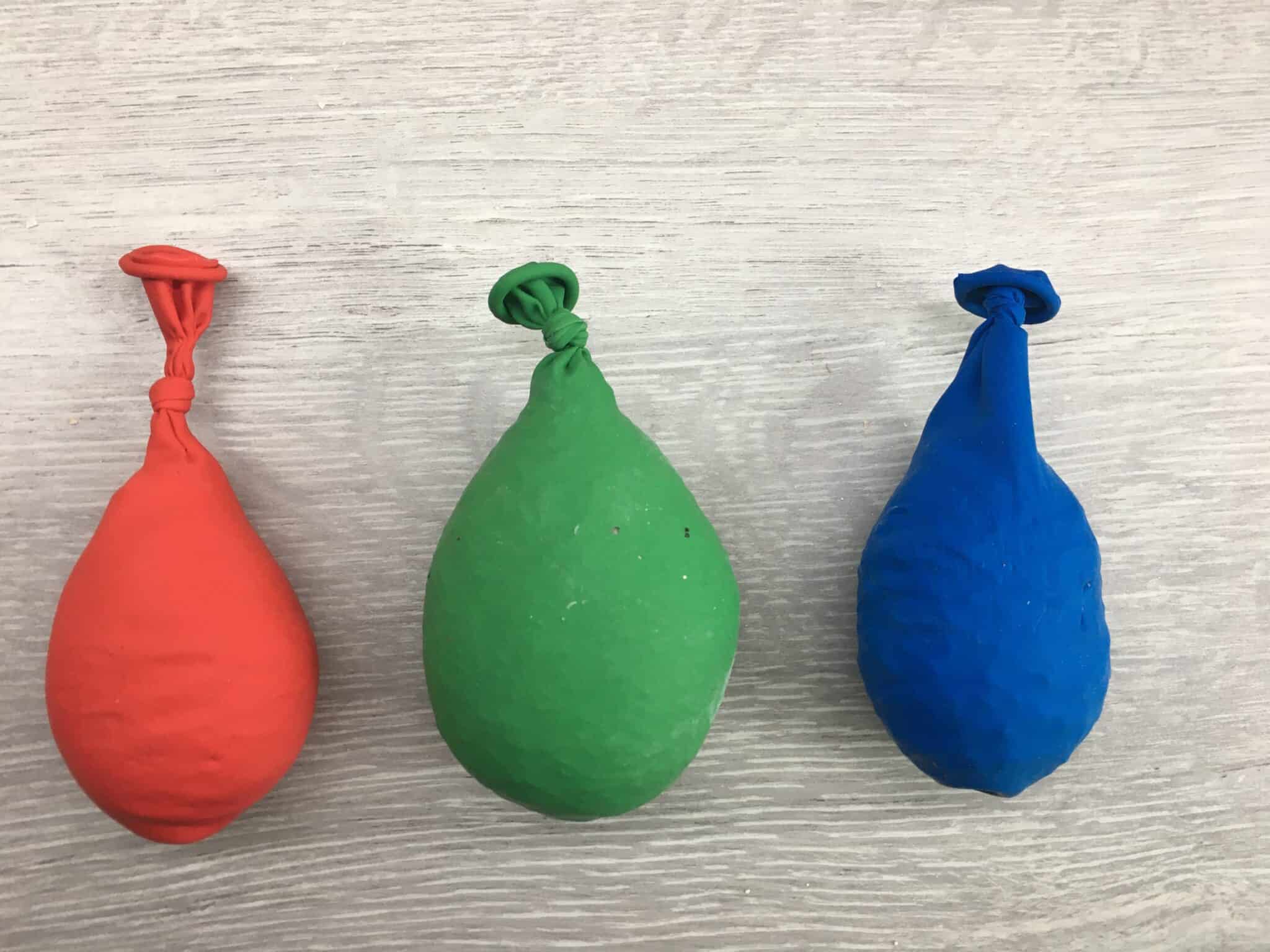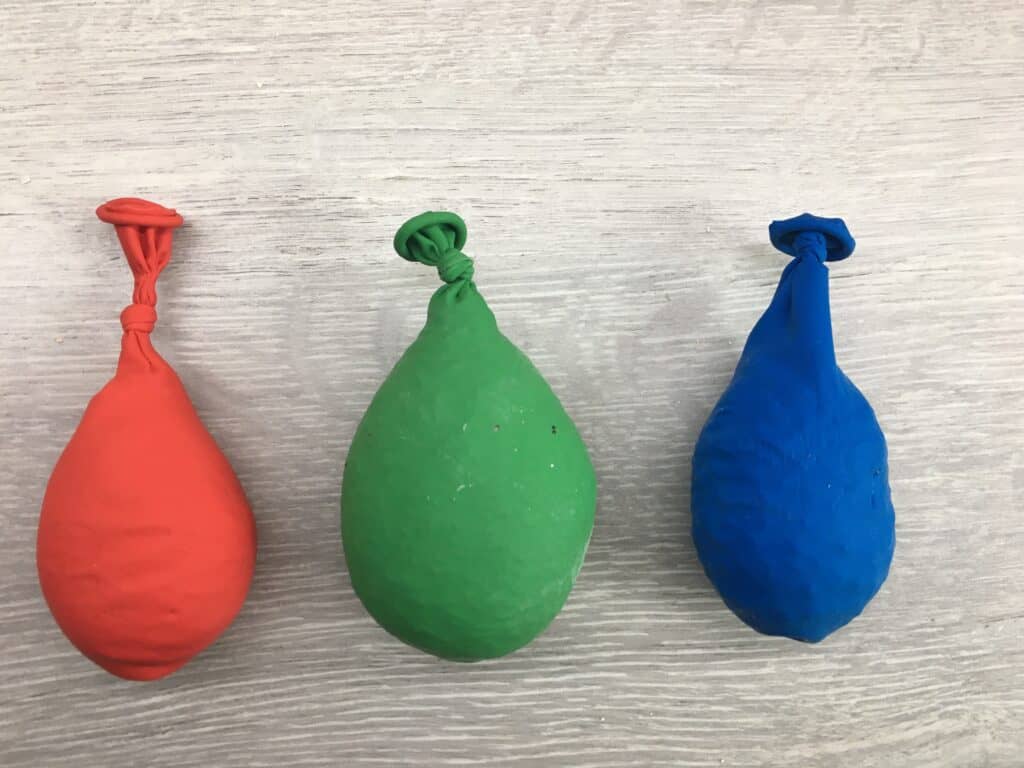 34. Sensory Balloon Eggs
Sensory balloon eggs provide a fun tactile sensory activity for 12 month olds – all little kids in fact. Simply fill a balloon with flour and tie the top. Give it a squeeze and you'll know why they're also called DIY stress balls.
Make a few and experiment with different fillings, like dried corn, rice, beans, oats, beads, sand etc. Then let your child explore all the different textures.
Sensory balloon eggs are great for baby sensory play but will appeal just as much to older kids. My 5 year old particularly enjoys playing with them. They're also a great tool for emotional regulation.
Dry Sensory Bin & Tray Ideas For 1-Year-Olds
These dry sensory bin and tray activities for 1-year-olds are so simple while helping to develop your child's fine motor skills. They're all quite open-ended, leaving plenty of room for experimentation and make it easy to tailor to your your young toddlers individual interests.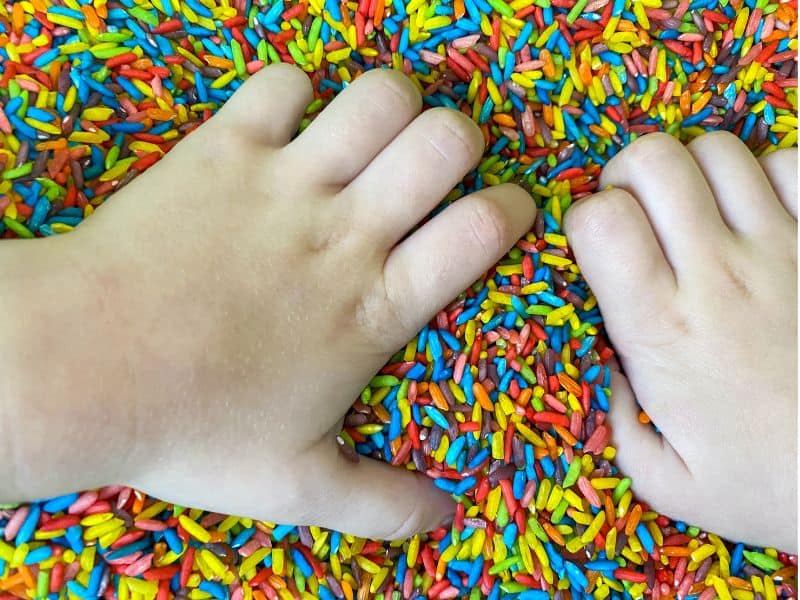 35. Rice, Scoops, & Cups
Fill a bin or tub with uncooked rice and provide different types of scoops and cups for your infant to explore. If you want to add an additional visual element, you can dye the rice with food coloring first.
To dye rice simply soak it in water dyed with food coloring overnight. Or why not use blue food coloring for half the rice and yellow for the other half. Provide the two colors in separate bins and and allow your 1 year old to mix them together to make green.
36. Dried Pasta & Ice Cube Trays
Fill an ice cube tray with multiple types of uncooked pasta of various shapes and sizes. You could add in colored pasta too. Your child will enjoy manipulating the pasta, moving them around and sorting them into different compartments.
A muffin tin would work just fine, too.
To extend this easy sensory activity, you can also provide your 1 year old with measuring spoons, cups and tongs and other baby-safe kitchen utensils for them to maneuver the pasta with.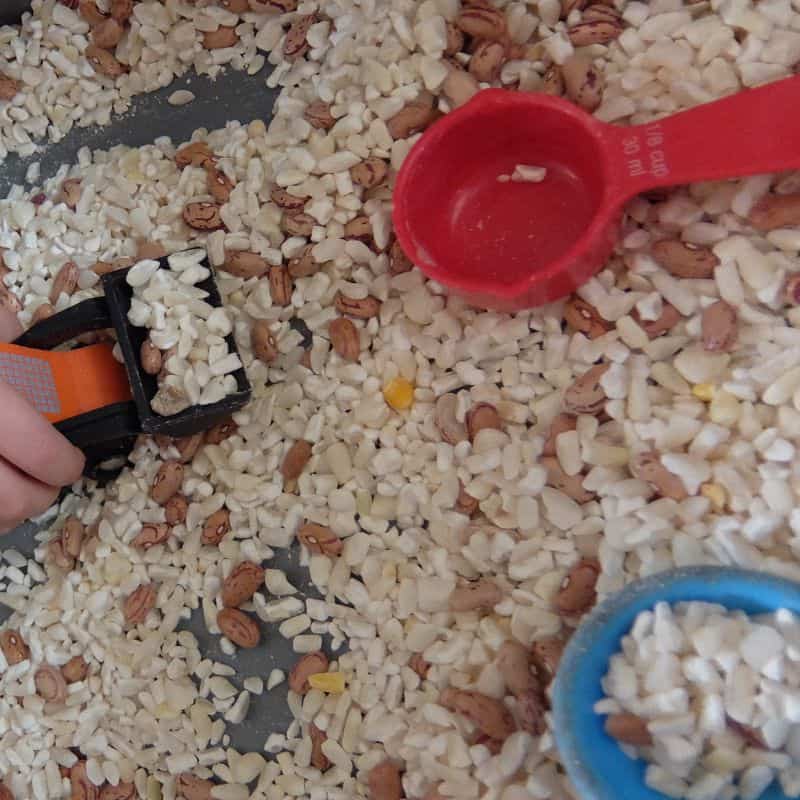 37. Play with Beans & Pulses
Playing with beans is a fun no-prep sensory play activity for a year old at home. You can also add some color in by dying them first. Do dye the beans:
place them into a resealable plastic bag
add food coloring and a squirt of hand sanitizer
shake the bag to mix
empty the dyed beans onto a sheet of wax paper or wooden board
spreading them out so they can dry
once dry, they're ready for play
Add the colored beans to a sensory bin and watch your child's eyes light up as they explore.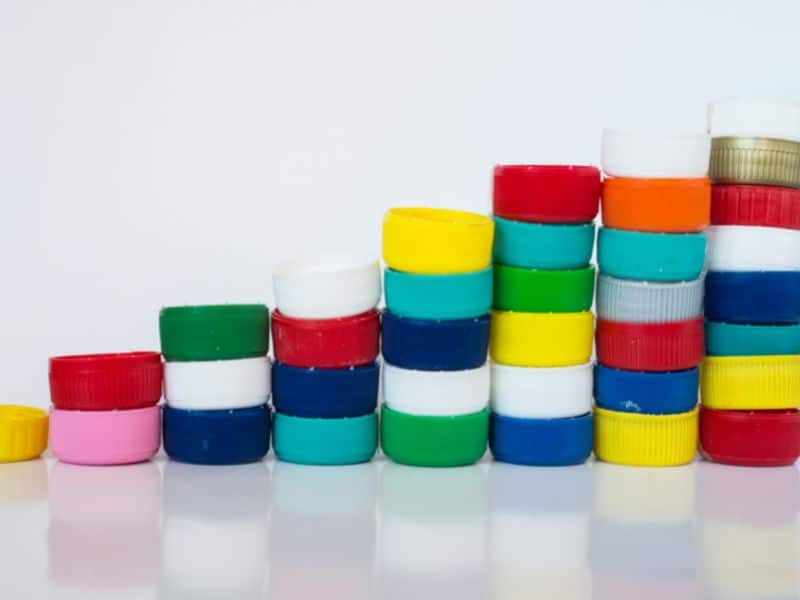 38. Bottle Tops
Collect bottle tops and caps of different sizes and colors and when you have enough you can provide a cheap, fun and easy sensory activity for your 1 year old. They can sort them, stack them, shake them around in the bin and simply explore.
You could also provide some large tools, like a wooden spoon or a slotted spoon and some tubs so your toddler can try to move them out of the bin into the tubs, sorting by color or size as they go. Or not sorting at all! Just let them play.
39. Formula Spoons
Formula spoons are another thing you can accumulate a lot of very quickly. I have a whole stash of formula spoons I've collected over the years. They're the ideal size for little hands and safe too, so are ideal to incorporate into sensory activities for 1-year-olds.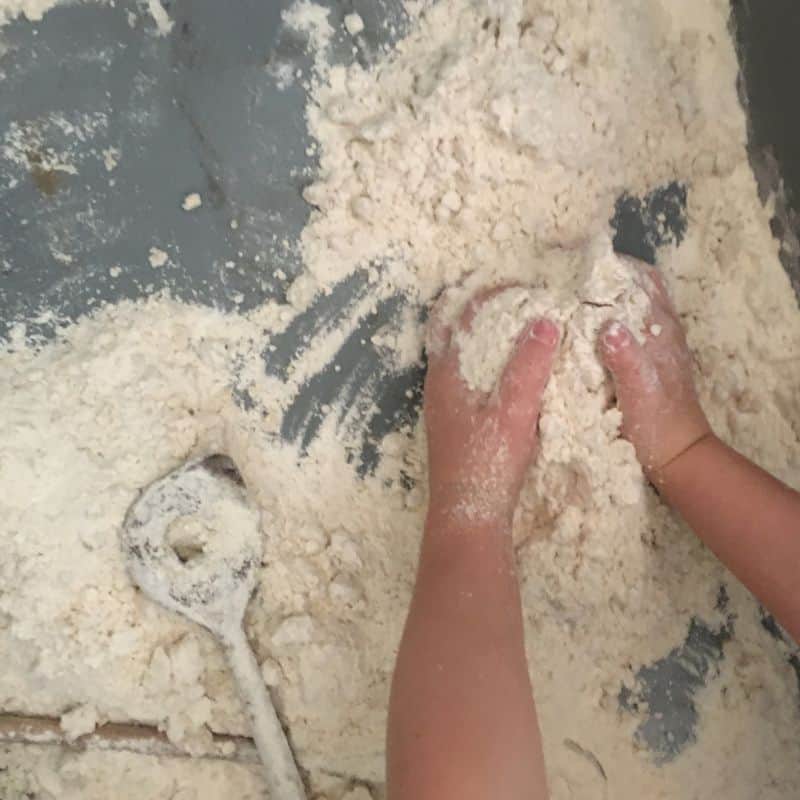 40. Cloud Dough
To make cloud dough, all you need is 2 cups cornstarch and 1 cup scented conditioner. Put both ingredients in a bowl and mix with a spoon, then knead with your hands.
Empty into a sensory bin or tray and let your child explore with or without tools. The texture is soft and silky and will be very intriguing for a young toddler. They may not even need tools, just be led by your child.
Store in an airtight container after play to reuse. .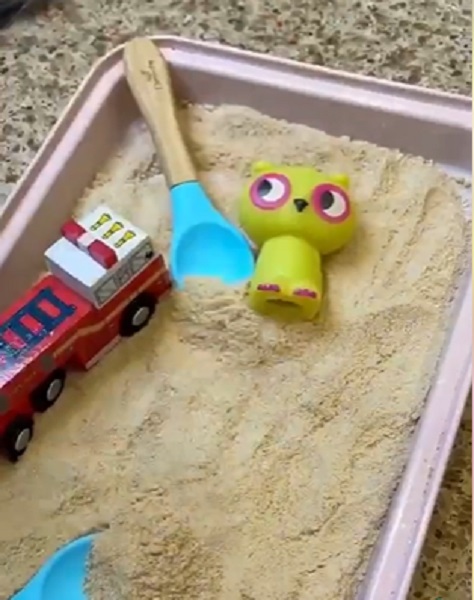 41. Blended Cheerios (Edible Sand) Sensory Bin
Got a box of Cheerios in the pantry? (I seem to have at least 3 at any one time…)
Grab a box of and crush the Cheerios into a fine powder using a blender. The Cheerio powder will be visually similar to sand, but will be edible too, making this an ideal sensory activity for 1 year olds that like to taste everything.
Place it in a sensory bin and add cars or other toys/tools your child desires. A fun and edible alternative to sand for a sensory bin.
Sensory Water Play Activities For Babies
Water play is so simple and easy to facilitate, while also fully engaging your child in play. These water sensory activities for 1-year-olds will be exciting for little hands to explore.
42. Squeeze Water Out Of A Sponge
This sensory activity is easy to set up and facilitate. Provide a tub of water, or do this activity while in the bathtub.
Give your child some sponges for them to soak up and squeeze the water out of. This strengthens the muscles that will eventually assist them in writing later on.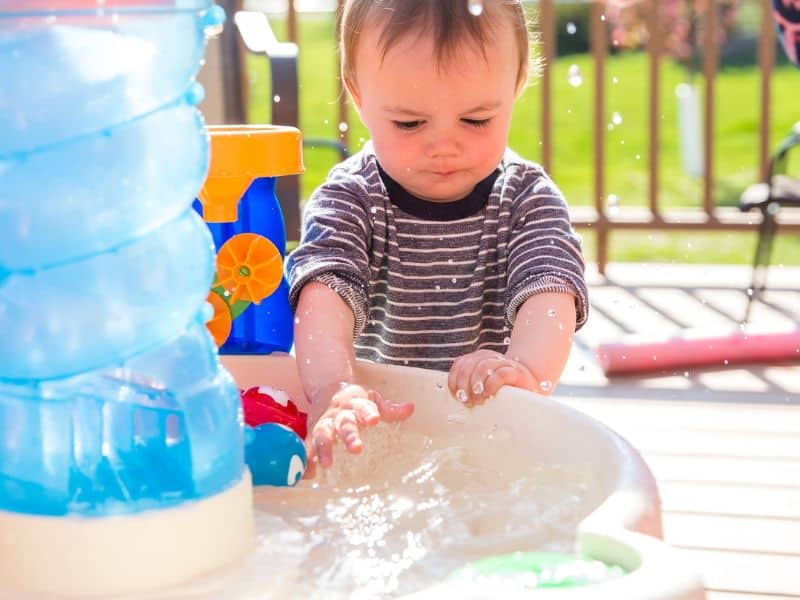 43. Play With A Water Table
Playing with a water table is as simple as it sounds. Simply pour in some water and let your toddler splash, scoop and pour. Add a couple of water-friendly toys if you like.
If you don't have a water table yet for your 1 year old, this is a good time to get one. (Here's a water table that'll keep your young toddler busy year after year.)
If not you, a large roasting dish or oven dish on top of a low table or on the floor will also do the job.
To add a visual element to this simple sensory activity, add colored bath tablets or food coloring to the water.
44. Pouring With Water Cups
Pouring is a wonderful action for acquiring and strengthening your child's fine motor skills. It also works on cognitive skills, such as problem-solving and cause-and-effect. Provide your child with cups at the water table or at bathtime.
Make sure you provide cups that are small enough for your infant's hands to grasp. A variety of cups would extend their learning (cups with handles, spouts, open cups, etc.)
45. Baby Pipettes
Toddler-sized pipettes make for an exciting addition to water play. You'll probably need to help them fill the pipette but a 1 year old should be able to squeeze and will love seeing the water squirt out the end. Squeezing the pipettes is a good fine motor activity, helping to strengthen the muscles in the hands and fingers.
Your child can also paint with pipettes by dripping different colors of paint or watercolors onto a coffee filter or kitchen towel. The colors will spread and merge across this type of paper adding a little artistic excitement to an easy sensory activity.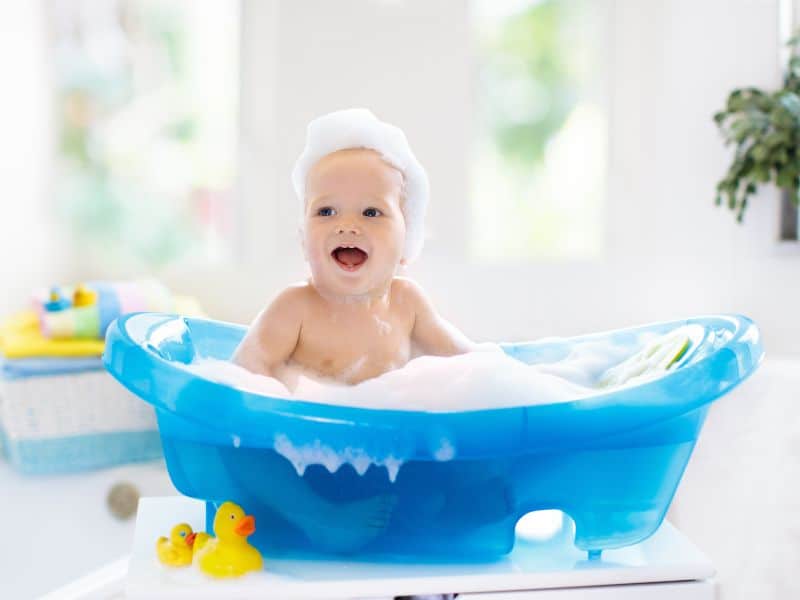 46. Bubble Bath
This sensory activity is something you may often do at bathtime already! Kids, big and small, love a bit of bubble bath every now and again. If we get ahead on our bedtime routine, I like to plan an extended bathtime session and add some bubbles.
My 1 year old twins love it and one of the older kids normally get in too – they don't fit in all that well if they all get in together now.
You could also add a bath bomb or colored bath tablets, to make it even more fun. They'll need no encouragement to play with the bubbles! Embrace your inner child and play with them too.
47. Animal Washing Station
This activity works best at the water table or with a large tub of water outside. Provide sponges and scrub brushes with animal figurines. You can add soap to the water too and kill two birds with one stone by actually getting some of the toys clean!
Let your child wash the animals with the sponges and brushes you provide. My kids really enjoy this sensory play and love to make all the different animal sounds as they go!
48. Ball Pit Balls
Add ball pit balls to your water table or a tub filled with water. Provide large scoopers or shovels, slotted spoons cups, ladles, and bowls for your child to maneuver the balls with.
You can help them with color recognition by naming the colors of the ball they're handling. Your toddler will also start to learn introductory information on sorting by color through this activity.
49. Flower Soup
Simply make soup with flowers! This is such a fun outdoor activity for toddlers for the warmer months.
Start by scavenging the garden or park for flowers and plants. Break off petals and leaves – these are the ingredients for this fun sensory play idea. Provide your 1 year old with old saucepans and something to stir and mix with. Little cups, wooden spoons, a funnel, and kitchen utensils would enhance the dramatic play of cooking "soup".
You could also add glitter to the water if desired. I like to add food coloring to water bottles as additional ingredients too.
Be sure to try their culinary masterpiece when they're done! There's plenty of opportunity for a little tea party after, or soup party, should I say.
50. Citrus Water Play
Fill a tub/bowl/bin with water and slice some fruit, such as lemons, oranges and limes. You could cut them into wedges or wheel slices. Put the fruit in the water and your child can explore using all of their five senses.
51. Painting with water
A large sheet of cardboard, paint-brush and small tub of water is all you need for this fun painting sensory activity for your 1 year old. Simply let your toddler paint with the water. They may get wet, but won't end up head to do in sticky colors, like most baby painting activities!
Edible Sensory Play Activities (Messy!)
Eating AND exploring? What could be better for a young toddler or baby? There will definitely be a mess factor in these edible sensory activities for 1-year-olds at home. But the fun they bring will make it worth the clean up!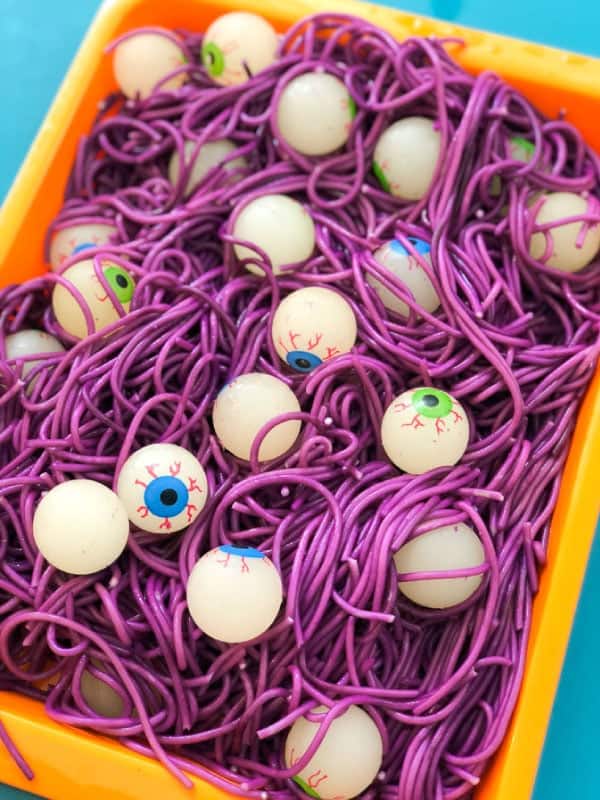 52. Spaghetti Sensory Play
Cooked spaghetti is such a fun texture for your baby to play with. You can choose to dye the spaghetti with food coloring or just leave it as is.
This spaghetti sensory play activity could be tailored to seasons and holidays by using specific colors and adding relevant toys and items. I love the spooky eye ball spaghetti sensory bin above, put together for Halloween.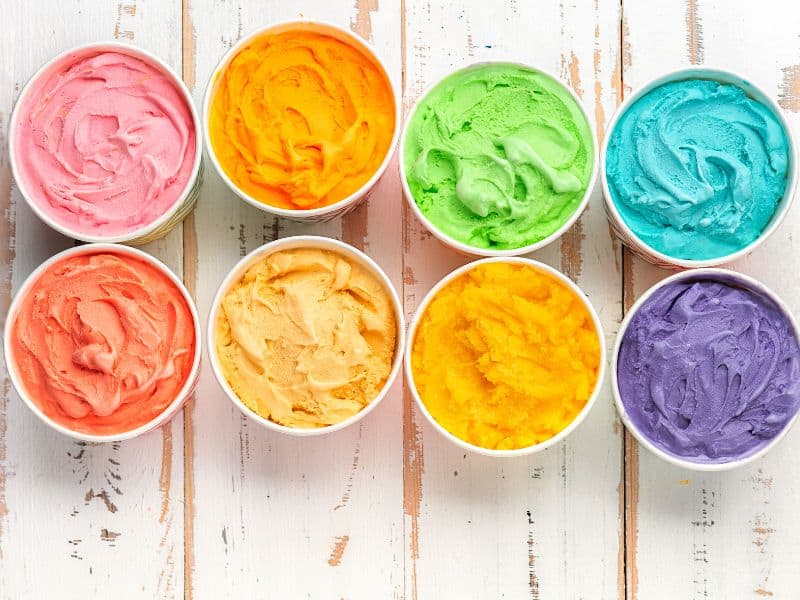 53. Whipped Cream Painting
There are a couple of options for a whipped cream painting activity. You could paint with it in the bath, to contain the mess. Start by creating different colors by adding food coloring to whipped cream separated into the different compartments of a muffin tray. Now you have a palette of colors for your 1 year old to paint with.
Let your child paint the bathtub, their toys. They're sure to want to paint themselves too! Painting in the bath makes for such an easy clean-up. Wash everyone and everything down once you're done.
Another option is to use the colored whipped cream at the kitchen table or high chair with paper.
54. Yogurt Painting & Smearing
Yogurt smearing is such an engaging sensory activity for 1-year-olds. Put yogurt on a cookie sheet and let your child go to town smearing it all over the sheet however they wish. Or if your baby likes to throw everything on the floor, simple add some drops of yogurt to the their high chair table.
You can also add a few drops and swirls of fruit puree. Add more than one color and flavor to up the visual and taste elements.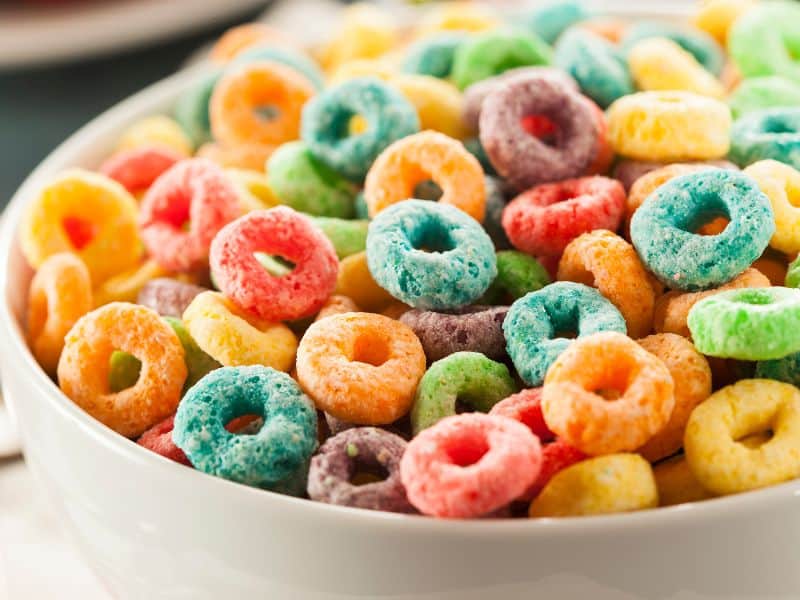 55. Fruity Cheerios/Fruit Loops Sorting
You could use any multicolored cereal, food or treat for this sensory activity. Provide different colored cups – a multicolored stacking cup toy set works well for this. Or you could try with different colored sheets of construction paper.
Work with your child on sorting the cereal by color onto each corresponding colored cup or paper. Try with just two colors at first, and if/when your 1 year old gets the hang of it, add more in.
They may be completely disinterested in the sorting and simply want to pick each one up and drop into any cup. That's ok. Be led by their interests. It's highly likely they'll want to eat a few, or all of them, as they go.
56. Rice Krispies Fun
You can use Rice Krispies as a sensory bin filler, and facilitate a scoop-and-pour activity with your young toddler. If you have a toy hammer, bashing the Rice Krispies also makes for a fun and destructive sensory activity for toddlers.
You can also try painting with Rice Krispie treats. Dip them into paint, place on paper and have your child stamp and bash them. Or switch out the paint with colored frosting to keep the entire activity edible.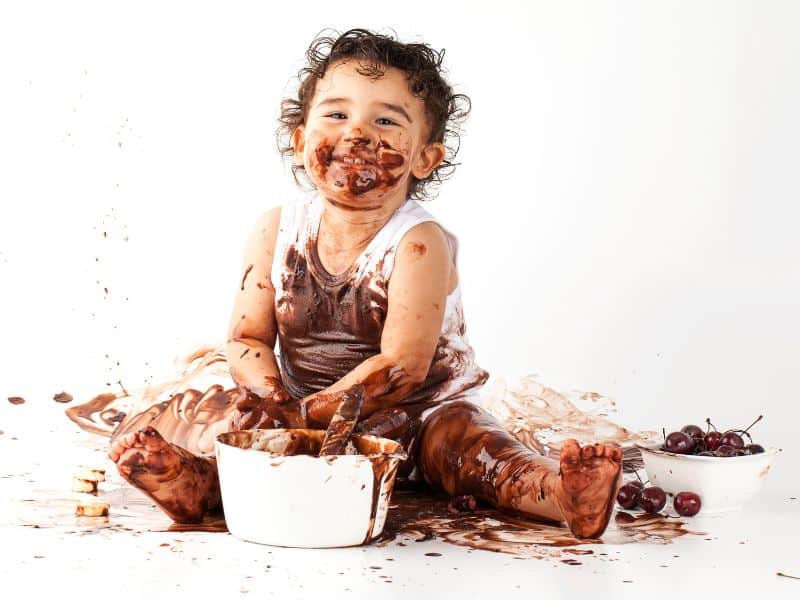 57. Edible Mud Sensory Bin
Here's a particularly yummy sensory activity for 1 year olds with a sweet tooth. This is definitely one to do early in the day and not too close to bedtime!
To create an edible mud sensory bin, use chocolate pudding as pretend mud. Add pigs or other farm animals to pretend they're walloring around in it.
Another easy taste-safe mud recipe consists of 1 container of chocolate frosting and 1 ¼ cup of flour.
58. Oat and Cinnamon Sensory Bin Base
Oats and cinnamon are a lovely sensory bin filler for Fall or for a natural and gorgeous smelling sensory activity. Simply add oats and cinnamon to a bin and add any themed tools or toys you want.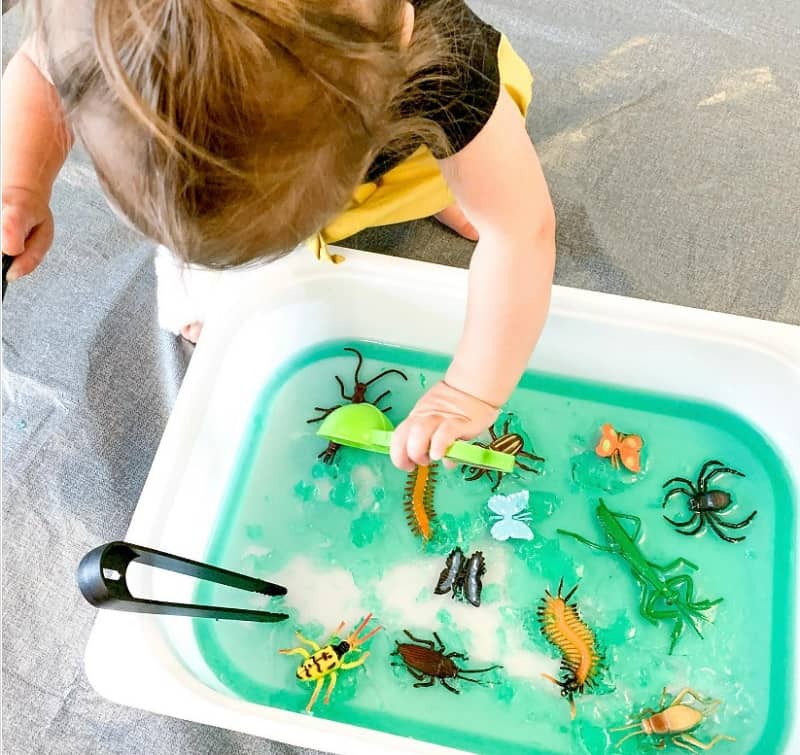 59. Jello Dig
Make a pan of Jello and add small toys before it sets for your 1 year old to dig out and find. Choose colors and items to match the season or your child's interests.
Wet TASTE-SAFE Sensory Bin & Tray Ideas for 1-Year-Olds
Here are some more wet and messy (but still easy) sensory activities for 1 year olds, that won't exactly taste nice, but will be safe when they inevitably try to explore with their tongue or mouth.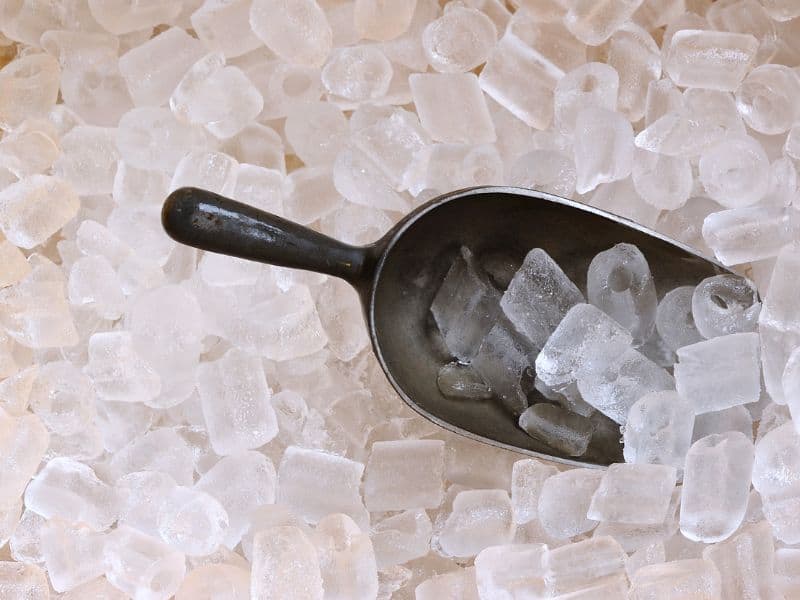 60. Ice Cube Play
There are so many more ways to play with ice cubes.Ice cube play is one of my favorite activities for babies and toddlers in the hot summer months. You'd be amazed how long such a simple material can keep them entertained!
You can simply add ice cubes to a sensory bin and let them enjoy the cold hard sensations. You can provide squeeze bottles or pipettes filled with warm and/or colored water. Then help your 12 month old drop or squirt water at the ice cubes and watch them melt.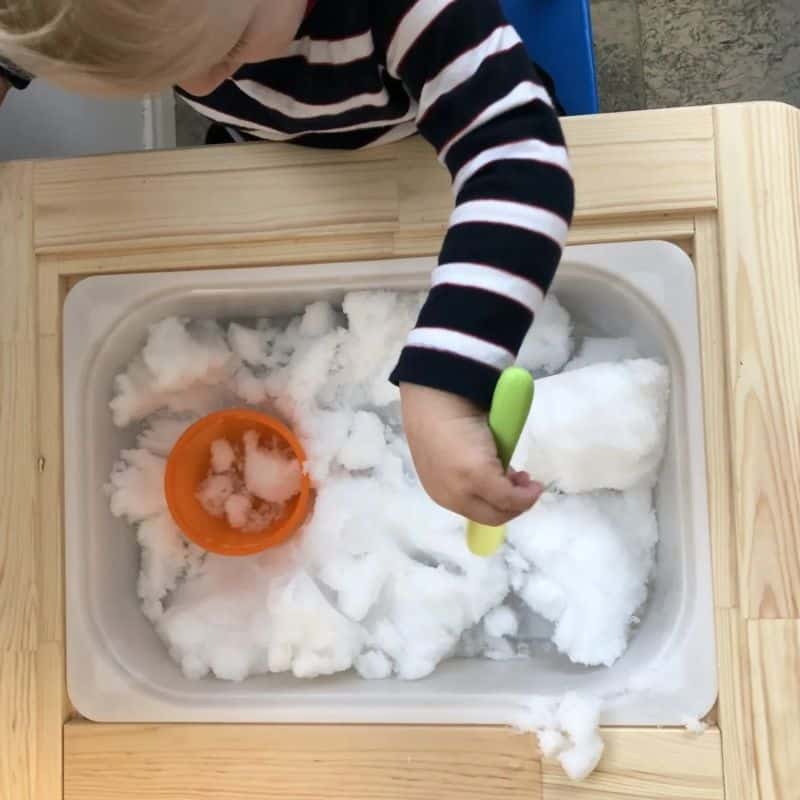 Another cold and fun sensory activity for your 1 year old for the winter months. Collect some real snow and dump in the bin and let your toddler get stuck in. You'd be surprised how long the snow lasts.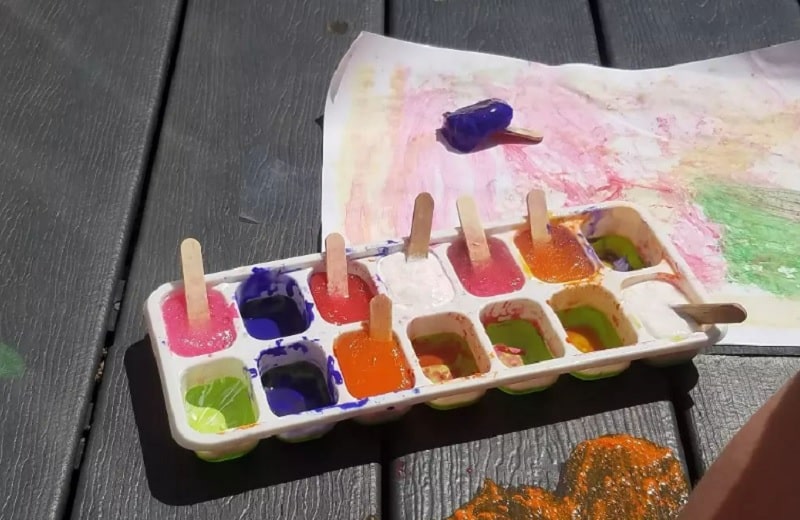 You could also freeze colored water with popsicle sticks standing in each compartment of the ice cube tray and create frozen paint sticks – what a cool paint option! Then your child can "paint" on construction paper or on the patio outside.
62. Play With Pumpkin Innards
Playing with the slimey innards of a pumpkin makes for a fun Fall activity and at-home sensory play idea for your 1-year-old. Once the pumpkin carving fun is finished, don't throw away the leftover pumpkin parts. Instead, dump the innards and seeds into a sensory bin or large container for your infant to explore.
My 1 year olds twins loved this easy use sensory activity this year. However, my older two have now grown out of it.
"Too gooey" – my 6 year old. "Disgusting!" – my 5 year old. They didn't believe me when I said they used to love this very activity.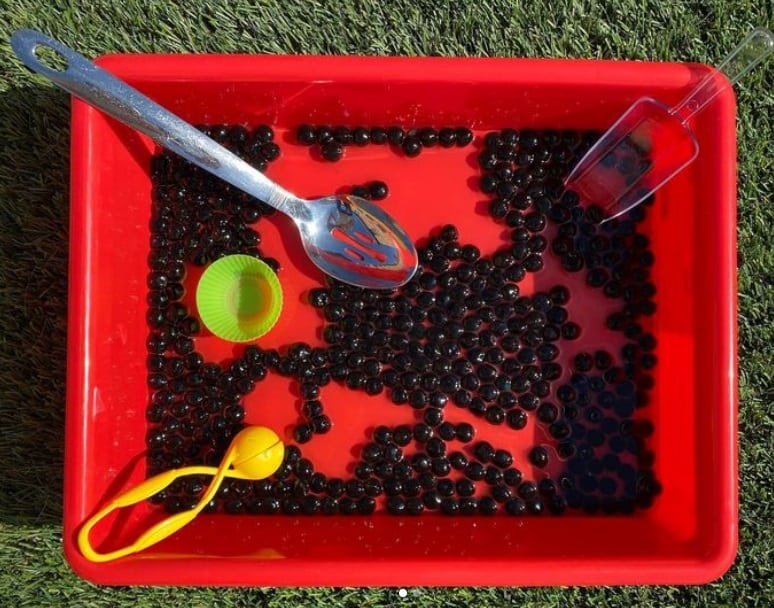 63. Tapioca Pearls
If you soak tapioca pearls they have a soft and gelatinous consistency. They're a baby-safe alternative to water beads since they're edible. You can also dye them easily by adding food coloring to the water when you soak them.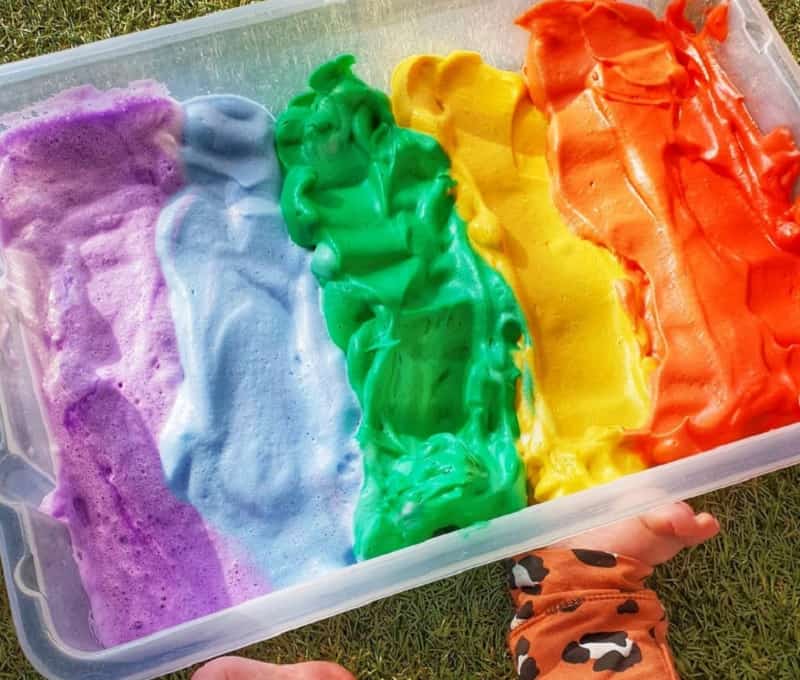 64. Aquafaba Foam
If you love making homemade humous, then this easy sensory activity makes use of the drained chickpea water. Simply beat it with an electric whisk until it's thick and foamy. You can color it easily by adding a drop of food coloring.
More Easy Sensory Play Activities Inc. Some Wet & Messy Ones
Bring on the messy fun! Here are some more 1-year-old sensory play ideas that will surely excite your child, and definitely require cleanup.
65. Finger Paint
For this activity, you'll need paper, baby-safe paint and a smock. Use as few or as many colors as you want. Let your child paint "pictures", experiment and explore in an open-ended way.
You could also have your 1 year old finger paint onto canvas to experience a different texture. Fingers crossed you'll have something to treasure forever at the end!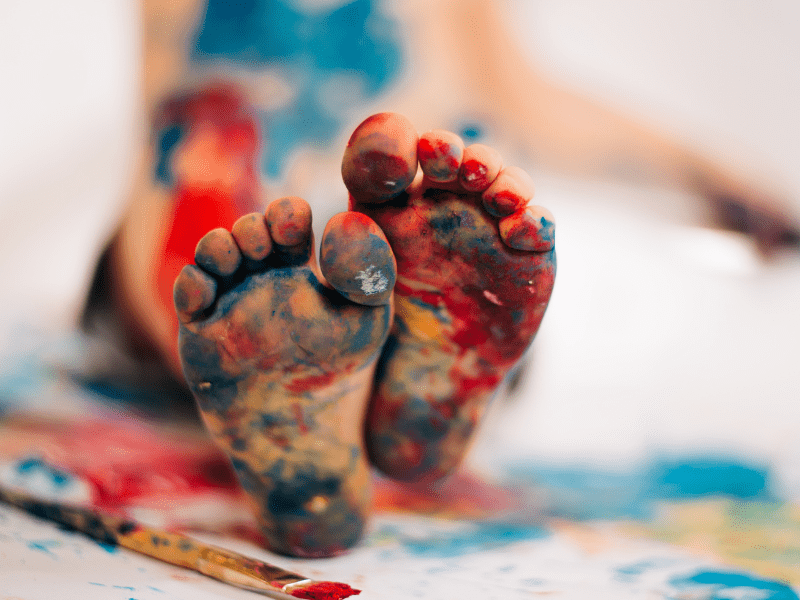 66. Foot Painting
This activity is parent-led, but will feel so interesting on your toddlers foot. Cover the sole of your baby's foot in paint, and press their painted foot on the paper.
There are loads of different footprint art options, but they can prove a challenge! Rather tape a large sheet of paper or even newspaper to the floor and let them stamp their feet and walk all over it. They'll love watching their footprints emerge.
You may even be able to rescue a few clean prints and keep them as a momento or try a footprint animal craft.
67. Play With Oobleck
To make oobleck, mix 2 cups of cornstarch with 1 cup of water. Add food coloring if you want colored oobleck it.
Start by mixing the water and food coloring together, then add the cornstarch little by little and stir until mixed. Add the oobleck to a tub or bowl for your child to play with.
You can then add additional items if you want or just leave it as is. Your 1 year old toddler is sure to enjoy this sticky, pliable substance either way. It makes for such fun messy sensory play.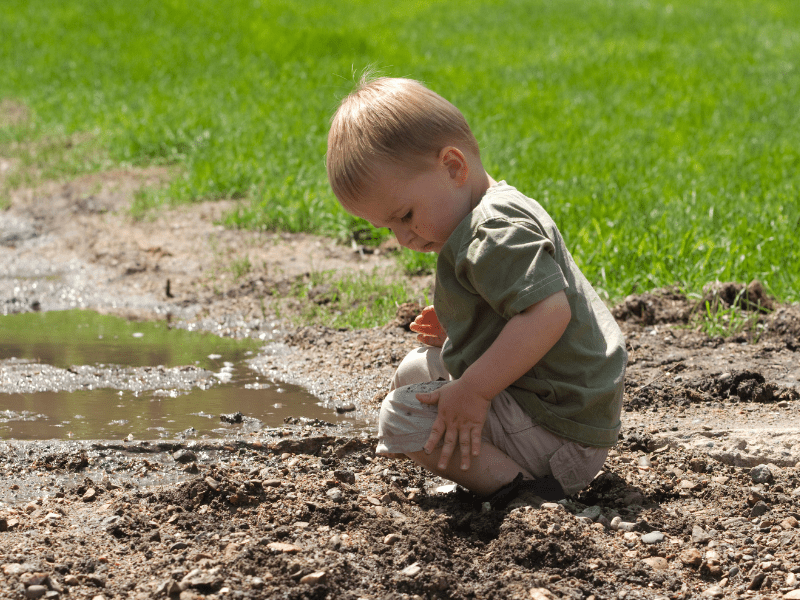 68. Playing with Real Mud
Time to get messy! This sensory activity uses mud – there's nothing better than good clean mud to keep a baby or toddler content. It can also boost their immune system.
You could have your child play outside in the mud after it rains, or bring the mud inside and put it in a tub. You can also provide tools for your child to explore the mud with.
Don't forget to have towels on hand or fill the paddling pool or bath for after.
69. Bathtub Painting
For bathtub painting you can either buy premade bath paint or make your own. To make your own, mix equal amounts of cornstarch and water. Add food coloring to color it.
Use an ice cube tray or muffin pan to keep the different colored paints separate.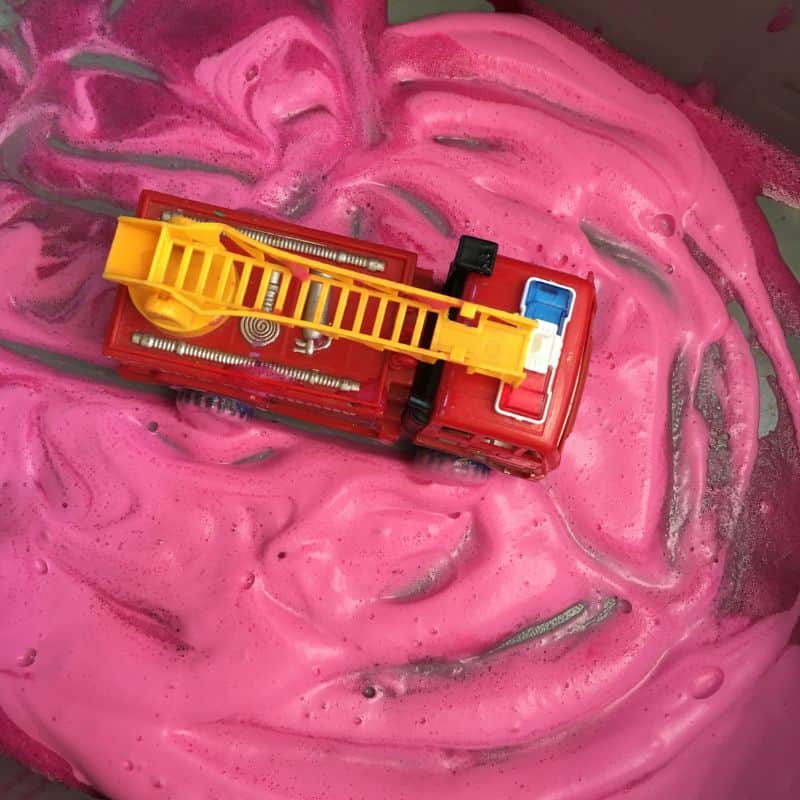 70. Bubble Foam
Bubble foam is such a fun sensory play activity for babies and toddler. To create bubble foam, you'll need:
tear-free bubble bath
water
food coloring
Mix 2 parts water to 1 part bubble bath in a large bowl and beat vigorously with a whisk. I'd definitely recommend an electric whisk.
You can just use one color or make make multiple batches in different colors and create rainbow bubble foam.
Then simply add to a sensory bin. Tip: an under-the-bed storage tub provides plenty of space to play.
71. Eggshell Cracking
If you're a lover of boiled eggs, your toddler may well have watched you crack the top with a teaspoon. For another easy at home sensory activity with your 1 year old, save some eggshells, turn them upside down. Then place them back into the egg cups for your young toddler to have a go at cracking.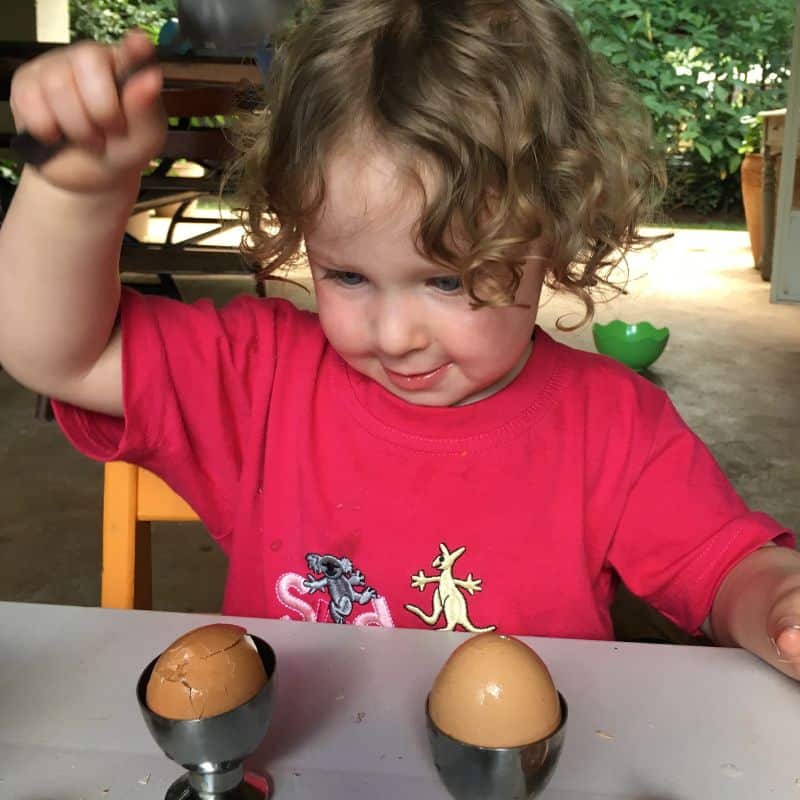 My eldest daughter loved this – look at that concentration!
Other Easy Sensory Activities For 1-Year-Old Baby At Home
These easy activities are the best of the rest when it comes to easy sensory play activities for 1-year-olds at home.
72. Discovery Box or Basket
Put together a "discovery box" or basket simply by filling a box or basket with an assortment of similar items.
For example: different textures of balls, kitchen utensils, animal figurines, finger puppets, or anything else you have on hand.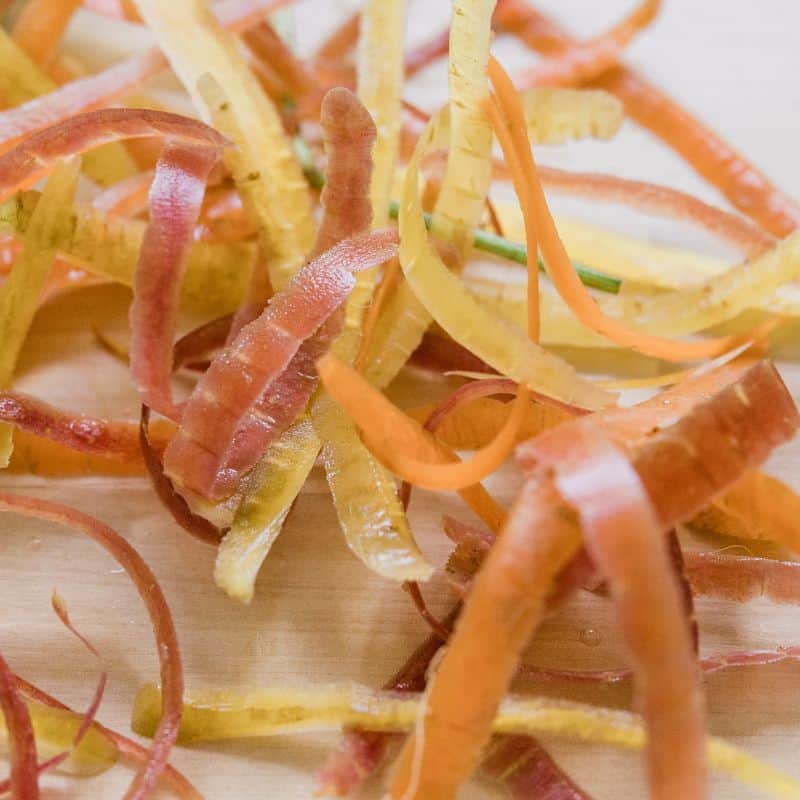 73. Vegetable Peel Play
This simple activity uses leftover carrot peels and those from other vegetables as a sensory bin filler. Give your child a wooden spoon and bowl or tub of the vegetable peels.
They can engage in dramatic play (pretending to cook) while also exploring the different textures, colors and smells.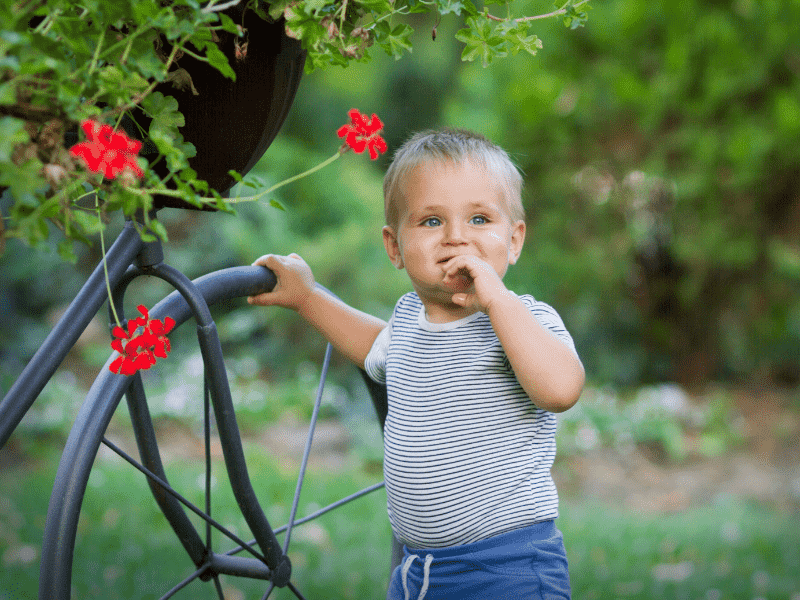 74. Explore The Garden Or Park
The garden or park and anywhere outside is full of so many sensory opportunities and experiences for a 1 year old to enjoy. Take them outside to explore and learn about the world around them.
Sometimes, the simplest activities can be the most engaging.
Simply let your toddler follow their curiosities, point at, touch, smell and listen as they please. This is yet another simple sensory activity that helps cognitive development in young children.
75. Crunch Through Leaves Or Fallen Seeds
Go on a nature walk to explore fallen leaves and seeds. Emphasize the sound of the crunch of the leaves as you walk through them to make it even more exciting!
You could also collect some dried leaves and add them to a sensory bin for a Fall themed sensory activity for your 1 year old.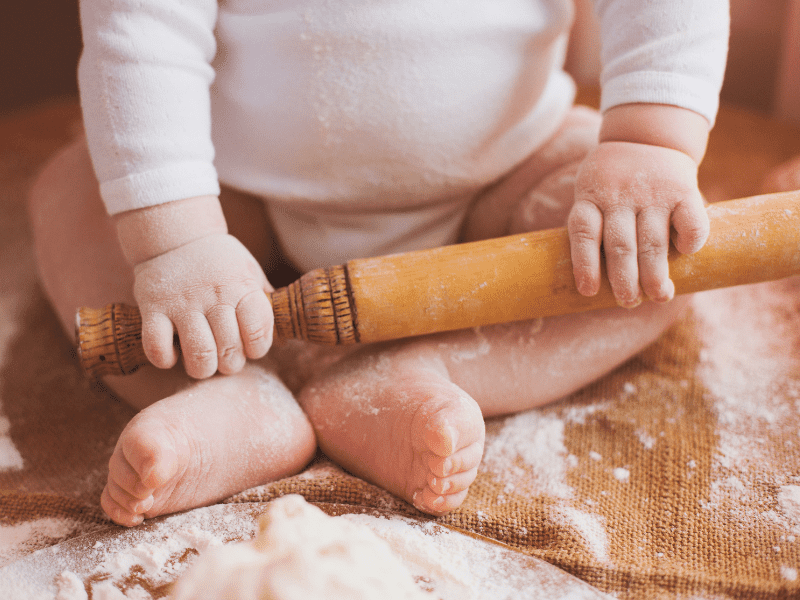 76. Rolling Pin Play
Fill plastic reusable bags with various textured items, such as dried pasta or uncooked rice. Give your child a rolling pin and let them roll over the different bags of materials to explore the textures and different sounds each one makes.
Tape the bags to the play surface to keep them from sliding and slipping.
Sensory Toys & Accessories To Invest In For Years Of Sensory Play & Activities To Come
Having a few sensory play staples to hand will be helpful to facilitate activities at home. All of the below can be used for 12 month old sensory activities but will be used frequently through the toddler and preschooler years too.
Water Table
A water table provides a designated space for water sensory activities for 1 year old babies at home. There's a lot of choice and variety in size, price point and other functionalities. You can find different types, sizes, and price points. This water table is one of our favorites.
Sensory Play Table
A sensory table normally has two compartments so you can use two different materials at once. It's common to put water in one side and sand in the other but there's so much more than you can do.
I like to put a different filler each with a specific theme, material or texture. I then let the kids play with them for a week or so before switiching the contents.
Pipette Set
Toddler-sized pipettes can be used in so many different activities and have been mentioned a few times in this sensory play post. Fill them with liquid watercolor and have your child drip and squeeze drops of paint onto a coffee filter to create beautiful art.
You can also fill pipettes with water and let your child play with them at their water table or with a sensory bin. These jumbo-size pipettes are ideal for little hands to grasp.
Sensory Water Play Mat
Water play mats are mess-free and great for tummy time infant exploration. Water play mats are appealing and exciting for your child throughout their development. They will likely still be asking to play with it well into toddlerhood.
Tips For Doing Sensory Activities With Your 1-Year-Old At Home
Let your toddler lead the play
There's no right or wrong way to play. Your 1 year old will gather more knowledge and have more valuable play experiences when allowed to follow their curiosities and interests.
Go big with protection!
For wet and messy sensory activities at home, protect an area much bigger than you intend to use. This makes for easier and quicker cleanup.
Don't lose heart
Not every sensory activity will be a win. If it doesn't engage your toddler the way you'd hoped, don't lose heart. Simply try it another time or move on altogther.
Similarly, some sensory activities may keep your 1-year-old engaged for ages, some may not. It really doesn't matter, just go with the flow.
Set boundaries
Set some boundaries and give frequent reminders. Be gentle, yet firm. Your young toddler may not understand you fully, but it's easier to start these things earlier!
Encourage language development
Make verbal observations and ask your child open-ended questions during the sensory play activities, whether they respond or not. Simply narrating your 1-year-old's actions will help increase their vocabulary and build their inner monologue.
Supervise your child at all times.
Be particularly cautious about which sensory materials you use, especially if they're going through a phase of wanting to put everything in their mouth.
Enjoyed This List of Sensory Activities for 1-Year-Olds to Explore At-Home?
These fun baby and toddler activities will hopefully help you feel more equipped to facilitate sensory play with your little one at home. When in doubt, simplify. Your child will have fun no matter what!
You deserve to have fun, too, so try not to stress too much. The more you experiment with sensory play, the more you'll find yourself coming up with your own ideas.
Happy exploring!
Looking for Ideas to keep you toddlers busy at home? Check these out:
FAQS on sensory activities for 1 year olds
How can I stimulate my 1-year-old baby?
There are many ways to stimulate your baby, and most will have a sensory element to them. Sensory play activities test and strengthen cognitive skills, aiding brain development. By exploring new textures, colors and materials and experimenting with different concepts, such as cause and effect, your 1 year old will be acquiring valuable new knowledge.
All you need to do is to provide a few materials and tools and your baby will do the rest. You'll be swamped with ideas for fun and easy DIY sensory activities for your 1 year old by the end of this post!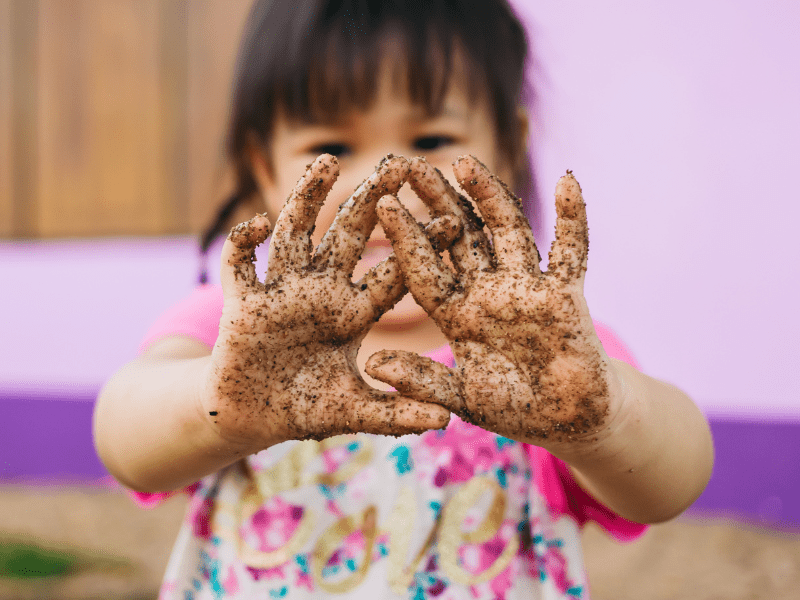 What are the benefits of sensory play activities?
Sensory play benefits are multifaceted. These types of activities primarily work to develop language, motor skills, and cognitive growth which will benefit your child in all developmental areas and phases of life.
Sensory play also assists in emotional regulation as it provides an outlet for expression.
Providing sensory activities for your 12 month old or young toddler is also such a lovely way to spend time with them. Watching their budding curiosity and seeing them learn is such a joy!
Get your camera ready and don't forget to take some video as well as pictures.
When to start baby sensory activities?
You can start sensory activities with your infant as early as you're able to. In the early days you'll be limited by the endless feeding, naps and diaper changes and doing anything extra will be the last thing on your mind. Of course all of these tasks will provide lots of sensory stimulation anyway.
But once your baby is more alert and active you can start with other types of sensory input. Simple things like looking at a book with high contrasting pictures. Watch those baby cues, in particular overtiredness, and be sure not to overstimulate baby.
I began more structured "sensory activities" with my children once they could easily participate in tummy time. The ability to sit up without support for an extended period of time opens up the door to a load more easy sensory activities. You'll be pleasantly surprised to discover how much your infant is capable of.
Related post: 33 Easy & engaging activities for 10 month olds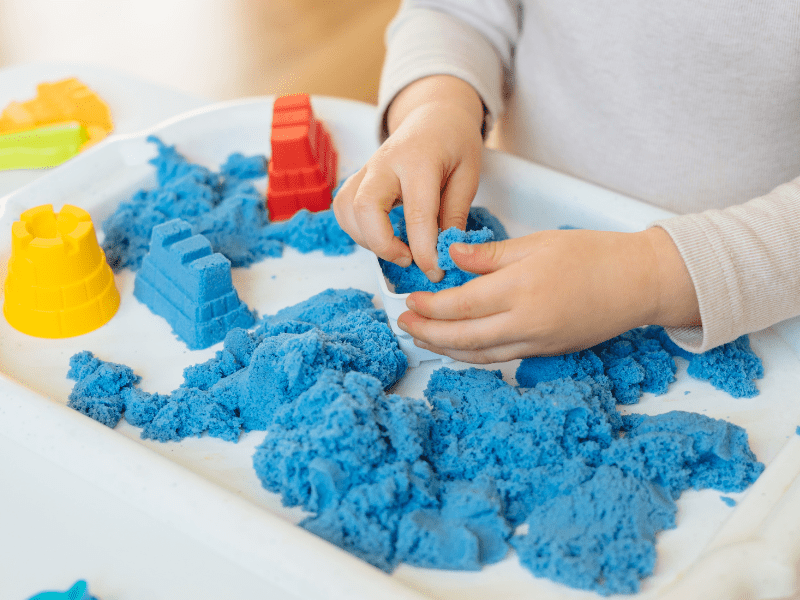 What do you need for 12-month-old sensory activities?
Most things you'll need to do sensory activities with your 1-year-old, you'll likely already have at home. Dive into your kitchen cupboards and you'll find things like food coloring, silicon tools and utensils, uncooked rice, dried or cooked pasta, aluminum foil, tubs of various sizes.
Flour is also a valuable resource for DIY sensory activities for 1 year olds. You can use it alone but also to make play dough, edible mud, cloud dough and so on.
Then there are other things you'll likely have elsewhere at home, such as ribbon, felt, bubble wrap, cardboard boxes, tissue paper….
There are a few materials and products you may with to invest in (affiliate links to these are included when and where relevant.)
My favorite easy and inexpensive way to build a sensory activity stash is by going to the dollar store or the dollar section at a grocery or craft store to stock up on various materials.