Music and movement activities for preschoolers are a fundamental vehicle of learning in early childhood. They advance multiple aspects of a child's development as they involve the whole body and brain.
Music and movement is incredibly engaging and beneficial for children, and can easily turn around a bad mood!
Whether you're at home or in the classroom these simple and fun music and movement activities for preschoolers are sure to get
This post may contain affiliate links. If you click on one and make a purchase, we may receive a commission at no extra cost to you.
Why Children Need Movement Activities
Children desire and need movement to further their development and learning. Movement provides children with a way to express themselves and get their "wiggles" out. A movement or dance break can help ultimately lengthen their attention span for academic learning.
Movement activities will…
Prevent your child from feeling overwhelmed by the task at hand

Enhance mood and self-esteem

Reduce disruptive behavior

Improve concentration and focus

Practice gross motor skills

Improve a child's understanding of spatial relationships and bodily awareness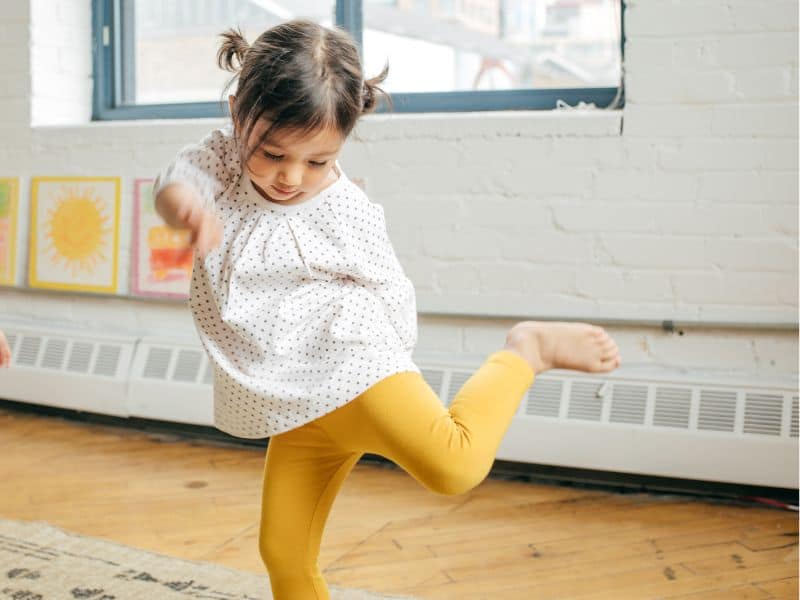 Why Is Music Important In Preschool?
Music is important in preschool because it provides children with a creative outlet and helps them to learn new knowledge by attaching it to a catchy tune.
Music plays an important role in early childhood education and development, empowering both mind and body to work together. Singing songs means learning about rhythm and tempo while also working on a child's memory skills.
Musical activities provides young children with a creative outlet for self-expression.
The Benefits Of Music And Movement Activities For Preschoolers
Cognitive Skills
Music and movement activities further develop a child's reasoning processes, problem-solving skills, and sequencing comprehension. When a child focuses on musical concepts, their imagination and concentration skills are deepened.
Language & Social Skills
Music and movement activities strengthen a child's ability to communicate and work constructively in groups with other children. New songs and lyrics also expose kids to new vocab, further aiding language development.
Physical Skills
A child's motor skills are strengthened through music and movement activities:
Gross motor skills are worked on through larger scale activities such as dancing
Fine motor skills are strengthened through smaller scale activities like playing with musical instruments such as a xylophone
Emotional
Music and movement provides children with an outlet for creative expression, and a productive avenue to work through the many emotions of childhood. It further develops a child's self-confidence.
Academic concepts
Children are able to learn new concepts and increase their academic readiness through musical experiences and movement activities. Music and movement increases a child's memory skills which is quite helpful in an academic environment.
Simple And Fun Music And Movement Activities For Preschoolers
There are so many creative ways to explore new music and movement concepts. From jamming out at a dance party to banging on the drums, the possibilities of music and movement games are endless for your preschooler.
1. Body Percussion
"Body percussion" means to use different body parts as an instrument. Your child will be amazed to discover the number of different ways they can make sounds with their own body.
There's clapping, snapping, patting… the list goes on. They're sure to enjoy exploring and inventing their own unique sounds too.
Once they've mastered some body percussion movements and sounds, turn on some music for them to follow along too. It's such fun to do in a group, albeit a little challenging!
In the video above are body percussion movements to the song "Happy" by Pharrell Williams, complete with the symbols to follow along with and learn.
2. Ribbon Dancing
Ribbon dancing is a beautiful form of movement which intriques and engages young children. You can either use longs strips of ribbon tied together at one end or buy some pre-made ribbon wands.
You could even just use party streamers from the store.
Classical music is very fitting for dancing with ribbons but you can experiment with other music types too.
3. Yoga for Preschoolers
Yoga is a wonderful and calming outlet for movement for anyone, including children. You can use yoga movement cards or a children's yoga excercise video to guide your child's yoga experience.
Play some calm and relaxing music as you try these new moves.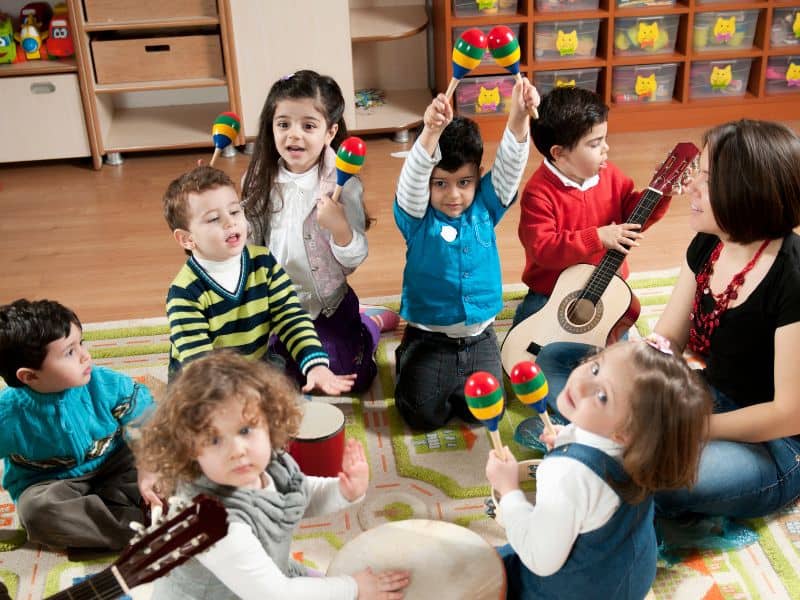 4. Marching Band
Use items around your house as musical instruments, such as an empty coffee canister as a drum, metal tin and wooden spoon as claves, container filled with rice as maracas and so on.
Or purchase a simple set of percussion instruments like this Band in a Box. Your child will love shaking the maracas, playing the tambourine and the triangle, and creating interesting sounds with the whole set.
Try to play the instruments in time with some music with a solid beat and, if it's not a stretch too far, walk around the room in time to the music too.
5. Musical Painting
Painting is a great way for artists young and old to express themselves. Adding in some music adds another dimension.
Simply have some background music playing and allow your preschoolers to paint as they listen. If you try this on multiple days, choosing different music each time, the kids are sure to some up with different styles of painting.
You can also ask your preschooler to create their own visual representation of the music. You'll need a fairly long track for this, or a compilation of similar tracks.
Encourage them to think about the different colors they'll use or to paint to the beat of the music.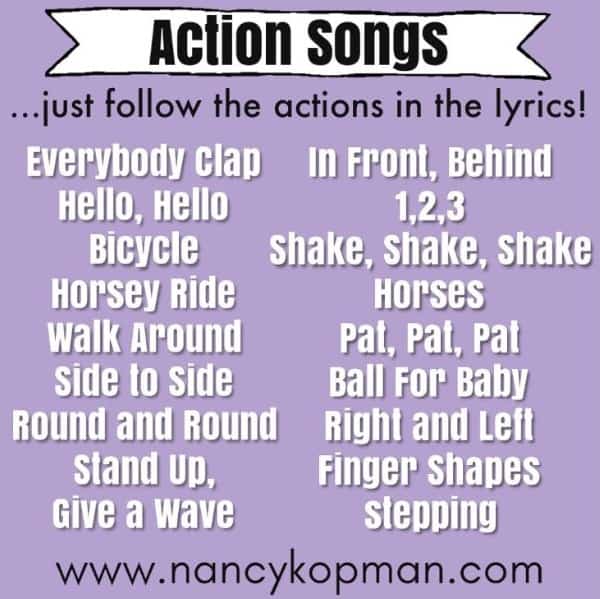 6. Instructive Songs
Instructive songs are meant to be acted out and are usually stories where your child follows the movement instructions. They're usually pretty silly and lots of fun!
Check out Nancy Kopman on Instagram – she has a great selection to try.
7. Limbo
Provide a rope or stick of some sort, put some funky music on, and take turns going under the limbo stick. Remember not to touch the limbo stick or you're out!
This activity is a fun for parties and great for your child's gross motor skills, specifically balance, coordination, and strengthening of leg muscles.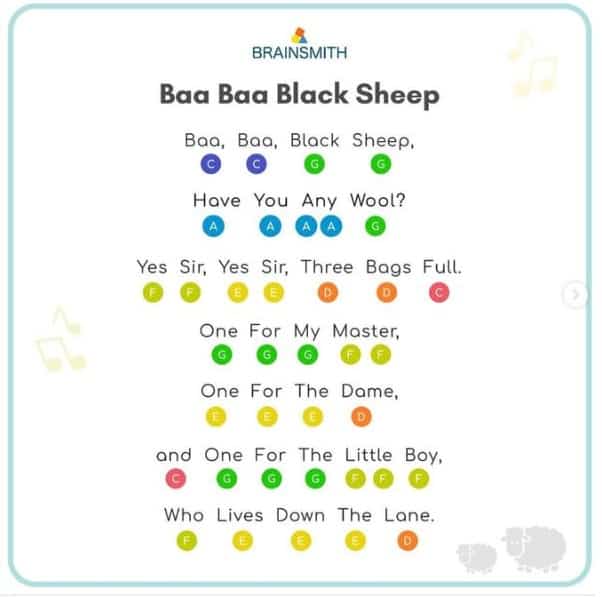 8. Xylophone Color-Coded Play Along
Here's a simple music activity which will teach them how to play the popular nursery rhyme Baa Baa Black Sheep. Provide your child with a children's xylophone and the color-coded visual guide from Brainsmith.
Make sure that you don't take it too seriously. Just see what they can do and give them some freedom to experiment and play however they want as well.
9. "Simon Says" Set To Music
Simon Says is a wonderful game that encourages movement in a child. It's traditionally done without any additional audio, but turn on some tunes and you get more creative with the instructions.
"Do the silly dance!" is a favorite of my kids – which basically means they want me to dance like a complete idiot! They find it hysterical and I also love their attempts to look as silly as possible.
You can also try all sorts of other movements in time to the music. These Simon Says Movement Cards can help you come up with ideas as well as give your child a visual reference for their movement.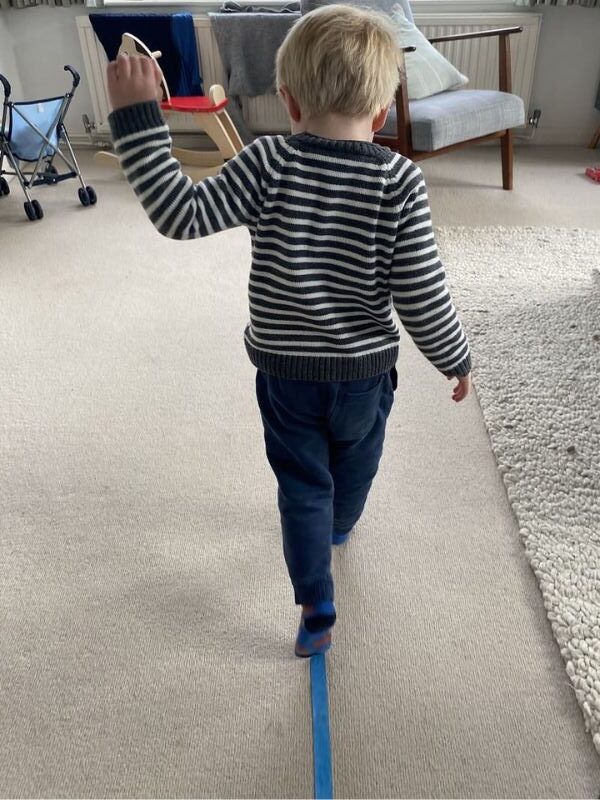 10. Walking the Lines
This line-walking activity is purely physcial, helping young children focus their body and mind and not step off the line. This'll help strengthen their balance.
Simply create lines using chalk and in various directions and designs and have your child walk along the lines. You can also do this activity indoors using masking tape to make the lines instead.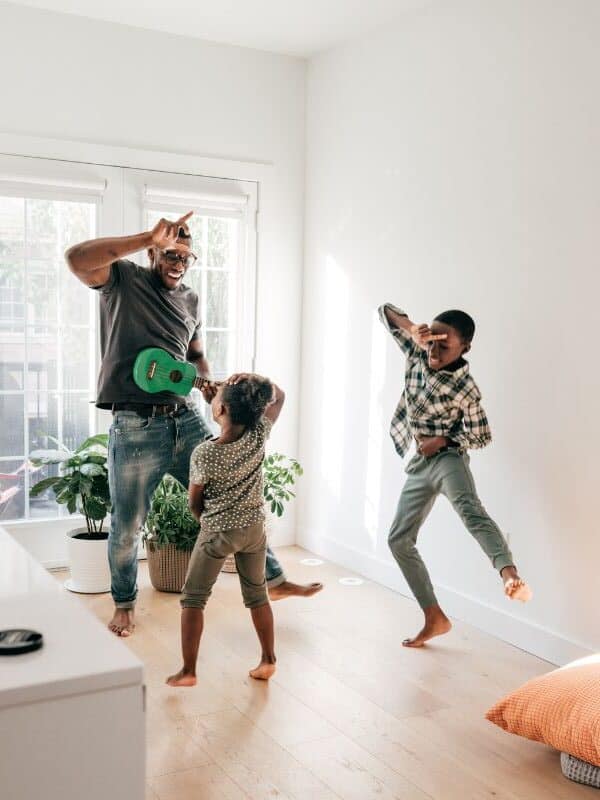 11. Dance Party
One of the easiest and most fun music and movement activities for young kids is a good old-fashioned dance party. Turn on a playlist of your child's favorite songs and let them sing, dance, and move their body however they desire!
This activity is beneficial for a child's creative expression, spatial awareness, and gross motor skills.

12. We're Going On a Bear Hunt
This song and movement activity is a popular one with preschoolers. You can use the book We're Going On A Bear Hunt by Michael Rosen and/or the song to go along with the activity.
It's a lot to remember without utilizing one of these!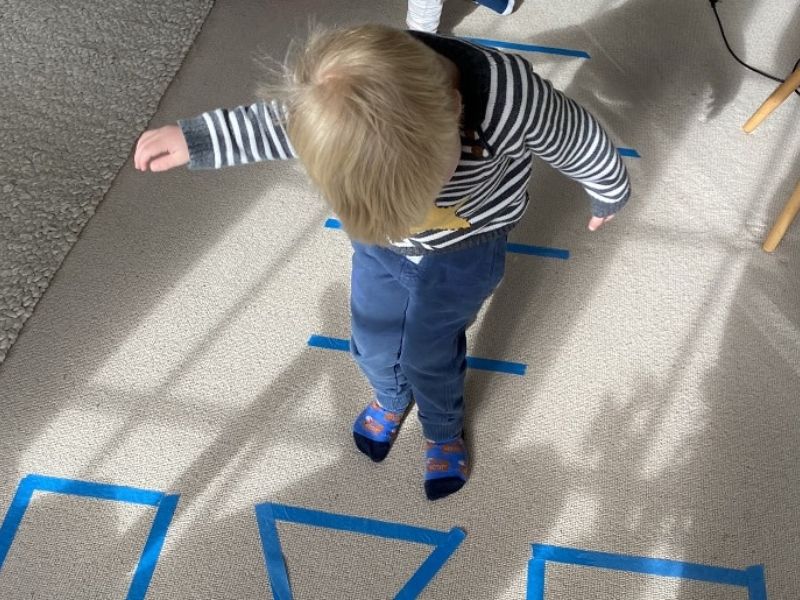 13. Jumping Contest
This game can be played with multiple children or just one child. Make a starting line with chalk if outside or masking tape if indoors. Have them jump from the starting line and see how far they can get.
Tell them to plant their feet or freeze like a statue, and then put some tape on the spot where they landed. Make it a group competition or see if they can beat their own distance in future rounds of the contest!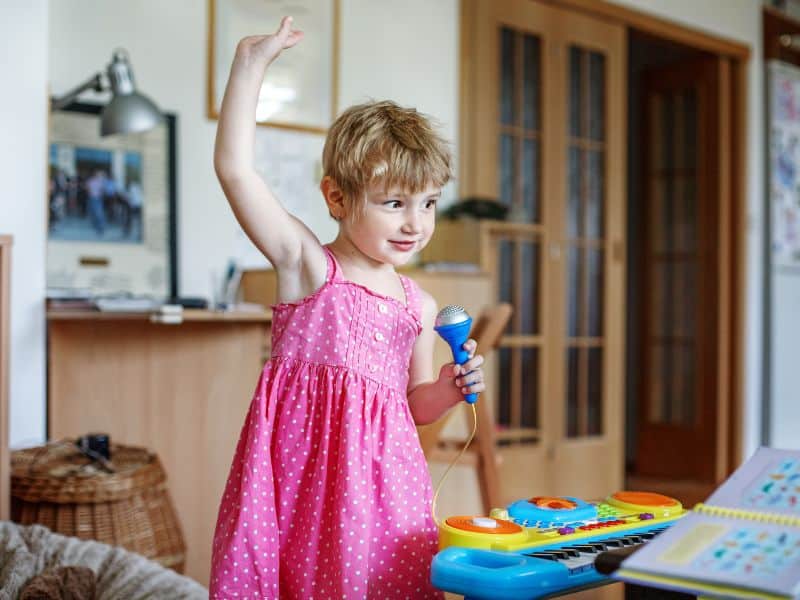 14. Singalong Songs
Never underestimate the power of a singalong! Simply play an album or playlist of your kiddo's favorite songs and let them move their body however they choose! They'll have a great time singing and dancing, and you'll definitely enjoy watching them engage.
15. The Hot Potato Movement & Music Activity
For this simple and fun activity, you'll need a "hot potato" which can be a musical hot potato or just a random item of your choosing that the kids can easily pass to each other.
Simply have the children sit in a circle and pass the hot potato around the circle in time to some upbeat music.
If anyone drops it, they're out and must sit in the middle of the circle. Or play or sing the Hot Potato Song and when you get to "stop", the passing stops and the child holding the potato is out.
To make it more interesting, increase the tempo of the music so the hot potato gets passed around faster and faster.
You can adapt this to play with just one child too. Of course, no one can be out which will suit competitive little ones… Just pass it back and forth between you and play with different tempos and rhythms of music.
Spring Music And Movement Activities For Preschoolers
Providing spring music and movement activities for your preschooler to engage in will familiarize them with the beauty and characteristics of this beautiful season. They will get to understand more about spring through these activities.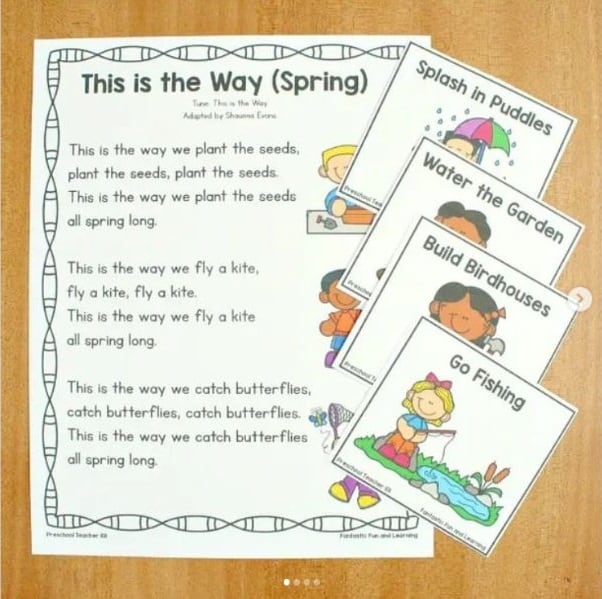 16. "This Is The Way" Spring Edition
This upbeat song is set to the tune of the popular children's nursery rhyme and song "Here We Go Round The Mulberry Bush" but replaced with the words "This is the way we…" Examples are "plant the seeds", "feed the birds", "look for new shoots".
Instead of "All day long", sing "All spring long",
Each verse has a different spring-related action or concept.
You can use this guide from Fantastic Fun And Learning to introduce new spring actions. Click through to the free pritnable. Or you can come up with your own.
17. Spring Animals Movement Exercises
Your child will love moving their body in a spring-inspired way with these spring movement cards. Flutter like a butterfly, hop like a bunny, waddle like a duck, and more.
To enhance this, set the activity to some upbeat music.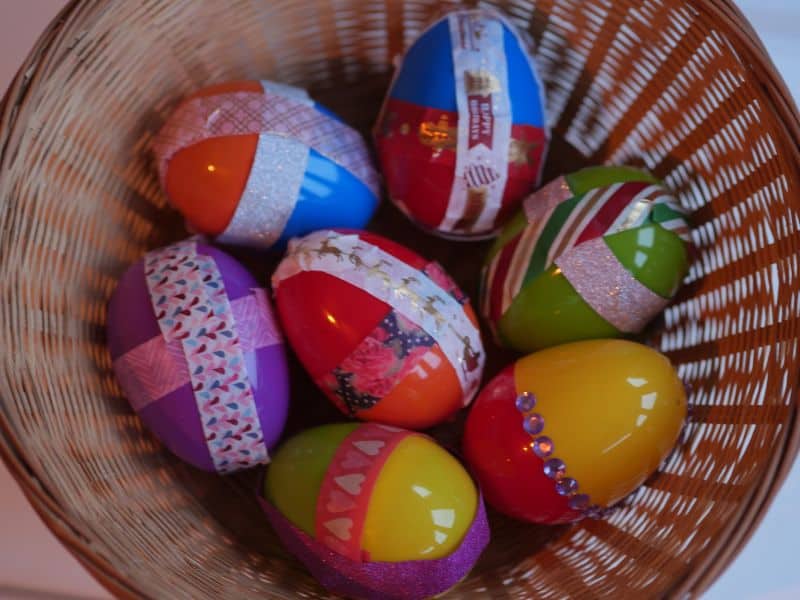 18. DIY Plastic Shaking Eggs
Shaking eggs are a pillar of music and movement in early childhood. You can purchase premade ones, but it's definitely more fun and very simple to make your own.
You can involve your preschooler in the process of creating these shaking eggs which extends the learning and fun – the perfect preschool Easter craft.
All you need are plastic eggs, washi tape or masking tape, filler items such as beads, uncooked rice/pasta/beans, rocks, and more. You can hot glue the eggs closed if you want them to be sturdier.
Decorate them like Easter eggs for the perfect homemade instrument to use in Springtime.
The egg shaker rattles are ideal for tiny hands too. Pictured are the egg shakers I made with my preschoolers for the twins' first Easter, an ideal Easter sensory activity for babies.
19. Guess & Imitate the Sounds of Spring
Guess the sounds is always a fun activity for young children. With the Spring-themed sound guessing video above, you can ask your preschooler to listen to and then imitate the various nature sounds.
The animals will be fairly straightforward, as long as they can identify the sheep from the goat (I struggled…), but how will they move their body to imitate the different types of weather?!
Summer Music And Movement Activities For Preschoolers
Playing outside in the fresh air is a great antidote to more foccussed, learning activities. But even if you're stuck indoors you can enjoy summertime with these engaging summer music and movement activities for preschoolers.
20. Mermaid Scarf Dance
Put on your favorite mermaid tunes and wave around a dancing scarf while pretending to be a mermaid. The scarf can be the mermaids hair or wrap it around your preschoolers' waist and they can pretent to float and swim around the room, sorry ocean, with their colorful mermaid tail.
22. Under The Sea Chase
Swim through the sea, ducking and diving fish and other sea creatures in search of a treasure chest deep on the ocean floor. Don't forget to pop the bubbles along the way!
Your preschoolers will start by doing their best swimming stroke with their arms while standing up. They will then change positions so they're lying on their front and kicking with their legs too.
You can follow along with the video, which intersperses the swimming movements with other physical activities. Or just listen to the music and instructions.
22. Beach Ball Bounce
Bounce around an inflated beach ball to the beat of a song for this fun music and movement activity. See how many bounces the kids can do before losing the ball…
This activity is great for working on your child's balance and hand-eye coordination.
21. "You Can Do A Lot Of Things At The Seaside"
You Can Do A Lot Of Things At The Seaside is a really old song that you may not have heard – I remember singing it at our school musical way back when and it was ancient then!
We sang it with actions, with some kids imitating the mother taking her stockings off and others showing their look of horror as she shows off her bloomers….
For preschoolers it would be fun to have this playing in the background as they dig around in a sand box and explore with their hands and feet as if they were at the beach.
A fun music and movement activity for preschoolers with plenty of sensory stimulation well suited to this age.
For more sensory activities, try these:
Fall Music And Movement Activities For Preschoolers
In between all the cute fall crafts and spooky Halloween activities, these fall music and movement activities with your preschooler are the ideal brain break.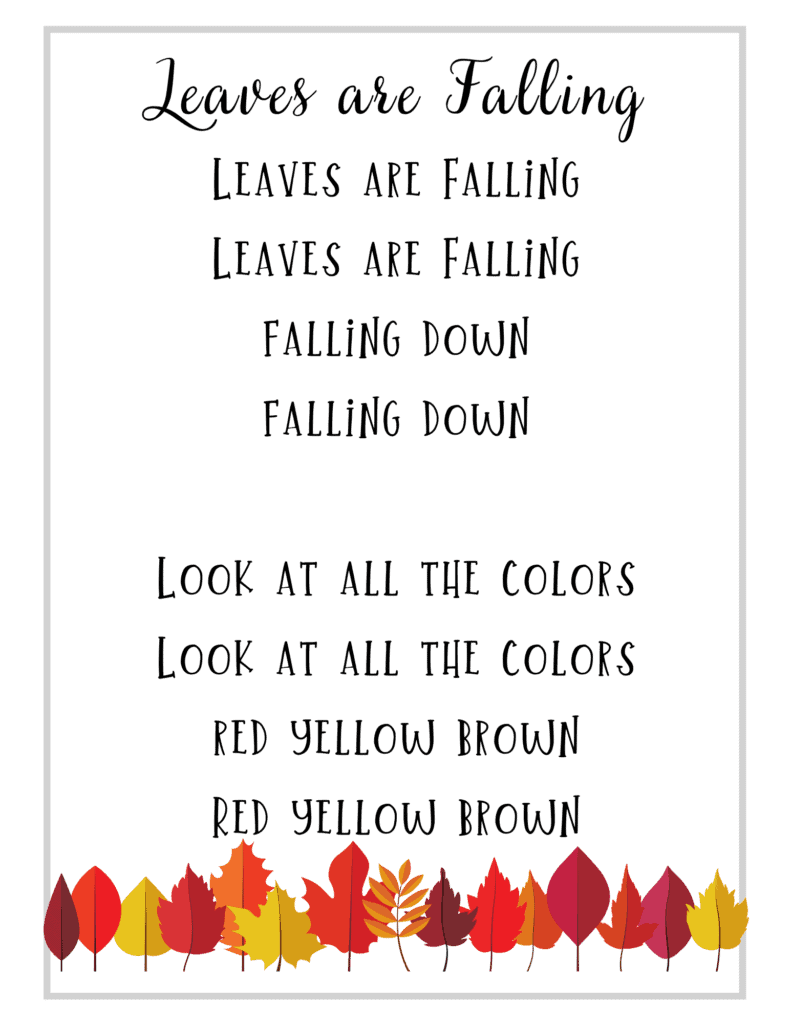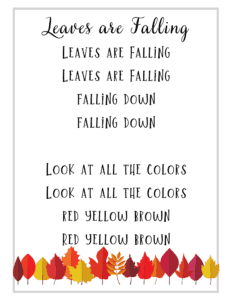 23. Leaves are Falling
The "Leaves are Falling" song is set to the tune of Frere Jacques. This song is much more fun when you perform hand motions throughout it.
Have your child move their arms slowly up and down and wiggle their fingers to pantomime falling leaves. During the words "red, yellow, brown" gracefully move hands from side to side instead.
24. "Monster Mash"
Turn on the famous Halloween jam called "The Monster Mash" and encourage your child to show off their silliest monster moves!
25. Farm Animals Move and Freeze
In the farm animals move and freeze movement activity, your kiddo will love following along with the fall-themed farm video. Each cartoon animal that pops up requires a different movement and has music of a different tempo to move and groove to.
Movements are interspersed with "freeze" moments, where the children must do their best to stand as still as they can, a good test of balance and concentration.
A fun and engaging way to get those wiggles out!
26. Pass the Pumpkin
This game is a fall-themed musical version of Hot Potato, ideal for a Halloween party for little ones.
Find a fun fall or Halloween-themed song to play for this game, such as Five Little Pumpkins. Then have the children sit in a circle and provide a pumpkin to pass around. It can be a real pumpkin, a faux pumpkin, or even just an orange object such as a ball.
Play the music and have the children pass the pumpkin around the circle, stopping when the music pauses. Whoever is holding the pumpkin when the music stops is out of the game.
27. The Scarecrow Song
Here's a fun and simple music and movement song for preschoolers perfect for fall. The Scarecrow Song includes simple movements the kids can easily perform as they listen to the words and sing along.
For more Fall & Halloween ideas, try these:
Winter Music And Movement Activities For Preschoolers
What better time to do music and movement activities than when you're cooped up indoors during the winter? These winter music and movement activities below are sure to help your kiddo expend some of their high energy levels when it's too cold to play outside.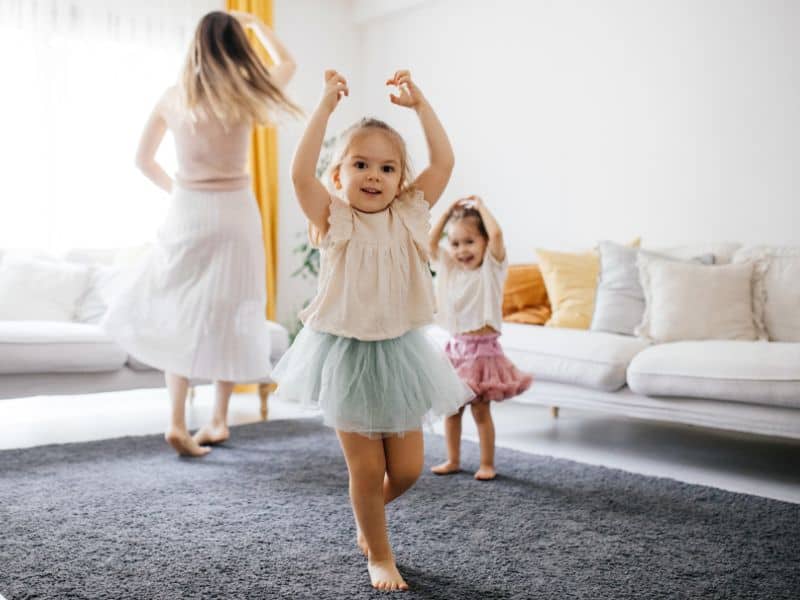 28. Spinning Like Snowflakes
Put on your favorite children's winter songs and practice spinning like snowflakes as they fall from the sky! Each snowflake is different, and each snowflake's movement will be different as well. "Little Snowflake" by Super Simple Songs would be such a cute song choice for this activity.
29. Arctic Animal Movement Activity
Pretend to bound around the tundra like a polar bear in this arctic animal movement activity! ​​At the same time, try to make the noise that the animal makes. This will be a test of your arctic animal noises and movements and will be a wonderful way to explore and learn with your preschooler.
You could try these arctic animal movement cards to help you come up with new movements and provide a helpful visual of each animal for your child.
30. Exploring Jingle Bells
Provide your child with some jingle bells so they can have some festive fun. They can explore the jingle bells by themselves or jingle the bells along to their favorite holiday music.
You can get large individual jingle bells or a jingle bell bracelet which will likely be easier for little hands.
31. 10 Little Marshmallows
This cute winter-themed music and movement activity for preschoolers is set to the tune of the classic childhood song "The Paw Paw Patch." Your child can work on their counting skills and participate in dramatic play concepts surrounding drinking hot cocoa in the winter.
Follow this link and download the cute free printable above.
32. Nutcracker Rendition
Time for the little ones to get their imaginery ballet shoes on and dance away to songs from the infamous Christmas ballet. Start with The Dance of the Sugar Plum Fairy, my daughters favorite.
33. Winter Movement Cards
These winter movement cards will allow your child to experiment with all sorts of actions and maneuvers related to the coldest season. Roll the dice to pick the next movement.
You could even turn this into charades and have your preschooler act out one of the movements and have little friends or classmates guess what it is. You might need to give a helping hand!
The cards linked above include a selection of movements for all seasons, so can be a baseline for your child's imagination. You'll be surprised at what they can come up with on their own after using the cards for inspiration.
Christmas Music And Movement Activities For Preschoolers
It's the most wonderful time of the year for creating cute decorations and Christmas crafts with the kids.
But don't forget to take a break! These Christmas music and movement activities for preschoolers are sure to get your child into the holiday spirit while getting those wiggles out and tuning into the music.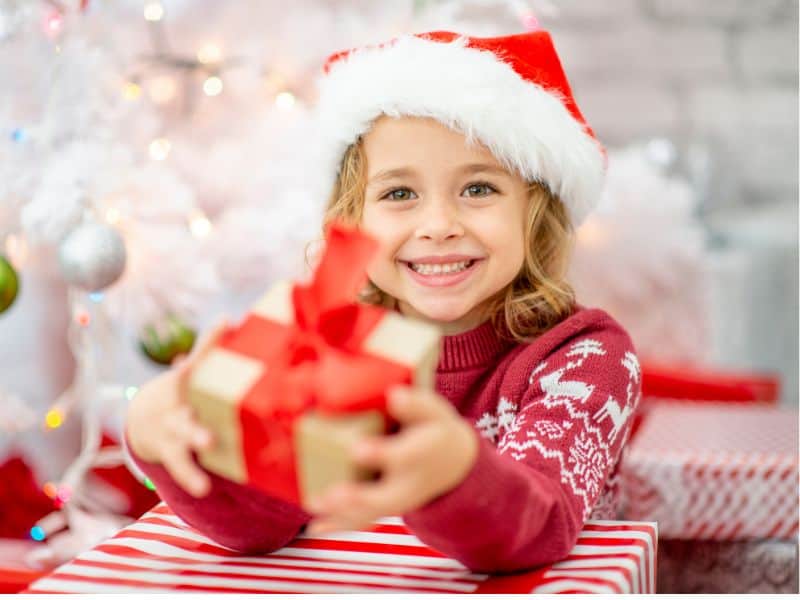 34. Pass The Parcel with Movement Instructions
To play Pass the Parcel, simply wrap a prize in multiple layers and pass it around the circle of children as the music plays. Once the music stops, the child holding the gift unwraps one layer.
At each layer have an instruction for a simple action. The child who has unwrapped the instruction must carry out the movement. Or you could play that everyone takes part in the activity.
35. 10 Little Presents
Your kids will enjoy singing along to this cute song while they simultaneously get excited about Christmas presents. The tune reference for this adorable Christmas counting song is the former classic childhood song called "The Paw Paw Patch."
"One little, two little, three little presents.

Four little, five little, six little presents.

Seven little eight little nine little presents.

10 little presents to wrap for friends!"
36. Christmas Movement Break
With these Christmas movement cards, your child will get to twinkle like Christmas lights, laugh like Santa, stand like a tree, and more!
Use these cards for your own reference to call out the moves each round, or print them off and laminate for your kiddo to navigate themselves.
For more Christmas activities, bookmark these for later:
Weather Music And Movement Activities For Preschoolers
By providing weather music and movement activities for preschoolers, they can learn about weather concepts in a fun and physical way.
37. Rain Dance
Encourage your child to make the sounds of rain using their body in various intriguing ways. This could include:
rubbing their fingers together to make a misting sound

moving their hands together to make a drizzle sound

patting their knees to make a downpouring sound

and stomping their feet to create a thunder sound.
Make the "rain stop" by ceasing all movements, and have them start it back up again when they desire.
Experiment with different tempos and volumes to create your very own rain or thunderstorm.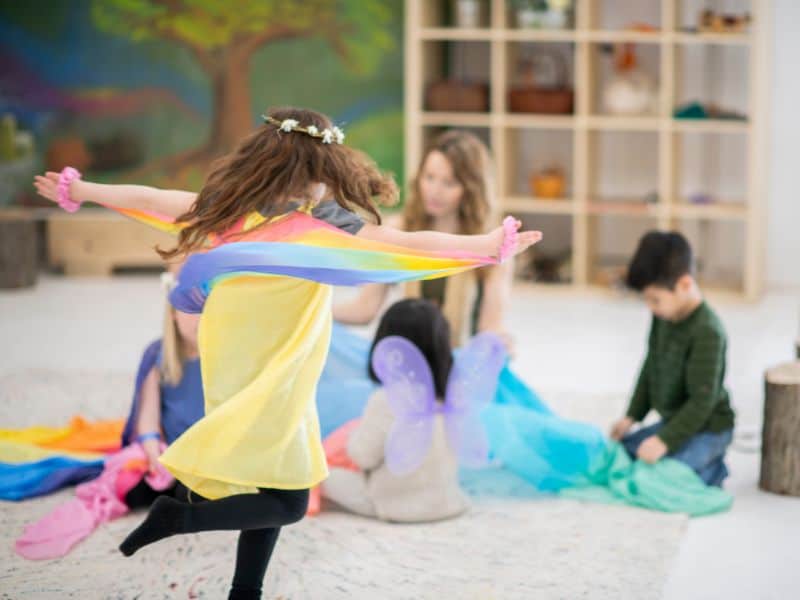 38. Rainbow Scarf Dancing
Adding some rainbow dance scarves to a dance party can liven up the activity tenfold! My children literally cheer when they see me grab our basket of dance scarves out of the toy box because they know they're going to have a blast.
If have a bunch of silk scarves lying ideal in your closet these would work just as well too.
39. "Singing in the Rain"
Your child will enjoy dancing along to this popular sweet song. To extend the fun, do it outside and open up some umbrellas to use throughout the song.
40. Weatherman Says
"The Weatherman says…blow a light breeze!"
This Weatherman Says weather movement game is just like Simon Says but pretending to be a weatherman instead. It lets children harness their imagination and move how they interpret that particular type of weather.
Some examples are:
"The Weatherman says…thunderclaps and a howling wind"

"The Weatherman says…flurrying snowflakes"
Rainforest Music And Movement Activities For Preschoolers
Familiarize your child with the animals and characteristics of the jungle through rainforest music and movement activities for preschoolers.
41. Musical Rain Stick
Create your own Amazonian rain by using a musical rain stick. You can purchase one like this or make it yourself using this Musical Shaker Tutorial from In The Playroom.
Alter the filler material to create different intensitities of rain. Uncooked rice sounds the most like rainforest rain in my experience.
42. Rainforest Animal Movement Game
Print out photos of different rainforest animals and, in each round, experiment moving like each animal. Slither like a snake, run like a jaguar, sleep like a sloth, chomp like a crocodile, swing like a monkey, and more.
To extend this activity, you could play some rainforest sounds in the background or set the game to music.

43. Learn Rainforest Bird Song
Enjoy and learn the song of different rainforest birds by playing the stunning youtube video above. Get your prechooler to tune into the sounds and song of the birds by listening without the visuals – the video is marked with the bird names.
Ask the kids to pick out their favorite birdsong and then they can have a go at imitating it.
High Energy Music And Movement Activities
Here are some more music and movement activities for preschoolers requiring plenty of energy, so if your kiddo is bouncing off the walls, try one of these. Plenty are good for parties too.
44. Gym Movement Break Activities
These movement break cards provide a structured way for your child to get moving. Interspersing more focussed work with physical breaks like this is so beneficial, it's one of the best ways to use music and movement activities with your preschoolers.
The cards will help provide you with ideas and guided movement suggestions. From jumping jacks to heel raises and everywhere in between, your child will love experimenting with different types of movement.
This type of activity is best accompanied by some fun workout music.
Kids will love getting their wiggles out during their movement breaks with these fun activities.
45. Freeze Dance
If you need to pass some time or get your kiddo's wiggles out, simply turn on a favorite song of your child's and let them dance to the music.
The activity's objective is to freeze like a statue when the music stops. If you're playing with a group, whoever moves during the "freeze" time, is out!
46. Everyday Moves Dance Cards
This activity is a creative dance party, so be sure to pick one of their favorite upbeat songs! These Everyday Move Dance Cards have a few different categories: Park trot, house groove, neighborhood hop, and more.
Within these categories are specific moves, such as "wash the window" (a house groove move) and "wave goodbye" (a neighborhood hop move.) All of the moves are based on everyday moves and scenarios.
47. Musical Chairs
Musical chairs is a great music and movement activity for children of any age. It's always popular at parties.
Set up a circle of chairs, turn on some music, and let the kids walk in a circle around the chairs. Abruptly stop the music, and each child has to find a chair. Whoever doesn't get a chair is out of the game! Make sure to remove a chair each round.
48. Keepy Uppy
Any Bluey fans? Keepy Uppy is such a cute game that children of all ages can play on varying levels. Simply blow up a balloon (with air, not helium) and keep the balloon up in the air by bouncing and hitting it before it falls to the ground.
Music And Movement Songs For Preschoolers
Music and movement songs for preschoolers combine the wonder of music with physical movement. It is a multifaceted method of learning in early childhood that is incredibly engaging for children and very productive for their development.
Theses fun action songs are a great place to start.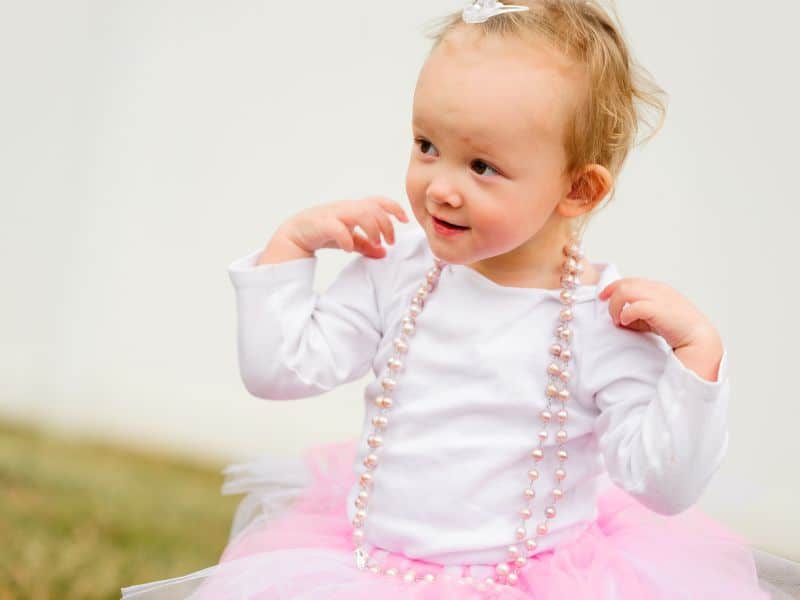 49. Head, Shoulders, Knees, And Toes
A classic childhood favorite! This song is quite self-explanatory and very well-known. Make sure to have your child point to each body part as you sing it.
Here are the lyrics in case you need a refresher:
"Head, shoulders, knees and toes, knees and toes.

Head, shoulders, knees and toes, knees and toes.

Eyes and ears and mouth and nose,

Head, shoulders, knees and toes, knees and toes!"
50. The Ants Go Marching March
The "Ants Go Marching" is such a fun music and movement song for preschoolers and perfect to practice marching to the beat.
Sing it yourselves or play it in the background, while your children stomp to the rhythm of the music. March in one spot or march around the room…just make sure to keep moving!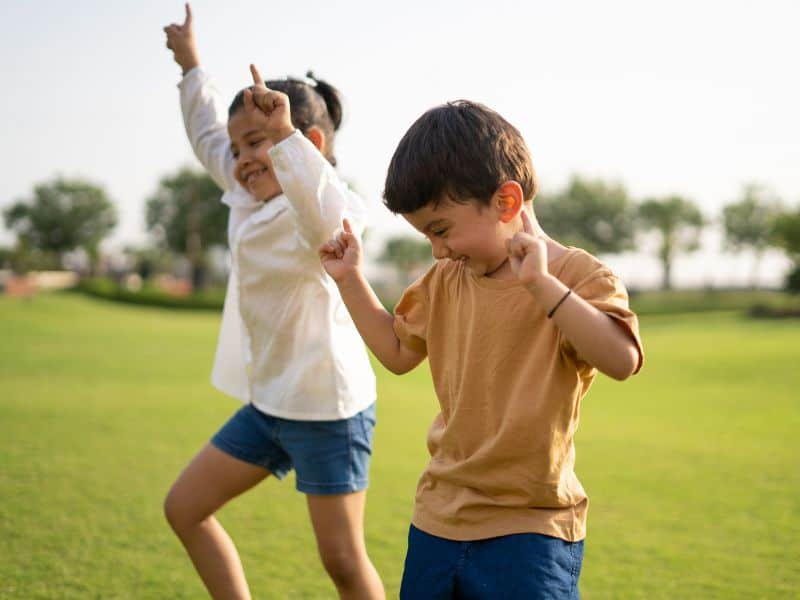 51. The Hokey Cokey
A classic music and movement song, The Hokey Cokey is sure to get their wiggles out. For each verse, put a different body part "in" to the middle of the group until you've covered them all. End the song by putting "your whole self" in and shake it all about.
We love doing The Hokey Ckey on the trampoline – everyone always ends up falling about at the end into a heap of giggles…
52. Row, Row, Row Your Boat
"Row, row, row your boat, gently down the stream.

Merrily, merrily, merrily, merrily, life is but a dream."
As you sing this song with your child, be sure to pantomime and add motions to act out the song. Sit on the floor opposite each other, and hold hands and rock back and forth to row the imaginary boat. Lay your head down to "dream" and so on.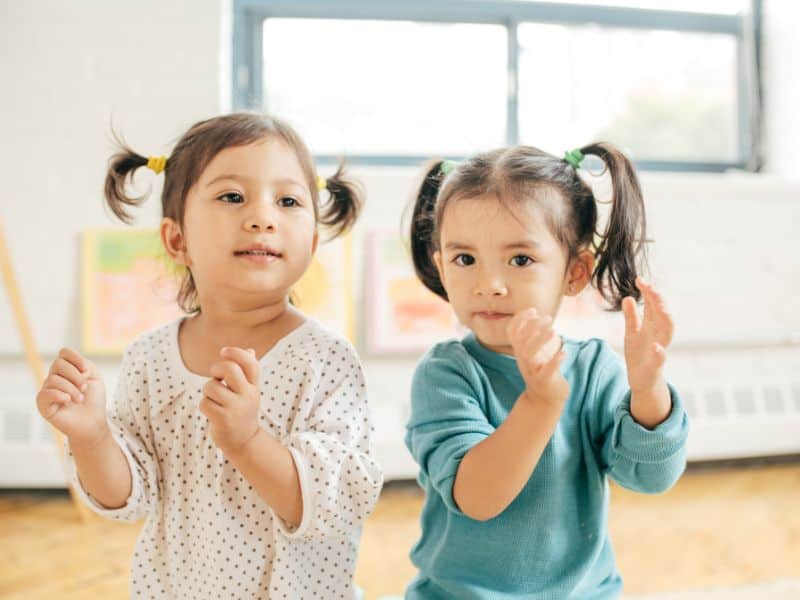 53. If You're Happy and You Know It
"If you're happy and you know it, clap your hands!"
Each verse of the song has a different action to do, such as clap your hands, stomp your feet, spin around, touch your toes, jump up high, and more. This song is always a hit with the littles!
54. Wheels on the Bus
Everyone knows this childhood classic, Wheels on the Bus. In each verse of the song, make sure to introduce a new person and action, such as the wipers going "swish", the baby crying "wah," mommy saying "shh," the horn honking "beep," and more.
There's no need to listen to the song as you sing, in fact, I think it's better if you don't so you can get creative!
This is one of my kids favorite action songs because they like adding their own intriguing lines to the song, normally involving animals…. The kitty saying "meow", the frog saying "ribbet"…
Their bus is more like Noahs Ark!
55. 1,2,3,4,5, Once I Caught a Fish Alive
This song is such a cute and engaging counting song that you can dance to, act out, and count along on your fingers. Extend this activity by adding fish images or fish toys for your child to play with and visualize the activity better.
"One, two, three, four, five.

Once I caught a fish alive.

Six, seven, eight, nine, ten.

Then I let it go again.

Why did you let it go?

Because it bit my finger so.

Which finger did it bite?

This little finger on the right."
There are plenty more fun songs with actions to try. They're one of the most popular music and movement activities for preschoolers. Each has defined body movements for your child to perform as they sing the song.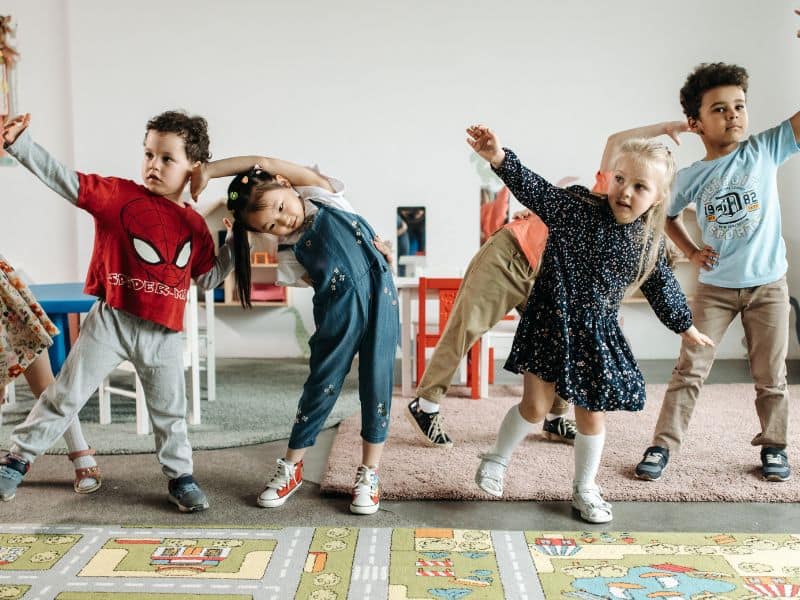 Engaging Music and Movement Activities for Preschoolers
One of the best things about music and movement in early childhood is that there are no "rules;" you can fully individualize it and create your own fun!
We hope these music and movement activities for preschoolers provide you with ample ideas to try with your kiddos! You should be able to offer them plenty more musical experiences, while developing their physical skills.
Remember to have fun along the way, whether you can carry a tune or not!
_________________________________________
For more engaging activities for this age group, try the following: