Inside: 40 fun and easy Easter crafts for toddlers that preschoolers will enjoy too
Got an Easter loving toddler at your feet? Let's be real, in the toddler years Easter is all about the chocolate, right?!
In fact, I'm not sure at what age kids don't immediately think (and shout) "CHOCOLATE" at the mere mention of Easter… since my two haven't reached it yet (and they're nearly 4 and 5…).
So of course, this list of easy Easter crafts for toddlers has a whole heap of Easter egg crafts, including some fun ideas for decorating real (i.e. hard-boiled) eggs. (Much to the disappointment of my two, they don't have chocolate inside…)
Then of course there are some Easter bunny crafts and a few easy Easter basket crafts, so your toddler can carry all the finds of one of the highlights of a toddler's year: the Easter egg hunt.
Easter also means the arrival of Spring and new life
Now that's really something to get excited about in my view. The world outside finally starts showing new life; leaves start shooting, daffodils bloom, tiny fluffy bunnies are a hopping and chicks are a cheeping.
And new life is what Easter is really all about; the hatching "Easter chick" symbolizes new life and re-birth, the egg being the tomb from which Christ was resurrected.
It's always good to remember why we celebrate Easter and hope one day our little ones will associate the festivities with anything other than chocolate and Easter egg hunts. Here's hoping!
This list of toddler Easter crafts is split into Easter egg crafts, Easter bunny crafts, Easter chick crafts and Easter cards.
Now, because your said toddler in tow is… a toddler, the simplest of crafts can turn out to be, well, anything but simple. In fact, everything that's messy and requiring a massive cleanup of both house and toddler… So, I've then split each category into:
SIMPLER, MINIMAL MESS Easter crafts for toddlers
Simple to prep and shouldn't get too out of hand when it comes to mess and clean up.
TRICKIER, POTENTIALLY STICKIER toddler Easter crafts
A bit harder to prep, finish off or much bigger mess potential
Choose based on your time-scale and patience!
So let's get to it – loads of dead-simple Easter crafts for toddlers plus some that are a little trickier.
These are easy Easter crafts for toddlers, 2, 3 and 4 years old – so for preschoolers too
The lines seem a bit blurred when it come to the transition of a toddler into the preschooler age bracket. At 3 years old, it seems a little one can be called a toddler or a preschooler… All very confusing.
Anyhoo, this list of Easter crafts is for 2, 3 and 4-year-olds, which I'd say is the later toddler years and early preschool years. Most are probably a stretch for a 1-year-old, but if you're feeling adventurous then there's nothing to stop you giving all and any a go!
Pick, chose, enjoy!
Happy Easter.
Easy Easter EGG crafts for toddlers
Some decorated Easter eggs and some Easter egg artwork and other eggy crafts, all with a toddler in mind.
SIMPLER, MINIMAL MESS toddler Easter crafts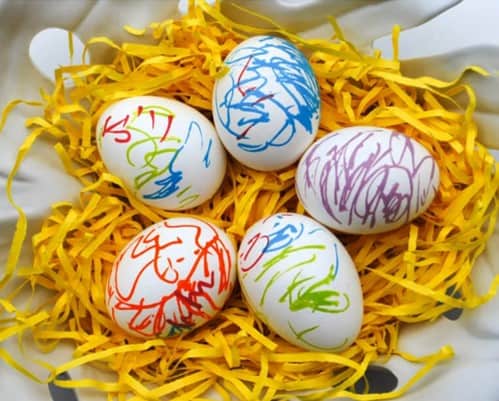 You can't get simpler than hard-boiling some eggs and having your little one "decorate" them with sharpies aka scribble all over them. A perfect Easter craft for any scribble loving toddler.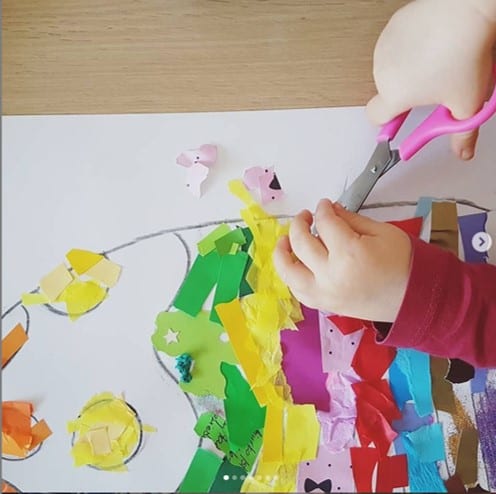 An Easter egg craft for toddlers that love to rip or cut. All of them right? For tiny tots that want to rip and stick, I wouldn't worry too much about keeping a pattern. Older toddlers who've grappled the use of scissors can practice their skills and have a go at some kind of pattern (but don't surprise if they want to stick everything wherever – that's totally normal at this age…)
This one begins with a quick forage for some spring flowers with your toddler, who will then have fun sticking all those pretty bits and bobs (after a few days drying) onto contact paper or in a laminating pouch. Such a pretty Easter craft and perfect for a toddler too.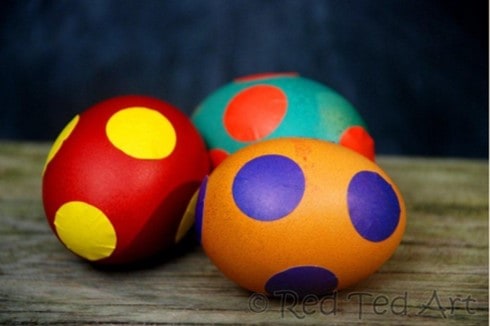 What more can you want from a toddler Easter craft? You can't get much simpler, can you?! Dot stickers and hard-boiled eggs are all you need for this easy craft and activity which is a good test of fine motor for little ones.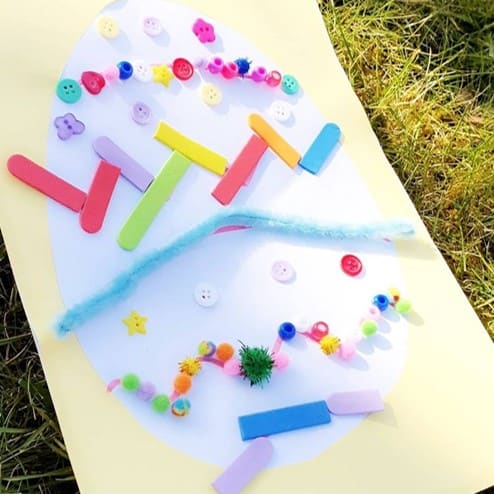 #5 Loose parts Easter egg collage
A good test of fine motor for those little toddler mitts to pick up and place the beads and pompoms onto the lines on the Easter egg (trace a line of glue over the top so everything sticks).
TRICKIER, POTENTIALLY STICKIER toddler Easter crafts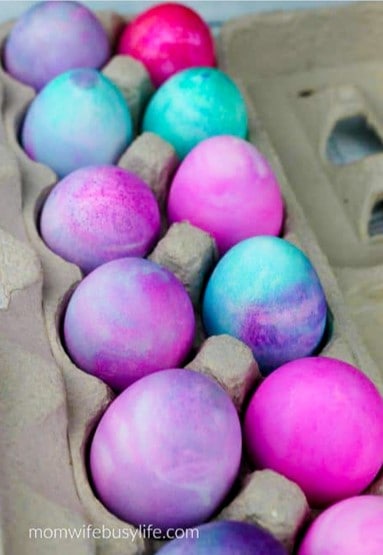 This will be a great sensory activity and Easter egg craft for toddlers, just note it's in the "trickier and stickier" category for obvious reasons. The finished decorated eggs are so pretty, if you're well prepared for the potential mess this is definitely worth a go.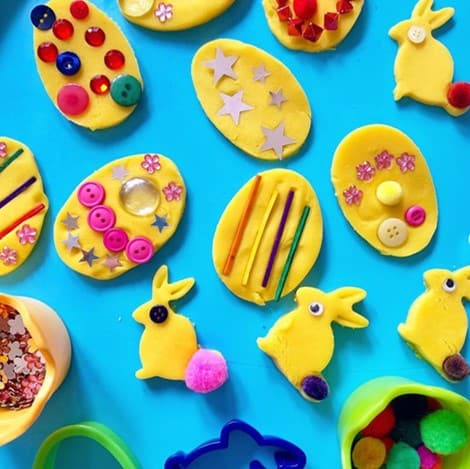 Squishing, rolling, squeezing and smushing playdough is such a great sensory experience for toddlers, and preschoolers for that matter. Calming and therapeutic, it's wonderful for building up strength in all those hand and finger muscles (essential when it comes to writing). Some Easter-themed cookie cutters are all you need to turn playrough into a fun Easter craft and activity for toddlers.
Having made these Christmas decorations with salt dough with my two as toddlers, making permanent Easter egg decorations by doing the same is definitely on the agenda (the love of playdough and salt dough doesn't end until way beyond the preschooler years…)
To make saltdough, simply measure 1 cup salt, 2 cups all-purpose flour and 1 cup water and mix, play with, shape. You can then paint and decorate after (check the salt dough Christmas decoration post for ideas).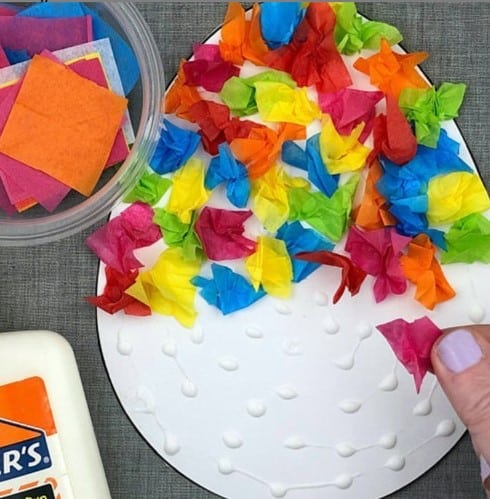 Another Easter egg craft for toddlers that practices fine motor skills in scrunching up tissue paper. It's the glue that could potentially lead to excess mess and stickiness so not a craft where you want to leave the room for too long…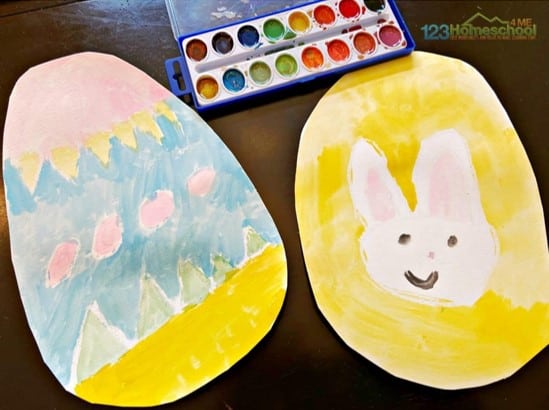 Who doesn't love a bit of water resist painting? A perfect Easter craft for toddlers since you (i.e. mom or dad) can be in charge of the pattern, by doing the white crayon zigzags and circles onto the egg. Then let your toddler go to town with paint (watercolors or watered down tempera paint) and then cut out the egg after. Hey presto, a work of art you'd never believe a toddler was involved in!
Fun toddler Easter CHICK crafts
Easter chicks are round, what else is round? A paper plate! So there are a fair few paper plate Easter crafts among these…. (What would we do without paper plates!)
SIMPLER, MINIMAL MESS toddler Easter crafts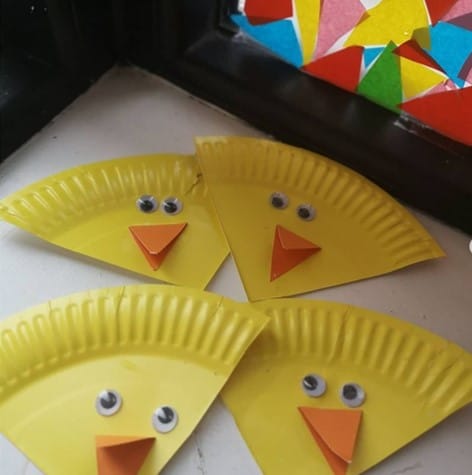 All my talk of using paper plates for Easter crafts because they're round and in the very first one you cut them up… Anyhoo. A too simple Easter craft for toddlers who can stick googly eyes and a beak onto a yellow paper plate. (If you want to get some paint out you could start with a white paper plate, but unless your toddler is able to show huge restrain and control with paint I'm not sure why you'd want to. Just me?!)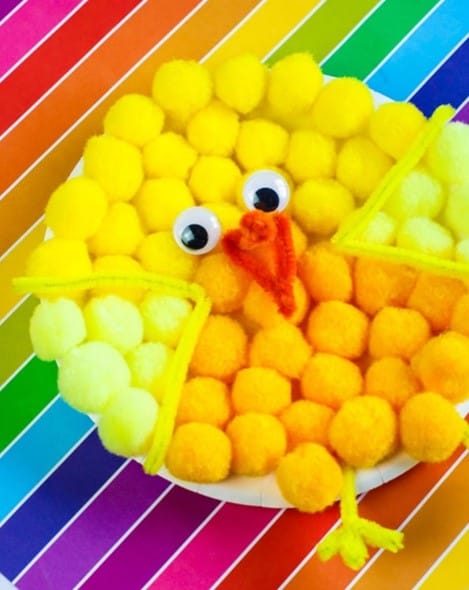 So here is a paper plate Easter craft that uses the roundness of the plate… Admittedly there is a bit of glue involved but if you take control of that side of things this cute Easter chick is mostly a matter of sticking on orange and yellow pompoms and I'm betting that'll be right up your toddlers street. Pipe cleaners and googly eyes complete the look.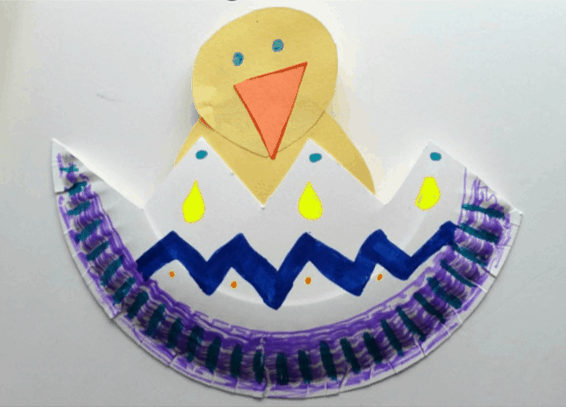 A toddler able to use scissors can have a go at cutting the paper plate and then decorating the egg they've created. Depending on the extent of their cutting skills they might also be able to have a go at the beak, body and head of the Easter chick too. Then it's a case of sticking it altogether.
(As a side note, I see my logic is clearly flawed – here the paper plate is the broken egg. not the chick at all… oh well…)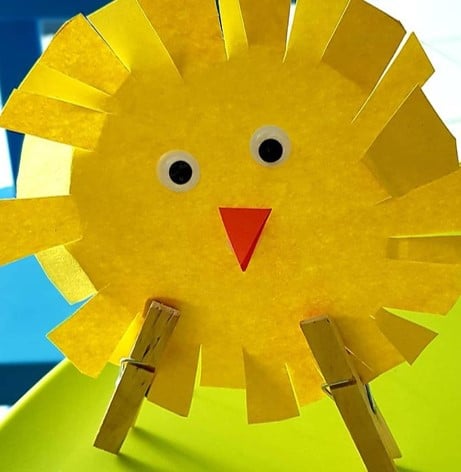 I love this simple Easter craft for toddlers – a little bit of cutting a bit of sticking and 2 clothespins and you got yourself a cute Easter chick that stands up. Whether the legs stay attached is another thing – I can imagine mine as toddlers just wanting to play with them…
(As another side note, I'm sure this would make a great paper plate Easter craft – this chick is round!)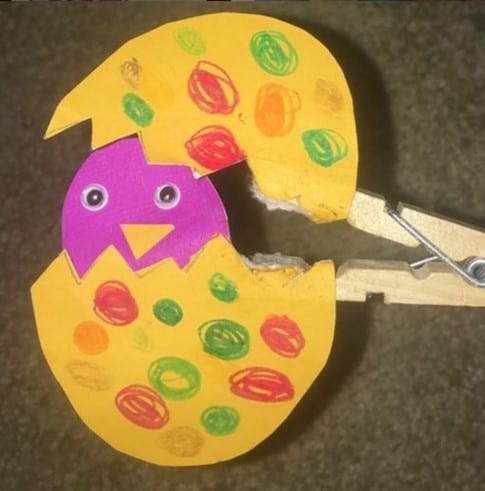 Another clothespin here, but this one controls the hatching of the cute Easter chick, a perfect Easter craft that toddlers will love to play with too.
TRICKIER, POTENTIALLY STICKIER toddler Easter crafts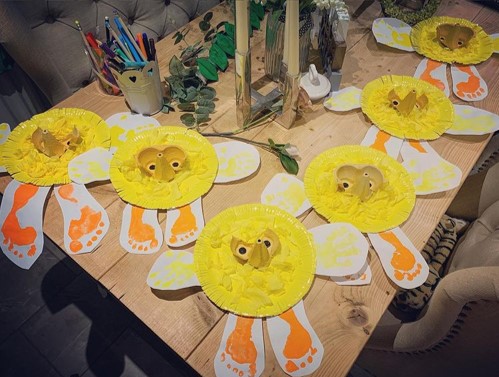 I was never a fan of hand and footprint crafts when my two were tiny tots as it always ended up with way too much mess… but this one is hard to resist isn't it?! The eyes and beak are part of an egg box and yellow tissue paper become feathers…Such a cute Easter chick craft.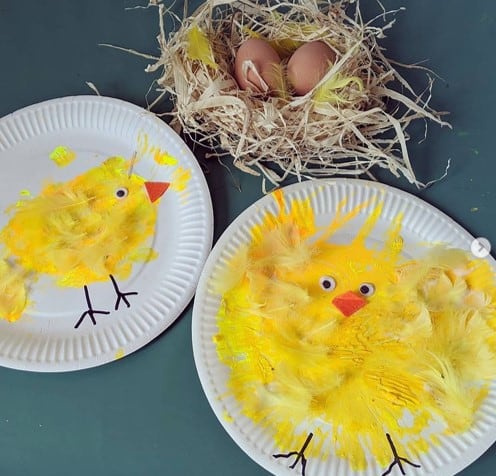 This is such a sweet paper plate Easter craft perfect for the free painting hand of a toddler – no accuracy at all is needed. This one uses craft feathers rather than tissue paper for some real fluff. The only thing mom will need to do is draw on feet (as well as try and contain the mess, of course!)
(Of course, I have to add, this one is the second one in a row that does make use of the roundness of the plate.. Ok. I'll stop now.)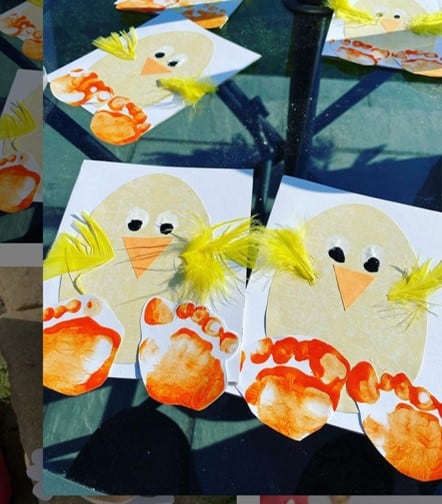 I'm not sure whether this is a chick or an egg or just an egg-shaped chick, but either way, it's a pretty darn cute Easter craft for any toddler to try!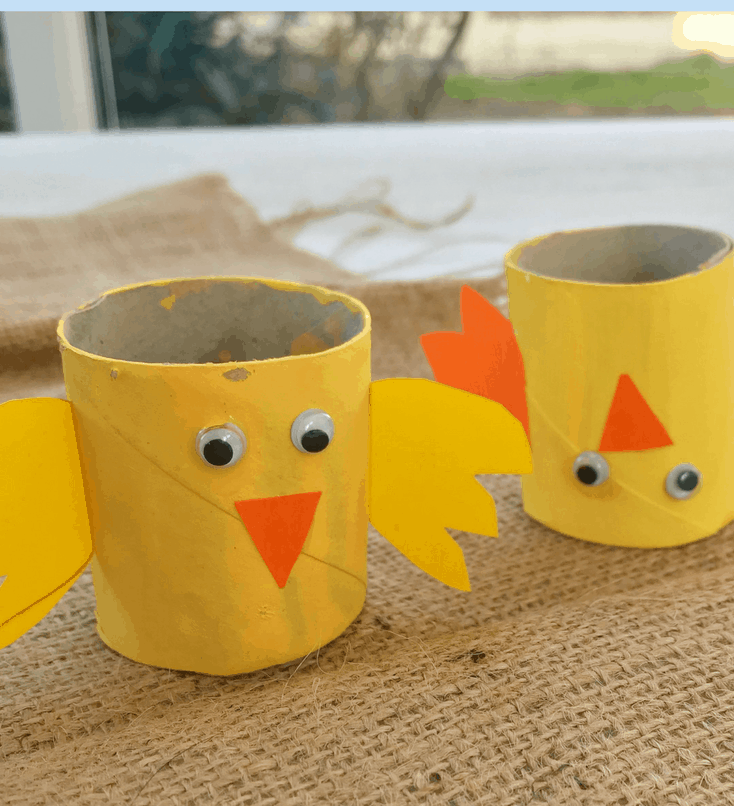 I can't believe we've got to number 17 without a TP craft so far! TPs are great for 3D crafts, such as this Easter chick, and add a little bit more complexity when it comes to painting (if you're knee-high to a grasshopper, that is.) All you need are some googly eyes, a beak and some wings to finish it off.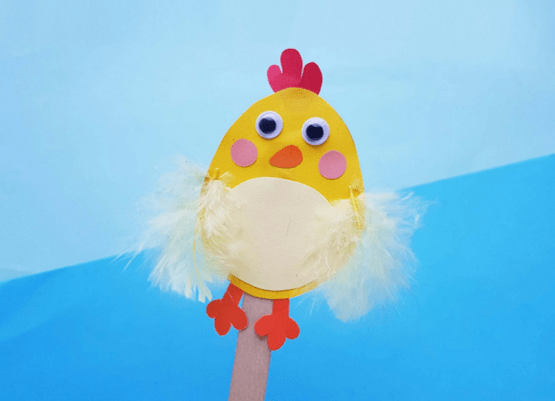 An Easter craft that your 3 year old will love to play with too. I can see a serious amount of roleplay going on with my two if we make a few of these (meaning hours of fun for them and hopefully some peace and quiet for me!)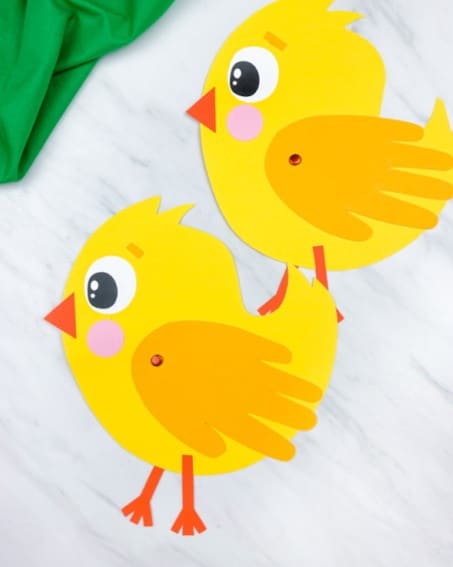 A simple Easter chick handprint craft with free template – sounds good to me!
Easter Easter BUNNY crafts to make with toddlers
Who loves cute, fluffy bunnies? Toddlers do, that's for sure (especially when they're known to delivery Easter eggs…) A few paper plates in here too (no further comment).
SIMPLER, MINIMAL MESS toddler Easter crafts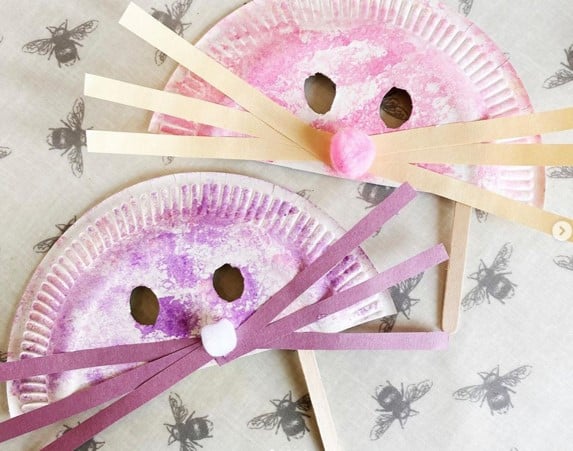 Toddlers are going to love pretending to be Easter bunnies with these easy bunny masks.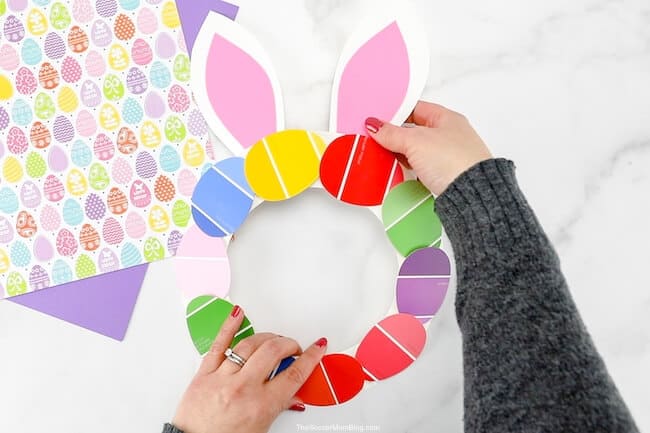 You might need to do most of the cutting, but your toddler can help sticking the egg-shaped paint chip cards onto the wreath (a paper plate). A good opportunity to practice color recognition and another easy and fun mask for your little one.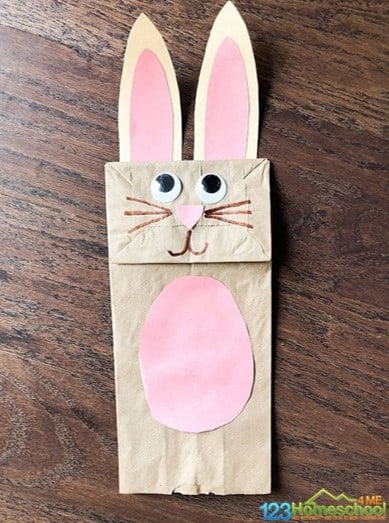 I love the upcycling here and a very quick and easy craft to prep for when you have a sudden need to keep a little one busy and entertained (i.e. a perfect Easter craft for toddlers).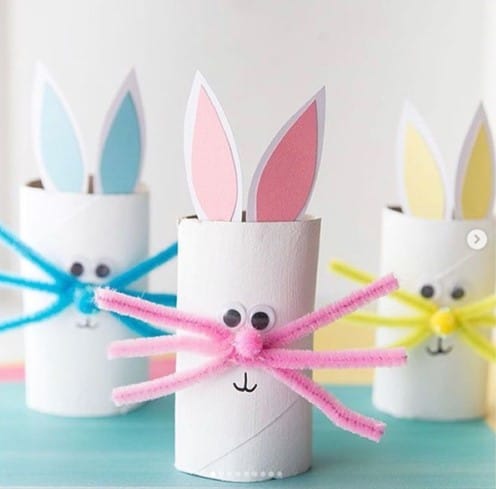 To get this into the "simple" toddler Easter crafts category, leave the toilet paper rolls unpainted – a little more rustic but will be just as cute. Older toddlers can help cut out the ears while younger ones might manage to cut the pipe cleaners but will definitely enjoy helping to stick it all together.
TRICKIER, POTENTIALLY STICKIER toddler Easter crafts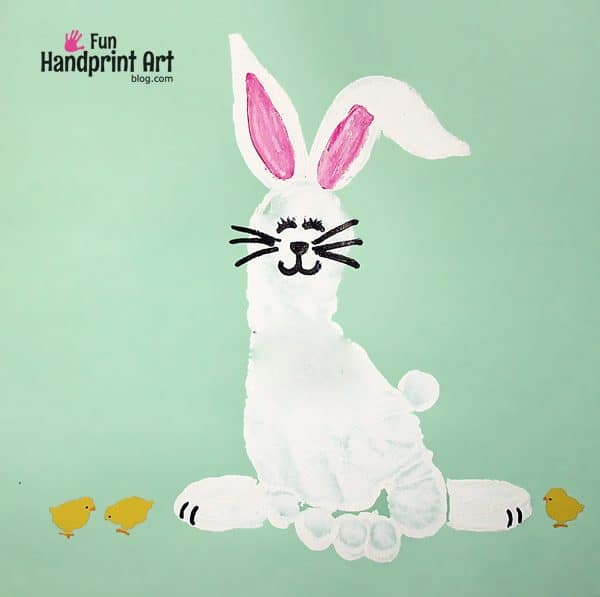 This footprint bunny craft for toddlers looks a little more legit, as its tail is off to the side. I do like the big thumper feet that have been added on and the one floppy ear – very cute.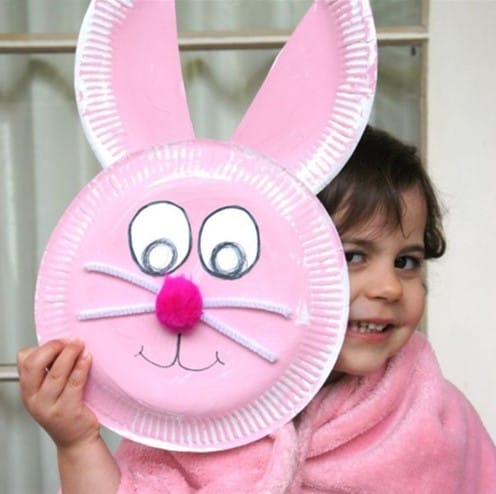 It's only the pink paint that makes this a little messier than you might want – a pink paper plate would solve that issue though making this one simple and mess-free and still totally adorable.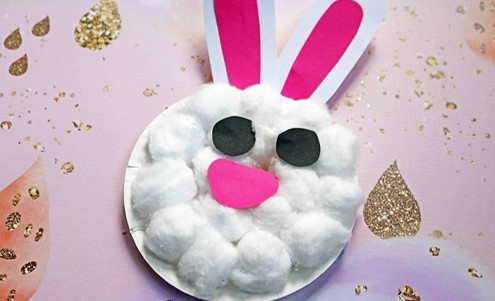 A simple and very fluffy Easter bunny craft for toddlers. Older ones can help with the few bits of cutting, but whatever your little one's age, remember to keep an eye on the glue…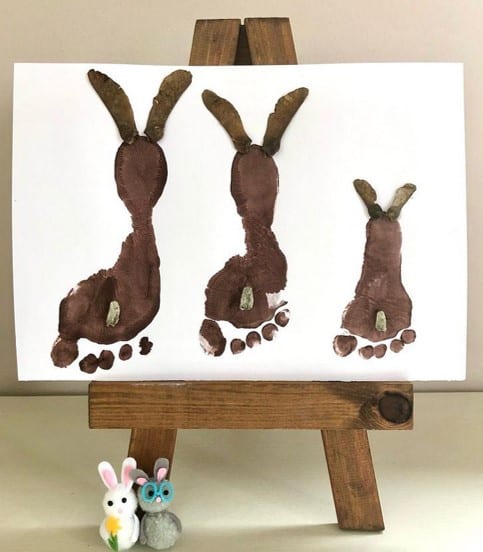 This bunny craft for toddlers is like the last, but brings a touch of nature in (the tails are made from catkins).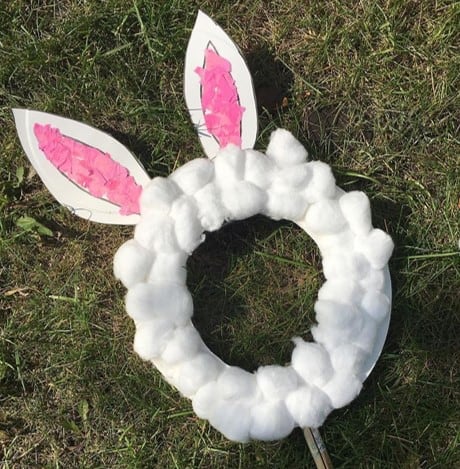 Another paper plate Easter craft similar to the last, but this one turns your toddler into an Easter bunny. Every little kid's dream!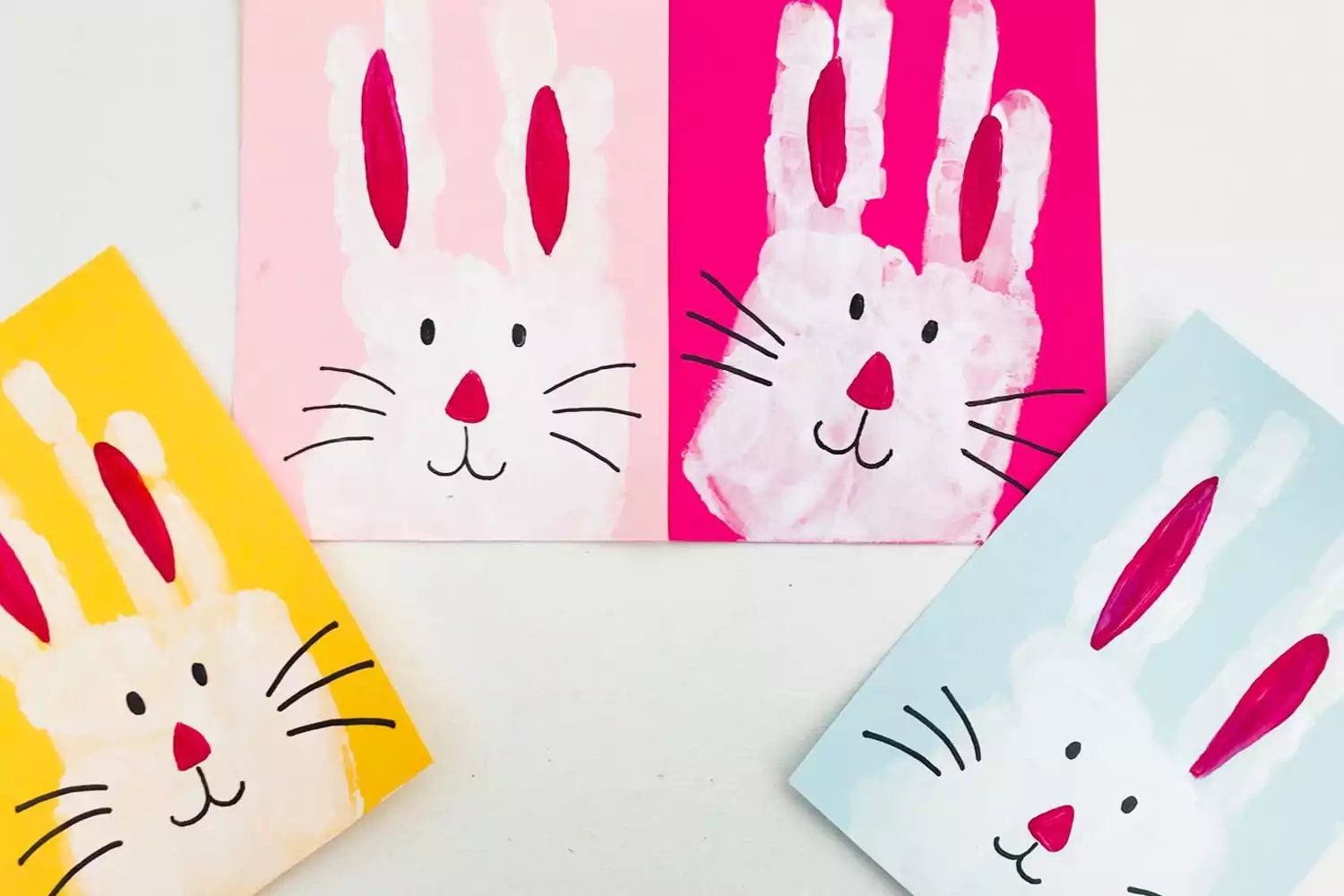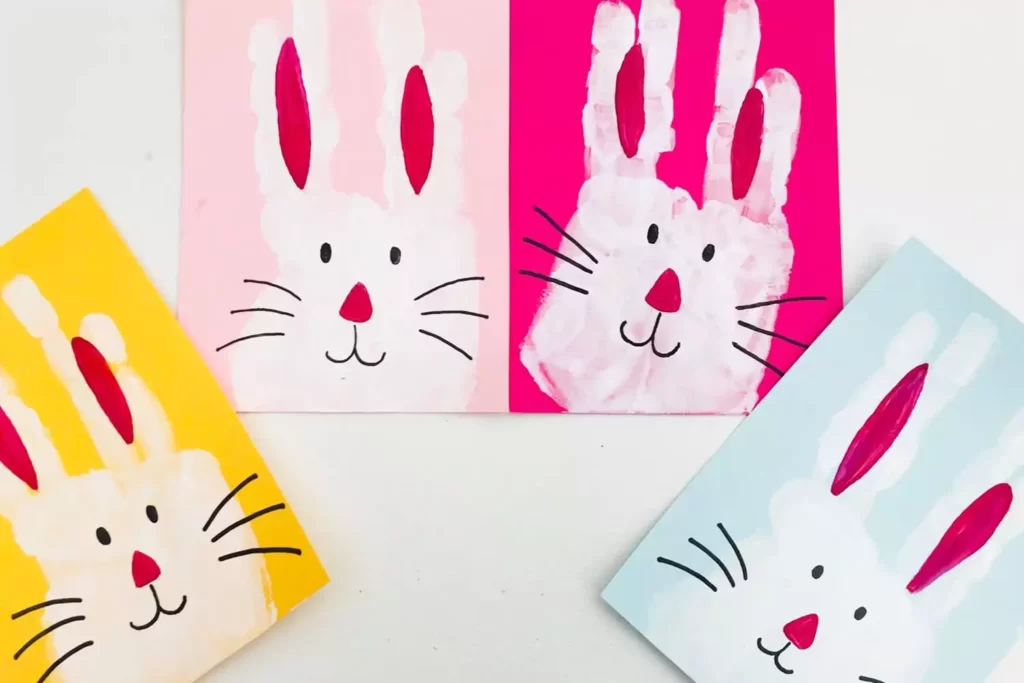 On this one, you need to tuck your toddler's thumb in, so you get a 4 fingered handprint. Then color between the two left fingers and between the two right ones to make the bunny ears.
Fun Easter BASKET crafts for toddlers
There are just a few Easter crafts for toddlers of the Easter basket variety – but with just a little resourcefulness and imagination you could easily adapt any smallish container into a basket and add a handle.
SIMPLER, MINIMAL MESS toddler Easter crafts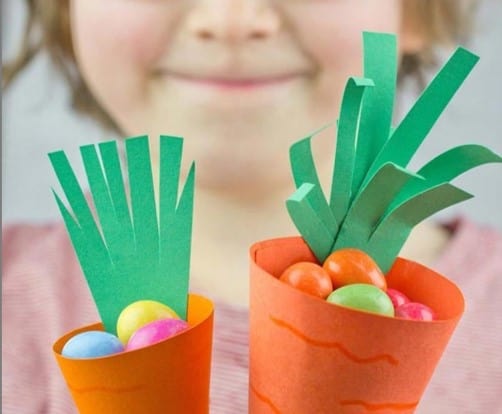 Simple cut, wrap and glue some orange-colored card into a cone shape – you'll probably need to do this, rather than your toddler. But your little one should be able to help cut the green carrot leaves, good scissor skills practice.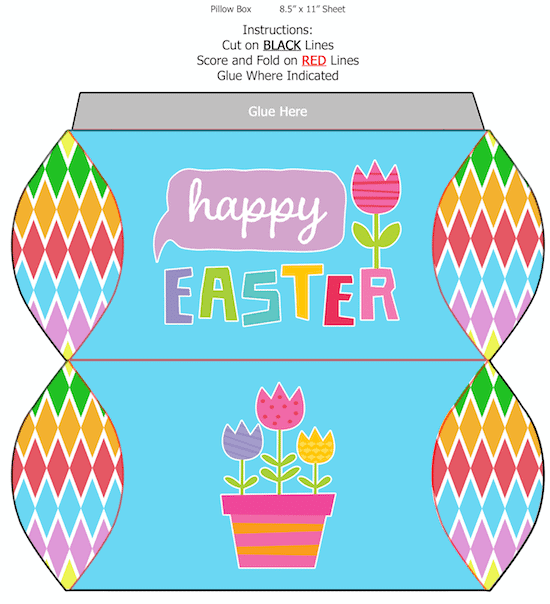 A treat box the perfect size for little hands, which also means you can't stuff too much sweet candies and chocolates inside.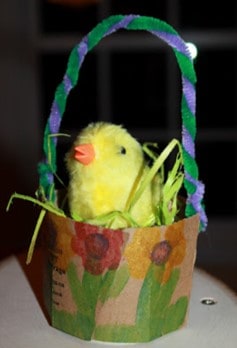 This toddler Easter craft is not only simple but a good way of recycling all those old coffee cups. Cut the top half off, decorate (or scribble as the case may be) and add a handle (those pipe cleaners look they'll do a great job).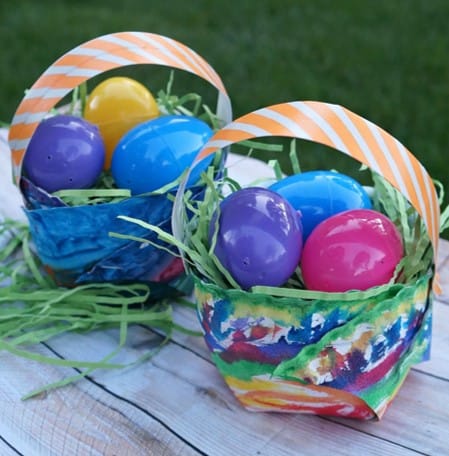 The limitless possibilities of the humble paper plate! A splash of paint and some simple folding and stapling transforms the plate into a basket. The addition of a cardstock handle and your toddler is now ready to go on that Easter egg hunt.
TRICKIER, POTENTIALLY STICKIER toddler Easter crafts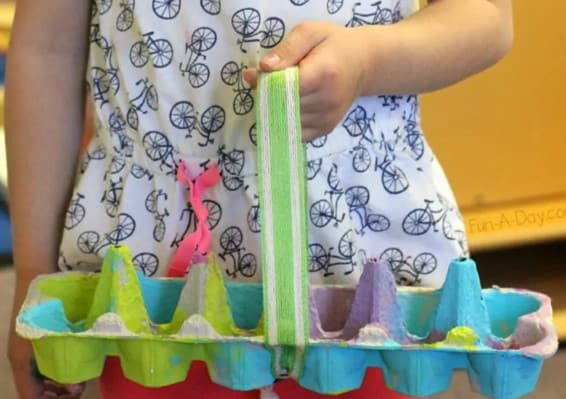 It kind of makes sense that you might want to use an egg box to carry eggs in, right?! First, your toddler can have fun painting the bottom half of an egg box, then simply make a handle with a ribbon or similar. Can't get much simpler than that when it comes to Easter crafts for toddlers.
Easter cards for toddlers to make
Here are just a few children's Easter card ideas, specifically for the little ones aged 2 to 3 years old. Plus some easy artwork ideas that could easily be used on a card.
All of them involve paint, which in my mind places them firmly in the tricky, potentially sticky category!
TRICKIER, POTENTIALLY STICKIER Easter crafts for toddlers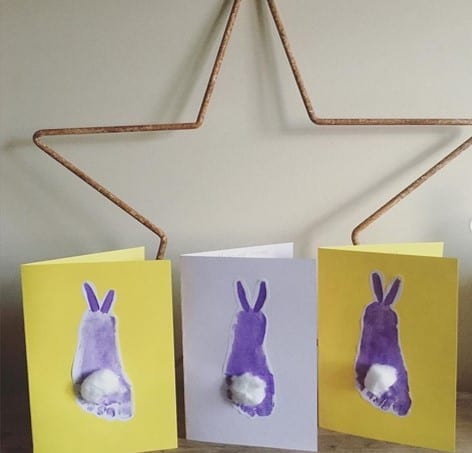 How cute are these?! Another Easter craft for toddlers that involves a decent footprint from your toddler (I found that challenging!) But since you cut the print out, a few failed attempts won't do any harm. Probably best mom does the cutting out but toddlers will enjoy sticking the cotton wool bunny tail on.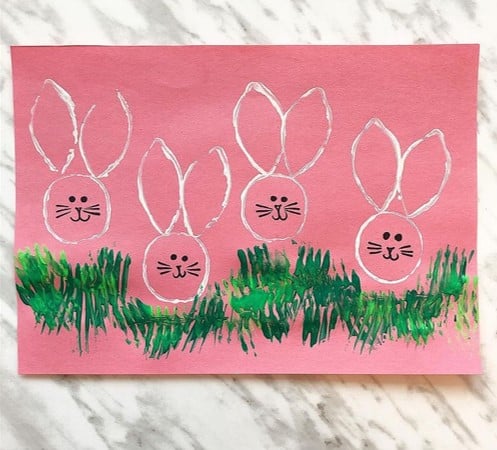 3 TP rolls glued together become the bunny's heads which are popping out of fork-painted grass. Simple, cute and effective makes this another winning toddler Easter craft.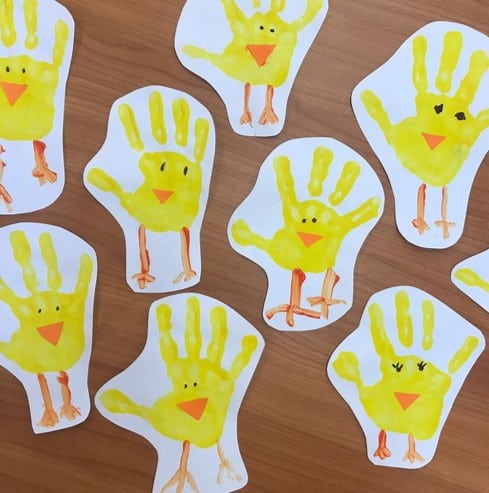 These handprint Easter chicks would also work well on a card – similar to the previous footprint one, you can cut the handprints out, therefore avoiding all the smudged attempts…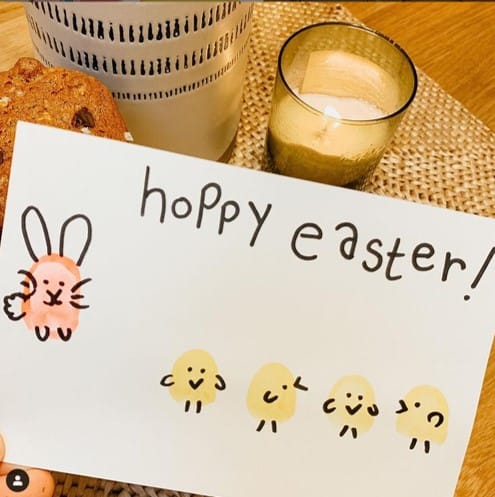 This is another adorable Easter card idea for kids. Only needing finger or thumbprints, it should be a little easier than the two previous ones.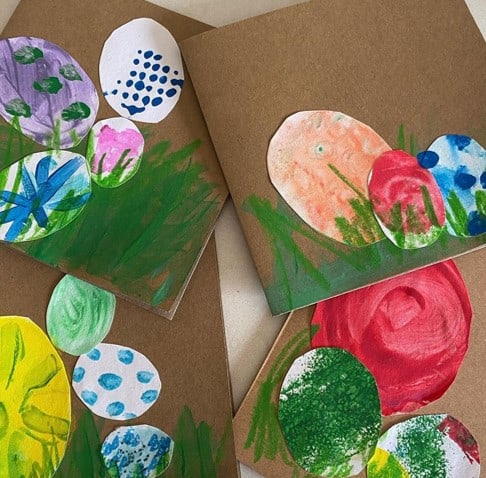 For older toddlers you could cut or draw egg shapes and have them paint to decorate. But I see thie one as a great opportunity to make good use of all the random bits of "artwork" you end up after a painting session with your toddler. You know, the ones you can't bare to throw away but aren't really fridge worthy… Cut some egg shapes and your toddler can stick them onto the card, before or after painting or coloring some grass.