There are so many engaging, creative arts and craft activities for 1 year olds, babies and toddlers. You may not be aware of the possibilities, or perhaps you don't know where to start to keep things really simple, easy, and fun.
One failed, out of control art activity with your child can be very off-putting – I speak from experience.
It can also be hard to know what kinds of activities to facilitate for certain ages. Little ones grow and change so fast.
This list of fun and easy arts and crafts for one year olds should provide you with ample age-appropriate craft activities. It'll equip you with many resources, including activity how-tos and ideas, as well as materials and links for supplies.
The hope is that you walk away from this blog feeling empowered and fully prepared to facilitate engaging art projects and activities for one to two year olds.
This post contains affiliate links. If you click on one and make a purchase, I may receive a commission at no extra cost to you.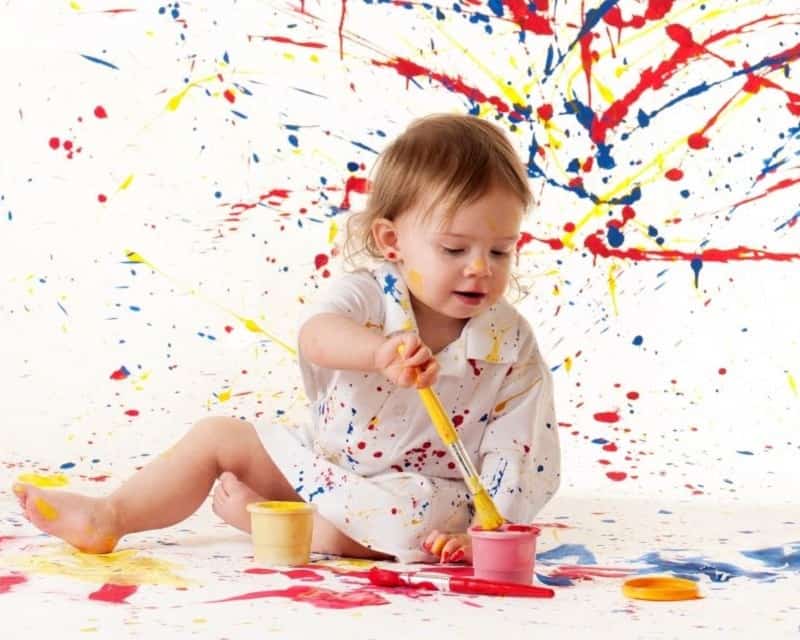 What are the benefits of doing art projects and crafts with babies?
Through doing arts and crafts, babies are developing and strengthening their fine motor skills, which are used constantly throughout daily life.
Fine motor skills seem simple, but they are actually more complex, as their major objective is coordinating the brain and muscles together.
Holding and scribbling with a pencil and using simple tools, like scoopers and eye droppers, strengthens the small and intricate muscles in their hands.
Fine motor dexterity is so important because we all use our fine motor muscles multiple times a day, from tying shoes to locking doors.
Eventually, children will be able to zip up their own jacket, open their lunchbox, button their paints, and tie their shoes because of their strengthened fine motor skills. The foundation for this begins in infancy and toddlerhood.
Arts and crafts activities will also expose baby to play-based learning
Simple, age-appropriate crafts should provide open-ended play opportunities. This helps babies and toddlers to connect experiences and develop their imagination and creativity.
Play-based learning in early childhood lays the foundation for purposeful lifelong learning.
It'll keep them entertained too!
What should a one year old be learning?
You won't need to worry too much about 'teaching' your one year old something in particular. They will learn through exposure to different materials, experiences, activities and social interactions. From these experiences and interactions they will simply build on the skills they picked up during their first year of life.
From crawling or walking and using the pincer grasp to saying 'mama' they've already learnt a lot of movement skills, both gross motor and fine motor. Socially and emotionally your 1 year old will have come on in leaps and bounce and, during the next year, progress will be just as rapid. More on developmental milestones at a year old here.
What activities should I be doing with my one year old?
One year olds benefit from activities that allow them to explore in an open-ended way. Open-ended activities, also termed 'free play', empower infants and grow independence. At the same time, they help develop connections from brain to hands and body.
These type of play activities come in many forms: sensory, developmental, creative and can be done indoors or out. Arts and crafts fall under each one.
So these easy open-ended crafts and fun activities will provide plenty of opportunity to further the cognitive development in your one-year old.
Can one year olds do arts and crafts?
Arts and crafts are absolutely doable for this age, they learn so efficiently through doing.
Getting to follow their own interests and desires while creating is beneficial for furthering their development, as well as establishing their newfound independence.
What is "art" for an infant or toddler?
Art for an infant or toddler is self-expression through creative means using various artistic tools (or just their hands!)
Art activities in early childhood, especially infancy and toddlerhood, should be based primarily on artistic experience over the outcome (process art activities should be favored over product based)
The process of creation and experimentation is essential to arts and crafts for one year olds.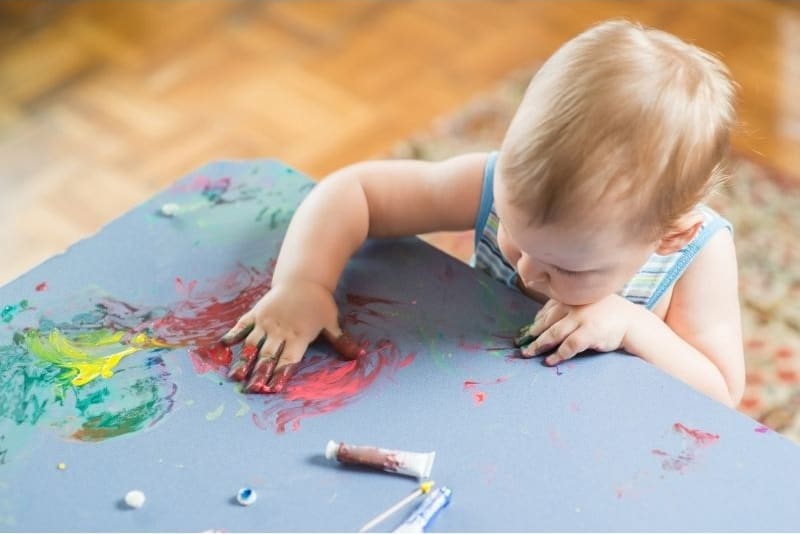 What kind of crafts can a one year old do?
Simple is key with this age. Most experiences are brand new to them, so they'll be excited and intrigued by a piece of paper and a crayon. With supervision, infants and toddlers can experiment with many different types of materials and activities.
Easy arts and crafts for one year olds can vary from finger painting and other sensory-based art to scribbling and sticking. Although it may feel daunting, the art projects and activities below will steer you in the right direction.
Reframing your own mind and expectations to see them as simple play ideas using artistic materials, rather than perfect looking Instagram-worthy crafts will help.
Catering to your child's age and stage
Generally speaking, most arts and crafts activities can be simplified for infants and toddlers by tweaking type of materials or amount of materials used.
I personally do the same basic activity with my one year old and four year old. While my baby may dab at a sheet of paper with a brush dipped in water, my eldest may be able to use smaller, more detailed brushes and multiple watercolors. At its core, it's essentially the same activity.
So simply add add tools and materials as your child ages and their abilities grow.
How do you introduce art to a baby?
Your main role in your child's artistic process is to be the facilitator!
Provide the materials and space for them to explore the arts and crafts activity themselves.
Choose activities and artistic mediums based on their interests. If you know they are drawn to the color blue, provide them with blue materials and utensils to use. Using their favorite color will lengthening their attention span and extending their learning and enjoyment,
Supervise closely without taking over. Model how to use materials if they are unsure – remember they're little imitators!
Talk about what they're doing, which materials they're handling to help develop vocabulary and understanding e.g. "you picked up the circle, that's a circle" if playing with and sticking circle shapes. You can build on color recognition similarly.
When should I start art for my baby?
You can start introducing art activities at any time, however 6 months is a realistic aim. By then your baby should have better head control and will likely be sitting up and attempting other gross motor movements that well help in easy art activities.
Can one year olds color?
One year olds can scribble and color! Jumbo and palm grip crayons (linked below) are the preferred coloring utensil for this age as they're easiest to hold. This will help develop and strengthen their pincer grip (the preferred way to grip and hold a pencil.)
Through early coloring, babies and toddlers begin to practice their emergent writing skills simply by making marks on paper. These marks will eventually turn into word-like letter strings in preschool.
So coloring is one of several activities foundational to skills necessary later in life.
What art supplies can a 1 year old use?
Providing your one or two year old with supplies appropriate to their age and stage, makes it easier for them to participate and keeps them engaged in the activity.
Sharp or potentially dangerous supplies such as scissors aren't developmentally appropriate or safe. However, there are plenty of materials and supplies ideal for easy arts and crafts with your baby or toddler. Of course, close supervision will be needed at all times.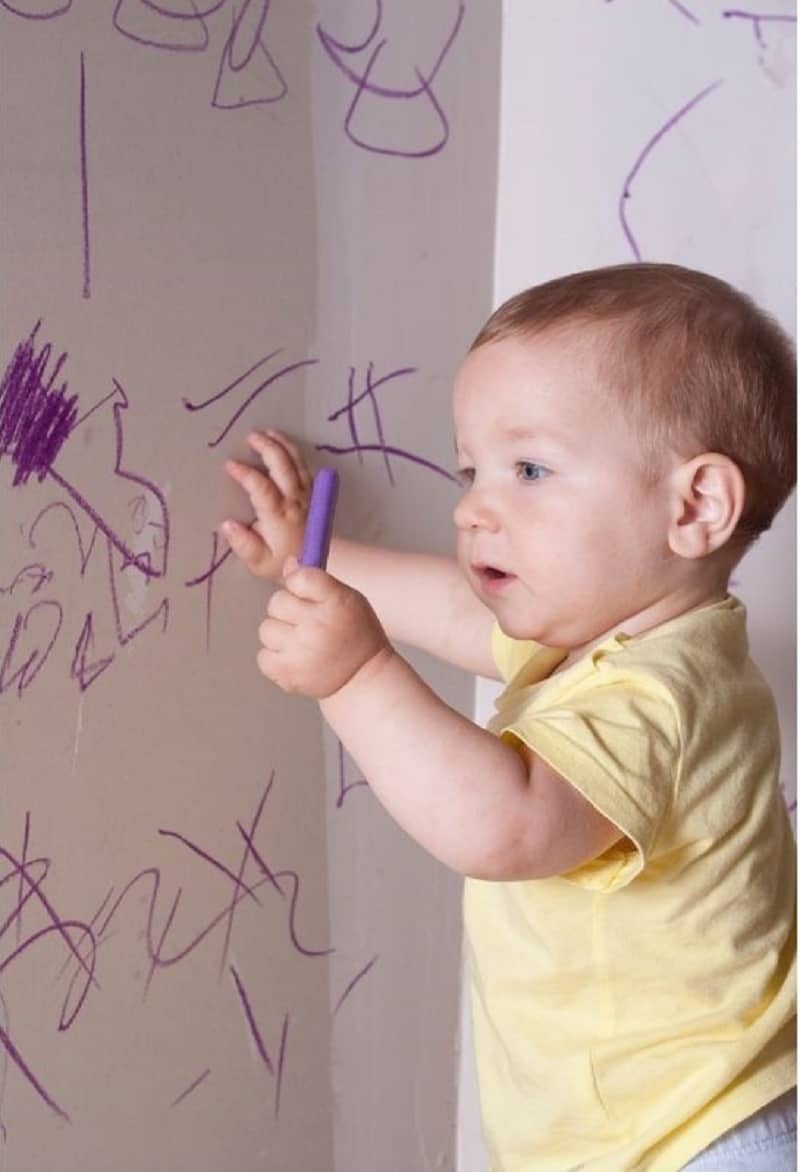 Can a one year old use crayons?
One year olds can use crayons. Any type of crayon will work; however, jumbo crayons and palm grip crayons are easier for this age to hold.
What paint can a one year old use?
You may even be wondering if babies can play with paint? They absolutely can!
Finger painting is a great place to start – there are examples included below, as well as in this more extensive post dedicated entirely to easy finger painting ideas for 1 year olds.
For any type of painting activity, make sure you provide non-toxic child-safe paint for your one year old. The best options are:
Washable tempura paints – non-toxic and water-based, meaning they're easy to clean with soap and water
Plant-based paints – natural and safe to eat
Homemade edible paints
Check out this post on the best baby safe paints for art activities for more.
Can a 1 year old play with chalk?
One year olds can play with chalk. 15 months of age and above is recommended, but you know your child best to be able to gauge when they'll be able to handle it.
How to facilitate playing with chalk
Supervise them closely so they don't ingest it.
Remind them, "Out of your mouth," as they inevitably attempt to explore the chalk via their mouth.
A few products that may enable one year olds to play with chalk more effectively are chalk holders, easy grip chalk, and chalk markers/paint.
Can a one year old play with playdough?
Infants and toddlers can play with non-toxic, edible, and/or homemade playdough. It's a great creative sensory activity for babies and toddlers, and it works on their fine motor skill development, concentration capabilities, and the expansion of their imagination.
If you choose to make playdough, feel free to include your child in the process of making it, as they will benefit from experimenting with a new process!
Easy mess-free arts and crafts for 1-2 year olds
1. Stickers
Using stickers strengthens a child's fine motor skills while also assisting in their development of patience. Reusable stickers are awesome because your child can peel the sticker back up again and place it elsewhere without leaving behind a residue.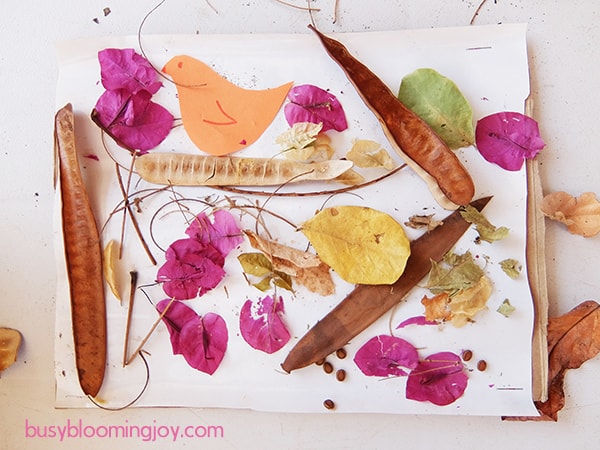 To set up this contact paper art activity, stick or staple contact paper to a sheet of cardboard, to create a sticky canvas. Have some supplies on hand for your toddler to get creative with – feathers, sequins, tissue paper cutouts, whatever you have to hand.
We used dried leaves and petals collected from the garden. I couldn't help myself and added the bird – I think it came out rather well?
At the end of the activity, seal the project by placing another sheet of contact paper over the top.
3. Shake It Up Painting
This shake it up painting activity could also be used as a music and movement activity. You could play fun and silly songs while your child "paints" and they can shake the container along to the song. Even the youngest infants can participate in this activity because it is mess-free and relatively simple to navigate.
This is a great option when you want to facilitate a painting activity for your child, but you don't have the time or the bandwidth to deal with the cleanup and aftermath! The OT Toolbox has a unique take on this activity by adding bubble wrap into the mix.
Finger painting ideas for babies and toddlers
There are many different finger painting materials and resources available to help support your child's artistic activities. Here are a selection – for a more extensive list, check out: 21 Easy Finger Painting Ideas For Babies 1-2 Years Old
These are obviously going to get messy! So take appropriate measures to protect the area (shower curtains make great ground sheets) and consider stripping your baby down to their diaper and/or doing a craft before bath time.
Heavyweight or coated paper is best for fingerpaint, as it is more resistant to tearing when wet.
Crayola has a My First Finger Paint set that provides a great starting point for finger painting. It includes baby safe paint and coated paper that helps hedge against paint seeping through and tearing the paper. You can use this kit as a starting point from which to build all your finger painting supplies.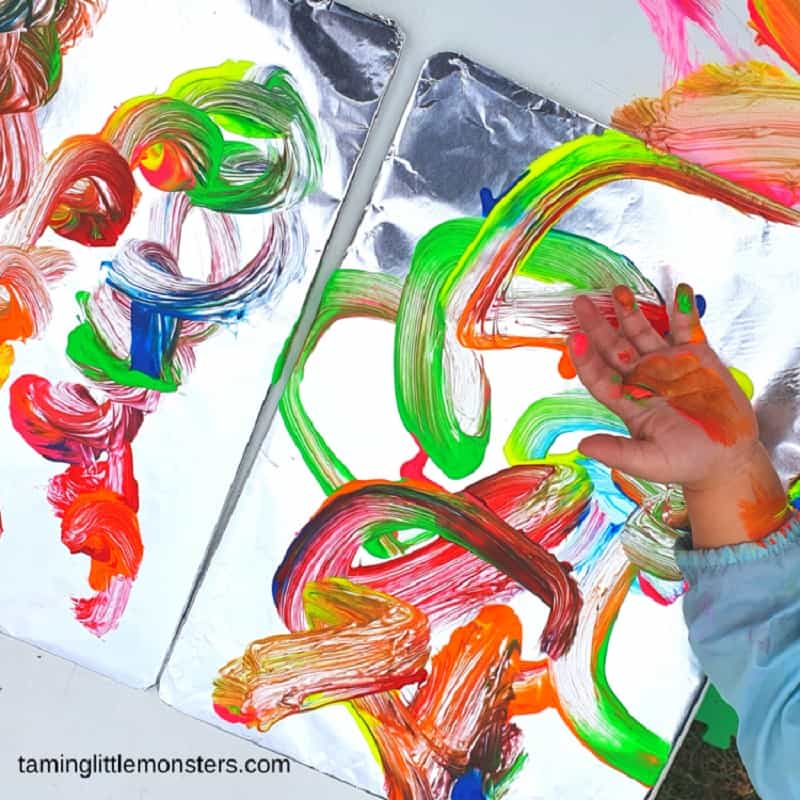 6. Finger Paint on Foil and Other Different Textures
Painting on aluminum foil, bubble wrap, foam, honeycomb paper, felt and other various textures make for an intriguing and heightened sensory exploration. Views from a Step Stool has a fun twist on bubble wrap painting.
Providing new and different textures for your child to paint is a good opportunity to start introducing the concept of "opposites."
They may not grasp it well in the beginning, but by narrating what they're seeing and feeling, they'll begin to grasp the concept:
"Ooh, this one is shiny!" or, "This paper feels bumpy," and so on.
7. Finger Paint a Cardboard Box
A cardboard box is a piece of art in the making! So instead of throwing away that empty packaging, let your one year old transform it into their very own masterpiece. (Diaper boxes are the perfect size!)
This is a great opportunity for them to experience painting on a different surface and at different orientations. It'll encourage them to use their imagination in a new way.
Even for older toddlers and preschoolers, painting and decorating a cardboard box is one of our favorite crafts for rainy days. Also save any spare piece of cardboard left over – they make the perfect canvas for future activities.
8. Bath tub painting and coloring
Your child can experiment with bathtub paint during bathtime. A brilliant way to keep the mess contained. You can try these bathtub crayons or bathtub finger paint soaps too (double win, the paint doubles as soap!).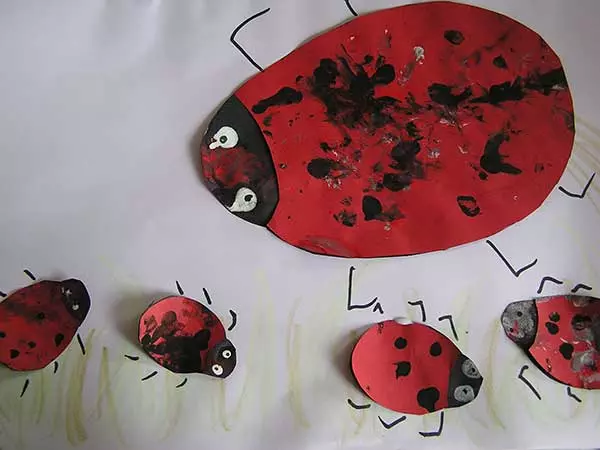 9. Make a ladybird finger paint craft
If your toddler loves bugs, Rainy Day Mum has a simple fingerpaint ladybird bug craft that they will definitely enjoy. This will give them a wonderful sensory experience while being creative.
10. Finger Painting Ornaments
This activity is fun to do around the holidays but any time of year will do – ornaments are a special and thoughtful gift. You could provide a flat wooden ornament for your child to paint on, or a traditional ball ornament.
11. Decorate Pumpkins
Finger painting on a pumpkin as opposed to paper will be a brand new experience for your one year old to discover! Changing the foundation that's being painted on is a simple quick-fix that can amp up their level of interest and engagement in the activity.
12. Shaving Cream Finger Painting
The end result of painting with shaving cream is so beautiful! Eating Richly has a great post for an easy shaving foam craft with one year old. Shaving cream art can be preserved via transferring it to construction paper by pressing the paper face down on top of the shaving cream creation.
Other easy fun art projects and crafts for your one or two year old
There are plenty of other art projects for one year olds outside of finger painting related activities. Some of the activities below are quite self-explanatory, but others are more unique. We wanted to give you a variety of options of fun and easy arts and crafts for one year olds and older toddlers.
13. Pipette Watercolor Art
Creating art with pipettes works on fine motor skill development, grows the imagination, and helps instill patience and perseverance. Pipette art is a method of painting without having to use fingers or brushes and the perfect open-ended and creative play activity.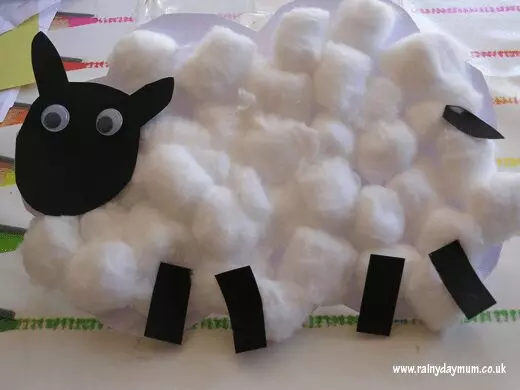 14. Make a fluffy cotton ball craft
Don't you love using cotton balls in some of your activities? Rainy Day Mum has a fun little lamb craft that's perfect for your baby or toddler. This encourages fine motor skills while giving them the lovely fluffy sensation of the cotton wool.
15. Mega Block Ice Painting
This activity from Twin Mom Refreshed is a great painting activity for sensory development, ideal for hot summer days! Freeze single block Mega Blocks in an ice cube tray filled with water dyed different colors food coloring. (If you click the link, you'll see what I mean). The Mega Blocks create a handle for the ice cube paint to keep baby's fingers from getting too cold.
16. Spray Art
Spraying liquid watercolor paints onto canvas or paper with a spray bottle is a fun way to shake things up a bit. This activity is best implemented with two year olds, but one year olds could try it and see how it goes, or replace a spray bottle with a turkey baster.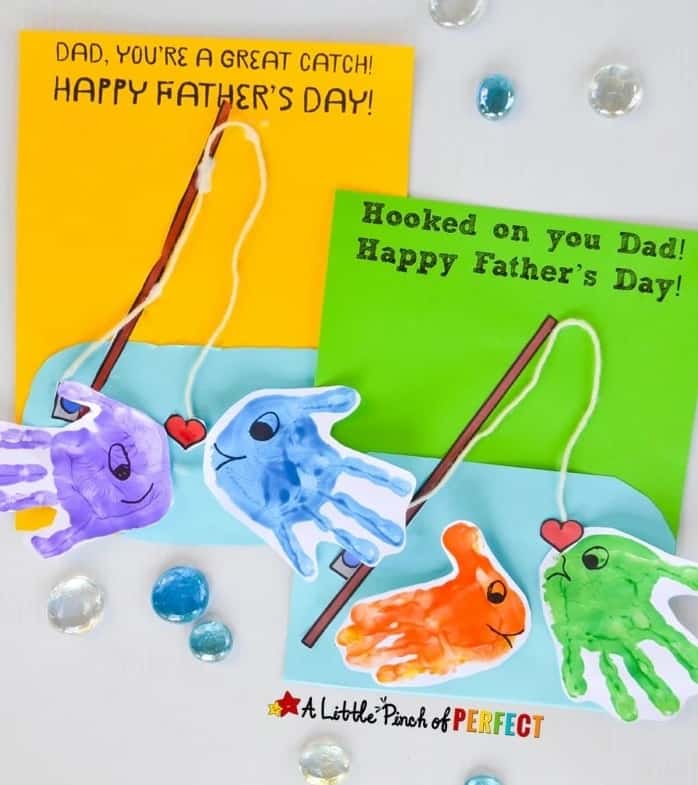 17. Handprint Art
This handprint fish art craft by A Little Pinch of Perfect is so adorable and will be fun to make with your one year old – it's a perfect gift for father's day too. Grab your supplies and start painting each hand with bright colors to make these cute fish!
This handprint art project tends to focus more on the end result than the actual creation process, but still provides a useful sensory experience for your child. It will also create a special keepsake to be treasured for years to come.
Related posts: 41 Easy Fathers Day crafts for toddlers (2 – 3 year olds), 45 Cute & Easy Mothers Day Crafts for toddlers (for Grandma too!)
18. Sponge Painting
Using a sponge in place of a paintbrush is an exciting way to change up traditional painting. You can grab any sponge you have in your cleaning supplies, or you can use sponge brushes that have a handle, which may be easier for your infant/toddler to grasp while painting.
Remember, don't expect a work of art – let your one year old explore, experiment and enjoy!
19. Paper Plate Color Mixing
Place a couple paint drops on the back of a paper plate, and twist another paper plate against the paint covered one to create a tie dye effect.
Craftulate has a fun activity idea to incorporate color mixing in their paper plate twisting post. They focus on making planets in their activity, but you could adapt this activity to infant and toddler age by only doing two to three colors.
Primary colors would be great to use in this as they would illustrate color mixing more efficiently.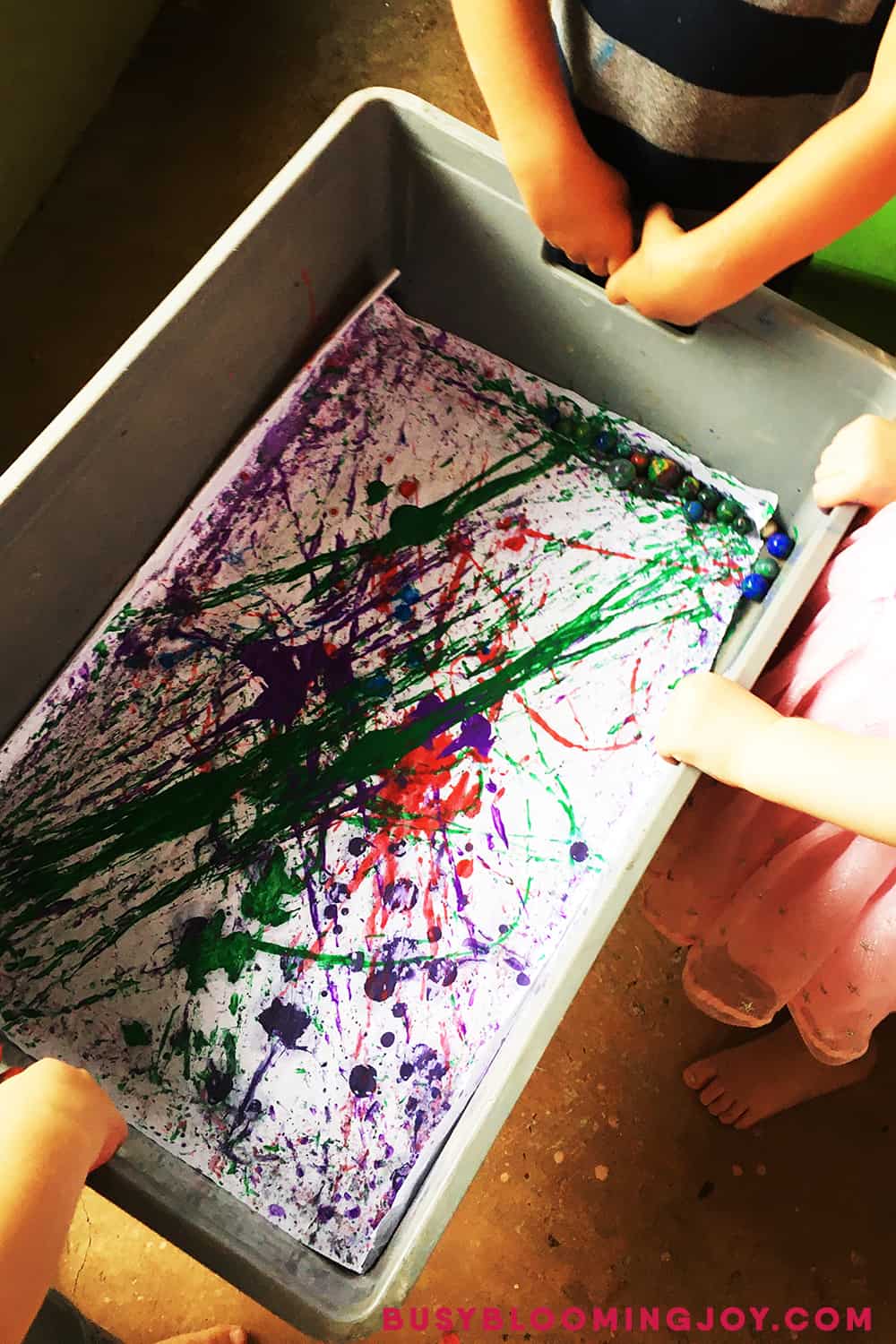 20. Paint With Marbles
Let the marbles distribute the paint in this fun marble painting process art – just be sure to keep the marbles, either before or after they've got paint on them, out of the way of your babies mouth!
21. Paint with water
There are a couple ways this activity could be executed. You can provide sheets of colored construction paper, a bowl of water and a paintbrush, then your one year old "paint" onto the paper.
Additionally, you could make this a gross motor activity by giving your child a large paintbrush and bucket or cup with water for them to "paint" the sidewalk or driveway.
22. Scribbling with Crayons
This simple activity works on early emergent writing, fine motor skills, pencil grip, cognitive processes, and so much more. Switching up the utensils used is an effective way to extend this activity.
23. Tear And Glue
This activity is as simple as it sounds. Provide different colors and types of paper for your child to tear into pieces, and then give them a glue dabber so they can attach their paper scraps to construction paper and make a collage.
You'll need to give younger babies and toddlers a hand to keep the stickiness to a minimum!
You could also provide them an object (another box perhaps) to glue their scraps onto instead of a piece of construction paper.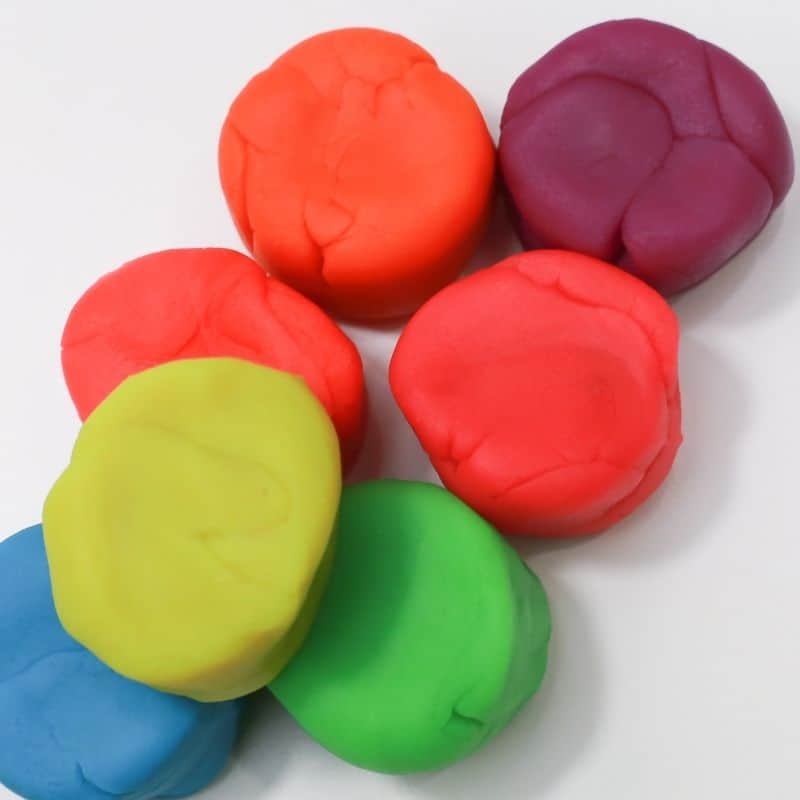 24. Create With Playdough
Playdough is exciting to play with, and just as exciting to make! The Purposeful Nest has a great recipe for homemade playdough that you can make for your toddler, or even include them in the process. It's a good idea to have safe and interesting playdough tools for your child to explore with too.
25. DIY Gift Wrap
A roll of kraft paper or easel paper roll, some paint, and your child are all you need to make some DIY gift wrap. This provides such a special touch to any gifts you're giving, and it's a fun, open-ended art activity, as long as you're not expecting too much and don't mind less than perfect gift wrap!
26. Stamp With Self-Inking Stamps
Stamping is fun for one and two year olds because they get to create new exciting designs. It'd be fun to use self-inking stamps to make some DIY gift wrap as above.
27. Draw With Sidewalk Chalk
There's nothing more peaceful than drawing, aka scribbling if you're a one year old, with sidewalk chalk together on a beautiful day. Check out this post on Happy Hooligans for a cool spin on sidewalk chalk.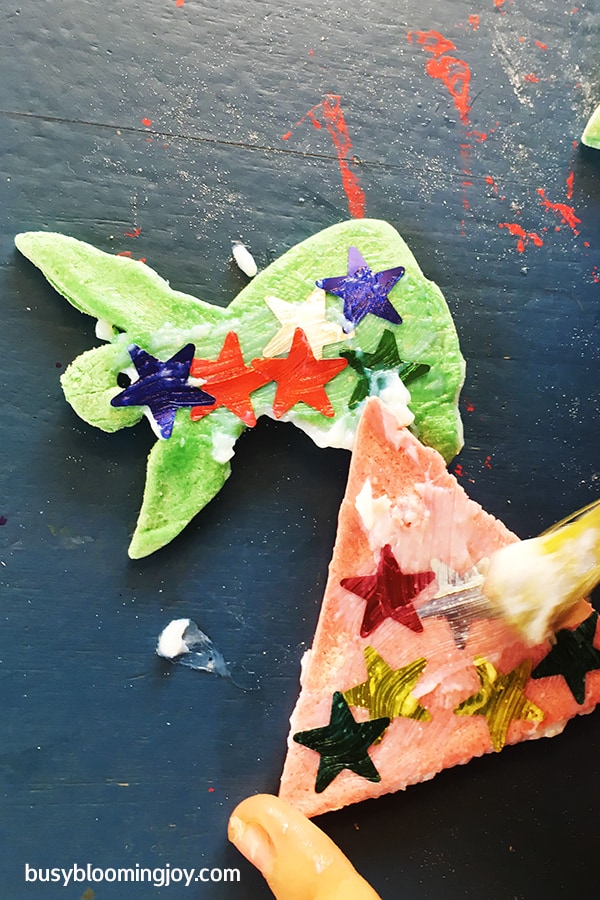 28. Craft With Salt Dough
We discussed painting ornaments above, but did you know you can actually make your own ornaments out of salt dough? Salt dough is a little like play dough, so has loads of sensory benefits for babies and toddlers, but you can either air dry or bake saltdough to make it a permanent craft.
My two loved making the Christmas salt dough ornaments pictured and they will hopefully last for a few decades – it's not a modern invention, my parents have some ornaments I made when I was in preschool!
Salt dough ornaments and decorations make lovely gifts too – they're the ideal art project for young toddlers.
29. Window Drawing
Sometimes when we're feeling stir crazy during a day at home, I hand over some window crayons or markers to my kids, and let them go to town on our glass storm door. Really, I'm not crazy!
Drawing on the window is a new and intriguing way for them to create, and also works on gross motor skills as they orient their body in many ways to successfully express their inner Picasso on the glass. Minimal clean up, too, which is always a bonus for Mom.
30. Creating with Dab and Dot Markers
Dot markers are a fun alternative to both painting and coloring with markers. These can also be used to create "splat paintings" by using extra force when dotting with them.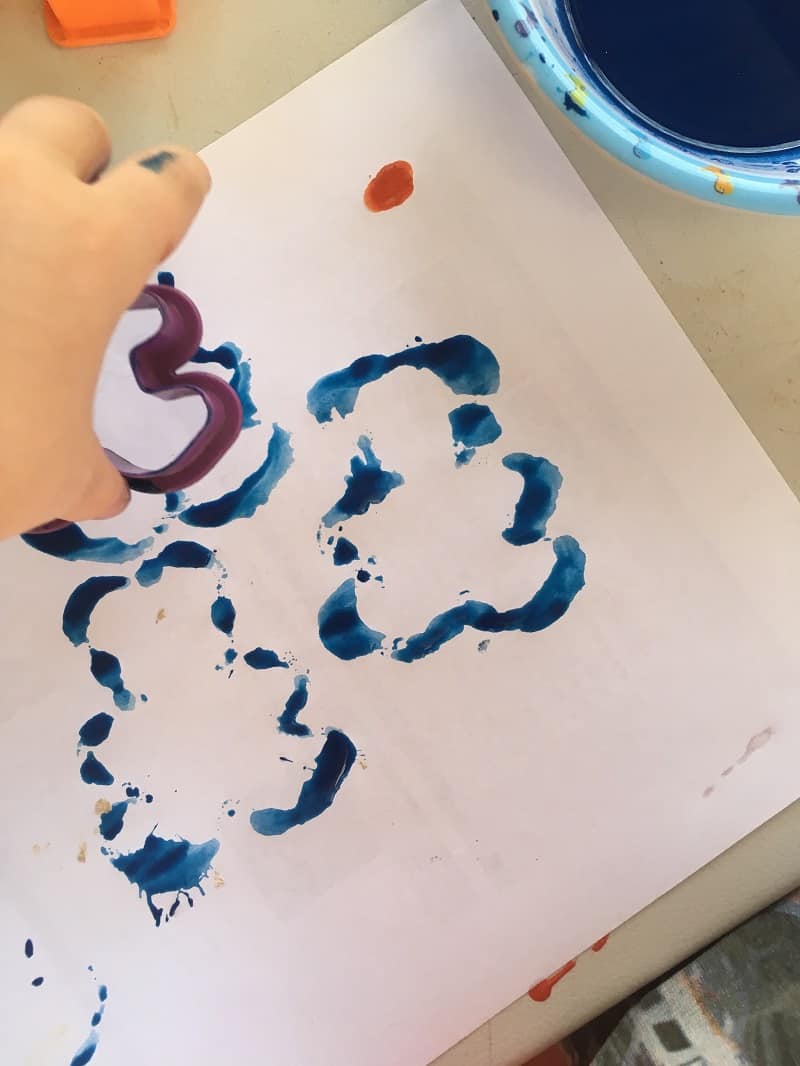 31. Cookie Cutter Stamping
This kind of stamping is different from the self-inking stamping activity. Use cookie cutters as the stamps, and paint as the "ink." Simply encourage your child to dip the cookie cutter into the paint, and guide it onto a piece of paper or canvas.
Another one that can work well to decorate some homemade gift wrap, but beware, babies and toddlers will be more focused on playing and experimenting, than producing something photo-worthy. And that's ok!
32. Cling Film Art
It's so nice when regular household items and essentials can double as early childhood art supplies. Arty Crafty Kids has instructions for a fun cling film art activity you can facilitate for your one or two year old!
Store-bought products & activities to facilitate arts and crafts for 1 year olds
As much as possible, my preference is for creating and facilitating our own art projects and ideas with basic supplies of paint, paper etc. Purchased items and toys are often gimmicky, poor quality and limited in the creativity and open-ended play opportunity they offer.
However, there are a few products worth having tucked away at home or for travel away, for when you're short on time (and sanity) and the "mess-free"box has to be ticked!
Scratch art is a fresh, exciting way to explore coloring outside of simply using paper and a drawing utensil. Scratching away and watching the random colors emerge can really fascinate. This activity will work best for older one year olds and two year olds, so one to keep for later if it's too much of a stretch this time.
34. AquaDoodle Travel Water Mat
This travel water mat is a great option for mess-free art and creativity without the mess.
This Color Wonder coloring board is another creative activity for when you're traveling. It's a mess-free option that is still open-ended.
This set is also a great way to exposure one and two year olds to coloring with markers.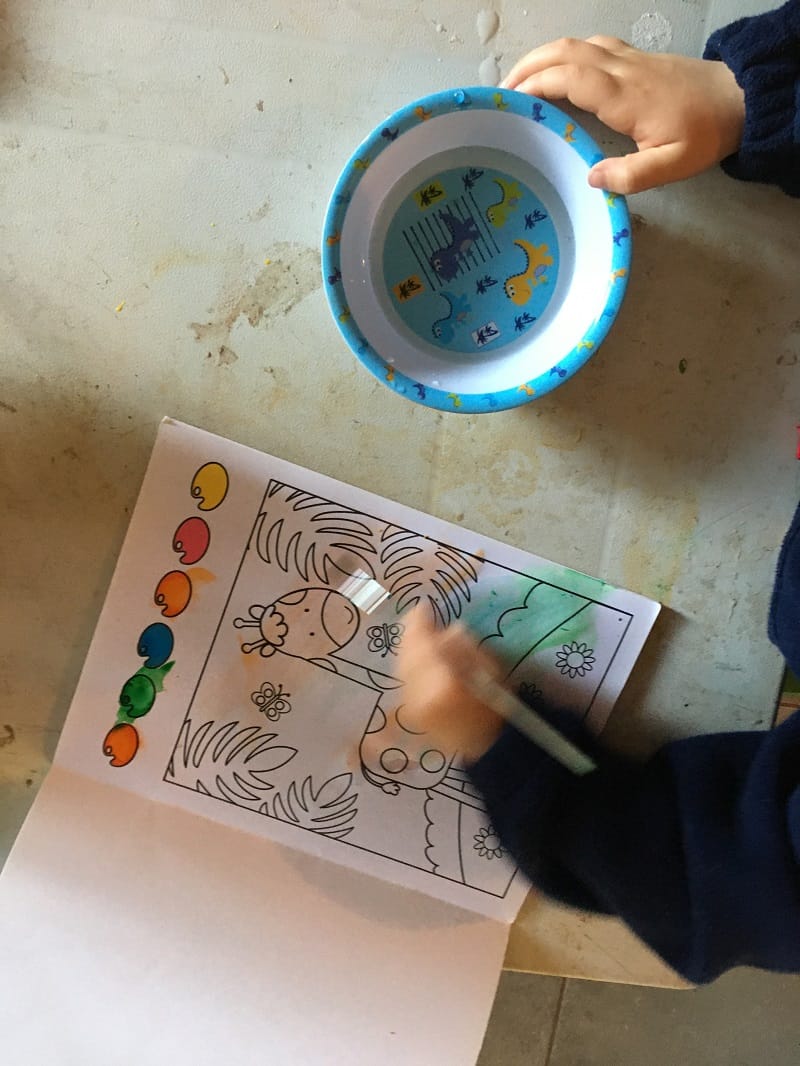 36. Magic Water Painting Book
Magic Water Coloring Book is so easy to use, plus it's guaranteed to be mess-free. This comes with a refillable water pen and reusable pages that you can paint over and over again. Sounds great, right?
37. Magnetic Doodle Board
Magnetic doodle boards are a fun and different on-the-go art option. They require no additional materials, and the magnetic pen it comes with is attached to the board so hopefully won't get lost. (Haha! Everything gets lots in our house…)
38. Magnetic Dress Up Dolls
Melissa and Doug have the cutest magnetic dress up dolls for toddlers to create with. This activity works on fine motor skill development, it is a quick and easy clean up, and is very imaginative.
39. Crayola Mess Free Coloring Board
This Crayola coloring board is another great travel option, but it can be engaging to use as an at-home activity as well. It doesn't make a mess, and can still be used in an open ended way, as your one year old can color and draw however they desire.
Recommended art & craft supplies for one year olds
We've compiled a list of some products and links to help you build your arts and crafts supply stash, a few of which have already been mentioned. Having good supplies on hand enables you to create more creative opportunities for your child.
My First Crayola: Palm-Grip Crayons
Palm-grip crayons are easier for infants and toddlers to grasp and hold on to while experimenting with introductory coloring. Jumbo crayons are also easier for this age to navigate.
Non-Toxic Finger Paints
These child-safe finger paints offer a great color variety, and they're safe for any age.
Painting Apron
Having a painting apron or smock on hand makes art and crafts with one year olds and older a little cleaner, although nothing is guaranteed! Not only does it protect their clothes and body, but they should keep them warm and comfortable while they're busy creating.
(My preferred option is always with as little clothes as possible in the garden on a warm day!)
Contact Paper
Contact paper has many different uses. You can use it for a contact paper collage art project as above. It can be used as a mode for sensory play as well as to seal artwork for preservation purposes. I find myself using it all the time to save my childrens' artwork and keep it from wear and tear.
Painting Easel
A painting easel is so important to have, especially for toddler aged children. Whether it's a tabletop easel, or a free-free-standing easel, this product will help support a child's artistic process by stabilizing their work as they explore.
Easel Paper
Along with a painting easel, it's also important to have large sheets of paper and/or easel paper. Even if you don't have an easel, you can benefit from having rolls of easel paper. It can be used for painting, drawing, to make homemade gift wrap, and so much more.
We love to use easel paper to create birthday banners in our family.
Squeezable Paint Brushes
These all-in-one style squeezable paint brushes are so easy to use, and they are a new exciting material to explore. They'll cut down your set-up and clean up time, leaving more time for other activities, or just a quite cuppa!
Coated Paper Pad
Using coated paper for painting activities helps to resist seep through and tearing of the paper due to wet paint. Infants and toddlers are still learning about appropriate amounts of paint and materials to use, and may accidentally overdo it.
This type of paper will help protect their work.
No Spill Paint Cups
No spill paint cups are easier for infants and toddlers to navigate while painting, and reduces the amount of paint spillage mess. Using these no spill cups also assists in building independence because they can get the paint loaded on the brush without as much help, and seeing they can do something mostly solo is empowering to them.
There are endless fun, easy art projects and crafts for one and two year olds
Once you start facilitating more crafts and art activities, you'll find that you start coming up with more ideas yourself.
The key to success when doing art projects with babies and toddlers is to make sure activities are open-ended and child-led. This will maximize engagement from your child, especially if you follow their interests.
I encourage you to participate with them, and make it a bonding activity together. View these fun crafts for one year olds as a valuable experience for your relationship. This will make it feel less overwhelming.
Try to stay calm within the mess, manage your expectations, and adjust accordingly. Easy said than done! Remember, it doesn't have to be perfect to be meaningful.
Happy crafting!
Looking for more fun crafts and activities for your baby or toddler? Try:
Or how about some seasonal activities?