Inside: 25 fun fall arts, crafts and sensory activities for infants and young toddlers
If this is your first fall with your new baby, you may be keen to try some fun arts and crafts with them, inspired by the season. Is this possible, you may be thinking? Well yes, it is.
You will of course need to supervise and assist your little one in their crafting endeavors, just like most other things at this age. There are plenty of fall-themed sensory activities too, which may not give you a pretty keepsake at the end but some wonderful bonding time together.
So here are some fun and easy fall crafts for infants, that toddlers are sure to enjoy too, plus sensory play activities in keeping with the season.
This post contains affiliate links. If you click on one and make a purchase, we may receive a commission at no extra cost to you.
Why is fall a great time of year for babies and toddlers?
The season of fall is full of opportunities to explore in many ways for kids of all ages, but particularly babies and toddlers. The changing weather, the glorious reds, auburns, oranges and yellows, the many different textures that nature offers ample sensory experiences and artistic activities.
Then there are the fun holidays of Halloween and Thanksgiving thrown in too. So when it comes to arts, crafts and sensory play activities the possibilities are endless. We've compiled some fun and easy fall crafts for infants to try with your own child.
Can you craft with infants?
Infants can explore their artistic expressions and desires as early as physically possible, as long as the activities are set up in a developmentally appropriate way. Most activities can be pared down and catered to an infant's capabilities. Fine motor strength is instrumental in a child's artistic abilities, and this is further developed by participating in arts and crafts.
There's also safety to be wary of when crafting with babies and young toddlers, since they love to explore the world with their mouth. Any activity with an infant requires close and constant supervision from a caregiver. But with close supervision and simplified elements as necessary, babies can certainly explore and create to further their learning.
What types of arts and crafts are suitable for infants?
Any activity using larger pieces or softer items is preferred for arts and crafts with infants, not only for safety but to match their physical capabilities. Babies and toddlers learn best through open-ended play and activities. Sensory play and process-based art are both great vehicles for this kind of learning.
Process-based art focuses on the process of the art activity, rather than the final outcome of the project. This is the opposite of product-based art which places emphasis on the end result and final outcome of the project or craft. The process of creation isn't as heavily valued.
Sensory play allows children to learn and further their development through open-ended, child-led exploration using their five senses.
The ideal fall arts and crafts for infants are process-based ones with a pretty outcome, which nurture that exploratory desire yet are still worthy of keeping. There are a few of these in the list below. There are also some more product-based fall crafts for infants. These ones are more for you; there's much less developmental benefit to your infant.
FALL PROCESS ART PROJECTS FOR INFANTS
Most of the fall arts and crafts for infants below will need heavy assistance (what doesn't with a baby?!) but since it's process art you're allowing your infant to explore and experiment, rather than focussing an a finished product. Expect some messy activities! However, there are also some mess-free painting projects to do with your infant.
Hopefully, by the end of the activity you'll also have something worthy of keeping – but that's not the aim. Try to remember that and allow your child to express themselves openly.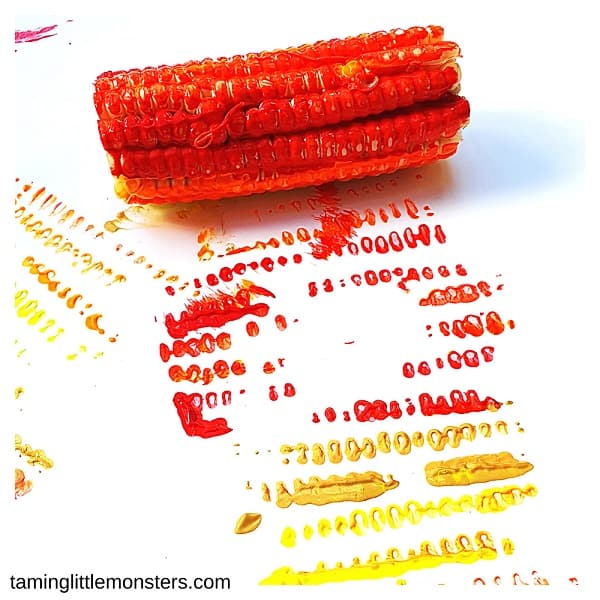 1. Corn Painting Process Art
This corn painting process art activity is an easy and fun fall process-art based craft for infants and toddlers, exposing them to new textures. A cob of corn becomes the vehicle to put paint to paper. Choose some fall-inspired paint colors and put blobs of paint onto paper plates, then dip a corn cob into the paint and help your infant roll it over some paper.
Alternatively, you can use a paint brush to paint the corncobs first, then together with your infant make some corn cob prints on the paper. .
Maybe you infant will simply want to rub their hands in the paint and then all over the corncob and experience the wet paint over the new texture of the corncob. (For this reason, ensure you're using baby-safe paints). Maybe there will be some pretty corn prints on the paper by the end, maybe there won't!
Simply let them explore and enjoy the process of creation.
You can also make simple observations as your infant plays with the paint and corncob. Talk about how the corn is bumpy, the paint is wet, etc. as they work. Over time, they will be able to make observations like these, thanks to your modeling.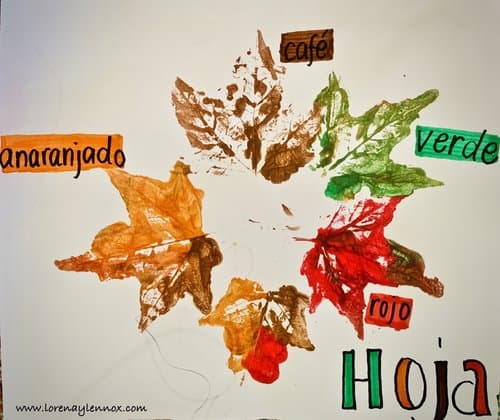 2. Leaf Printing
For this leaf printing activity, put your baby in the stroller and take a walk to find some beautiful leaves – this is a fun activity in itself. Once you have your leaves, help your infant cover the leaves in tempura paint however they're able to. They can add paint onto the leaves and then press the leaves onto the paper to leave behind some prints.
To simplify, you could always just cover their chosen leaves with paint for them, and help them press the painted leaves on the paper to make their prints. Simply adjust this fun fall craft to your infants current abilities.

3. Easy Fall Leaf Craft for Infants and Toddlers
This easy and fun fall craft and activity for infants allows open-ended exploratory play and should have a pretty outcome too – an instant suncatcher. Oh, and it's no-mess.
Simply tape a piece of contact paper to a window low enough for your infant to reach, then they can stick faux craft leaves to the contact paper. You'll probably need to model and guide your infant at first, but they're sure to love seeing their leaf pattern emerge.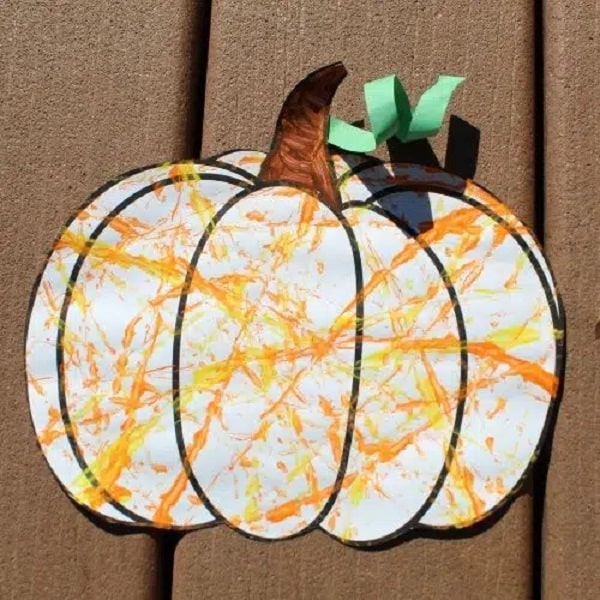 4. Pumpkin Marble Painting
For another painting activity, that doesn't use paintbrushes try this pumpkin marble painting. Start by clicking the link and printing the pumpkin picture on cardstock or paper. Then you'll need orange non-toxic paint, marbles and a shallow, flat tub or container. Place the pumpkin template in the bin and add blobs of paint outside of the pumpkin picture. This should avoid big blotches of paint on the pumpkin itself.
Then it's time to roll the marbles across the bin – the marbles will leave streaks of paint on the cardstock. Older children can make the marbles roll by lifting either side of the bin and some older infants may be able to experiment with this motion. For most, however, this action will be too difficult but they're sure to enjoy watching the marbles roll around through the paint and over the pumpkin picture and watch a pattern emerge.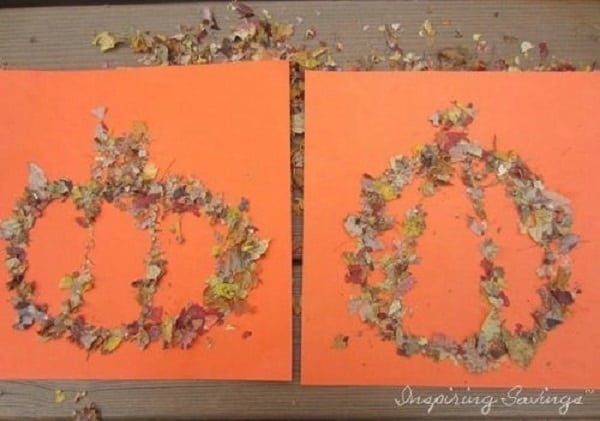 5. Turn Leaves Into Confetti
This activity makes for such a unique art idea. You can turn leaves into confetti to use in an open-ended fall art project with your infant. To create leaf confetti, first you need some dry autumn leaves. So start with a lovely stroller walk with your baby to observe and collect some different leaves.
Dried leaves work best; the crunchier, the better. You can dry them out if necessary by putting them in the microwave for a minute.
Now it's time for your infant to get stuck in, ripping, tearing and shredding the leaves. You'll need to keep a close eye to make sure they're not putting any in their mouth.
Then apply some clear Elmer's glue to a piece of orange construction paper and sprinkle the leaf confetti all over it – you'll probably need to help your infant.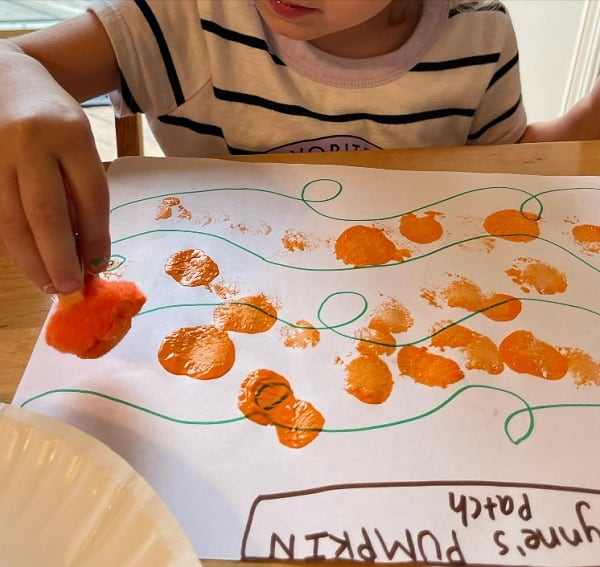 6. Pumpkin Patch Stamping
This pumpkin patch stamping is such a cute fall craft for infants and toddlers. Start by drawing some pumpkin vines onto some paper. Then attach a pom pom or cotton ball to a clothespin – the round pompom paint stamps will be the pumpkins in your infant's very own pumpkin patch. In addition, the clothespin and pompom combination will be more manageable to an infant or toddler than a normal paintbrush.
You will likely have to dip the pom pumpkin stamper into the orange paint for your child and show them how to apply it to the paper, but then they'll be away. A fun art project that works on fine motor skill development. Add pumpkin leaves when they're done – on the off chance it bears absolutely no resemblance to a pumpkin patch, you might want to label it…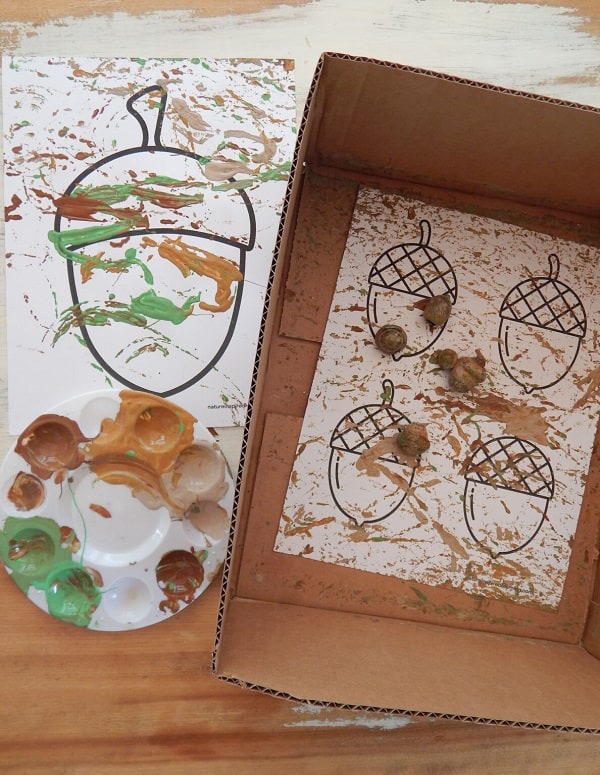 7. Acorn Painting Craft
For this cute acorn painting craft, you'll need some acorns (real or faux), fall-colored or natural-colored baby-safe paint, a shallow plastic tub and some plain paper. This is a fun process art and craft project much like the marble painting activity outlined above, simply swap marbles for acorns and the pumpkin outline for an acorn one.
You can either apply the paint onto the acorns directly or put blobs of paint onto the paper. Then move and shake the tub so the acorns roll around through the paint and over the paper. Older infants may be able to lift either side of the box to watch the acorns roll. This would be good fine and gross motor skill practice.
Your infant may want to try and hold the acorn and paint with it that way – obviously watch for them putting it in their mouth.
FUN FALL CRAFTS FOR INFANTS
There's no better way to get festive for fall than creating some cutesy autumnal crafts! The crafts listed below will produce an adorable finished product – here the emphasis is on something that looks a specific way, but the process to get there will help develop fine and/or gross motor skills while allowing for some special bonding time.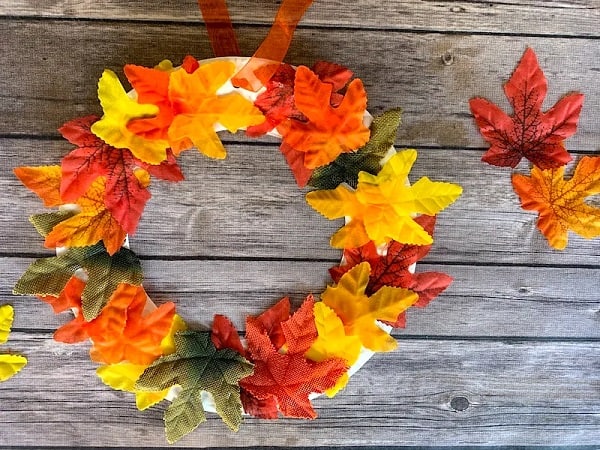 8. Fall Leaves Wreath
This simple fall leaves wreath can be treasured for years to come. All you need are faux fall colored leaves (the dollar store usually has them), plain paper plates, ribbon (to attach to the wreath so it can be hung up), and scissors. A hole punch would be helpful to feed the ribbon through the wreath.
Cut the middle of the paper plate out by folding the plate in half and cutting out a semicircle. Cover the cutout paper plate in glue, and then help your infant glue the leaves on. Your child is sure to enjoy decorating the wreath with the colorful leaves.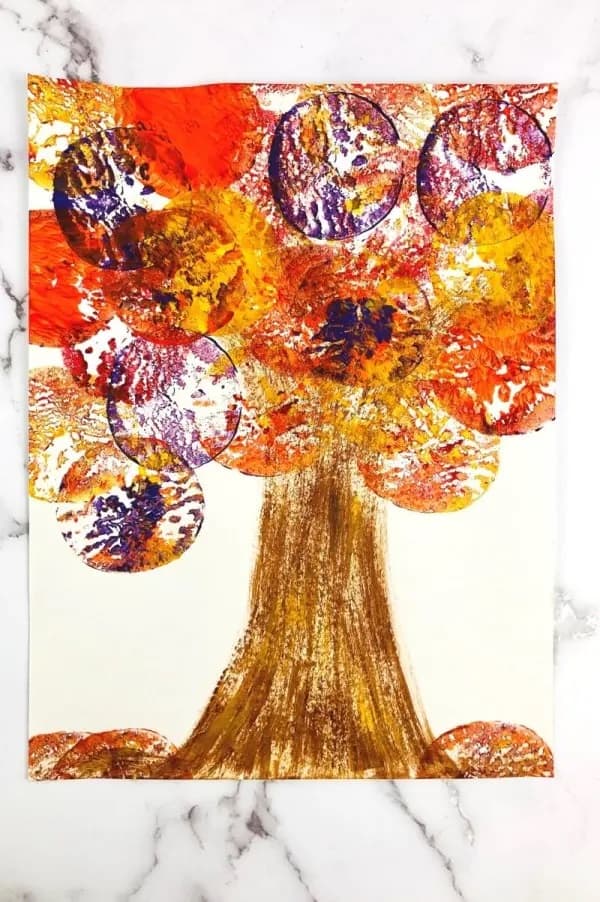 9. Apple Tree Stamping Craft
Who knew sliced apples could make for such an exciting painting tool?! For this apple tree stamping craft, cut some apples in half, then grab fall-colored paint, paper, and a paintbrush.
Start by drawing the apple tree structure and branches. Next, apply paint to the flat side of the cut apple, then it's over to your infant. Help them stamp the apples all over the tree. You could also draw a basket and they can stamp a basket full of apples.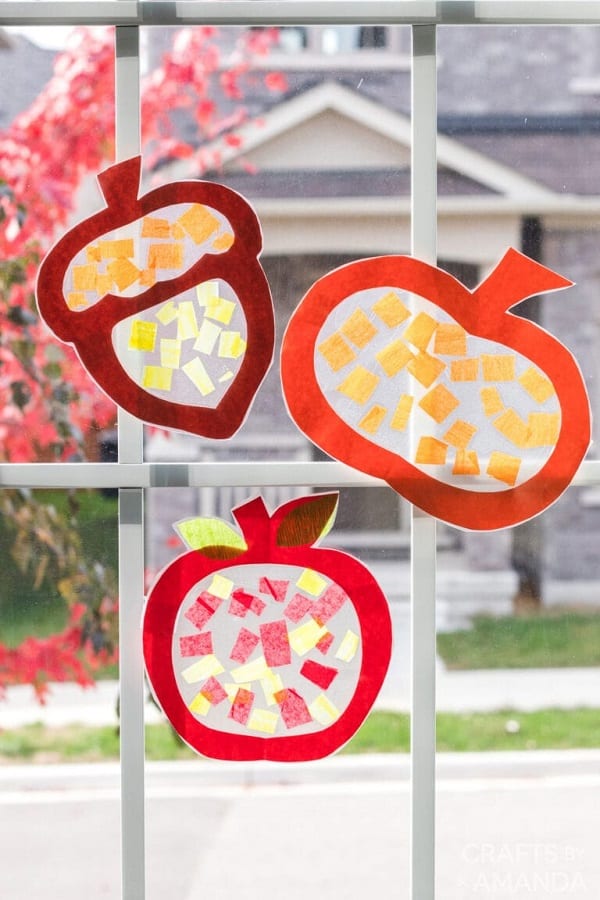 10. Fall Suncatchers
Making these fall suncatchers is an easy, no-mess fall craft for infants. Create fall-shaped suncatchers (apple, pumpkin, acorn, etc) but leave the middle of the shape cut out. (Check the linked tutorial above to see how to draw and cut out these shapes easily.) Attach contact paper to one side of the cutout shape, leaving the sticky side facing up so your child can stick their tissue paper squares to it.
They can stick and decorate the contact paper however they want. At the conclusion of their decorating, add a second sheet of contact paper sticky side down to seal and protect the suncatcher. Display it in the window and add it to your home fall decor for years to come.
Older siblings and preschoolers can be involved early on too, helping to cut out the fall-shapes. Infants, however, can only participate in the addition of the tissue paper squares to the sticky contact paper. This is an example of tailoring an activity to meet the needs and developmental abilities of different ages.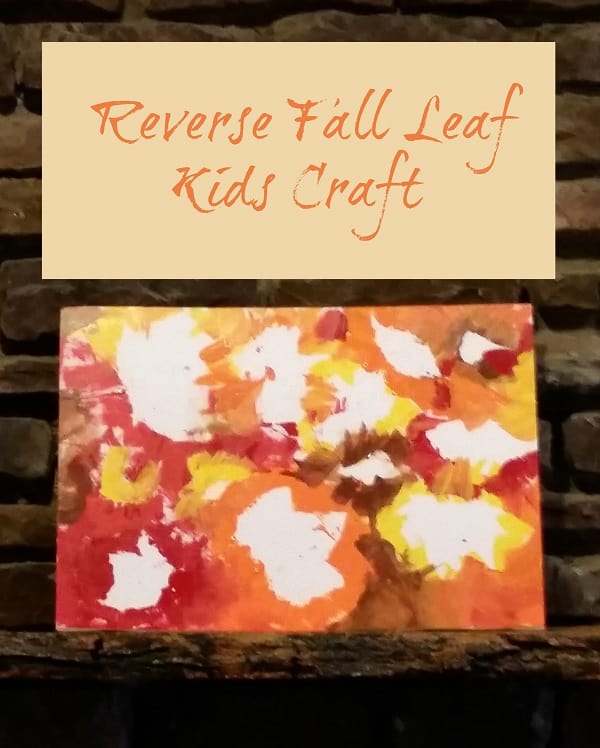 11. Reverse Fall Leaf Painting
You'll need to collect real leaves from your yard for this simple leaf painting fall craft for infants and toddlers. This time you don't want the leaves too dry and brittle, as they may break easily. You could use faux leaves instead.
You will also need poster board or paper, double-sided tape (to attach the leaves), fall colored paint. Toddler-friendly brushes, such as foam brushes, are optional – a young child may prefer to use their fingers and hands.
Simply stick the leaves to the poster board and let your infant have a play with the paint. You can help them paint around and on the leaves to ensure you get a clear leaf sillouette if you want. Once they're done painting, remove the leaves and tape and leave to dry.
If you want to use the finished product in your fall decor, try doing it on a canvas instead of a poster board/paper. You could also laminate the paper to preserve this sweet fall art project.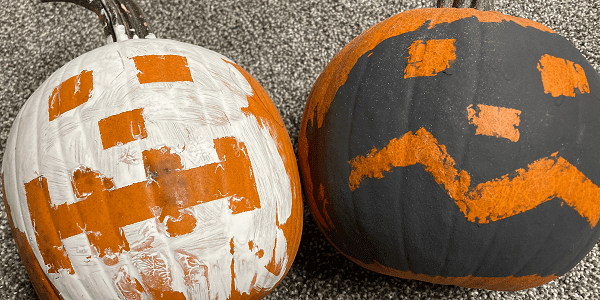 12. Tape-Resist Painted Pumpkins
For this tape-resist painted pumpkins process art, strip your infant down to their diaper – it's almost certainly going to get messy! I would recommend laying a tarp down too to protect your surroundings.
Simply apply painters tape or duct tape to the pumpkins then it's time to paint. Acrylic paint works best for pumpkin painting, but for your baby's delicate skin, I'd recommend something gentler to the skin like tempera paint, which will give better results than typical finger paint. There's no doubt there will be a fair amount of paint on baby by the end…
Put the tape on the pumpkin however you want. You could make jack-o-lantern faces or a simple lined pattern. Then let your infant follow their curiosity as they apply paint to the pumpkin. Once the paint is dry, remove the tape to reveal the design.
ADORABLE HAND, FOOT & FINGERPRINT ARTS AND CRAFTS TO DO WITH YOUR BABY
For the art projects listed in this section, most of the work will be parent-led in order to create cute fall handprint creations. These activities will be less about the process, and more about the adorable final result.
The crafts that require painted handprints can take a few attempts to get right – expect lots of smudged handprints first. I've also found over time that sponge brushes work best for applying paint to skin instead of traditional bristle brushes. You can cover the area faster and thicker with them.
They're normally worth the effort when done though.  A good handprint craft makes a beautiful keepsake that you'll cherish for years to come. So try one of these fall crafts to remind you of your infant's first fall season.
Ensure you're using baby-safe paints, like these child-safe finger paints or tempera paint and avoid acrylic paint. It's not particularly gentle to the skin for any age, particularly so for a babies very delicate skin. The other issue with acrylic paints is that it's sticky and tricky to get off.
Related post: 23 Best paints & materials for baby hand & footprint crafts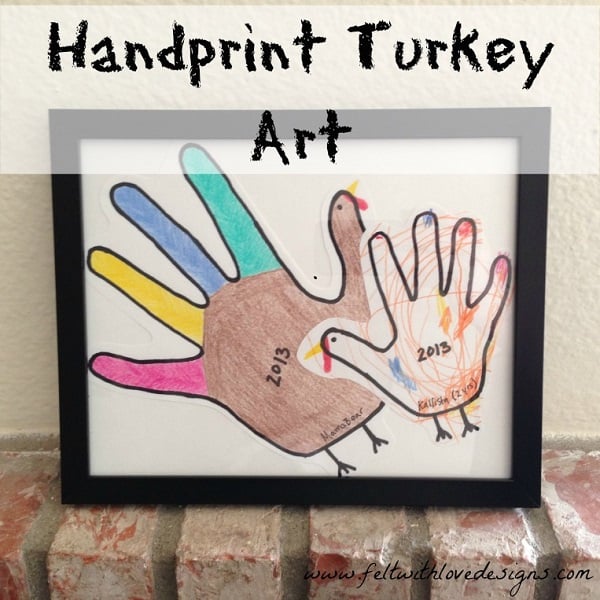 13. Turkey Handprint Art
This turkey handprint art activity is one of the easiest fall handprint crafts for infants as it should be mess-free. Trace around your baby's hand with a marker then provide them with large grip crayons and let them scribble marks over their handprint outline. Add beak and feet to transform the handprint into a turkey, then add your own handprint next door. How cute is that?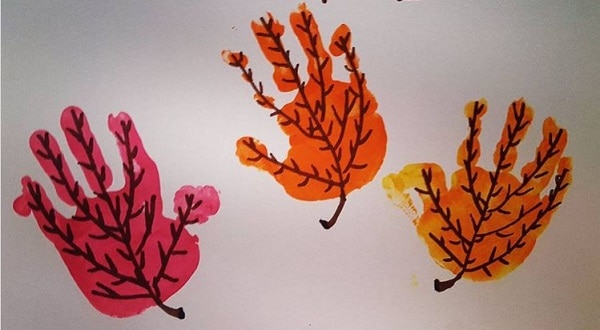 14. Fall Handprint Leaves
These fall handprint leaves are adorable and worth a try with your infant. Cover their hand in fall-colored paint (orange, brown, green, etc.) and then press their hand onto the paper. Remember, you're unlikely to get it right first time – practice should make improvement though…
Once the paint is dry, draw leaf veins and a stem on their hand to create a leaf. You can laminate this to save it for years as special fall decor or a keepsake.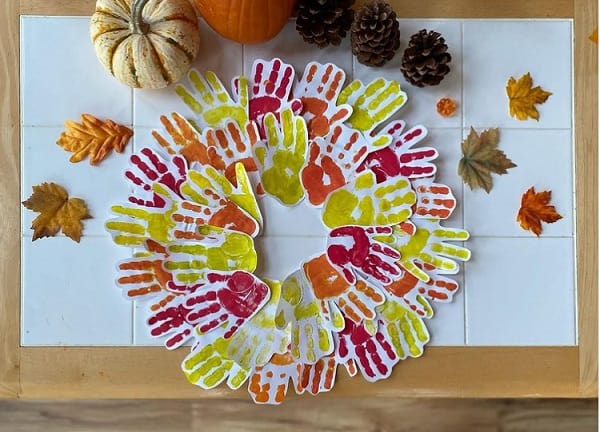 15. Handprint Leaf Wreath
Similar to the activity above, use your infants hand prints to make this handprint leaf wreath. Create as many as you can using different colors. Your baby will be intrigued by the temperature, texture, and color of the paints as you both create the handprint leaves together. Alternatively, get other family members involved.
Once the handprint leaves are dry, cut them out, and attach them with glue to a circular base made from cardboard. You could also cut the middle out of a paper plate and use the plate edge as the wreath base.
I'd definitely opt to make this a family handprint wreath, which could well be worth framing if it turns out as well as the one pictured!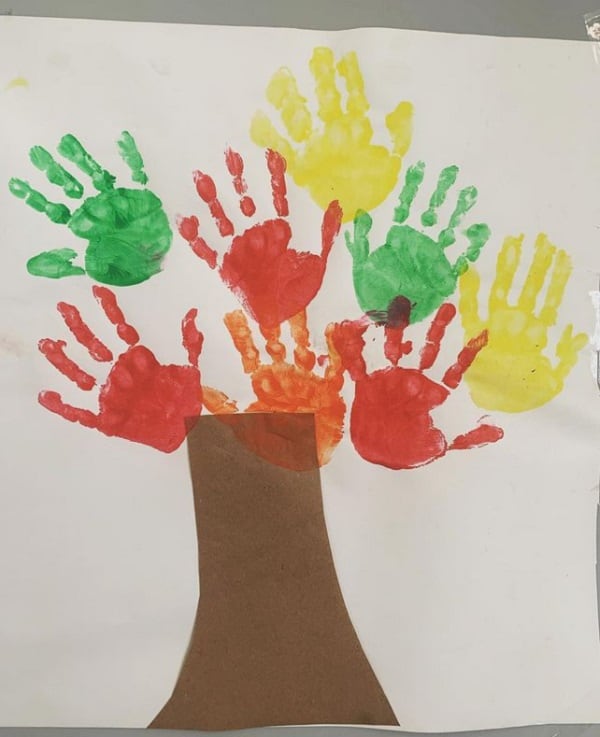 16. Fall Tree
This cute fall tree art activity makes for a beautiful keepsake, and it's an interactive way to learn about the changing colors of fall leaves. Create a tree trunk out of brown construction paper and stick to a sheet of white paper.
Cover your baby's hand in various fall colors, and press their hand to the paper at the top of the tree trunk for another fun fall craft for infants.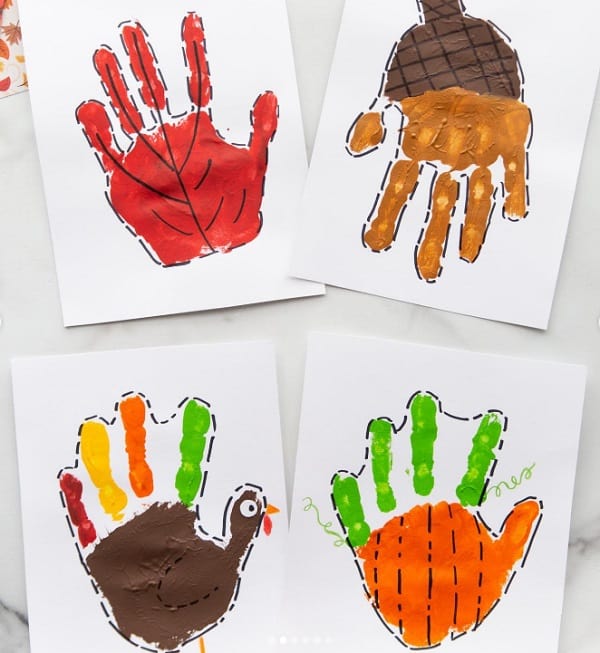 17. Acorn and Pumpkin Handprint Art
This acorn and pumpkin handprint activity is the most challenging of the handprint fall arts and crafts for infants. To create this different fall-themed pictured you'll need different colored non-toxic paints to paint the fingers different colors to each other or to the palm of the hand…. If you're game, go for it! First, though check out the video in the tutorial linked above which has some tips.
FALL SENSORY PLAY ACTIVITIES FOR BABIES
Sensory play is an efficient and engaging vehicle for learning in early childhood. Children learn so much so quickly through experimenting and playing with a wide variety of materials that offer different textures, colors, shapes as well as smells and sounds – anything and everything that gets different senses engaged, in a safe way of course.
Your baby will be able to experience and learn new information through these fun fall crafts for infants.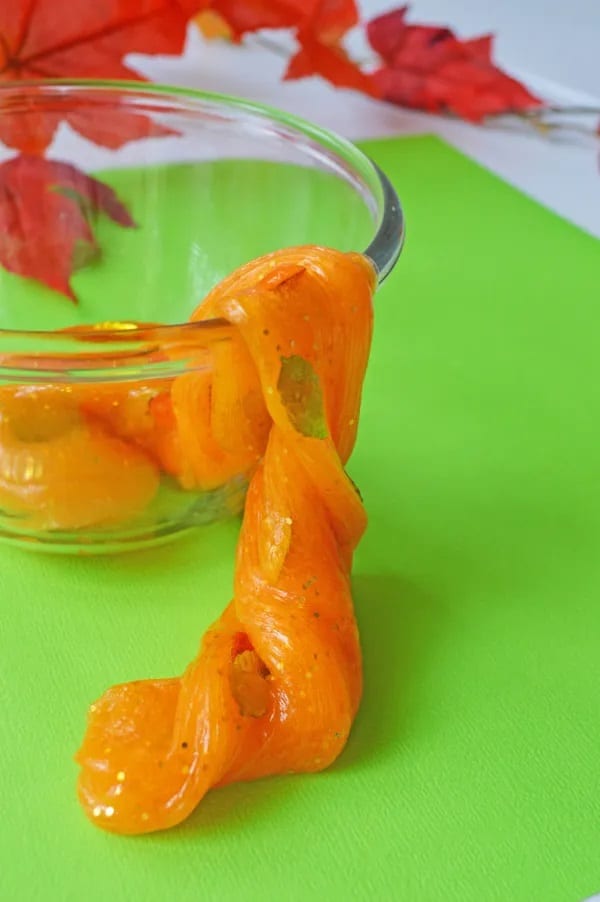 18. Orange Glitter Fall Slime
Your infant is sure to love the interesting soft and sticky texture of this orange glitter fall slime which adds colorful and sparkly items in keeping with the fall theme to a standard slime recipe.
You'll need Elmer's glue, baking soda, orange food coloring, gold glitter, fall leaf confetti, and contact lens solution. Pour the glue into the bowl, and add each ingredient one by one, adding the contact lens solution last.
Be sure to stir well throughout. Once the slime starts to solidify, take it out of the bowl and continue mixing using your hands instead. You can store the slime in the refrigerator to extend its life. Be sure to supervise well as your baby explores this new texture, not only for their safety, but for that of our furniture!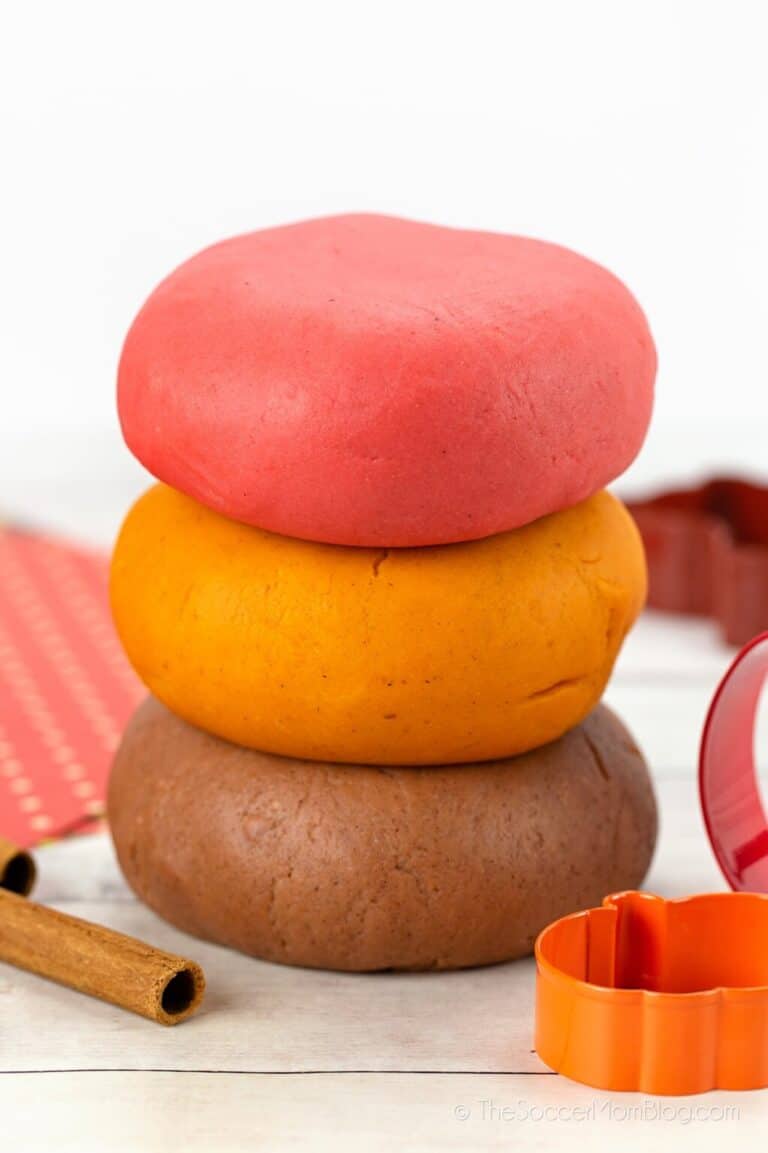 19. Fall-Scented Homemade Play Dough
This fall scented playdough tutorial features multiple recipes to create different scents, including apple, cinnamon, and pumpkin. Each recipehas the same base of flour, water, salt, and cream of tartar with additional ingredients to create the different scents and colors. Cream of tartar keeps the playdough from breaking apart as easily and extends its shelf life. It can last even longer when stored in the fridge.
Your infant will enjoy playing with this new exciting texture, and using simple tools with which to explore it, such as a rolling pin and play dough stampers. You could also add some pine cones or other fun fall-themed items to extend their play.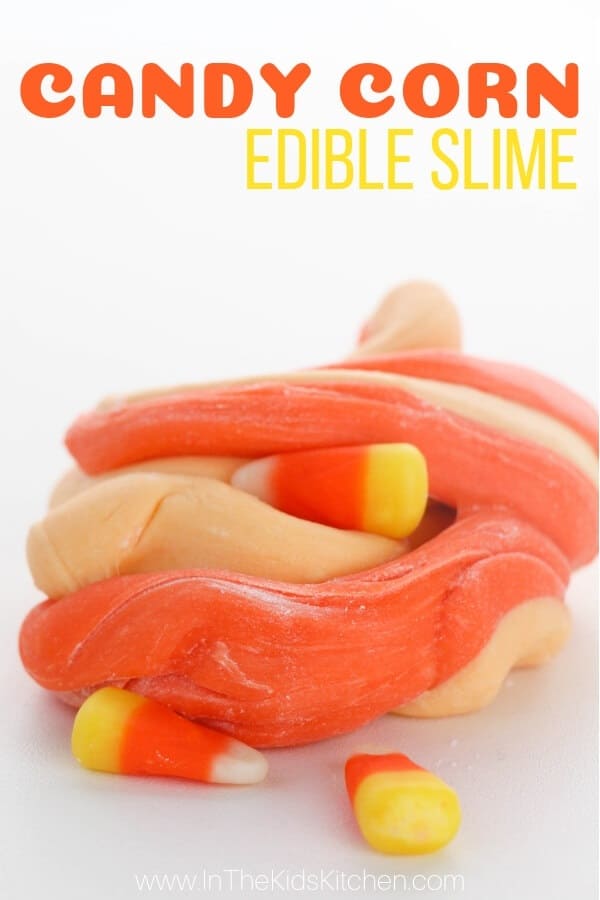 20. Edible Candy Corn Slime
This edible candy corn slime is a great way to put all of that leftover candy corn to good use. Is it only me that buys a bag every year, only to not finish because I remember how bad it is?! To the candy corn you need add marshmallows, vegetable oil, and powdered sugar.
Heat the ingredients in the microwave as detailed in the linked tutorial above. This is obviously an edible recipe, but under ones aren't meant to have sugar, so you're still going to have be a little careful if your infant puts too much in their mouth.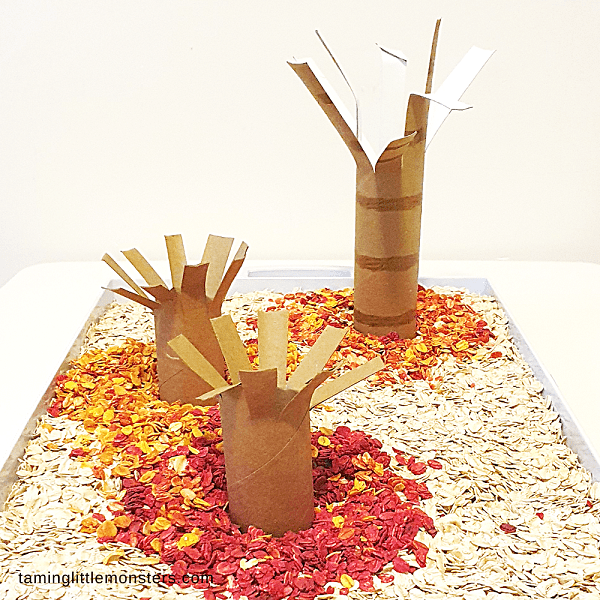 21. Fall Colored Oats Sensory Bin
If you want to try this fall-colored oats sensory bin you'll need start by making this rainbow oats recipe. It's not difficult but just needs to be done ahead of time. You'll also need a tub/bin, and any tools you have on hand, suitable and safe for the small hands of your baby. Silicon spatulas and measuring spoons work well.
Your infant will love to scoop and pour the oats and watch the colors mix together and will enjoy simply touching them too in this fun fall sensory activity.
For an infant, you don't really need much more than that, but if you have a toddler in two as well, click the link above for details on the cardboard tube trees pictured.
Alternatively, add one or two fall materials to this bin to enrich your infant's play.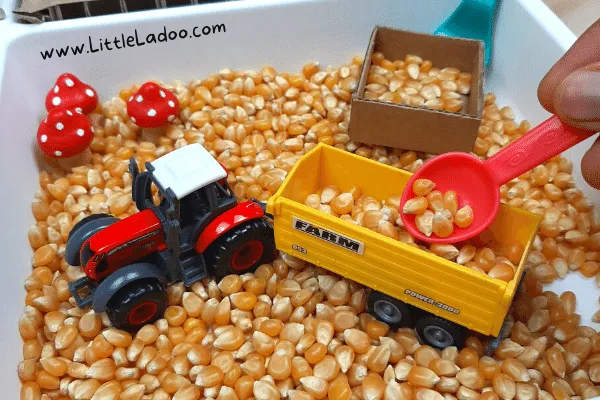 22. Fall Sensory Bin with Corn
The key to this corn fall sensory bin for infants is to keep it simple so add a few toys or pinecones and a tool or two to a base of dry corn kernels. You can use a combination of real and artificial items to make up this bin.
The linked tutorial has a more complex set-up – the photo pictured is just one element of the full sensory bin. But with infants, less is more. They have a short attention span and their physical and cognitive capabilities at this stage require relatively less stimuli than older children.
In fact, too many items can be overwhelming and cause sensory overload. This would cause an infant to fully disengage. Purposeful play is of utmost importance and it's better to have fewer items with higher significance, rather than lots of items with no or less purpose.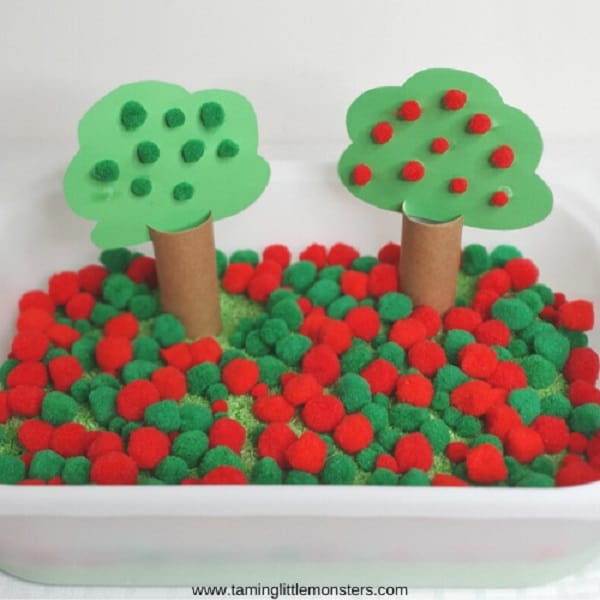 23. Fall Apple Tree Sensory Bin
For this apple tree sensory bin, you'll need green dyed rice, red/green/yellow craft pom poms, cardboard tubes, green cardstock or craft card, glue and scissors. You'll need to make the apple trees ahead of time as that won't be suitable for your baby, but an older toddler sibing may make a willing assistant.
Or you could forgo the apple trees entirely and stick to the pompoms, with or without the rice. One of the best parts of infant play is that you can take virtually any activity and pare it down according to the age of your child, as well as the materials (and sanity!) you have available. You don't have to use every material listed in the tutorial.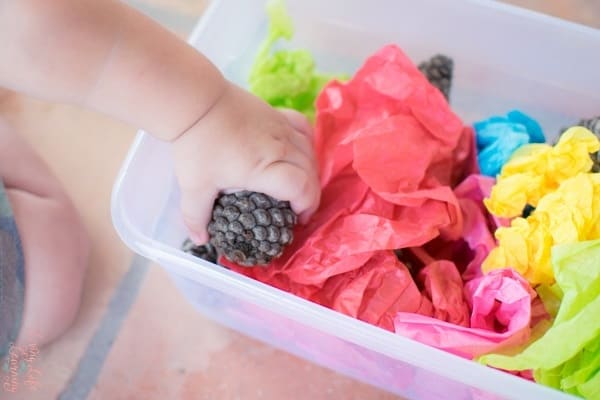 24. Pinecones and Tissue Paper
This pinecones and tissue paper sensory bin is a super simple yet engaging activity and you only need three materials: pinecones, tissue paper and a bin or tub of some kind. You could also use a cardboard box if you have one laying around (as I tend to do from the many Amazon packages that come through our door on a regular basis!)
Your baby will love feeling the texture of the tissue paper and hearing the sounds it makes as they move it around and the pinecone provides such a contrasting texture and weight. Exploring the two together makes for a fun fall sensory activity for an infant, with the hard, rippled outer of the pinecone and it's relatively heavier weight versus the soft, light and crinkly tissue paper.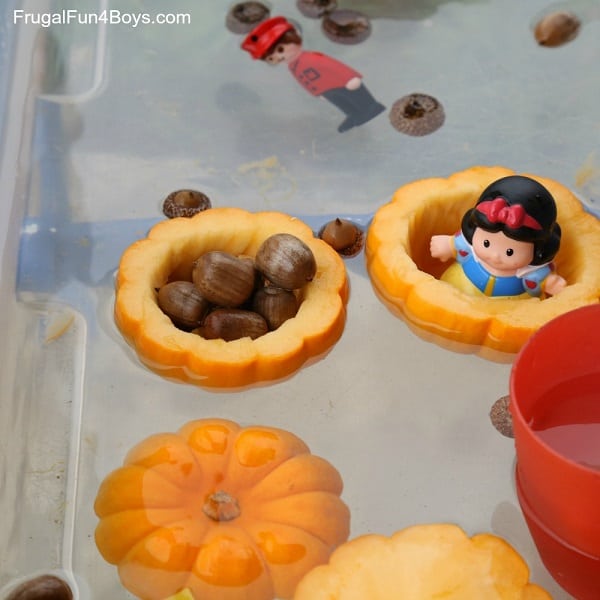 25. Pumpkin Boats Water Sensory
For this adorable pumpkin boats sensory activity you'll need little pumpkin shaped gourds or "Jack-Be-Little" pumpkins (yes, that's really their name!). Pie pumpkins from the grocery store or any small pumpkin you can find would work, too.
Cut the top of the little pumpkins off, and hollow it out by removing the flesh and seeds inside to create little pumpkin boats. Provide toy figures to ride in the boats – for an infant, that's probably enough. You could also add pine cones or other interesting items to this fun water-based fall sensory activity.
You could even play with these in the tub at bathtime.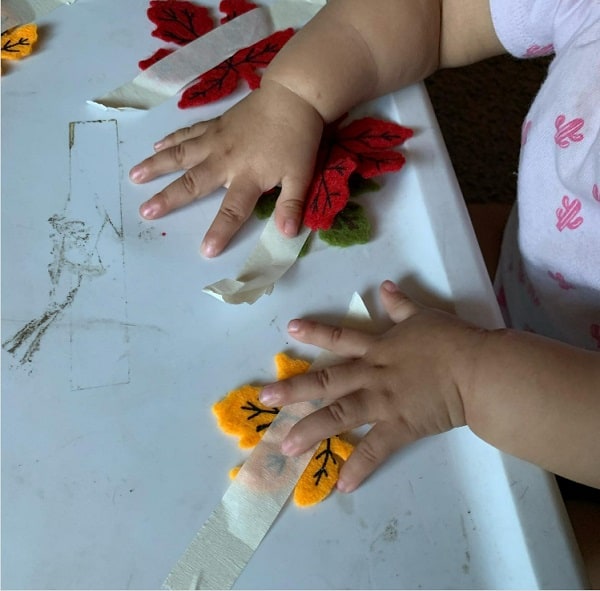 26. Leaf Rescue
For this leaf rescue activity, you'll need felt leaves from a craft store (foam or plastic leaves would also work), masking tape, and a flat surface. I like to use a portable dry erase board for these types of "rescue" activities because the masking tape comes off easier.
Simply tape the leaves to the surface with one piece of loose masking tape, and let your child work to tear off the tape strips, "rescuing" the leaves! This activity is awesome for working on fine motor skill development.
Exciting Fall Crafts for Infants
Fall is here! We hope you have a "gourd" time exploring all that fall has to offer with your little one. These fall arts and crafts for infants will be enriching for your child in many ways and will help you feel more equipped to facilitate engaging activities for them whatever the season.
We hope you feel that introducing your infant to the season of fall through play and crafts is as easy as (pumpkin) pie with this list!
For more Halloween & Fall crafts and activities, check out:
Is it too early to think about Christmas? Never!
For more easy toddler activities to keep your little ones busy indoors and out check out:
Excited for Easter? Bookmark these for later.