I love spider webs, I've mentioned this before. Luckily my kids love them too! Hence this puffy paint spider web craft.
But no spider web is complete without, you guessed it, a spider! So having finished the spider web, time for an easy spider craft.
Spiders are not my favorite thing. I don't have any urge to hightail it up the nearest tree, kill them or call on someone to remove them, but they just don't fascinate me like the incredible webs that they build.
Nevertheless, spiders are rather interesting creatures, and most little kids seem to be intrigued by them, along with the hundreds of other creepy crawlies. I think it's partly because they're not intimidated by the size of spiders.
Unlike a giant horse towering over them or a dog pushing past them and sending them flying.
Spiders are more at their level. And literally too. If your toddlers or preschoolers play on the floor a lot (which kids don't?) then they're bound to come across the odd spider or 10.
So a spider craft is sure to keep them entertained as a fun Halloween activity or for any other time of year. So if you haven't already, it's definitely time to try this crazy easy and fun toddler activity and craft.
What age is this spider craft suitable for?
This was not the original spider craft I intended it to be. I had another one in mind and it was super simple for me. Not so much for my 2.5 and 4-year-old. As in, I ended up doing it for them.
I don't see the point in that. I'm a big believer in kids being able to create their craft with as little outside assistance as possible.
Even if the end result is one giant mess, in that process of creation and experimentation with different colors, materials and textures your toddler is going to have a blast.
If the end result ends up anything like intended that's just a bonus in my opinion!
But this spider craft really is sooooo easy. My two toddlers loved making them and playing with them afterwards… Then turning them into other creepy crawlies…
It's actually more activity than craft. And if you hadn't guessed already, minimal prep, minimal mess activities are my thing.
So if you and your toddler enjoy making these easy spiders, venture on over to this list of indoor activities for toddlers at home and these dry messy play ideas. Or if you can get outside into the garden or backyard, try one of these fun and easy outdoor activities.
Firstly, some fun spider web facts for your child
I always try and explain what we're making and throw in a few interesting related facts along the way. Young kids just love to learn. Like a sponge, is the saying I think. So you really have to start watching what you say. No good if you have road rage!
Anyway, generally this sponge-like tendency is an absolute pleasure. They interest my kids take in what I'm saying is only going to last so long…
It also means I've brushed up on random facts about dinosaurs while doing some fun dino-themed activities and Mummies (as in the ones wrapped in gauze). I've also relearnt some details from long ago R.E. lessons, to talk about while doing Nativity crafts and Easter activities.
I should think I'll be relearning most of my school subjects over the next few years!
Anyway, here are some simple spider and spider web facts that my kids loved hearing about. All very basic and I've written it in 'toddler speak'.
My nearly 4 year old understood pretty much all of this, as much as I can tell. (Not that it stopped the 'why' questions though!)
A spider is an 'arachnid'* a bit like an insect (an ant is a good example of an insect they've probably seen)
Spiders have 8 legs and lots of very small eyes
Spiders make their spider web from silk which is very strong (stronger than metal)
They use the web to catch their prey (their food)
This silk is very thin and very strong – much stronger than metal
*Don't be afraid to throw in new words like arachnid because this is quite an easy one to say. I love hearing my toddlers trying to say new words of the first time! Or even not-so-new words they still can't say. Biscuit is still 'bis-dic'.
What will your toddler learn while creating these easy pipe cleaner spiders
A few things about spiders and spider webs, of course. (See spider facts above).
This spider craft is as much an activity as a craft. Just pushing pipe cleaners (the legs) into a body of playdough. Then sticking on some googly eyes.
Oops, I think I've pretty much given the game away – it really is that simple.
Anyway, playing with playdough is such a wonderful activity for toddlers. A sensory activity that works the fingers and hands, gets the imagination going and the creative juices flowing.
There are seriously a ton of important developmental skills at work when playdough is involved, as Parenting Chaos writes about in more detail here.
Counting: you can count those legs as you go – make sure there are 8! (Not 6 – insects have 6.)
More fun and easy activities for toddlers
You probably don't need to read much further to know exactly how to make these playdough spiders. So before you go, you might be interested in having a look at these other simple activities and crafts:
The 'how-to' of this easy spider craft

1 – Gather supplies
You need:
Pipe cleaners – a bunch of various colors, at least 2 of each color
Playdough – bought or homemade (I used this homemade playdough recipe from Emma Owl)
Googly eyes – the non-sticky ones preferably
2 – Make playdough body
Get your toddler to roll a ball of playdough to make the spider's body.
So maybe your toddler decides the spider's body is square or flat or long and thin like a snake…. no biggie – let them create the spider of their dreams!
3. Cut legs to size
Even if your toddler is quite the pro with scissors if you want these spiders to have legs of roughly equal size this is the little bit of prep better done by you.
Cutting 2 pipe cleaners each into 4 pieces gives you 8 spider legs of ideal length for this easy spider craft. Any longer than that and the spider will look more like a daddy long legs.
For thicker legs, cut 4 pipe cleaners each into 2. That gives you 8 very long legs. Double-up each length to make 8 shorter, thicker legs.
Check out the blue and yellow legs of the big, chunky spider with the ridiculously large eyes at the end of the post to see what that looks like.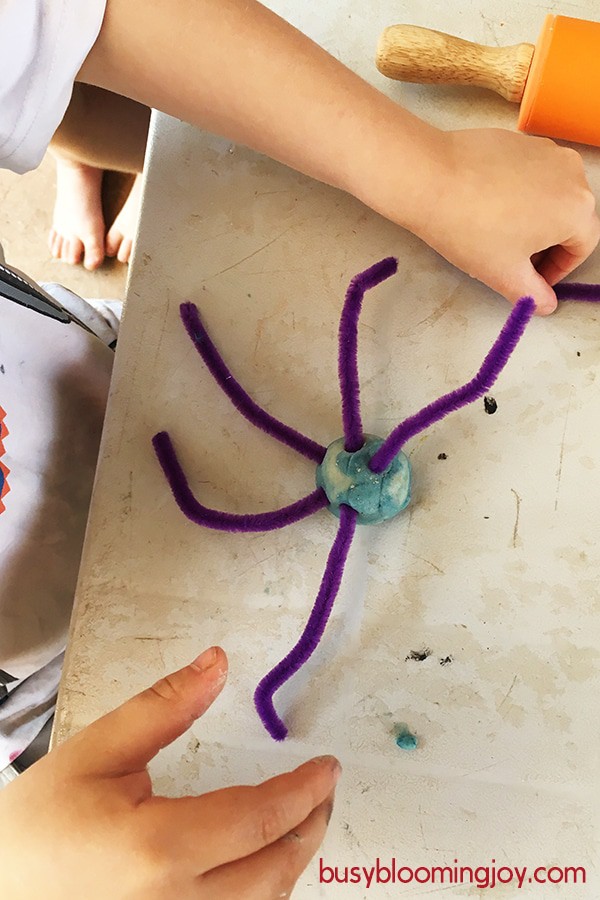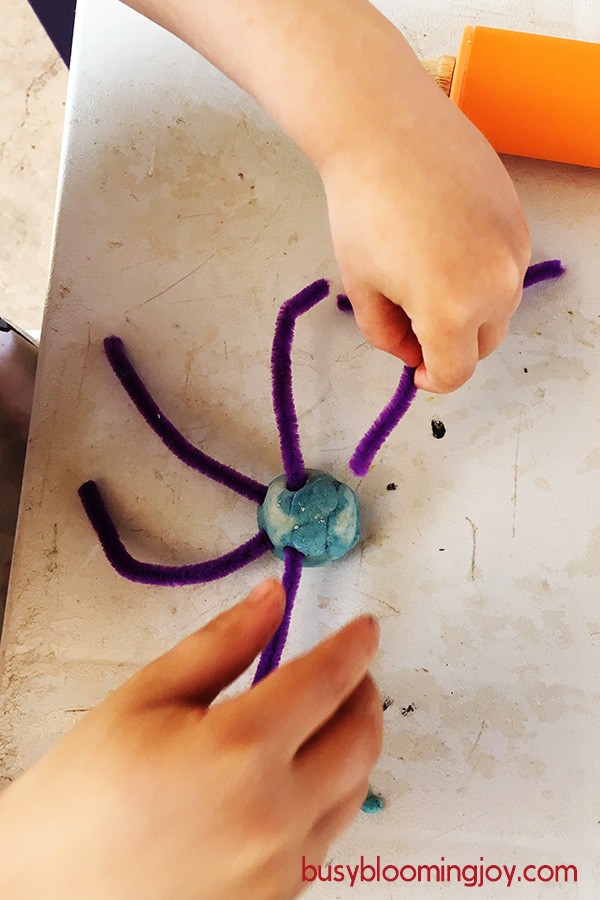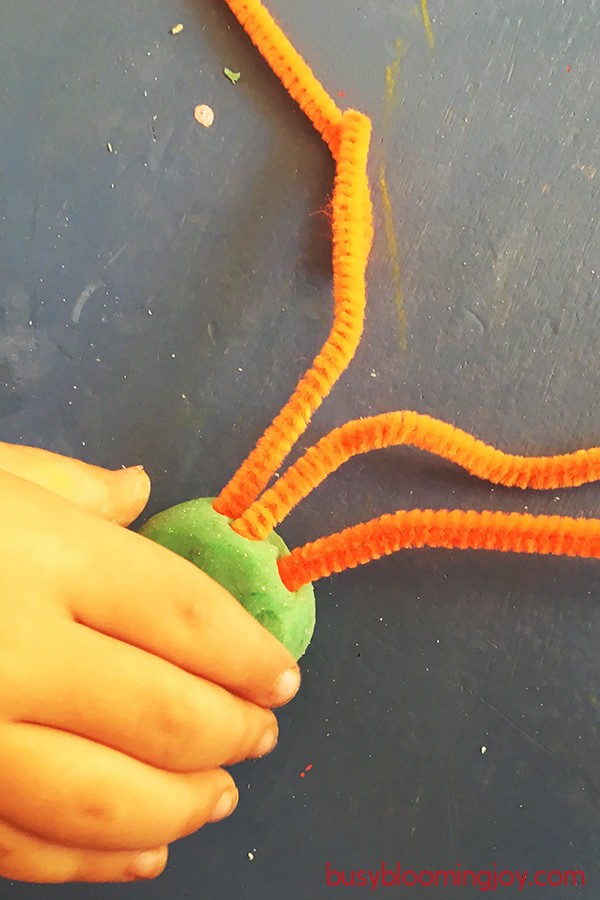 3. Stick the legs in
Help your toddler count them as you go…
4. Add some googly eyes
No explanation needed…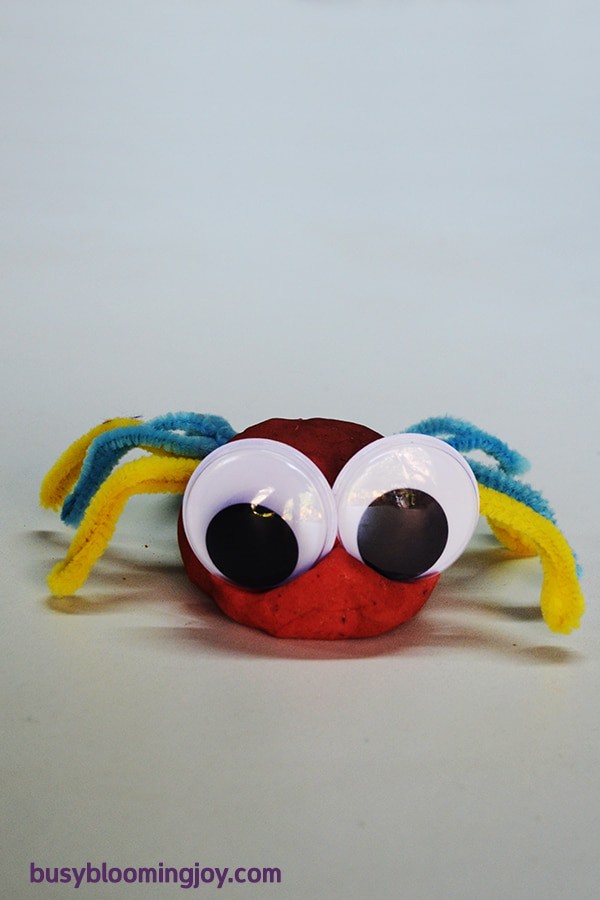 5. Done!
And that's it.
Did I mention how easy this spider craft was!
LOVED THAT EASY CRAFT? YOU'LL LOVE THE FAB-BOO-LOUS HALLOWEEN ACTIVITY PACK!

CLICK TO DOWNLOAD THE ACTIVITY PACK & BONUS NOW
Now you just need a spider web, like this super cute puffy paint one: Puffy paint spider web craft – fine motor control for kids
Ready to get cracking and have fun with this spider activity?
For more not-so-scary Halloween and Fall-themed crafts for your toddler or preschooler, check out:
Is it too early to think about Christmas? No way! Check out: