I can't quite believe Christmas is around the corner already! Time to get cracking on some homemade Christmas ornaments with my kids.
Some will be for our Christmas tree and some are going to become gifts for grandparents, uncles and aunts. Hopefully for their Christmas trees or perhaps to hang elsewhere in the house.
I've already forewarned my parents to prepare for lots of kid-made gifts this year…which grandparent doesn't love a homemade ornament from the grandkids?
My two little-ees are still both in the toddler/preschooler bracket (2.5 and so-nearly 4-year-old) and it's only in the last few months that I've kind of got the hang of crafting with toddlers.
Kind of.
Most days!
Key for me is the time it's going to take to prep and finish, since I never seem to have much. This is normally closely linked to the complexity and mess potential of said craft.
For this reason, I've divided this list of homemade Christmas ornaments for kids to make into the level of difficulty, combined with suitability for little kids versus slightly older ones.
There are plenty of Christmas ornaments ideas to make with toddlers and preschoolers this holiday season, then trickier ones for older kids to make.
Sadly, very few are no-prep and some will mean a bit of work and (even worse?!) a bit of mess. But since the idea is that these Christmas ornaments will make it out year after year, hopefully, the effort will be worth it!
Then there a few 'keepsake' ornaments which are a particular memory for this Christmas. So handprints, fingerprints, kids scribbles, sorry, drawings, and so on.
Of course, all these Christmas ornaments should make lovely keepsakes as long as they live up to the job. Just remember to put the date on!
This post contains affiliate links. If you click on one and make a purchase, I may receive a commission at no extra cost to you.

Tips for making Christmas decorations with little kids
To be honest, a year ago, when my kids were 18 months and nearly 3, even the thought of trying to do a "craft" with them brought me out in a cold sweat…
I've now learned a thing or two about how to maintain my sanity when it comes to getting out paint, glitter and glue (aka get it out as little possible). Arts and crafts, including Christmas ornaments, feels a lot more doable…
So here goes:
1 – Choose your craft wisely – simple ones win every time!
If you're short of time and a little bit frazzled, I'd actually say don't craft at all.
Rather try a simple minimal mess activity. Or get moving with some physical activities. Or what about music and movement?
But I get it, Christmas is looming and you want to make some ornaments. Go for stupidly simple, easy as pie and mess-free ones. Remember – always go simpler than you think.
2 – Remember – the PROCESS of creation is more important than the end result
At this age, crafting should mostly be about exploration and experimentation with different materials and colors etc.
Understanding this definitely helped my mindset when it came to starting out a craft. And a heck of a lot of frustration about the end result, I must say.
Of course, you want a cute looking Christmas ornament at the end of it all! You want it to look like the Pinterest craft you found. Remember the craft that made the photoshoot was almost certainly made by mom.
Christmas ornaments for kids to make should look like kids have actually made them, right?
3 – If you have a little one in tow, do the prep or the tricky parts out of sight
Little kids are often completely unable to keep those little hands to themselves. This is normal and one of the joys of this age. Said with just a touch of sarcasm…
They just want to explore and experiment and figure out the way the world works.
As soon as I start to prep a craft, one, if not both, of my toddlers wants to get involved.
Getting the bits and bobs done that they're not going to manage and everything prepped before their little hands started poking/touching/running off with, really helps.
SIMPLE Christmas ornaments for kids to make (for toddlers/little ones)
So these are the ones which require less prep and are more suitable for younger toddlers to get involved with, or for older kids to do independently.
There are a few colorful salt dough ornament crafts – which are a bit more prep and do require some cleanup, but I've yet to meet a small kid who doesn't love smooshing, squeezing and rolling play dough or salt dough. So they make the easy list.
Plus these crafts normally always come out well and really stand the test of time, just what you want for a DIY Christmas ornament.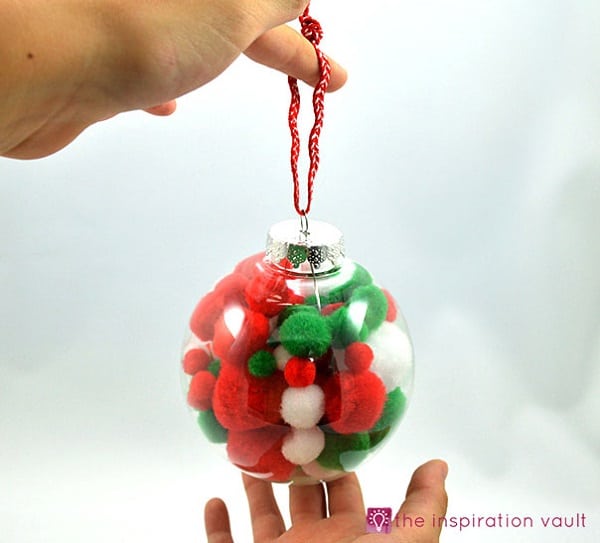 1. Pompom Christmas ornament for little kids to make
This pom pom Christmas ornament from Elle Marie Home (previously the Inspiration Vault) is ideal for little kids to make. Such a good exercise in fine motor for the little ones and, this is the best, completely mess-free!
Grab these clear plastic baubles and festive pompoms and you're ready to go.

2. Sea glass Christmas ornaments
I love these sea glass Christmas ornaments from Red Ted Art – really, really stunning and would look just as good hanging in the window as on the tree. If you don't have any sea glass you could try white buttons on green-colored salt dough as in the ornament on the right-hand side.
Such fun and beautiful ornaments to make with toddlers this Christmas and bigger kids too.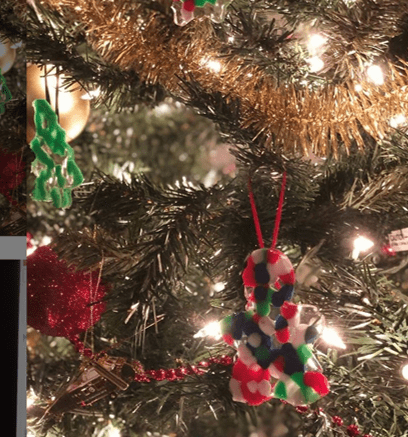 3. Pony bead Christmas ornaments for kids to make
These melted pony bead ornaments can be done with any metal Christmas cookie cutter you have to hand, along with some pony beads. Simply bake in the oven and the colorful beads will melt into the shape of the cutter.
You'll find the instructions at @simpleplay.withsteph.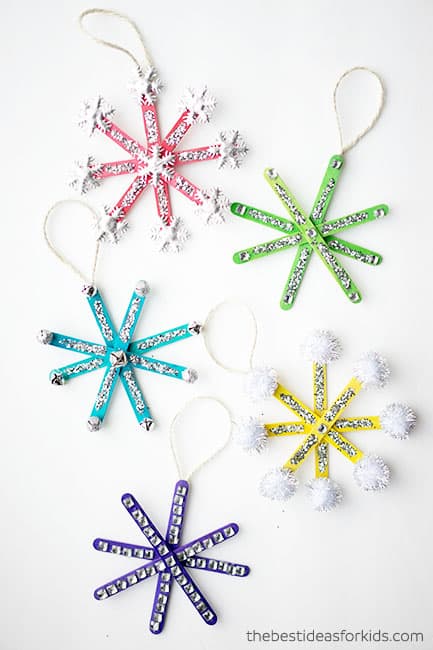 4. Popsicle-stick snowflake Christmas ornaments
Look at these popsicle-stick snowflake Christmas ornaments from The Best Ideas For Kids. They look fun ornaments to make with toddlers. And aren't they just too cute?! Once the craft sticks are glued together, you can hand this one straight over to little ones to get busy with.
(Stock up on colorful rhinestone stickers, sequins, sparkly pompoms and bells here.)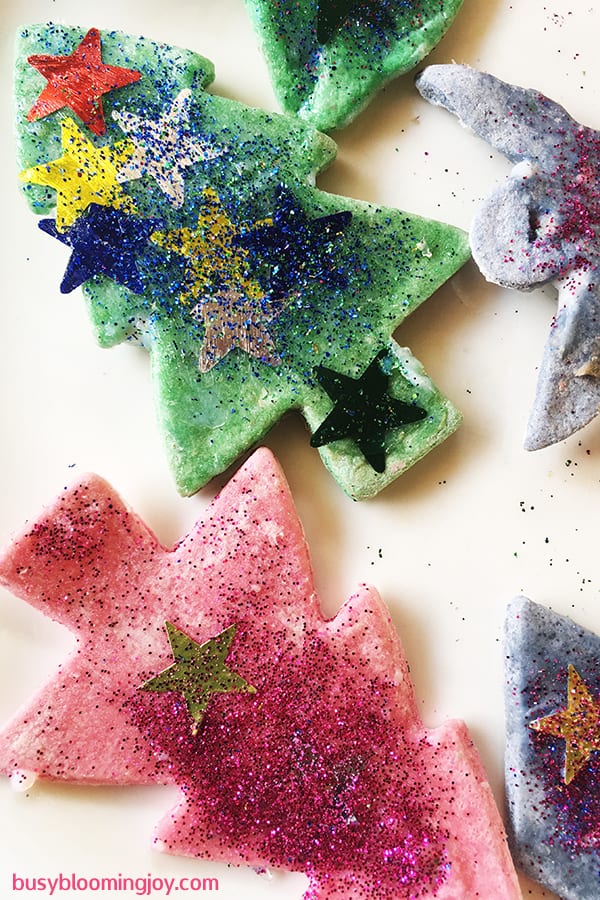 5. Easy salt dough Christmas tree ornaments
I made these salt dough Christmas ornaments with my toddler and preschoolers They loved making them and I must say, having come up with the decorating part of this on the spur of the moment, I'm a bit chuffed at how well they came out! Our favorite keepsake ornaments so far.
Simply make salt dough Christmas shapes, then decorate with with star stickers and glitter.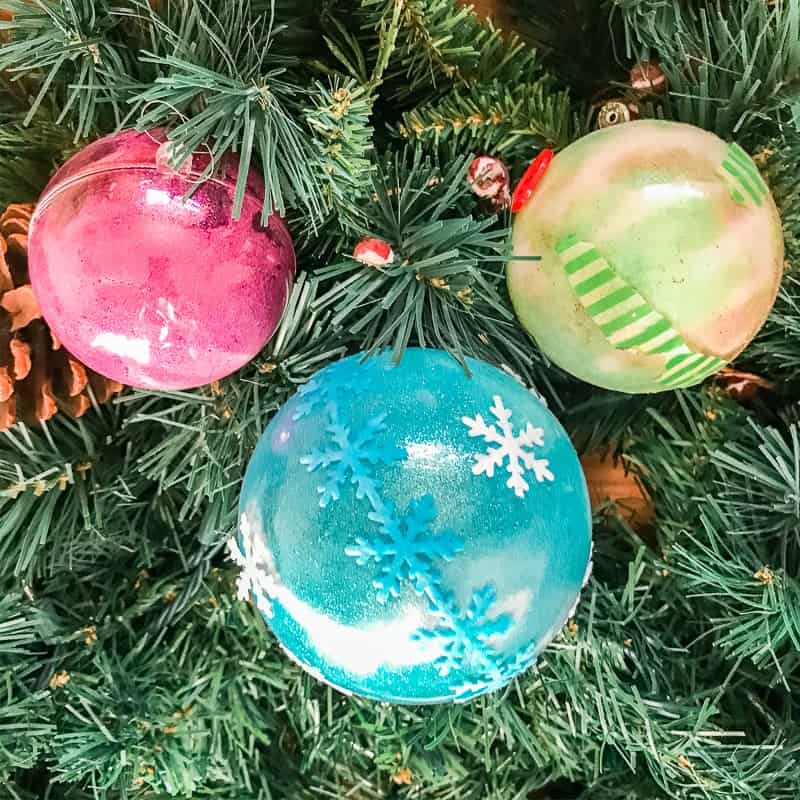 6. Fun glitter Christmas ornaments for kids to make
Got a toddler that loves glitter? These glitter ornaments from Aileen Cooks are just the ticket for any kid, big or small, or adult for that matter, that loves a bit of sparkle. So that's pretty much everyone then?!
Simply open a clear plastic ornament, coat the inside with modge podge and get sprinkling. Here are some snowflakes to stick on after.
A fun and easy Christmas ornament to make with toddlers.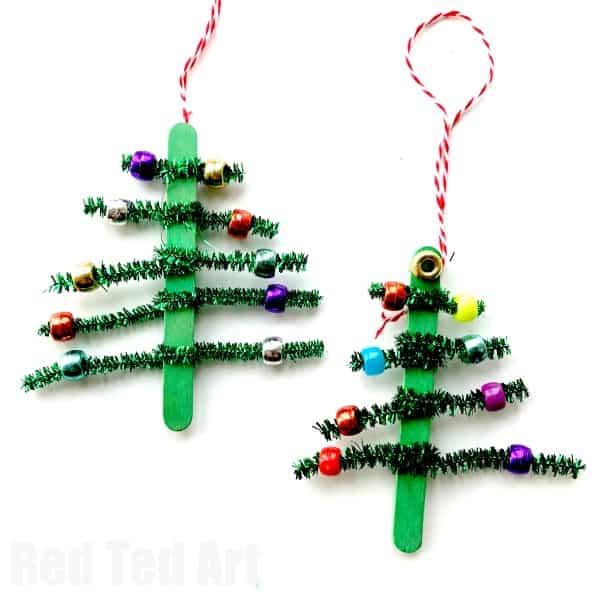 7. Pipe cleaner Christmas tree ornaments
These pipe cleaner Christmas tree ornaments from Red Ted Art are simple yet very effective. I think this'll be a Christmas ornament best made with your toddler, they'll need a bit of help. My daughter especially is going to love threading the beads on (at the grand age of 2.5 she loves anything involving beads!)
(Grab your colored craft sticks, pipe cleaners and beads here.)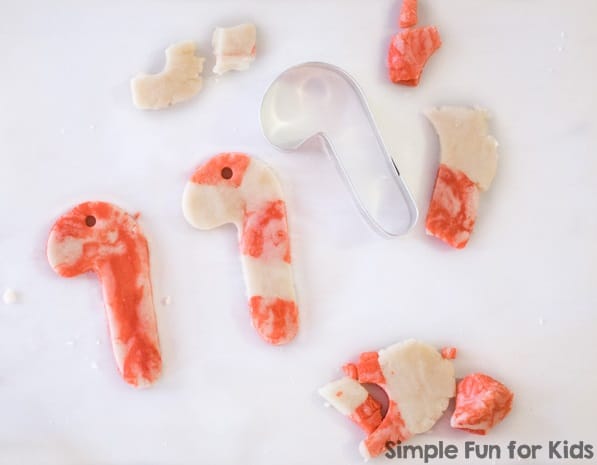 8. Candy cane Christmas tree ornaments
These candy cane ornaments from Simple Fun For Kids are one of the simplest Christmas ornaments to make with toddlers. The beauty of them is in the mixing of the red and white salt dough, so no decoration is needed.
9. Santa's belly Christmas ornaments for kids
Wait up, look at this easy peasy idea – maybe these Santa's belly ornaments from Making Of A Mom are the simplest to make with toddlers? Red pompoms, felt, glue and clear plastic ornaments are all you need for this cute Christmas ornament for kids.
For more crafts all about the jolly big man, try these Santa crafts for toddlers, including plenty of Santa hat crafts.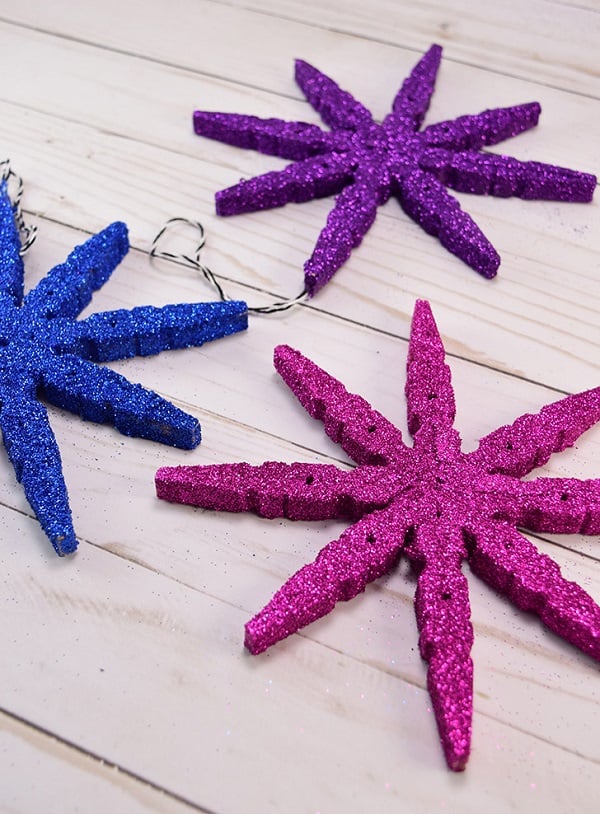 10. Clothespin snowflake ornaments
I absolutely love these clothespin snowflake ornaments for kids from Dream A Little Bigger – aren't they just stunning!
Glitter and glue is a winning combination for Christmas. For toddlers? Mmm, I'm not so sure…
But if we can get ours to look anything as good as these ones it'll be worth the chaos! I think. I'll get back to you on that one…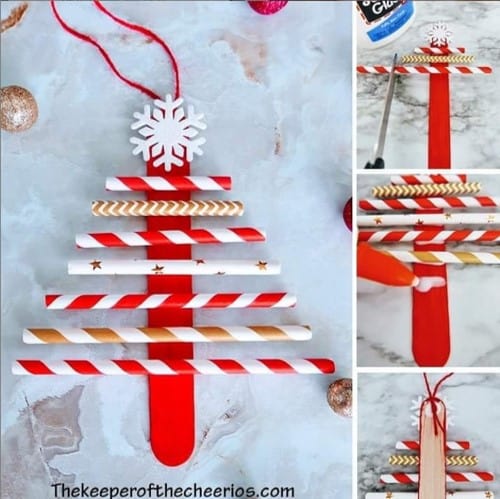 11. Paper straw Christmas ornament for kids
This paper straw Christmas ornament and craft from The Keeper of the Cheerios will be a good challenge to preschoolers and first-graders (to measure and cut the straws of decreasing length). You can easily simplify for younger ones by marking the straws or getting them to just do the sticking.
(Buy some of these colored craft sticks if you want to skip the painting part; snowflakes and festive paper straws here.)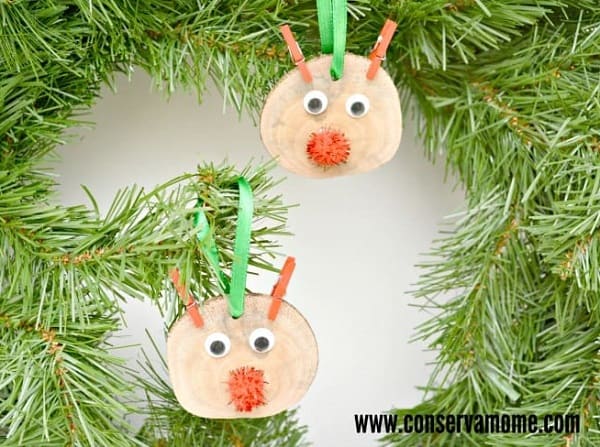 12. Fun Rudolf wood slice Christmas ornaments
These homemade Rudolf wood slice ornaments from Conservamome are another simple idea yet toooo cute.
What a cute and clever way to turn wood slices into Rudolfs to hang on the tree. I can't wait to make this Christmas ornament with my toddlers.
I can see poor old Rudolf ending up with more than 2 ears though and a few too many eyes since that's the way a lot of our crafts go at the moment, but we shall see.
Grab your wood slices, googly eyes, mini clothespins and pompoms here.
More nature-inspired ornaments here.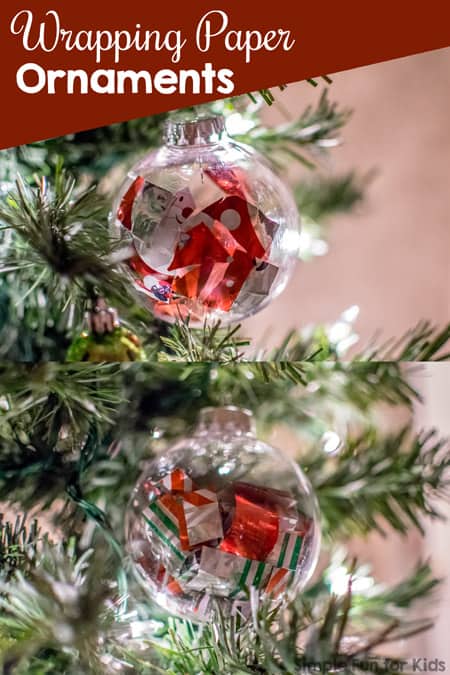 13. Wrapping paper baubles
These wrapping paper baubles from Simple Fun For Kids are another super easy DIY Christmas ornament to make with toddlers. They can practice their scissor skills, cutting up some pretty wrapping paper and will then have fun stuffing it into the plastic bauble. No-mess = no-stress!
Love crafting with your kids?
Here are some more crafts aimed at little ones: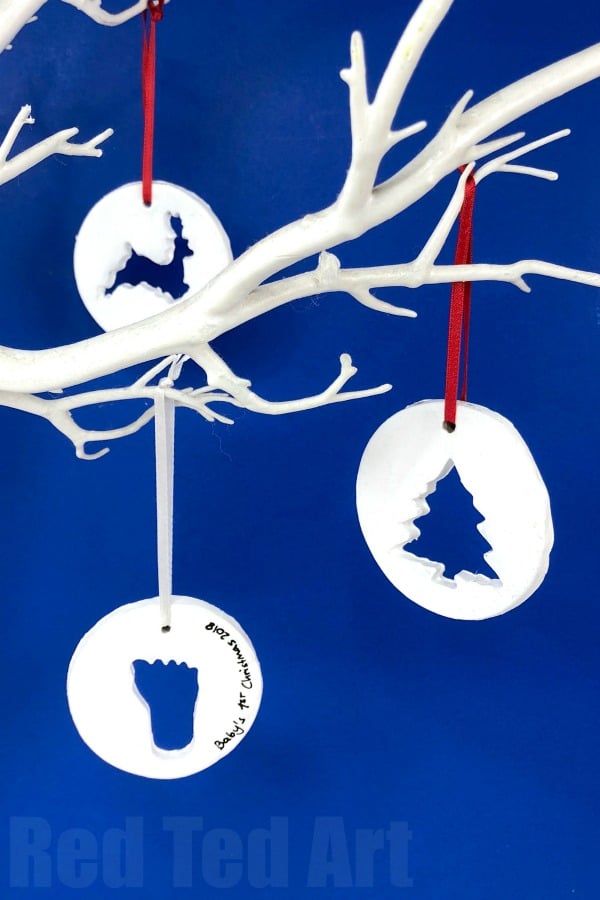 14. Cookie cutter Christmas ornaments for kids to make
Rather than salt dough, these cookie-cutter Christmas ornaments from Red Ted Art use store-bought air-dry clay reducing your prep-time to almost zero! Aren't they just so simple and effective? A gorgeous and simple Christmas ornament to make with toddlers.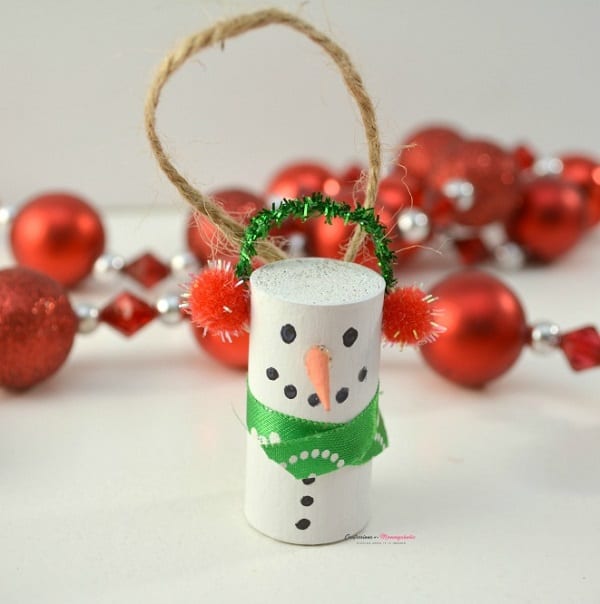 15. Wine cork Snowman ornament
Adorable snowman ornaments from Janine Huldie, made from a wine cork no less! I particularly love the ear muffs.
My kids have a thing about snowmen for some reason (they loved making these snowmen cards) and will definitely manage to slap on some white paint. Then they are going to love drawing on the eyes, mouth and buttons and finding a warm cozy scarf and a set of earmuffs.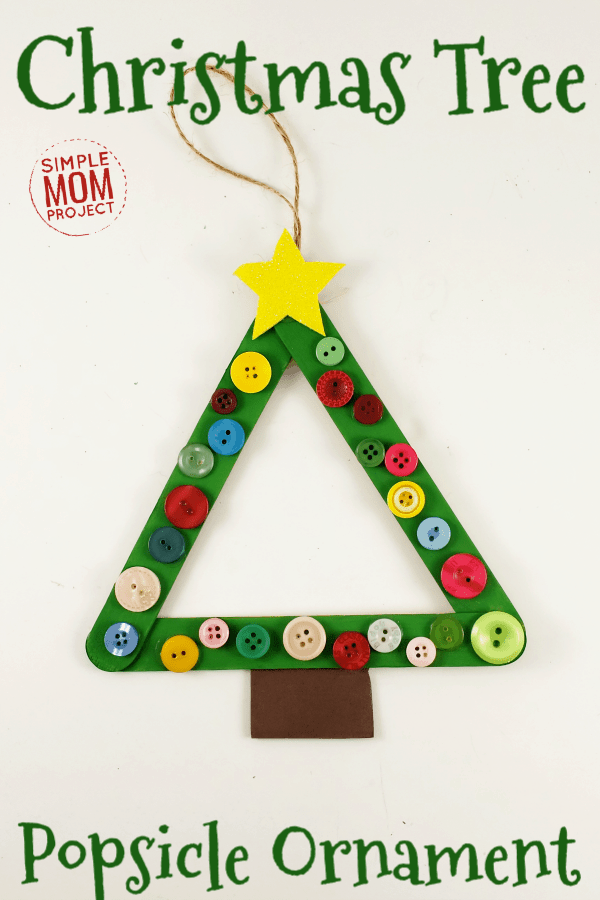 16. Popsicle stick Christmas ornament
You're going to have to make the basic tree shape of this popsicle stick Christmas ornament from Simple Mom Project for your toddler, but leave the decoration part to them.
There's no need to limit the decoration just to buttons. I can definitely picture a bit of glitter coming out of the cupboard for this one! Such a cute and easy Christmas ornament for kids to make.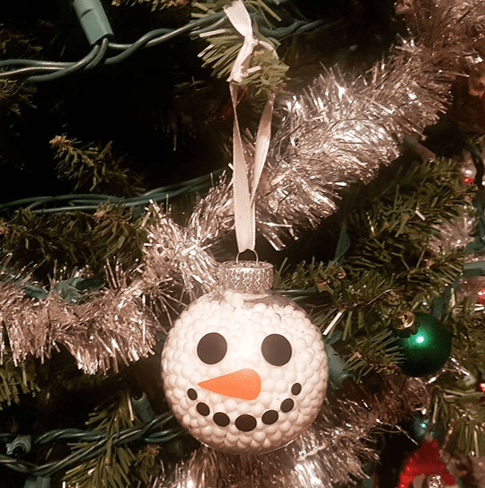 17. Fill & stick snowman Christmas tree ornament
Styrofoam balls, snowman stickers and a clear plastic bauble is all you need for this fill & stick snowman Christmas tree ornament from DIY Crafty Mama. Another simple and fun Christmas activity come craft for kids.
As long as your little one has got past the stage of stuffing everything into their mouth, this will be a fun Christmas ornament to make with toddlers.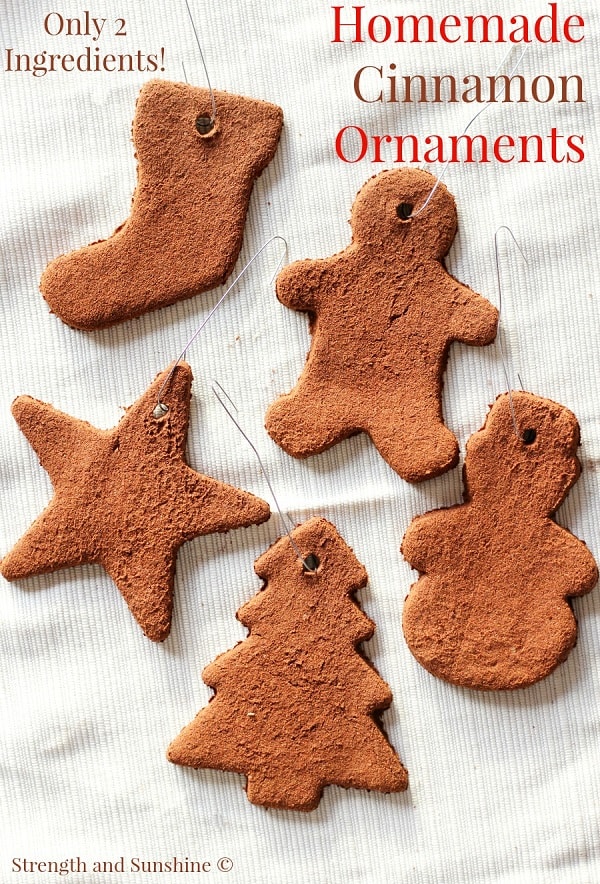 18. Homemade cinnamon Christmas ornaments to make with toddlers
These homemade cinnamon ornaments look a lot like salt dough, but they're not. They're actually made from applesauce and cinnamon – yum!
Never mind about whether these ever get hung on the tree, it'll be a fun sensory experience for little ones to quietly smoosh and mold the dough, the scents of Christmas wafting across the room…

40+ easy activities handpicked for busy moms of kids aged 2 to 6 years – because Christmas needn't be chaotic or cost a fortune!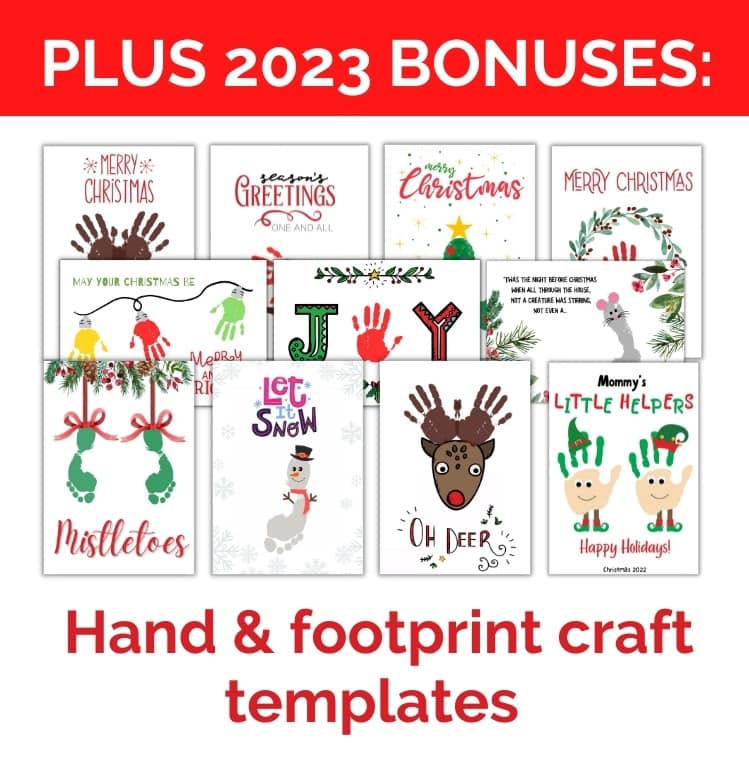 Create gorgeous hand and footprint art with your little one

Help your kids write Santa a letter and receive a reply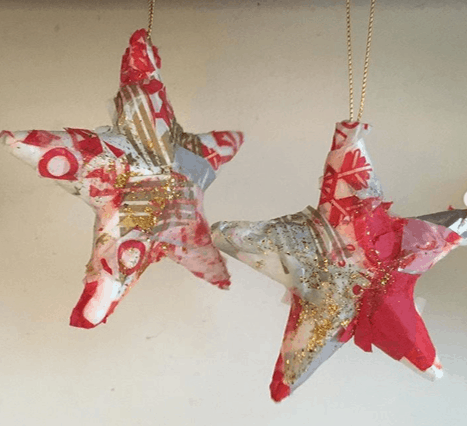 19. Decoupaged Christmas star ornaments
These decoupaged Christmas star ornaments will be fun for kids to make. Festive but a little more subtle than others; not too "bling" as we say in the UK! I guess that could change depending on who's in charge of sprinkling the glitter, though, right?
Grab some polystyrene stars, modge podge and patterned tissue paper and get decoupaging.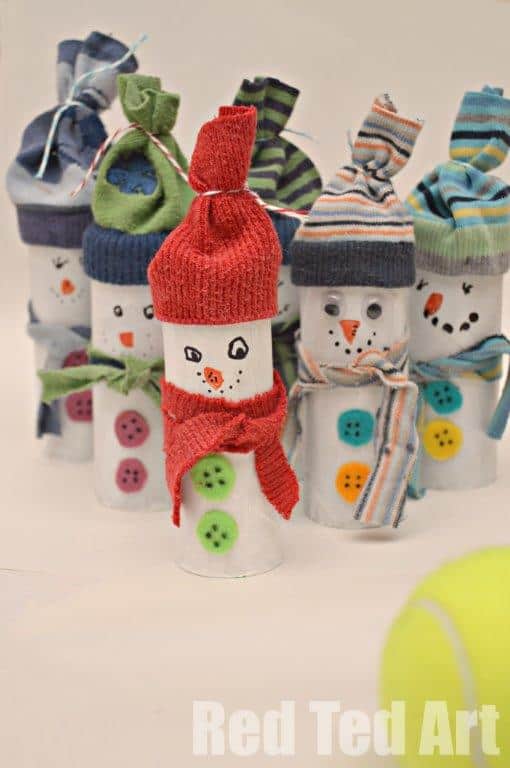 20. Toilet roll snowmen Christmas craft
Who doesn't like a craft made from a toilet paper roll or two?! These toilet roll snowmen from Red Ted Art are the cutest. Not strictly Christmas tree ornaments, but could easily be hung on the tree with the addition of a loop of thread.
This'll be a fun Christmas ornament to make with toddlers who love snowmen. Mine will love making these, particularly dressing them – check out those hats. Click the link for the tutorial.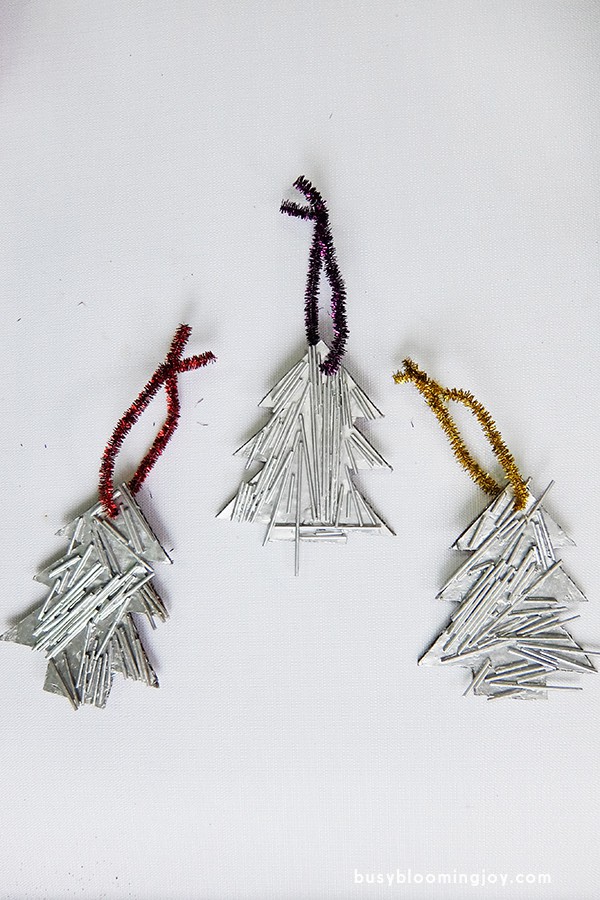 21. Spaghetti Christmas ornaments to make with toddlers
These spaghetti Christmas tree ornaments were a hit with my toddler and preschooler. The only difficulty was getting them to not eat the dried pasta! Like most little kids – pasta, particularly spaghetti (or worms as they call it), is their absolute favorite food (savory that is…)
If you haven't already stocked up on silver spray for Christmas, now is the time to.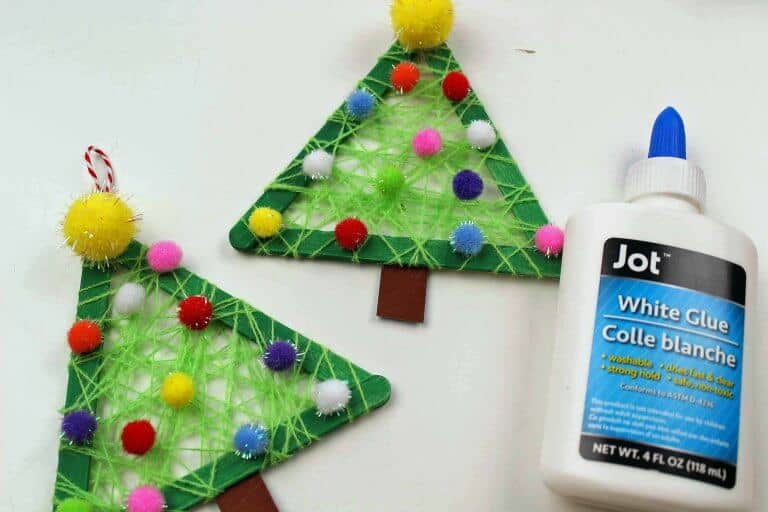 22. Craft stick Christmas tree ornament craft
These craft stick Christmas tree crafts & ornaments from Little Bins For Little Hands are very simple in concept, but little ones will probably need a little bit of help with the yarn wrapping. I just love the sparkly pompom tree decorations!
Such a fun Christmas ornament to make with toddlers.
More Christmas tree crafts here.
23. Super easy paper plate bauble Christmas ornament
Here's such a fun Christmas ornament to make with toddlers. In fact, it's so simple, they could do this festive art project fairly independently. Simply grab a paper plate for your toddler to decorate. Try crumpling up tissue paper, tissue paper circles, stickers or why not let them scribble and color?
Love free printables?
Try these, including some for the festive season:
TRICKIER Christmas ornaments for kids to make (best for older ones)
These ones either require a bit more prep or finishing off (=more time), or are less suitable for the little ones.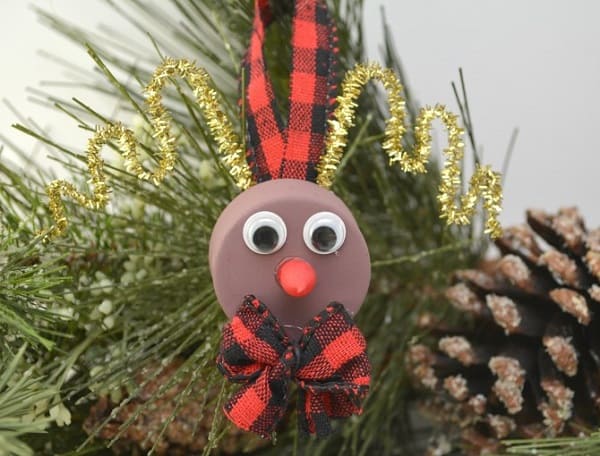 23. Homemade Rudolf ornaments for kids
These homemade Rudolf ornaments from Ottowa Mommy club use a battery-operated tealight as Rudolfs head so the candlelight is his nose. Switch him on and he's got a red, glowing nose – clever, hey? A fun christmas ornament for kids to make.
Younger ones can help with sticking on the eyes and antlers but Mom will probably need to lend a hand with the bow at the front.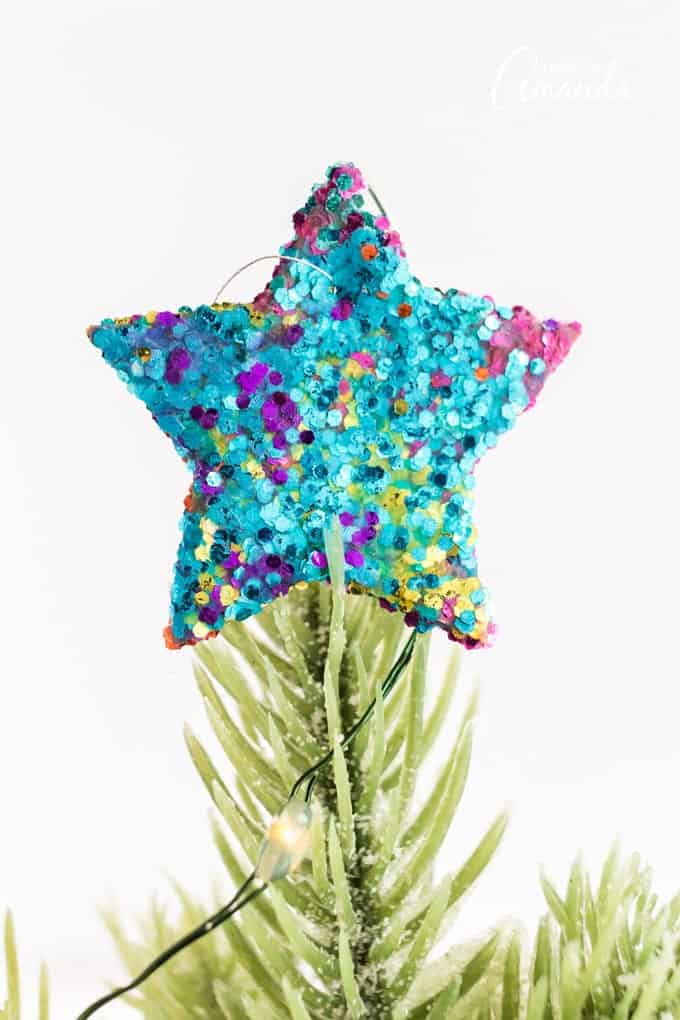 24. Easy sparkly ornaments for kids to make
There's nothing subtle about this glitter star ornament from Crafts By Amanda is there?! It's made using the "Sparkle Station" from Crayola and sure to be a hit with little girls that love glitter (seems to be most of them!)
My daughter is going to love it. As will her older cousins… Adding 3 to my Amazon shopping basket right now.
Follow the tutorial here to see how you can use the sparkle station to make the Christmas ornament pictured.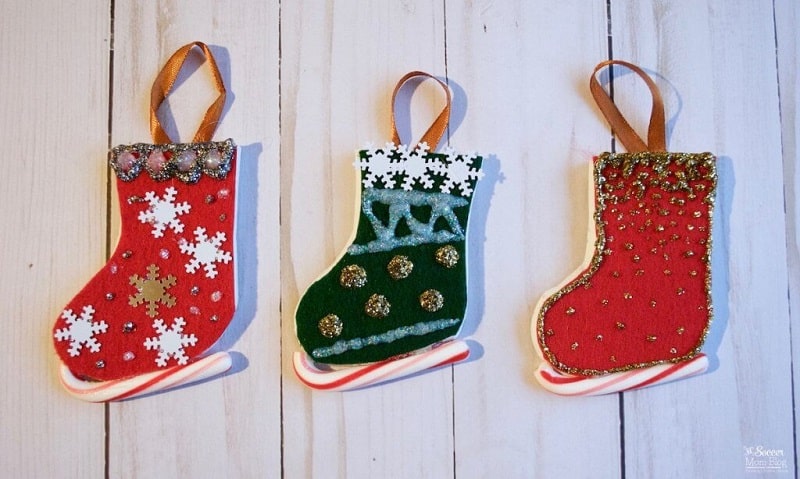 25. Christmas ice skate ornaments
These homemade Christmas ice skate ornaments from the Soccer Mom Blog are so clever and cute. Fun Christmas ornaments for toddlers to make, but I can foresee a problem. The want to eat the candy cane skate blade!
Perhaps these ornaments will be more suitable for older kids who have some sense of will power. Plus cutting the felt is a bit advanced for little ones.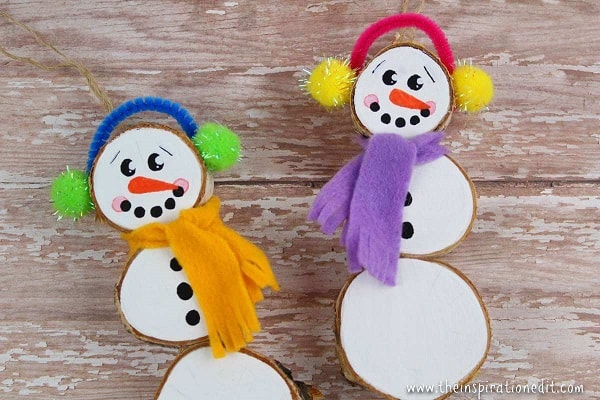 26. Homemade snowmen ornmanets
More easy snowmen Christmas ornaments for kids to make, this time from The Inspiration Edit. These ones require the use of a hot glue gun which is definitely one for mom but kids can get stuck in with the rest.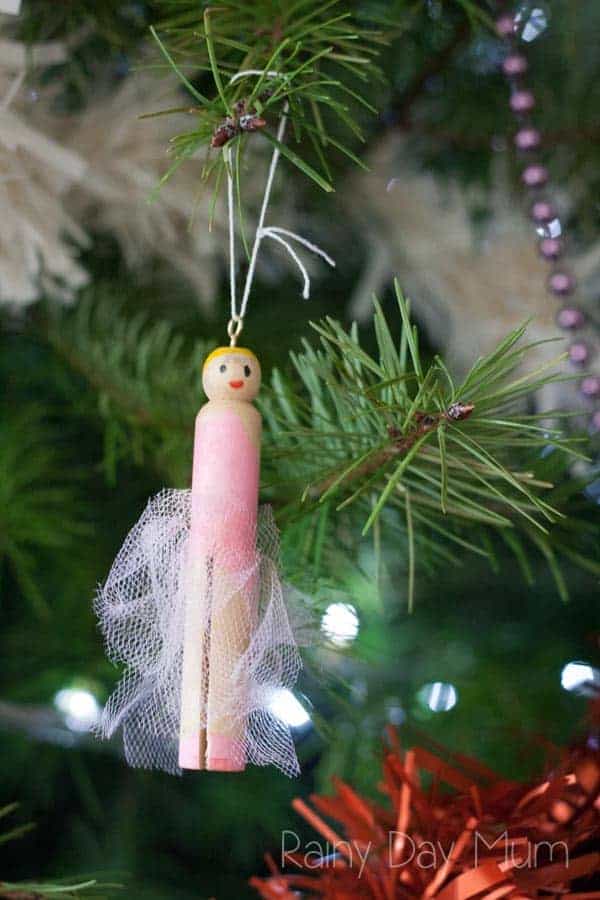 27. Nutcracker Christmas ornaments for kids to make
These Nutcracker peg doll Christmas ornaments are such a classic and will add a bit of sophistication to your Christmas tree. My daughter will love helping with these, particularly making that frilly skirt – she's all about princesses and fairies at the moment.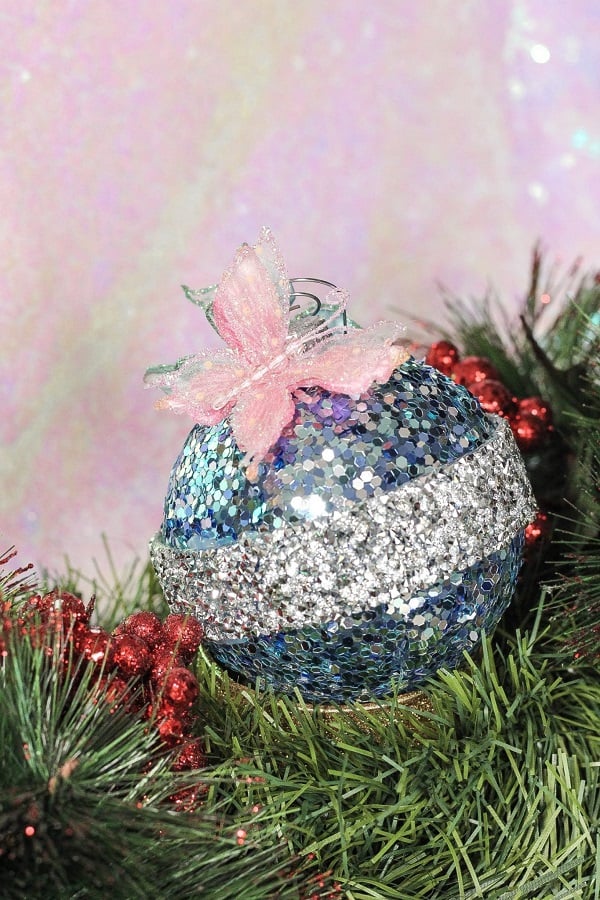 28. Disney Christmas ornaments for kids
Like a bit of sparkle at Christmas? Got a little girl? These DIY Disney Christmas ornaments for kids to make from Mommy Of A Princess are another one my daughter is going to adore.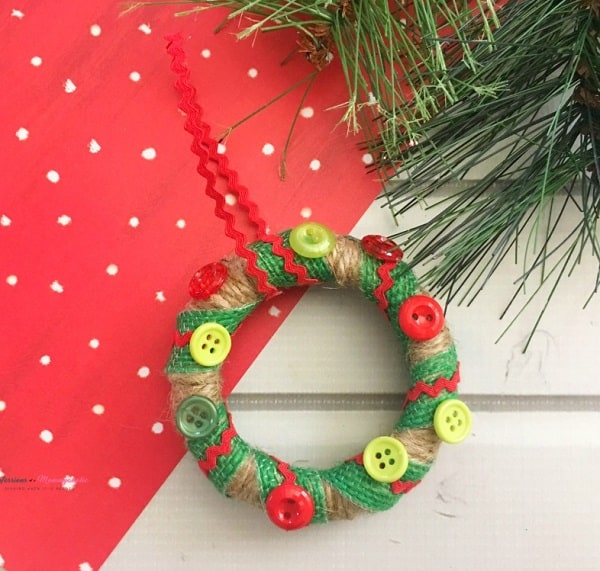 29. DIY Christmas wreath ornament
Definitely, one where you're going to have lead the way is this DIY Christmas wreath ornament from Janine Huldie. The body of the wreath uses a mason jar lid.
Mom would need to do the wrapping of the string, yarn or other decorative threads to get a nice tight seal, and little ones could choose which threads to use and help add the final touches – buttons, sequins, glitter etc. A Christmas ornament for older kids to make.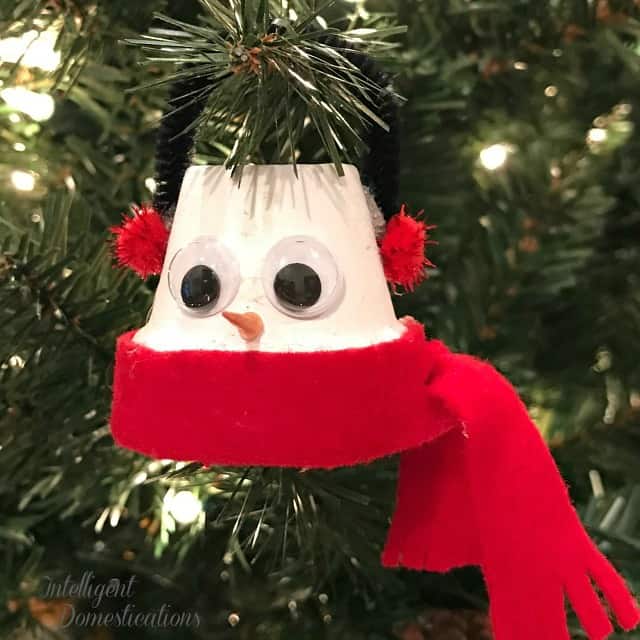 30. Clay pot snowman Christmas ornament
Here's a fun Christmas ornament to make with toddlers. They'll will love sticking the googly eyes on, to create this super cute clay pot snowman from Intelligent Domestications and then wrapping him up warm with scarf and earmuffs.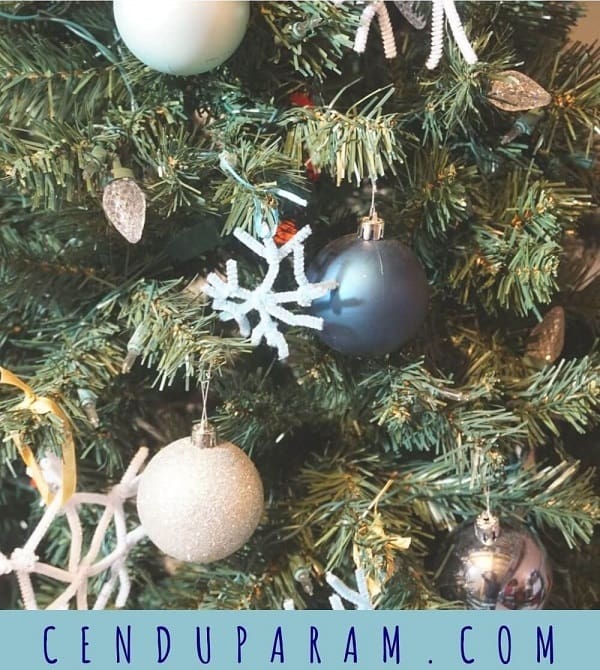 31. Snowflake Christmas ornaments for kids to make
These snowflake ornaments (made from pipe cleaners) from Cendu Param are virtually no prep but look a bit tricky for the little kids. Mine love playing with pipe cleaners but I'm just not sure we're going to end up with anything that remotely resembles a snowflake just yet!
So…. as much as I'd love to follow my advice from the tips section (the process is more important than the end result, right?!) I'm not sure we really want to hang a screwed up ball of pipe cleaners on the tree!
I think this one is definitely for the older preschooler, or a Christmas ornament to make with (or for) toddlers.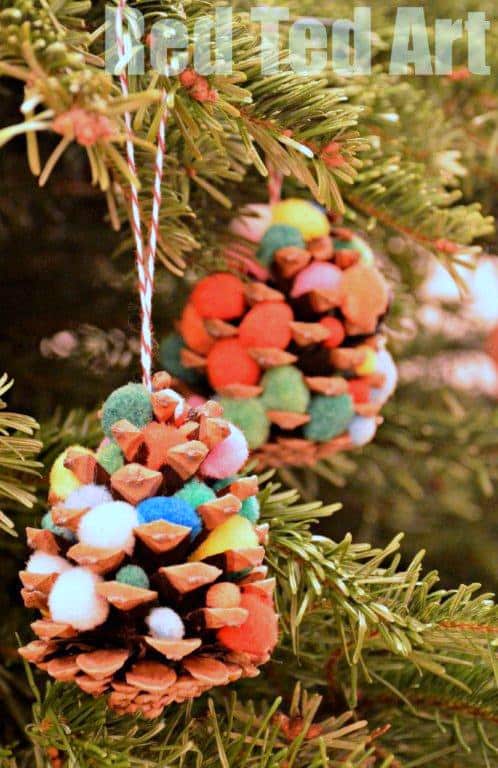 32. Pompom pinecone tree ornaments
These pompom pinecone trees are very simple, but do require a lot of glue!
They'll be fun Christmas ornaments to make with toddlers with close supervision. Or older kids who have developed some sense of self-control when it comes to glue (it does happen at some point, doesn't it?!) could do independently.
Grab some clean pine cones, colored cotton balls or pompoms and away you go.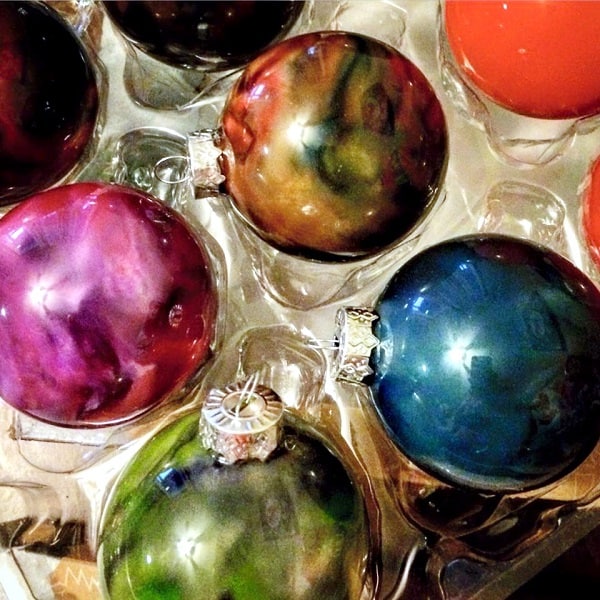 33. Melted crayon Christmas ornaments for kids to make
These melted crayon Christmas tree ornaments from Two Kids And A Coupon look very easy and minimal mess too. Sounds good to me.
Kids can choose the crayons to use to make colors (good color-mixing exercise for little ones) and then there will need to be some careful supervision of the melting process. Burnt fingers definitely won't add to the Christmas spirit!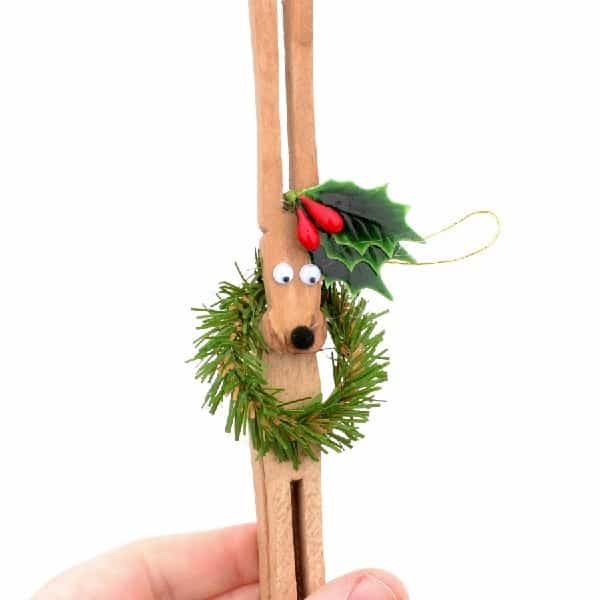 34. Clothespin reindeer ornament
Old-school clothes pins are the basis for this sweet Clothespin reindeers, cute Christmas ornaments that toddlers will love to make. Younger kids may need help sticking the clothes pins together at the beginning (strong wood glue will do) but can then be left to decorate with mini googly eyes and wreath.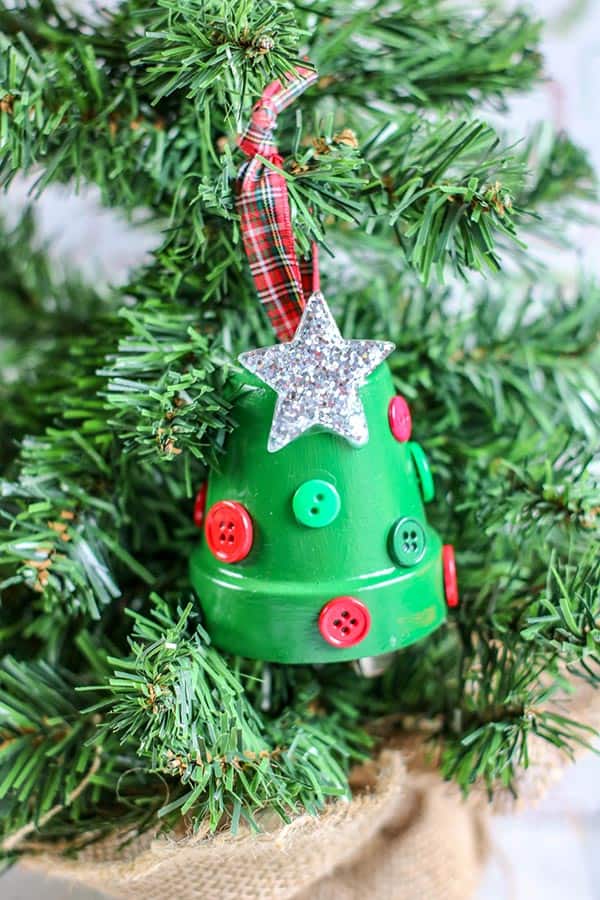 35. Christmas clay pot ornaments
Another mini clay pot here, this time a Christmas tree ornament from Darcy and Brian. Looks very simple to make in concept, as long as your little one is safe with paint and paintbrush. So that would be a no, right? Only me?
Perhaps make these Christmas ornaments as a team effort with your toddler. Do the painting out of sight and leave to dry. Then all that's left is sticking and gluing which can be the job of your toddler in tow.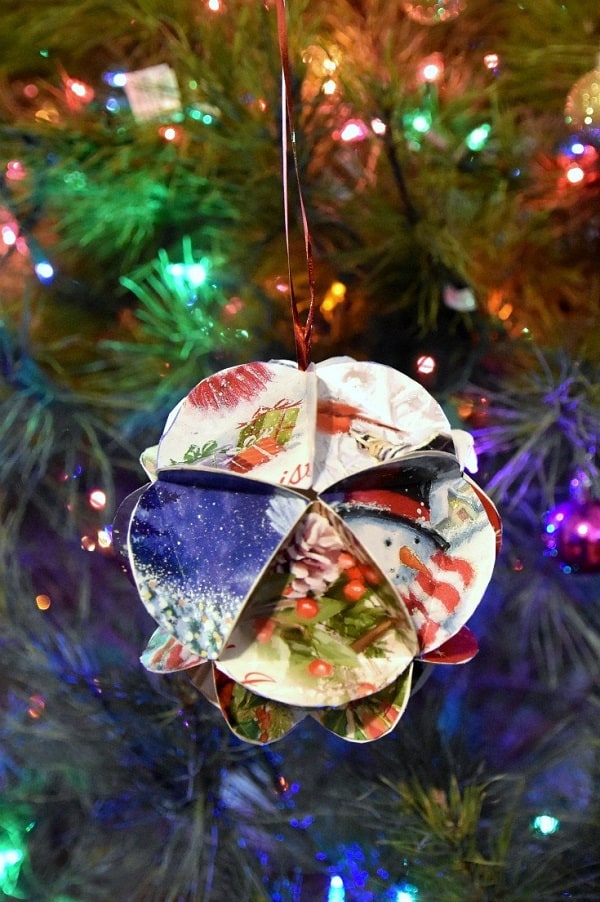 36. 3d Christmas card ornaments
Whoa…. they look complicated I hear you say! But, having read the tutorial I actually reckon these 3D Christmas card ornaments from Whats Up Fagans won't be all that difficult to master. They should be easy enough for older kids to make. Or fun Christmas ornament to make with your toddler.
Instead of turning cards into ornaments (as in the picture) why not have your toddler color and decorate some white or colored cardstock. Mom may then need to cut the circles and help put it all together.
I'm sure it could have a little extra decoration after (a bit of biodegradable glitter perhaps?!). Another task for your kiddo.
Extra special KEEPSAKE Christmas ornaments to make with kids
Everyone loves a handprint craft – here are some with a festive spin. As well as some fingerpaint and finger print crafts and other Christmas DIY ornaments with a keepsake element.

37. Salt dough handprint ornaments
Perfect for the littlest hands are these homemade salt dough handprint ornaments from the Best Ideas For Kids. A gorgeous Christmas ornament to make with toddlers and babies.
If only I'd come across these when my two were a bit smaller. My eldest's hands are a little big now. The Christmas ornament would knock our tiny tree down for sure!
Want to try some handprint craft templates?
We have a few templates that are free to download: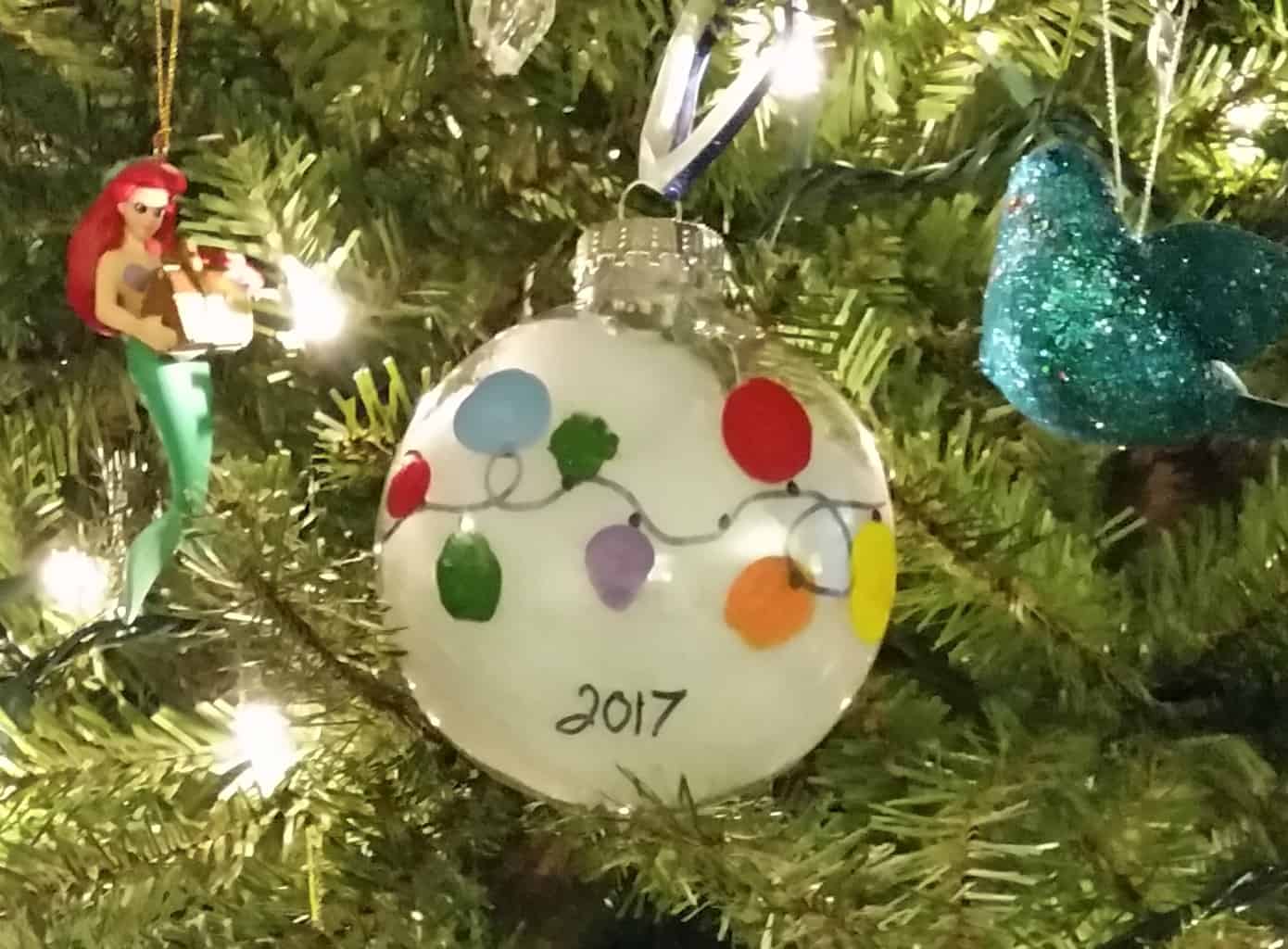 38. Thumbprint Christmas lights ornament
This thumbprint Christmas lights ornament from The Moody Blonde will be fun to make with toddlers, the whole family even. Each family member could add a print or two. Very pretty and a lovely memory for many years to come.
A clear plastic bauble, paint, a marker pen and some steady finger print makers are all you need! To make it white, fill with faux snow.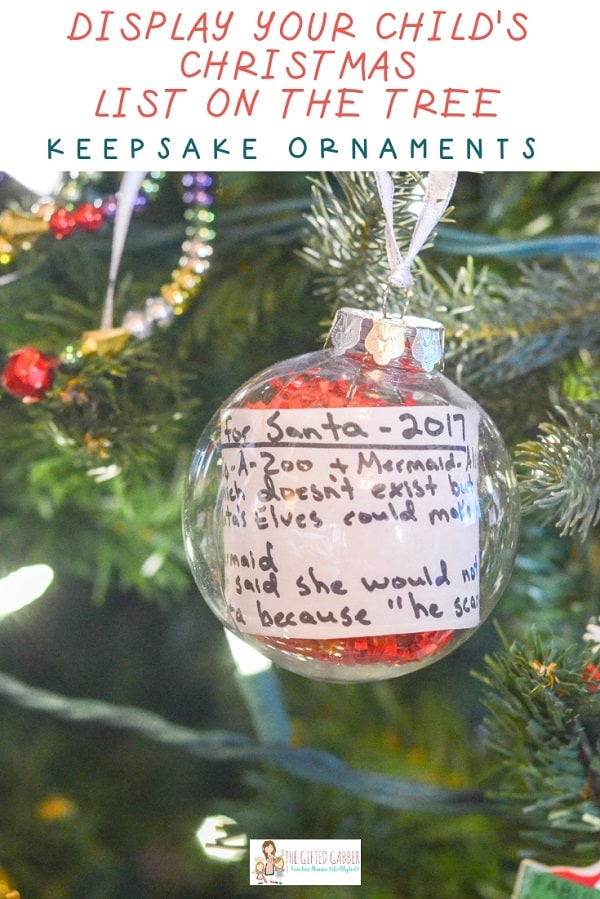 39. Christmas list ornaments for kids
I love this idea from The Gifted Gabber for these Christmas list ornaments. Write up your child's wishlist onto some paper and then pop it into a clear plastic bauble along with some festive streamers or tinsel. Done!
When they're older, they can write their own list of course. That's sure to keep the kids busy.
This is going to be a lovely Christmas ornament to make with toddlers and then through the years. It'll give you a lovely keepsake of your kids' changing interests.
That's if my son does ever find anything other than diggers and dump trucks interesting! We shall see.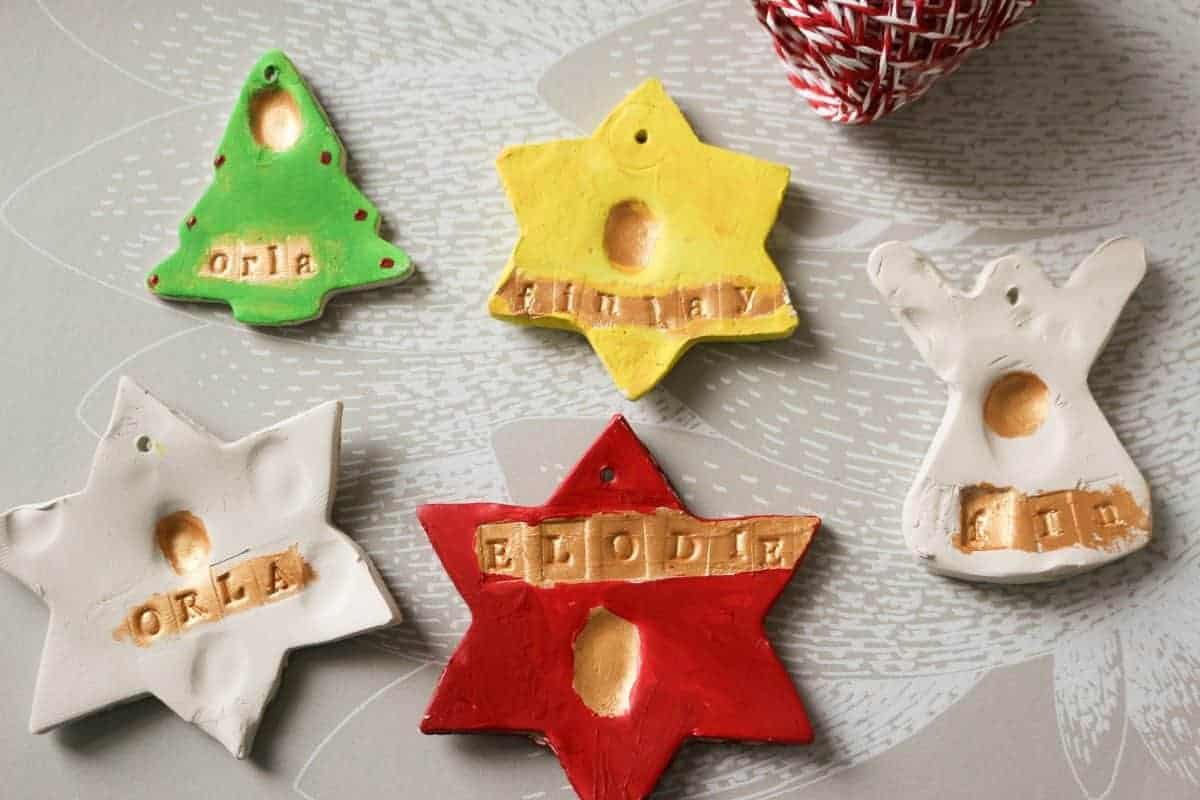 40. Fingerprint clay Christmas ornaments to make with toddlers
These fingerprint clay ornaments from Thimble & Twig are just gorgeous, aren't they? These are a must-try this year. I may even add the year to mark the occasion. Time to invest in some number and letter stamps!

40+ easy activities handpicked for busy moms of kids aged 2 to 6 years – because Christmas needn't be chaotic or cost a fortune!

Create gorgeous hand and footprint art with your little one

Help your kids write Santa a letter and receive a reply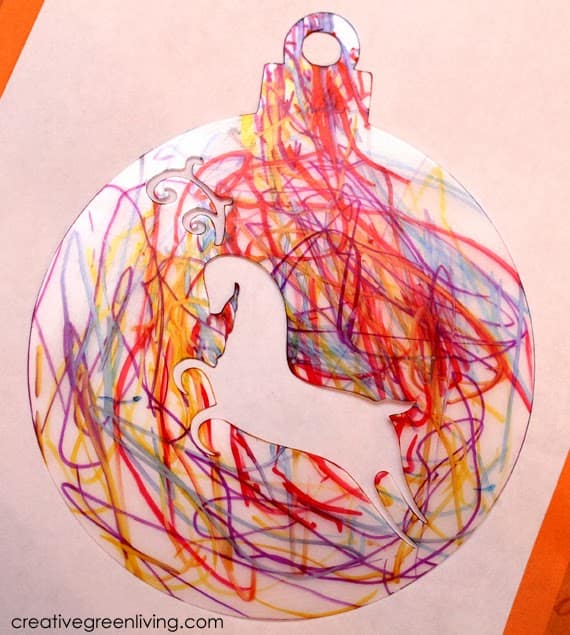 41. Shrink film Christmas ornaments
From Creative Green Living is this shrink film Christmas ornament– perfect to make with toddlers. It'll transform their squiggles into something colorful and perfect for the tree.
If you don't have a Cricut you can just cut a circle of shrink film and use a shaped hole punch to add a decorative touch (this set of hole punch shapes includes a Christmas tree and snowflake). Easy peasy and, even better, another mess-free ornament.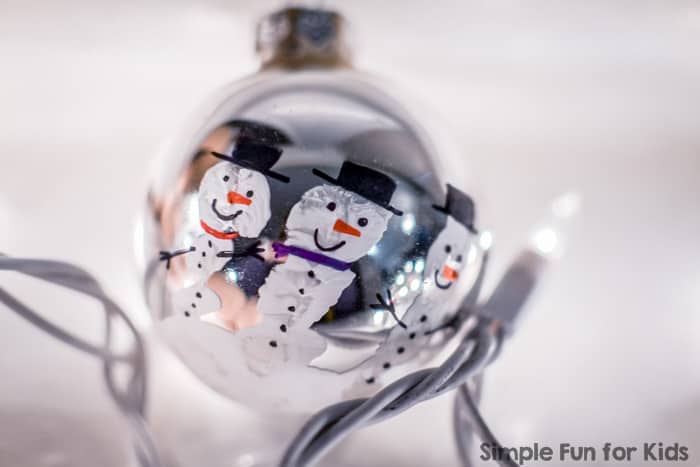 42. Handpring snowmen Christmas ornament
Here are some fun Christmas ornaments for kids to make – they can turn their handprints into cute little snowmen with this snowman tree ornament from Simple Fun For Kids.
So simple and so effective – not entirely mess-free but looks worth a little bit of clean up! (Just be sure to use plastic baubles like these, not glass for obvious reasons.)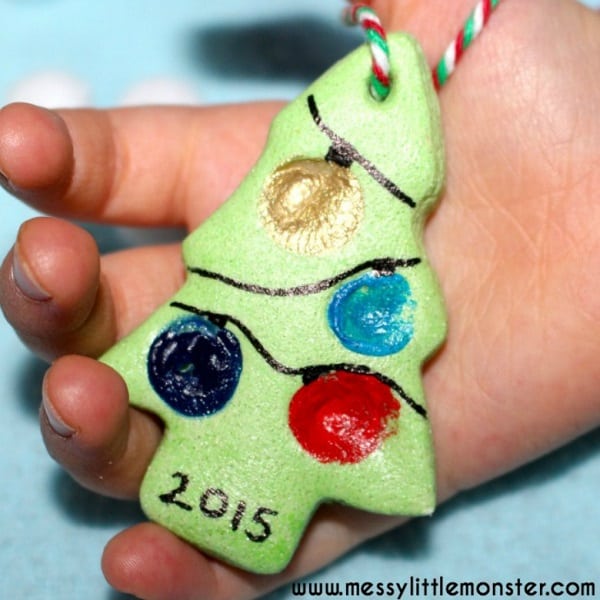 43. Thumbprint salt dough Christmas ornament
Another DIY salt dough Christmas ornament, this time from Mess Little monster using your kids' fingerprints to make dimples for Christmas lights. A fun Christmas ornament to make with your toddler. Very sweet!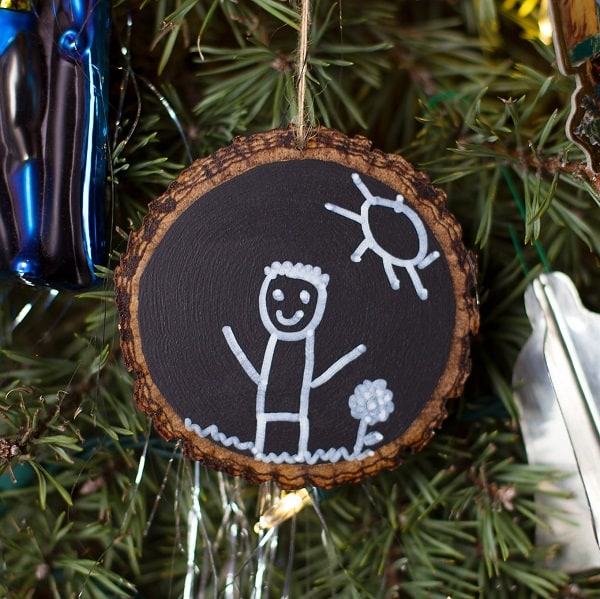 44. Chalkboard Christmas wood slice ornament
This cute chalkboard Christmas ornament from Fireflies & Mudpies will be fun for kids to make. Better for older preschoolers and first graders who are able to draw some sort of picture, stickman, house, car or anything more than a squiggle. Way beyond my two at the moment but I'm definitely going to be trying this in a few years!
(Grab some wood slices, chalkboard paint and chalk pens here.)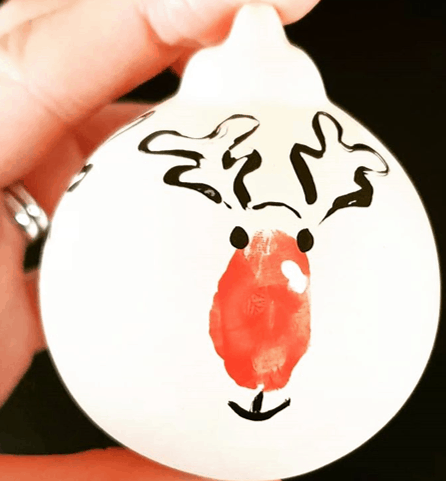 45. Thumbprint Rudolf Christmas ornaments
A fun Christmas ornament to make with toddlers – turn their thumbprint into Rudolf with this thumbprint Rudolf ornament from @cristynsharkey. Just a steady hand from mom or dad or an older kid to finish this one off. Click the link above for the full tutorial.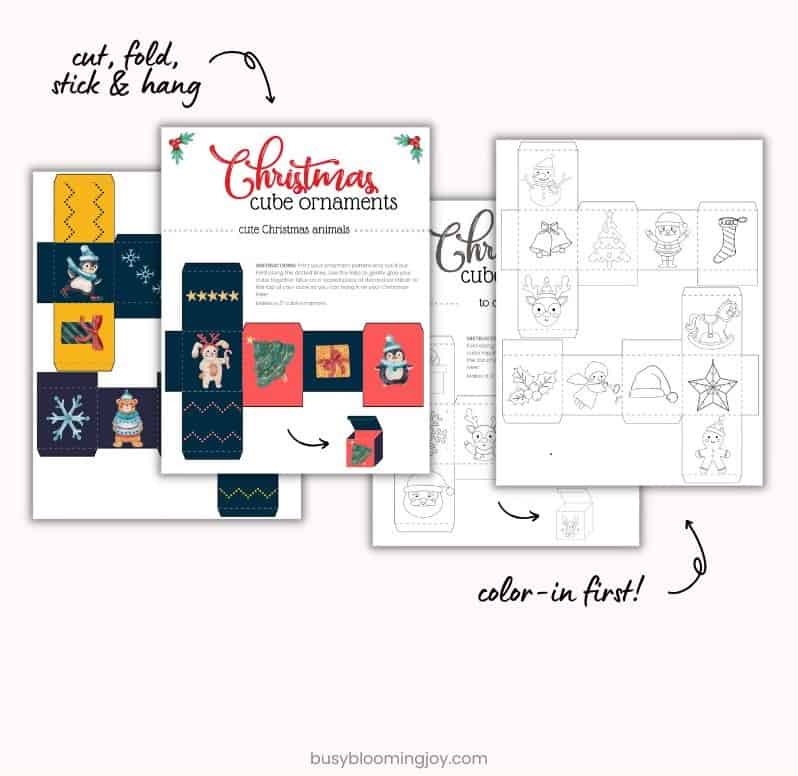 46. 3D Christmas paper ornament craft
Color, cut, fold and assemble to make an adorable handmade 3D Christmas ornament craft for kids with free printable.
But if your schedule is crazy schedule and you're not in the mood for wiping off stray coloring pencil from the table, there's a cute Christmas animal ornament template too. Click the link for the free printable.
Wrapping up these Christmas ornaments for kids to make…
Well, you should be spoilt for choice now when it comes to choosing a Christmas ornament to make with your toddler or for older kids to make. There are so many adorable ornaments to choose from!
Let me know which you try – I'd love to hear from you.
Looking for more Christmas arts and activities for your littles? Take a look at these:
Excited for Easter? Bookmark these for later.