I can't quite believe Christmas is less than 5 weeks away!  Time to get cracking on some homemade Christmas ornaments with my kids.
Some will be for our Christmas tree and some are going to become gifts for grandparents, uncles and aunts (hopefully for their Christmas trees!).  I've already forewarned my parents to prepare for lots of kid-made gifts this year…
My two little-ees are still both in the toddler/preschooler bracket (2.5 and so-nearly 4-year-old) and it's only in the last few months that I've kind of got the hang of crafting with toddlers.  Kind of.  Most days.
So with many a toddler craft fail under my belt, I'm always very wary of which ones to even try.  Key for me is the time it's going to take to prep and finish (since I never seem to have much) which is normally closely linked to the complexity of said craft!
For this reason, I've divided this list of homemade Christmas ornaments into the level of difficulty combined with suitability for little kids versus slightly older ones. (Bearing in mind this is my assessment as I'm yet to try them all).  So easy ornaments, more suitable for little ones, to a bit trickier or better for older kids.
Sadly, very few are no-prep and some will mean a bit of work and (even worse?!) a bit of mess.  But since the idea is that these Christmas ornaments will make it out year after year, hopefully, the time will be worth it!
Then there a few 'keepsake' ornaments which are a particular memory for this Christmas.  So handprints, fingerprints, kids scribbles, sorry, drawings, and so on.
Of course, all these Christmas ornaments should make lovely keepsakes as long as they live up to the job.  Just remember to put the date on!
Tips for making Christmas decorations to make with toddlers
To be honest, a year ago, when my kids were 18 months and nearly 3, even the thought of trying to do a 'craft' with them brought me out in a cold sweat…
12 months on, they're that much older plus I've learned a thing or two about how to maintain my sanity when it comes to getting out paint, glitter and glue.
So this Christmas, making ornaments for the tree with my kids feels a lot more manageable…And we've even managed some with considerable success if I do say so myself! (As hopefully, you'll see as you scroll through this list).
Onto those tips, most of which can apply to any craft you're thinking of doing with your toddler or preschooler.
1 – Choose your craft wisely – simple ones win every time!
If you're short of time and a little bit frazzled, I'd actually say don't craft at all.  Rather kick a ball or get out the playdough.  But I get it, Christmas is looming and you want to make some ornaments for the tree.  So go for stupidly simple, easy as pie and mess-free.  Mess-free always reduces stress for me!
Choice of craft is also important to get right when it comes to your kids' ability.  Not to say it's easy to know what that is until you're halfway through.  But believe me, you nearly always need to go simpler than you think.
2 – Remember – the PROCESS of creation is more important than the end result
At this age crafting should mostly be about exploration and experimentation with different materials and colors etc.  Understanding this definitely helped my mindset when it came to starting out a craft.  And a heck of a lot of frustration about the end result, I must say.
This can be hard when you want a cute looking Christmas ornament at the end of it all!  Only made worse by a tutorial you find on Pinterest where only the mom-made craft makes the photoshoot.
This is why I'm very choosy about which crafts make it on here – I don't want to lead anyone up the garden path in terms of what is actually possible craft-wise with a 2 or 3-year-old.  Crafts that are too difficult and end up in the bin or worse still, unfinished, do not make the cut!
Try to give your kid as much freedom as possible when it comes to their Christmas ornament. If it's too tricky, give your toddler a specific part of the craft to do, which they can then have complete freedom over.
3 – Do your prep or the tricky parts of the Christmas ornament out of sight of your toddler
This one only goes for the little ones that are unable to keep their hands to themselves!
As soon as I start to prep a craft (which doesn't happen that often since I normally go for stupid simple no-prep ones), one, if not both, of my toddlers wants to get involved.  (Or is that just my two?!)
Getting the bits and bobs done that they're not going to manage and everything prepped before little hands get involved, makes the whole thing much easier.
4 – Make the Christmas ornament yourself too
This helps your toddler visualize what exactly it is they're trying to make, plus it means you should definitely get some tree-worthy ornaments if all goes t*ts up!
I find this also makes it a lot easier to give my toddlers freedom over their craft and staves off my desire to do the craft for them.
Homemade Christmas ornaments for kids – the easier ones
So these are the ones which require less prep and are more suitable for younger toddlers to get involved with, or for older kids to do independently.
There are a few salt dough crafts – which are a bit more prep and do require some cleanup, but I've yet to meet a small kid who doesn't love smooshing, squeezing and rolling play dough or salt dough.  So they make the easy list.  Plus these crafts normally always come out well and really stand the test of time, just what you want for a DIY Christmas ornament.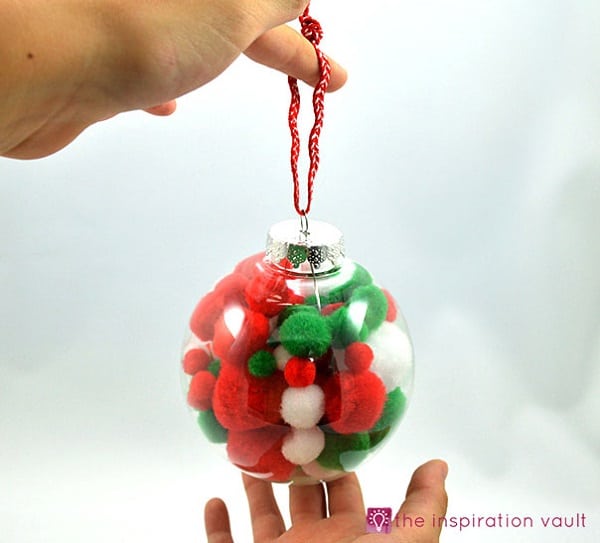 1. This pom pom Christmas ornament from Elle Marie Home (previously the Inspiration Vault) is a good exercise in fine motor for the little ones and, this is the best, completely mess-free!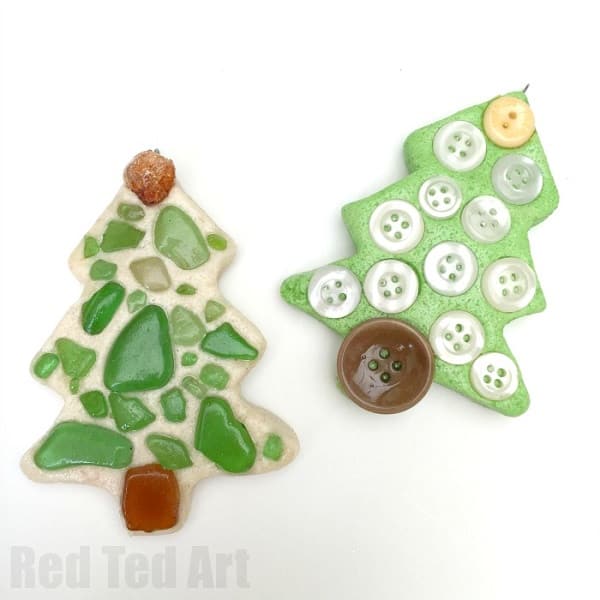 2. I love these sea glass Christmas ornaments from Red Ted Art – really, really stunning and would look just as good hanging in the window as on the tree.  If you don't have any sea glass you could try white buttons on green-colored salt dough as in the ornament on the right-hand side.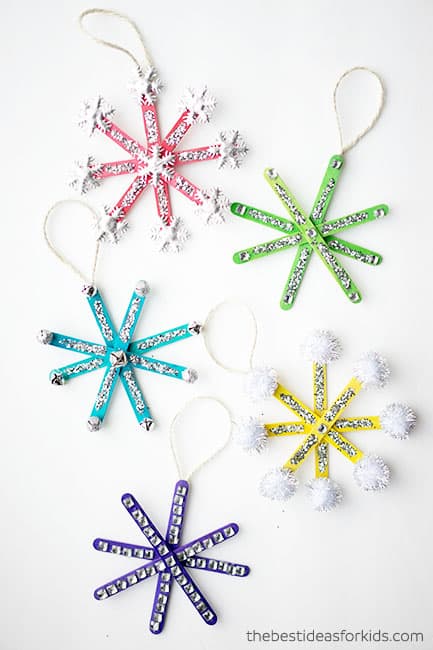 3. Kids can paint and decorate these popsicle-stick snowflake ornaments from The Best Ideas For Kids – aren't they just too cute?! Once the sticks are glued together, you can hand this one straight over to the littlest toddler to get busy with.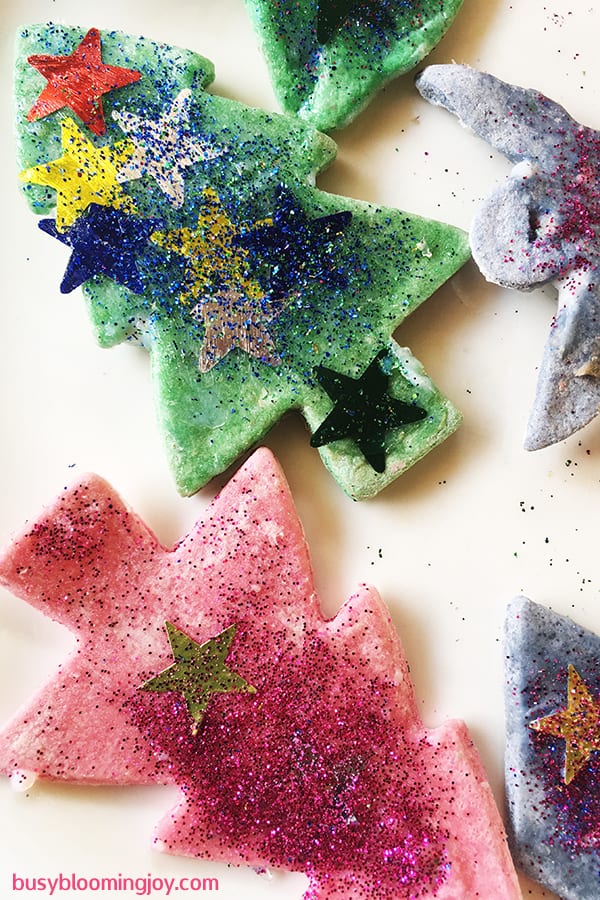 4. This is one of ours – super easy salt dough Christmas ornaments with stick-on stars and glitter.  My two loved making these and I must say, having come up with the decorating part of this on the spur of the moment, I'm a bit chuffed at how well they came out!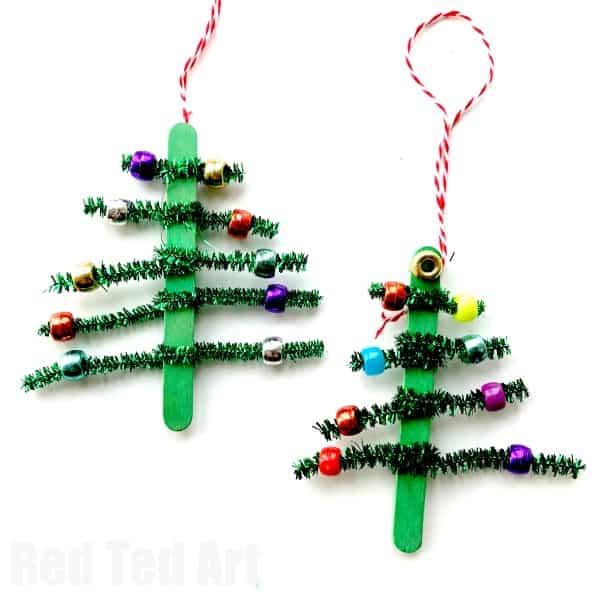 5. These pipe cleaner Christmas tree ornaments from Red Ted Art are simple yet very effective.  I think my two will need a bit of help from me with this one, but my daughter especially is going to love threading the beads on (at the grand age of 2.5 she's loves anything involving beads!)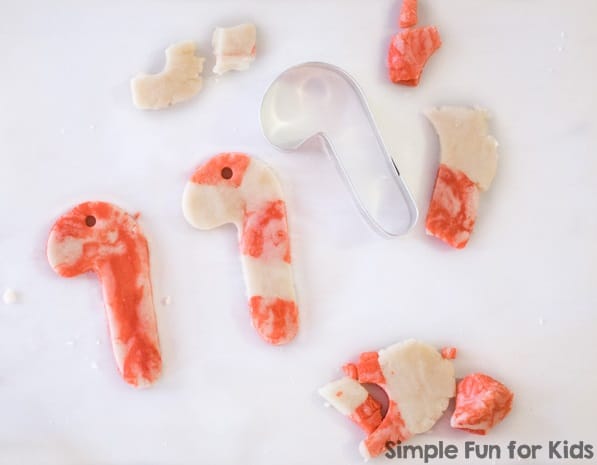 6. These candy cane tree ornaments from Simple Fun For Kids are probably the easiest salt dough Christmas crafts of the lot.  The beauty of them is in the mixing of the red and white salt dough, so no decoration needed.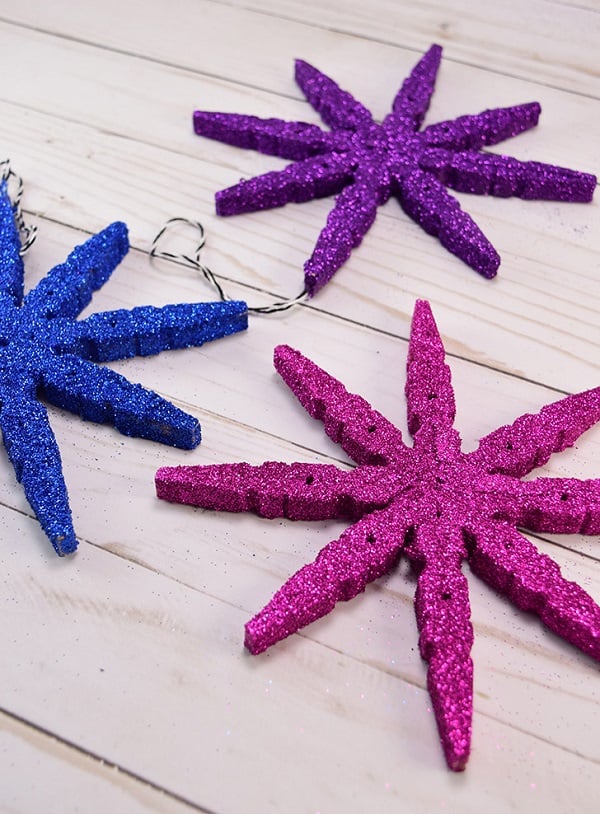 7. I absolutely love these clothespin snowflake ornaments from Dream A Little Bigger – aren't they just stunning!  Glitter and glue is a winning combination for Christmas. For toddlers?  Mmm, I'm not so sure… But if we can get ours to look anything as good as these ones it'll be worth the chaos! I think.  I'll get back to you on that one!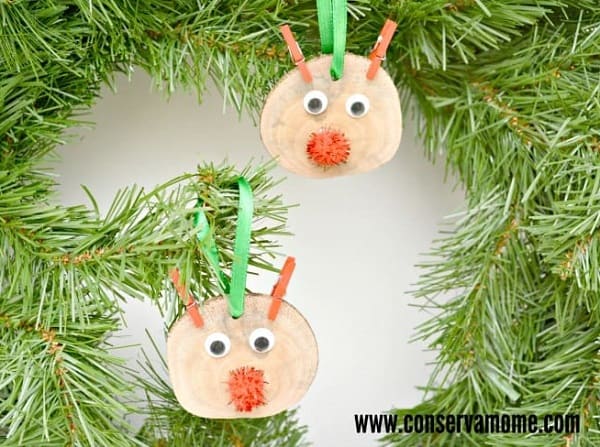 8. These homemade Rudolf wood slice ornaments from Conservamome are another simple yet toooo cute Christmas craft that I'm going to have to try with my kids.  I can see poor old rudolf ending up with more than 2 ears though and a few too many eyes since that's the way a lot of our crafts go at the moment, but we shall see.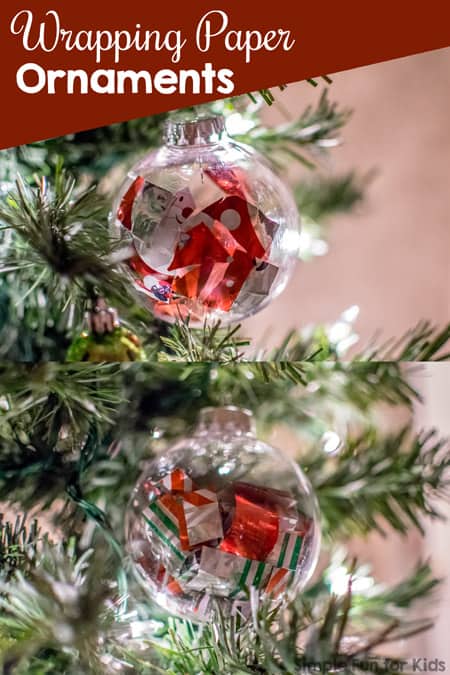 9. Another super easy DIY Christmas ornament are these wrapping paper baubles from Simple Fun For Kids.  Toddlers can practice their scissor skills cutting up some pretty wrapping paper and then have fun stuffing it into the plastic bauble.  No-mess = no-stress!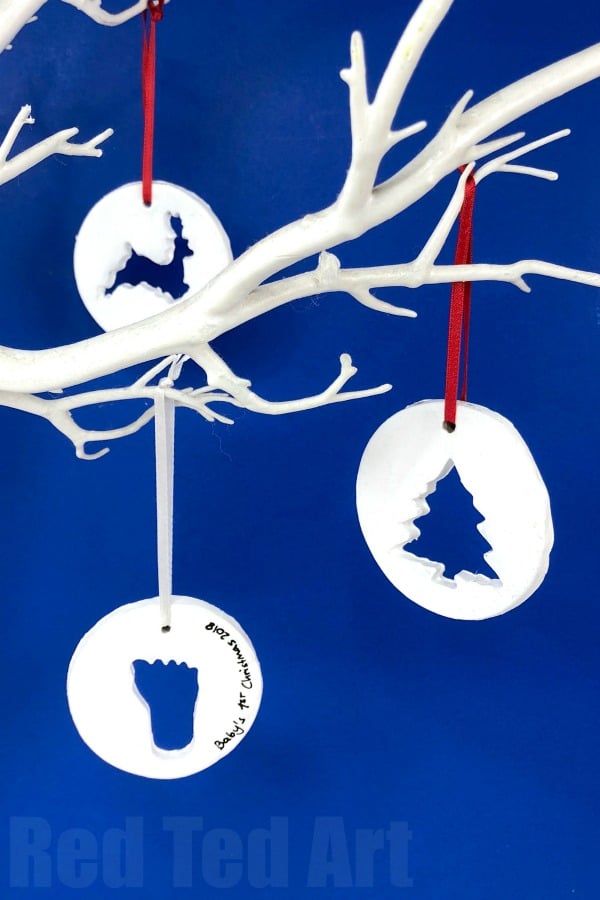 10. Rather than salt dough, these cookie-cutter Christmas ornaments from Red Ted Art use air dry clay which you can purchase easily, meaning there's very little prep for mom.  Aren't they just so simple and effective?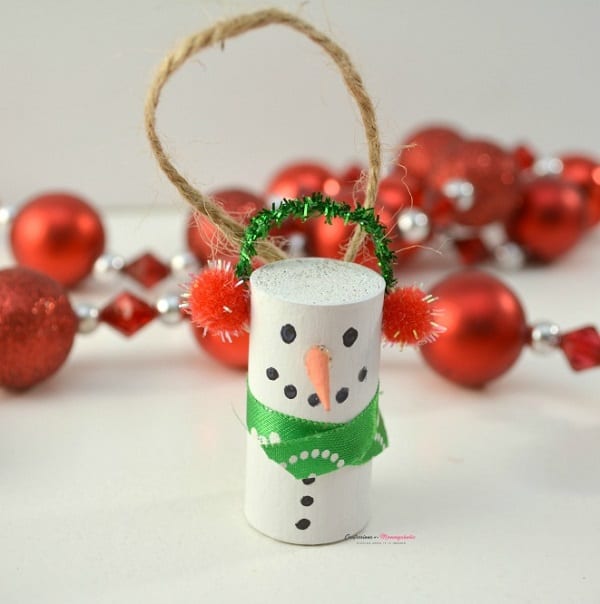 11. A cute little snowman ornament from Janine Huldie, made from a wine cork no less!  I particularly love the ear muffs.  My kids have a thing about snowmen for some reason (we've never yet managed to build one!) and will definitely manage to slap on some white paint.  Then they are going to love drawing on the eyes, mouth and buttons and finding a warm cozy scarf and a set of earmuffs.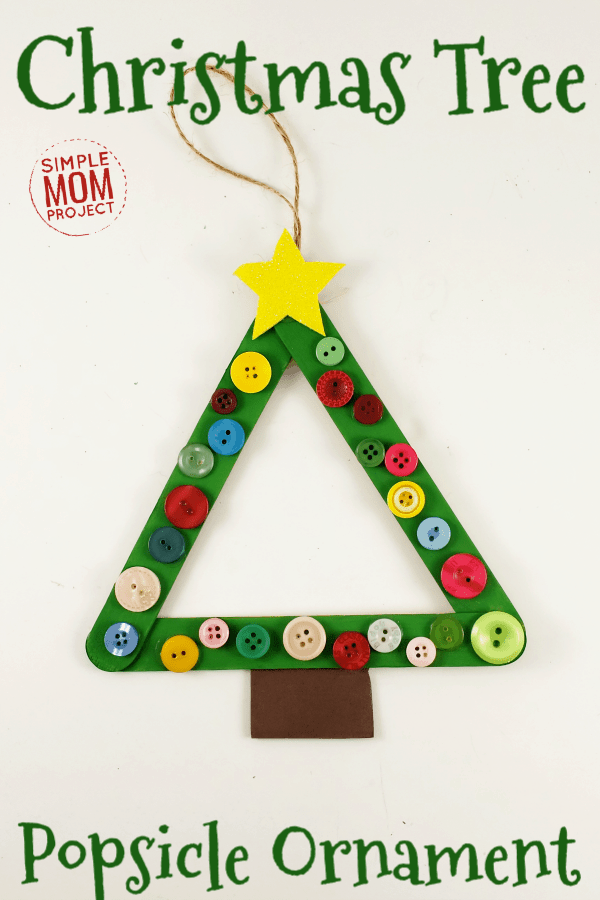 12. You're going to have to make the basic tree shape of this popsicle stick Christmas ornament from Simple Mom Project but leave the decoration part to the kids – and there's no need to limit the decoration just to buttons. I can definitely picture a bit of glitter coming out of the cupboard for this one!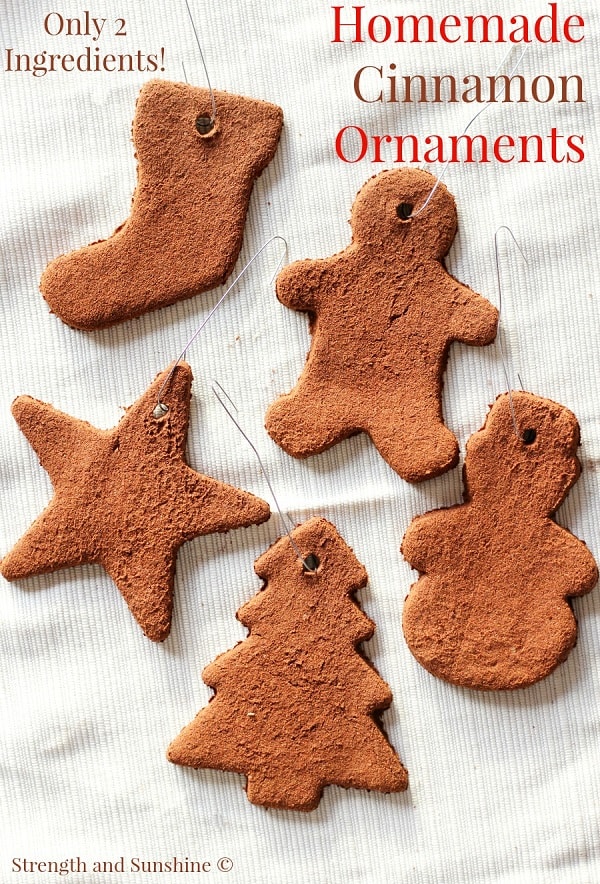 13.   This looks like more salt dough but it's not.  These homemade cinnamon ornaments are actually made from applesauce and cinnamon – which will be a lovely sensory experience for the kids, or anyone in the vicinity I should think.
I can just imagine the gentle wafting of cinnamon spice and apple as my two toddlers quietly smoosh the ingredients into a dough, Christmas music playing gently in the background while I drink a cup of coffee… Ha ha!  In my wildest dreams, but seriously, as long as I can manage to contain the mess and the sticky fingers, I'm excited to try this.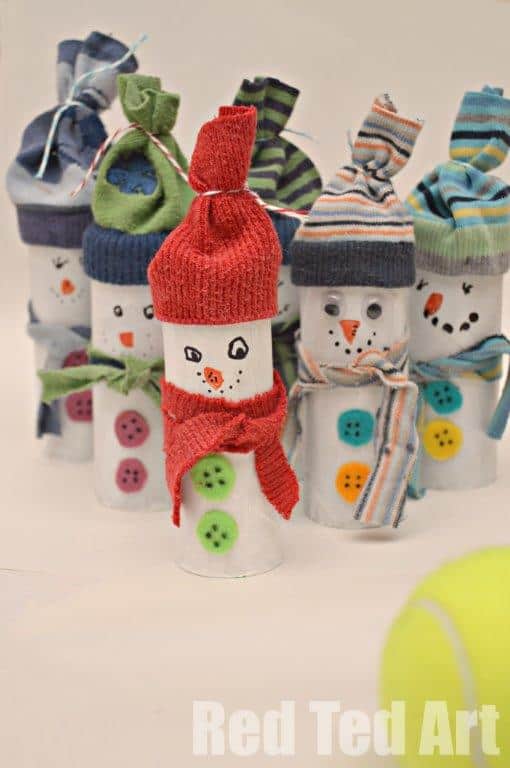 14. These toilet roll snowmen from Red Ted Art aren't strictly Christmas tree ornaments, but are so cute and could so easily be turned into them that I just had to include them.  This is sure to satisfy their love of snowmen and my kids are going to love dressing them – check out those hats!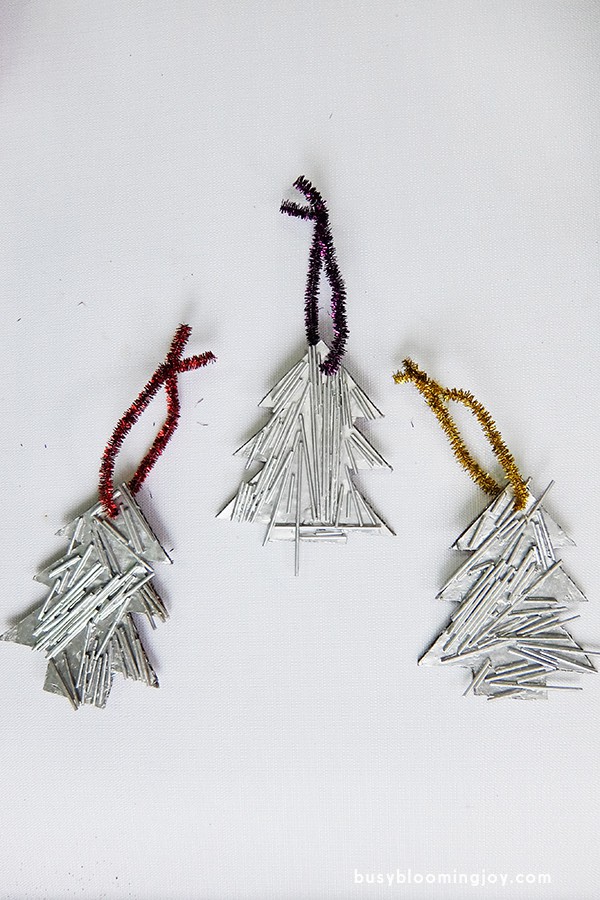 15. These spaghetti Christmas tree ornaments were a hit with my two toddlers – the only difficulty was getting them to not eat the dried pasta!  Like most toddlers – pasta, particularly spaghetti (or worms as they call it), is their absolute favorite food (savory that it!)
Homemade Christmas ornaments for kids – the slightly trickier ones
These ones either require a bit more prep or finishing off (=more time), or are less suitable for the little ones.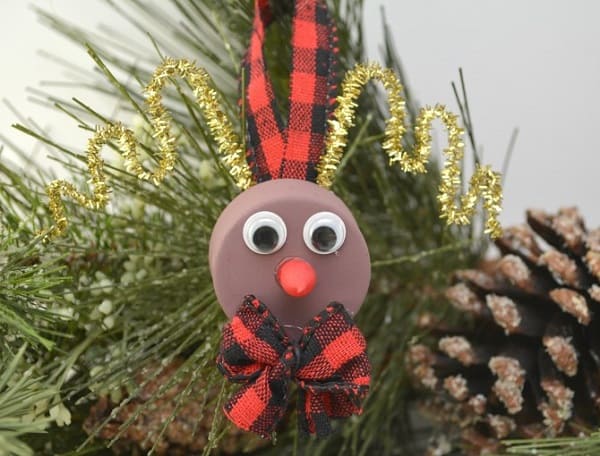 15. These homemade Rudolf ornaments from Ottowa Mommy club use a battery operated tealight as Rudolfs head so the candle light is his nose.  Switch him on and he's got a red, glowing nose – clever, hey?  Kids can help with sticking on the eyes and antlers but Mom will probably need to lend a hand with the bow at the front.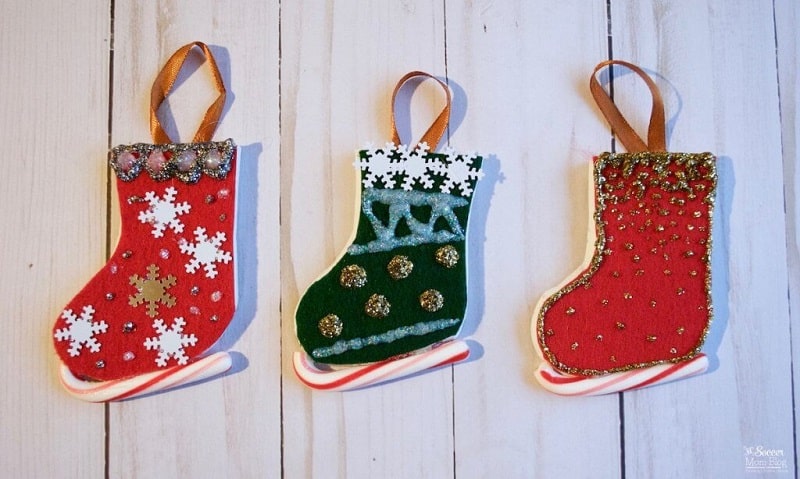 16.  These homemade Christmas ice skate ornaments from the Soccer Mom Blog are very clever.  Just one problem for toddlers, in my opinion; the want to eat the candy cane skate blade!  So definitely more suitable for older kids who have some sense of will power, plus cutting the felt is a bit advanced for little ones.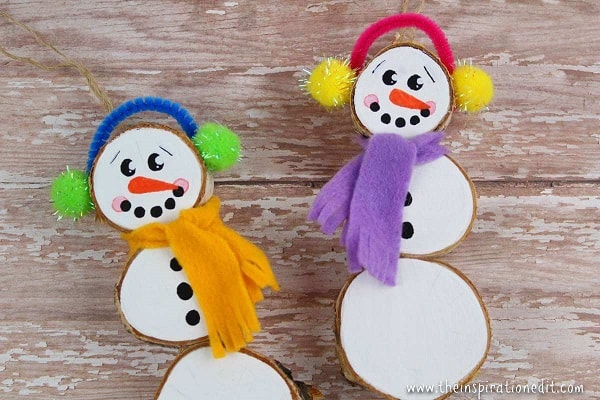 17. Some more homemade snowmen ornaments, this time from The Inspiration Edit.  These ones require the use of a glue gun which is definitely one for mom but kids can get stuck in on the rest.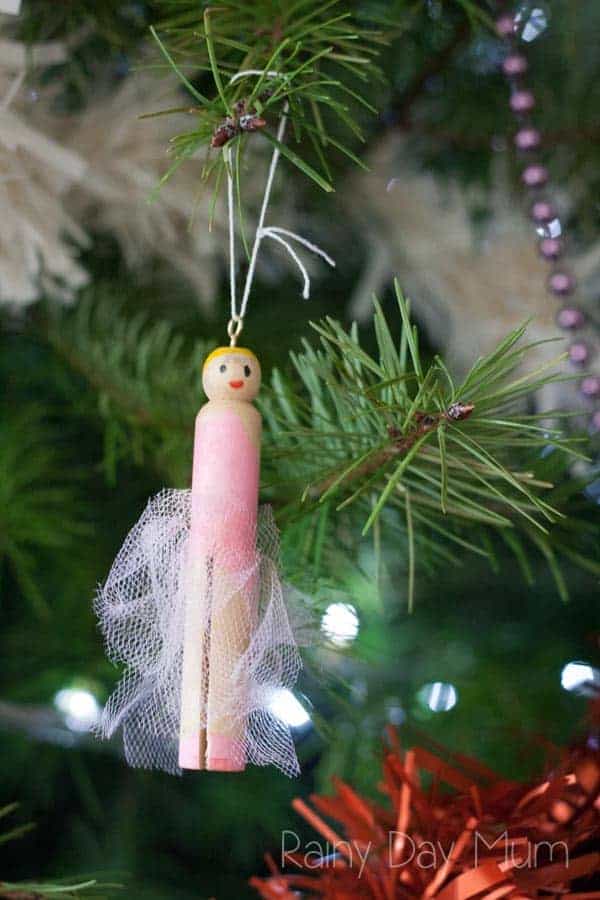 18.  These Nutcracker peg doll Christmas ornaments are such a classic and will add a bit of sophistication to your Christmas tree. My daughter will love helping with these, particularly making that frilly skirt as she's all about princesses and fairies at the moment.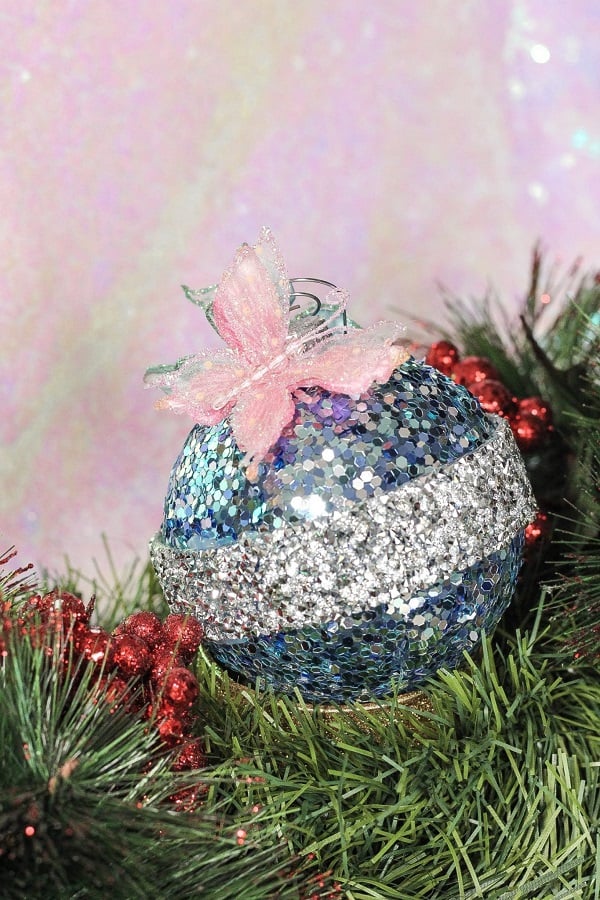 19.  Like a bit of sparkle?  Got a little girl?  These DIY Disney Christmas ornaments from Mommy Of A Princess are going to be a hit with my daughter for sure.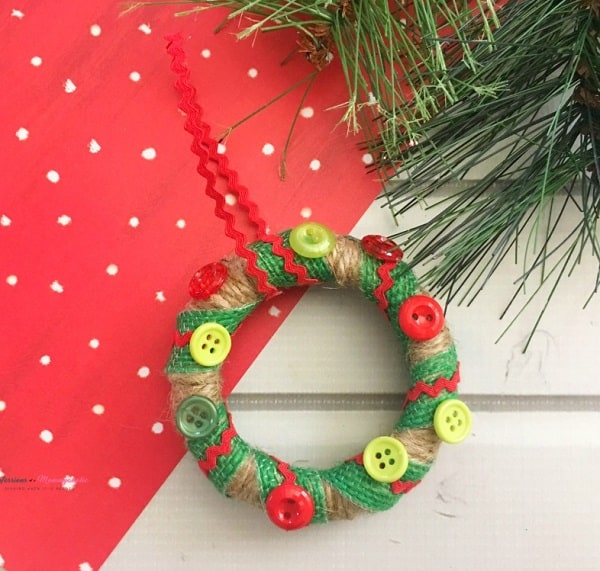 20. Definitely, one where you're going to have lead the way is this DIY Christmas wreath ornament from Janine Huldie (the body of the wreath uses a mason jar lid). Mom would need to do the wrapping of the string, yarn or other decorative threads to get a nice tight seal, but the kids could choose which threads to use and help add the final touches – buttons, sequins, glitter etc.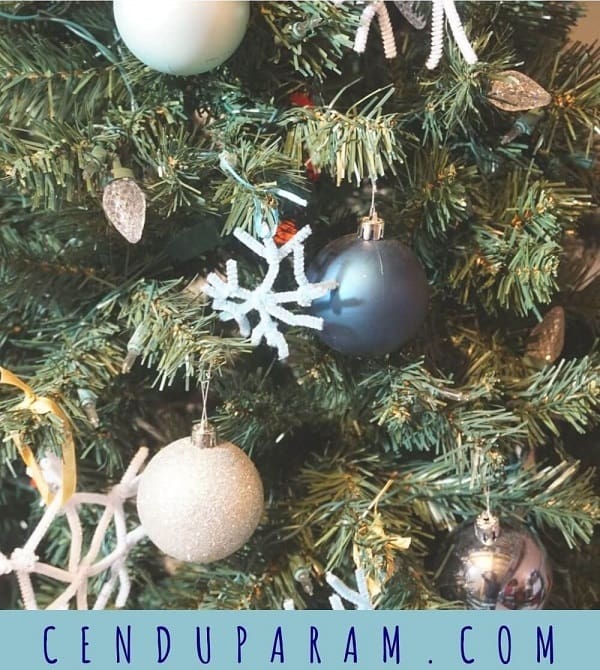 21. These snowflake ornaments (made from pipe cleaners) from Cendu Param are virtually no prep but look a bit tricky for the little kids. Mine love playing with pipe cleaners but I'm just not sure we're going to end up with anything that remotely resembles a snowflake just yet!
So…. as much as I'd love to follow my advice from the tips section (the process is more important than the end result, right?!) I'm not sure we really want to hang a screwed up ball of pipe cleaners on the tree! I think this one is definitely for the older preschooler so I'm going to leave it for a couple of years.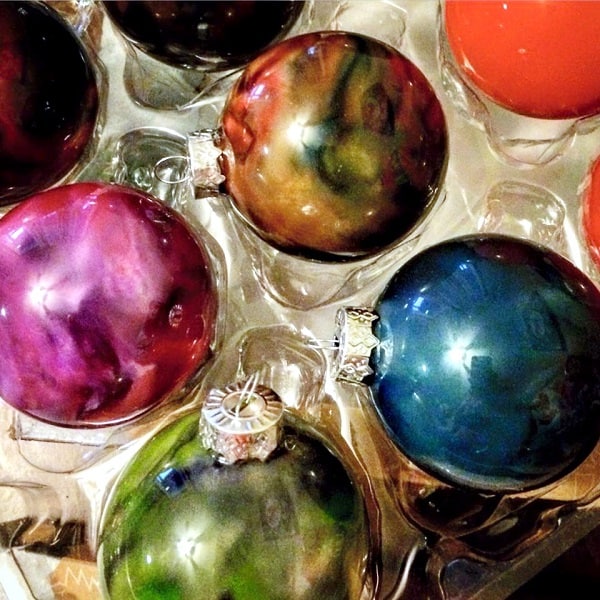 22. These melted crayon Christmas tree ornaments form Two Kids And A Coupon look very easy and no-mess!  Sounds good to me.  Kids can choose the crayons to use to make colors (good color mixing exercise for little ones) but Mom will need to take charge of the melting process as they're going to get quite hot.  Burnt fingers definitely won't add to the Christmas spirit!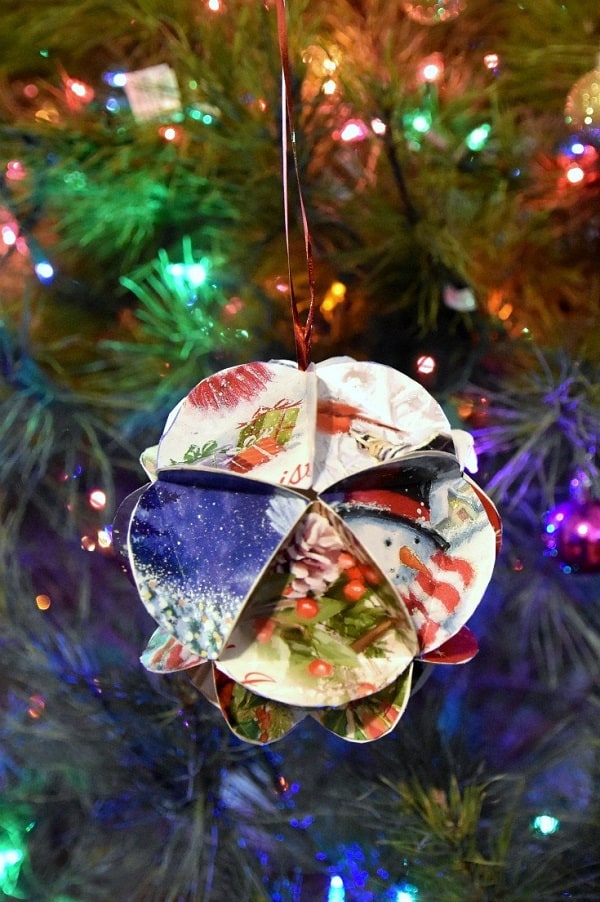 23. Whoa…. they look complicated I hear you say! But, having read the tutorial I actually reckon these 3D Christmas card ornaments from Whats Up Fagans won't be all that difficult to master.
Instead of using old Christmas cards (as in the picture) why not have your toddler color and decorate some white or colored cardstock.  Mom will then need to cut the circles and put it all together, but then I'm sure it could have a little extra decoration after (a bit of glitter perhaps?!) – another task for your kiddo.
Homemade Christmas ornaments for kids – extra special KEEPSAKE ones
Whether it's hand prints, finger prints or your kids 'artwork', these DIY ornaments are all about the keepsake element.

24. Perfect for the littlest hands (unless you have a massive Christmas tree which can take some weight…) are these salt dough handprint ornaments from the Best Ideas For Kids.
These would be lovely to do with a baby – if only I'd come across these when my two were a bit smaller.  My eldest's hands are a little big now (the Christmas ornament would knock our tiny tree down for sure!)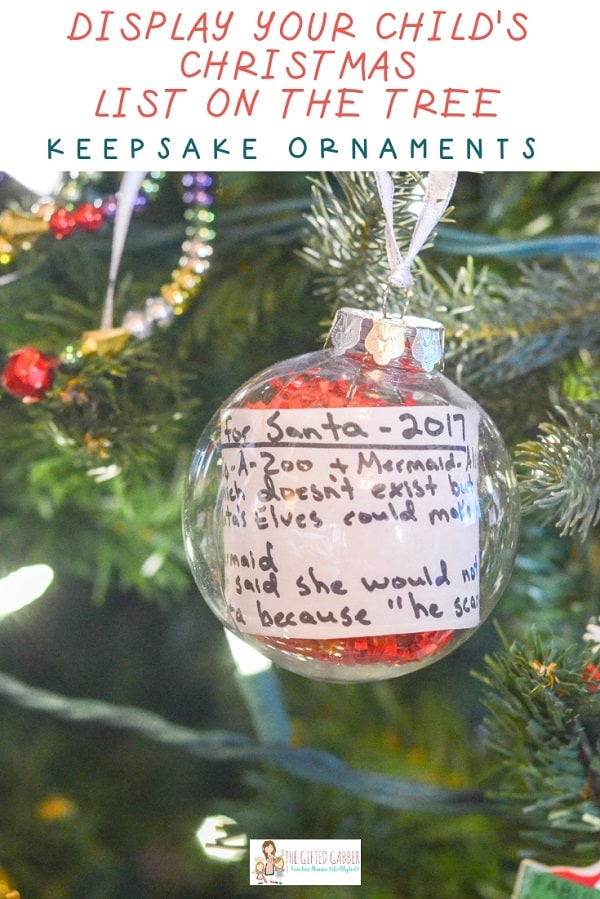 25. I love this idea from The Gifted Gabber for these Christmas list ornaments.  Write up your child's wishlist onto some paper and then pop it into a plastic tree ornament along with some festive streamers or tinsel.  Done!
This is going to be so lovely to do year after year and give you a lovely keepsake of your kids' changing interests. That's if my son does ever find anything other than diggers and dump trucks interesting!  We shall see.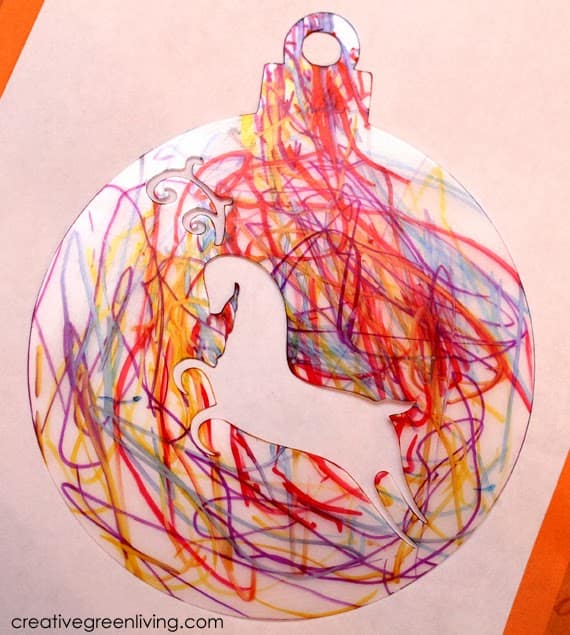 26.  This shrink film Christmas ornament from Creative Green Living transforms toddler squiggles into something colorful and perfect for the tree.  If you don't have a Cricut you can just cut a circle of shrink film and use a shaped hole punch to add a decorative touch. Easy peasy and, even better, another mess-free one.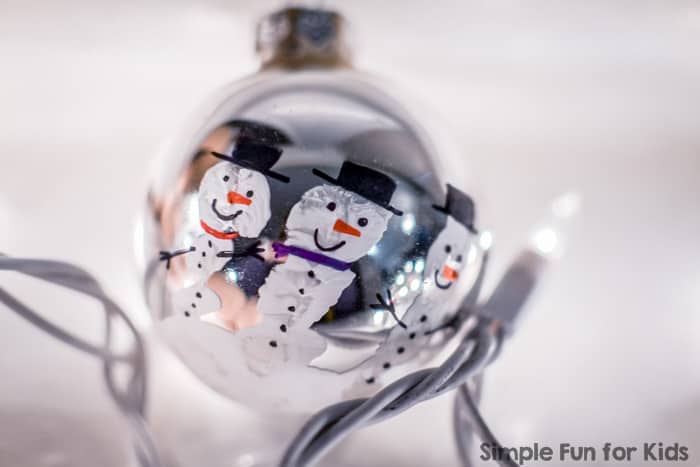 27.  What about turning your kids handprints into cute little snowmen in this Christmas tree ornament from Simple Fun For Kids?  So simple and so effective – not entirely mess-free but looks worth a little bit of clean up!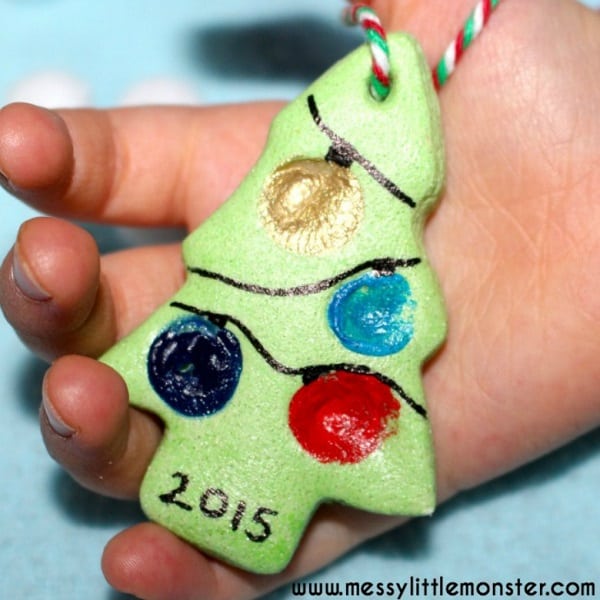 28. Another DIY salt dough Christmas ornament, this time from Mess Little monster using your kids fingerprints to make dimples for Christmas lights.  Very sweet!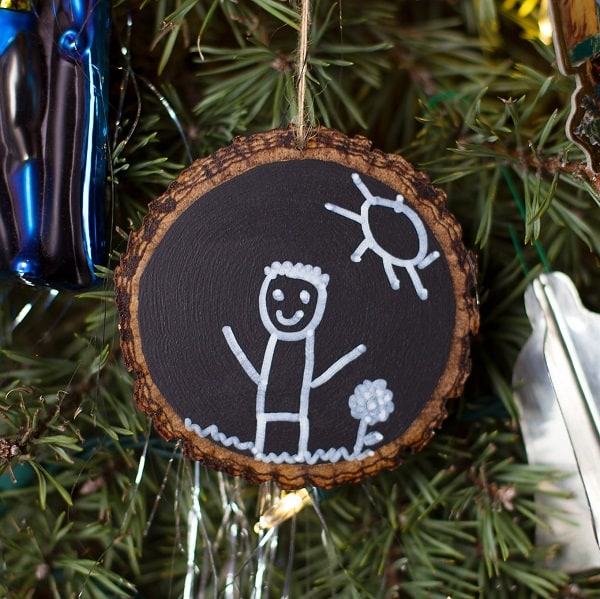 29. This chalkboard ornament from Fireflies & Mudpies is more for the older preschooler or first grader who is able to draw some sort of picture, stickman, house, car or anything more than a squiggle. Way beyond my two at the moment but I'm definitely going to be trying this in a few years!
Well, hopefully that's given you a little inspiration!  Let me which you try – I'd love to hear from you.
For more Christmas crafting with toddlers, why not try some homemade Christmas cards?  We've tried the two below and they were simple enough for my two to get properly stuck in, particularly the Christmas tree one: