Are you a cat-loving family? Or have a creative kitty-loving kiddy at home? You're in the right place! You'll be spoilt of choice with these cute and easy cat crafts for toddlers.
Here you'll find hands-on craft activities for your toddler with a feline theme. From paper plate cat crafts and Halloween black cats, to Cat In The Hat and Pete The Cat, you'll find plenty of cat arts and crafts for toddlers.
Cute cat-themed crafts for the toddler who simply adores cats and wants to pay homage to the family furrbaby. Or create their own version of their favorite cat character.
We hope you enjoy this list of simple and adorable cat crafts for toddlers that are purrrrfect for those budding creative minds!
This post contains affiliate links. If you click on one and make a purchase, I may receive a commission at no extra cost to you.
Paper plate cat crafts
There's no limit to the number of crafts you can make with a paper plate! They are so versatile. So this first CAT-egory of cat themed crafts for toddlers is those dedicated to this humble yet incredible useful craft material.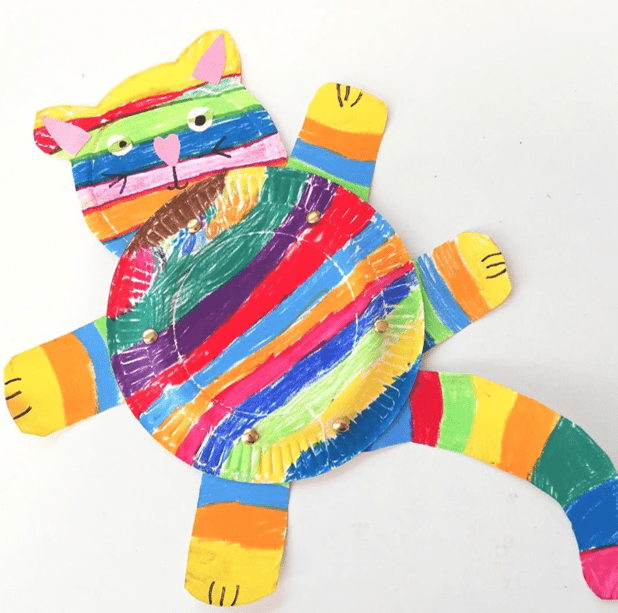 Moving Rainbow Cat Craft
Here's a cute and colorful cat craft for toddlers that moves too. Use crayons or toddler-safe paint to create the colored stripes, then connect together with brass paper fasteners. These allow each leg and the tail to move independently from the cats body.
Now your toddler can enjoy making their new feline friend wave and scamper about. Not only cute, this is a clever cat craft too.
Moving rainbow cat craft from askartelevaperhe.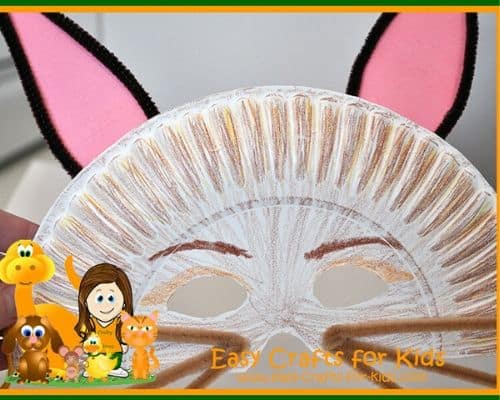 Paper Plate Cat Mask
This paper plate cat mask will be fun and simple for toddlers to make. They can personalize it as they choose. My toddler is sure to want to add a bit of glitter or sequins. It'll be a glamor puss in no time!

However, wearing the mask and getting into full kitty mode will be when the real fun begins. No doubt there will be plenty of meowing and purring and coming up with all sorts of cat related games for indoors and out.
Jump over to Easy Crafts for Kids for details
For more fun ways to get the kids moving, try these indoor gross motor activities. Or if it's nice outside, try these fun minimal prep outdoor activities.
Paper Plate Cat Craft
Make this cute cat craft with your toddler, using a colored or painted paper plate.
This cat will be fun to incorporate into some pretend play, he really looks quite the character. Don't you just love the feisty claws and bushy tail? I think this cat has had a bit of a fright!
Paper plate cat craft from my.crafty.house.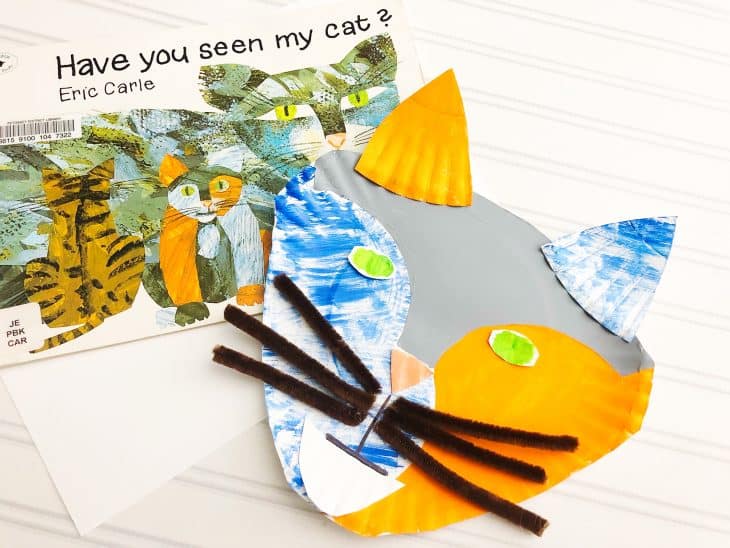 Have You Seen My Cat? Craft
Here's a simple cat craft inspired by Eric Carle's book, Have You Seen My Cat? With some paint and paper plates, your toddler will be able to recreate this well-known feline character.
Head over to Moms Who Save for instructions.
Cute cat craft templates
If you're looking for a simple minimal prep craft for your toddler, then templates can often help. These easy cat crafts for toddlers come with free printable templates.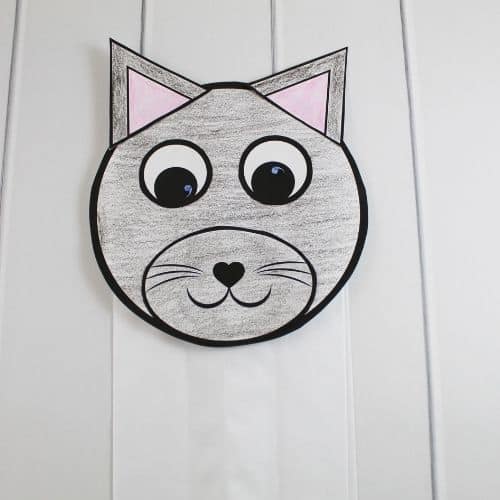 Paper Bag Cat Puppet Craft (with Free Printable)
Toddlers will enjoy making this super easy and cute cat puppet, using a paper bag and the free printable template. Simply, print, color, then stick together. Now your toddler can bring their cat to life. Time to play!
Visit Simply full of delight for more.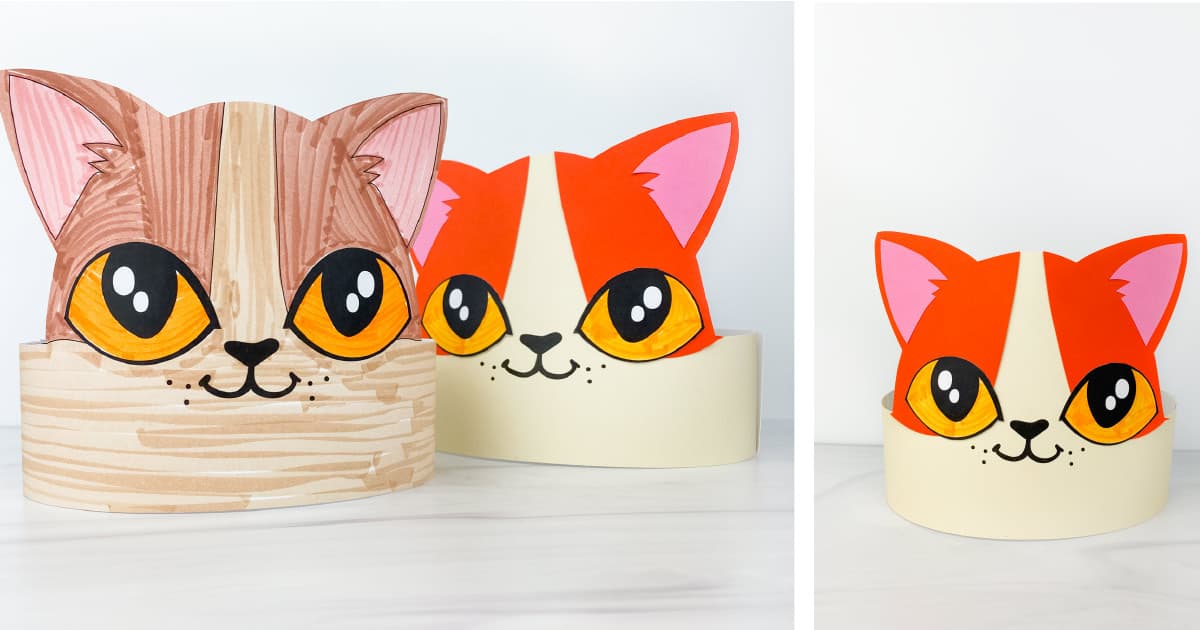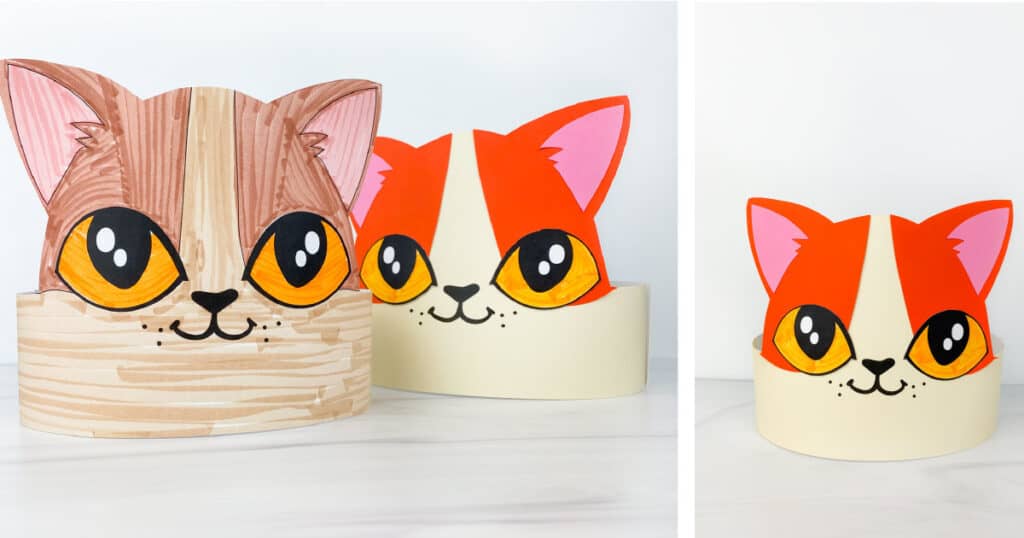 Cat Headband Craft For Kids [Free Template]
For getting into kitty character, a hat or headband craft is as good as a mask or puppet. This fun and easy headband cat craft will look super cute on your toddler too!

Download the free printable template, then your toddler can get coloring. Such a simple cat craft for toddlers that will appeal to older kids too.
Head over to Simple Everyday Mom for more.
If getting in to character with a hat or mask is popular in your house, try this paper plate Santa mask this Christmas.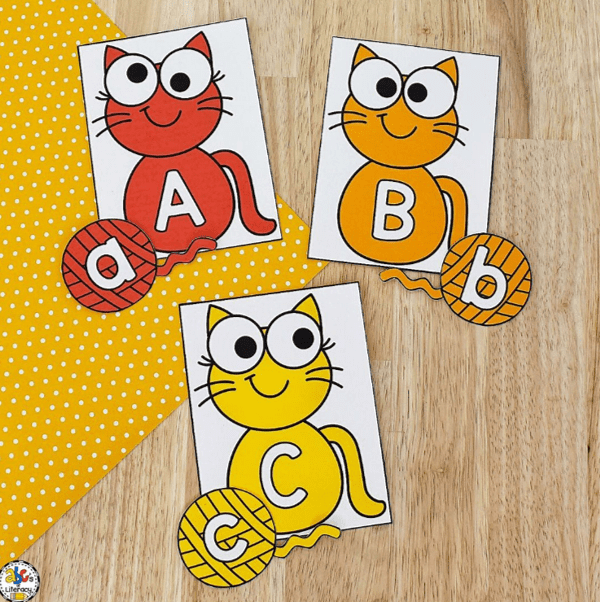 Cat and Yarn Letter Matching
Introducing the alphabet to your little one? Make it fun by using this ABC cat activity. They can start to learn the different letter shapes. You can sound each letter for them as you do the activity. Or simply stick to color matching by color.
Cat and yarn letter matching from abcsofliteracy.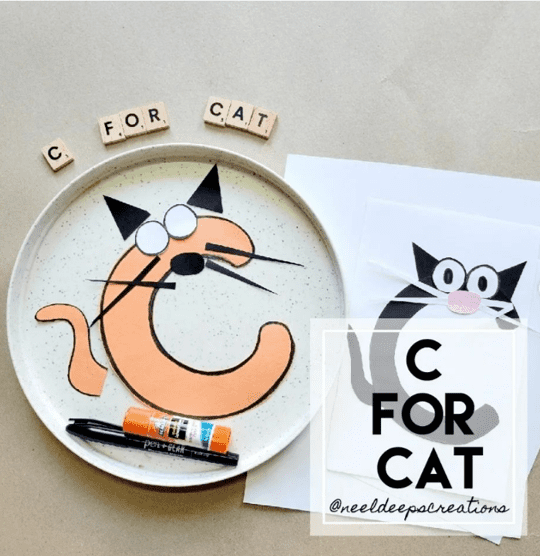 C is for Cat Craft Activity
Here's another fun cat craft with a learning element, this time specifically introducing the letter C in a fun and engaging way. What other words can your toddler think of that starts with a "C" sound?
C is for cat activity from neeldeepscreations.
For more simple crafts and activities, we've got plenty to keep little ones entertained, from easy arts and crafts ideas, to fun dry messy play, fake snow sensory bins and mess free indoor toddler activities.
More fun and easy cat arts and crafts for toddlers
If you haven't found quite what you're looking for yet, here are even more fun cat crafts for toddlers, good for any occasion.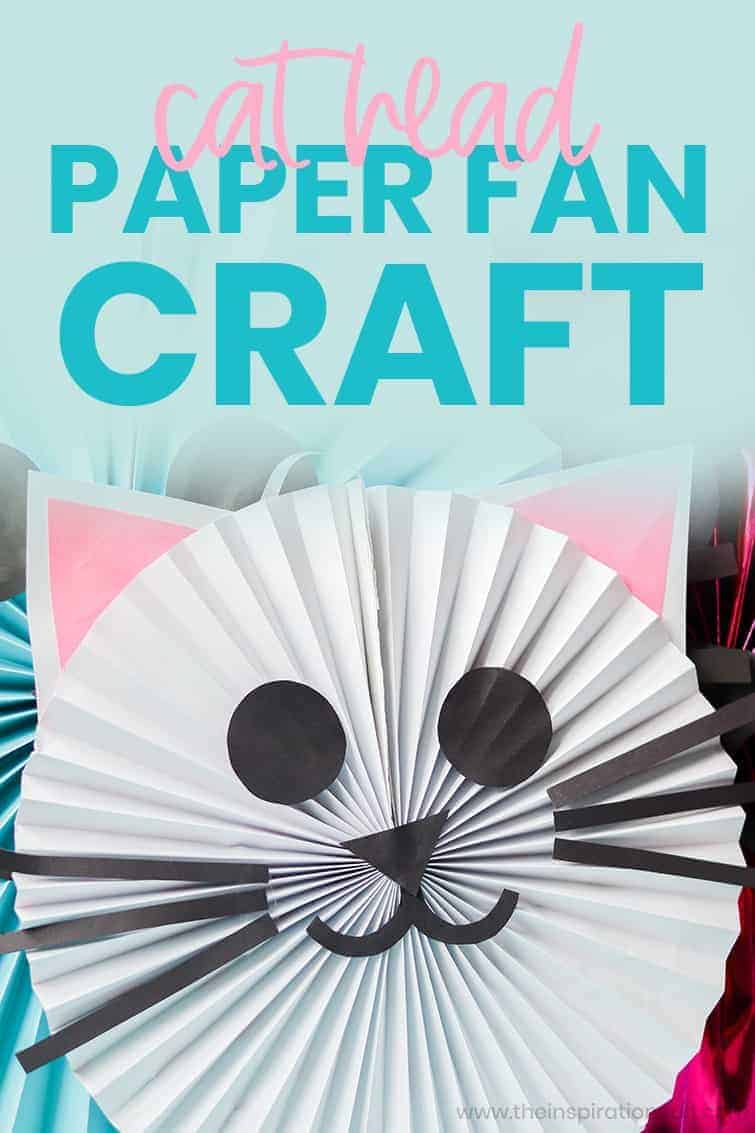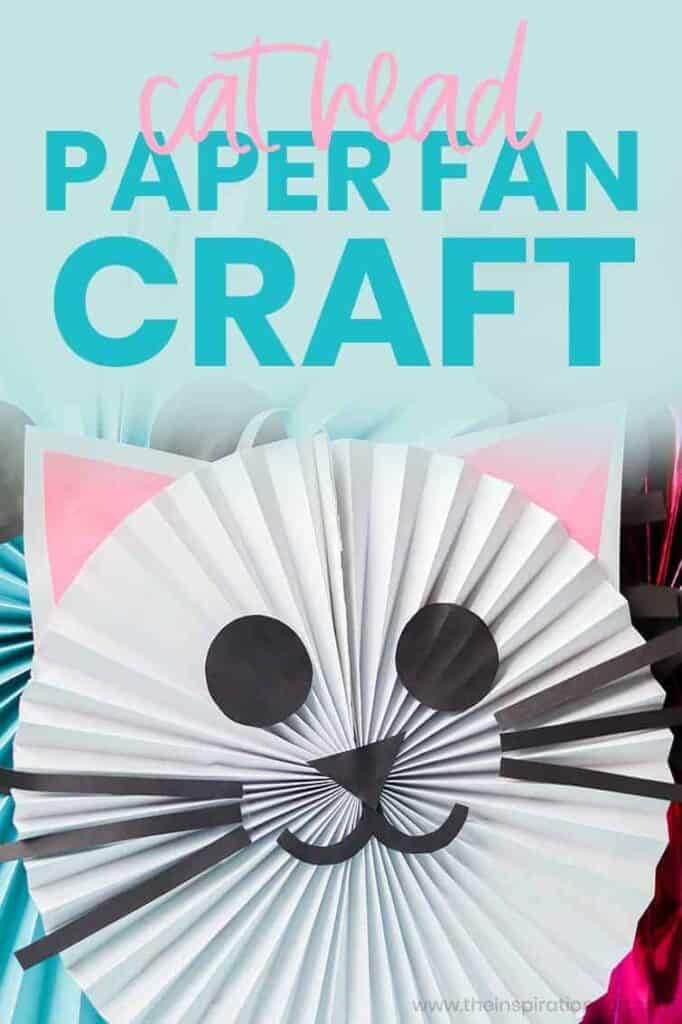 Cat Head Paper Fan Craft For Your Cat Party
This paper fan cat craft for toddlers might look a little tricky but it's easier than you think. This craft will be a fun way to introduce paper folding to kids – especially to the little ones. And if you have a cat-themed birthday party coming up, a few smiling paper cats will make the cutest decorations!
Head over to The Inspiration Edit for instructions.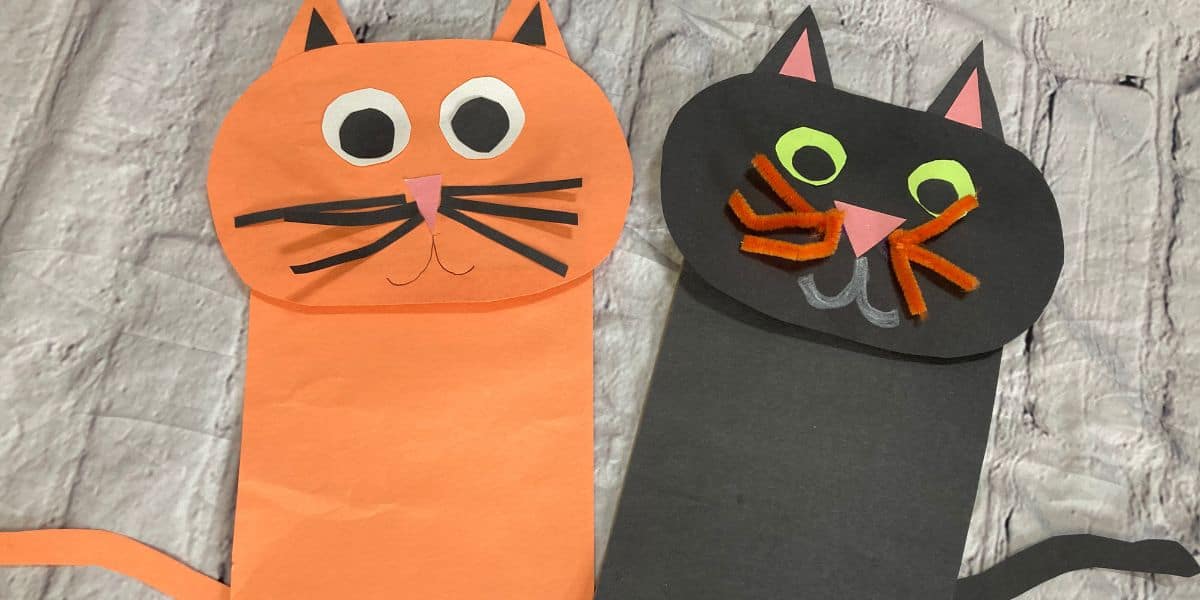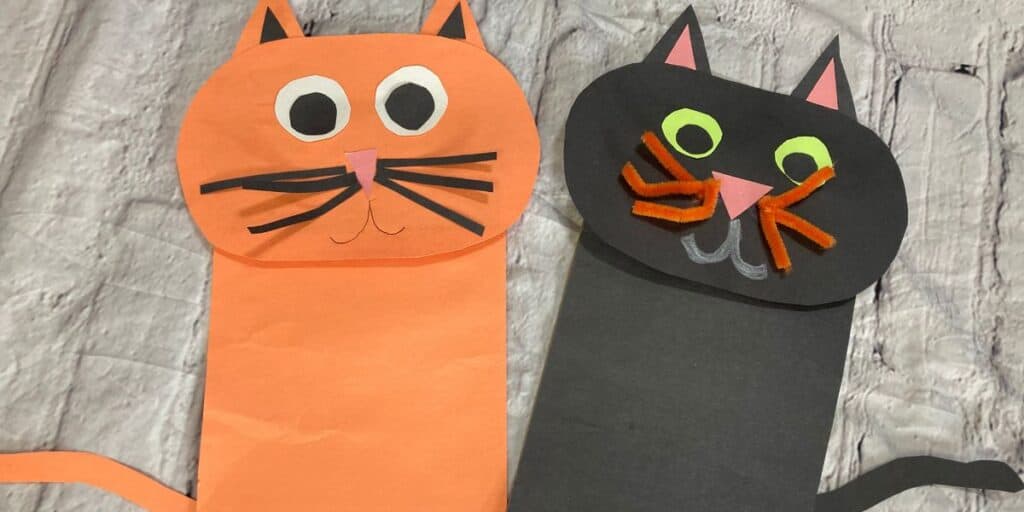 Paper Bag Cat Craft for Toddlers
Here are some more paper bag puppets for little cat lovers. This fun cat craft for toddler uses fuzzy wires (pipe cleaners) as whiskers and construction paper for the other features. Older toddlers can practice their scissor skills to cut the various pieces out, younger ones can just help stick them on which will be good for fine motor skills.
Head over to Mama of Minis for more.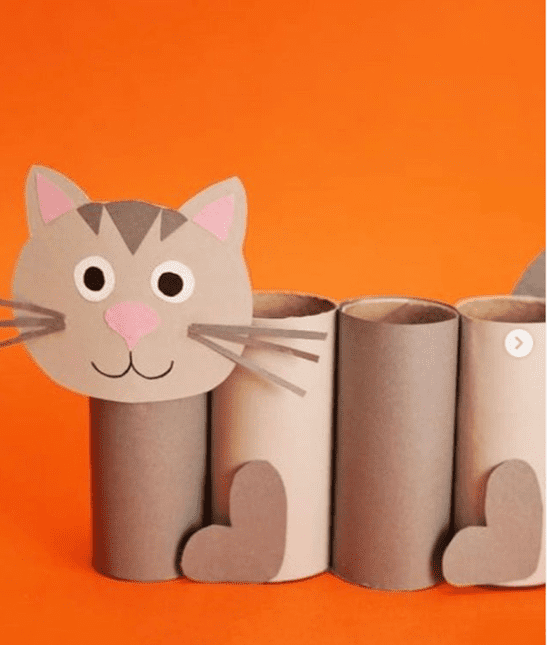 Pencil Holder Cat Craft For Toddlers
A fun craft that's functional too. Time to take out those toilet paper rolls and start making this adorable pencil holder cat craft for toddlers.
Pencil holder cat craft from children_art_club.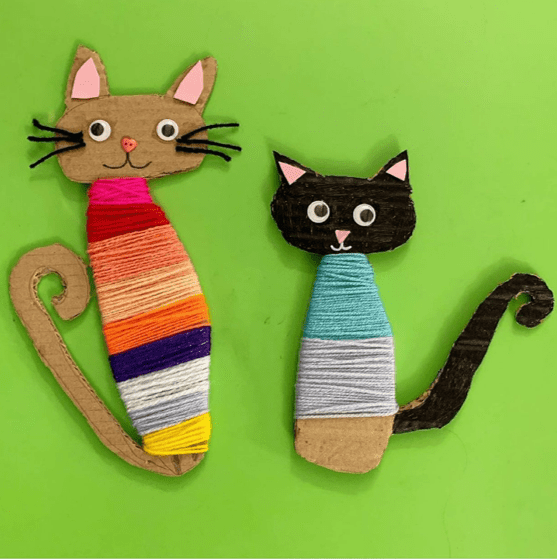 Cardboard Yarn Cats
Here's a cute cat craft for older toddlers to help strengthen their fine motor skills and develop patience! Simply cut cardboard into a cat shape and cover it with black paint. Or simply leave as is.
Then it's time to start the yarn wrapping. I can see me having to give my toddlers quite the helping hand, but you could skip that part altogether. Your toddler could color instead, then stick the eyes, nose and whiskers on.
Cardboard yarn carts from recycleandplay.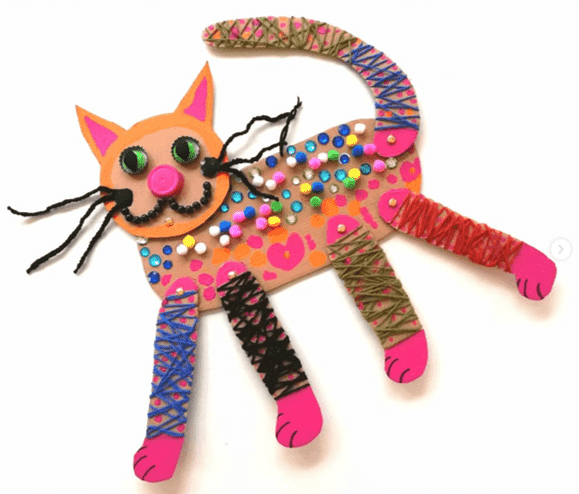 Bejeweled Cat Craft
How fabulous is this bejeweled cat craft for toddlers? Lots of opportunity to practice those fine motor skills here as they decorate the cat with gems, pompoms, yarn, and other trinkets. Simply pick and choose which materials you want to use dependent on the age and ability of your toddler.
Bejeweled cat from from askartelevaperhe.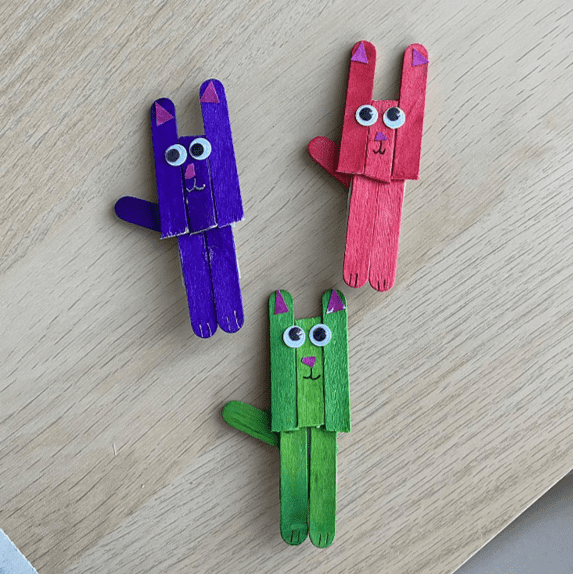 Popsicle Stick Cat Craft
I wasn't sure if these were cats or little monsters, so I showed my eldest. "Look at the nose and the ears, it's definitely a cat craft, mom!" Silly me.
These would make cute decorations for the refrigerator too. Just add a small magnet to the back of each cat.
Looking for more crafts and activities themed to an animal or creature?
"Cat In The Hat" crafts for toddlers
Dr. Seuss is a wonderful author, loved by kids of all ages, adults too. His books are filled with fun rhymes and creative stories that spark the imagination.
Here are some fun cat crafts for toddlers which will be the perfect accompaniment to the infamous Cat in the Hat book.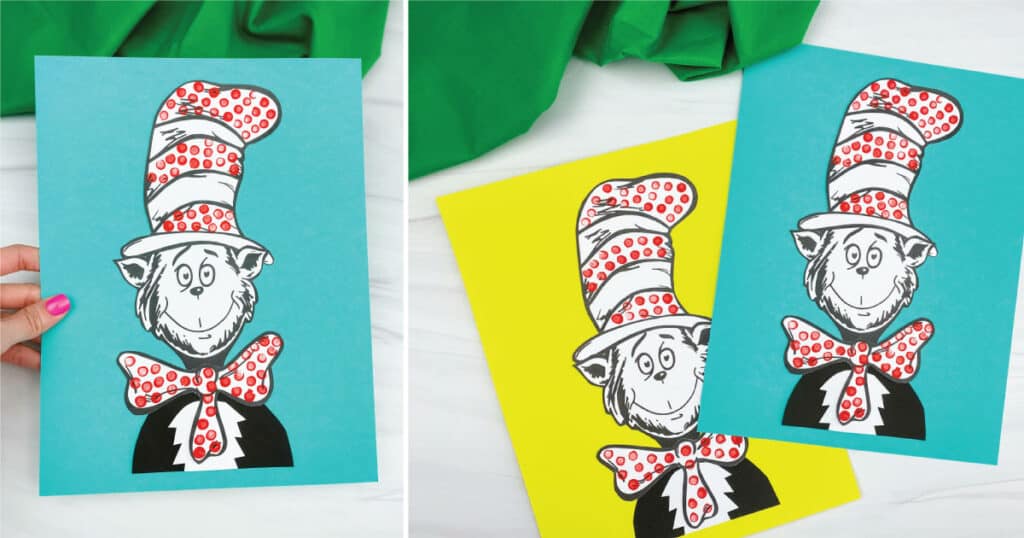 Cat In The Hat Craft [Free Template]
For a quick and simple afternoon craft, try this simple Cat In The Hat craft, ideal for toddlers. Download the free template and then your toddler can use a red dot marker to decorate the hat and bowtie.
(If you're feeling brave, why not turn this into a finger painting activity.)
Jump over to Simple Everyday Mom for details.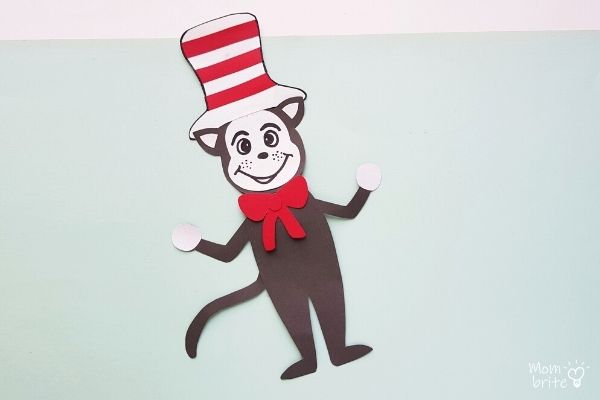 Dr. Seuss Cat in the Hat Craft [Free Template]
A super simple Dr Suess inspired cat craft for toddlers, which also has a free template. Any toddler who loves the book, will love creating their very own Cat In The Hat with this craft.
Head over to Mom Brite for instructions.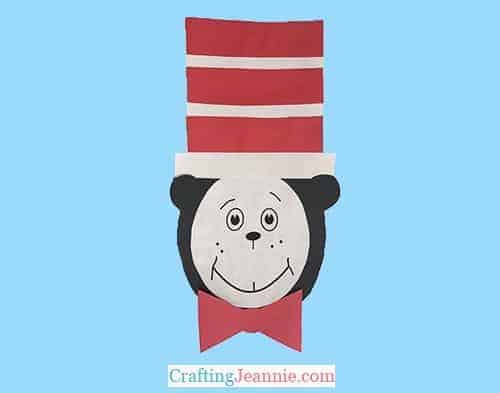 Cat In The Hat Craft (Free Template)
Here's another simple cat craft to accompany the book, also with a free downloadable template. A Cat In The Hat craft that'd make a great activity at preschool.
Visit Crafting Jeannie for details.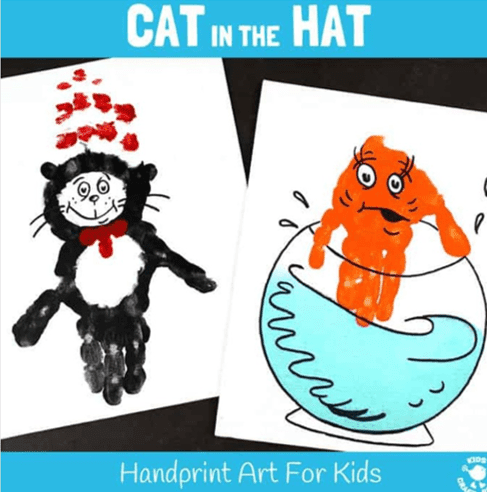 Cat In The Hat Handprint Art Craft
Paint your own Cat In The Hat using your toddler's hand and fingerprints. Although handprint projects can be a little challenging with little ones, they can turn out so well, like the ones pictured. Aren't they lovely?
Cat in the Hat handprint art from kidscraftroom.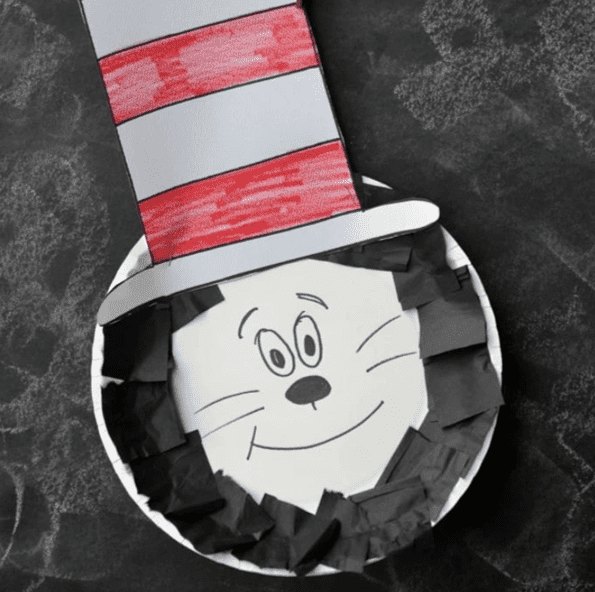 Paper Plate Cat in the Hat Craft
Grab those paper plates once again to make this adorable Cat In The Hat craft. Black tissue paper make up the beard, then finish it off with Dr. Seuss's famous striped hat.
Such a fun and simple cat craft for toddlers to accompany this popular book.
Paper plate Cat in the Hat craft from gluedtomycrafts.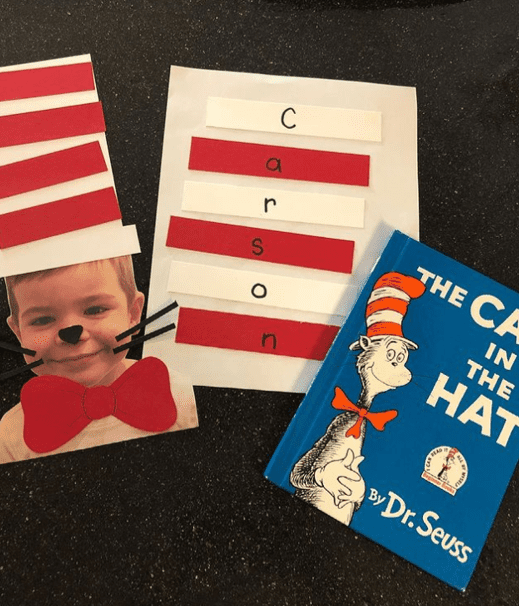 Cat In The Hat Name Activity
This Cat In The Hat craft is a fun activity to help toddlers learn the letters in and, eventually, spell their names. Perhaps the best part thought, is the addition of your toddler's picture as the cats face. So your toddler gets to become the Cat In The Cat! You can't say better than that, now can you?!
Cat in the Hat name activity from purplenestkidcreations.
Halloween & Black Cat crafts for toddlers
This line up of Halloween cat crafts for toddlers is anything but scary. Expect plenty of black cat crafts, with orange, pink or purple accessories. You can do as little as that to turn a regular black cat into a Halloween black cat.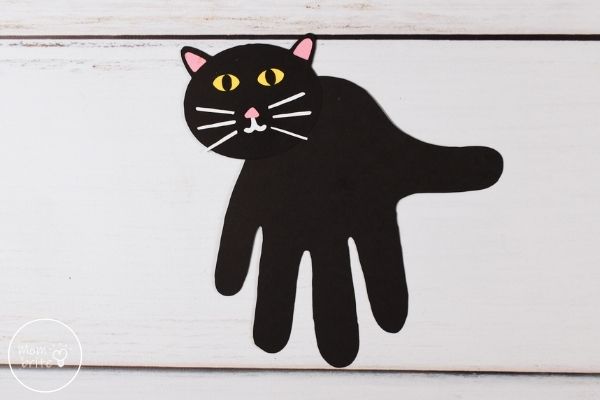 Handprint Black Cat Craft for Kids [Free Template]
A cute black cat craft for Halloween using your little one's handprint. All you need is black construction paper, scissors, glue, and the free template. Oh, and of course, your toddler's cute little hand.

Such an adorable craft that'll make a sweet memento of the season.
Head over to Mombrite for instructions.
For adorable personalised cards using your little one's tiny mitts, try these handprint birthday card ideas. Or check out our very own free Valentine's handprint art templates.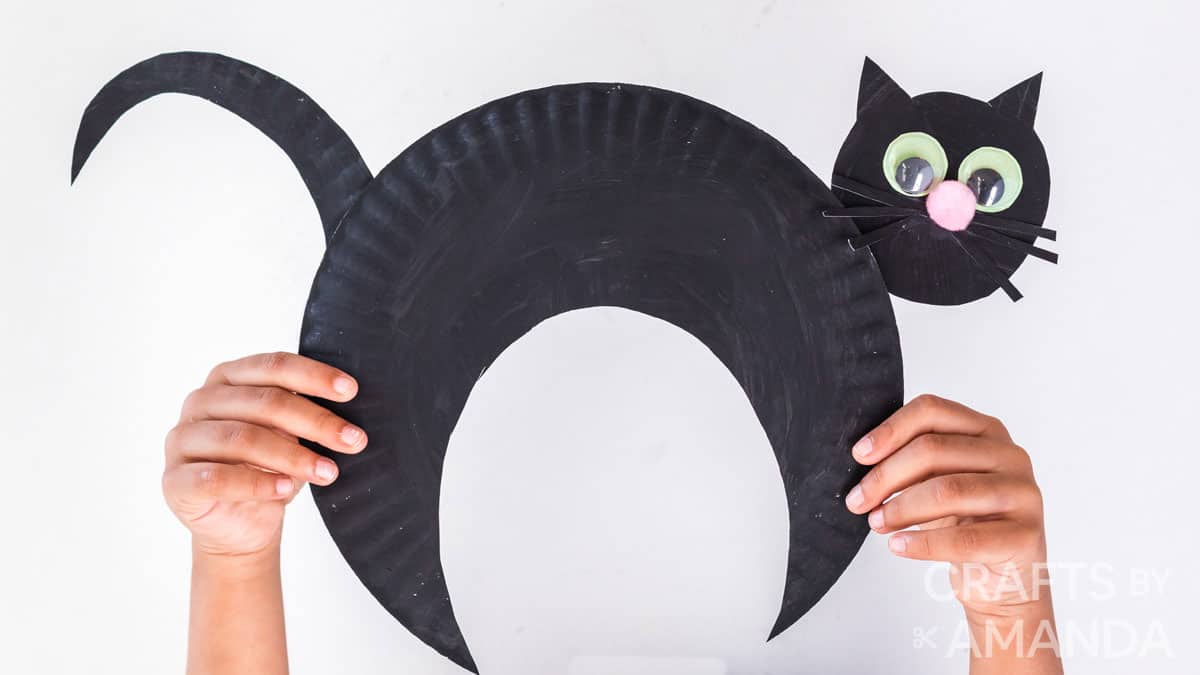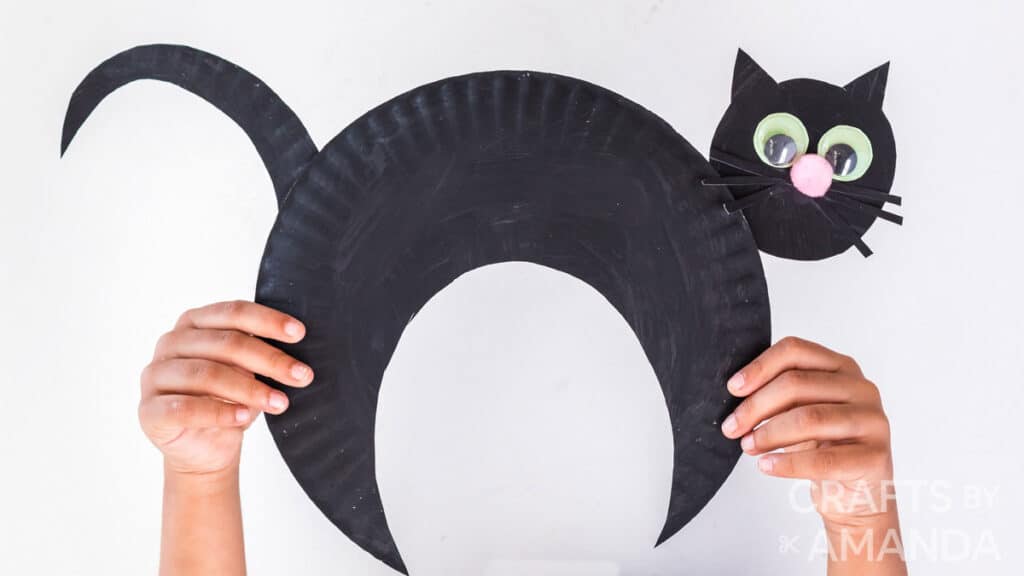 Paper Plate Black Cat Craft
This Halloween cat craft cleverly uses a single paper plate to create the body, head and tail. Simply paint it black, cut it out and add googly eye, nose and whiskers.

Such a cute black cat craft and, with those pointed feet and humped back, it's perfect for Halloween.
Head over to Crafts by Amanda for details.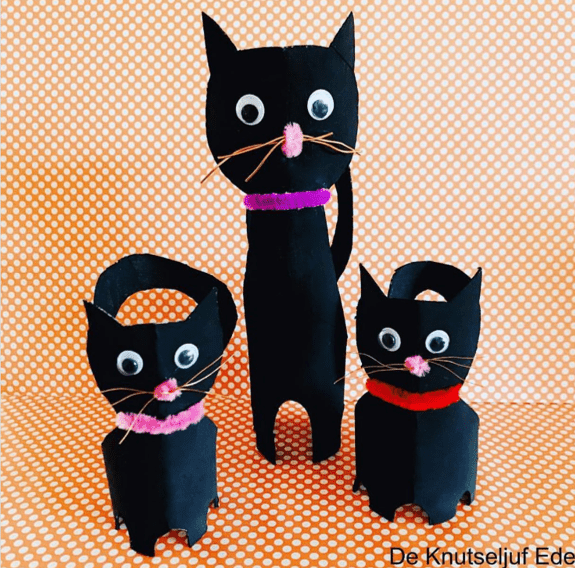 Toilet Paper Roll Halloween Cats
Whether it's Halloween or not, toddlers will love creating their very own family of black cats. They are simply adorable and would provide my little ones with so much fun. This cat family would definitely be with us for life, not just for Halloween.
Of course, this cat craft for toddlers isn't limited to black. Simply change up the colors if your toddler so desires.
Toilet paper roll cats from deknutseljuf.
For more fun and creative ways to use old cardboard tubes, check out this list of fun and easy toilet paper roll crafts.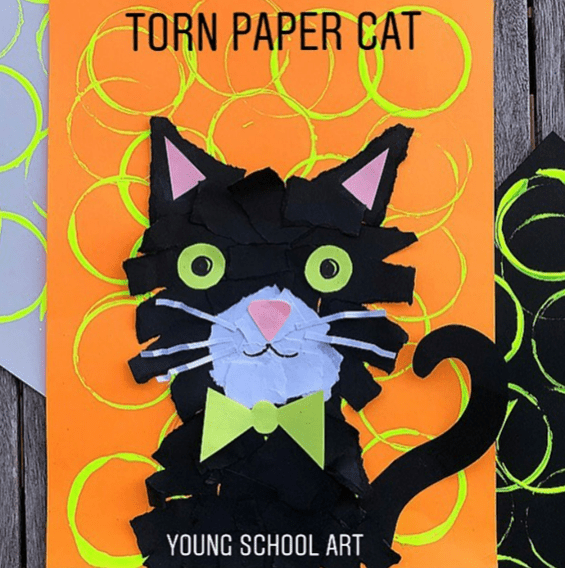 Torn Paper Cat Craft
I love this mixed media and rather cool looking black cat craft. The background of orange with bright yellow circles, really makes the cat stand out and helps give it that Halloween feel.
There are also plenty of skills for little ones to practice here. Ripping up the black construction paper will be good to strengthen hand and finger muscles – you may need to help younger toddlers. But toddlers of any age will be able to have a good go at glueing and sticking on the paper strips and other accessories.
Torn paper cat craft from youngschoolartwithmr.g.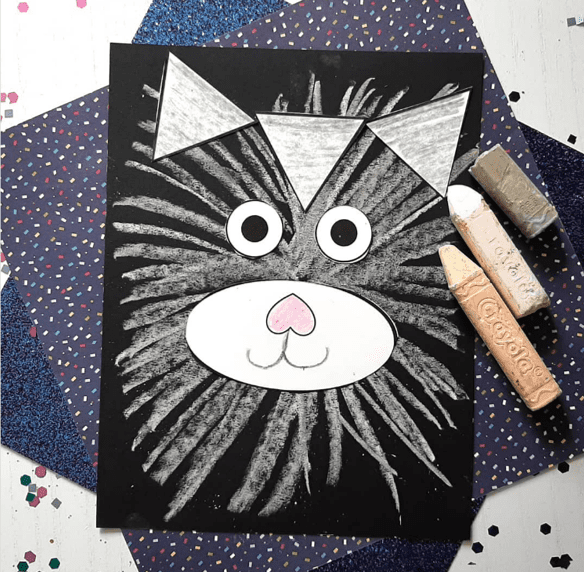 Chalk Art Cat Craft Activity
I can't decide whether this is a white cat in the dark of night or a black cat with hair glistening in the moonlight! Either way, it's a fun and simple paper black cat craft that's dead simple for toddlers.
All you need are some large sidewalk chalk sticks plus black and white construction paper.
Chalk art cat activity from gluedtomycrafts.
Black Paper Cat for Halloween
This adorable round-face cat is sure to be a crowd favorite with the kids. Who can resist that cute face? It seems that he's staring right up at us.
Black paper cat from firefliesandmudpies.
For more not-so-spooky fun for little ones, check out these Halloween crafts and activities. We also have a post dedicated to Mummy crafts. But the favorite creative activities of the spooky season for my toddlers is always the skeleton crafts.
We also have some fabulous Halloween party ideas for toddlers, and a whole selection of spookilicious treats to accompany the festivities.
Pete The Cat crafts for toddlers
Of all the books about cats, my personal favorite is Pete The Cat. He's such a character. If your little ones are a fan, they'll love these groovy cat crafts for toddlers inspired by the books.
From TP rolls to Pete-themed masks, there is something for every Pete The Cat loving toddler!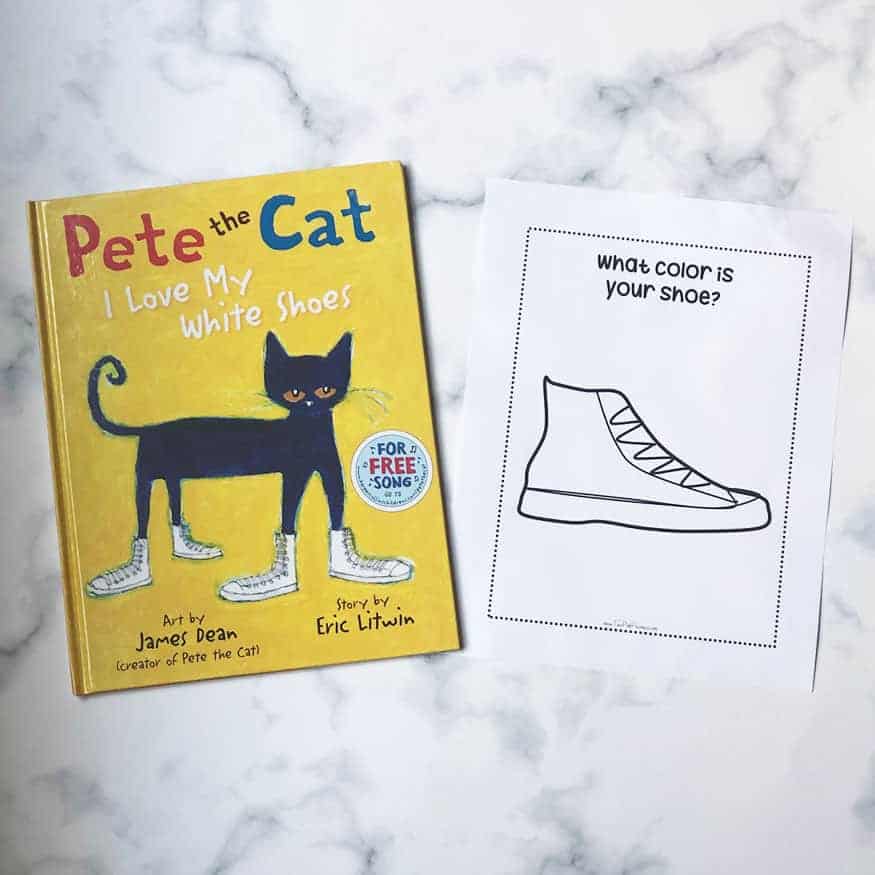 Pete the Cat Shoes
This isn't so much a toddler cat craft, but a shoe activity, as inspired by Pete the Cat's "I Love My White Shoes" storybook. Print out the free template and your toddler can color the shoe.
If they're feeling a bit more creative, they can decorate their shoe with stickers, gems and sequins.
Head over to Two Pink Peonies for details.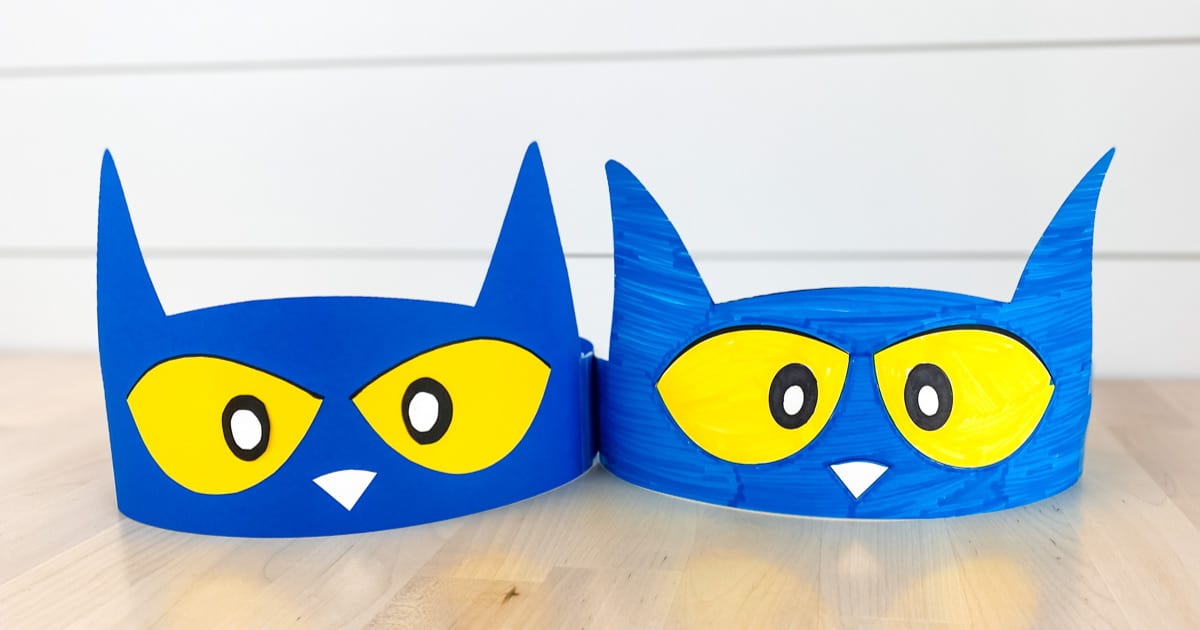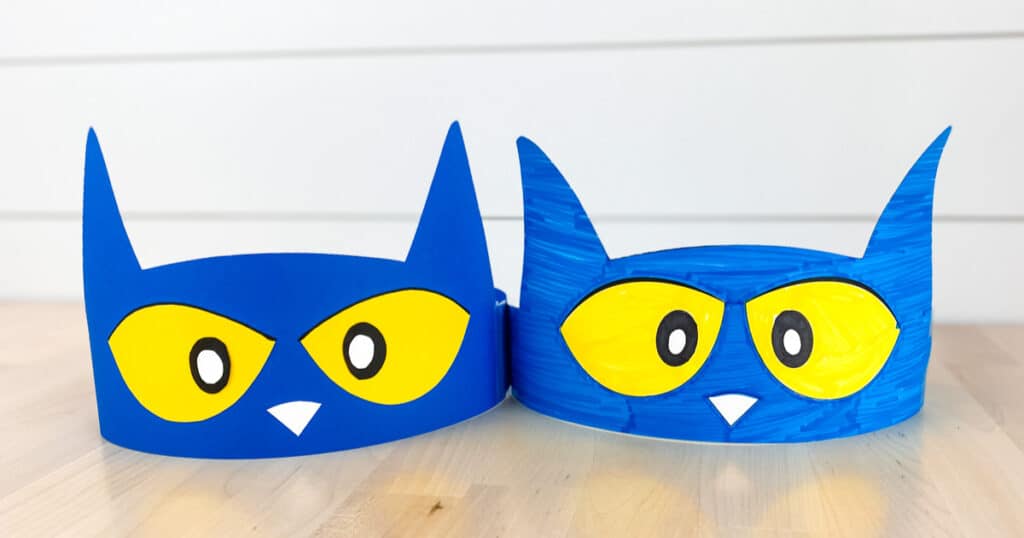 Pete The Cat Headband Craft [Free Template]
Your toddlers will not only look adorable in this Pete the Cat headband but they will love pretending to be this mischevious fellow. There are two options to the template: a black and white version that your toddler can color in and a pre-colored one. If you're looking for a really simple cat craft, choose the latter!
Visit Simple Everyday Mom for more.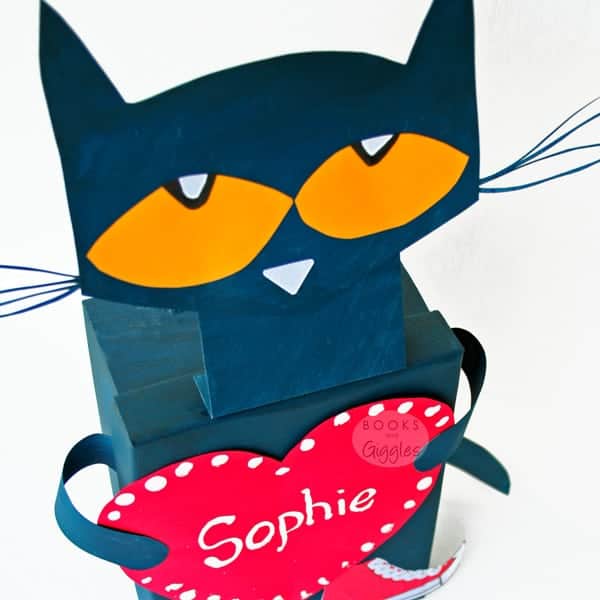 Pete The Cat Inspired Valentine Box
Be ready for Valentine's Day with this Pete The Cat inspired Valentine's box. Click the link for the free printable template that'll make super simple to make. A sweet and cute cat craft for toddlres to make this Valentine's, right?
Head over to Books and Giggles for instructions.
Looking for more love-themed creations for your toddler this Valentine's? Check out these Valentine's Day crafts and these Valentine's handprint art ideas for little ones.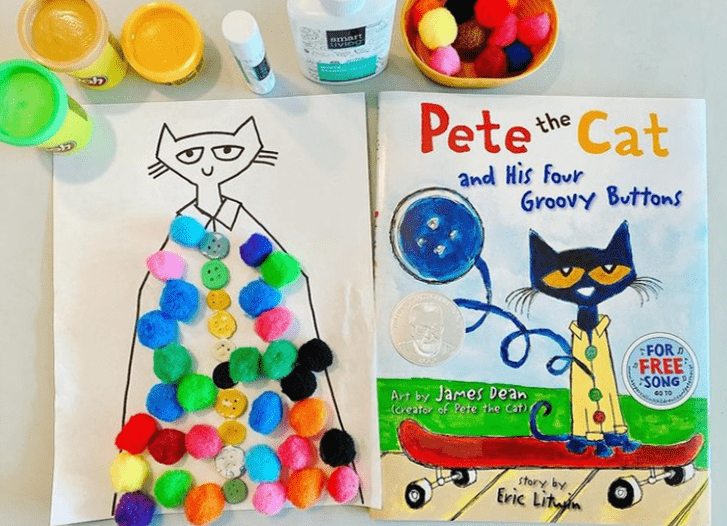 Colorful Pete The Cat Craft
This Pete The Cat craft has a few different tactile elements to it. Fluffy and colorful pompoms make up his shirt and the buttons are made from playdough. You could simplify and use real buttons or some dot stickers.
A lovely sensory activity and cat craft for toddlers with plenty of oportunity to practise color recognition and perhaps a bit of counting.
Pete the Cat activity from myqueendiaries.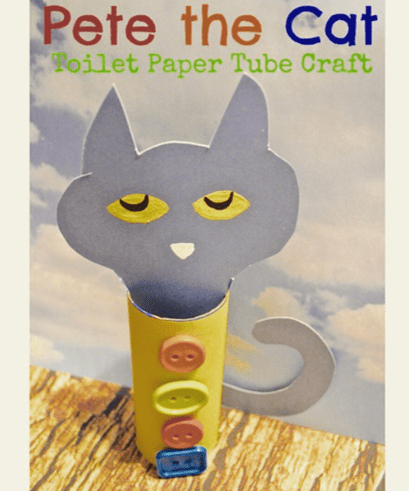 Pete the Cat TP Tube Craft
Your toddlers will have tons of fun making and playing with this Pete The Cat craft made from an empty toilet paper roll. Doesn't he look groovy with his signature buttons and curvy tail?
Pete the Cat TP tube craft from theteacherswife.
Cute cat crafts for toddlers for hours of fun!
There are so many fun kitty crafts to pick from, whether your little cat lover wants their very own furrbaby to tend to or wants to recreate the family cat, they'll be spoilt for choice.
So let me know which of these purrrfectly cute cat crafts for toddlers you think you'll try first.
_________________________________________
We have more fun and exciting crafts and activities for your little one for guaranteed engagement across all the seasons. Check these out: