I don't always like crafting with toddlers; but this one is difficult not to totally love! Mess-free, prep takes a minute or two and gets your littles ones cutting.  Every toddler's dream, every mom's dream, right?!
I'm sure I'm not alone in this but I'm put off by crafts that involve lengthy prep, a lot of clean up, of both toddler and craft area, and, worst of all, that you have to step in and finish off/do most of it…
There are way too many crafts that look easy, but in the hands of a 3-year-old are pretty much impossible.
Not this one!
This is a toddler craft to love.  A cutting activity that becomes a 3D apple or pumpkin in a few minutes and only needs a little help from mom.
Prep in a couple of minutes tops and literally no clean up.
Really, you can't say better than that!
In a nutshell, this cutting activity/apple craft for toddlers involves…
Cutting strips of construction paper, punching holes either end, fixing them all together with paper fasteners and finally adding a leaf.
Don't panic!  More detailed instructions with pictures to show the how-to step-by-step coming up!
With just a little assistance, your toddler or preschooler should be able to do every step of this cutting activity and apple craft.
Tadah – a 3D apple craft.
Or pumpkin craft – this was completely accidental as, for some reason (Mommy brain?!), I got out some orange paper as well as red and green.  So that orange apple became a pumpkin.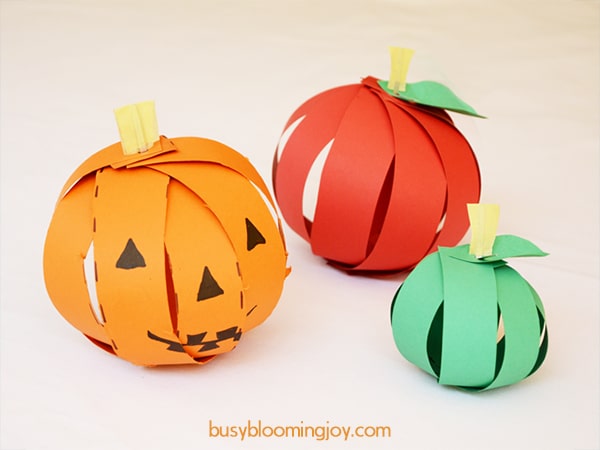 The skills your toddler will use when creating this 3D apple craft
Well, it's a cutting activity, so cutting skills are up there.
A bit of strength and coordination is needed to punch the holes, especially if you have an old beaten up hole punch which needs a bit of brute force to get punching when you're knee-high to a grasshopper.
Then there's quite a bit of hand-eye coordination needed to thread the paper strips onto the paper fastener, so more fine motor skills at work.
What age is this cutting activity/apple craft suitable for?
My toddlers/preschoolers are 2.5 and 3.5 (just over).
They could both do the task easily (with me holding bits and bobs), my eldest was a lot more interested in the process of putting it altogether and had a lot more patience.
But as soon as your toddler is able to hold scissors and is at the point of learning to cut, this cutting activity is a perfect one to start on.
Once the apple was done and dusted, this quickly became another ball all the better for kicking – hence I did have to remake a couple to take some decent photos!
Supplies needed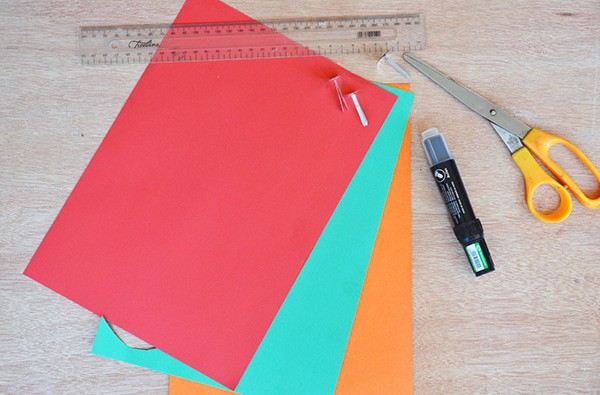 A4 sized construction paper (1 sheet per apple/pumpkin)
Toddler scissors
Hole punch
Paper fasteners (2 per apple/pumpkin)
Green craft/construction paper or card to cut leaf from
Masking tape to create a stem
The how-to of this cutting activity come apple craft for toddlers

1 – Mark cutting guidelines
Mark dotted lines on the card – don't worry about being precise about the width etc – life is too short to worry about that when you have two toddlers dying to get started!
I just used the width of the ruler which produced 8 strips of card.
3 – Get your toddler cutting!
My toddlers cutting skills are not all that advanced so I needed to hold the card for them.  Even then the lines were completely wonky skwonk, but as you'll see at the end, it really doesn't matter.
Don't be tempted to cut it for them!
This is a toddler activity and craft.
3 – Have your toddler punch the holes
You're probably going to have to help them guide the card into the hole punch so the hole ends up roughly in the right place.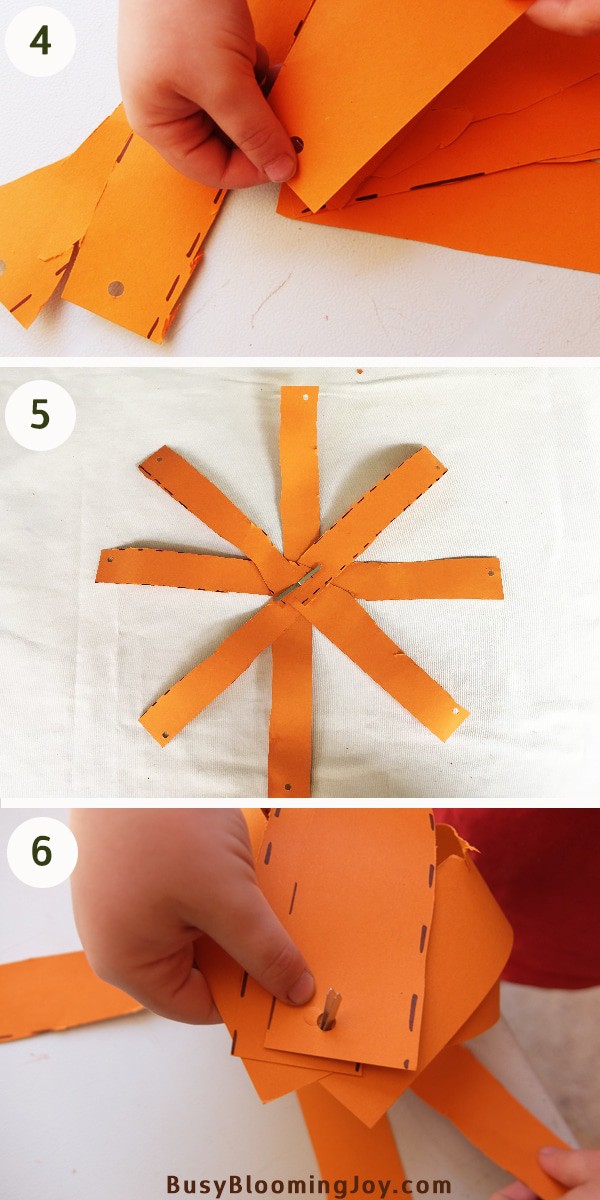 4 – Thread onto 1st paper fastener
Have your toddler thread one end of each strip onto the paper fastener and then spread all the strips out like a starfish.
5 – Lay strips out into a star shape
This is just to try and make sense of the next step.
Think of the 1st paper fastener as the base of the apple, then the 2nd fastener will be at the top of the apple and become the stem.
6 – Thread the other ends onto the 2nd fastener
Get your toddler to take the other end of each strip and thread it onto the 2nd paper fastener at the top of the apple.  You might have to hold the base of the apple, where all the strips are attached to the 1st paper fastener.

7 – Cut the leaves and hole punch
I just did them freehand and I did the cutting myself – cutting shapes is a bit advanced for my two at the moment but you may find your toddler or preschooler is ready to tackle the leaf-cutting too – double the cutting activity action!
8 – Thread the leaf onto the top paper fastener
Your toddler should be able to do this part but mine were keen to start throwing their new football, sorry apple or pumpkin, around the place so if it's getting to that point you might just want to speed the process up!
9 – Make the stem
Take a short strip of masking tape, stick it to one side of the paper fastener, fold it over on itself and stick down.   I then trimmed it into a more of a stem shape.
I left one side of the fastener down, as I though this would help the apple keep it's shape better, but I'm not sure this is strictly necessary.
I would, however, definitely recommend you doing this final part of the craft,  not your toddler!  If yours is anything like mine he or she is going to make one giant mess of that masking tape.
Avoid.
10 – Add pumpkin face or just admire!
Too cute right?  I hope you and your toddlers enjoy this is as much as mine did!