Inside: 37 fun and incredibly simple Easter crafts for preschoolers that older preschoolers will enjoy too
What's more exciting? The arrival of Spring or Easter around the corner? Well the answers are plain and simple, depending on your age.
For me it's all about the chocolate, for my kids, nearly 4 and 5, and firmly of the "preschooler" age, they can't wait to see daffodils bloom.
Kidding. Obviously.
Anyway, so at this age, kids have firmly grasped that Easter means an Easter egg hunt, then stashing and gorging on chocolate and other delightful teeth-rotting candies. Because I'm a mean mom (to some), my two aren't allowed to eat all their stash in one go or whenever takes their fancy, so we do at least avoid too much of the sugar-induced pandemonium and meltdowns, but that's a completely different topic altogether.
So, the one issue with starting on any preschooler Easter craft is the endless "how long", "how many days" until it's Easter Sunday…Of course at this age, the concept of time is very limited, so it's an entirely fruitless conversation.
Start on the Easter chick crafts, I say! Of course, Easter chicks have a strong association with Easter for good reason: the hatching chick signifies new life as well as re-birth, the egg symbolizing the tomb from which Christ was resurrected.
I haven't yet tried to explain that to my two yet, but if I'm feeling the need for an extra challenge this year, I'll give it a shot.
Other than Easter chick crafts there are Easter egg crafts for preschoolers (how could there not be?), Easter bunny crafts as well as some Easter card ideas. This list of preschooler Easter crafts is firstly split into those categories.
I'm also a fan of categorizing my craft posts by difficulty, so you can pick and choose depending on how much time, sanity and patience you have. There's nothing worse than having to abort mission halfway through. So if you're limited in any of those domains stick to crafts under the heading:
SIMPLY, MINIMAL MESS Easter crafts for preschoolers
If you have a little more time, patience and willing to deal with a little bit of clean up then venture into this category:
TRICKIER, POTENTIALLY STICKIER preschooler Easter crafts
Pick, chose, enjoy!
Happy Easter.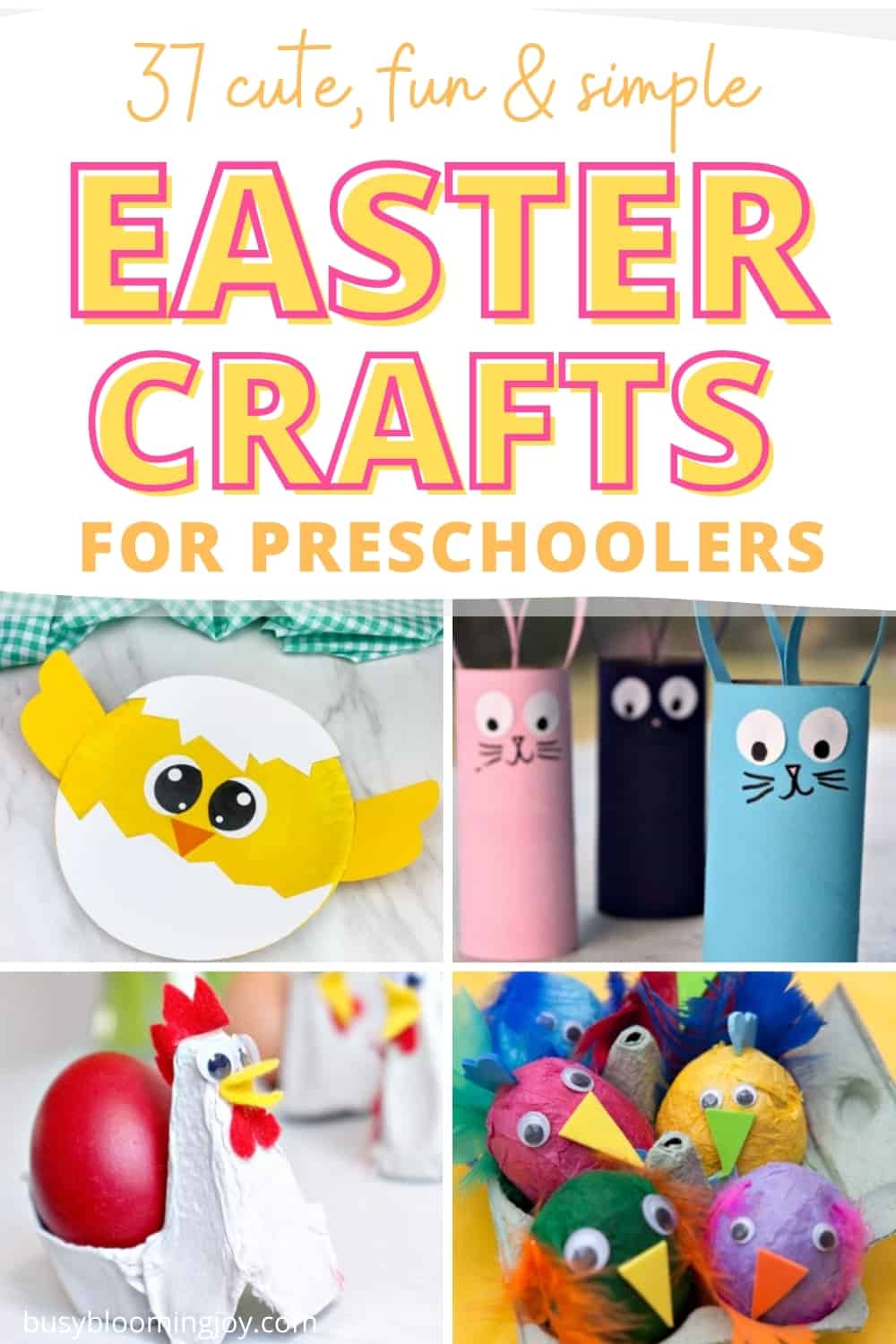 EASTER CRAFTS FOR PRESCHOOLERS, THAT OLDER TODDLERS WILL ENJOY TOO
If you're wondering what age this list of "preschooler" Easter crafts is geared towards, 3-5 years old is the answer. That could of course include "older toddlers" depending on how you define the little darlings…I suppose the issue comes because an older toddler that has started preschool is also by definition, a "preschooler".
Anyhoo, if your little one is 3, 4 or 5 years old and you want some easy Easter crafts, you've come to the right place. For even simpler crafts, specifically aimed at 2, 3 and -year-olds, then head to this post of 29+ simple Easter crafts for toddlers. You can never go too simple when it comes to kids, can you?
EASTER EGG CRAFTS FOR PRESCHOOLERS
A few Easter egg-shaped crafts here, as well as some decorated hard-boiled eggs…
SIMPLY, MINIMAL MESS ones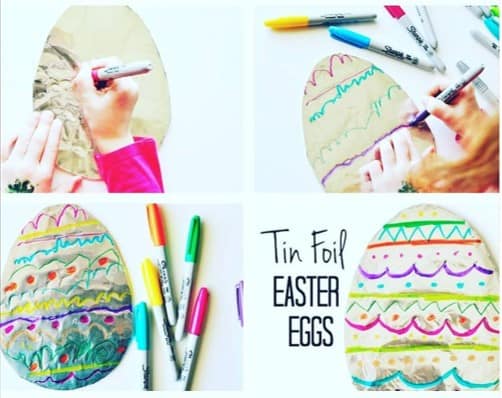 Sparkly and colorful, this is a preschooler Easter craft for the budding artist. So simple too – cut a sheet of cardboard into an egg-shape, wrap with tin foil and decorate with sharpies.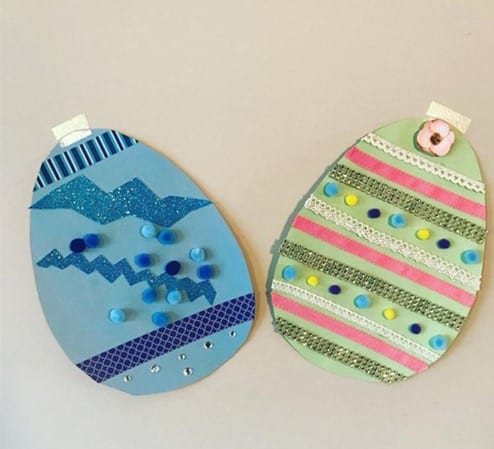 Another mess-free Easter egg craft for preschoolers that like to cut and stick (that's most, right?) Cut some cardstock into an egg shape (good scissor skills practice for a preschooler) and then grab some washi tape, pompoms and any other funky paper, ribbon, buttons etc you have to hand and let your little one get crafting.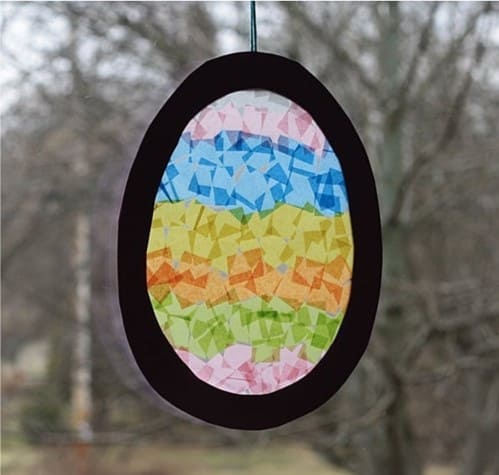 This pretty Easter craft and decoration needs some contact paper and tissue paper (buy tissue paper pre-cut into squares for next to no prep), plus your eager preschooler.
TRICKIER, POTENTIALLY STICKIER preschooler Easter crafts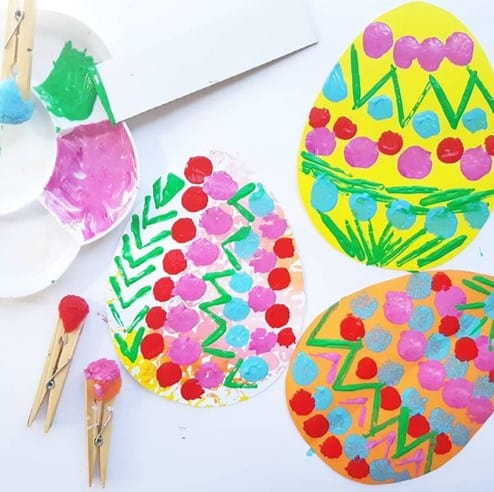 A pretty decorated Easter egg craft, using pompoms held with clothespins and folded cardstock instead of a paintbrush. Not only is this a fun and interesting way to practice fine motor, but patterning is an important pre-maths skill.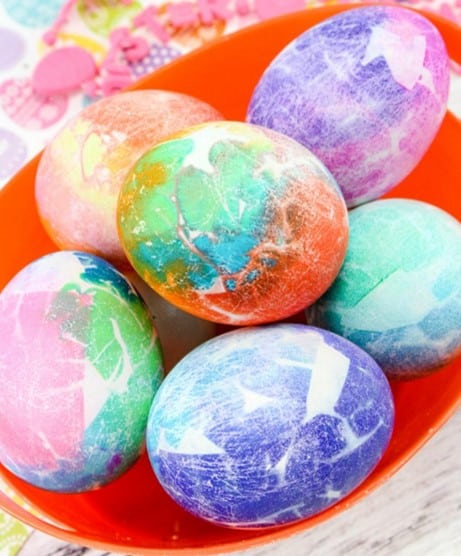 There are quite a few egg-dying techniques around but I particularly like this one which uses tissue paper. What's more, once the eggs are hard-boiled, anything goes when it comes to the decorating and dying part.
Your little one can spray the eggs with water using a spray bottle (also good for those finger muscles), then cut and shred the tissue paper and stick all over. Spray again and allow to dry. Peel off and voila! Dyed and decorated. Great process art with such an effective end result, making it a must-do preschooler Easter craft in my book.
Note: unfortunately you do need to use "bleeding tissue paper" rather than the normal stuff.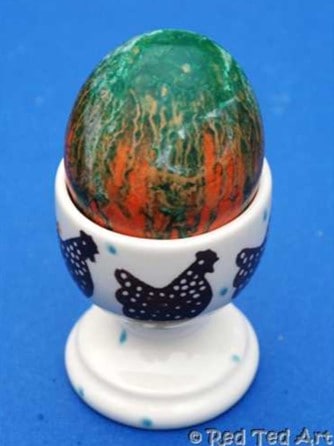 My two loved the melted crayon rocks we did earlier in the year – such a clever idea to do it with hot hard-boiled eggs. Simply hold a crayon onto the hot egg and let all the colors drip and run down the sides, then allow to dry. Obviously be careful of little fingers burning – a strong grip of the crayon is needed and a preschooler who is moderately good at listening to your warning!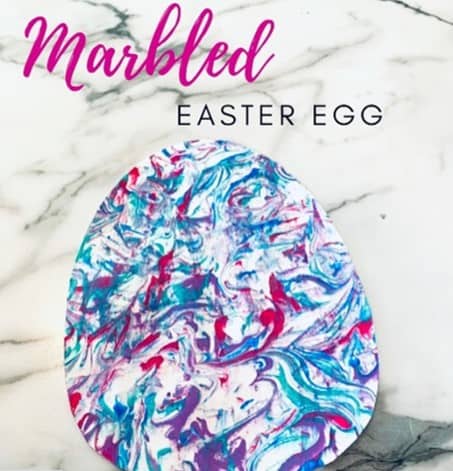 The last time I tried marbling with my two was a complete disaster! Never mind about the lack of anything pretty like above, it was the sheer amount of colored shaving cream that was all over most of their bodies as well as all over the table. While it was a great sensory experience for them, it's rather scarred me for life. That was when they were 1 and just 3 years old… so at nearly 4 and 5, we might all do better, but it's definitely I will take outside just in case… As you can see from the Easter egg craft above, the end result can be rather lovely. Worth a try if you're feeling brave, perhaps?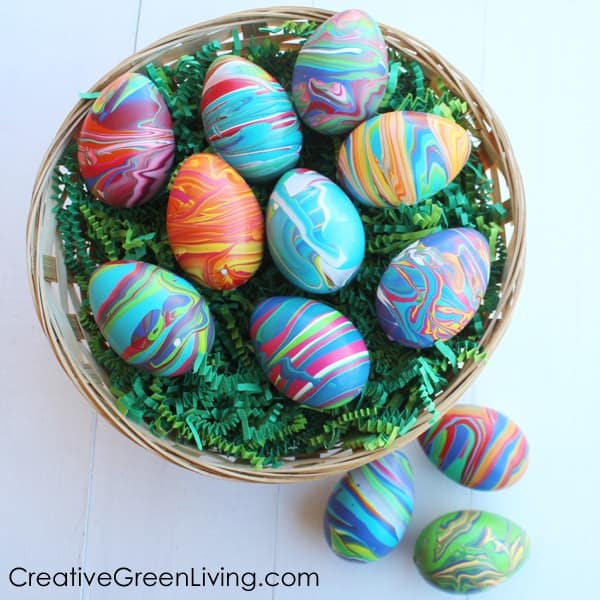 Another marbling one but this time with "marbling paint". Like the shaving foam marbling, this one definitely has potential to be horribly messy, but the end result looks simply stunning, so I thought it worthy of a place on this list of Easter crafts for preschoolers. What's more, if you use wooden craft eggs, as they did in the photo above, this will make a lovely decoration for many Easters to come.
EASTER CHICK CRAFTS
Quite a few paper plate Easter crafts in this section – what would moms of toddlers and preschoolers do without the humble paper plate?!
SIMPLY, MINIMAL MESS Easter crafts for preschoolers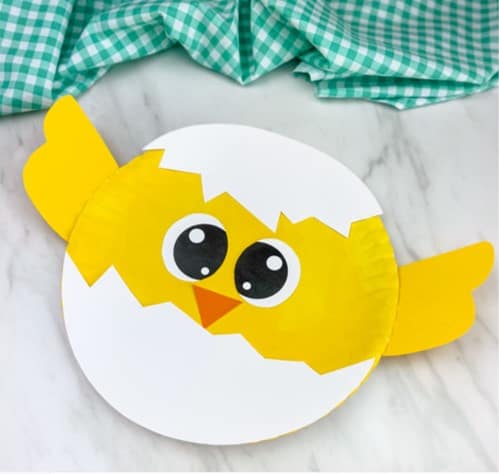 How cute is this hatching Easter chick craft? Good scissor skills practice for a preschooler and a minimal-mess glue stick to stick it all together. Click the link above for the free template.
It will be a little bit of a fiddle to cut the bits and bobs out of felt, but once that is done, get your preschooler to stick and you're done! A cute Easter chick which a practical purpose – a perfect Easter craft for preschoolers that love boiled eggs.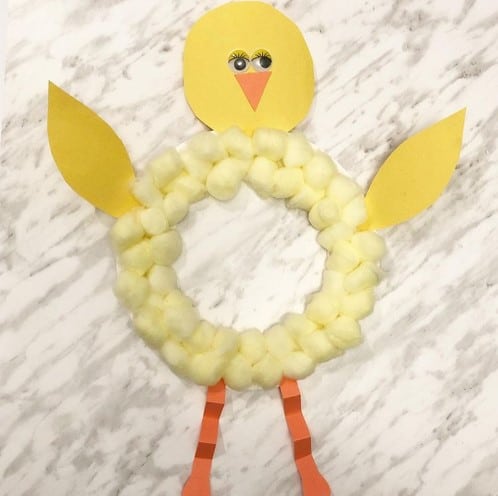 This time a fluffy cotton wool ball Easter chick – my daughter is going to love it (she's all about cute and fluffy). Can see this one hanging in our kitchen this Easter.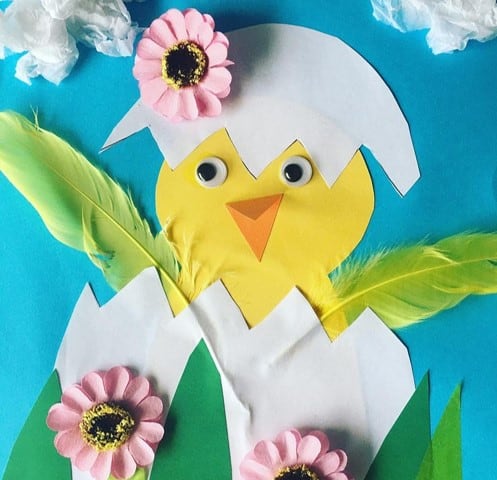 A lovely nature-inspired hatching Easter chick craft that's bright and colorful and just what we all need after a long, bleak winter (only me?!)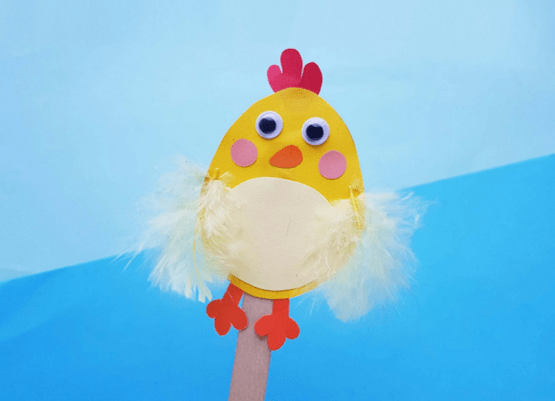 An Easter craft that preschoolers will love to play with too. I can see a serious amount of roleplay going on with my two if we make a few of these (meaning hours of fun for them and hopefully some peace and quiet for me!)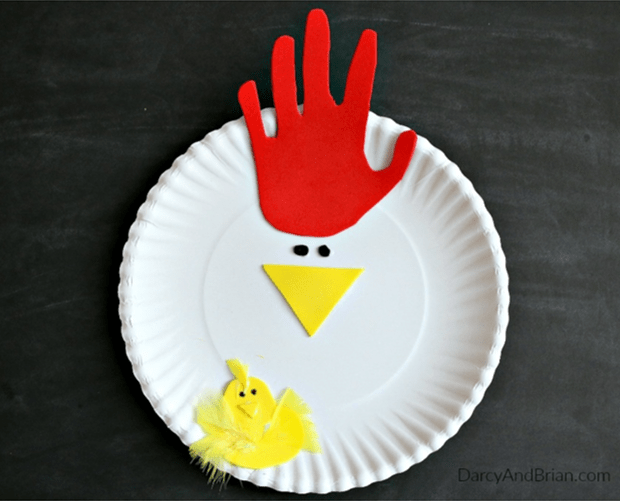 This Easter craft will make a lovely keepsake since it uses your little one's handprint. A little trickier than other Easter crafts since you'll probably have to cut out the handprint, but your preschooler should be able to do the rest of the cutting and all the sticking.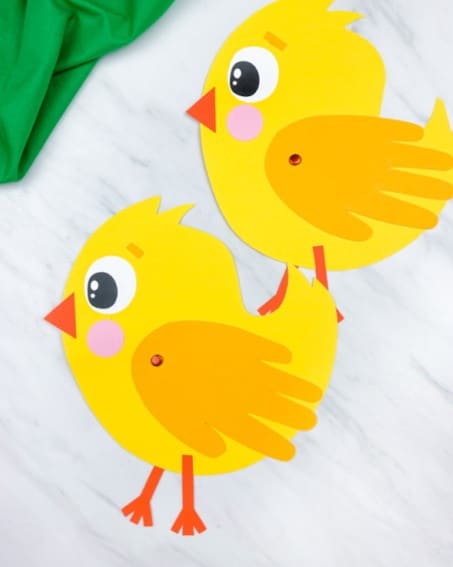 More handprints needed for this cute Easter chick craft. This one might require quite a bit of help from mom, as the cutting might be a little tricky in places. Click the link above to find the free template which will make the rest of the prep a whole lot easier.
A blown egg and the delicate hands of your preschooler are the main ingredient to this Easter chick craft. Haha I hear you say! Yes, I agree, this won't be for every preschooler – certainly my 5 year old will go too far when it comes to the breaking of the hole for the Easter chick. If the chick has something left to sit on it'll be lucky… But my daughter, who's all about cute and fluffy and will love giving the chicks a little home, probably will have the gentle touch this requires…(Or am I being naive?!)
TRICKIER, POTENTIALLY STICKIER preschooler Easter crafts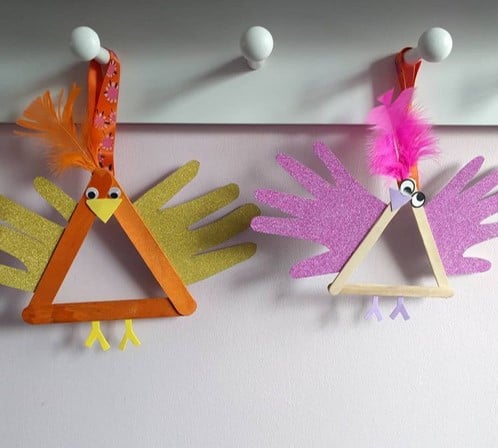 It's a hard call whether this one should really be in the "tricky" category or not. There's nothing difficult about it, but this Easter craft for preschoolers probably will require a little more time and assistance from mom. Pretty cute to have hanging around the house so could be well worth the effort.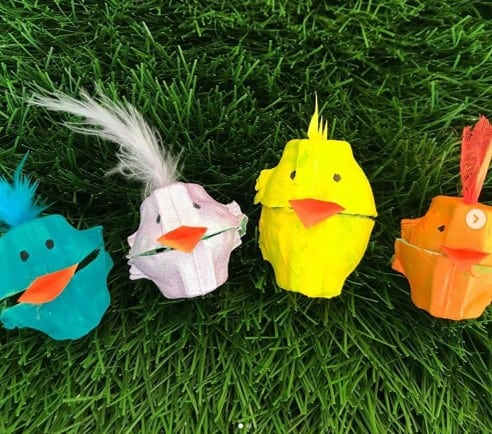 This is an Easter craft that makes good use of things that would otherwise end up in the trash which I'm all for. Then once complete these will be loads of fun to play with afterwards – I'm sure they will keep mine busy for ages, double win!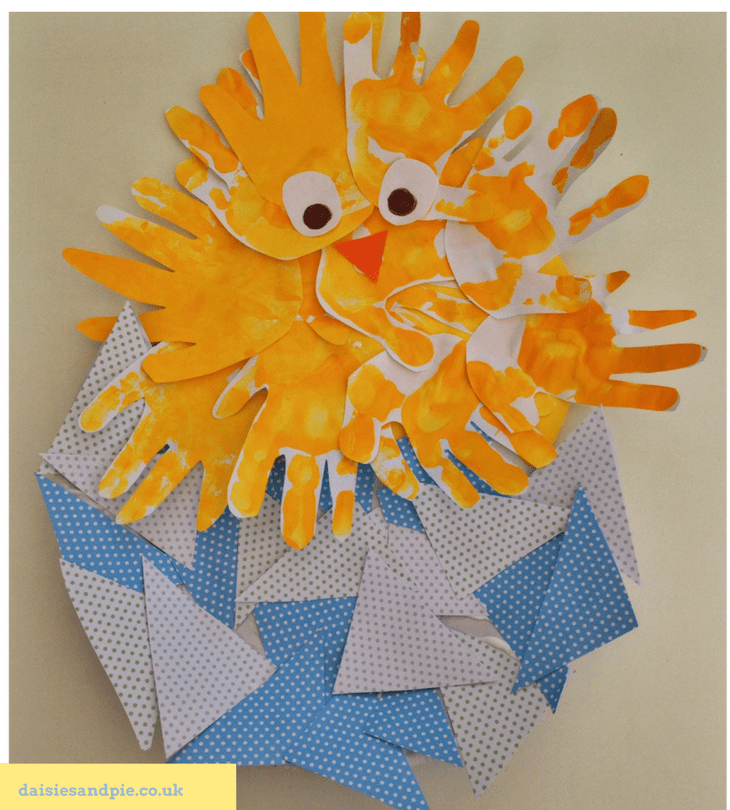 Lots of paint, lots of handprints and lots of cutting out for both mom and preschooler, but definitely worth the effort if the end result is as adorable as above!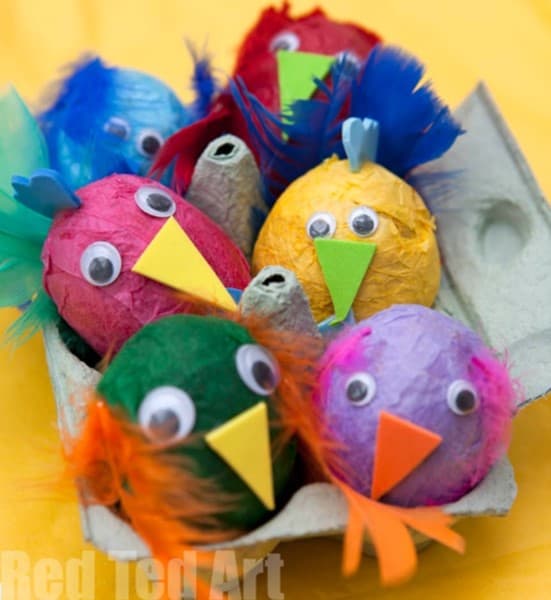 In this Easter craft, blown eggs are modge podged with tissue paper and then decorated with feathers, felt beaks and googly eyes. (So prepare for lots of stickiness!) Once dry the modge podge will become hard so the colorful little chicks should make a pretty decoration for many Easters to come.
EASTER BUNNY CRAFTS
Lots of fun Easter crafts for preschoolers here, all sorts of upcycling, hand and footprints and even some nature-inspired ones.
SIMPLY, MINIMAL MESS Easter crafts for preschoolers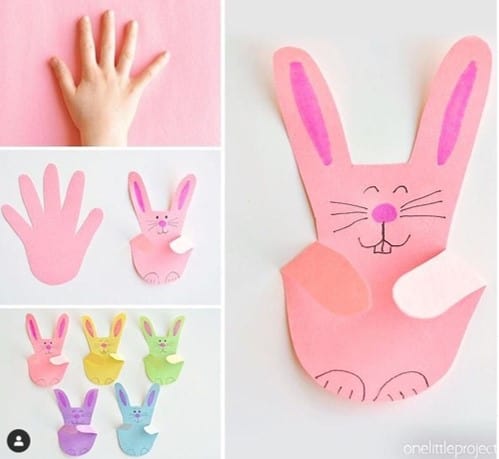 A cute and very simple Easter bunny craft, using your little one's handprint. Your preschooler can then draw the face and feet on.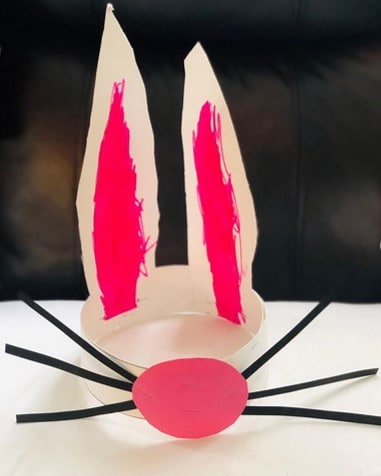 A fun Easter craft that turns your preschooler into a bunny. What more could you want than some giant-sized bunnies galavanting around the place?! The bunnies will have lots of fun, while mom sips a nice cup of coffee perhaps?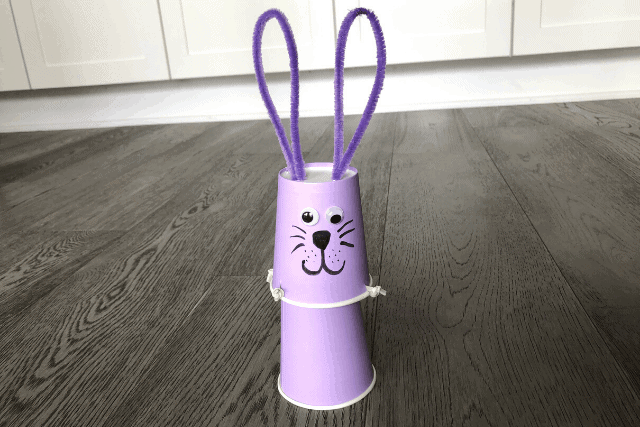 Another Easter craft that should keep a preschooler or two entertained. Pushing down on the top cup should make the bunny jump, due to some elastic bands you can just see on the edges. Click the link above for the tutorial.
TRICKIER, POTENTIALLY STICKIER preschooler Easter crafts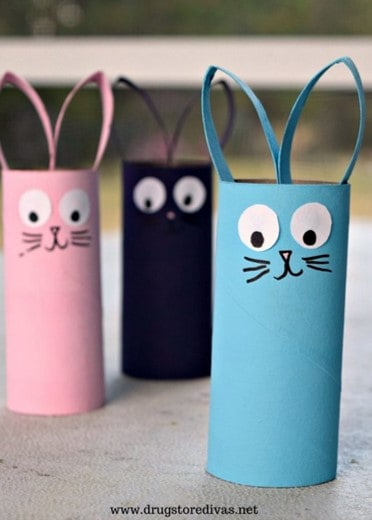 A very simple Easter craft and more upcycling here, this time toilet paper rolls into little Easter bunnies. It's only the painting that could cause havoc!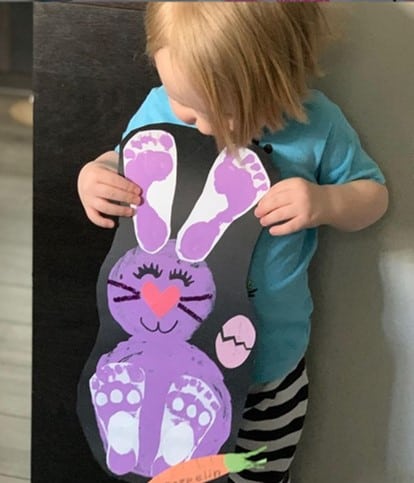 An adorable Easter craft and, if it comes out as well as in the photo above, a keeper for many years to come.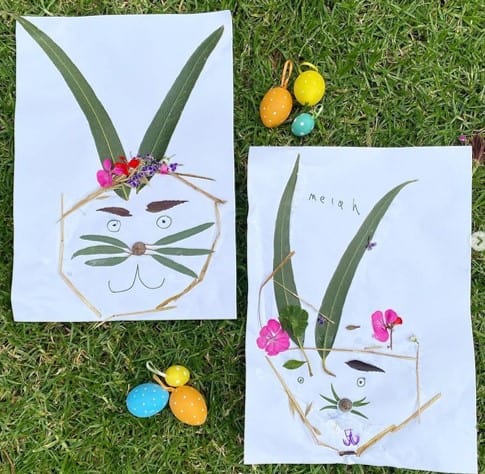 An Easter Craft for preschoolers that brings the outside in, bright and colorful and full of the signs of Spring. Not only that, but the results could be quite amusing depending on where eyes and nose end up; we did something similar with parts of the face cut out of magazines and my daughters was quite funny and a little freaky. Can't wait to see how this Easter bunny will turn out.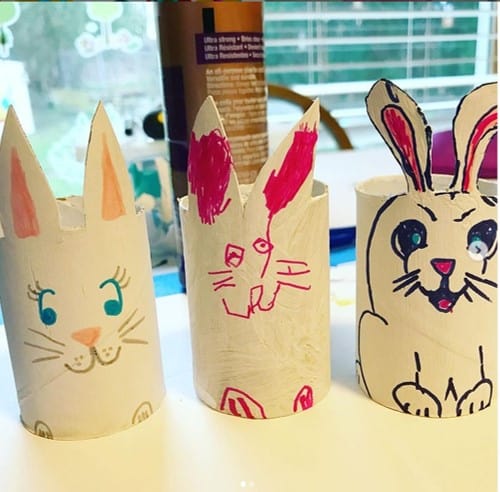 More upcycled toilet paper bunnies, but these ones with hand-drawn faces and ears cut out of the top of the cardboard.
Another nature-inspired Easter craft for preschoolers: a wearable Easter bunny mask decorated with small flowers, petals, leaves as the fluffy ears and twigs and a flower for nose and whiskers… Great to get your little one outside and foraging for all the bits and pieces.
EASTER BASKET CRAFTS
No list of Easter crafts for preschoolers would be complete without some Easter baskets – a craft with a very important and specific purpose, to collect all those chocolate eggs and other teeth-rotting candies, to then be gorged on in a matter of minutes (or over a number of days if you're a mean mom like me).
SIMPLY, MINIMAL MESS Easter crafts for preschoolers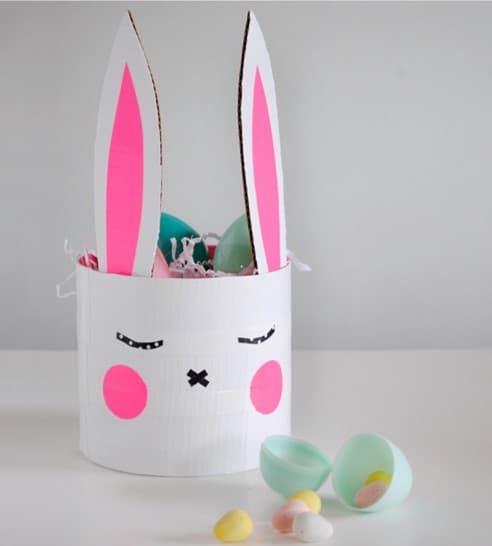 An Easter basket that uses the bottom half of a plastic container, covered in white tape. Carboard ears, eyes, nose and rosy cheeks to complete!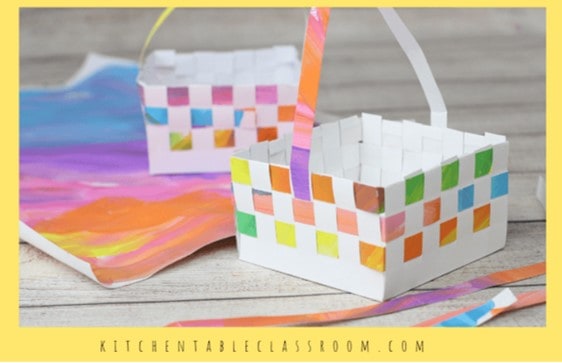 This one's a little more time-consuming so ideal to keep a preschooler engaged. It'll suit my 5-year-old down to the ground; he likes to build and construct and this Easter craft definitely has a technical element to it that he'll enjoy.
TRICKIER, POTENTIALLY STICKIER preschooler Easter crafts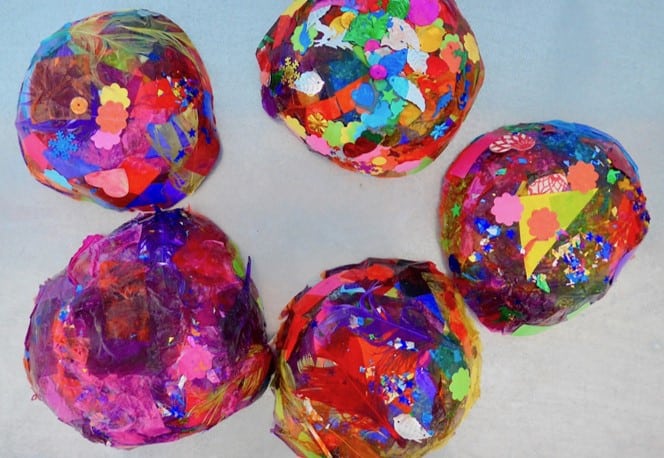 These tissue paper Easter baskets are so pretty yet so functional. Using a plastic bowl as a mold, cover in tissue paper and stick altogether with modge podge. Got to try this one with my two this Easter. (For a more detailed how-to, click the link above).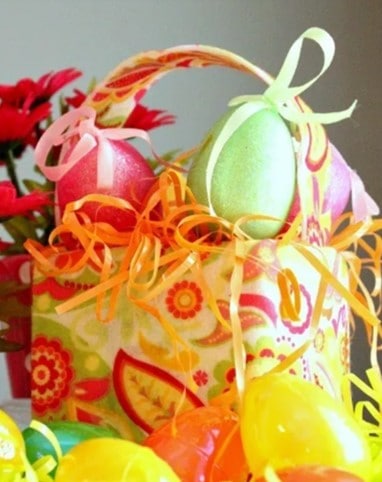 This Easter basket upcycles a square tissue box with wrapping paper – simple yet effective and plenty (too much?) space for all that Easter candy.
EASTER CARDS FOR PRESCHOOLERS TO MAKE
My family love it when they receive homemade cards from my two, and Easter is another good excuse for card-making. Here are a few Easter card ideas for kids to make, specifically aimed at the preschooler ages.
Too few to separate into easy and difficult categories. All are pretty straightforward but do require either paint or glue.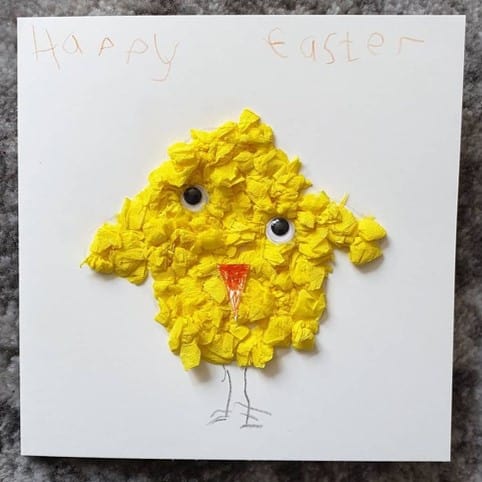 This Easter chick craft and card is my favorite of the lot – simple enough for a preschooler to do with very little help too.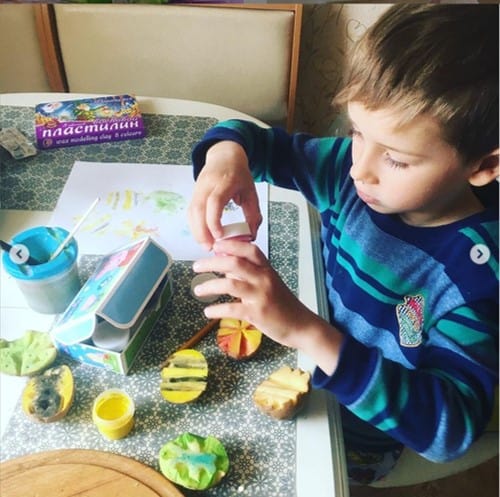 Help your preschooler carve patterns into potatoes for some cute Easter egg printing, lovely for the front of an Easter card.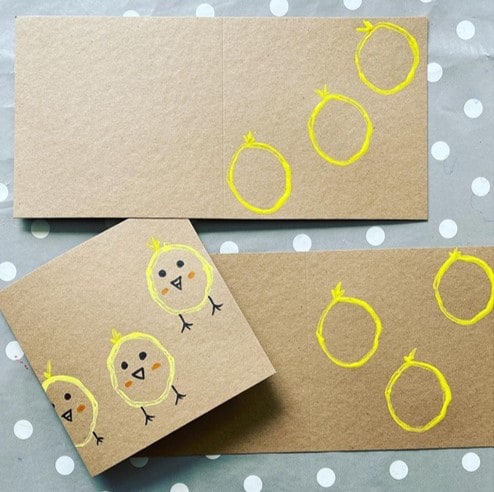 This is another very simple and effective Easter card idea for little kids; using an oval-shaped cookie cutter or slightly squished TP roll and some yellow paint, print the chick outlines onto your card. Add eyes, beak and feet and you're done.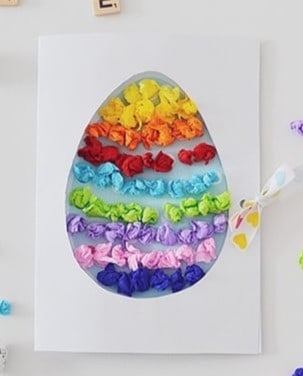 More tissue paper scrunching involved in this preschooler Easter craft. I love the idea of having the Easter egg inside the card with the cutout window, for a slightly different look.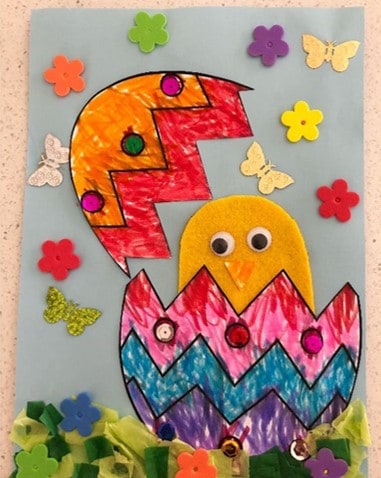 Quite a bit more involved in this preschooler Easter craft and card with a few different materials and a skills involved. Should keep a preschooler busy for some time and a grandparent very happy.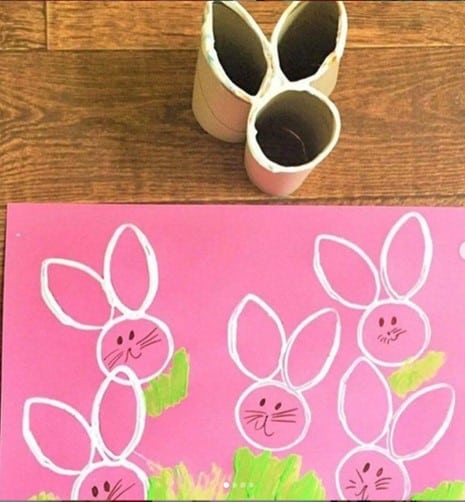 Last, but by no means least, are these toilet paper roll printed Easter bunnies – 3 TP rolls glued together becoming the bunny face and ears. Simple, cute and effective meaning another winning preschooler Easter craft.