Do you hear the bells ringing? Because I do and this means Christmas is fast approaching! It's time do deck the halls, take out the Christmas tree and write letters to Santa Claus. Are your kids excited? My toddlers are beside themselves! So while waiting for Christmas day to come, add a few (or all!) of these toddler Santa crafts to your December calendar!
There's no better way to get into the holiday spirit than some Christmas crafting, especially if you do it as a family. When the weather is cold, bundle up together in the living room and make some Santa crafts with your toddler and other young kids.
From craft sticks & paper plate crafts to handprint Santa crafts for toddlers, you'll find plenty of inspiration as you wait for the arrival of the real Santa Claus!
This post contains affiliate links. If you click on one and make a purchase, we may receive a commission at no extra cost to you.
Easy Santa Claus crafts for toddlers
Here are some Santa crafts for toddlers that are as straightforward as they come. Your toddler shouldn't require too much help to create their Santa Claus creation and preparation will be minimal too.
Related post: 100 Fun and Easy Toilet Paper Roll Crafts for Toddlers 2 & 3 Years Old
Related post: 23 Best paints & materials for baby hand & footprint crafts
Cute Handprint Santa Claus Craft For Toddlers
Handprint crafts hold a special place in my heart and why wouldn't they? They look so adorable and this toddler handprint Santa craft is no exception. These will make great gift tags for presents, or why not hang a Santa Claus or two on the tree?
Handprint Santa craft from doodle_nest.
Fluffy Bearded Handprint Santa Craft for Toddlers
Another handprint Santa craft to give you a smile. Toddlers are sure to love making the fluffy cotton ball beard and googly eyes. Adorable, right? I'm sure my little ones will have a great time making a Santa Claus or two.
Handprint Santa craft for kids from blooming_littlebrains.
Dried Santa Leaves
Transform dried leaves into a festive Santa face. All you need are some dried leaves sourced from the backyard, child-friendly non-toxic paints and a paintbrush to pull off this toddler-friendly Santa craft. The end result might not be perfect, but just let your toddler experiment with the paint and have fun!
Dried Santa leaves from you_can_craft_it.
Craft Stick Santa
Time to take out another staple of your supplies for crafting with kids: craft sticks. You'll also need a hot glue gun to stick them together to make the face of this cute Santa Claus craft. Your toddler should be able to do the rest alone. Don't you just love how fluffy his beard is?
Craft stick Santa from gluedtomycrafts.
Trimming Santa's Beard
Time to give Santa's beard a trim! This fun and easy Santa craft will keep your toddler busy while giving them the opportunity to practice their cutting skills.
Santa's beard activity from diy_mom_diary.
Paper Plate Santa Craft For Toddlers
Here's a dead simple Santa Claus craft using another craft cupboard staple: the humble paper plate! Toddlers can practice cutting to create the red triangle that forms the base of this Santa craft. It's also a great one to incorporate some additional learning with shape recognition – there are circles, a triangle and a semi-circle.
Paper plate Santa from craftyjulie811.
Sensory Play Dough Santa Craft & Activity
If you're planning a playdate in the Christmas holidays why not try this fun Santa craft and activity, perfect for toddlers. All you need is some red and white play dough and an outline of Santa's face.
Playing with play dough is a great sensory activity, wonderfully therapeutic and good for strengthening arm, hand and finger muscles.
Sensory play dough Santa from curiositycornersensorydough.
Santa Plate Craft
This Santa Claus paper plate craft looks simple and fun, ideal for toddlers and all little kids! Pretty sure you'll have all the materials on hand – paint, cotton balls, googly eyes and a paper plate. Then all you need are your little crafters to put it together.
Santa plate craft from growing_up_murphy.
Potato Print Santa
Here's a different take on painting Santa's face; potato stamping! If you have a couple of potatoes that are going soft and are about to be chucked into the compost, give this fun art activity a go. Time to let your kids get creative and stamp away.
Potato print Santa from artycraftylittlemonkeys.
Fun Santa hat crafts for toddlers
Wear them or use them to decorate your house this Christmas season – whichever it is, you can't say no to one of these adorable Santa hat crafts for toddlers!
Santa Mask and Hat
Your little ones will have the greatest time making and wearing this adorable Santa hat and mask. The colorful sequins and the gold glitter are sure to put anyone in the festive mood!
Santa mask and hat from make_like_mimi.
Santa Hat with Printable Template
Another Santa hat craft for toddlers that will give your little one the chance to become the big man himself, complete with hat, beard and mustache! How cute is this?
Santa hat with printable template from kidscraftroom.
Santa Hat Crafts For Toddlers
These little Santa hats will be perfect for a festive Christmas party with your little ones. Have the kids paint the cardboard red (or cheat and use red cardboard paper). Then decorate with gems, sequins and pompom balls. Once done, tie a strip of elastic each side so the hat can tie under the chin. Now it's time to party!
Santa hat crafts from by.allisonrose.
Santa Christmas card crafts
There's nothing cuter than giving out handmade cards at Christmas, and why not put Santa on the front?! Here are some Santa Claus cards that toddlers can make that will no doubt become a beloved keepsake to whoever receives them.
Related post: Homemade snowman Christmas card to make with your toddlers (cute, simple, fun!)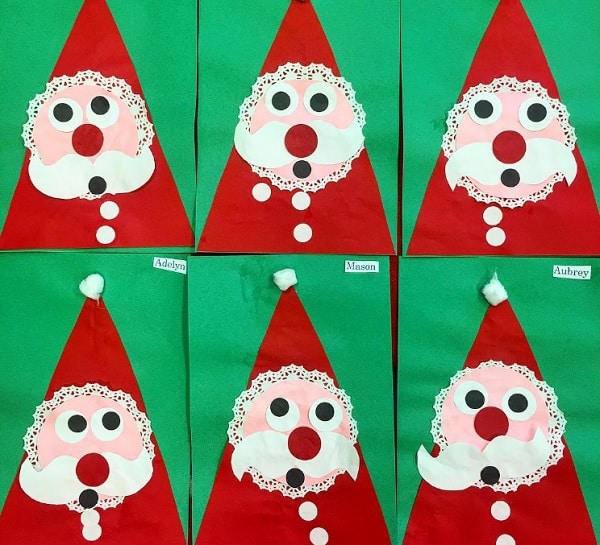 Surprised Paper Doily Santa Craft & Card
I'm really loving Santa's surprised look in this easy Santa Claus craft for toddlers. Simply use mini doilies and blank cards to make it a Santa card instead.
Surprise paper doily Santa craft from mrs.prek3.
Santa Claus ornament crafts for toddlers
Is your Christmas tree still missing a few decorations? We love making a few new ornaments to hang on the tree every year, it's a favorite Christmas tradition of ours because they make such great keepsakes. Either way, if you're looking for a Santa Claus-themed ornament, you've come to the right place.
Related posts: Salt dough Christmas tree ornaments to make with toddlers
Craft stick Santa Claus ornament
Here's another popsicle stick craft idea – a very slimline Santa Claus craft that toddlers are sure to enjoy making. Fun and simple too – ideal for little ones. Once done, tape some string at the back and hang the mini Santas on the Christmas tree.
Craft stick Santa Claus ornament from arijana_creative_time.
Santa Shell Ornaments for Toddlers
Maybe your Christmas is not all white and snowy. Perhaps it's a little more tropical – warm, sunny and sandy? If so, here's the perfect Santa ornament craft for toddlers to make. Simply head to the beach for some shells to paint. Of course, you could make these anywhere, using shells you collected in the summer or store-bought ones. A beautiful and unique Santa craft that'll add that je ne sais quoi to your Christmas tree.
Santa shell ornaments from handcrafted.by.evelyne.
Santa Paper Chain Ornament
Who wouldn't say no to this fun and easy Santa craft for toddlers? My elder two loved making paper chains last year, but rapidly ran out of steam and I ended up finishing them off! But here they only need a short chain and will have so much fun turning the chain into Santa Claus.
All you need is red and white construction paper and markers to draw the face, belt and buttons. This might be a little big for the Christmas tree, but I'm sure we'll find plenty of other places to hang it!
Santa paper chain ornament from growing_up_murphy.
Which Santa craft will you try first with your toddler?
Are you excited for the holidays? We are and just can't wait to make some of these fun and easy toddler Santa crafts to stave off the excitement in the run up to the big day!
There are so many cute ideas to choose from, but I have my favorites – which are yours? Let me know in the comments.
Happy Christmas!
Looking for more Christmas arts and activities for toddlers? Take a look at these:
For more easy toddler activities to keep your little ones busy indoors and out check out:
Excited for Easter? It's never too early to give these Easter