Do you hear the bells ringing? Because I do and this means Christmas is fast approaching! It's time to deck the halls, take out the Christmas tree and start some festive activities.
Are your kids excited? My toddlers are beside themselves! So while waiting for Christmas day to come, add some toddler Santa crafts to your holiday calendar!
There's no better way to get into the holiday spirit than some Christmas crafting, especially if you do it as a family. When the weather is cold, bundle up together in the living room and make some Santa crafts with your toddler and other young kids.
From craft sticks & paper plate crafts to handprint Santa crafts for toddlers, you'll find plenty of inspiration as you wait for the arrival of the real Santa Claus!
This post contains affiliate links. If you click on one and make a purchase, we may receive a commission at no extra cost to you.
Easy Santa Claus crafts for toddlers
Here are some Santa crafts for toddlers that are as straightforward as they come. Your toddler shouldn't require too much help to create their Santa Claus creation and preparation will be minimal too.
Love free printables?
We have a few especially for the holidays:
Cute Handprint Santa Claus Craft For Toddlers
Handprint crafts hold a special place in my heart and why wouldn't they? They look so adorable and this toddler handprint Santa craft is no exception. These will make great gift tags for presents, or why not hang a Santa Claus or two on the tree?
Handprint Santa craft from doodle_nest.
Fluffy Bearded Handprint Santa Craft for Toddlers
Another handprint Santa craft to give you a smile. Toddlers are sure to love making the fluffy cotton ball beard and googly eyes. Adorable, right? I'm sure my little ones will enjoy making a Santa Claus or two.
Handprint Santa craft for kids from blooming_littlebrains.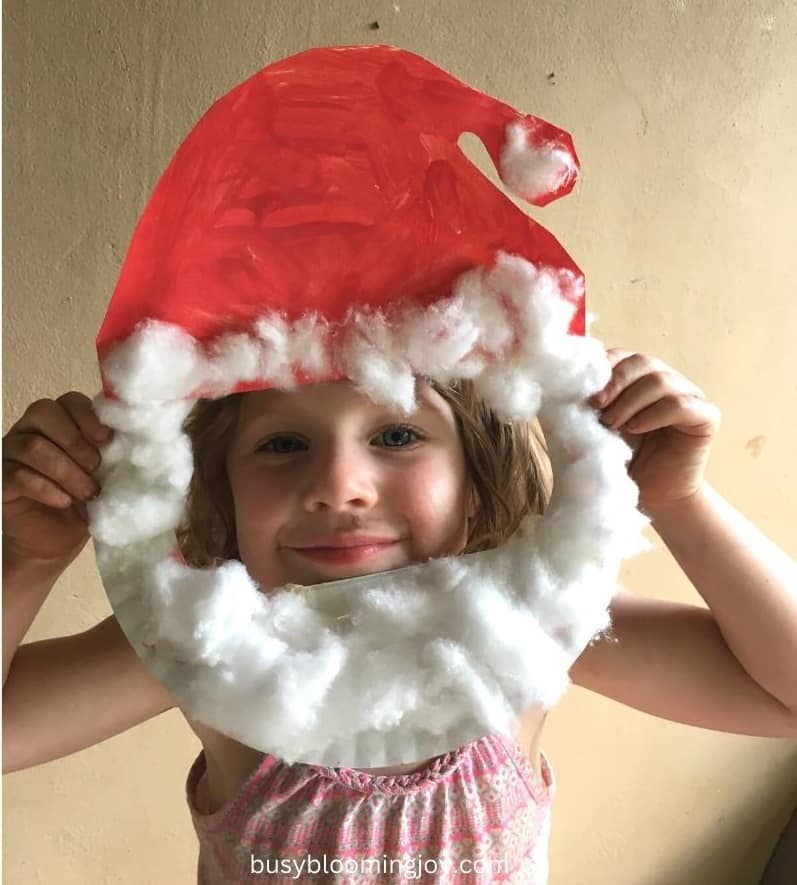 Paper plate Santa craft
Here's a fun and easy Santa craft for toddlers, as showcased by my rather grubby-looking daughter! Along with her brother and two little friends they had a great time making Santa faces out of paper plates.
There was so much opportunity for pretend play. Their favorite was taking it in turns to deliver presents towed by their "reindeer" (their plastic motorbikes!)