Inside: easy outdoor activities for preschoolers to keep them busy all summer long! And, if you're lucky, give you a bit of peace…here's hoping!
If you're little, nothing beats good clean fun outside. Actually, what am I saying, the messier the better! But that's the beauty of taking things outdoors – getting messy is totally fine and just about every toddler or preschoolers mission in life (only mine?!)
Here are my favorite outdoor activities for preschoolers; they've kept my two (now 3 and 4 years old) busy and happy for several minutes, sometimes hours, at a time.
Many will also be suitable for toddlers, but for outdoor activities specifically aimed at 1 and 2 year-olds, watch out for a post coming soon.
Most are super simple to set-up or even better, no prep, because, you know, life is busy…
But a few of these activities do require a little more time – when I've seen something too cool looking to pass up and am procrastinating other important life stuff (probably my finest skill in life).
So I've split these outdoor activities for preschoolers accordingly…
This post contains affiliate links. If you click on one and make a purchase, I may receive a commission at no extra cost to you.
So what kinds of outdoor activities do preschoolers enjoy (& need)?
There are certain things that little kids gravitate towards – preschoolers AND toddlers. What's fascinating is that this love of a certain type of activity (e.g. throwing) is often driven by a skill your child is trying to master. So there's a very real need to give your preschooler the opportunity to practice this skill, in a way that doesn't destroy your house, garden or other stuff in one way or the other.
The types of things that both toddlers and preschoolers love to do, inside or outside, is pretty indefinite. The list below are some examples.
stacking
building
sorting
pouring
scooping
throwing
touching
exploring
cutting
packing (and unpacking)
opening (and shutting)
get messy
move, move, move!*
Most of the activities listed in this post involve one or more of the above. And of course, taking these types of activities outdoors just opens a world more possibilities, for any activity that involves, water, paint or any other type of mess… So expect a bunch of these types in this list of easy outdoor activities for preschoolers.
What age are these outdoor activities suitable for
This post is aimed at outdoor activities for preschoolers – so aged, 3, 4 and even an early 5. But many are things we've been doing since the toddler years that my two still haven't tired of. So there will be a bit of an overlap between this outdoor activity post for preschoolers and the one for toddlers (coming soon).
If you have more than one kid to entertain set the difficulty level for the youngest – simple is always best!
Alternatively, for many of these you can up the ante and make the activity a little more challenging… adding in a counting or sorting element or even some number recognition.
Importantly – just go with the flow and adapt as you need! And enjoy – it's got to be fun, right?
Water-based outdoor activities for preschoolers
Preschoolers + water normally always equals fun of some sort or another. Here are our water-based outdoor activities for preschoolers.

#1 Bubble snakes
Activity supply list: 0.5l plastic water bottle, sock, dishwashing liquid, water
They require a bit of puff from your preschooler but once they get the idea this is an outdoor activity that can keep them busy for quite some time. It's also fairly tiring – double win when they feel they need a bit of a rest after!
Quick how-to:
make bubble mixture – 1 part water to 1 part dish liquid
cut the end off an old plastic bottle and cover with a tight-fitting sock (clean the mouth-piece of the bottle – a clean sock would probably be preferable too)
dip the sock end of the bottle into the bubble mixture
and blow!
For a video tutorial, check this one here.
#2 Aqua limbo
Activity supply list: garden hose
Get the hosepipe out and challenge your little ones to limbo under the stream of water without getting wet. Of course, if your little ones are anything like my two, getting wet will only add to the fun; this is a perfect outdoor activity for preschoolers on a hot summer day.
#3 Water gun target practice
Activity supply list: toy water guns, empty cans, bottles or similar
Set up a row of cans or bottles and with a loaded water gun, your preschooler can have fun knocking them down. Simple, outdoor fun!

(I absolutely recommend these foam water guns over more sophisticated as your preschooler will easily be able to fill it themselves.)

#4 Water transfer with pipettes
Activity supply list: plastic containers, food coloring, pipettes
This is really good fine motor practice for preschoolers – simply transferring colored water (water with a few drops of food coloring) from a large container into upturned bottle lids.
It does take a bit of coordination just to use the pipette – Learning xx has some large preschooler friendly pipettes which are slightly easier for younger kids or you could swap out the pipettes for 1/4 and 1/2 teaspoon measuring scoops.
The beauty of pipettes is that they don't hold very much water so an interesting experiment for a curious preschooler to see how much many pipettes one bottle-lid will hold and how quickly he can fill them without spilling!
Plenty of opportunities to play with color mixing too – this is an outdoor activity for preschoolers with a ton of learning!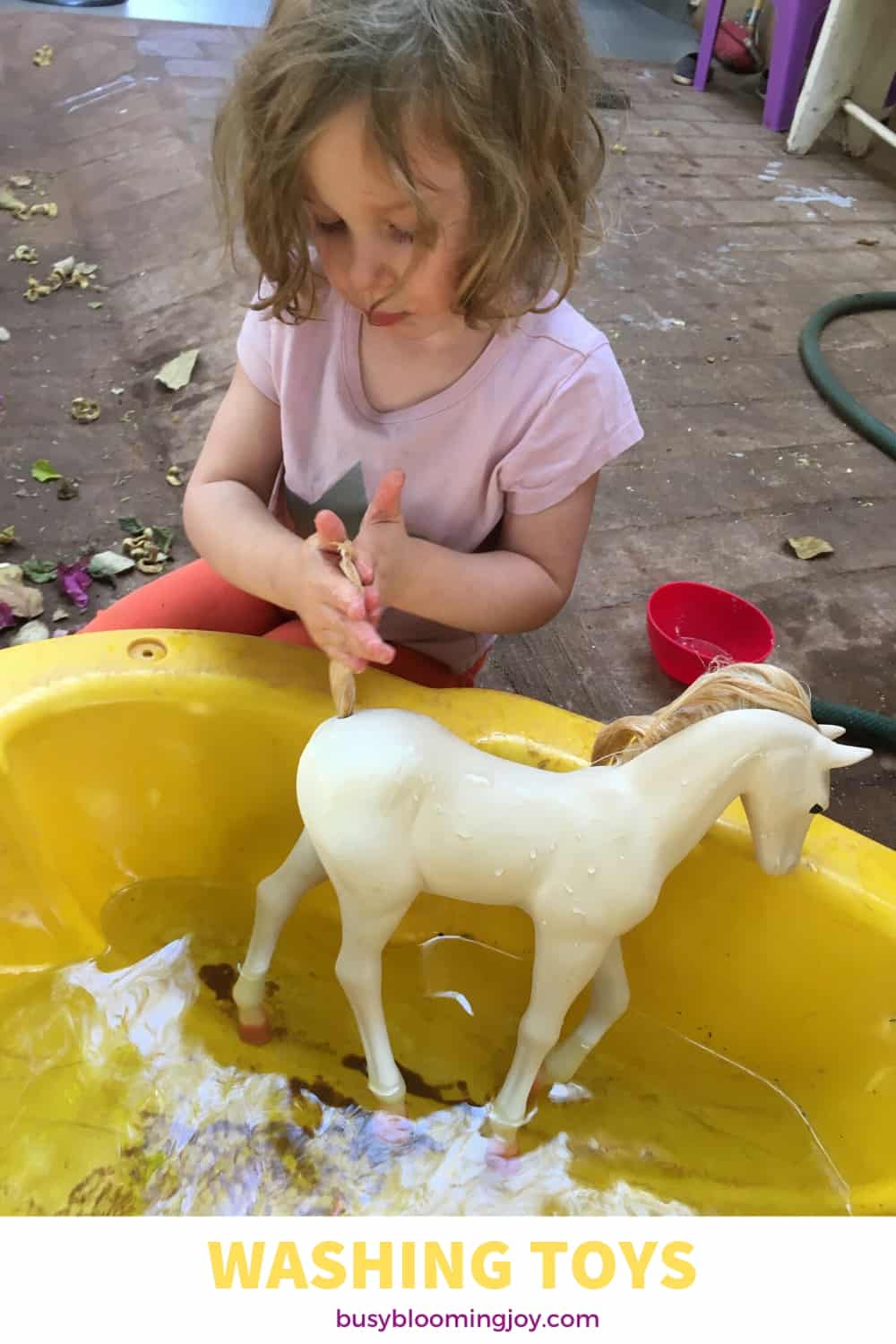 #5 Washing trucks, animals or another favorite toy
Activity supply list: water table or large tub, baby shampoo or dishwashing liquid
If you have a little boy that loves his trucks and diggers and is constantly in the sand and mud with them, then they probably need a clean…
But the toy of choice doesn't even need to be dirty – that can be part of the game. Kids have got such a wonderful imagination at this age they probably won't need much convincing that "Clover really needs a mane and tail wash, don't you think?" – as was the case with my 3-year-old daughter above. She spent a good half an hour giving Clover the spa day from preschooler heaven!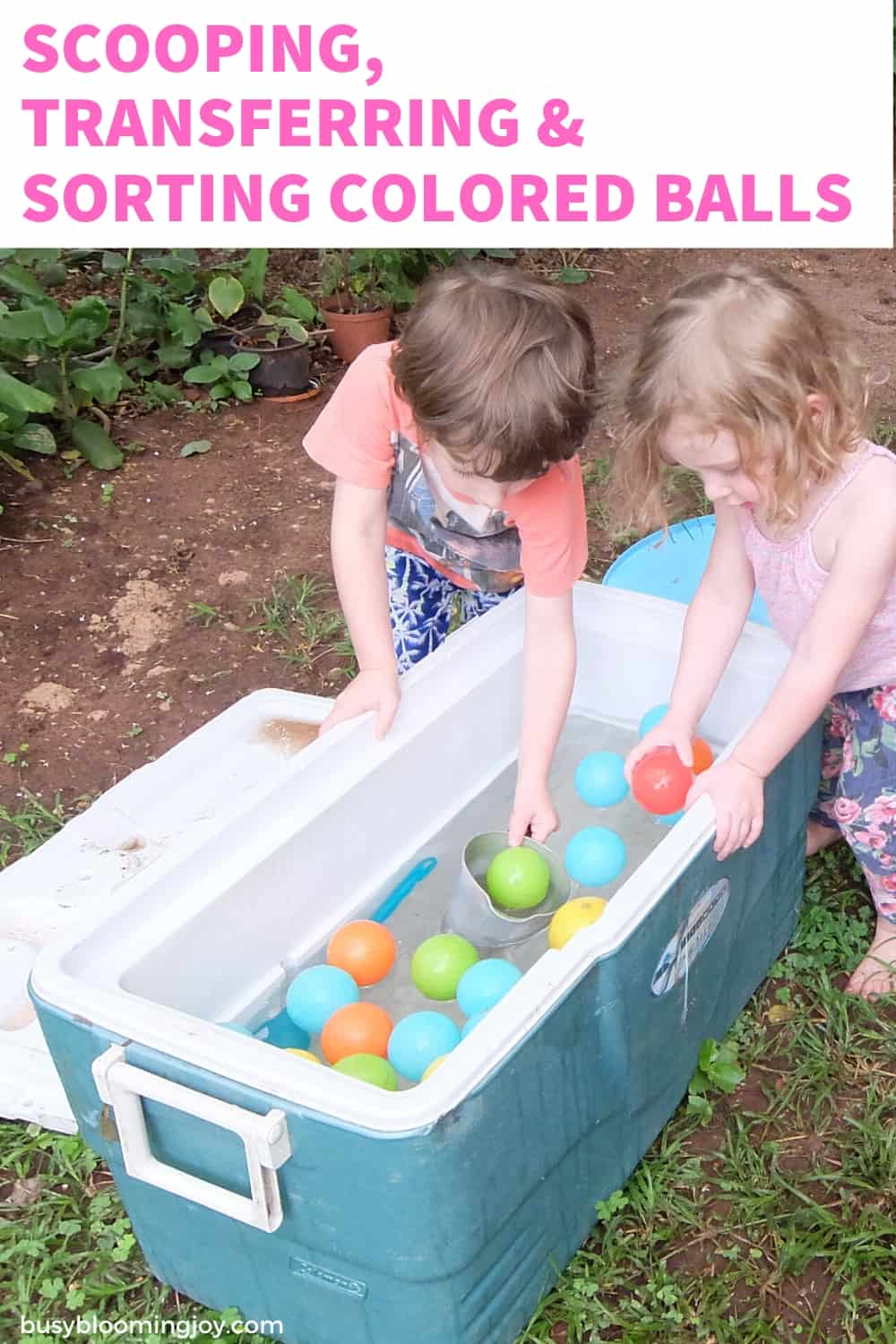 #6 Scooping, transferring and sorting colored balls
Activity supply list: a few water holding devices, colored play balls, kitchen utensils, colored plastic bowls (optional)
The picture above is not the best since it only shows one tub of water (a cooler box – many ways to improvise if you don't have a "water table"). There were actually 3 – another cooler box and a water table.
Dump the plastic balls into one of the tubs of water, then grab a number of different kitchen utensils (ladle, tongs, sieve, jug, salad servers etc) to transfer them with and lastly some colored plastic bowls (optional).
Then let your preschooler enjoy this outdoor activity whichever way he or she chooses!
My son, who's just 4, absolutely loves order and matching things together – so his mission was to sort the different balls into the different colored bowls…. While my daughter who was 2 at the time, just moved balls from one tub of water to the next, trying out all the different utensils.
#7 Chalk line erase
Activity supply list: chalk, paintbrush, water
Draw a pattern onto your outside paving or verandah with chalk and hand your preschooler a paintbrush and a pot of water to erase the chalk lines…
Easily adapted into a learning game if you draw shapes, letters or numbers and challenge your preschooler to erase the shape, letter or number you call out.

#8 Washing something!
Activity supply list: dishwashing liquid, water, sponge, spray bottle
Not toys this time – if you've got small kids then you're bound to have something outside that actually really needs cleaning. This combined with a preschooler in a phase of being helpful (only if helping is fun of course, but I'll take it!) and who loves using a spray bottle (pretty much every preschooler) and you've got yourself a no-prep outdoor activity for preschoolers that everyone's going to love!
#9 Water balloon pinata
Activity supply list: water balloons, string
After the faff and fiddle of filling and tying water balloons, I no longer hand them straight to the kids, because they're on the floor in seconds (the plastic waste for all of 1.5 seconds of fun does not sit well with me either…)
Instead, hang them up in a tree high up and let them throw things and poke sticks at them to break them. Ok, so there is a bit more faff to tye them in the tree, but this does keep them entertained for quite a while. The water normally manages to hit them straight in the face, adding to the fun!
#10 Sponge water bombs
Activity supply list: sponges, water
Again, this saves on the faff, fiddle and waste of water balloons. Have a bucket of water and a bunch of sponges to throw at, to or with your preschooler.

#11 Frozen tiny toy excavation
Activity supply list: water, small plastic toys, plastic container, freezer space, scoops, salt, pipettes, toy hammers etc
This outdoor activity does require a bit of prep – collect some small toys (think Playmobil characters, plastic cars and animals, pompoms etc) and dump into a freezer-friendly container with lid. We are all ice-cream lovers in our family and so have an abundance of 2 litre ice-cream cartons, so that was my container of choice.
You need to do the freezing part in stages, to ensure a good sprinkling of toys all the way through the ice. So put a few toys in, fill the tub about 1/3 full with water and give it a few hours to freeze. Then put more toys in, more water and so on until it's full of ice and toys.
Onto the excavating… Depending on how warm it is outdoors, will determine how quickly the ice will melt… So if it's super hot, cold water and a pipette may be all your preschooler needs to free those toys.
Warm water, some kind of child-friendly hammer and some table salt can speed the melting up – see how you can throw in a little bit of science too! A perfect outdoor activity for preschoolers on a hot summers day!
#12 Build a "water wall"
Activity supply list: plastic pipes, plastic bottles and other empty plastic containers, push pins, wooden fence to attach to
Simply pin all your plastic to the fence to make a water version of a giant marble run. Ours did not work out so well but this one from Where Imagination Grows looks a lot more successful.
Other messy or sticky outdoor activities & arts/crafts perfect for preschoolers

#13 Bubble foam cupcakes
Activity supply list: bubble bath, food coloring, water, electric whisk, muffin tins, pompoms,
Bubble foam is a lovely sensory experience for toddlers and preschoolers, but for my two I wanted to change it up a little bit so they made bubble foam cupcakes!
I don't know what it is about pretend baking – I can't say I do much "real" baking (whatever my best intentions) – but there's no end to the number of cupcake recipes my two have tried. Playdough, dyed rice, sand, mud, pompoms….
So bubble foam cupcakes with a pompom cherry have now been added to this never-ending list.
To make the bubble foam, take:
equal parts water + bubble bath
whisk with the electric whisk (my preschoolers loved the making part two)
I used pink bubble bath, hence the pink cupcakes, but otherwise you can add a drop or two food coloring.
#14 Spray paint artwork
Activity supply list: washable tempera paint, water, spray bottles, paper, painters tape
This a fun process art that also works those finger muscles.
Simply fill some spray bottles with a few dollops of washable paint and top up with water. Tape some watercolor paper or even newspaper onto a wall of the house and hand over to your preschooler – just be sure to be clear that the paint is for the paper, not the entire house, otherwise clean up may be rather lengthy…
Once the paint is finished and your budding artists have finished, remove the "masterpieces", refill the bottles with water and get your preschooler to clean up the stray paint…
Some great pictures of the finished paintings in this post from Play Ground Park Bench.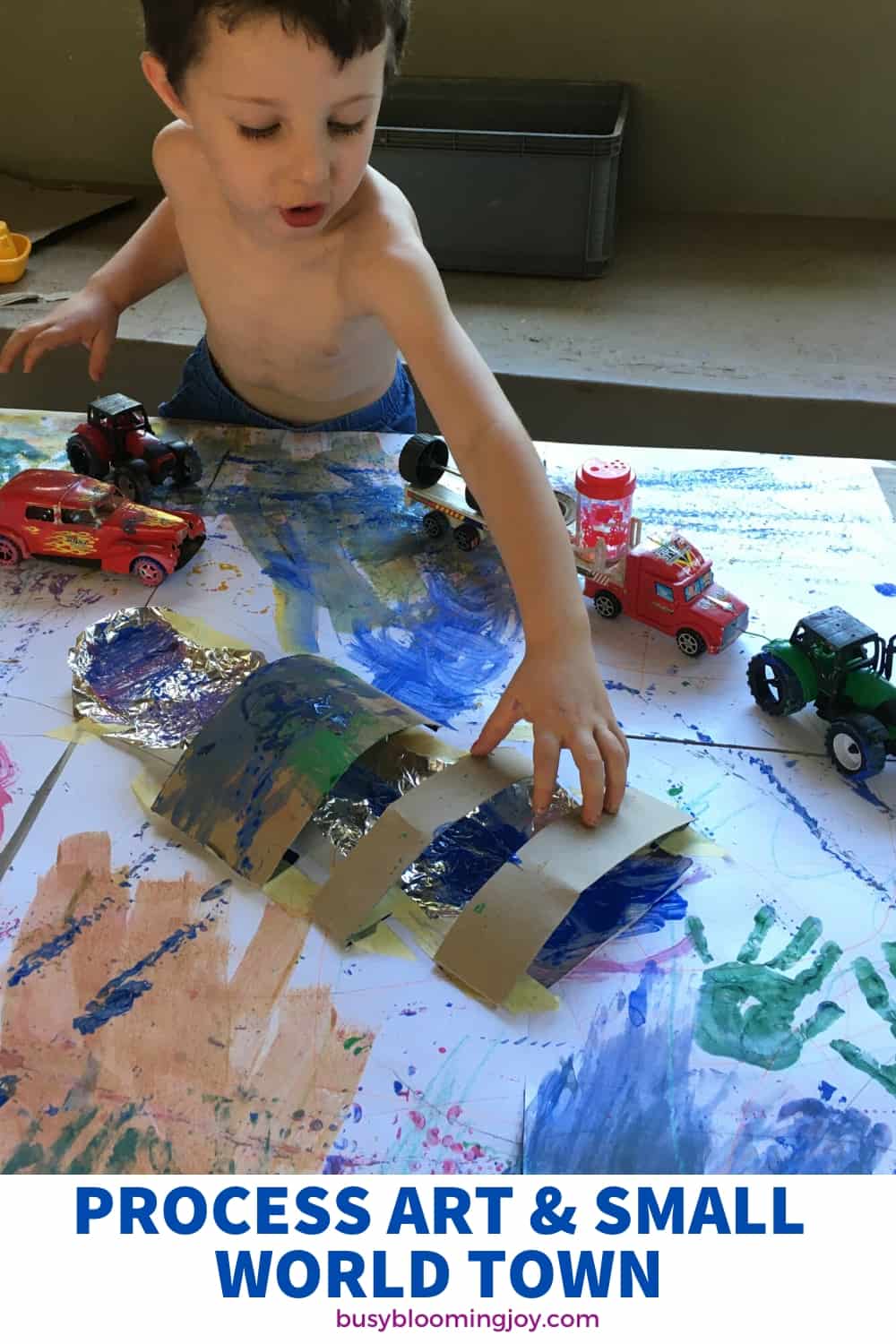 #15 Giant small town process art
Activity supply list: see below
This outdoor activity is a real winner! So much so, picture above is take two.
This is art come imaginary play on a grand scale – an outdoor activity that's actually a slightly more grown-up version of toddler truck painting (painting trucks and truck wheels and then driving them on paper to make tracks). I can't even say I can take much credit, it was all down to my 4-year old and his amazing imagination.
Anyhow, you need:
one heck of a large piece of paper – or lots of small ones, as I used above – with a decent weight (I used xx weight paper)
some bits and bobs to make up your town or countryside – we had foil as a river and then some strips of cereal boxes as a bridge, because you can't possibly have a river without building a bridge or two to cross it, right?!
and some painters tape to stick paper to table, river and bridge to paper etc
paint and painting implements to paint the roads, farm tracks, fields, car parks etc. By implements, anything will do really; brushes, rollers, sponges, hands even…. (The latter was my 3 year-olds "implement" of choice, hence the random handprints…)
This particular town and country work of art was so popular and provided a ton of play opportunity and stayed taped to the table for several days. Can't say better than that!
#16 Window painting
Activity supply list: washable tempera paint, paintbrushes, dry erase marker, a window
Painting on a vertical surface works the wrist and forearm muscles – quite a different skill to painting on a horizontal surface. If you don't have an easel or even if you do and want to mix it up, window painting is a fun outdoor activity for preschoolers.
Another good one if you want to introduce some learning – draw some shapes, letter or number outlines on the inside of the window and let your preschooler paint on the outside. You just need to be clever at drawing the mirror images of letters and numbers…(If you draw them on the outside, your preschooler will inadvertently wipe them off…)

#17 Paper mache castle
Activity supply list: large sheet of sturdy cardboard, lots of smallish empty boxes and cartons (cereal boxes, toothpaste boxes, other packaging, toilet rolls, tin cans, milk cartons etc), newspaper, flour, water, paint, paintbrushes
This would fit equally well on the list of outdoor activities for preschoolers into building… if your little one is into construction AND into stickiness AND painting this is sure to be a win.
You'll probably have to lend a hand in the first stage but after that, there will be several hours of quiet, spread over two days, as your preschoolers will be very busy. I mean, look at that concentration!
How-to as follows:
position the various boxes, toilet rolls, tin cans etc into a fort structure, ontop ot the large sheet of cardboard
stick down and together with painters tape
make up your paper mache mixture (flour and water until it's a rather revolting gloopy consistency)
tear newspaper into strips
"plaster" the castle by dipping newspaper strips into the flour gloop and sticking onto and all over the castle
allow to dry – around 24 hours
paint!
#18 Cardboard box painting
Activity supply list: cardboard box (larger the better with as little marketing print as possible), paint, paintbrushes
Never waste a cardboard box….you can play in them, smash them, decorate them, paint them. My preschoolers love them too (!)
Switch out the paints for crayons and stickers and this makes a wonderful indoor activity too.
For more indoor activities, check out: 39 simple & sanity-saving activities for toddlers & preschoolers to do at home (minimal prep, minimal mess)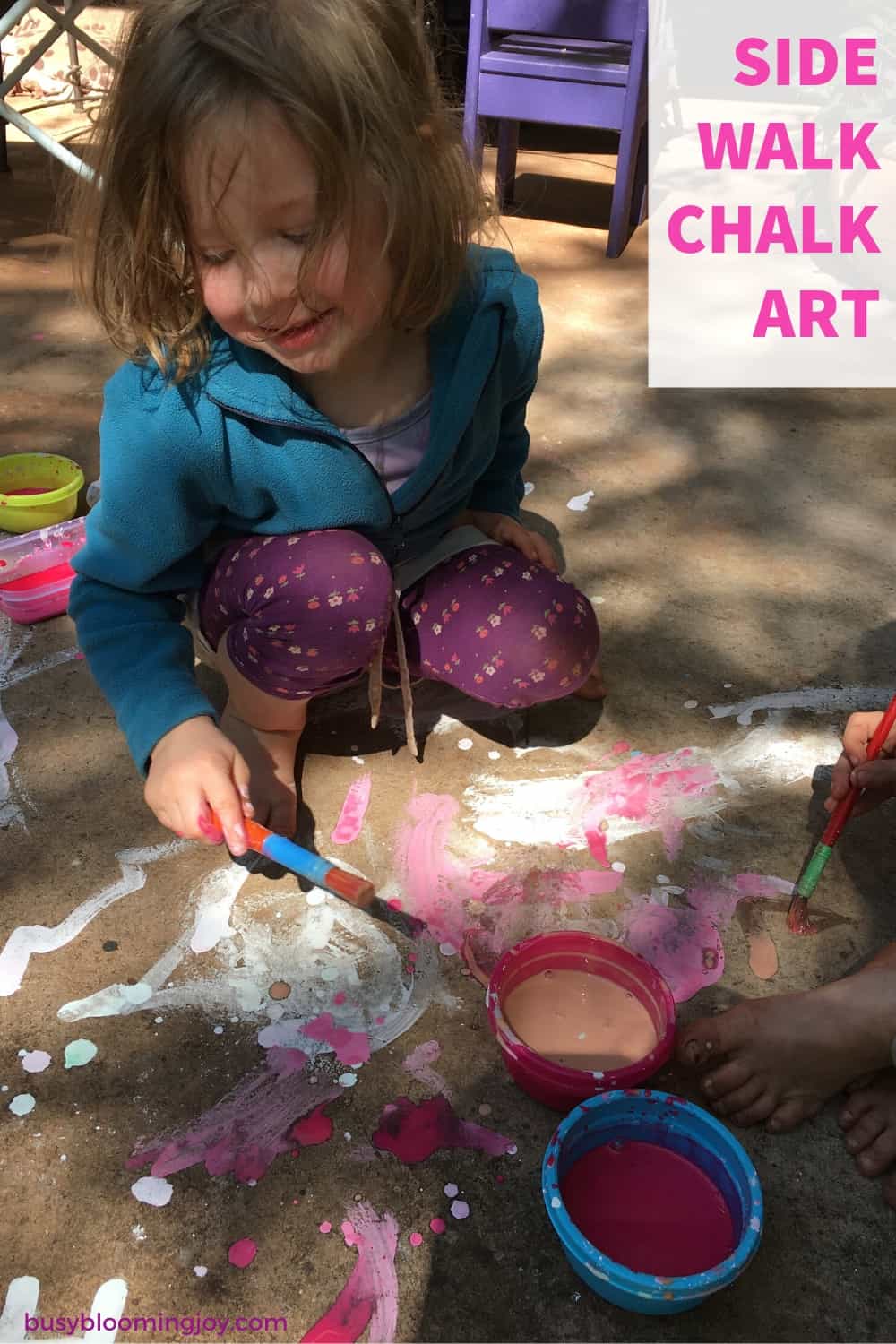 #19 Homemade sidewalk chalk paint
Activity supply list: cornstarch, water, food coloring, paintbrushes
I was so surprised, firstly, that this paint came out so well and, secondly, it kept a 3 year old, 4 year old, 5 year old, 8 year old and an 11 year old busy for so long! (My two preschoolers, their friend on a playdate and my two neices.)
3 ingredients:
cornstarch
water
food coloring
Simply mix the ingredients together to a fairly runny consistency and let your preschooler paint your verandah, paving stones, sidewalk etc…
This paint does dry very pale and pastley, so you need to go as deep with the color as possible when mixing.
(For deeper, more vibrant chalk paint, check out this tutorial from Simple Fun For Kids which uses chalk sticks mixed with water.)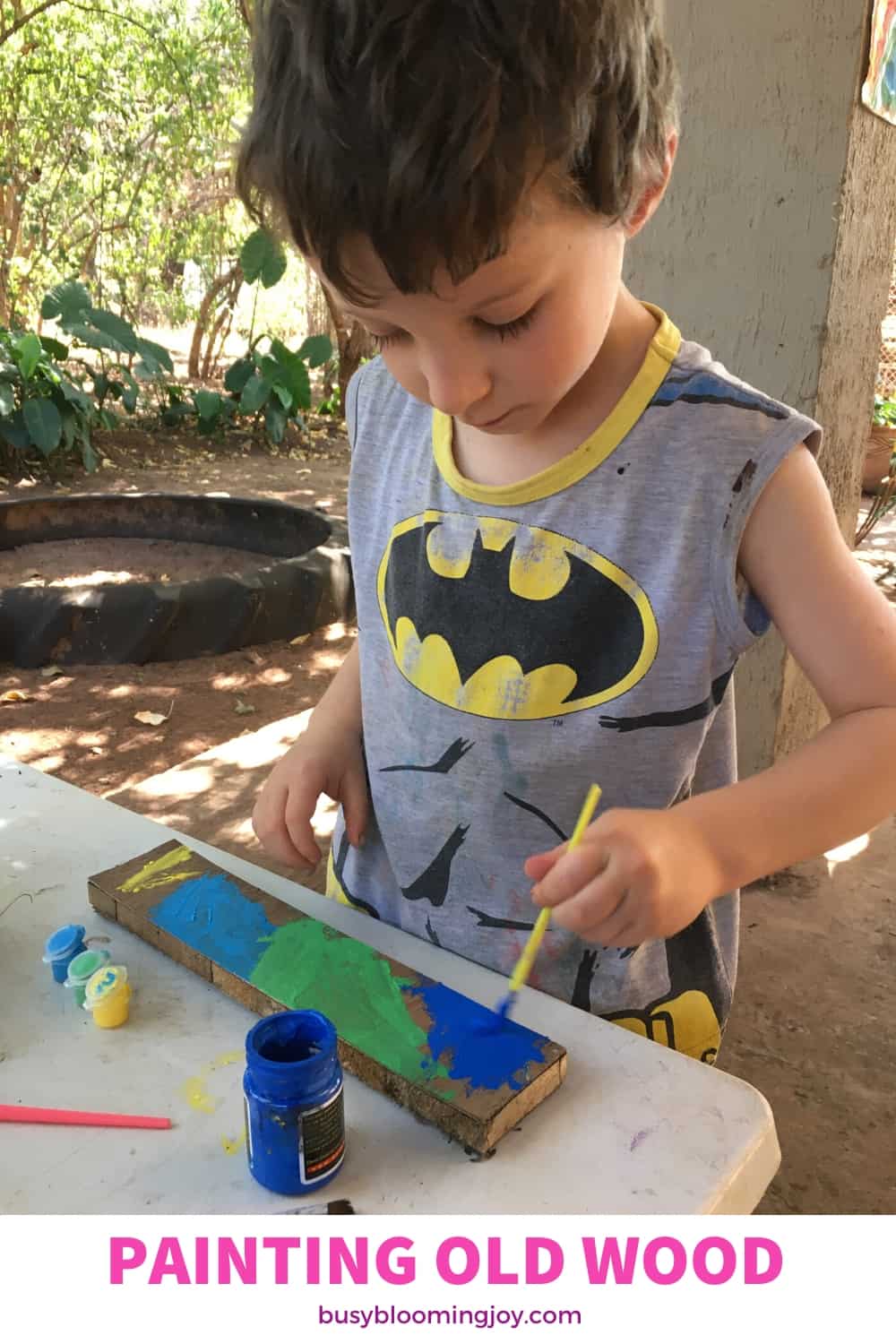 #20 Paint an old piece of wood
Activity supply list: random old piece of wood, any type of paint if your preschooler had outgrown the stage of painting his hands, the table etc…
Another surprisingly engaging outdoor activity for preschoolers – my 3 and 4 year old still have their random pieces of painted wood proudly displayed in their rooms, for this reason it's one up from painting a cardboard box, which never survives more than a day or two (thank goodness).
Outdoor activities for preschoolers into building
There has to be a whole section of outdoor activities for preschoolers who love to build, because, well, my 4-year-old is into building, big time!
Some great learning in these ones too…
#21 Build a giant-sized marble run
Activity supply list: cardboard tubes (inner tube from cling wrap, paper towel, baking paper etc, empty Pringles tubes, toilet rolls etc, wood glue or hot glue gun, wall/fence you can stick to
This proved a lot more taxing than I first thought – we lost a lot of marbles in the process but it was a fun project to do with my preschoolers who played with it for days…

#22 Paper serviette parachutes
Activity supply list: paper serviettes, string, painters tape, small toy
Tape string to each corner of a paper serviette, knot the string together and then tape to a toy – this is "Ken" from my daughters Playmobil camper van.
They are a little bit fragile, no surprise there, but fly really well!
#23 Paper airplanes
Activity supply list: paper, patience!
These do work well indoors, but to get them flying higher and further, heading outdoors is the way to go.
Here's a video tutorial for an easy paper airplane if you're a novice like me. That was about the only tutorial I could follow with an impatient 4 year old breathing down my neck! Trust me, don't look at any other tutorials that say they're "easy" unless you're on your own or an origami expert!

#24 Tinfoil and egg box carton boats
Activity supply list: half dozen egg carton box, tin foil, wooden skewers, paper
Lots of fun and learning here. After the classic "sink or float" experiment we made these boats simply by wrapping the bottom half of the egg box with aluminum foil. Short wooden skewers became masts and rectangles of paper attached with tape, the sales. (Totally the wrong positioning for all those in the know about boats – my father would be most unimpressed!)
How strong are our boats? Let's see how many stones we can load into them without letting any water in, which makes the egg carton very soft and eventually causes the boat to collapse…
How can we make them sail quickly? My two instantly went to blow the boat, rather than the sail..,
#25 Build (and knock down) tin can towers
Activity supply list: tin cans
Empty cans if you don't want squashed toes! You can suggest building tall towers or build a triangular wall of cans and have fun throwing or kicking balls at them to knock them down.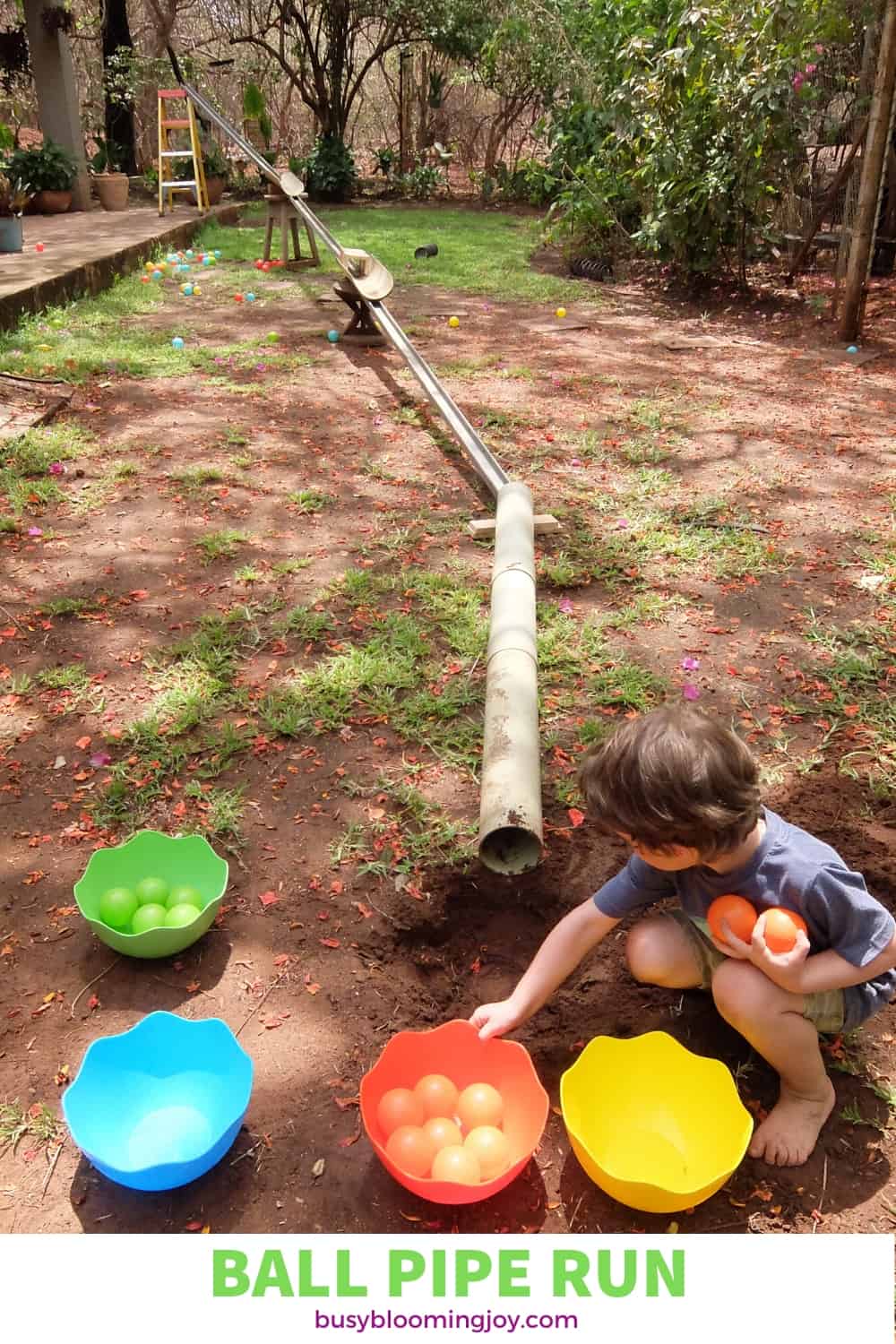 #26 Giant ball run
Activity supply list: balls, old drain pipes + anything else balls can run along or through, chairs and stools as support structures
Of the whole list, this is probably THE absolute favorite outdoor activity for my preschooler. We have made soooo many different versions (it does help that my husband is a builder so we always have things lying around at home perfect for the job!)
#27 Mud bricks
Activity supply list: ice cube trays, mud
Using an ice cube tray your preschooler can make mini "bricks" with some dampish mud. Allow them to dry and "bake" in the sun and then build.
Some good pictures in this post from Play Teach Repeat.
Nature-inspired art/crafts and activities for preschoolers
A few of these may be best avoided if you have a really smart garden since there's a fair amount of foraging for plants and leaves in this list. (I've long since given up on our garden, what with two preschoolers, two puppies and very little time!)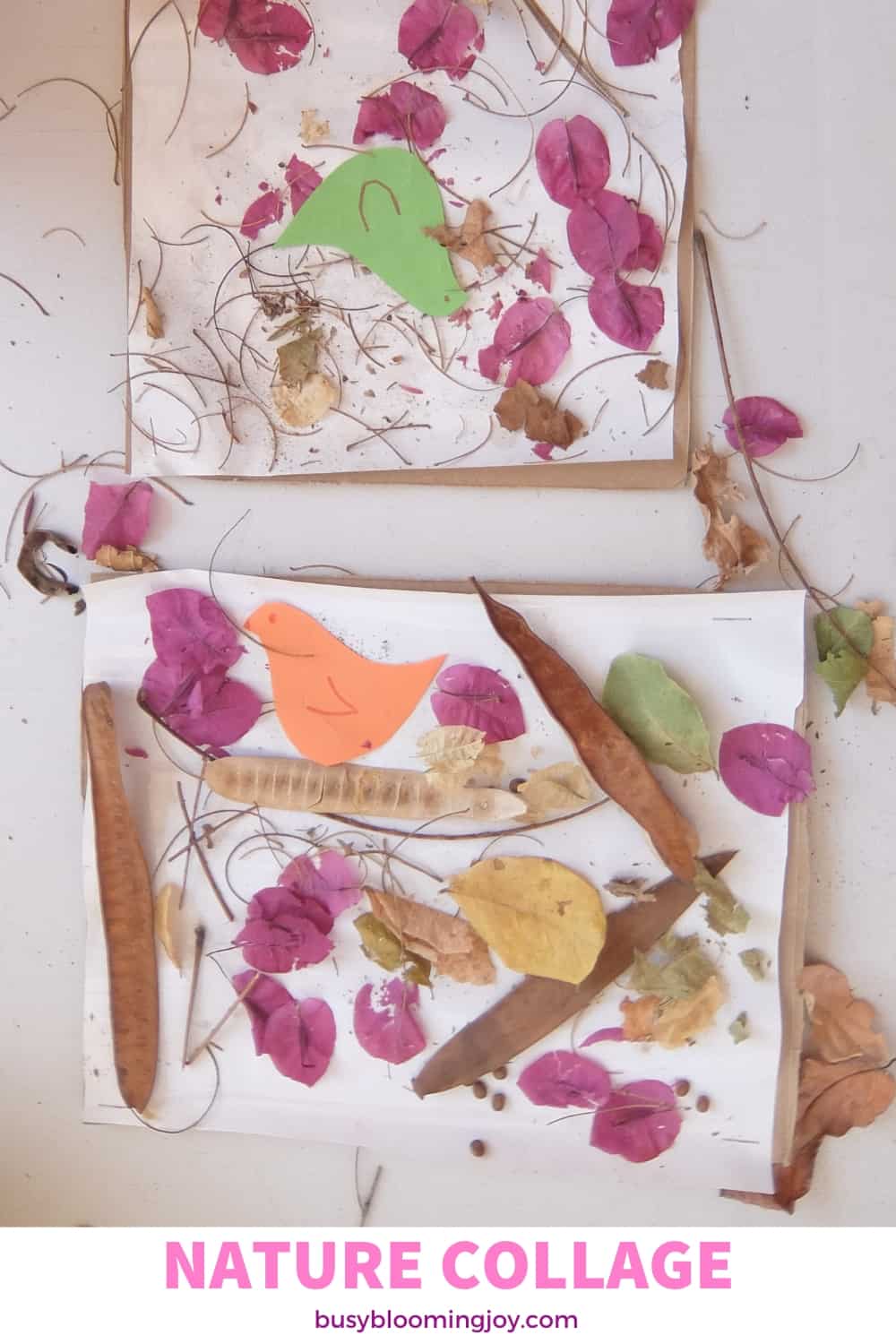 #28 Make a nature collage
Activity supply list: contact adhesive, painters tape, bits and bobs from the garden
Makes a cute keepsake or gift for a loved one too.
With the painters tape, secure the contact adhesive to the table, sticky side up. Then have your preschooler decorate it with bits and bobs from the garden. My two decided theirs were birds nests, so i cut out a paper bird for them to stick on too. Then cover the top with another sheet of contact paper.
#29 Leaf matching scavenger hunt
Activity supply list: different leaves from the garden
This one is a great outdoor activity for getting some wiggles out while practicing observation and matching, double win!
Forage for a few different leaves in the garden, out of sight of the little ones if possible. Collect 5 or 6 types of leaf, 2 of each if you're doing this for 2 kids, 3 of each for 3 kids etc.
Give each preschooler the first leaf type and send them off looking for a leaf to match. I was amazed how many plants have quite subtle different leaves (I'm not much of a gardener) and talking about how the leaf your child found is the same or different to the one you gave them is great communication practice.

#30 Make plant soup
Activity supply list: bowls, pots, pans and other old kitchen implements to "cook" with, preschooler scissors, a garden you're not too precious about!
First, collect your ingredients – this is best done under supervision unless your preschooler is very trustworthy with scissors and/or there are some plants that are a definite no-no for trimming.
So scissors and bowl (our rule is scissors in the bowl when walking from plant to plant) and allow your preschooler to snip different leaves to cook with. You can also gather a few flowers and seed pods or other things that interests.
Take back to your "kitchen" – like for our mud kitchen activity, we use a small white plastic table and old pots, pans and implements.
Cook and enjoy being served up delicious plant soup.
#31 Playdough nature printing
Activity supply list: playdough, things from the garden (flowers, dried leaves, seeds, sticks, small stones)
If your preschooler loves playdough (which don't?) then this is yet another outdoor activity they're going to enjoy. Forage around the garden some and let your preschooler experiment with the shapes and textures they print onto playdough.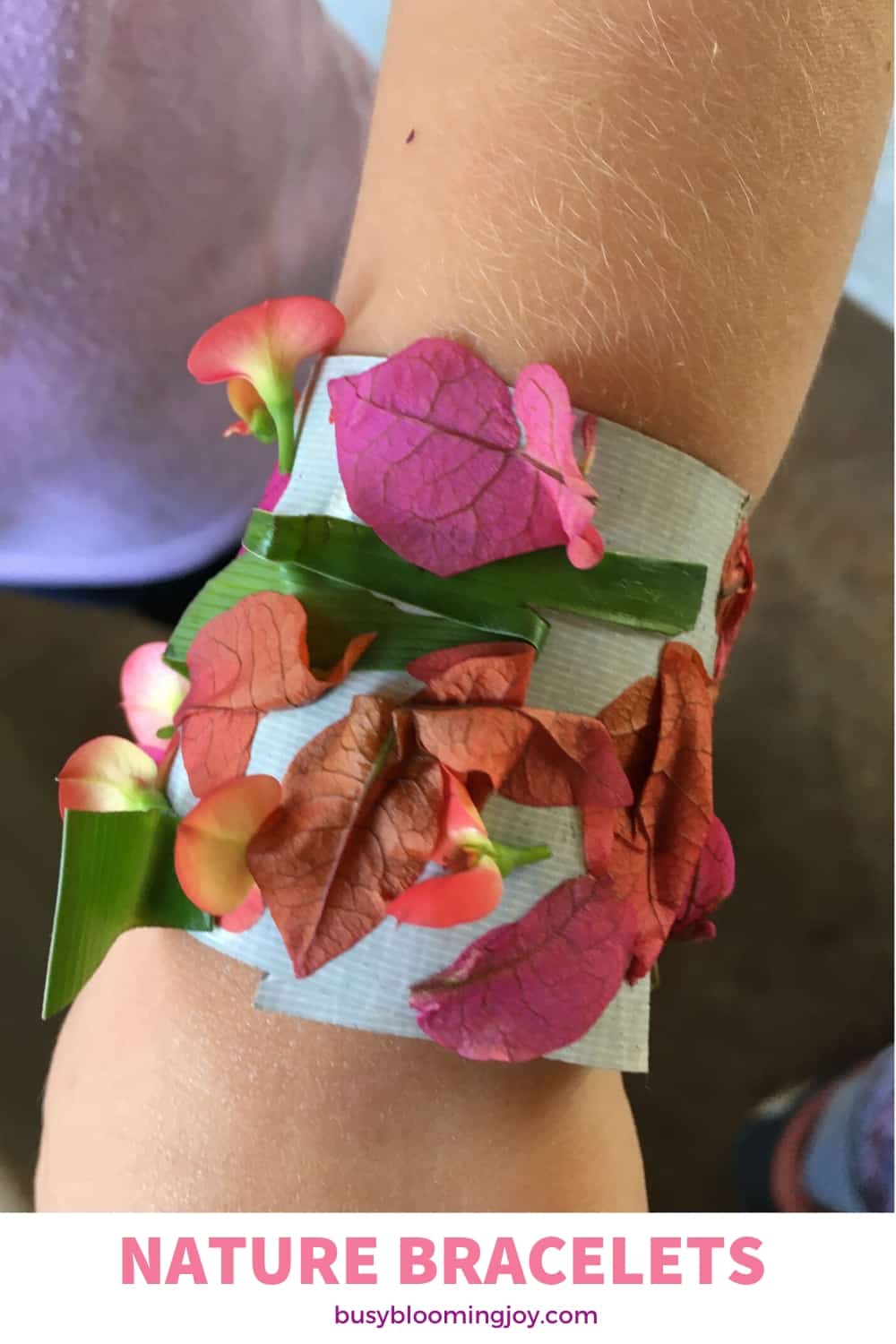 #32 Make a nature bracelet
Activity supply list: duck tape, preschooler friendly scissors and more items from your not-too-precious garden
Firstly, more snipping and gathering of leaves and petals from the garden.
Then, cut a short strip of tape and fasten it around your preschoolers' wrist, sticky side out. Then, like those nature collages, your little one can make their bracelets with the petals and other things they've foraged.
Simple and so cute!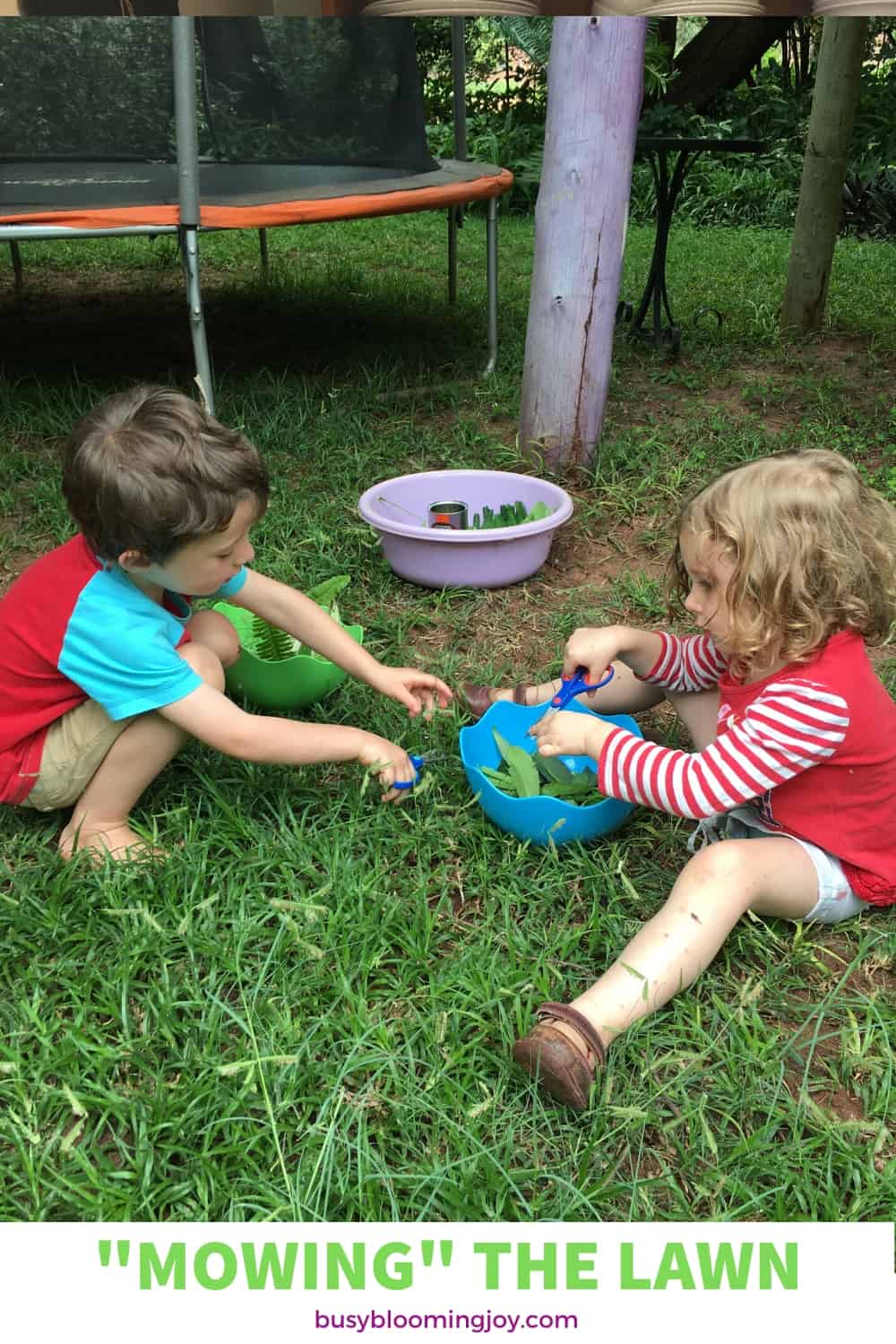 #33 Mowing the lawn
Activity supply list: preschooler friendly scissors
More scissor skill practice and a good few minutes of peace… A simple and very effective outdoor activity for your cutting-loving preschooler.
Pretend play outdoor activities that preschoolers will love
#34 Build a fort
Activity supply list: garden or backyard with a little space, some good hidey holes in and amongst bushes, sticks and branches
I remember building forts in my grandparents garden with my brother when I was little, making tent-like structures with all sorts of random sticks, logs, dead leaves or leaf-covered fallen branches. Our garden isn't quite as ideal for fort building but we've had a good go – another fun outdoor activity for a preschooler who loves building!
#35 Setting up camp
Activity supply list: the garden/backyard, your preschoolers' wonderful imagination
During lockdown our Saturday night family fun was camping in the garden, setting up camp, cooking on the fire, warm bucket bath for the kids and then all sleeping in our 2 man tent (well not quite "all" of us – I normally crept back into the house at the earliest opportunity…)
Now out of lockdown, this has come to an end, but the kids love re-living every part of the camping experience. A pile of stones becomes the fire, a stick to stir the pots, imaginary plates and food, an imaginery tent… You get the picture?!

#36 Coffee shop fun
Activity supply list:old teapot or coffeepot, old whisk, dishwashing liquid, ladle/spoon, sand/mud from the garden, water
Similar to mud kitchen, but this outdoor activity where your preschooler gets to play at being a coffee shop barista! Mud/sand and water is the coffee, then they whisk up the frothy milk (water and dish liquid) and serve up their lucky clients a delicious coffee.
#37 Go on a bear hunt
Activity supply list: the garden/backyard, toys to hide, homemade binoculars (optional)
Or a dinosaur hunt or toy car hunt…. hide whatever type of toy you have a few of (plastic dinosaurs or stuffed teddies in our case) and get your preschooler to hunt for them around the garden. If you're kids are a fan of "We're going on a bear hunt" then they're sure to love re-enacting the story.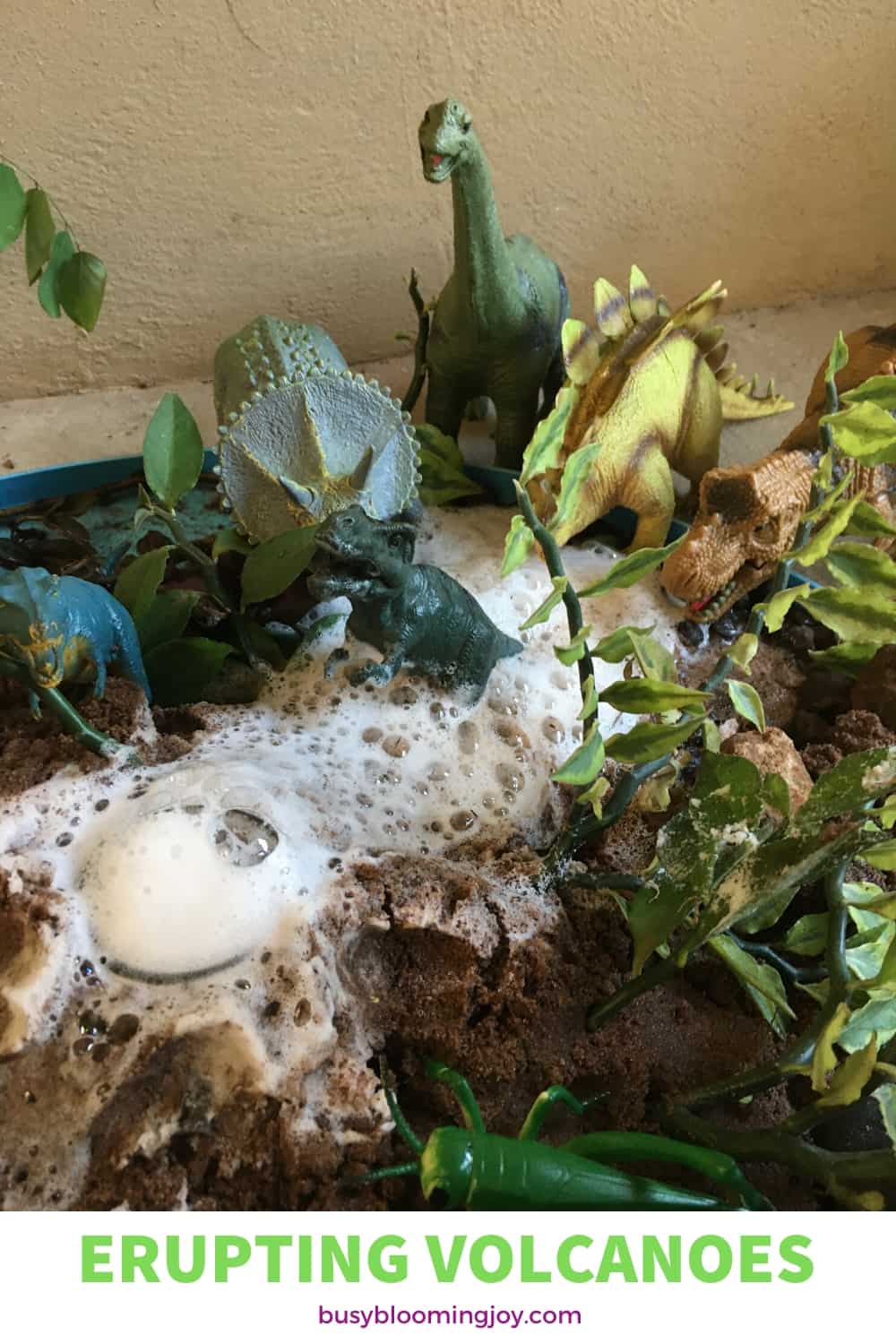 #38 Dinosaur world with volcanoes
Activity supply list: sand, plastic dinosaurs or other toy animals, tea light holder or similar, bicarbonate of soda, white vinegar
This is the classic bicarbonate of soda and vinegar experiment with a little twist – pretending it's a volcano in dinosaur world…
Setting up the dinosaur world totally adds to the fun of this only-to-be-done outdoors, activity; damp sand to make a muddy mountain, leaves, grass and plant trimmings as vegetation and finally the dinosaurs and some random over-sized insects.
For the volcano, place your tea light holder in the top of the sand mound. Then heap a generous scoop of bicarb inside and pour vinegar on top – you do need to be generous on both to get a decent-sized eruption where the lava makes it all the way down the side of the mountain, as in the picture above.
Movement-based outdoor activities easy enough for preschoolers
Lots of these need very little explanation – so this list of outdoor activities to get your preschooler moving is fairly short and sweet…
#39 Junior version of "Egg and spoon"
Activity supply list: water ballons, salad server
Another one which uses water balloons but preserves them for quite a long time… great to set up as a relay up and down the garden if you have a few preschoolers to entertain.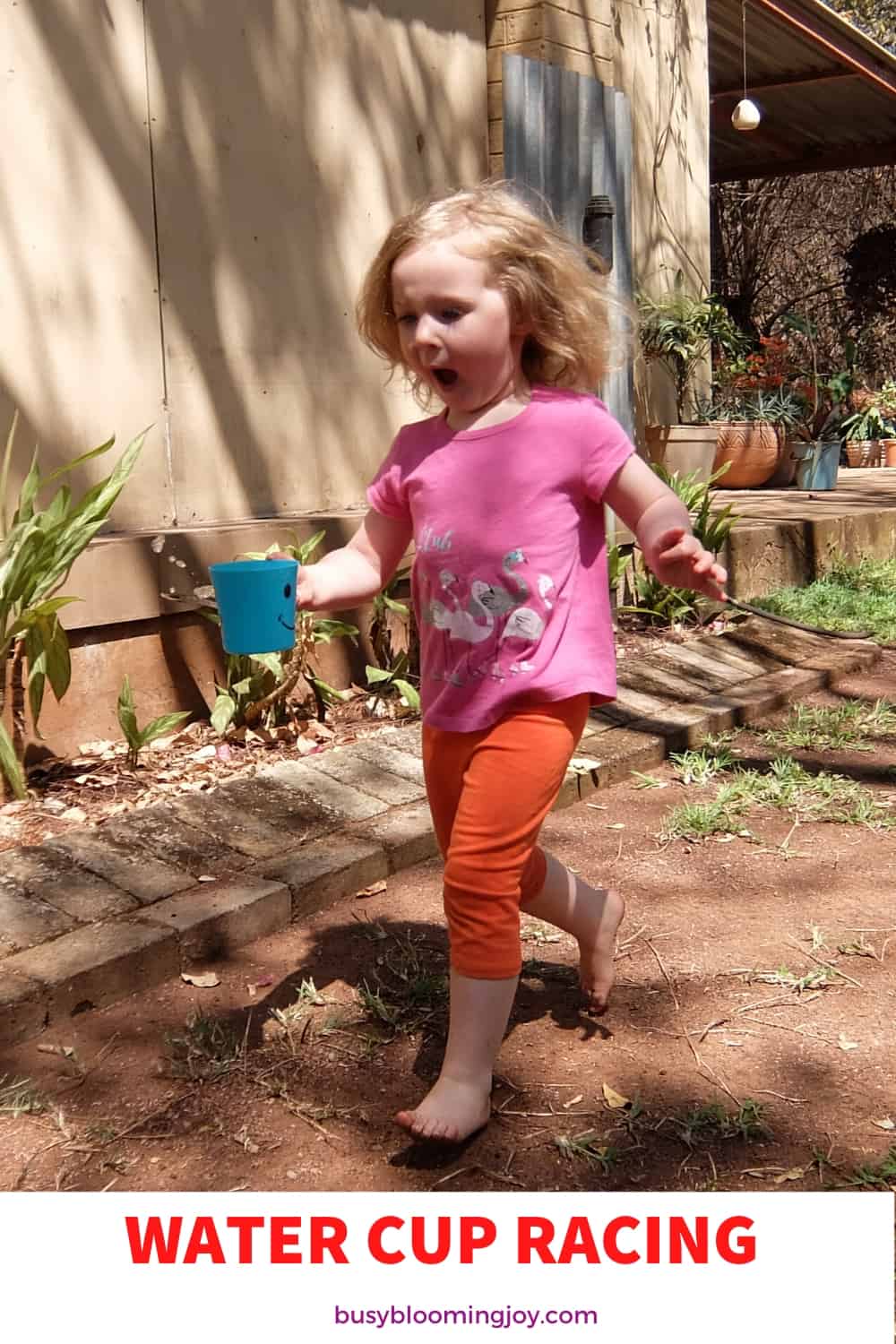 #40 Water cup racing
Activity supply list: plastic cups, water, plastic bowl/bucket/container
Run with a cup of water to a bucket without spilling it, pour in the bucket and run back again refill and so on…
You can see how much my 3-year-old loved this one; she's definitely got a competitive streek.
#41 Sack race
Activity supply list: old pillowcases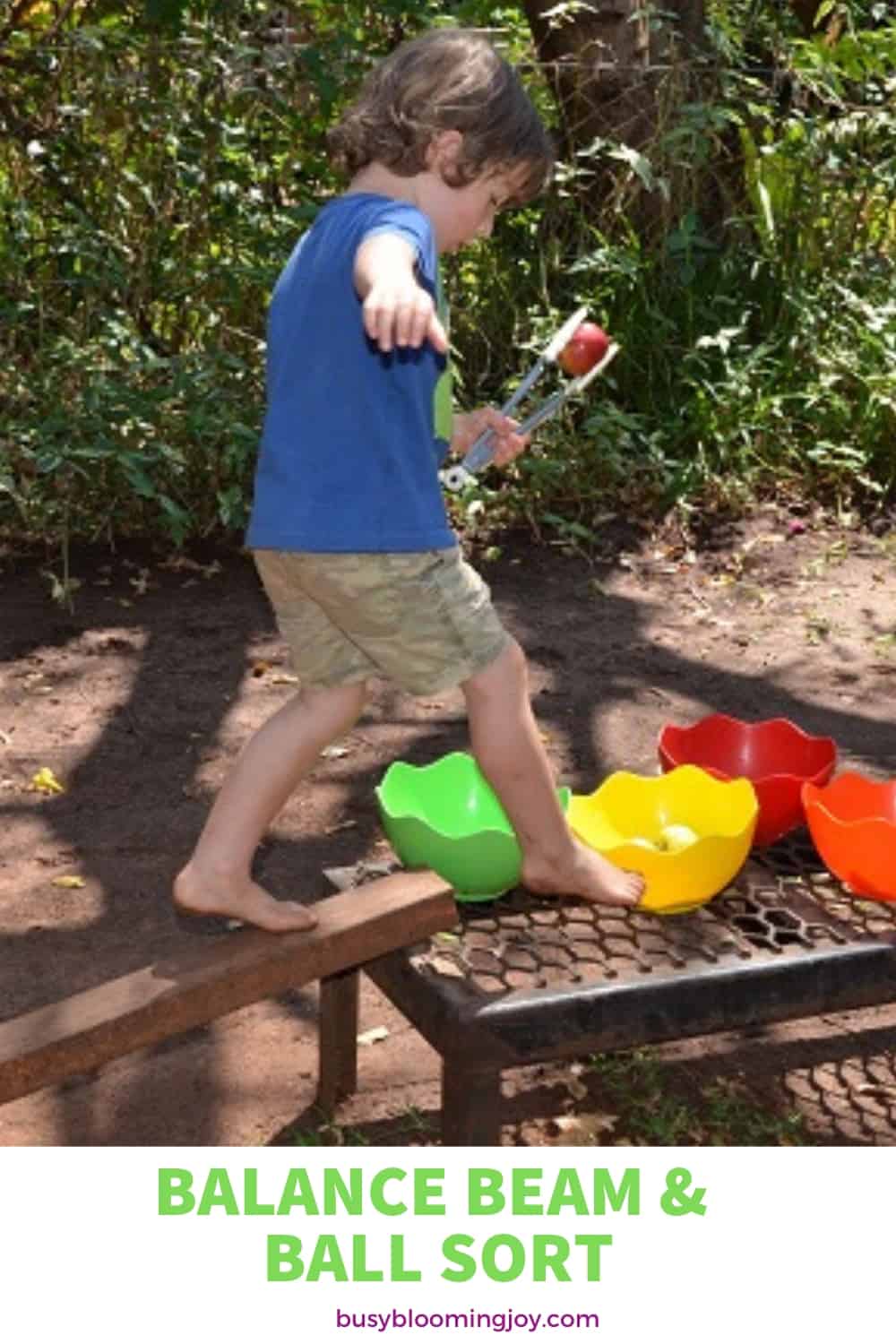 #42 Balance beam & obstacle course
Activity supply list: plank of wood, something sturdy to lean it on (we used a car ramp in the picture above), alternatively your balance beam doesn't even need to leave the ground, just lay the plank on the ground
We combined our balance beam activity with color sorting balls – doubling the concentration needed to balance on the beam while holding the ball.
As for more lengthy obstacle courses, it's all about getting creative:
hop from one stepping stone to the next (alternatively use hula hoops lying on the ground)
use pool noodles to jump over or limbo under
peg a cargo net to the ground to crawl under
turn a large cardboard box into a tunnel by cutting holes in each side
Plenty more ideas in this post from Happy Toddler Playtime.
#43 Wheelbarrow races
Preschoolers are not too little to try wheelbarrow races – expect about 2 or 3 steps in the beginning but once their arms get used to it and frow a little strength, expect lots of giggles and some tired preschoolers!
#44 Hide and seek
An old classic that never fails to keep kids of all sizes occupied.
#45 Blow bubbles
I keep wondering when my two will grow out of this fascination for bubbles! Not anytime soon it would seem…

#46 Tin can stilts
Activity supply list: empty tin cans, string, drill, paper, crayons, tape and stickers to decorate (optional)
Another classic that my 3 and 4-year-old just about managed but I had to help them a lot to get going – this was a lot harder for them than I thought it would be. Definitely, one to try again in a few months time.
#47 Race around the house
Activity supply list: access all the way around the house, preschoolers with too much energy!
This one never fails to amuse – it's a regular outdoor activity when I'm hosting playdates at ours. "Let's go – I'm going to catch you, quick around the house… 10 times" that's all it takes. Keeps me fit too.
#48 Learn some gymnastics
I'm not a gymnastics expert, but this video from Coach Meggin has some basic moves that even I could manage and my kids love it!
Wrapping up
I hope that's given you a good few outdoor activity ideas for your preschooler, enough to give you a little peace this summer!
Looking for more preschooler or toddler activities? Check out these posts now:
For Fall & Halloween:
For Christmas: