Inside: From the healthy to the not-so-healthy, from sweet and sickly to savory, here you'll find a bumper list of Halloween treats for toddlers
Rock on – Halloween is nearly here! Whether you're celebrating at home or have a party planned for your tiny tots, when it comes to Halloween, the candies and treats pretty much have the starring role.
It's time to start cooking up a storm in the kitchen. Or maybe just decorating, chopping and constructing a spookilicious Halloween treat, because, if you're anything like me, with little ones at your feet being overambitious when it comes to food is a recipe for chaos…
But here there's a little bit of everything, whether you want to go all out or take the easy route. From super duper easy Halloween treats for toddlers to slightlly trickier ones, from healthy Halloween treats to those laden with candy. You'll also find some divinely frightening (not really) savory Halloween snacks, plus easy Halloween cookies and cupcakes.
This post contains affiliate links. If you click on one and make a purchase, I may receive a commission at no extra cost to you.
Easy Halloween treats for toddlers (no-bake)
These Halloween treats for toddlers are all no-bake and often, part of the construction involves a store-bought cookie or similar – leaving the fun part of creating your spooky treat to you. Or if you have a little bit of extra time, and patience, why not get your little ones involved. If you're looking for Halloween treats to make with kids, loads of these fit the bill.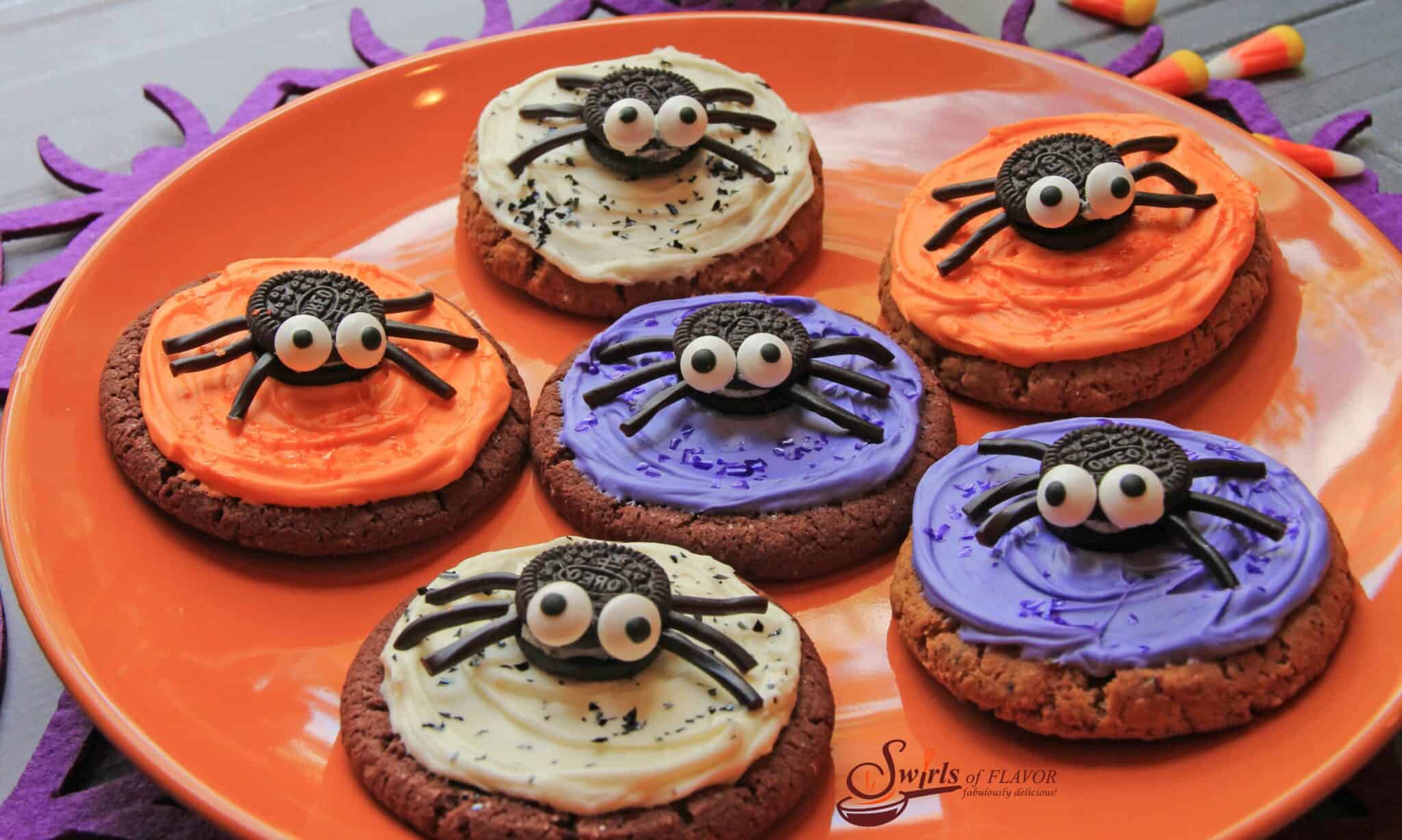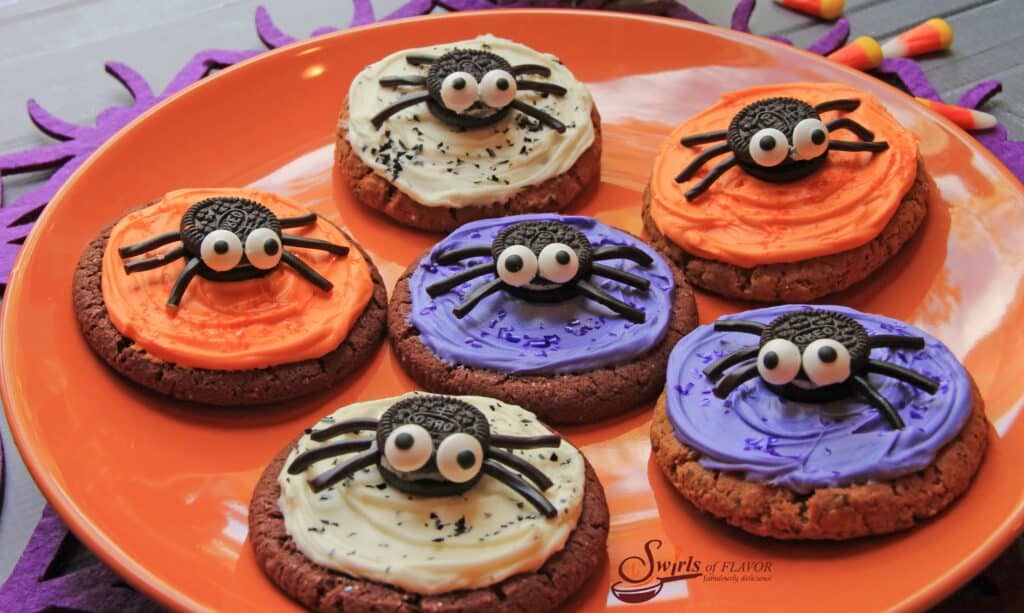 A cute spider aboard an iced cookie – simple, easy and one your little ones will love making as well as eating.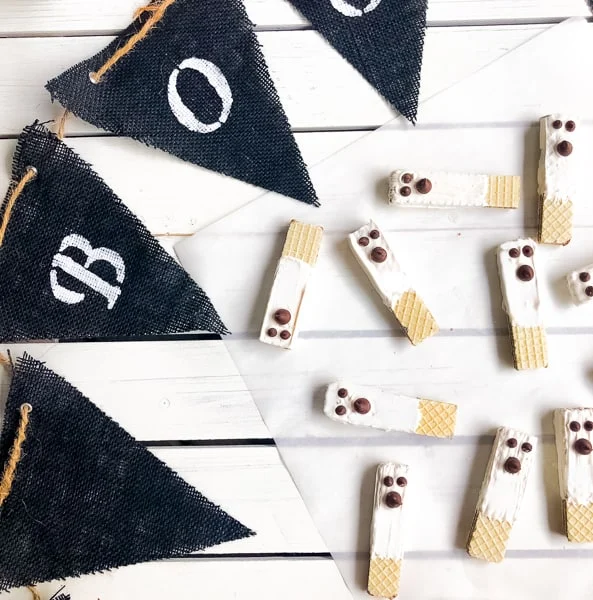 Dip a chocolate wafer into white chocolate, then add milk chocolate blobs for eyes and noses. These sweet ghosts are super easy Halloween treats for toddlers.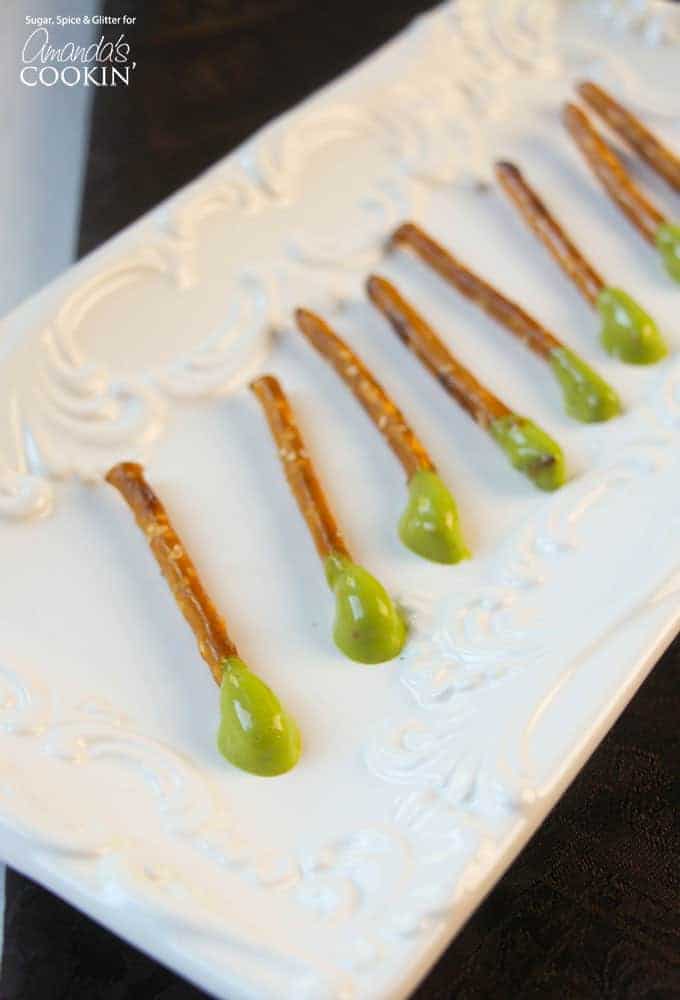 Gross! But boogers are right up any little kids' street, to these Halloween treats are sure to delight.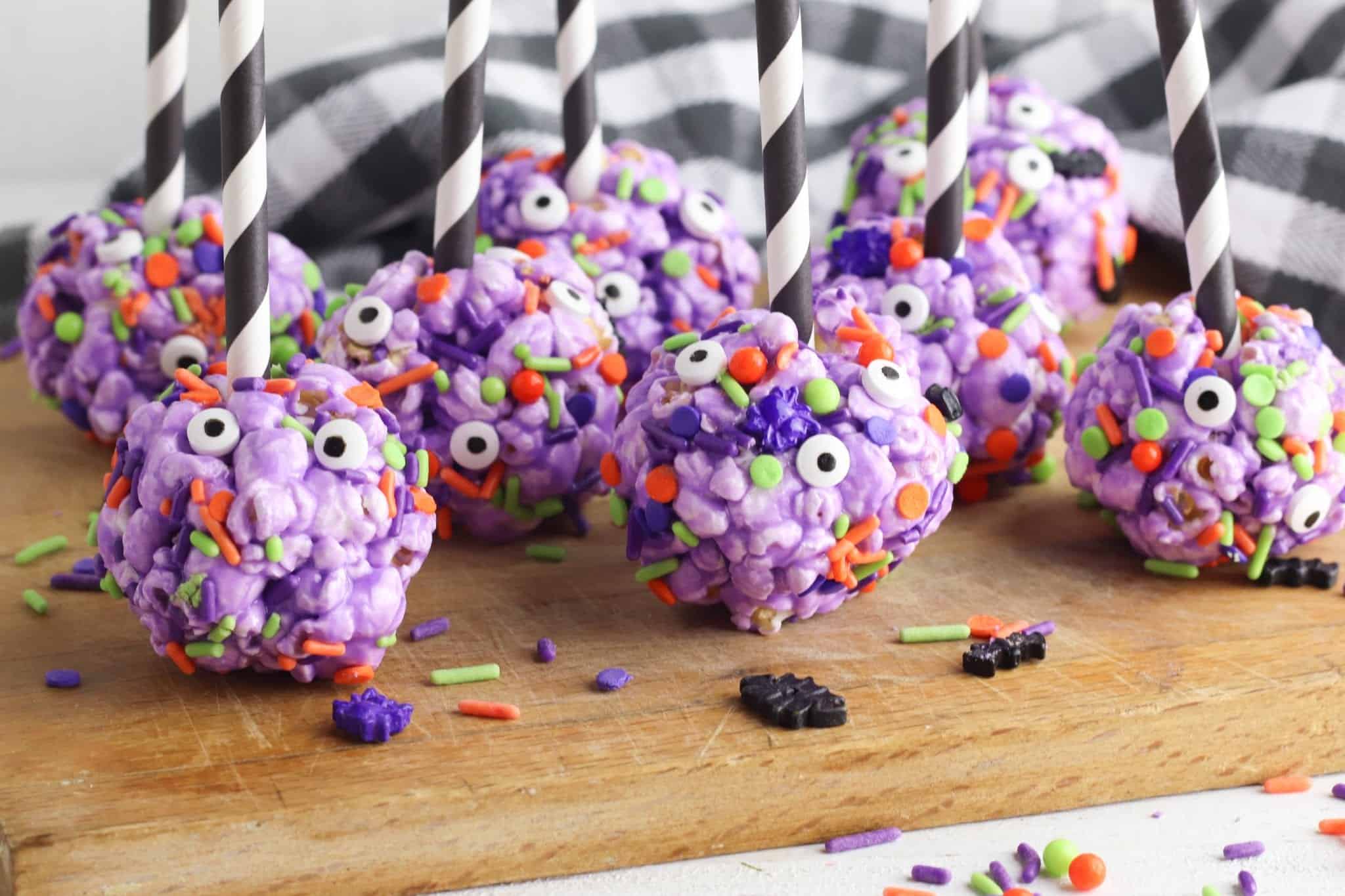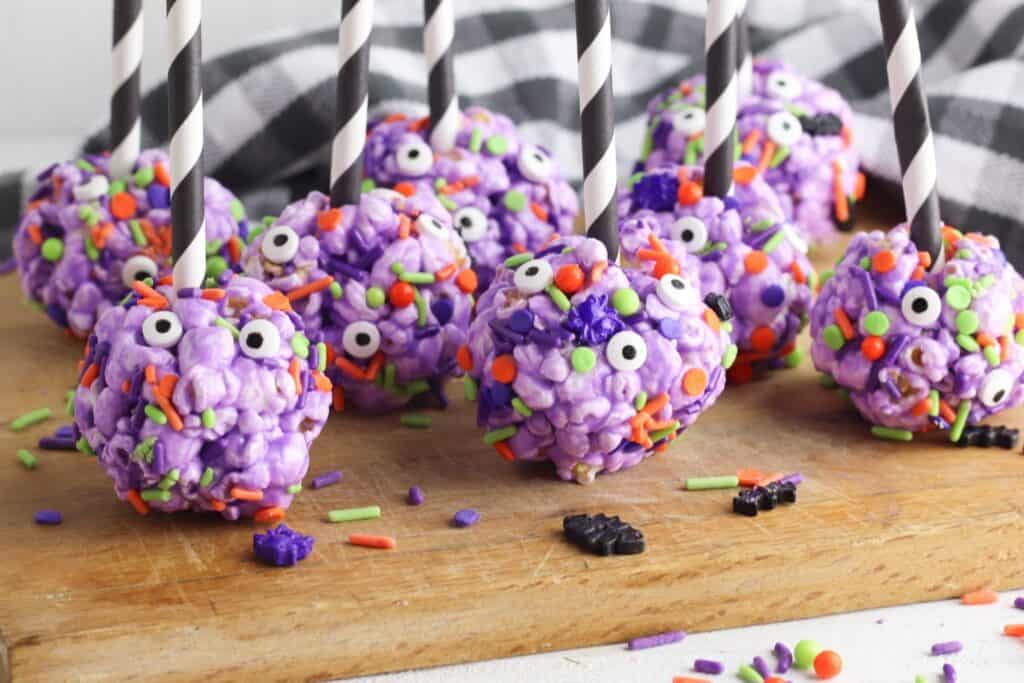 More popcorn, but this rolled into a ball and glued together with marshmallows – deeeeelicious, as my little ones would say! Possibilities are endless when it comes to decorating – simply roll the popcorn ball in your sprinkles and candies of choice.
GOT A BUSY TODDLER OR PRESCHOOLER IN TOW AND IN DESPERATE NEED OF SOME SUPER SIMPLE ACTIVITIES, GAMES & PRINTABLES?
You need the FAB-BOO-LOUS HALLOWEEN ACTIVITY PACK!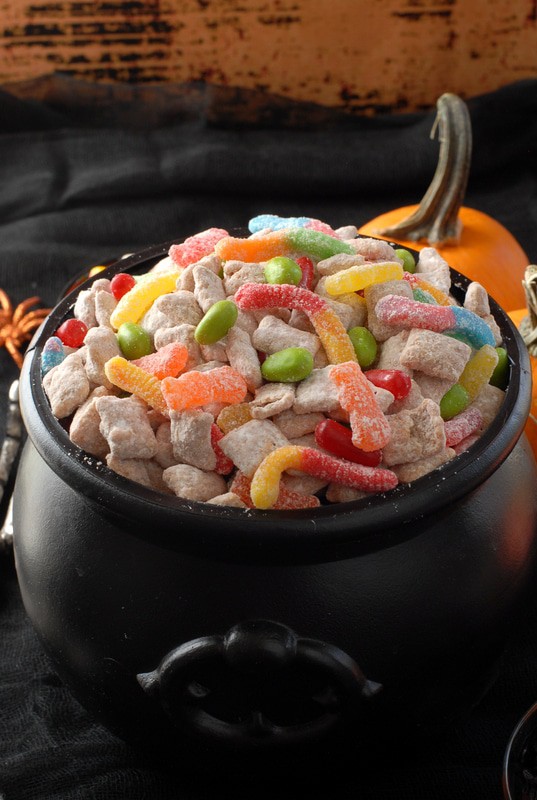 Some sweet, sickly and fun finger-food for toddlers here – there is some cereal under there somewhere so there's a touch of nutritional value to justify all that sugar…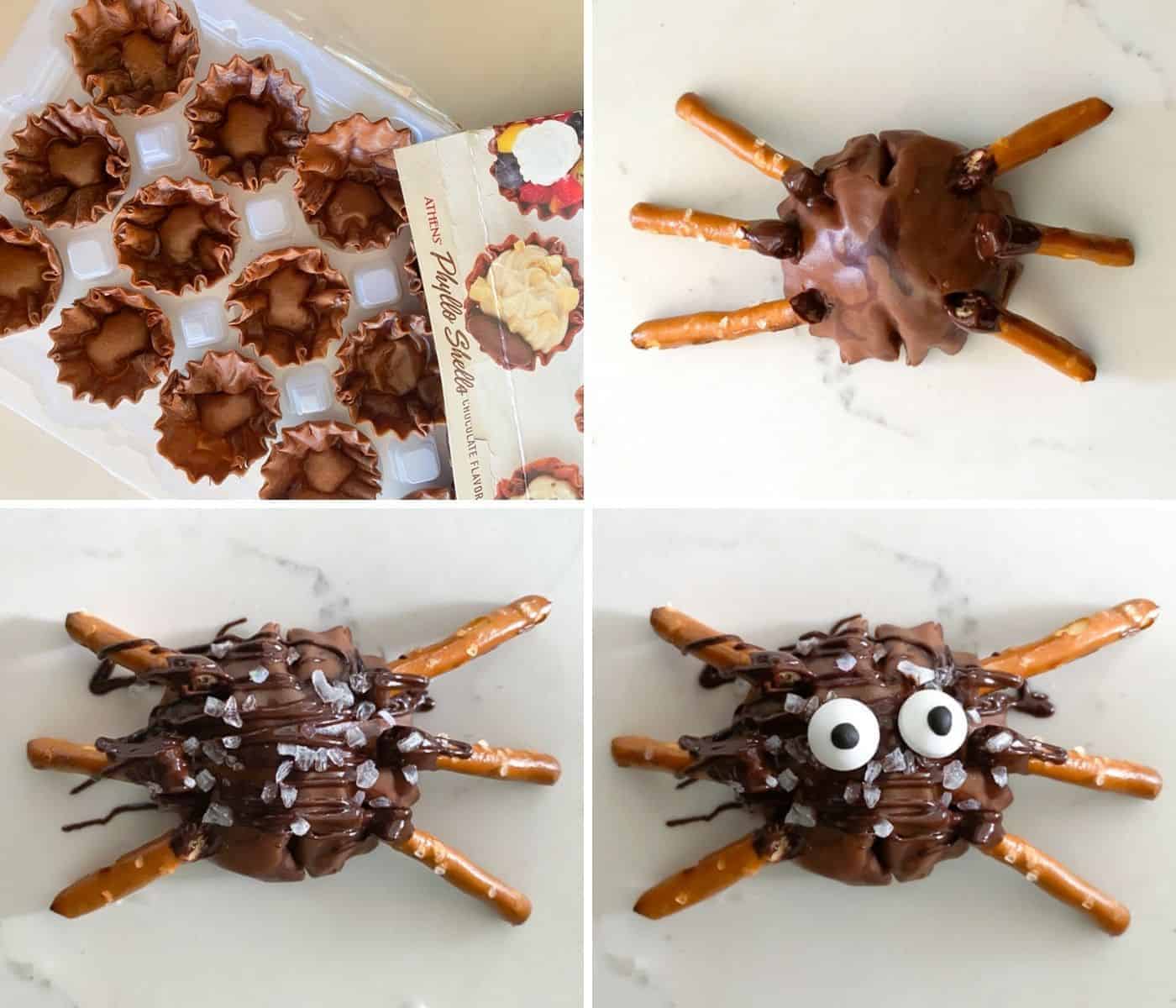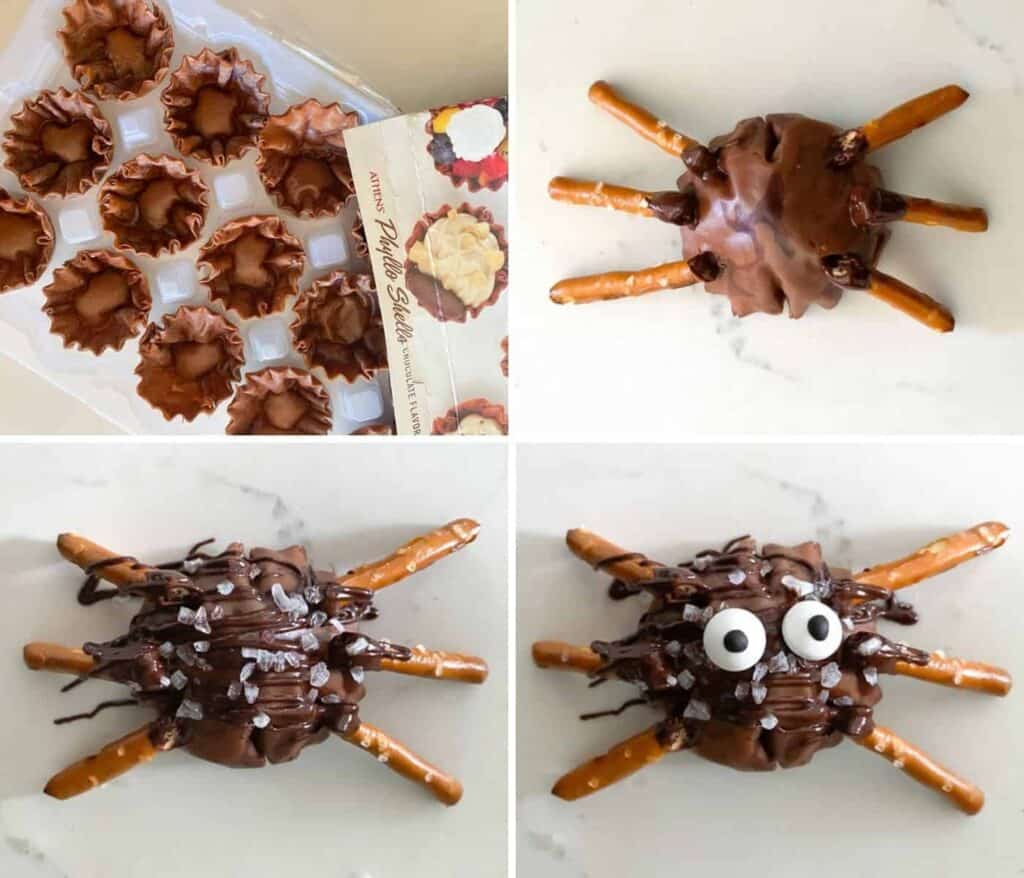 A fun and easy Halloween treat for toddlers to help make and look absolutely divine to eat. I think these ones would be eaten as fast as they're made in our house!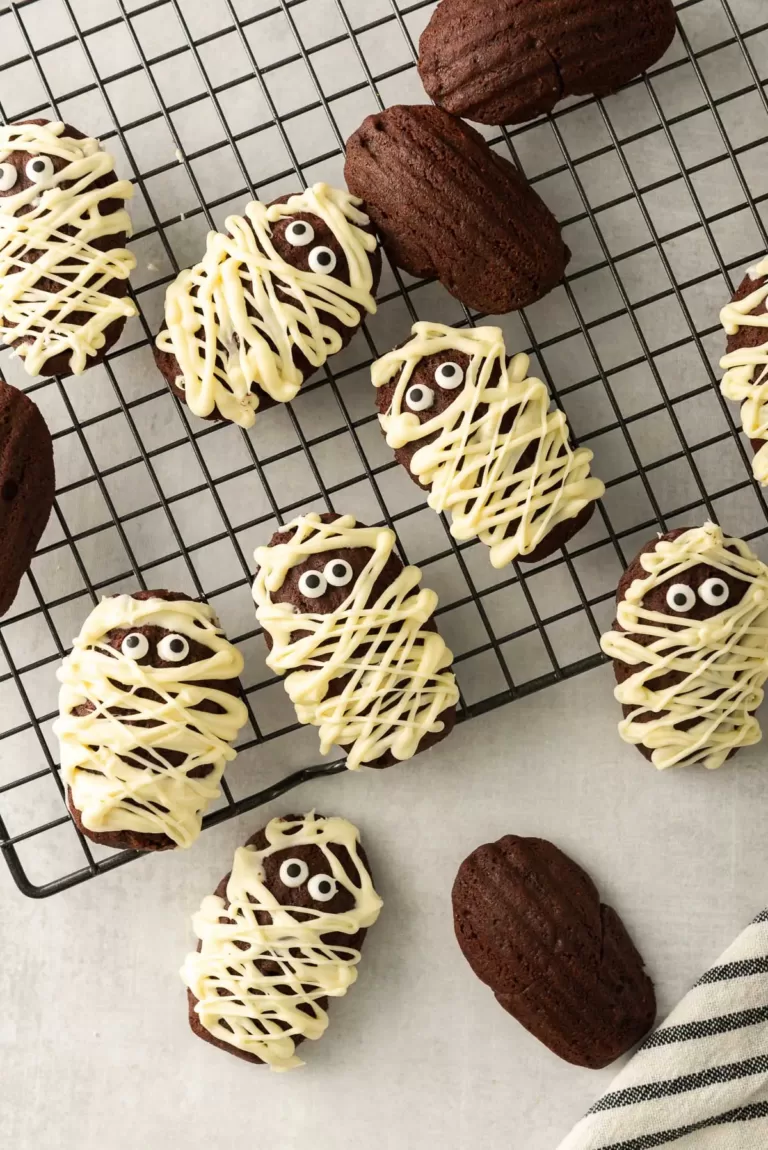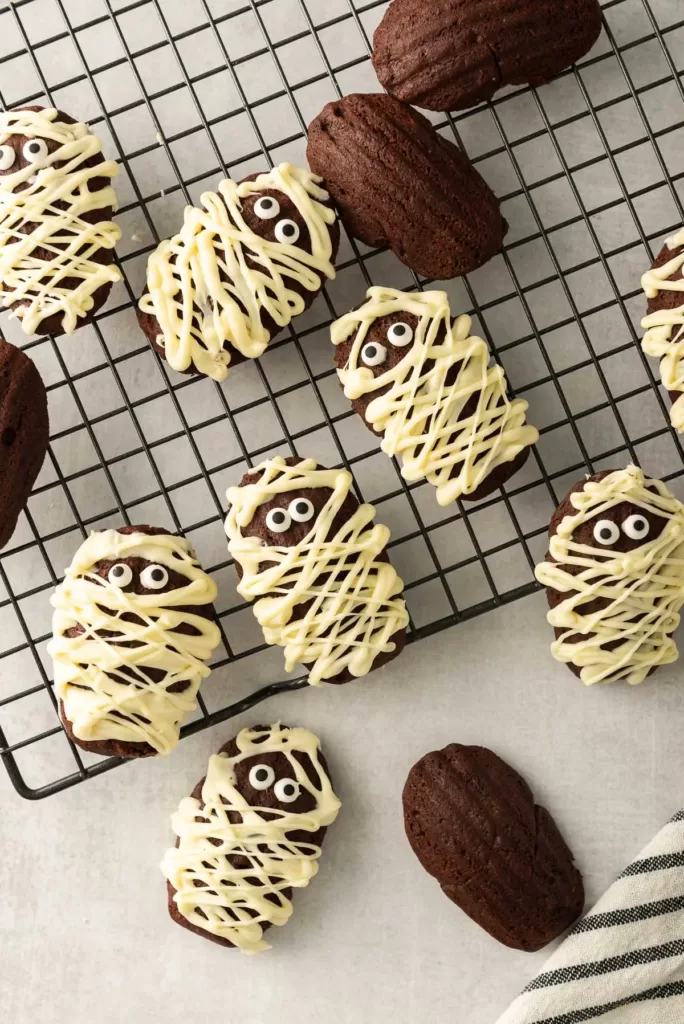 A white chocolate drizzle plus some candy eyes and store-bought madeleines and you have yourself a spookilicious and easy Halloween treat for toddlers. If you want to make your madeleines from scratch, click the link above for the recipe.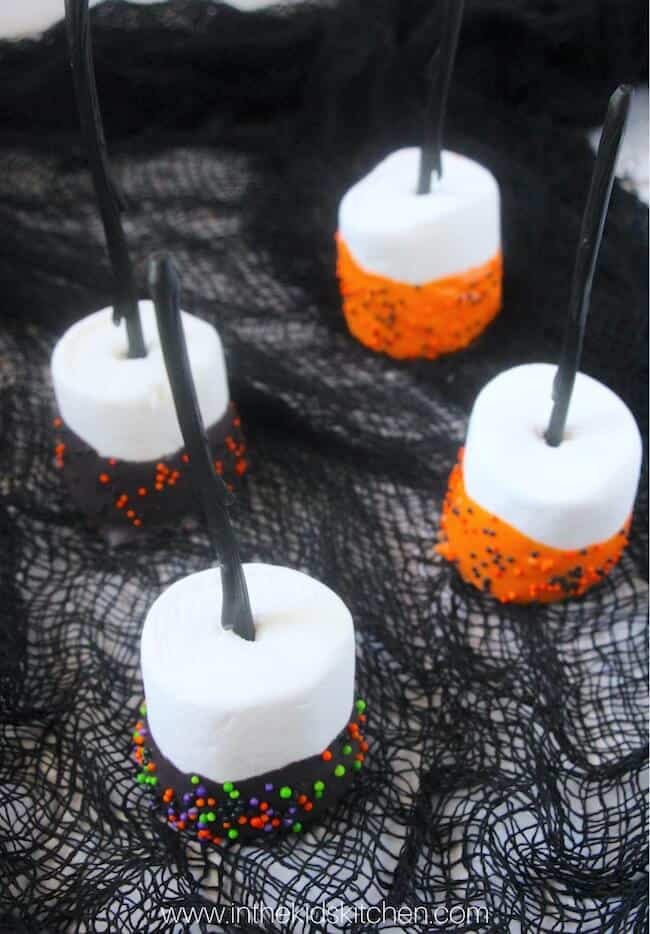 What is it about kids and marshmallows? Always a winner and these will be even more popular with added icing and sprinkles. Taking just a few minutes to make they're very easy Halloween treats for toddlers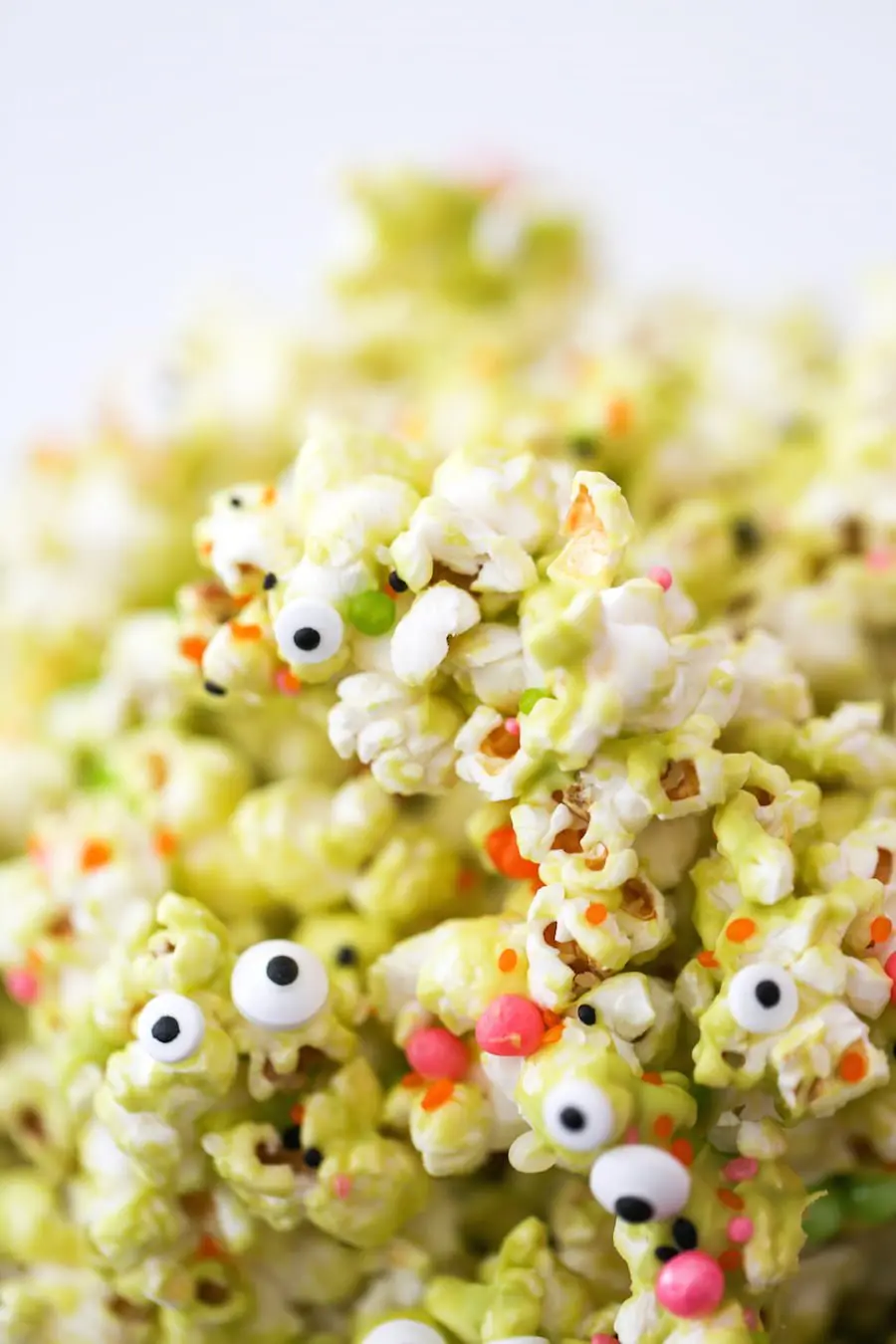 Colored candy melts, sprinkles and candy eyeballs turn plain popcorn into another winning Halloween treat for toddlers.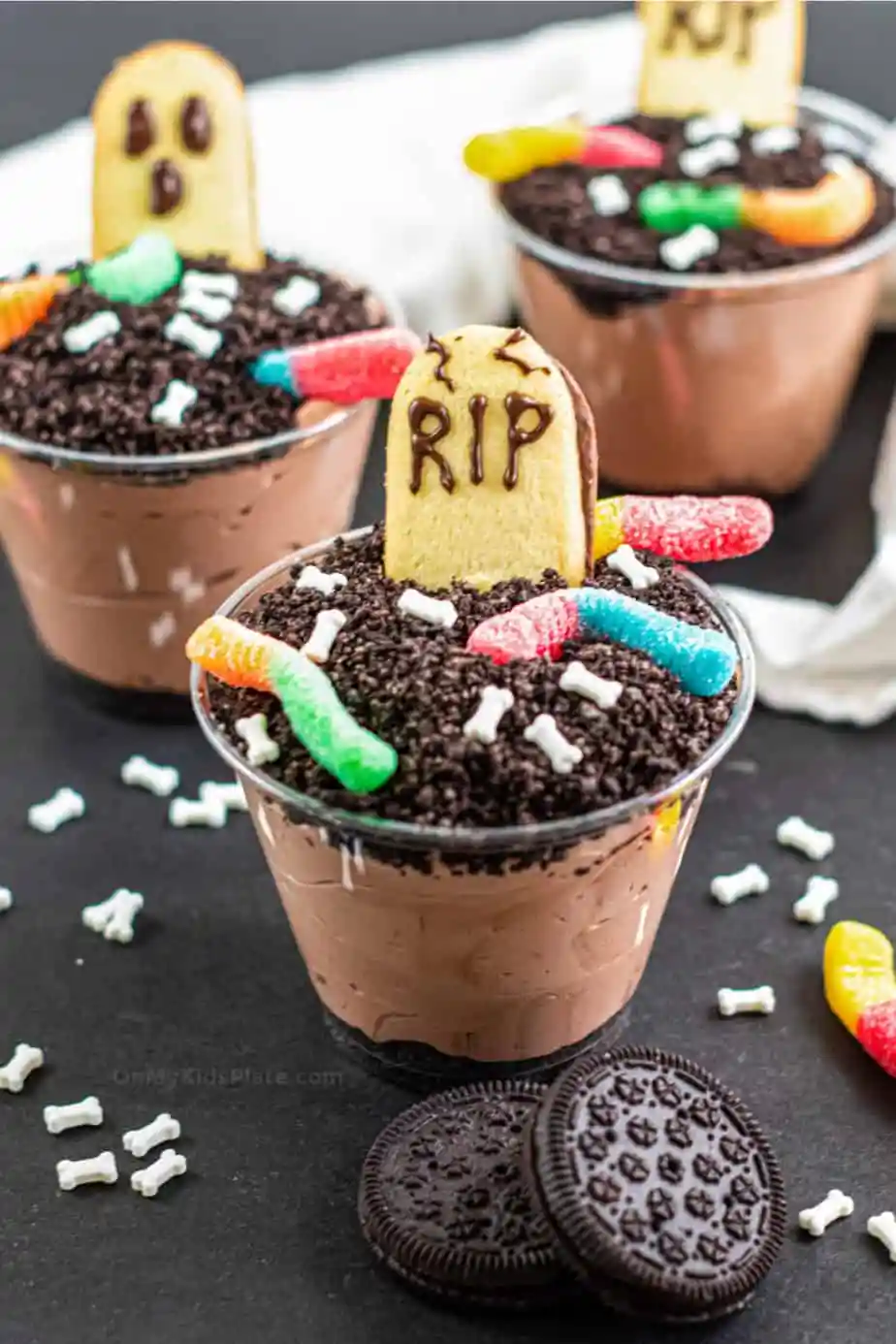 Let your creative juices flow with these graveyard dirt cups – you could have all manner of creepy crawlies digging around in that dirt.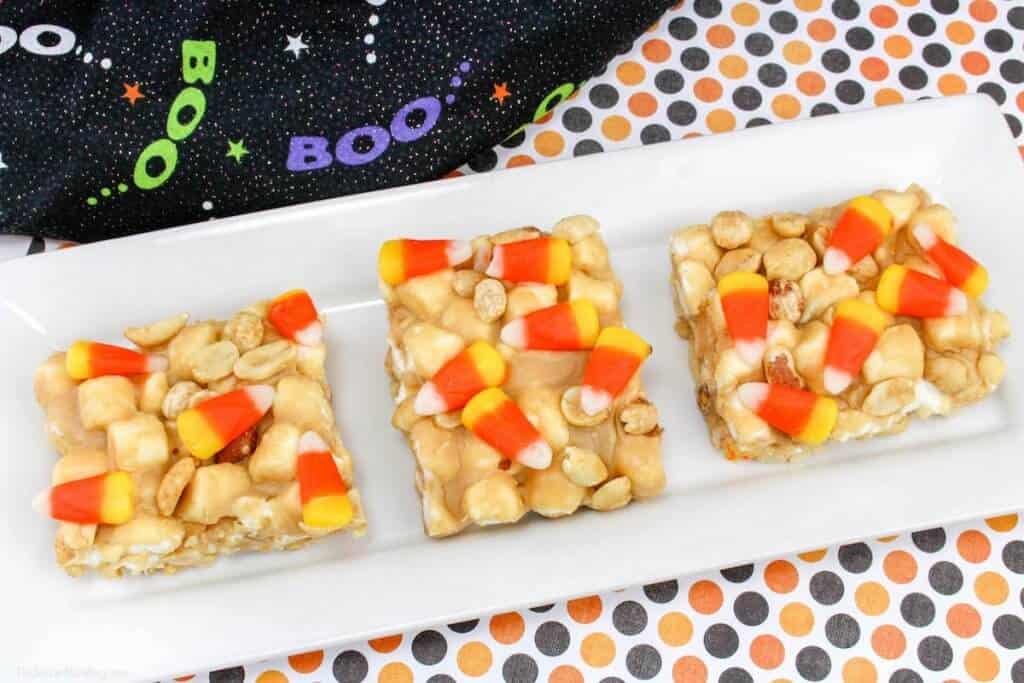 These will definitely be on the sweet side so cut these Halloween treat bars into bite-sized chunks for your toddler.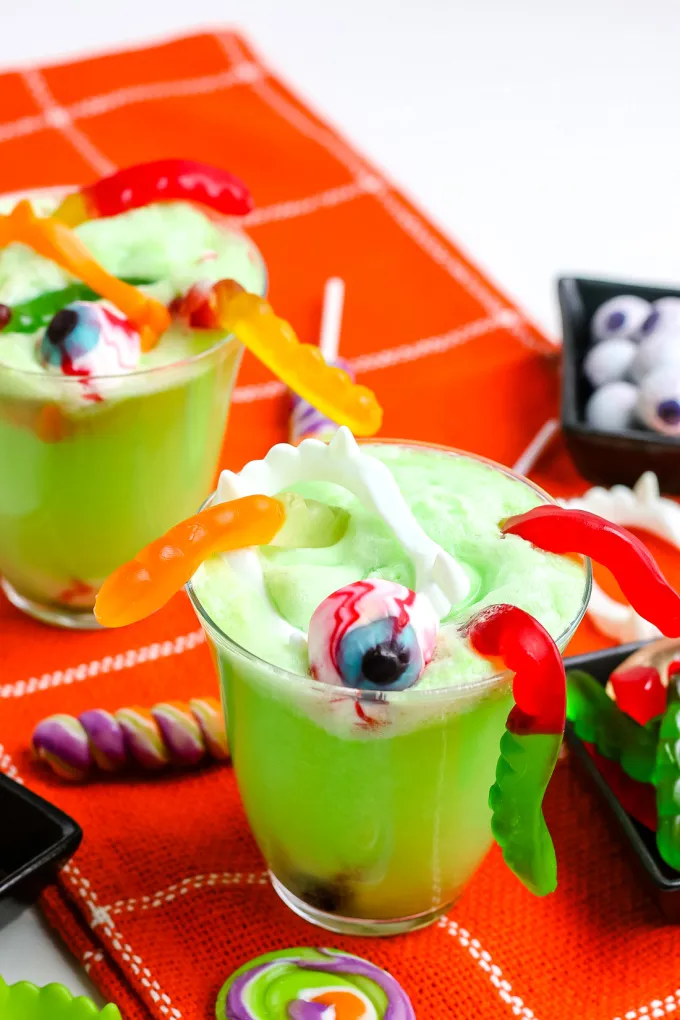 A sweet and sickly witches brew! I love those eyeball gummy candies – they really complete the look.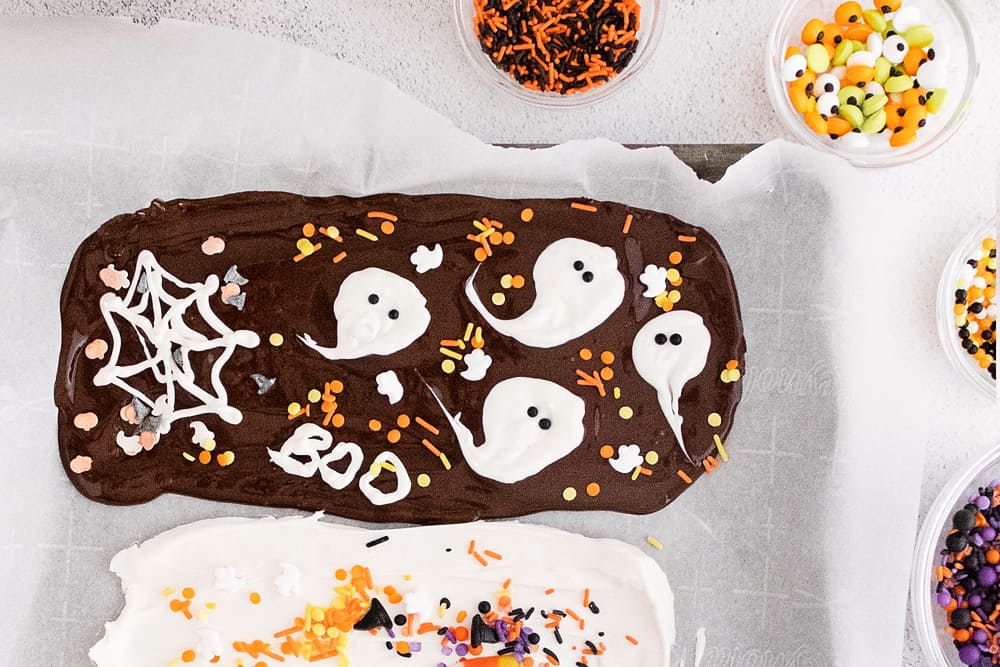 Another easy Halloween treat for toddlers you can get really creative with, or your toddler can – buy a selection of Halloween cupcakes candies, toppers and sprinkles, melt some chocolate and hand the reins over to your little one (not totally, of course).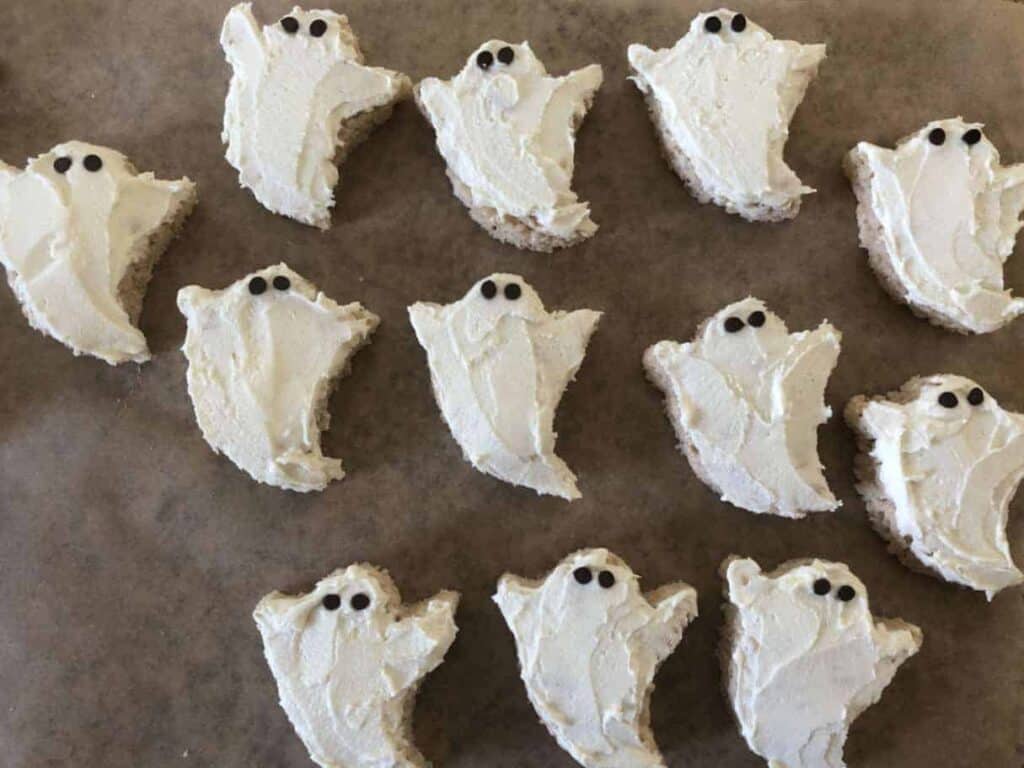 More ghosts, rice krispie treats this time…

These are like chocolate cornflake cakes but use fried noodles instead and, of course, have candy eyes to transform them into cute little monsters.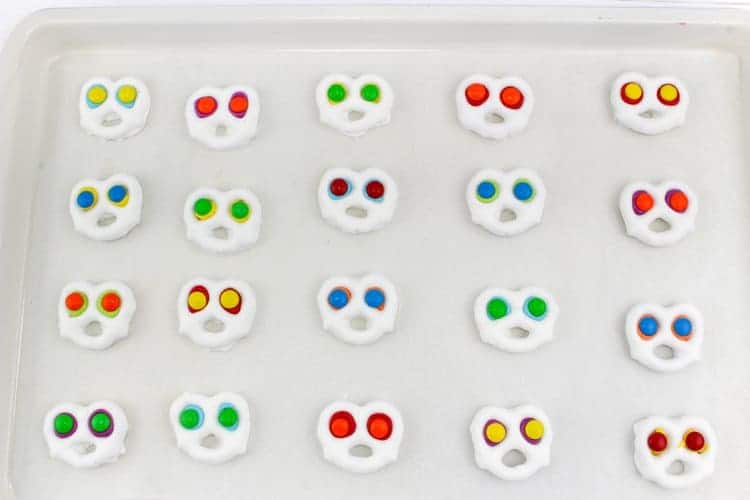 A clever and colorful Halloween treat! Your toddler can be in charge of sticking the eyes on, if they don't get eaten first.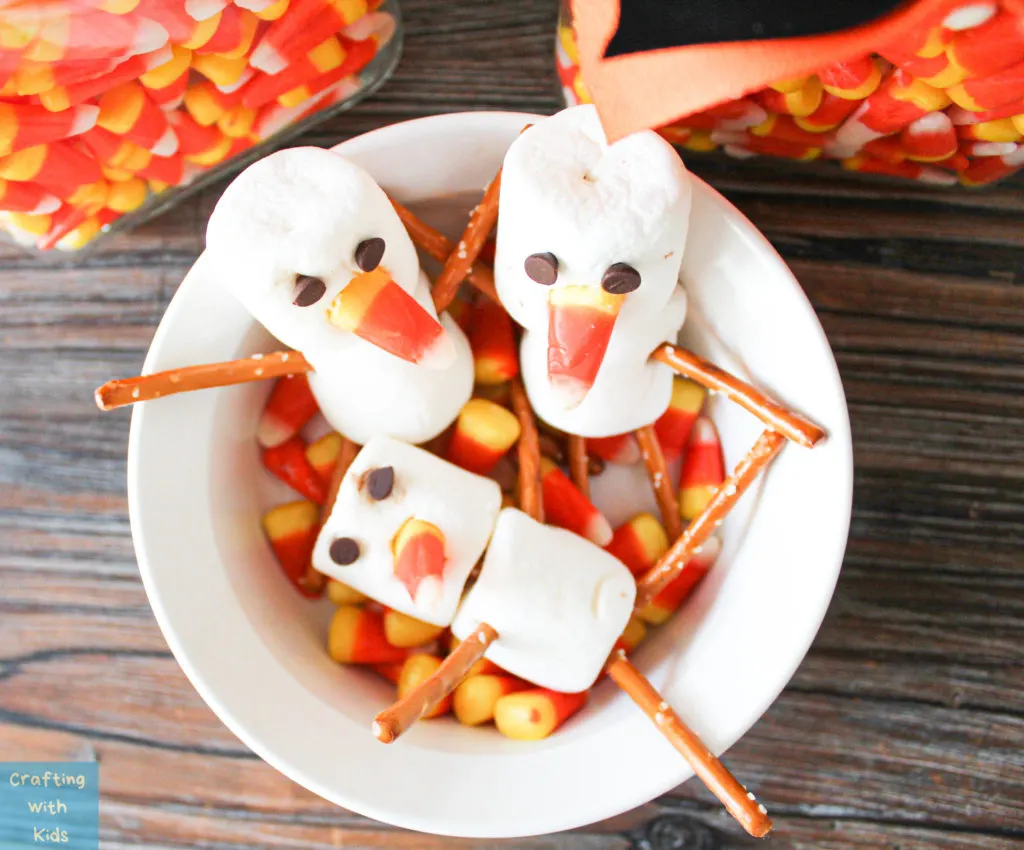 More marshmallows and pretzels, this time made into snowmen, another favorite with little kids. Cute and easy Halloween treats for toddlers, fun to make too.

For a simpler version of the graveyard dirt cups, use different colored puddings and draw faces onto the side of the cup, and there you have it, an easy Halloween treat for toddlers.

Loads more spooky pretzel ideas here for that deliciously sweet, salty combination.
Slightly trickier, no-bake Halloween treats for toddlers
These require a little more time and often skill when it comes to decorating, but are all still no-bake. Mind you, this is just my analysis – if you're a dab hand in the kitchen, you'll probably find these a breeze too.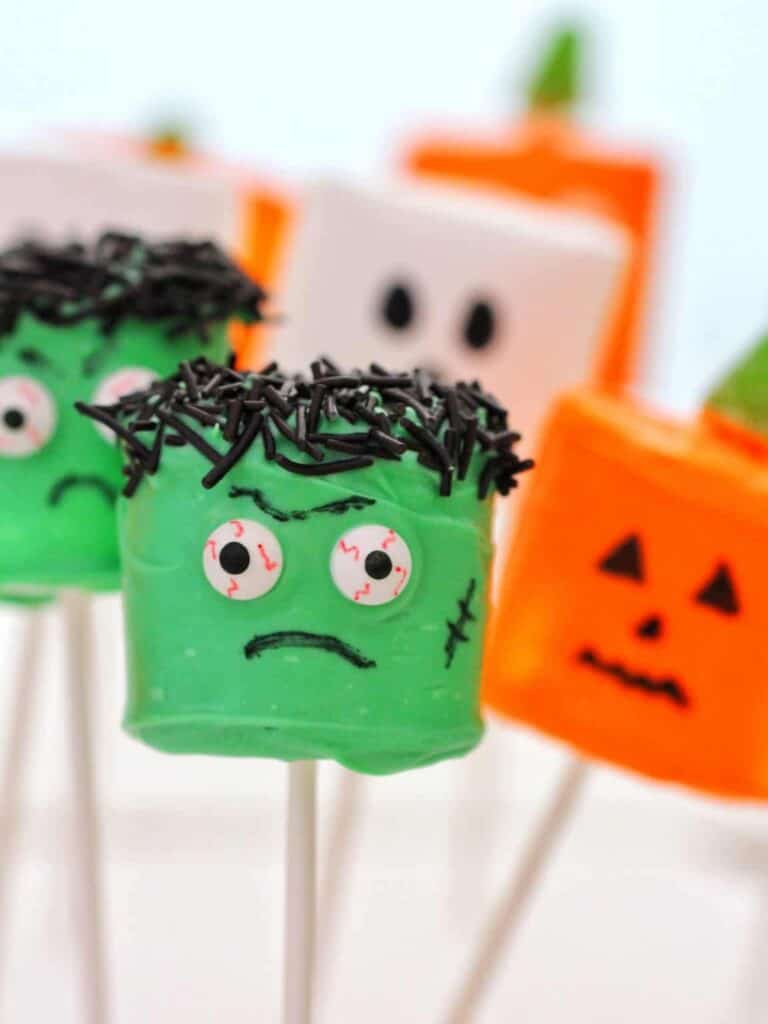 Marshmallows are another firm favorite of little ones, so these ones, disguised with a candy melt coating will be a total hit with toddlers…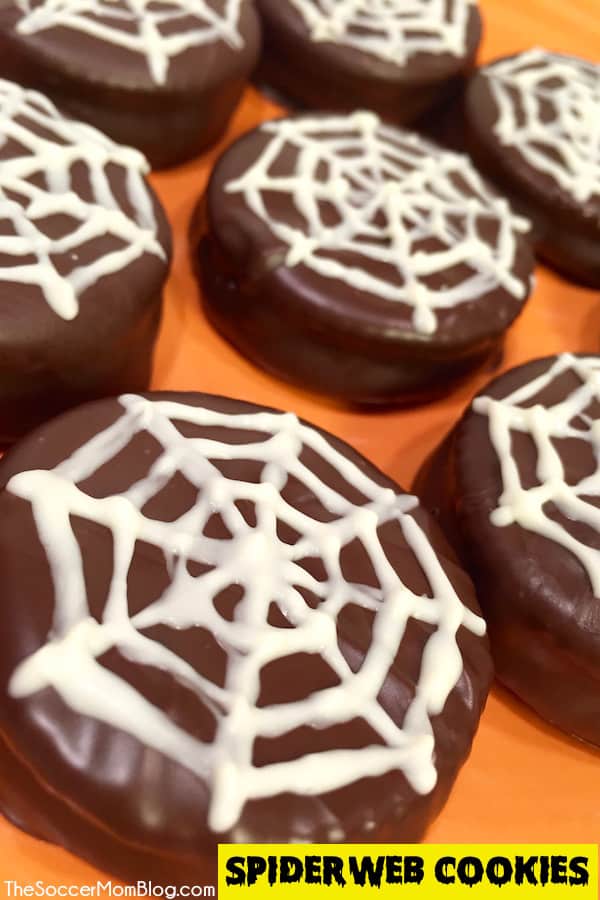 Needing just 4 ingredients, you can whip up these no-bake spooky spider web cookies in no time at all.

A clever use of chocolate kisses means these witch hat cookies are a cinch to make.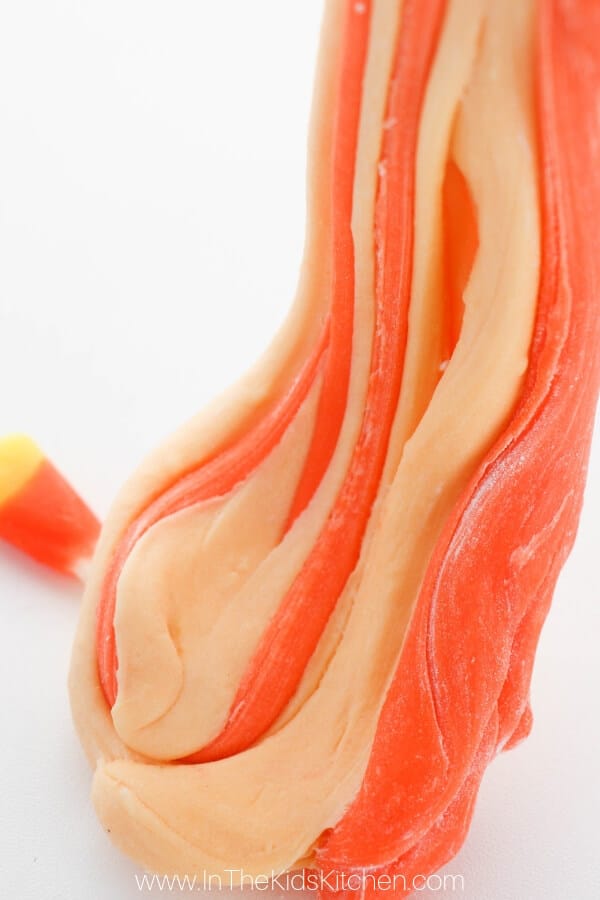 Very sticky, very sweet, so any toddler is sure to love this edible slime. Not ideal from a parent's point of view but I'm not sure I'll be able to resist trying it out!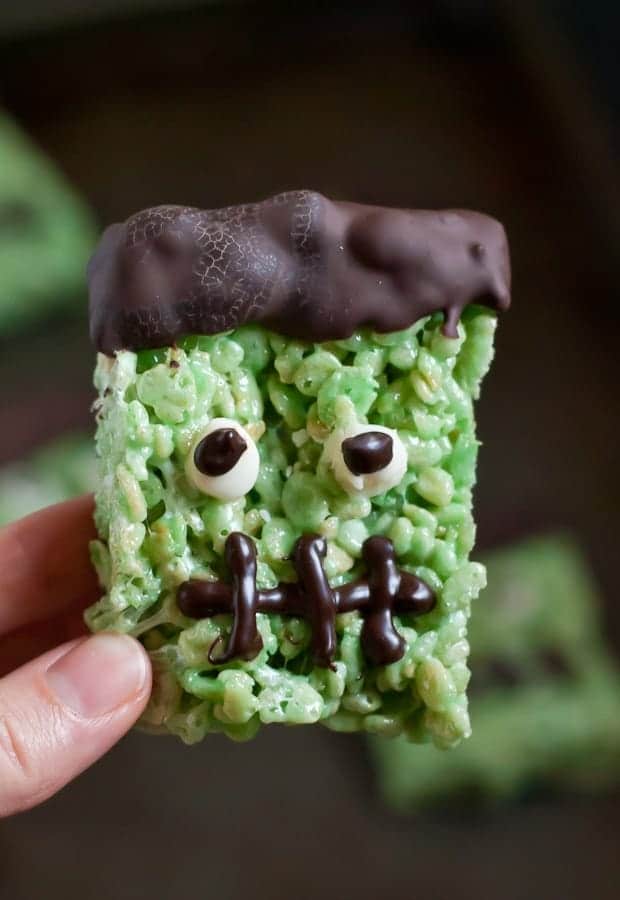 Turn ordinary rice krispie treats into freaky Frankensteins with a bit of clever icing.
Healthy Halloween treats for toddlers
SWEET but healthy Halloween treats for toddlers
Non-candy Halloween treats for toddlers that'll still attract those with a sweet tooth.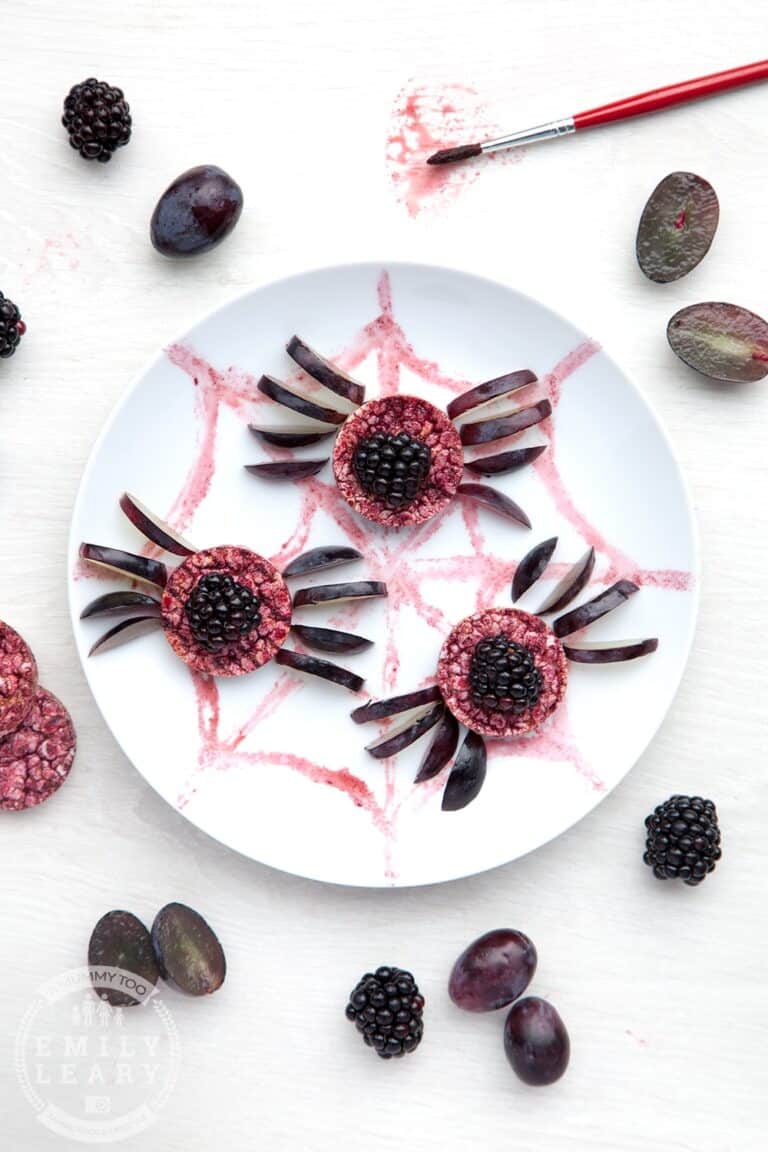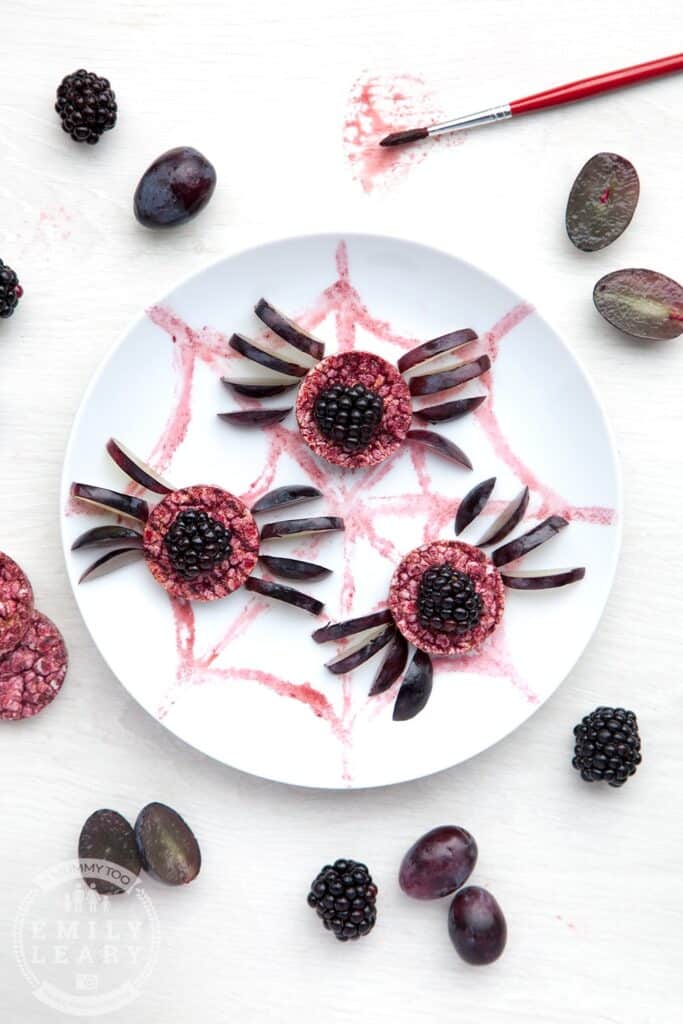 Blackberries, grapes and rice cakes are all you need to make these healthy Halloween treats for toddlers.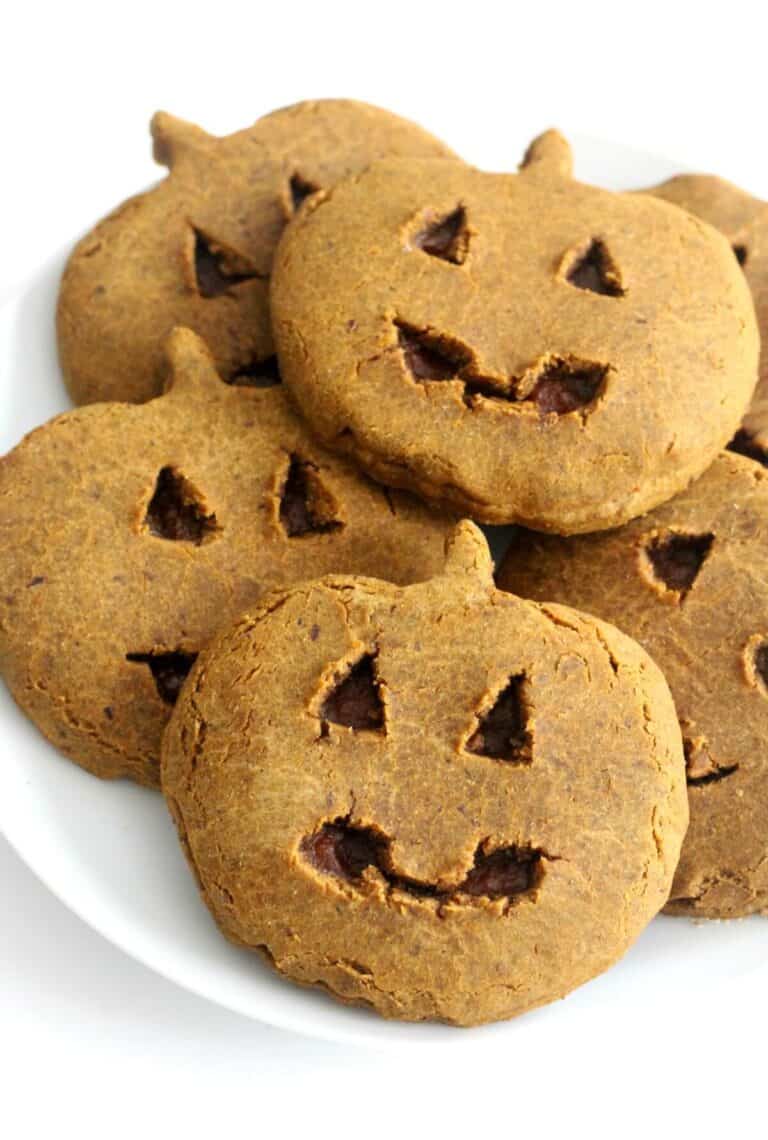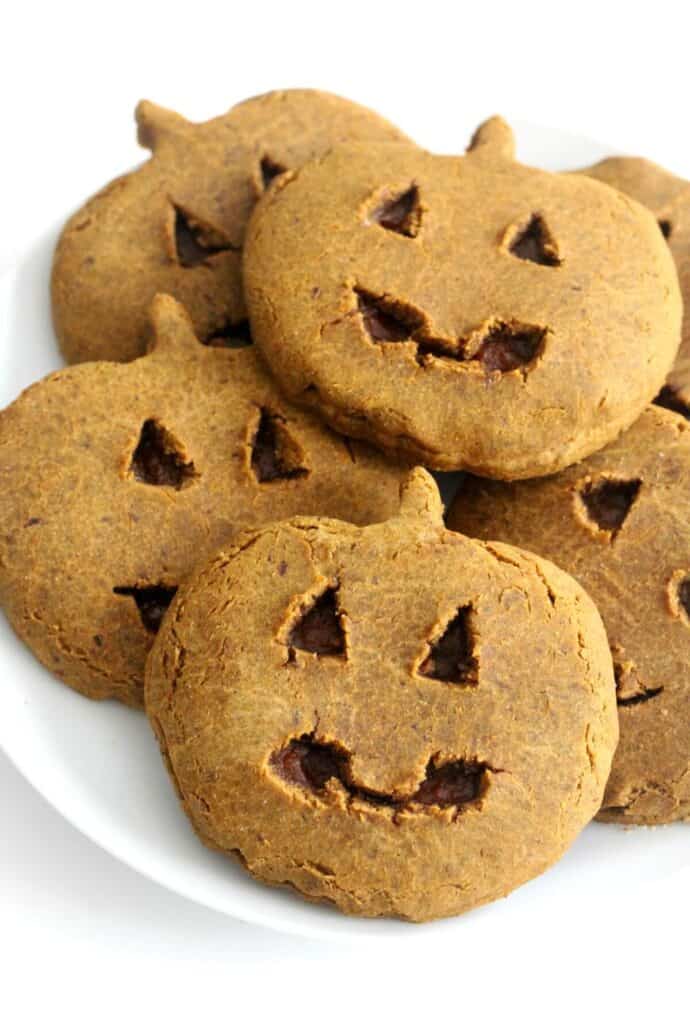 The sweetness of a Halloween cookie but with ingredients including pumpkin, maple syrup and flax these make the list of healthy Halloween treats for toddlers.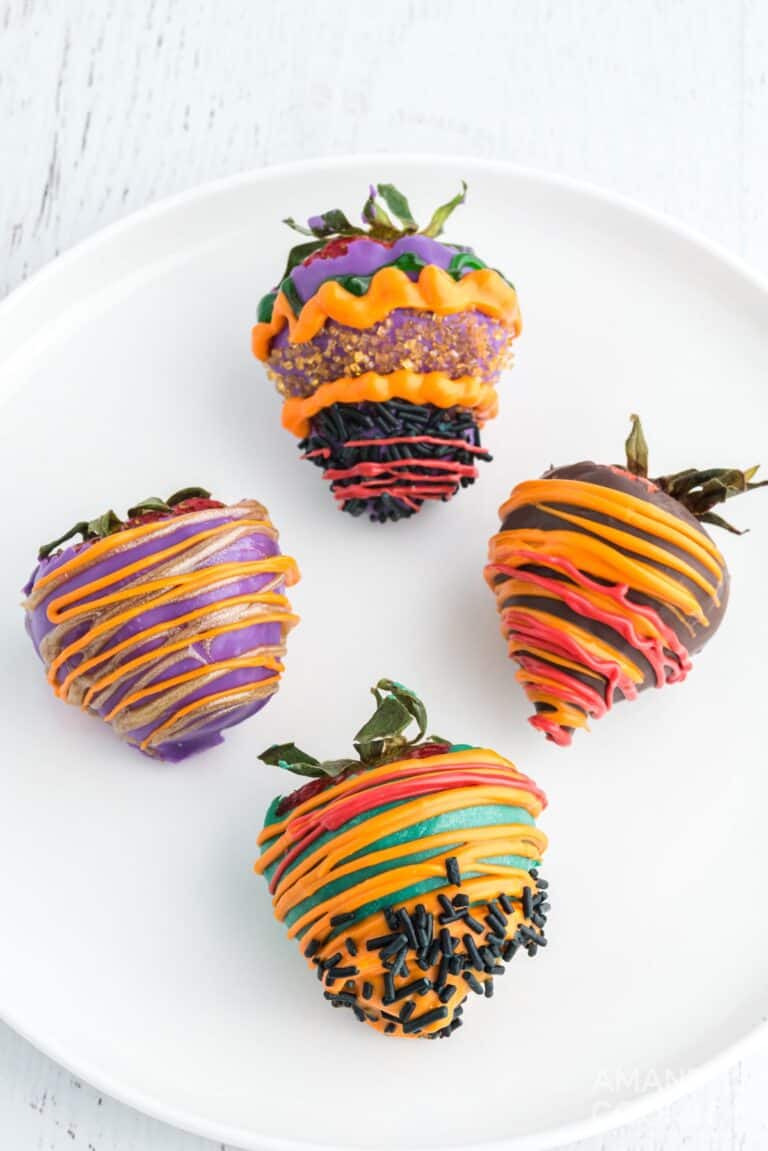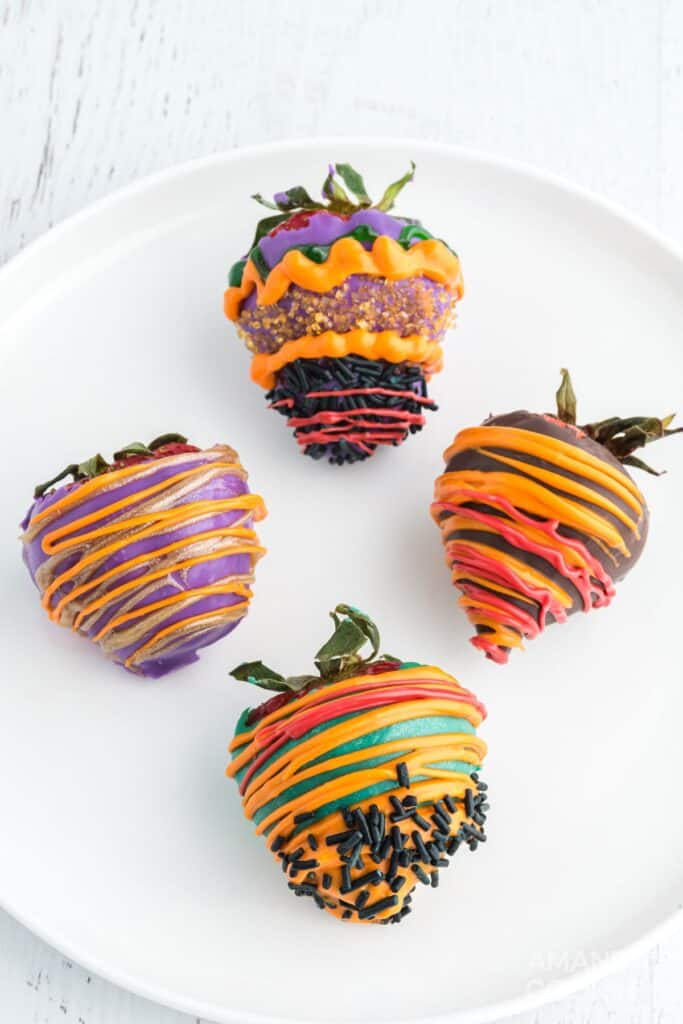 Hidden beneath all that frosting and sprinkles are strawberries! You could go a little less crazy on the decorating for a healthier Halloween treat…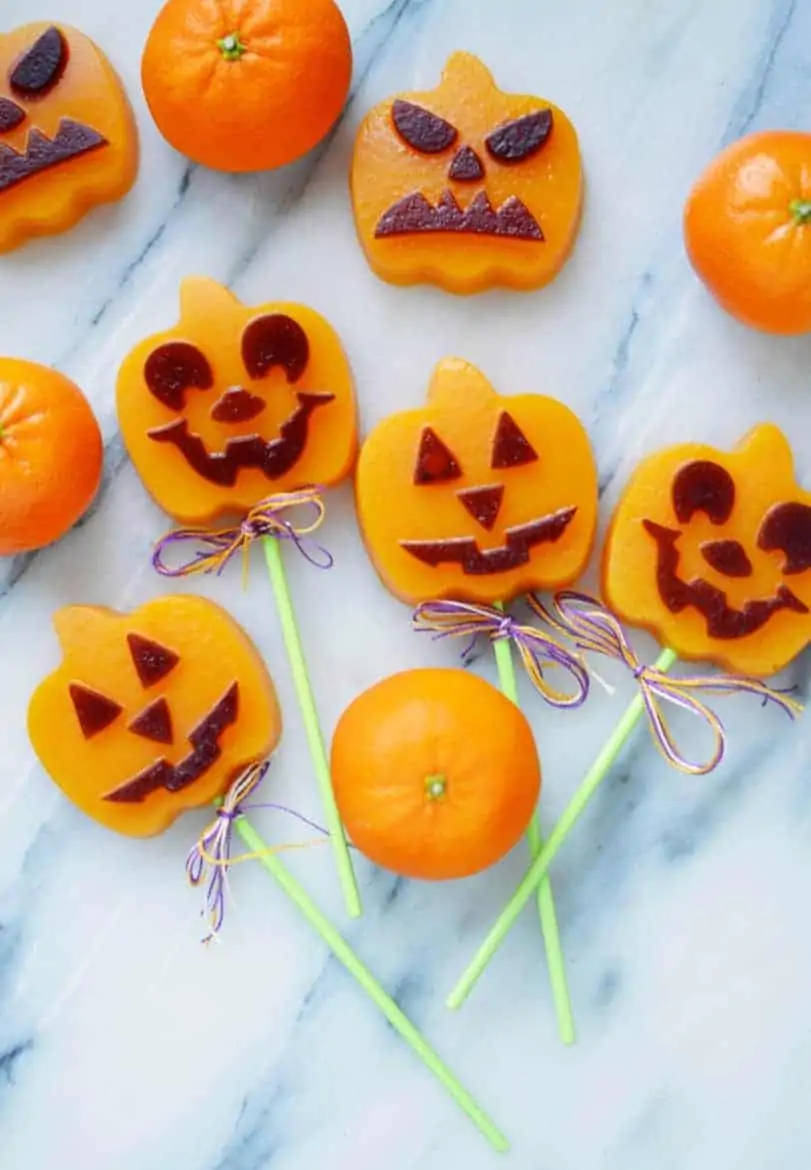 Amazingly, these only contain orange juice and gelatin, a great source of essential amino acids, and water.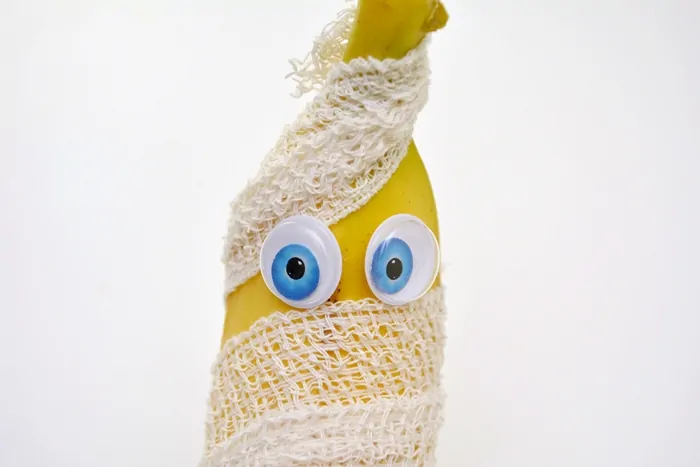 All the additions to these bananas are not ones to eat, so you can't get healthier than this Halloween snack to make for toddlers.

There are loads of nutrients packed into this Halloween treat with all the sweetness to keep toddlers interested. One where the cooking will be almost as good as the eating, as your kitchen will be filled with the most divine aromas of cinnamon and spice.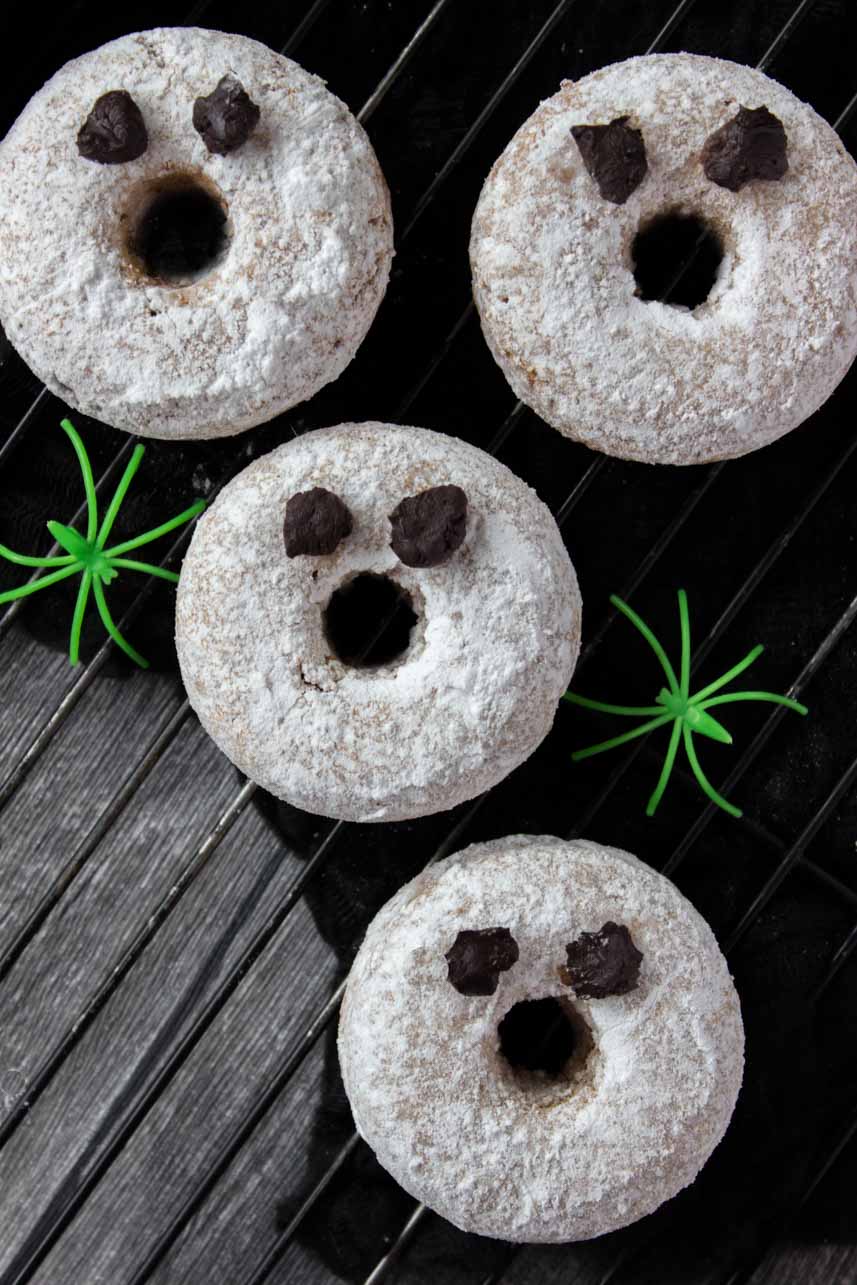 A healthy donut? Who knew! These ghostly Halloween treats are made from wholewheat flour and sweetened with maple syrup, so will keep your donut loving toddler happy.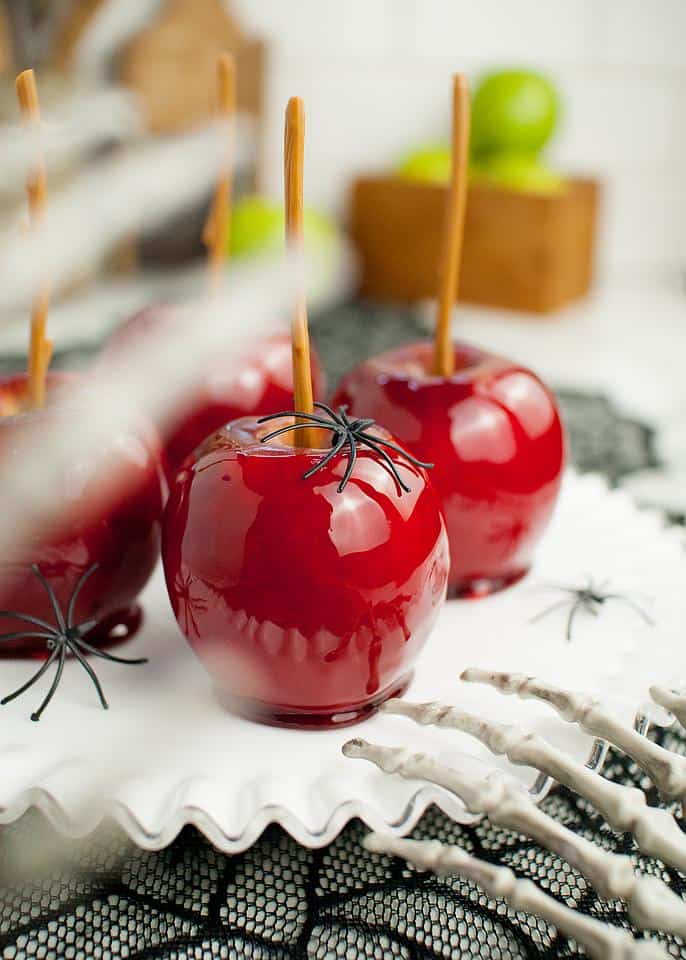 There's still a lot of sugar in this classic Halloween treat, but as long as your toddler eats the whole apple, this one just about makes the grade as a healthy Halloween treat. On second thoughts, which toddlers ever eat the whole apple…

#34 Stuffed Apple Witches
Carved apples stuffed with nuts, raisins and sultanas and a cute witches hat! An easy and healthy Halloween snack to make for toddlers.
The slices of apple under all that delicioius chocolate means this one makes the list of healthy Halloween treats…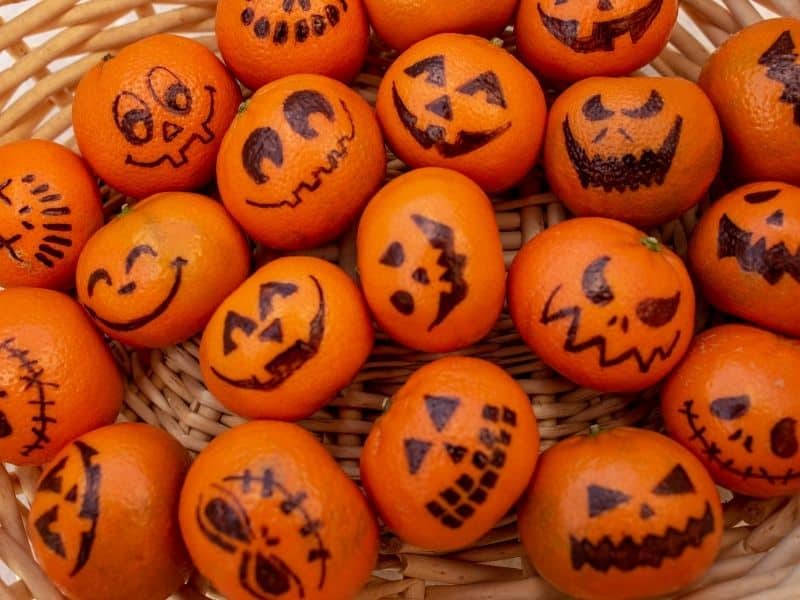 #36 Pumpkin face clementines
Spooky faces drawn onto clementines mean these Halloween treats are both simple and healthy. You may need to scrub the skins with some sandpaper first – otherwise it can be difficult to get the pen working…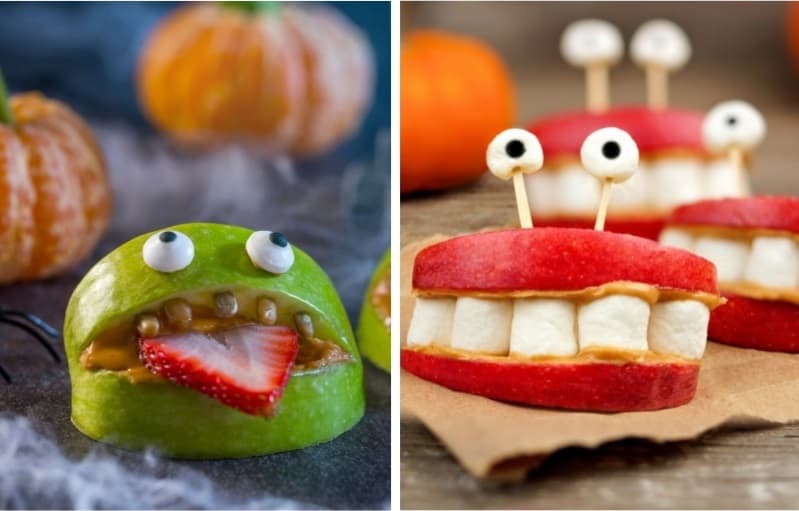 #37 Apple monsters
Peanut butter acts as a glue, sticking teeth and tongues into the mouth of these apple monsters – a fun and healthy Halloween snack to make.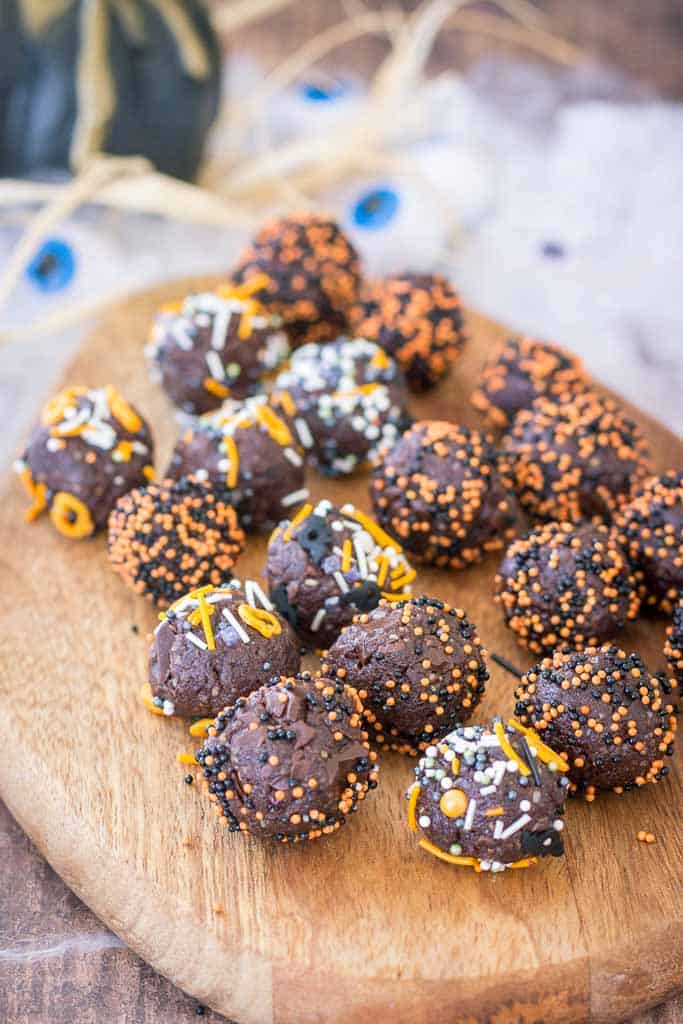 You'd probably assume these brownie bites are full of sugar, but they're made with nuts, dried fruit and chocolate, meaning they're loaded with nutrients and natural goodness. A perfect healthy Halloween snack to make for toddlers.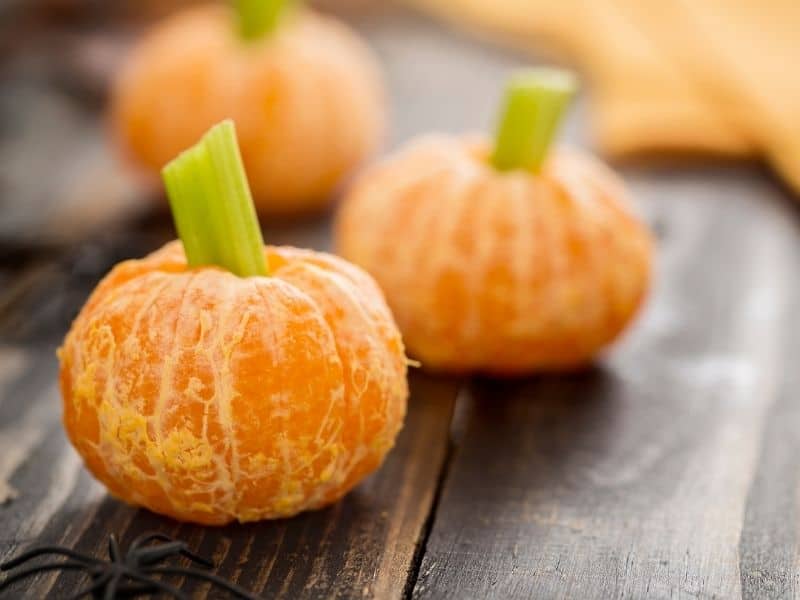 #39 Clementine pumpkins
A stick of celery and a peeled clementine – can't say healthier than that, can you?

Chocolate Halloween cookies that make the healthy list as they're packed full of natural ingredients and sweetened with coconut sugar.
SAVORY Halloween snacks to make
Before you let your toddler go wild on all the sweet treats, start with some savory snacks. These are not all super healthy, but most will have more nutritional value and fibre versus all the sugar-loaded candies…

With some store-bought pastry, hot dogs and candy eyes these Halloween mummies are cute and simple and the perfect size for a tiny tot.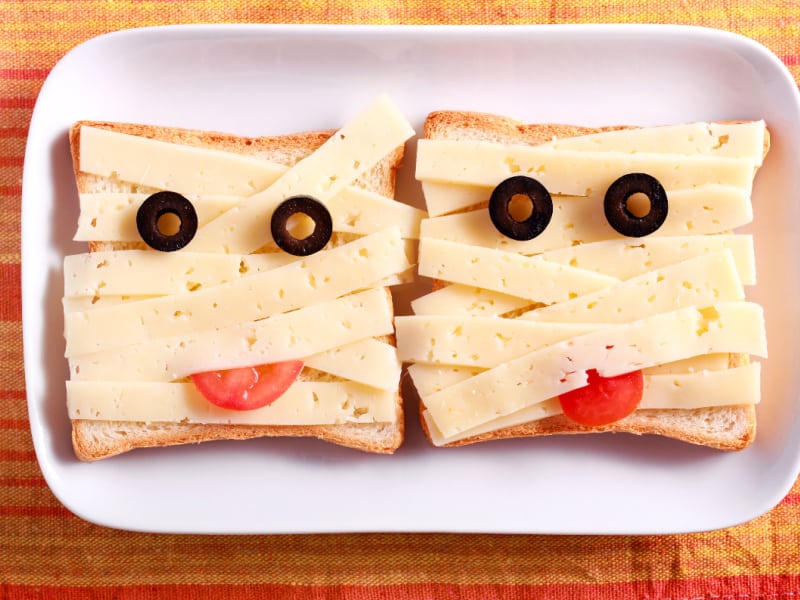 #42 Cheese Mummy sandwiches
A gorified (see what I did there?!) cheese sandwhich and easy Halloween snack to make.

#43 Spider Deviled Eggs for Halloween
Grapes and eggs are the main ingredients for these spooky and healthy Halloween snacks.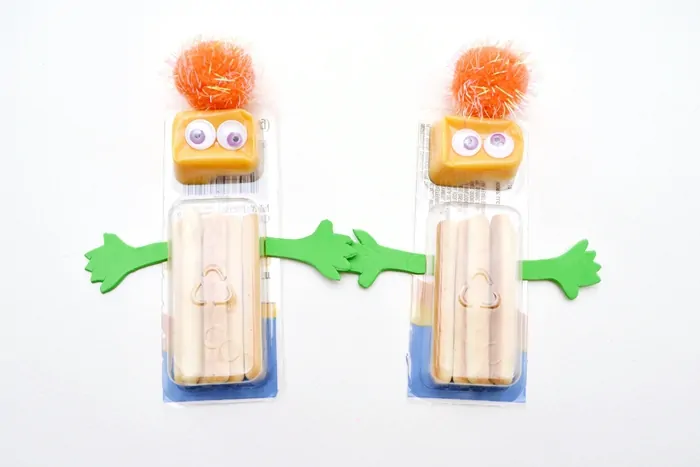 With a few craft cabinet staples quickly turning cheese and cracker stick packets into monsters, these healthy snacks equally belong in the easy Halloween treat section.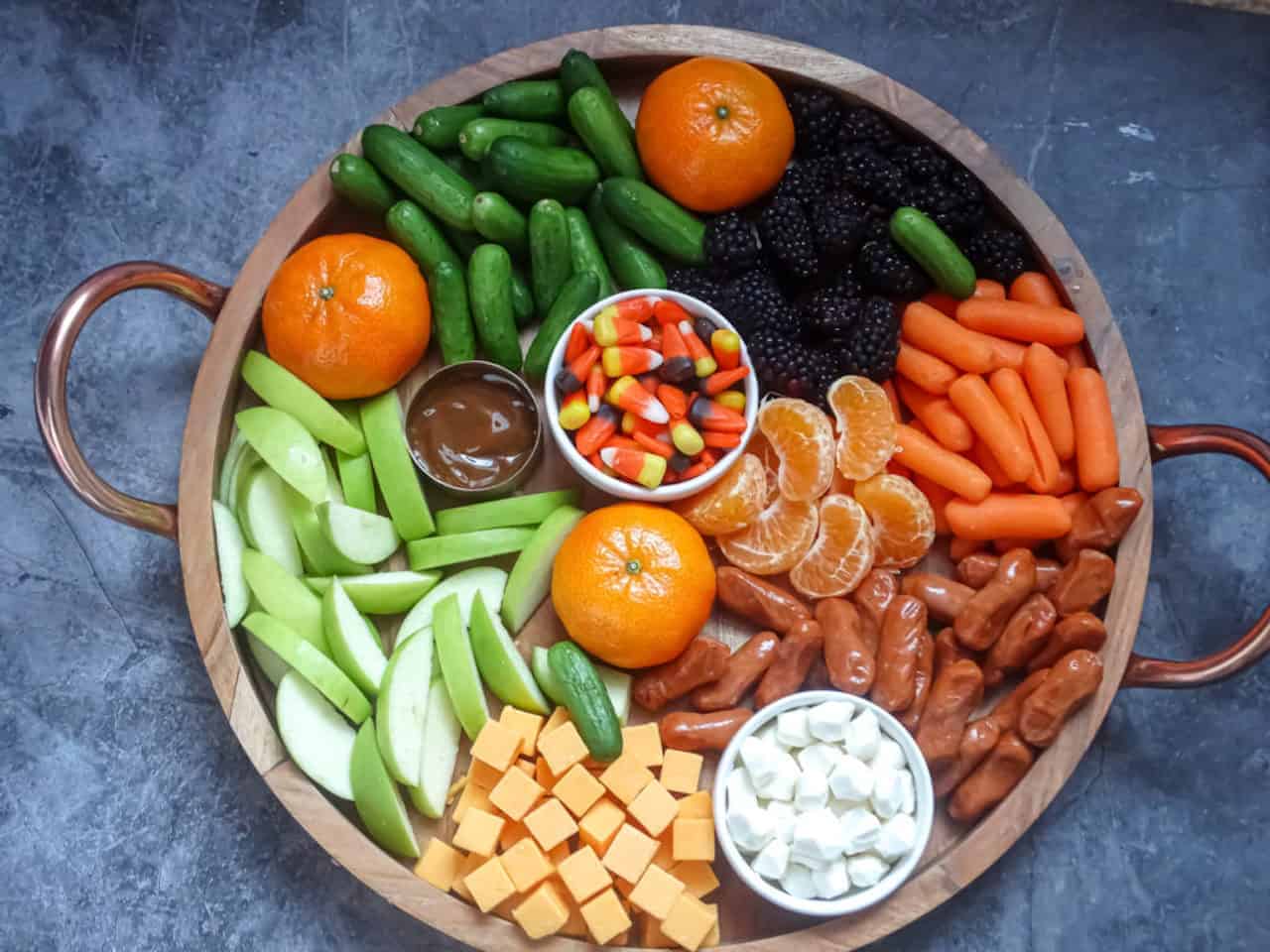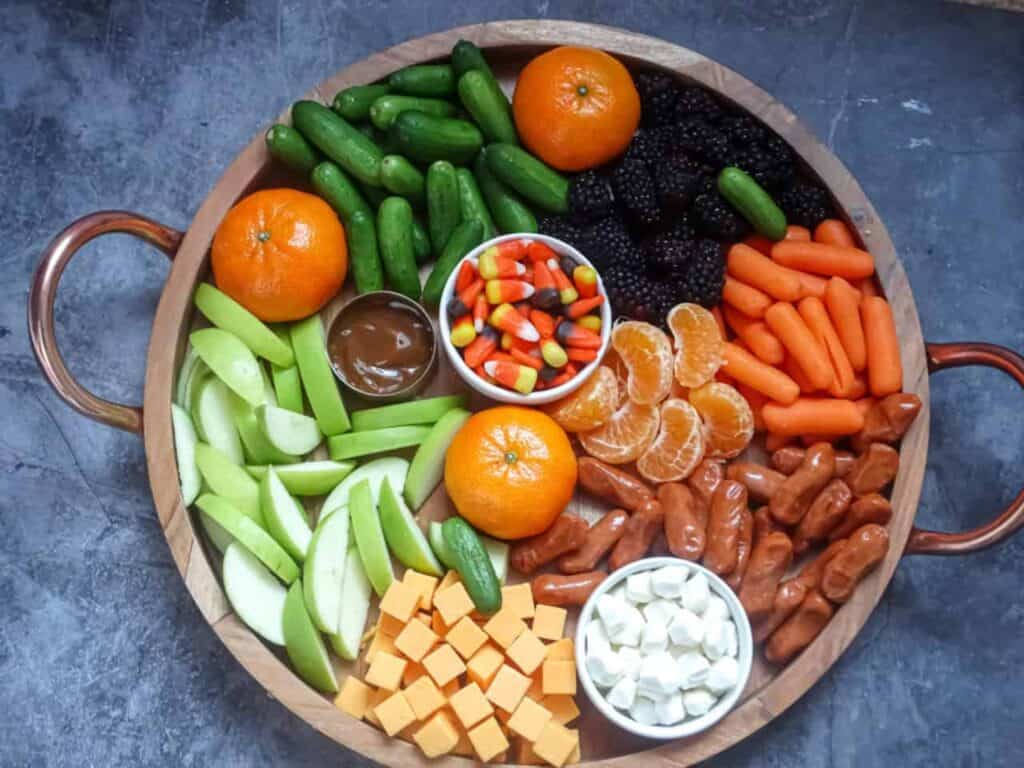 Ideal Halloween snacks to make for toddlers that want a little bit of everything, using classic fruit and veg finger food with a few sweet Halloweeny additions.
need to ask for permission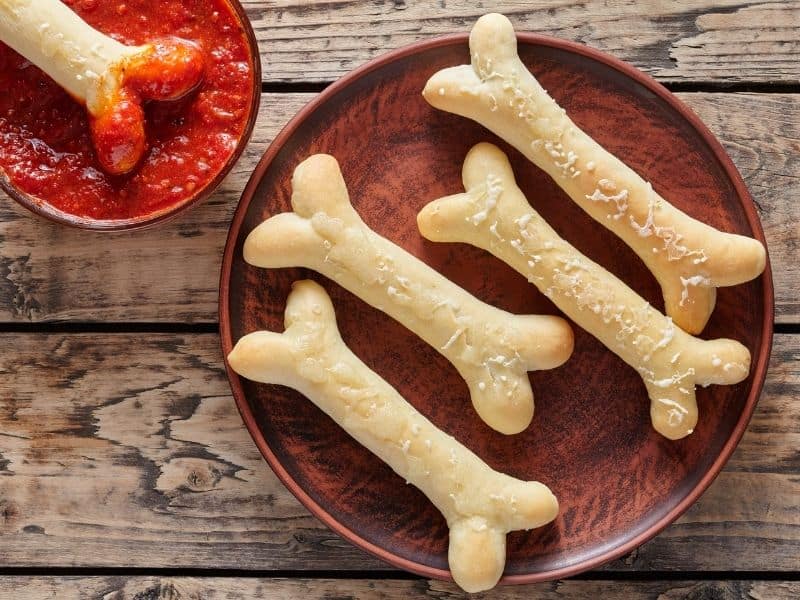 #46 Ghostly bone breadsticks
Breadsticks are a winner with toddlers so these bone-shaped ones are a must-try savory Halloween snack to make.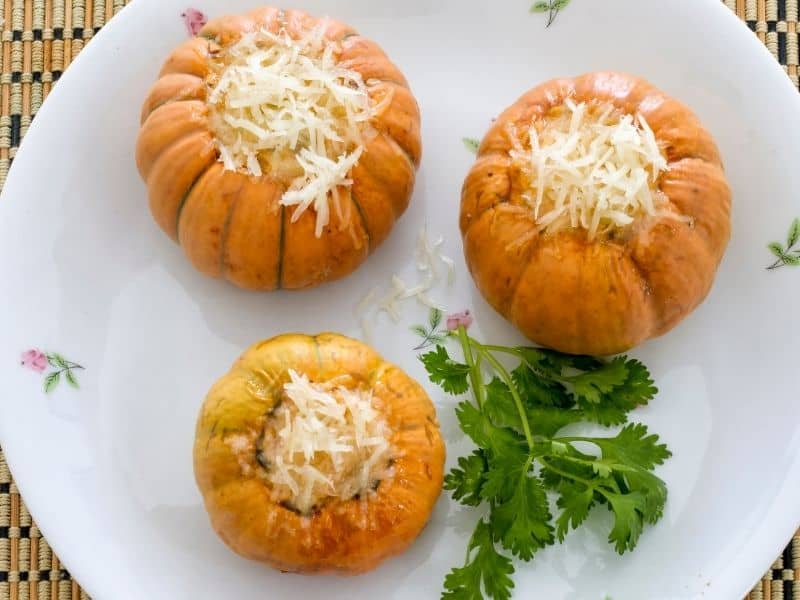 #47 Stuffed mini pumpkins
Fill some mini-pumpkins with your toddler's savory favorite and you've got a snack perfect for Halloween.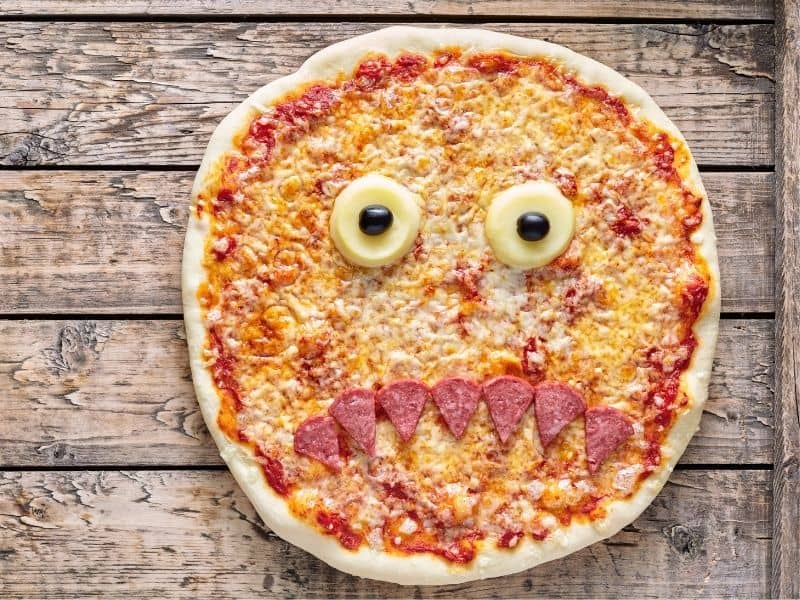 #48 Monster pizza
Another favorite with little ones – pizza! This will also be an easy one to get them involved in. With chopped vegetables, meats and cheeses, they can create their very own monster and then enjoy eating them, tooth by tooth….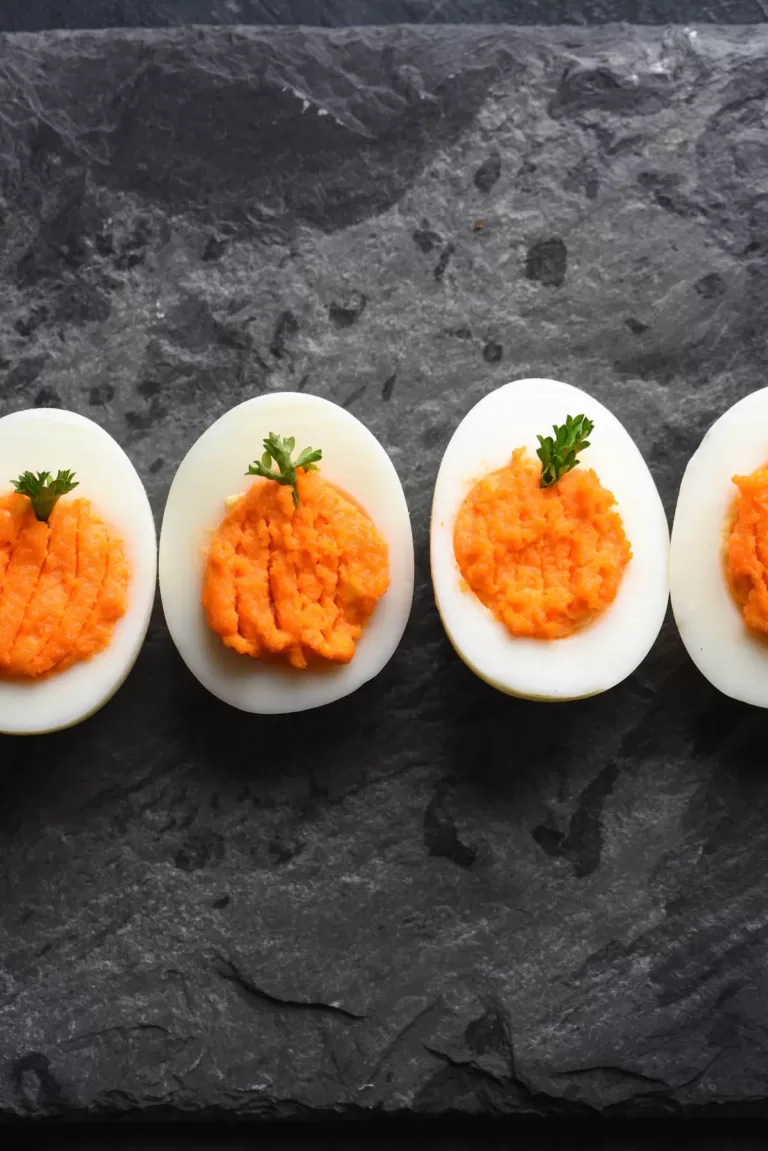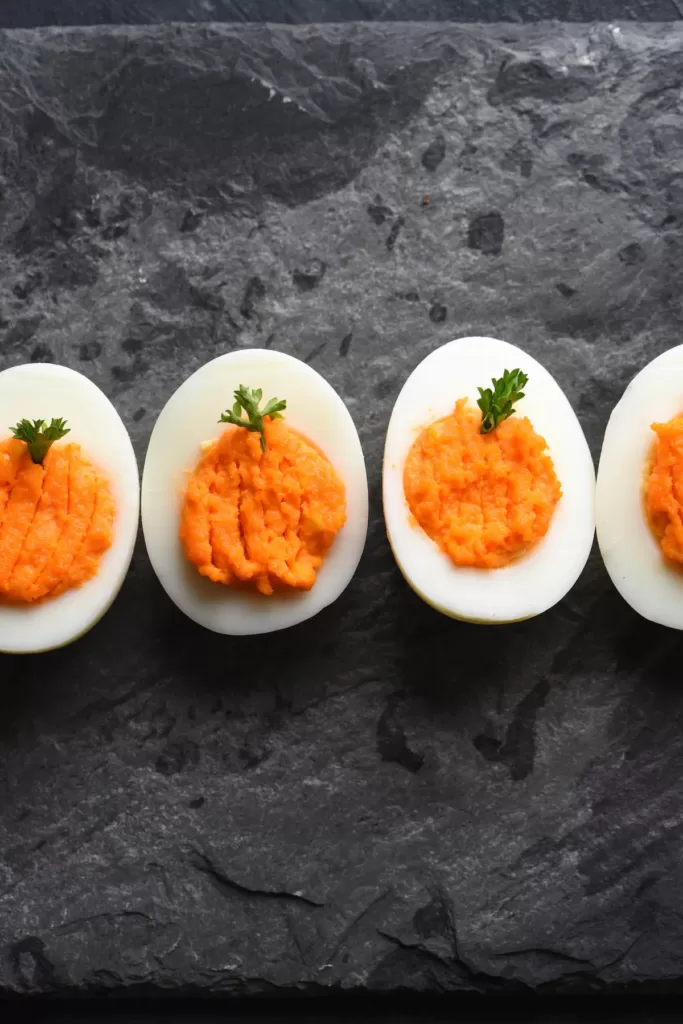 More deviled eggs – this time mini-pumpkins!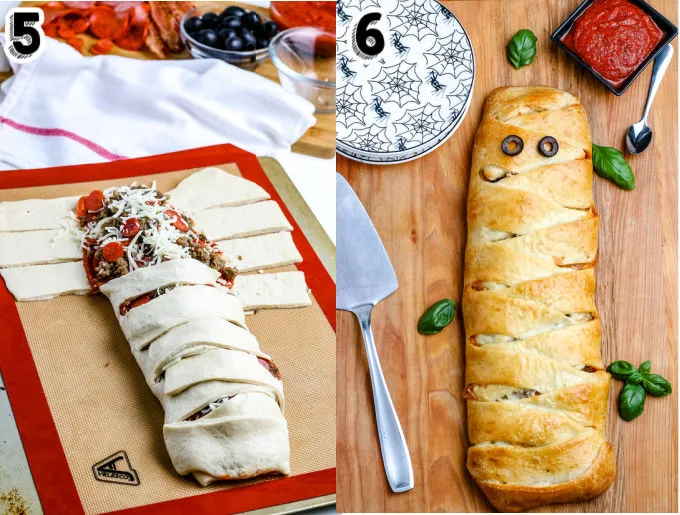 A bit more complex than your standard calzone pizza, but this mummified one will look just the part during the Halloween festivities.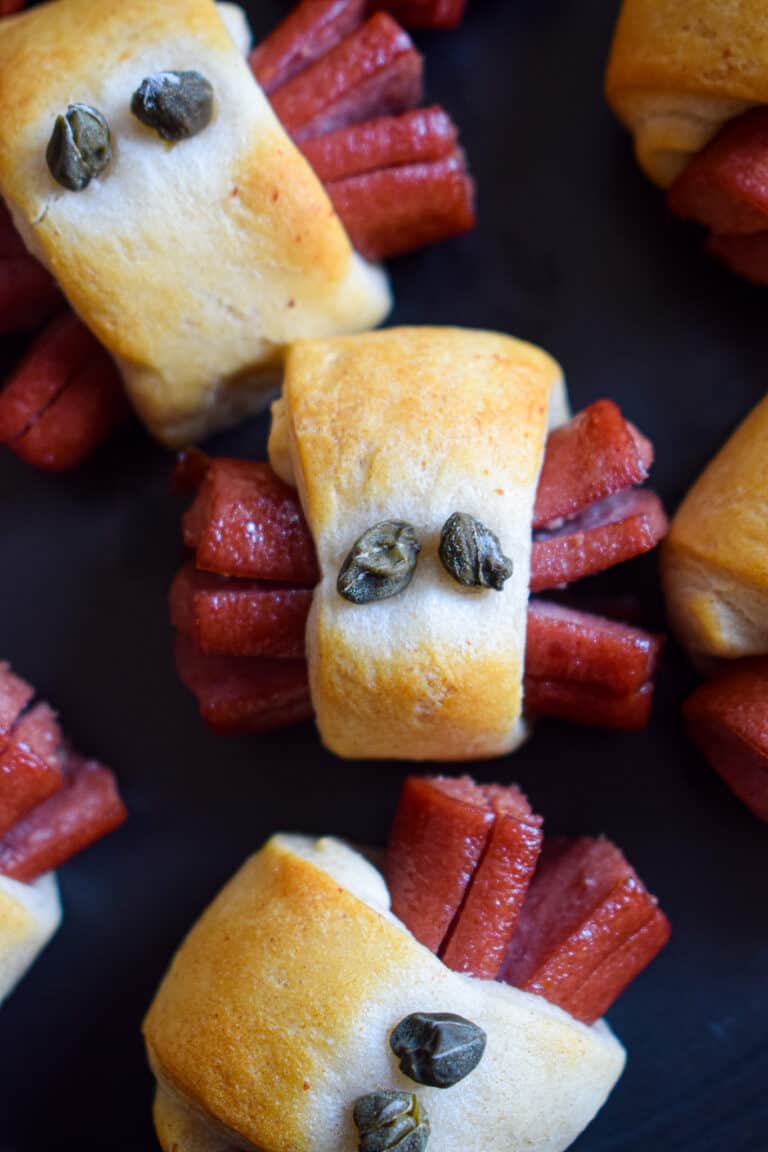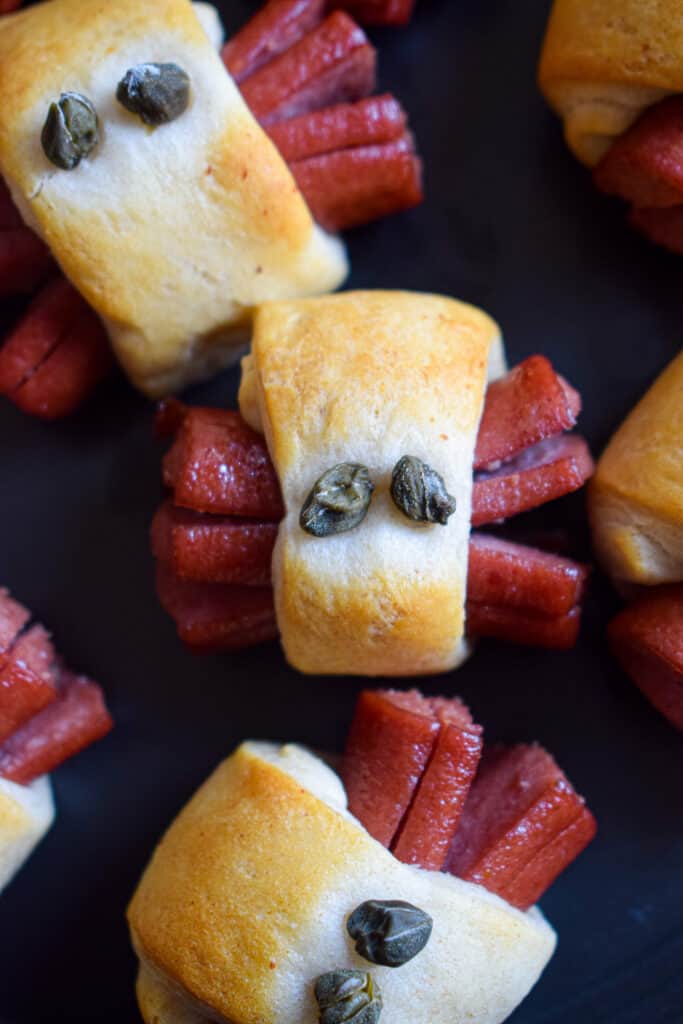 Want a smaller bite-sized version of the mummy hot dogs above? These hot dog spiders are the perfect mini Halloween snack to make for little ones that can't manage a whole hot dog.

#52 Mini Mummy Pizzas
With some store-bought mini margherita pizzas and a few extra ingredients, you'll be able to whip up a load of these savory snacks in no time, perfect for a Halloween party for kids.
Easy Halloween cookies and cupcakes for toddlers
Some of these Halloween treats easy enough for toddlers to make.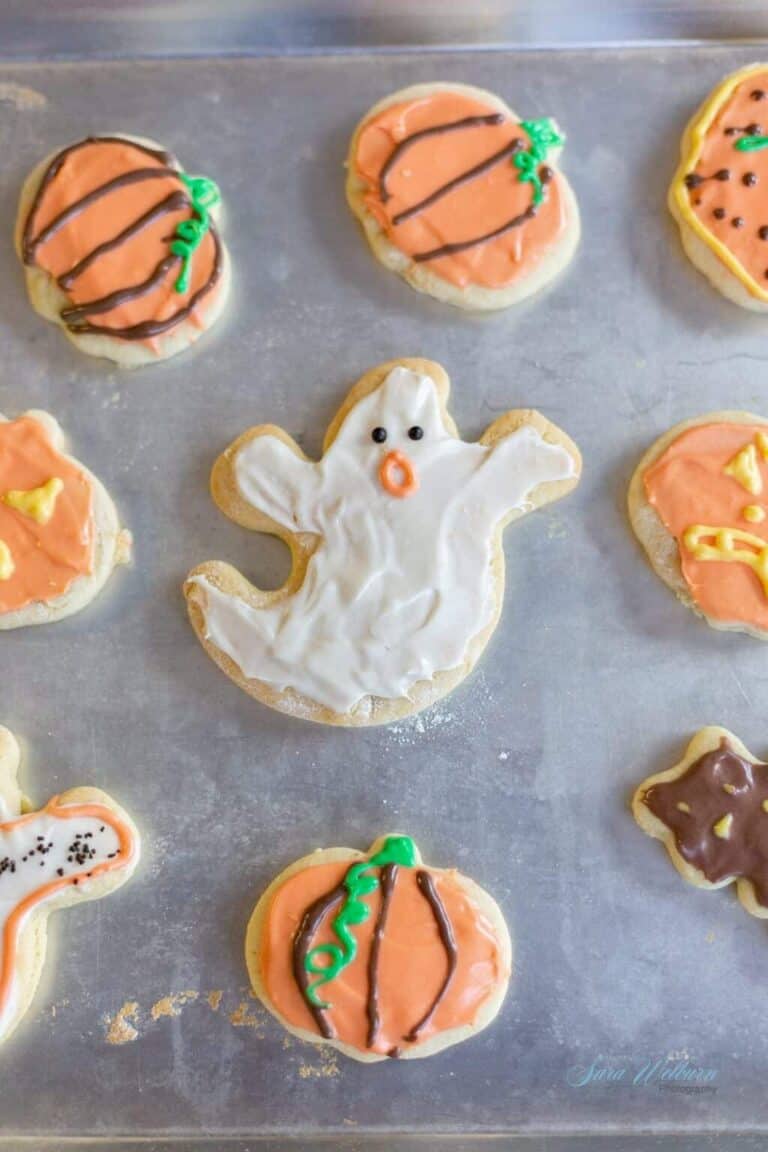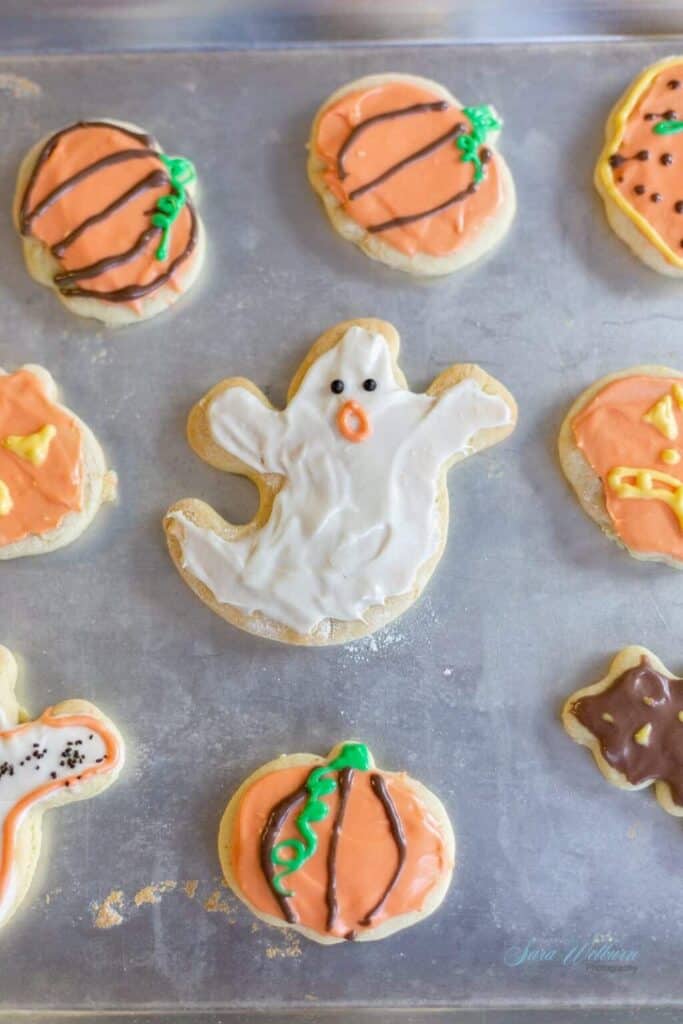 With some Halloween-themed cookie cutters and a little bit of skill in the icing department, these sugar cookies will both taste delicious and look the part on your Halloween treat table or in a party favor bag.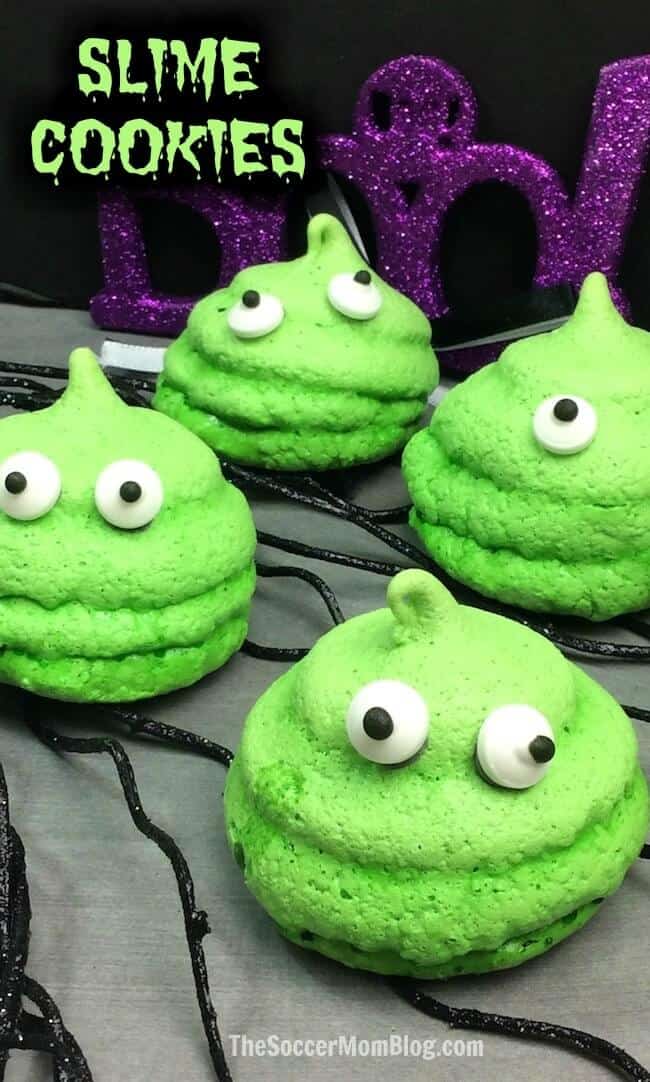 A unique and a little dodgy-looking Halloween cookie, if ever I saw one! (They look a little like fluorescent green turds to me…) But toddlers are bound to love them. Will have to give them a go this Halloween.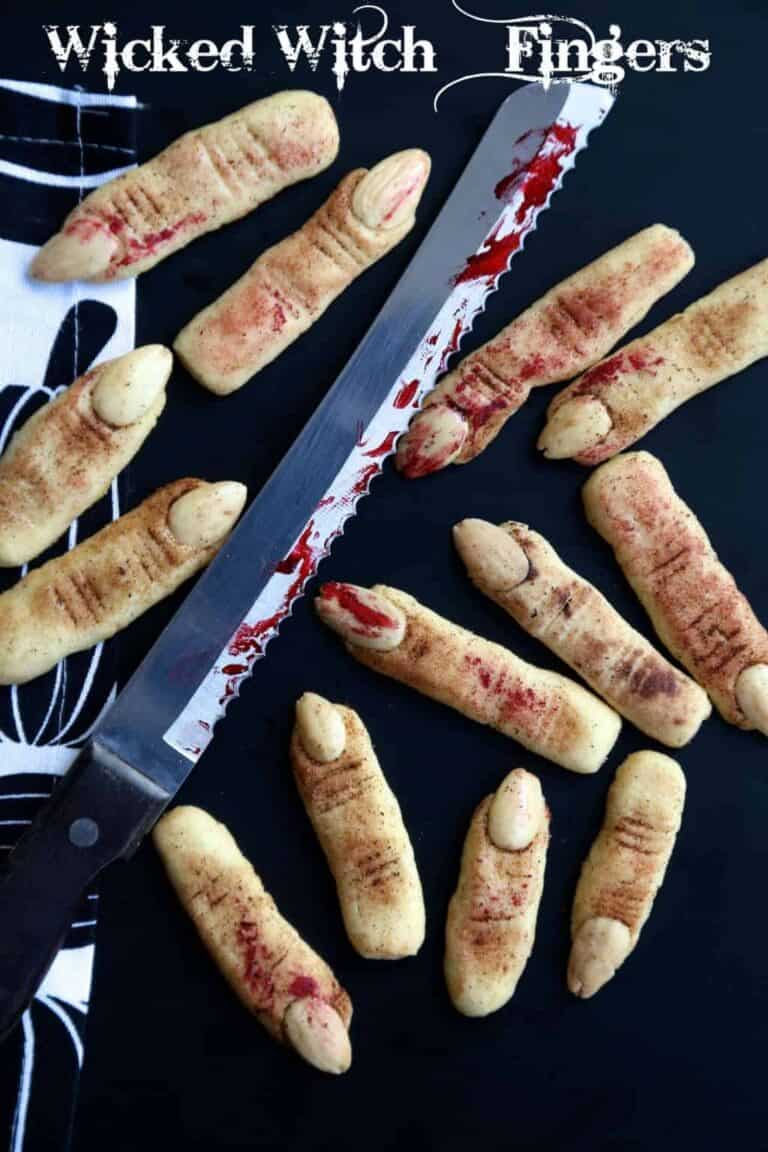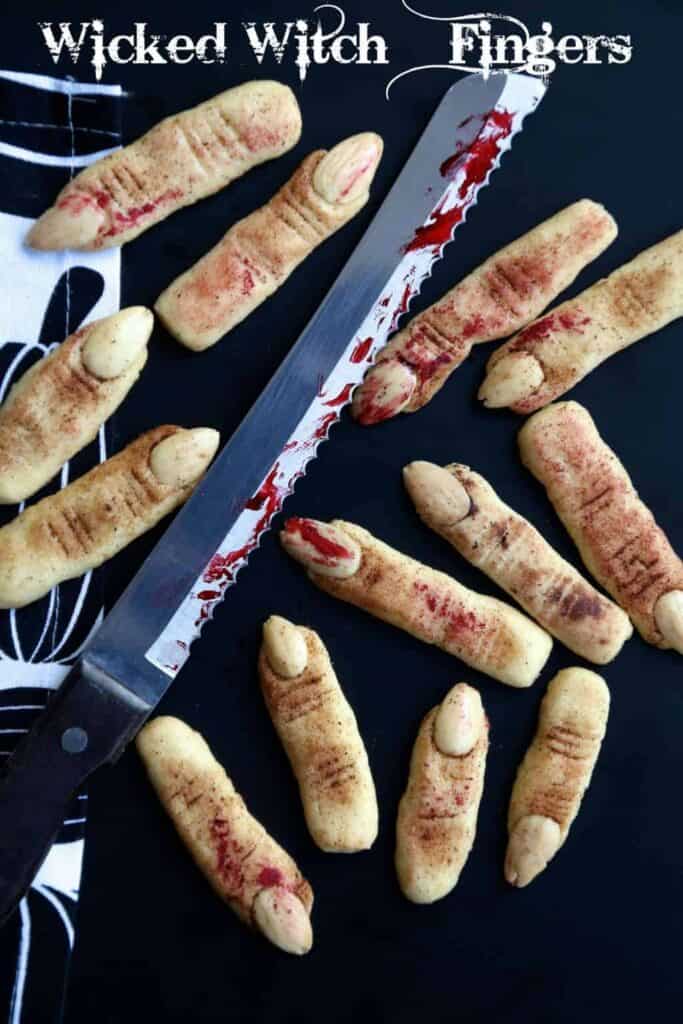 How gory are these! They don't look at all appetizing, do they?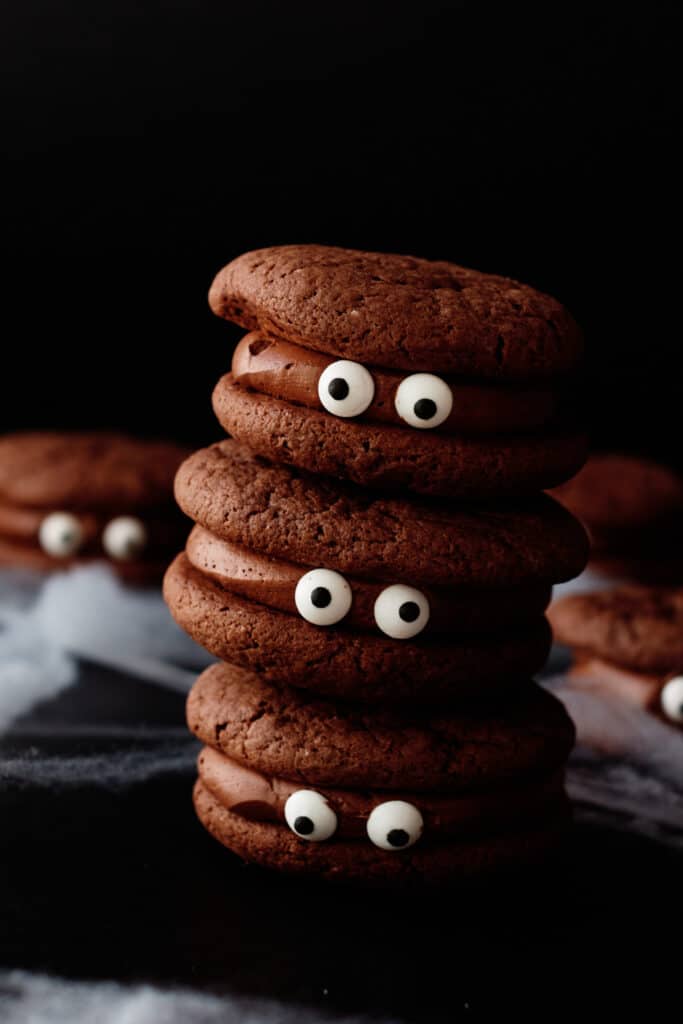 These chocolate Halloween cookies are so simple, taking less than 30 minutes to make, but you could definitely speed this up a whole lot more and cheat with store-bought chocolate cookies…
NEED EASY-PEASY ACTIVITIES, GAMES & PRINTABLES FOR YOUR TODDLER OR PRESCHOOLER? LOOK NO FURTHER…

CLICK TO DOWNLOAD THE ACTIVITY PACK & BONUS NOW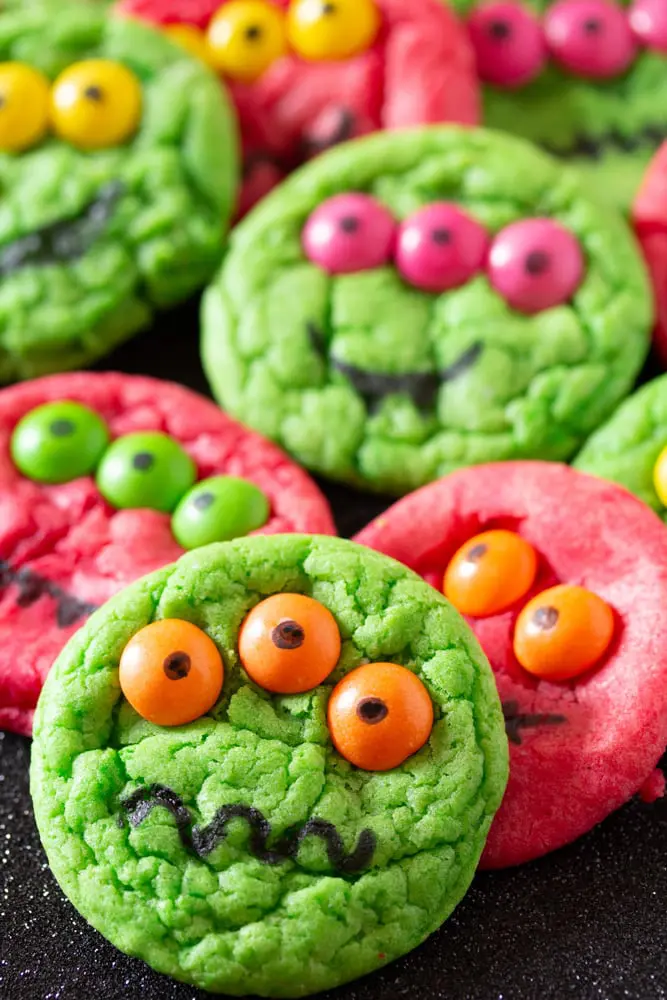 Cute and fun, this Halloween treat will be a hit with your toddler.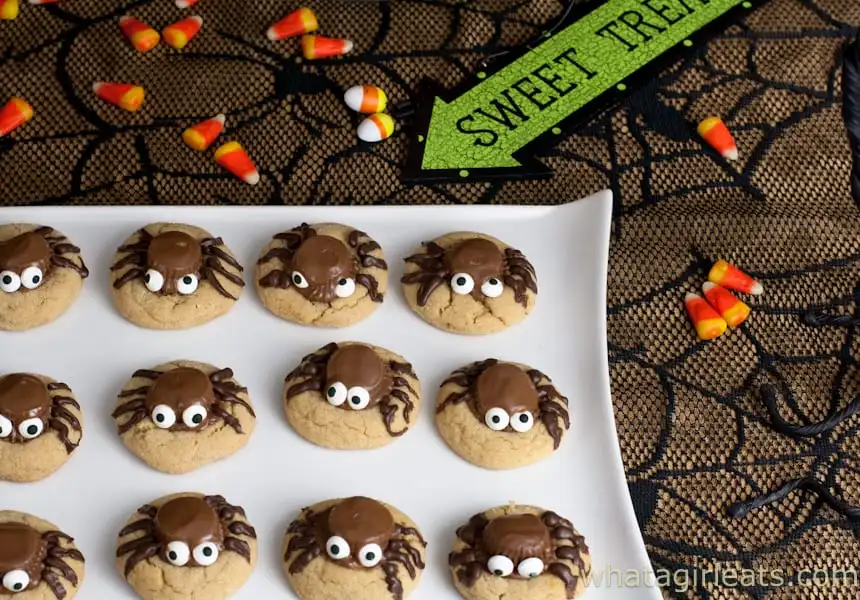 A clever use of peanut butter cups turns ordinary cookies into ones infested with creepy crawlies! A perfect addition to your Halloween treat table.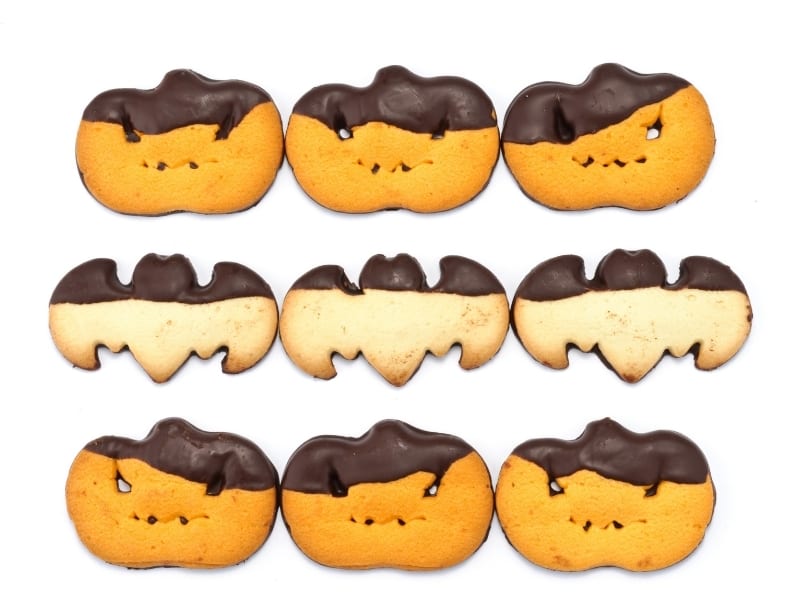 #59 Dipped Chocolate Halloween Cookies
For a simple cookie decoration idea, dip Halloween-shaped cookies into chocolate and there you have it: some easy Halloween treats for toddlers.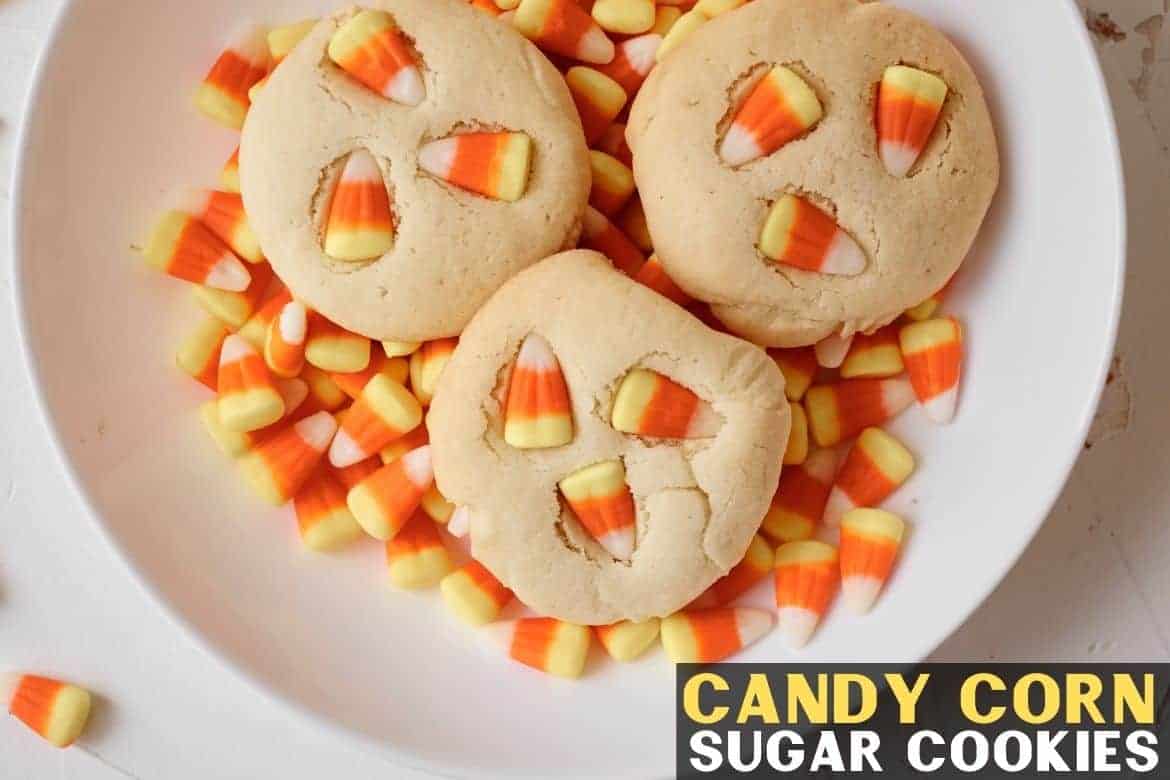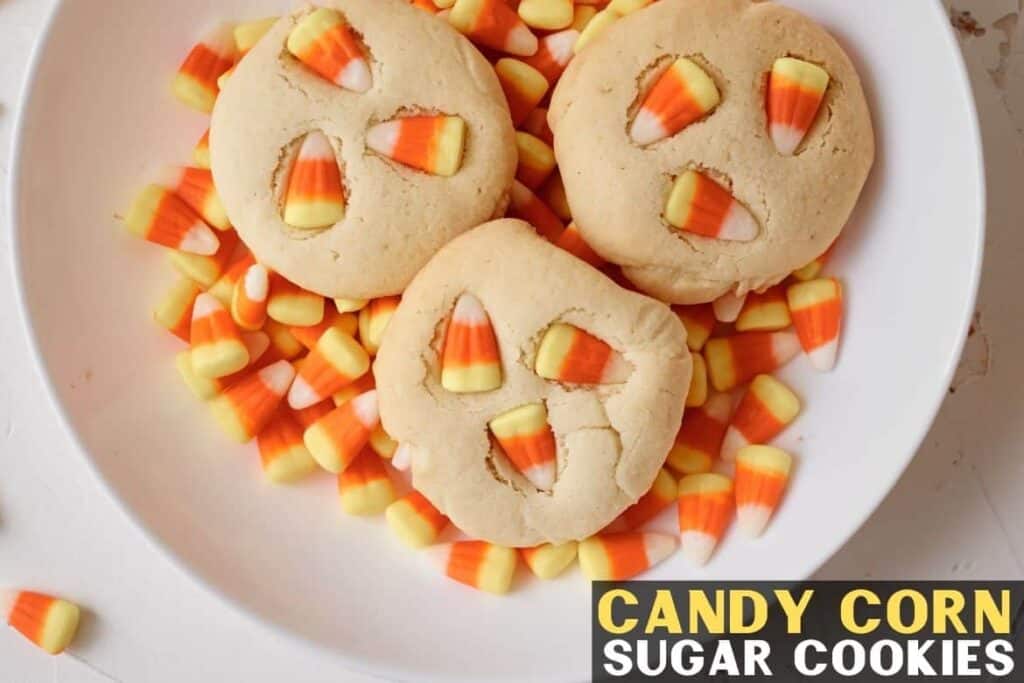 An easy and effective Halloween twist on a delicious sugar cookie, but be warned (the clue is in the name) these will be sweet so make them small for little tummies if you want to avoid sugar-induced hyperactivity!
Halloween cupcakes for toddlers (including cake pops & other baked treats)
Plenty of tasty treats in this section – from Halloween cupcakes with eyes to those with witches hats, plus plenty of Halloween cupcake decorating ideas, there's a bit of everything,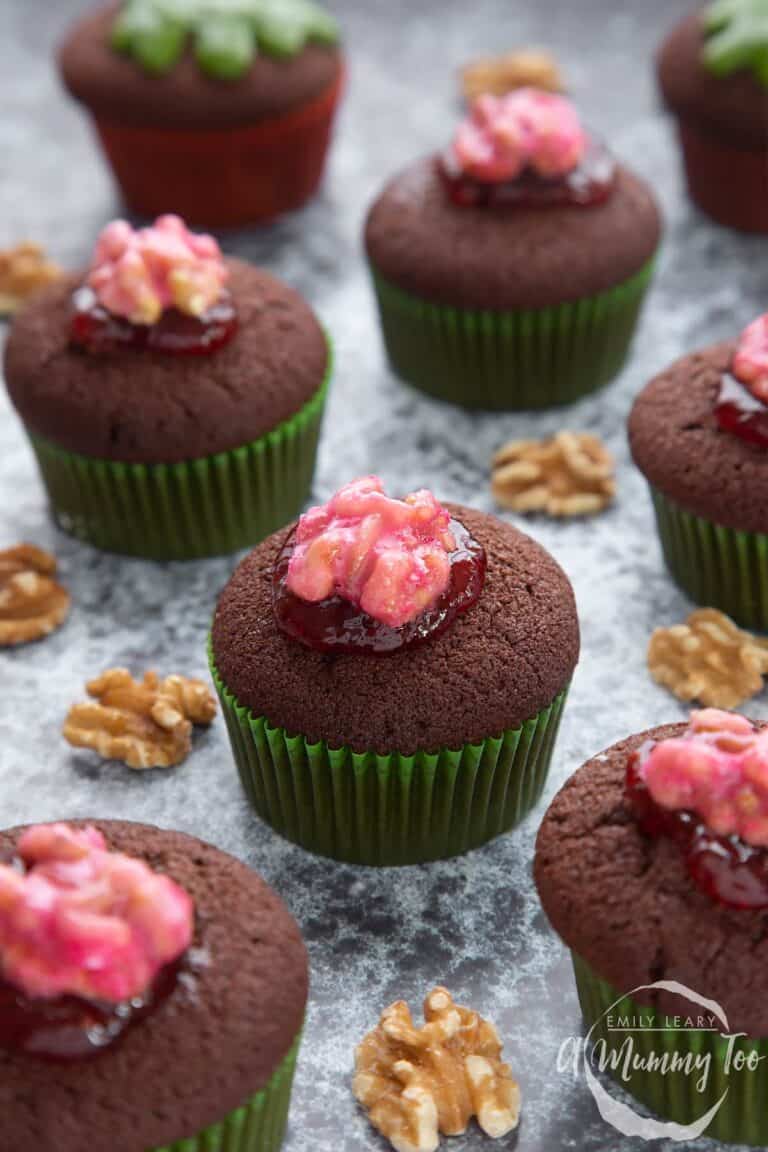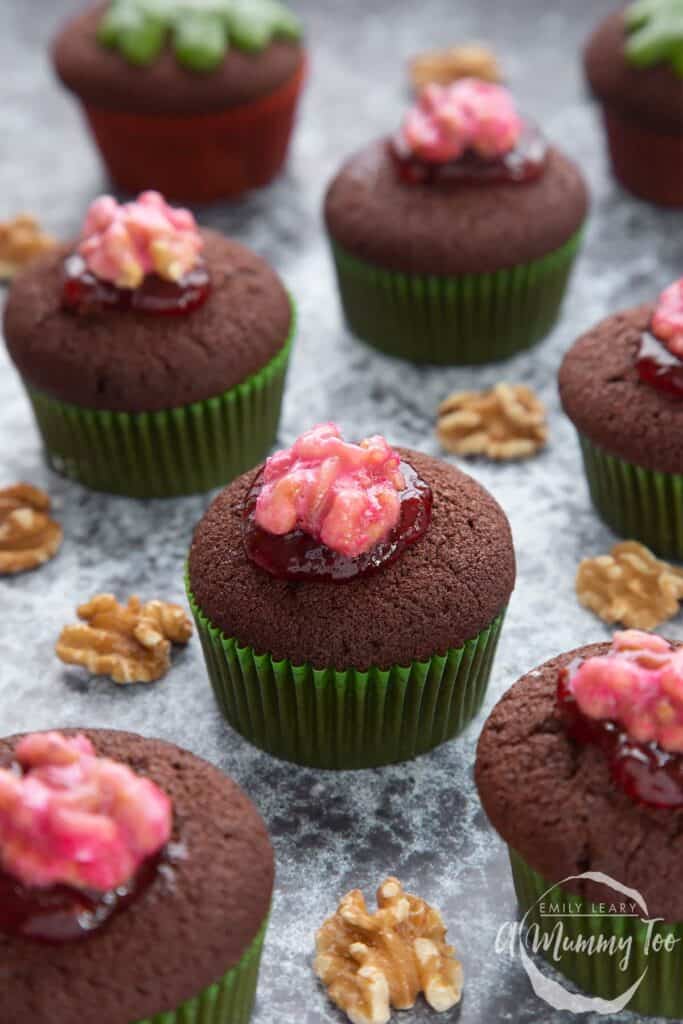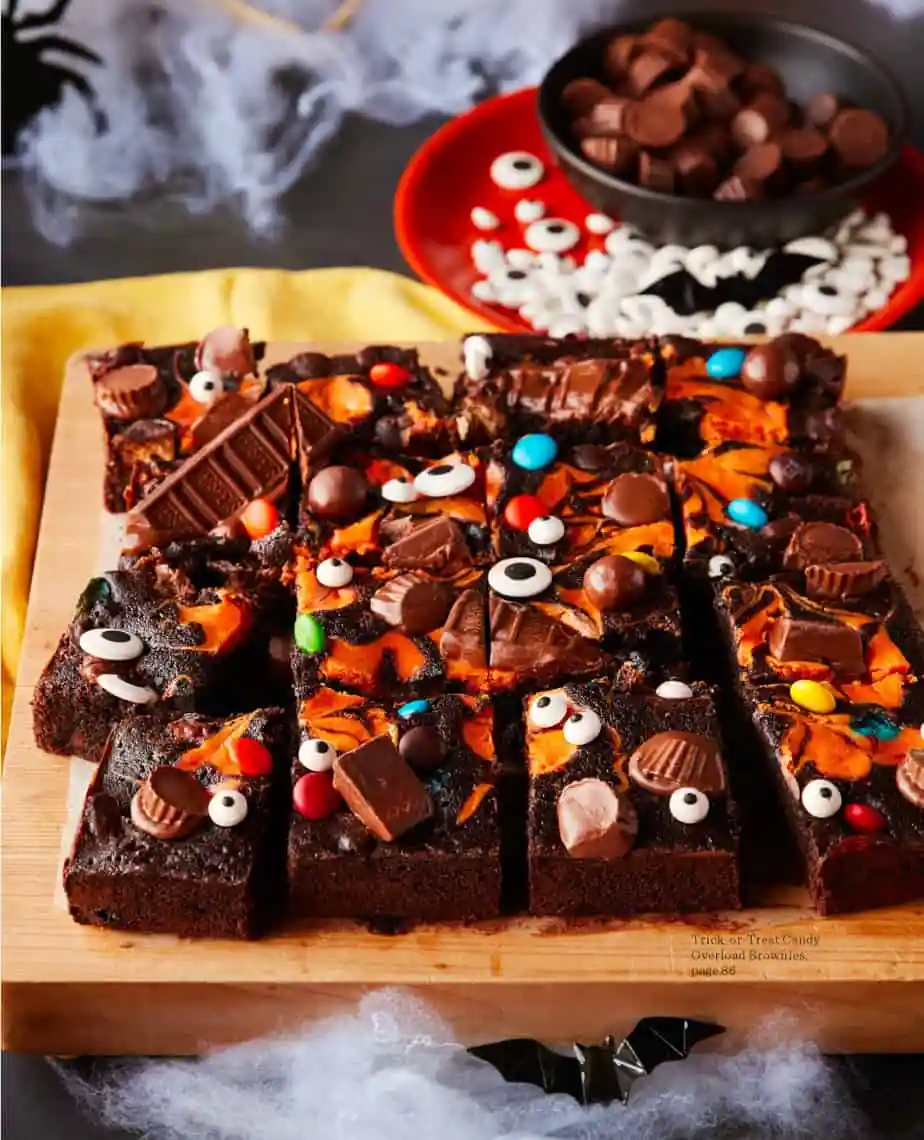 Toddlers will have fun sprinkling in their candies of choice when the brownies are still hot out of the oven and I'm sure will be impatient waiting for them to be cool enough to eat…you too probably!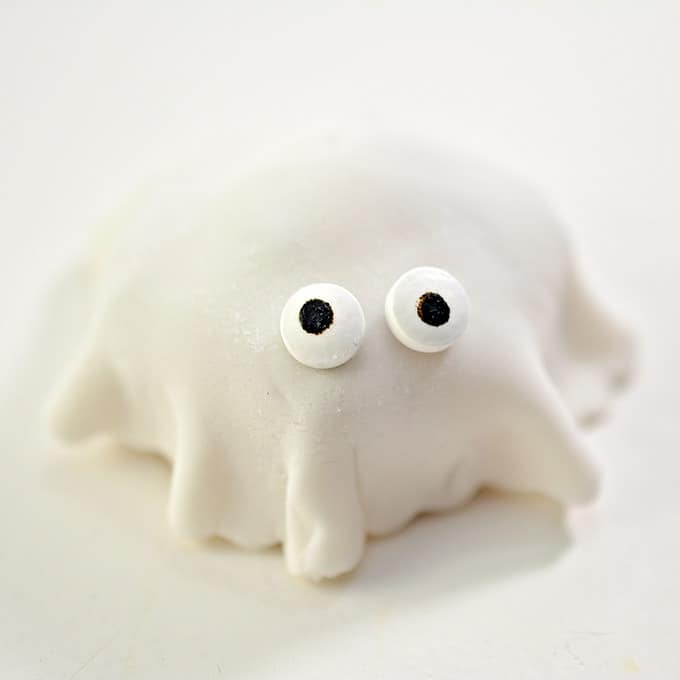 Clever and cute, ghostly Halloween treats for toddlers will be a fun addition to the festivities.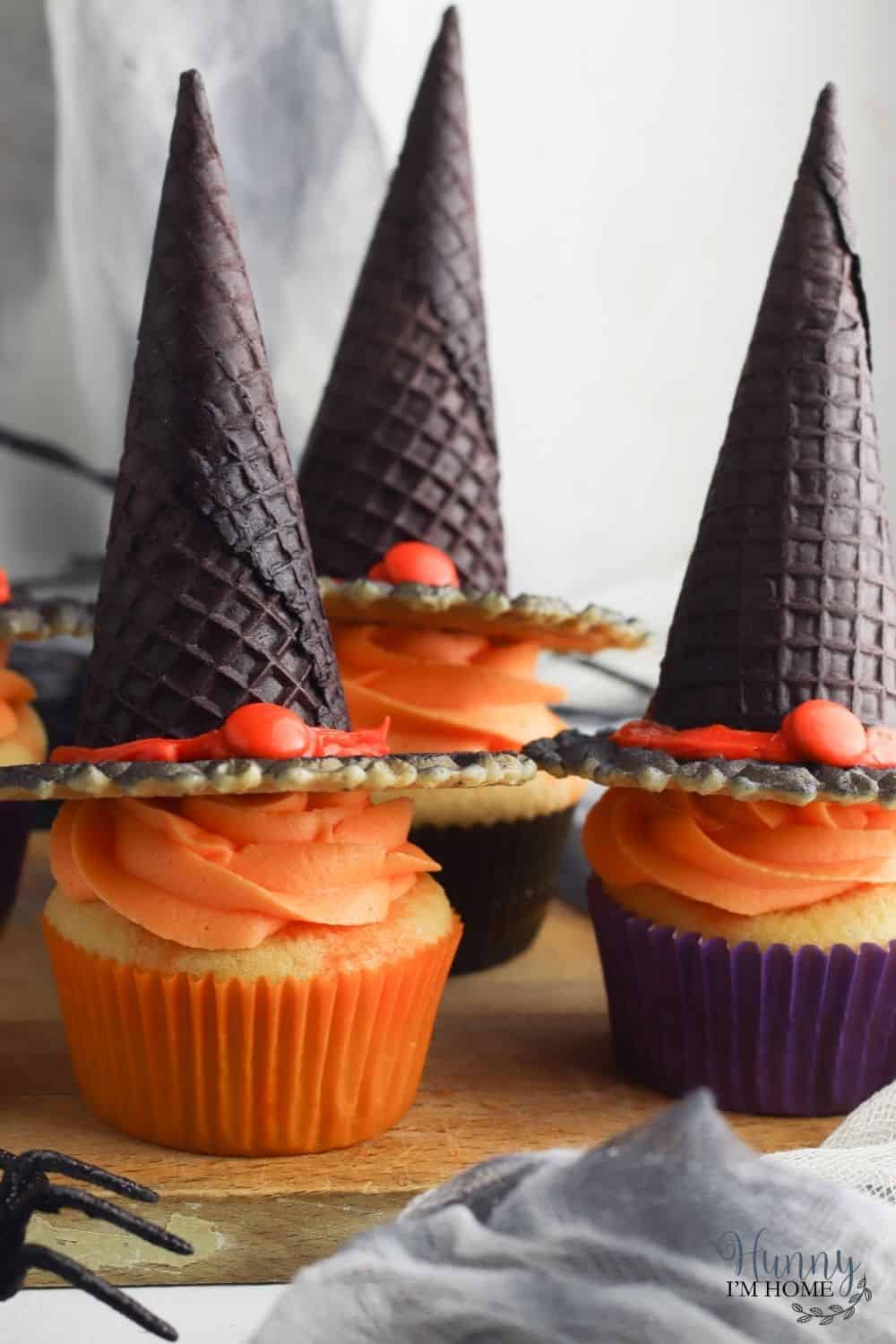 These witch hat cupcakes really look the part and are sure to be a hit with your toddlers, though I have the feeling mine might be quick to ask for some ice-cream to go in the cone…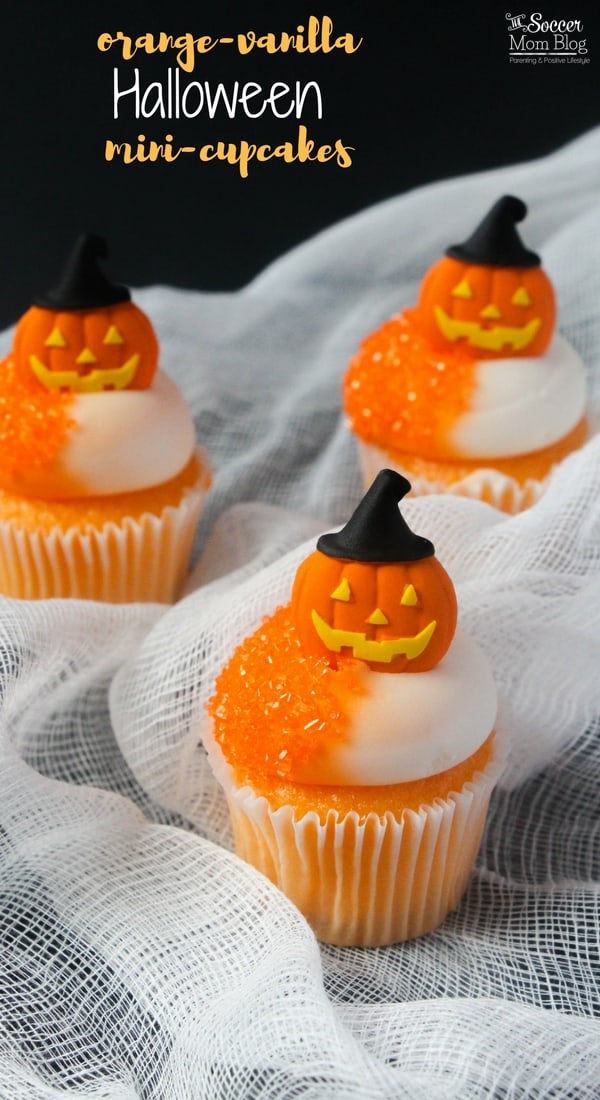 These dainty and adorable pumpkin cupcakes look easy enough for any decorating novice to have a crack at, so definitely, one for me to try…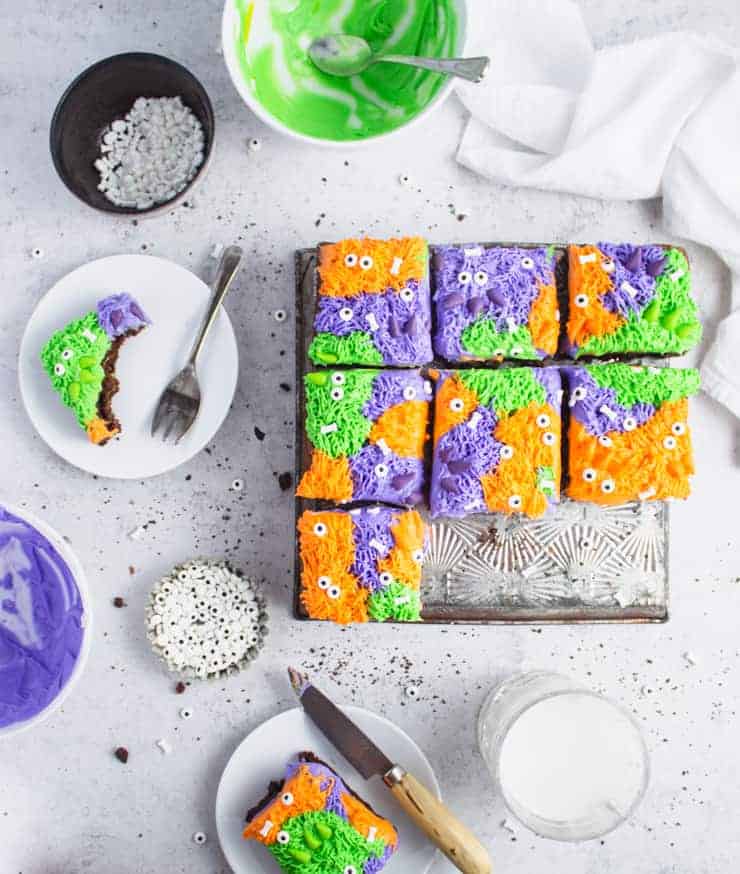 I love the bright colors of these hairy monsters which turn a normal looking brownie into a spectacular Halloween treat for toddlers.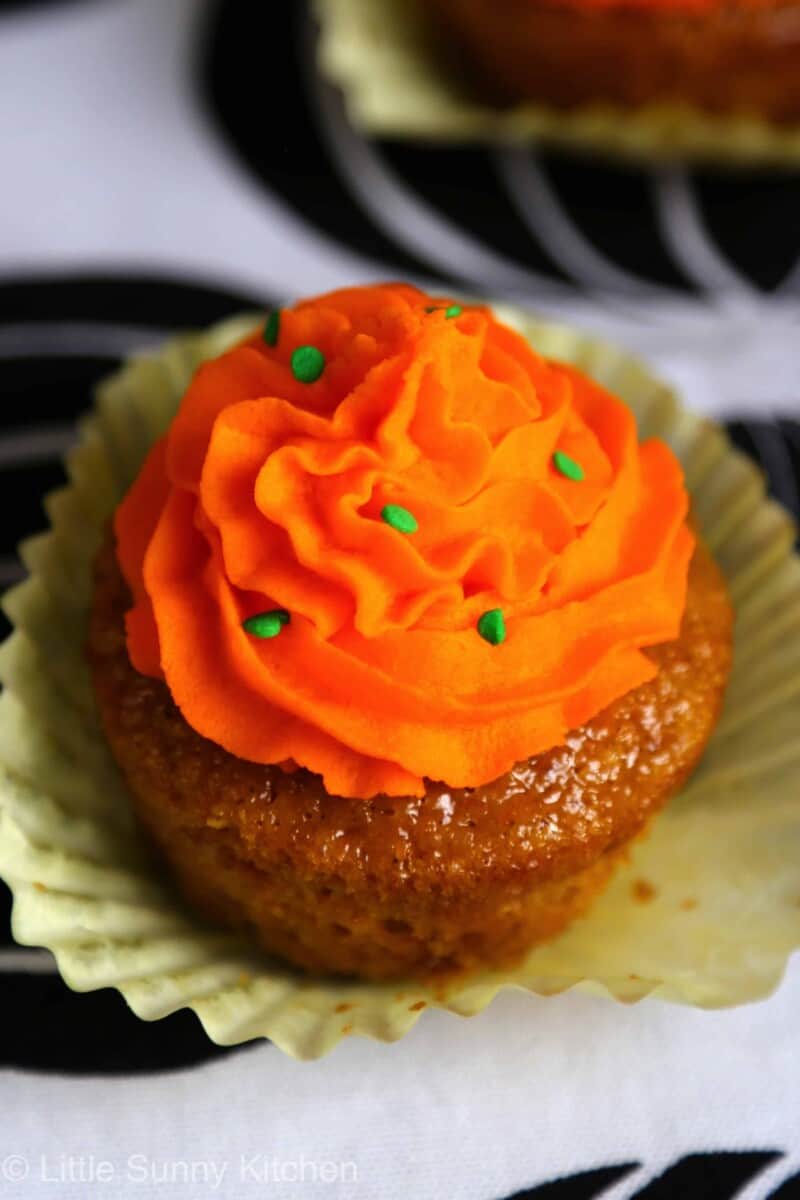 Another simple Halloween cupcake decorating idea for these delicious pumpkin treats.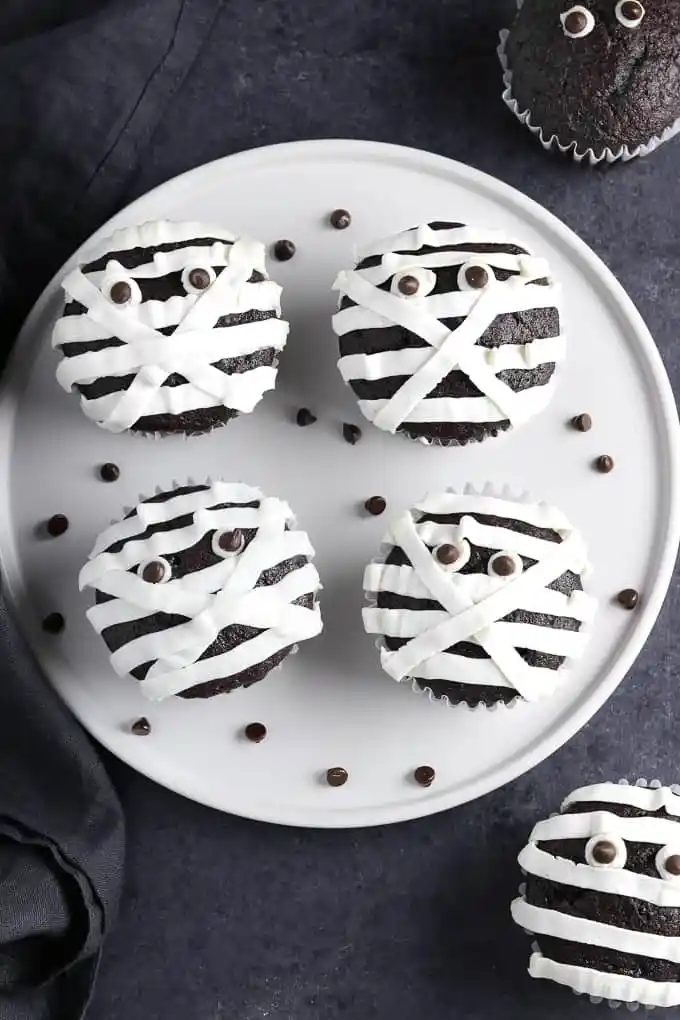 White icing and a steady hand are all you need to mummify some chocolate cupcakes.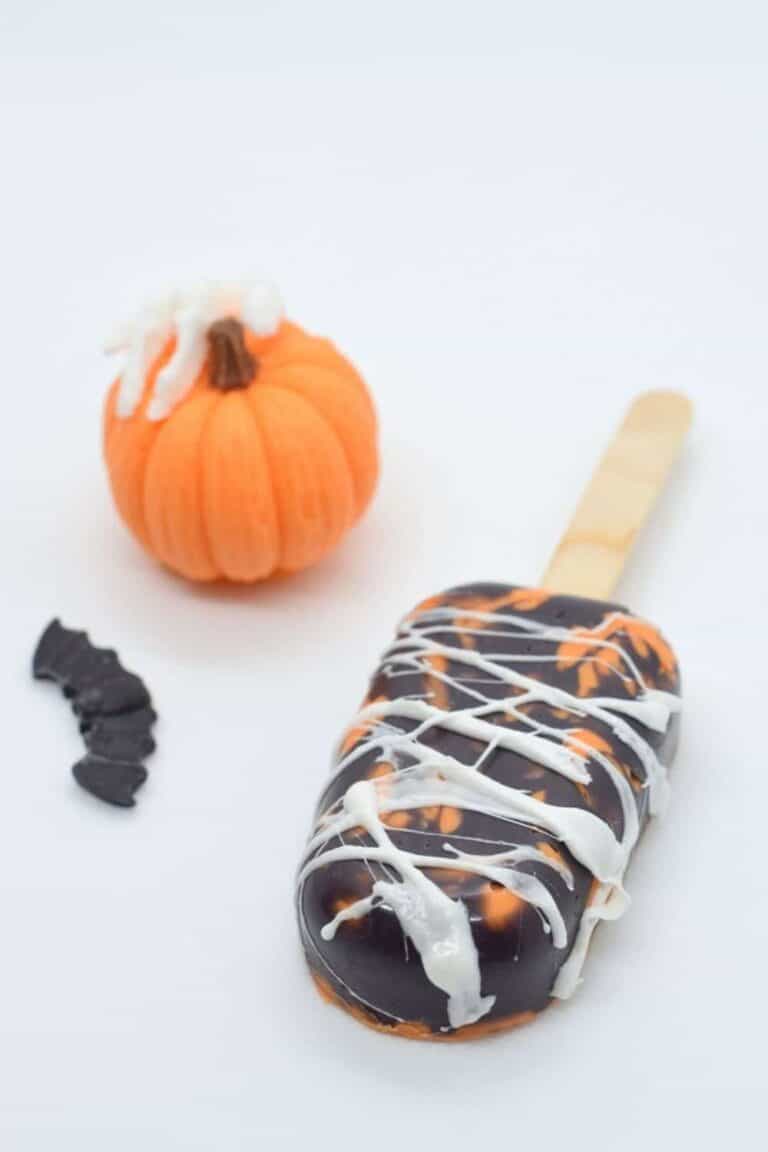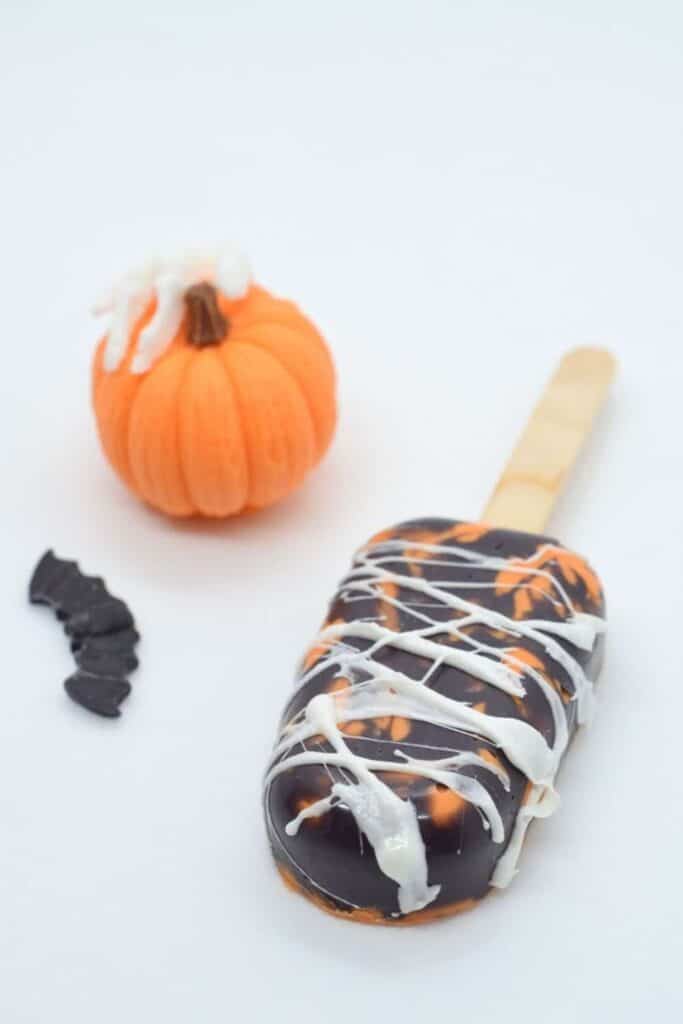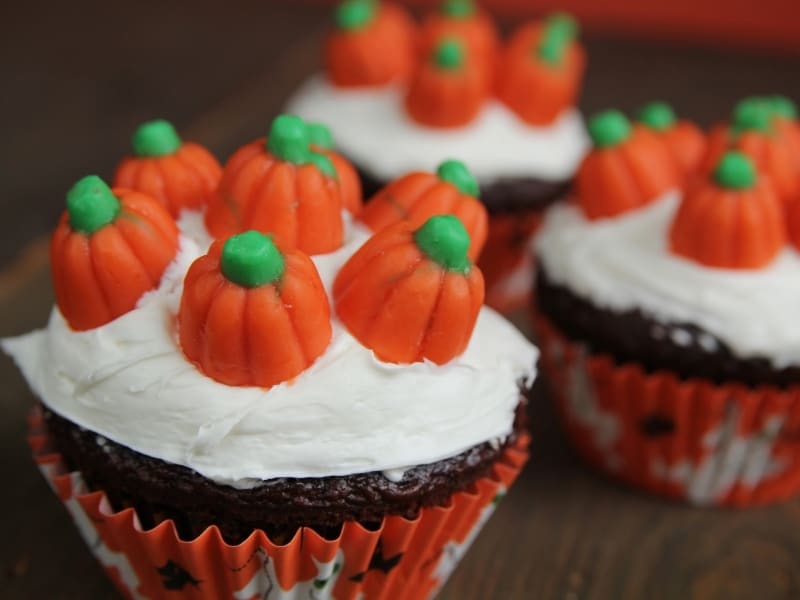 #73 Pumpkin patch cupcakes
Mini pumpkin candies are all you need to turn a simple iced cupcake into mini pumpkin patches.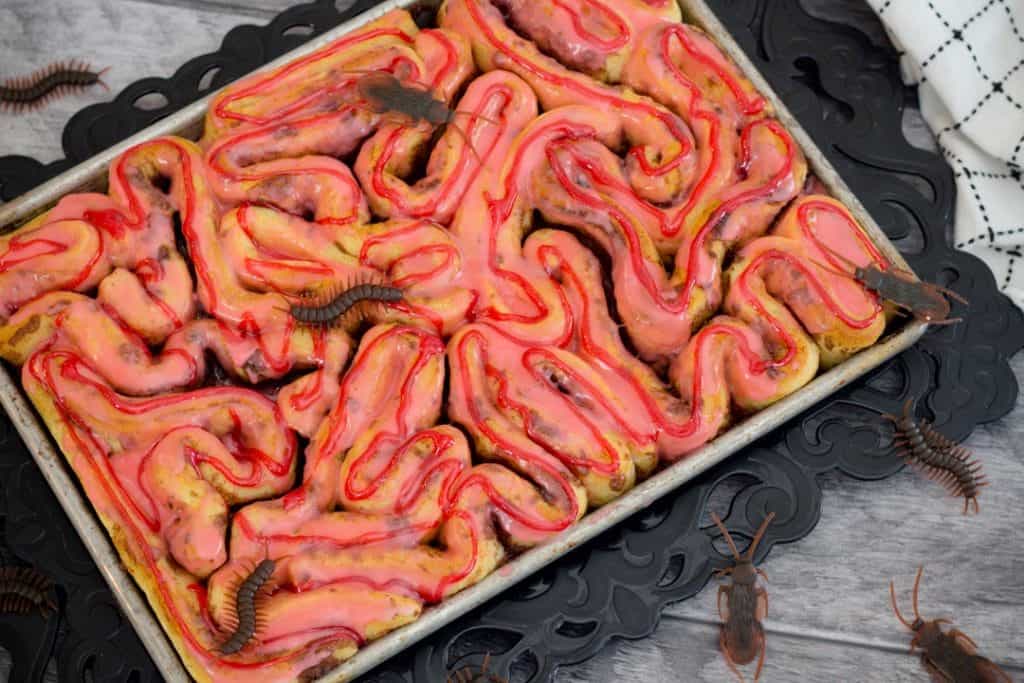 I'm not sure I could bring myself to eat something this gory-looking, but I'm sure it won't bother little kids, who probably won't quite know what these cinnamon rolls are convincingly replicating…
Halloween ice cream treats for toddlers
No list of toddler Halloween treats would be complete without ice cream, now would it! Just a few here to choose from, but they all look so divine you won't need to look any further.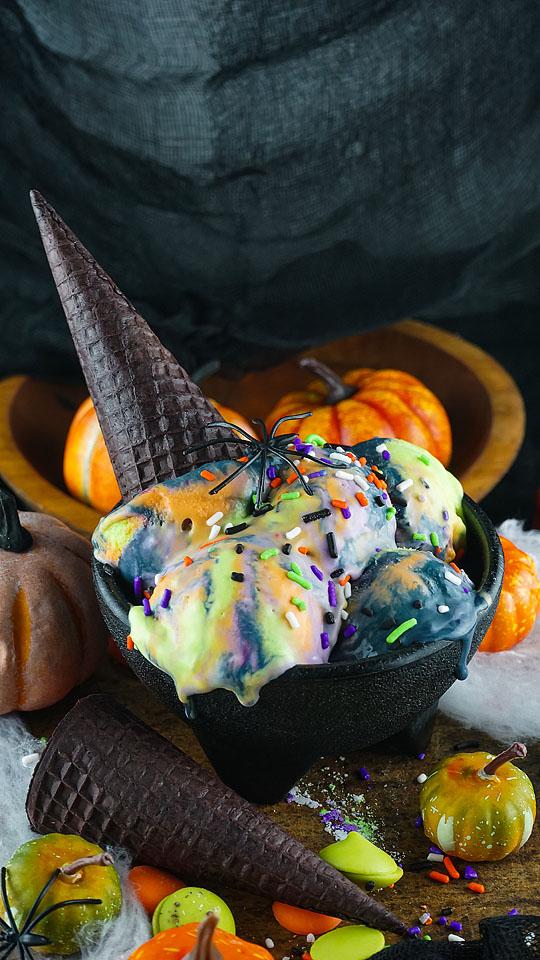 This Halloween ice-cream is made with condensed milk, meaning there's no need for a fancy ice cream maker. What a divine-looking Halloween treat for toddlers.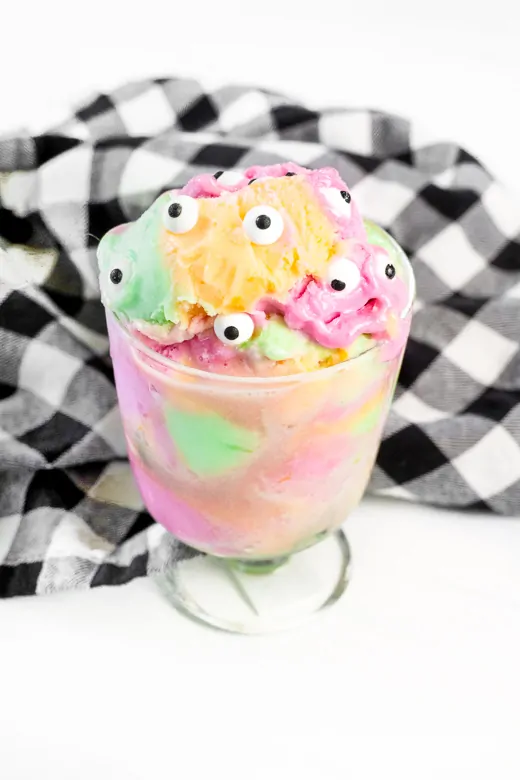 Straight out the box, these monster sherbets will suit the time-poor. This is my Halloween ice-cream of choice, for sure!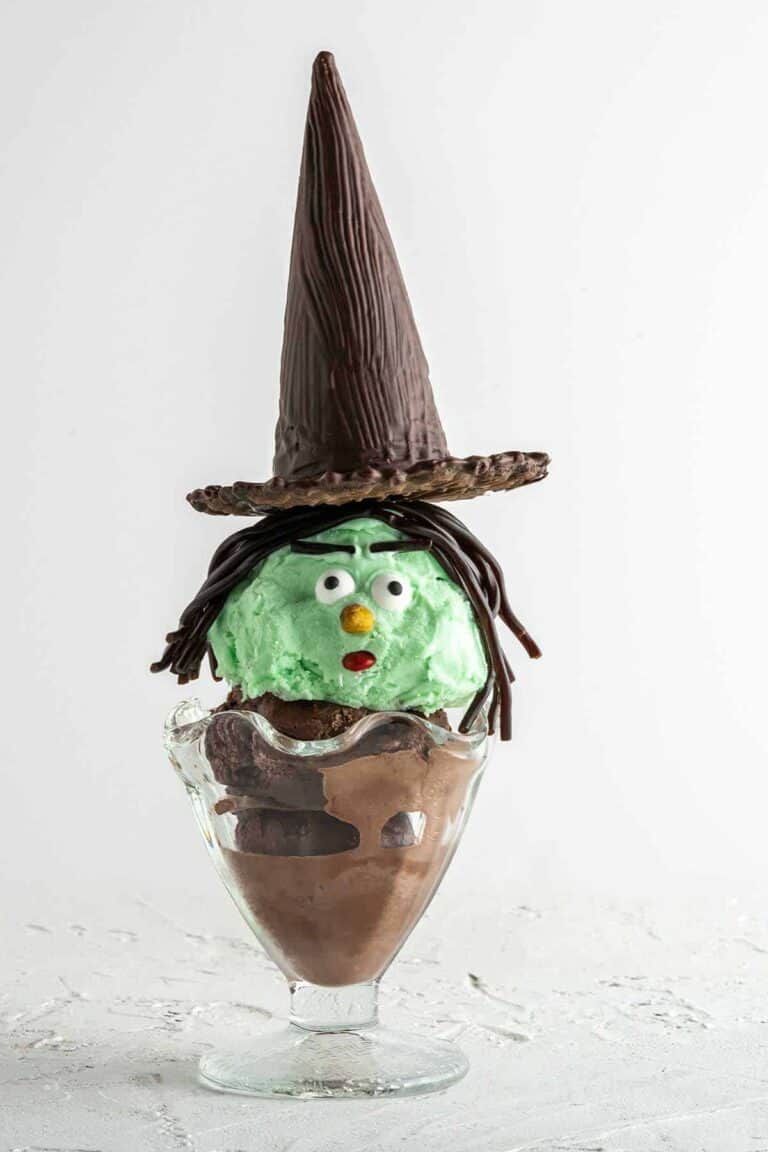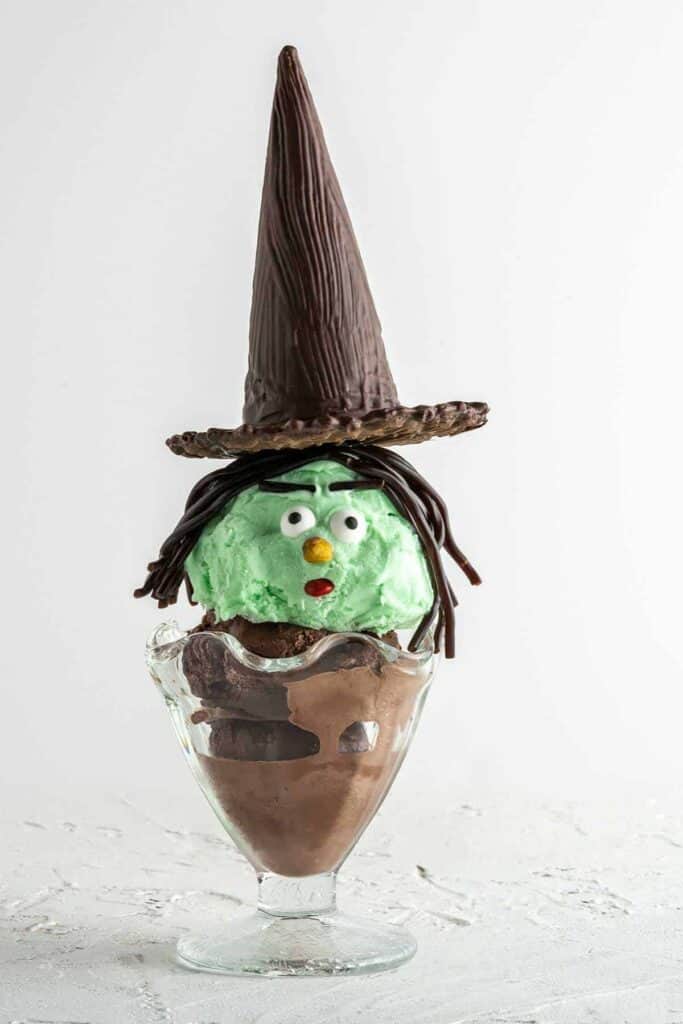 A bit of time and skill is required for these ice-cream sundaes but if you have either of these I think these will be worth it.
SUMMARY: Halloween treats for toddlers
Hopefully, this bumper list of toddler Halloween treat has given you plenty of ideas to get you started, whether you're planning to celebrate at home or host a room full of little ones. If that's you, you may also need some party ideas to keep those busybodies from tearing the place apart… check out:
55 toddler Halloween party ideas (that preschoolers will love too)
Happy Halloween!
For more Halloween & Fall crafts and activities, check out:
Don't forget to check out the Fab-BOO-lous Halloween Activity Pack.

CLICK TO DOWNLOAD THE ACTIVITY PACK & BONUS NOW
Is it too early to think about Christmas? No way! Check out:
For more easy toddler activities to keep your little ones busy indoors and out check out: