Nothing beats a good monster craft in our house.  Or should I say a super-duper scary monster craft?!
I don't know what it is about monsters but kids love them.  My eldest toddler is a little obsessed with them.
His favorite T-shirt is a monster one.  It's for 2 to 3-year-olds.  He's 4 next month.  It's a little, snug, shall we say. I've tried to hand it down to his little sister (two and a half).   She wore it once and then he wanted it back.
I digress…
This is a perfect craft for your monster loving toddler.
It's also perfect for Fall as it uses dead leaves.
It's really low prep so it's perfect for moms too!
In fact, is there any prep?  Well a little bit but that's part of the activity.  See this is part Fall activity, part Fall craft…
There's also zero mess.
Can't say better than that.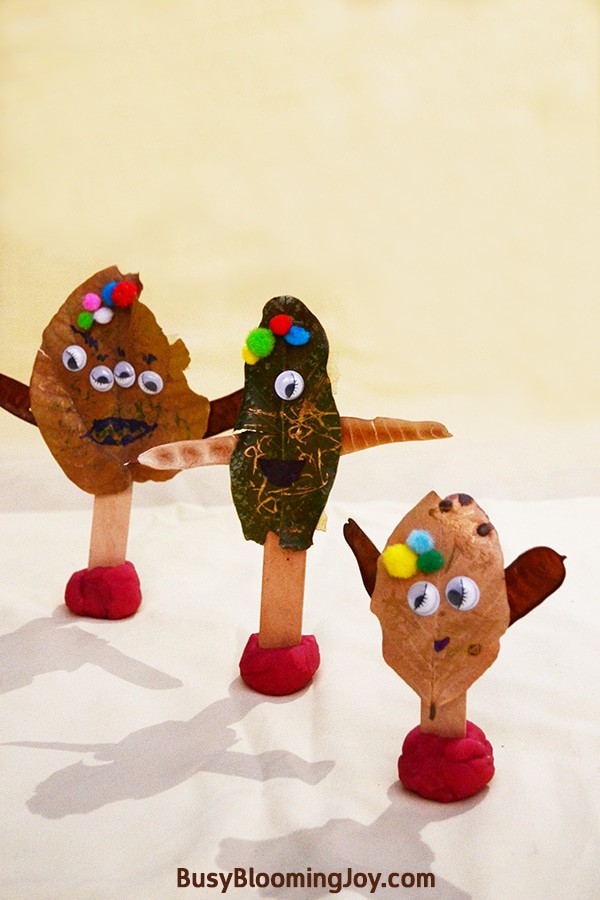 In a nutshell, this leaf monster puppet craft involves…
Foraging for some suitable leaves, sticking them together and onto a craft stick, scribbling on some 'monster hair', then adding googly eyes and pompom hair.
Don't panic!  More detailed instructions with pictures to show the how-to step-by-step coming up!
This is really too simple for words, no mess, fuss-free.  This leaf monster craft will keep your toddler or preschooler busy for a good few minutes (let's go for 20 minutes) and then they have a super-cute, sorry scary, monster puppet to keep them entertained for hours after…
I call that a win!
What will your toddler learn in this leaf monster craft
Well, this leaf monster craft is a two-parter.  So it's a toddler activity, come toddler craft.  And two-parters are the best.  Let me explain…
Related posts: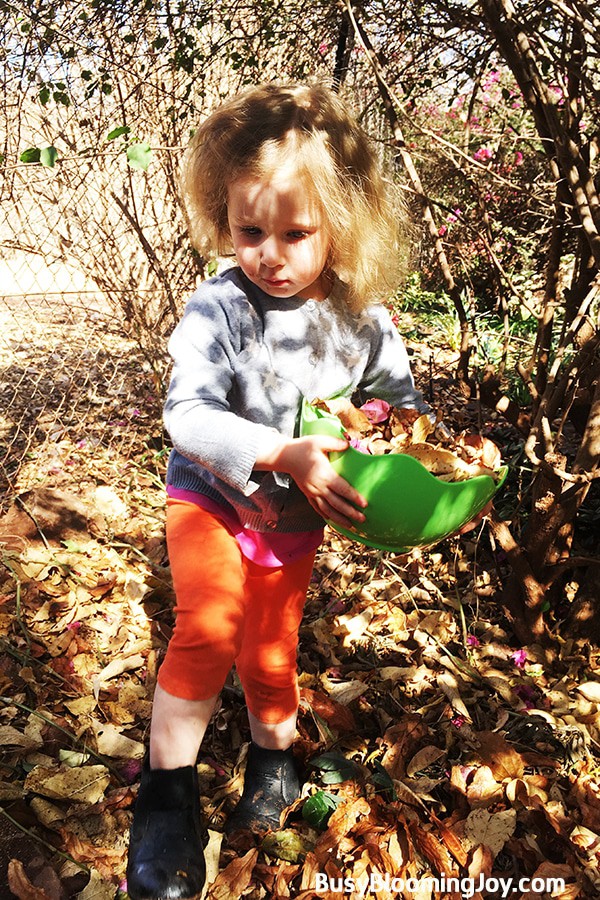 Part 1: The foraging part
So the first part of this leaf monster craft is gathering supplies.  AKA foraging for dead leaves.
So it's good for gross motor;  Walking, running, bending, stretching while searching for the perfect leaves to create these leaf monsters.
During this first part, which involves exercise, maximize on the exercise aspect…
Keep looking when you have enough leaves – ask your toddler to "go run and get that leaf that's about to escape with the wind".  The ability to shake some of that excess energy (seriously where does it all come from?) is the beauty of this particular toddler activity/craft!
Add in some learning about the life cycle of trees
Talk about the leaves, the trees from which they've fallen, why they fall…
Find some old seed pods and dried up seeds along the way?  Perfect to add into your tree lifecyle story.  (Seeds couuld make great monster eyes, or warts.  We found long thin seed pods that became monster arms.)
Keep it simple, obviously, but if you're anything like me, 'simple' is all you've got left. 10+ years post-school plus mommy brain is not a great combination!  (Does mommy brain ever go away?!)
Part 2: The crafting part
A little bit of drawing, which helps in development of the pincer grip for writing later on.  Then there's the sticking and pressing…
So, like most toddler crafts, there are a lot of different and intricate little fine motor skills at work.
Then there's the composition of this leaf monster craft.  There are hundreds of different ways to draw a monster, one of the reasons why monster crafts are so good for toddlers.  It's all about imagination, a crucial part of cognitive development.
So let their imagination run wild!
Be curious with your toddler too.
"Is that hair there?" (Me pointing at the pompom hair down the middle of the leaf monster's face.)
"Yes, mommy, this monster has a hairy face."  Fair enough, makes sense now!
We used colored pompoms for hair, so we talked about what color hair the monsters had…
Another skill that toddlers get to practice and learn… patience!
Learning to sit and wait while you help them and, if you're doing this with more than one toddler (as I always am), to wait while you help the other, helps them learn about sharing and patience…
Patience, taking turns, patience and yet more patience.
Nothing wrong with practicing patience even as early as 2.
What age is this monster leaf craft suitable for?
My two toddlers are 2.5 and nearly 4.  Maybe the elder one is officially a preschooler? I don't know.  (He's not at preschool so to me he's still a toddler!  Plus I've already reached that point when I don't want him to get any bigger!  Well I do, but I don't…  If you know what I mean.)
Anyway, they both loved it.  The 2.5 year old was just as able to get involved and barely needed any more help.
Her leaf monster was a little more obscure looking.  Nothing wrong with that!
Supplies needed
Selection of leaves and other Fall 'stuff' – seed pods, seeds, sticks etc
Craft sticks – 1 per monster
Masking tape
Mini pompoms – a few per monster
Glue dots – 1 for each 2 or 3 pompom
Googly eyes – a few per monster
The how-to of this monster leaf craft for toddlers
1 – Forage for leaves
Pretty self-explanatory.  There's a picture of my daughter (2.5 years) with a plastic green mixing bowl (a perfect size for her) collecting leaves etc around our garden.
My son used his wheelbarrow. Really, anything but a plastic bag will do (they just makes me nervous).  Shoe box, ice-cream carton.. that type of thing.
Remember about the whole tree lifecyle story (check back to this section if you're not sure what I'm on about!)
2. 'Decorate' leaves
Scribbling with sharpies – the best type of drawing for my younger toddler daughter.  This is just scribbling on the leaf instead.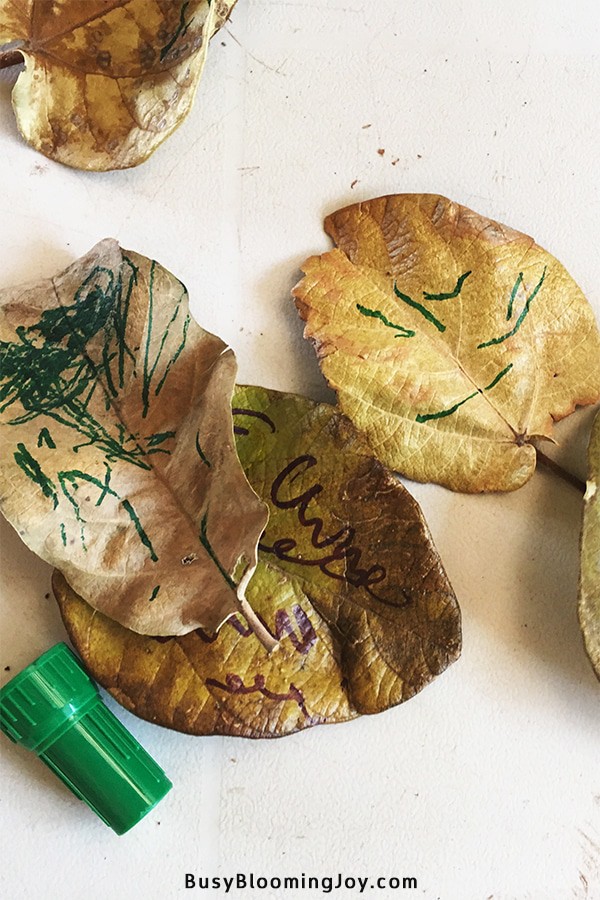 3. Find suitable monster 'arms'
They could have legs too but our monsters just had arms.  Get your toddler to choose something suitable for arms.  We used long thin seed pods but one monster remained armless for reasons I no not!
4. Stick arms on and a craft stick for a handle
I just used masking tape. Not the most sturdy of sticky things but this leaf monster craft is not designed for longevity!
5. Stick googly eyes on and pompom hair
Pretty self-explanatory I think…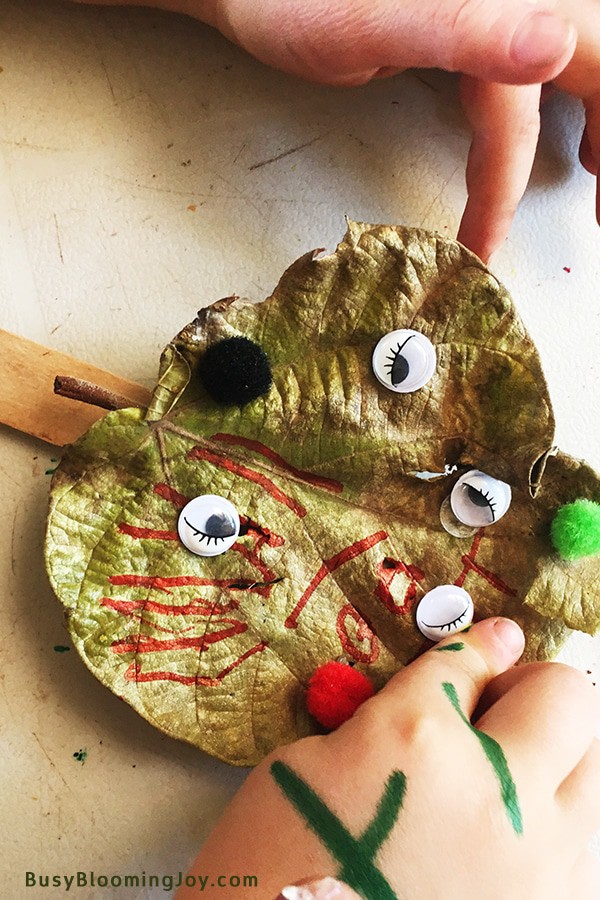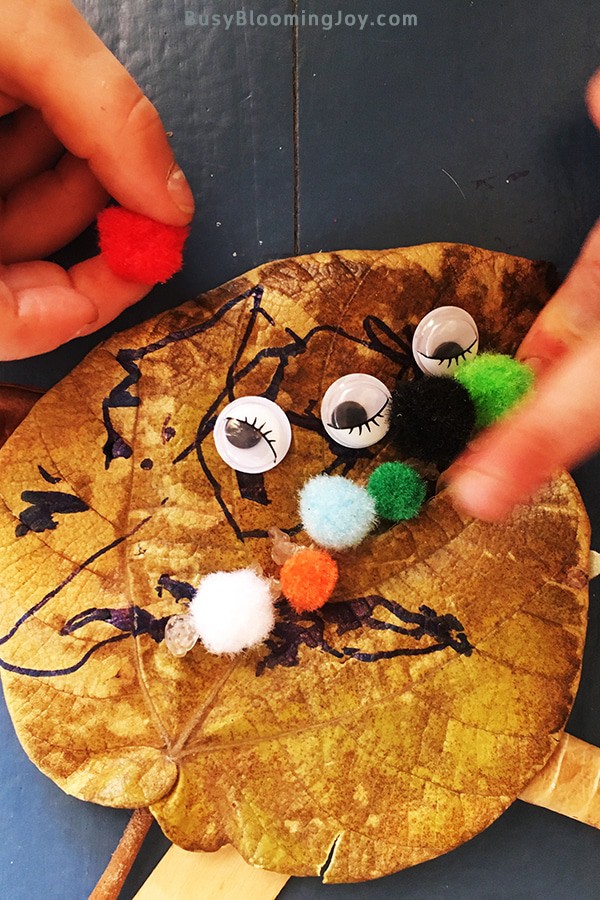 You can stick 2 or 3 pompoms per glue dot.  You can see in the photo above there's plenty of space on some of the glue dots for more pompoms.  Same example in the photo below.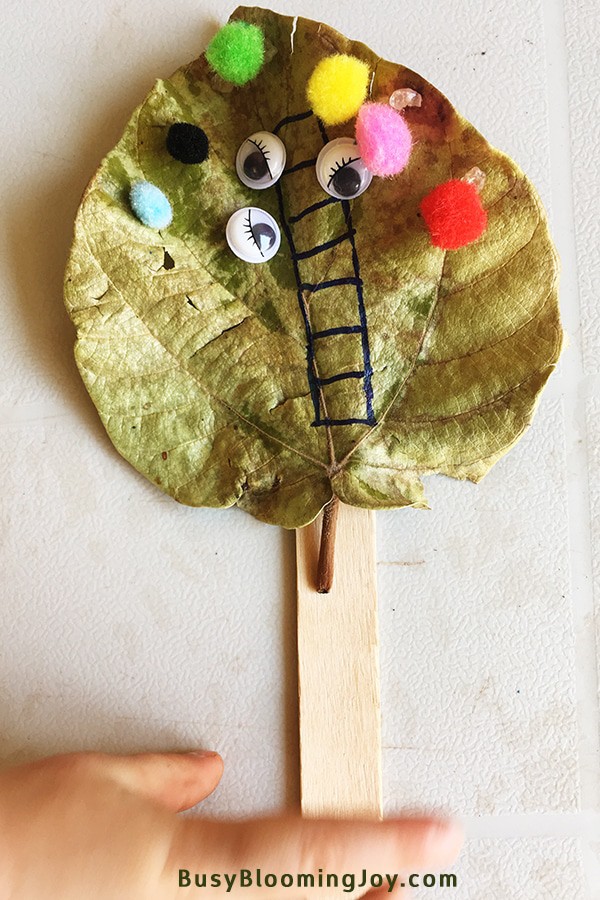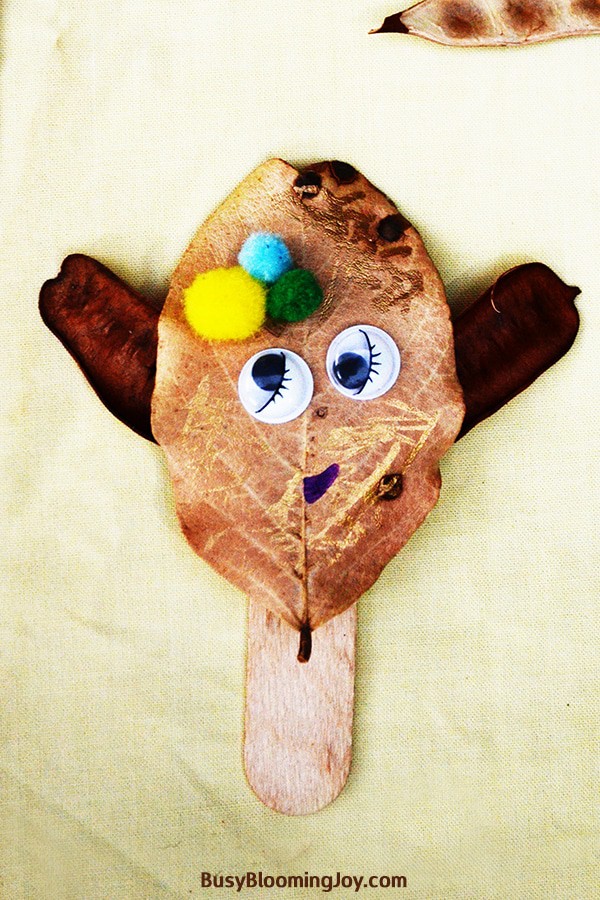 6. Draw on a mouth, if you can find room!
This is one for you to do, if you want the monster's mouth to look anything like a mouth… And not only do you need some room, it helps if you use a different color to the sharpie scribbles your toddler did.
We did a batch of leaf monsters with gold pen, which meant it was easy for me to draw on a mouth in a much darker color (I used purple).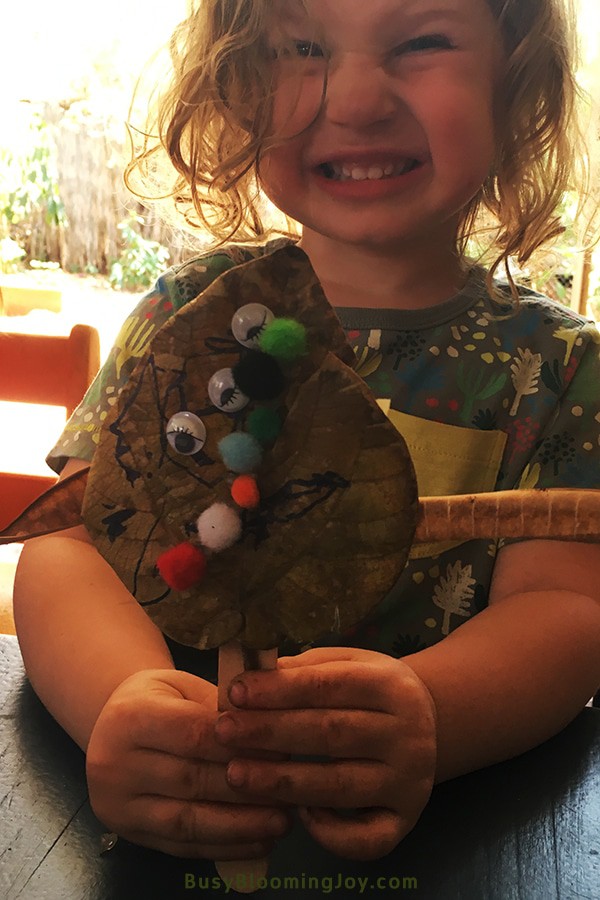 6. Pose with your finished leaf monster!
Well not entirely necessary but my daughter has become particularly keen on photos lately.  To say she loves to be the centre of attention is quite an understatement.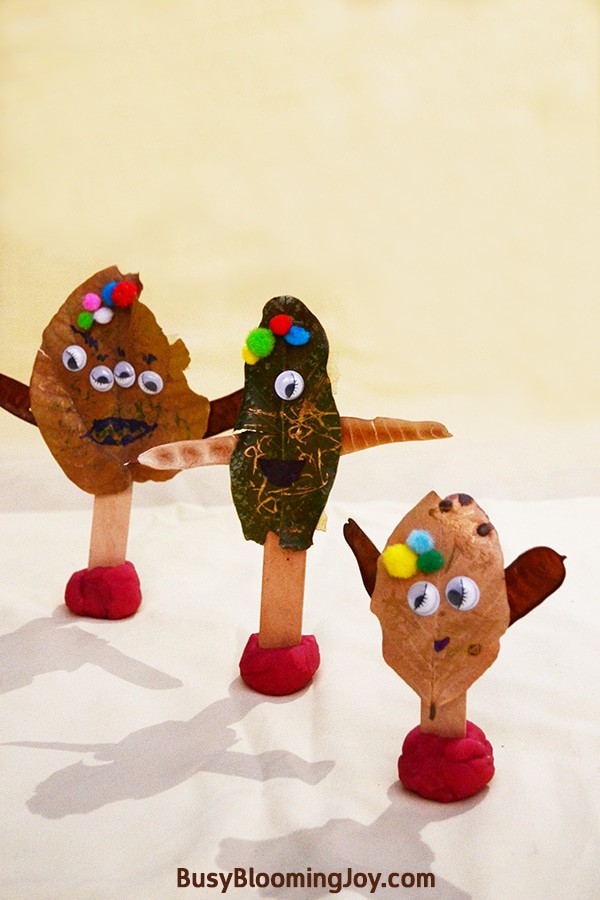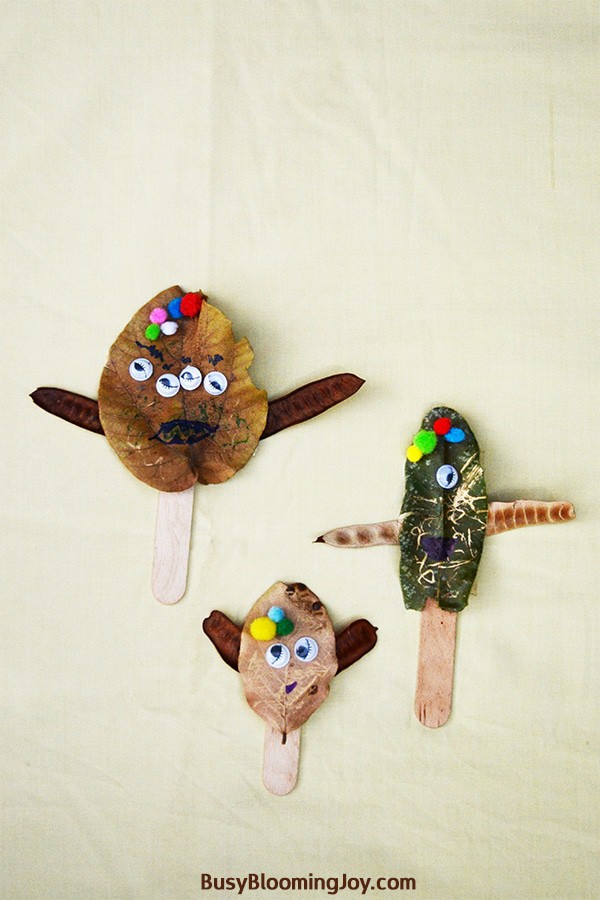 How long will these leaf monsters last
I feel I just have to state outright (although it's probably quite obvious) that this leaf monster craft is not going to last very long.
If they last the day you'll be doing well.  The leaves start to fall apart and if your toddlers are anything like mine they will be having monster fights and deciding that the monster with the hairy face now only has one arm… And one eye… until it's just a crumpled leaf.
So take a picture quick and walk away!
Enjoyed this post? More Fall crafts here: 28 CUTE and SUPER SIMPLE Fall crafts for toddlers