Not keen on in-your-face Christmas decor – you know the glitzy, shiny, brighter than bright golds, silvers, reds and blues that dazzle from a distance?! Me neither.
Adorn your tree and decorate your house with these nature Christmas ornaments instead, for a more subtle hint of the festivities. Made by your kids? What's going to be more memorable and beautiful than some simple, rustic nature-inspired Christmas ornaments made by your little ones.
So don your warm gear, get out the door and on the hunt. Finding materials in your backyard, at the park or on long walks in the great outdoors, is part of the fun and the journey of making nature Christmas ornaments. A great chance to get your kids outside in the wintery months.
And if your little ones really can't do without a bit of sparkle, simply add a touch of glitter or a sequin or two…
Pine Cone Christmas ornaments
Here are some nature-inspired Christmas ornaments made from pine cones. You may have quite a collection of pine cones already – my kids can't help but grab a few every time they see them when out in the woods. So why not turn some into a reindeer, tree or angel decoration for the tree?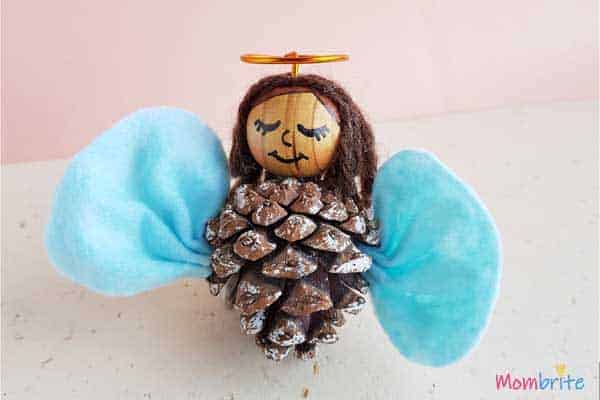 Pinecone Angel Ornament for Kids
How beautiful is this pinecone angel? This nature Christmas ornament will be fun for kids to make and look gorgeous hanging on the tree. Or make a few and line them up on the mantelpiece.
Jump over to Mombrite for details.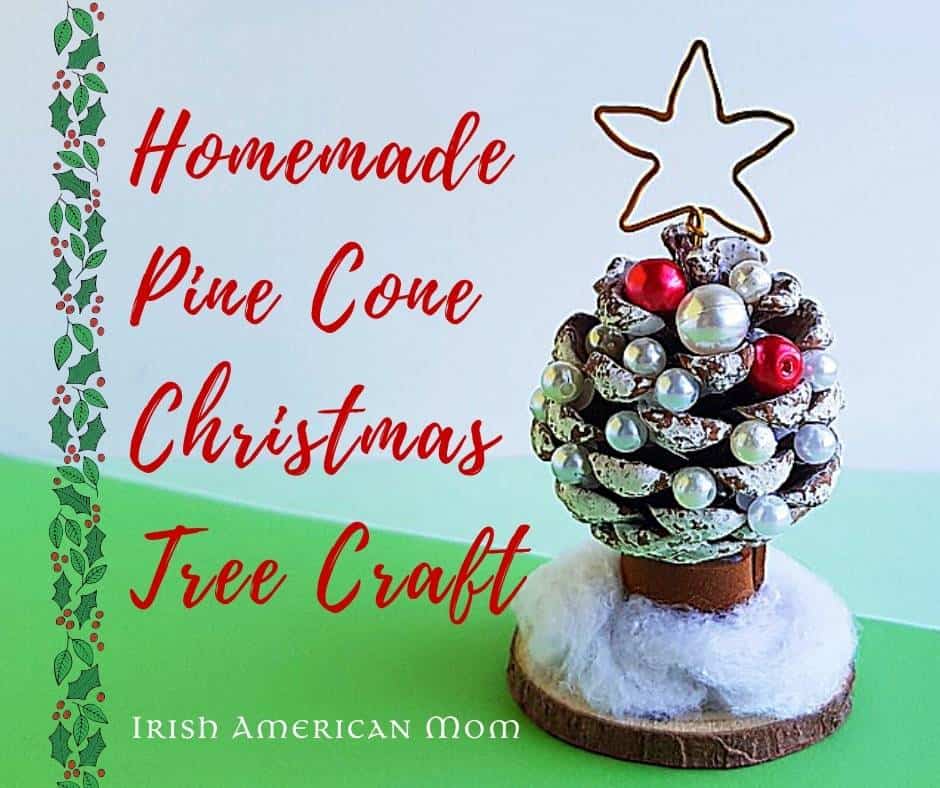 Pine Cone Christmas Tree Craft
Here's a freestanding DIY nature Christmas ornament that'd look gorgeous as a centerpiece for Christmas dinner and other festive celebrations. It's a super easy craft too, so perfect for little kids. Start by gluing a pine cone to a large wood slice to form a mini rustic Christmas tree, then it's time to decorate. Grab some paint, faux pearls and a star charm or whatever other decorations you have to hand. If you're looking for hassle-free craft to calm your hoard down in the frantic run-up to Christmas, this is it!
Head over to Irish American Mom for the tutorial.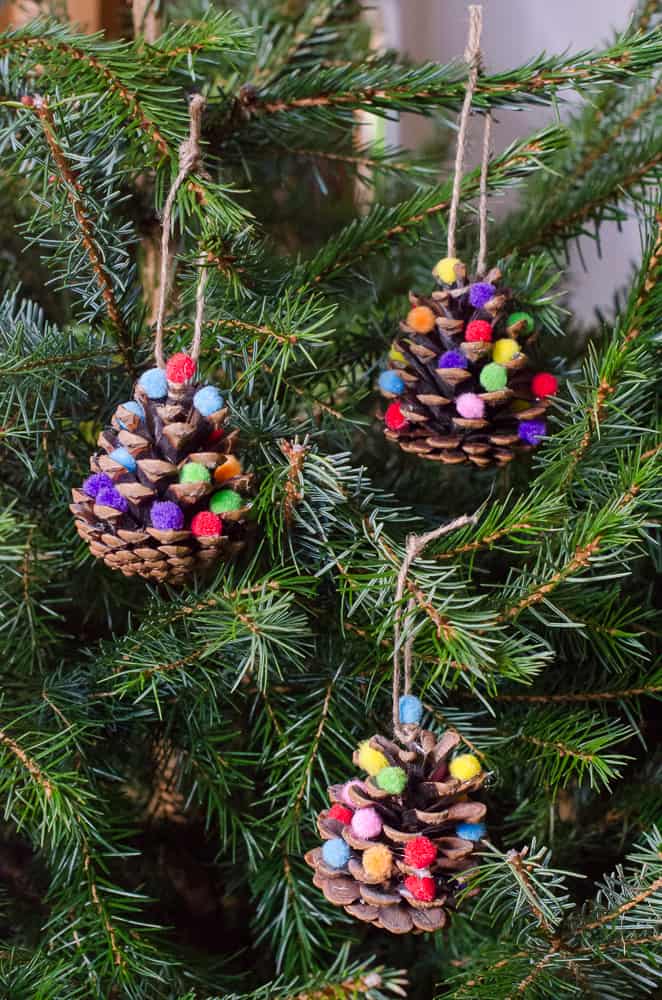 Pom Pom Pine Cones
These pompom pine cone Christmas tree ornaments are an even simpler version of the last. Just grab a couple of pine cones, colorful pompoms and a hot glue gun. Now you have adorable nature-inspired Christmas ornaments to hang on the tree!
Visit Growing Family for details.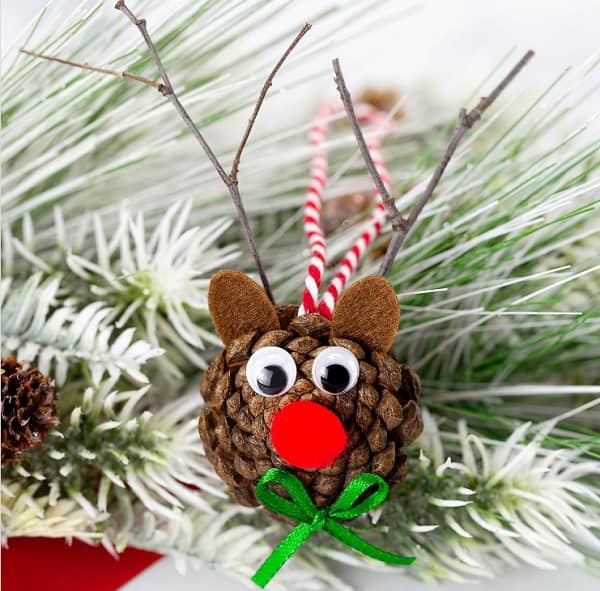 Pinecone Reindeer Ornaments
With your pinecone on its side you can quickly transform it into a reindeer ornament for the Christmas tree. All you need is some felt, ribbon, pompom and a ribbon plus a glue gun. What a fun nature-inspired Christmas ornament to make with your kids.
Pinecone reindeer ornaments from firefliesandmudpies.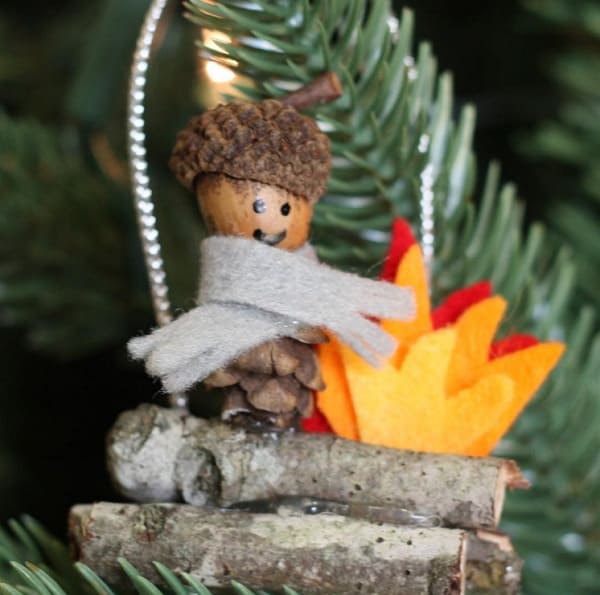 Woodland Elf Ornament
I just can't take my eyes off this adorable woodland elf ornament! All you need are a few natural materials from outside then time to keep your elf warm, with a little felt scarf and fire. Such a beautiful Christmas ornament made from nature.
Woodland elf ornament from virginiasweetpea.
Wood Slice Christmas Ornaments
Wood slices are the ideal starting point for a nature Christmas ornament. If you're a keen and skilled DIYer you can make them yourself but in this case, buying some in bulk from a craft store would be an easier option.
Your kids can paint and decorate them any way they choose, but here are some specific wood slice Christmas tree ornament ideas to inspire them.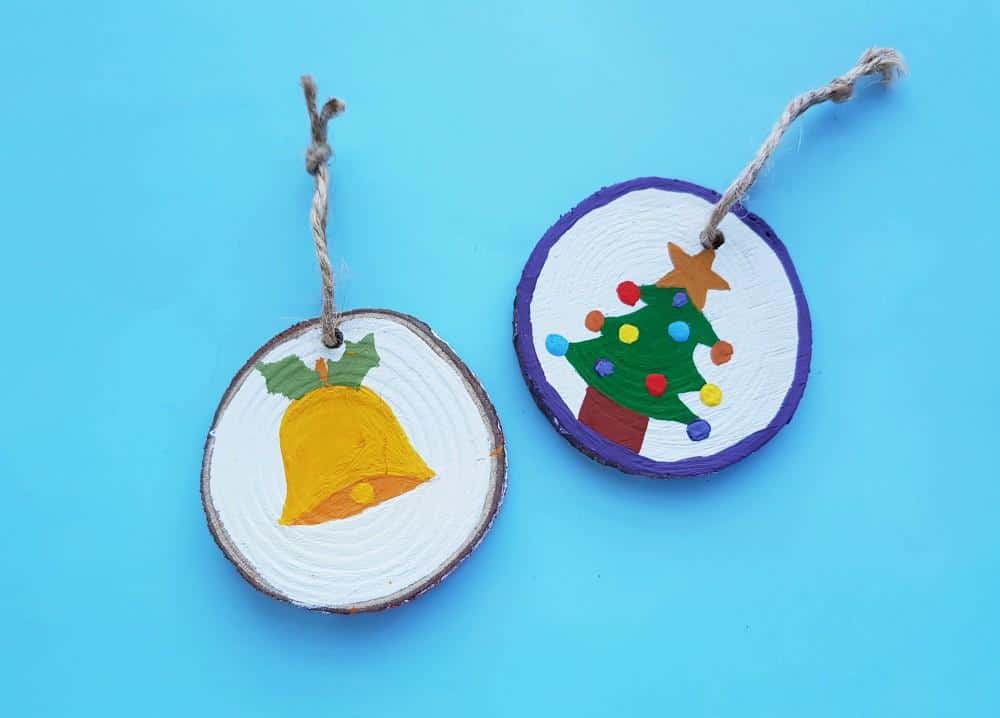 Wood Slice Ornaments with Acrylic Paint For Christmas
Here are some simple painting ideas for your wood slice nature Christmas ornaments. Cute, fun and easy to make for older kids but little ones will also enjoy making their own festive designs.
Visit Ottawa Mommy Club for instructions.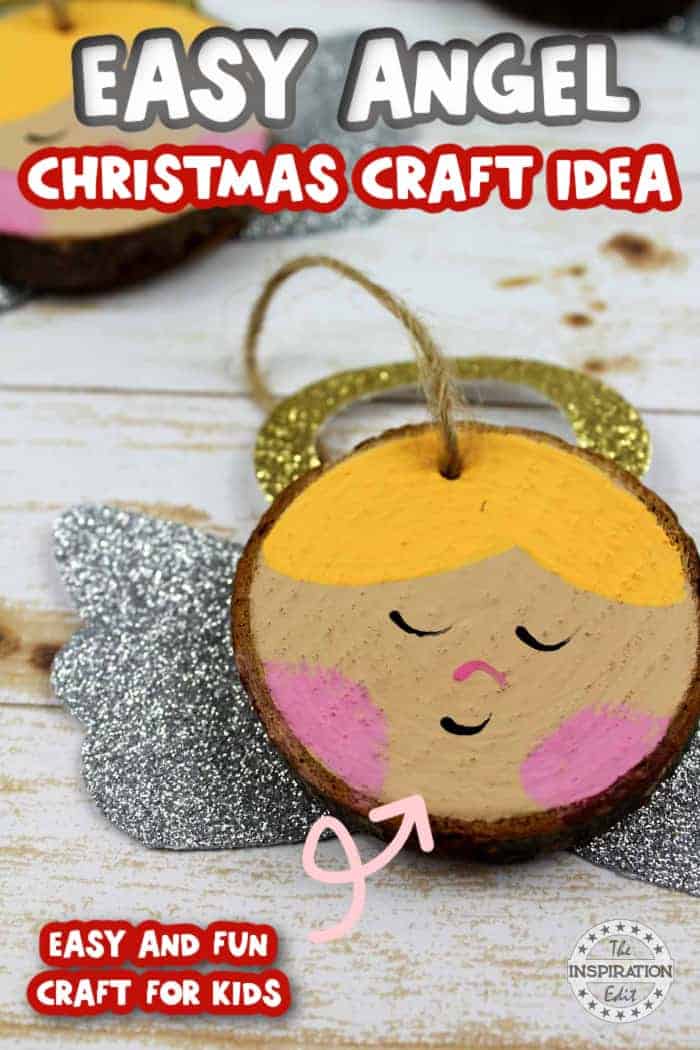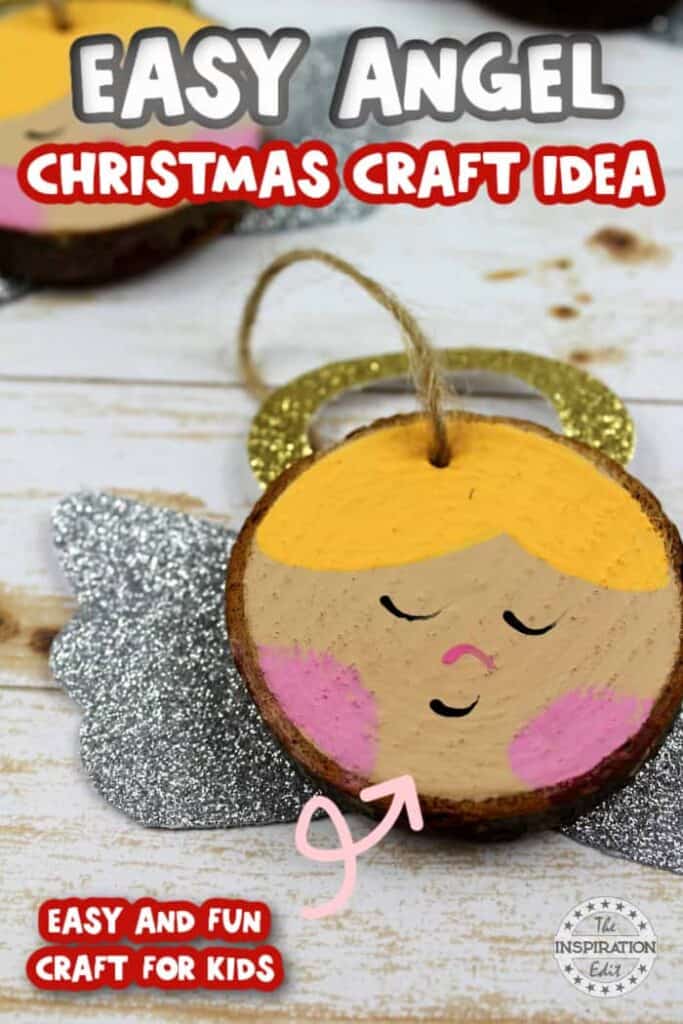 Super Cute Glitter Angel Ornament
Here's another quick and easy DIY nature Christmas ornament, perfect for kids who like a bit of sparkle and glitter. Grab a wood slice of wood and paint on an angel face then add glittery wings and a halo, and there you have it! A sweet angel hanging on the tree made by your little ones.
Head over to The Inspiration Edit for details.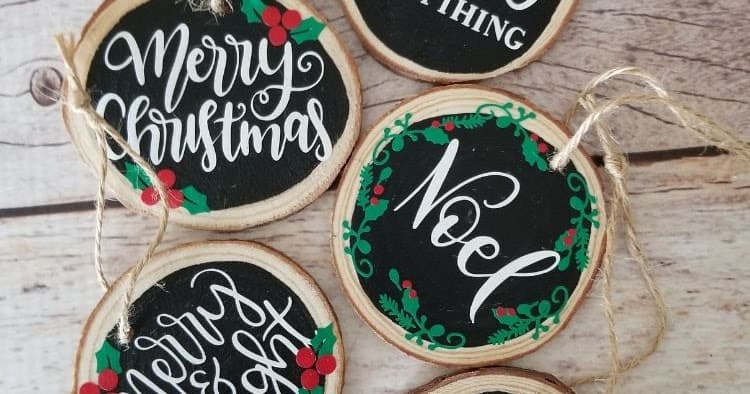 DIY Christmas Ornament Made From Nature
For all those with a cricut, try these wood slice ornaments with festive inscriptions. Perfect DIY nature Christmas ornaments that look pretty professional. Ideal gift tags or what about Christmas teacher gifts?
Visit Sew Simple Home for details.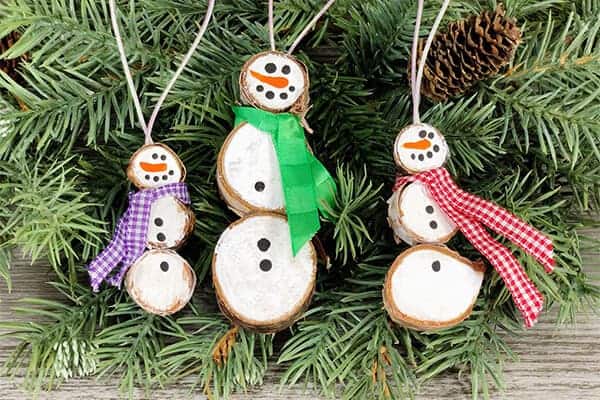 Birch Tree Branch Slice Snowman Ornament Craft
How cute are these snowmen made from three wood slices glued together? I love the fabric scarf to complete the look! A fun and simple nature Christmas ornament that kids of all ages will enjoy making.
Visit Mombrite for instructions.
Nature Christmas ornaments made from oranges or orange slices
The health benefits of oranges are well-known, but they're also the basis for many natural decorations, including Christmas ornaments. Bonus, they'll make your home smell amazing too! Are you excited? Get ready for some fruity nature-inspired Christmas ornaments.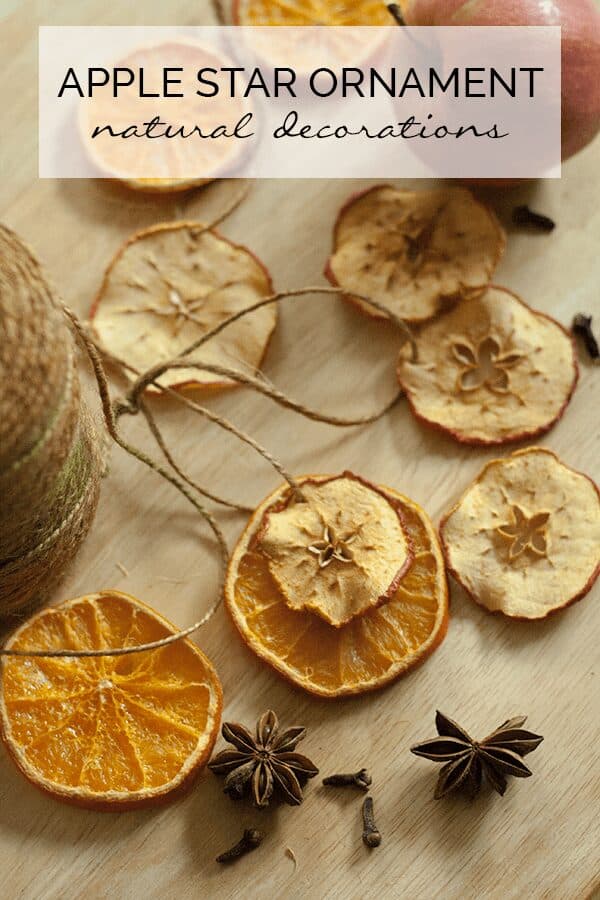 Apple Star Ornaments
Combine dried apple and orange slices for a natural and beautiful looking (and smelling) Christmas garland. This would look lovely on the tree or how about under the mantle piece?
Head over to Rainy Day Mum for more.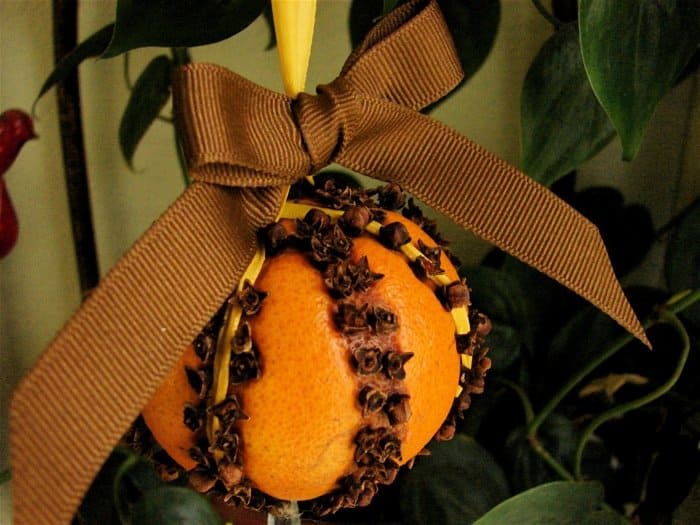 How to Make an Orange Clove Pomander
Now here's something that'll keep little hands busy. Sticking cloves into the skin of the orange will work those hand and finger muscles, helping to develop fine motor skills. Once done you've got a beautiful Christmas ornament to hang on the tree that'll fill the house with that wonderful scent of citrus and clove. Mmmm…. perfect for Christmas. This would be a lovely ornament to give as a gift to a fellow nature lover.
Visit Gale & Plum for more details.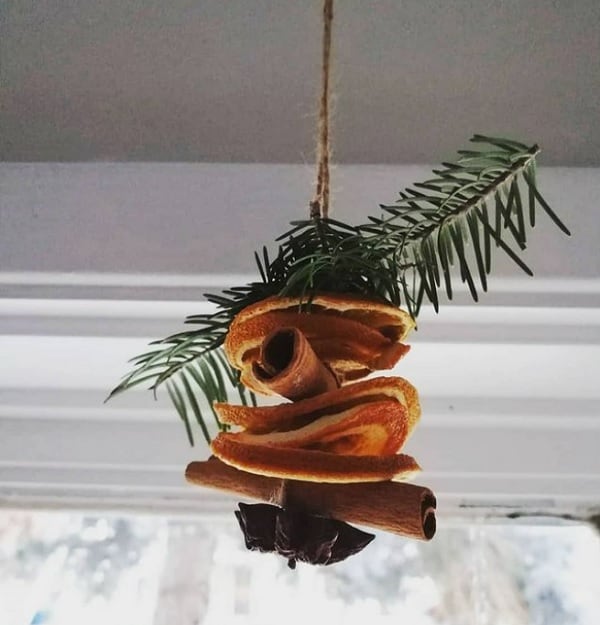 Dried Oranges and Cinnamon Ornament
Combine dried orange slices, star anise, a pine branch and cinnamon and you've got a gorgeous DIY nature Christmas ornament. Another one that'll fill the house with the aromas of the season. Rather like a vin chaud (mulled wine) without the alcohol!
Dried oranges and cinnamon ornament from messzieszak.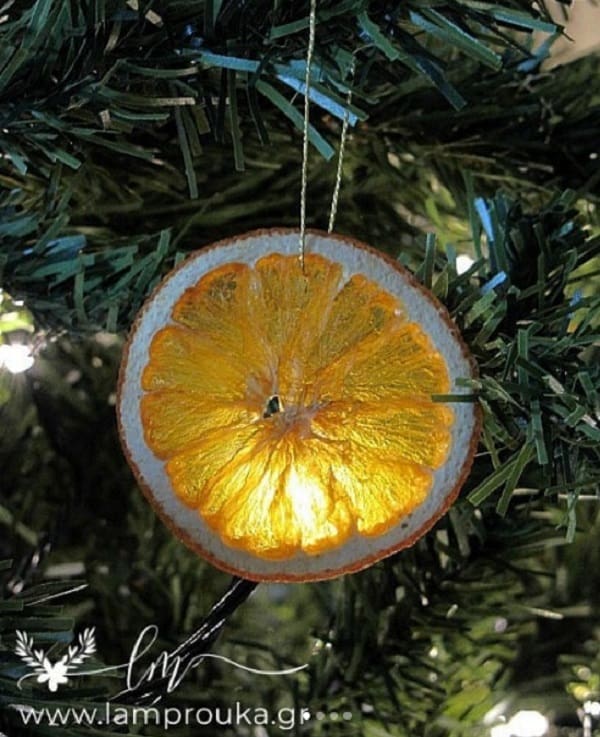 Stained Glass Dried Oranges
You can't get much simpler than this nature Christmas ornament – it's simply a dried orange slice hung on the tree in front of one of the Christmas tree lights. The light shining through makes it look like a stained glass window. So beautiful and effective. Time to get those oranges and start slicing!
Stained glass dried oranges from lamprouka.
Twig-based Christmas ornaments
Whether you live in the wilderness or the middle of the city, you're sure to be able to collect a twig or two and try one of these natural Christmas ornaments.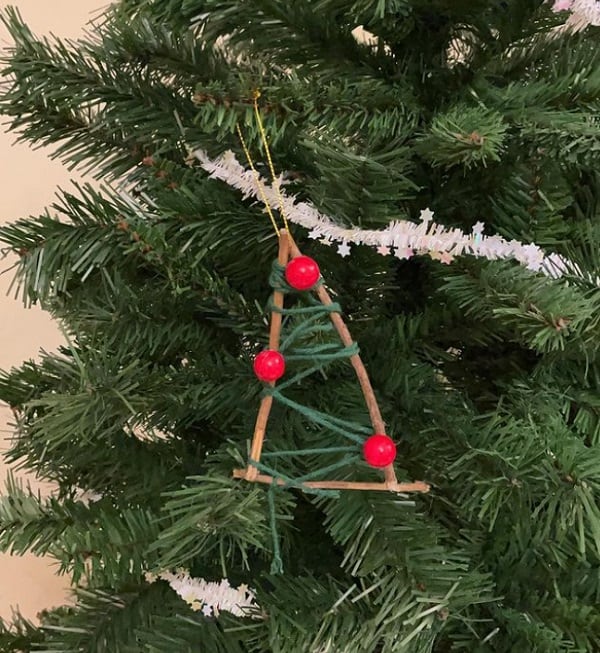 Twig Tree Natural Christmas Ornament
You can't get much simpler than this Christmas tree ornament. All you need are some dried twigs, green twine and some means of decorating. I love the simplicity of the three red balls pictured, but the concept of less-is-more is a bit lost on my kids! I'm sure they'll be keen to add a few gems, sequins or other sparkly things. Let's see…
Twig tree natural Christmas ornament from mehta.pooja.1027.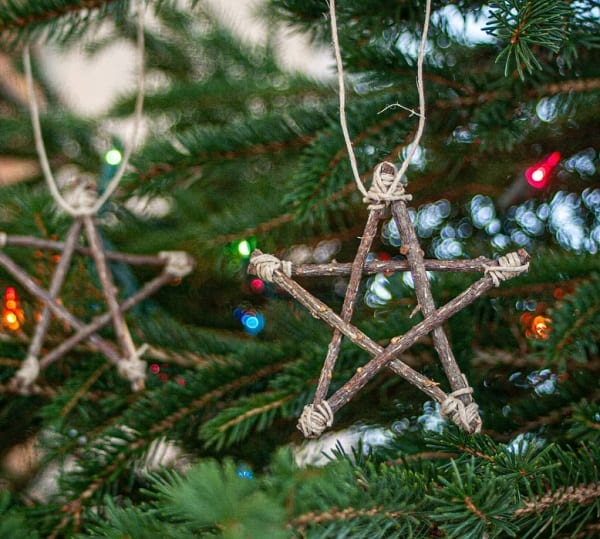 Homemade Twig Star Ornaments
Keep it simple and rustic with your nature-inspired Christmas decor and try these twig stars. Use a glue gun and string to secure twigs into a star shape – this is easy enough for older kids but little ones can easily get involved collecting and twigs and breaking them into lengths. For those who like a bit of sparkle, simply add sequins or a dusting of glitter.
Homemade twig star ornaments from the_daley_boutique.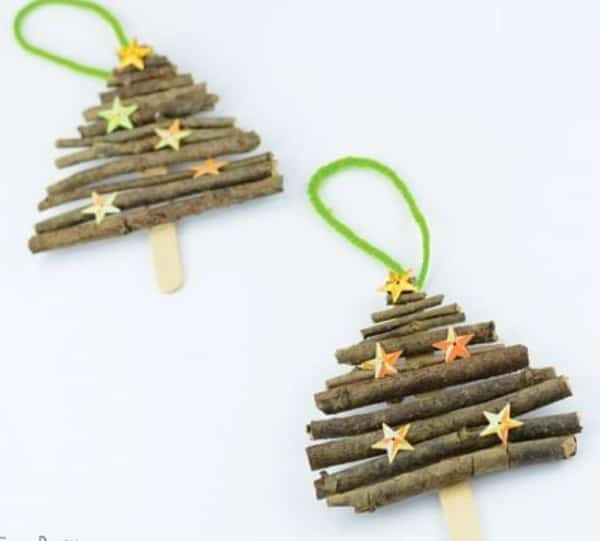 Popsicle Stick and Twigs Christmas Tree Ornaments
In this nature-inspired Christmas ornament, twigs become the horizontal branches of a Christmas tree. Once your kids have gathered up a load of twigs, they can break them up and them sort them by size. The sorting and arranging from shortest to longest is a great pre-maths activity for toddlers and preschoolers so it's worth letting them take their time and guiding them with this. Then simply glue to a popsicle stick and decorate.
Popsicle stick and twigs Christmas tree ornaments from easypeasyandfun.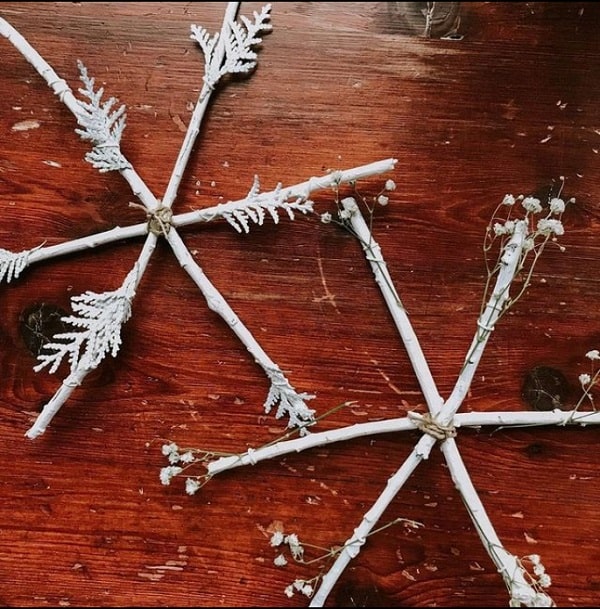 Nature Snowflake Craft
Decorate simple snowflakes made from twigs with white paint and other natural items. Need a little dazzle? A sprinkle of glitter may be just what's needed.
Nature snowflake craft from littlepinelearners.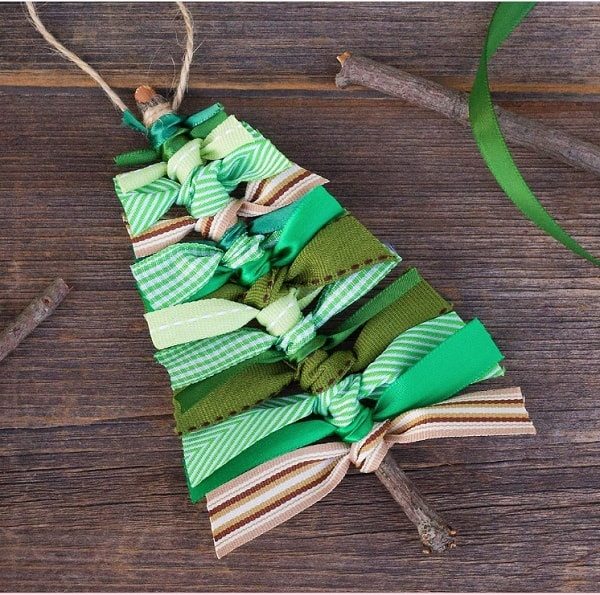 Scrap Ribbon Tree Ornament
Here, the twig becomes the trunk of the tree in this nature-inspired Christmas tree ornament. Tieing the ribbons will keep older kids busy but little ones can help pick out the different ribbons and cut them to size. Fun, simple and so effective.
Scrap ribbon tree ornament from firefliesandmudpies.
Christmas ornaments made from other natural materials
Still looking for more nature-inspired Christmas ornaments? Here are a few more to inspire you. Twigs, bird seed and dried leaves are just a few of the natural materials used.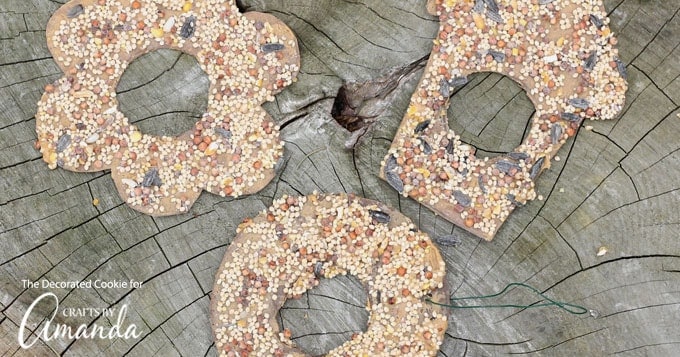 Bird Seed Ornaments
If you have a kid like mine who loves bird watching give these nature Christmas ornaments a go. Cut shapes out of cardboard, spread with peanut butter and sprinkle bird seed over. Hang these as decorations outside, wait and watch!
Jump over to Crafts by Amanda for more.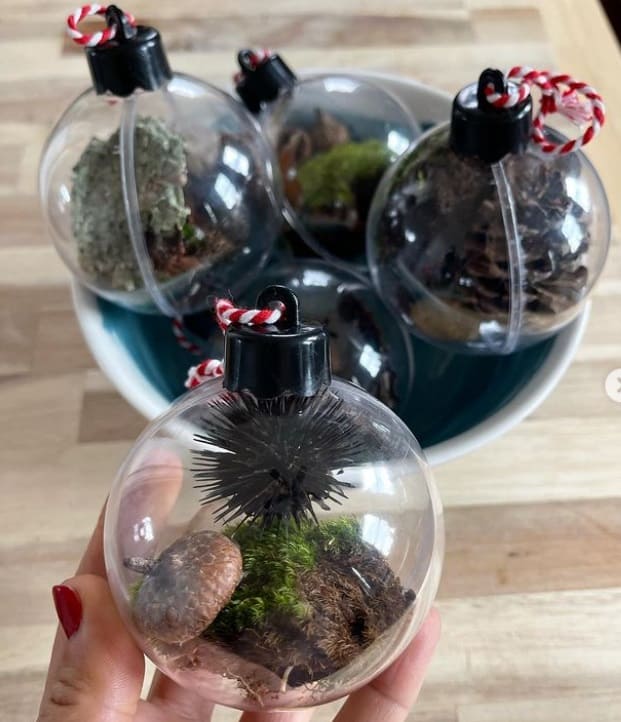 Nature Treasures Christmas Ornaments
If your kids like to collect acorns, leaves and other random bits and bobs when outside, then you should definitely put these nature-filled Christmas ornaments on your list. All you need are some plastic Christmas baubels that open up in the middle. Then simply place your natural treasures inside and hang on the tree.
Handmade by the kids, these will be the perfect Christmas ornament for nature lovers. Or keep them yourself as sweet memorabilia.
Nature treasures Christmas ornaments from theunschooledproject.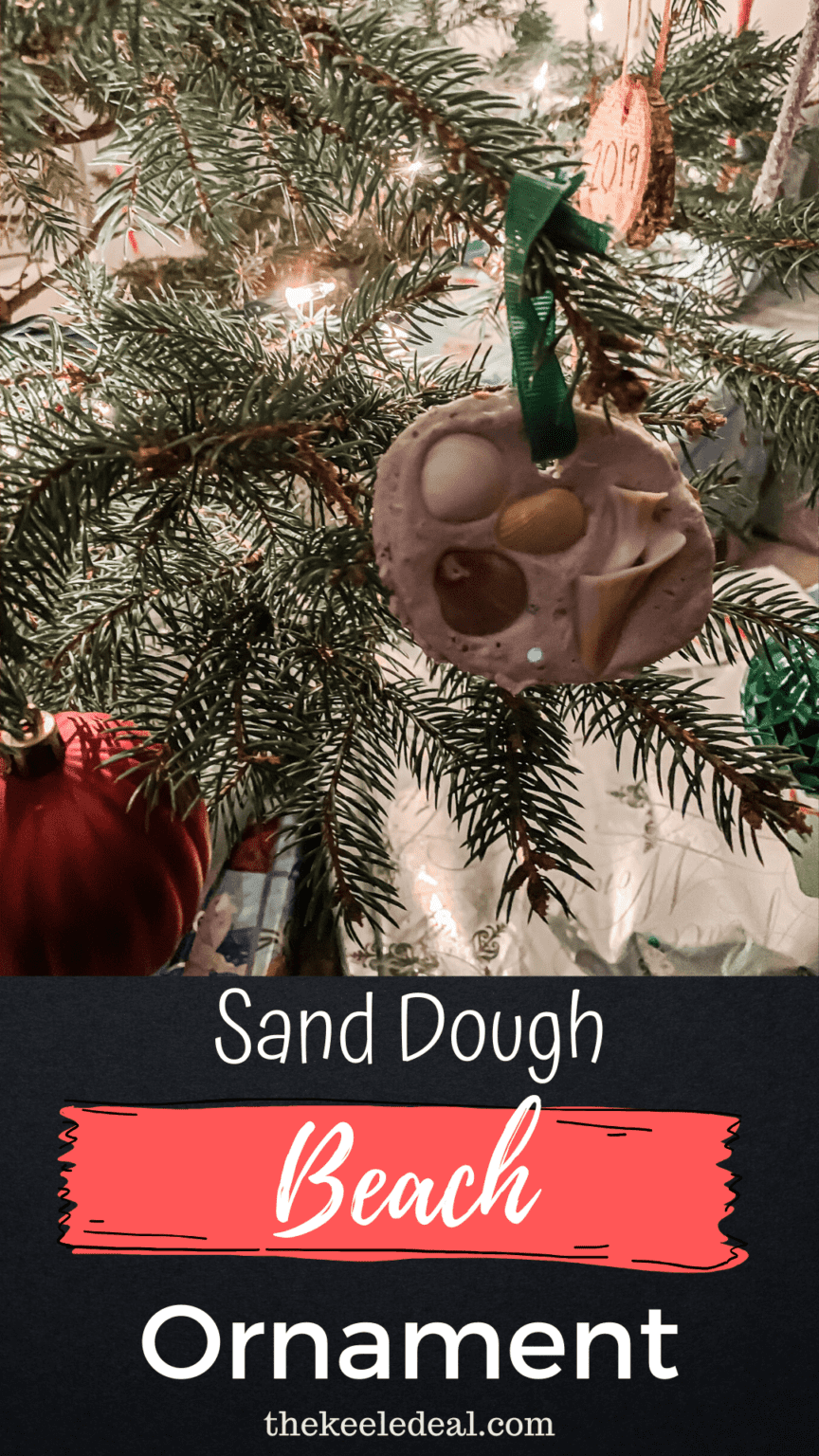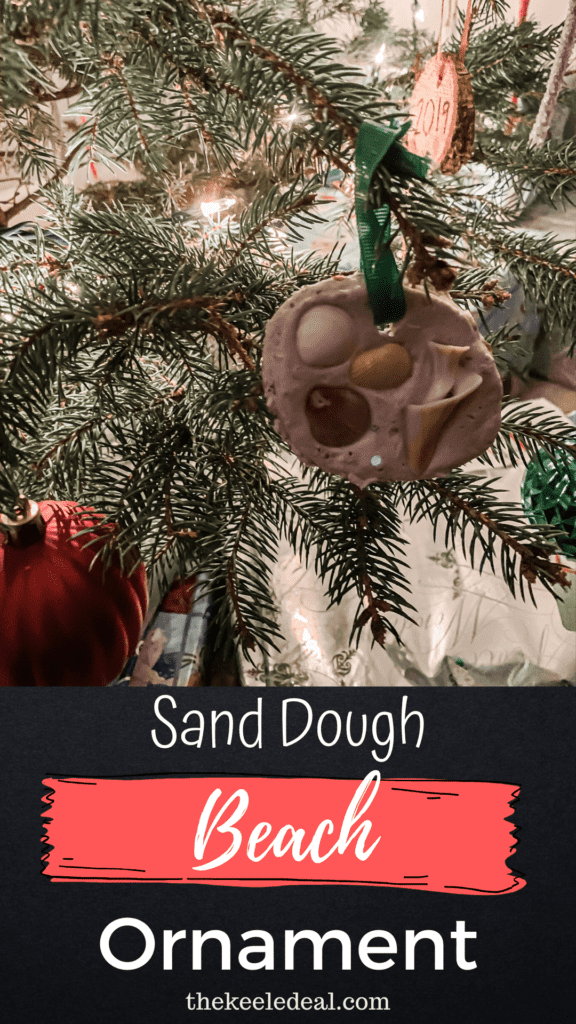 Sand Dough Beach Ornaments
If you went to the beach over the summer with your kids, you're sure to have come back with bucket loads of seashells. Why not use them to make these sand dough ornaments for the Christmas tree. A fun and easy craft to make with your kids and a great way to preserve souvenirs from your summer vacation.
Visit The Keele Deal for instructions.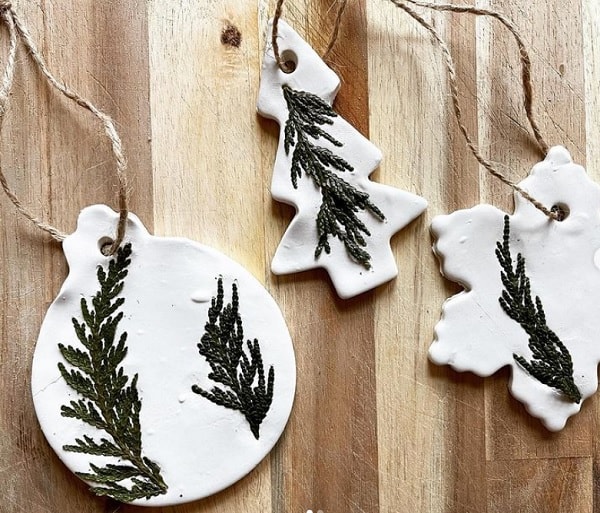 Polymer Clay Nature Christmas Ornaments
These polymer clay ornaments with dried pine leaves will be the perfect addition to nature-inspired Christmas decor. You can prepare the clay ahead of time and leave the pressing of the evergreen trimmings to your little crafters. Bake them in the oven and there you have it – a long-lasting DIY nature Christmas ornament made by your kids.
Polymer clay nature ornaments from theunschooledproject.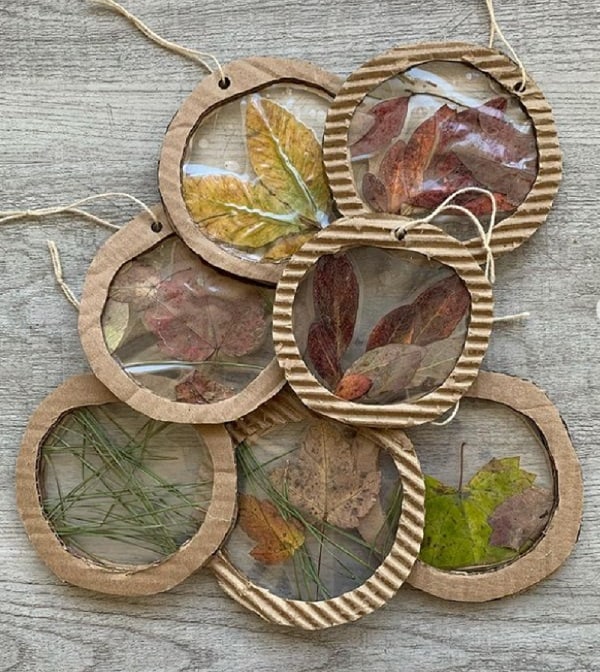 Simple Christmas Ornaments Made From Nature
Beautiful nature Christmas ornaments that you can hang in the window as suncatchers all year long! Y xes, these lovely ornaments should definitely not be confined just to the festive season. All you need is cardboard and contact paper, plus items your little nature-lovers want to display.
Simple nature ornament crafts from attempting__montessori.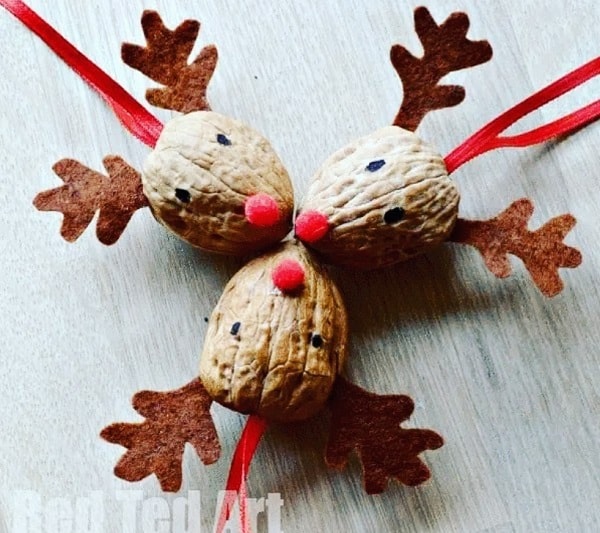 DIY Walnut Reindeer
It wouldn't be Christmas without a plentiful supply of nuts, shells and all, with nutcracker at the ready. Why not give your walnuts another job before cracking them open and gobbling them up, and turn them into an adorable reindeer ornament. Simply add red pompoms, ribbon and felt and you've got a lovely nature-inspired Christmas ornament to hang on the tree. Too cute!
DIY walnut reindeer from redtedart.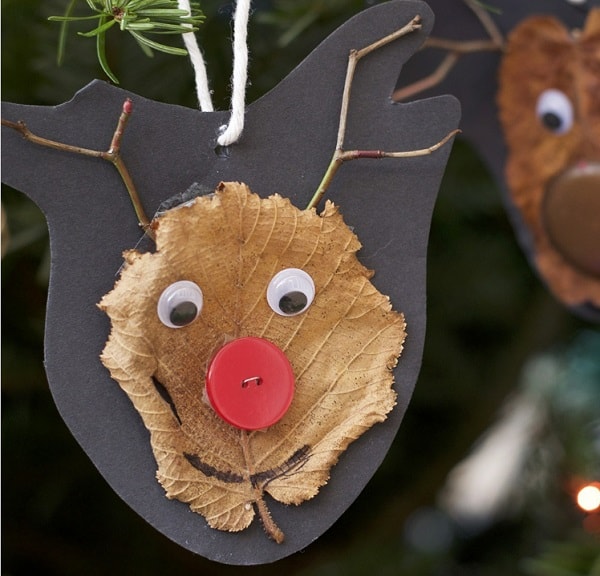 Easy Nature Leaf Reindeer Christmas Ornament
If you're looking for a stress-free crafting session while counting down the days until Christmas, look no further than this simple reindeer ornament made from nature. Fun and easy enough for the littlest hands; a few basic supplies and sticking is all it takes.
Nature reindeer craft from littlefishblog.
Which nature-inspired Christmas ornament will you try first?
Making an ornament or two is one of many Christmas traditions I do every year with the kids. Our favorites so far are these spaghetti tree ornaments and these saltdough decorations. We've also tried quite a few of these Christmas ornaments for kids. However, this year I can't wait to try one of the nature-inspired Christmas ornaments in the list above.
The problem is which to choose, right?! I'll be sure to share pictures of the ones we try – please let me no which you try in the comments below.
Happy Christmas!
Looking for more Christmas arts and activities for your littles? Take a look at these:
For more easy toddler activities to keep your little ones busy indoors and out check out:
Excited for Easter? Bookmark these for later.