I'm a sucker for pretty patterns and cute crafts and I've been waiting for my two young kids to wow me with their artwork.  Since they're 4 and only just 3, I know the wait won't be over any time soon…
Or do I?
Enter this marble rolling art activity: a process art activity with a rather stunning result.
It's perfect for toddlers and preschoolers alike; an art activity that encourages exploration and experimentation of the process. In other words (unlike most Pinterest crafts) it doesn't focus specifically on the end result.
But it turns out the end result is rather worth keeping.  Let's go one step further: this is the first art activity I've done with my two where I immediately want to rush out and buy some frames to put them in.
As a side note, I'd like to add that I do keep all their 'artwork 'regardless of the outcome.  (That is if the stuff actually survives the ordeal of being made and then played with by my two little horrors, sorry, sweethearts.)  Not sure why sometimes, but it's just what moms do, right?
So yes, this easy marble rolling art activity for toddlers and preschoolers is a process art of sorts, inviting creativity as well as practicing fine and gross motor skills with a rather beautiful end result.
Oh, and did I mention it's zero prep and almost no clean-up. Bonus!  Seriously, you have to try this one.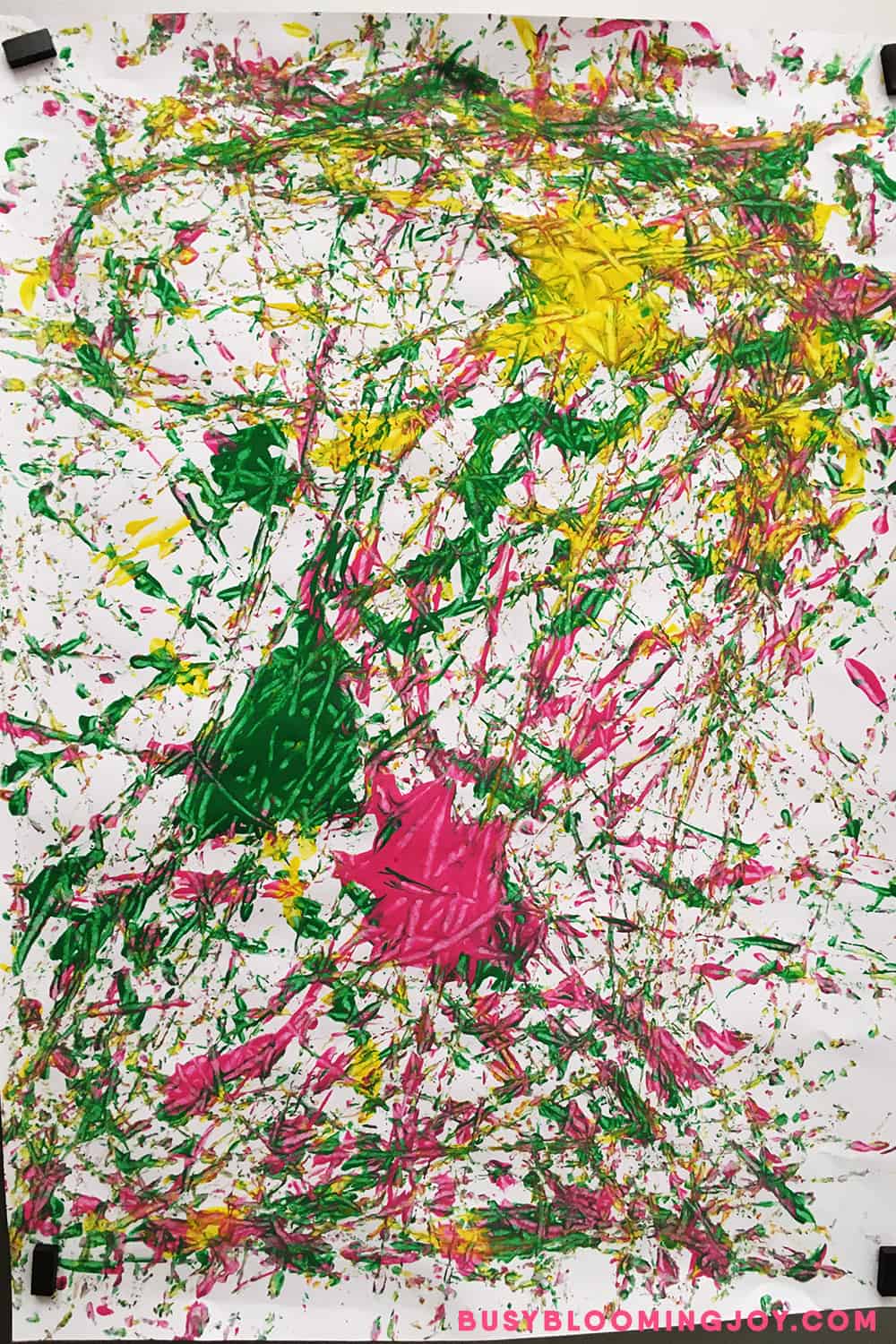 The importance of 'process' art vs. 'product' art for kids art activities
Process art emphasizes the "process" of making art (rather than any predetermined composition or plan) – The Guggenhiem
In this way, it gives a child the freedom to explore color, the different materials and textures involved as well experiment (i.e. cause and effect) and generally just have fun.
Toddlers, preschoolers and even older kids learn best through play, hence why play-based learning wins over worksheets and more old-fashioned methods every time in my book.
So by concentrating on art activities for our little ones that allow as much play and experimentation as possible fits in with this type of learning.  As Tinkerlab puts it, process art "celebrates the experience of discovery".  In the early years, all kids want and need to do is explore and discover.
'Product art'
By contrast, product art focusses on the end result.  There's a specific outcome that you're trying to achieve, with a specific set of steps to follow in order to get there.  This generally means there's a 'right' and a 'wrong' way to do things.
Much of adult life is about following rules and learning the right and wrongs ways that things should be done.  And in trying to tame our kids and keep our houses intact, they have enough rules and boundaries to follow already, right?  So let's not add art projects to the list!
Sadly Pinterest has a lot to blame when it comes to doing 'crafts' with toddlers and preschoolers; these are all 'product' art activities.  You see the pictures of the finished craft and you want your child's craft to end up looking the same.  And it's so hard not to, right?  I've been caught out by this time and time again!
In the end either you end up doing the craft, or your preschooler does follow 'the instructions' but begrudgingly… And what do they end up learning?  That doing 'arts and crafts' as my 4-year-old calls it, is boring and tedious.
So choosing art projects to do with our kids that invite as much experimentation and freedom as possible is half the battle won…
For me it's that, and biting my tongue and sitting on my hands when either of my two go on a tangent I wasn't expecting.  It's a huge bonus when process art also has a beautiful result.  And this marble painting art activity does.
Choosing art projects and crafts for toddlers & preschoolers that encourage 'process art'
Process art projects normally offer new and interesting art materials, which little ones can use with just a little help and a few very basic guidelines and explanation.  And that's about it!  Let your toddler or preschooler start experimenting.
I love it when my 4 year old asks me, "can we do this Mom? I want to see what happens when we do that."  I can almost see the cogs turning… he's figuring out how the world works, through whatever material we're using.
You can also ask questions along the way and you'd be surprised by what you find out about how your little one's mind works.  (Generally, my preschooler is creating a track for cars and trucks to ride on – whatever he's doing and whatever it looks like, there will be a track hidden in there somewhere!)
What makes this easy marble painting art activity 'process art'
I first did this activity when hosting a playdate for another 3 year old.  I asked if the 3 of them wanted to see if we could paint with marbles.  Well, what toddler or preschooler doesn't like playing with marbles?  And what young kid doesn't like painting? It's a winning combination so I got 3 excited yes's.
Together we worked out how to get the paint onto the paper, using only the marbles… (drop the marble into the paint and then scoop it out and drop it onto the paper).
Then there was a lot of playing and experimenting with how the marbles painted, how they needed to move the box to keep the marbles rolling (which also involved teamwork) and how the colors started to mix.
They experimented with better ways to get the marbles painting (big dollops of paint straight onto the paper) and how the patterns changed with more marbles in the box… (More is always more if you're a preschooler, as I'm sure you know!)
So plenty of creating, experimenting and problem-solving.
And an absolute winner when it comes to having something special to keep after.
The how-to of this simple marble painting art activity
Gather supplies
paints – we used tempera paints
marbles
a large shallow box, plastic or cardboard will do
white paper to fit above box – the first time around we used normal thickness A1 easel paper which ended up falling apart by the end.  Second time around, we used thicker watercolor paper which survived the ordeal and is in pride of place on the fridge.
Line box with the paper
Don't worry if it doesn't fit perfectly.
Decide how you're going to transfer paint to paper
Talk to your preschooler about what things could work.
We had some old tempera paint made up in jars.  So we first tried dropping the marbles in, screwing the lid back on and then shaking them around.  Then with a teaspoon they each had a turn at fishing them out and dropping a marble in.
Then the fun begins!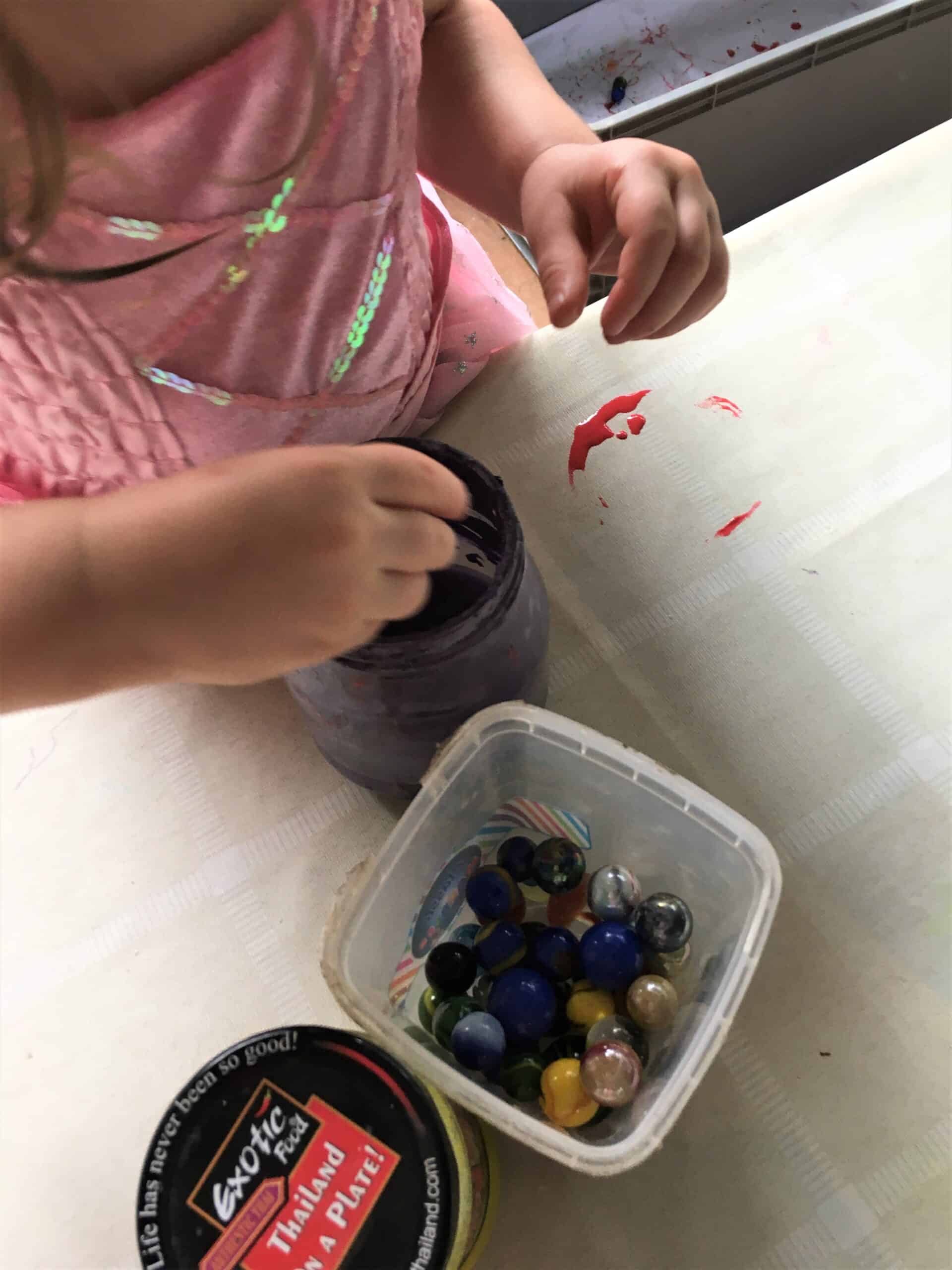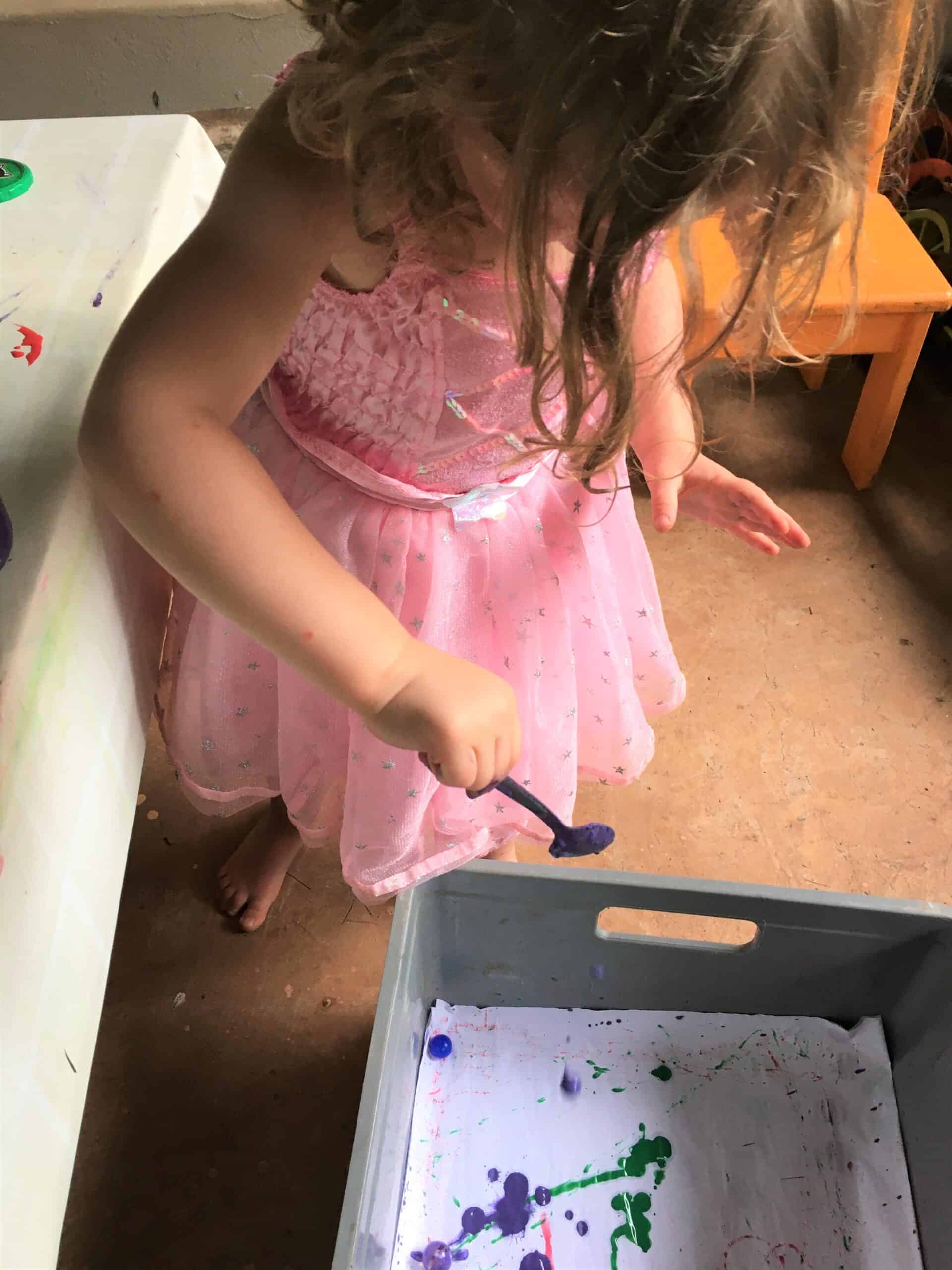 Start marble rolling & let the patterns emerge
Have your little ones stand either end of the box and move it to get the marbles rolling.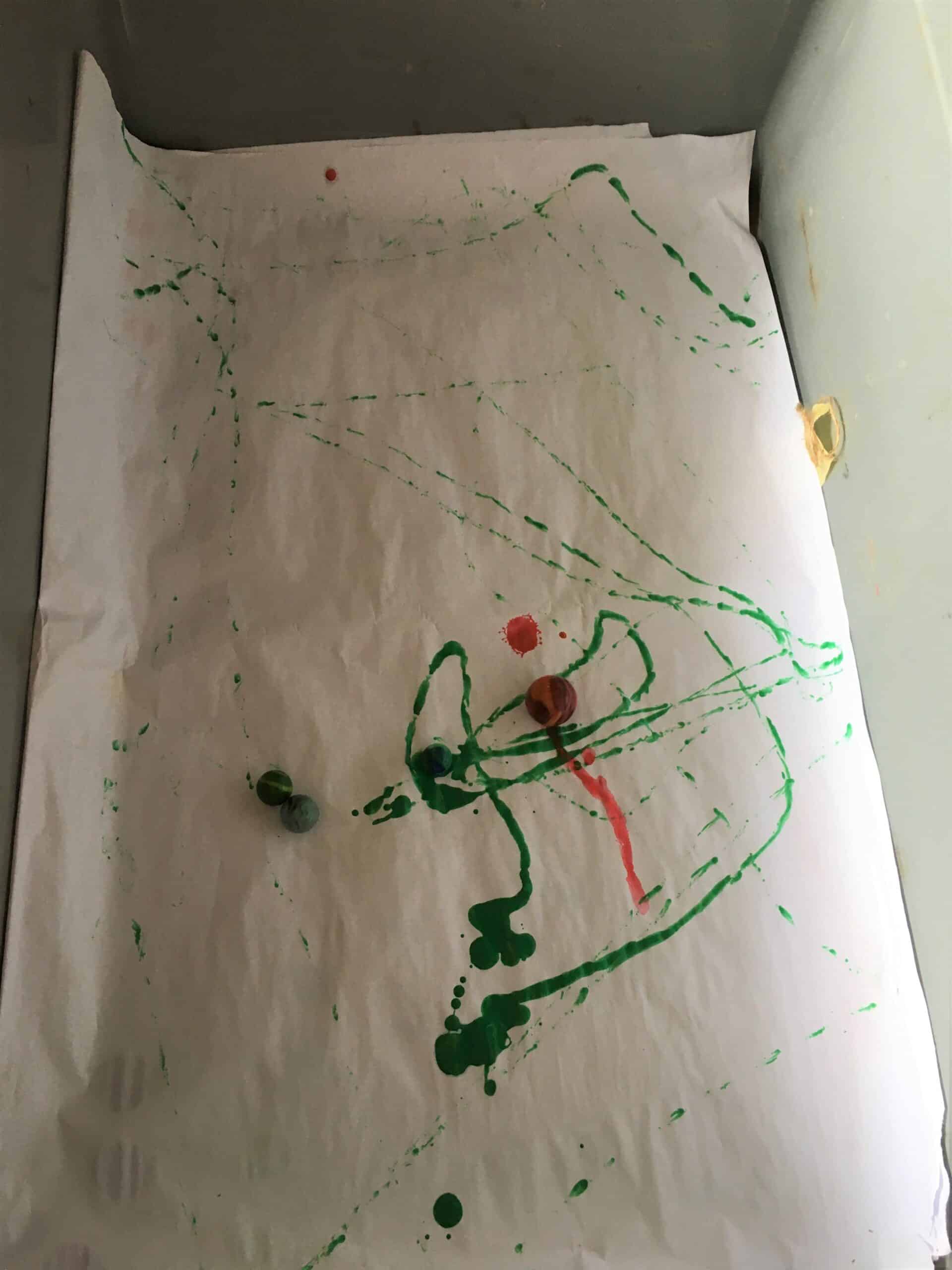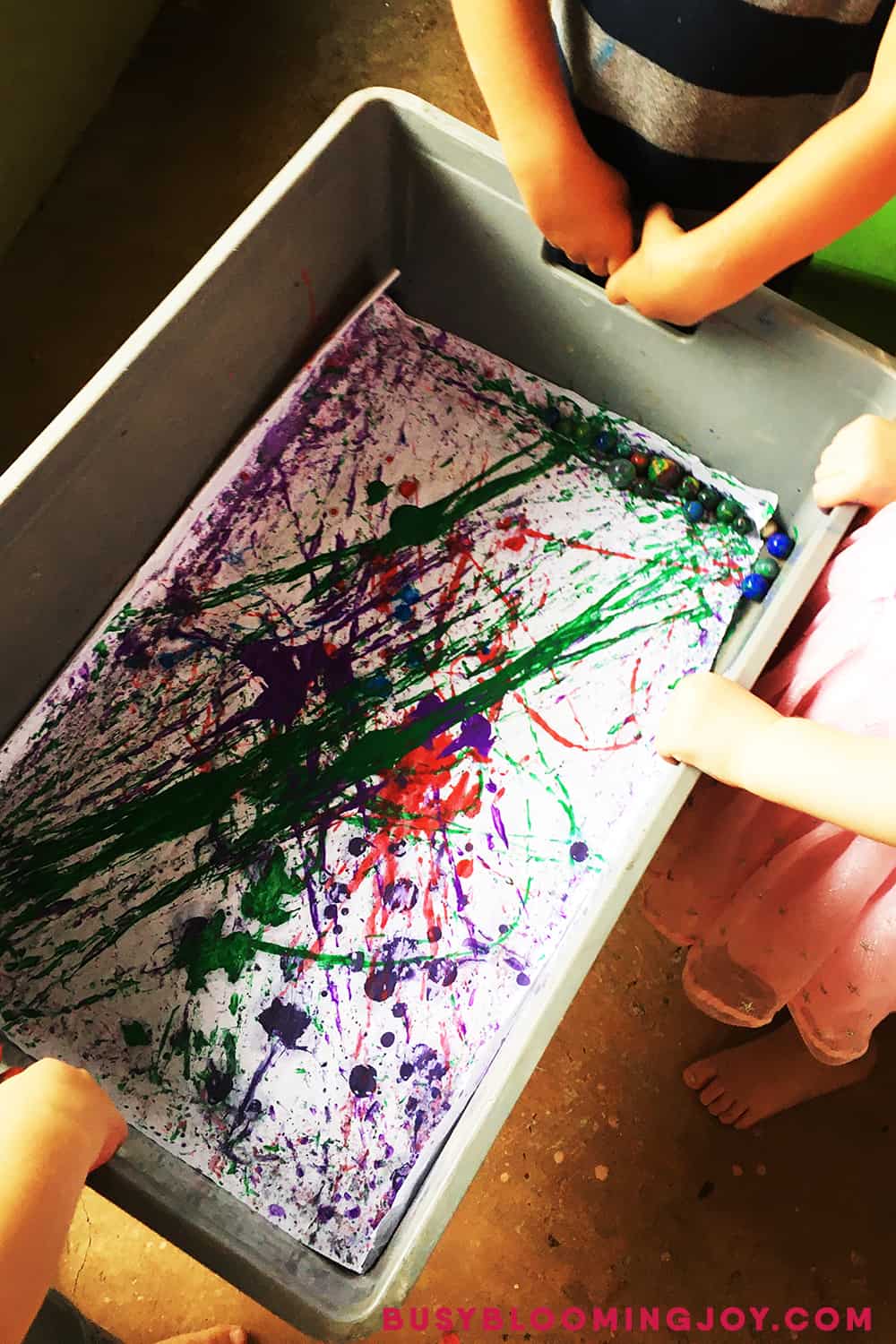 I first tried this with my two and another little one over for a playdate. They had to work together as a team to get the marbles rolling.  They quickly got the idea.
After a while, one of them suggested just to put paint straight onto the paper.  They took it in turns to choose a color and squirt a drop on the paper.  This made for much quicker marble painting – especially as the request to only put a 'little blob of paint' fell on deaf ears. Pigs would sooner fly.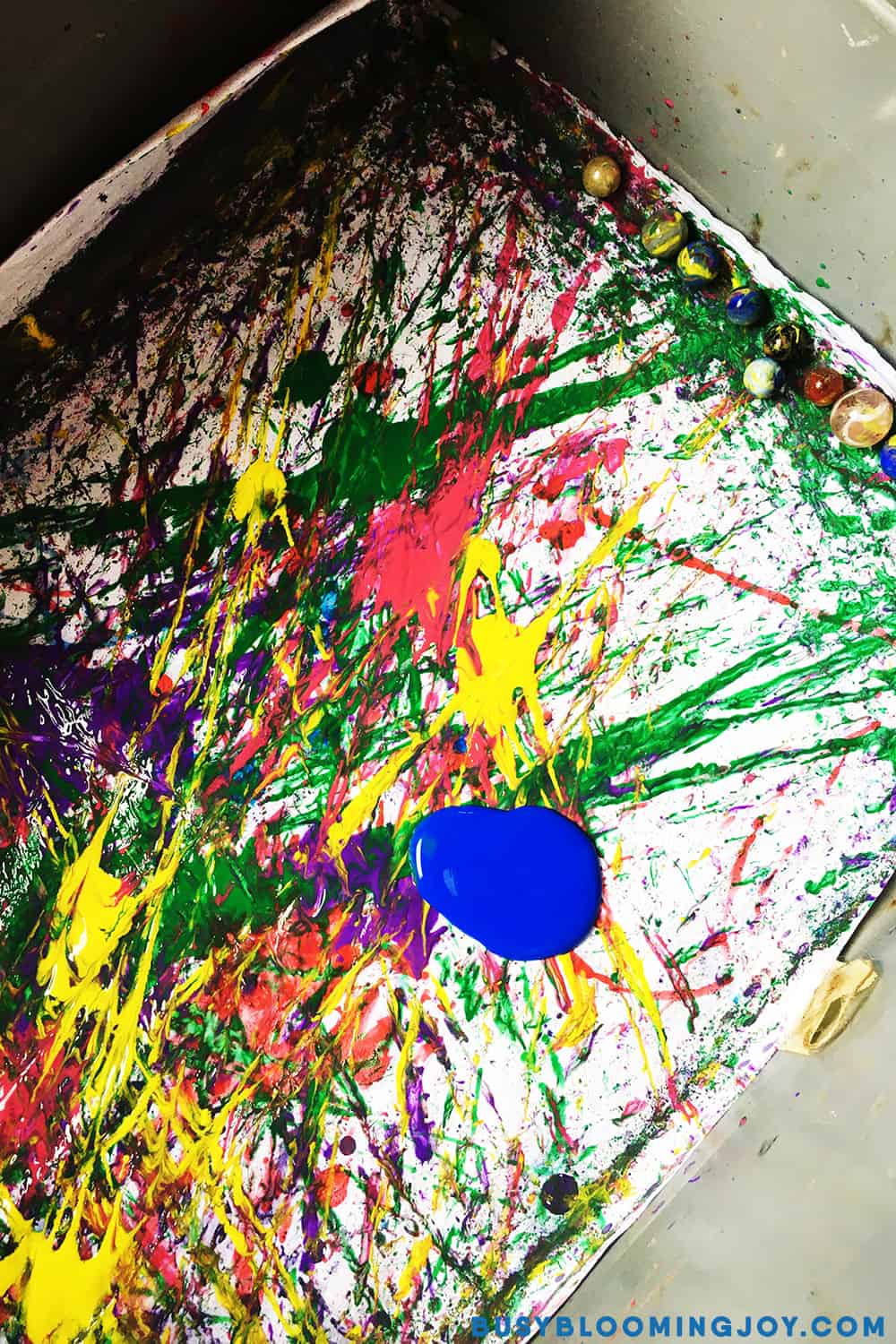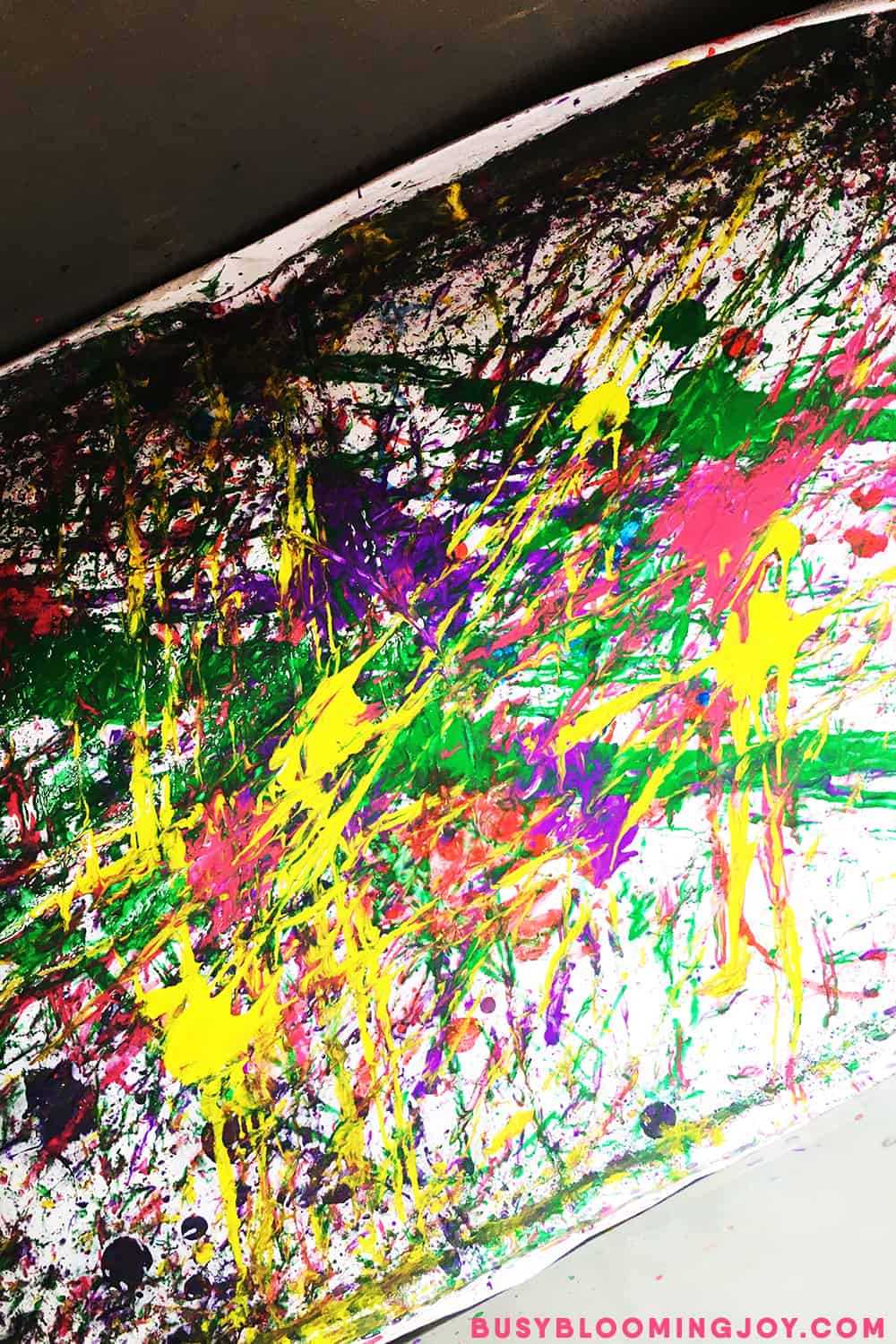 The kids had a blast with this – they did end up adding a lot of paint, so much so that the paper just completely disentegrated…
Second time around we used some watercolor paper which was a lot thicker.  It was A3 sized and the only thing I could find that was roughly the right size was the cardboard beer crate/tray but it still worked really well.  That time they chose to jump straight to putting the paint on the paper.
But check out the results!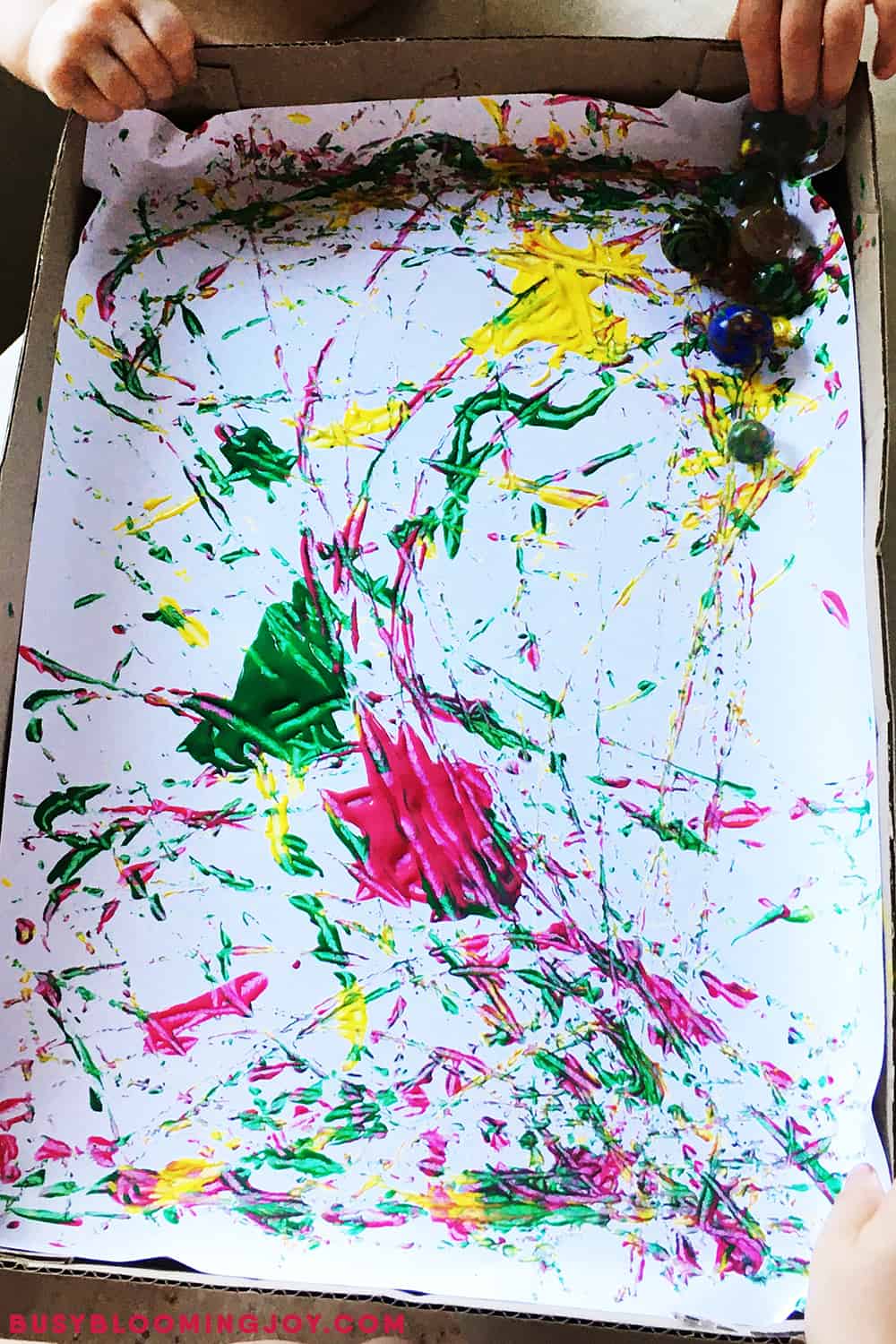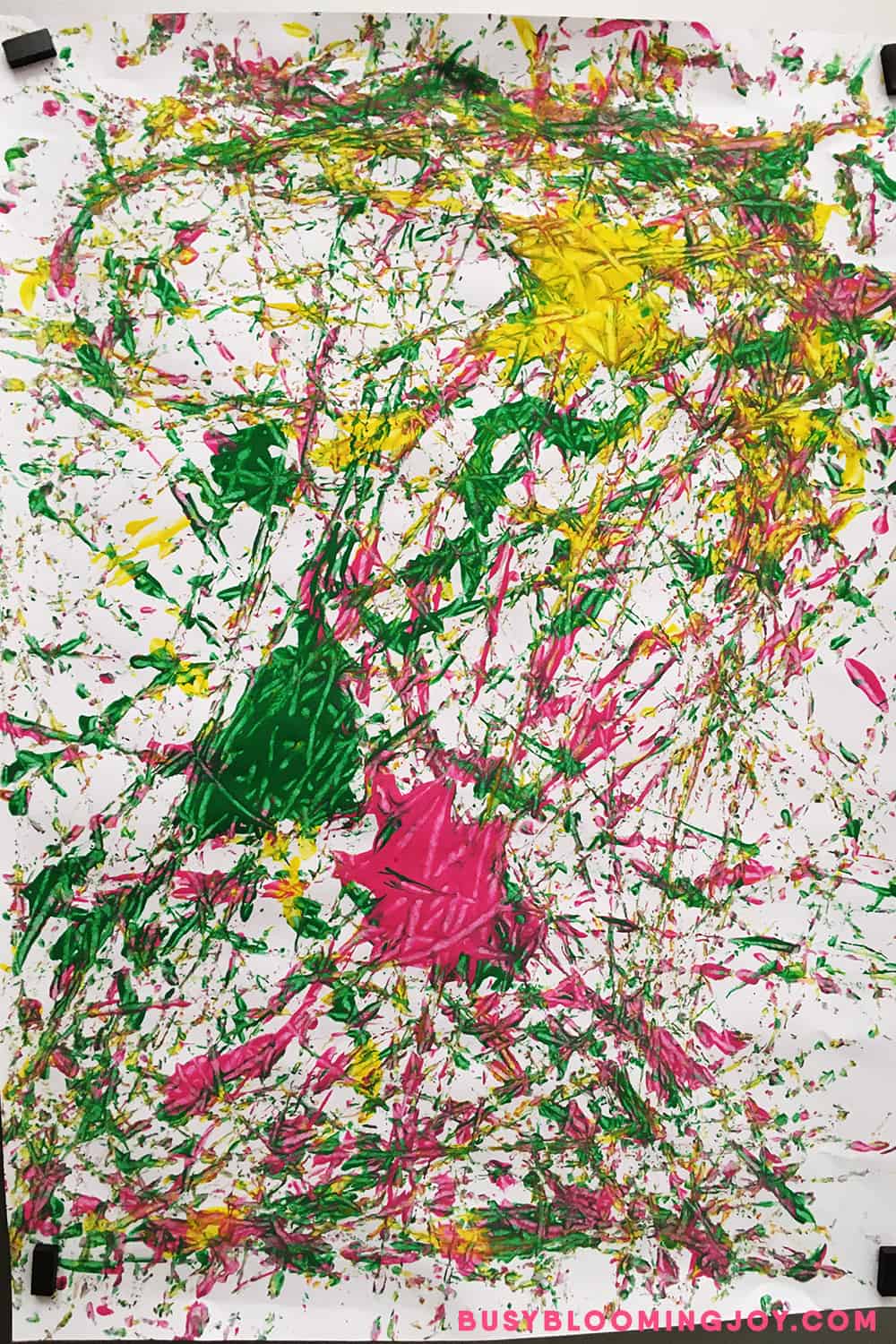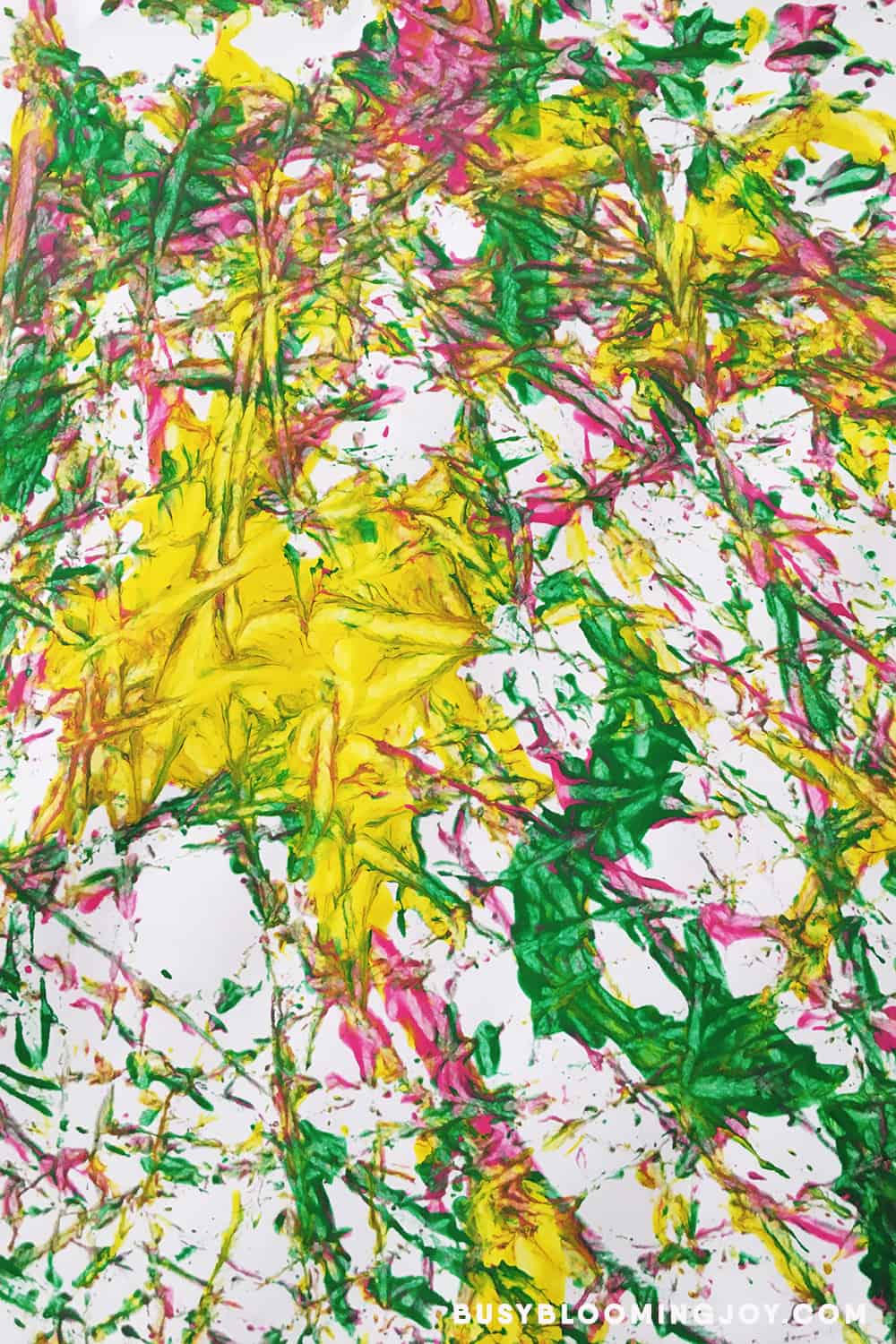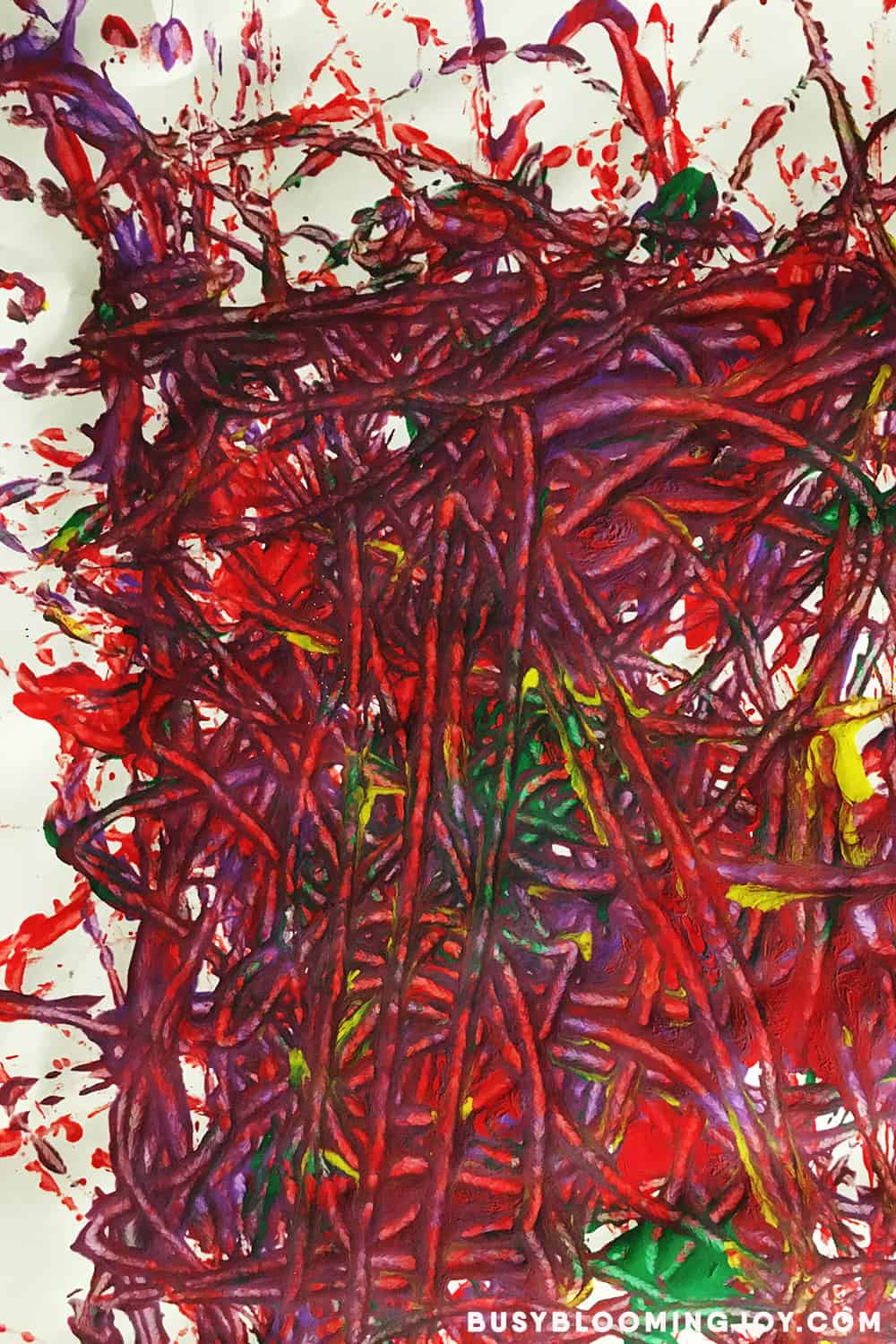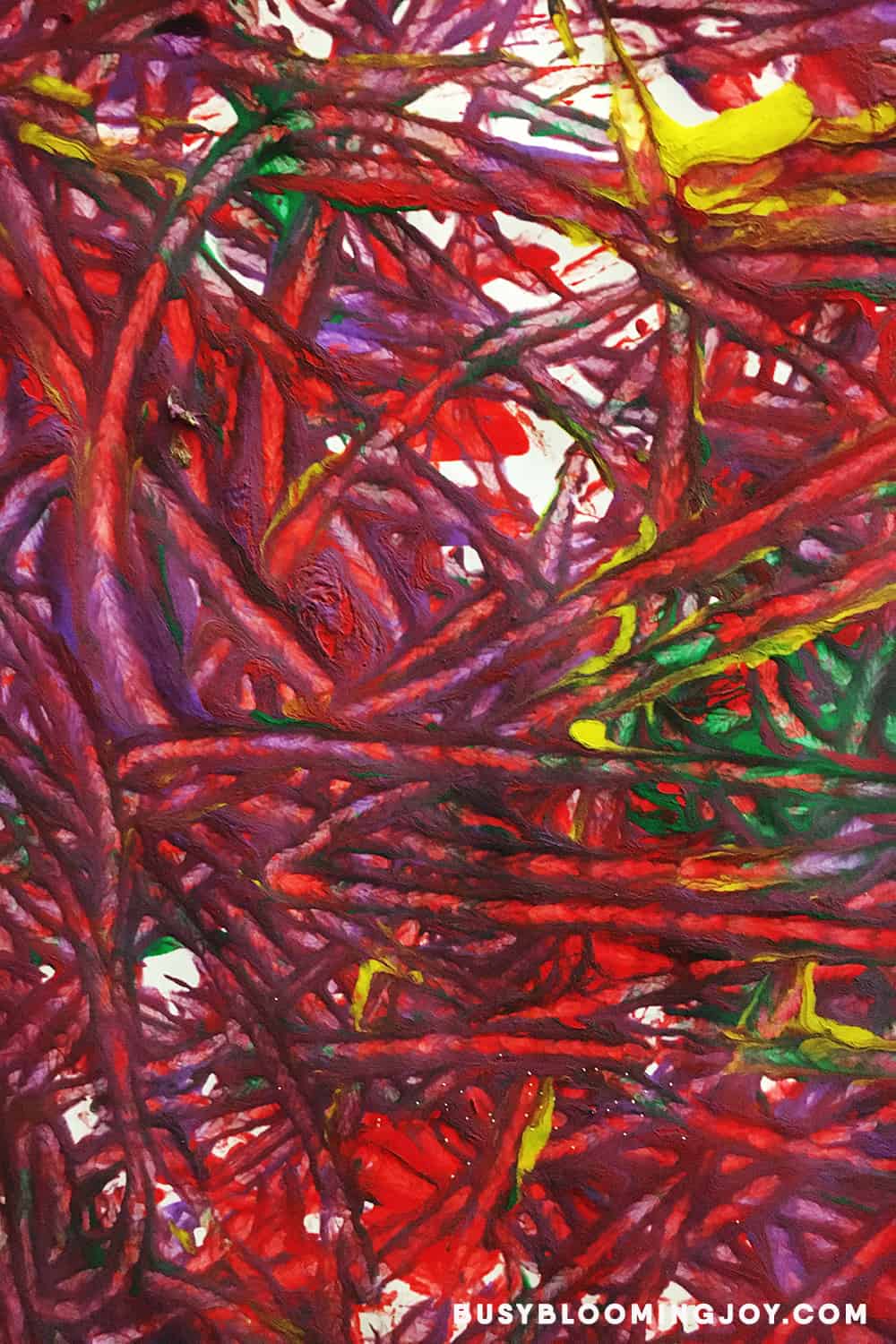 What do you think?  Going to give it a go? Let me know in the comments, I'd love to hear from you!
Want some more easy toddler activities to keep your littles ones busy? Check out these posts:
39 simple & sanity-saving activities for toddlers & preschoolers to do at home (minimal prep, minimal mess)
Stupidly easy paint chip Christmas tree card (easy enough for little toddlers)
STUPIDLY EASY pipe cleaner spider craft for toddlers (no prep & no mess!)