Your kiddo is turning 4 and you're probably thinking "where did the time go?" Seriously how does it happen so fast?! Turning 4 is a special birthday for kids as they now know and understand what a birthday is.
They'll be expecting presents and a big party! They've probably been to a few by now, so those expecations could well be high. But where to start? My biggest fear is always: what the heck am I going to do with all these little people!
Here are plenty of fun ideas and activities for a 4 year olds birthday party to get you started. Pick and choose to suit your little one and make their party incredible.
This post contains affiliate links. If you click on one and make a purchase, we may receive a commission at no extra cost to you.
How to celebrate a 4 year old's birthday and make it special
Hosting a load of 4-year-olds and organising a kids' party can be stressful. But with a little bit of planning and some good party activities it should be lots of fun for everyone. Especially the birthday girl or boy.
Making your little one's day memorable is what truly matters and kids at this age are quite easy to impress.
All you need is a few fun party games and activities, party food, lots of balloons. And the ultimate cake as icing on the top.
Kids at this stage might be too small to drop off so remember that you may need to be the party host for both kids and their parents. So the first piece of advice is to keep your guest list small and manageable. Keep the number of kids to about 4-6 maximum.
Should you do a birthday party for the whole class for a 4 year old?
If your little one is already going to school or nursery, you may want to consider inviting the whole class to your 4 year olds birthday party. Bonding outside school will help in building strong connections among the kids.
And at this age, kids may be playing with everyone, especially if they've only just started school and are still getting to know each other. You also don't want to exclude kids at this small age.
But let me tell you, whole class birthday parties are full on! Obviously that depends on how big the class is. But 20-25 kids, plus a parent for most of them, is a large number to host. Especially if your 4 year olds birthday is in the depths of winter meaning outside is off limits.
Of course, the number of kids you invite affects other things from budget to the venue to the games and activities. This is something to bare in mind as you decide on the activities for your 4 year olds birthday party.
How many activities should a 4 year old's birthday have?
The number of activities for a 4 year olds birthday party depends on number of kids and the type of activity. For example, a bouncy castle will keep the kids busy and you won't need many other 'planned activities' – 2 will probably be plenty for a party lasting 2 hours.
However, it will depend a little on how long each activity is and how much the kids are enjoying each one. If they're really loving a particular game you may want to play it for longer. Also, the more kids you invite to the party, the longer everything takes! Including the party activities.
My advice would be to plan 2 or 3, starting with the ones you think will be the most popular and be prepared to drop the last one if necessary.
Hiring entertainment for a 4 year old birthday party
Depending on your budget and needs, you may consider hiring entertainment for the day. This is a popular choice if you have a lot of kids to host. The entertainer comes with all their expertise and props necessary to mesmerise the kids, which really takes a lot of pressure off.
Of course, party entertainers can be pricey. You'll find plenty of simple ideas & activities for a 4 year olds birthday party that won't cost the earth below.
4 year old birthday party themes
It's popular, but not necessary to have a theme for your 4 year olds birthday party. This can help you design the invite, choose decorations, party bags and cake for the big day. You could also choose to make it a dress up party that fits the theme.
Here are some popular themes for both boys and girls to choose for your 4 year olds birthday party:
Circus themed party
Ice-cream theme
Beach theme
Lego theme
Princess theme
Mermaid
TV show character
Disney
Unicorn
Dinosaur party
Superhero
Safari
Pirate party
Painting or art theme
Frozen party
Fun activities for 4 year old birthday party at home
These 4 year old birthday party activities will work really well at home. They're simple and fun, will appeal to both boys and girls and low on mess too. (Mminimal mess activities are my bag!)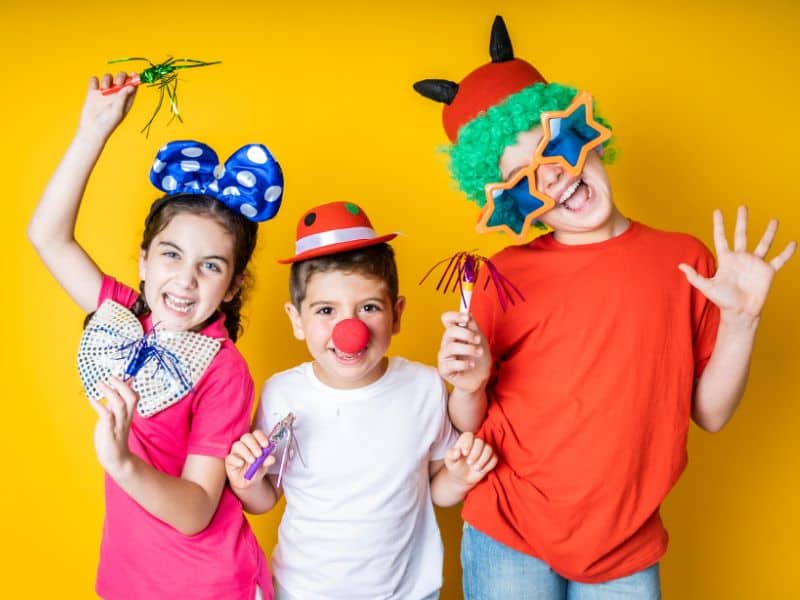 Photo booth
Kids love photos as much as adults do. Include a photo-booth activity that matches your theme. Have props and costumes that the party goers can wear to take memorable photos with the birthday girl or boy.
Not only is this a fun activity for your 4 year olds party, but you'll get some great photos to remember the day by as well.
Dinosaur egg hatch
Kids love dinosaurs and popping balloons so this will be a double whammy of fun for them. Blow up white balloons – these will be your dino eggs. Fill them with dino toys or stickers.
Each child has to crack the eggs by popping the balloons to reveal the prize inside, meaning all the little ones will have a dino momento to take home. This will be a lovely activity for a 4 year olds birthday party with a dinosaur theme.
(Check out more dino crafts and activities here.)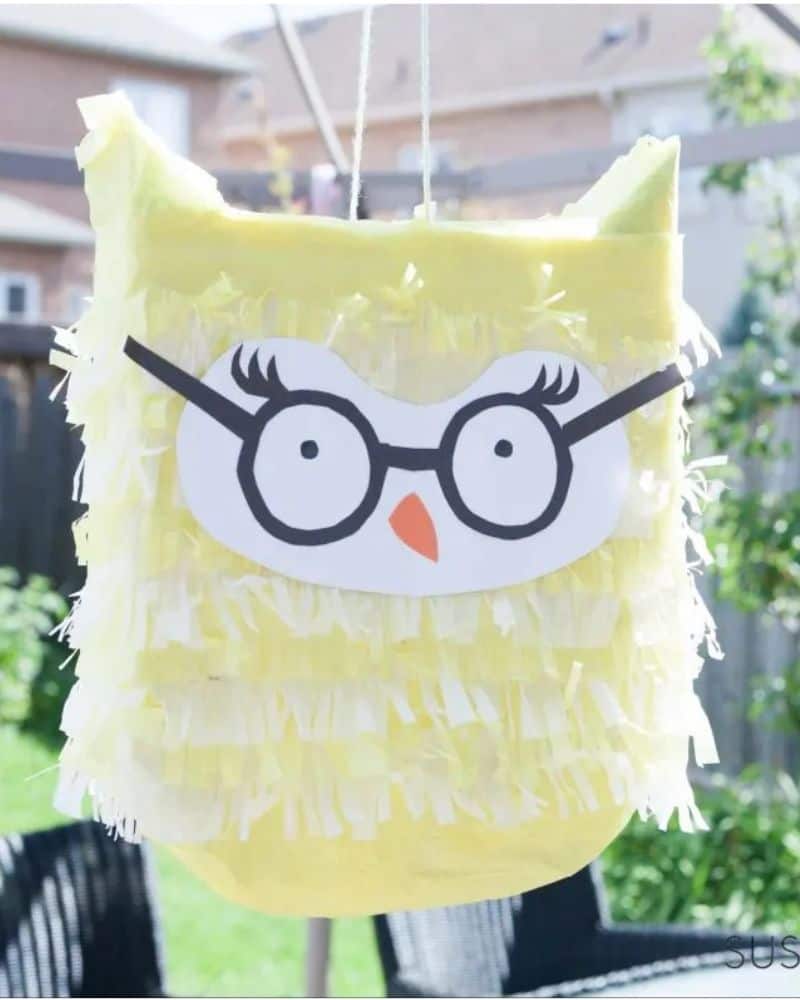 Pinata
Pinata's are a must-do party activity in lots of places. Once all the candy, gifts, and goodies come out, all the little ones will be screaming, and scrambling while grabbing their goodies from the ground.
Some kids may struggle to hit it with a stick but the fun is in the trying.
Pinata's aren't too tricky to make (so I hear, since I've so far avoided the task!) The cute owl pinata pictured is from Sustain My Craft Habit – click the link for the tutorial.
Or you can simply buy a premade pinata and fill it yourself.
An alternative to the traditional pinata is a punch pinata. Again, for a simple life, here's a link to buy one.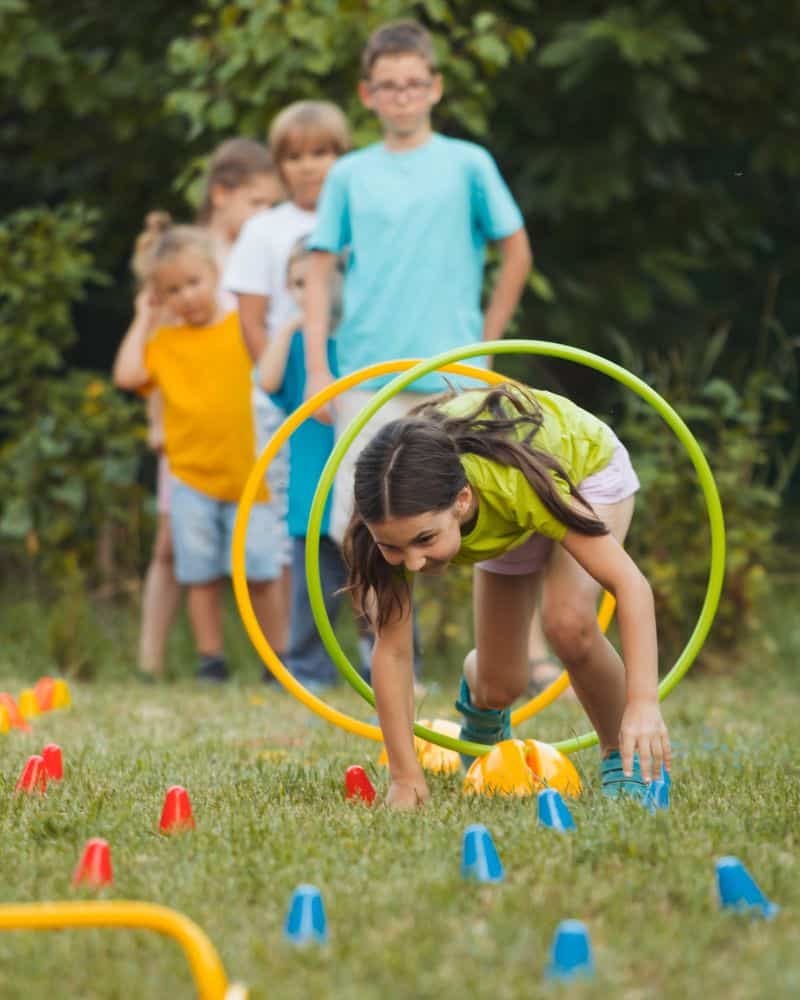 Obstacle Course
Kids at this age are very active and enjoy running, jumping, crawling, and throwing. In using their large motor muscles, they're building important gross motor skills, while at the same time burning lots of energy.
(Keep this activity for your 4 year olds birthday party for after the sugar rush of the birthday cake!)
Obstacle courses are best done outside (pool noodles are great for creating all sorts of obstacles) but with a little clever thinking you should be able to create a decent course inside.
Big card boxes make great tunnels for the kids to crawl through and you can mark out shapes and lines to jump over or hob through using painters tape.
To finish the course, and because all little kids love balloons, each child can pick a balloon from a box. The kids have to "score" to finish by placing their ballon in a basket, box, or play tent.
Mark the course with colorful cans, bottles, or cones.
Food on a string
This activity for a 4 year olds birthday party can be done indoors or outside and also doubles as a party snack! Put mini donuts on a string and ask an adult to hold them while the child tries to eat them without using their hands.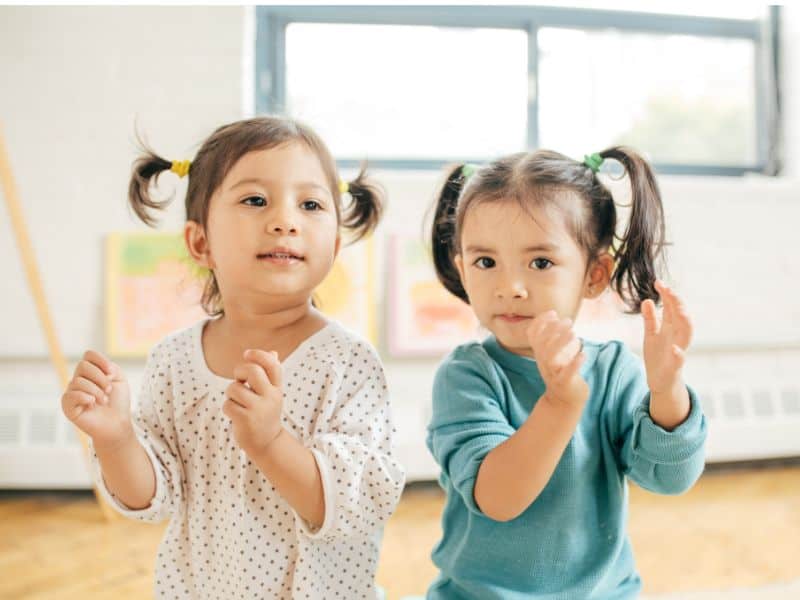 Action song sing-a-long
Little ones love sing-a-long songs with actions and/or dance routines. The Singing Walrus was a favorite in your house for a long time. Simply make a Youtube or audio playlist of songs to keep the kids entertained at your 4 year olds birthday party.
Bean bag toss
Kids always enjoy ball games and here's a really simple one that'll be a fun activity for your 4 year olds party. It's actually better played with bean bags, which are less likely to bounce all over and shouldn't be painful should one of the party goers be the victim of a poor aim!
You'll need 3 or 4 cardboard boxes or baskets, a rope to mark a start line, and a few bean bags. Have the kids stand on the start line and toss the bean bag, one into each basket.
You could set the baskets up evenly spaced or make some of them harder/further to reach. Each bean bag thrown into the box or basket gets a sweetie or small prize. Just make sure everyone has enough turns to win something.
This can be played indoors or outdoors depending on the weather.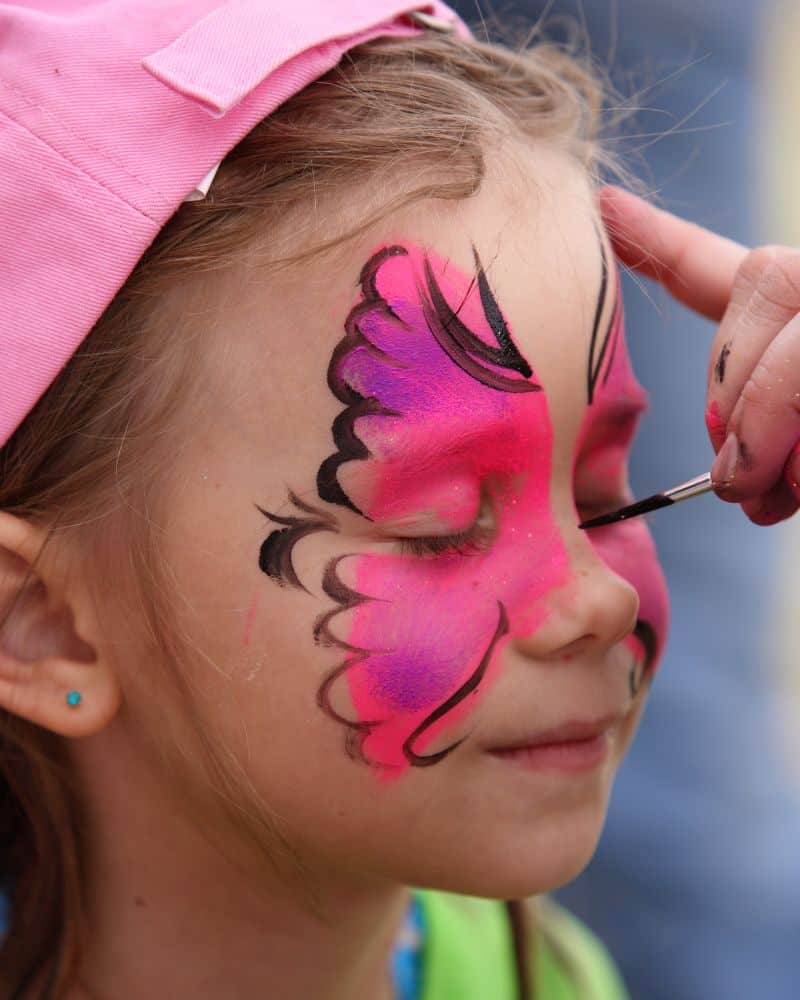 Face painting
A firm favorite with little kids is face painting. There are some great tutorials online if you could persuade another friend to do the face painting. Or you can hire a professional to do the honors.
Make sure to check beforehand with parents, in case of skin sensititives and allergic reactions.
Activities for 4 year old birthday party – ideas for BOYS
By 4 years old, the gender stereotypes have normally made their appearance… By age 2, both my girls had taken a shine to dollies and handbags while my two boys had fallen in love with anything with wheels at that age…
Of course, there are plenty of girls that love so-called 'boy toys' and vice versa. But for the purposes of this list, we've split out the activities. Here are some 4 year old birthday party ideas that'll particularly appeal to 4 year old boys.
After this, you'll find birthday party activities aimed at 4 year old girl's.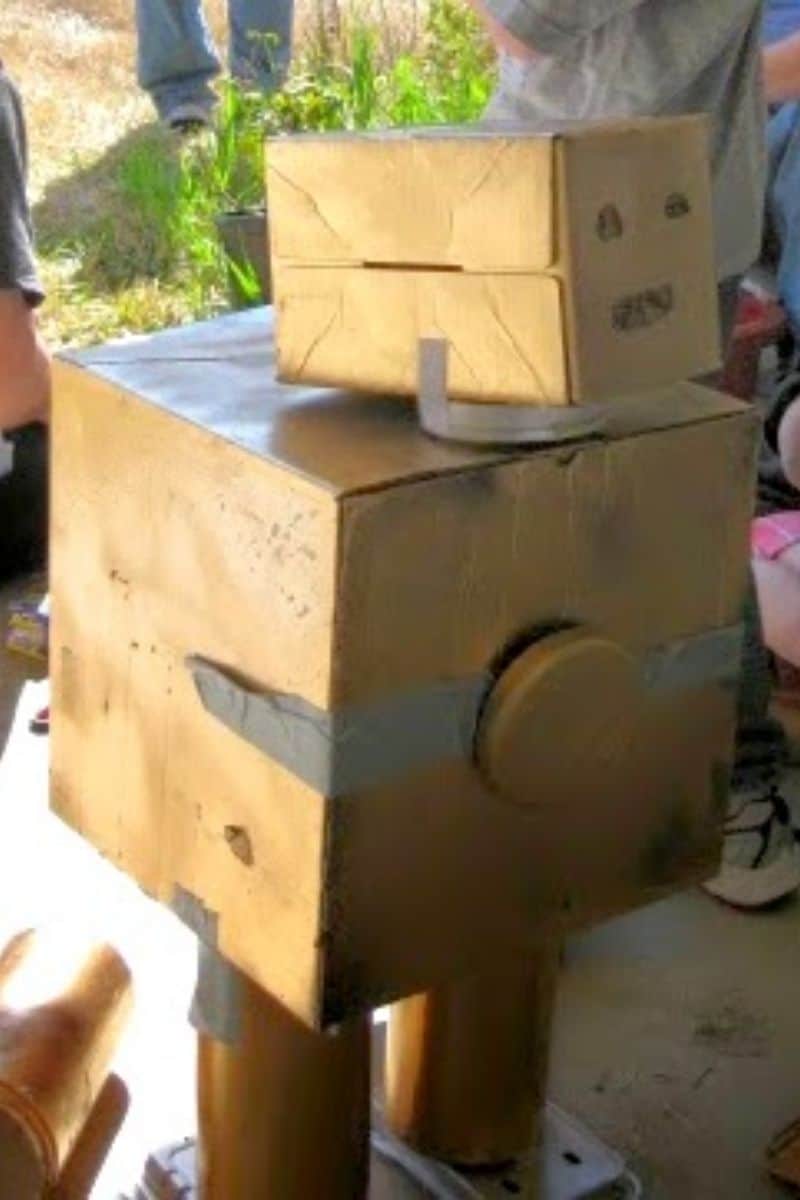 Build a robot activity
Little party goers could each make their own robot or you could work with all the kids together and make a giant one. This robot craft is cute, affordable and achievable and importantly, such a fun activity for a 4 year olds birthday party at home.
Visit Waco Mom for instructions.

Superhero masks
Why use party hats when you can let the kids make their own superhero mask? This is one of the coolest 4 year old birthday party ideas for boys. They get to make their own mask and can then wreak havoc as their favorite superhero!
Head over to Red Ted Art for instructions.
Catch the Villain
Another activity for the superhero theme. Ask one adult to be the villain – they must have lots of candy with them.
The little superheroes must chase the villain and try to catch him with their lightning ring (you can use hula hoops) or they can just tag the adult. When the boys tag the villain he throws out candy for his release. The game continues until all the candy is gone.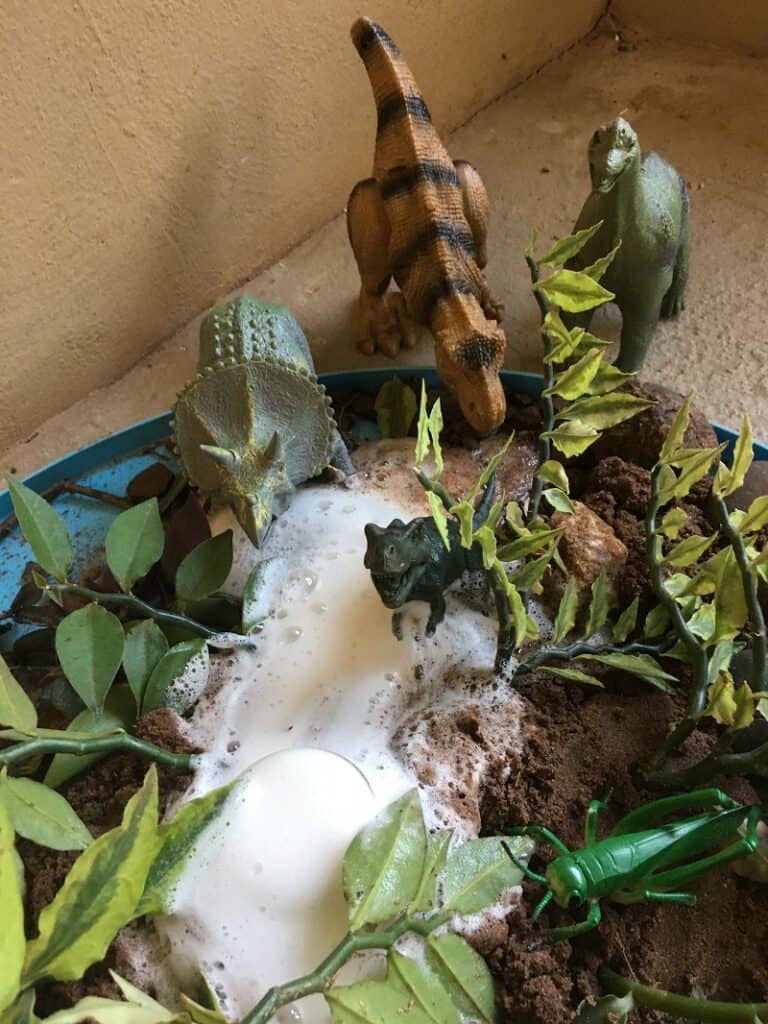 Create dino land & watch the volcano erupt
There has to be dinosaur activity or two on this list since all little kids love these prehistoric creatures (and not just boys, that's for sure).
This one is a great sensory activity too, as it involves digging and playing with sand. Your little party guests are going to create their very own dinosaur land! This is probably best done as a joint effort.
Use vegetation from the garden plus any faux leaves as well as sticks, stones and of course, some toy dinosaurs. To be honest, this may be all they need to keep them busy for an age…
But there's more to come.
It's time to create the erupting volcano which uses the classic baking soda and vinegar reaction. The chemical reaction of mixing vinegar (acid) with baking soda (a base) creates a foamy explosion.
You can use a tealight holder for the baking soda. Then have the kids squirt vinegar on top using a pippette and watch as the volcano explodes.
This is an activity for your 4 year olds birthday party that will fascinate! The little ones will be asking to do it again at home for sure…
For more sensory activities check out: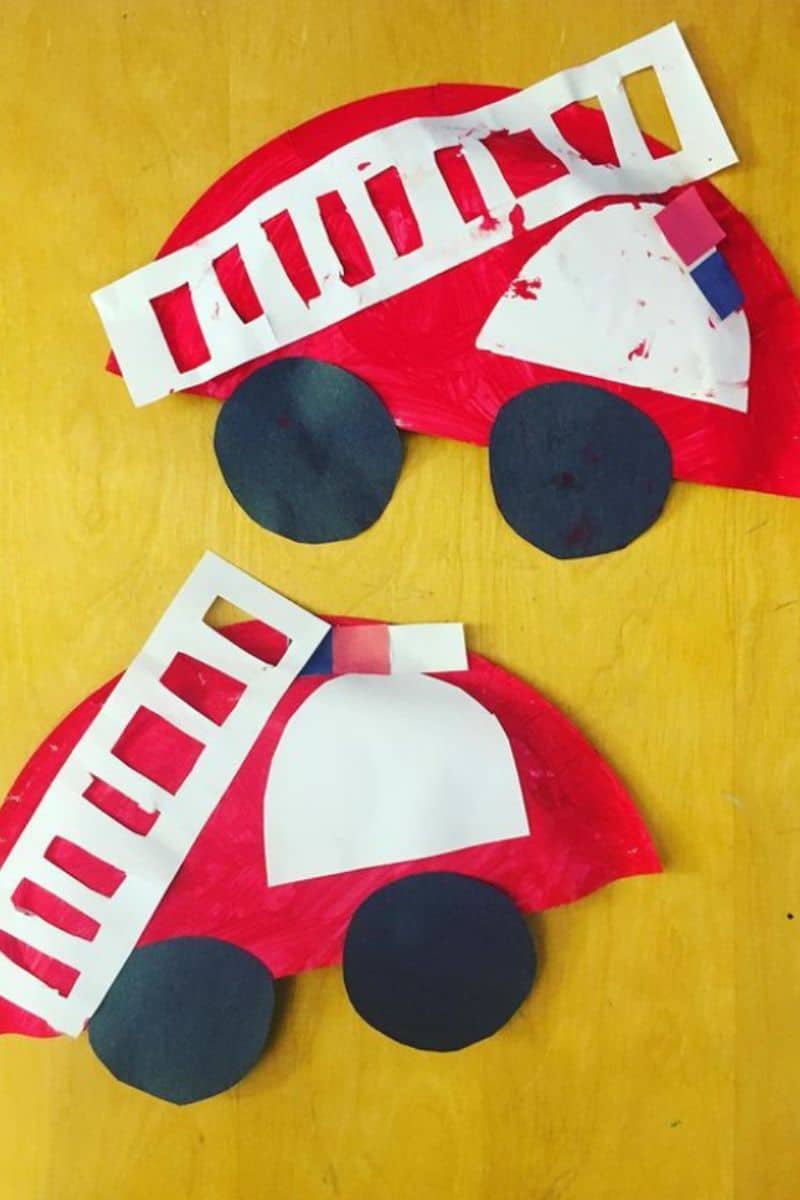 Truck craft
A transportation activity might make your short list if your 4 year old is anything like my two boys and loves trucks, trains, boats, planes, cars… any form of transport! (But particularly those with wheels)
These paper plate fire truck crafts are super easy and inexpensive to make. They're sure to be a popular birthday party activity for your truck-loving 4 year old.
Fire truck paper plate craft from myparentsjob.

Dinosaur puppet craft
If you're looking for some crafty 4 year old birthday party entertainment for a dino lover, these dinosaur puppets are just the ticket. The free printable will make it a doddle to prep, leaving plenty of time for all the other party tasks.
Or for more options, there are more dinosaur crafts here.
Visit Frosting and Glue for details.
For more party activities for boys of all ages, check out: 50+ fun (& easy to organize) games & activities for a boy's birthday party
Activities for 4 year old birthday party – ideas for GIRLS
If you've been wondering "what can I do for my daughter's 4th birthday?" we have some great ideas for you. Here are some 4 year old birthday party activities and ideas perfect for your little girl.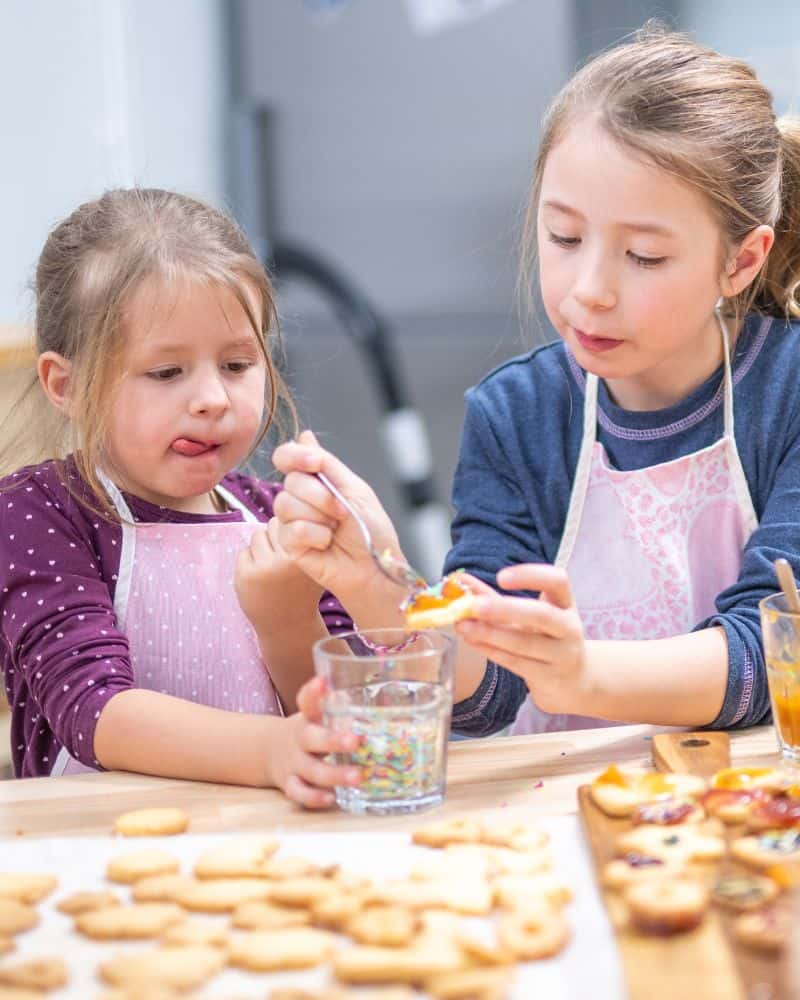 Cookie Decorating
Decorating cookies or cupcakes with frosting, sprinkles, and other sweets will be a fun activity for your 4 year olds birthday party. If you have a party theme, you can choose decorations and colors to match.
Nail salon
Little girls love to get their nails painted so why not set up a nail salon for her and her little friends. All you really need is a table and chairs, a variety of nail polish and nail stickers. Then a willing adult volunteer as the beauty therapist.
My eldest daughter loved this simple activity at her 4 year old birthday party and I can't wait to try it with her younger sister.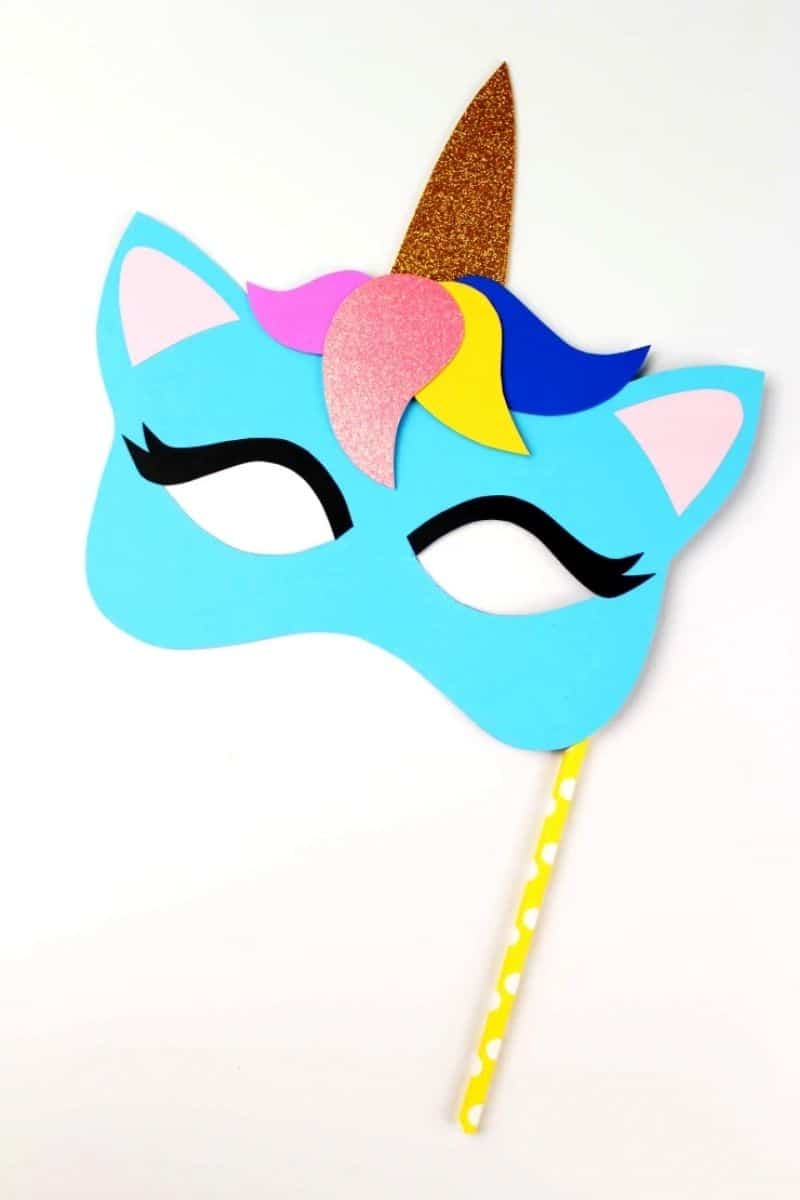 Make a unicorn mask
Your little unicorn lover will adore this mask craft. This would make the perfect party favor or a fun activity for a unicorn-themed 4 year old birthday party.
Head over to Frugal Mom for instructions.

Unicorn paper craft
Here's another fab activity for a 4 year old birthday party for a girl that loves unicorns (all girls, then right?!). Making these simple construction paper unicorns will also help develop the little party goers fine motor skills while they enjoy a quiet craft session.
Visit Red Ted Art for instructions.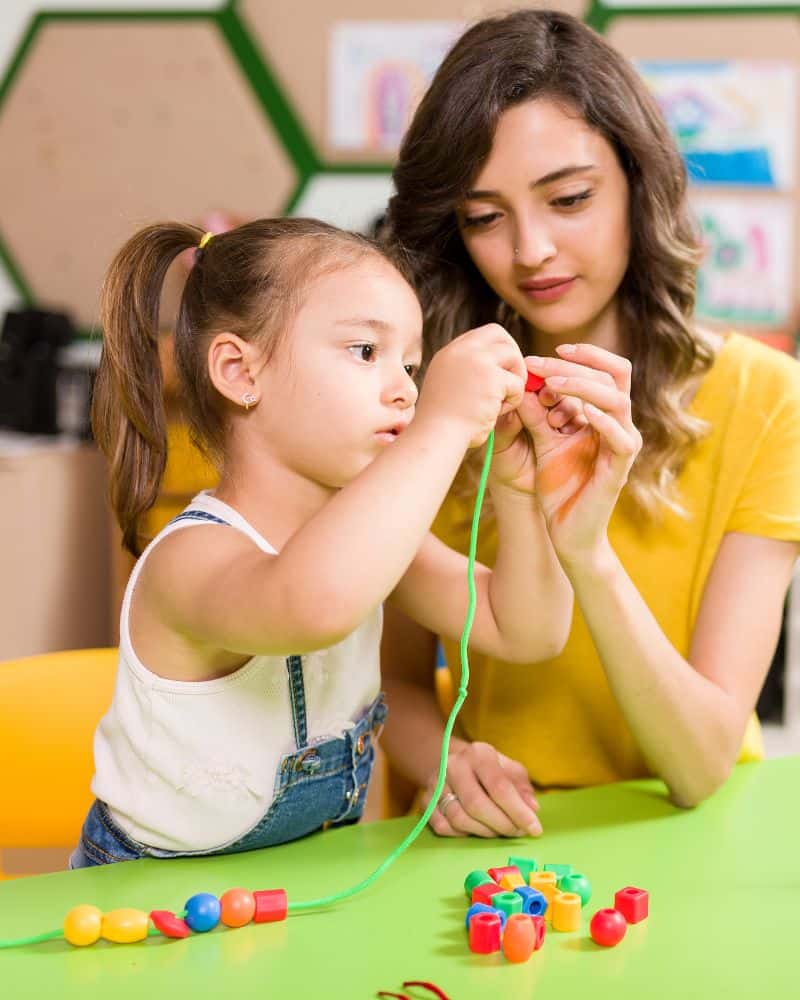 Make beaded or fruit loop cereal necklaces
Some large colorful beads and thick cord are all you need for your little party guests to make their own necklaces. This'll be such a fun activity for a 4 year olds birthday which will also double as a cute party favor and momento of the day.
Alternatively, you could use fruit loops to make edible bracelets and necklaces. I don't think these would last long enough to make it home though! These will become more party snack than favor…
Birthday tea party
Simply set up a table inside or in the garden with some simple decorations. Lay the table with pretty party napkins, plates plus cups and saucers or party cups. Add a cupcake stand filled with mini sandwhiches, sweet treats and cupcakes and "serve" your party goers afternoon tea.
This would be a lovely 4 year old birthday party idea for a girl.

Make a mermaid wand
If you're looking for mermaid-themed activities for your 4 year olds birthday party, try these sparkling mermaid wands. With just a few simple supplies, each of the guests can make their own wand which they can take home after. Time to add some mermaid magic to your little girl's birthday party!
Jump over to Finding Zest for the details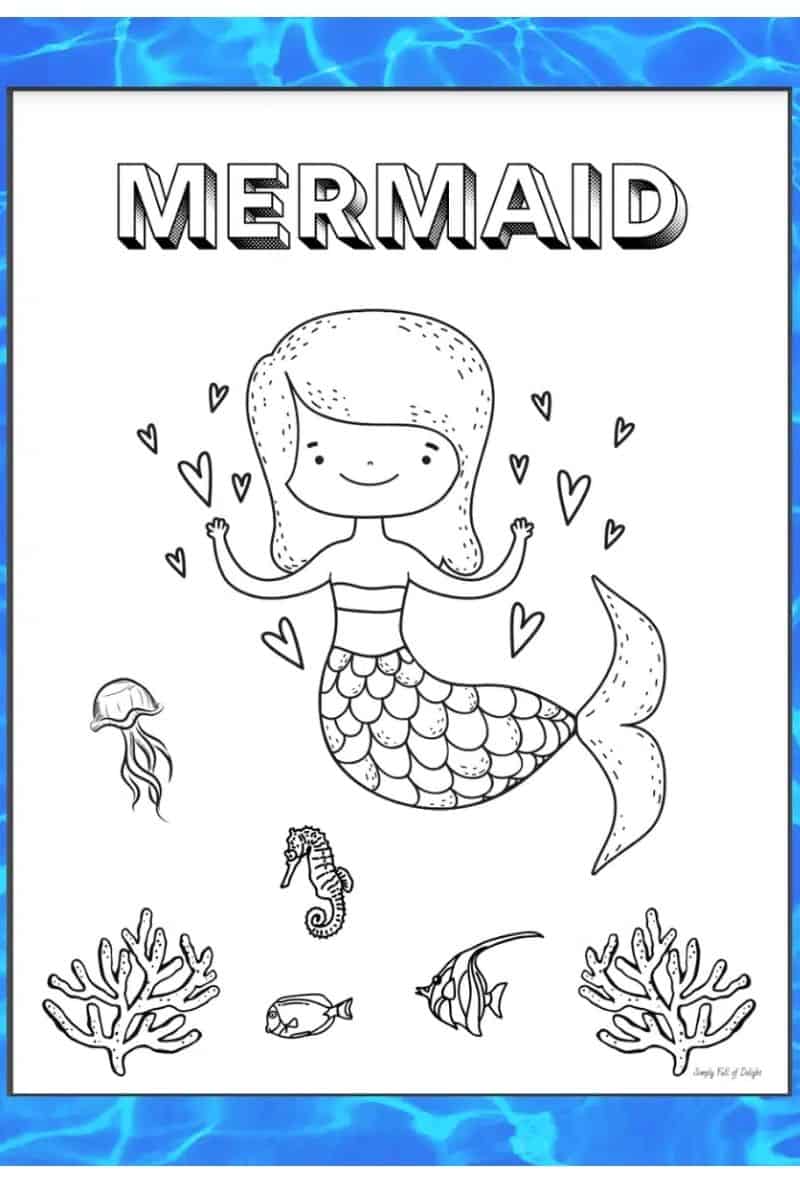 Mermaid coloring pages
Another for a mermaid themed party or perhaps for an under-the-sea theme. You can set up these coloring pages for little guests who need a break amidst the more energetic birthday party activities.
Jump over to Simply Full of Delight for details.
Make craft foam crowns
If you decided on a Princess-themed party, the girls can dress up as their favorite princesses and then make simple craft foam crowns as a birthday party activity. They'll love wearing their crowns during the festivities and can take them home too.

Make fairy wishing bottles
Want to give the celebrant a little sparkle on her special day? These little wishing bottles are filled with flowers, fern, sand and whatever else you can find outside.
This'll make such a lovely spring or summer activity for a 4 year old birthday party when the garden or park will have plenty of colorful things to chose from.
Don't forget to add glitter to give it a little magic!
Head over to Ruffles and Rain Boots for instructions.
Activities for 4 year old birthday party – ideas for WINTER & INDOORS
When it's winter time or you can't rely on the weather, you're going to need to plan some indoor party activities. Here are some crafty and creative activities for a 4 year old birthday party to keep the little ones entertained.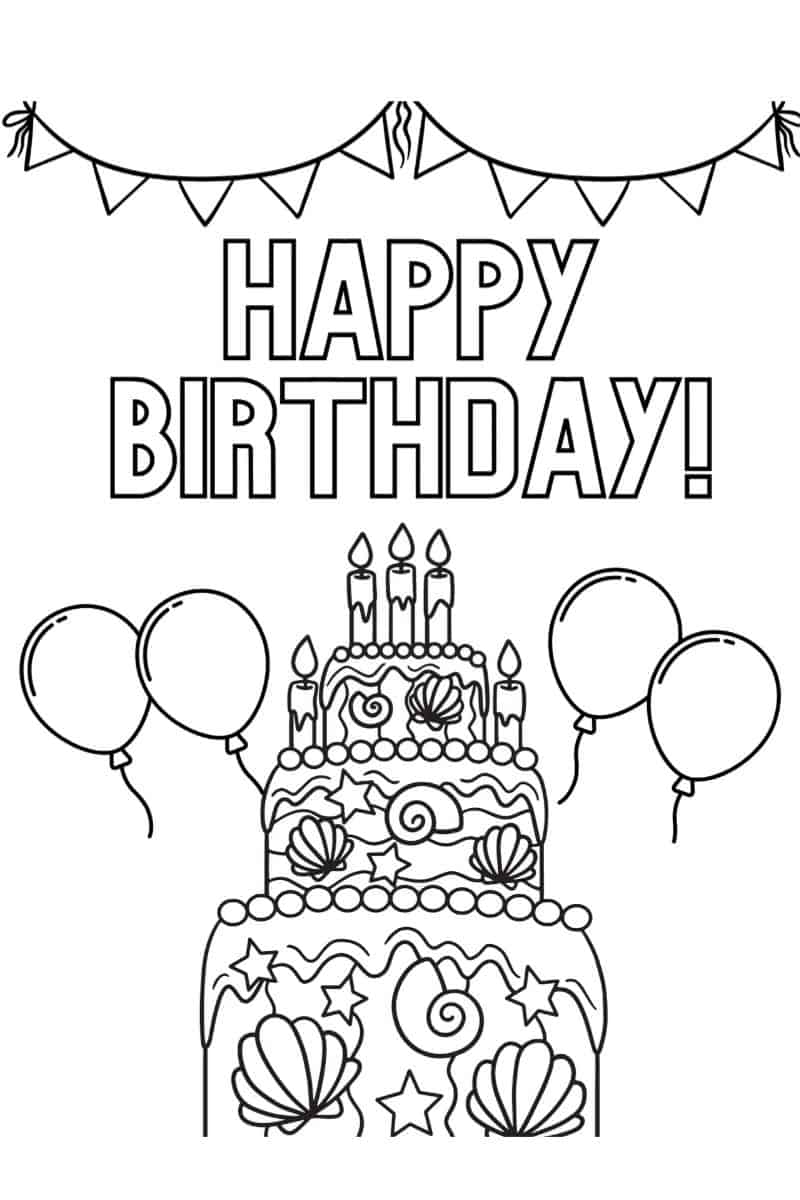 Birthday coloring page
Looking for some 4 year old birthday party ideas on a budget that'll keep your little ones entertained? These free printable birthday coloring pages will do the trick. Take out those crayons, markers or paint and get the party started!
Jump over to Two Kids and a Coupon for the free printable.

Balloon People
This activity for a 4 year old birthday party makes for a simple art project indoors. Give each child a balloon, some markers, and stickers so they can turn their balloons into people. Challenging the little ones to create a self-portrait would make it quite amusing and revealing too!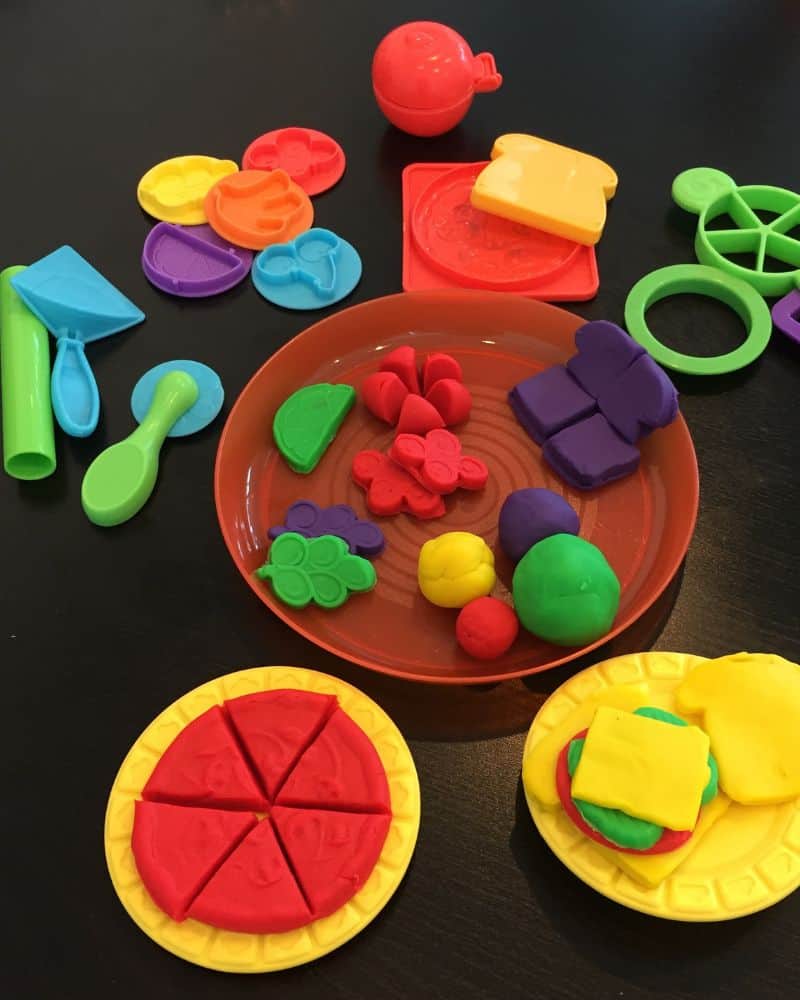 Make Play-doh birthday cupcakes & party food
Most 4 year olds love play-doh so why not make birthday cupcakes or their party food as an activity at your 4 year olds birthday party. Use silicon cupcake moulds and beads and buttons for decorations. Remind them not to eat them though!

Bear craft
Gather some extra paper plates and have the kids make these adorably cute bears. Click the link below for the free printable template available in 2 sizes, perfect for your visitors of all ages! A BEAR-y special activity for 4 year old birthday party at home, right?
Visit The Printables Fairy for the tutorial.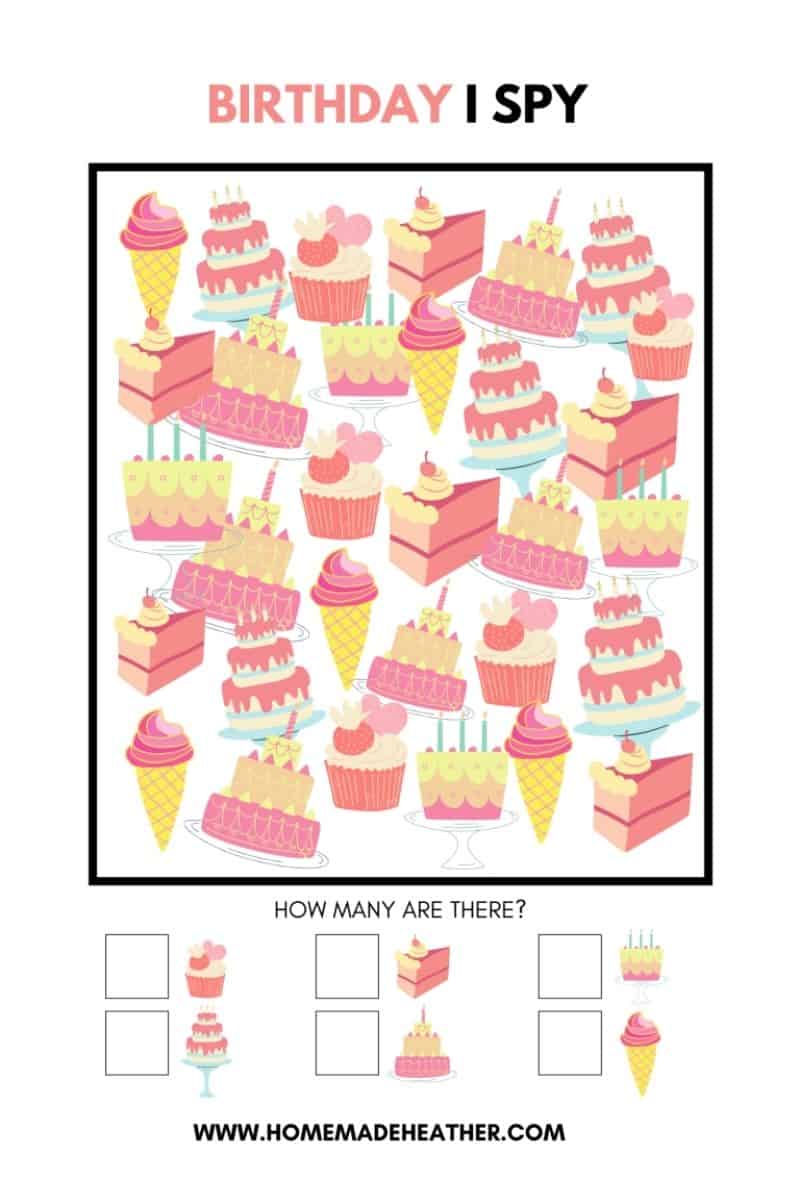 Birthday I Spy
This birthday I spy activity is another fun way to keep the kids busy during a party. Just be sure to have the cake ready soon after, as they're sure to asking having counted all those sweet treats.
Jump over to Homemade Heather for the free printable

Mask craft & activity
Would you believe that these fun and festive masks are made out of egg cartons with some paint and feathers? This activity for your 4 year olds birthday party will give your little guests the opportunity to get creative and design their own unique mask.
Head over to Crafty Ideas for instructions.
Love getting creative with your kids? We've plenty of cute crafts & activities to choose from:
Simple party GAMES & activities for a 4 year old birthday party
Little kids can be competitive and most haven't learnt that's not all about winning! Avoid tears by making these classic games and activities for your 4 year olds birthday party non-competitive.
Simon says
This is a classic kids' party game and activity that works indoors or outside. Choose an adult to be "Simon". They then instruct the kids with task: "Simon says brush your teeth".
The kids will probably enjoy having a go at being Simon and love giving their friends funny instructions! Just follow their lead and play until the giggles are over.
Sleeping lions
During most birthday parties, it's normal for the kids to get over-excited because they are high on birthday fun and sugar. That's when sleeping lions is useful to calm them down, without them even realizing.
Have all the party goers sleep on the floor and be still for a few minutes. Then a parent volunteer must walk around telling jokes, making funny sounds or doing something to make them move or laugh. The kids must try to stay "sleeping lions" and not giggle or wiggle!
Musical statues
This is a classic party game and such a fun activity for your 4 year old's birthday party – it never fails to lose it's appeal. Play some music then stop it and the little ones have to freeze.
The last person to freeze is out, but to avoid the disappointment simply keep everyone in. The kids will enjoy it regardless!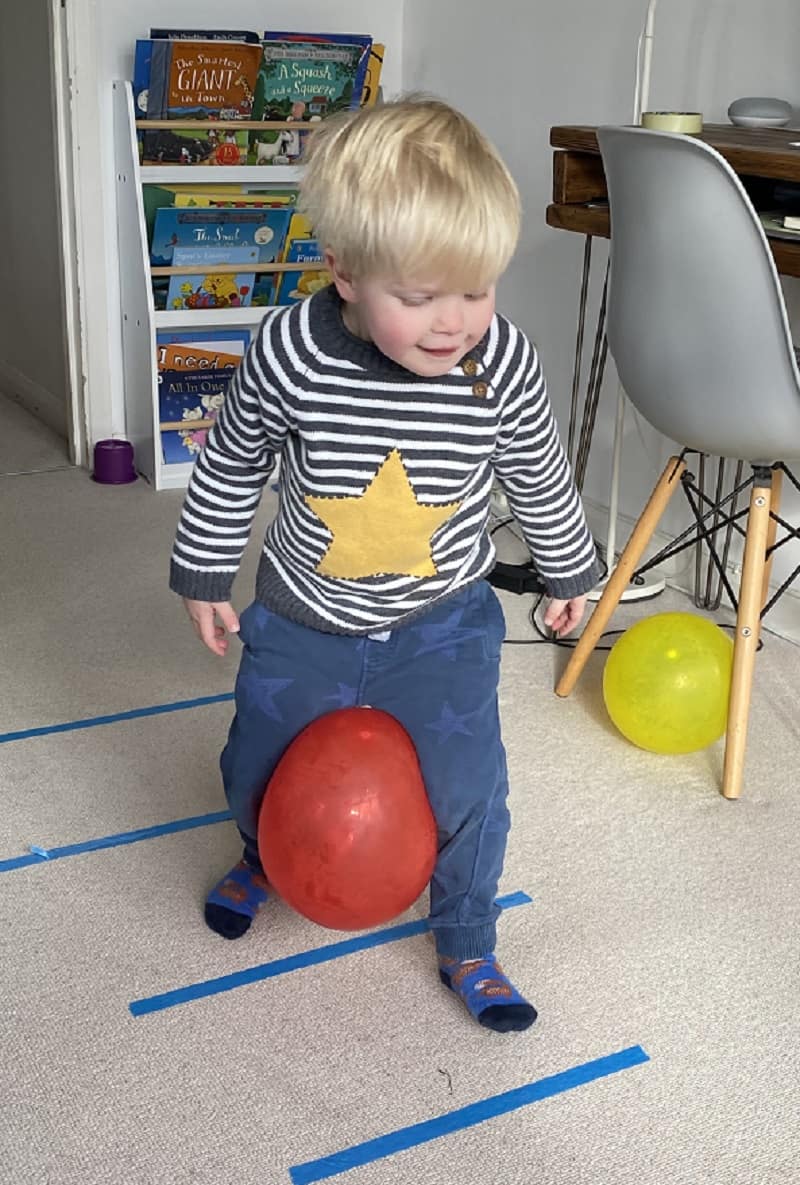 Balloon run
Challenge the kids to move from one side of the room to the other with a balloon between their legs.
You could make this a team event where members must relay the balloon back and forth. But for an activity for a 4 year olds birthday party, you could just keep it simple and give everyone a sweet or prize once they've managed to cross. Or even if they don't manage…
Follow the Leader
Make sure everyone gets a chance to be the leader in this fun birthday party activity which is ideal for 4 year olds. To start, choose one child to be the leader. Then the rest of the kids line up behind the leader and follow their actions. These could be jumping, crawling, dancing, taking a few steps forward, and more.
You can alternate and have some of the adults leading to give the kids some ideas.
Pass the parcel
Here's another classic kids party game that your 4 year old will love. Simply wrap a small prize, like a bottle of bubbles, with multiple layers of paper. Between each layer is a sweet or small toy (foam stickers work well).
Now have your party goers sit in a circle and play some music. They pass the parcel around until you stop the music. Whoever has the parcel when the music stops gets to unwrap a layer.
It does require some careful prep and management with the music to ensure everyone gets to unwrap a layer. I'd also recommend using different wrapping paper for each layer, to avoid the little ones unwrapping multiple layers at once.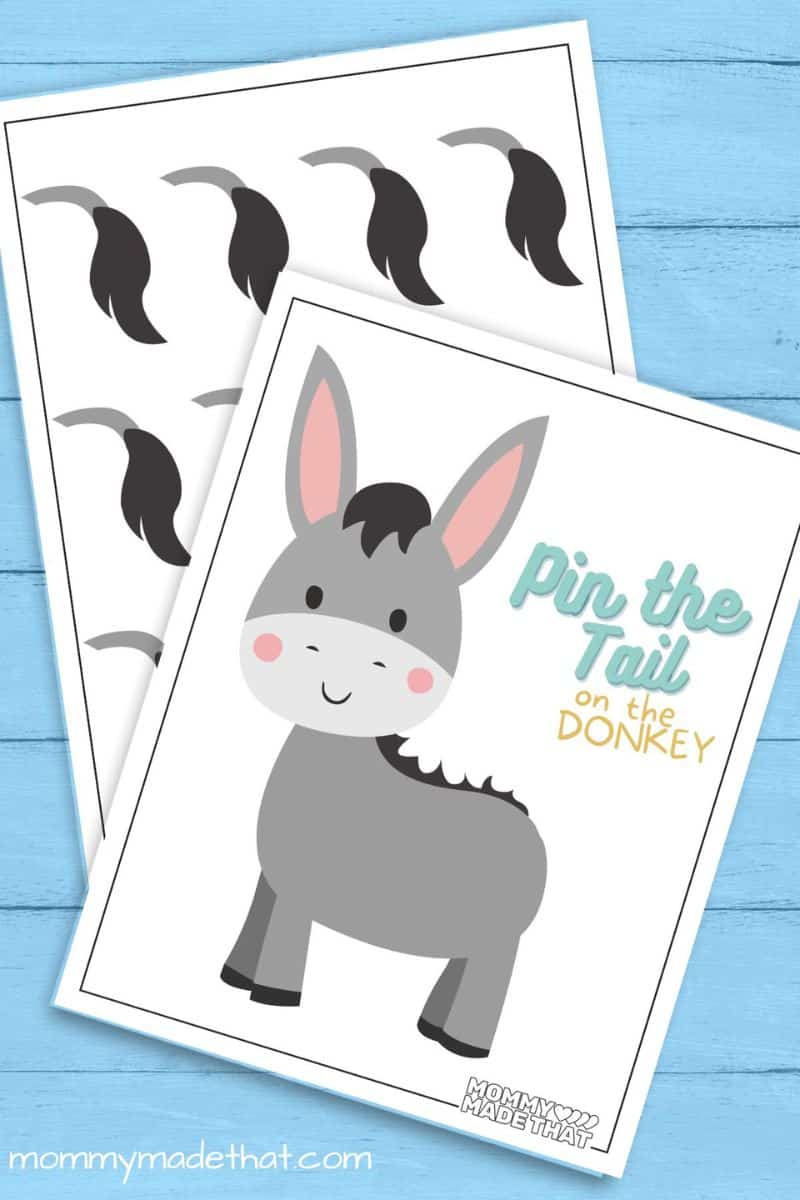 Pin The Tail On The Donkey
In this game, the party goers are blindfolded in turn and try to attach a tail to the right place on a picture of a donkey. The closest to the correct spot is the winner, but you could make it non-competitive if you'd rather.
Here's a cute free Pin The Tail On The Donkey printable from Mommy Made That (pictured above).
You could however, change the animal or character to match your party theme. We did Pin The Horn On The Unicorn as an activity for my 4 year olds unicorn-themed birthday party.
Duck, duck, goose game
Make sure you've created space for this game if playing indoors. It's a great chasing game for young energetic kids so it's an ideal activity for a 4 year olds birthday party.
The kids sit in a circle and one is chosen as the picker. They walk tapping the other kid's head and saying "duck".
When they tap someone and say "goose" the person has to get up and chase the picker until they catch them. In the meantime, the picker tries to run away and sit where the goose was sitting. If they manage to do this the "goose" now becomes the picker.
Continue the game until everyone has had a turn to be the picker.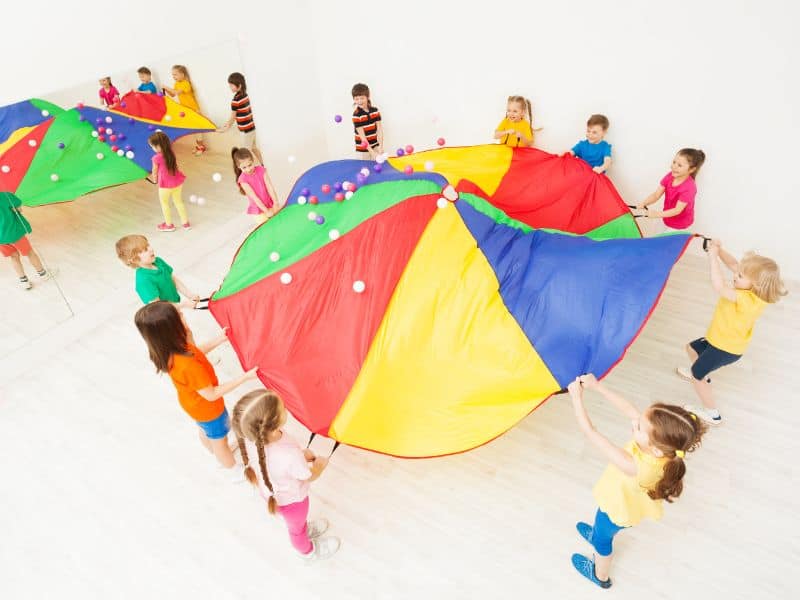 Cat and mouse or other parachute games
Little kids love playing with the large rainbow colored parachutes – they're such a favorite at toddler groups.
A fun activity for your 4 year olds birthday party would be the cat and mouse game. You'd need a few adult helpers to help hold the parachute. Then one child crawls under the parachute as the mouse. Another child goes on top as the cat.
The cat needs to catch the mouse while creeping very slowly… the people holding the parachute try to keep the mouse hidden.
Hot Potato game
In this simple birthday party activity for 4 year olds, use a ball or bean bag as a hot potato.
Have the kids sit in a circle. The kids pass the "hot potato" to the child next to them as the music plays. If the music stops as they're holding it, all the kids yell "hot potato". If any kid drops the ball the kids yell "hot potato" again.
What's in the Bag game
This is a classic party game that you can play with items around the house like kids' toys, stationery, coins, and things from the kitchen.
Fill a bag or pillowcases with a variety of objects. Then blindfold an adult and ask them to pull out an object. Then the kids can ask them for clues to help guess the object. Or the kids can have a go at being blindfolded and have to guess what they're holding.
OUTDOOR activities for 4 year old birthday party
What keeps little kids happy and entertained? The freedom to run around and play games outside! These activities for a 4 year old birthday party are perfect for summer and springtime outdoors.
For most of these fun games, however, the biggest requirement is space. So if you hire a large hall for the day, these would work really well.
Scavenger hunt
Prepare a pictorial list of things to collect and let the kids run wild as they race to find what's in the pictures.
This simple activity for a 4 year olds birthday party will be easy to adapt to the theme of the party. If you're having a beach theme, this could be a collection of shells and beach toys in the yard.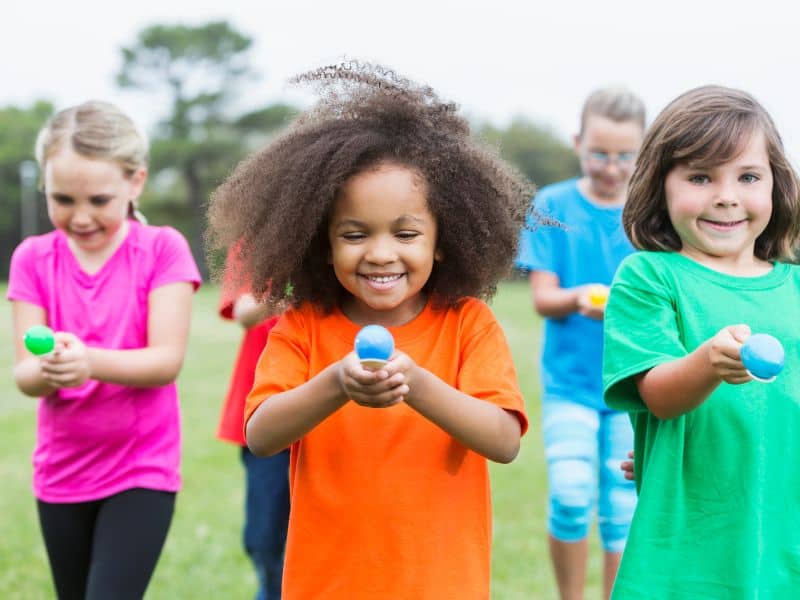 Egg and Spoon Race
This classic party game is always a hit. Place hardboiled or plastic eggs on a spoon and ensure the kids are clear on the start and finish lines. Kids have to run carefully or rather walk very fast to the finish line. To ensure no unhappy 4 year olds, everyone taking part can receive a prize.
Balloon Swat
4 year olds, or should I say all little kids, are easily entertained with balloons so they'll enjoy this outdoor birthday party activity. Just don't play it when it's windy as you'll lose all the balloons before the activity is finished!
Blow up plenty of balloons and give each child a stick. They must use their sticks to move the balloons from one side of the backyard or garden to the other.
Play this game at the end of the party and each 4 year old can take a balloon or two home.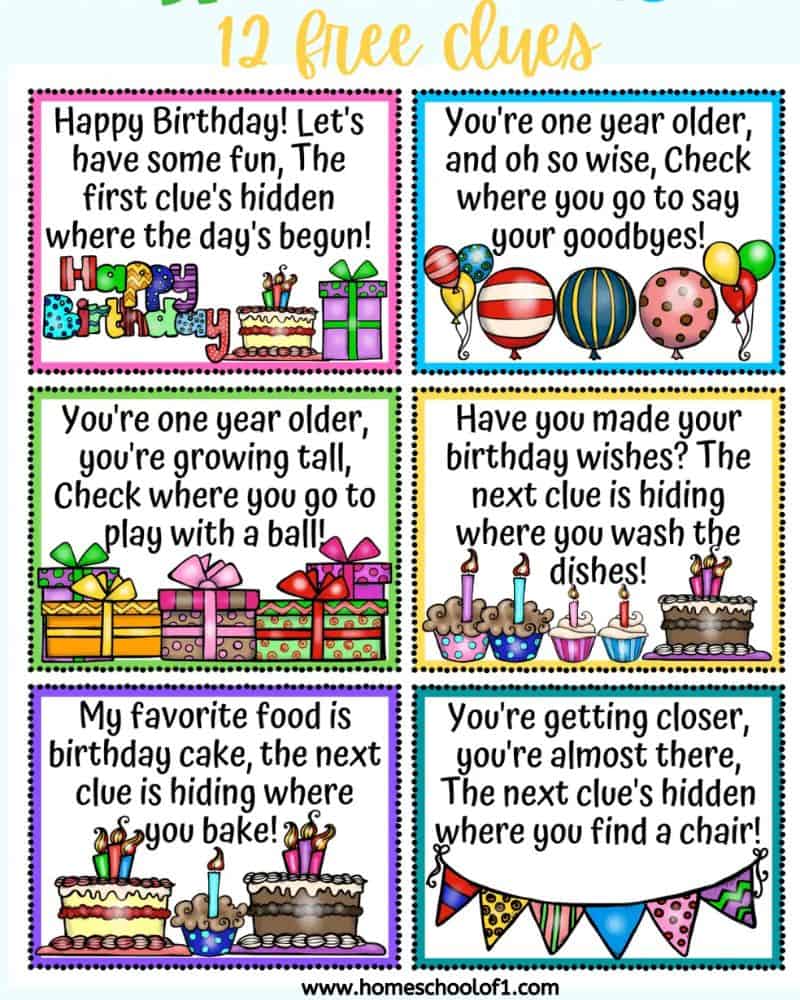 Treasure Hunt
Most kids at 4 are into challenges and love hunting treasure. (This fun activity for a 4 year olds birthday party would be perfect for a pirate theme.)
Have one adult read the clues for all the kids or show the kids picture clues to find the next clue. 4 or 5 simple clues should be enough at this age. The final clue leads them to a treasure trove of gold chocolate coins which are shared amoungst the party goers.
You can write your own clues or, if you're lacking ideas, use the 12 free clues pictured by clicking the link below.
Head over to Homeschool Of 1 for the free printable
Bottle Bowling
This is a great way to bring bowling to your backyard. Set up bowling pins or use plastic bottles. Use any kind of ball to bowl them down. Weigh plastic bottles down with a bit of sand or small rocks at the bottom.
Lion, Lion, are you Hungry?
This fun outdoor activity for a 4 year olds birthday party is better done outdoors or somewhere where the kids have a lot of space to run around.
One person is the lion and stands at one end of the yard. The kids are at the other end of the yard.
The kids yell together, "Lion, Lion, are you hungry?" and the Lion will say "No, not really, come closer". The kids will all come a little closer and ask the question again.
This happens over and over until the Lion finally answers "Yes"! At this point, he tries to catch as many children as possible and they become lions too. The game starts over, with the new lion on one side of the yard and the other kids on the other side of the yard.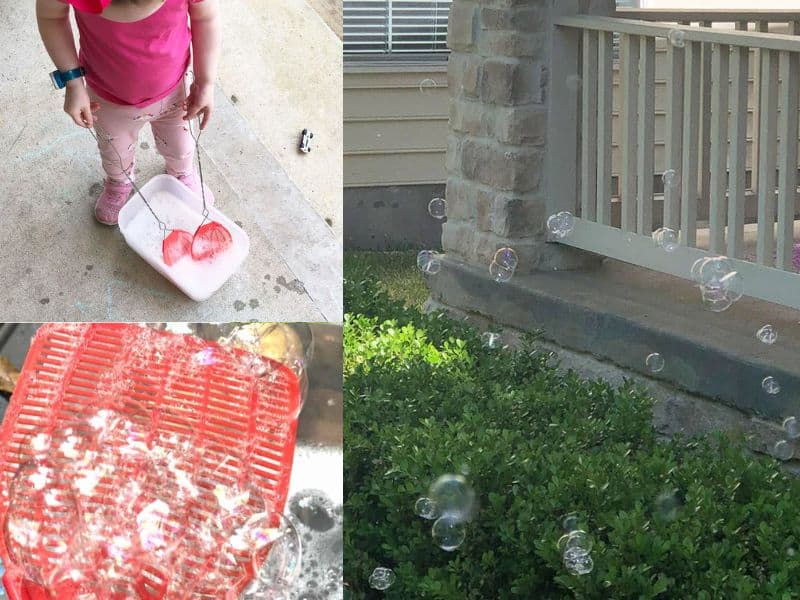 Fly swatter bubbles
Summertime is bubble time! Well actually, if you have a little one, anytime is bubble time… So this one will make a great activity for a 4 year olds birthday party.
But don't buy bottles of store bought bubble mixture – how often do they get spilt or knocked over? And how many little ones struggle to blow bubbles with those tiny bubble wands that come in the bottle?
Try this fly swatter bubble activity instead. Simply dip a fly swatter into a big tub of homemade mixture and wave it in the air. And volia! Loads of bubbles.
Find the recipe and tutorial at Two Pink Peonies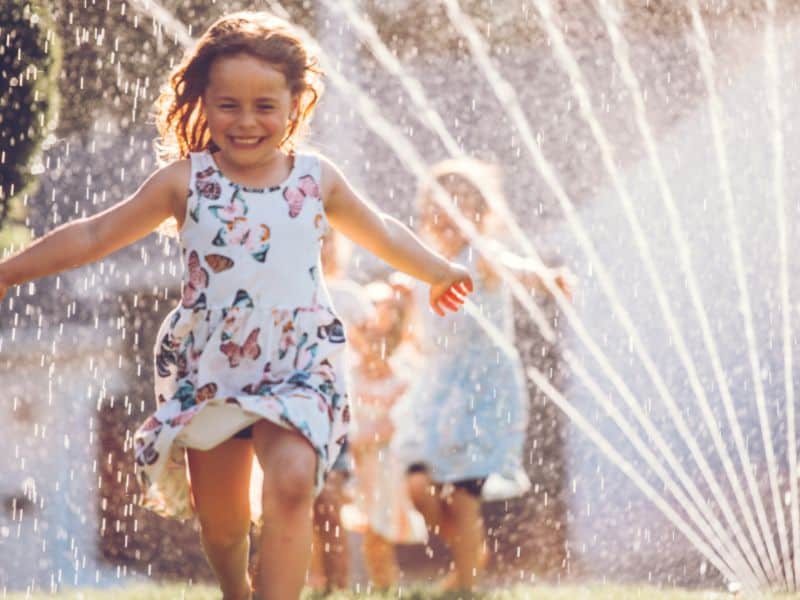 Sprinkler fun
Sometimes it's the simplest things that keeps little ones entertained. Here it's water! Great for summer and definitely one of the coolest activities for a 4 year old birthday party…
Simply switch on your garden sprinkler so the kids can run through it and over it to their hearts content. Remember to tell all the party guests to bring their swimming gear along.
If your budget allows, you could also buy a specific sprinkler for kids to use on the day.

Play with sidewalk chalk
Playing with sidewalk chalk would make a fun and exciting outdoor activity for 4 year old birthday party. It's perfect for summer where kids can get creative in the warm weather. Simply get out the hose to wash it all off when everyone's done – that'll make another fun activity…
Head over to Two Pink Peonies for details.
4 year old birthday party ideas on a budget
A party for kids can turn out to be quite costly but you can still make it memorable without breaking the bank. Try these fun ideas and activities for your 4 year olds birthday party if your budget is tight.
Dance Party
4 year olds love to dance and tend not to care whether they're any good. Create a playlist for the kids compiling their favorite songs. You could try to get these in advance from the parents.
You can hand out prizes for the best moves, teach them an easy routine and there are plenty of musical games you can play too, like musical statues as mentioned above.
Backyard camping party
Here's a budget birthday party idea for an adventurous 4 year old. Simply, pitch some tents in your backyard and let the kids pile in. That'll probably be all they'll need to keep them entertained. They can also build pretend camp fires with sticks, and play at cooking with some old pots and pans.
Reading books by flashlight and star gazing would also be fun.
Feed your happy campers with hotdogs and roasted marshmallows or s'mores. (For saftey purposes at this age, avoid having an open fire. Instead use a barbeque or cook inside in your kitchen.)
A camping party will work best during winter when it gets dark early, as you don't want to keep your 4 year olds up too late.
Picnic at the park
4 year olds, like most young kids love running in the park, playing on rides with their friends and enjoying the freedom and fresh air. Bring a few of the birthday boy or girls favorite snacks and have a picnic in the park.
Hired entertainment & activities for a 4 year old birthday party
If you're thinking about calling in some outside assistance to keep the little ones entertained, consider one of these 4 year old birthday party entertainment ideas.
Bouncy castle
How do you keep kids busy for hours? Hire a bouncy castle! These are fun outside or indoors in a hired hall. There are so many options these days, from ones with water, to climbing structures, slides and so on. You can normally find one to match your theme too.
The kids can play on it at intervals as they transition to another activity or game. You'll probably need to let it deflate to get anyone interesting in doing anything else!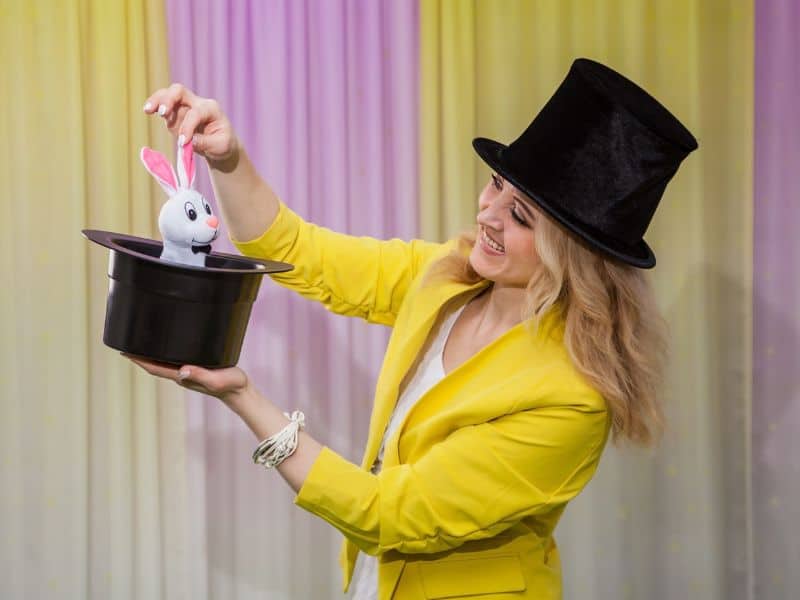 Professional magician
Most kids will be intrigued by the tricks of a magician so you may want to organise one to entertain them on this special day.
Hire a Party Character entertainer
If you're wondering "how can I surprise my child on his birthday?" A great idea is to invite a real-life character from their favorite Disney movie or TV show. It could be Elsa and Anna from Frozen, Captain America, Batman, Mickey Mouse, or one of the Paw Patrol puppies.
The character can do story time, sing songs, dance, take pictures, and sing "happy birthday" for the special boy or girl. This will be the highlight of the day for the birthday girl or boy. You'll be the coolest mom in town, hands down!
Indoor soft play area
4 kids on and I'm a little tired of soft play! However, they really serve their purpose well in the winter months so will make a great venue for your 4 year olds birthday party.
Often, they offer birthday party packages. But you could also arrange your own food and organise the party independently.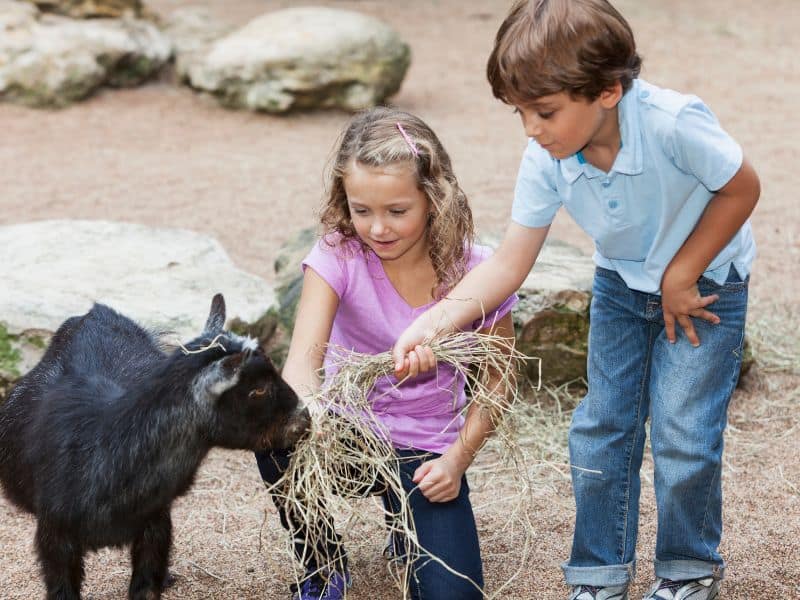 Zoo or farm trip
A fun birthday activity for your 4 year olds party would be a trip to a local zoo or petting farm so they can interact with animals. You'd need a few parent volunteers to help ferry them aall around, but otherwise this would make for a fairly straightforward party.
Sports activity
If your kid is sporty, how about a football, dodgeball or tennis party? Check out your local indoor sports facilities to see what sports parties and events they offer. This'll include a party host to organise and entertain the kids with the chosen sport.
Tips for hosting a 4 year old's birthday party
When it comes to games, emphasize having fun and have a few bars of chocolate, stickers, or small toys on hand to reward kids for participating in the games.
Check for any food allergies with the parents in advance so you can cater accordingly.
When it comes to entertainment at a birthday party remember to have upbeat child-friendly music that kids can dance and sing along to. Compile the list in advance.
Have a couple of party favors or goodie bags to give to your little guests in line with your theme if you have one. And of course, all kids must take a balloon home!
Which of these fun activities for 4 year old birthday party will you choose?
Any of these ideas and activities for a 4 year old birthday party will make your little one's big day special and memorable. Just do you party planning and don't overcomplicate and everyone is sure to have fun. You've got this!
________________________________________________
For more fun festive activities for the spooky season, try: