Just a year ago back in Botswana (sob), at "school with Mommy", I had great fun doing some Mothers Day crafts with my toddler and preschooler, along with some little friends of theirs. Now we're back in the UK, they're at preschool/school and, despite missing the African sunshine as well as being involved in the starting blocks of their education, I'm loving just being Mom. That's still a big job!
Of course, this means the kids will be doing Mothers Day crafts with their Dad. Haha, that'll be the day! But maybe there are other Dads around that are a little more willing and able to spend the time crafting with their toddlers than my other half.
Anyway, I'm sure school has Mothers Day covered; I'm hoping this looooong list of cute and easy Mothers Day crafts for toddlers will appeal to teachers and other caregivers.
So here you'll find Mothers Day crafts aplenty. From heart arts and crafts and handprints galore, cute Mothers Day cards and homemade gift ideas there should be something fitting to make with toddlers and preschoolers.
Of course, Mothers Day is a time to appreciate Grandma too (or Granny as we like to call her in our house). So Mothers Day crafts for grandma for toddlers to make are included.
I have gathered some easy Mother's Day Crafts for toddlers as well as DIY Mother's Day Gifts that are perfect for moms who deserve a little extra love and appreciation this Mother's Day.
Cute Mothers Day HEART Arts 'N' Crafts
What better way to show your love for someone than making them something heart shaped? Heart-themed crafts should definitely not be reserved just for Valentines day; they are a perfect Mothers Day craft for toddlers too. Grandma is sure to love a heart craft aswell so all of these are worth a look.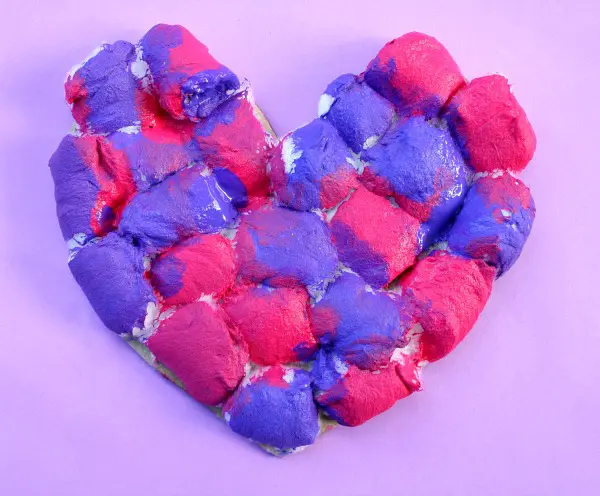 Using cardboard or cardstock paper, cotton balls, scissors, and some glue your toddlers will enjoy making a puffy heart craft to give to mom or Grandma on Mothers Day.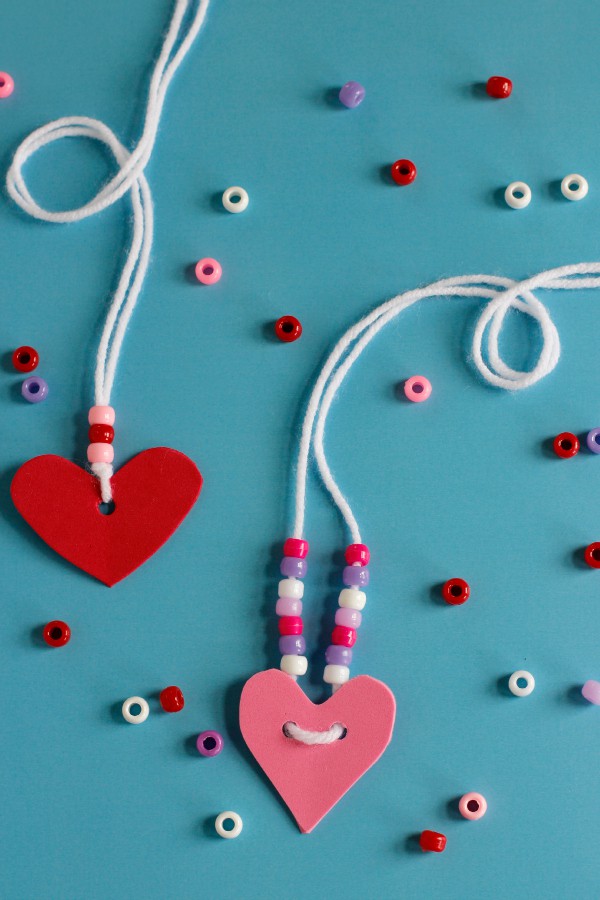 All kids love seeing their mom wear something they have made for them. With this easy DIY heart necklace, mom can have a new piece of homemade jewelry to wear on Mother's Day.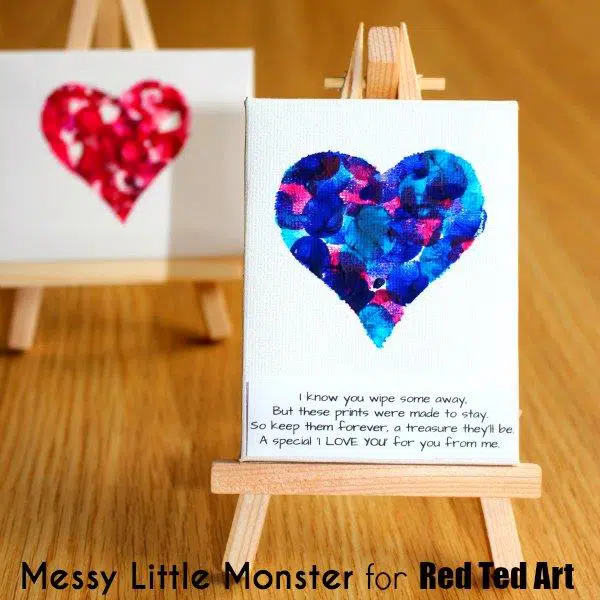 Moms and Grandmas are sure to love this memorable and permanent heart craft – I'd be over the moon if I received this from my toddler or preschooler on Mothers Day. What's more, the way it's created means it's easy enough for the littlest toddlers – it's the ideal Mothers Day craft for 2-year-olds.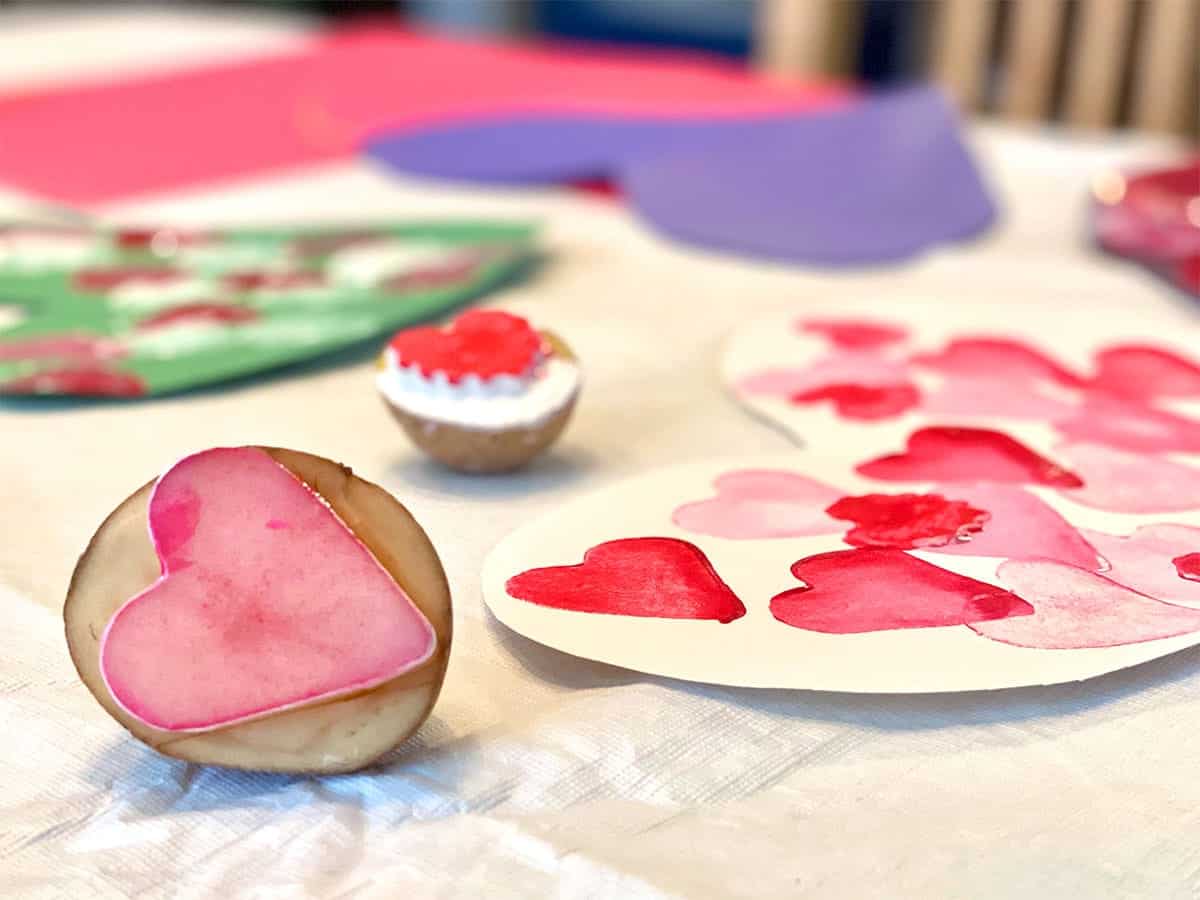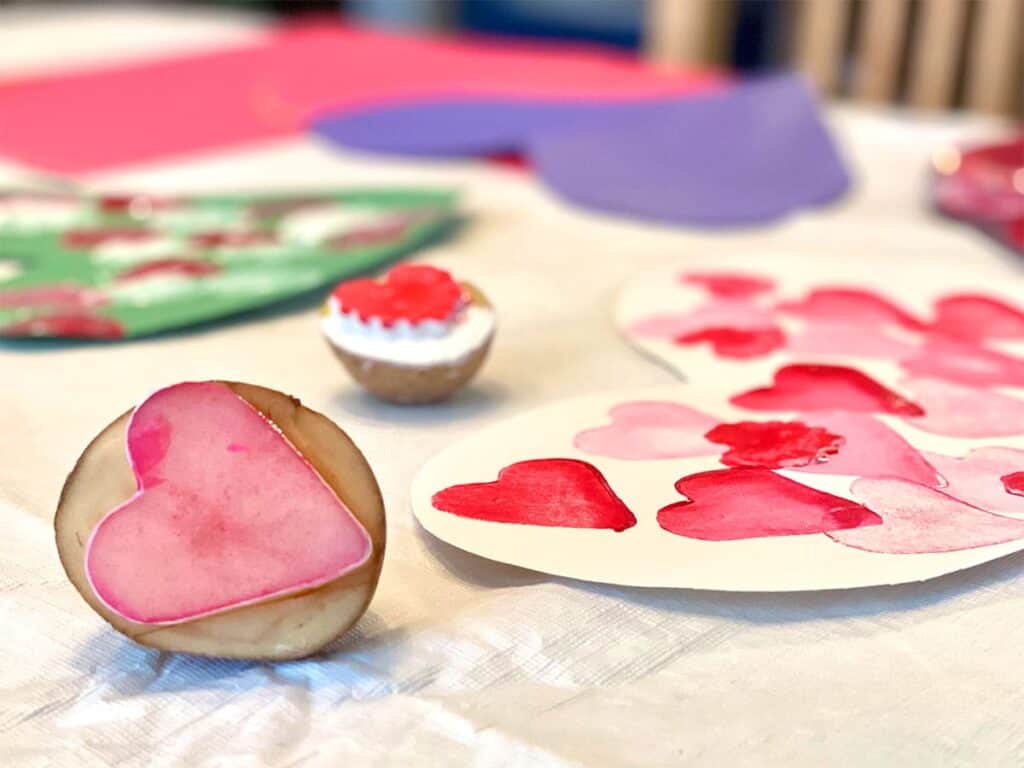 Some pretty red hearts made with potato stamps would look lovely on the front of a homemade card for Grandma or Mom on Mothers Day or simply as a picture for Mom to stick up somewhere.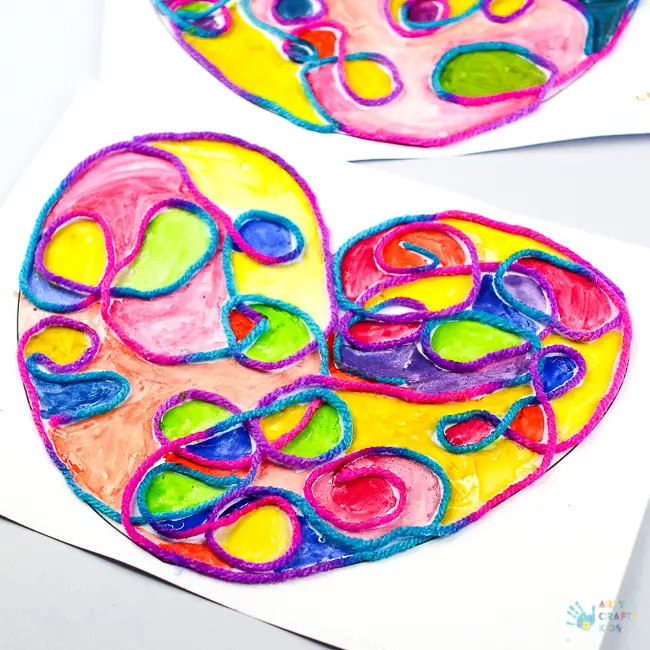 This heart craft is a great way to help your toddler or preschooler work on their fine motor skills as they practice painting different colors in the shapes made by the yarn.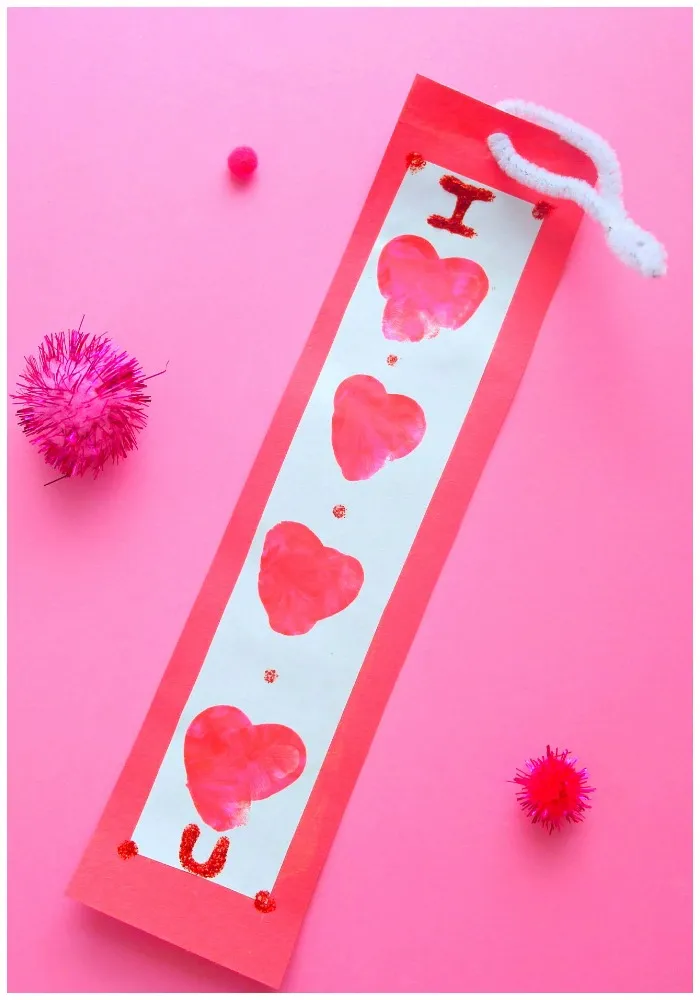 This heart bookmark, made with the thumbprint of your toddler, will make the perfect DIY Mothers Day gift from toddlers whose moms or Grandmas love to read.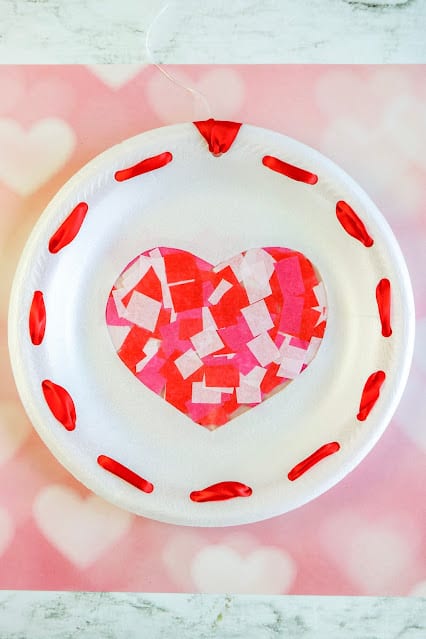 A paper plate, some tissue paper and contact adhesive are the main ingredients to this cute heart and easy Mothers Day Craft for toddlers to make. It'll look so pretty hanging in the window of moms or grandma's kitchen.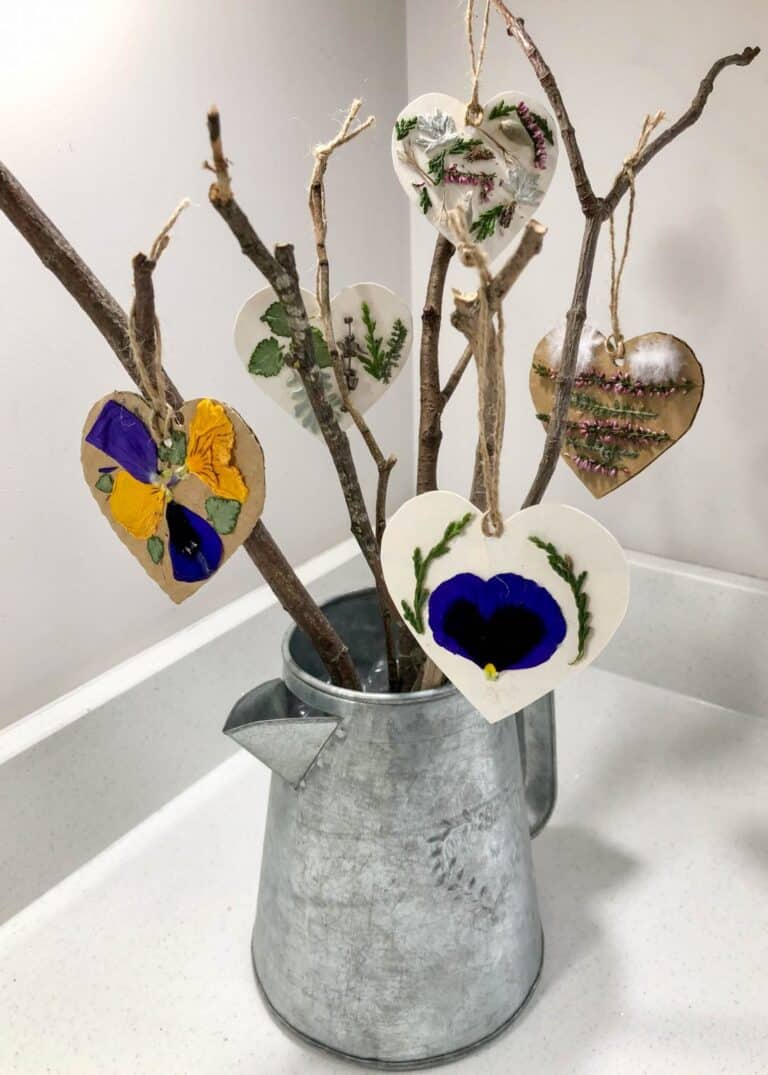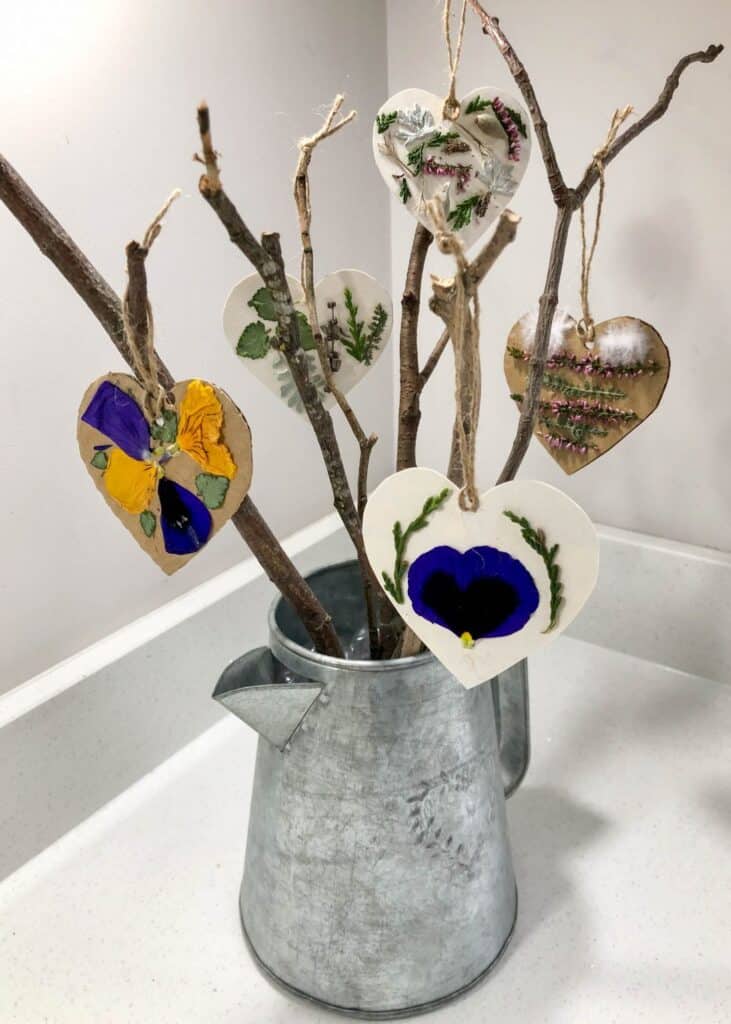 A heart-shaped nature-inspired Mothers Day craft for toddlers to make; simply glue pretty petals and leaves onto heart-shaped cardboard and hang with twine.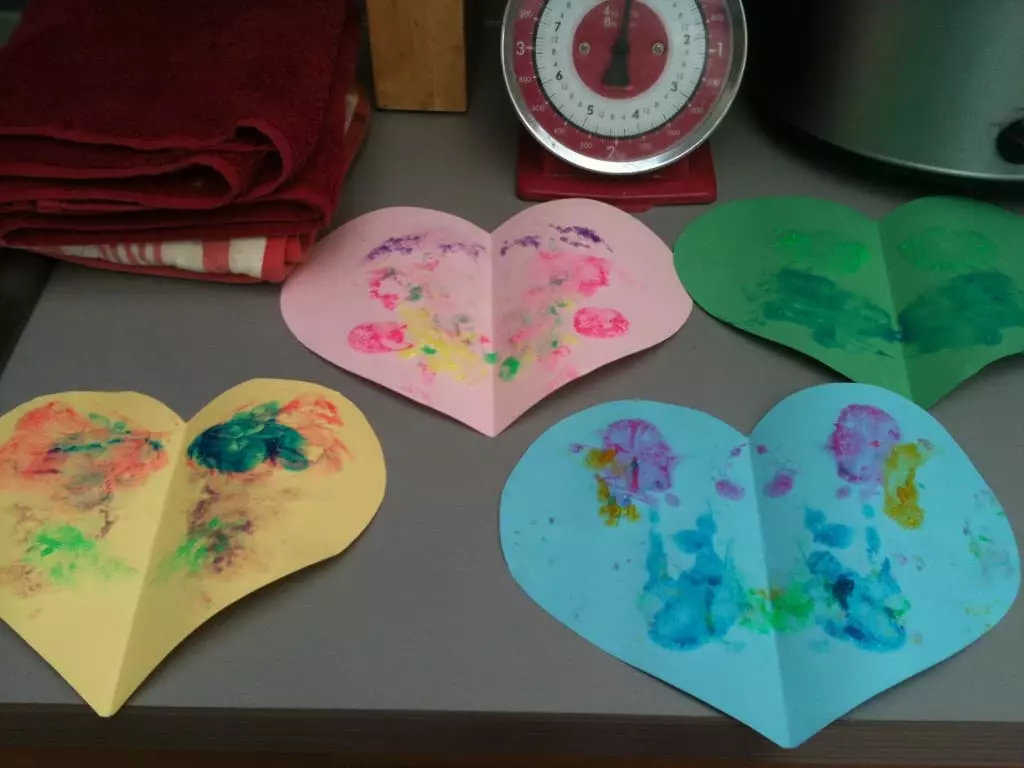 This easy heart craft is based on an old classic. Simply drop blobs of paint onto some construction paper, fold in two, squeeze and unfold. I remember it well from when I was a kid and used to love experimenting with different colors and making different patterns. I did this with my toddler and preschooler last year to make some pretty butterflies – they loved it just as much as me, to my delight. If you limit the colors available, even a small toddler can come up with something really pretty almost entirely unaided – an easy Mothers Day craft for toddlers or preschoolers that is cute too.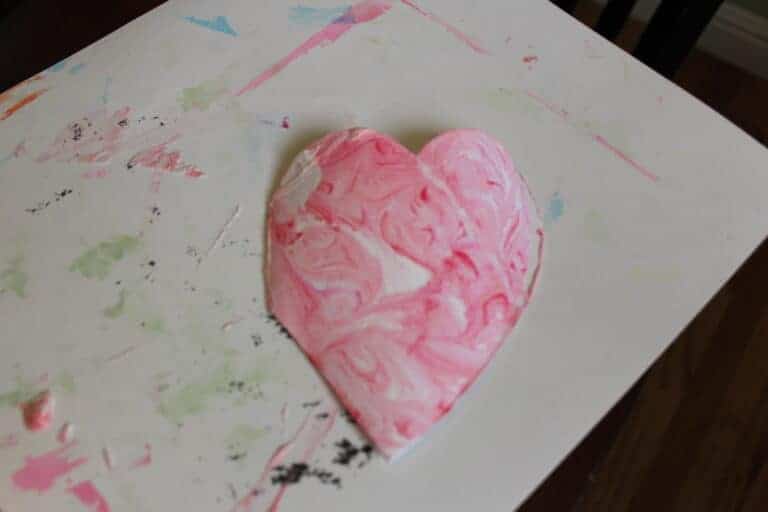 Unlike #9, I don't remember shaving cream art from my childhood but it's certainly becoming a classic of the 21st century! Beware though, it can get horribly messy with toddlers if you're not careful – I found out the hard way… The key is not to leave your toddler unattended with a bucket full of shaving cream. Should have known that, shouldn't I?! So as long as you don't get distracted, I'm sure you'll have better luck than me and have a lovely-looking pink squiggled heart for your toddler to give to mom or grandma on Mothers Day.
Toddler HANDPRINT crafts & art for Mothers Day
There's no better keepsake than a handprint craft and moms and grandmas just love them – they make the perfect Mothers Day craft for toddlers and preschoolers. You'll also find plenty of other handprint crafts scattered throughout this list of easy Mothers Day crafts for toddlers, especially in the salt dough craft section and in the one for homemade gifts kids can make.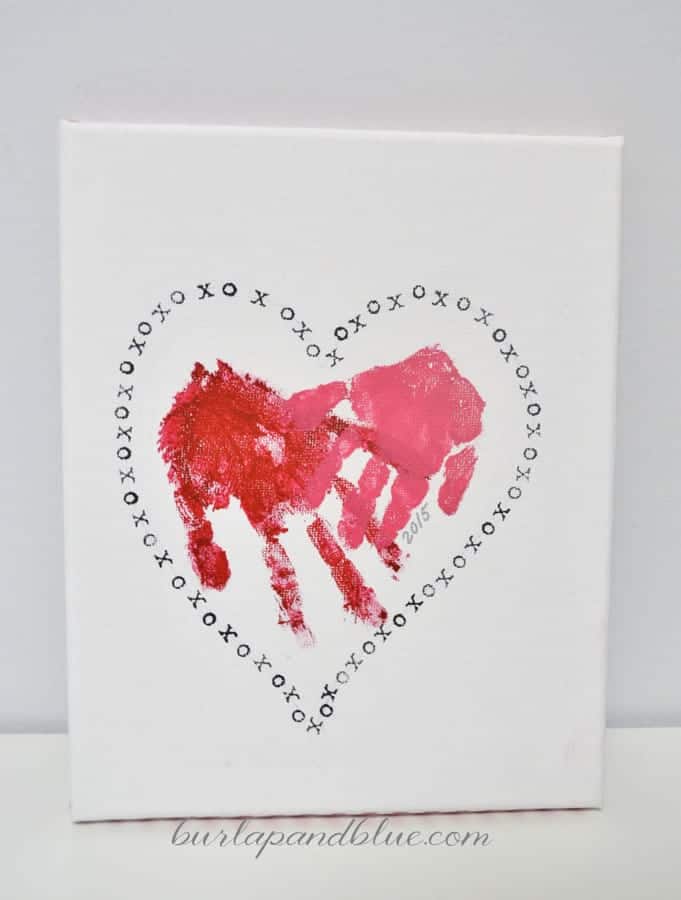 Paint your toddler's hand pink or red with a brush dipped in baby-safe paint. Place the hand on top of a white canvas and press down. You can add text like "I love you" with a black marker or simply leave it blank; such a cute heart handprint idea for Mothers Day. Toddlers and preschoolers will be so proud of their creation and mothers are sure to adore this homemade Mothers Day gift from their child and treasure it forever.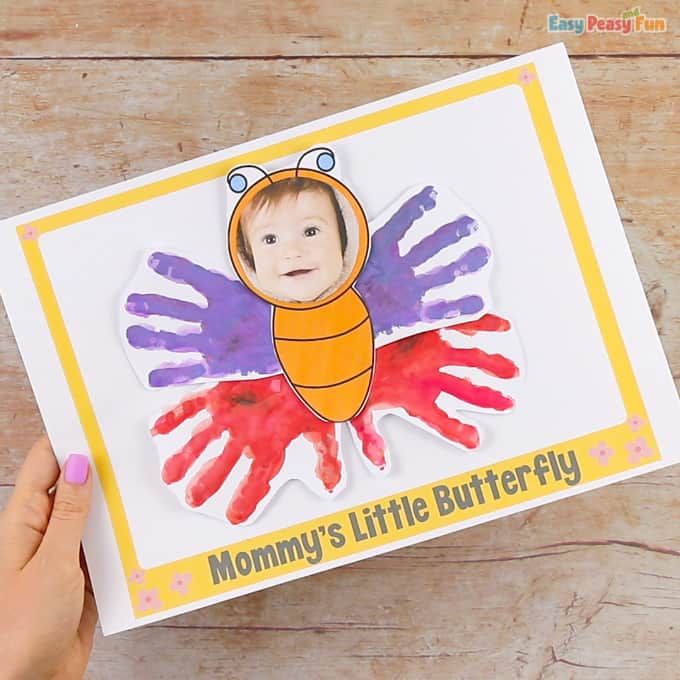 This is a super cute handprint craft that turns your toddler into a butterfly! Thanks to the free template it's easy too. You can even let your little artist add glitter to their wings for a bit of sparkle! Mom or Grandma will love seeing their children's personalities shine through their artwork.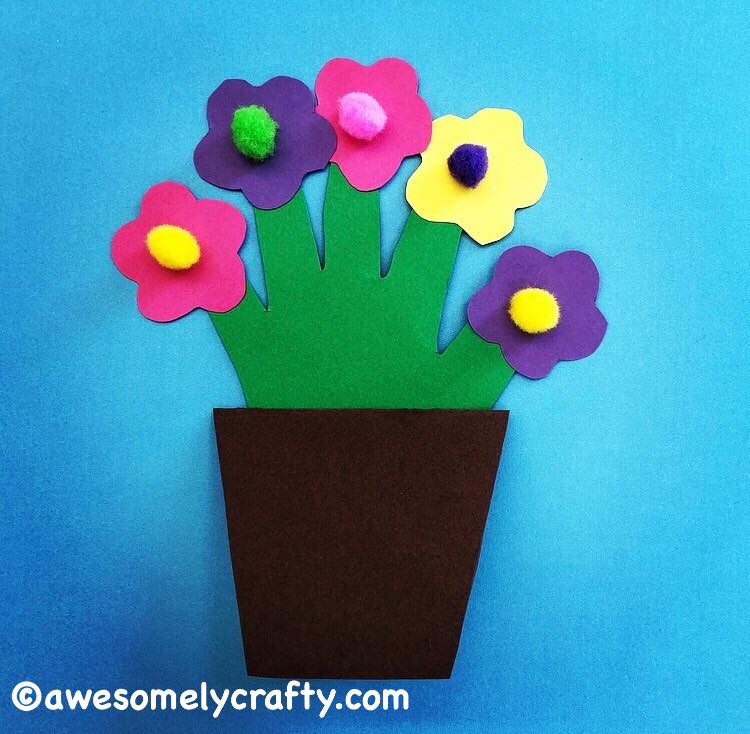 I love this floral Mothers Day Craft idea for preschoolers and toddlers to make, which cleverly transforms their handprint into the stems of a flower. All you need is construction paper, pompoms and a trace of their handprint! A homemade bunch of flowers for Mothers Day that will stay in bloom for many years to come.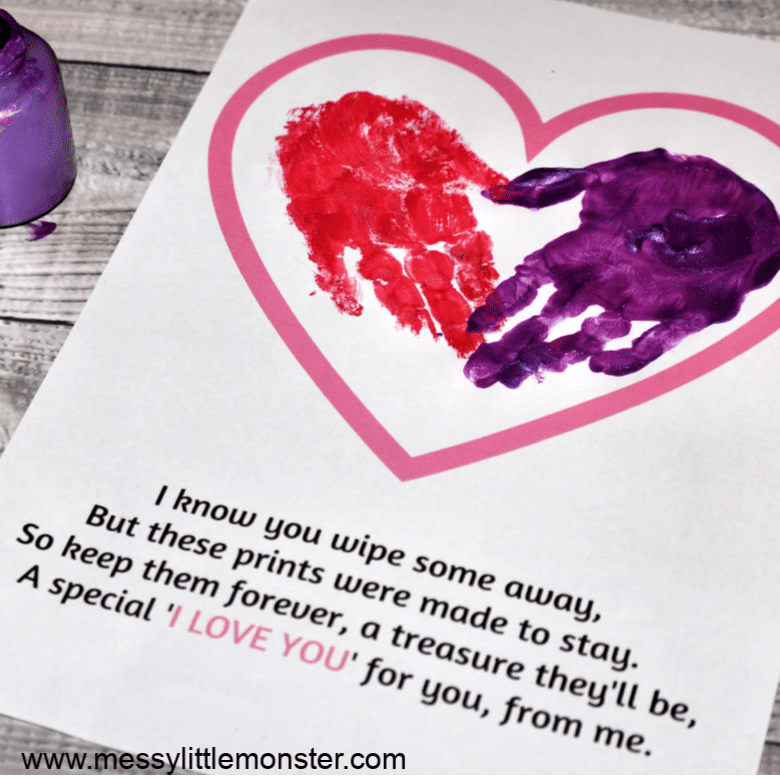 Another easy Mothers Day craft for toddlers that combines hearts and handprints, similar to the one on canvas. The benefit of this one is that if you make a mistake and smudge one of the handprints (highly likely with a toddler or preschooler!), you can simply print off another one and start again.
SALT DOUGH Mothers Day crafts to make with toddlers
Playing with playdough is a great sensory activity for toddlers: it fosters their imagination and endless curiosity while working their hand and finger muscles. It's calming too. So there are plenty of reasons to get out the playdough. It's no different with salt dough, which is simply a more permanent version, as it dries hard and can then last for years if you take care of it (by painting, varnishing or simply avoiding any contact with water or damp).
The other day I found some salt dough Christmas decorations that my little brother made many moons ago when he was at preschool! I just hope our salt dough Christmas tree decorations, last as long as we had such fun making them and they turned out really well.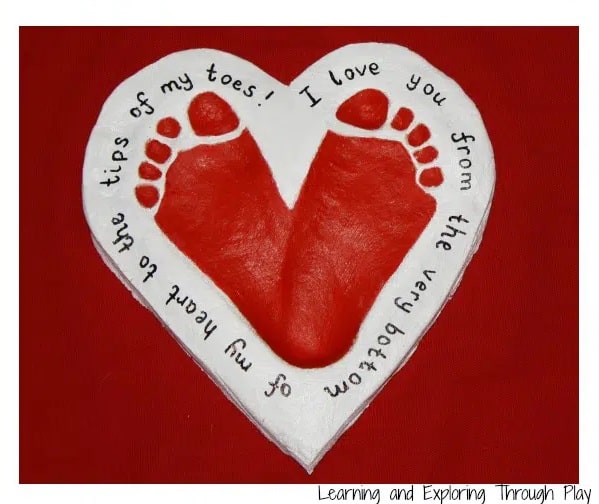 This might have to be my favorite toddler Mothers Day crafts of all – 2 little footprints and that beautiful message. I know I won't be the only mom who'll simply adore it.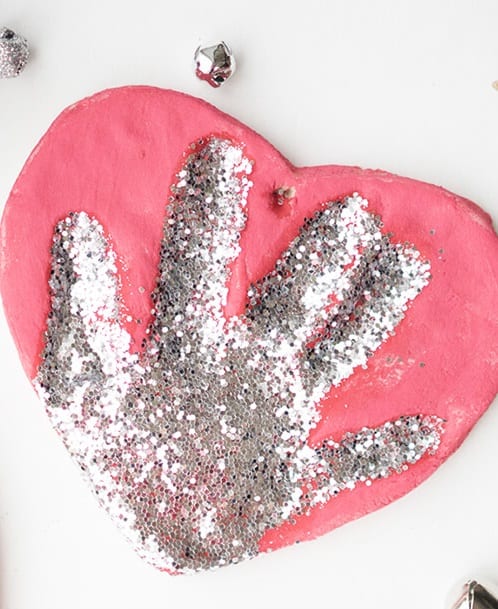 This Mother's Day salt dough craft is also adorable, isn't it? Both big and young kids will love to give this to their mom or grandma to show them their love.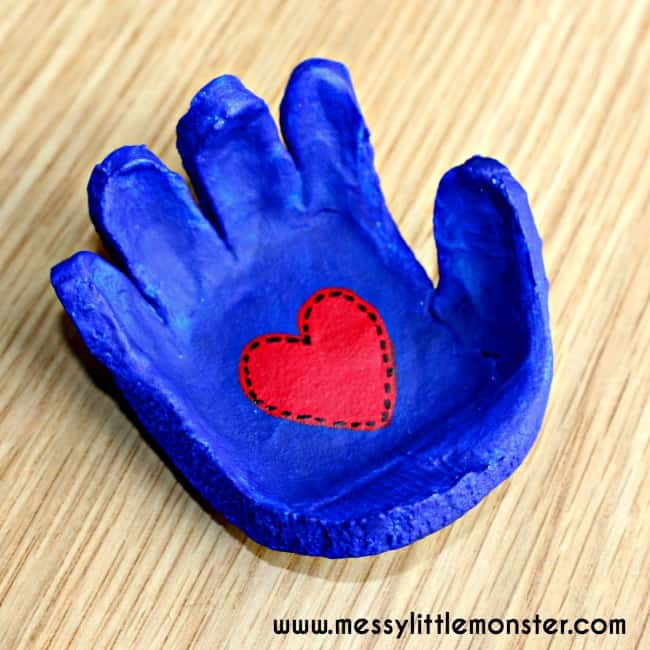 Not just a pretty salt dough craft, this one has a purpose too – a bowl perfect for rings or keys. Mom or Grandma will love this useful DIY Mothers Day gift from their toddler – it's just too sweet.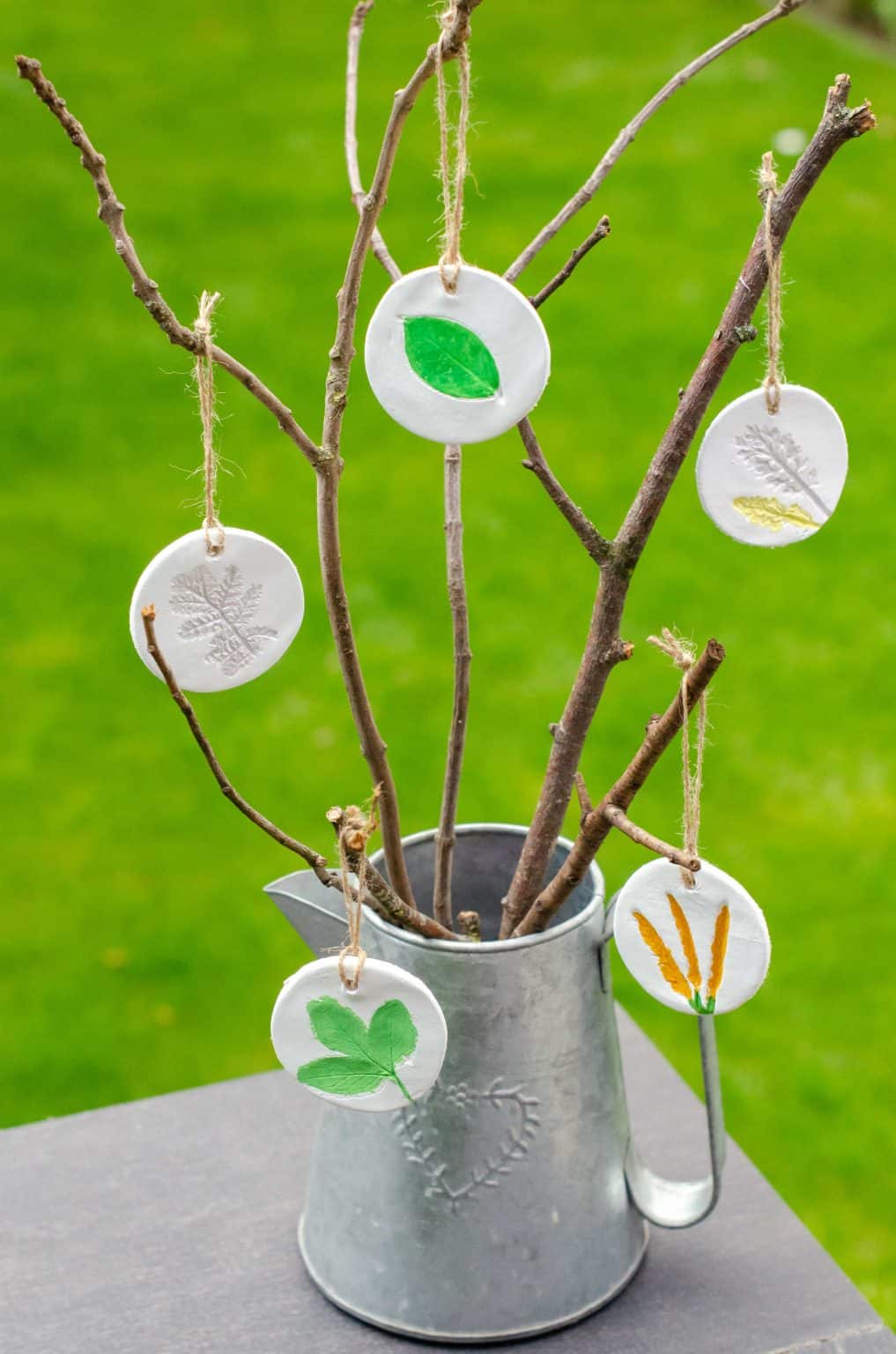 These nature-printed salt-dough decorations are delightful and a perfect Mothers Day craft for toddlers and moms that love the great outdoors. Toddlers will have fun picking their favorite leaves and flours from the garden or picking ones they know their mom loves.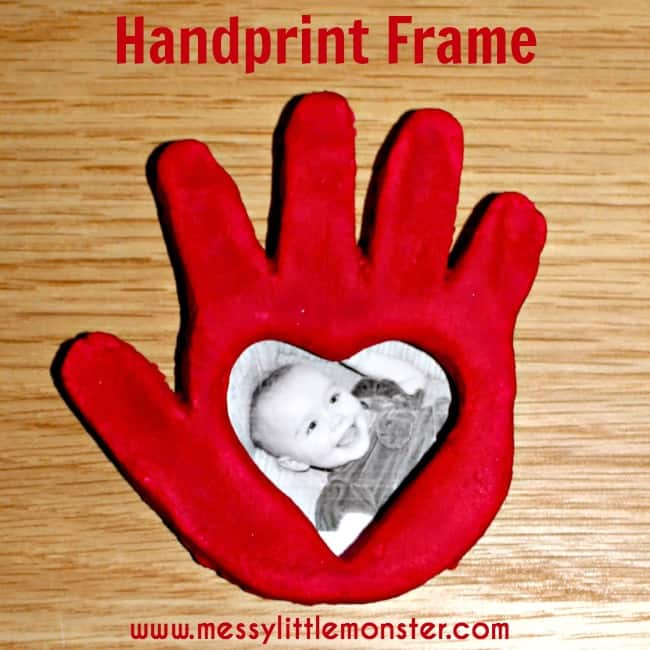 A salt dough craft for Mothers Day that's also a frame. Simply place two heart handprints made out of salt dough together, put a favorite photo in between before gluing shut. This lovely personalized decoration is sure to please mom.
FREE PRINTABLE Mothers Day crafts for toddlers
A free Mothers Day printable can make it that little bit easier to make something for mom with a toddler. Lots of these ones have lovely messages that mom is sure to love and, when you don't have that many artistic skills or are lacking in time, these are the way to go! Check out a few of my favorites.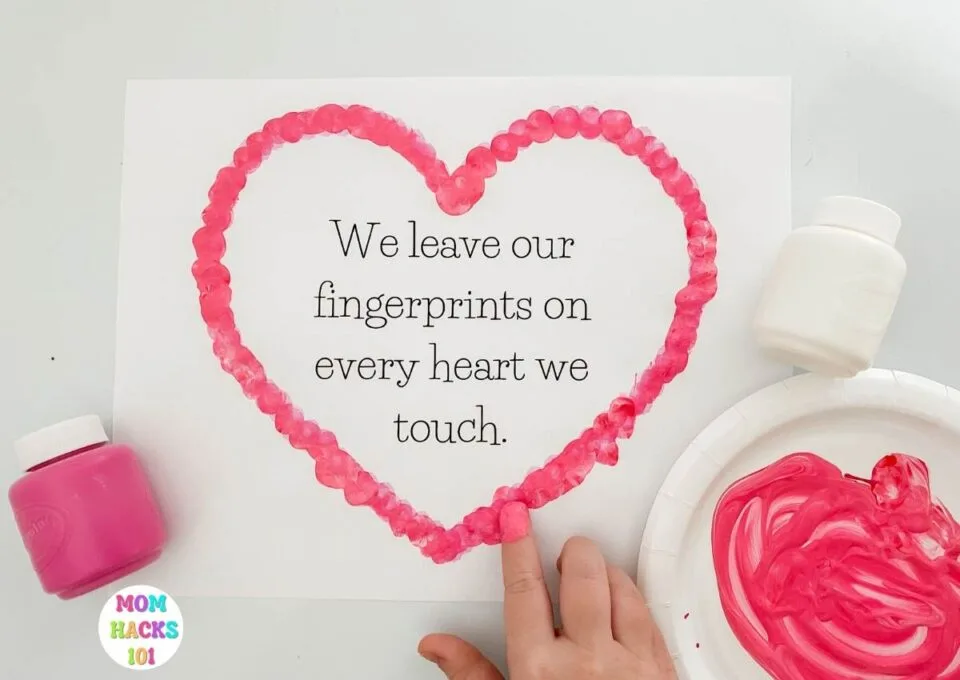 I can see most toddlers unable to put their fingerprints anywhere but all over that paper, but as long as those prints are from their own little one, which mom is going to mind? I'm sure Grandma would love this one too.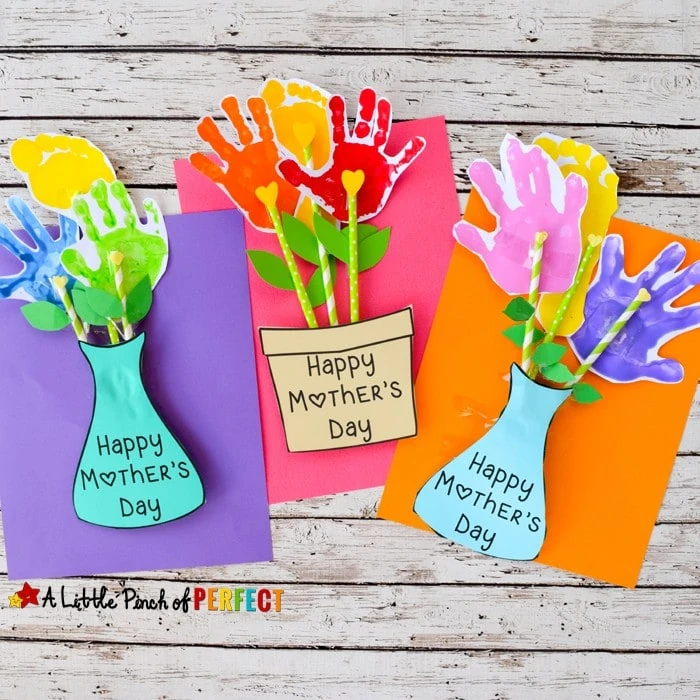 A few cleanish handprints from your toddler become flowers in this lovely colorful and easy Mothers Day craft.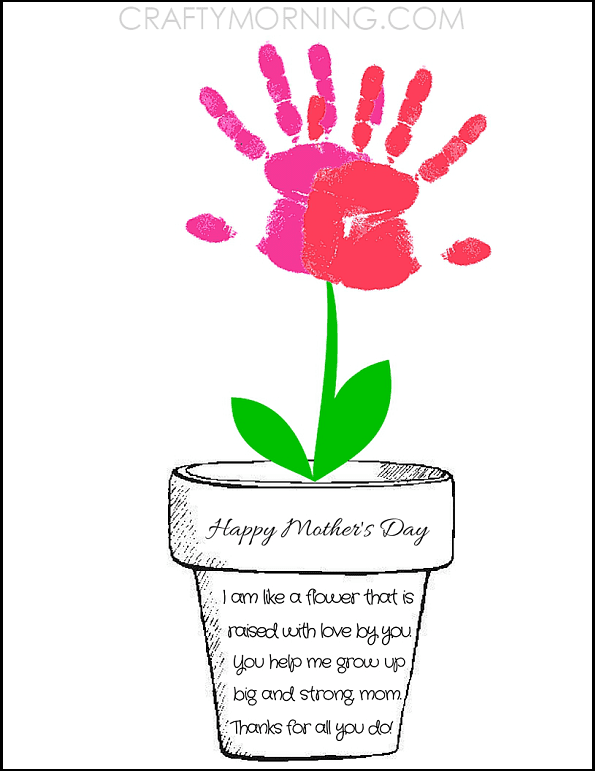 This cute poem about mom is sure to pull on her heartstrings. Adding a handprint for the flower turns it into an unforgettable keepsake.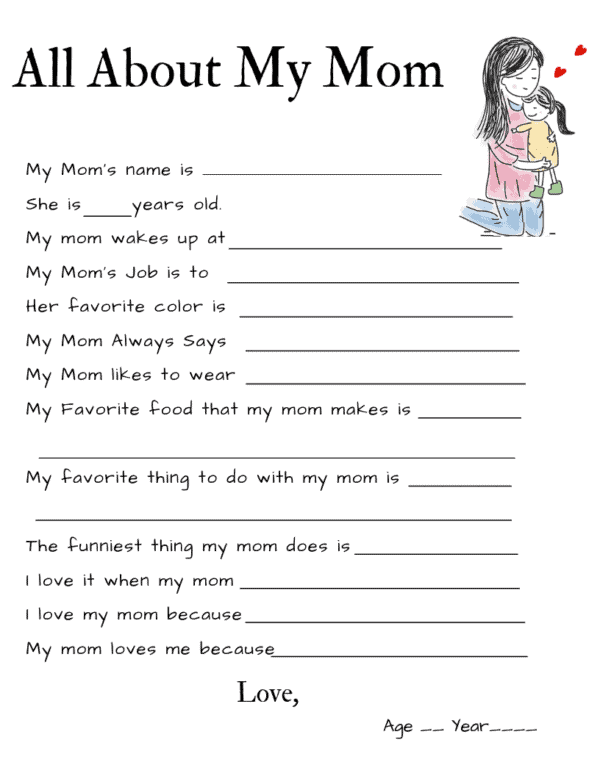 I love these types of toddler activities. The answers can be hilarious as well as a bit of an eye-opener! It's lovely to have these to look back on each year and see how their answers change.
Easy homemade Mothers Day CARD IDEAS & cute artwork
Homemade cards are a great idea to show people how much you care so moms will love receiving one from their toddler on Monthers Day. Toddlers can draw their own pictures on a blank card or decorate one with stickers and other fun embellishments. To make a homemade Mother's Day card the following supplies will be useful – you've probably already got them at home if you regularly craft with your toddler.
construction paper, card
glue sticks
coloring pencils
crayons or sharpies
stickers
washi tape
rhinestone stickers
googly eyes
glitter
pipe cleaners
kids paint & brushes
Here are some homemade mothers day card ideas suitable for toddlers if you're looking for inspiration. Equally, they'd look great just as pictures.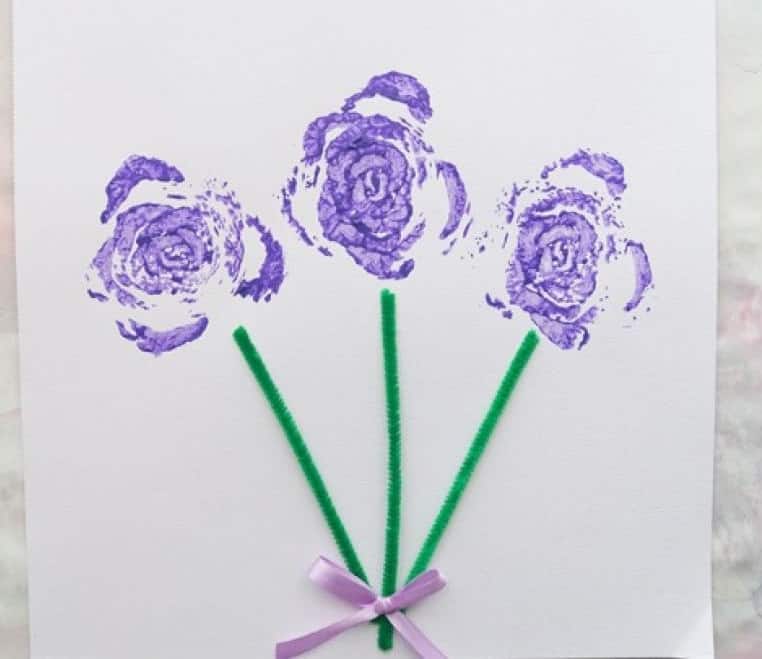 Yup, those flowers are hand printed with celery sticks! What a clever idea and so effective. I can imagine my toddler and preschooler may need a little help to get roses as pretty as those in the picture above but they're definitely worth a try.
In this homemade Mothers Day card, your toddler can really take the lead and practice their scissor skills with these simple paper flowers. A properly easy Mothers Day craft for toddlers.
Toddlers are going to love seeing cupcake liners transform into turtles with the addition of feet and a head, what a genius idea! They're sure to enjoy give their finished card to mom on Mothers Day.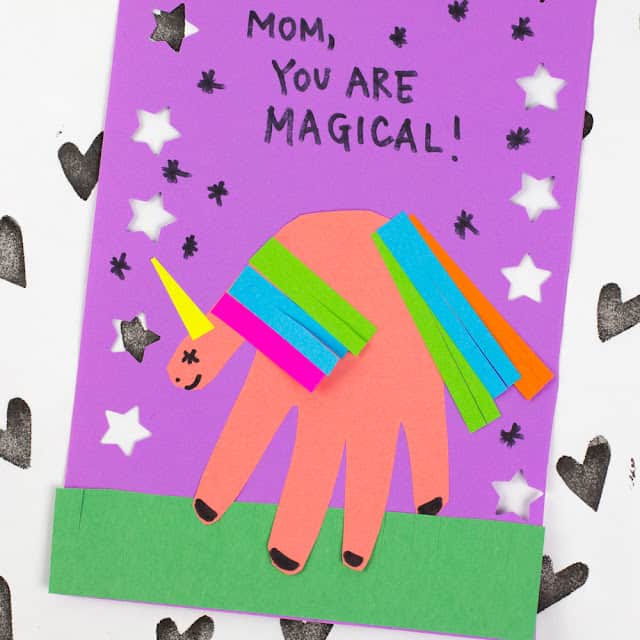 It's all about the unicorn these days, isn't it? Though I hear llamas might out-stage them soon, watch out! Well, I think unicorns will still be loved by little kids for a while yet and what they love, their moms love… mostly, anyway.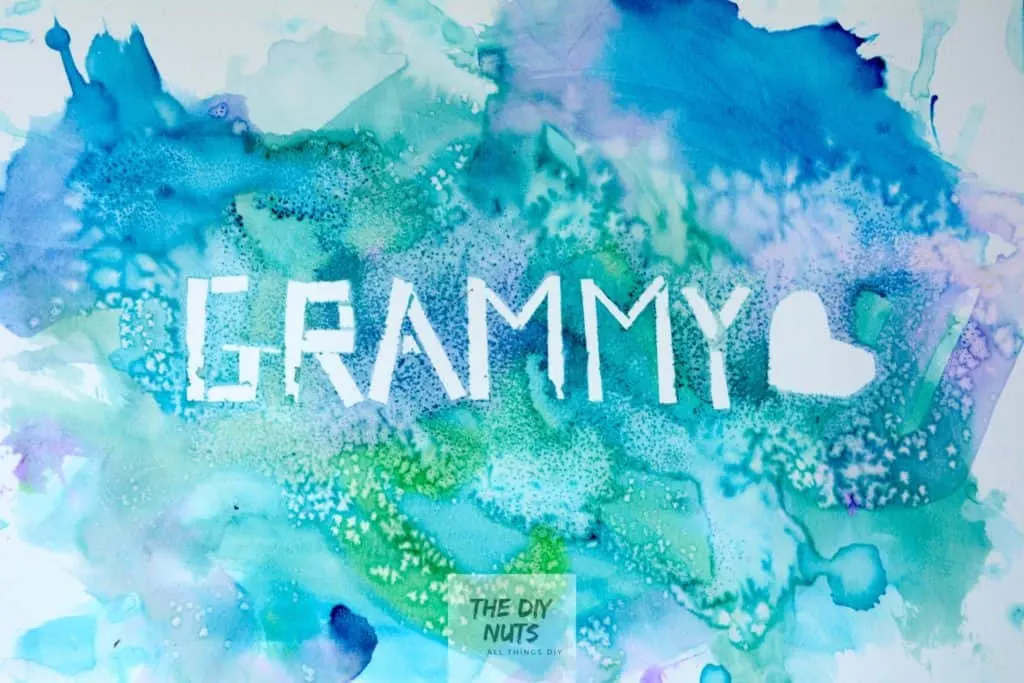 #28 Mothers Day Tape Resist Craft for toddlers to make
Mom or grandma will love these pretty watercolor splodges – make sure you limi the color selection to ensure no mucky browns appear! To simplify further, you could skip the letters and just do a heart or two.
Homemade Mothers Day CARDS WITH FREE TEMPLATES
If you want to make a DIY Mothers Day card with your toddler with a little less scribble and a little more structure, why not try these ones with free templates.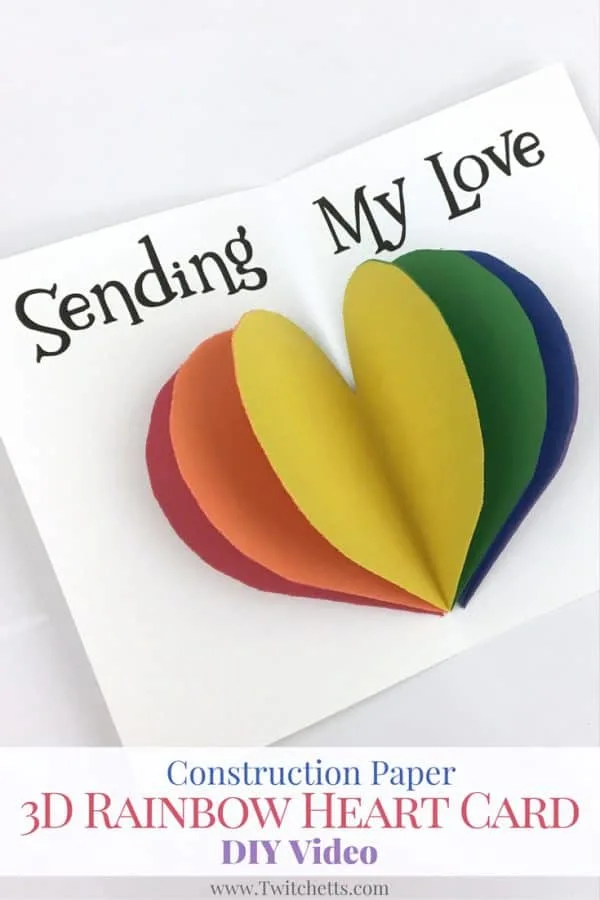 Let your toddler help make an easy bright fun rainbow heart card. Requiring very little supplies and time you'll have a super-cute and heart-shaped card to give to Mom on Mother's Day.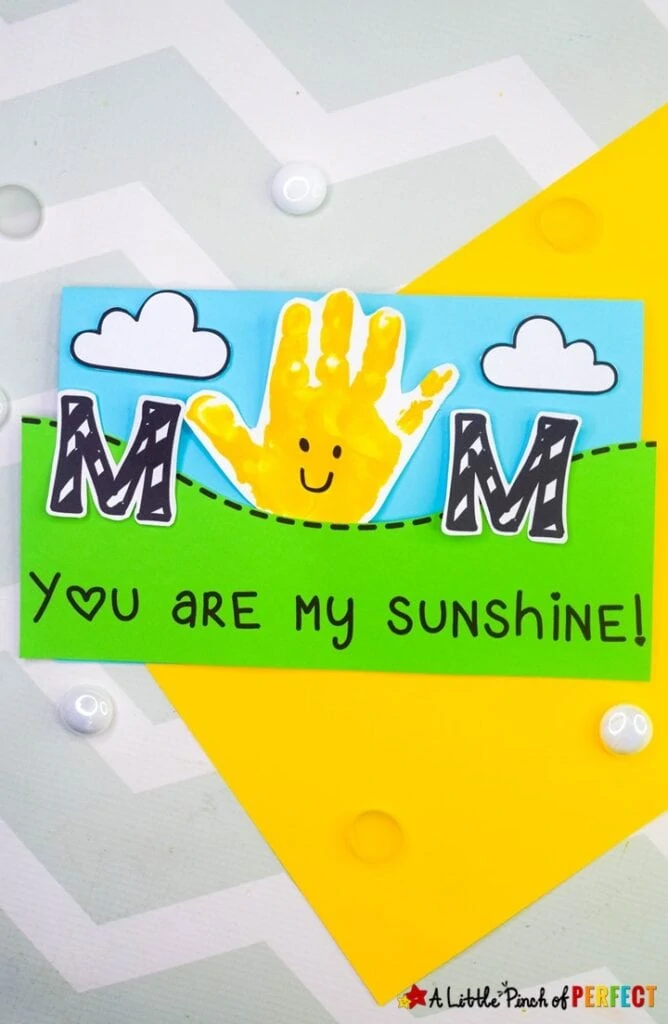 Moms are sure to love this card on Mother's Day. It's easy and fun and will appeal to kids of all ages. Simply print the template, follow the step-by-step directions, and deliver to Mom.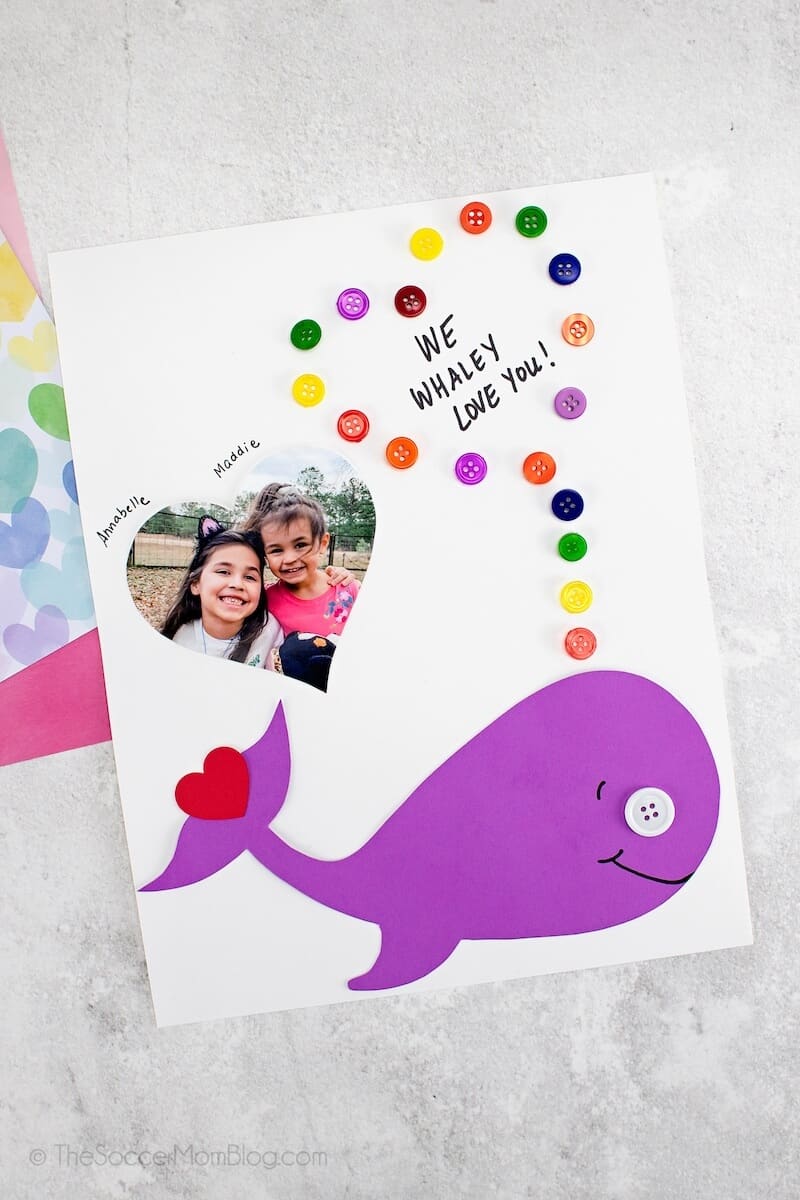 Even without the photo, this whale card is just lovely. I can see my toddler and preschooler love helping to stick all those buttons on.

Another fun way to hear what toddlers really think about their mom with this homemade flower Mothers Day card.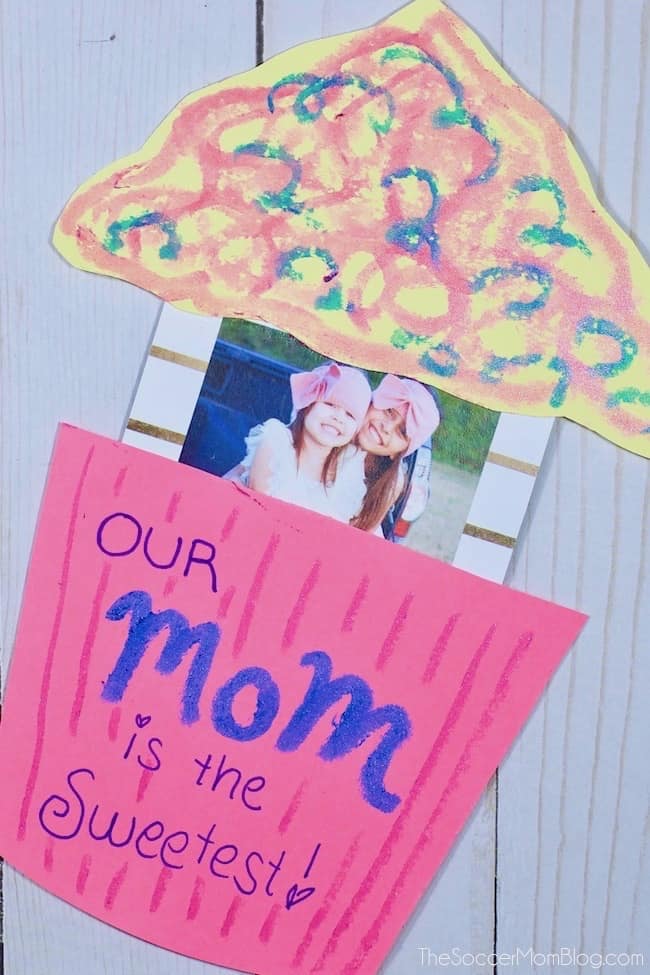 In this clever Mothers Day craft, the photo is hidden until popped up from under the cupcake frosting!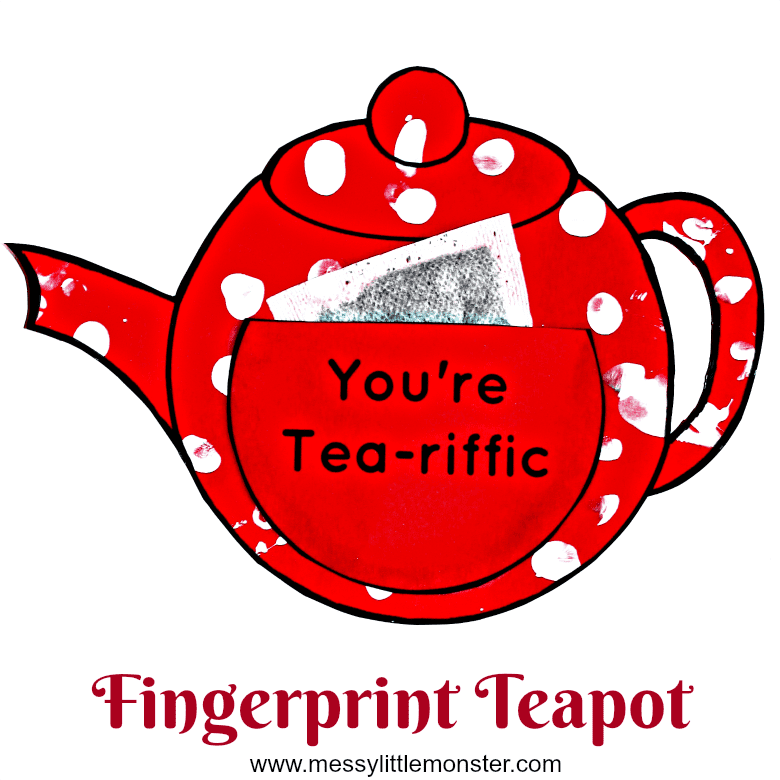 A fun and simple Mothers Day card that almost counts as a gift, with the promise of a cup of tea. Of course, the real joy for mom will be drinking a full cup hot. If she can't get to do that on Mothers Day, then when can she?!
Mothers Day COLORING CARDS & PAGES with free printables
Want to make things ultra simple when it comes to making a Mother's Day card? (Sure you do!) There are plenty of coloring cards and pages here for Mothers Day making it super easy for you and your toddler, so just grab a free template and get started.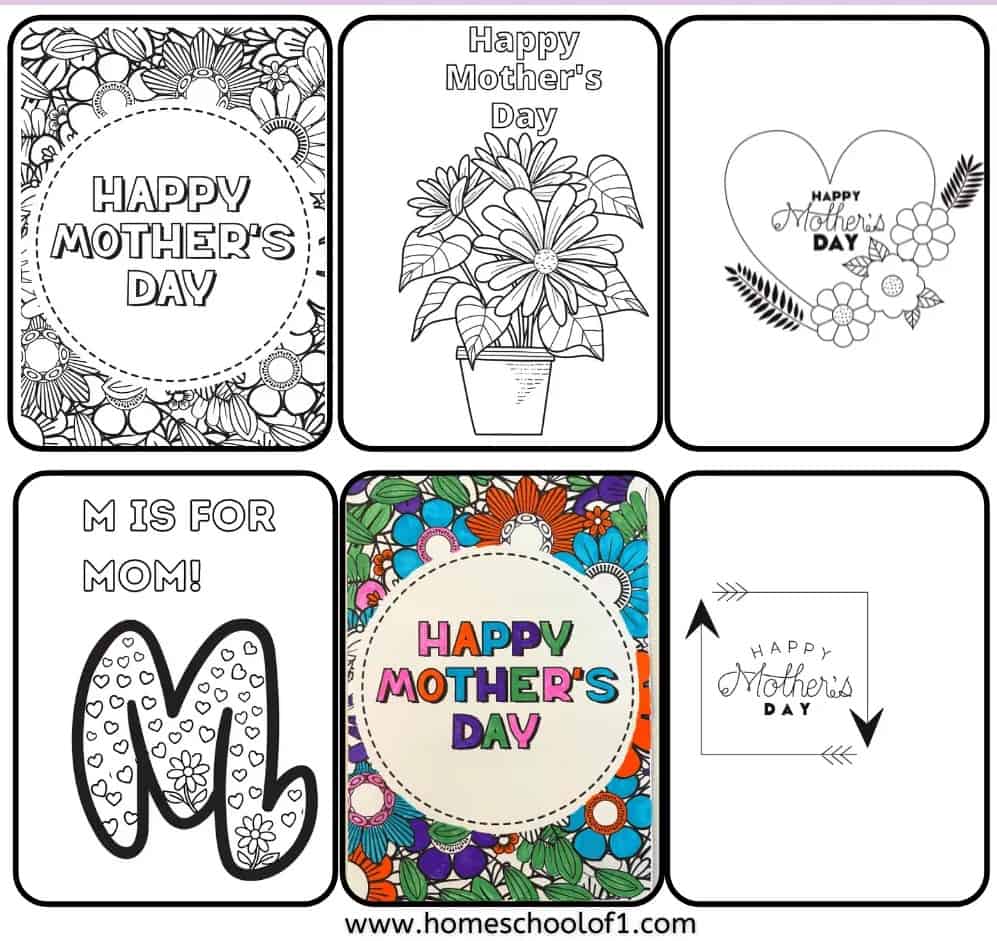 There are a few different choices of Mothers Day cards here – The "M is for Mom" card will be perfect for older toddlers beginning on letter and sound recognition.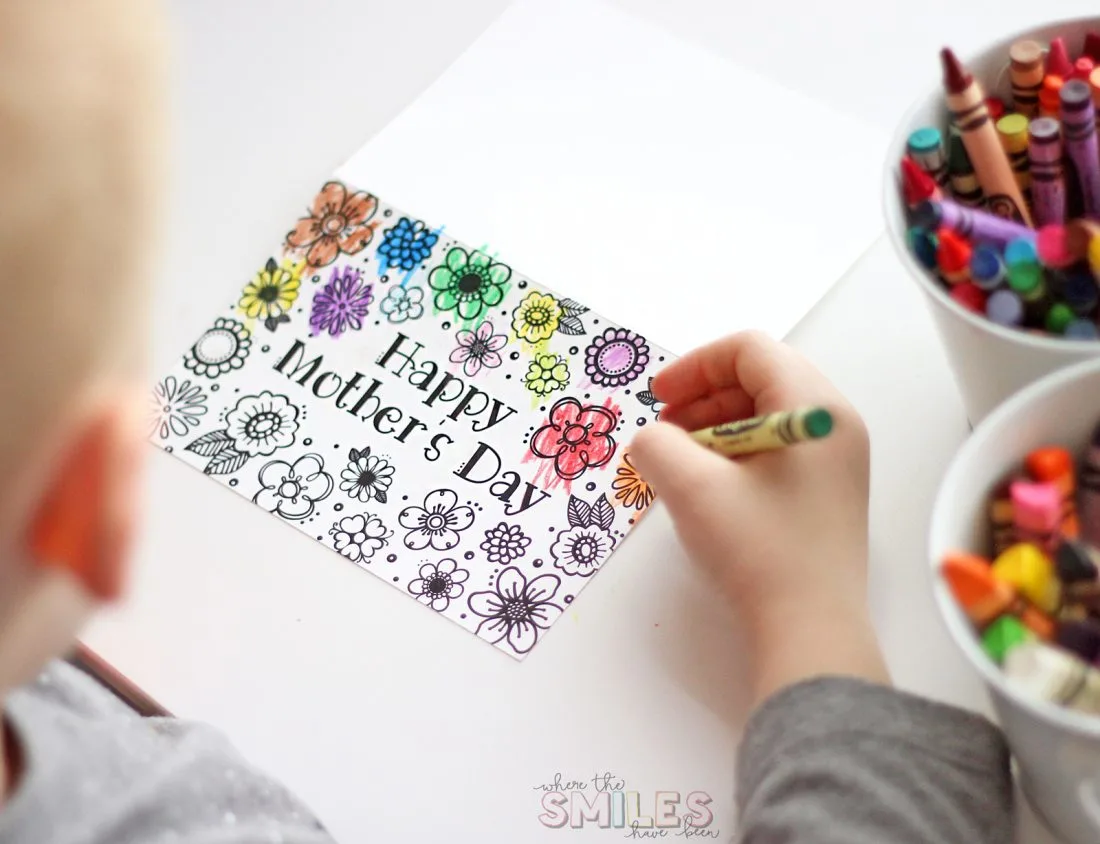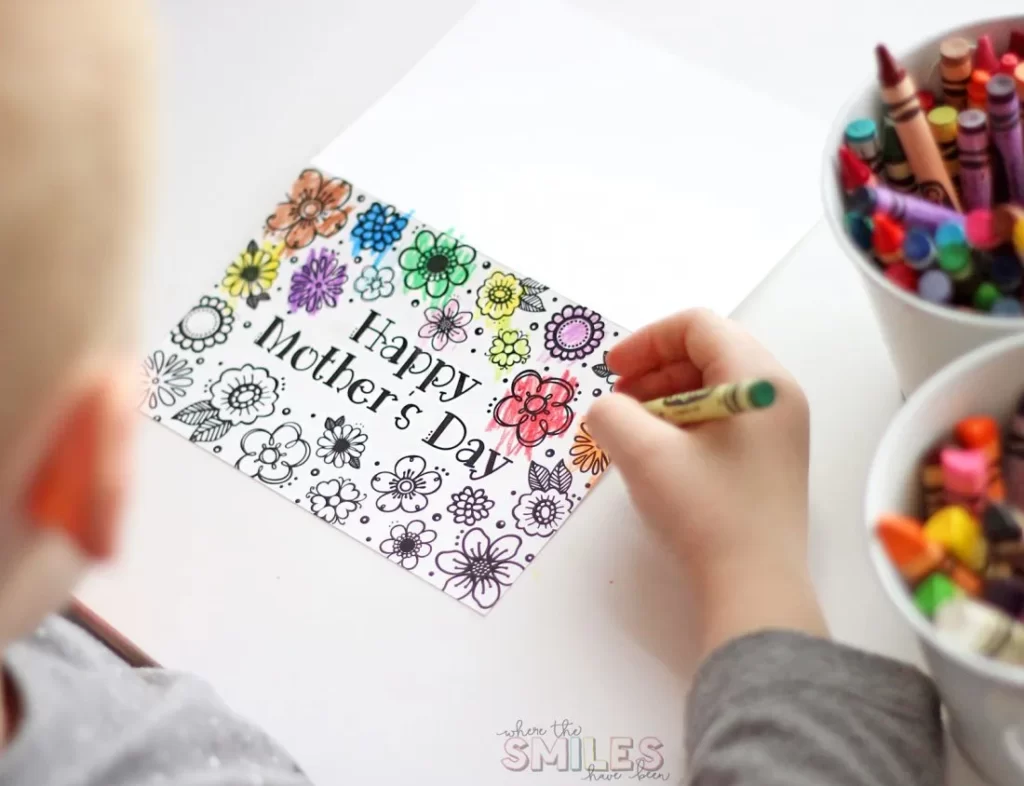 A simple coloring-in activity for young and older kids alike.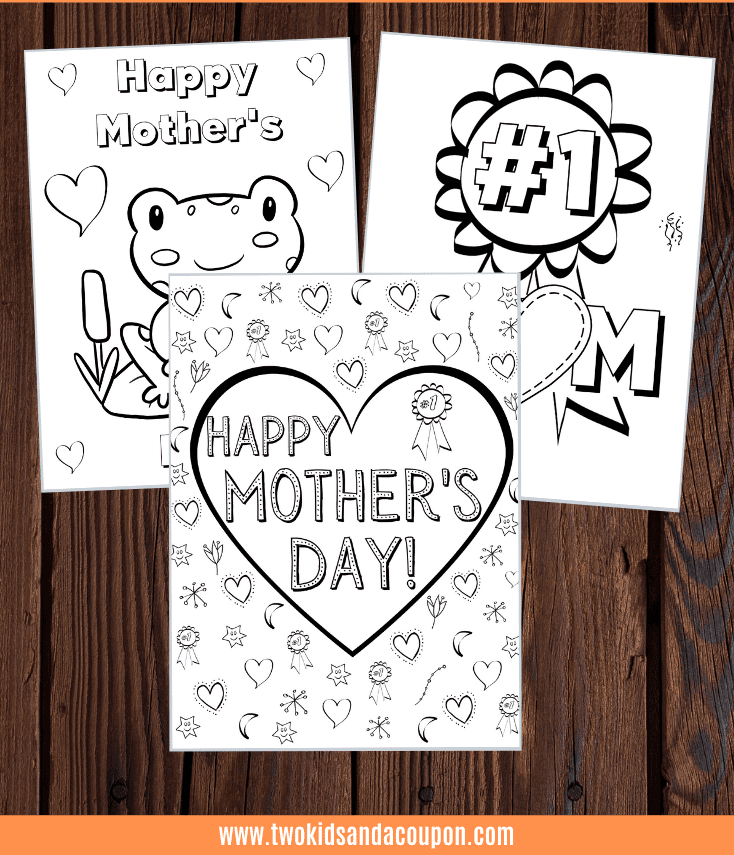 More coloring in for toddlers with a choice of three different Mothers Day pages.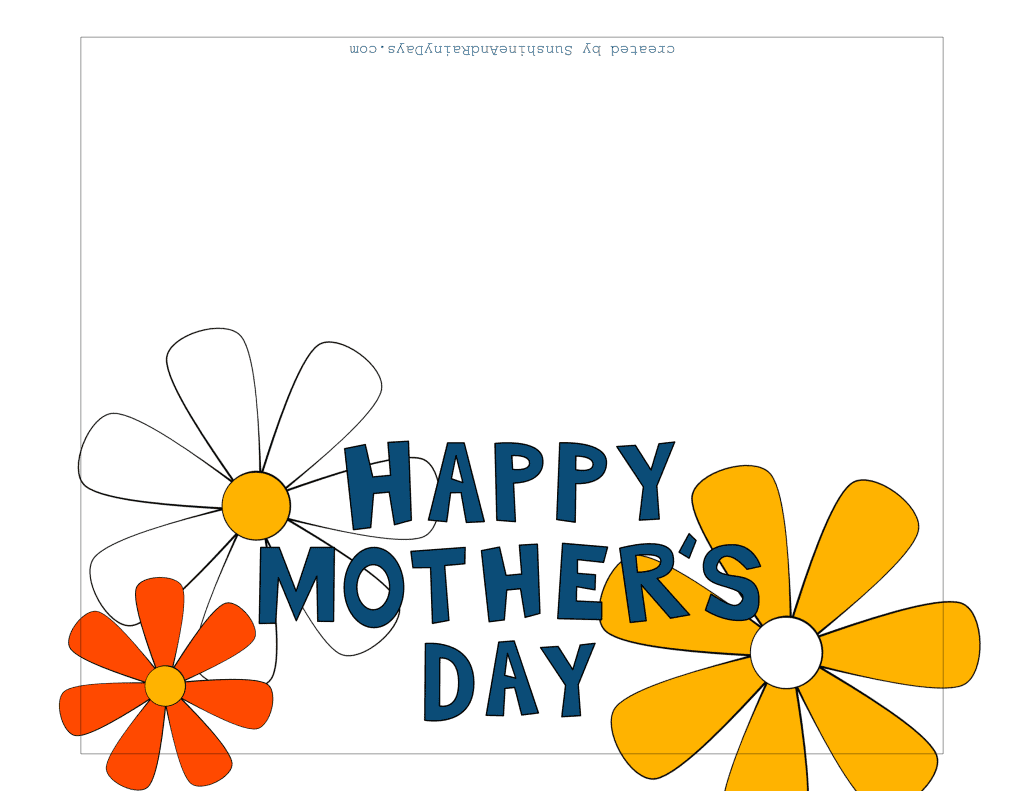 A simple flower design with space above for toddlers to add their own drawing or scribble.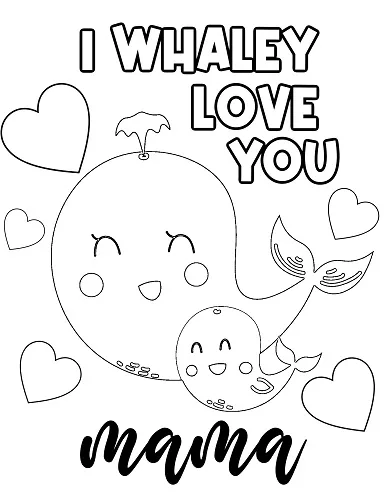 Another whaley cute Mothers Day coloring page here…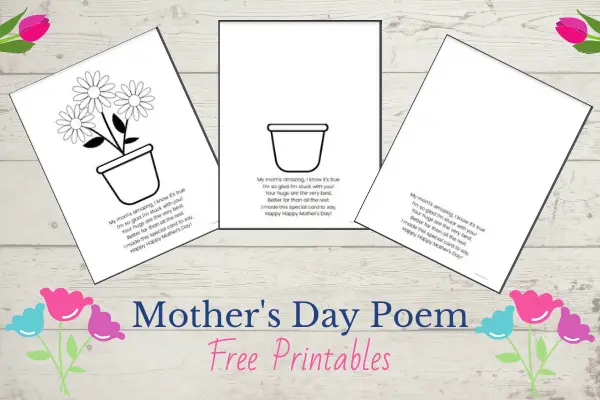 Another lovely Mothers Day poem and 3 different printing options, depending on how creative your toddler is feeling.
DIY Mothers Day GIFTS to make with your toddler
When trying to make a Mothers Day gift with a toddler, remember two things…Number 1, it's not going to perfect unless you do it without your toddler which kind of defeats the object. Number 2, it's the thought that counts! Mom will love pretty much anything homemade that has a little input from her toddler or preschooler. So check out these homemade Mother's Day gift ideas that are sure to make mom smile as she sees the time and thought put into it.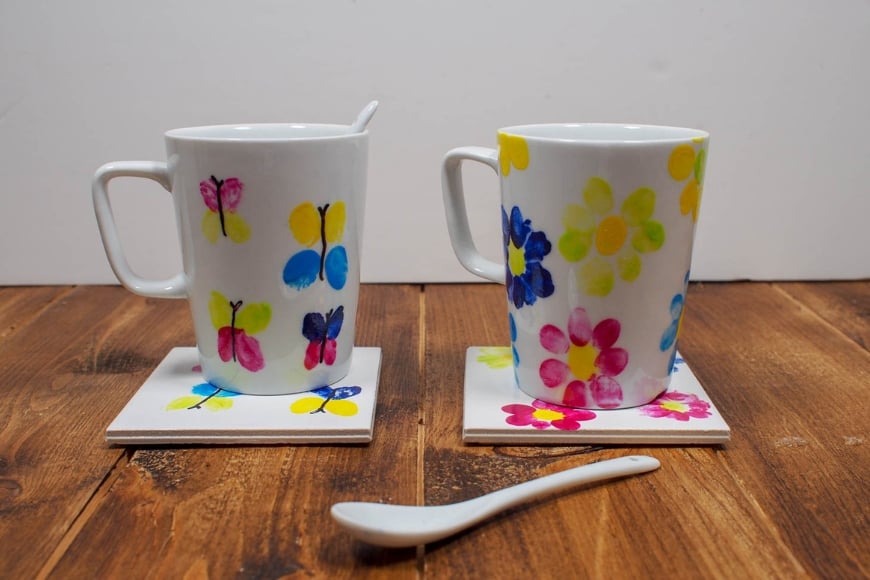 In this DIY Mothers Day gift, toddlers use their finger and thumbprints to make flower and butterfly patterns. They will need the steady hand of an adult to help guide them I'm sure, as well as some blank ceramic mugs, paint and a brush. A stunning and unique gift that I, for one, would love to receive! (Hint, hint, if you're reading hubby…)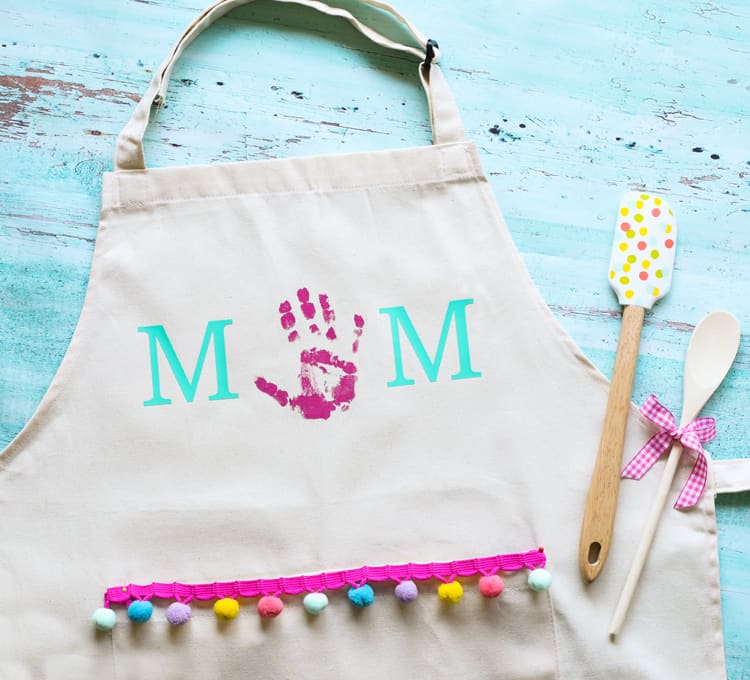 Another fun handprint craft that doubles as a Mothers Day gift – toddlers will love helping make this and giving it to Mom. What about a mini one for your toddler or preschooler too, how cute would that be?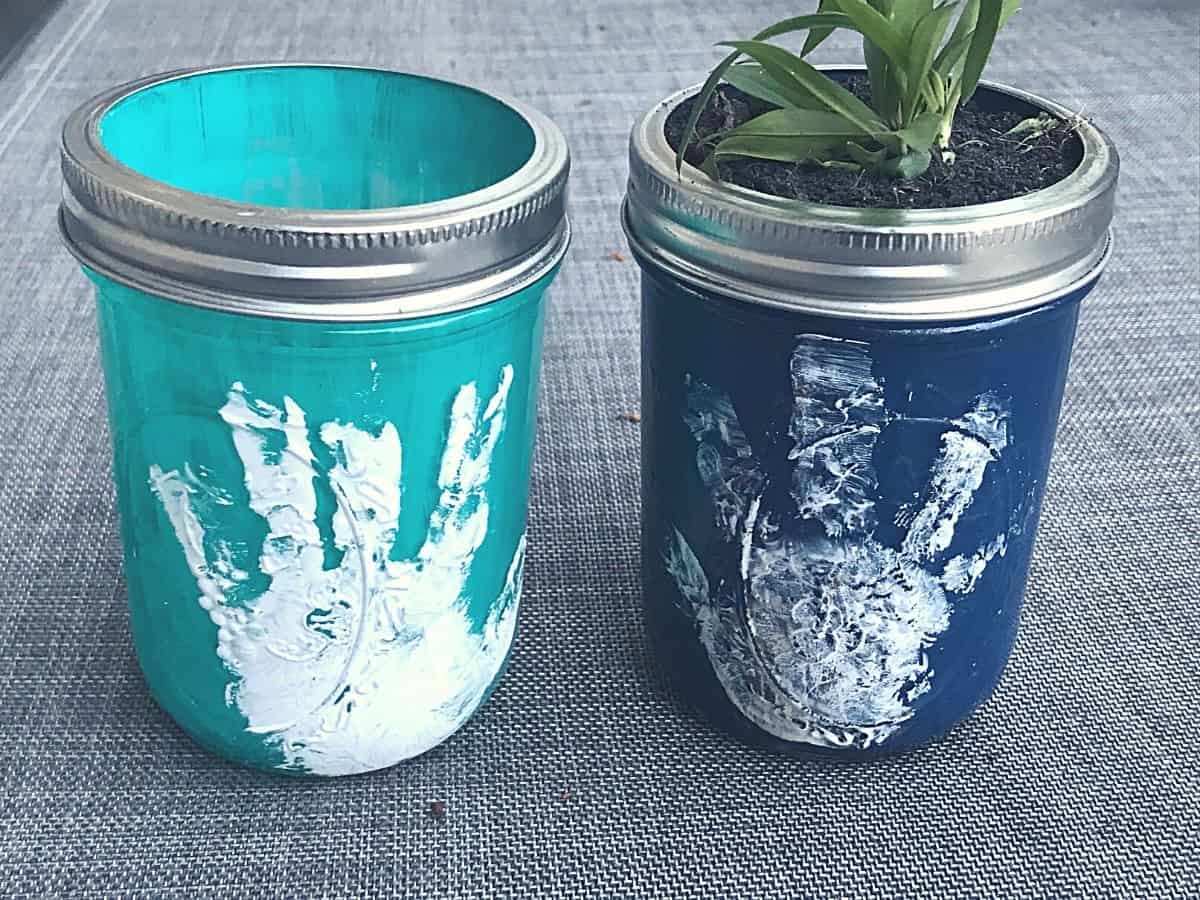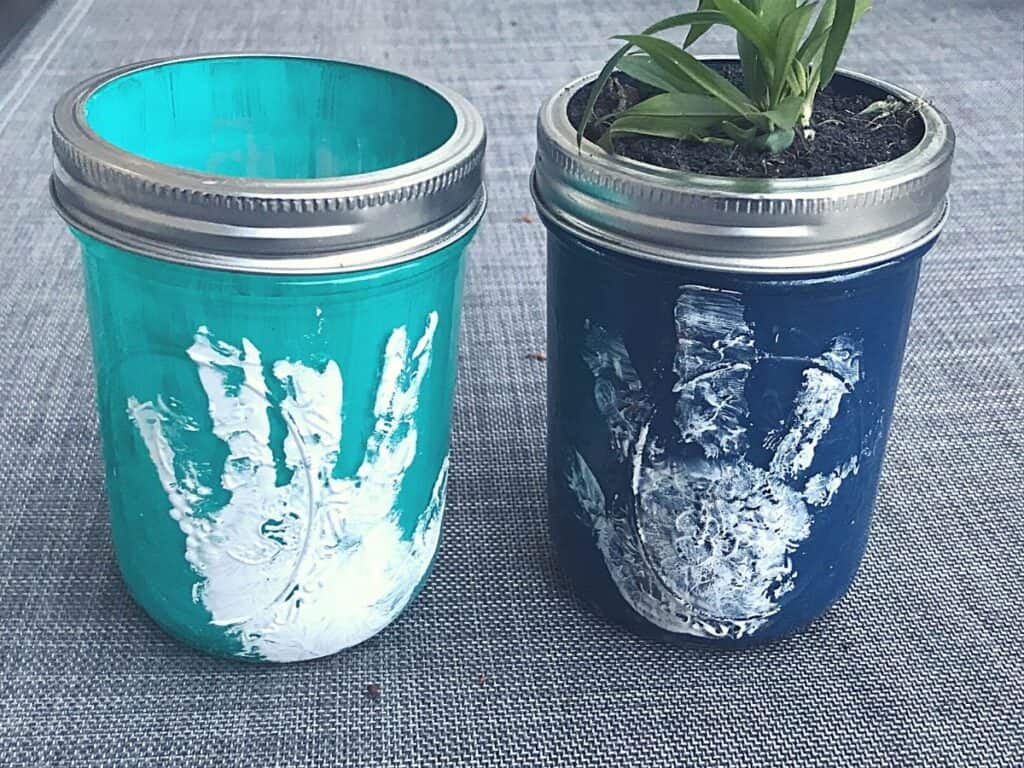 More toddler handprints to make a personalized flowerpot. The one above uses painted Mason jars, but if you wanted to skip the painting and it make it a super easy Mothers Day craft you could just use some pre-painted or clay pots.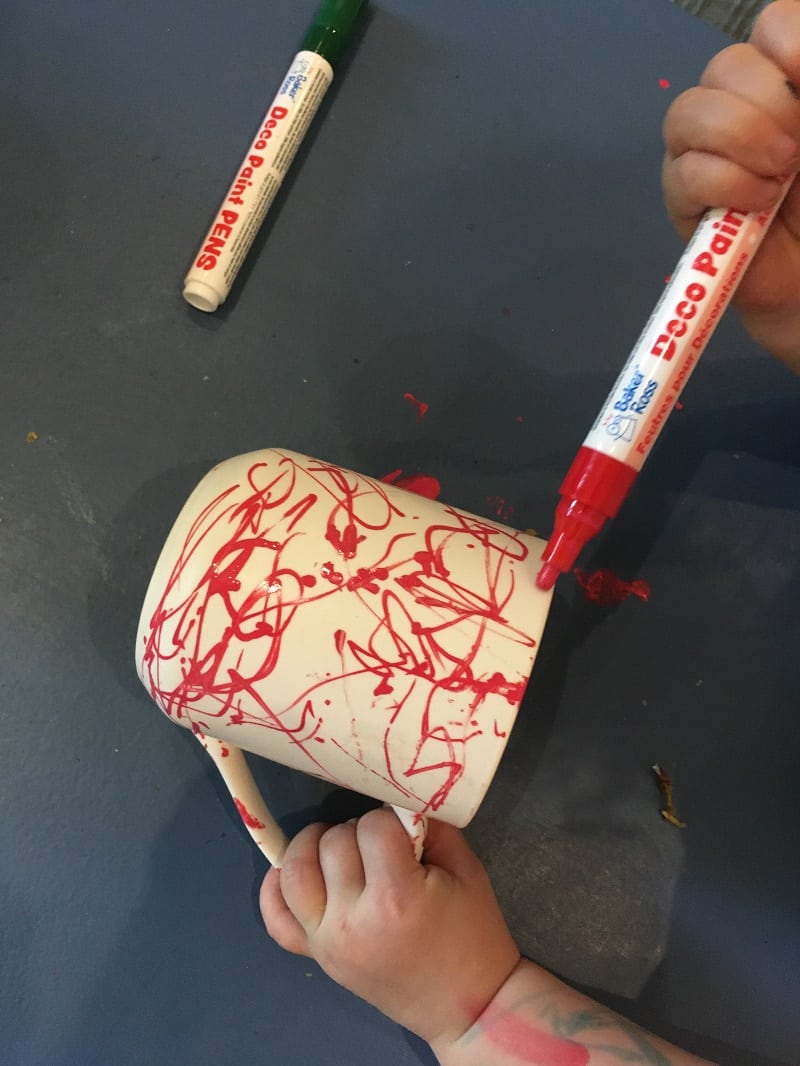 #44 Sharpie mugs
We did these as a gift for Dad on his birthday but moms and Grandmas will love one of these scribble sharpie mugs just as much. All you need are some deco pens and plain mugs, then simply bake at a low heat (follow the instructions for the deco pens you're using). They're ideal for a toddler to make, because anything does. My daughter's scribble mug looked as good as any modern art in my book! An ideal toddler made gift for Mothers Day.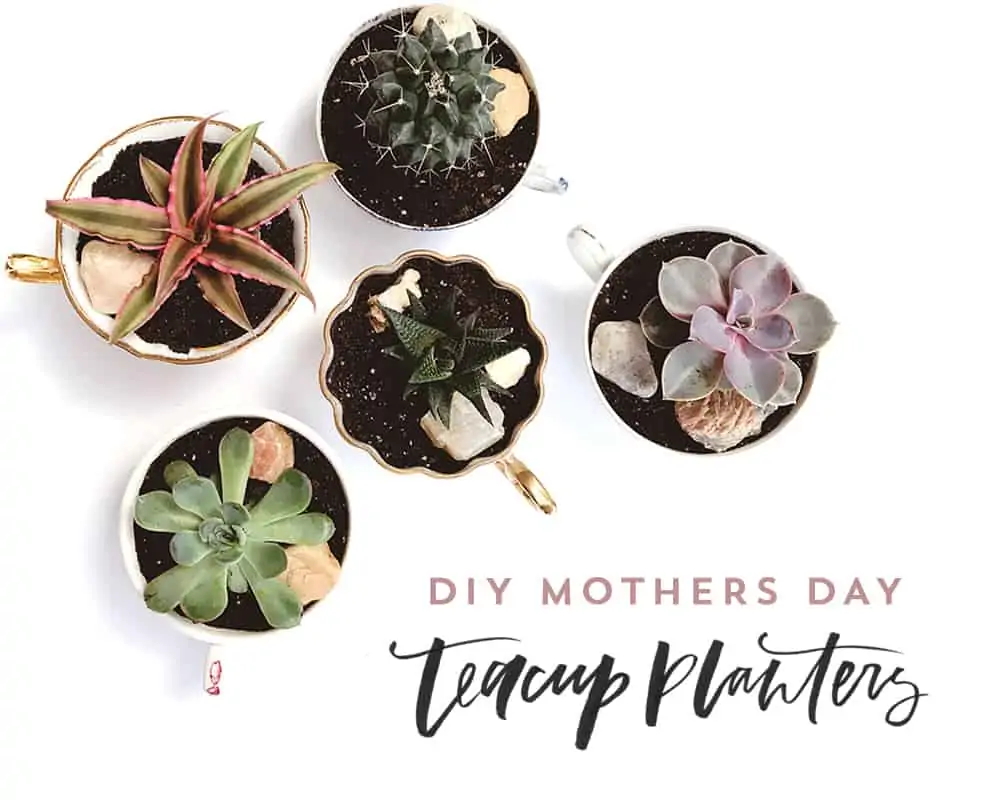 Another gift for the Mom who likes plants so I'd definitely enjoy this one. A vintage cup and saucer and a succulent are all you need.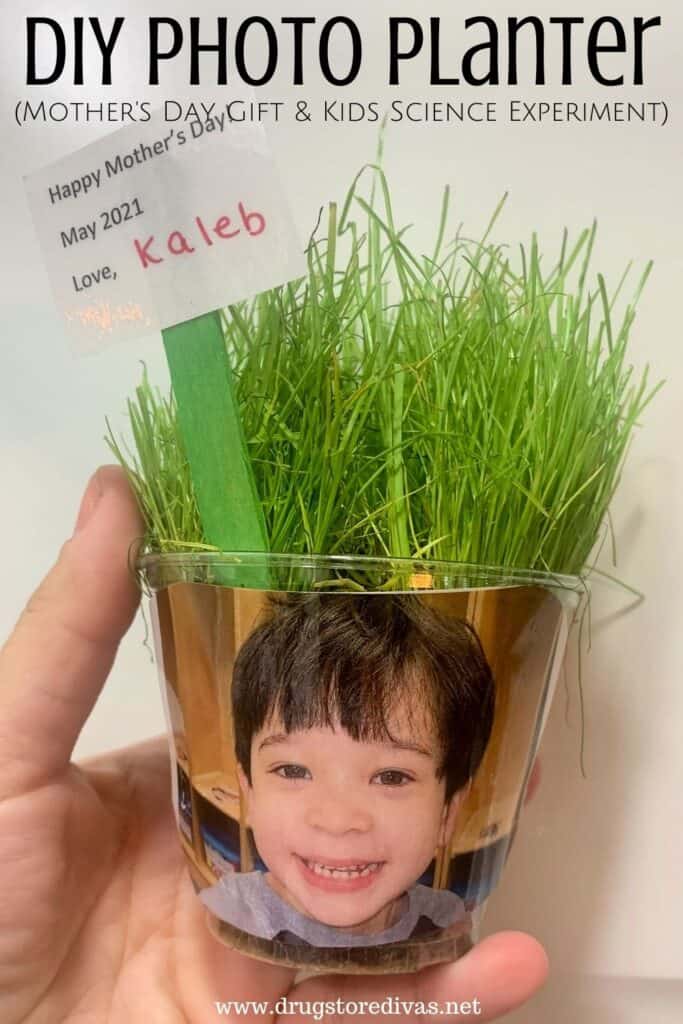 Toddlers and preschoolers will love making this clever photo head planter and watching their hair grow while Moms are going to love their genuine fascination and excitement, making it a great DIY gift for Mothers Day from toddlers.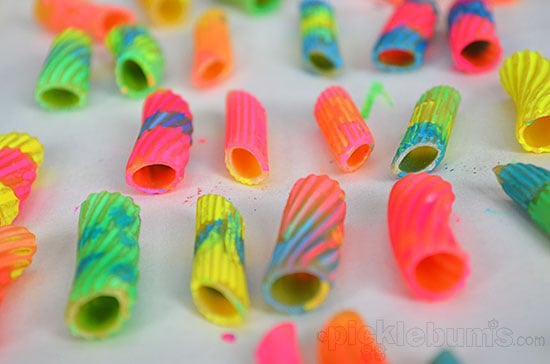 Not quite as impressive as some of the other DIY Mothers Day gifts from toddlers but I'd still love to wear a pasta necklace knowing my little one had made it. Maybe I'd only wear it on Mothers Day, then it'd go in the keepsake box…. All you need are uncooked pasta, paint, yarn – plus a little time.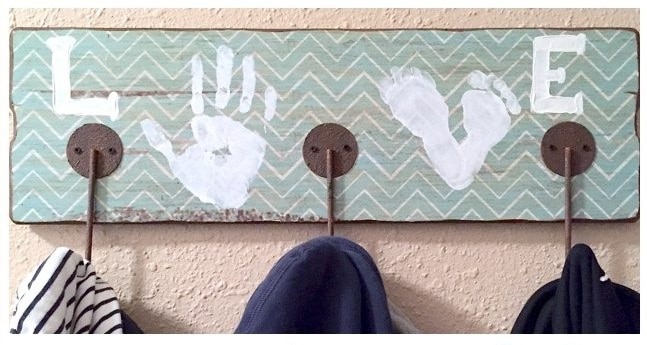 This would be a lovely homemade gift to make with kids and if your hallway is in need of some more hooks then this is the one to go for. You can never really have enough hooks can you?!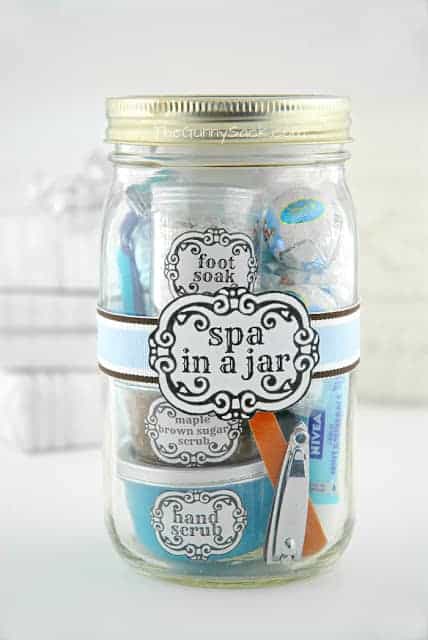 A Mother's Day mason jar gift idea that I can promise any mother or grandma will be excited to receive. (Another hint, hint to any members of the family that are reading!) Add in some stylish nail polish, a few cotton swabs, lip gloss and a chocolate or two. You will have mom smiling from ear to ear when she opens this sweet thoughtful homemade gift on Mothers Day.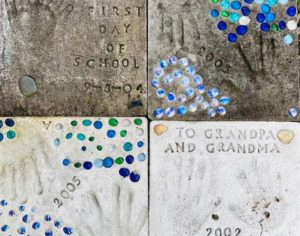 For a hand or footprint that will last into the next century and beyond, why not press your toddler or preschoolers mitts into concrete and make a stepping stone for the garden? You can use some letter stamps to add a lovely message for mom or grandma.
Not all superheroes wear capes but I think every mother deserves one. What better way to show mom some love on Mothers Day than with this homemade superhero shrink-a-dink keychain? It won't disappoint!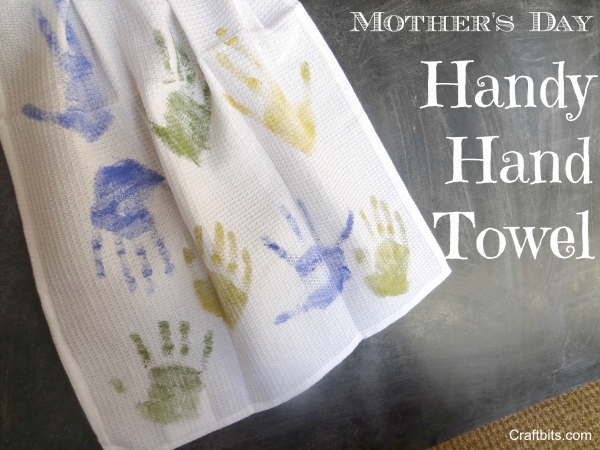 More handprints but this time on a tea towel, so every time Mom dries her hand she'll be reminded of this thoughtful gift on Mothers Day. You could also do the same with some pot holders (or oven gloves as we call them in the UK!), with a handprint on each glove. This tutorial shows you how.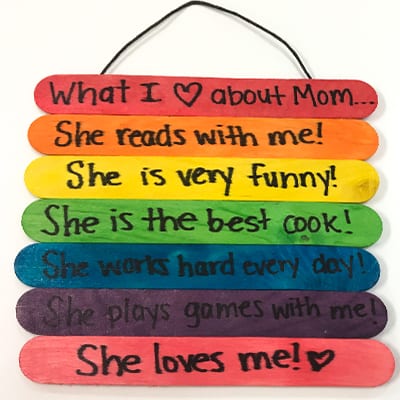 Another very personal gift that any mom or grandma will love to hang up close by. Older kids will be able to write their own message but toddlers can just tell you what it is they love about their Mom and you can write it for them.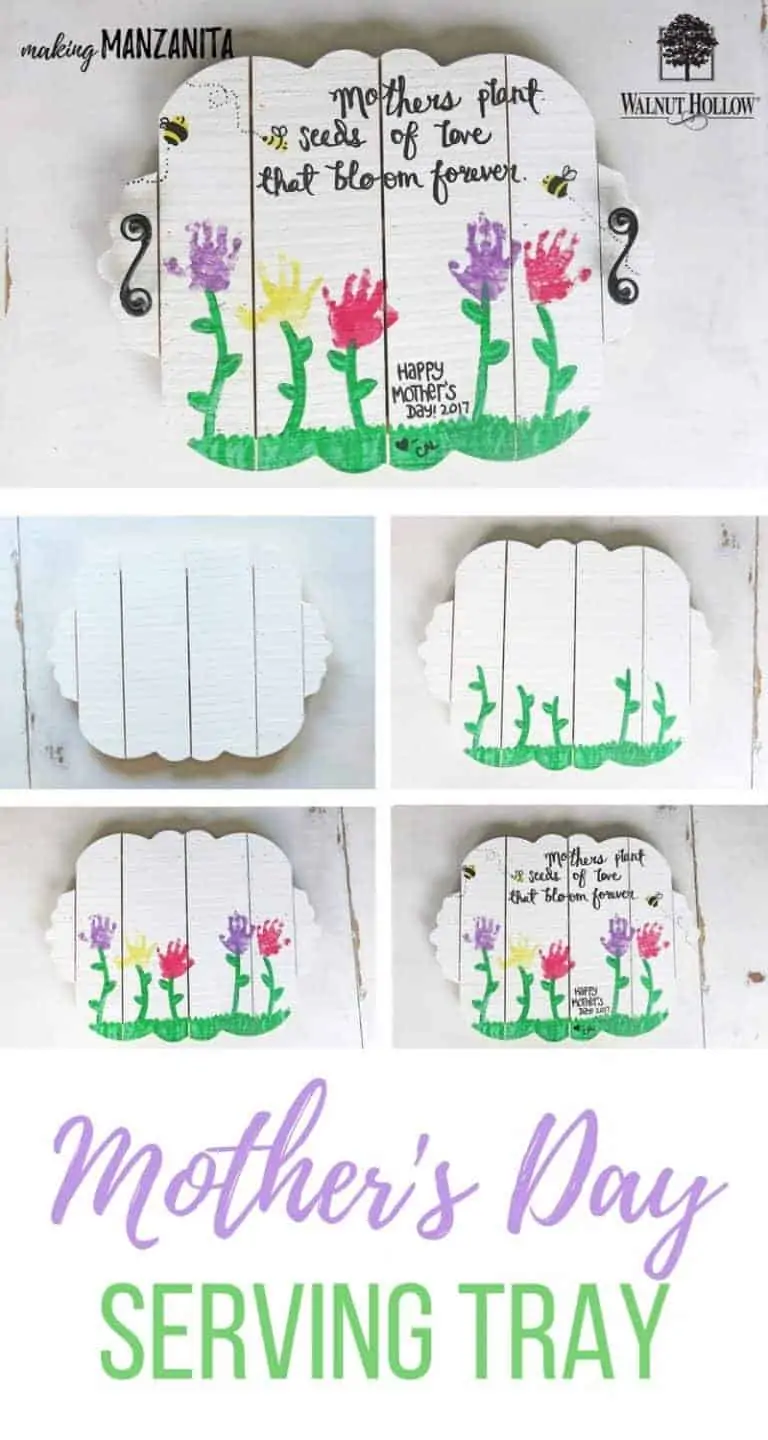 Mothers Day Crafts for GRANDMA for toddlers to make
Although there's now an official Grandparents day (July 23rd in case you're wondering), it's become quite a tradition to celebrate Grandmas on Mothers Day. And why not! Of course, most of the easy Mothers Day crafts in this post could be given to Grandma, but if you're looking for a craft, poem or printable specifically for Grandma, this is the place to look.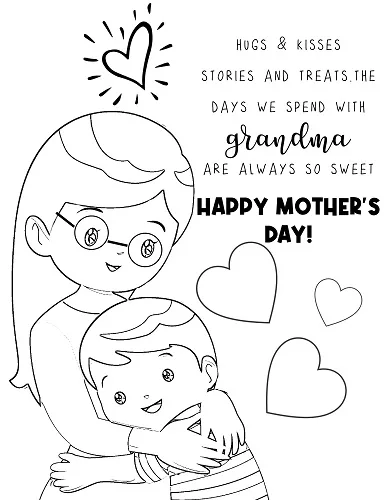 A sweet poem and coloring page for your toddler to do for Grandma.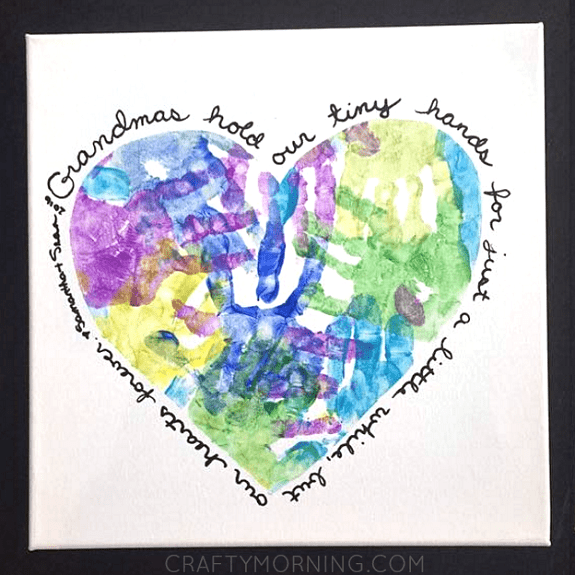 There's a similar heart handprint canvas for moms earlier on in this Mothers Day toddler craft post, but this one has a poem written especially for Grandma bordering the heart. Grandma is going to adore it.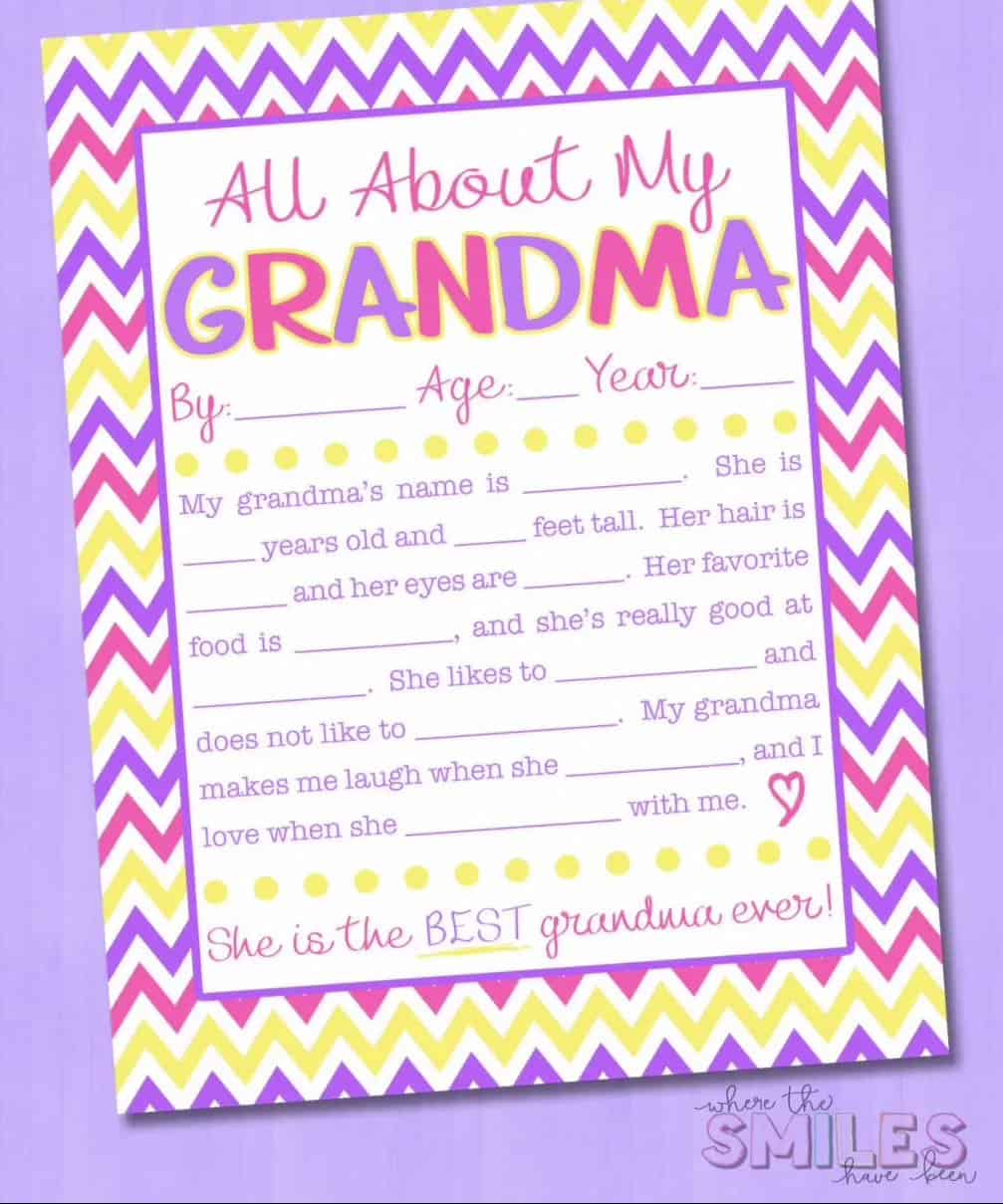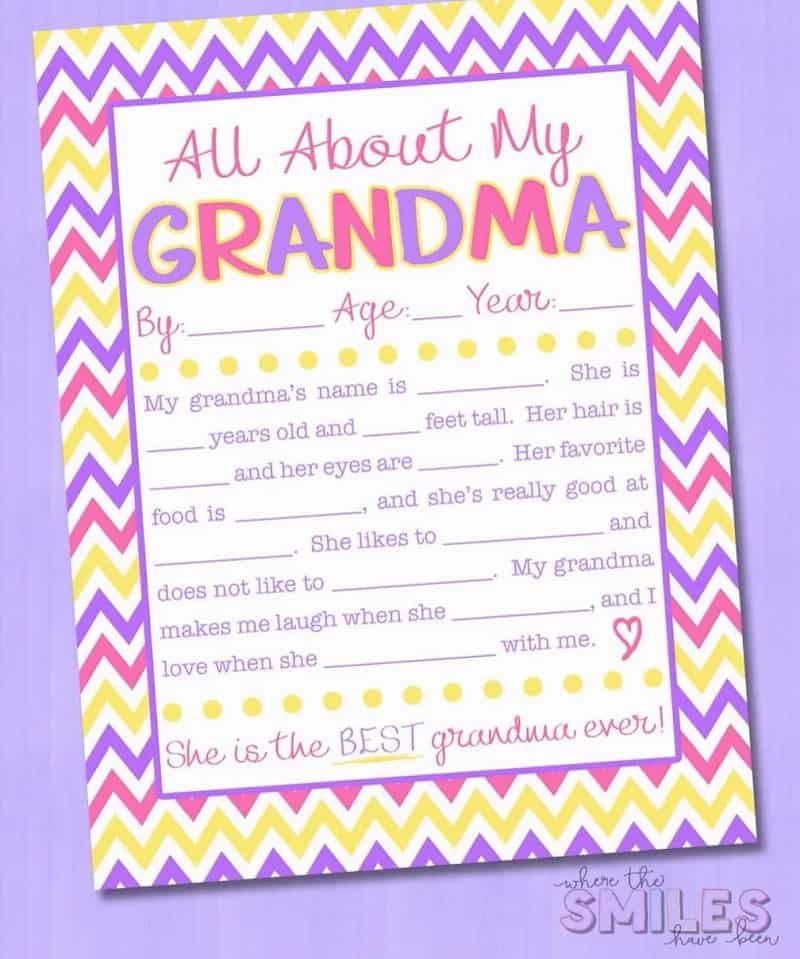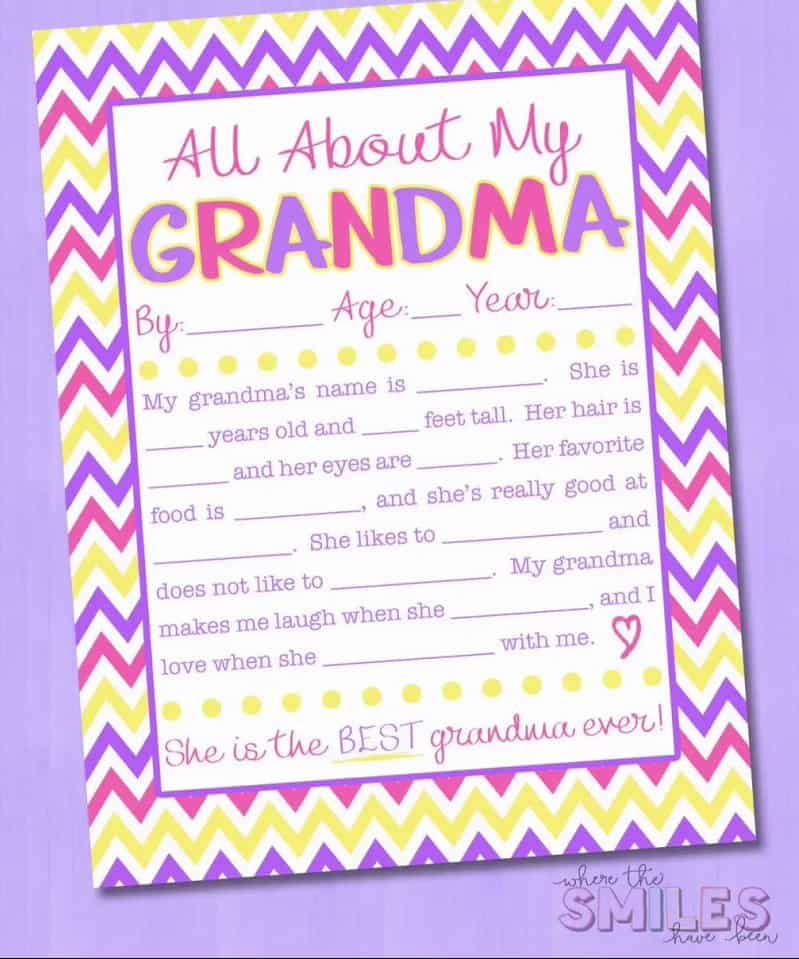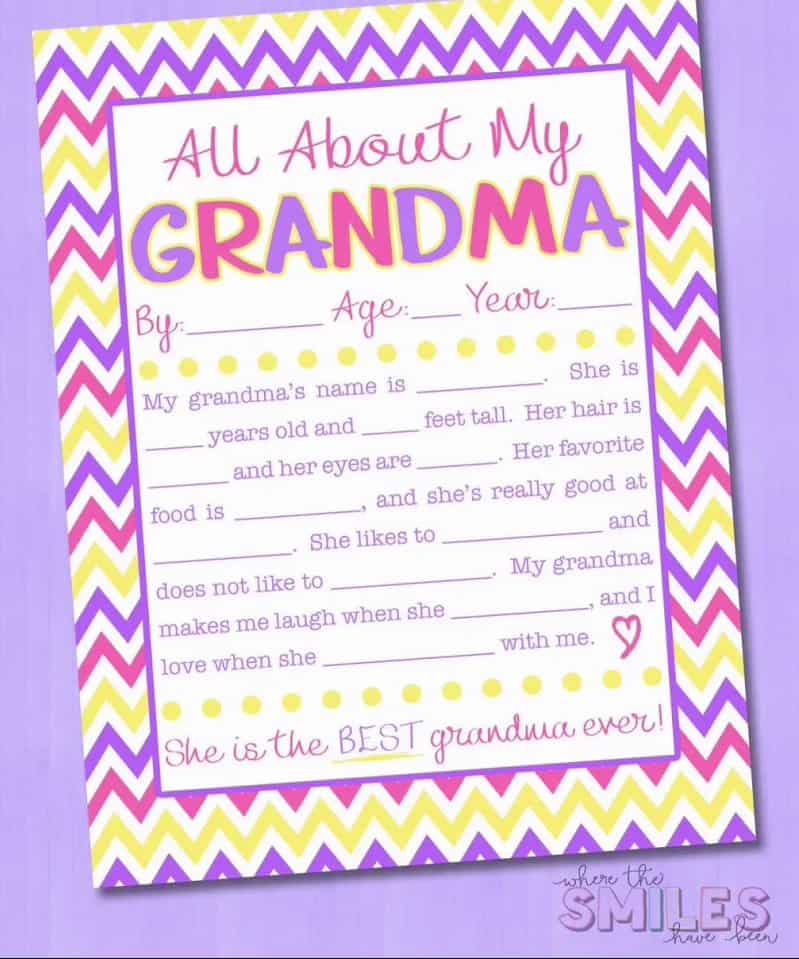 I'm sure Grandma will love to hear what her little grandchild thinks of them with this printable interview, which has 8 alternative spellings for Grandma (Granny, Grammy, Gran, Nana, Nanny, Mimi, Gigi).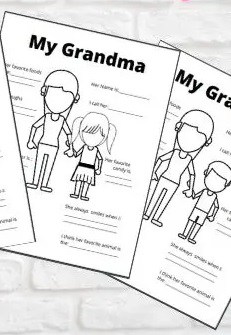 This one is a little like the last but has a Grandma and child for your toddler to color – so Grandma will see what her grandchild thinks she looks like! Double the amusement…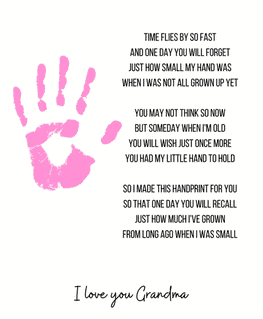 A lovely poem for Grandma with space on the free printable for your toddlers handprints. There's also an option which signs off "We love you Grandma", so siblings can put a handprint each and give to their beloved Grandma. That'll make a lovely gift from your toddler on Mothers day.
Which of these easy Mothers Day crafts will you do with your toddler first?
Mother's Day is a day to show moms how much we love them. Give these easy Mother's Day crafts for toddlers and little kids a try. You will love them! Be sure to tell me in the comments below which craft are you going to try.
Happy Mothers Day!