Inside: take the guesswork out of shopping with the best toys for 1 year old baby girls in 2023!
The world of children's toys is a vast and exciting one, but it can definitely be overwhelming. There are so many great options and so many different types of toys, that it can be hard to know where to start.
Most toys are created with an educational value or goal of some kind in mind. It's helpful to know what those goals are when shopping for a toy or gift for a one year old so you can make an informed decision and cater to the needs of the child and family.
Whether you're looking for a toy for your own baby girl or a gift for a niece, grandaughter or godaughter, here you'll find the best toys for one year old baby girls available at the moment, in 2022. Enjoy!
This post contains affiliate links. If you click on one and make a purchase, we may receive a commission at no extra cost to you.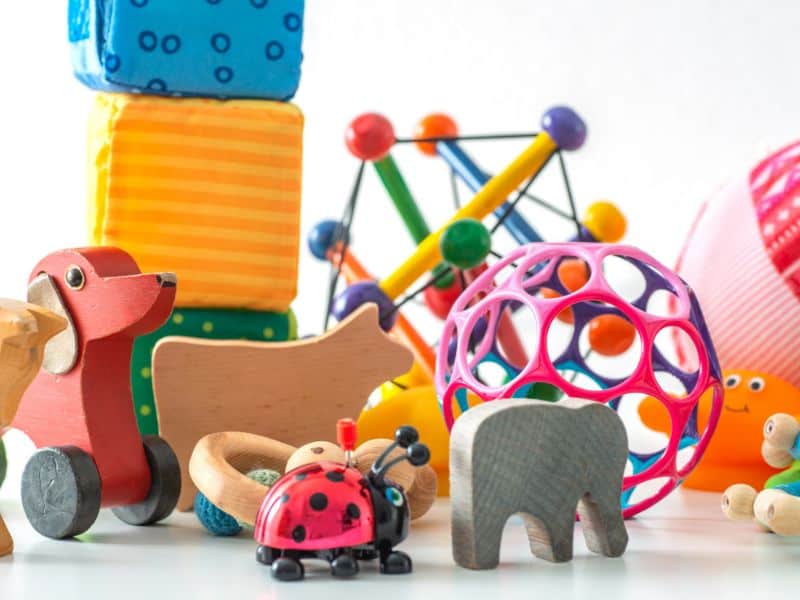 What is a good toy for a 1 year old?
A good toy for a one year old is a toy that is simple, open-ended, and aids development of age-appropriate skills. This means toys that encourage movement and coordination, and those that promote cognitive function such as problem-solving and cause and effect concepts.
So, if you're looking for the best toy for a 1 year old baby girl, you want it to tick a few of these boxes – all the ones on this list will have you covered.
Which toys can help a child's development?
Toys that a child can pretend-play with, build with, and create with are great toys for any child, including a 1 year old.
Toys that focus on strengthening their large and small muscle growth can also help a child's overall development.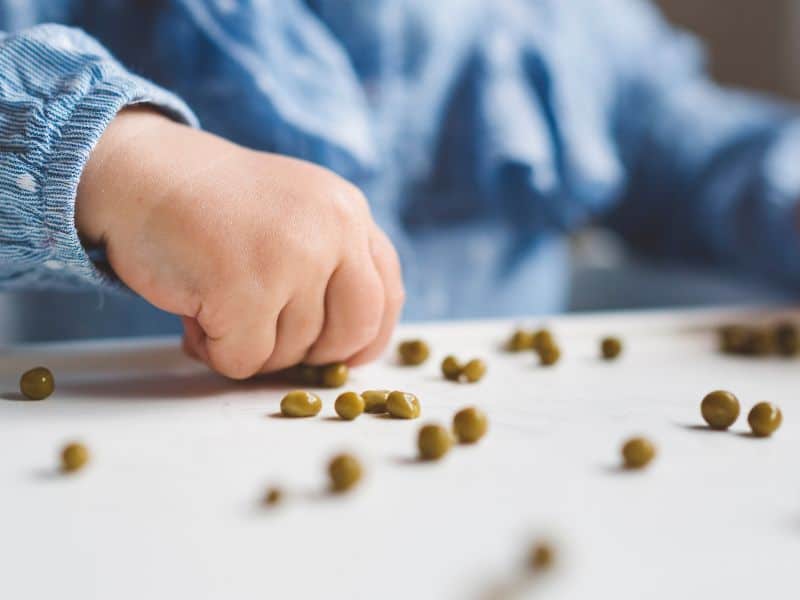 What fine motor skills are developing in a 1 year old?
There are many fine motor skills developing at a year old. Babies are constantly refining the small muscles in their arms/hands/fingers by using intricate hand movements.
At age one, a baby's raking grasp starts to turn into a pincer grasp, which allows them to start picking items up between their thumb and forefinger.
At one year old, they also begin to:
Point with their forefinger
Pick up small foods
Work on scribbling
One year olds are able to experiment with scribbling because they're becoming more able to orient a writing utensil, due to their developing pincer grasp. This is a skill that will continually develop over time throughout their early childhood and school age years.
What kind of toys help fine motor skill development in a 1 year old?
Tinkering toys, toys that emphasize dexterity, toys that encourage imagination, and fine motor manipulatives such as a busy board or a shape sorter help develop the fine motor skills of a one year old.
What gross motor skills are developing at a year old?
At age one, your child is developing many gross motor skills! They're working on balance while scooting, standing, and eventually taking those first steps.
What toys help with physical development?
Toys that support your one year old baby girl or boy to maneuver with their body help aid in their physical development. So ride-on toys, rock ons and push and pull toys all work on physical development and gross motor skills.
Also helping with physical development are toys that encourage hand-eye coordination and build overall strength. Building overall strength will eventually enable a one year old learn to new skills and play in new ways.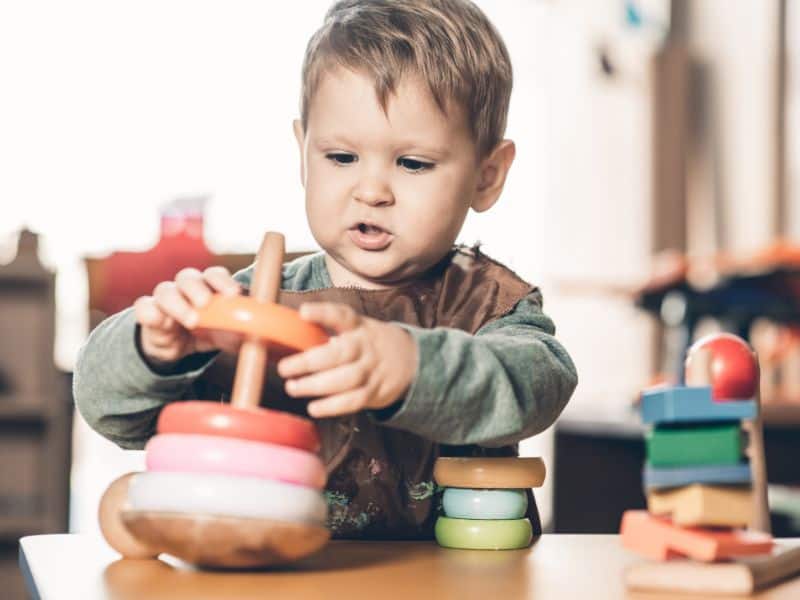 BEST TOYS FOR A 1 YEAR OLD BABY GIRL
To make the post a little easier to navigate, the list has been categorized as below. However, there are several toys that could be placed in more than one category, because they involve a wide range of different skills.
Best educational toys for a 1-year-old baby girl
Best wooden and Montessori-style toys
Best Sensory toys
Best toys for one year old girls that encourage imaginative play
Best toys to help baby walk/for gross motor development

Best ride-ons and rocking toys for 1 year-olds
Best push and pull toys for 1-year-olds
Best gyms & other toys that work on gross motor skills

Best Vtech toys for 1 year olds
Best soft toys for 1-year-olds
Best books for 1-year-old baby girls
Best EDUCATIONAL toys for a 1 year old baby girl
The vast majority of the toys listed in this post aid in a child's overall development and are educational in that sense – these are the best toys for one year old baby girls at the moment.
However, the ones in this first section have specific educational qualities that facilitate the development of fine motor control and cognitive abilities.
Pop Up Birthday Cake
This pop up birthday cake toy is great for working on fine motor skill development and hand-eye coordination.
Your child will be so entertained by this toy: press down on the candles and they pop up. If they press even harder, the candles jump out completely! This also teaches them the concept of cause and effect.
Soft Stacking and Nesting Shapes
Soft stacking and nesting shapes facilitate curiosity, and introduce your child to different shapes. This provides an early foundation for their shape recognition abilities.
This toy set works on their fine motor development, and allows for open-ended play as well. The silicone material and texture of the shapes will be very intriguing for a one year old to explore. They also make great chew toys for when your baby girl is teething.
Shape Sorting Cube
A shape sorter is a classic baby toy and for good reason. It helps develop cognitive concepts and problem-solving skills as they try to match the shapes to the correct hole.
The big chunky pieces are perfect for 1 year olds as they will be easy for them to hold, while exposing them to different colors and shapes.
Busy Board
A busy board is a great tool for educational learning, and it's also portable.
The small muscles in your child's hand, wrist, and fingers will be strengthened as they maneuver around all the different activities on the busy board, helping to develop their fine motor skills.
This toy also helps develop their cognitive abilities by teaching them cause and effect and problem-solving concepts.
Einstein Box
An Einstein Box has many educational props and activities inside of it, making it a great gift and educational toy for a one year old baby girl or boy. Included are games, "first words" board books, animal masks, posters, rhyming activities, and more!
The props and activities in the Einstein Box are adaptable for different developmental stages and ages, making it a fun gift and a great investment.
Bright Wooden Activity Cube
Rather than an activity table, try this bright wooden activity cube which has a huge variety of interactive activities to engage your one year old. Your baby girl can explore a bead maze, shape sorter, rotating gears, colorful clock, and zigzag maze all within the same toy unit!
An activity cube is a great toy for developing fine motor and problem solving skills.
Mega Bloks Building Set
A Mega Bloks set should be a staple in any one year olds toy collection. They can be played with in so many different ways and will be enjoyed into the toddler years.
They're ideal for furthering fine motor development as your child's small muscles in their hands, wrists, and arms will be strengthened while they grip the building blocks and work to fit each one together.
Best WOODEN and MONTESSORI toys for your baby girl
What are Montessori toys?
Montessori toys don't "do" anything on their own, such as make sounds and light up. In order for the Montessori toy to function, it needs the efforts of the child to work; it doesn't work on its own by pressing a button.
Typically, the Montessori method prioritizes realistic toys over imaginative ones when it comes to play figures.
For example, a Montessori animal toy would be a zoo animal figure instead of a pretend creature such as a unicorn. Quality of the toy is most valued over the quantities and types of toys.
Montessori style toys are made out of natural materials. Wood is the primary natural material used.
Montessori Music Instruments
Exploring music via instruments (a drum, tambourine, maraca, bells etc.) exposes your one year old to early concepts of rhythm. Using musical instruments also works on hand-eye coordination, as well as fine motor skills and cognitive development.
This music set would last throughout your baby girl's early years.
Object Permanence Box
An object permanence box helps infants begin to understand cause and effect, problem solving, and basic logic concepts. This activity also helps to refine their newfound independence and curiosity as they continue to put the colorful balls in the top of the box, and then watch and predict what will happen next.
Latch Puzzle
A latch puzzle helps with fine motor development, as well as major cognitive skills and emotional concepts, such as cause and effect, patience, and perseverance.
It may take your one year old some time and practice in order to accomplish the objectives of the latch puzzle, but they will get there over time as their skills continually develop!
Large Wooden Blocks
This wooden set of building blocks facilitates fine motor development as your child stacks and builds with the blocks. It also cultivates cognitive development by encouraging creative thinking as your baby girl figures out how to build different structures.
The set has 32 colorful multi-colored blocks and a nice chunky princess castle jigsaw puzzle, the perfect size for a 1 year old, as well as a magic wand, for role play.
Wooden Puzzle Stacker
Exploring a wooden puzzle stacker toy is very engaging as well as educational for your one year old.
Your baby girl will begin to recognize the different shapes and colors, and their fine motor skills will be strengthened as they work to fit the different shapes onto the corresponding pegs.
Montessori Coin Box
This Montessori Coin Box toy has many functions. Your one year old will get to open the drawer, close the drawer, and put the coins through the slot of the box.
Such a simple wooden toy but one that will be extremely satisfying for a baby this age. They love taking things out and putting things in!
It also works on their dexterity and fine motor skills, as well as helping to teach object permanence: they can begin to understand the coin still exists inside the box after they drop it in even if they can't see it.
Montessori Ball Maze
A Montessori Ball Maze is one of the best educational toys for a one year old baby because it works on so many different skills.
It works on both fine and gross motor skills and exposes them to vibrant colors. It also introduces them to early science concepts as they watch the balls roll throughout the maze, and think through potential scenarios: where will the ball go next?
Best SENSORY toys for 1 year old baby girl
Sensory toys have got so many different learning dimensions to them. They teach your child early academic concepts, while also emphasizing and valuing the process of exploration within learning.
Fidget Toys
Pop-it or fidget toys are a great way to keep not only the hands busy, but the mind as well. There are so many different shapes, colors and types.
These flower dimple fidget toy are great for brain development on-the-go! Your child will be intrigued by the different textures and they'll enjoy "popping" the raised bubbles. Keep one in your diaper bag or in the car.
These spinning fidget toys have suction cups to secure them to the high chair, which can help keep your 1 year old from trying to climb out the high chair during meal times!
Baby Crinkle Toys
One of the most exciting baby sensory toys is baby crinkle paper! It feels so interesting in your baby's hand and makes a new, intriguing sound for them to explore.
Crinkle cloth books are also fun to play with and "read."
Pop Tube
One year olds are very curious about pop tube toys because of their texture, size, colors, and sounds. These toys have so many intriguing characteristics that keep infants and young toddlers engaged in play for an extended period of time.
Sensory "Tissue Box"
A sensory tissue box is so fun and exciting to play with. This toy works on hand-eye coordination, fine motor skills, concentration, and perseverance.
The crinkle paper, silk scarves and other textures will satisfy the sensory curiosity of a one year old baby girl who'd going to love pulling them out the tissue box and stuffing them back in.
Best toys for one year old baby girls that encourage IMAGINATIVE PLAY
Pretend play is so important for young children so playsets with dramatic play props are a must for a 1 year old baby girl or boy. They enable children to build imagination and act out real life scenarios they see around them.
If this is a gift for a one year old's birthday, it may be a while until these toys are played with to full potential but normally by 18 months, your little one will be in full pretend play swing. And once they get going, there will be no stopping them!
Because these toys are so open-ended they will last far into the toddler years and tend to work really well with other little friends that come around for playdates.
One of my little girls favorite gift s was a tea set she was given at her first birthday. At 4 years old she still plays with it now!
Pretend Play Tea Party Set
One of the best toys for a one year old baby girl in the pretend play category is a tea party set. Even by a year old, a child is sure to have watched countless cups of tea being made and drunk! And as I mentioned above, the fun of a teddy bears picnic and tea party never seems to get old.
Learning Resources Camping Play Set
If you're a family that loves the great outdoors, this camping playset is sure to be a hit with your one year old girl. It'll also help develop their language skills as they participate in dramatic play scenarios with others. Such a fun play set for summer time!
My First Purse
Children internalize everything and watch everything we do. This My First Purse set provides an outlet for a baby girl to act out a play scenario of something she sees every day, which is her mom with a purse. This play purse set comes with keys, lipstick, a phone, and cards.
Leapfrog Toaster Play Set
This toaster playset exposes your child to different colors and numbers as they pretend to make breakfast. This toy helps develop their understanding of cause and effect as they pull the lever down and watch the toast pop back up.
Hape Play Bread Basket
This pretend bread basket (complete with croissant, jam and butter) will stimulate your one year old baby girls imagination as she plays at serving everyone in the family a delicious continental breakfast!
Pretend Kitchen Playset
Another activity that your 1 year old baby girl or boy will have seen mom (or possibly dad) do is cook! This small hob and pan set is ideal for a young toddler or baby, with jumbo knobs and fat-handled utensils.
Farmers Market Set
This farmers market set works on a child's cognitive development as it introduces them to basic sorting. There are different colored foods and labeled baskets of each color for them to match the foods to.
By playing with this set, your child is being exposed to different colors and foods.
Best toys to HELP BABY WALK & aid gross motor development
In order for a child to walk, they must first have the physical strength and capability. You can aid the process by providing them with the right gross motor practice.
Once a child has strong gross motor skills, they will have more ability to experiment with early walking and eventually they'll be able to fully walk on their own!
Toys that aid any aspect of gross motor skill development, from balance, to core strength, to coordination, and other whole-body movements, can strengthen their muscles and, in turn, help them learn to walk.
A few different types of toys can assist, each focusing on different gross motor skills. For this reason, the toys that help baby walk are split down into those that a one year old can sit astride, to rock and ride, and those they can push and pull while standing.
There are also other types of toy that will test and stretch their gross motor skills, such as mini-climbing frames. These are in the last sub-section.
The Best ROCKING TOYS & RIDE-ONS For 1 Year Olds
Ride-on toys are a great option to help your baby establish balance and refine their gross motor skills. They can use ride-on toys as early as 10 months and all throughout toddlerhood.
Skip Hop Push Walker and Scooter
This Skip Hop push walker and scooter grows with your child and adapts to their stage of development.
It has three stages. Stage one is wagon mode, stage two is ride on mode, and stage three is scooter mode. This toy facilitates gross motor skill development, and will last for years as your baby transitions into toddlerhood.
Stride to Ride Puppy
This Stride to Ride Puppy serves many purposes. Your one year old can ride on it and move it by pushing off the ground with their feet to scoot along.
It also has a shape sorter on the side for them to play with, and the seat raises to reveal a basket for them to put their treasures in.
It also converts to a push walker for whenever they're ready to explore early walking.
Stationary Musical Ride On Toy
This stationary musical ride on toy is a great option if you prefer your baby to be contained to one area instead of moving all around. It lights up and has music which is sure to engage your child for an extended period of time.
Inflatable Plush Rocking Toy
Inflatable plush rocking toys provide an indoor ride on option for your one year old. It bounces, and it's sturdy to prevent your child from falling off, although you may need to be their to assist while your baby is getting the hang of it.
This toy strengthens their muscles and helps them learn how to balance.
Plastic Rocking Horse
A basic plastic rocking horse can be used indoors but makes a great outdoor toy for your garden or backyard as it can be left outside in all weathers.
It has handles for your one year old to grip onto, so they can stay on the horse. This toy works on developing your child's gross motor skills, as it cultivates their curiosity.
Plush Wooden Rocking Horse
A wooden rocking horse is a classic fun toy for your child to explore. The body of the horse is plush, so that makes it more comfortable to sit on. It also has a seatbelt to keep your child as safe as possible.
Rocking horses obviously work on gross motor skills as your child uses their body to propel the rocking chair, but it also touches on imaginative play concepts as your child can participate in pretend play scenarios on the horse.
Baby Balance Bike
Gone are the days when kids learn to ride bikes with pedals. A baby balance bike is the place to start. Your one year old can scoot along with their feet and learn to balance before grappling with the coordination needed for pedalling.
Of course, at this age, the bike is simply providing balance practice for walking but it'll also make learning to ride a bike easier too.
Best PUSH & PULL Toys For 1 Year Olds
Push and pull toys are so important for gross motor skill development. These types of toys also work on coordination and balance, which are crucial for learning to walk, as well as other important gross motor movements.
Sit to Stand Learning Walker & Baby Stroller
A one year old baby girl will love taking all her things from one place to the other once she's learnt to balance and then push this Learning Walker. It also has a seat for all future shopping trips with their favorite baby doll, making this toy great for dramatic play too.
VTech Pop a Balls Push Toy
Your one year old baby girl will have such a fun time watching the balls pop out of this Pop a Balls Push Toy as they move it along. It plays exciting sounds and tunes, and encourages gross motor development, as your child will have to use coordination and balance to push it along.
Wooden Giraffe Push and Pull Toy
This cute, simple wooden giraffe push and pull toy doesn't do as much in the way of music or lights, allowing for more open-ended play. It promotes imagination and creativity as your one year old baby girl will have to make the toy work and move themselves.
Melissa and Doug Alligator Push Toy
This Melissa and Doug alligator push toy makes a silly clacking sound while it is being pushed, which will certainly hold your one year old's attention!
This toy helps develop gross motor skills encouraging balance while pushing, and your baby girl will also have to practice their fine motor skills with the smaller elements that she can play with on the walker itself.
Other toys that'll help baby walk by facilitating gross motor development
In addition to the ride-ons and push and pull toys, here are some other toys that will strengthen your child's gross motor skills and aid in their ability to walk.
Climb and Crawl Play Set
A climb and crawl playset is perfect for exploring in a safe, open-ended way. Your one year old can navigate the playset with their whole body in a way that doesn't put them at risk of hurting themselves since it's a soft playset.
Foldable Triangle Climber
A triangle-shaped indoor climber (often called a Pikler Triangle after the Hungarian pediatrician Dr. Emmi Pikler) is designed for children to pull themselves up and climb on their own.
This toy will aid in the gross motor skill development of your 1 year old baby girl, and offer a safe and exciting way to strengthen her muscles and work on balance and coordination.
This toy offers so many different ways to play. Throw a blanket over it and you'll turn it into a fort or hide hole perfect for a 1 year old! It's an easily adaptable toy for many ages.

Large Play Ball
Kicking and playing with balls is an easy, engaging, and educational gross motor activity. If your child cannot stand up well yet, they may not be able to actually kick the balls, but they can still easily play with them by rolling and bouncing them!
Best VTECH TOYS for 1 year olds
VTech makes many exciting and educational toys for children of all ages. These toys have many intriguing features and functions, which will be detailed below.
VTech Prance and Rock Learning Unicorn
This prance and rock learning unicorn rocker transitions into a ride on toy, so will last a long time.
There's a motion sensor in the rocker that responds with sounds and music to encourage them to continue rocking, helping to develop your one year olds gross motor skills.
VTech Sort and Discover Activity Cube
This VTech activity cube has piano keys so your child can begin to experiment with music. Pressing the keys also works on fine motor skills.
It also provides exposure to learning about numbers and colors in a developmentally appropriate way. There's also a plastic book on the side of the cube with pages to turn.
VTech Toddle and Talk Turtle
Your child can play with this toddle and talk turtle toy on the floor, or they can walk with it and pull it, which will aid gross motor development. The handle is detachable so you can choose whether or not you want them to try and walk with it.
Your one year old will be entertained by this toy for a while, as it lights up and makes fun sounds.
VTech Pretty Party Playset
This tea party pretend playset is arguably the best VTech toy for a 1 year old. It has so many different learning elements to it and is sure to entertain a one year old for quite some time.
Your baby girl will be able to explore different colors and shapes and the piece of cake and snacks act like a jigsaw puzzle. Each one only fits into a specific part of the tea tray, which will help develop a one year olds problem solving and spatial awareness skills.
The liquid inside the pitcher moves to imitate real life concepts and the tea set plays many sounds, songs, and phrases too.
VTech Musical Rhymes Book
This musical rhyming book will introduce your child to early literacy concepts. They will also get to explore music and rhyming patterns.
The pages are easy for your infant to turn themselves, which will refine their fine motor skills, as will tapping the buttons. Each one makes a different fun sound.
Best SOFT TOYS for 1 year olds
Every child needs soft and cuddly "friends" to play with! Stuffed animals encourage imaginative play for one year olds, and they also provide a sense of comfort.
My First Mermaid Adventure Plush Playset
This mermaid plush playset is such an engaging and appealing toy for your one year old girl. Each piece of the playset has a unique feature such as crinkle paper, a rattle, a mirror, and a squeaker and is sure to keep your little one busy for quite some time.
Elephant Stuffed Animal Toy
There's nothing sweeter than a one year old cuddled up to a super fluffy stuffed animal. This Lambs & Ivy stuffed animal elephant is utterly precious and will be so cozy for your baby to play and snuggle with.
Plush Rag Doll
Plastic baby dolls are a bit too large, hard and complex for a 1 year old so start them off with a Plush Rag Doll. Your one year old will enjoy playing with this 15″ rag doll which is also soft and cozy enough to act as a comforter too.
Jellycat Bashful Beige Bunny
All four of my kids have Jellycat bashful bunny, each in a different color. They are so soft and cuddly and are great comforters at night as well as little friends for them to play with during the day.
Your one year old will get a lot of use out of any Jellycat toy – there are a huge variety of different animals, colors and sizes – and they're all machine washable.
My Little Gym Bag Plush Playset
This plush gym bag playset has Velcro fasteners on the bag component so it's easy for your baby to open and close it themselves when getting the balls in and out.
The set includes a crinkle toy, rattle, and squeak toy. This toy encourages dramatic play and can also assist in gross motor development as they roll and kick the plush balls.
Best BOOKS for 1 year old baby girl
There's no such thing as too many books in early childhood. Books are one of the best toys for one year old baby girls and make great educational gifts. Hard and durable board books are great for your baby to explore early literacy.
My First Library Box Set
Box sets of books are great for starting and adding to your book collection. My First Library Box Set is a great set of durable board books covering many different topics.
Chicka Chicka Boom Boom
The book, Chicka Chicka Boom Boom, is such a classic! It presents an engaging and intriguing approach to learning the alphabet. The bright colors and simple illustrations will keep your infant engaged in reading this book with you and, in time, they're also going to want to try and navigate it themselves.
First 101 Words
This First 101 Words book is great for early language development. It's also very interactive because it has many flaps for your child to lift and reveal a new image. Unlike most board books, this one is supersized, so the images will be more prominent.
Learn to Talk Book
This Learn to Talk book was written by a speech language pathologist, and it's specifically meant to encourage infants to attempt early speaking.
It uses easy-to-imitate sounds to aid in early language development. Rhyming phrases keep your infant engaged even before they can really understand the words.
See, Touch, Feel: A First Sensory Book
Your one year old will be captivated by this sensory book! It's very interactive, and encourages them to follow their natural curiosity.
Baby Signs
Teaching signing to your infant with this Baby Signs book will help your one year old communicate with you while their vocab is still very limited. This book will help teach them simple signs, and it will also teach you how to do them too!
That's Not My Unicorn
That's Not My Unicorn is an exciting sensory book for your child to "read" as they get to feel and experience different textures throughout the story. will be captivating and fun for any one year olds.
There are several books in the "That's Not My…" series – we have several in our collection – and they've always captivated our kids as one year olds and also as toddlers.
NON-TOY GIFT IDEAS for a 1 year old baby girl
Experiences
One of the best non-toy related gifts you can give a 1 year old girl is a meaningful experience. As they actively experience the world around them, their developmental skills and abilities are strengthening.
Whether you're looking for a gift for your 1 year old neice, daughter or granddaughter, experiencing the world with them will help grow your bond, as you make memories together.
Purchasing a membership to your local zoo or children's museum would make for a wonderful gift that you can utilize over and over.
Tickets to a local event such as a fair, festival, or a children's stage show would make a perfect gift for a 1 year old baby girl.
Try to choose something in line with their favorite activities. My firstborn became animal-obsessed before she even turned one and loved her first trip to the local farm park where you could stroke and feed the animals.
Clothing
One year olds can go through multiple outfits a day – exploring the world can get quite messy! Clothes are sure to get plenty of use.
Plus, special outfits make for fabulous photoshoots and then become sentimental keepsakes down the road.
Backpack, Duffle Bag, and/or Luggage
Young toddlers love having a backpack or bag of their very own to put their toys and treasures into. As your one year old ventures into early toddlerhood, they will enjoy having a special place to keep their favorite things.
Backpacks are very convenient for parents as well when the transition away from using a full diaper bag into using a smaller, more compact bag begins.
My children each have a small backpack with their name on that we use for travel (it holds their travel activities and a couple of snacks). Having their own personalized bag makes them feel special and is helpful for me too in organizing our trips.
A toddler backpack with reins is also useful for busy shopping centres when your baby girl has found her feet and is properly on the move.
Bath Items
Bath items are always a welcome gift idea for a one year old! The possibilities for a fun bath time are endless.
Fingerpaint soap and bath toys are exciting to utilize during bath time, and having a lovely bath towel makes it exciting as well.
A bath towel of your child's favorite animal or character would make for a sweet and special gift that would be used for an extended period of time. You would definitely get your money's worth with that purchase!
Inspired by this list of the best toys for one year old baby girls?
We hope this list of best toys for one year old baby girls is helpful as you curate your toy collection at home or shop for a gift for a niece, grandaughter or friends daughter.
It's understandable to be overwhelmed by it all, as there are so many options. Hopefully, this list of categorized toys will help make the decision making process a little easier.
Happy shopping!
If you're looking for toys for a one year old girl, you may find the following posts useful:
FAQS on toys for 1 year old baby girls
When should you introduce educational toys to a baby?
In a sense, any toy that a baby plays with in an open-ended way, is an educational toy. It is through open-ended play that a child learns and all learning is educational. It's all about how the toy is played with.
However, the "educational" toys for one year old baby girls on this list specifically focus on fine motor skill development and/or cognitive skills, like problem-solving, cause and effect and spatial skills.
There's no hard and fast rule as to when you should introduce these types of toys to a baby. 6 months is probably a good starting age, when your baby is able to support their head and neck, sit in a high chair or sit unaided and is therefore able to use their hands.
An educational toy would make a great gift for any child to add to their toy collection. Check the best educational toys for a 1-year-old in the section below to take the guesswork out of what is suitable.
Are Montessori toys better than other toys?
Determining whether Montessori toys are better than other types of toys depends on the wants, needs, and preferences of your child and yourself. Many parents find benefits from using all types of toys.
Montessori toys have their place, and so do other toys that are interactive and light up/make sounds.
How many toys do babies need?
Avoid having too many toys out. Having too many toys may overstimulate and overwhelm the child to the point where they act out or don't play with anything.
If you have an extensive toy collection (like we do in our house), use a rotation system. I tend to rotate shelf toys weekly or monthly based on the childs interest.
Rotating toys keeps the child intrigued and engaged, and it's harder for them to become bored when the options are ever-changing. Also, all your toys are getting used and played with, which is a satisfying feeling when you spend time and effort cultivating an enriching toy collection.
I'd recommend this for kids of any age, especially one year olds that are particularly easily overstimlated.
Do babies really need toys?
Babies need vehicles of exploration, and toys can serve that purpose. Of course, they're not the only way.
Gross motor activities, indoor activities, age appropriate arts and crafts like finger painting, and outdoor activities also serve this purpose, but toys can be a great supplementary vehicle to enhance learning for your 1 year old baby girl. As long you choose carefully!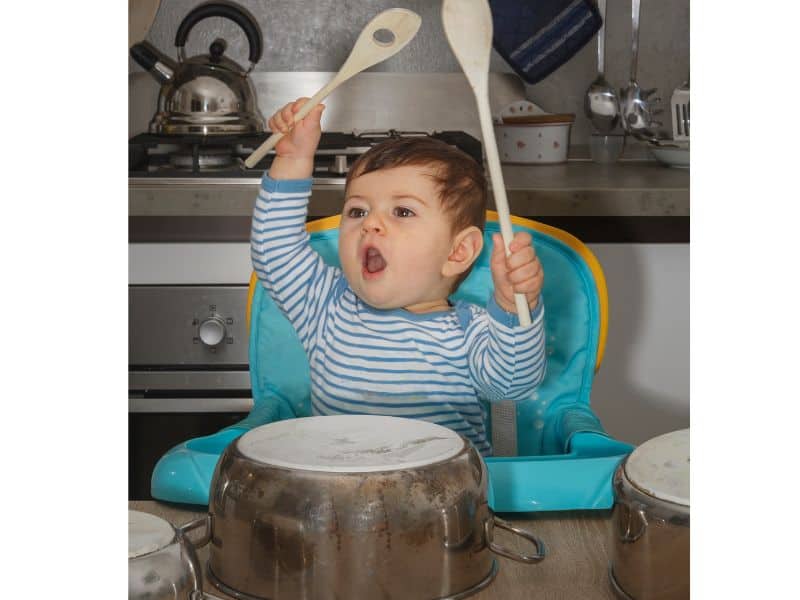 Remember, anything can become a toy. Regular household items, outdoor items, writing utensils, and more can be played with as a toy. Simplicity and imagination are key. Imagination turns anything into a toy.
So although, they're not essential, it can be helpful having toys specifically designed to enhance certain qualities, characteristics, and skills. For example, crayons are used to help fine motor skill development.
And, of course, if you're wondering what to gift a 1-year-old baby girl, say your neice or grand daughter, a toy will probably be top of your mind.
How many toys should a one year old have?
There's certainly no magic number to how many toys a one year old baby girl should have. It's up to the parents more than any one else.
Toy rotation and intentional toy use in general are so important when it comes to keeping a child interested and engaged, as mentioned above.
Respectful Caregiving has an interesting take on the number of toys available to children of different ages, and provides suggestions for dealing with "toy overload."