Don't toss all the toilet paper rolls! Well, if you're on the hunt for some easy toilet paper roll crafts for toddlers, I'm sure you've been stashing them left, right and center. Easy to do when you've got little ones at home. Why use 3 sheets when you can use 30, right?!
Here you'll find toilet paper roll crafts a-plenty, all with your 2 or 3-year-old toddler in mind.
That's not to say older kids won't appreciate them too – these easy toilet paper roll crafts are likely to appeal to any child who likes getting creative.
And for those who love getting lost in a world of make-believe, which means all little kids, many of the finished crafts double as toys. They'll continue to entertain your little ones for a long time to come.
Or maybe it's cardboard tubes you've been collecting. These toilet paper roll ideas will work just as well. And given this list is rather supersized, it's categorized by season and celebration, plus there are sections for animals, fantasy characters and means of transport.
I've also included some of our own creations – which will probably stand out as the least photo-worthy, but I'm good with that! I always have to remind myself that when crafting with kids, particularly toddlers, it's much more about the process of creation than the finished article.
What can Toddlers Make with Toilet Paper Rolls?
How long is a piece of string?! The list is pretty endless when it comes to toilet paper roll crafts. From Frankensteins, mermaids, and love bugs, to musical instruments and binoculars, the versatility of a toilet paper roll is almost unbeatable. Tp rolls are perhaps only trumped by the humble paper plate.
There are also some toilet paper roll crafts for toddlers with an educational angle. Yes, you can even use them to create games and activities for learning.
So grab your toilet roll stash, your 2 or 3-year-old and get crafting!
Minute Crafts with Toilet Paper Rolls
Need a toilet paper roll craft for your toddler but short on time? You should be able to finish these easy crafts in a minute or two.
Toilet Paper Roll Flower Vase
Do your toddlers love to pick flowers? Well, here's a simple toilet paper craft vase they can make and decorate – swap paint for stickers and you've definitely got yourself a minute craft. Toddlers will love putting their floral pickings in their very own vase – what a lovely gift for someone special.
Toilet paper roll flower vase from panikomoda.
Bracelets Made from Toilet Paper Rolls
Here's an adorable and easy toilet paper roll craft for your little girl and her toddler friends. Simply cut a toilet paper roll into three sections, then cut through each one once so it can slide onto their arms easily. Then have your toddlers paint their bracelets in bright colors and decorate them with different stickers. Cute, simple and fun!
Spring bracelets from mimilou_weltentdecker.
For more adorable prehistoric creations, check out these dinosaur crafts for kids.
For more simple ideas that'll keep little ones entertained and engaged, try these easy arts and crafts or these minimal prep, minimal mess indoor toddler activities.
Valentine's Crafts made with Toilet Paper Rolls or Cardboard Tubes
If Valentine's is just around the corner and you're still thinking of the perfect Valentine's day crafts, these toilet paper roll crafts with a heart or love theme are what you're looking for.
Pop Hearts Toilet Paper Roll
This pop heart craft will definitely make a lovely Valentine's gift or heart-shaped decoration. All you need are toilet paper rolls, paint, glue, colored foil and glitter (with adult supervision, of course!).
Simply draw a heart onto the tubes and cut carefully so it's still attached at the sides at the top and the bottom. Then it's time for your toddler to decorate.
Pop hearts toilet paper roll crafts.
If none of these toilet roll crafts take your fancy and you're on the hunt for something for Valentine's, check out these Valentine's day arts and crafts.
Spring & Easter Crafts with Toilet Paper Rolls
Crafting is a lovely way to spend time with your toddler during the holidays. If Spring is in the air and the Easter Bunny is on his way, and you're looking for an easy toilet paper roll craft for your toddler, you've come to the right place.
For more cute, hopping bunnies, check out these Easter bunny crafts for toddlers.
TP Roll Easter Bunny Craft
Another fun and easy toilet paper roll Easter bunny craft. Let your toddler paint them or leave be for an easy life!
TP roll easter bunny craft from 4stepspreschool.
Handmade Toilet Paper Bunnies
Yet another super easy Spring or Easter activity for toddlers: a toilet paper tube bunny craft. For these, the faces are hand-drawn and ears cut out of the top of the cardboard. What a fab way to personalize each one!
Toilet paper bunnies from pictureparents.
For more creative Easter activities we have something for everyone. Try these toddler Easter art activities or how about these Easter crafts for 3 year olds. For tiny tots take a look at these Easter activities for babies.
Summer Toilet Paper Roll Crafts
Is it too hot to go outside? Don't worry! You can still enjoy summer inside with these fun and easy summer-lovin tp and cardboard roll crafts.
Flower Sun-Catcher
Welcome summer or spring with this pretty flower sun-catcher. Gather all your toilet paper rolls, cut them in half, then have your toddler paint them. Once dry, cover the ends of the tubes with tissue paper, then glue them all together into a flower shape.
Finally, tie a piece of yarn or ribbon to the top and hang them in the window.
Flower sun-catcher from grandkidsmakelifegrand4u.
Once done with your summery toilet paper roll craft, why not head outside and try one of these outdoor activities. From easy art activities and messy play to fun movement games, there's plenty to keep little ones entertained.
Toilet Paper Roll Fall Crafts
Here are some fun autumn and fall crafts using toilet paper rolls. Some of these could make cute decorations or placeholders for Thanksgiving.
For more cute and easy fall-themed activities, take a look at these fall activities for toddlers and these fall crafts. Of course, we have some ideas for babies too – check out these fall activities for infants.
Toilet Paper Roll Halloween Crafts
This list of Halloween crafts are so spookily cute – and are just made out of toilet paper rolls! These are sure to appeal to older kids who want to get festive this Halloween too.
And if you're not sure what to put inside, check out these toddler-friendly Halloween treats.
(This 3D pumpkin craft is a mini version of the one above – but no tp roll needed!)
For another easy creepy crawly activity craft, try this pipe cleaner spider.
Toilet Paper Roll Mummy Craft⁠
This one-eyed mummy toilet roll craft is so cute and simple you're definitely going to have to give it a try. Let your toddler paint the toilet roll green then, once dry, have them wrap it with gauze or toilet paper and stick on a giant googly eye, good practice of fine motor skills. So adorable, isn't it?
Toilet paper roll mummy craft from homeschlprek.
Looking for more mummified crafts? You'll find plenty more inspiration in this list of mummy crafts for toddlers. They're sure to be a hit during Halloween.
DIY Hanging Bats
Boo! Halloween is coming! Make a fun and easy toilet paper roll bat craft and hang them up as Halloween decorations. Your 2 or 3 year old is sure to have fun creating this craft. Start by wrapping a toilet paper roll with black paper. Make the wings using the same paper, stick on some googly eyes and use a white or silver pen for their mouth. There you have it!
DIY hanging bats from dimps05.
You'll find more exciting games for little ones in this list of Halloween party ideas for toddlers.
Cardboard Tube Spiders
We had a lot of fun making these cardboard tube spiders out of toilet paper rolls by painting them and sticking on googly eyes. You can use them as paint stamps too.
(For an even simpler spider craft, try this super easy pipe cleaner spider craft).
For more spooky fun with little ones, check out these Halloween crafts and activities.
Toilet Paper Roll Christmas Crafts
Prepping and decorating the house is one of my favorite times of year – there's no better way to get into the festive spirit. Once you see the festive and fabulous creations in this section, all made with a simple toilet paper roll or two, you'll never want to throw one away again!
For more trinkets to hang on your Christmas tree, check out these cute Christmas ornaments or these nature-inspired decorations.
(And if this Santa doesn't take your fancy, try one of these Santa Claus crafts.)
Recycled Christmas Tree Loops
Christmas tree crafts are a favorite in our house and here's a great way to turn toilet paper rolls into funky Christmas trees.
Start by letting your toddler paint and decorate the tubes using bright colors and perhaps a little glitter (if you're feeling brave!). Once dry, cut the tubes to turn them into a spiral. These Christmas tree loops will look so pretty hanging around the house.
Recycled Christmas tree loops from mycreative.moment.
Toilet Paper Roll Christmas Candles
Fancy some carols by candlelight without the fire hazard? Why not try these easy toilet paper roll Christmas candles with your toddler? The wick and flame are made with a popsicle stick and yellow paper – so simple and effective, perfect for young children.
Toilet paper roll Christmas candles from alexand.create.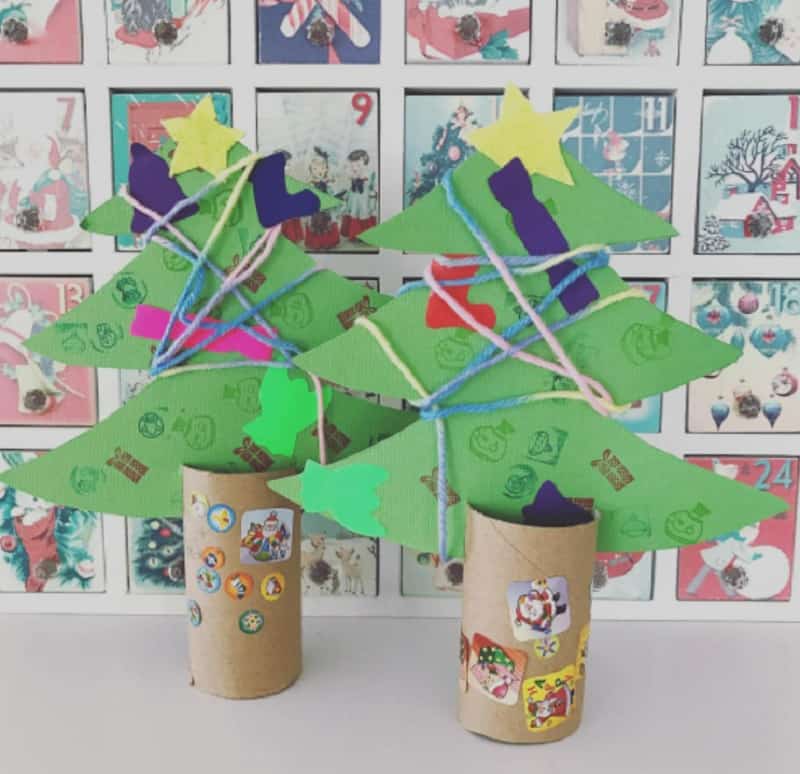 Stamp & Sticker Christmas Tree craft
Christmas tp roll crafts are truly never ending and here's another one to add to the list.
Cut out a Christmas tree using green colored paper. Grab a toilet paper roll from your collection and slot the tree on top. Now it's time for your toddler to decorate.
Stamp & sticker Christmas Tree craft from piglets_pen.
For more festive fun with young kids, we've plenty of activities to choose from:
Toilet Paper Roll Animal Crafts
Little kids are fascinated by animals and love creating their favorites. Not surprisingly, toilet paper rolls are a great starting point for pretty much any animal you can think of!
Take a look at this list of animal-themed toilet paper roll crafts and you're sure to find one to excite your toddler. Once done, little ones will love playing with their new cardboard animal friends, so you might even be able to enjoy a quiet cuppa…
Cute Hedgehog from Toilet Paper Roll
A cute little hedgehog is coming your way. I simply love the fact he's holding a heart – this would be lovely for Valentine's Day or what about for Mothers Day?
Start off by making the top of the tube curved, for little Hedgie's head. His prickles, arms and the heart are made from colored paper. Simply cut and stick.
Hedgehog craft from zabavnodetstvo.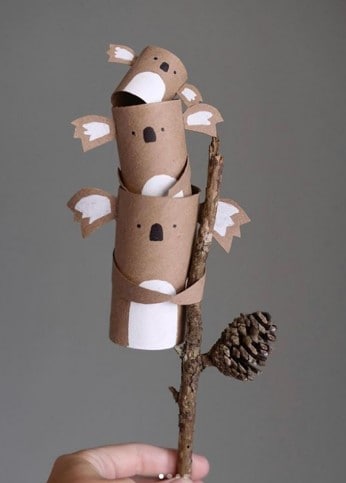 Toilet Paper Roll Koala Bears
How adorable is this koala bear craft? I just love it. For this one you combine cardboard rolls of different sizes, so toilet paper rolls and other cardboard tubes, like the ones from cling wrap tubes and aluminum foil.
Toilet paper roll koala bears from blog.estefi.Machado.
Fish Toilet Paper Roll
Here's an adorable fish made from toilet paper rolls.
Simply flatten and cut one end of the toilet paper roll into a fish face shape. At the other end, cut two triangles – top and bottom, then it's time to decorate. What about adding some sequins to make some sparkly scales?
Fish toilet paper roll from my_messy_desk.
For more minimal mess sensory activities (that also require minimal prep) try one of these dry messy play ideas.
Toilet Roll Octopus
With so many cardboard tubes hiding in the cupboards, here's a great activity and craft for older toddlers and preschoolers. First you'll need cut slits in the top, fold and glue together to make the top of the octopusses head.
Once that's done, have your toddler paint with their favorite color. Allow to dry, then punch holes and thread the yarn.
This will be a good practice of fine motor, as well as patience! I'm not sure my toddler would make it to the end of this craft without a little help…
Now, watch your octopus friend dance and wiggle.
Toilet roll octopus from maximumheightsacademy.
Another fun way for little ones to practice and strengthen their fine motor skills is through this homemade twist-top board or this puffy paint spider web.
Fantasy Character Toilet Paper Roll Crafts
Young children, toddlers especially, live in a world of fantasy and imagination, aided by fairy tales, storybooks and cartoons. This section of toilet paper roll and cardboard tube crafts has plenty of fun charaters and make-believe creatures sure to grab your kids attention.
Transport Paper Roll Crafts
It's no secret that toddlers love things that go and fly, so these fun and easy transport-themed toilet paper roll crafts are sure to be popular.
From cars and planes to trains and rockets, toddlers will be spoilt for choice. And whatever they choose, one of these tp roll crafts is sure to get your toddler moving and helping to develop their gross motor skills.
Toilet Paper Roll Vehicle
Use an old toilet paper roll along with some bottle caps in this easy car craft for young kids. They'll love decorating them to make their very own unique set of wheels.
Toilet paper roll vehicle from treasures4teachers.
Toilet Paper Roll Race Car
Another fun and easy toilet paper roll craft for toddlers that love cars. Have your kids paint the toilet paper rolls and then wheels. Glue them together and now they have their own mini race car. A great DIY toy to play with afterward.
Toilet paper roll race car from kiddiegram.
For more car, train, bus and boat crafts, check out these cute and easy transportation arts and crafts for toddlers and preschoolers.
Other Easy Toilet Paper Roll Crafts For Toddlers
Yup, more toilet paper roll crafts!
Cute Toilet Paper Rolls Cacti
These cacti are looking sharp! Guess what? They're pretty easy to make! Your toddler is sure to enjoy drawing the face and spikes on with a sharpie and adding other embellishments, just because…
Cacti toilet paper roll craft from north.east.mama.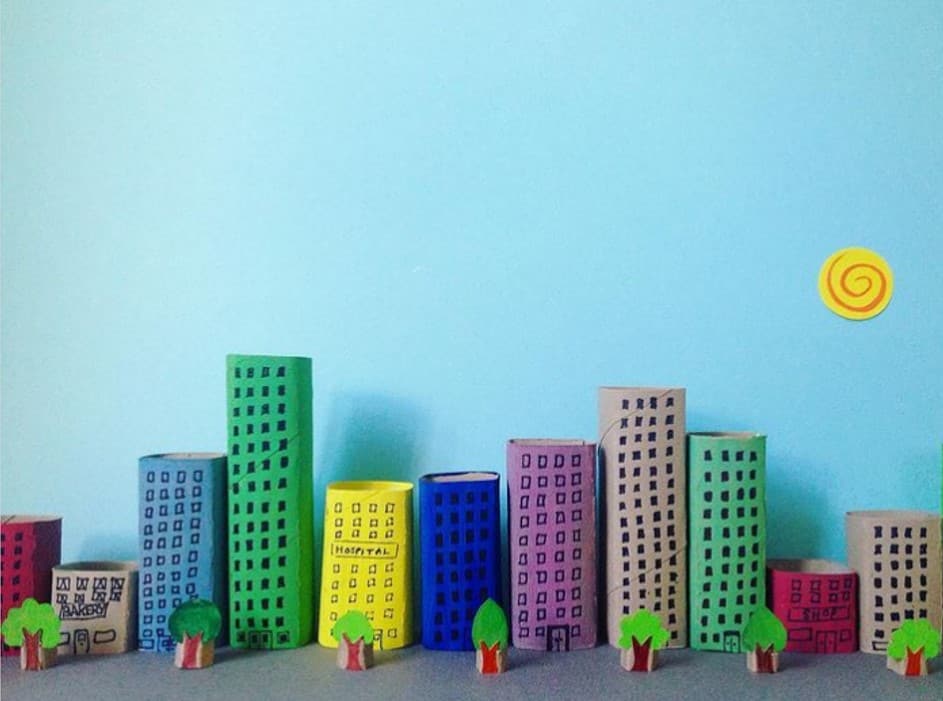 Fun Toilet Paper Roll City
Create a whole city using old toilet paper rolls and cardboard tubes cut into different sizes. Flatten them a bit to make the tubes into cuboids then time to draw on windows and doors.
Toilet paper roll city craft from jumbletree.
Toilet Paper Roll Fun Confetti Cannon
Feeling a bit festive? This toilet paper roll confetti cannon is sure to make your toddlers go crazy!
Cut off a balloon and simply tape it to the end of the tube. Once your toddler has done decorating, fill the confetti cannon up with pompoms or paper balls. If they pull the balloon, little balls will come whirling through the air. Fun, right?
Confetti cannon toilet paper roll craft from mimilou_weltentdecker.
Fun & Easy Toilet Paper Roll Activities For Toddlers
We'ver covered all sorts of toilet paper roll crafts. Now onto some fun learning activities that use toilet paper rolls or cardboard tubes. From letter and number recognition to STEM, they're ideal to engage little learners 2, 3 and even 4 years old.
Number Recognition Activity
An easy activity in matching which will help young toddlers start to discriminate between the different shapes that form each number, the first step in letter recognition. Number recognition activity from thebeesymommy.
Pom Pom Slide
Keep your toddlers busy with this pom pom slide made out of toilet paper rolls.
Cut the tubes in half and connect them together. Use paper straws to support the slide and mount them onto cardboard. Add squeeze pouch caps as stoppers, and find pompoms to match.
Not only is this a fun activity for toddlers but also a good chance to practice color recognition and matching.
Pom pom slide from sparepartssa.
Which of the many, many toilet paper tube crafts will you start with your 2 or 3 year old?
I have my favorites, which are yours?
________________________________________
Looking for more fun crafts and activities for littles ones? We've got your covered!