I love Christmas and love getting creative – luckily my kids do too. Of all the Christmas crafts around, making a new ornament for the tree is always top of the list when it comes to satisfying the need to rustle up something festive around the dinner, come, craft table.
Christmas tunes in the background we sit around the table quietly wiling away many a happy afternoon in the holidays. If only! Much as I wish that was the reality, err.. what can I say?
With twins the latest addition to our household there's rarely a quiet moment and certainly no wiling away of time… ever. (Unless you count the dead of night?)
I digress.
Among the chaos of family life, the holidays and the neverending, "how many sleeps until Christmas" questions we always manage a Christmas ornament or two. It's definitely one of many Christmas traditions that the kids enjoy.
Related post: 45 adorable Christmas ornaments for kids of all ages
Of all the ones we've made over the years so far, these salt dough Christmas ornaments and these easy toddler spaghetti tree ornaments are so far the favorites.
But, easy though they are, both involve a certain amount of glue or stickiness. Now the twins are toddling and putting hands, fingers, feet, even their whole body, just about everywhere, it's time to take it down a notch. I wanted some paper ornament ideas this time.
So here we have it: a 3D Christmas paper ornament to make with kids. A little bit of glue stick glue right at the end is as messy as it gets.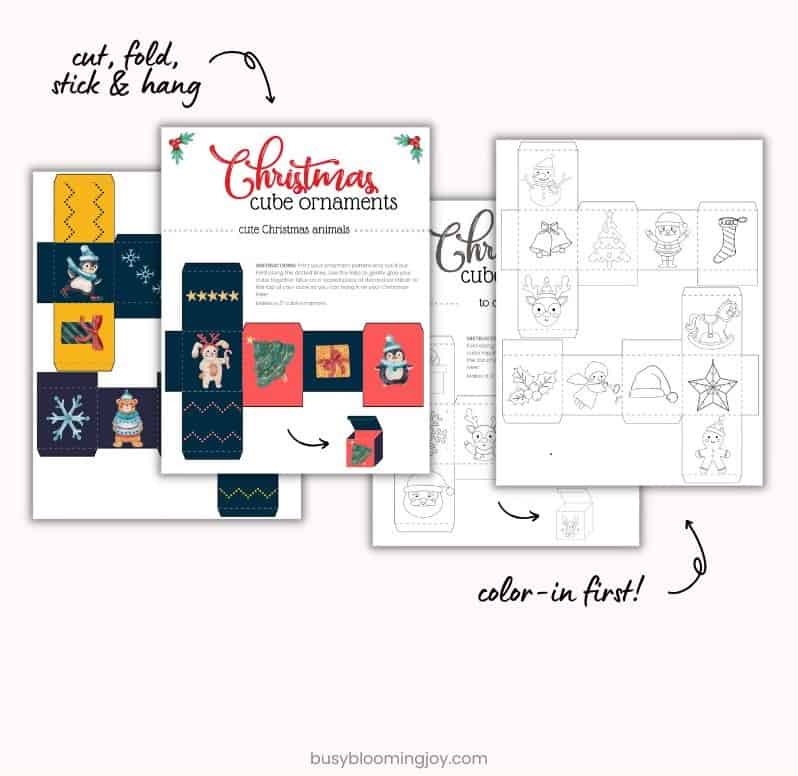 Easy Christmas ornament to make at school
Simply print the 3d paper Christmas ornament template and you're ready to go. School-age kids should that can be trusted with scissors can cut out the free template, fold and stick. They could also choose one of the color-in 3d paper ornament templates and (obviously) color in first.
Or why not up the ante and challenge them to make their very own 3d paper ornament without the template?
Christmas ornaments to make with kindergarteners from 2 years old
If your little one can hold a crayon and scribble, then they can get involved! How cute for them to help make their very own ornament?
Yup, whether you have big kids or small, these 3d paper ornament templates have got you covered.
Supplies needed to make ornaments with 3D paper ornament template
Ready to make an easy Christmas ornament with your toddler or older kids? Once you've grabbed your 3D paper ornament template all you need are:
Scissors
Glue stick
Sharpies or coloring pencils, optional
Can't say simpler than that, can you?
Other essential supplies when crafting with little ones:
Coffee, by the bucketload, or other beverage of choice (in securely lidded travel mug to avoid spillage and maximise heat retention because you probably will end up drinking it over the course of an hour, right?!)
Patience
And more coffee
Without further ado…
Free templates for Christmas 3D paper ornament
Color-in 3d paper ornament template
If your kids love coloring and you want to keep them busy for half an hour or so, then these color-in cube ornaments are for you. Click the link under the images to download the free 3d paper ornament template as a PDF.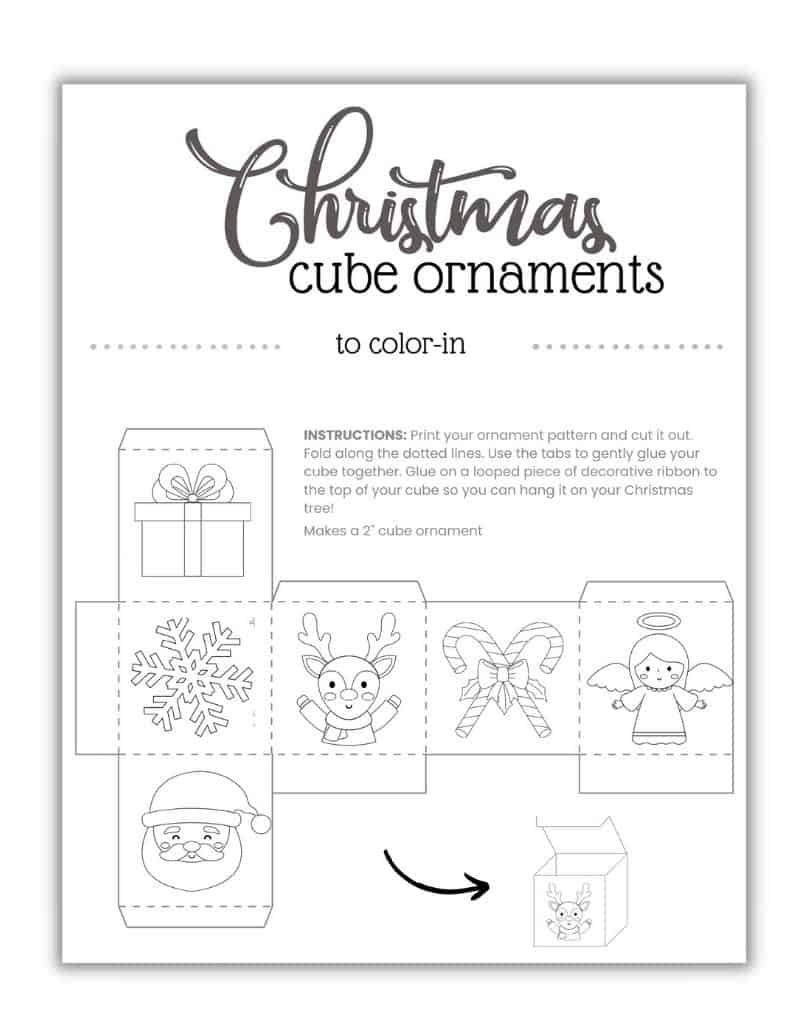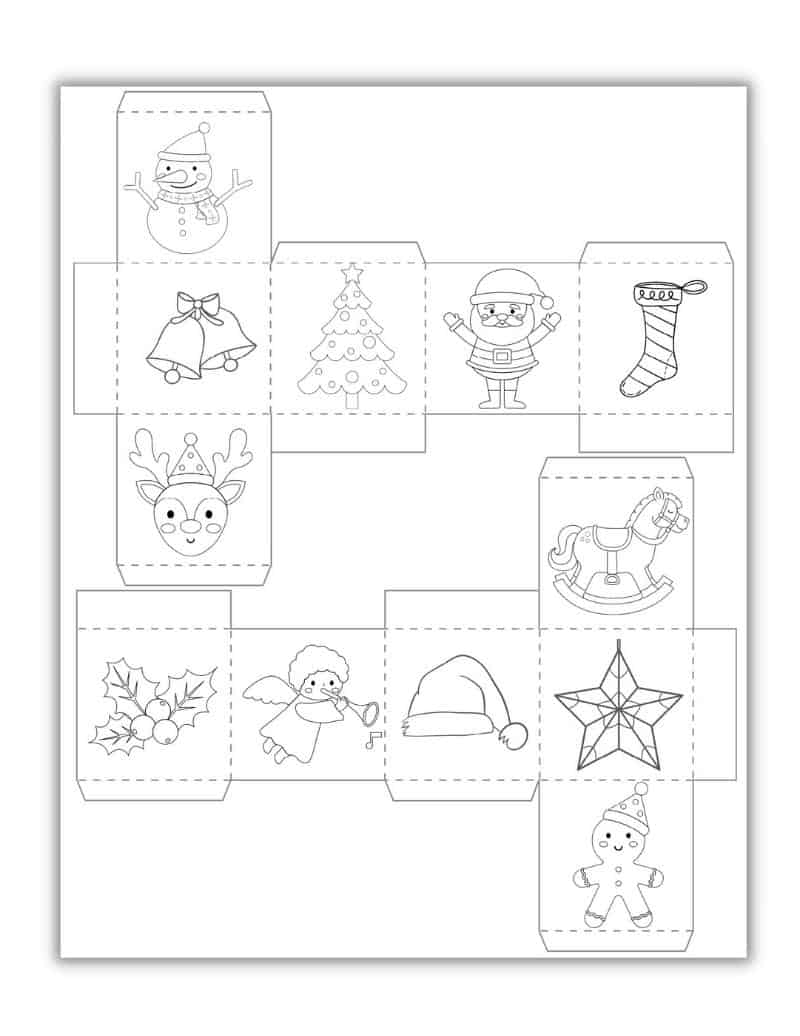 CLICK HERE TO DOWNLOAD THE COLOR-IN 3D PAPER ORNAMENT TEMPLATE
Cute Christmas animals 3d paper ornament template
If no one's in the mood to color, or you're looking for an ornament with a hint of sophistication to hang on the tree that's still been made by your kids, then try these 3d paper ornament templates.
All you need to do is print, fold, glue and hang!
Click the link under the images to download the free 3d paper ornament template as a PDF.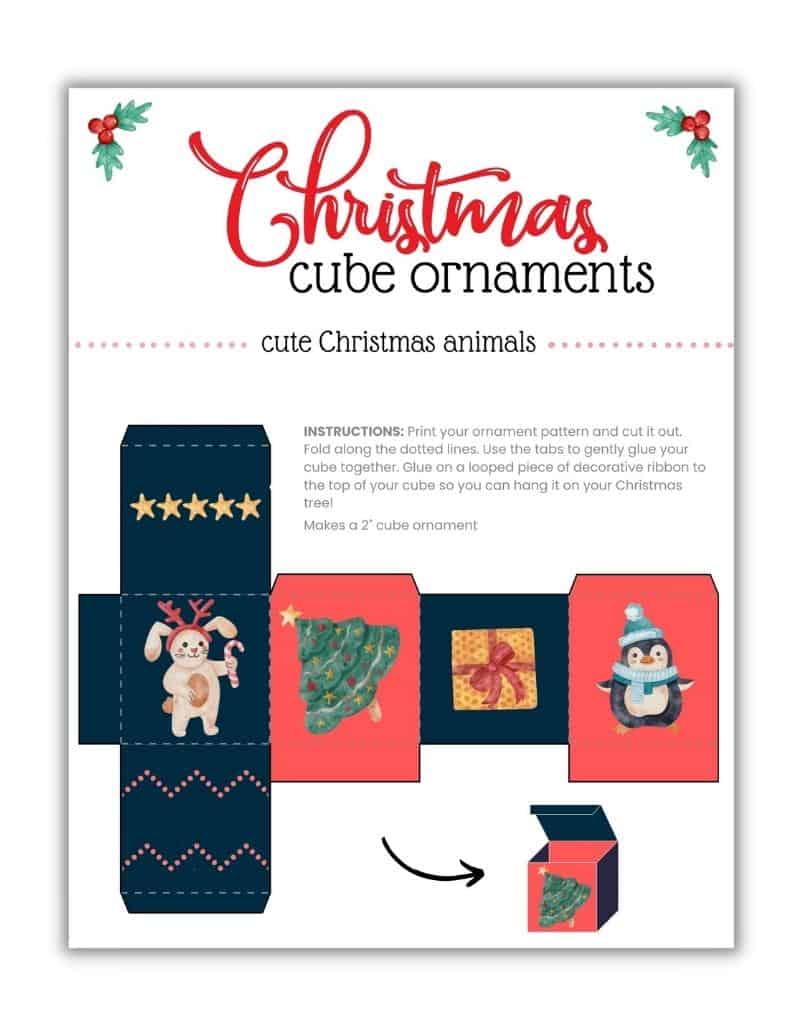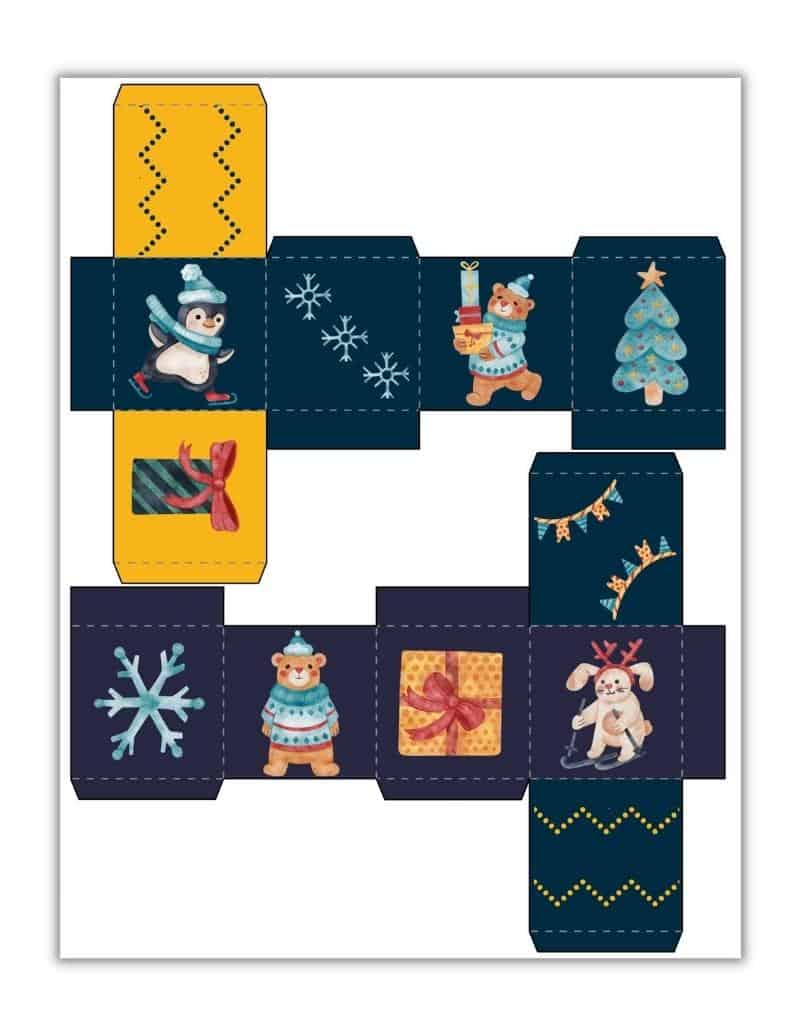 CLICK HERE TO DOWNLOAD THE CHRISTMAS ANIMALS 3D PAPER ORNAMENT TEMPLATE
Hope you enjoy these free paper Christmas ornament templates
Whether you're looking for easy paper Christmas ornaments to make with your own kids or a whole classful at school (seriously, teachers, I don't know how you do it!) I hope these free 3d ornament templates provide you with a little light relief and enjoyment.
Happy Christmas!

40+ easy activities handpicked for busy moms of kids aged 2 to 6 years – because Christmas needn't be chaotic or cost a fortune!

Create gorgeous hand and footprint art with your little one

Help your kids write Santa a letter and receive a reply

Looking for more festive fun activities this Christmas with your little ones? Check out:
Want to keep your little ones busy? Check out these easy toddler activities to do at home
Excited for Valentines? Save this link for later
Too early to prepare for Easter? I don't think so! Take a look at these activities for toddlers