Wondering how to repurpose all the Christmas cards you accumulated in a matter of weeks? I was too. It never seems right to get rid of such good quality materials.
Of course, one way to avoid contributing to the mountains of waste is simply not to send them. Bah humbug. That's too scrooge-like for my liking.
Especially now we have kids. They love making Christmas cards to give to friends and family – this easy snowman card and this super simple paint chip Christmas card have been the favorites so far.
Of course, the kids adore receiving them too. In fact, one of the issues with this recycled Christmas card craft was parting with (and cutting up) very special cards – from special friends and/or with very special pictures on e.g. a dinosaur dressed as Santa…
So the sending and receiving of Christmas cards are here to stay. Which means finding ways to repurpose and recycle old cards is too.
Luckily with Christmas now only a month away (how did that happen?!) it doesn't feel too early to think about a festive craft or two. My daughter certainly needed no encouragement.
How to repurpose Christmas cards
I remember helping my mom repurpose birthday cards and Christmas cards into gift tags, using pinking shears, which cut pretty zig zag lines. I was looking for something a little more creative for my daughter but if there are any left over cards, that'll be the plan.
My daughter, 5, and I chatted through a few different options:
make the cards into bunting by cutting each one into a triangle and stringing together with some ribbon
making new Christmas cards, by cutting out parts of the card and sticking onto blank cards (we always have blank cards on hand for homemade cards)
making a collage/picture by cutting out different parts of the card and sticking onto a large sheet of cardstock
My daughter chose the latter which made the most sense as she loves making collages. The magazine self-portraits we did together were an absolute hit and pretty hysterical too.
The bunting idea would have been tricky anyway, since lots of the cards were very small, making either for very small or very un-even bunting.
Why this upcycle Christmas card craft is ideal for young children
This type of craft allows complete creativity from an early age. Even toddlers and preschoolers can have almost complete autonomy. They can pick which elements they want to put in their collage. Then, depending on their physical ability, they can practice their scissor skills. Or if unable, you can cut the different elements out for them, apply the glue and let them stick each one down.
Of course, older, school age kids will be probably be good creating their masterpiece from start to finish independently.
My 5 year old did require a bit of help cutting around some of the leaves and more fiddly bits – the perfectionist in her was not happy cutting around these. The leaves needed to be 'leafy'. Obviously mom!
She also enjoyed reading and choosing the festive words she wanted to include – words like festive, happy, wonderful are absolutely at her level.
This upcycles Christmas card craft is a great example of process art – where the emphasis is on the process of creation. However, the end result is pretty damn cute too.
Supplies needed for this upcycled Christmas card collage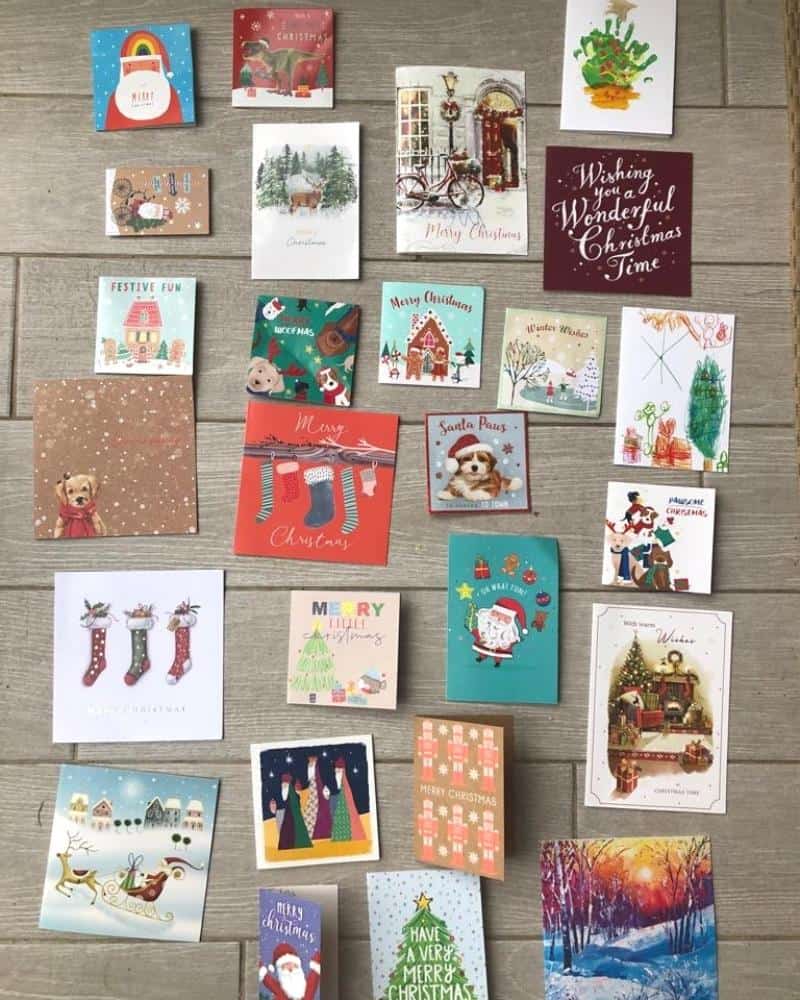 Funnily enough, old Christmas cards are top of the list.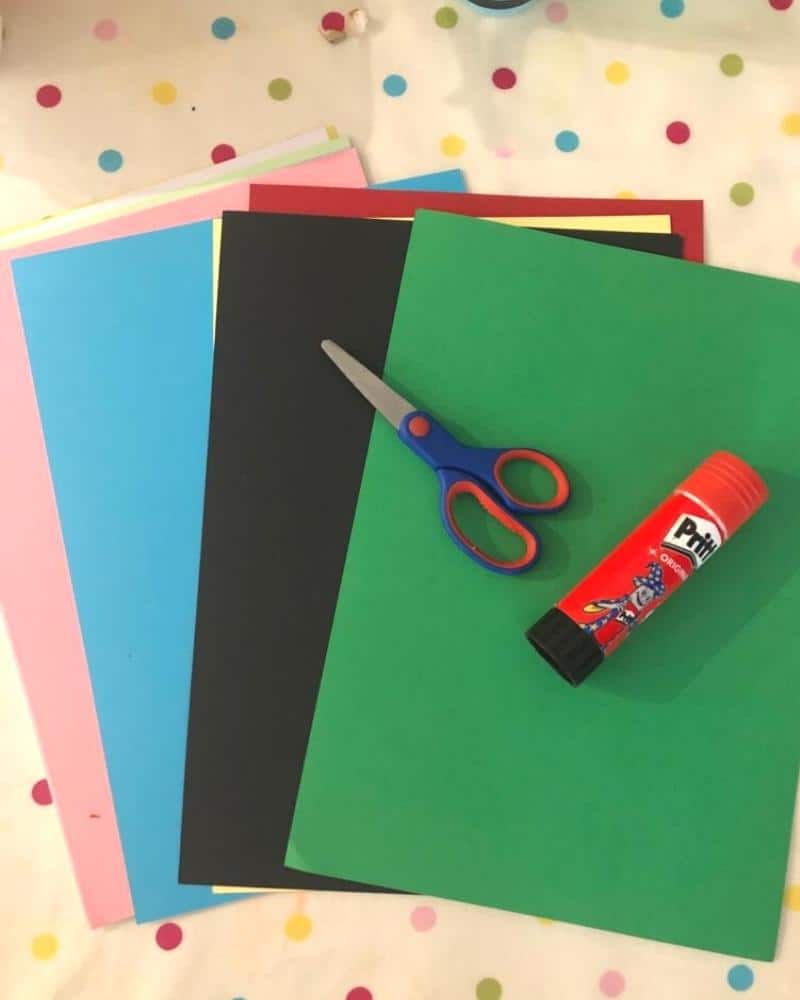 You'll also need:
scissors
a glue stick
cardstock, the bigger the better, though we just used A4
other embellishments e.g. glitter, glitter stickers etc (optional)
The how-to of this easy repurposed Christmas card craft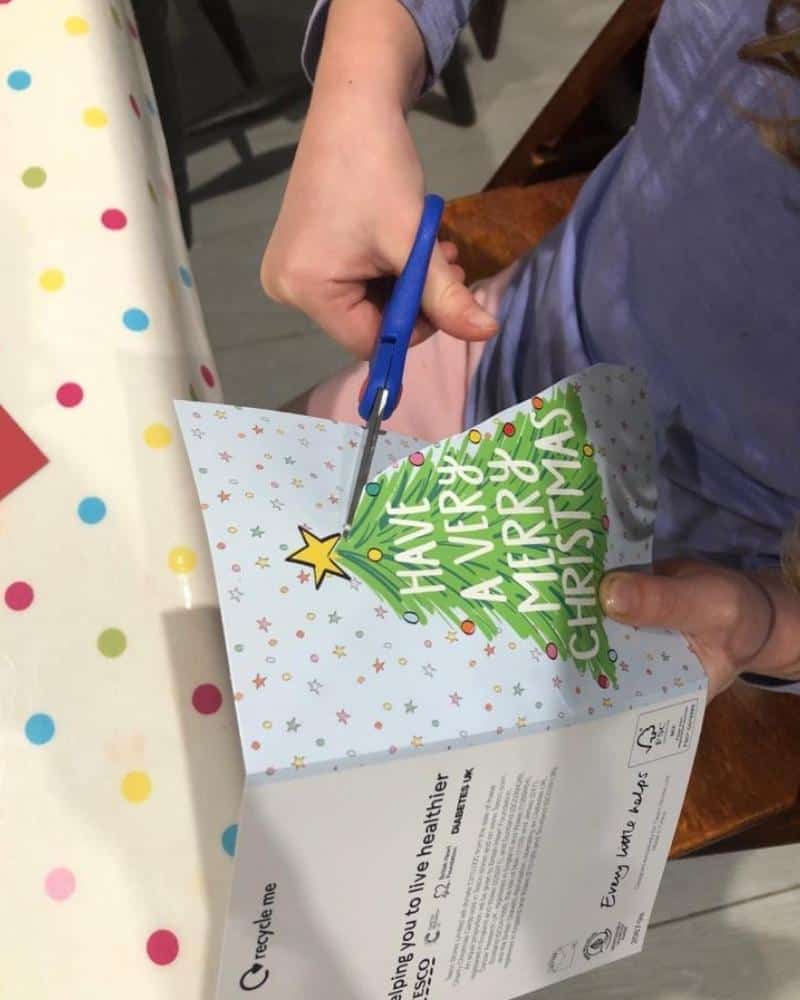 There is barely complicated enough for instructions, but for just complete clarity:
Pick and choose cards with fun shapes, characters and festive elements
Cut out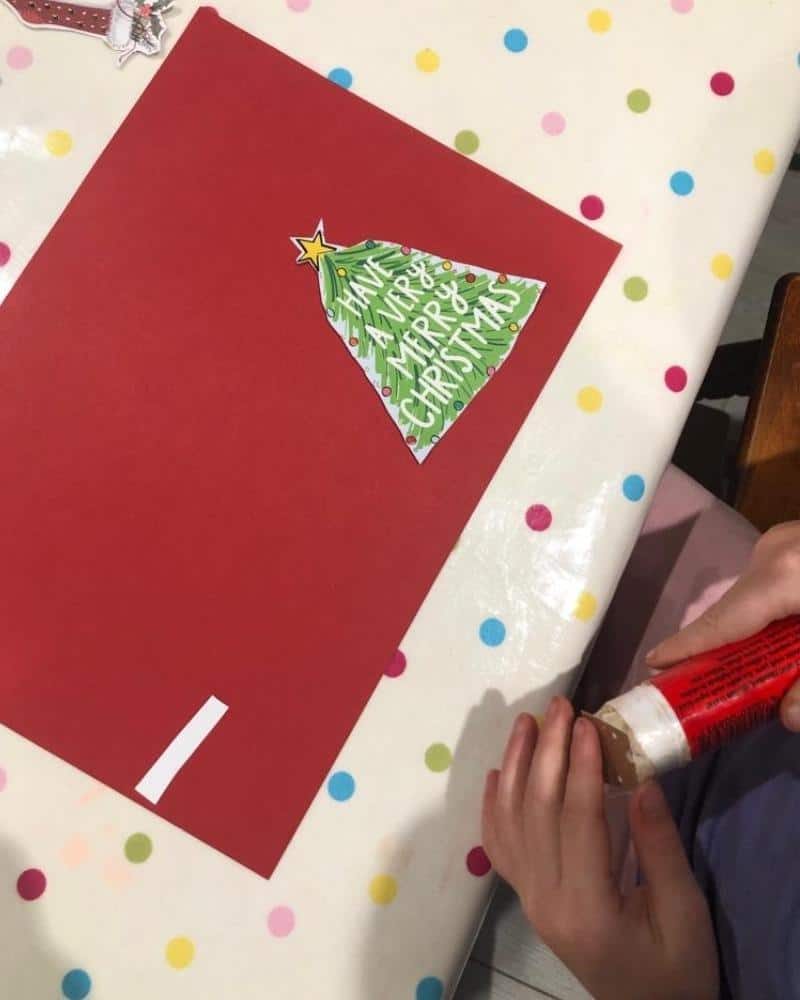 Place on a piece of cardstock and arrange as desired
Glue
Add embellishments if desired
Admire!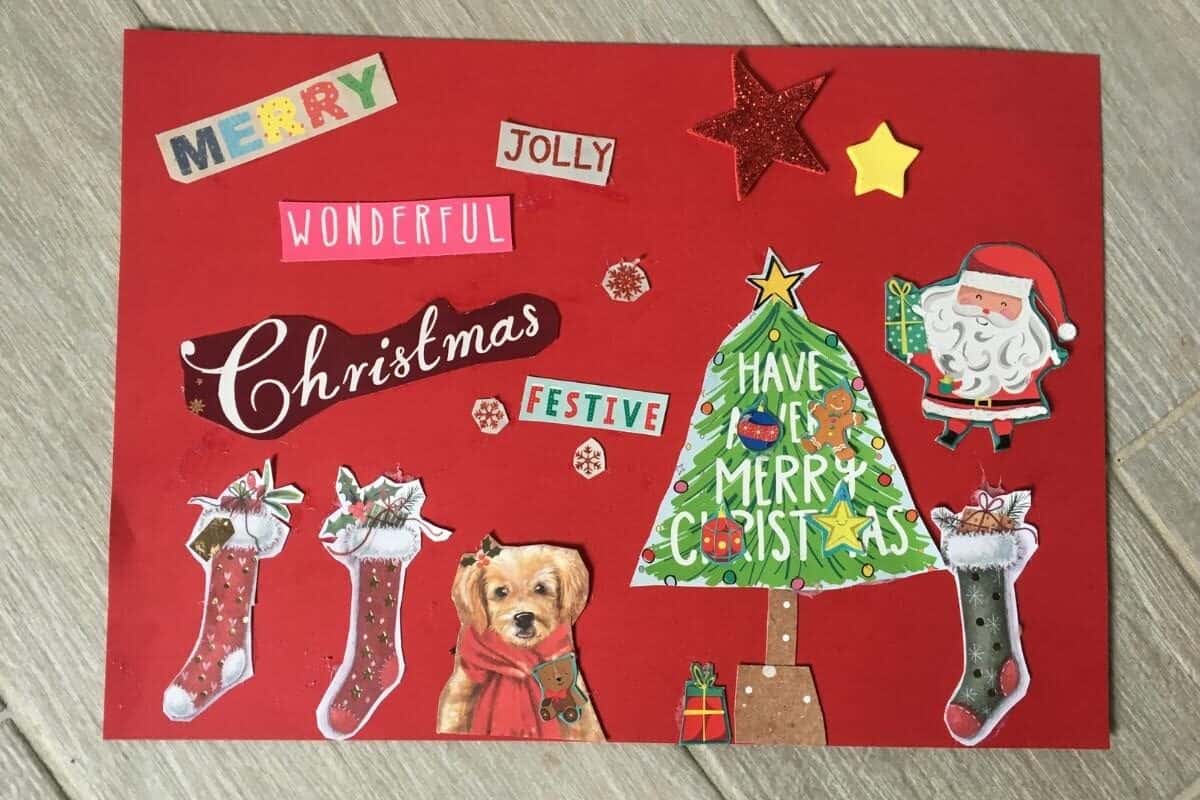 Above is my daughter's creation. If you look hard you can see the added her own decorations to the tree – there's a cut out star, ginger bread man and 2 ornaments.
In case you're wondering, Santa is floating down from the chimnet and is waiting for the dog to fall asleep before he puts all the presents under the tree.
This one's a keeper for sure.
Merry Christmas!

40+ easy activities handpicked for busy moms of kids aged 2 to 6 years – because Christmas needn't be chaotic or cost a fortune!

Create gorgeous hand and footprint art with your little one

Help your kids write Santa a letter and receive a reply