I love Valentine's Day! It's a day (or month) full of hearts, love and showing appreciation to everyone around you. What a wonderful thing, right? It's certainly never too early to share the concept of love and appreciation with your little ones.
And who doesn't love receiving a cute Valentine's Day craft from their toddler? Even if you are right there with them creating their heart-shaped masterpiece or cute little lovebug, the finished result will still be something to treasure forever more.
Of course, these Valentine's crafts won't be perfect. Toddlers have to grapple with their developing fine motor skills while patience and attention span can be short (or non-existent!)
Crafting itself is a good opportunity to work on all of these and a lovely way to share in your little one's growth and development. There's nothing like seeing their pride when they hand over their creation. There's love in that moment right there!
So, are you ready to have your home decorated with colorful hearts? Or overrun with love bugs? It's time to take out the red tissue paper, pink pompoms, glitter stickers and heart-shaped everything!
From toddler valentine's day handprint art, simple heart crafts and homemade valentine cards for toddlers here you'll find plenty of cute, colorful and easy valentines day arts and crafts for toddlers.
Simple heart crafts for toddlers this Valentine's
It wouldn't quite be Valentine's without lots of beautiful hearts, would it?! So Hearts and heart-shaped crafts are first up on this list of Valentine's Day arts and crafts for toddlers. Heart-shaped creations also make wonderful Mothers Day Crafts and Fathers Day Crafts too.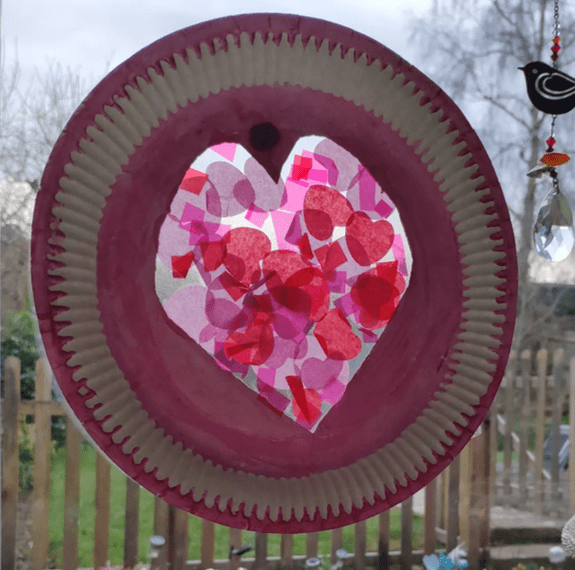 Valentine's Suncatcher Paper Plate Craft
How about this colorful heart sun catcher to brighten up your windows this Valentine's Day – a simple heart craft for toddlers made with craft cupboard staples of a paper plate, paint, tissue paper and contact paper. What a lovely Valentine's Day arts and craft idea for toddlers. Gorgeous!
Valentine's suncatcher from adventuresofbobbinandbunny.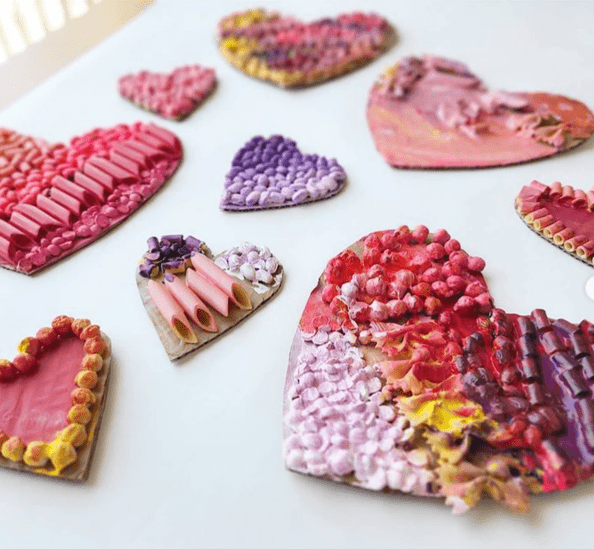 Textured Valentine's Day Heart Craft For Toddlers
This cute Valentine's day arts and crafts for toddlers is all about texture and is much process art as it is craft. Your toddler can experiment with their own unique patterns and designs when arranging the pasta shapes and dried beans and pulses onto cardboard, cut into the shape of a heart. Then simply glue and paint.
Textured Valentine's heart craft from ecocraftkids.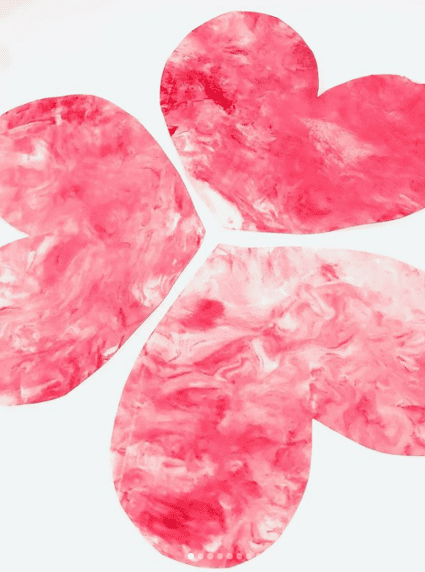 Marble Art Heart Craft For Toddlers
Marble art is fun for kids of all ages, even adults (I don't think it's just me?!) so why not try this cute Valentine's day craft with your toddler. Simply drop blobs of red paint or food coloring onto a layer of shaving cream and swirl . Then gently lay paper or card stock over the top, lift off and scrape the cream off. You should be left with a lovely pink marbled pattern, as pictured. More on shaving cream art here.
Marble art heart from growing_up_murphy.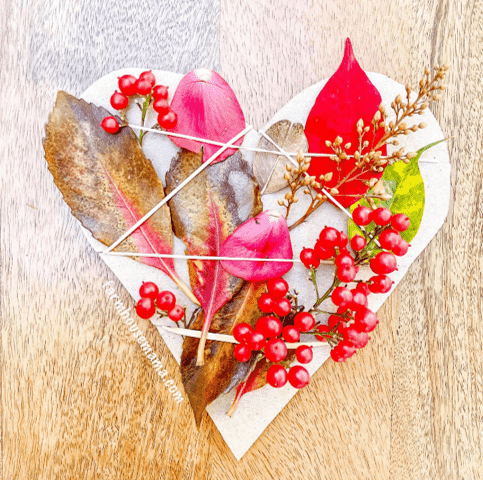 Nature Heart Craft
Here's a beautiful and simple heart craft for toddlers that love nature and the great outdoors. All you need to do is collect some bits and bobs from outside. Then tuck into elastic bands or string wrapped around a cardboard heart. Such a fun DIY Valentine's day craft that little ones will love handing out to special friends and family during the month of love.
Nature heart craft from farmhouse_mama_blog.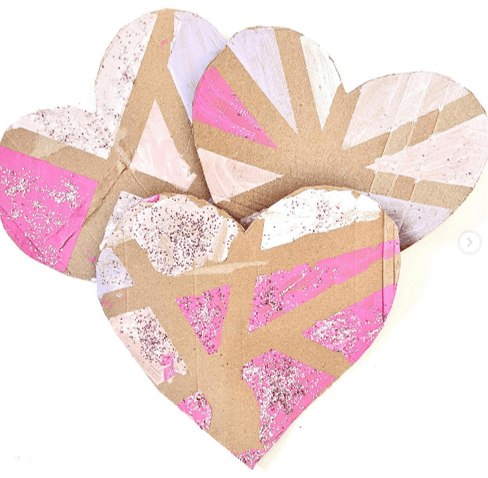 Tape Resist Heart Craft
Tape over cardboard heart cutouts with painters tape, then it's time to paint. This heart craft really is as simple as that – ideal for toddlers. You could also write a short message on the back, get your toddler to sign it and you have yourself a homemade Valentine's card made by your toddler.
Tape resist heart craft from playful_porter.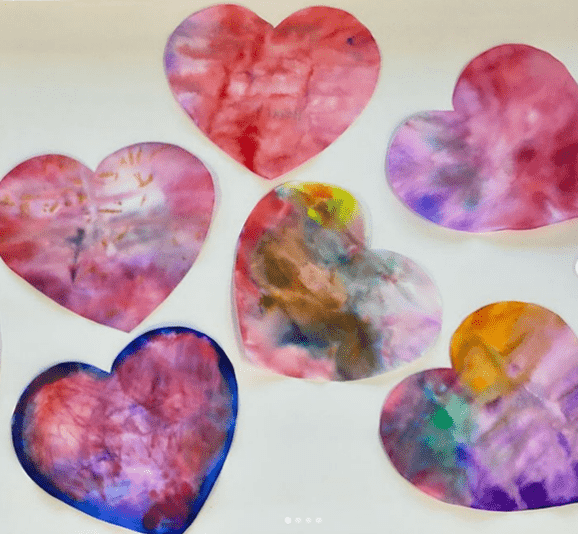 Tie Dye Coffee Filter Hearts
Who knew one of your cupboard essentials could be turned into pretty Valentine's Day arts and crafts? The coffee filter paper allows the inks and colors to spread and merge, creating different patterns. What a crafty idea!
Simply cut the filters into heart shapes and start coloring and dying with sharpies. You can also use drops of water, via a pipette, to help the colors move. Alternatively use watercolors.
Such a fun process art project and Valentine's Day craft for toddlers and preschoolers.
Coffee filter hearts from mighty_merins.
Homemade toddler Valentine's cards
There's nothing sweeter than receiving a homemade Valentine's card, especially when your toddler is the creator. These toddler Valentine's cards use fun and simple techniques, and are ideal to make at home. But if you're looking for preschool Valentine's card crafts look no further – these are just the ticket too.
Family and friends will love receiving any of these cute card creations. Make a load and send to extended family too. It's time to spread the love!
Valentines Love Bug crafts for toddlers to make
If you're looking for super cute Valentine's day arts and crafts for toddlers why not try a Love Bug? There are loads of different options and materials you can use to make them – all as adorable as each other.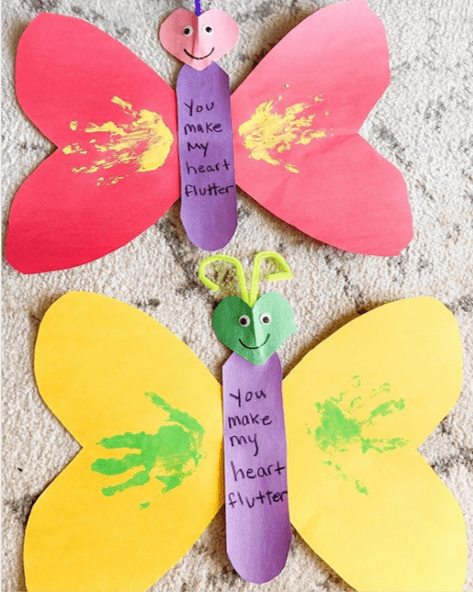 Butterfly Handprint Craft for Valentine's
If you want to try some Valentine's Day handprint art, then this sweet butterfly craft is worth a look. It'll make such a gorgeous keepsake and a lovely way to remember how small those little hands were. It's sure to make hearts flutter!
Butterfly handprint craft from mistbarrett.
Love Bug Footprint Family
What about making a whole family of adorable footprint Love Bugs? All you need for this Valentine's day craft is some cardstock, googly eyes, a black sharpie and, of course, your toddlers feet.
Love bug footprint family from wokinghamrocks.
Other cute Valentine's Day arts and crafts for toddlers
Still looking for more cute Valentine's day crafts for toddlers? Here are a few more ideas.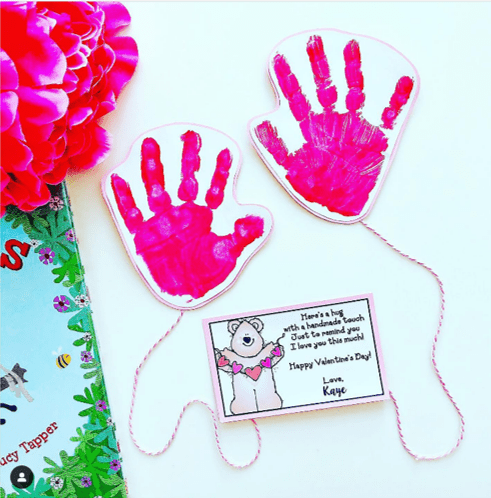 Handprint Hug Craft For Valentine's
How cute is this Valentine's day craft for toddlers? Whoever receives this is going to feel so loved.
Handprint Hug from little.miss.kaye.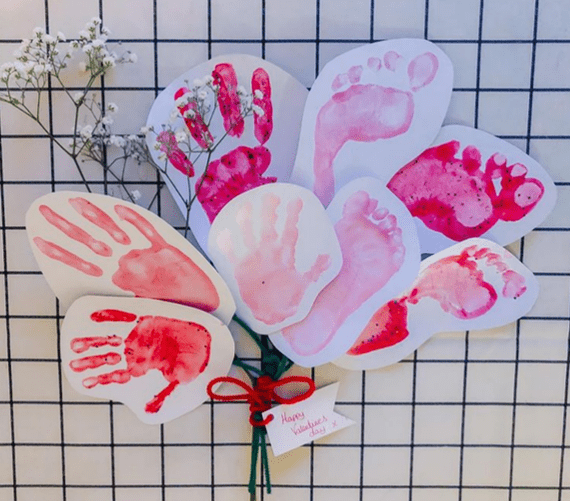 Valentine's Day Bouquet
I love receiving flowers any day of the year, but they only last so long. Why not try Valentine's Day handprint craft with a difference and give a bouquet of hand and footprints? If you make it with more than one child, simply label each flower with their name.
Valentine's day bouquet from hayleyhiggins.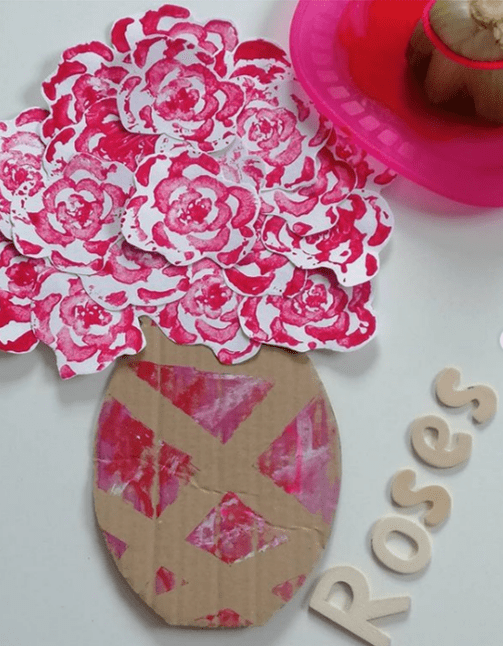 Celery Stamped Flowers
Looking for a unique, art project with your little ones this Valentine's? Try stamping with celery so create roses in bloom. This Valentine's craft is more suitable for preschoolers but is perhaps something you could do together with your toddler.
Celery stamped flowers from play_and_learn_with_rhys.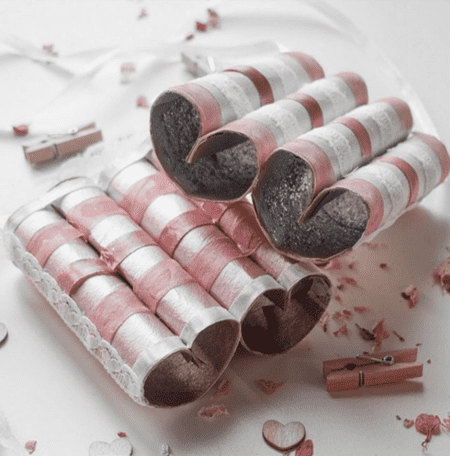 Heart-Shaped Binoculars
How adorable are these heart-shaped binoculars? Toddlers are sure to love exploring the world through these heart-shaped "lenses" on Valentine's day.
Heart-shaped binoculars from our.familyfable.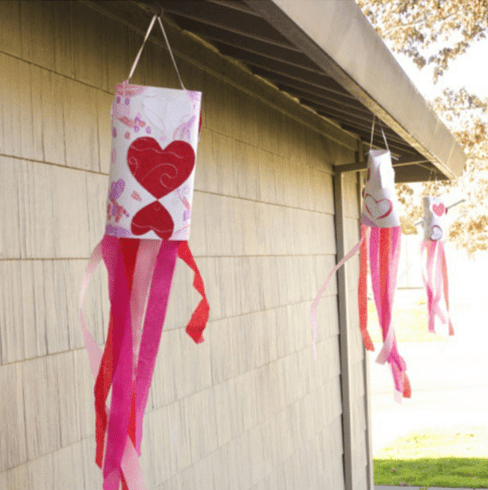 Heart Windsock Craft Activity
For something a little different and with a practical aspect, why not try this heart-themed windsock craft with your toddler this Valentine's Day? They'll enjoy watching these pretty streamers flutter in the wind. A fun craft that'll help them learn about the weather.
Heart windsock craft from romantichomeschooler.
How do you make a heart with toddlers hands
Handprint crafts can be a little challenging but are normally worth it for the adorable keepsake you end up with. When it comes to handprint hearts there are a number of different options.
One way is to place one hand down on an angle, then make another print with the other hand at the opposite angle with the palm overlapping the first.
There are a few examples of heart handprint crafts throughout this list of Valentine's day arts and crafts for toddlers.
Related post: 23 Best paints & materials for baby hand & footprint crafts
How do you make a heart with 3 hands?
Making a heart using 3 hand prints is surprisingly easy and sweet to make, since you can use your hand, daddy's hand and your toddler's hand.
Simply trace around your hands onto construction paper, cut the handprints out, then arrange as below to form a heart in the middle. Adorably sweet, right?
Valentine's Day
I do hope you've enjoyed this compilation of Valentine's day craft ideas and are inspired to go and create with your toddler. Whether you go for some sweet Valentine's Day handprint art, a bunch of gorgeous love heart flowers (stamped by celery) or decide on one of the cute DIY greetings cards there are plenty of simple projects to choose from.
Happy Valentine's!
For more easy toddler activities to keep your little ones busy indoors and out check out:
Excited for Easter? Bookmark these for later.