Water play is a staple of early childhood learning. Children are able to gain and learn so much new knowledge and further develop their skills by exploring water play scenarios.
Of course, they don't even realize that they're actively learning, they're just enjoying.
If I'm ever in a fix to keep my little ones (or bigger ones) busy on a hot summer day or need a fun activity outside, I immediately reach for the tap or hose! Included are some of our favorite water activities for toddlers we've enjoyed many, many times.
Many of which can be done inside too – yup, toddler water play activities can be done indoors too, without too much loss of sanity…
They often save the day with my super inquisitive toddler – who has zero interest in sitting still to craft! Set him up at the sink and he'll play all afternoon.
So if you're wondering how to facilitate engaging water activities for toddlers indoors and out, we've got you covered in this post.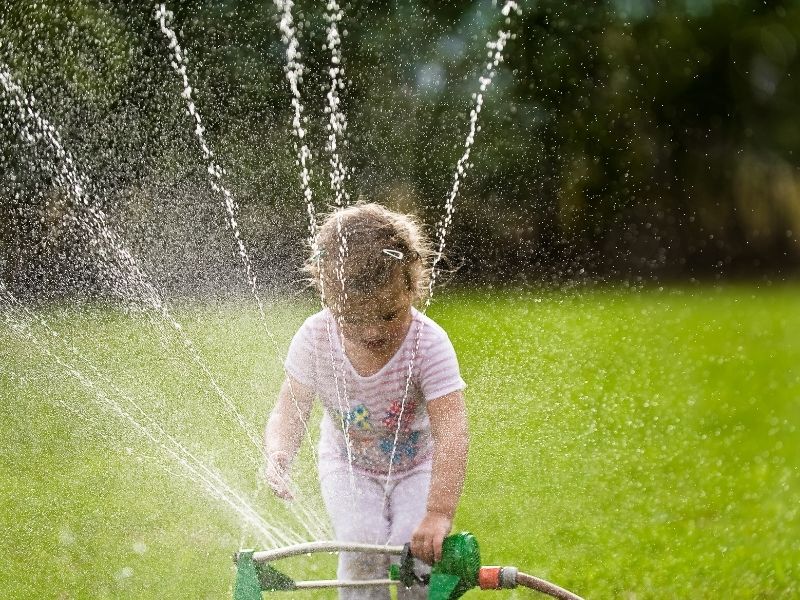 How do you make water play interesting for toddlers?
In order to make water play more interesting and appealing to toddlers, include a few different tools or items of interest each time. Try different container shapes and sizes to scoop and pour with, include bath toys, spray or squirt bottles, items from nature or paint brushes.
You can also provide a variety of colorful items to keep your toddler visually engaged or add drops of food coloring. A variety of different textures adds interest too, since toddlers crave tactile sensory play.
Water itself is inherently interesting to toddlers, you won't need to try hard to keep their attention. Simply focus on ways to enhance and extend this natural curiosity in the water activities for toddlers that you facilitate.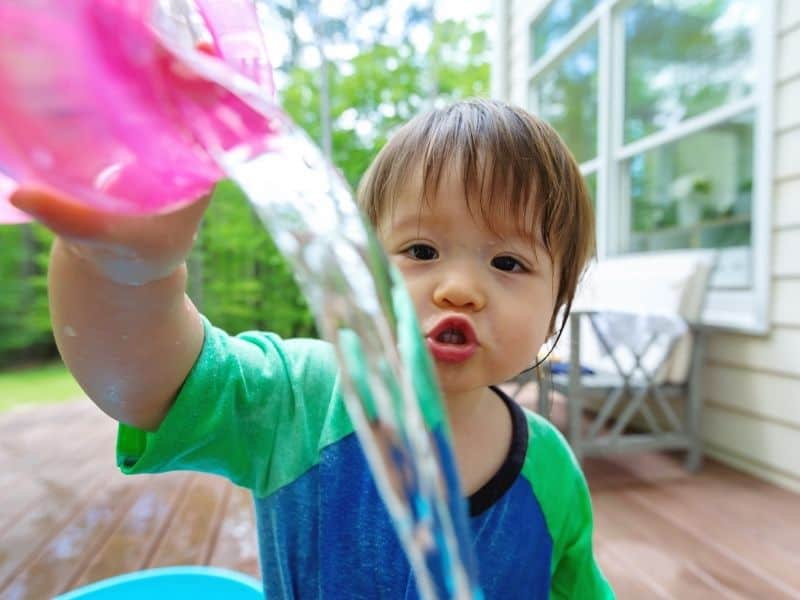 The Benefits of Water Play Activities For Toddlers
There are many developmental benefits to water play activities for toddlers. These span many areas of their growth and development, including, but not limited:
Fine and gross motor skills: as children grasp and manipulate materials and tools
Increased concentration: Water play lengthens a child's attention span as they work to accomplish the objectives of their play
Cognitive concepts: Water play deepens their cognitive reasoning skills as they observe concepts such as cause-and-effect and problem-solving in action
Imaginative play: Playing with water gives them the opportunity to use and develop their imagination
Sensory expression: Children can learn to gather new information through their senses
Language development: Water play presents many opportunities to make observations, ask questions, and share insights with peers and caregivers
Water Play Activities For Babies & Young Toddlers
Water play activities are beneficial for children of all ages…yes, even infants and young toddlers. Water provides a unique sensory experience and is easily accessible for young children, too.
These water play activities for babies will give you a good starting place for ideas and are suitable for outside or indoors.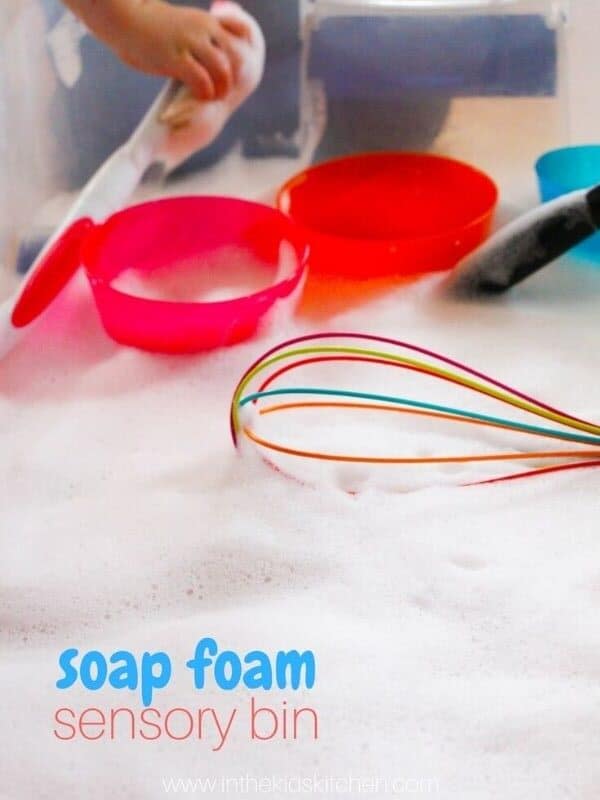 1. Soap Foam Sensory Bin
For this soap foam sensory bin, you will need flavored drink crystals like Koolaid (alternatively use food coloring or dye), dish soap, water and a blender. Plus a large sensoroy bin and kitchen tools once you've made the foam.
To create the soap foam, first mix together dish soap and water in a ratio of 1:2. Add in the drink crystals or food coloring, then blend.
Pour your soap foam into the storage bin and make another blenderful and carry on until you have as much as you need. 1 cup dish soap should make enough.
Now provide your baby or toddler with kitchen utensils and other tools such as paintbrushes to extend their fun.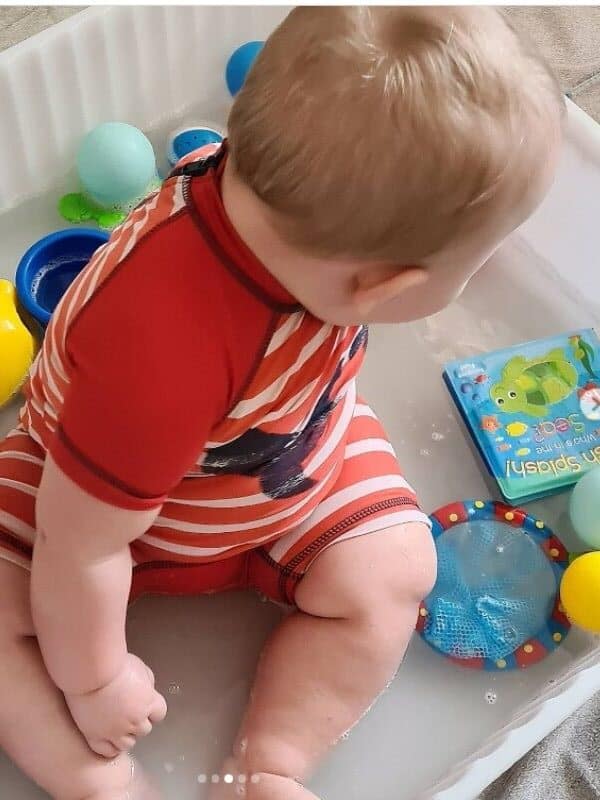 2. Balls and Cups Water Activity
This balls and cups water play activity for babies is as easy as it sounds and looks! Use balls and cups of various sizes, textures, and colors, and toss them in a large storage bin filled with water. Set up for hits
If your baby is able to sit unassisted, you could place them in the bin too. Or why not try it in the bath? Just keep them at arms length.
Your little one will love exploring their very own sensory baby pool!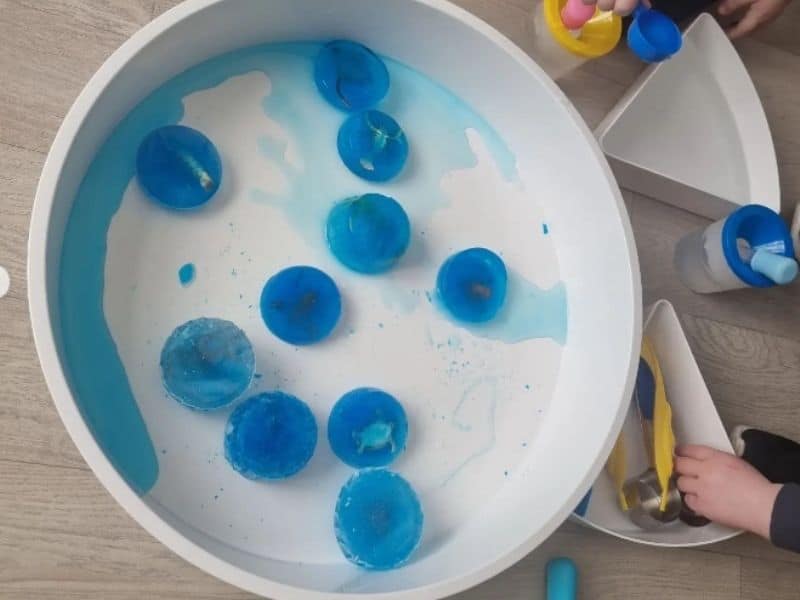 3. Animal Ice Cube Rescue
For this animal ice cube rescue bin, you need to freeze animal figurines and toys into ice cubes or blocks ahead of time. Then, when it's time to play add them to a tray or bin.
You could use food coloring to make the ice cubes more appealing to your toddler as pictured above.
To extend the fun, add eyedroppers of warm water to the ice cubes to help them melt faster.
You could also include Disney toy figurines or other small toys for your child to rescue (or simply play with).
This fun water activity for toddlers works on problem-solving skills, fine motor skill development, and the ability to harness perseverance.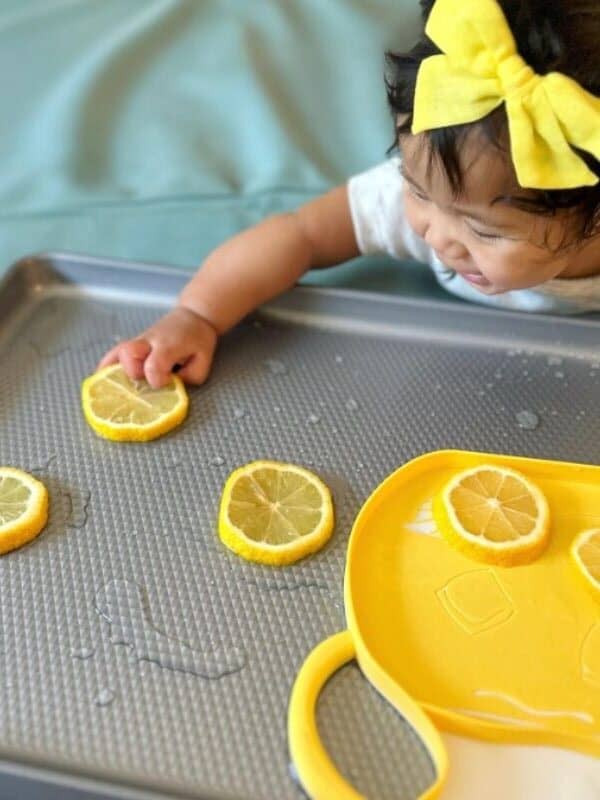 4. Lemon Water Play
Let your baby or young toddler explore lemon slices with their five senses–yes, including taste!
I thought my 1 year old would hate the sour taste of lemon, or at least make that classic pucker face. Boy, was I wrong! She LOVED lemon and still does to this day.
You may be surprised by your child's reaction to it, and it'll be so fun to watch. Cameras at the ready…
To set up a lemon water play activity, simply add a small amount of water to a tray or baking sheet along with some lemon and lime slices.
This is a particularly good indoor water play activity as it needs very little water. This also means it's ideal for babies and younger children as there are no water safety concerns.
For older toddlers, you can use a full bin of water with a variety of citrus slices and whole fruits for them to play with and explore. This is such a fun water play activity for toddlers of all ages and a great way to introduce new flavors into sensory play.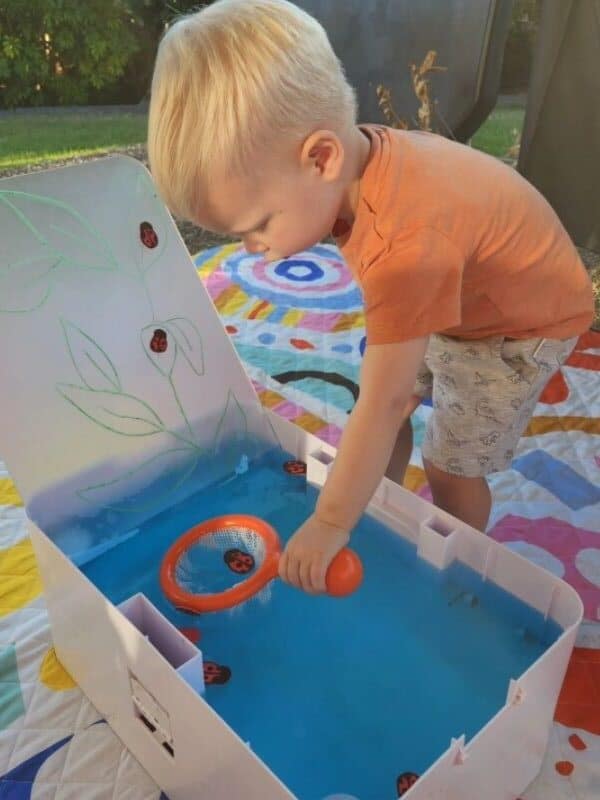 5. Save the Ladybugs
Make ladybugs out of felt and draw on their spots or purchase ladybug figurines for this "save the ladybugs" sensory bin. Simply add your ladybugs to water and provide a net, ladle, or tool of some kind for your toddler to rescue the ladybugs with…
My young toddlers adored this simple water activity!
To extend the fun for older toddlers, make a leafy "rescue hotel" for your ladubugs to recooperate in once out of the water. You could draw leaves on a slab of acrylic, cardboard, or a dry-erase board or use some faux or real leaves.
6. Sponge Ball
Here's another super simple water play activity for babies and toddlers that'll enjoy time and time again. Create some sponge balls for your child to explore the water with!
Squeezing and sqashing the sponge balls will help strengthen fingers and help develop the pincer grip. Of course, your toddler won't even notice, they'll be too busy having fun!
All you need are sponges and a string of some kind (elastic string works best), and scissors. Then follow this sponge ball tutorial to cut the sponges up and tie them together to create the balls as pictured.
Once made these simple sponge balls will provide many hours of water play so are definitely worth the effort. We always have a few floating around our house!
They're also a fun alternative to a paintbrush, ideal for little hands to manipulate. Or use them inconjunction with finger painting.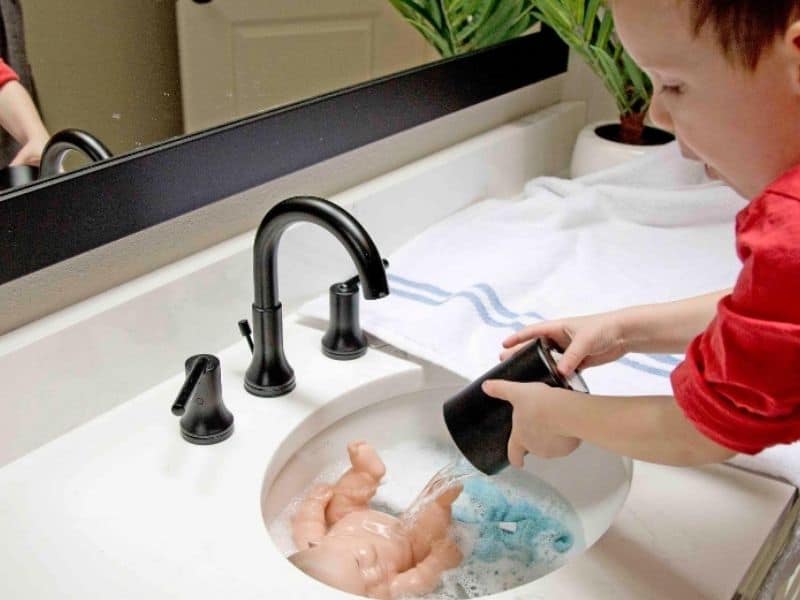 7. Doll Bath
This has got to be one of the easiest water activities for babies and toddlers indoors. The bare minimum you need for this doll bath activity is a baby doll and a source of water. You can wash the baby in a sink, in the bathtub. Or you can provide a bin or tub of water for the baby's bath.
To increase the fun and add to the sensory experience, add some baby soap or bubble bath solution to the water. My little girls love their babies and have always loved bathing them. An easy water activity for toddlers indoors or out that gives your child an outlet to express themselves through dramatic play.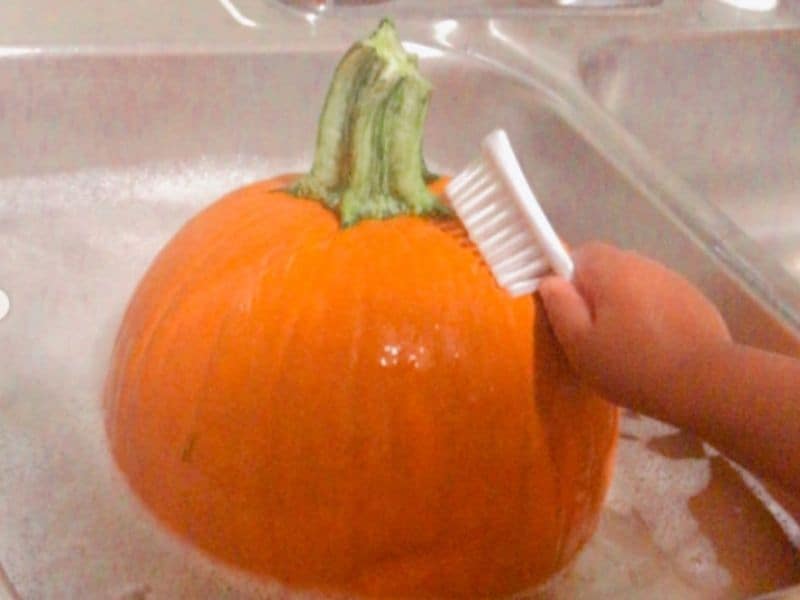 8. Pumpkin Brushing and Washing
Here's a simple water-themed fall activity. Or fall-themed water activity for toddlers – depending on which way you look at it!
To facilitate this pumpkin brushing and washing activity you need a pumpkin or two, a sponge or brush of some kind, plus a bin of soapy water. Then it's time to wash and scrub!
Allow to dry, and then you can paint, turning this water activity into a simple fall craft. My kiddos love to decorate the pumpkins by coloring them with sharpies or painting them with some washable tempera (or another non-toxic paint) before washing it off and starting again…
This activity further develops your child's understanding of cause-and-effect concepts and physically strengthens their grip and help develops their fine motor skills.
To extend the fun, use pumpkins of various sizes, gourds, or even squash.
For more Fall inspired activities, try: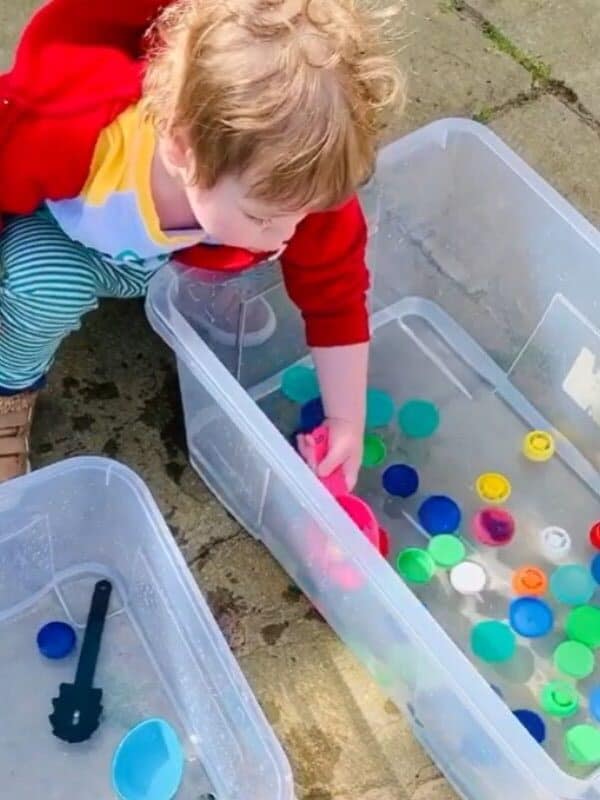 9. Bottle Cap Scooping
Be sure to hang on to those bottle caps and applesauce pouch caps! We have a whole stash of them at my house for occasions just like this – bottle cap scooping is so simple yet so engaging. Provide your child with a bin of water, and add the assorted bottle caps.
Make sure to use larger, plastic bottle caps and not metal, sharp ones. Bonus points if your bottle caps are of various colors and sizes.
This activity works on your child's categorization skills, a pre-maths skills, as well as fine motor development.
Outdoor Water Activities For Toddlers
There are many water activities for toddlers that work well indoors aswell as outdoors. There are also plenty that are best confined to outside!
Water can make quite a mess when a toddler is involved, or any child for that matte. These are most definitely outdoor water activities for toddlers and are best executed in your backyard or garden.

10. Bubble snakes
My toddler and preschooler loved making bubble snakes – bit tricky for tiny tots as they do require quite a bit of puffing power. However, they'll be just as entertained by watching you make a snake or two.
Here's a quick how-to:
make bubble mixture – 1 part water to 1 part dish liquid
cut the end off a clean and empty plastic bottle and cover with a tight-fitting (preferably clean) sock
dip the sock end of the bottle into the bubble mixture
and blow!
You can also watch this video tutorial.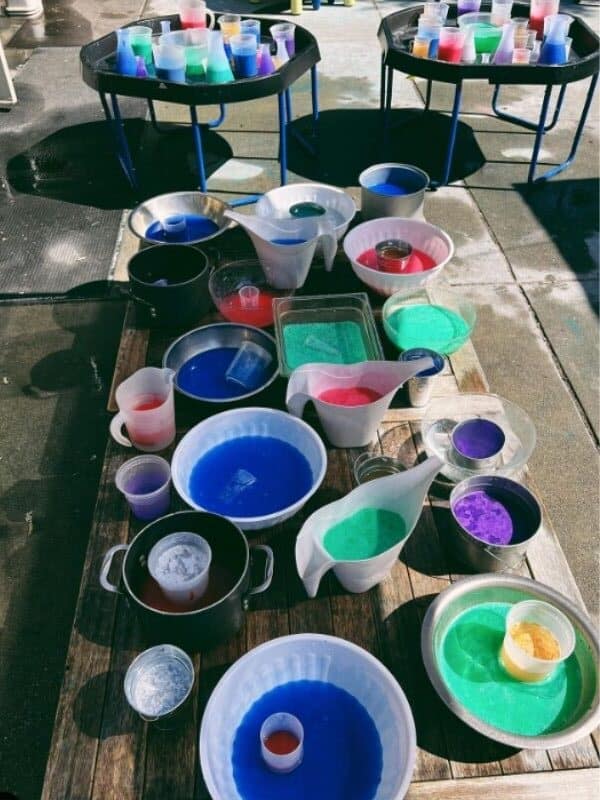 11. Colorful Water Play
This colorful water play activity is an easy way to introduce color theory to your child as they experiment mixing different colors together.
Simply set up a table or two with lcups filled with water of different colors. There are a few easy ways to color water: liquid watercolors, food coloring, or tempera paint.
You could limit the colors to primary ones (red, yellow, blue) to help build their foundational color theory knowledge.
Use cups that are easy to pour with, like pitcher cups and beakers. You could also supply eyedroppers and any other pouring tools or cups, just make sure everything is suitable for toddlers to use.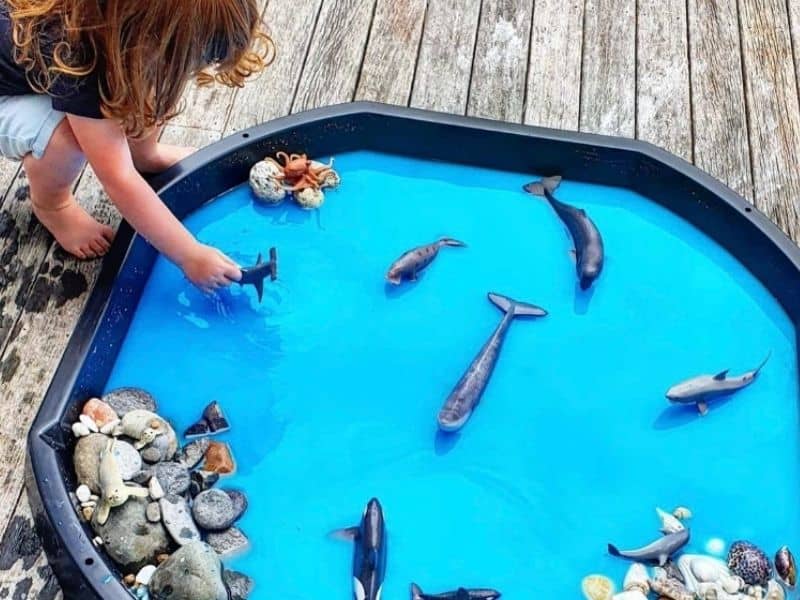 12. Sea Life Sensory Bin
This sea life sensory bin activity introduces your child to ocean animals in an easy-to-explore way. You will need a storage tub or deep activity tray for this activity, as well as ocean animal figurines, rocks, shells, and water to create your aquatic small world.
Add blue food coloring and/or ice cubes for a further sensory element.
13. Chalk Line Erase
This is one of the best outdoor water activities for toddlers and is hours of fun! You may be familiar with this one as it is's one of our most popular from this list of easy outdoor activities.
All you need is chalk, paintbrushes, and water. Draw designs, shapes, and write simple words onto the driveway or outside verandah and provide your child with paintbrushes and a container of water for them to "erase" the lines with.
Older toddlers can help drawing the chalk designs on first too.
My kiddos absolutely love this simple outdoor water play activity – it's perfecct for a warm sunny afternoon. Even when the chalk lines are gone, will happily just "draw" with the paintbrush and water, watching it slowly disappear as the sun dries it up just to repeat the process again.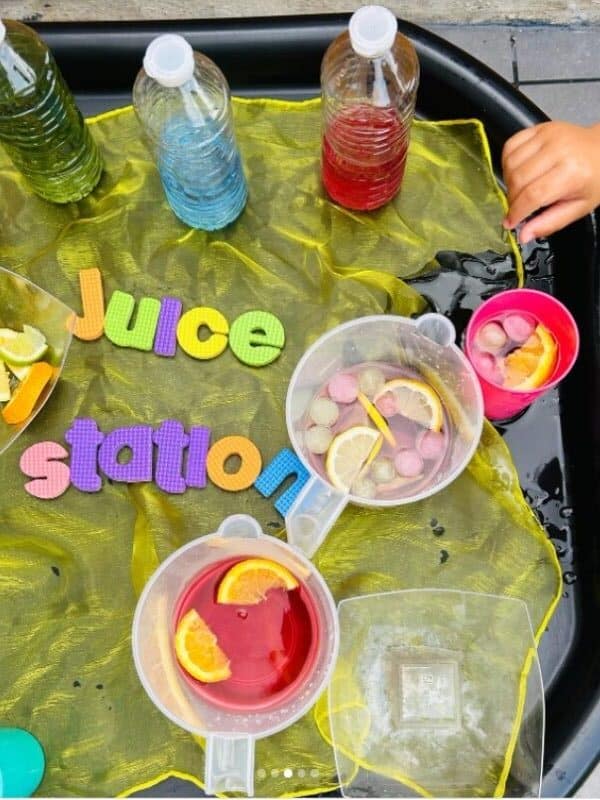 14. Juice Station
This juice station is an outlet for exploring scientific concepts as well as an engaging dramatic water play activity ideal for kindergarten. Toddlers will love serving their little friends juice!
Fill plastic pitchers with colored water, citrus slices and ice cubes (frozen in different colors if you're supper organized!). Color the water with food coloring so they can drink it if they want. (You can use juice but you may end up with a big sticky mess…)
Then add various cups, stirring sticks and maybe some straws to complete the juice station.
This outdoor water activity for toddlers is a fun one for you to engage in with your child. Let them serve you some "juice" for once!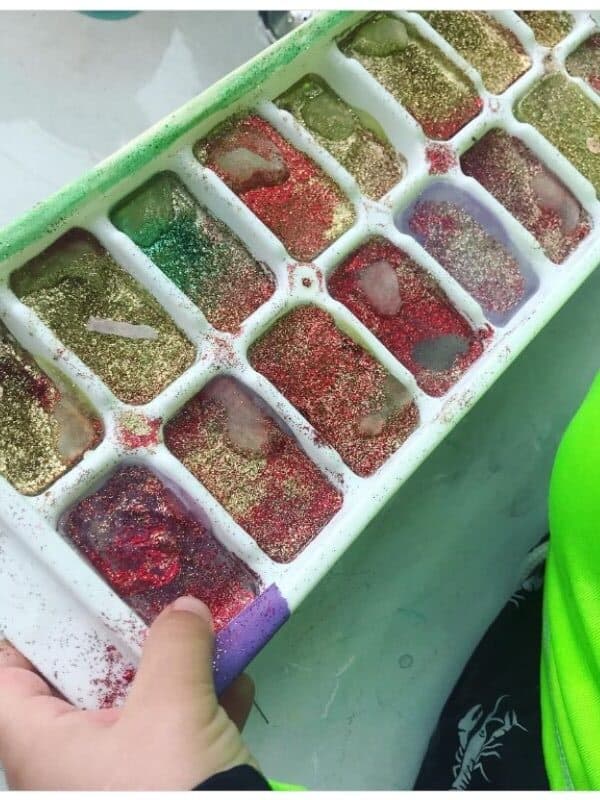 15. Glitter Ice Water Play
Make your own beautiful glitter ice cubes to play with!
This glitter ice water play activity is a two-in-one: not only will your child enjoy playing with the ice cubes and watching them melt away into a glittery pool, they can also get involved in the creation process.
You need an ice cube tray or two (easily found at the dollar store), glitter or glitter glue, water, and a tub.
Make up your glittery solution, then pour into the trays and allow to freeze overnight. Once frozen, pop them out of the tray and add them to the bin.
You can add water to the bin and watch them float around, adding warm water to speed up the process. Or place paper or cardstock under them in the bin and see what glittery patterns they make as they melt.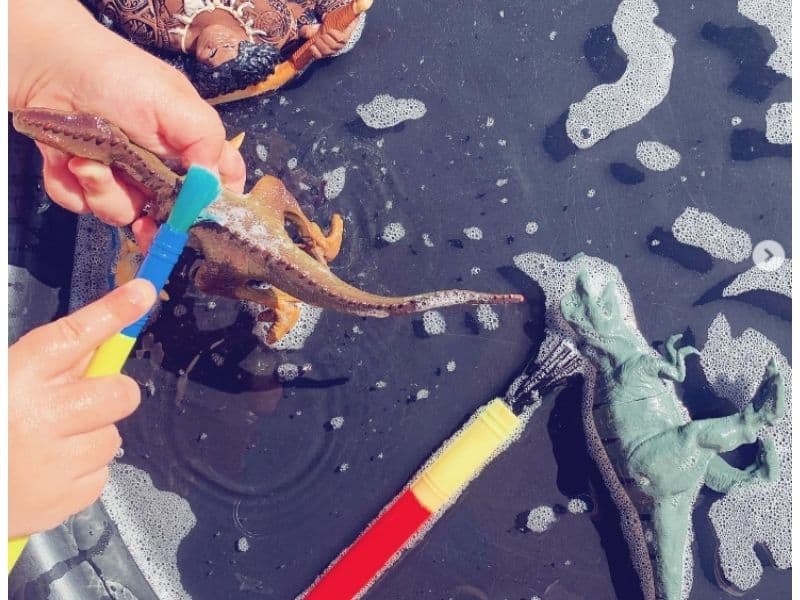 16. Dinosaur Washing Activity
Every toddler loves a good dino activity! And here's a water play idea to add to the list. For the simple dinosaur washing activity pictured, add toy dinosaurs to a large tub filled with water, along with brushes, and dish soap.
You could dirty up the dinosaurs first so they need a really good scrub. Or facilitate a painting activity first and make dinosaur tracks by painting their feet and stomping over some paper. Then wash off all the paint by ending with the dinosaur washing.
For more sensory play with a dino theme, try these dinosaur sensory activities.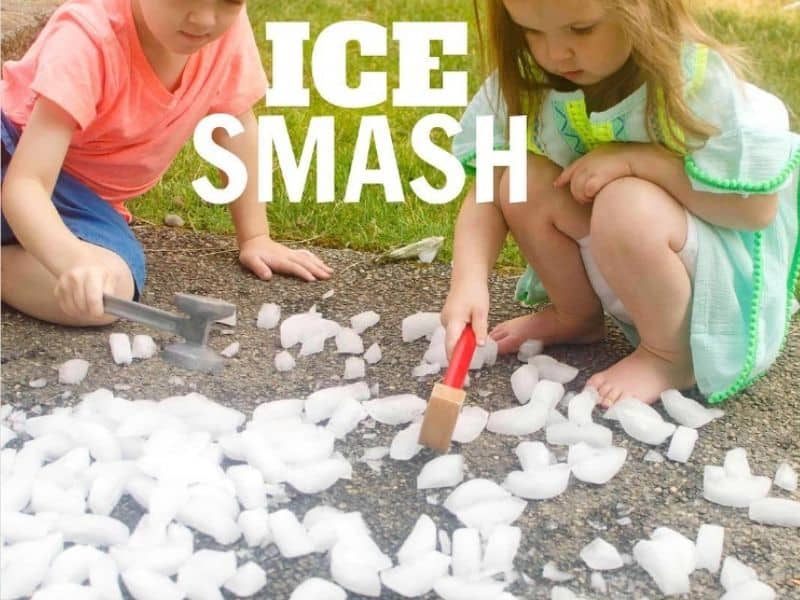 17. Ice Smash
Children of any age will enjoy smashing ice with toy hammers! Simply empty a large back of ice cubes onto the ground outdoors or in a tub and provide your child with a safe means of breaking up the ice into smaller chunks.
Then let them go to town on it.
This activity strengthens your child's gross motor skills, and works to develop their understanding and ability of problem-solving.
Physical Water Activities For Toddlers
Young kids need to run around to burn off energy as well as practice their gross motor skills. Here are some easy and fun water activities for toddlers with a physical element, best done outside!
18. Water balloon pinata
It takes an awfully long time to fill water balloons and mere seconds for them to be destroyed! To extend their lifetime and therefore play time try a water balloon pinata.
Simply hang your filled balloons somewhere high, like from the washing line or from a tree branch. Make sure it's far enough out of reach to make it a challenge to reach and break them.
You can also add in some rules to extend the fun, supplying only one type of object to break the balloons with and not allowing chairs.
This is such fun outdoor water activity for toddlers on hot summer days – when the balloon breaks they'll get a good soaking of cold water! It will also be good for balance, hand-eye coordination and perseverence.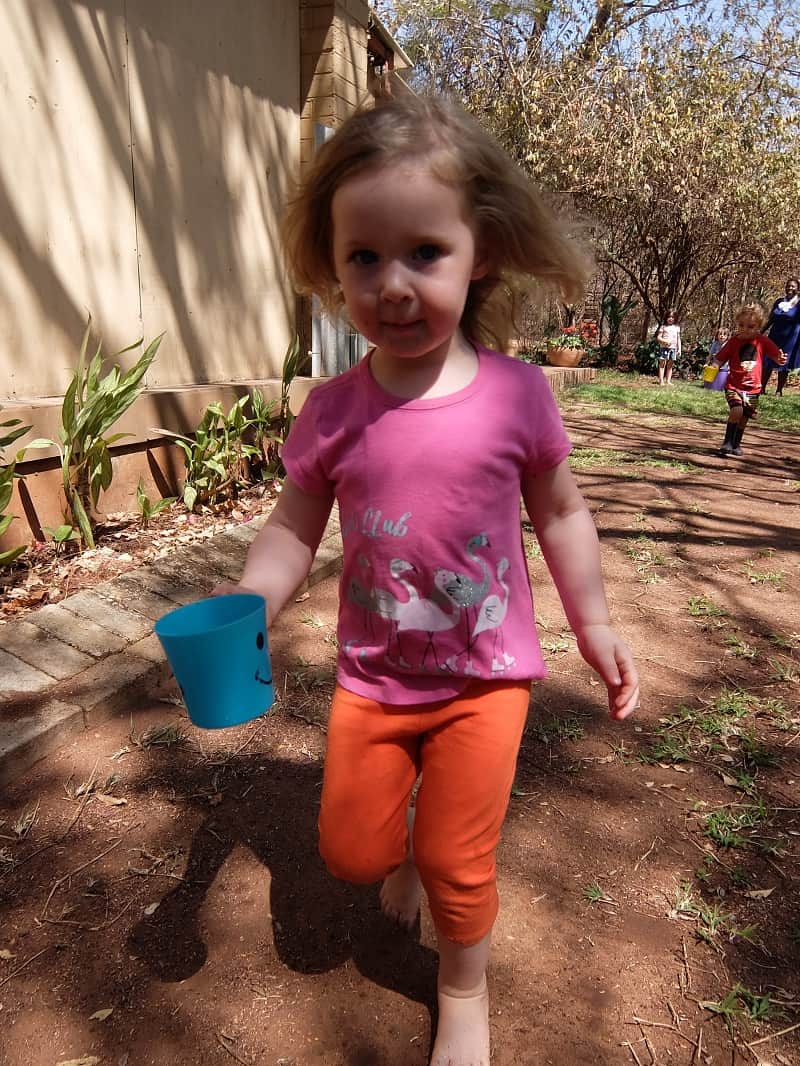 19. Running With Water
A simple physical water activity and game for toddlers – transfer water from one bucket to the other set out either side of your yard, garden or play area. Scoop up a cup of water from one bucket and race across to the other bucked and dump. Great fun to do individually or in teams.
20. Limbo Under The Water
A watery version of limbo, simply put the hosepipe, hold it up so your toddler can limbo underneath, or simply run if limboing is a bit too tricky.
A fun way to cool down when it's hot – this one inevitably turns into a water fight in our house. Be prepared and dress appropriately!

21. Wash The Outdoor Furniture
Washing small toys is one thing, but larger items need bigger movements – your toddler will need to engage their large motor muscles. It can be really quite tiring for little people (and bigger ones) too!
So if you're looking for an engaging outdoor water activity for toddlers that wears them out and ticks a job of your to-do this one is must.
Spray bottles are perfect for the job – kids love using them and they're great for strengthening hands and fingers.
(As does this simple twist-top board or this puffy paint spider web craft if you're looking for more fine motor activities.)
Water Play Activities For Toddlers Indoors
Water play is such a versatile and open-ended type of play for children to learn and explore through. Often it's best executed outdoors due to the mess, but this isn't always the case. There are plenty of engaging, low-mess indoor water play activities for toddlers to explore.
Many are simple sensory bins with water as the filler.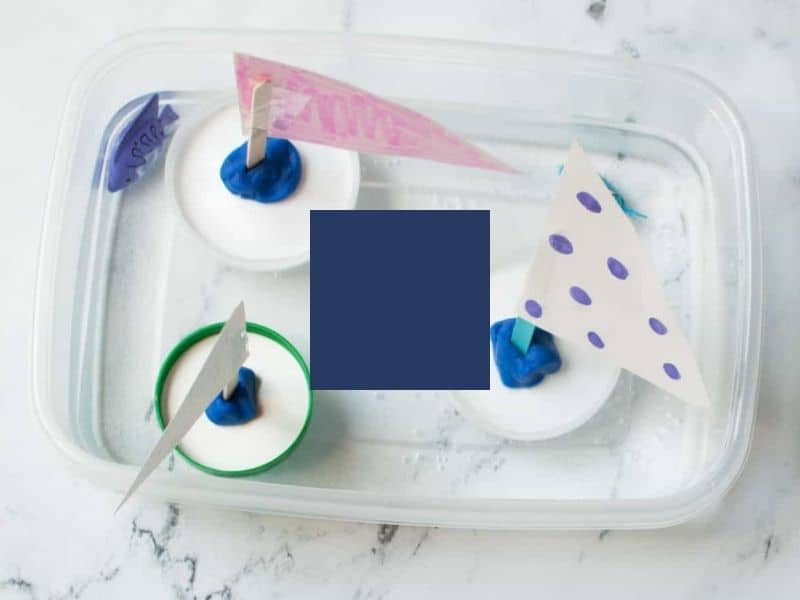 22. Boat Sensory Bin
Here's a fun outdoor or indoor water play activity for toddlers who will love helping with the set up of this amazing boat sensory bin, by making simple sailing boats.
You'll need markers/crayons, paper and popsicle sticks for the sail, large empty lids for the hull and play dough to stick the two together.
Your toddler can help cut out and decorate the boats sail, then stick it onto the boat hull with the playdough. Then fill your sensory bin with water and your handmade boats and let your child enjoy playing with them.
A great one to take to bathtime too!

23. Water transfer with pipettes
Here's another simple water activity that will help develop fine motor skills. Here your toddler will be working on their pincer grasp in preparation for holding a pencil.
The task is to transfer colored water from a large tub into upturned bottle lids.
Pipettes do take a bit of coordination to use. Try these ones from Learning Resources designed for young kids. Alternatively use teaspoons or small measuring scoops.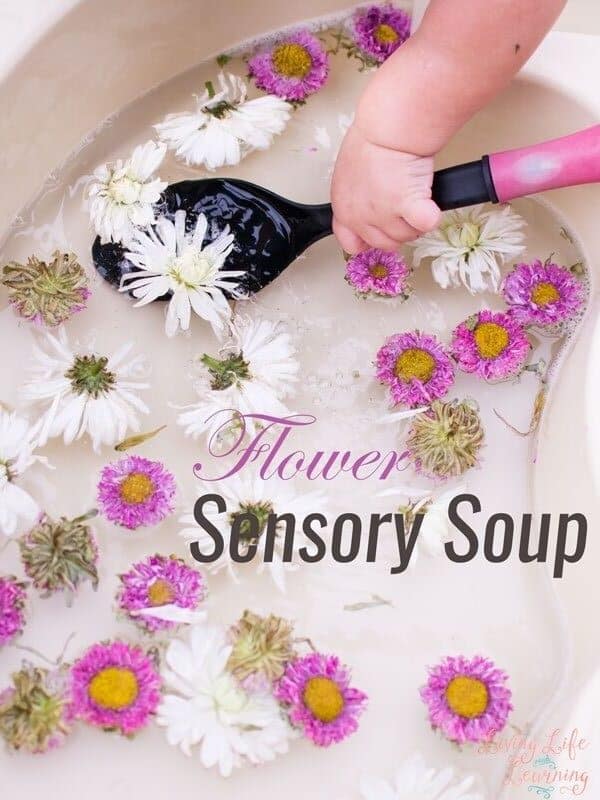 24. Flower Sensory Soup
For this flower sensory soup, you need water, flowers (fresh are ideal but artificial are fine to use as well), and kitchen utensils. Feel free to add some dish soap to create bubbles and enhance the sensory experience.
Using fresh flowers allows for a little more exploring. My kids love taking flowers apart given half the change, opening them up and pealing off the petals, leaves and all the other components.
You could also provide bowls or cups so your child can serve their "soup" – such fun dramatic play.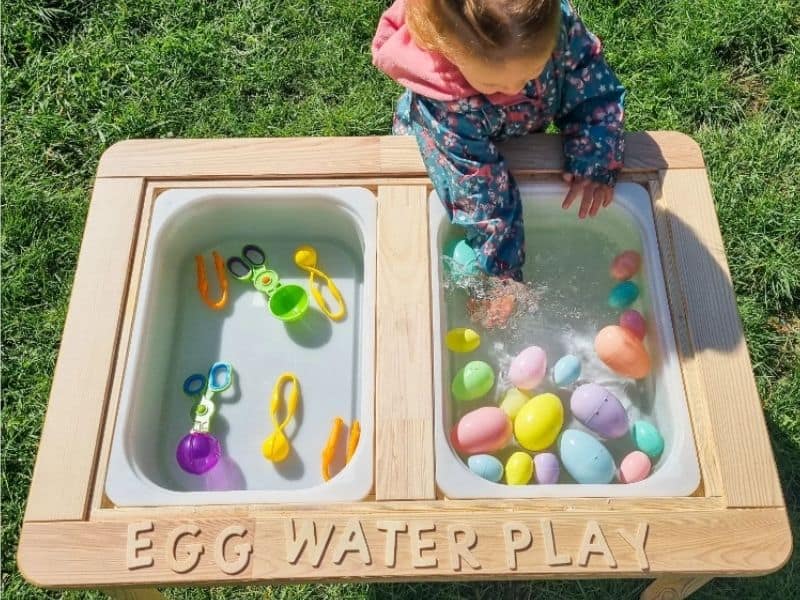 25. Egg Water Play
This egg water play activity for toddlers is perfect for a warm spring day. You need two bins (or a sensory table like this one from Beright that accomodates two) plus plastic eggs, and various fine motor tools. The objective is to transfer eggs from one bin to the other, but leave your child explore all the materials however they see fit.
Things can get messy since the eggs and therefore water are being transferred from one bin to another, but if you're feeling brave you could risk this one indoors.
To extend your child's curiosity, add eggs of various colors, sizes, and designs.
If you want to add in some fun water play to the Easter season, this one's a must.
For more sensory activities themed to the season, try these Easter activities for babies or these toddler Easter crafts.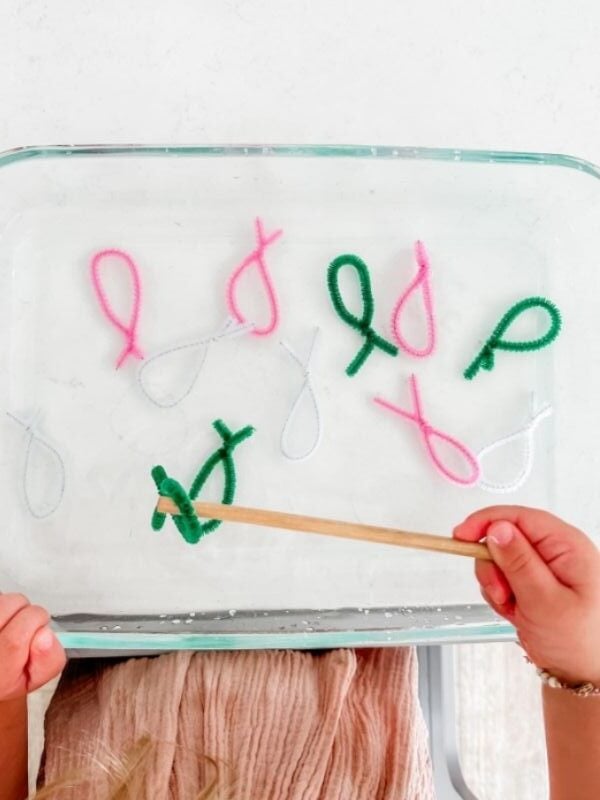 26. ​​Pipe Cleaner Fishing Sensory Bin
This cute indoor water play activity targets fine motor skill development, perseverance, and builds intrinsic motivation: your toddler will love trying to cath their pipe cleaner fish!
For this ​​fishing sensory bin you need pipe cleaners and a popsicle stick or similar to act as your fishing rod. Each fish is simply a single pipe cleaner bent into a loop, with a twist near the end to create the tail.
Once you've made the fish, put them in the bin filled with water and start fishing!
27. Play with Ice Cubes in the Sink
This ice cube activity is as simple as it sounds! Simply provide your child with some ice cubes in a sink that's easy for them to safely access and reach into.
If you want to extend their learning and lengthen the time of their exploration, you could freeze items like craft poms into the ice cubes ahead of time, or add food coloring to the water before it freezes.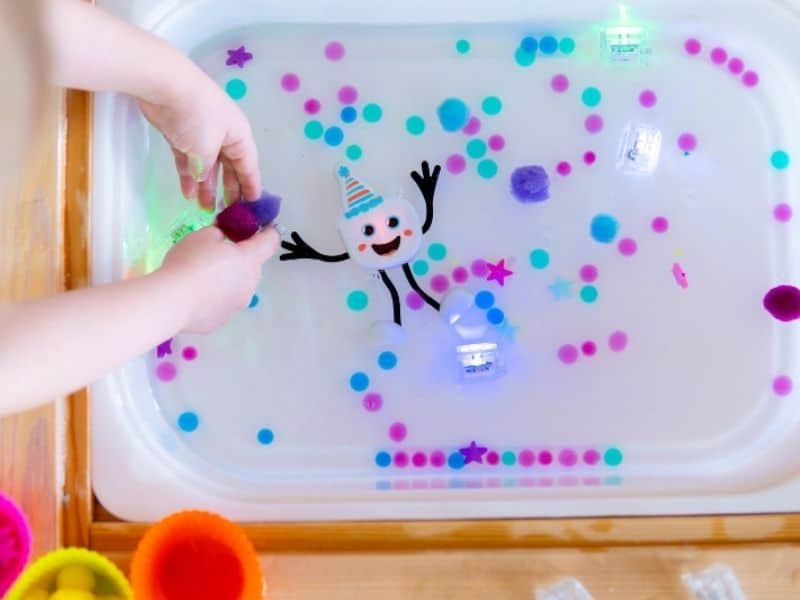 28. Glowing Sensory Bin
Glow sticks are certain to liven up any activity or experience, so why not try this vibrant and glowing sensory bin. Take away the worry out of the dangers of glow sticks by using reusable light-up cubes.
You can keep this glow bin simple by just adding the light-up cubes to water, or add various tools to enhance the fun.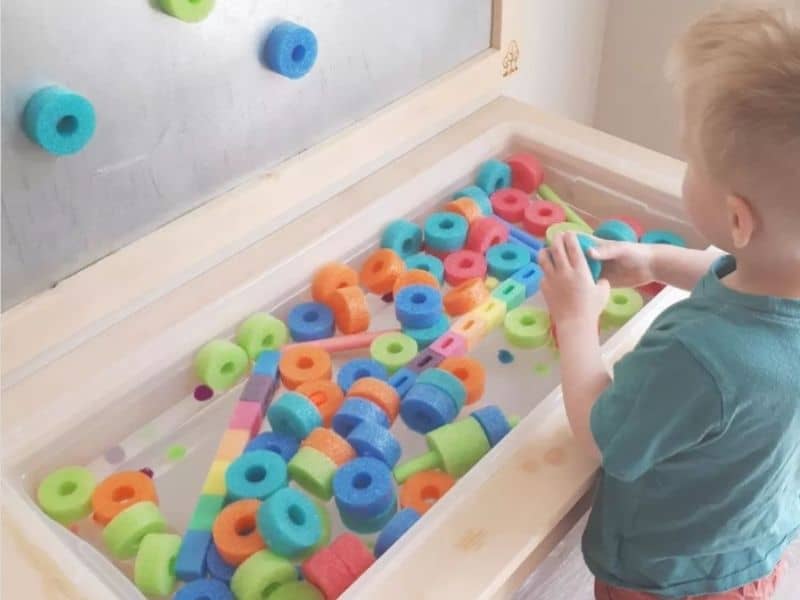 29. Fun Foam Pieces
New and interesting textures are very exciting for toddlers so they'll love get their hands on and exploring this fun foam pieces bin. Simply add pool noodles cut into sections and/or foam shapes to a large tub of water.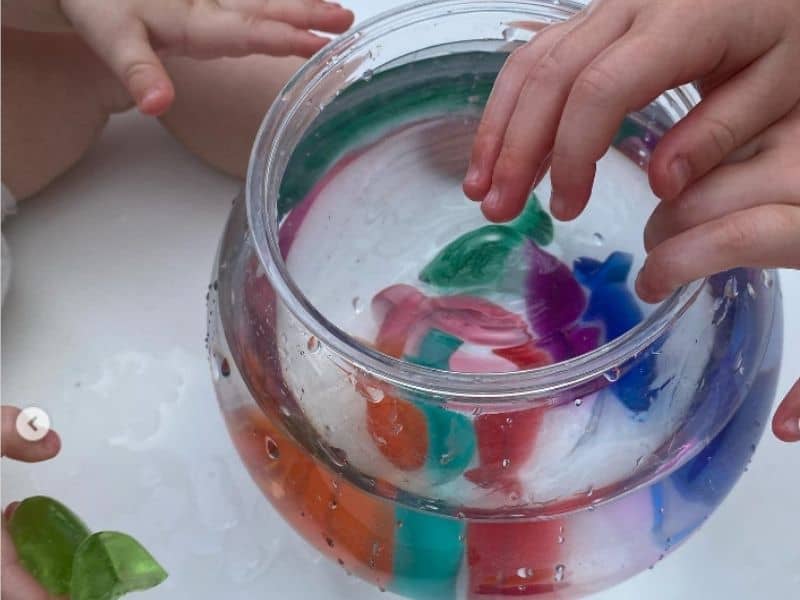 30. Fish Bowl
Here's another fish-themed water activity for toddlers ideal for indoors. You need a plastic fish bowl or substitute with a clear plastic tupperware or bowl. Then add some toy plastic or resin fish and your fishbowl water play activity is all set up and ready to go.
Encourage your child to transfer the fish out of the fish bowl into cups or smaller bowls. If your kids are as curious as mine, you likely won't have to do much encouraging!
This water play ideas is perfect for the early years as it can help little ones identify colors. As your child grabs each fish, tell them the color of fish to help them learn. In time, you'll be able to ask your toddler to grab all the red fish and place those ones in the red bowl and so on.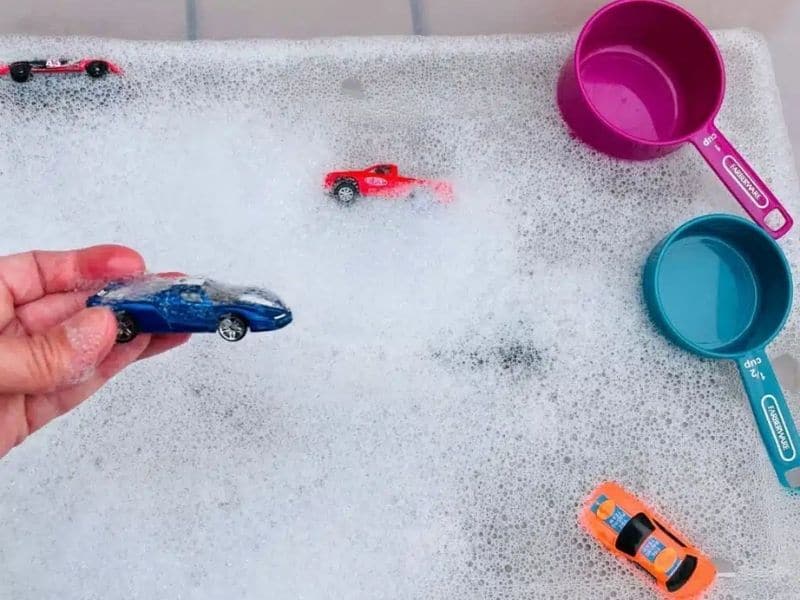 31. Car Wash Sensory Bin
To create this super cool car wash sensory bin, you will need a plastic bin or tub, toy cars (that can get wet), dish soap, a towel and some measuring cups and scoops.
You can facilitate this all in one large bin or a small bin with just a few cars. You could also do this at bathtime in the tub.
This is such a simple and engaging water activity for toddlers that you can do at any time of year with a wide rangs of ages!
For more easy activities involving cars, trucks, planes and trains, try these transportation crafts for little ones.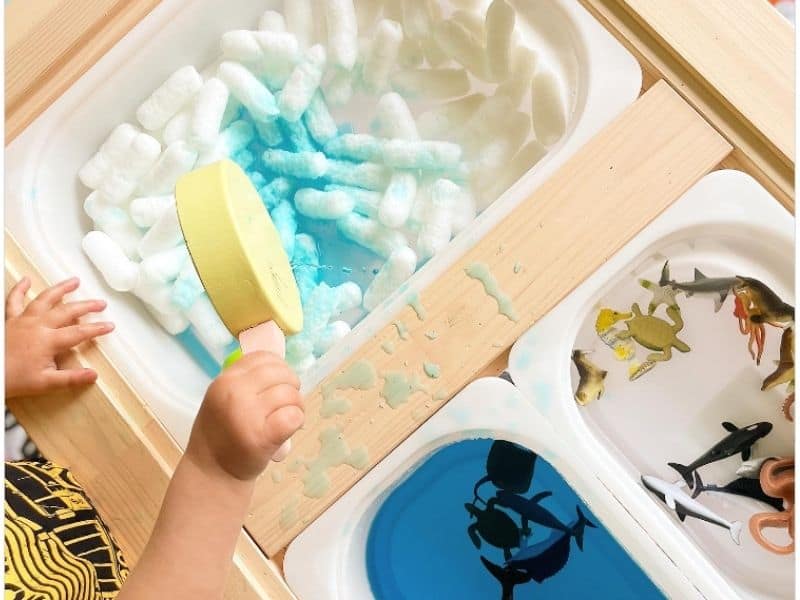 32. Packing Peanuts Water Play
Make sure to save those packing peanuts the next time you get something large in the mail. Packing peanuts slowly dissolve in water, so this is a really intriguing water activity for toddlers.
To set up the packing peanut sensory bin start by adding your packing peanuts to a dry sensory bin or tray. In a smaller bin have some water, colored if you want and then encourage tour toddler to pour the water onto the packing peanuts with a ladle or measuring cup.
Then it's time to watch what happens! Plenty of opportunity to observe and discuss what's happening as the peanuts melt away…
A fun outdoor or indoor water play activity that will help develop concentration and fine motor skills as well as work on communication and language.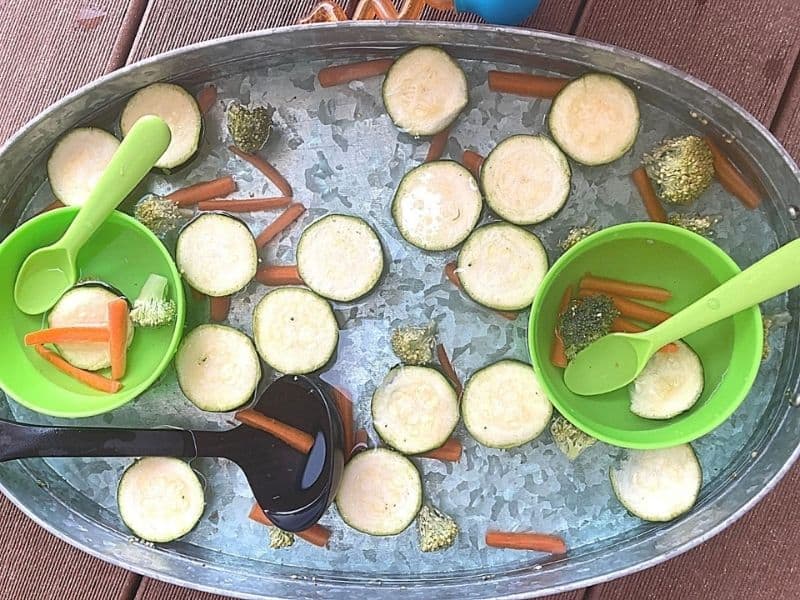 33. Vegetable Soup Sensory Bin
Time to make a healthy veggie soup! To set up this vegetable soup sensory bin, add various sliced vegetables such as cucumbers, carrots, broccoli, zucchini and so on, to your sensory bin. Then provide kitchen tools and utensils such as a ladle and spoons along with bowls and cups.
To spark more curiosity within your child, slice up the various veggies into different shapes and sizes. Make sure the slices are safe and age-appropriate.
In this water play activity, your child will experiment with volume as they participate in scooping and pouring. But also encourage them to smell and taste the veggies! This is a great way to get them to try new foods – the more exposure the better.
If you need any meal inspo, check out these easy toddler lunch ideas.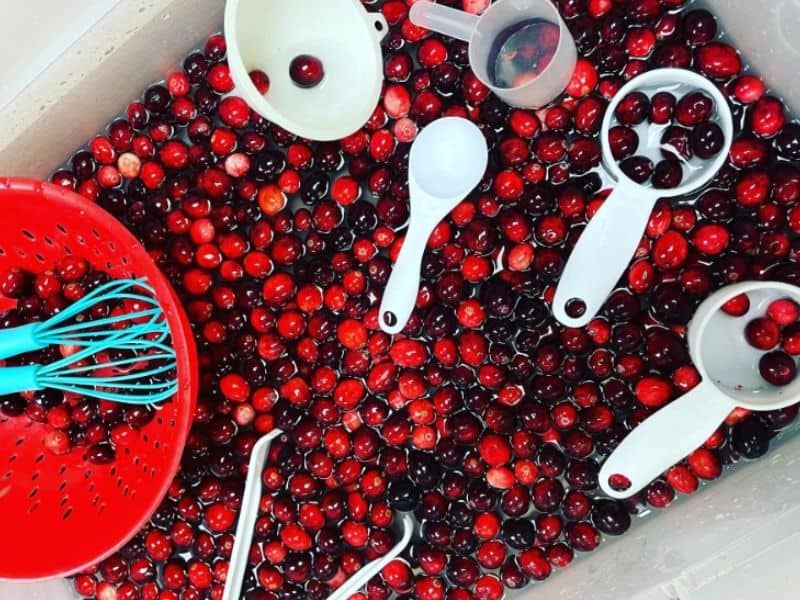 34. Cranberry Bog Sensory Bin
This adorable cranberry bog sensory bin will be especially exciting in the fall and winter months, but you could really do this any time of the year and substitute the fruit for whatever's in season.
Provide kitchen utensils like measuring cups, scoops, ladles and so on and let your toddler manever the cranberries around the bin for this delightful sensory activity.
Just watch little ones who like to put everything in their mouth as the cranberries could pose a choke hazard.
For more wintery, Christmassy activities, we've plenty more ideas: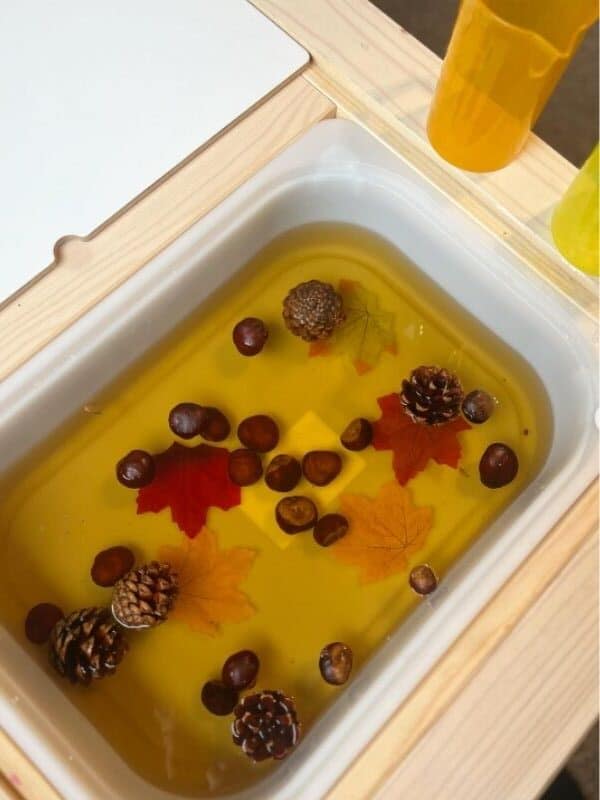 35. Autumn Water Play
Cultivate the essence of fall in this exciting autumnal water play activity. Collect autumn or fall materials (artificial or real leaves, acorns, pine cones plus other materials in autumnal colors…) and chuck them into a bin filled with water.
I'm going to have to try this one with my toddler this fall as we always come back with heaps of pine cones and fir cones on our walks. I think I'll add some gold or brown glitter to the water for an extra visual effect. Glitter finds its way into most of our activities!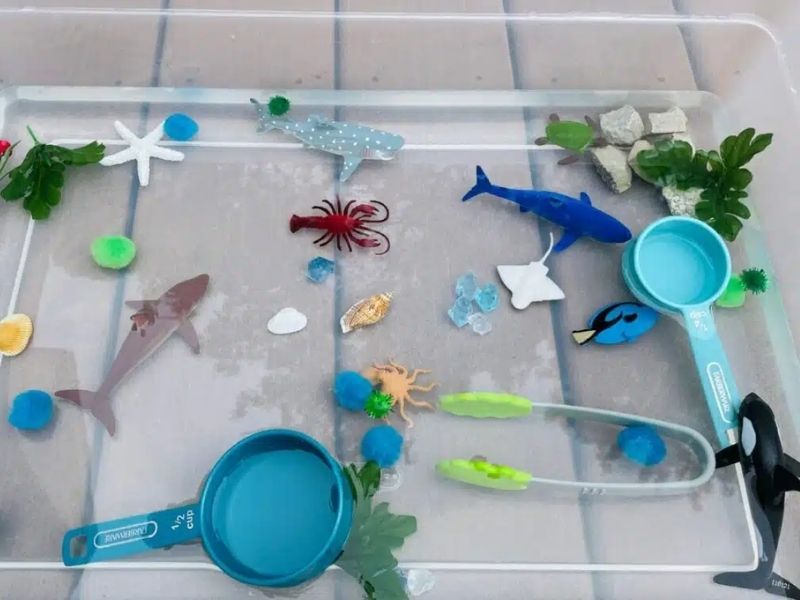 36. Ocean Sensory Bin
This ocean sensory bin is lovely for those that love the sea, or if you want to teach your little one about sealife. Add seashells, ocean animal toys, pom poms, pebbles, blue jewels and some greenery to your sensory bin, along with tongs and measuring cups.
Then it's time to play! Help your toddler learn and say the different animal names as they play with them in the water.
A simple indoor water play activity that has kept my toddler busy on multiple occasions.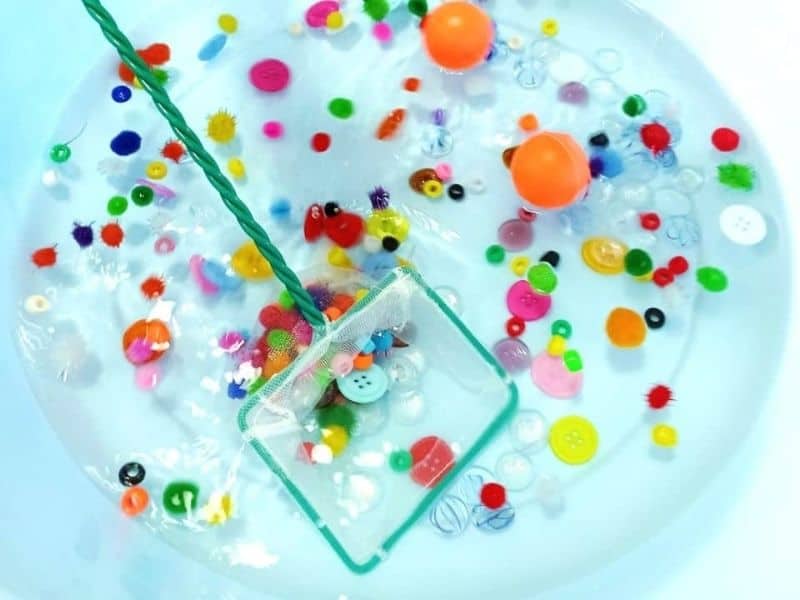 37. DIY Water Sensory Bin
Create this DIY water sensory bin with bright and colorul things you already have at home. Button, beads and craft pompoms are ideal – so this water activity is not for toddlers that like putting everything in their mouth….
However, if your toddler has passed this phase, this is your opportunity to utilize supplies, materials, and toys that you haven't figured out how to use yet.
I clear out our craft closet regularly, allowing me to easily facilitate this fun water activity. I get rid of random craft materials while providing my little ones with some engaging sensory learning. Everyone's a winner!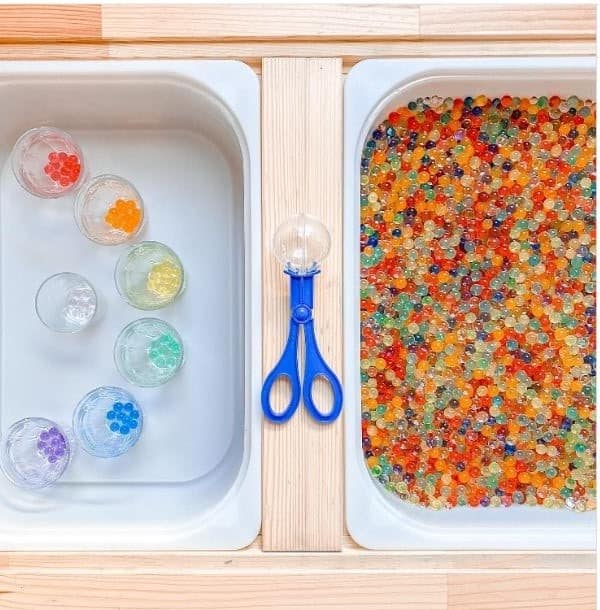 38. Water Bead Color Sorting
This water bead color sorting activity is only suitable for toddlers that are past the age of putting everything in their mouth. Even then, children need close supervision when playing with water beads.
The idea is to sort the beads by color. You might have to lead the way at first. It'll probably take them a few minutes to grasp the concept but once they do you'll be amazed at what they're capable of!
Color sorting is an incredible activity for a child's cognitive development and works on their categorization ability, an important pre-maths skills.
Water Play Activities For Kindergarten & Preschool
Water play is not only exciting for toddlers…bigger kids want in on it, too!
Kindergarteners and preschoolers have a longer attention span and increased ability to comprehend science and more complex activities. This openings up up many more possibilities for water play.
The water activities for toddlers for indoors and out listed so far will entertain those at kindergarten and preschool. But these ones are even more engaging. Many also have a specific learning objective, e.g. letter or number recogntion, appropriate for this age.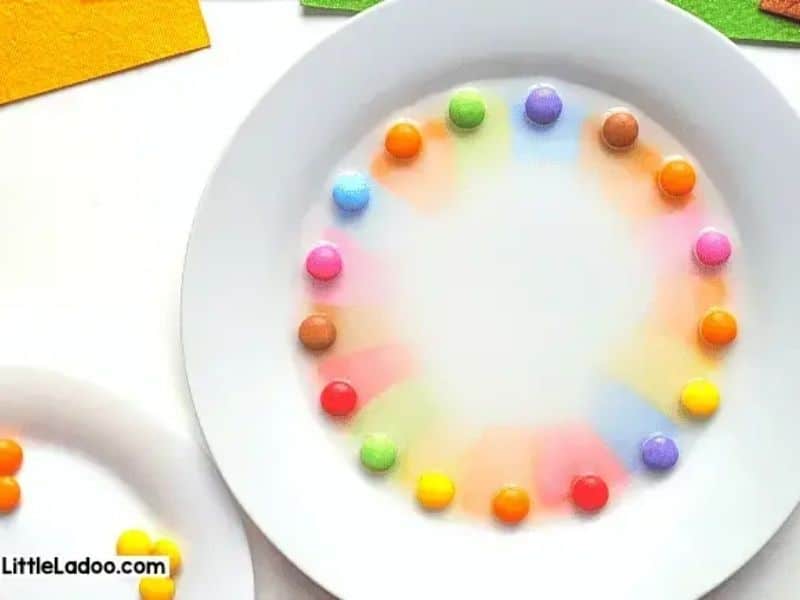 39. Skittles and Water Science Experiment
For this Skittles and water science experiment, you need a white plate (to best see the results), and Skittles or M&Ms, or something similar. Any brand will do!
Place Skittles around the outside of the plate in a circle, as pictured. Feel free to put them in rainbow order or let your child choose a pattern and place them.
Slowly pour warm water into the middle of the plate. You'll want to make sure to add enough water so that it touches every Skittle, but not so much that they become submerged. The goal is for the water to touch the edges of each Skittle.
Wait about 30 seconds and watch what happens! Watch as the colors appear and run into the water and the Skittles seem to dissolve. The warmer the water is, the faster this will happen.
An intriguing water play activities for kindergarten with some simple science concepts to engage enquiring minds.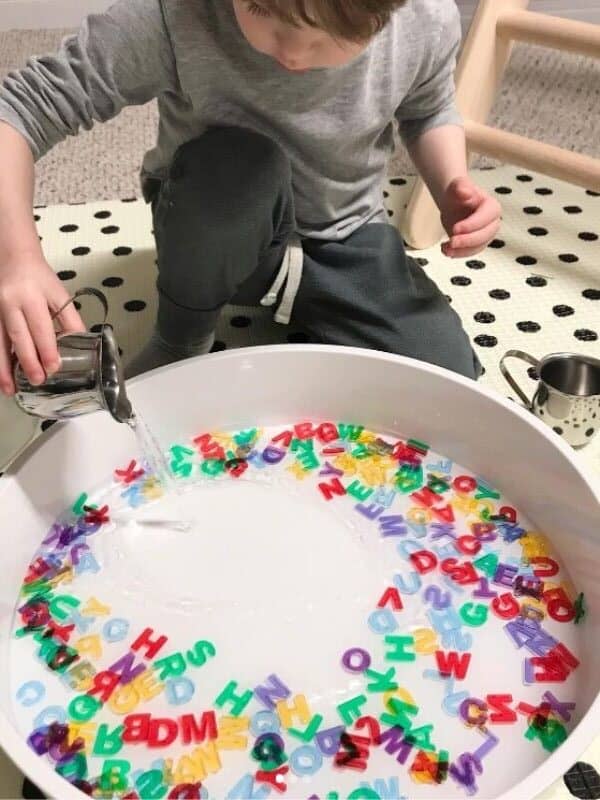 40. Alphabet Soup Water Play Bin
To conduct this alphabet water play activity, you will need a bin or tray filled with water and colorful alphabet letters. Fridge magnets will do.
Provide a pouring cup of some kind and any other nets, scoopers, and tools to extend the fun.
My kids love to look for and take out the letters of their name and other basic sight words. This is a great opportunity to increase phonetic knowledge by sounding out each letter your preschooler picks out and handles.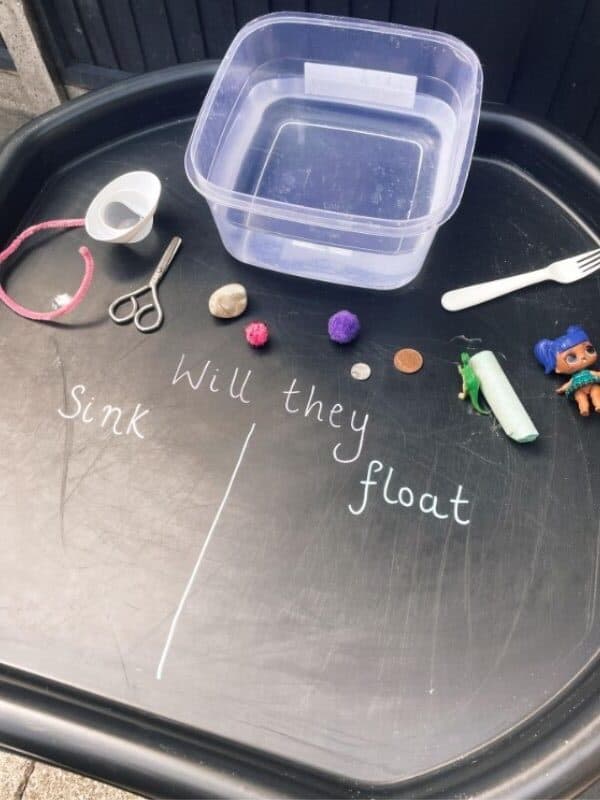 41. Sink Or Float
This sink or float experiment introduces your child to the significance and practice of making predictions, and the role that predictions play in the scientific process.
Arrange a few different items on the table, and have your child predict whether each item will sink or float once dropped in the water. Then, go through the group of items and test out whether or not they're correct.
Even with my now 6 year old, this is always a fun water activity!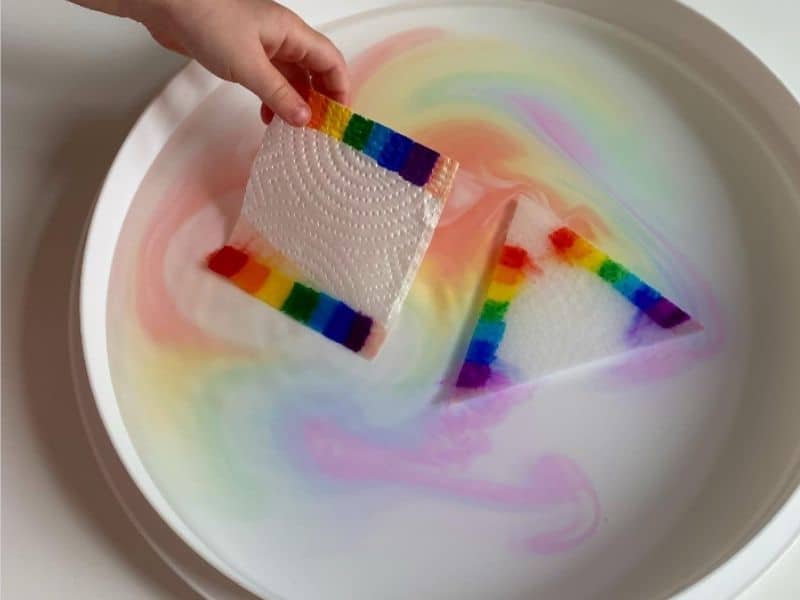 42. Magic Shapes
This magic shapes activity is mesmerizing for kindergarteners and preschoolers! Cut out various shapes from paper towels, and have your child color the edges of each shape however they desire.
Once the shapes are colored, place them in a bin or tray with a small amount of water, and be amazed as you watch them float and exude their beautiful colors.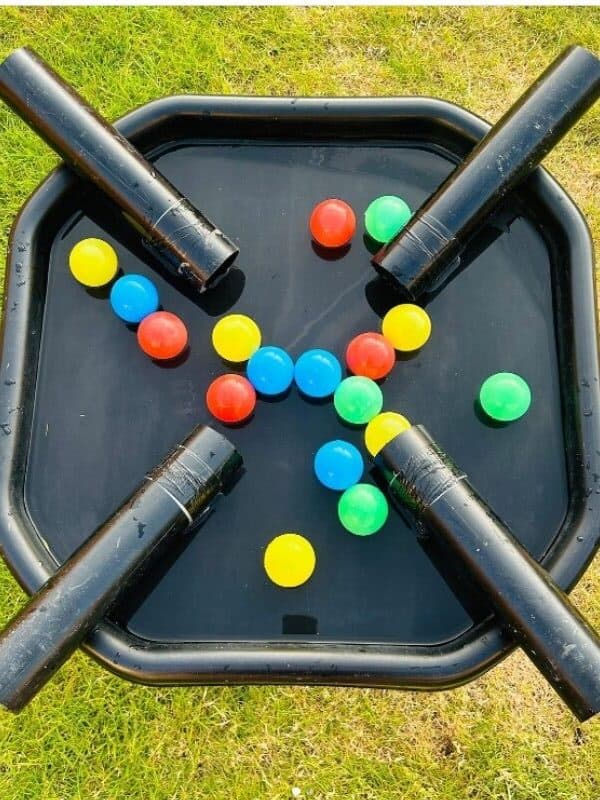 43. Ball Splash
Fix a few short drain pipes or some PVC pipe around the sides of a sensory bin or water table to create this ball splash activity. Fill the table with water and ball pitt balls.
Watch with pride as your child figures out how to send the balls through the pipes to splash them into the water!
Change up the height of the pipes and weight and/or size of the balls and discuss with your child what will happen and why. This is a such a fun outdoor water play idea with plenty of opportunity to experiment with mechanics and other scientific concepts.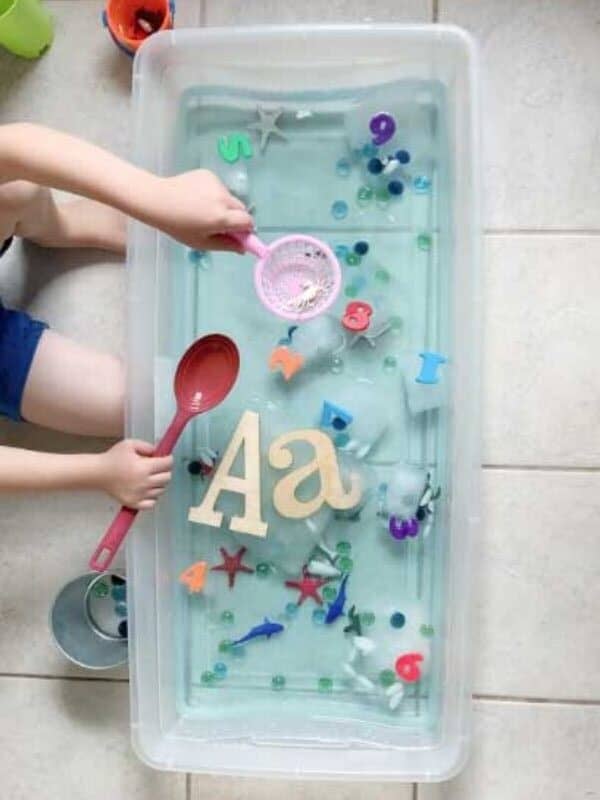 44. Arctic Sensory Bin
"A is for arctic" – this arctic sensory bin is the perfect water play idea for early years learning the letter A.
Simply grab some ice, arctic animal figurines, blue and green glass pebbles plus tools such as cups and scoops.
To extend the fun and learning, pair this activity with some books about arctic animals. Both nonfiction and fiction books will be helpful for your kindergartener, giving them a little knowledge to create their own dramatic play.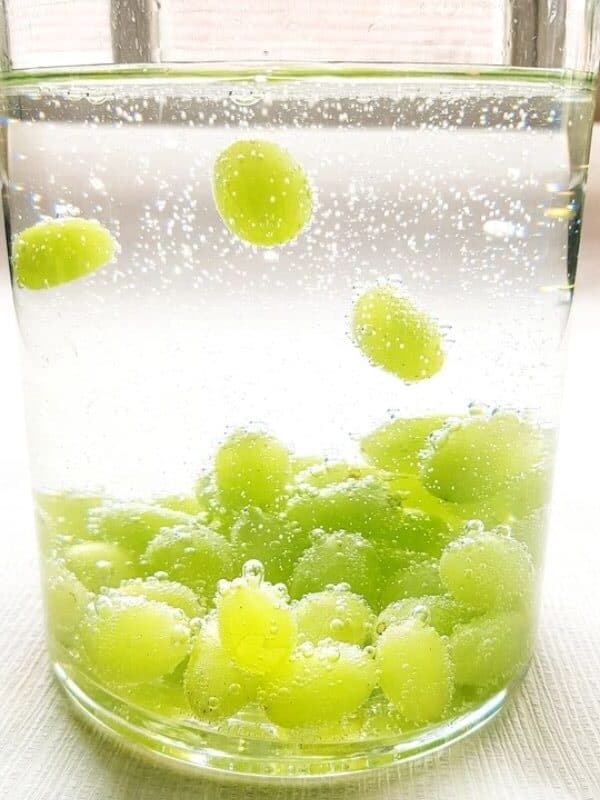 45. Dancing Grapes Experiment
You will need grapes, a vase or tall glass, and seltzer water to conduct this dancing grapes experiment. In my experience, using smaller and more lightweight grape varieties works a lot better. No globe grapes for this activity!
Fill the vase 3/4th of the way full with seltzer water. Get the grapes ready by washing them and plucking them from the vine. Drop some grapes into the vase filled with seltzer water, and prepare to be amazed!
If you don't have grapes, you can use raisins, corn, or any other lightweight fruit or food item. Remember if you want to give the grapes to the kids after the experiment to cut the grapes in half – they're the number 1 choking hazard.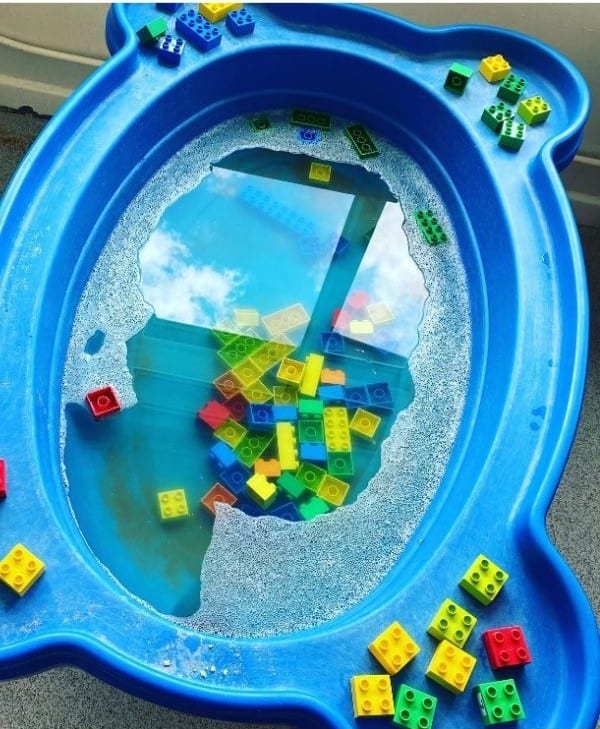 46. Water Play with Duplo Bricks
Young kids love playing with Duplo Bricks, Legos, or Mega Blocks so add water to their play and you have a simple and engaging water activity for toddlers and preschoolers.
That's all there is to this Duplo Bricks water play activity! Your child will love building and playing with the slippery bricks and they can create all sorts of vehicles, animals and buildings specifically for the water.
Great for fine motor strength and building creativity.
For more activities designed for preschoolers, try:
Montessori Water Activities For Toddlers
The Montessori approach to learning places an emphasis on self-motivation, natural materials, the development of practical skills, and so much more.
Hands-on learning through play is the cornerstone of Montessori, and these water activities for toddlers are sure to accomplish a majority of Montessori goals.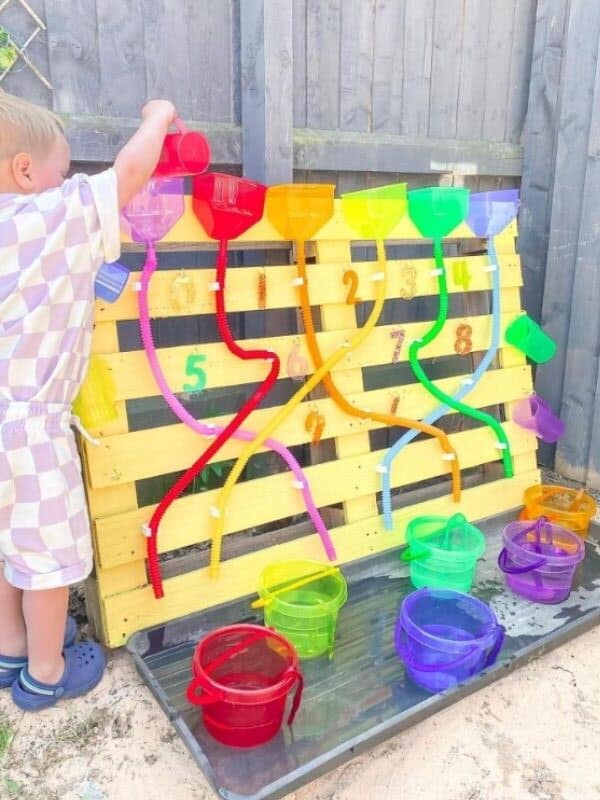 47. DIY Water Wall
This DIY water wall does require a little bit of work to create but preschoolers will spend hours playing with it. You need funnels, plastic pipes and a large pallat or fence on which to attach them. Then supply the kids with pitchers, pouring cups and buckets.
The water wall pictured is just one way to construct your water wall. To recreate it you'll need funnels, plastic pipes and a large pallet.
But the possibilities are endless! Part of the fun and exploration is in the creation of the wall. So see what materials you have to hand and involve your kids in the process to come up with your own unique design.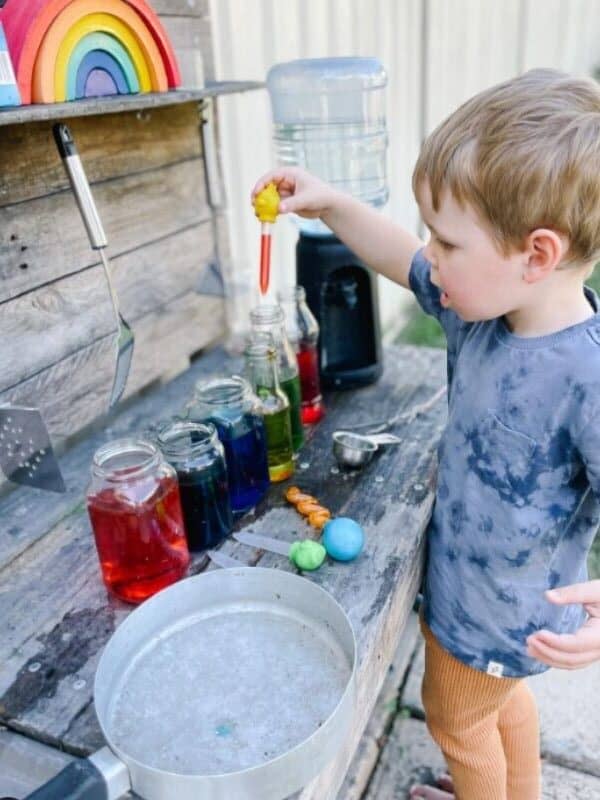 48. Colorful Water Mixing
For this colorful water mixing activity, create a station where your child can be free to experiment with mixing different colored waters. Provide a variety of different types of pipettes, allowing your child to practise and filling and emptying them.
Such a fun water play idea for the early years that will helping to strengthen their pincer grip.
49. Water the Plants
Children love to be helpful and to have jobs and roles of their own. Watering the plants not only gives them their very own job they can do alone, but it can actually be helpful! It's a win for everyone.
There are many child-size watering cans available to purchase or simply suppy them with a small cup or plastic pitcher from the kitchen.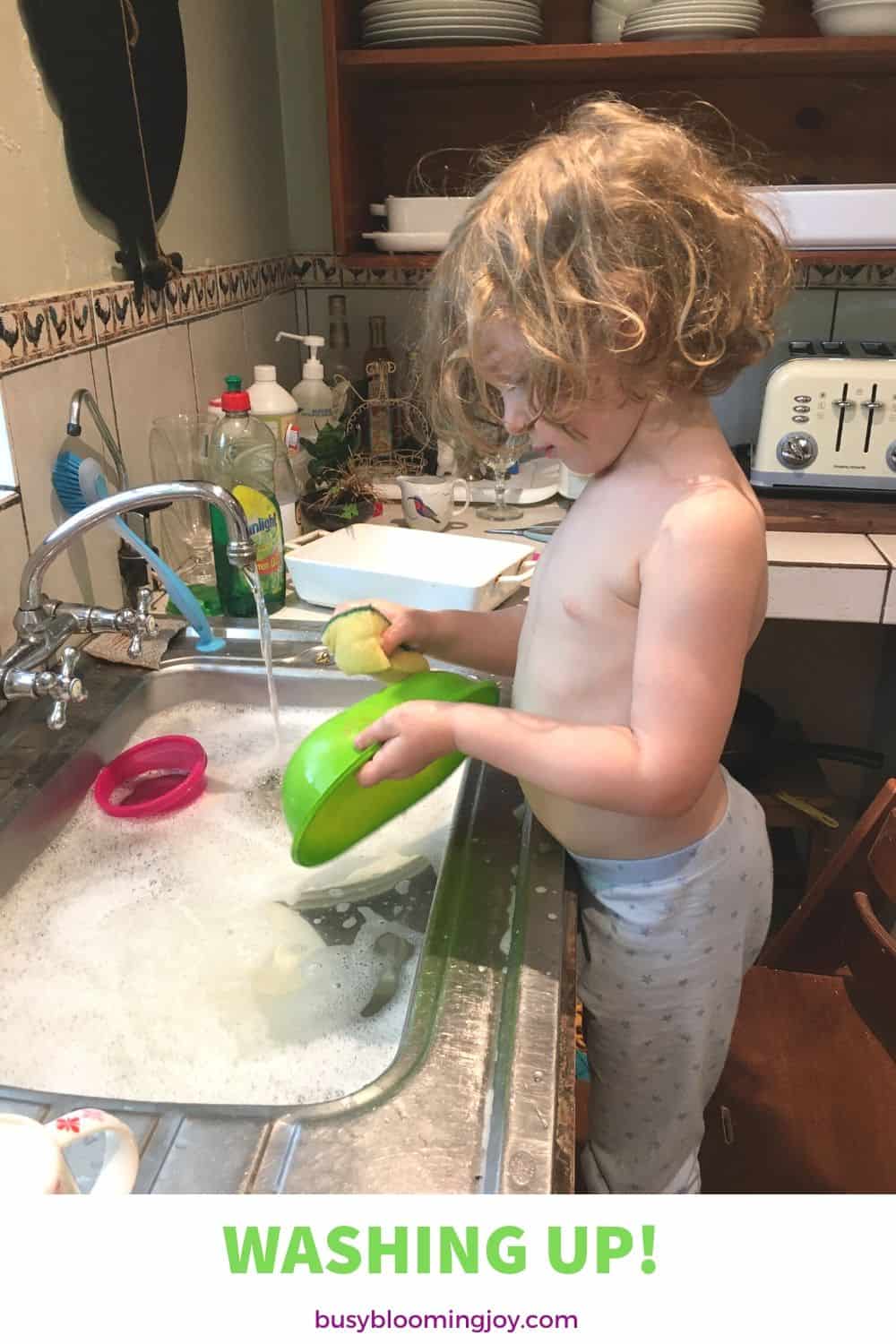 50. Wash the Dishes
Washing the dishes or other househould items is another way your child can learn to be helpful around the house while satisfying their inherent desire to engage in water play.
You can provide them with a step stool to reach your kitchen sink or you could simply provide them with a tub of soapy water and a few plastic dishes for them to wash up.
51. Pouring Station
Set up a simple pouring station for your child to experiment and practice this important life skill. Use a large shallow tray, like an under-the-bed storage bin. Then add an assortment of cups, ladles, toy watering cans and pitchers.
Then let your child experiment with pouring. This activity will strengthen their hand and wrist muscles which will ultimately improve their fine motor abilities and skills.
This is another good one to take to bathtime – just ditch the tray. Otherwise it's best done outside. This simple indoor or outdoor water play idea is a regular in our house – because it takes minutes to set up and has alway kept my toddlers busy.
52. Science & Art with Eye Droppers
There are so many engaging water activities for toddlers that involve pippettes or eye droppers. You can use them for simple art projects such as creating suncatchers: drop liquid watercolors on coffee filters or drop water onto a coffee filter colored with dots of sharpie (my family's favorite).
You can also facilitate basic science activities with eye droppers like temperature exploration: melt ice cubes using eye droppers filled with warm water.
Playing with eye droppers works to develop your child's cognitive skills and emotional regulation, specifically cause-and-effect concepts and patience/perseverance.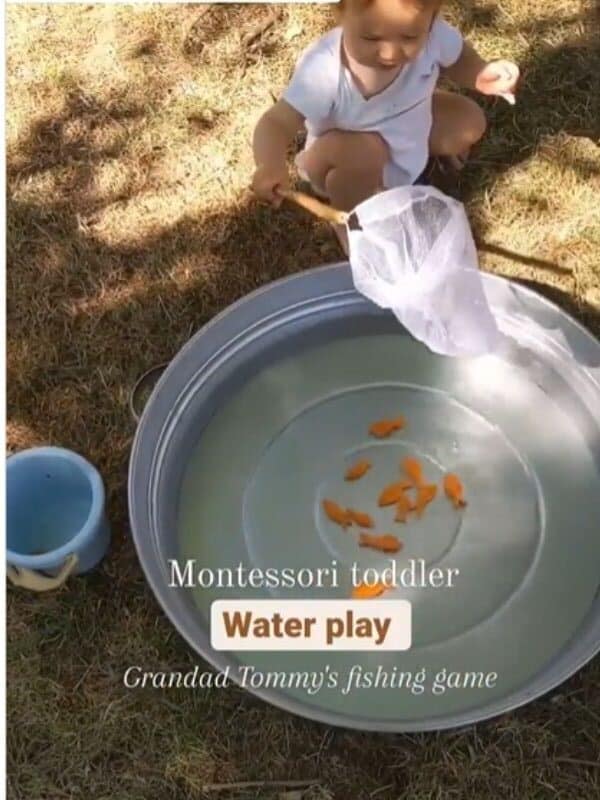 53. Carrot Fishing Game
This carrot fishing game is one of the cutest water activities for toddlers indoors or outside. Carve fish out of carrots and place them in a bin or baby pool of some kind. Encourage your child to catch the fish with a net. They can catch and release or play with them however they see fit.
This activity works on developing your child's concentration – it kept my toddlers busy a whole afternoon!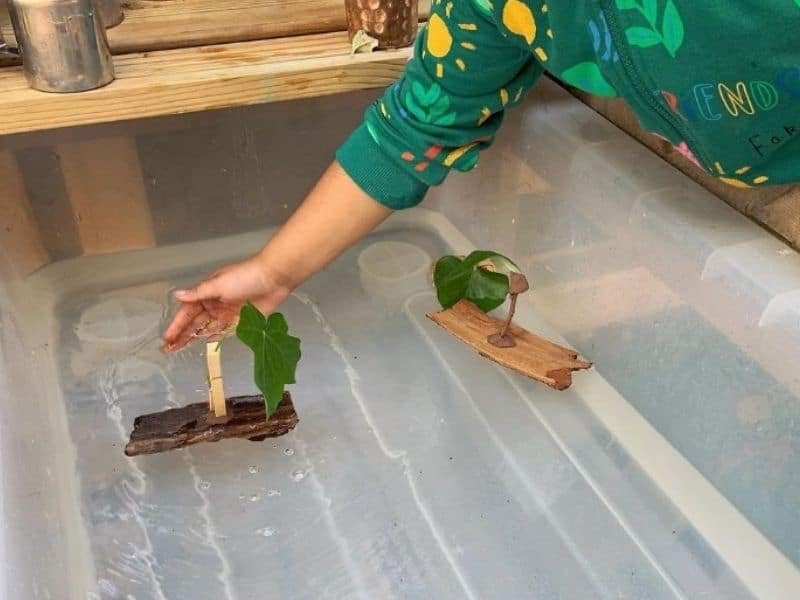 54. Natural Resource Sailboats
The Montessori approach tends to emphasize the use of natural resources and materials in play. In this sailboat activity, your toddler will use natural objects from outside (leaves, sticks, acorns, tree bark, and more) to create their own floating creation to play with in a bin of water.
Such a great water play activity for kindergarten as there are so many simple scientific concepts to explore and experiment with.
I've found that going on a nature walk to collect materials is a fun precursor and a simple way to extend the activity. The challenge of scavenging for things for a specific project really gets my lot motivated!
55. Playing in the Rain
This water activity for toddlers is as easy as it sounds. Simply put your kiddo's rain gear on, and run outside to explore and play in the rain. Use a light sprinkler as the rain if you're lucky enough to live in a country with long dry spells.
Provide watering cans, pitchers, cups, buckets etc for them to collect the rain water in. Plus any other toys that would extend their fun. You'll be amazed at the fun they create on their own!
What do toddlers learn through water play?
During water play, toddlers learn:
Self-expression through creativity
Cognitive concepts, such as cause-and-effect as they lift and pour water
Early mathematical concepts e.g spatial relationships and volume
Early science concepts including sink or float, motion and other basic water properties
Tips To Make Indoor Water Activities Successful
There are a few measures you can take in order to make indoor water play more successful with your children. One of the most important things you can do is have a designated space for water play in your home.
Even better if you have a set water table that you use every time. You will want to make sure to do water play in a room with a water-safe floor, such as tile or laminate; you do not want to do water play over a carpeted space if you can avoid it!
Through experience, I've discovered that it helps to lay down a tarp under the water table or water play area for ease of cleanup and to protect your space.
Precautions To Take For Safe Water Play
Water is inherently dangerous as any parent will be aware, so there are a number of precautions when it comes to safe water play:
Supervise your toddler throughout the duration of play
Give developmentally appropriate tools and materials
Provide a safe amount of water for play depending on child age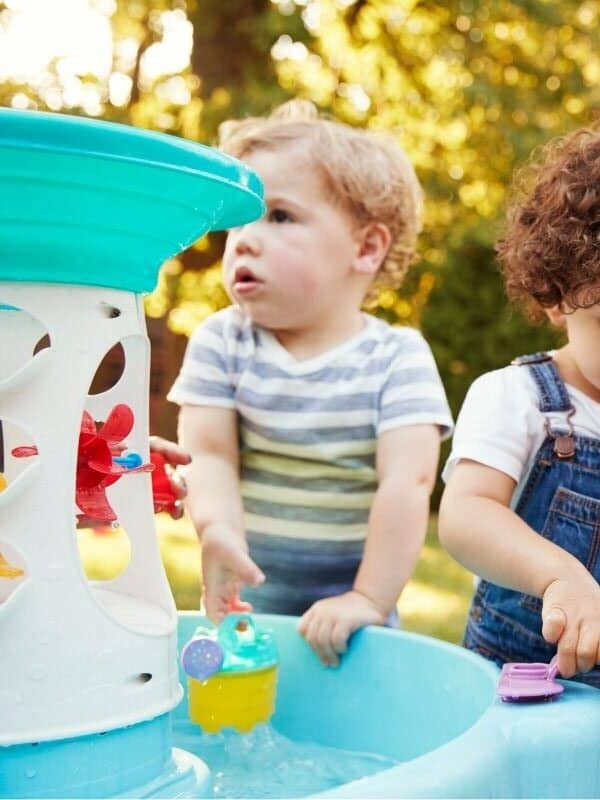 Water Play Table Options
A play table designed for sensory activities and water play is not essential. You can use a large plastic tray, shallow oven dish or even a sauce pan or bucket will do. Then there's your baby bath or regular tub.
However, if you enjoy facilitating sensory activities with your child and are always having to find something to use as a sensory bin, then a dedicated sensory table or water play table is a worthy investment.
Lucky for us, there are options to satisfy every need.
There are amazing water play tables available, check out the Best Sensory Bin Tables for our recommendations.
Have Fun With These Indoor & Outdoor Water Play Ideas!
Water play activities with a toddler may seem intimidating at first – trusting a young child with water can feel like an act of bravery (or stupidity?!) sometimes… But it's worth it.
The benefits of water play for your child's development and learning are unmatched.
These fun indoor and outdoor water activities will keep your toddler engaged, while improving both fine and gross motor skills while learning about the many properties of water.
Happy splashing!
_____________________________________________
Looking for more fun with your kids: