Inside: Christmas sensory bins & sensory play activities to keep toddlers, preschoolers, even babies, engaged over the festive season
Christmas is a magical time of year, especially for young children. However, it can feel a little overwhelming for us parents (otherwise known as The Magic Makers) to keep them busy while waiting for the big day to arrive.
Providing our little ones with engaging and educational activities can be easier said than done – it can feel hard work in the midst of all the hustle and bustle that Christmas brings.
Enter Christmas-themed sensory activities and sensory bins.
These are a favorite in our house – they really do keep little kids busy and pander to their exploratory nature (aka the need to touch and fiddle with everything!). What's more, babies, toddlers and preschoolers and even older children will happily play independently with a good sensory activity or bin.
Bins and other sensory activities facilitate open-ended play, which means the possibilities are endless.
There are a whole host of other benefits to sensory bins for young children as well. Here you'll find plenty of Christmas sensory bins and Christmas sensory activity ideas to take the stress out of the holidays while keeping you in the festive spirit!
This post contains affiliate links. If you click on one and make a purchase, we may receive a commission at no extra cost to you.
Why sensory play and sensory bins?
Sensory play is vital for the development of young children. Not only is it fun and entertaining, but it is also very beneficial for their growth of knowledge and acquisition of skills, as it fully engages all the senses.
Young children are intrigued by sensory play. It's exploratory by nature – through using different materials and tools babies, toddlers and preschoolers get to experiment with different textures, shapes, weights, scents. They can scoop, poor, pat, sieve, squish and so on to their hearts' desire.
When a young child is provided with a themed sensory bin to explore, this enables them to learn more about specific subject areas and gets them fully immersed in the season. What can be better than playing with a Christmas sensory bin or another Christmas sensory activity over the holidays?!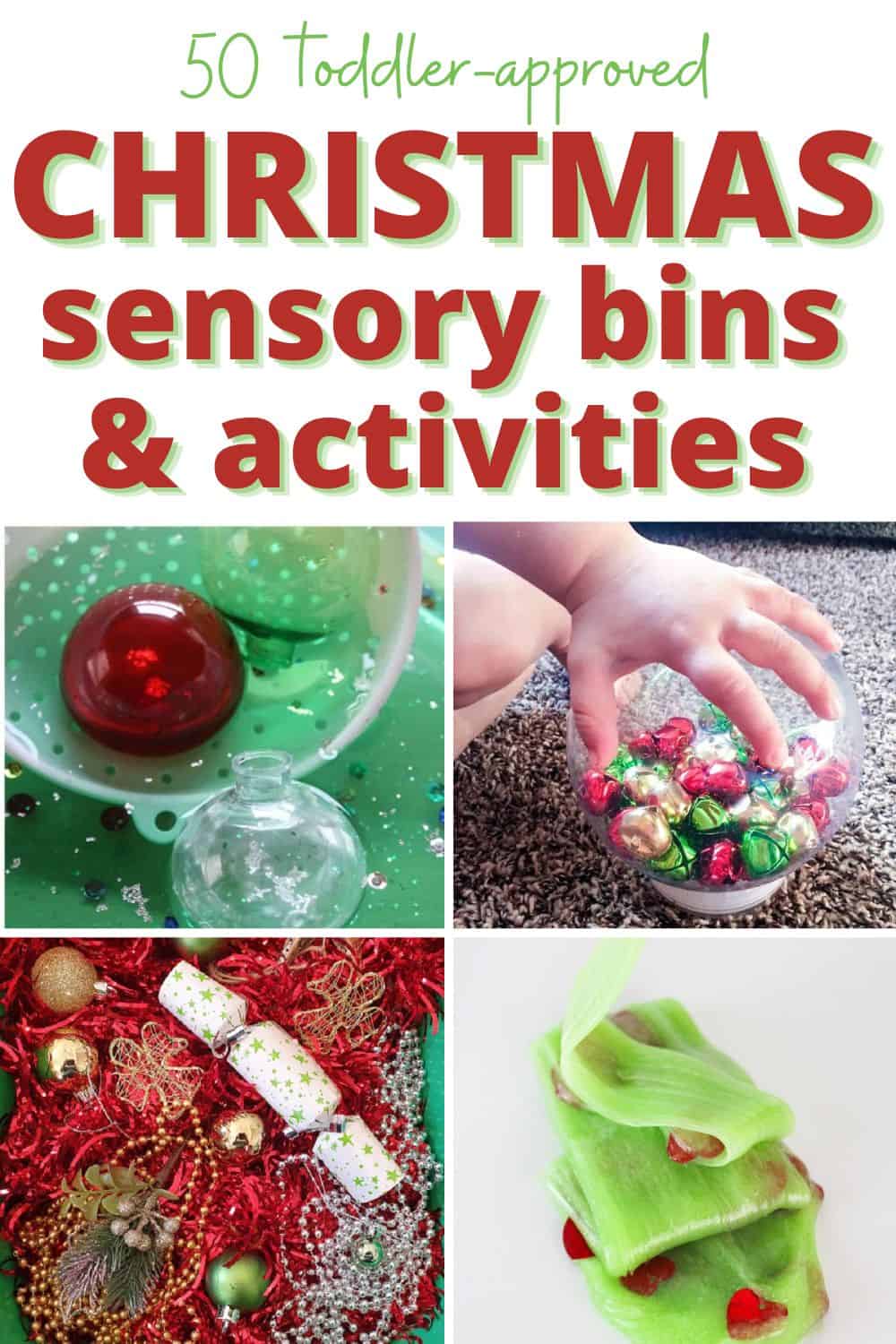 The benefits of Christmas sensory activities & sensory bins
Sensory activities and sensory bins are the epitome of learning through play. Sensory play encourage hands-on learning, tactile expression, and refinement. They encourage further development in many areas.
Some of the specific skills developed through sensory play in young children are as follows:
Language skills: Children learn different modes of communication through any type of play, including sensory play. Sensory activities and sensory bins facilitate pretend play, encouraging your child to vocalise play scenarios.
Cognitive development: Sensory play works on a child's problem-solving capabilities, as they ask questions, follow their curiosity, experiment and analyze results.
Gross motor skills: Depending on the aspects of the sensory activity, a child's gross motor skills can be strengthened if they have to balance or navigate their body in a specific way.
Fine motor skills: A child's fine motor skills are strengthened through exploring materials of different sizes and textures.
Social interaction: As children engage with one another in sensory play, they learn from each other and their communication abilities are strengthened.
Problem-solving skills: Problem-solving skills are a major component of a child's cognitive growth and development. As they navigate sensory play, they are constantly having to solve problems and make determinations.
What ages are sensory bins good for?
Sensory bins and other sensory activities are used a lot in the early childhood years, specifically age 6 and under. However, all ages can benefit from sensory activities and playing with a sensory bin! This includes 1 year old infants as well.
As long as you adapt the materials to suit the age and developmental stage of your child, they're sure to stay engaged with these types of learning activities.
Are sensory activities and bins good for older kids?
Sensory bins are a great method of learning for children of all ages. The key is simply to tailor the contents and materials to the age and stage of the child.
1 year olds and 2 year olds will need simple materials and you'll have to be ultra careful of small or dangerous items.
For older children, adding more complex materials, or more materials/resources/tools overall would be exciting and developmentally appropriate. Older children can experiment with more detailed items that require higher levels of fine motor control. You can also incorporate more complex learning objectives such as literacy and math elements.
What should a sensory bin contain?
Sensory bins are made up of 3 main components:
A base of some kind. For example: fabric scraps, sand, water, pom poms, dry/uncooked rice, coffee grounds/beans, etc.
Toys/figurines relating to a specific subject area or a particular topic. This includes seasonal items pertaining to holidays or environmental aspects. This is where you'll add elements to create a Christmas-themed sensory bin.
You can then add in tools to explore the materials of the bin with, but for toddlers and babies, they'll enjoy exploring with their hands more than anything else!
When it comes to the bin itself, there are so many options. You need something large and shallow, that's about as complex as the requirements are. Large, shallow plastic boxes work really well, large oven dishes, roasting tins or even a bain marie.
You can also buy something designed for the purpose, like this Tuff tray.
What can I put in my sensory bin for Christmas?
There are so many Christmas sensory bin options – with all the bright and sparkly items that Christmas brings you're sure to have plenty of things on hand.
Some examples include Christmas-colored sequins, pom poms, white flour to represent snow, jingle bells, gift wrap, candy canes, Christmas characters (Santa, reindeer, the Grinch, snowmen, etc.) or items pertaining to Christmas characters, pipe cleaners, cookie cutters, play dough, and many more.
We have compiled below some creative Christmas sensory bins and activities for you and your child to explore this holiday season!
Minimal-mess Christmas sensory bins & activities
I love providing and facilitating engaging sensory play for my children, but sometimes, the mess associated with lots of sensory bins and activities can feel daunting. However, there are plenty of minimal-mess sensory bins with a quick and easy clean up.
These ones also tend to be ones that you can reuse several times. Just store the contents away in a secure container ready to whip out another day.
These will be my go-to toddler Christmas sensory bin ideas for when I'm short on time but my kids have that need for a good sensory activity.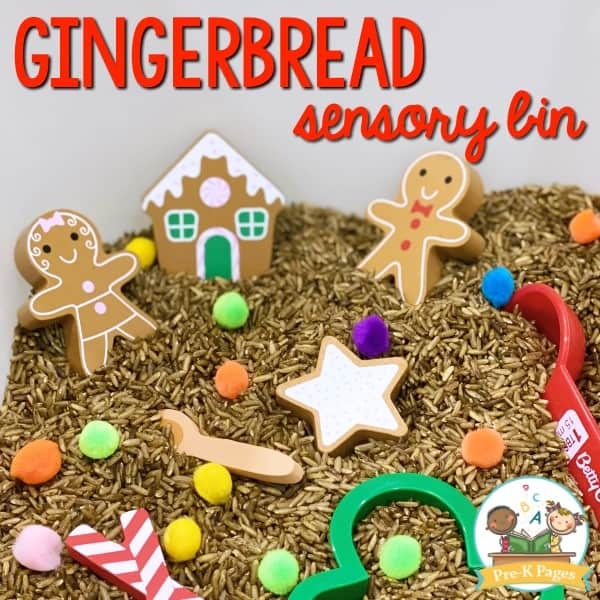 1. Gingerbread Sensory Bin
Having read the story of the The Gingerbread Man, this Gingerbread man themed sensory bin is a must. It uses brown rice as a filler and then you simply add gingerbread cookie cutters, googly eyes and pompoms, the latter will become buttons.
Your toddler can use tongs or small spoons to construct their gingerbread men – or simply let them scoop, pour and experiment!
This Christmas sensory bin activity should be very low mess. The challenge is to keep the rice in the bin, but even if rice escapes out, it's a quick and easy cleanup using the vacuum or broom.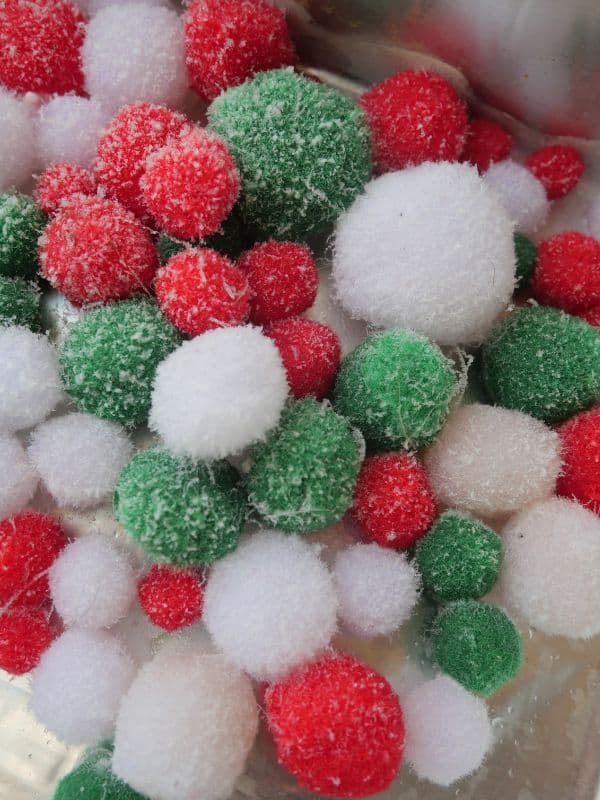 2. Frozen Christmas Pom Poms Sensory Activity
This frozen Christmas pom poms sensory activity requires a bit of forethought, rather than time. Soak some red, green and white pompoms in water, lay them out in a tray and freeze them overnight. Prep done! Once frozen, you have yourself an ice-cold Christmas sensory bin.
Kids will enjoy playing with the little colored ice-balls – mine were also fascinated by the ice crystals that formed over the pompoms. They loved exploring the cold sensation and feeling them soften and change shape as they melted. You can also encourage them to sort the pom poms by color and count them but mine were so busy simply breaking them apart, touching and squeezing them…
Another idea would be to provide your child with warm water squeeze bottles or paint brushes so they can speed up the thawing process. There are so many possibilities with these easy and fun Christmas sensory bin.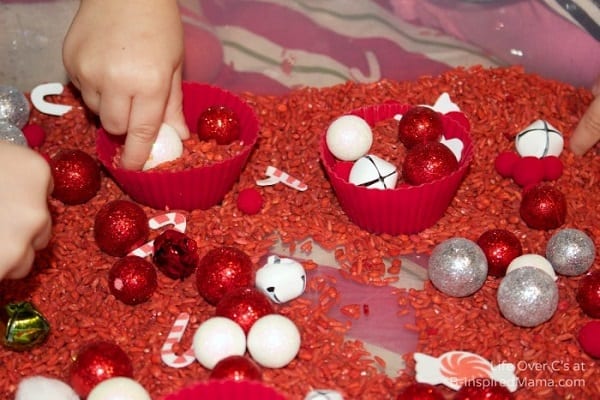 3. Peppermint Scented Sensory Play
This peppermint-scented sensory bin piques a child's curiosity by engaging multiple senses at the same time. The scented peppermint rice is the sensory bin filler, stimulating your child's sense of smell. The senses of sight and touch will also be engaged while playing with the contents of this fun Christmas sensory bin.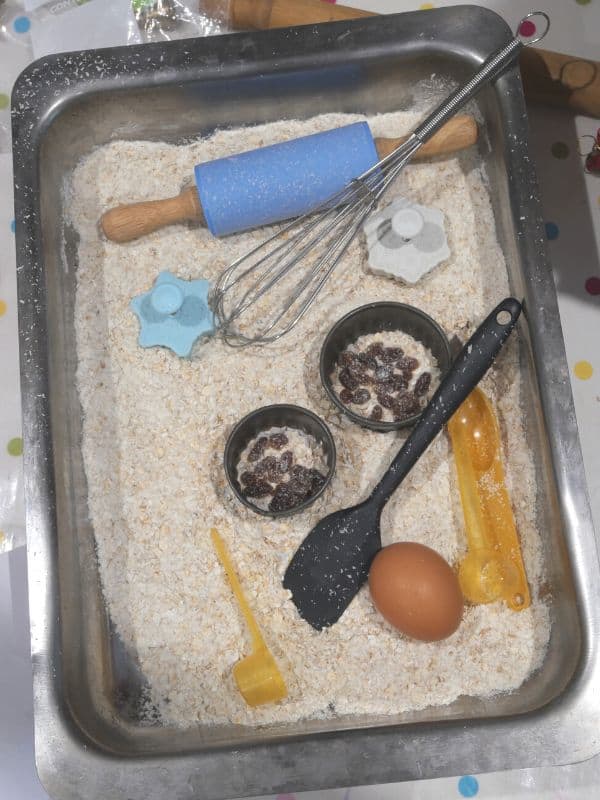 4. Christmas Baking Sensory Bin
This Christmas baking sensory bin will be a fun way for your child to explore baking concepts through dramatic play. Oats make a good base for this one – they're less messy than flour and have a lovely interesting texture or why not combine the two. We used a mixture of flour, oats and oatmeal in the bin above.
This is a wonderful preschool and toddler Christmas sensory bin that provides an opportunity for children to imitate and practice baking. My daughter loves to cook and bake and help me in the kitchen and loves experimenting with her own baking in dramatic play just as much, or maybe more.
With a sensory bin she's not bound by a specific recipe. By providing her with her own ingredients and tools she can create whatever she likes and take as long as she likes!
5. Jingle Bells Sensory Bin
Your child will surely love the jingle jangle sounds of this jingle bell sensory bin. Simply add jingle bells to a base of colored yarn along with some pompoms.
You could also use Christmas fabric scraps, shredded paper or some strips of Christmas gift wrap. As your child moves the contents around, they'll feel the soft textures of the yarn and pompoms, such a contrast to the solid bell structures. For younger toddlers prone to putting things in their mouth, go for larger-sized jingle bells.
A fun and super easy Christmas sensory bin and activity that'll be dead easy to clean up, should the contents spill from the bin.
6. Christmas Lights Sensory Bin
Here's another Christmas rice sensory bin with the fun addition of twinkly lights as well as faux holly and pipe cleaner candy canes. This Christmas Lights Sensory Bin is simple to throw together, and just look how pretty it is. Turn the lights on for a colorful lightshow and maximum fun! (Obviously, watch little ones carefully.)
I don't think your toddler will need much encouragement to play – this Christmas-themed sensory bin enables your child to play and explore in an open-ended way, there are so many different options. I can see my kids standing the candy canes up in the rice or making pretend hills with holly leaf trees, lit up by lights…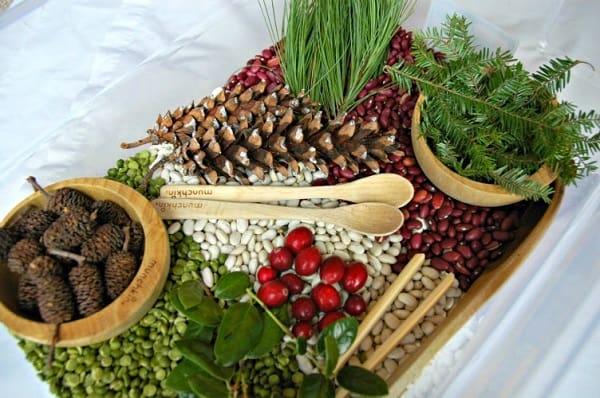 7. All Natural Christmas Sensory Bin
This natural Christmas sensory bin is inspired by the Montessori learning approach, as the contents are all natural. You can extend your child's learning with this sensory bin by making it a two-part activity and go hunting outside for some of the materials first.
You could go on a family nature walk or quick backyard scavenger hunt to acquire pine cones, leaves and other natural objects. Simply bundle up and head outside and see which things of interest you and your children come across. Add these to storecupboard staples such as dried beans and pulses.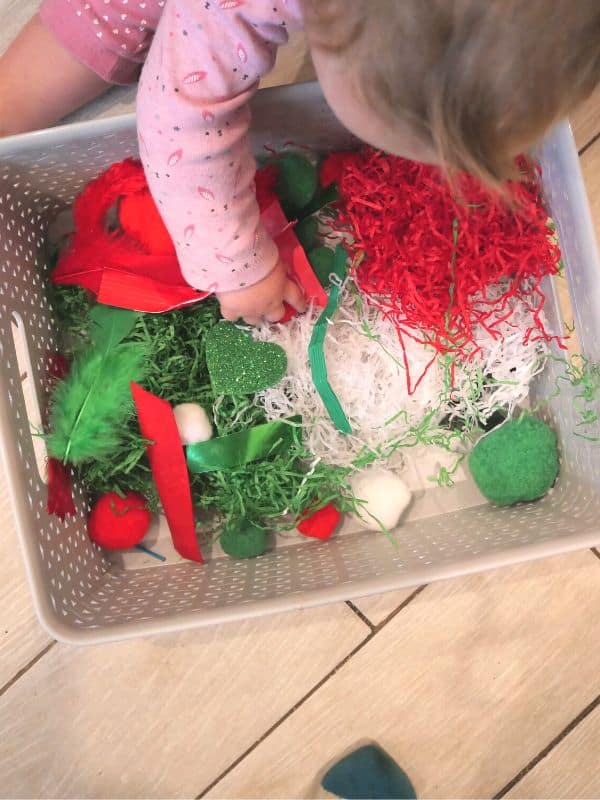 8. Red & Green Textures Sensory Bin For Babies
Raid your craft cupboard and house or head to the store for some interesting textures in shades of red and green. I added pom poms, shredded paper, feathers, ribbons, foam and glitter shapes to make a Christmas sensory bin for my twins, just a little over 1 year old.
My girl twin, pictured, played with this for ages. If course it didn't stay in the bin long! She loved pulling all the various pieces out of the bin, then stuffing them back in again. The latter she didn't do such a good job of and there was quite a bit scattered over the floor but it was dead easy to clean back up again.
If you have a baby or young toddler, I'd definitely recommend this easy Christmas sensory activity.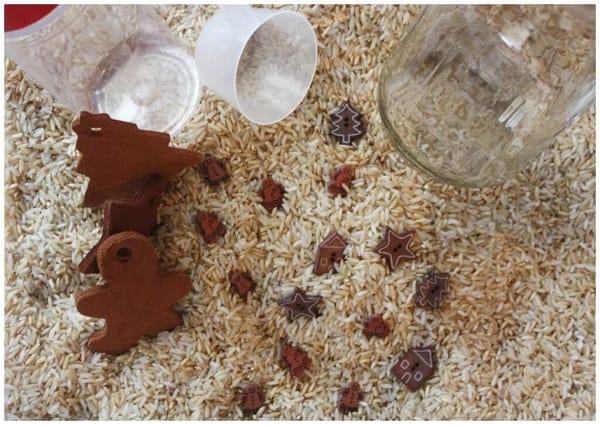 8. Cinnamon Scented Rice Sensory Bin
This cinnamon-scented rice sensory bin with gingerbread figures and cookies would be another fun way to introduce your child to the classic story of The Gingerbread Man.
My children love connecting different experiences and activities and I love watching them follow their imagination and curiosity. Baking the gingerbread cookies would be an exciting additional activity to extend their play and learning to this fun Christmas sensory bin.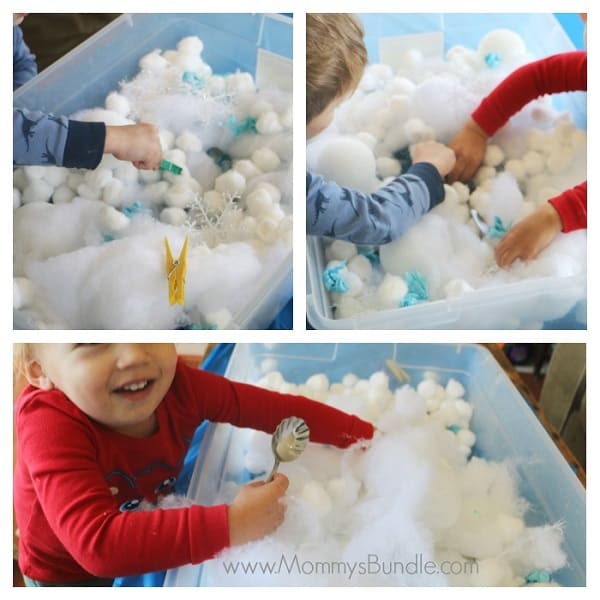 9. Christmas Snow Sensory Bin
This winter sensory bin is a great alternative to playing in the cold snow outdoors. Use Poly-fil or pulled-apart cotton balls to make the fake snow. You can add white and blue fabric scraps or paper shreds, or anything else you have on hand to enhance this sensory activity. Or how about adding tools and materials to enable your toddler to make a snowman or two?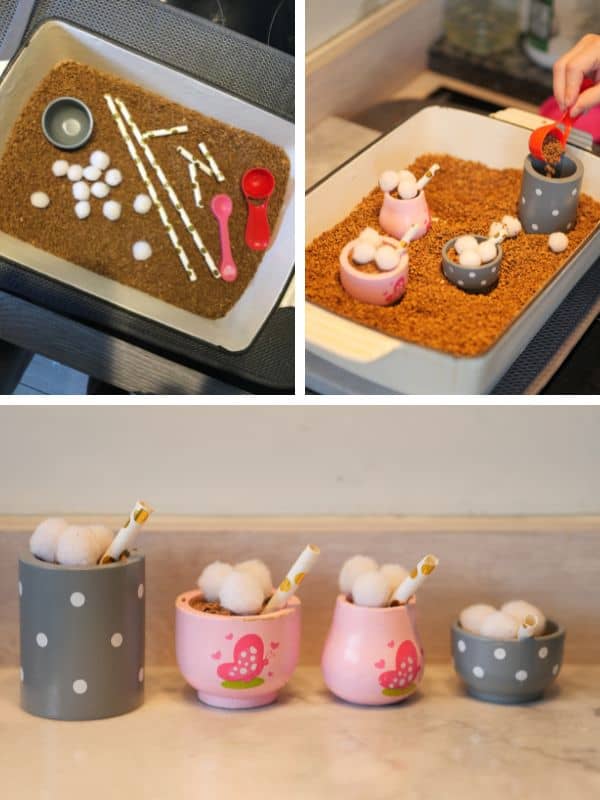 10. Hot Chocolate Sensory Bin
This hot chocolate sensory bin is another fun and different dramatic play sensory bin activity, you just need a brown sensory bin filler to represent hot chocolate. You could use brown uncooked beans, coffee beans, ground or instant coffee for a different texture and scent. We used the latter, as pictured. If you have a hot chocolate loving toddler or preschooler, they're sure to love this fun sensory bin, at Christmas or any other time of the year!
11. Christmas Snow And Snowplows Sensory Bin
Here you have a corresponding book to extend your child's learning. Construction Site on Christmas Night is a lovely Christmas story to pair with this snowballs and snow plows sensory bin.
This Christmas sensory bin is very easy to prepare, facilitate, and will be a cinch to clean up too. It offers a new unique perspective on Christmas and winter-themed play.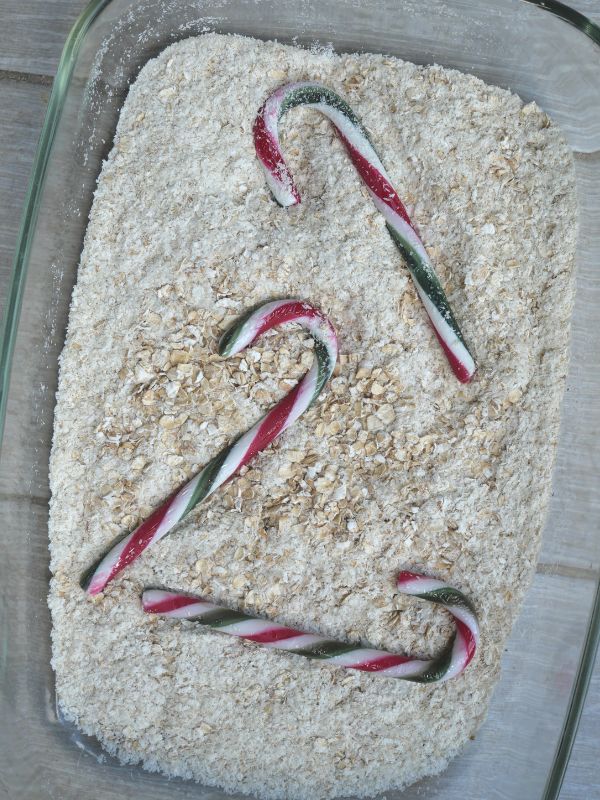 12. Peppermint Oatmeal Sensory Bin
This peppermint oatmeal sensory bin is simple yet intriguing. Simply fragrance oatmeal with peppermint essential oil, to engage the sense of smell. Store in an airtight container for reuse. If you don't have the oil, you could use peppermint extract from the grocery store.
Then add classic red and white peppermint candy canes to the oatmeal. You could also add a few tools, like measuring spoons and cups – the act of scooping and pouring keeps my kids engaged for such a long time and I know I'm not the only one. It's a very developmentally appropriate and intriguing action for young children.
The only difficulty with this Christmas sensory activity is the temptation for toddlers to eat the candy canes, but you could always leave them out!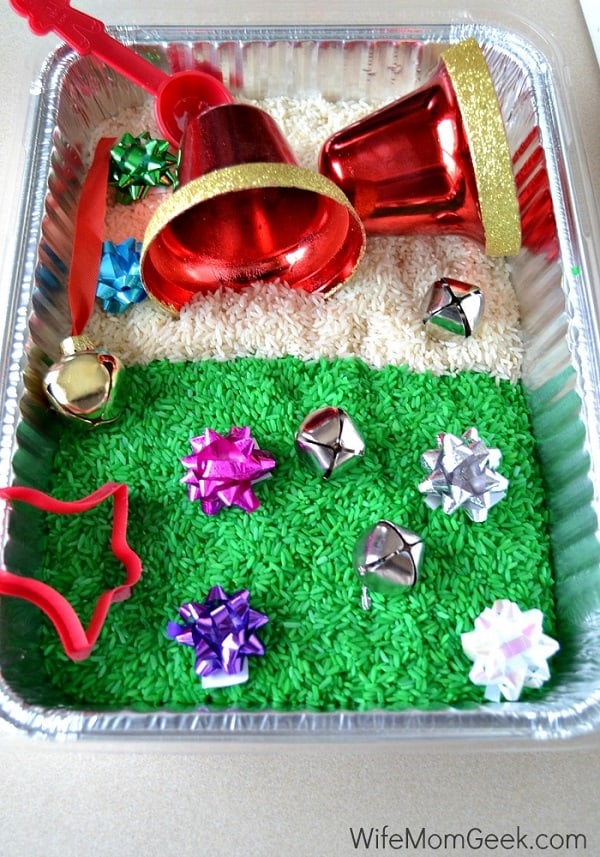 13. Bells and Bows Ornament Sensory Bin
This bells and bows sensory bin is made up of jingle bells and other plastic tree ornaments, colored rice, and gift wrap bows – simply add as many festive materials as you want.
Toddlers and young children will enjoy experimenting with the jingle bell sounds and playing with the other Christmassy objects. It's an ideal Christmas sensory bin for 1 year olds, providing music and movement concepts. Of course, they're sure to love scooping and pouring the rice too – just that can keep kids engaged for ages.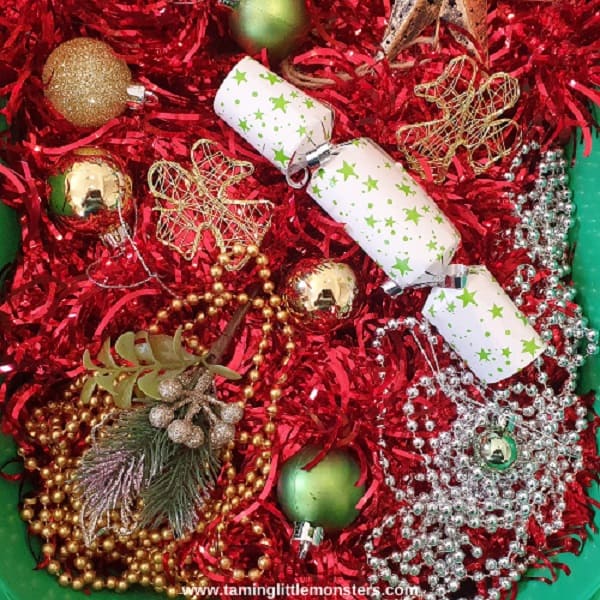 14. Christmas Decorations Sensory Bin
This Christmas decorations sensory bin provides your child with their own slew of Christmas decorations to explore, hopefully preventing them taking ornaments and decorations off your own family Christmas tree!
I love repurposing old decorations and materials that I would've just thrown away otherwise. For this bin, you could use any old decorations no longer worthy of the tree. Otherwise, the dollar store is a great place to grab a variety of interesting decorations for your kids to explore.
You could add a mini tabletop Christmas tree for your child to decorate within this bin or as another component of this Christmas sensory bin.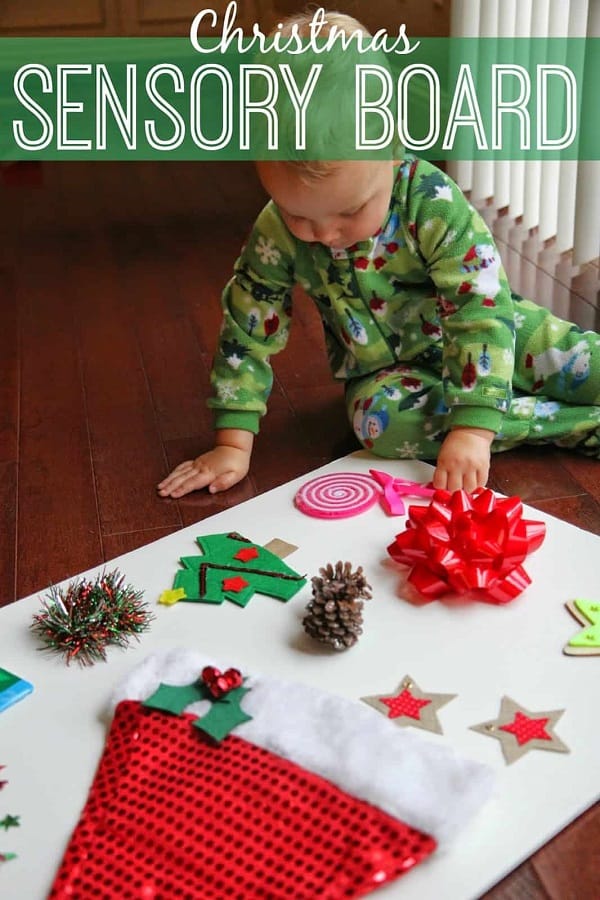 15. Christmas Sensory Board for Toddlers & Preschoolers
For a simple Christmas sensory activity for kids of the toddler and preschooler age, try making up your own festive sensory board. It facilitates open-ended play and learning and focuses on the sense of touch. To gather the items for this board head to the dollar store, buy some inexpensive Christmas items from a local craft store, use old decor you'd otherwise throw away, gift wrap, and more.
In the board pictured, most items are permanently fixed using a hot glue gun. However, you could change this into a "rescue" activity. Have your child use masking tape and tape each item to the board. Then they can have fun rescuing each one by peeling off the tape.
This makes for a fun activity with toy characters and other favorite toys, whatever the season!

40+ easy activities handpicked for busy moms of kids aged 2 to 6 years – because Christmas needn't be chaotic or cost a fortune!

Create gorgeous hand and footprint art with your little one

Help your kids write Santa a letter and receive a reply

Christmas sensory bottles
Sensory bottles provide another intriguing outlet for sensory exposure and can be enjoyed by children of all ages.
However, they're a particularly good way to introduce Christmas-themed sensory activities to infants and younger toddlers. Materials are confined to a bottle so it keeps them from putting items in their mouths.
Sensory bottles also completely mess-free and can be used time and time again!
Sensory bottles and bins can really complement each other, particularly when you have children of different ages playing together. A lot of the time, my older children will be playing with a sensory bin while my twins explore a sensory bottle or two.
They're are a great mood calmer too – their visually appealing elements are very soothing. I'd definitely recommend having a few up your sleeve when the excitement of Christmas gets too much!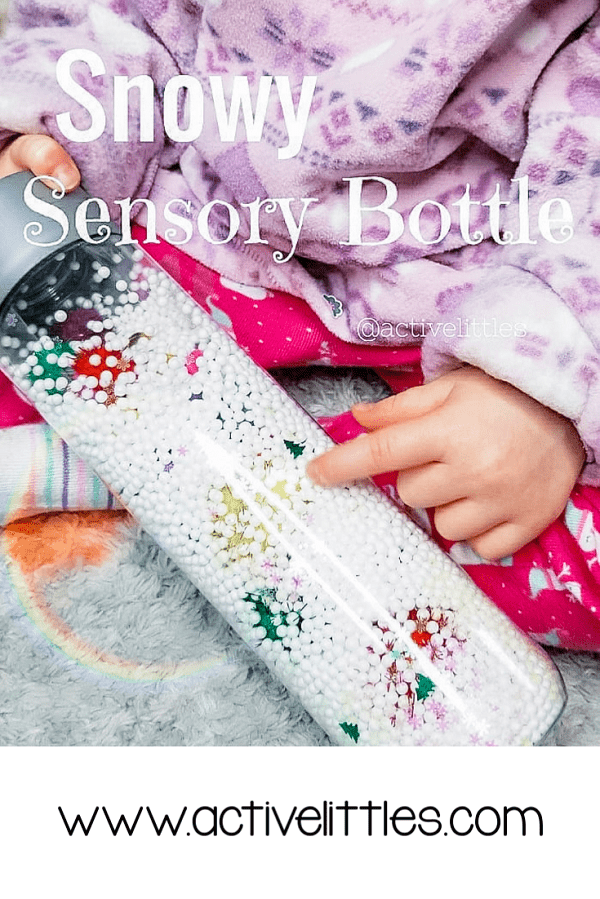 16. Snow Globe Sensory Bottle
This snow globe sensory bottle is like a little blizzard in a bottle! Your child will be so excited to shake, roll and explore it, watching all the different elements tumble and churn around.
This fun and festive sensory bottle is the perfect Christmas sensory activity for a 1 year old baby or young toddler, who can safely explore the small white craft foam balls (a.k.a. snow).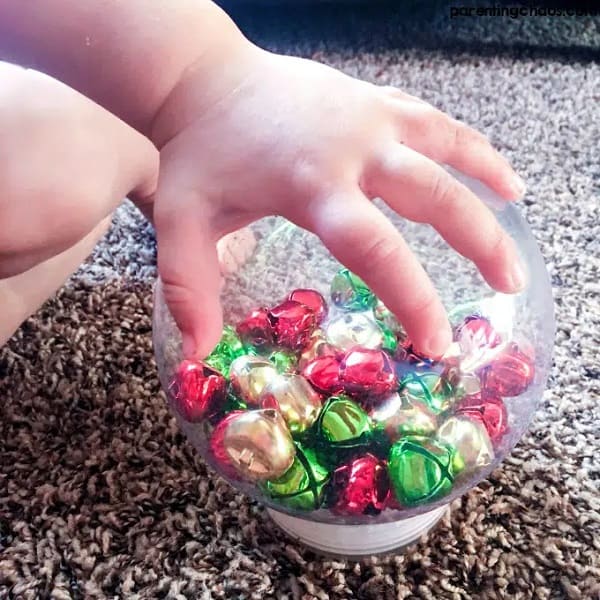 17. Jingle Bell Magnetic Sensory Bauble
STEM stands for science, technology, engineering, and mathematics and you can expose your child to early STEM concepts via this jingle bell magnetic sensory bottle. An ideal Christmas sensory activity for preschoolers, you can show them how to use a magnetic wand on the outside of the bauble to clump the jingle bells together and move them around.
Babies and young toddlers can also enjoy this sensory activity, simply by shaking and jangling the bauble, ideal for a festive rattle. Put on some Christmas songs and you've got your own mini percussionist!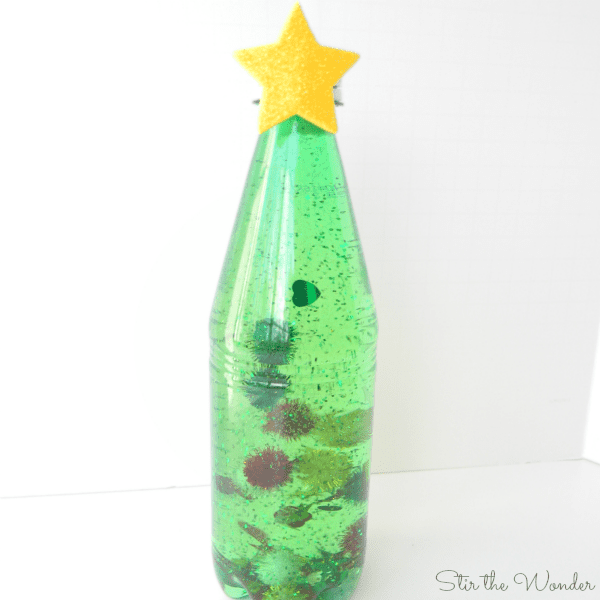 18. Christmas Tree Sensory Bottle
This Christmas tree sensory bottle is a great addition to Christmas sensory play. Use a green transparent plastic bottle or clear plastic bottle with green food coloring to dye the water. Then add pom poms, sequins, glitter, maybe smaller jingle bells, and any other small Christmas-themed objects. It'll be fun to shake, spin and roll around for babies and toddlers.
Tip: Try adding glycerin to a water-based sensory bottle. It'll make the glitter and sequins move and float slower, for an extra calming effect… worth a try with toddlers, right?!
19. Christmas Glitter Sensory Jar
Glitter and sequins float around a mixture of clear glue, water and blue food coloring in this super calming Christmas glitter sensory jar.
You can also involve your child in creating this fun Christmas sensory activity. Paint and decorate the jar before filling it. Apparently, there's a snowman painted onto the jar pictured (I'm really struggling to make out the snowman…)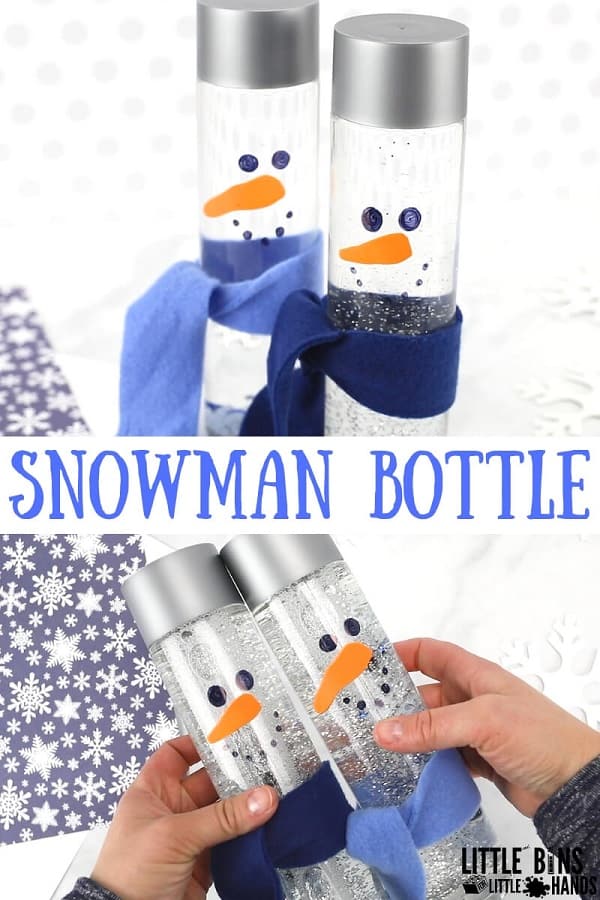 20. Snowman Sensory Bottle
Here's another snowman sensory bottle – this time I can clearly see the face of the snowman. The shimmery liquid inside is also made from a mixture of glue, water and glitter. I just love the addition of the felt scarf and I can imagine my kids will too.
A fun and hopefully calming sensory activity for toddlers amidst the madness of Christmas as they watch the glitter shimmer as it moves around. Well, we shall see…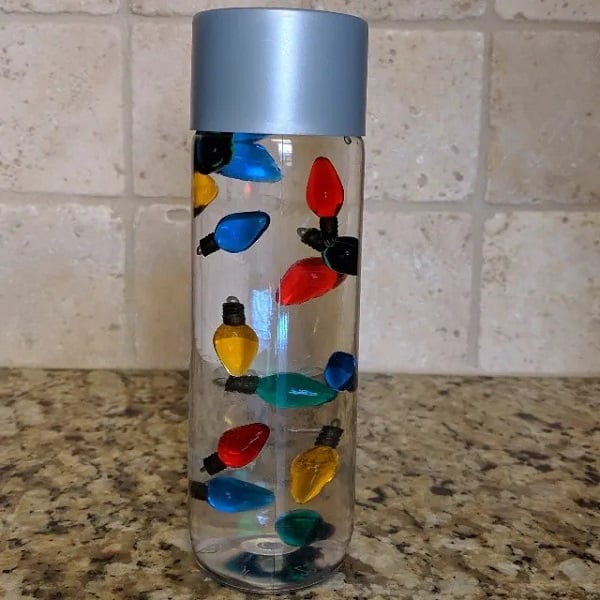 21. Christmas Lights Discovery Bottle
Here's another Christmas sensory activity ideal for 1 and 2 year olds. Allow them to safely explore Christmas lights in this Christmas Lights Discovery Bottle. The various colors of the lights are sure to pique their interest.
Adding clear water beads to the bottle will help keep the lights evenly distributed and stop them clumping together. This one also makes for a lovely Christmas decoration, so you can simply put it on the mantlepiece when not in use.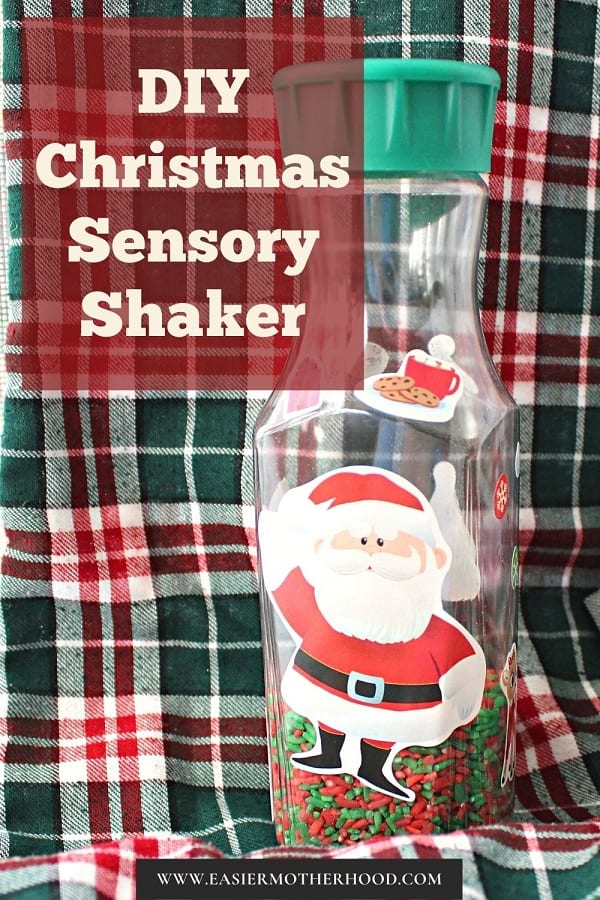 22. Christmas Sensory Shaker Bottle
This Christmas sensory shaker bottle uses dyed red and green uncooked rice with no other additives. The rice will make a fun and exciting sound as your baby or toddler shakes the bottle. It'll sound a bit like a maraca, so turn on some Christmas songs and encourage your child to shake their musical instrument as they dance!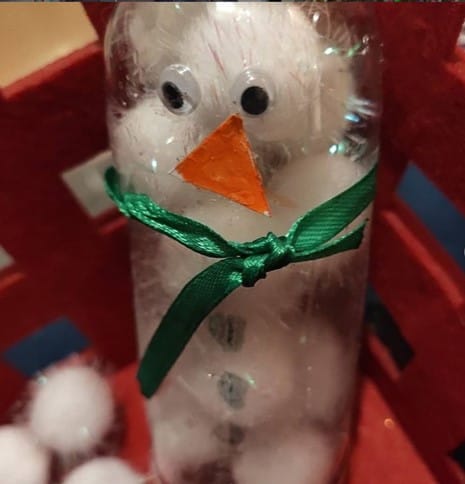 23. Stuff A Snowman Sensory Bottle
With sparkly white pompoms (cotton wool balls would also work) stuffed into a clear bottle and a few other additions, you've got yourself a snowman sensory bottle. The fun of this one is more in the making – "posting" things into holes and containers is something young children absolutely love to do! So "stuffing" the snowman will make such a fun Christmas sensory activity for toddlers.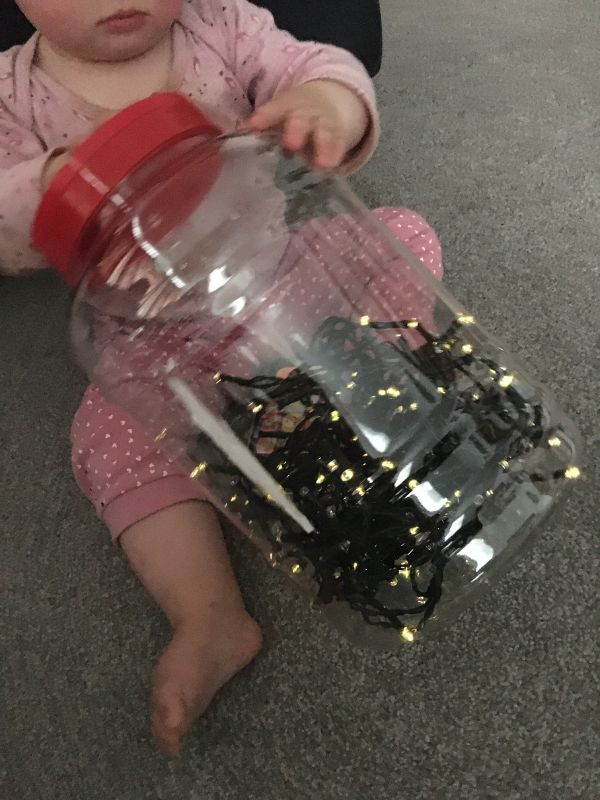 24. Giant Christmas Lights Sensory Bottle
My son got given a giant tub full of arts and crafts fupplies for his birthday last year.
Funny thing is, the large plastic bottle they were packed in has proved just as useful and fun to play with as the contents themselves! Here I placed some battery operated Christmas tree lights inside with the lights on a slow glowing/flashing setting.
My girl twin, just over 12 months, was absolutely fascinated! She could get as close to the lights as she wanted and watch them glow and flash to her hearts content, as they were safely contained in the bottle.
She also enjoyed rolling and rattling the bottle. Such an easy and fun Christmas sensory activity for infants and toddlers 1 or 2 years old.
Christmas sensory bags
Christmas squishy bags are a great activity addition to Christmas sensory play. Like sensory bottles, they contain the mess associated with many sensory activities and allow babies and toddlers to explore otherwise dangerously small objects.
Sensory bags have the advantage over bottles in allowing the texture of items to be felt.
Make up a few Christmas sensory bags and then whip them out whenever your children are in the need. They can be reused over and over again!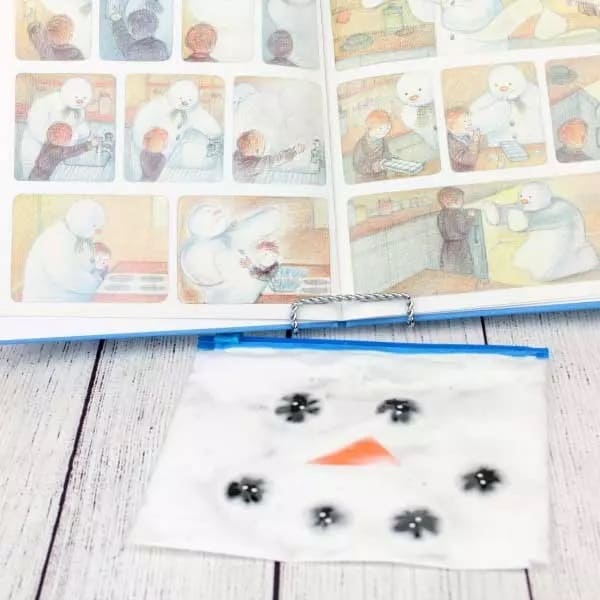 25. Melted Snowman Sensory Bag
For a fun mess-free snowman building sensory activity this Christmas, try this fun melted snowman sensory bag from Rainy Day Mum. Your child will enjoy following their internal curiosity as they explore their melted snowman.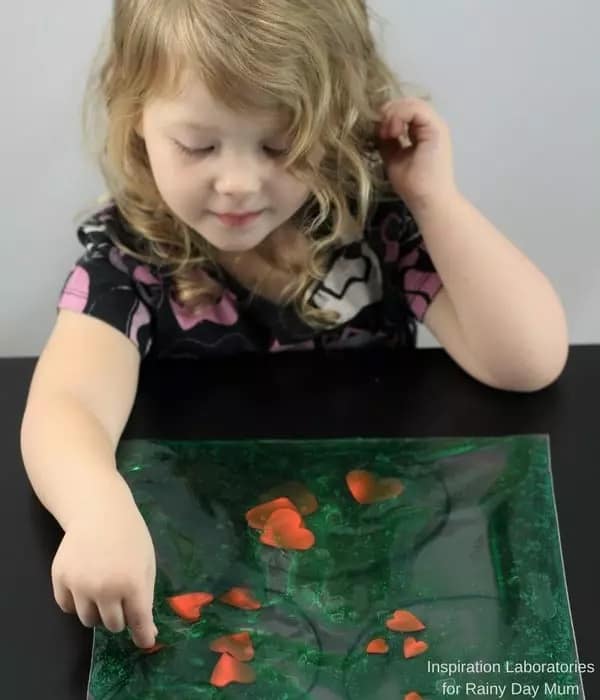 26. Grinch Heart Sensory Bag
What a fun excuse to read How the Grinch Stole Christmas! To make this Grinch heart sensory bag, you'll need a gallon size plastic storage bag, hair gel, green food coloring or liquid watercolors, red craft foam, and scissors to cut out the hearts. You could also use green aloe vera gel instead of clear hair gel with food coloring.
Cut out different size hearts, and draw three circles on the bag to make little compartments. Preschoolers can sort the different-sized hearts into corresponding circles, while toddlers and babies can just enjoy mixing them around.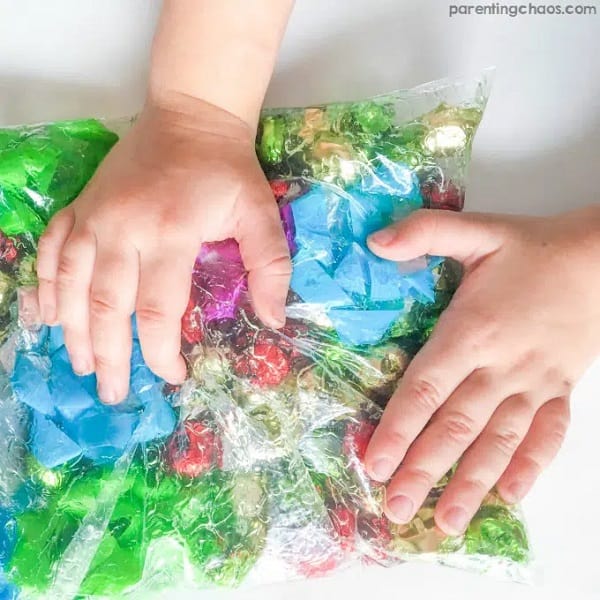 27. Christmas Squishy Bags
Simply add Christmas-related toys and items to a ziplock bag with some aloe vera gel or clear hair gel. You can add anything you want to! Your child will enjoy choosing the different items and helping you assemble the bag and can then squish to their hearts content. The perfect Christmas sensory activity to take out and about to provide your toddler some sensory play away from home.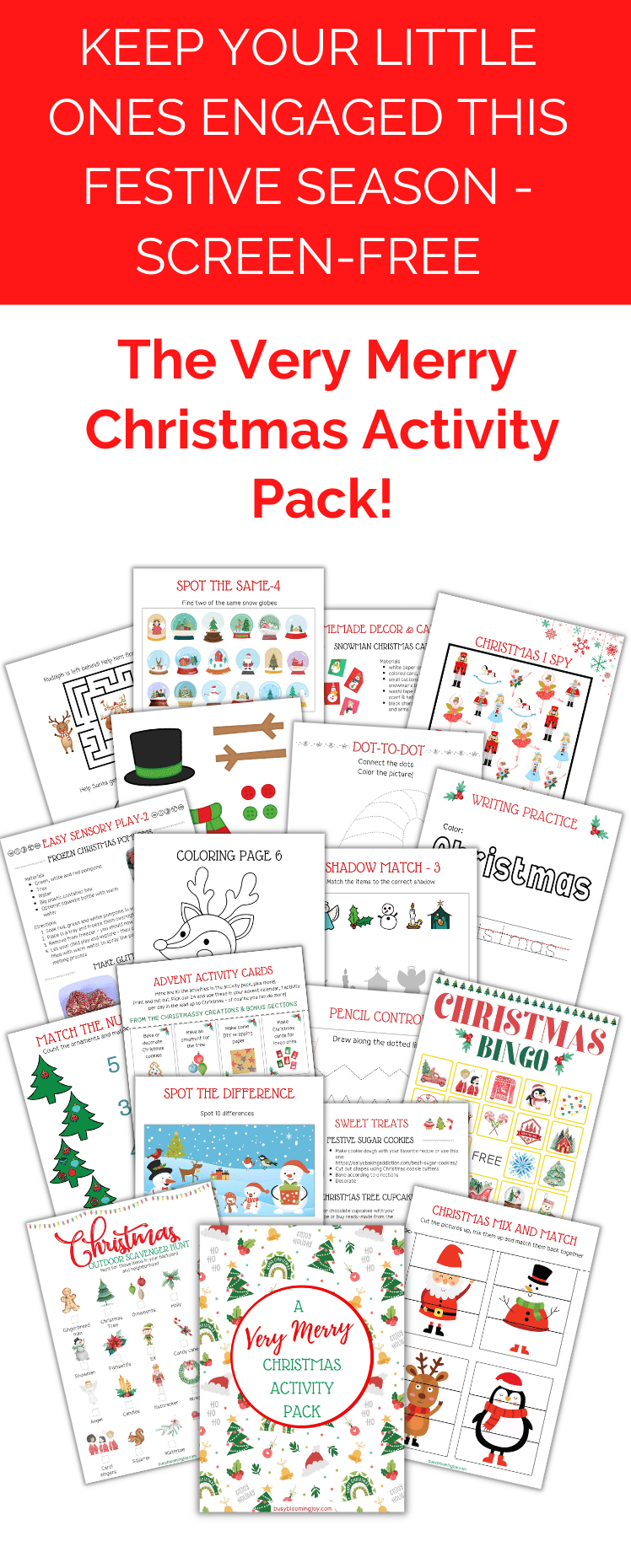 40+ easy activities handpicked for busy moms of kids aged 2 to 6 years – because Christmas needn't be chaotic or cost a fortune!

Create gorgeous hand and footprint art with your little one

Help your kids write Santa a letter and receive a reply

Christmas sensory activities using play dough
Play dough is an early childhood staple and a must-do sensory activity. There are so many different ways to play and experiment with play dough; it facilitates open-ended play so well and is calming too. Provide cookie cutters, a rolling pin or add sequins and toy characters to name a few.
You can also easily adapt play dough activities to any theme or subject area by using specific tools and materials. You can also easily add specific learning elements with play dough mats.
So if you want to try some play dough-based Christmas sensory activities with your children this holidays here are some themed ideas. You'll likely want to participate, too. I find it hard to resist! It's such a lovely way to spend quality time with the kids and always succeeds in bringing the energy levels down a little.
28. Holiday Scented Play Dough
Through this holiday-scented play dough, your child can experience all the smells of Christmas, with cinnamon, sugar cookie, peppermint and gingerbread scents.
Baking with playdough is a favorite of my daughters and she loves to make cookies of all shapes and sizes! Of course, with gingerbread-scented playdough, it's all about making gingerbread men.
She loves to add googly eyes and buttons to make her gingerbread men come alive. Her pretend oven doesn't melt the plastic, so she tells me so all is good there.
Some holiday-scented play dough would also make for a sweet gift for little friends, allowing them to enjoy this Christmas-scented sensory activity.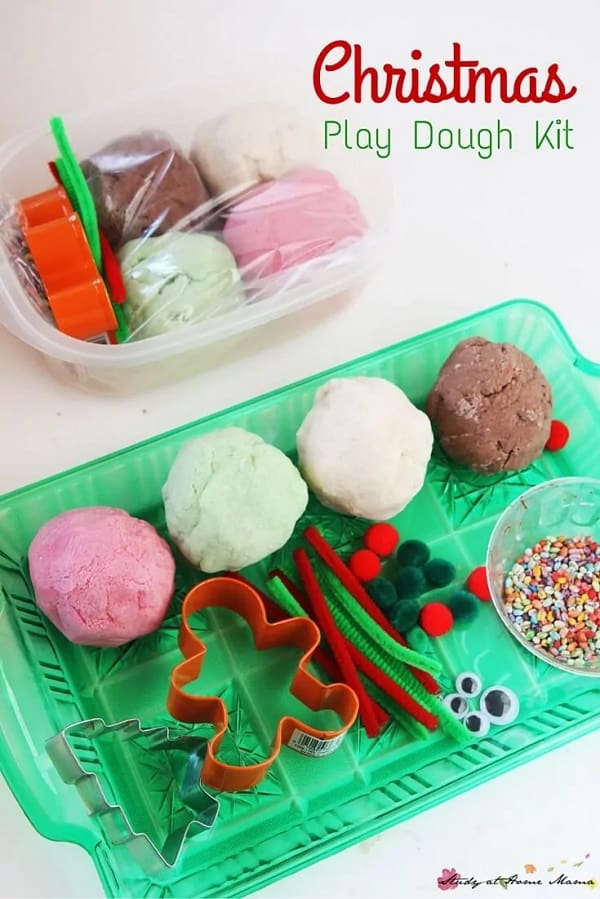 29. Christmas Play Dough Kit
Gather pipe cleaners, googly eyes, pompoms and other decorative items to assemble a Christmas play dough kit for your child. Organize and store all the materials in a container ready for use and have this on hand whenever your toddler needs a fix of calming sensory play – play dough can be magical like that!
This playdough activity will help refine fine motor skills as your toddler works with the different materials in conjunction with the play dough.
This is a Christmas sensory activity your toddler will enjoy time and time again.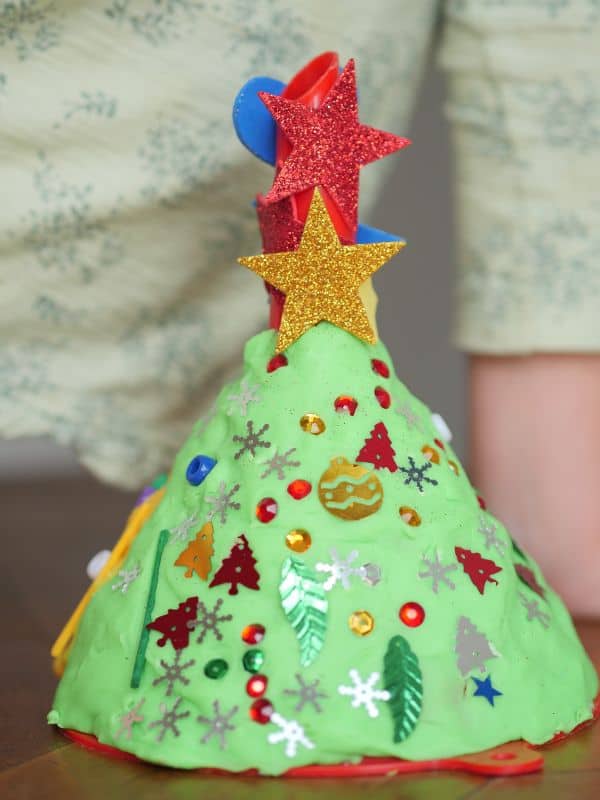 30. 3D Christmas Tree Play Dough Kit
Your child can build and decorate their own Christmas tree with green playdough wrapped around something cone-shaped. You can use a styrofoam cone or failing that, a plastic funnel. (Can you guess which we used in the picture above?)
The challenge is then to mold the play dough around it. You may need to give younger toddlers and preschoolers a hand.
But then to decorate. Provide gems, sequins, beads and other sparkly objects. Just look how beautiful and festive the finished result can be! Such a fun Christmas sensory play activity that kept my daughter busy for ages.
31. Christmas PlayDough Mat
Playdough mats are a free (or inexpensive) way to add a different dimension to playdough sensory activities for kids. Rather than making freestanding 3D playdough objects, the idea is to embellish and decorate 2D pictures or patterns.
You can also incorporate specific learning objectives into an activity with the addition of a simple playdough mat.
With the playdough mat pictured, the idea is to shape and add play dough decorations to the Christmas tree. There are more Christmas playdough mats here including a wreath, ornament, snowman and gingerbread mats, each needing embellishments, eyes, noses and/or buttons to complete.
32. Christmas Lights and Play Dough Activity
If I'm honest, I'm more excited to try this Christmas lights play dough activity than I think my kids will be! It's fun, simple and so creative.
Start with a long thin green roll of playdough to represent the wire of the Christmas lights – you may need to help young children and toddlers with this part and watch tiny tots for putting the lights in their mouth. Then simply have your child place the lights along the wire. An easy Christmas sensory activity that'll help strengthen fine motor skills.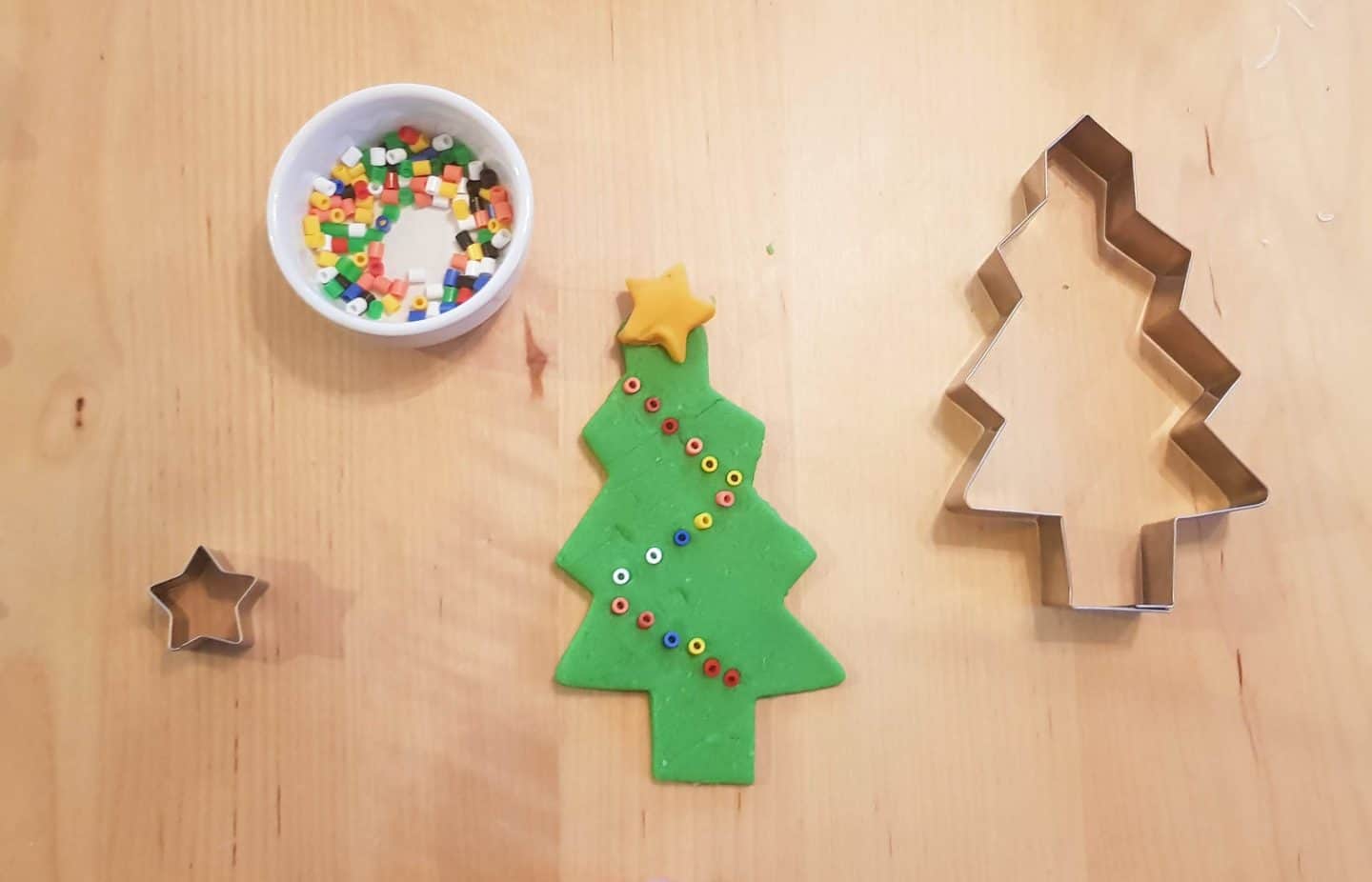 33. Play Dough Christmas Trees
For this play dough Christmas tree activity all you need is green play dough, Christmas tree cookie cutters plus sequins, beads, buttons, glitter and any other fun embellishments to decorate with.
This Christmas sensory activity will aid the development of fine motor skills, as well as cognitive concepts, such as connecting experiences. Your child will start to mentally connect decorating their playdough tree with decorating your own Christmas tree at home.
Slime-based Christmas sensory activities
Slime, well, quite-simply is slimey! It offers a new and interesting texture for children to feel and squish between their fingers. Most young children love this type of sensory activity, both playing with slime and helping make it. Although I do hear of a few that really don't like the stuff.
Stored in an airtight container it normally lasts a good few play sessions too. Of course, this definitely can't be classified as mess-free – watch those slimey sticky hands on the furniture! Best confined to the kitchen or a specific protected play zone.
Making it is normally very straightforward and often there's no "wrong" way to make slime; it's hard to mess up. Have fun with the process, and don't stress too much about the outcome!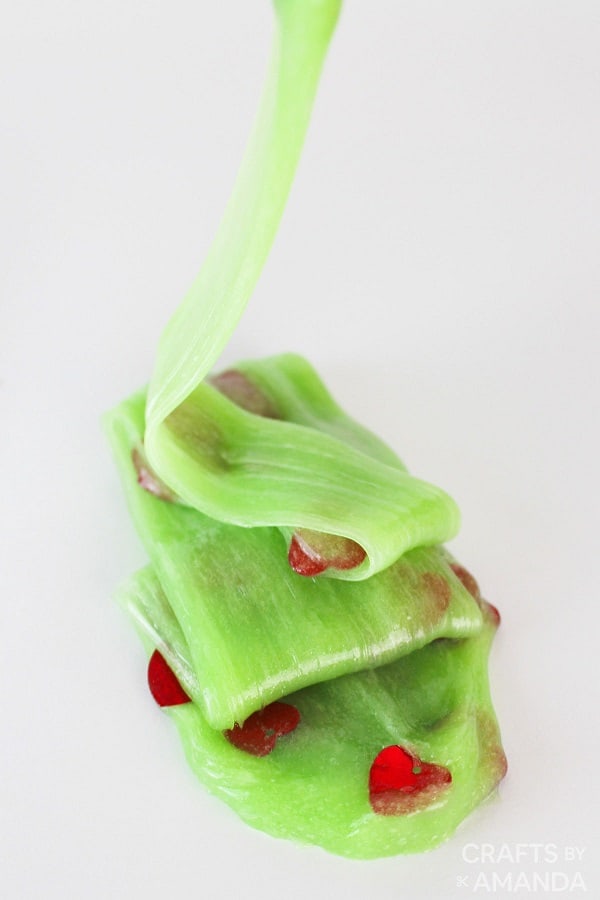 34. Grinch Slime
It would be fun to pair this Grinch slime activity with reading the Dr. Seuss book, The Grinch Who Stole Christmas.
The tutorial recommends this activity for ages 4 and up, so preschool age would be best. However, if your child is 2 or 3 years old and you want to give it a go, of course it's up to you. Just supervise carefully, especially for stray objects ending up in mouths…
I have quite an adventurous almost two year old who loves to play with slime with his older sister. I just have to make I'm right beside him so I can watch carefully and assist as necessary.
35. Edible Candy Cane Slime
In this Christmas sensory activity, you will be making candy cane slime that's safe to taste. Not only is it taste-safe, but it's a little bit delicious, so it's sure to be a hit with the kids (just not one to try too close to bedtime!)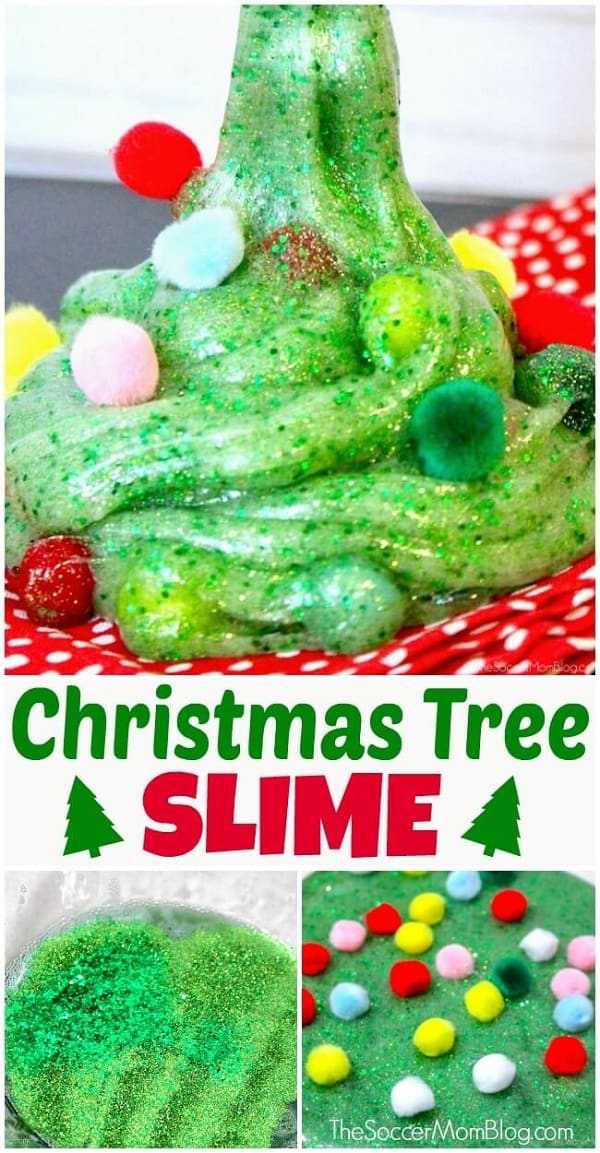 36. Pom Pom Christmas Tree Slime
There are a couple of recipe options for this pom pom Christmas tree slime from The Soccer Mom Blog. Both are glue-based, with one using clear glue and the other using glitter glue.
As with other slime-based sensory activities, you can involve your toddler in the slime-making process as well as slime playtime for extra fun and engagement.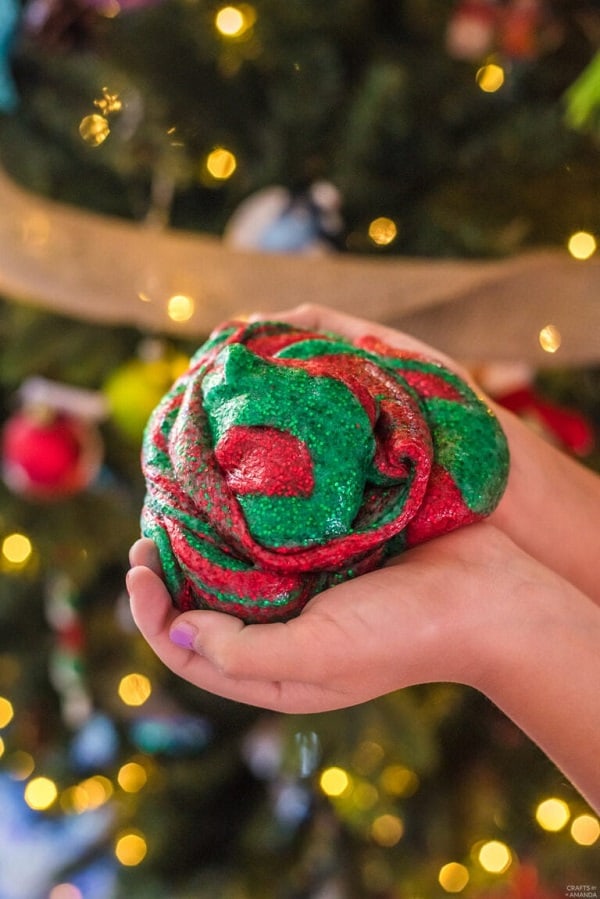 37. Christmas Slime
Another fun Christmas slime sensory activity to help strengthen your child's fine motor skills. What about giving it as a gift to friends at Christmas so they can enjoy some sensory play over the holidays?
This Christmas slime recipe uses clear glue, red and green food coloring, baking soda, saline solution, and red/green glitter for a slimey sparkly experience. Watch your child play and explore the slime in an open-ended way, following their flourishing imagination.
Literacy-based Christmas sensory activities & bins
All sensory bins are educational to some degree, as children learn through play. However, sometimes you may want to use intentional sensory bins and activities focused on teaching concepts, such as letters and numbers.
Below we've compiled a list of literacy-related Christmas sensory bin ideas ideal for older toddlers and preschoolers.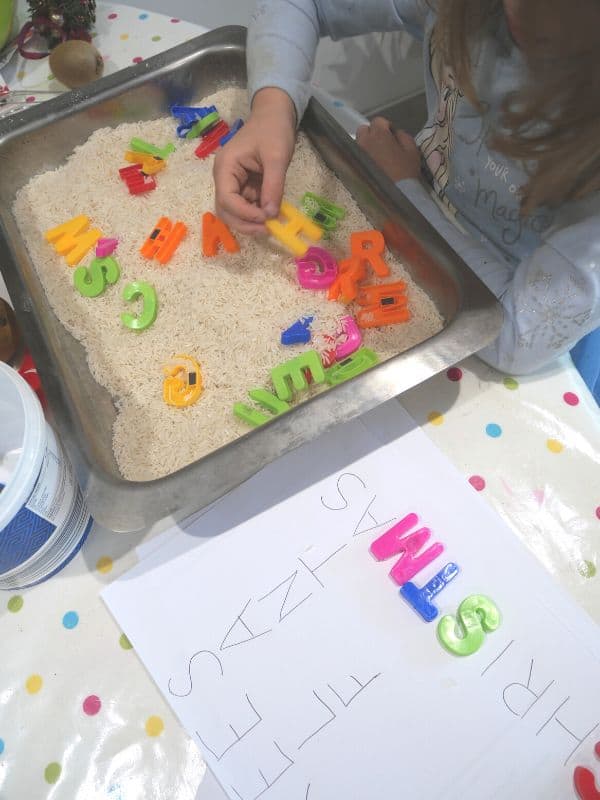 38. Christmas Letter Matching Sensory Bin
This Christmas letter matching sensory bin activity uses rice and fridge magnet alphabet letters. You could dye the rice red or green rice for more of a festive feel but I left ours plain. Then write out some Christmas words the same size as your magnets.
The challenge is for your child to search for letters in the sensory bin and match them to those on the paper until all the words are complete.
This activity is easily tailored to children of different ages. Older children can read the words out as they find the letters while preschoolers can practice letter recognition and matching the fridge magnets to the correct letter on the paper. You can help them sound out and read the words.
For younger toddlers omit the paper altogether. They can simply explore the different shapes of the letters and you can sound each one phonetically as they pick them up.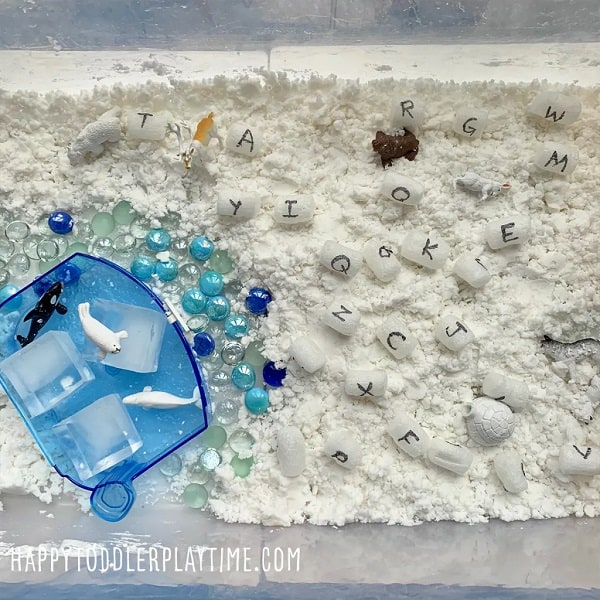 39. Arctic Letters Sensory Bin
This arctic letters sensory bin uses packing peanuts to act as ice blocks. Write letters on them to introduce your child to and strengthen their knowledge of the alphabet. The letter ice blocks as well, arctic animals and other interesting components are sure to interest them and keep them engaged.
For older preschoolers, you can encourage them to spell their name or short sight words they know by finding the correct letters.
For toddlers, sound each letter phonetically to help them with letter and sound recognition.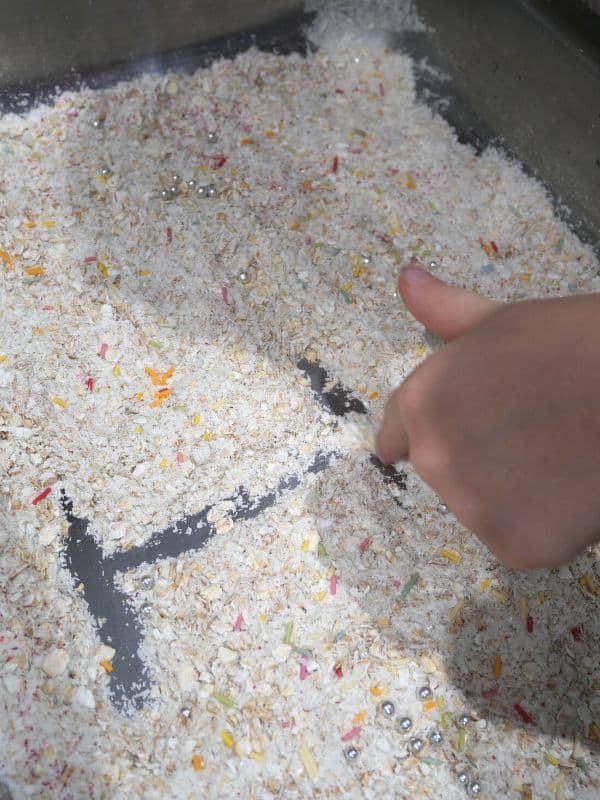 40. Reindeer Food Writing Tray
For a simple Christmas literacy sensory bin, try this reindeer food writing tray. It uses natural materials which is a nod to the Montessori approach but for some festive sparkle add glitter and other shiny and colorful items. We added silver sugar balls and hundreds and thousands from our baking cupboard which added an exciting visual element, that was also edible!
You can add in a faux or real candy cane to this Christmas sensory bin for your child to use as a writing utensil, or they can simply use their finger. Older children and preschoolers can practice writing letters.
Younger children and toddlers can simply practice their pincer grasp, draw and strengthen their fine motor skills. All of which will help in early emergent writing skills.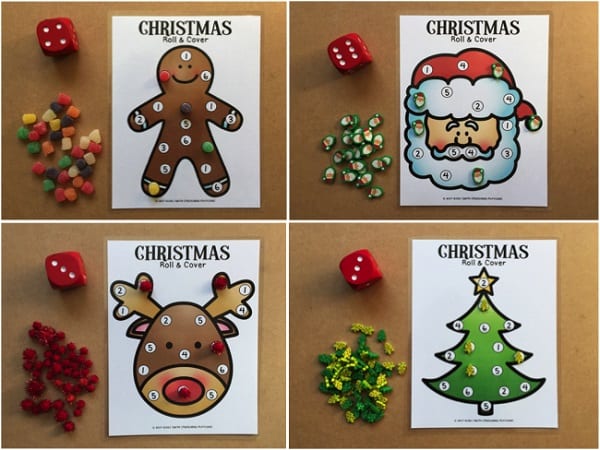 41. Gingerbread Alphabet Match-Up
You can turn this Christmas alphabet matching activity into a sensory bin by throwing all of the individual letters into a tray together as the "filler," then just switch out the gingerbread letter sheet when you change the focus letter. (You'll find the free printable activity sheets via the link above.)
Alternatively, hide the letters in uncooked rice or another filler and turn it into a "seek and find" activity, similar to the first of the literacy-based Christmas sensory bins above.
Finding letters and matching them to the correct spot on the sheet will be more appropriate for preschoolers who have started on letter recognition and sounds.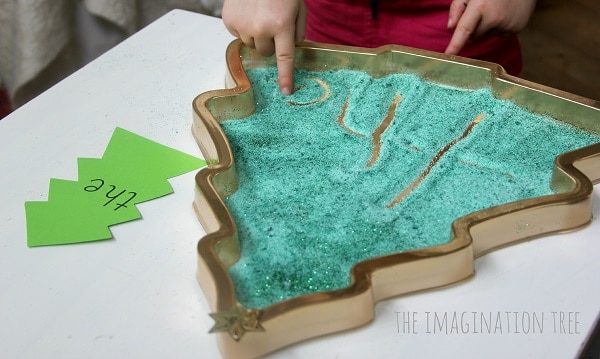 42. Christmas Tree Sensory Writing Tray
Here's another Christmas sensory bin and writing tray best suited to preschool/pre-K-aged children, who can practice writing letters and spelling words. Toddlers will still enjoy exploring this new texture and drawing their own squiggles and developing coordination and fine motor skills.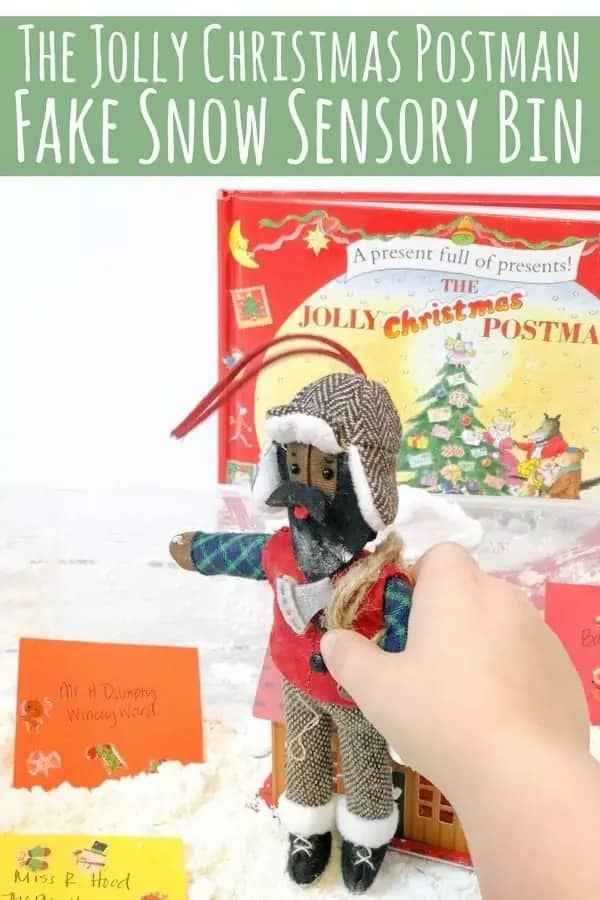 43. Christmas Postman Snowy Sensory Bin
This adorable Christmas postman sensory bin will encourage your toddler to act out the delivery of Christmas cards and holiday mail. Cornstarch and shaving cream create the fake snow for this sensory bin. Then add playhouses, envelope-shaped cards with Christmas stickers as stamps, a toy character to be the postman, and any other materials you desire.
This Christmas sensory bin pairs nicely with the Jolly Christmas Postman book, providing your child with a fun story and the chance to further understand mail delivery over the Christmas period. Depending on the age of your child, you can further extend the literacy learning element by writing or reading the addresses on the envelopes.
This sensory bin is very multifaceted, as it involves literacy, sensory, and dramatic play concepts. It's adaptable for any age/developmental stage!
Other easy Christmas sensory activities & bins (more the stickier, messier kind…)
There are so many Christmas sensory activity ideas. So far we've covered the easiest sensory bins that require the least amount of prep and/or clean up, sensory bottles and bags. Then there were the literacy and learning-based Christmas sensory bins and then the messier and stickier slime and play dough ones.
Here are some Christmas sensory activities for toddlers and preschoolers that don't fit any of those categories and also have the potential for a bit of mess and stickiness…. have your wipes, soap, water and towels at the ready!
44. Christmas Water Sensory Bin
These large plastic baubles are not only great for making homemade Christmas ornaments with kids they're ideal for sensory play too. Create a Christmas water sensory bin by adding the baubles to colored water jazzed up with sequins and glitter. Kids will love helping to set this one too, creating their own sparkly water base for the bin.
Looking for Christmas sensory activities for your infant? Simply omit the sparkly additions and let them scoop and pour water with the baubles. Perhaps skip the bin and try this one in the bath!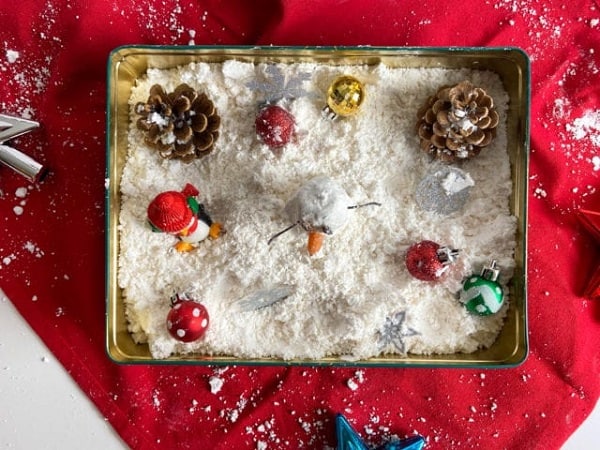 45. Play Snow Sensory Bin
Play snow or fake snow is a fun alternative to real snow and will be especially exciting for children who live in warmer climates and don't usually get to see snow. Even if your child is used to seeing snow, there's nothing like a snowy sensory activity at Christmas for indoors. So try setting up a tray filled with play snow, then add tools, toys, Christmas tree ornaments and other festive objects. Encourage your toddler to create their own snowmen!
A fun and simple Christmas sensory activity and bin for toddlers that can be continually reused.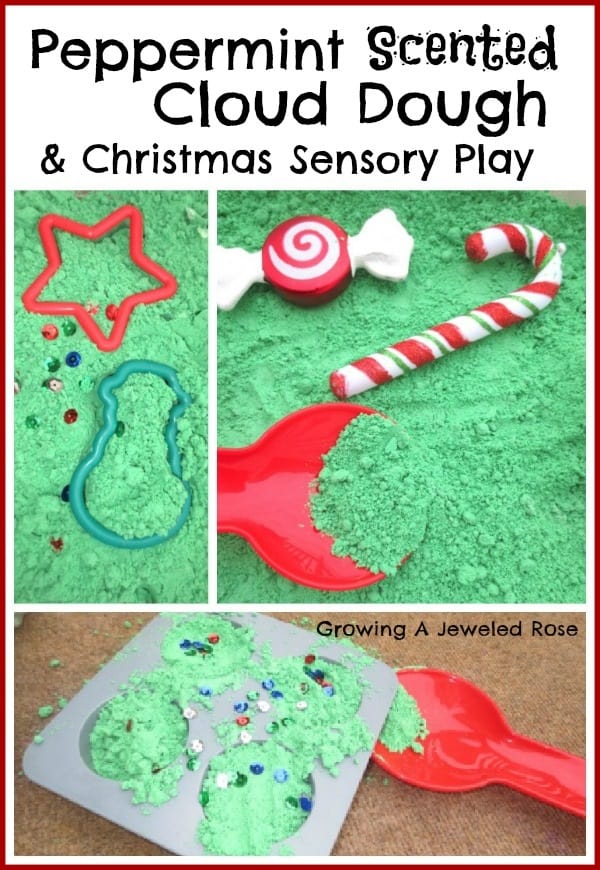 46. Peppermint Cloud Dough
Cloud dough is different from play dough. It is silky and soft yet moldable. Well looked after, cloud dough can be saved indefinitely so you can do this one over and over.
For this peppermint cloud dough sensory bin, you can choose to color the dough with paint, chalk, or food coloring, or you could leave it its natural white color, which is fitting for a Christmas sensory bin. This recipe calls for peppermint extract to make the dough smell like peppermint, but peppermint essential oil would work as well.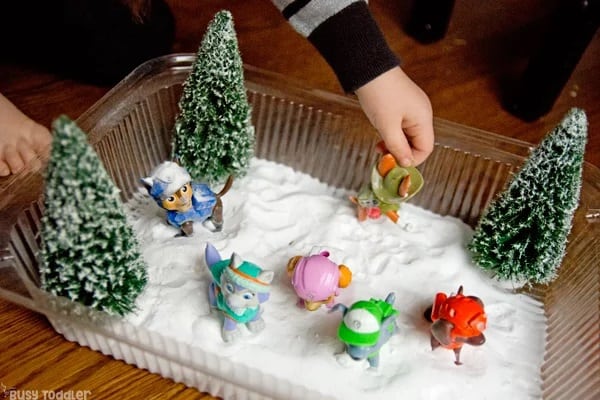 47. Snow Rescue Sensory Bin
Looking for Christmas sensory activities for a Paw Patrol-loving 2-year-old? If so, this snow rescue sensory bin is a must. If your toddler isn't yet into Paw Patrol, simply switch them for other favorite characters to be "snow rescuers."
Baking soda acts as the faux snow base and can be easily stored away ready for another time. A fun Christmas snow sensory bin that can easily be used over and over and played with in so many open-ended ways.
Your child will love engaging in dramatic play while engaging their senses!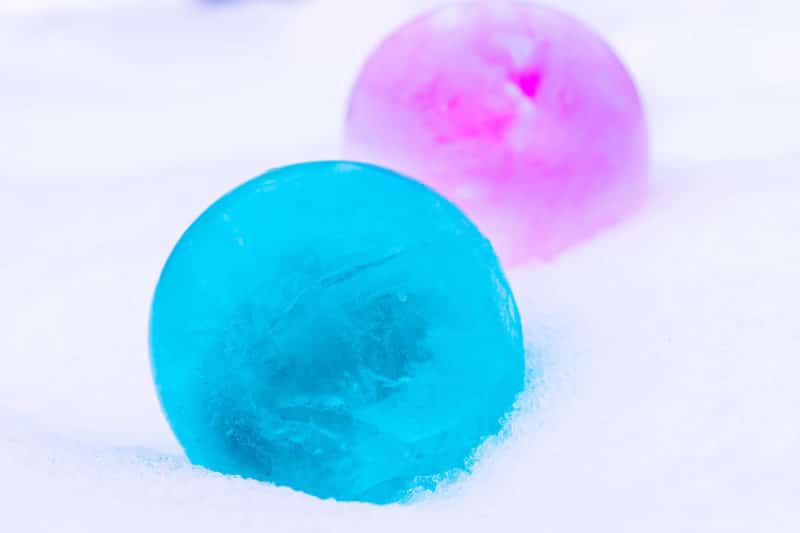 48. Ice balloon Sensory Bin
This ice balloon Christmas sensory bin needs a bit of prep. Freeze balloons filled with brightly colored water, then once frozen cut the balloons off to reveal your large colored ice blocks!
This sensory activity may be best taken outside. You can supply your kids with tools to chip away at the ice or some spray bottles filled with water to help speed up the melting process.
Just wrap the kids up warm and have some hot chocolate at the ready when they're done to warm them up.
49. Cinnamon & Ginger Cloud Dough Bin
Here's another cloud dough sensory bin which your child is sure to love helping to prep as well as play with. The filler of this cinnamon ginger cloud dough sensory bin is edible, proving peace of mind for young toddlers that like to put everything in their mouth. This is an ideal Christmas sensory play activity for babies and infants.
You could also add marshmallows and gingerbread people cookie cutters to extend their play – don't expect there to be any marshmallows left though!
This Christmas sensory bin is easy to make and clean up, and can be used over and over again if you store it in an airtight container out of reach.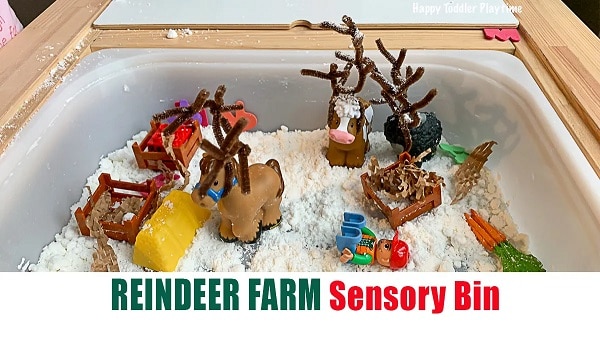 50. Reindeer Farm Sensory Bin
This reindeer farm bin is so cute and would be fun for any age but would be a particularly appealing Christmas sensory activity for 2-year-olds who like their animal characters. You're going to change these into reindeer by adding pipe cleaners. Cute, right?!
Toddlers will love playing with the reindeer figurines and fake snow in the bin. Here the fake snow is made from baking soda, water, and cornstarch.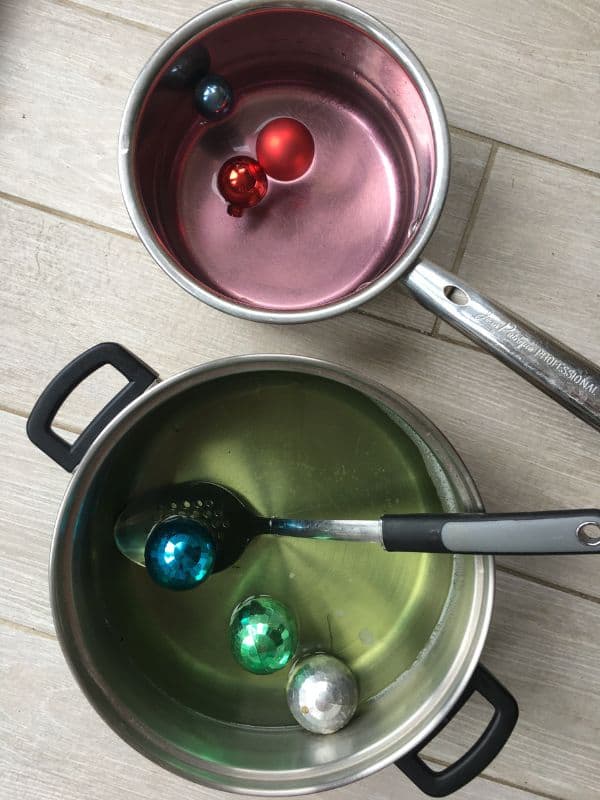 51. Christmas Ornament Scooping Sensory Bin
Water play doesn't have to just be limited to the warm weather. Kids love playing in and with water all your around, so facilitate this love of water play during the festive season and make an ornament scooping sensory bin. Laying down a towel or a tarp underneath will help keep your play space dry or use your bath as a huge sensory bin and take this one to bathtime!
Simply let your kids scoop the ornaments up and move them from pan to pan.
This is such a fun, engaging Christmas sensory activity for young children of all ages, from 1 and 2 year old toddlers through to preschoolers and even school age kids.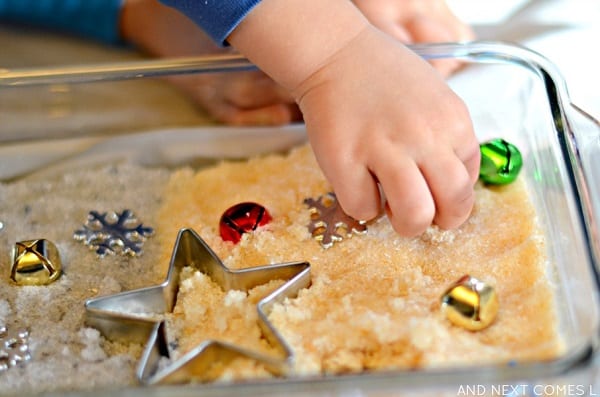 52. Epsom Salt Christmas Sensory Bin
For a bit of Christmas sparkle and shimmer try this Epsom salt Christmas sensory bin. Metallic liquid watercolors are used to color the Epsom salt, then add jingle bells and cookie cutters. You can also add other Christmas or festive objects.
Toddlers and preschoolers are sure to love molding the Epsom salt into different shapes using festive cookie cutters and decorating with ornaments in this fun sensory activity.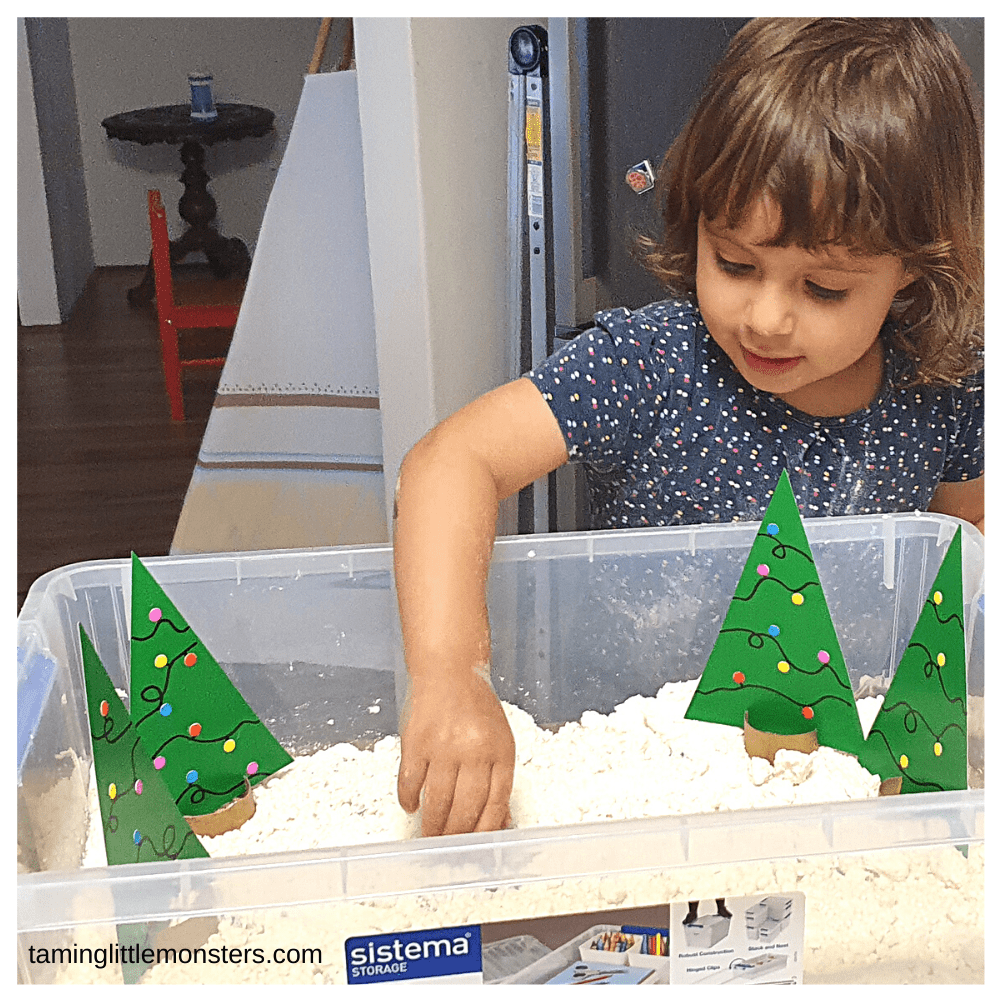 53. Fake Snow & Christmas Tree Sensory Bin
Moon sand makes the perfect Christmas sensory bin filler for little ones. Soft and fluffy, it's very touchable with a silky feel. It's ideal as pretend snow as well as being taste-safe – it's made from flour and oil, in a ratio of 8 to 1. Ideal as the filler for a Christmas sensory bin for babies.
Turn it into a Christmas tree sensory bin as pictured, with the addition of these fun and easy card and toilet paper roll Christmas trees, complete with twinkly lights.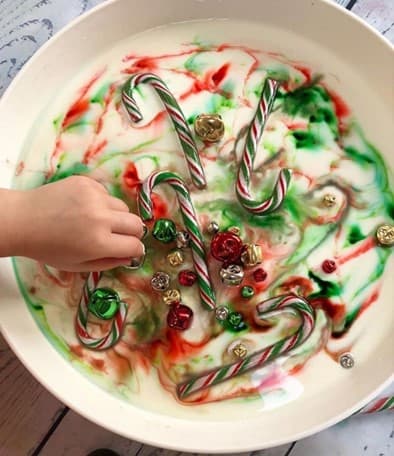 54. Christmas Gloop Sensory Bin
Make up some oobleck by mixing cornflour and water, then add green and red coloring and other festive items to create a Christmas gloop sensory bin. There's every chance this will be even stickier and messier than pictured – it'll be a wonderful sensory play activity any toddler or preschooler will love. Just get your clean-up station sorted before you let your little one loose!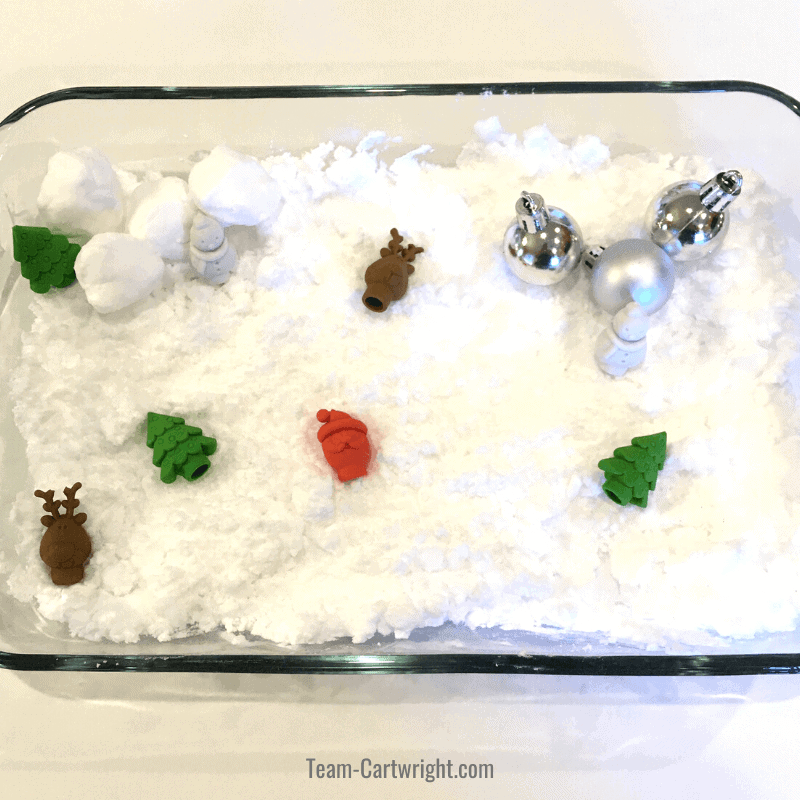 55. Christmas snow sensory bin
This Christmas sensory bin uses baking soda and white conditioner, in a 6 to 1 ratio, to create fake snow with the consistency, texture and sponginess very similar to the real thing.
However, the real fun is in the creation process: when you first mix the two together it's icey cold as the combination starts an endothermic reaction. How cool is that?! This is a must for any budding scientist.
56. Real Snow Sensory Bin
Looking for the coolest Christmas sensory activities for toddlers and preschoolers around? Set up a real snow sensory bin. Kids love playing with snow but skip the palava of getting them all dressed up just this once and fill a sensory bin with snow.
Add to the fun and extend the sensory play experience by providing spray bottles of colored water. Great for developing hand and finger strength as well as coordination. Coloring the snow as it melts is sure to keep the kids busy. They could also paint the snow with paint or colored water.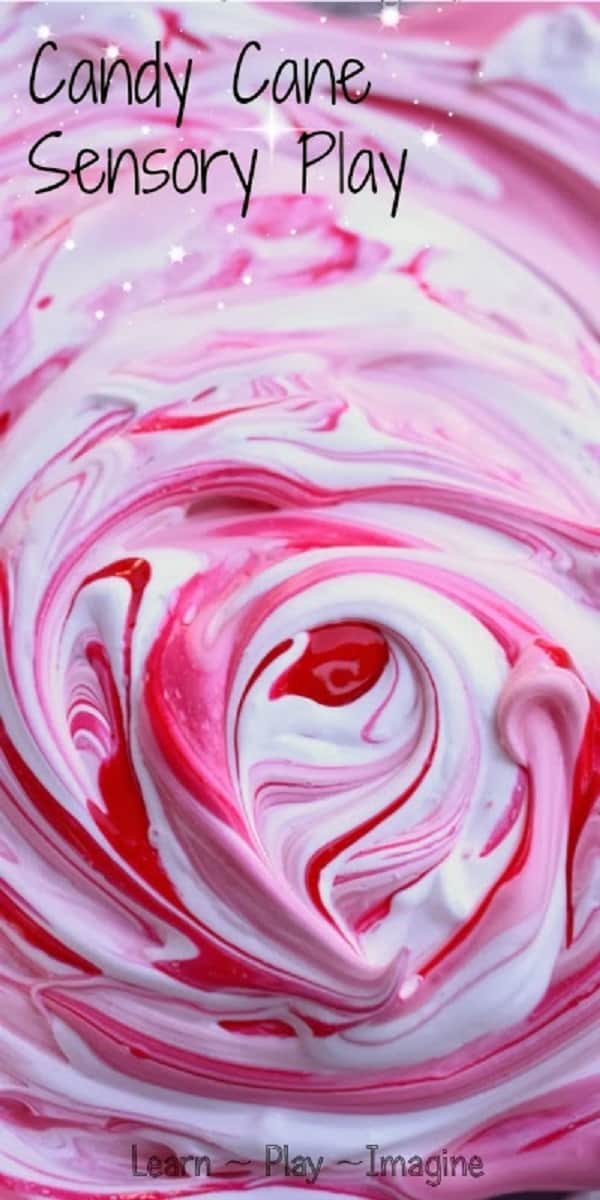 57. Candy Cane Sensory Play
Swirl together shaving cream and red food coloring and place in a sensory bin for a fun candy cane sensory play activity. Young children will love the new and interesting texture of the cream and watching the colors mixing and merging together as they play with it. They're sure to want to get involved in the creation process too.
My children love "drawing" with their fingers in shaving cream sensory activities. This would be a good opportunity to bring in some literacy concepts. With your older children, tell them a letter of the alphabet and have them write it in the shaving cream.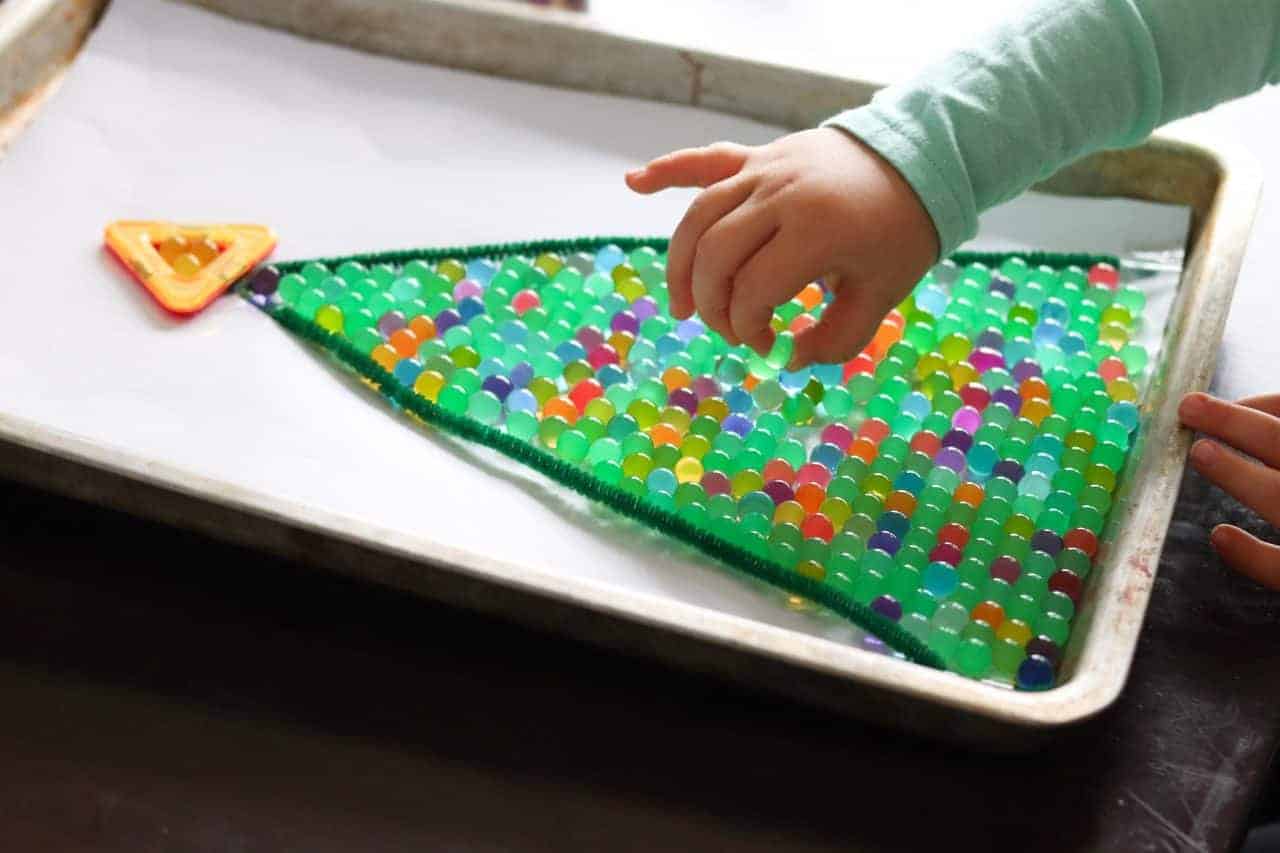 58. Waterbead Christmas tree sensory activity & bin
Water beads make for a fun sensory activity for preschoolers as well as toddlers, as long as you watch them carefully to ensure they don't put them in their mouth. Slippery and squidgy water beads can entertain them for a good half an hour.
So why not try this Waterbead Christmas tree sensory activity – simply mark out a triangular frame for them to fill with green water beads. Colored ones then become the tree decorations. A simple yet effective Christmas sensory bin.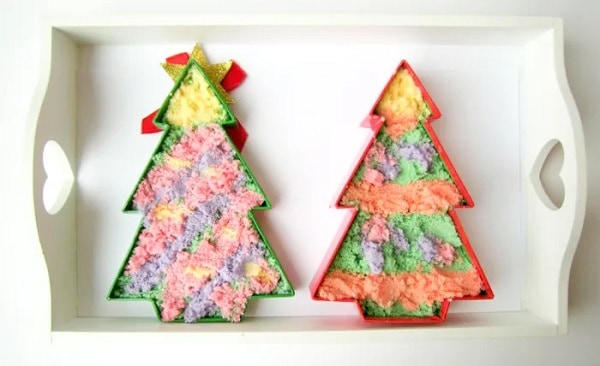 59. Coloured Salt Christmas Trees
This colored salt Christmas trees offers a different approach to sensory play. Salt has such a unique texture, which provides an exciting sensory activity. The variety in colors also adds a fun sensory element.
Create your own colored salt by simply mixing salt with paint in separate bowls. Then your child can make up their own tree using colors of their choice.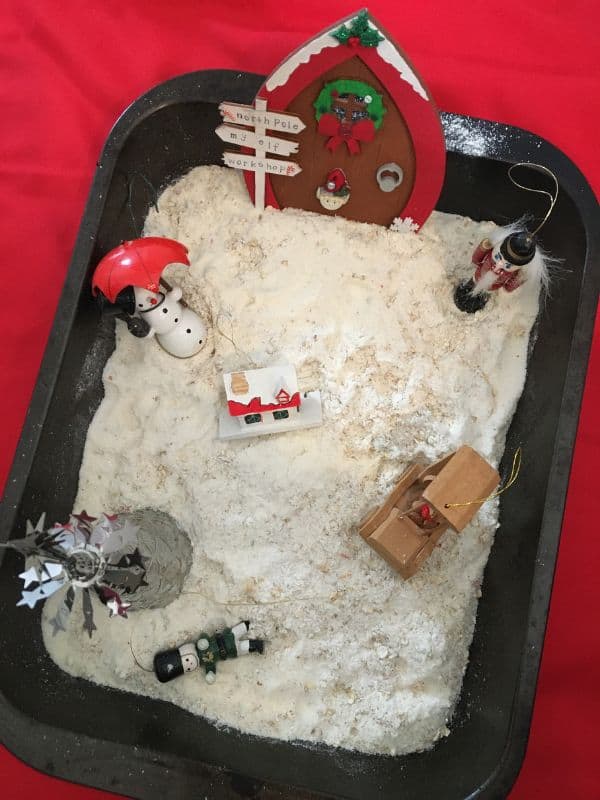 60. North Pole Sensory Bin Activity
If you have some oldy-worldy Christmas decorations you can make a fun North pole sensory bin.
Pictured is a nutracker, Chritmas tree made from stars (it's a tea light cover), a snow-covered house, wooden car complete with mouse driver, and the festive wooden door with signpost. The sensory bin filler, aka play snow, is coconut flour, since we seem to have an excess and it has a different texture to other flours and also smells lovely!
This sensory activity kept my preschooler busy for hours last Chritmas – she really made all the characters come to life. They were all organizing and making her presents for Santa to bring her, of course!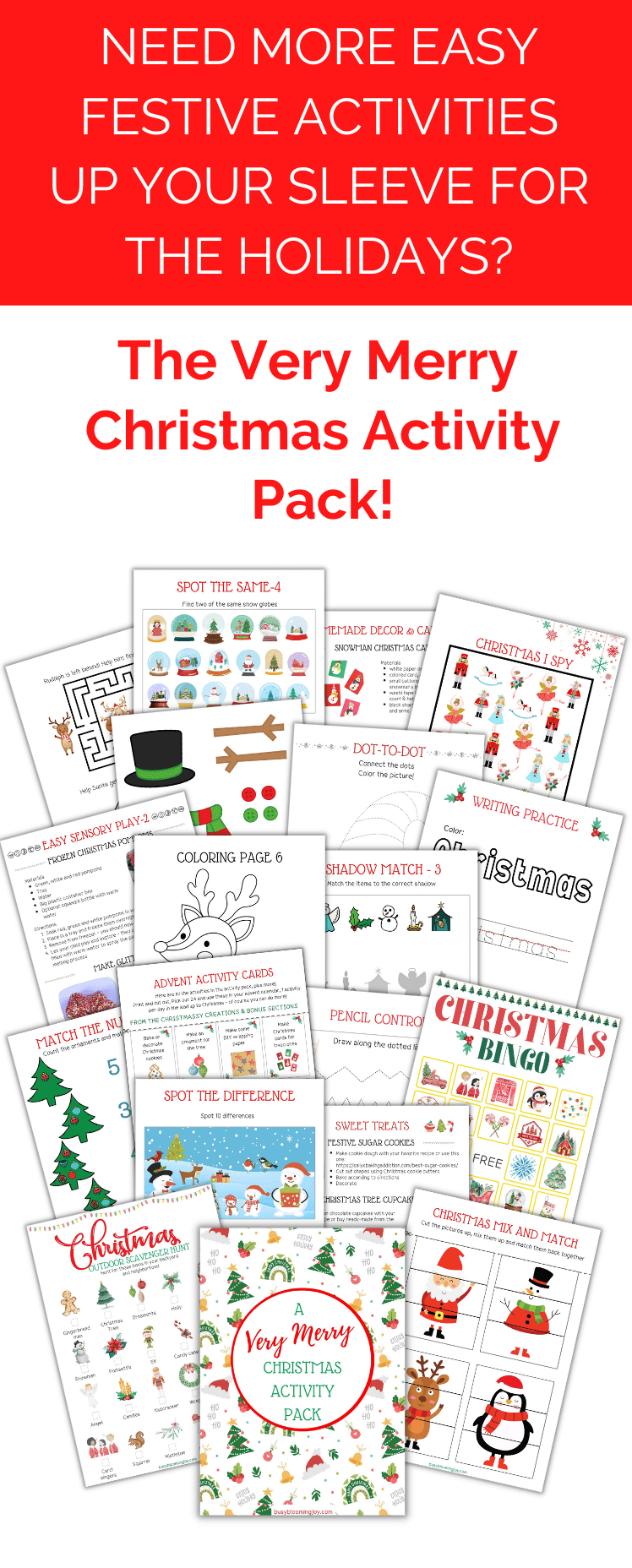 40+ easy activities handpicked for busy moms of kids aged 2 to 6 years – because Christmas needn't be chaotic or cost a fortune!

Create gorgeous hand and footprint art with your little one

Help your kids write Santa a letter and receive a reply

So many Christmas sensory activities & sensory bins to choose from!
Christmas sensory activities and Christmas sensory bins are fun and festive for babies, toddlers, preschoolers and even school-age children to play with during "the most wonderful time of the year!"
Sensory play is so beneficial for kids and their development and when it's themed and tailored to relevant events and concepts, it can be even more relatable and can engage them further in learning.
We truly hope these Christmas sensory bin ideas and activities have been helpful for you as you begin to plan your holiday intentional learning with your child.
Happy Christmas!
Looking for more Christmas arts and activities for your littles? Take a look at these:
For more easy toddler activities to keep your little ones busy indoors and out check out:
Excited for Easter? Bookmark these for later.