Inside: from ride-ons and climbing toys to sand and water toys for toddlers, here you'll find the best outdoor toys for your 1 year old for the garden or backyard
Playing outside is crucial for early childhood development, providing so many opportunities for exploration, while developing both fine and gross motor skills. Not to mention, burning off the copious amounts of energy!
At a year old, your baby may have started walking, but if not, this major milestone probably isn't far off. At this point, your house will suddenly feel very small! And whatever you do, will never quite feel toddler-friendly enough….
Getting outdoors, into the backyard, garden or a nearby park to allow your toddler to play is essential. A good collection of outdoor toys for your toddler can really help facilitate this need to explore their new found independence, with a little more freedom. As well as save the house from total destruction and yourself from going a little insane!
Here you'll find the best outdoor toys for 1 year olds – from smaller baby garden toys to large outdoor climbing toys and ride on toys, whether you're looking for a birthday gift or summer is coming up, you're going to be spoilt for choice.
Although this post is written with a 1 year old in mind, they will be perfect for 2 year olds too. In fact, many of these outdoor toys will last your child right through the toddler years.
With this in mind, it's definitely worth putting a bit of thought into which will suit your child and your family's needs the best.
This post contains affiliate links. If you click on one and make a purchase, we may receive a commission at no extra cost to you.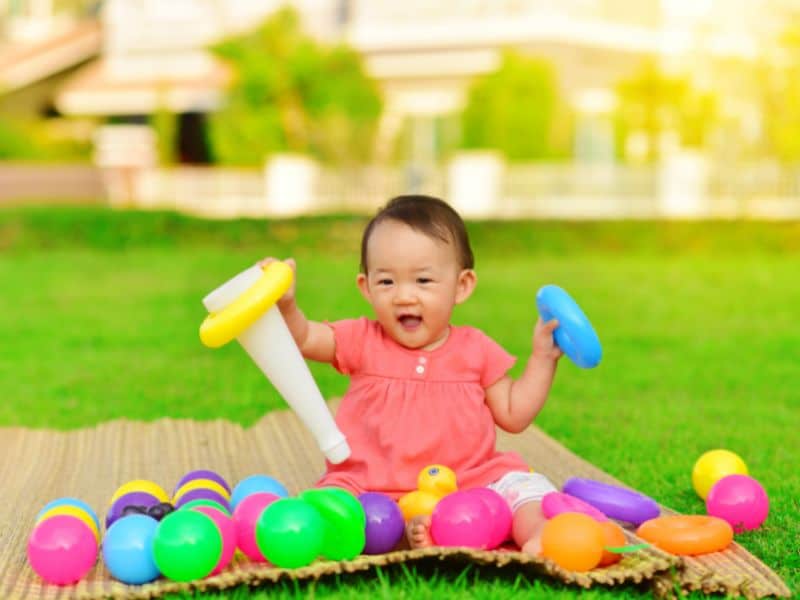 Which Types of Outdoor Toys are Best for a 1 Year Old?
Toys that facilitate open-ended and creative play in a number of different ways are the best types of toys, whether for indoor or outdoor play.
Although toys with buttons, flashing lights and music can be very entertaining for a 1 year old, they will soon outgrow them. On the other hand, an open-ended toy like a set of building blocks can be played with in so many different ways, from building a tower, to a house, to a chair for a teddy. They can be sorted by color, stashed into boxes and carried in a trolley.
The play possibilities are endless with a simple set of blocks and so therefore, are the development opportunities. From fine and gross motor, cognitive concepts and social skills.
Toys of course need to be safe too – no sharp edges or small parts and developmentally-appropriate for their stage are important.
It's always a benefit when the toys you have support their current interests as well.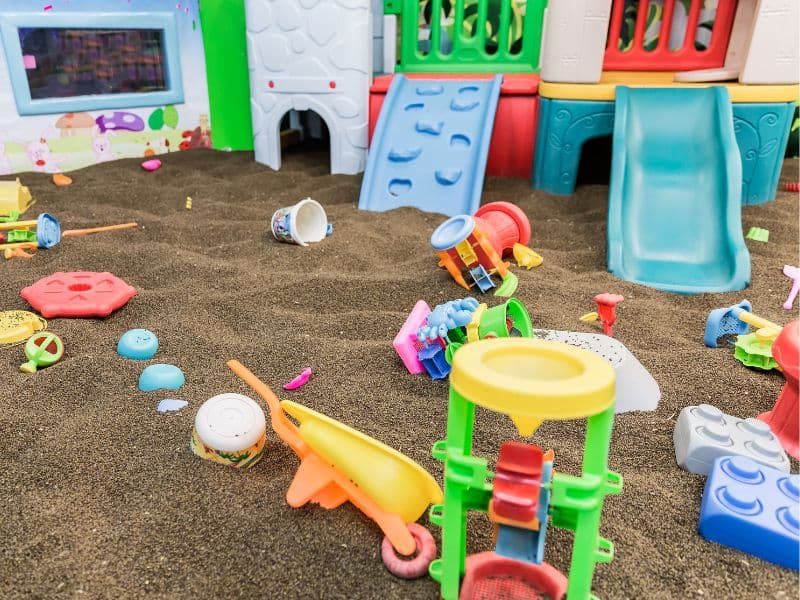 What to Look for When Shopping for Outdoor Toys for a Toddler
When looking at outdoor toys for 1 year olds, consider the following:
The Ability to Stimulate
Multifaceted toys are important in both indoor and outdoor play. This means that they can provide lots of different opportunities for development. E.g. grow a child's cognitive development as well as physical skills.
Toys that encourage independent problem-solving and those that help teach your 1 year old cause and effect concepts are important to.
The Ability to Grow with Your Child
It's a good idea to have toys that are able to grow with your child and shift with your child's age and capabilities.
Think of the example of the building blocks above vs. a toy with flashing lights and buttons.
Whenever you shop for toys for your toddler, try to ask yourself, "Will this toy still be played with in three years' time, or will it no longer be of interest after a year?"
In the list of outdoor toys for 1 year olds below, we've pointed out ones which will interest and engage young children for several years.
Age Recommendations
Age recommendations of toys serve as a helpful guide for parents. You can compare a toy's age recommendations with your child's abilities to make the decision, as you are the ultimate authority.
A toy may be formally recommended for 24 months, but if you think your 18 month old would enjoy it or be capable of safely playing with it, then of course you can make that choice.
However, toys recommended for age 3+ are not normally suitable for much younger toddlers, due to small parts.
Durability
A toy's ability to withstand consistent use without breaking or showing significant or detrimental signs of wear is worth considering.
Of course, if buying online this can be difficult to assess, but reviews, brand and price point can give you an indication. Very cheap toys often won't stand the test of time.
Ease of Storing
Ability to store a toy effectively is an important aspect to consider, for ease of use and cleanup (and for your sanity's sake!)
We have compiled some helpful storage tips that should help you keep your toddler's outdoor toys clean and tidy.
All of the outdoor toys listed below take these considerations into account. We hope it's helpful for you as you grow your outdoor toy collection for your 1 year old, 18 month old or 2 year old toddler!
THE BEST OUTDOOR TOYS FOR 1 YEAR OLDS
Best Sand-based Outdoor Toys
Little kids just love sand – it provides a fun sensory experience and they can play with it in so many creative and open-ended ways.
So if you have enough outdoor space, sand toys and some kind of sand box or table are an absolutely essential outdoor garden toy. They'll enjoy this type of outside play from a 1 year old until 5, 6, even older. My eldest has shown no sign of losing his love for sand yet!
This sand sifting funnel makes for a great beach toy, but it could be used in regular backyard play as well via a sand table or sandbox. Your child will enjoy exploring the sand with their hands, and watching what happens as they pour it in the top.
Through this activity, they will be further developing their fine motor skills as well as their understanding of cause-and-effect concepts.
The possibilities are endless with a sand and water table. It is definitely one of the best outdoor toys for 1 year olds. You can add toys and other materials, or stick to simply sand and water. Either way, it's sure to engage your child for a while.
My older 2 love playing at their sand and water table – it's still a favorite outdoor activity of theirs and I love watching them. I feel like I learn so much more about their personality and the way their brain works through this open-ended play together.
I can't wait to set it up for them and their baby twin brother and sister this summer!
This particular sand and water table set offers great bang for buck as it also comes with a play tent and sand tools.
Bring the beach to your backyard with this large sandbox ) Just like the sand and water table, playing in a sandbox is an engaging sensory activity and completely open-ended.
The difference with the sandbox is that your 1 year old can climb in and all through the sand, since it's on the floor. This is also a super large one – it can hold up to 200 pounds of sand – so other siblings can pile in too, or little friends at birthday parties.
Like the sand and water table you can add in various toys and materials based on your child's current interests to offer variety extend their learning. You can also facilitate digging activities and seek-and-find games by hiding items within the sand.
What I love about this particular sandbox is the sturdy lid that will protect the sand from bugs, fallen leaves and, most importantly, cats and dogs using it as their litter tray!
You can facilitate a shell scavenger hunt in the sand table or sandbox, and provide these mesh bags for your child to put their treasures in! The mesh bag presents a new exciting texture and your child will enjoy watching the sand sift out of it.
Of course, if you buy a sandbox, sand table or build a sand pit, you're going to need some sand. This sand comes in 20lb sacks, is natural and non-toxic, perfect for your 1 year old to enjoy.
This tote full of "funky" sand toys provides a diverse variety of fun instruments, tools and toys for your 1 year old explore the sand with.
The tote keeps all the contents neat and tidy when you pack away at home. It'll also make light work of taking them out and about, to other outdoor play spaces, such as the park or the beach.
These types of tools will also be fun to use for other types of sensory play, outside on the tuff tray – recommended below – or inside in a homemade sensory bin.
Best Water Toys For 1 Year Olds
Second favorite after sand, has to be water. You can see why beaches make the perfect outdoor play area for young children!
Even when we're stuck indoors, there's nothing more entertaining than playing with water, either in the bathtub or in a large tray or bin. If my 1 year old twins are tired and grumpy or hot and bothered, a good old play in the bathtub normally sorts them out.
But now it's warming up, outside is the place to be. No need to worry about splashes and slippery floors, your little one can simply enjoy. Your 1 year old is going to love these water-based garden outdoor toys.
These are also some of the best outdoor toys for entertaining older children too – with a long summer holiday coming up, we will definitely be picking out one or two of these to keep all 4 of mine busy and cool (and me, sane!)
Please be vigilant when playing with water with your kids. NEVER LEAVE TODDLERS AND YOUNG CHILDREN UNATTENDED WHEN THE PADDLING POOL OR WATER TABLE HAS WATER IN IT DUE TO THE RISK OF DROWNING.
Splash pads provide a new and different way to play with water – it looks tons of fun, right?!
This toy will feel freeing and exciting for your toddler as it encourages independent exploration, simply through splashing. Annoying as it can be when young children splash in the bath, splashing helps children experiment with new movement and engages many senses (sight, sound, touch.)
This toddler outdoor water toy facilitates this desire and need to experiment with water by splashing!
Simply connect it to your water hose and adjust the water flow as necessary – 1 year olds may need it at quite a low pressure depending on how much they like the water raining down onto the top of their head!
Your child will enjoy embracing their inner gardener as they water their own flowers using the various modes provided in this set. They'll be intrigued watching the water come out of the watering can and out of the other tools as well.
The toys in this set are made of bright colors which highly engages their sense of sight. To expand the sensory experience, you could also safely provide water of varying temperatures for them to feel and pour.
This waterfall toy will provide your toddler with a creative outlet for exploring water, which provides such an engaging sensory experience.
As they experiment with pouring and sifting the water in various ways with the wheel, 1 and 2 year olds will be exhibiting early science concepts, such as making predictions and observations.
These themed water table provides lots of different ways to play with water, with it's own water funnel system and water wheel as well other floaty toys and attachments.
If you wanted to keep sand play separate or only looking to provide water play, a free-standing water table like is a very versatile and extremely fun option for your 1 year old.
You can't go wrong with a classic inflatable paddling pool. This one has the addition of a cute rainbow which provides a bit of shade.
The water play possibilities are endless. You can add toys and pouring mediums for your toddler to explore with while in the pool, or you can leave it as is and just let them splash!
You could also use this without water. Add lots of colorful plastic balls and turn it into a ball pit!
Remember, never leave your 1 year old unattended in the pool and empty when finished.
Simply connect this cute turtle sprinkler to the end of the hose and switch it on. Such a fun outdoor toy baby toy for your 1 year old – they'll be totally transfixed watching the water spray round and round! (These are great to entertain the dog too!)
This is essentially a bath toy, but will make a great addition to your water table.
It'll improve your child's hand eye coordination, and furthers their understanding of cause and effect, as they make the whale "chomp" the pieces. It also works on refining their fine motor skill development.
Best Outdoor Toys For Sensory Play and Exploration
Water and sand-based outdoor toys will provide plenty of sensory opportunity for your 1 year old. But don't stop there! There's simply no limit when it comes to sensory play.
This type of play allows children to explore various items, activities, and textures with their senses, allowing open-ended exploration and fueling curiosity of your young toddler.
With their large, stubby, rounded handles, this sidewalk chalk is ideal for 1 and 2 year olds as they're able to hold onto each one effectively.
Your young toddler will enjoy trying to make chalk marks in the backyard or on the driveway, with it's unique texture and the interesting sound that it makes.
This activity tray provides a safe space for your 1 year old to explore all sorts of textures and materials. It's effectively a large plastic tub, a bit like a sensory bin that they can sit in too!
If you're feeling brave you can use this inside the house as well, as the tray is large enough to contain the mess. However, you can be a bit bolder when it comes to the exploratory materials you offer if you use it in your outdoor play.
Your toddler can experiment with finger paint in it or you can add fun taste-safe sensory fillers, like baked beans or some colorful dyed spaghetti. When it's hot outdoors, try some frozen veggies or ice cubes.
Simply hose the tray, and your toddler, off when done!
Tuff trays are also great for imaginative and small-world play. As your toddler grows they're going to love making their own mini village, construction site, dinosaur world… the list goes on… inside the tuff tray! You can also draw on the tray with chalk, just like a chalkboard.
I'm a big fan of Tuff Trays, as you can probably tell! Not only a top outdoor toy for a 1 year old, but great for indoors too.
Let your 1 year old explore and experiment with some baby-safe paint outside on the Tuff tray. You can tape some large sheets of paper to the tray and mix up some of powder tempera paint and let your toddler fingerpaint. Just mix with water to your required consistency and let your little one experiment with the texture and color of this interesting new medium.
These paint brushes have large rounded handles perfect for little toddler hands. Your 1 year old will enjoy trying to transfer paint to paper, or simply mixing colors into one big brown splodge, more likely the case!
Painting ice cubes with tempera paint also makes for a different sensory experience and outdoor activity for a baby or young toddler.
At this age, it really doesn't matter. Simply give them the freedom to create and experiment as they wish by providing different tools and materials to play with.
Best Energy-Busting Outdoor Toys
One of the best perks of outdoor play is providing your child an outlet in which to get all their silly energy out! Below we have listed some outdoor toys for 1 year olds that encourage physical activity.
All of these toys are wonderful for further developing your child's gross motor skills.
Your child will enjoy pushing their very own lawn mower around and, as if that's not enough, this one is a bubble machine too. Imagine their surprise when they see bubbles appearing out of it as they move!
This bubble mower is a great outdoor toy for your 1 year old as it needs coordination and strength to maneuver it around the yard and is plain good fun too.
Once your toddler is walking confidently, this open-ended obstacle course set will provide lots of engaging play while testing balance and coordination.
It's also help build confidence as your child accomplishes different challenges and will inspire creativity as your child learns to construct their own course.
This outdoor toy is certainly not just for 1 year olds – you'll be using this for years to come. Nothing beats a good obstacle course to burn some energy off after school!
This outdoor ride on toy for 1 year olds and older, will work to continually develop your child's balancing ability while refining their core strength. The car is not battery operated, so it only moves via your child's deliberate movements, such as wiggling, steering, and using their legs to propel them forward.
As your 1 year old develops into a confident toddler, they're going to have lots of fun with this tee ball set. It'll help develop hand-eye coordination and teach cause-and-effect concepts as they learn that, when they swing the bat and connect with the ball, it moves!
This will make a fun game or party activity with older siblings or little friends joining in too. Set up some bases and all get running too.
You never know, this tee ball set may he beginning of a long career ahead of them!
The crawling days aren't behind you just because toddlerhood has hit! This crawling tunnel toy requires leg and core strength to maneuver around and through it. Crawling through the tunnel requires problem-solving, as your child makes decisions about how to best move through.
This set packs down really small for storage and can be used indoors and out making it a great outdoor toy for 1 year olds.
This ball set provides a great opportunity for your 1 year old to lead, as they play with the balls however they choose.
There are a variety of balls included, from soccer ball to football, basketball, softball, and baseball. In time, the different types will help educate your toddler about different ball games – it'll be interesting to see which they'll be interested in.
A baby balance bike is a must before attempting one with pedals. It will help develop your toddlers gross motor skills, specifically balance and coordination, so that when you come to transition to a pedal bike, you shouldn't even need to use stabilizers.
The seat and handlebars are adjustable, meaning your toddler can enjoy it for several years.
My elder two loved racing around on their balance bikes. I made them tracks to follow and ramps to go up and down. It was then such a quick adjustment to riding a pedal bike and in a matter of weeks they were flying around on their proper bikes, so chuffed with themselves!
Without a doubt, the best outdoor ride-on toy for a growing toddler!
This Radio Flyer trike grows with your child as their abilities increase. There are four different stages the trike can convert to: toddler trike, steering trike, learn-to-ride trike, and classic trike.
It's also parent-controlled for as long as the child needs, as there is a handle for the parent to steer the child.
The child has their own steering wheel in front of them so they can feel independent as they ride, but you can prevent any major mishap! (There's a seat belt to strap them in when they're first learning as well).
This easy score basketball hoop set teaches your child new skills, encouraging them to move their body in many ways. It's a great outdoor toy for a nearly 2 year old with a lot of wiggles to get out!
Once they've got the idea of the game, they can be as vigorous as they want by running and trying to shoot the hoop. Or can simply stand next to it to score.
It gives them a concrete goal to accomplish (making a basket), but they can decide exactly how they're going to accomplish that goal and how to get the ball in the hoop (shoot from a distance, dunk, etc.)
Got an energetic 18 month old? This is a great introduction to trampolines – the handle makes it suitable for 1 year olds up until the age of 2 or 3, who will enjoy bouncing and burning off some of that abundant energy!
This turtle trampoline will also work to develop balance and coordination – it's a wonderful indoor or outdoor toddler toy.
Here's a fun outdoor ride-on toy for 1 year old, perfect for any tractor loving toddler . They can start by simply propelling themselves forwards with their legs, before progressing to try the pedals which will come a lot later.
Your toddler will also enjoy putting toys, sticks, stones and other bits and bobs into the attached wagon to haul along with them.
This rocking horse will help develop the gross motor skills of your 1 year old. They'll have to learn to use their legs or rock their body to propel the rocking horse back and forth. Having mastered this coordination, your toddler can control it alone, developing muscle strength in doing so.
An ideal outdoor rocking ride-on toy for 1 year olds, these are really popular at preschools and nurseries. They're robust, can be used by one, two or even three toddlers (one either side and one in the middle) and budget-friendly too.
Best Montessori-Style Outdoor Toys For 1 Year Olds
Montessori play is child-led, and the premise is to empower your child to accomplish tasks by themselves. This method of play values using simple, open-ended toys (mostly made from natural materials, but not always) that children can play with independently.
Below are some engaging outdoor toys for 1 year olds that align with the Montessori approach.
In keeping the Montessori concept, several below are wooden. They're designed to be used both indoors or out. Of course, wooden toys do need a little more care and attention than those made from plastic materials. They're best kept them under a covered porch or covering with a tarp of some kind when not in use.
Toddlers are such incredible imitators, if your 1 year old has seen you gardening, chances are they're going to want to join in and have a go themselves.
This mini garden too set will allow your child to "help", although of course you need to use that term loosely! Even if your toddler is less inclined to try and use your tools, that will be helpful and safer too.
This gardening set will encourage your toddler to learn more about plants and nature, while refining their fine motor skills.
A wagon or wheelbarrow is one of the most open-ended outdoor toys there is. Your child will enjoy filling their wagon with their toys and treasures.
They may even want to take it along on a nature walk to collect items. Pushing along and maneuvering a wagon or wheelbarrow refines a child's gross motor skills.
A big sturdy wagon like this one also works as a fun method of transport for them.
A mud kitchen is also extremely open-ended outdoor toy, encouraging creativity and collaborative play.
Our mud kitchen back in Africa was my daughters top toddler outdoor toy – she could spend hours making plant soup and mud cupcakes for herself and anyone else that was around for lunch.
A mud kitchen facilitates exploratory messy play, encouraging your child to follow their own curiosity.
The main objective of a balance beam is to develop coordination, balance, and perseverance. It will depend a little on their physical capabilities when they'll be ready to try it.
At 18 months your toddler should be able to have a go walking along it while holding onto one or both your hands.
Once they've gained confidence balancing while hand holding, they'll be cruising along in no time!
Toddlers will also love to simple stand on the beam and jump off. It's the simple things!
Little kids have this insatiable need to climb all over the furniture, or is it just mine?! (I know it's not!) So this activity climber toy will keep young kids busy on a daily basis for several years…. starting as a 1 year old.
This is a fantastic indoor/outdoor climbing toy for 1 year olds, working on developing gross motor skills in an open-ended way. My children collaborate so well together when playing on their activity climber, which makes my mama heart soar!
As mentioned earlier, although this is a highly durable activity climber, it will need looking after carefully if it spends a lot of time outdoors. Ideally keep it under cover when it's outdoors.
Best Outdoor Toys For Imaginative Play
Dramatic play is not just limited to the indoors! Imaginative play outside opens up a whole world of different play scenario, based on the child's interests and how they use the toys and materials around them.
However, it's nice to have some intentional dramatic play toys dedicated to your outside play space to help fuel your toddlers imagination.
This cute camp out set allows your child to recreate what they may have seen when camping with you. They can pretend to build a campfire, roast marshmallows and hotdogs, make smores, and whatever else their heart desires.
You could also sit by the "campfire" and tell stories or sing songs with your child to make this, thanks to this playset!
This is an adorable outdoor toy for your 1 year old toddler who will enjoy playing "house" as well as engaging with the fun additions such as the mailbox, piano, telescope, and more.
This playhouse can be played either closed as a single unit, or it can be expanded out to create a longer play structure.
No collection of baby garden toys would be complete without a set of dumper trucks. These are perfect to set up a dramatic play scenario of a construction site.
Your 1 year old toddler can make dump truck sounds and transport sand, rocks, and other materials to and from the site.
Trucks and other vehicles can be played with in the sand table/sandbox, or fill a storage tub with sand or coffee grounds to act as "dirt."
This play set provides a unique opportunity for your child to explore a reality-based experience (going to an ice cream shop) in an imaginary, pretend-play type of way.
Your toddler will love pretending to work in the shop, scooping and assembling ice cream cones and cups out of sand and selling them to you or any willing siblings or friends.
It's such a lovely outdoor toy to build language and communication and work on social skills while playing with friends and family. We love to play "ice cream shop" together on family beach days!
This toddler outdoor toy provides plenty of opportunity for fun dramatic play engagement, but it's a ride-on toy too.
Gross motor skills will be strengthened as your 1 year old toddler maneuvers the pirate ship with their legs and core muscles.
Additionally, their fine motor skills will be strengthened as they play with the pirate figurines provided in the storage compartment of the pirate ship.
With so many different play options to keep your toddler engaged, this toy will grow with your toddler and keep them entertained and engaged for a long time.
Little kids seem destined to become dino lovers! It seems unavoidable, so play to their love for these prehistoric creatures with this large set of plastic dinosaurs.
You're toddler will enjoy creating their own dino island, in the Tuff Tray or sandbox or hide them around your garden and send your 18 month old on a dinosaur hunt.
So much potential with a simple set of dinosaur toys for babies and toddlers.
Larger Outside Toys For 1 Year Olds
These larger outdoor garden toys and playsets require lots of space but if you can fit them in, they're a worthy investment.
This is especially true if you don't have a park nearby. Having your own swing sets, slides or trampoline means you can provide your energetic toddler with plenty of physical activity right outside your back door. The more active they are, the more their motor abilities will improve and the stronger and fitter they'll become.
These larger outdoor toys are also perfect for play dates and birthday parties, when you've got lots of toddlers to entertain and you want to keep them busy outside.
Building blocks are fantastic for open-ended play – even though my elder two children are now 5 and 6, they still love playing with their Duplo building blocks. They both started playing with them as barely walking 1 year olds!
So these jumbo building blocks are a set specifically for outside, though if you have a lot of space indoors are suitable for indoor use too. Your toddler will enjoy building their own structures, cars, dinosaurs and so on, sorting them, stacking them, carrying them around in their trolley… they'll provide hours of fun.
Beyond all the creative potential, working with these jumbo blocks develops fine motor skills, snapping the blocks together, and gross motor too as they maneuver around their giant structures.
Some little kids simply can't get enough of swinging! My friend could stand for an hour pushing her firstborn back and forth…. so if you can relate, then one of the best outdoor toys for your 1 year old has to be this baby swing seat. Set it up at home and at least you can grab a drink and a snack quickly when necessary!
In time your child will learn the importance of propelling their legs out and in to make it move themselves. This develops problem-solving and cause and effect concepts. And importantly, you'll no longer be a necessary part of their swinging obsession.
This first slide is light weight and easy to maneuver around the garden. It also comes apart easily for storage.
Once your 1 year old has got the hang of sliding down it, you can easily turn it into a water slide, by running the hose down from the top at a low pressure. Or put the end of the slide into a kiddie pool or splash pad.
Toddlers also love sending their toy cars and vehicles down slides – this is still a favorite outdoor activity of my 6 year old!
This outdoor playset will be fun for independent play as well as with others. It's large enough for a couple of children to play with it at the same time, as one can climb while the other slides.
It's such a fun and versatile outdoor climbing toy for 1 year olds, with two different climbing options it'll help to strengthen gross motor skills while building perseverance and confidence.
How gorgeous is this large playhouse tent? It's not a toy as such, but provides a safe and individual space for your toddler to play in while outside, enjoying the fresh air and the outdoor environment. They can take their toys there and set up camp.
This tent also serves as a comfy spot for the whole family to sit together and relax or read books. Or shelter from the sun on a hot summer's day.
This toddler-sized outdoor picnic table is ideal for snacks and drinks outside as well as simple arts and crafts projects. You may need to be on hand to stop your 1 year old wobbling off, but by 18 months or 2 years old, this table will be ideal. If you regularly sit outside to eat, your toddler is going to love sitting at their very own table!
An enclosed trampoline provides a safe jumping environment for young children – it's such a fun and an engaging way for your child to burn off some energy and one of the top outdoor toys for toddlers that lasts through the years.
Of all the garden toys we've accumulated over the years so far, our trampoline has been worth it's weight in gold! There's barely a fair weather day that goes by without our older two having a jump around. It's pretty much part of their afterschool routine.
Our 1 year old twins are now also starting to enjoy a very gentle bounce too.
And it's not only used for bouncing; our trampoline is also incorporated into all sorts of dramatic play scenarios, becoming a safe base for tag or an island surrounded by shark infested waters! My bigger kids also love to use it to practice roly polys and cartwheels.
The trampoline recommended above also has a basketball hoop – creating another fun way to play outside.
So for longevity, ability to entertain toddlers and old kids hour after hour, year after year and for all the physical activity it encourages, this has to be one of the best outdoor toys for 1 year olds.
This saucer swing seat does require someone to push it back and forth – it isn't something that will be easy for a toddler to move on their own. However, if you have a few young children to entertain outside, this swing is ideal. Or, with a maximum weight limit of 300lbs, you can hop on too.
The saucer swing can also be used independently as a little private play space when your toddler is a little older, playing with toys and teddies and looking at books. Or simply lying on it and looking up at the clouds!
Other Outdoor Toys
Listed below are some additional engaging outdoor toys for toddlers, started at the age of a year old, that, don't directly fall into any of the specific categories above.
This portable bean bag toss game makes for an engaging outdoor activity that can be played independently, with older siblings or as a whole family. Your toddler will enjoy throwing the bean bags over and over, attempting to score them into the holes.
This bean bag toss easily flattens so it can be transported to the park, on vacation, or anywhere in the backyard.
To instill an interest and love of nature and the great outdoors in your toddler, why not try these specimen viewers. Encourage your 1 year old to find things outside in your backyard or garden which you can take a closer look at in the viewer together.
To keep them engaged and extend their learning, simply be guided by the interests of your toddler when playing with this outside toy,
An automatic bubble machine is such a good outdoor toy for 1 year olds. Sometimes all you need to turn the day around is bubbles! Of course, bubble machines can be used indoors but are much more fun outside.
Turn it on and see how just a gentle breeze can carry those bubbles. It's sure to keep your 1 year old busy, entertained and active, following and chasing the bubbles around outside…
My older kids love to jump up to pop the bubbles as they float along. It makes for such a fun game together!
This toddler-approved flashlight could be fun to use during any evening outdoor play sessions, or while camping outdoors. The bright colors on the flashlight and the light itself will pique your child's curiosity and they'll enjoy experimenting with this new gadget.
This toddler outdoor toy will provide your child with a new exciting method of movement. They'll first have to learn how to push and pull the steering wheel to make the toy spin. Then they can whirl and twirl to their hearts content!
It'll provide entertainment for us parents too, as we watch them giggle and spin around!
54. Indoor/Outdoor Kids Parachute
You can invent so many fun outdoor activities with this parachute and the whole family can get involved. Your 1 year old will love crawling and toddling underneath it. Or chuck in some colorful balls and use the parachute to launch them into the air. Drape it over some chairs to create a little den…
You can facilitate so many fun sensory experiences for your toddler using this simple indoor/outdoor toy. When not in use, you can pack it down small and store it neatly out the way too.
TAKING CARE OF YOUR OUTDOOR TOYS
In order to get the most out of your outdoor toys, it's crucial to take good care of them. We've compiled ideas below of some helpful hints when it comes to storing and cleaning your toddler's outdoor toys.
What's the best way to store outdoor toys?
One of the best ways to store outdoor toys is by utilizing an outdoor storage organizer/tub, sometimes called a "deck box." There are various types of these organizers to fit your needs.
There are smaller square organizers for smaller toys, and bigger more heavy duty boxes for larger or multiple toys.
We've actually got one of each. It makes cleanup a little more organized!
You could also try this patio bench. This would be a good place for you to sit while supervising play, as well as storing toys.
Another option for your outside toys is to simply store them in the garage, a mudroom, or under a covered patio to prevent damage and wear from outside elements, like the rain and sun.
How To Clean Outdoor Toys
One of the simplest ways to clean your outdoor toys is by spraying them with the hose at the end of a play session. Another simple way to clean them off is by placing them in a tub and filling it with soapy water (dish soap will work just fine.)
Wiping them down with disinfectant wipes also works.
Whichever way you choose to clean your baby outdoor garden toys, be sure to involve your child in the cleaning process to help instill a sense of responsibility.
Ready to shop for outdoor toys for your 1 year old?
Playing outside is vital for toddlers. Through playing with outdoor baby toys in your garden or backyard, your 1 year old can burn off some energy while using their body in healthy, productive, and fun ways.
Outdoor physical play releases many endorphins, making it enjoyable for everyone involved – it can really help lift a sour mood. We hope this list of the top outdoor toys for 1 year olds will help support your child's success and enjoyment outside!
FAQs on outdoor toys for 1 year old toddlers
How Long Should a 1 Year Old Play Outside?
The recommendation is that children under the age of 6 should play outdoors two to three times per day, totaling 60 to 90 minutes.
Not only does outdoor play fulfil a child's need to be physically active and explore a different environment, sun exposure is necessary for the body to produce Vitamin D, which is important in a building strong immune system.
How Do I Keep My 1 Year Old Busy Outside?
By providing a combination of both structured and unstructured play outdoors, you can keep your child plenty busy! Outdoor toddler activities don't need to be complicated, from playing with a ball to digging (or simply playing) in the sand.
Messier activities like arts and crafts for 1 year olds and finger painting are also ideal to take outside.
Mini versions of the play equipment you find at the park, like baby swings and toddler slides, are ideal for keeping your toddler busy outside when at home, with supervision of course.
Then there are ride-on toys and first balance bikes which are better suited to outdoor play, than inside, bumping and scraping the paintwork and furniture!
Key in keeping toddlers busy both indoors and out, is to provide variety, both in activity level and the type of play.
I'd recommend having dedicated outdoor toys and switching between indoor and outdoor play regularly. Variety is important to extend play and it'll increase your 1 year old's engagement.
What are the benefits of outdoor toys for your 1 year old toddler
A diverse collection of outdoor toys suitable for 1 year olds will help work on the following areas of your child's development:
Cognitive Concepts

Problem-solving
Curiosity
Perseverance/persistence
Decision-making
Cause-and-effect determinations

Social Skills

Encourages sharing with others
Refines communication both independently and with others

Gross Motor

Various outdoor toys strengthen a child's leg muscles and core strength.
The more a child participates in gross motor movement, the stronger the skills will become.
Toys are a productive vehicle for gross motor skill development and exploration.