Looking for fun, simple Christmas crafts for preschoolers to do? Maybe a cute and festive keepsake craft or an ornament for the Christmas tree? Or just anything Christmassy and crafty for your 3, 4 or even 5-year-old?
You've come to the right place.
Now, because crafting with little ones can often be…mmm, how to describe it…
Challenging? Chaotic? Messy?
All of the above?
The keeping-it-simple part is essential. It's Christmas. You don't want to add to the stress.
These are FUN & SIMPELE preschool Christmas crafts
Hopefully, in this list of Christmas crafts for little ones 3 to 5 years old, aka "preschoolers", you'll find plenty of easy stress-free and FUN things to do.
When I say "fun" I'm thinking of you… Your preschooler is pre-programmed to have fun no matter what the task – which is why crafting can get so out of hand!
In my mind, a "fun" craft is one that:
keeps my preschoolers (aged 3 and 4 right now) busy and entertained
is fairly straightforward to set-up and prep
isn't conducive to a huuuuuuuge cleanup!
And before getting into the meat of this post, I'll share a few things I've learnt along the way while doing crafts and activities with toddlers and preschoolers.
But, but, but… there some super cute preschooler Christmas crafts out there which are almost impossible to resist, despite their trickier nature and the potential for more mess.
So this list of Christmas crafts for preschoolers, is separated firstly by type of craft (Christmas cards, ornaments and other crafts) and then also by difficulty/mess potential:
SIMPLER, MINIMAL MESS Christmas crafts for preschoolers
Simple to prep and shouldn't get too out of hand when it comes to mess and clean up.
TRICKIER, POTENTIALLY STICKIER ones
A bit harder to prep, finish off or much bigger mess potential So let's get to it – loads of simple Christmas crafts for preschoolers plus some trickier, stickier and messier ones. Pick, chose, enjoy! Merry Christmas.
If you have a 2-year-old or are just looking for even more Christmas craft ideas for your preschooler, check out out these cute Christmas crafts for toddlers.
This post contains affiliate links. If you click on one and make a purchase, I may receive a commission at no extra cost to you.

Tips for doing Christmas crafts with preschoolers (or any craft for that matter)
1 – Pick crafts based on your time frame (and sanity!)
Simple wins every time, as I've already alluded to. This is ESPECIALLY true when you're short on time or sanity…so KEEP IT SIMPLE!
Or try a stress-free, non crafty minimal mess activity instead. Or get those wiggles out with some gross motor activities. Or put some tunes on and try some musical games.
2 – The process of creation is more important, than the end result
It's nice if the craft is worth keeping at the end of it all, but to a preschooler they're just having fun, exploring, creating and experimenting…
From a learning and development point of view, the process is much more important than the finished article. Just knowing that has really helped me sit back and not be too directive.
I'm now happy if only 10% of our arts and crafts are fridge-worthy!
3 – Prep beforehand if you can and out of sight if necessary
It's not just preschoolers that can't help but touch, pick up and start to play with anything new and different in sight…. Prepping ahead of time and out of sight really helps.
4 – Make the craft alongside your preschooler
This helps them to see what it is they're trying to achieve. Of course, they may well have zero intention of achieving the same thing as you, but, as per #2 above, that's ok.
Crafting together is also a nice way to spend time together. My son loves to "build" with me and make all sorts of odd-looking buildings, trucks and other random vehicles out of toilet rolls, egg boxes, juice cartons and so on.
While my daughter loves to sit down and paint and scribble with me. We often just do said craft together – I will glue and she will stick.
Preschooler Christmas crafts: Christmas cards & '"artwork"
As long as your preschooler's creations, aka "artwork" is not enormous, you can cut it out and stick on a card or just start with the card. Or take one of these card ideas as a starting point for your little one to get creative. So these two Christmas crafts for preschoolers are grouped together.
SIMPLER, MINIMAL MESS ones
Cute and easy, these christmas card crafts for preschoolers will be great to hand out to little friends during the festive season.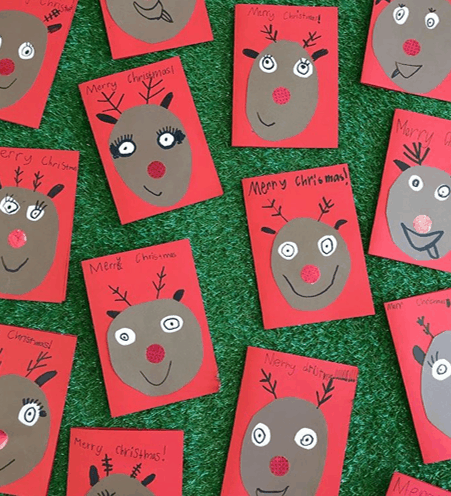 These Christmas cards definitely need the abstract handiwork of a preschooler or slightly older kid to produce something as cute as the ones above. They'd be easy to do on a large scale and you could simplify further by using a large round hole-punch for the eyes and nose.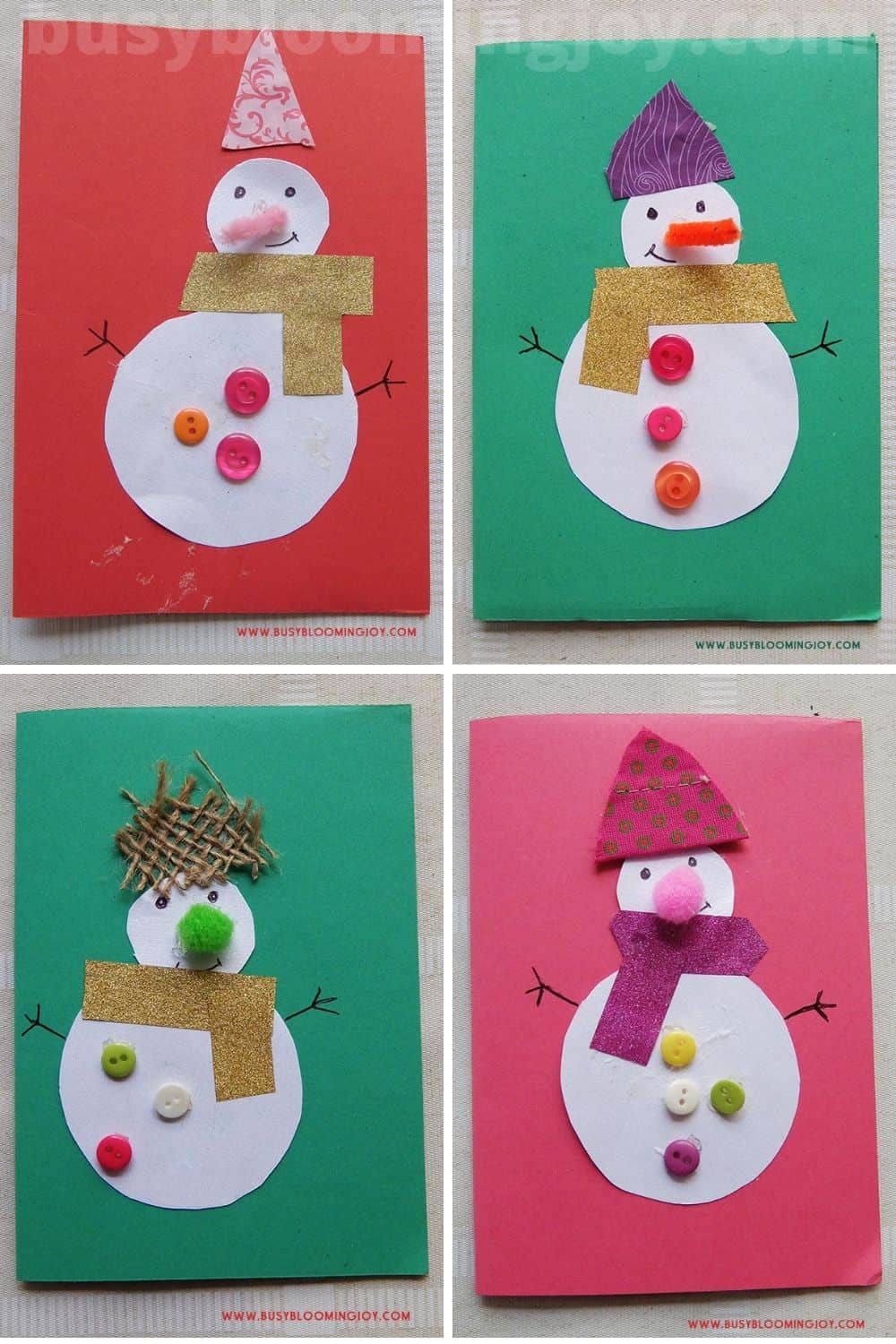 These snowmen cards are easy enough for littler ones. I did most of the cutting for my toddler and preschooler last year and they did all the sticking. They turned out rather cute, if I do say so myself!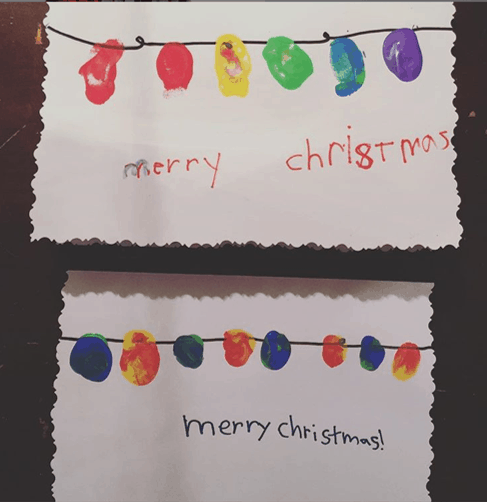 Fingerpainting is such fun for little ones and by preschooler age should be fairtly containable. It's a great sensory activity and good for fine motor control too.
So why not try this simple Christmas craft card for preschoolers with a string of finger print twinkly lights?
At 3 and 4, my two aren't at the writing stage yet so I'll be helping with any text. No doubt I'll have it dictated it to me by my eldest!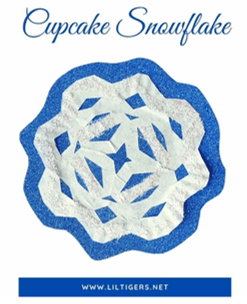 Classic fold and cut snowflake art, but for this one you use a cupcake liner. Perfect for a preschooler with good scissor control and bound to delight when the snowflake is revealed at the end. A sprinkle of glitter and it's ready to be stuck onto the front of a Christmas card.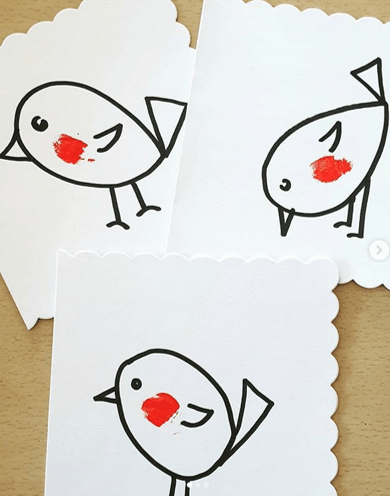 I love the clean and fresh look of these simple robin cards. While little ones are probably only able to help with the red thumbprint, older preschoolers or first-graders could have a go at the drawing part too.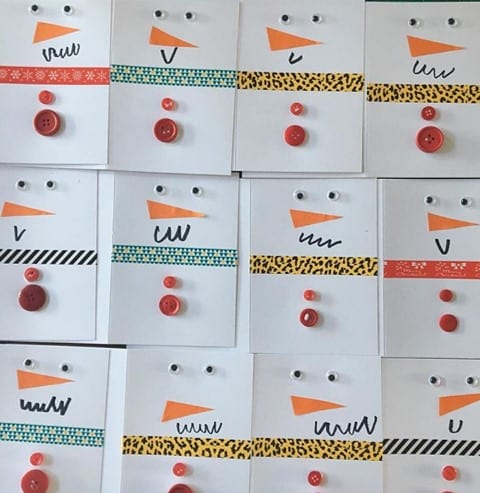 These snowmen cards mainly require a bit of cutting and sticking which will be right up my two preschooler's street. A simple scribble mouth completes this easy Christmas craft for preschoolers.
TRICKIER, POTENTIALLY STICKIER ones
These preschool Christmas card crafts are just as cute but may be a little trickier or stickier!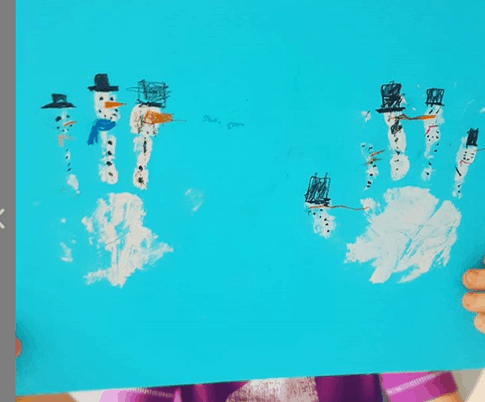 This Christmas craft for preschoolers is a bit more challenging, perfect for budding little artists. They'll love drawing their snowmen faces and clothing onto their white handprint artwork.
Make sure you have some non-toxic paint to hand, like this Crayola tempera paint.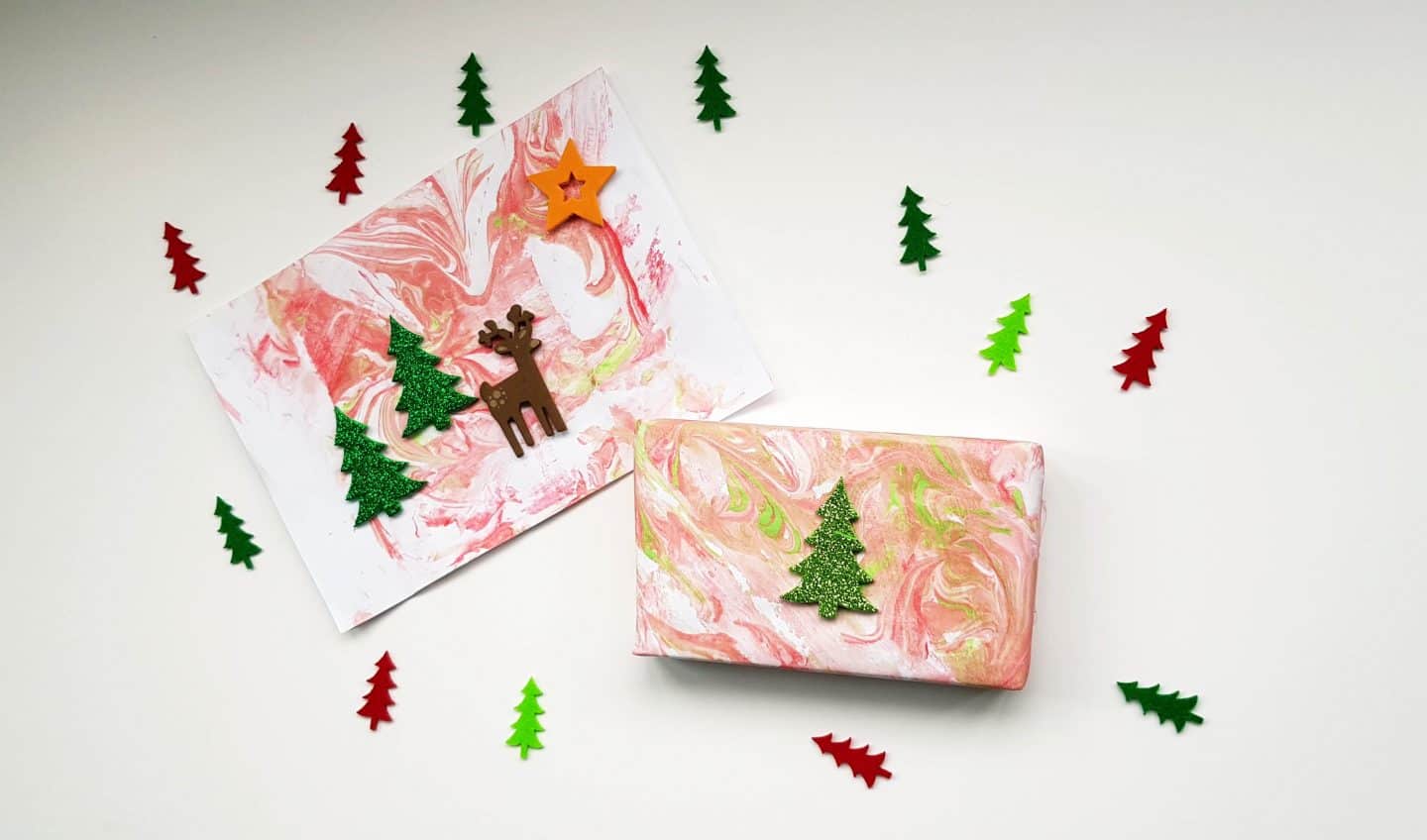 Paper marbling is not for tiny tots of 1 and 2 – trust me, I've tried. Let's just say there was more shaving foam paint over my 2-year-old than on the paper. But now at 3 and 4 I reckon I'm willing to give this a go again. A fun Christmas craft for preschoolers? Watch this space, but I reckon so!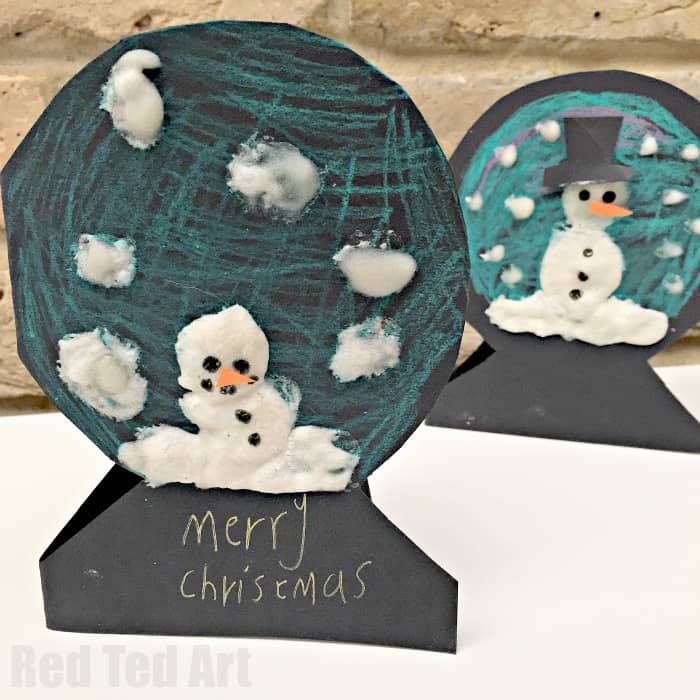 This puffy paint Christmas craft is a good test of fine motor for a preschooler and even an older child and aren't these ones turn just so cute?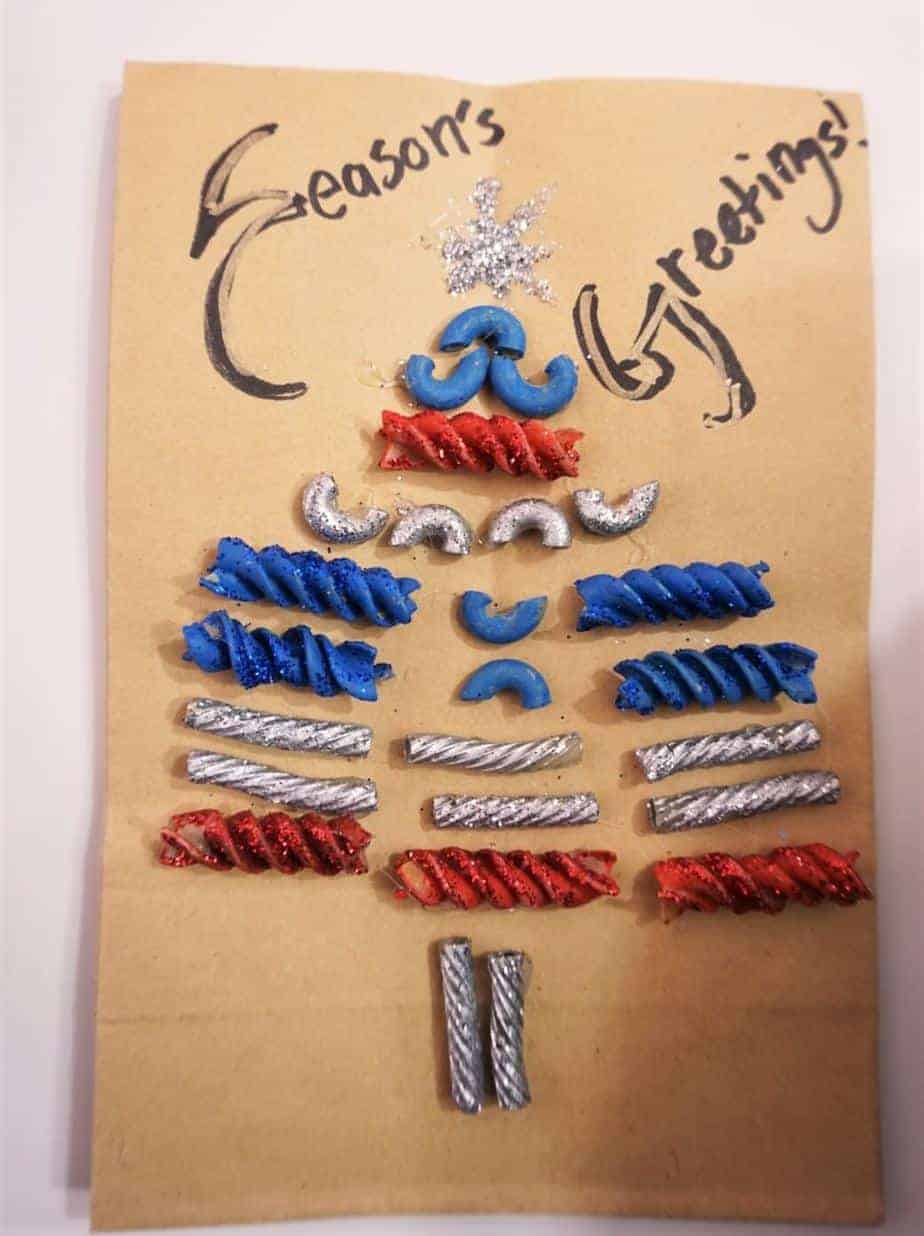 A list of Christmas crafts for preschoolers wouldn't be complete without some dried painted pasta would it? Young kids will definitely have fun painting and then designing their colorful Christmas trees with this one.
Brown paint and a preschooler (who can restrain themselves from smooshing their painted hand or foot all over the paper for a few seconds) is all you need for this one.
How hard can that be?! Luckily I've found with my two that by age 3 and 4 that hand and footprint crafts come a lot easier.
Check out these handprint birthday card ideas for someone special.

40+ easy activities handpicked for busy moms of kids aged 2 to 6 years – because Christmas needn't be chaotic or cost a fortune!

Create gorgeous hand and footprint art with your little one

Help your kids write Santa a letter and receive a reply

Love getting crafty with your kids?
Here are some more ideas for you to bookmark:
Christmas tree ornaments to make with preschoolers
Making Christmas tree ornaments is a fun craft for kids of all ages and a Christmas tradition we enjoy. They make great keepsakes and gifts for family and friends.
Note the operative word, "can" – they may not all turn out as pictured and remember, that's ok!
Below is a selection of ornaments, most suitable for preschoolers aged 3-5 years old. For more ideas, check out: 47 Easy Christmas ornaments To Make With Kids
SIMPLER, MINIMAL MESS ones
Start with these Christmas ornament crafts with your preschooler for an easy life!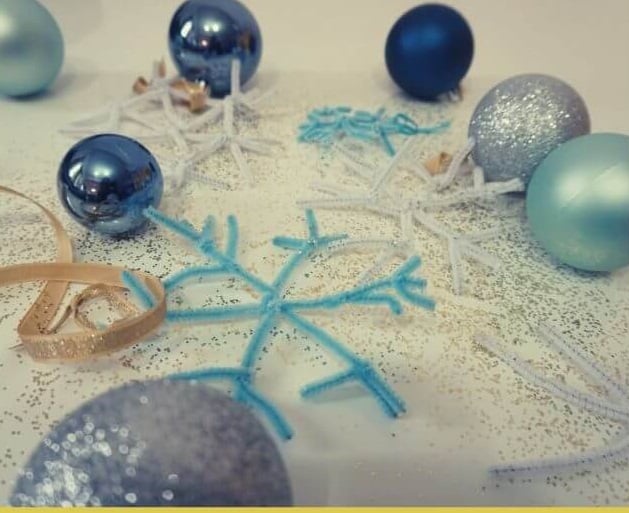 A mess-free Christmas craft and decoration for preschoolers but still quite a test for little fingers to twist into a snowflake shape. Let's see how far we get with this one.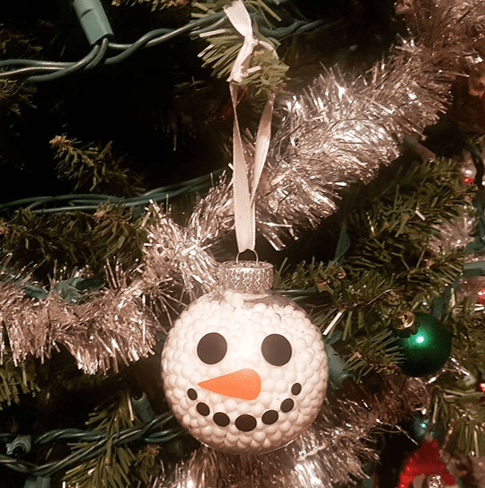 Styrofoam balls, snowman stickers and clear plastic bauble make for a fun Christmas activity and craft for preschoolers. (Just be careful of little ones still keen on stuffing small things into their mouth.)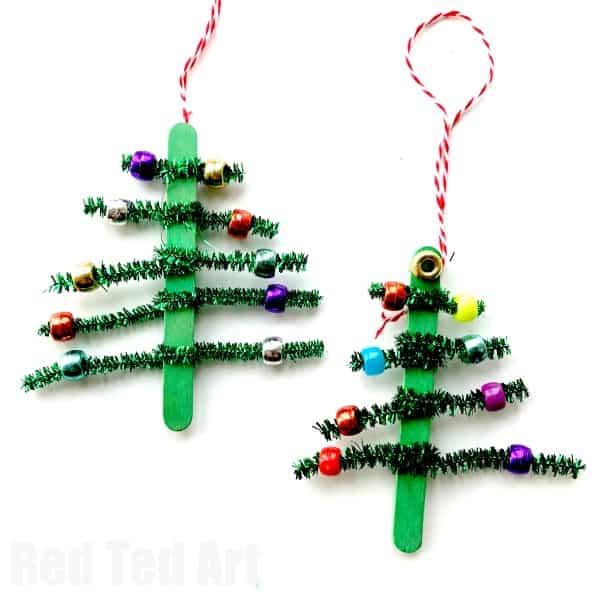 A simple and effective Christmas ornament and craft for preschoolers with some threading practice; my daughter is going to love this one.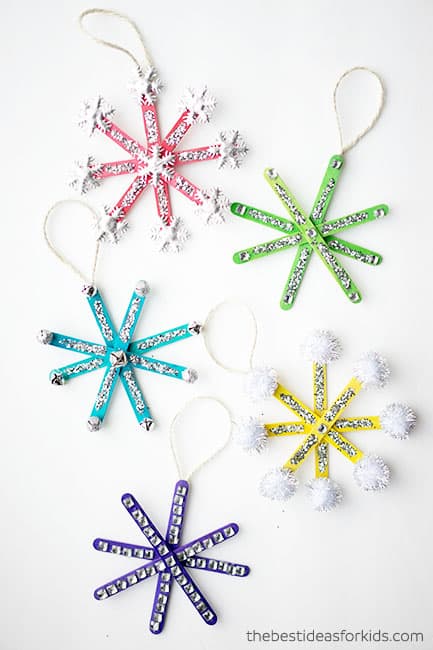 These ones are just so pretty! A fun and festive preschooler Christmas craft for little ones that love a bit of sparkle. So that's all of them, right?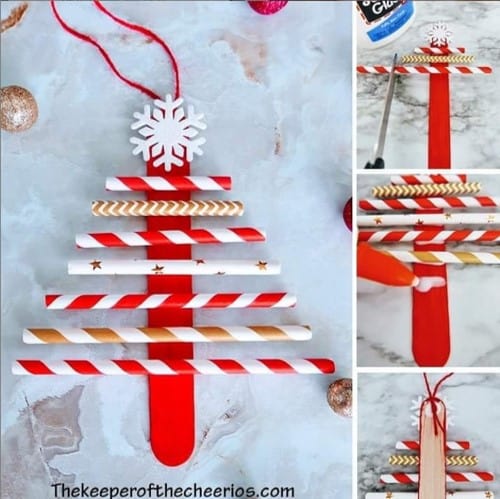 A simple and cute Christmas craft for preschoolers which incorporates an element of learning; to cut festive straws, of decreasing length.
So this will involve a bit of measuring – my 4-year-old wannabe builder's favorite thing at the moment. Buy some pre-painted craft sticks if you want to skip the painting part.
TRICKIER, POTENTIALLY STICKIER ones
If you don't mind gettint out the glue, get stuck in to these preschool Christmas ornament crafts.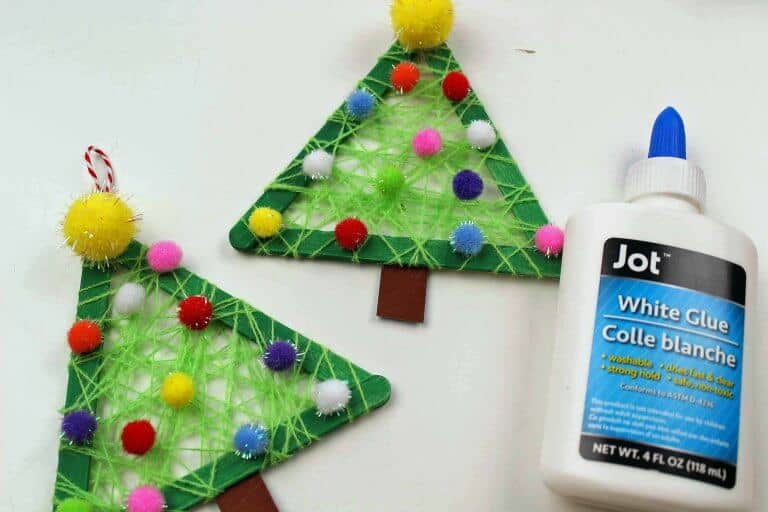 I love this sweet Christmas tree craft for preschoolers. A little bit of learning and skill involved in the yarn wrapping and then some pompom sticking to finish.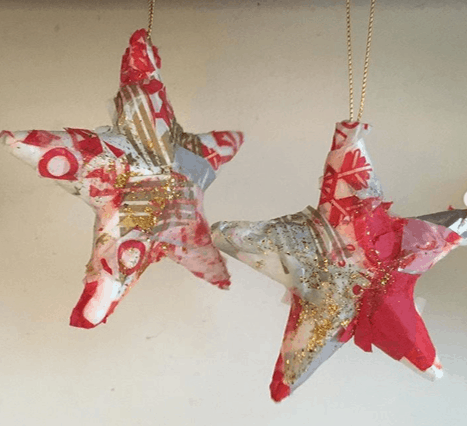 #18 Decoupaged star ornaments
Some polystyrene stars, modge podge, tissue paper and glitter are the starting ingredient for these homemade Christmas ornaments. One for an older kid to do alone or a little one to help you with.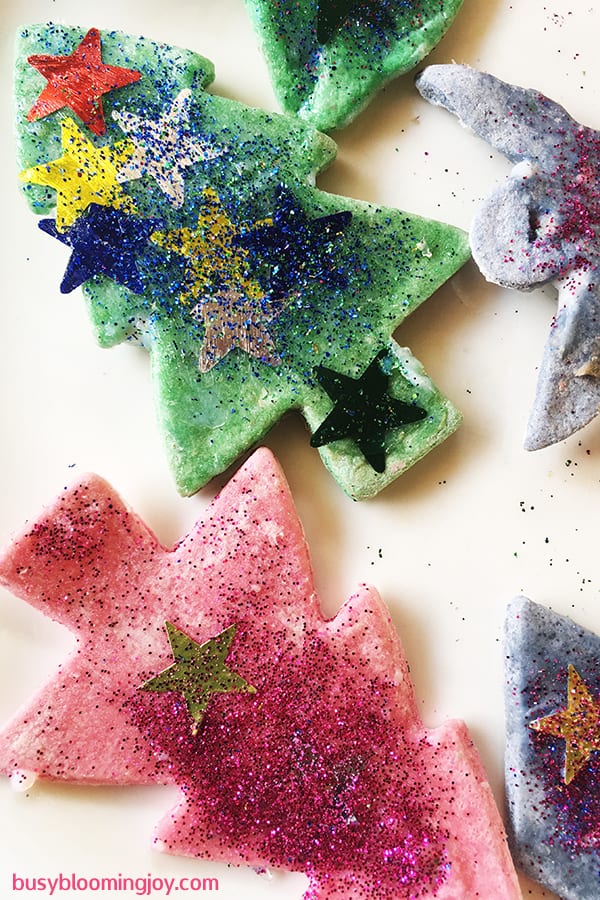 My pick of all the Christmas ornaments we did last year. Fun to make and so easy to decorate – just stick-on stars, modge podge and glitter. Not only did my two loved making these, they also loved giving them as gifts; they were so proud of their creations!
Plenty more Christmas tree arts and crafts here.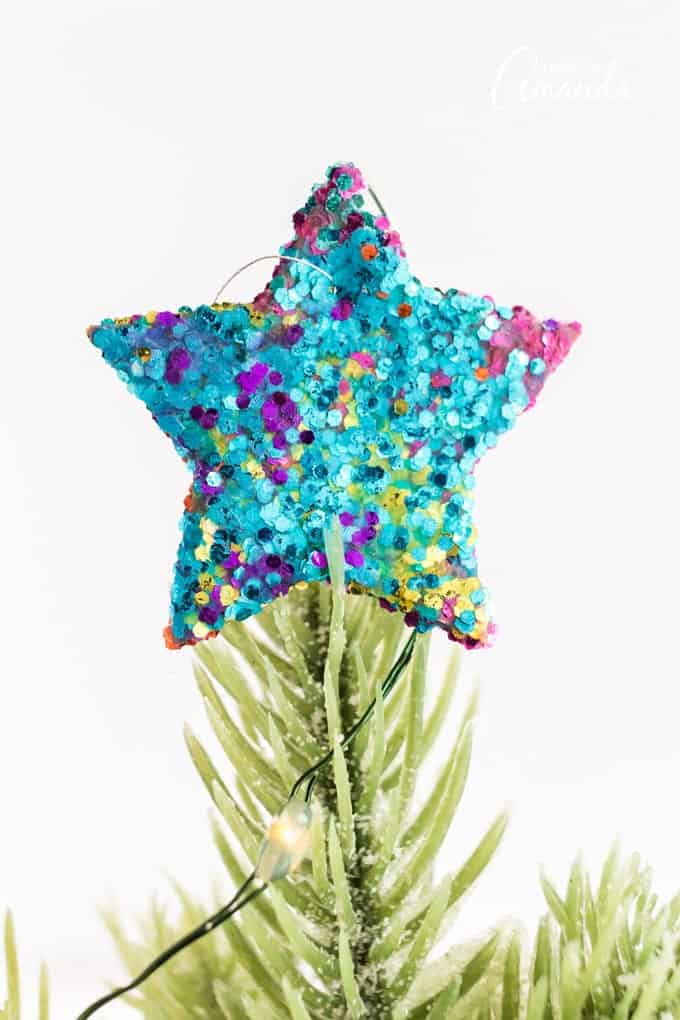 Got a glitter loving preschooler at home? Me too. This "Sparkle Station" from Crayola is new to me and now another fun craft sitting in my Amazon shopping basket.
My daughter is going to love it. As will her older cousins… (Quickly adds another 2 to the basket…) Follow the tutorial here to see how you can use the sparkle station to make the star decoration pictured.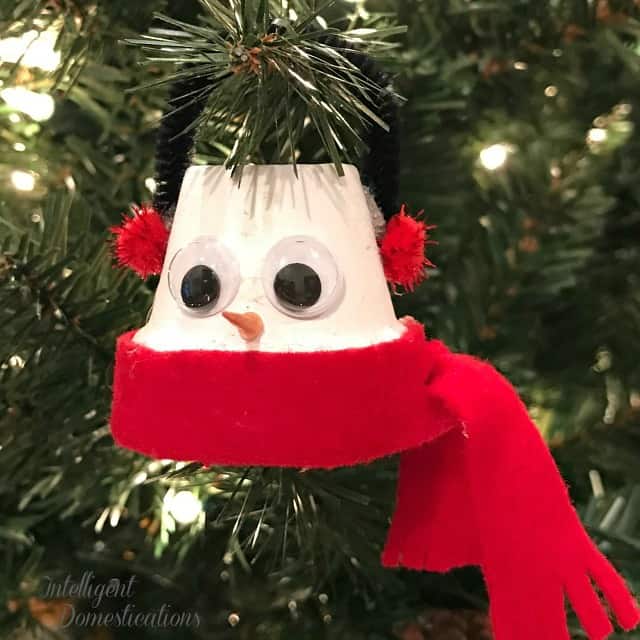 Preschoolers are going to love dressing this snowman up, how cute is he?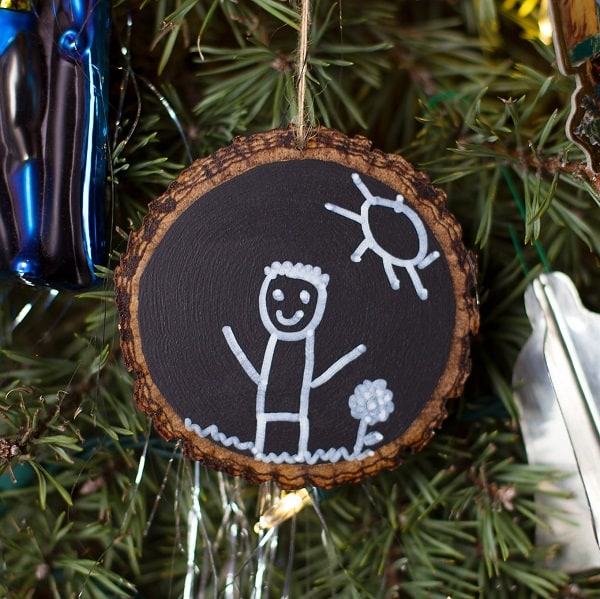 Possibly for the older preschooler or first grader who is able to draw something that resembles something. But even a squiggle with the date and your little one's name would be a sweet keepsake.
For more ways to decorate the tree using natural materials, try these nature-inspired ornaments.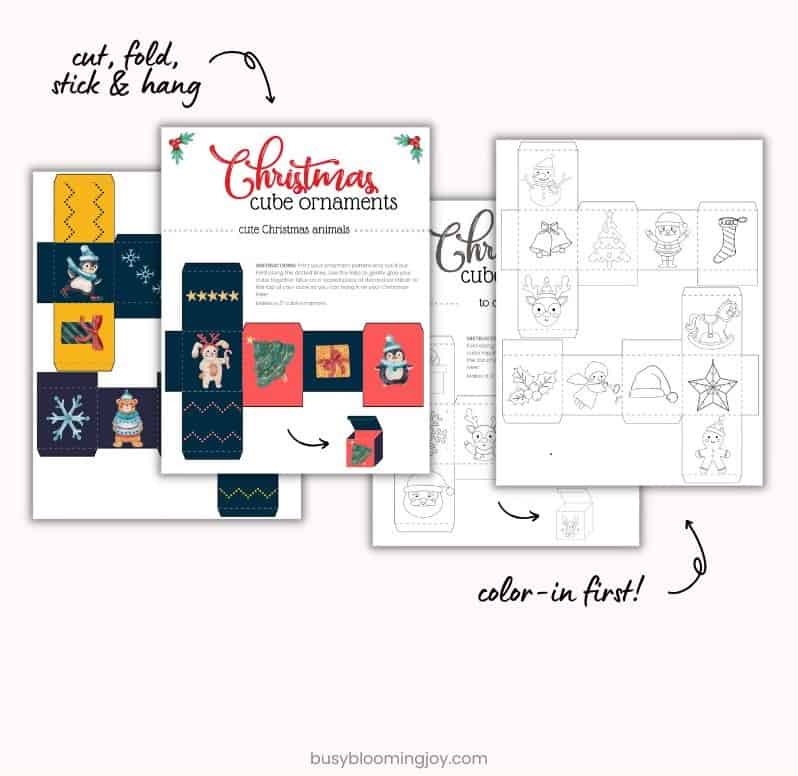 A little coloring followed by cutting, folding, and assembling – and you have a cute 3D Christmas ornament. It's a fun Christmas craft for preschoolers that they'll take pride in making.
But, if they're not in the mood for coloring, there's a ready-to-print colored Christmas ornament template you can use. Follow the link above and print the ornament templates for free.
Other Toddler Christmas crafts & decor
Paper plate crafts, Santa crafts, Rudolf crafts, all hopefully cute enough to decorate your home, this chunk of Christmas crafts for preschoolers has a bit of everything.
SIMPLER, MINIMAL MESS ones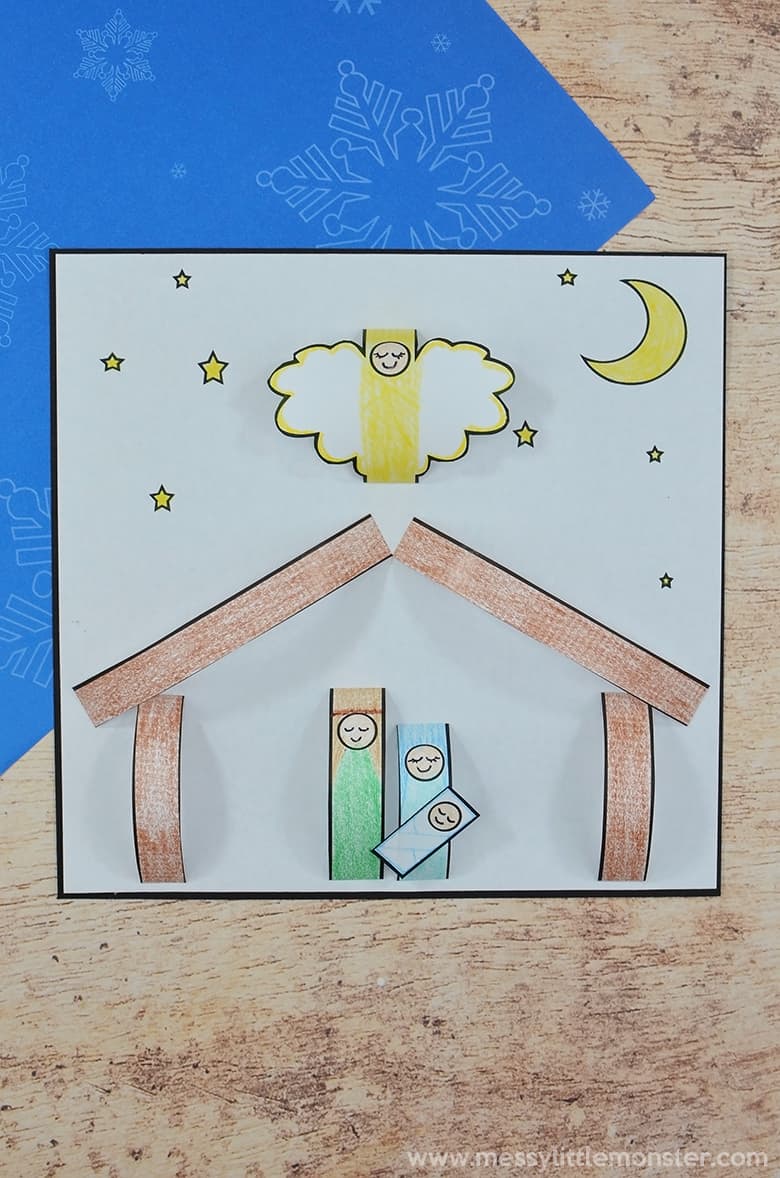 A sweet Christmas craft that can help teach your preschooler the story of the birth of Jesus and remind them that Christmas isn't just about presents! Worth a try anyway. For the free printable click the link above.
Plenty more nativity crafts here.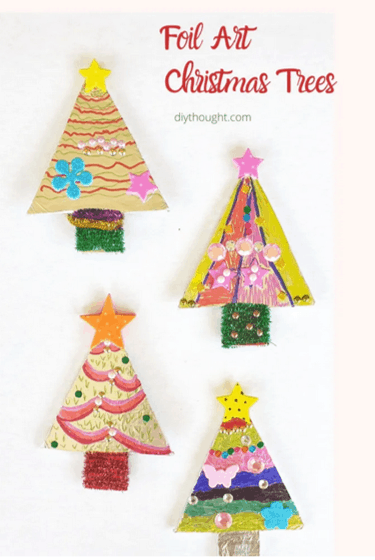 I never knew foil art existed until I came across this pretty Christmas tree craft; ideal for preschoolers that love to get creative will coloring. Simply grab some cardboard, cut to your desired shape, wrap in tin foil and let your little one go to town with sharpies.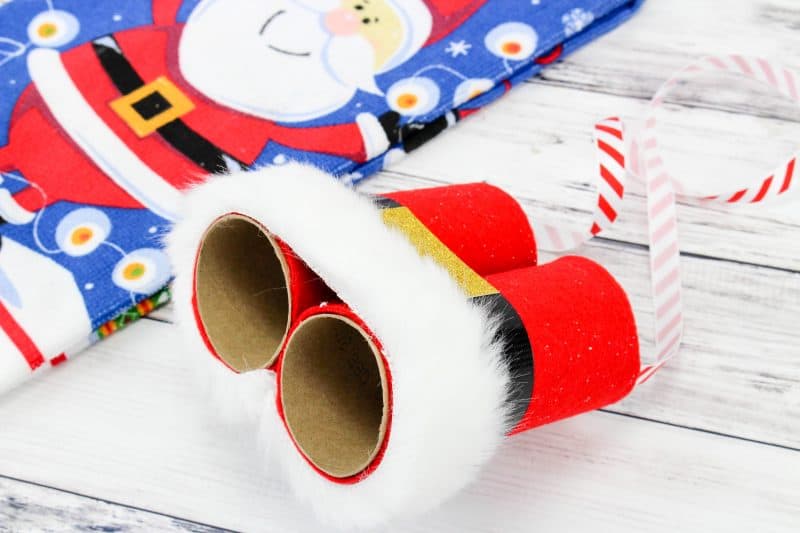 Something else that seems to fascinate toddlers and preschoolers alike is looking through cardboard tubes. Along with singing or shouting down them!
So these Santa binoculars are sure to be a winner. Combine this with a festive scavenger hunt and there's hours of entertainment to be had.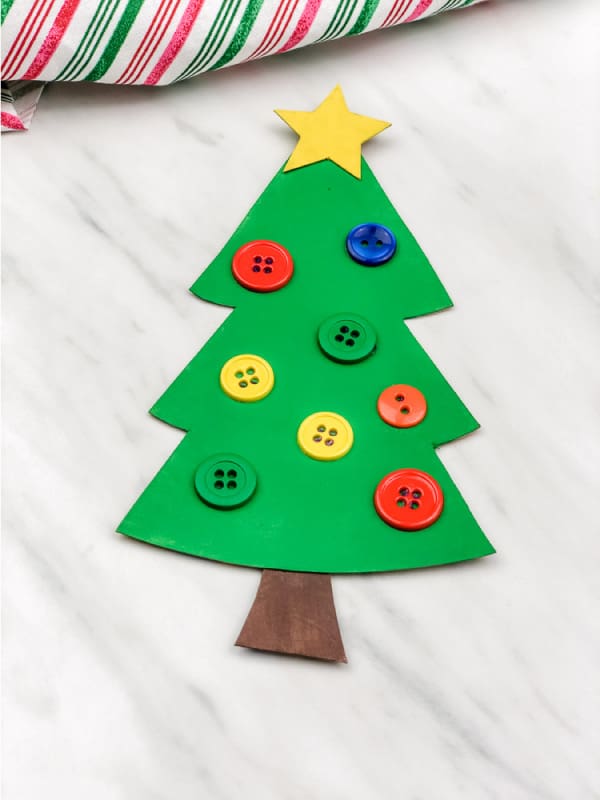 Old buttons at the ready….(or if you don't have, pick up some of these cheap crafting buttons) Here's a dead easy button Christmas tree to add to the simple section of this list of Christmas crafts for preschoolers.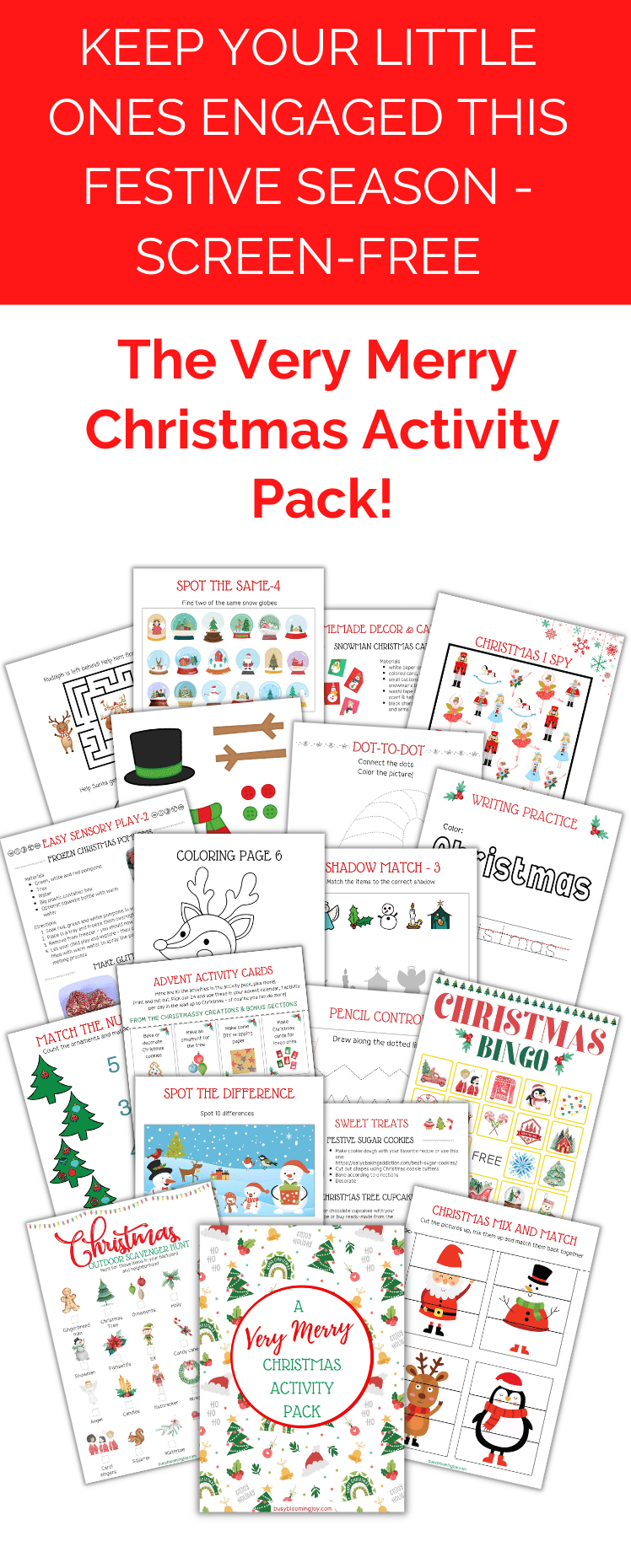 40+ easy activities handpicked for busy moms of kids aged 2 to 6 years – because Christmas needn't be chaotic or cost a fortune!

Create gorgeous hand and footprint art with your little one

Help your kids write Santa a letter and receive a reply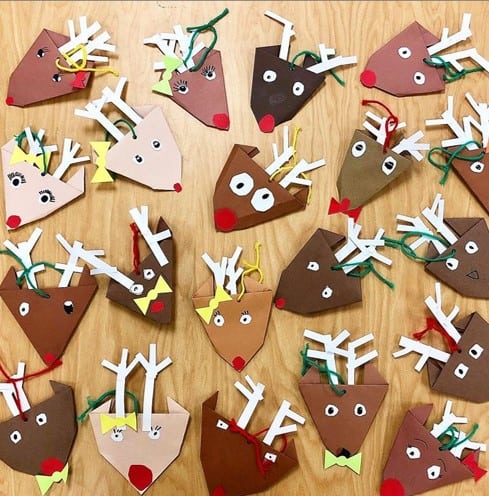 Another reindeer Christmas craft, this one could officially be called origami. Fear not, the paper folding really is very simple. Such a cute Christmas craft for preschoolers that could also be turned into a gift tag or tree ornament.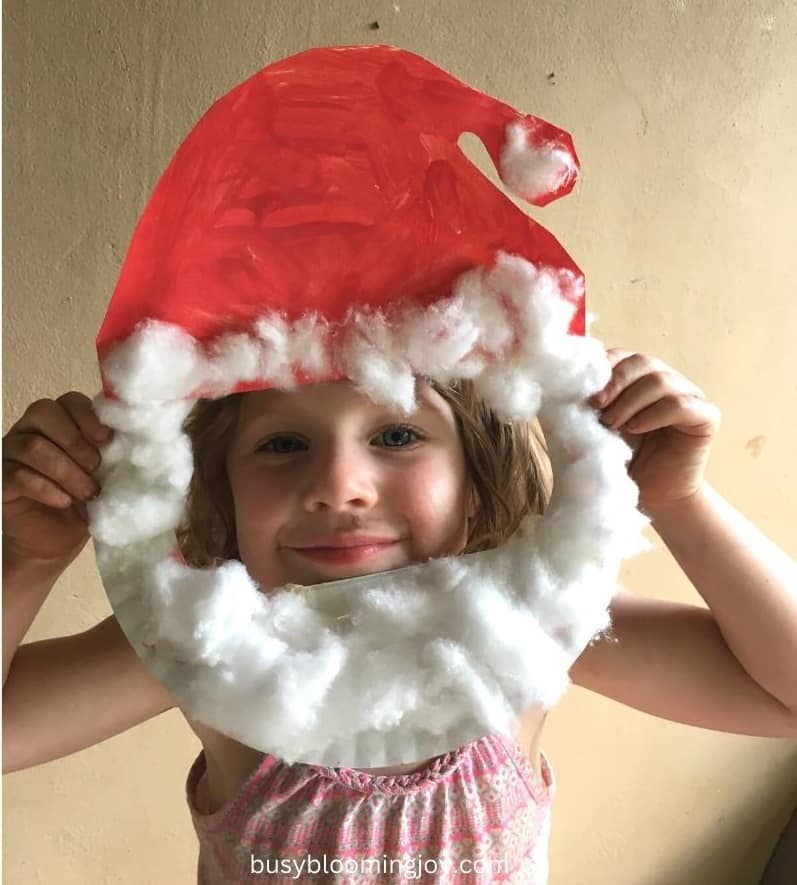 My preschoolers loved pretending to be Santa with this Christmas craft. The simplest props can send them into far off make-believe land for several hours…mmm, time for a coffee or 5…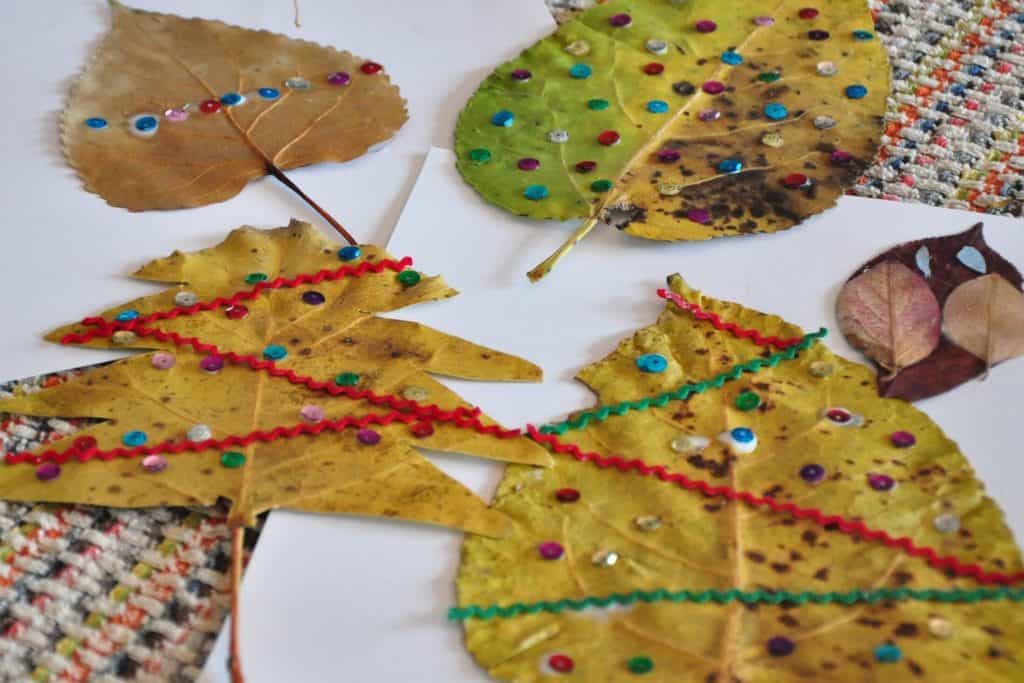 Another rustic Christmas craft for more subtle festive decor, decorating these leaf trees will be a good test of fine motor control for a preschooler.
The list would not be complete without a craft made from a toilet paper roll! Here's a cheeky Grinch, for the cutest preschool Christmas made from a tp roll.
For the free printable and instructions, click on the link above.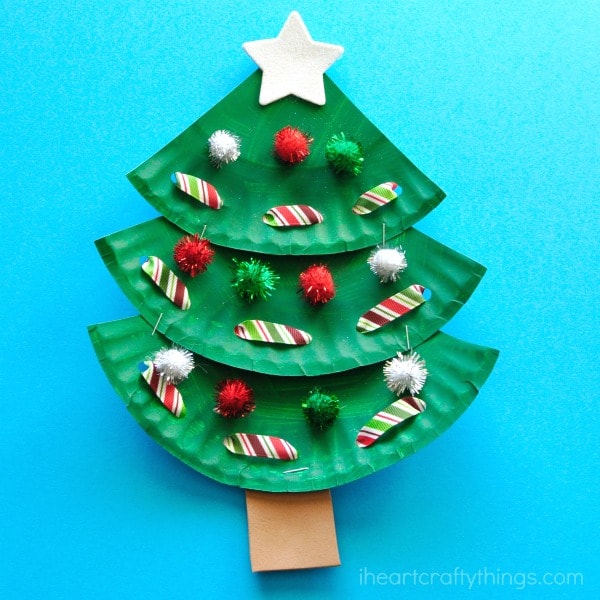 I think this is my favorite Christmas tree craft for preschoolers so far – simple, cute and a few different parts to the process with lots of learning involved.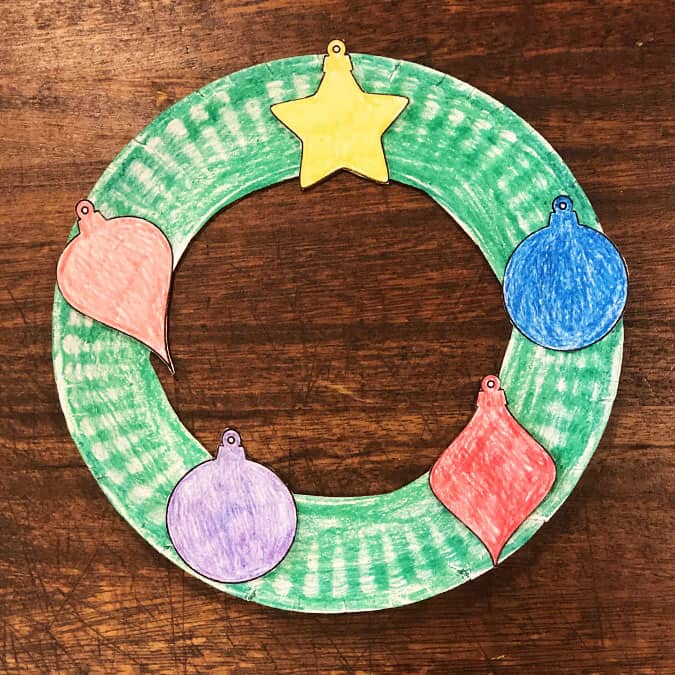 A simple cutting and coloring exercise in this easy Christmas wreath craft. Gotta love a mess-free craft too.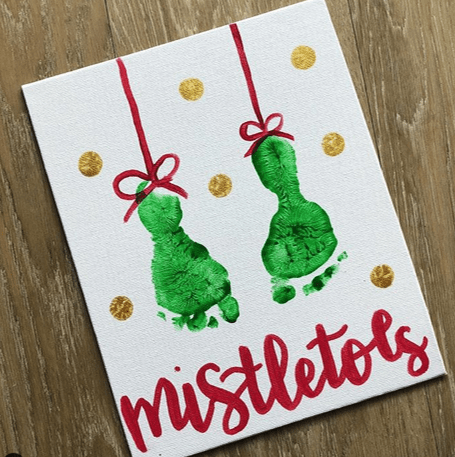 These mistletoes will make a beautifully festive keepsake. A Christmas craft that is definitely more for mom and dad than said preschooler.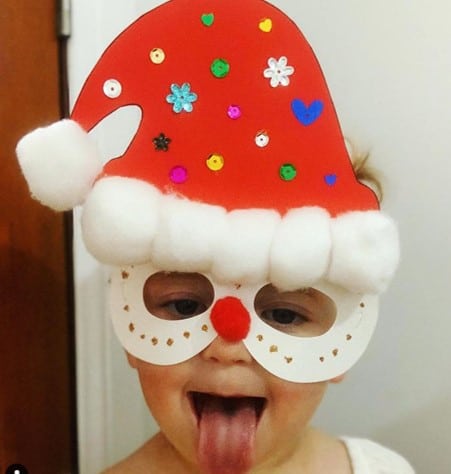 I'm sure we're all sick of hearing about masks, buying masks, washing masks and of course remembering to take them everywhere…. But this is a fun Santa mask and hat! It's one of 8 activities in the Christmas craft pack – click through to place your order (not an affiliate link).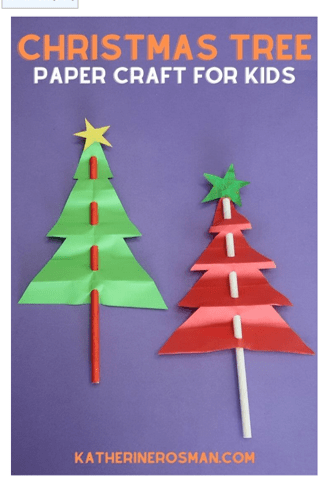 A quick and easy Christmas craft for preschoolers that could also work well as a festive pencil topper. Simply cut, fold, punch and thread.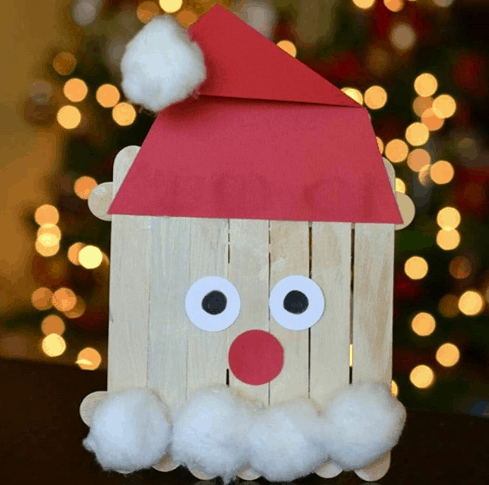 An easy craft stick Santa Christmas craft that preschoolers are sure to love. I can see this one on the mantlepiece this Christmas.
I reckon these little pipe cleaner trees would look very festive on the table over Christmas. It's a case of wrapping green pipe cleaners around a simple carboard cone (could be tricky for a preschooler but I reckon worth a try), then removing the cone and sticking on pompoms.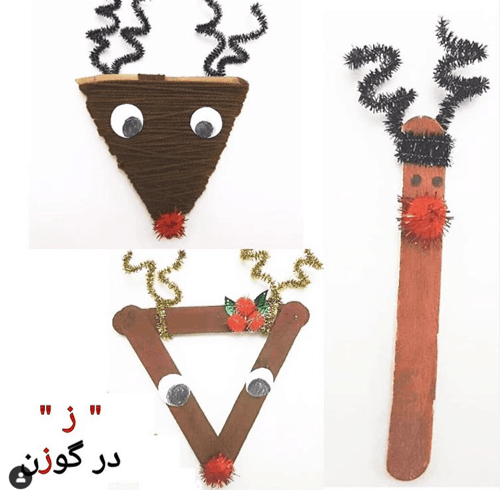 This time it's reindeer faces made from craft sticks. A cute and simple Christmas craft for preschoolers to get stuck into.
Love free printables?
Here are some specially for the festive season:
TRICKIER, POTENTIALLY STICKIER ones
Here are the final few Christmas crafts for preschoolers – well worth a little bit more difficulty for the cuteness!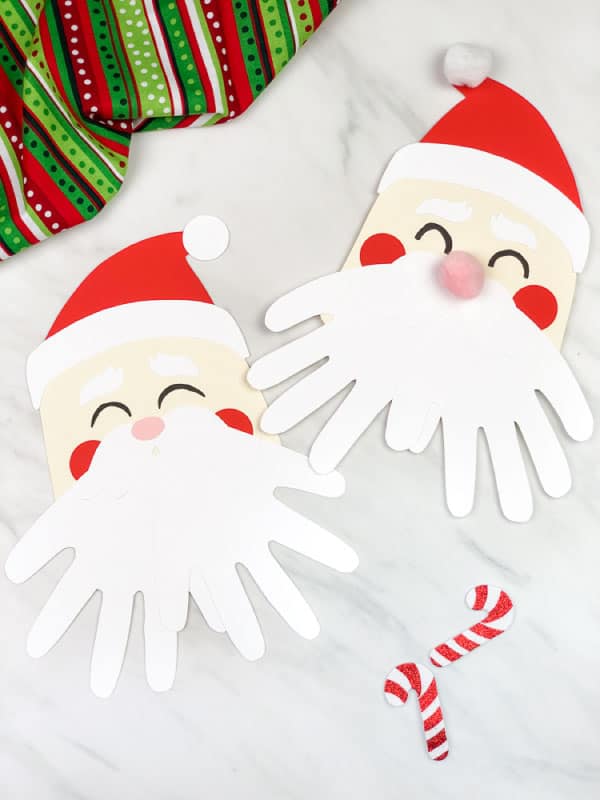 Cutting out your preschoolers' handprints to use as Santa's beard is the trickiest part to this one. Check the post for a free printable of the other components you need for this sweet preschooler Christmas craft.
Paper cups make up the body of this cute fluffy snowman. For the nose, eyes, hat and mittens etc, click through for the free printable.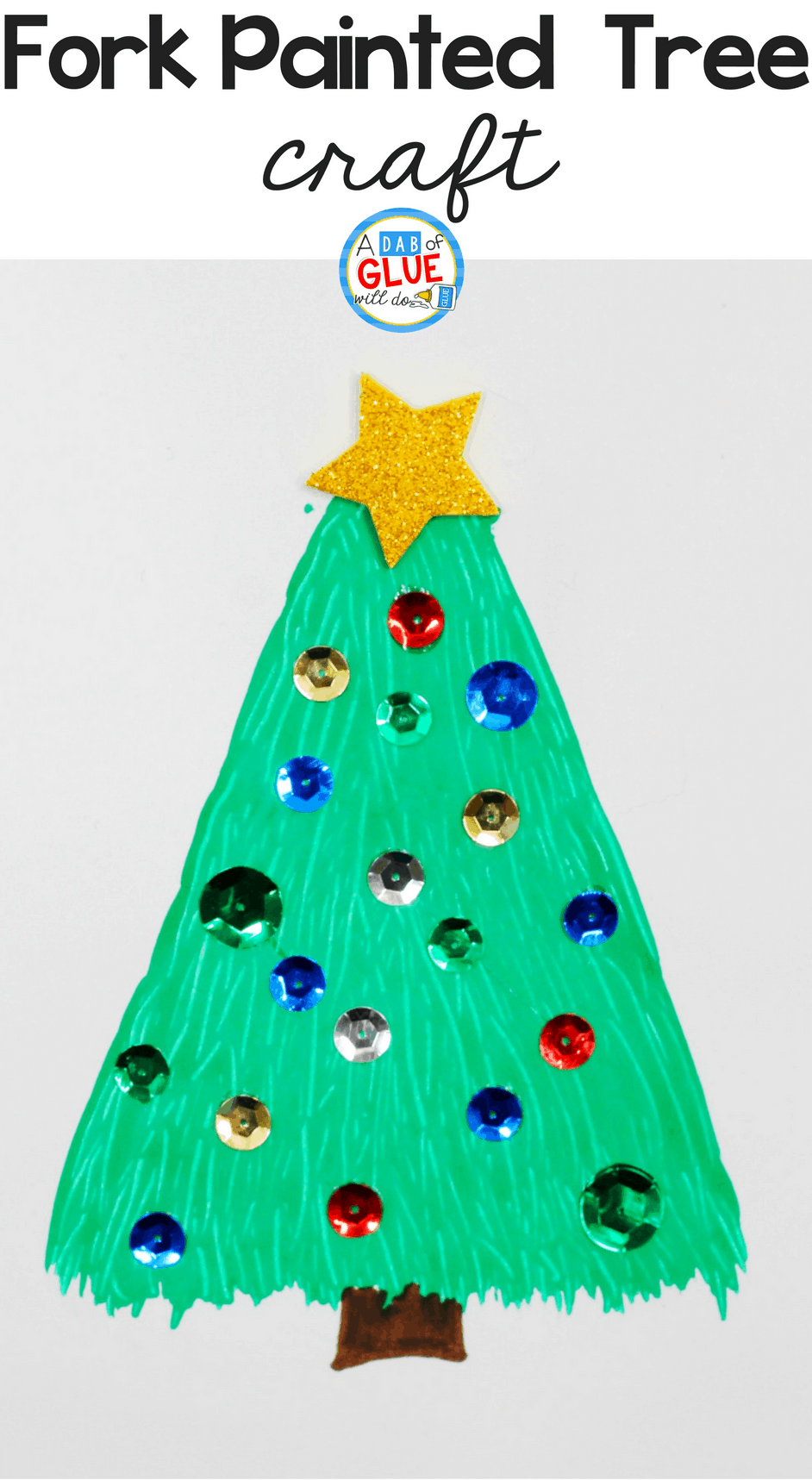 Using a fork to paint with makes for a very effective fir tree. Then it's just a case of decorating with sequins and a star for the top. Sweet Christmas tree craft for the paint-loving preschooler.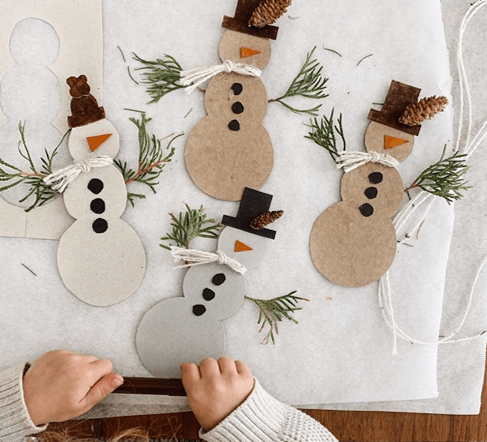 I love the rustic nature of this snowman Christmas craft; very festive, I nice change from the typical Christmas bling.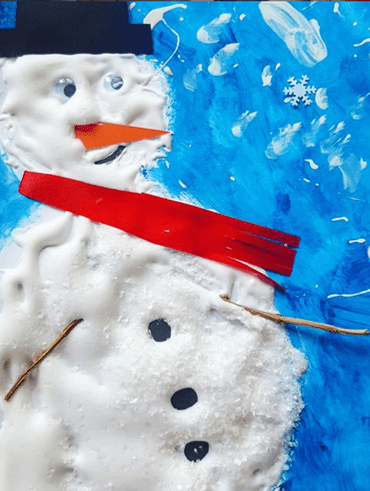 More puffy paint, this time on a much larger scale. This Christmas craft for preschoolers should definitely be fridge-worthy! Totally love it.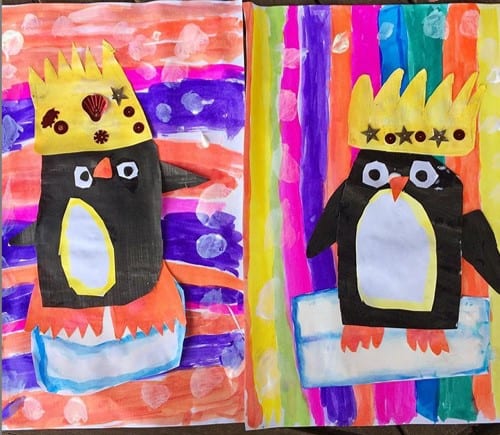 This Christmas craft is for the older preschooler or first-grader who's handy with a paintbrush. I think it's a bit beyond either of my two but maybe one for next year.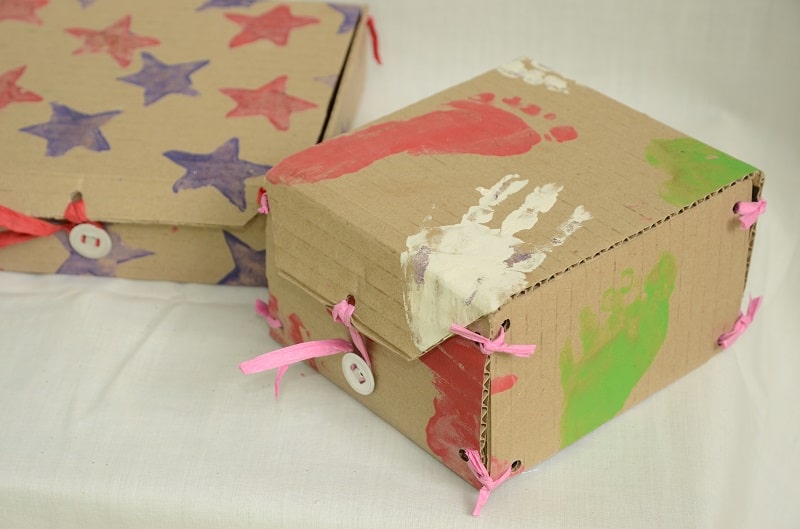 These gift boxes are incredibly simple to make – taking less than 10 minutes from start to finish. Little ones can get involved either stamping or printing the cardboard before constructing the box or by decorating once the box is complete. For more decorating ideas, check out 15 Simple And Stunning Gift Box Decoration Ideas.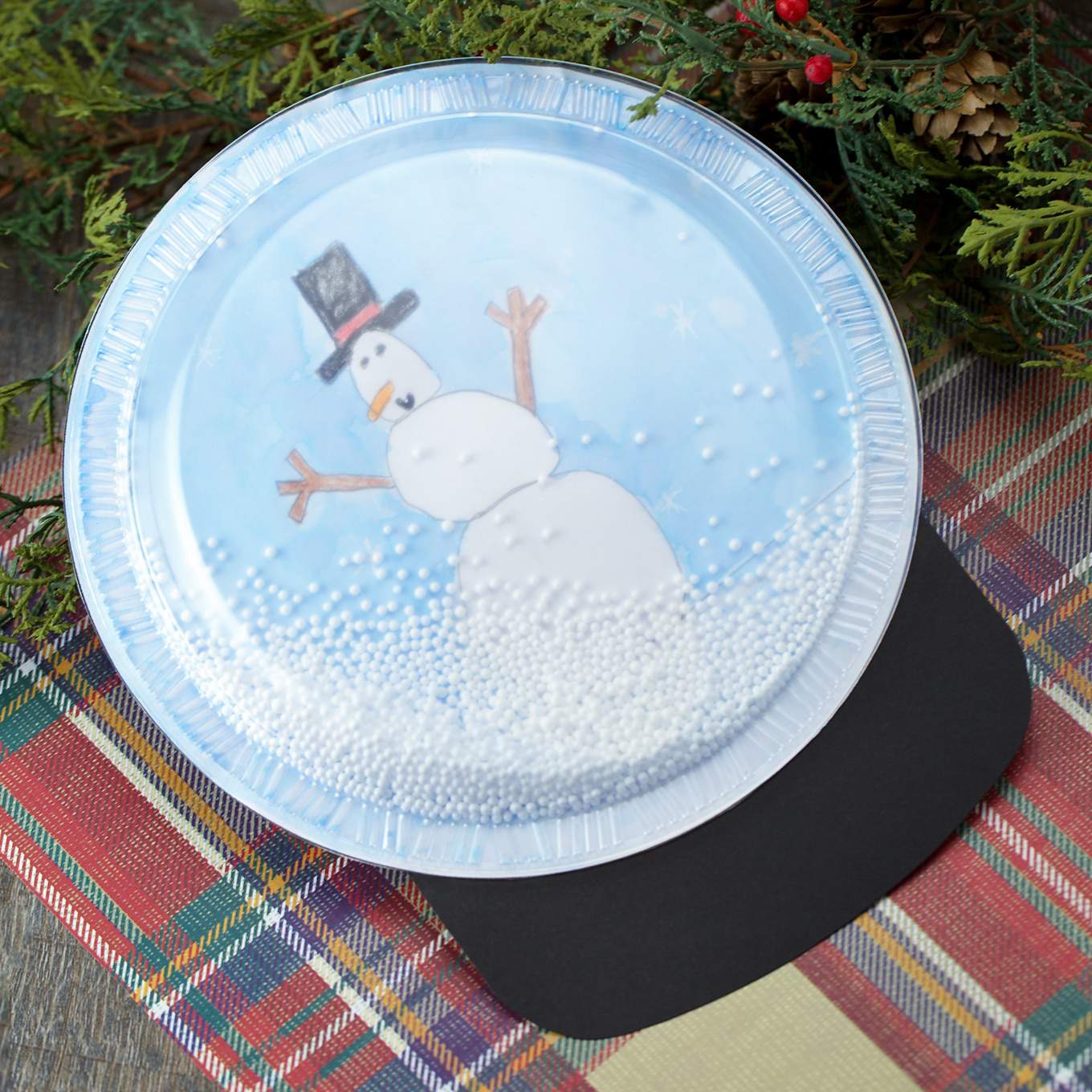 This Christmas craft is sure to be a hit with preschoolers; it's effectively a toy at the end of the crafting process. So although it's one of the more time-consuming crafts, it should be well worth it. Another, "watch this space"!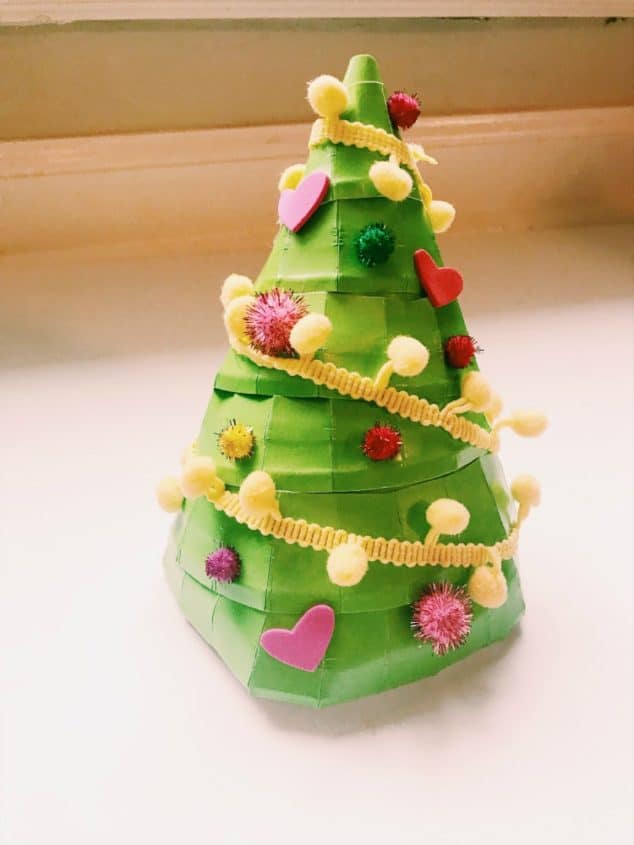 A slightly more complicated paper plate Christmas tree craft for preschoolers which turns into this 3d gem. Your little one will probably need help to start off on this one.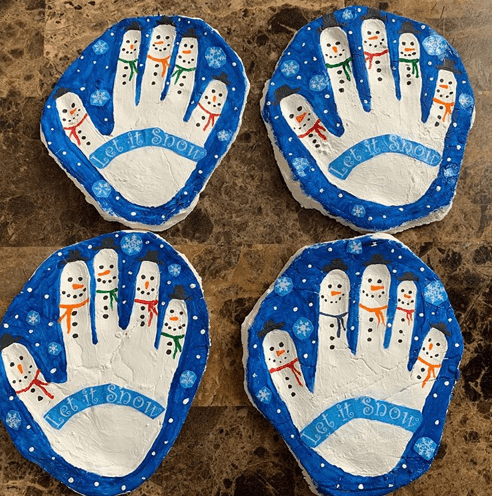 Another handprint snowmen craft idea, this time in salt dough. You may need to help with the decorating and finishing off, but wouldn't this make the perfect odds and ends plate?
Love handprint crafts?
Try these free handprint templates: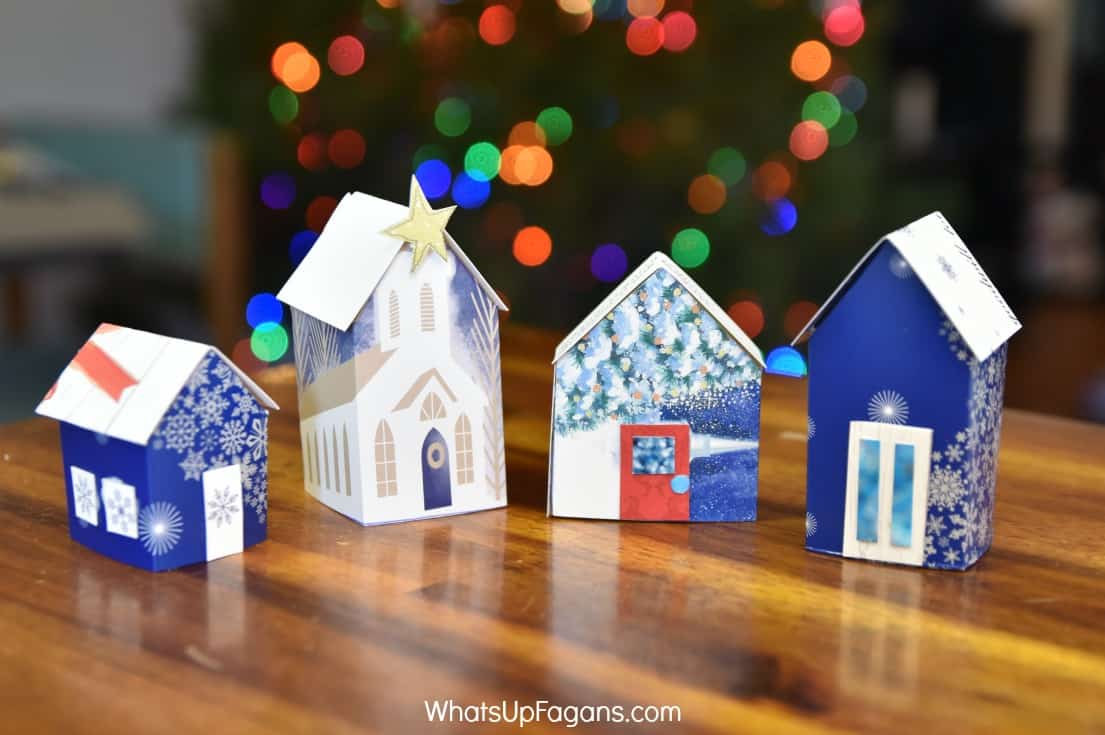 Festive craft paper and old Christmas cards are the basis for this craft – perfect for the preschooler that loves to build, it'll suit my 4 year old to a tee.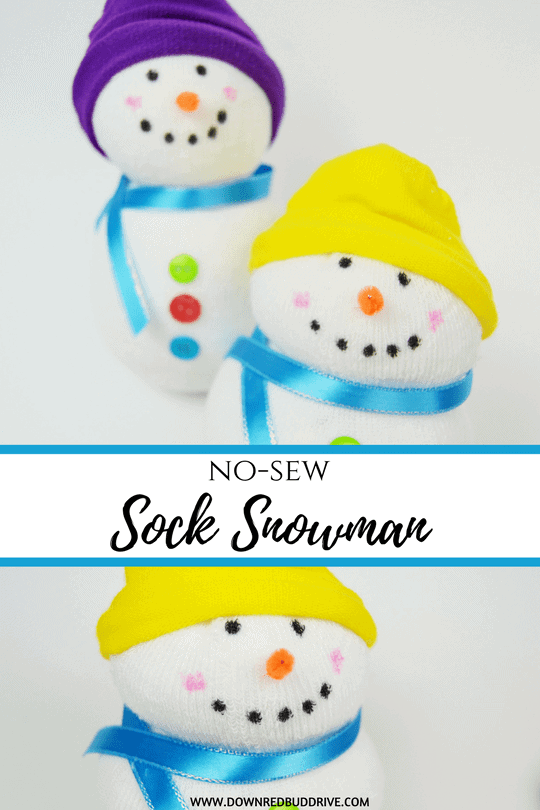 A cute snowman decoration or perhaps even a festive doorstop. A fun Christmas craft for my 3 year old for sure – only problem is, she's going to want several. Thank goodness they're no-sew!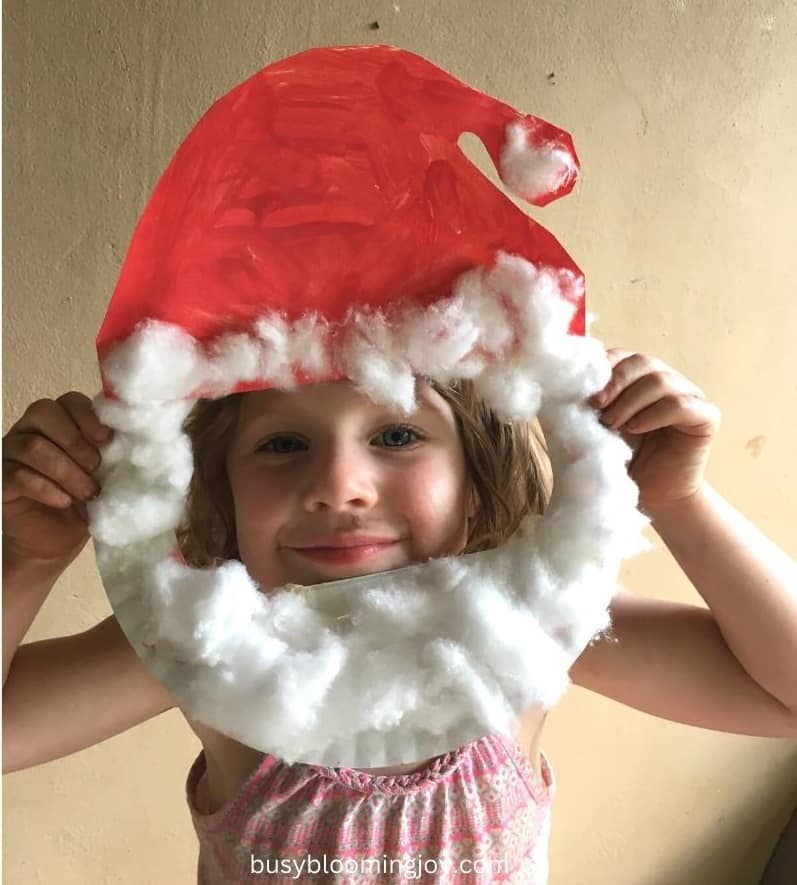 Here's a fun Santa craft made from a craft-cupboard staple: the paper plate! Sure to keep a Santa-loving preschooler busy for a while, they're going to love ordering their helpers around and getting ready for the big trip around the world to deliver all the presents.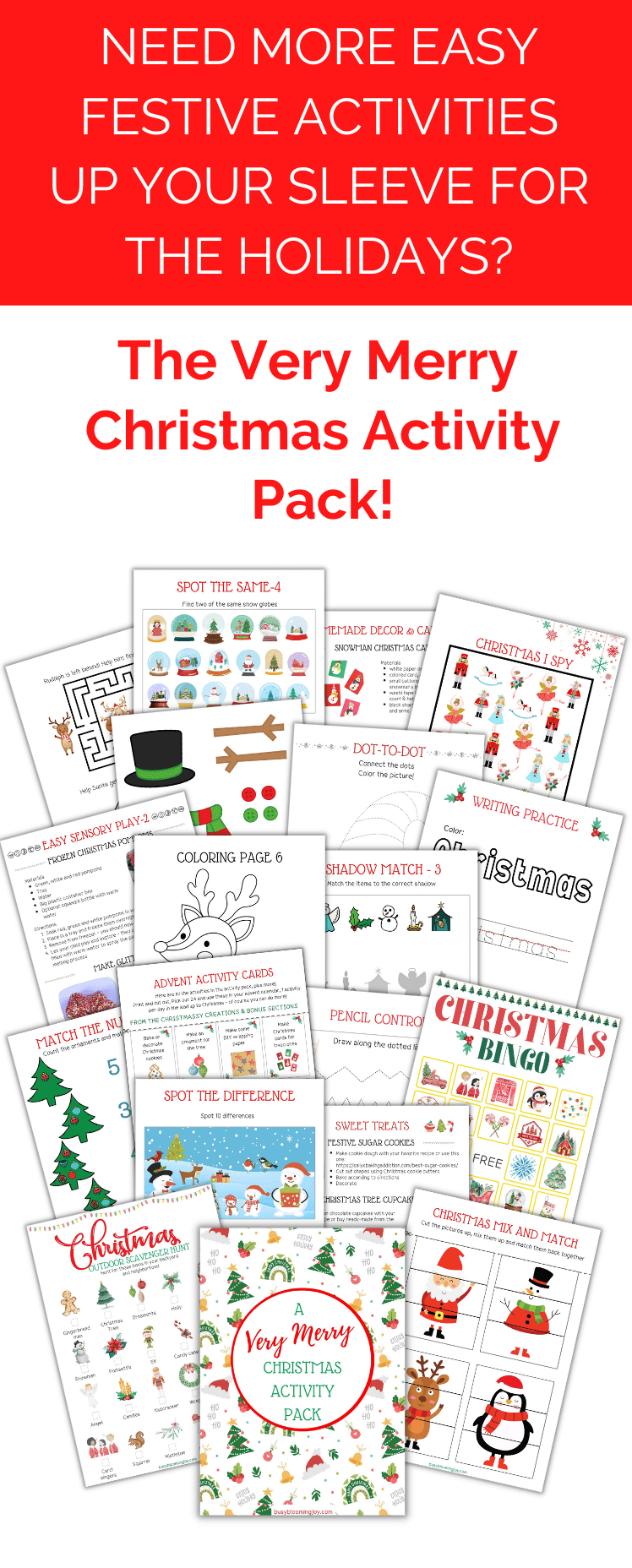 40+ easy activities handpicked for busy moms of kids aged 2 to 6 years – because Christmas needn't be chaotic or cost a fortune!

Create gorgeous hand and footprint art with your little one

Help your kids write Santa a letter and receive a reply

Which Christmas craft will you try with your preschooler first?
Phew, what a list. Any favorites? Let me know in the comments.
Happy Christmas crafting!
Looking for more Christmas arts and activities for your littles? Take a look at these:
For more easy activities to keep your little ones busy indoors and out check out: