When it comes to homemade Christmas cards that toddlers can make, or at least help with, I thought that the snowman Christmas card I shared in my last post was as easy as it gets. I was wrong! This paint chip Christmas tree card is soooooo simple I'm not entirely sure it's worthy of its own post.
But here we are.  I just need to spread the love when it comes to super simple toddler crafts and activities that are simple and actually turn out mostly as you envisage! Still, this whole toddler crafting malarky is quite new to me. It's been a steep learning curve so far; the how-to of getting creative with under 4s.
I'm guessing since you're here, that you've tried it yourself and probably understand how steep the curve is. Absolutely key is to keep it simple. Ridiculously simple. Next is that it should be short and sweet. Keeping little bums still for more than 20 minutes is not realistic – I normally aim for 10 minutes tops.
I'm also far more apt to try crafts with no paint and minimal glue. Mess-free = stress-free! If said craft turns out to be anything like intended at the end of it all (I mean if toddler is left to their own devices, not if you do 99% of the craft yourself – that doesn't count of course) that's a bonus.
But definitely not a given. (Understanding that up until the age of 4, even 5, 'art' and 'crafting' with toddlers should be all about the 'process' – the exploration and experimentation with different textures, colors etc – helped my expectation hugely when it came to these activities.)
Anyway, this paint chip Christmas tree card really ticks all the boxes! Super easy, short and sweet, virtually mess-free and, another bonus, requires all of 2 minutes to prep. It kept my toddlers out of mischief AND we have some more super-cute homemade Christmas cards to send this year.
I'm always so excited when I happen on a toddler craft that really is easy enough for them to do with very little help and the end result is decent!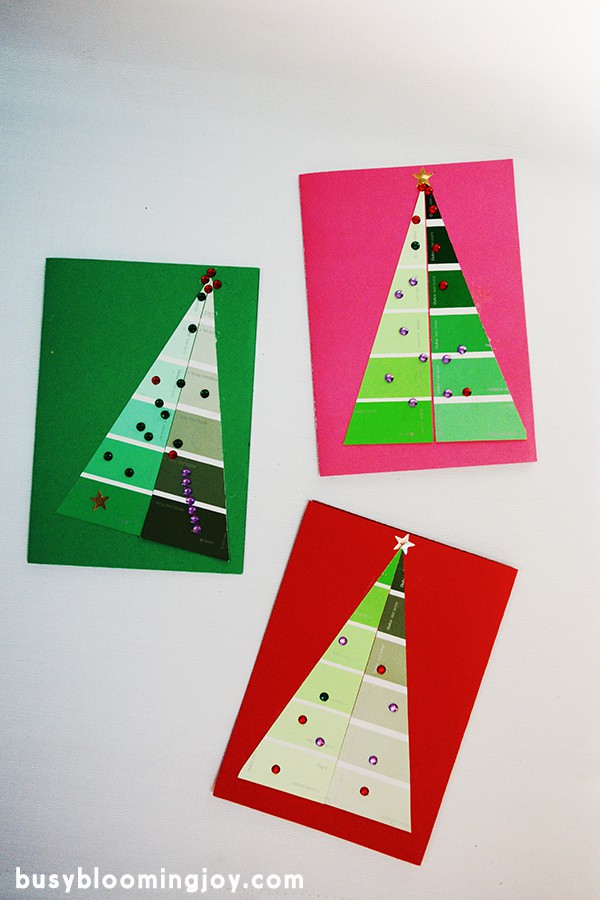 The skills your toddler will use when creating this easy paint chip Christmas tree card
Making this Christmas tree craft is all sticking and gluing. So fine motor work for those little fingers.
But also, if you're just a little bit organized, your toddler can practice copying and reproducing… let me explain. Because this paint chip card was so quick and easy to make, I made one before starting it with the kids. I always mean to do this, but rarely quite manage it.
Not only does it ensure that I really do have all the supplies needed, it helps the kids visualize what is you're trying to make. What a difference it made! Both my toddlers, at the grand age of just-turned-4 and nearly 3, had a good go at copying my tree.
I could see my eldest looking hard at my card – this was a rare occasion of concentration for a non-truck/digger/dump truck-related activity.
His Christmas card does have the tree that looks a little like the leaning tower of Pisa but nevertheless, the two paint chip cards are next to each other, like a tree.
He then decided his star was going in the leaves of the tree, rather than on top, but that's all good.
I did help my youngest with sticking the paint chips into a tree shape but then she was away. Star on the top of the tree and everything!
The how-to for this easy paint chip Christmas tree card

1. Gather supplies
A4 cardstock – 1 per card for an A5 sized card
A selection of green paint chips – you need 4 paint chip cards to make 2 Christmas tree cards – I used a variety of different greens
rhinestone decorative stickers
star stickers
2. Fold cardstock to make card
Holding the card in landscape orientation, fold each sheet left to right (or right to left) to make a portrait orientated A5 card.
3. Cut each paint strip diagonally into 2 triangles
You need to cut one paint strip diagonally one way and the other one diagonally the other way. Hopefully, the pictures will make this clear!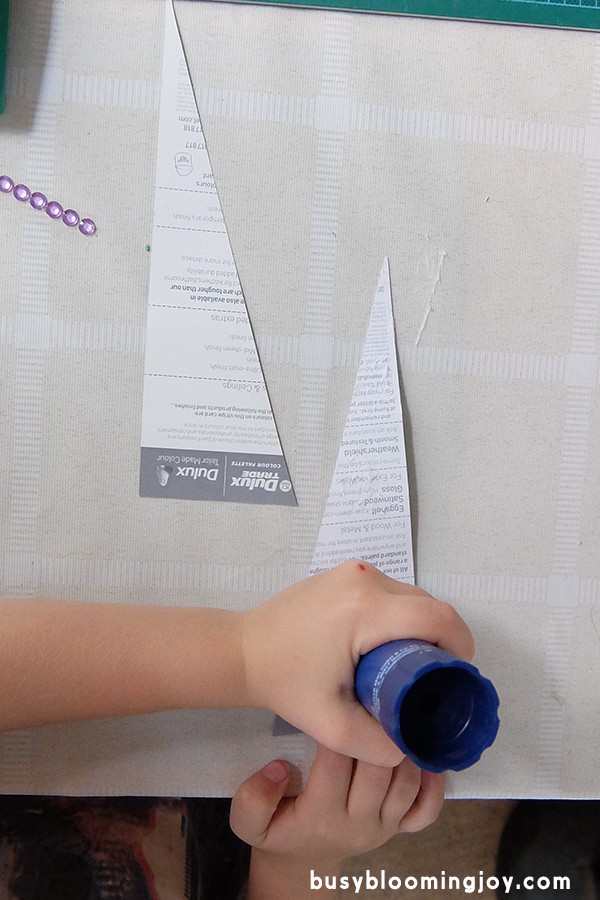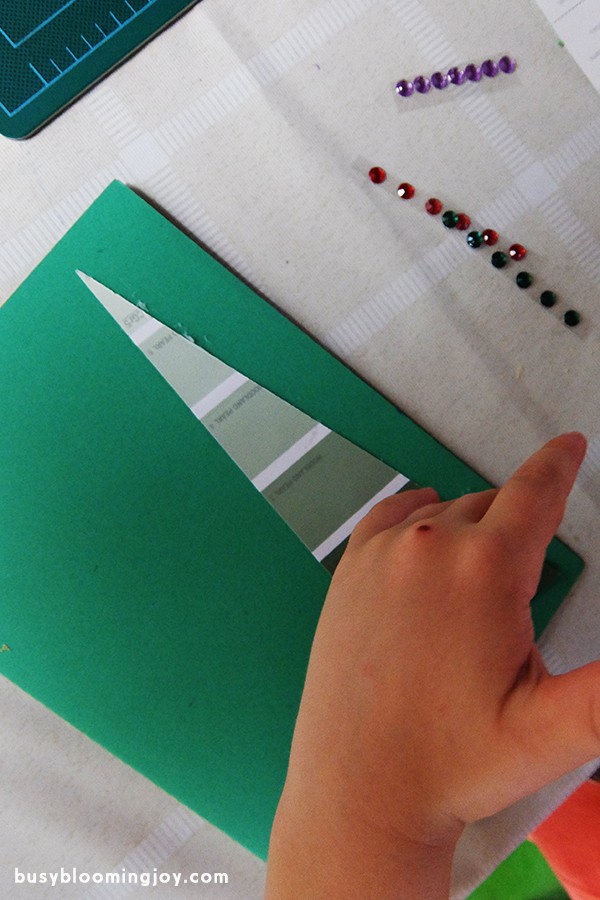 3. Get gluing!
Let your toddler glue the paint chips onto the card using the gluestick, then stick the rhinestone sparkly decorations and stars on.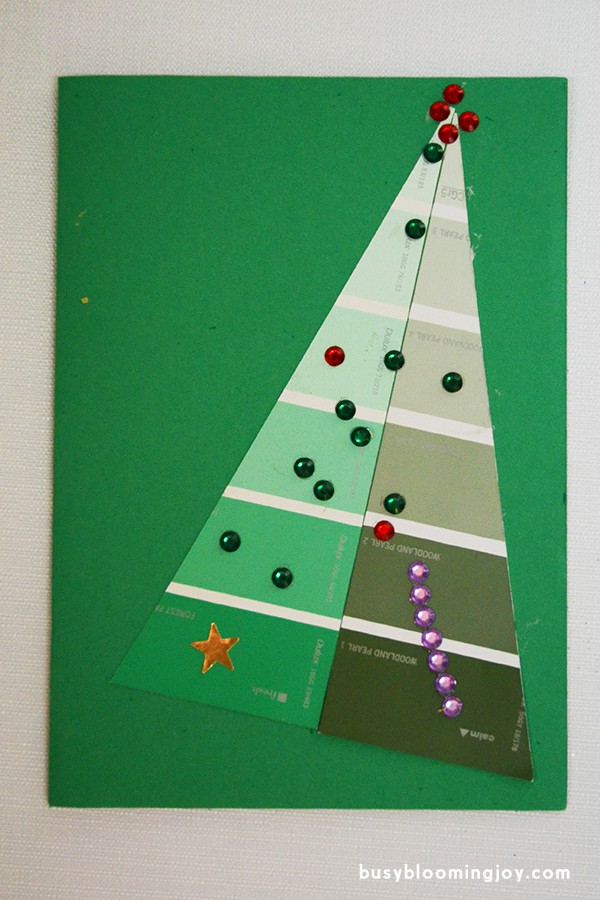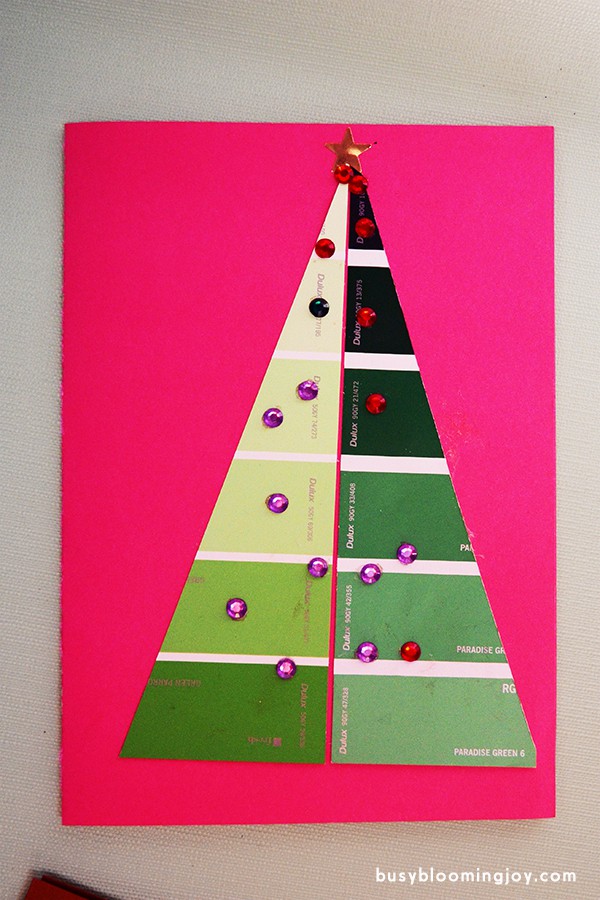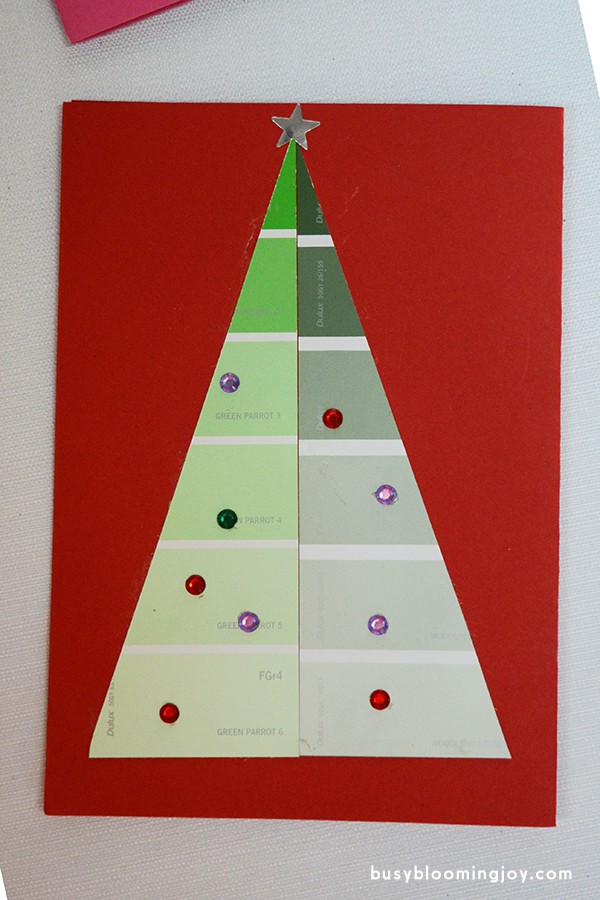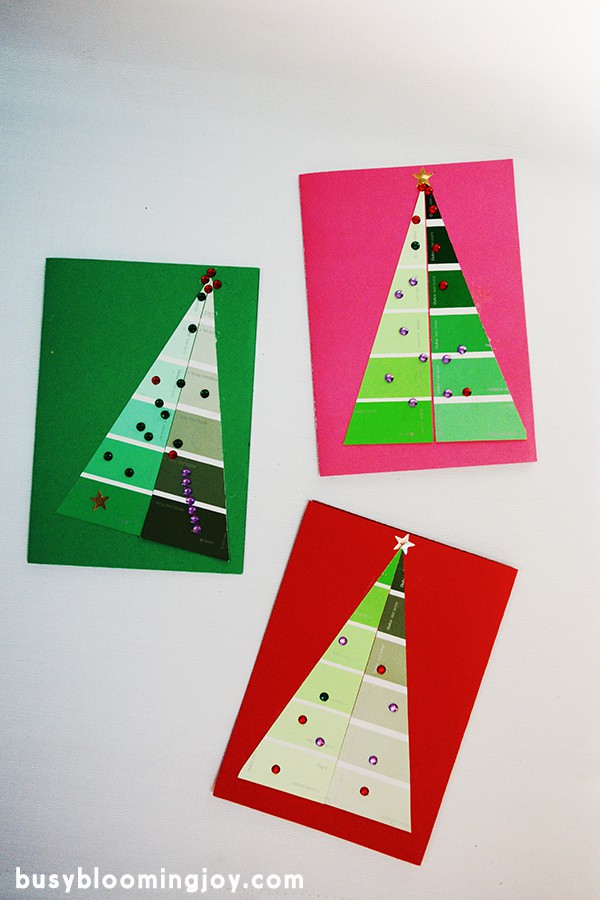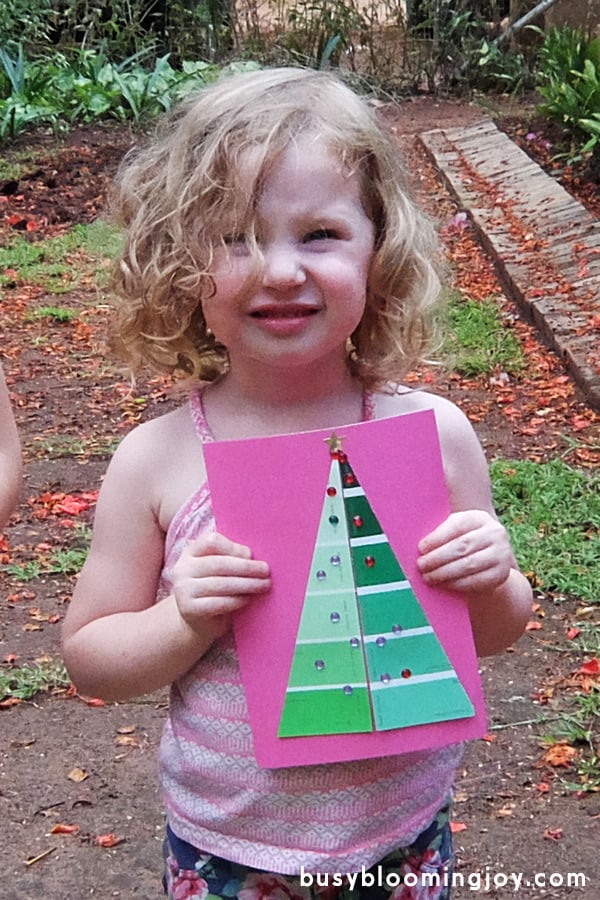 4. Admire
Cute right?! And so simple… This is a must-try this Christmas!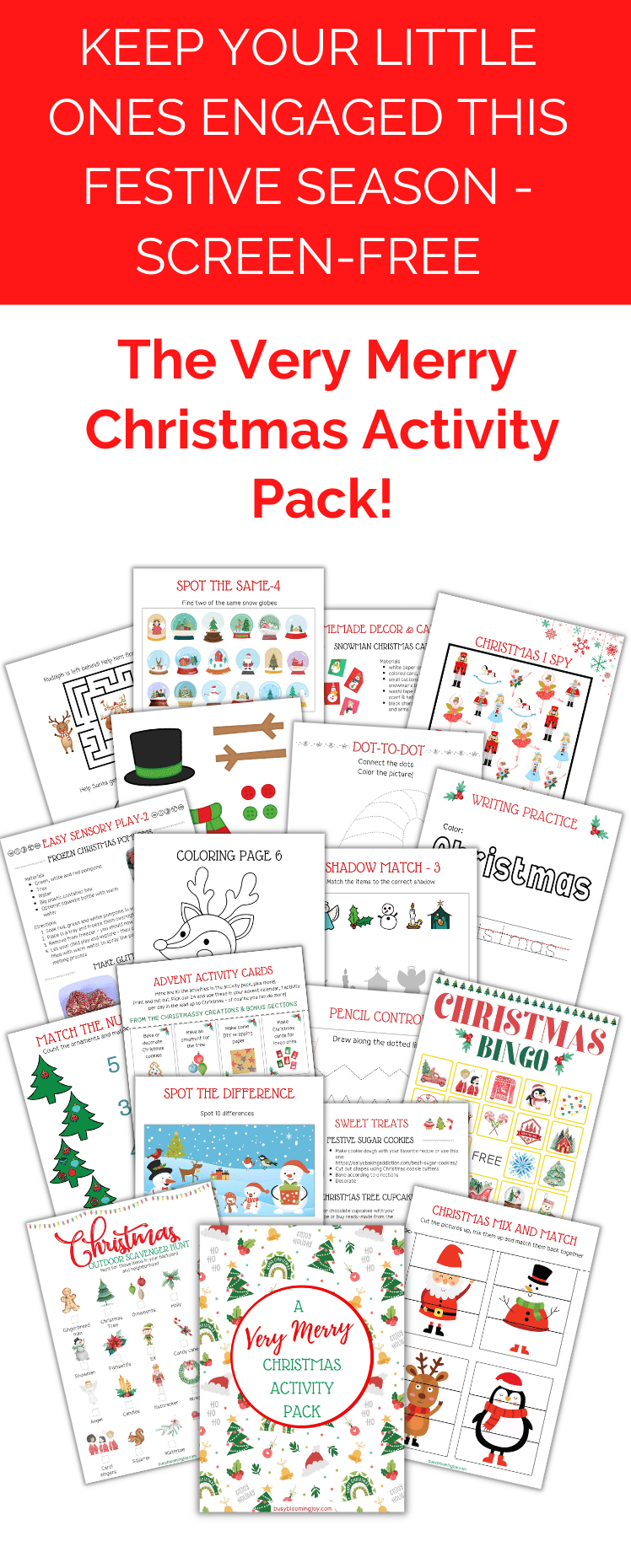 40+ easy activities handpicked for busy moms of kids aged 2 to 6 years – because Christmas needn't be chaotic or cost a fortune!

Create gorgeous hand and footprint art with your little one

Help your kids write Santa a letter and receive a reply