Are you looking for fun and engaging activities to while away a few hours, or even minutes, in the looong run up to The Big Day?
The "how many sleeps…?" question just never seem to stop! Just mine?!
You need this free Christmas activity pack printable!
(Instant download with no sign-up necessary.)
It includes a whopping 17 pages of fun activities that are perfect for young kids.
You'll find matching activities, spot-the-difference puzzles, coloring pages, word puzzles, mazes, and more.
With cute and colorful holiday-themed images, these activities are sure to delight your little ones and get them into the Christmas spirit. In a calm and controlled way.
And perhaps give you a moment of peace.
So you can take a break from the holiday madness. Put your feet up, hot cocoa, scrap that, wine in hand.
Or, more likely, get on with the gazillion things on your Christmas to-do list.
Keep scrolling to download our free 17 page Christmas activity booklet printable and let the wine drinking, sorry, quiet time, begin.
What does the Christmas activity booklet printable include?
The printable book includes the following engaging, holiday-themed activities and games:
shadow match activities
other matching games
spot-the-same
spot-the-difference
pencil control (draw along the dotted lines)
mazes
dot-to-dot
decorate the Christmas tree activity
holiday coloring pages
I-Spy activties
festive word search
secret message decoding activity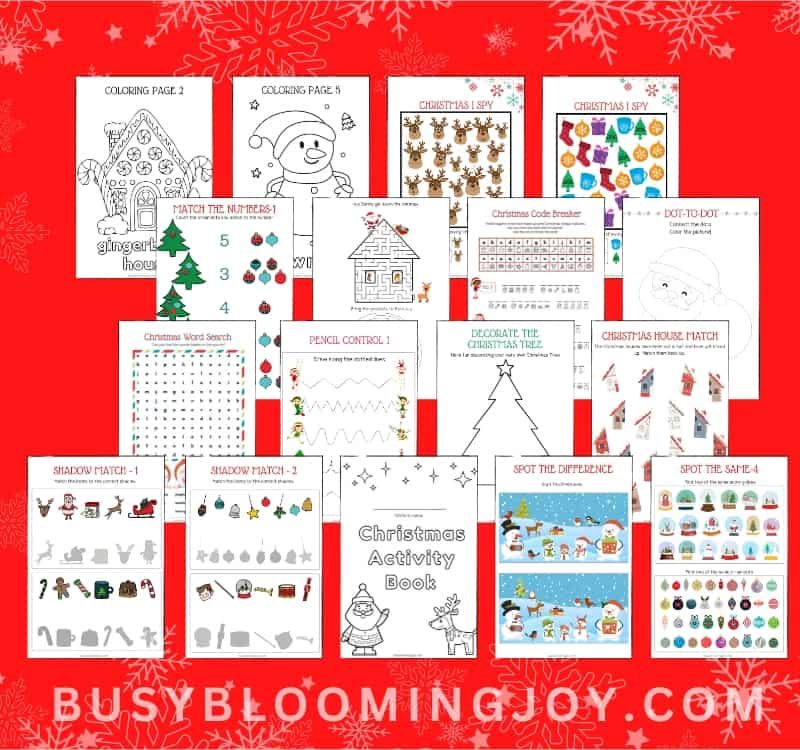 What age is this Christmas activity booklet printable aimed at?
The earliest little kids seem able to sit relatively still for a few minutes AND scribble with a pencil in a semi-controlled fashion is around age 3.
Younger toddlers may be able to take part with an older sibling or parent, but I wouldn't count on it!
Simple minimal-mess activities and dry messy play are my go-to for these little ones.
In terms of a maximum age, some of the Christmas activity sheets will keep kids up to the age of 8 or 9 engaged. The mazes, word search and word decoding will appeal to those older kids.
If they like coloring, there are plenty more options still.
So, let's just say that this Christmas activity booklet printable is best suited to 3-8 year olds.
Supplies needed to print the activity pack
You'll need:
White paper
Color printer
Guillotine or paper cutter/paper trimmer
Stapler or hole punch and string to combine the pages into a booklet (optional)
Your chosen pages from the Christmas activity booklet printable (links to the PDF below)
You may want to consider laminating some of the activity pages, in which case you'll need a laminator and laminating paper.
How to print the Christmas activity booklet
In the following sections are images showcasing all the pages included in the Christmas activity booklet printable. At the end, after the giant red arrows is a link to the PDF file.
But it's also below at no. 2.
To print it:
Ensure you have a PDF reader such as Adobe Acrobat installed. Otherwise, here's a link to install if for free.
Click on the digital file link after the giant red arrows, titled "Free Christmas Activity Booklet Printable – CLICK TO PRINT" or click here
The Christmas activity booklet printable will open as a single file in a new window
Select the pages you want to print or leave blank to print them all
Click "print"
Spot The Same & Spot The Difference activities
The fun of Spot The Same and Spot The Difference activities never grows old. I still enjoy them now! They're also excellent for developing a wide range of cognitive skills in young children as they identify similarities and differences between images:
Attention to detail
Visual discrimination
Problem-solving
Concentration
Memory
It's always good to know that they're learning important skills for life as they work on these fun holiday printables.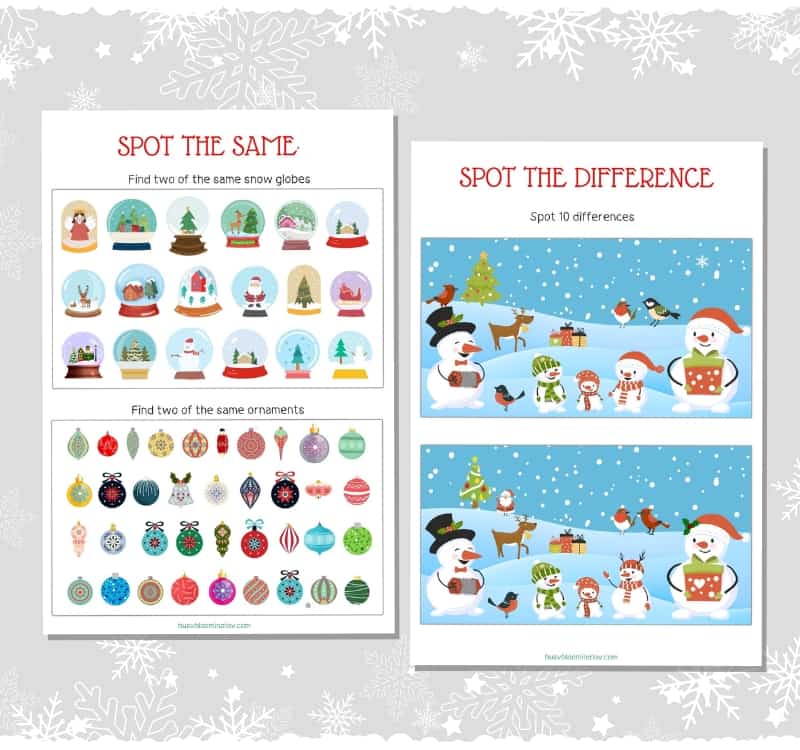 Matching activities
Another simple activity for kids and another great way to work on visual descrimination and attention to detail. They must match the colored holiday designs to their corresponding grey shadow.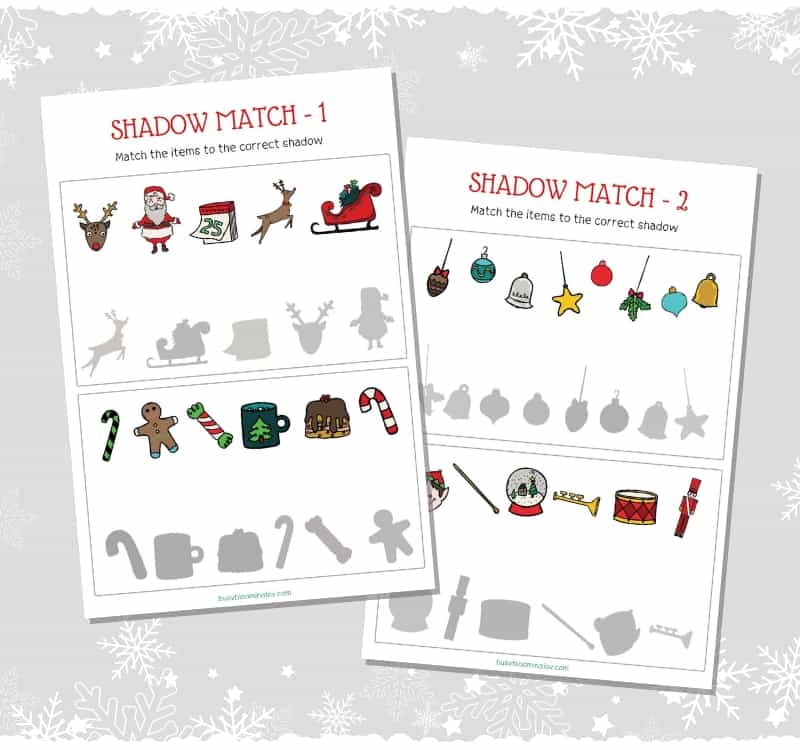 There's also a matching activity perfect for preschoolers who have just started counting and number recognition. See image below in the right. They must count the ornaments and draw a line to the correct number.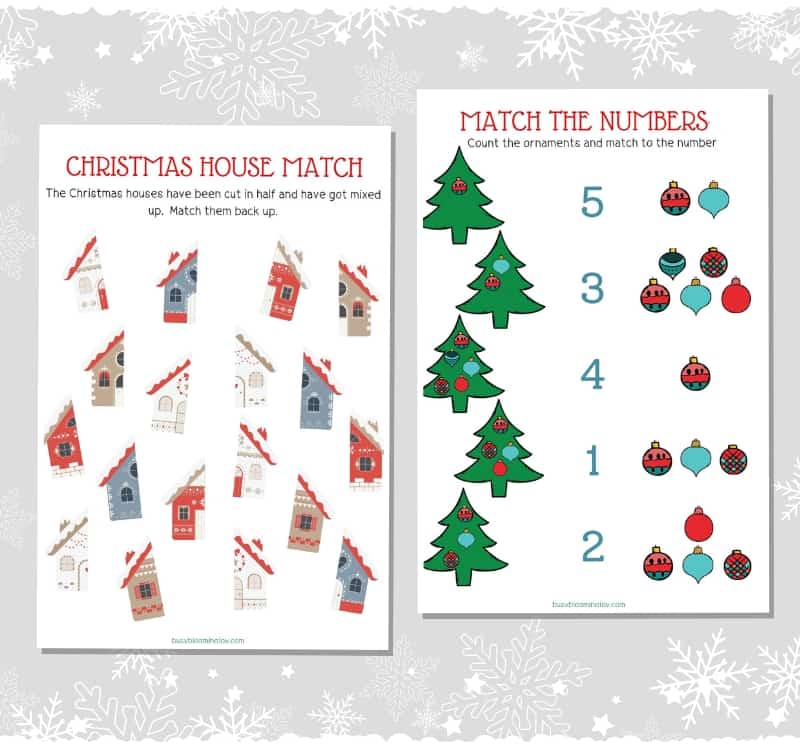 Activies for fine motor control
Tracing lines and connect the dots are a good for developing fine motor skills. And far more fun if they're themed with bright colorful images, like these printable Christmas worksheets. Then they won't feel like work!
Little ones must connect one naughty little elf to the other, along the wobbly and zigzag dotted lines.
Mazes are also a firm favorite with kids of all ages too.
Help Santa get down the chimney, through the house and out the door to find his reindeer!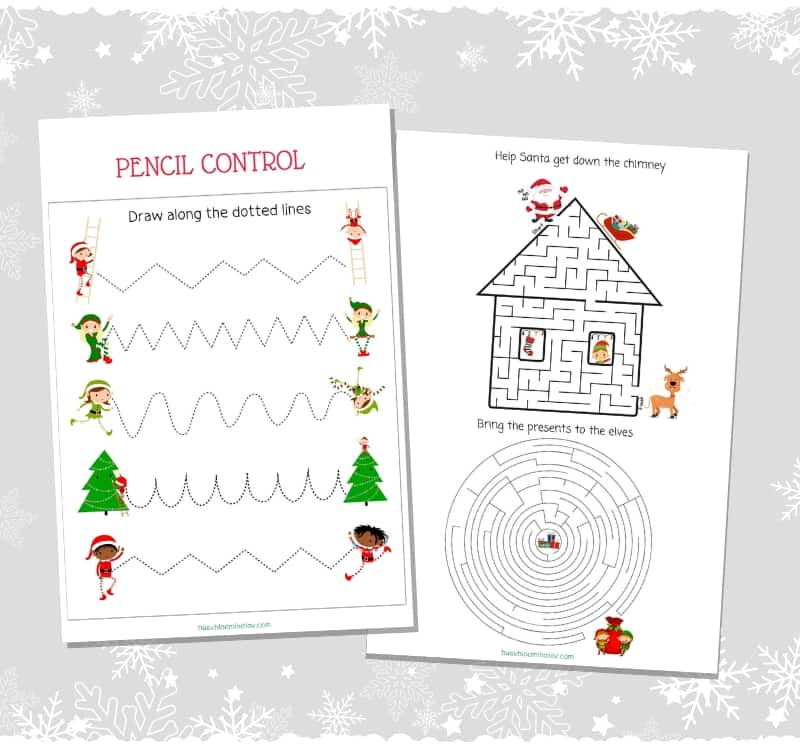 There's plenty of chance to get creative in the Christmas activity booklet printable. Once they've joined the dots, Santa will need to be colored in!
Kids will enjoy decorating the Christmas tree with sharpies, pencils or stickers. They'll probably want to add glitter too, but if you want to keep the mess down, lock it away!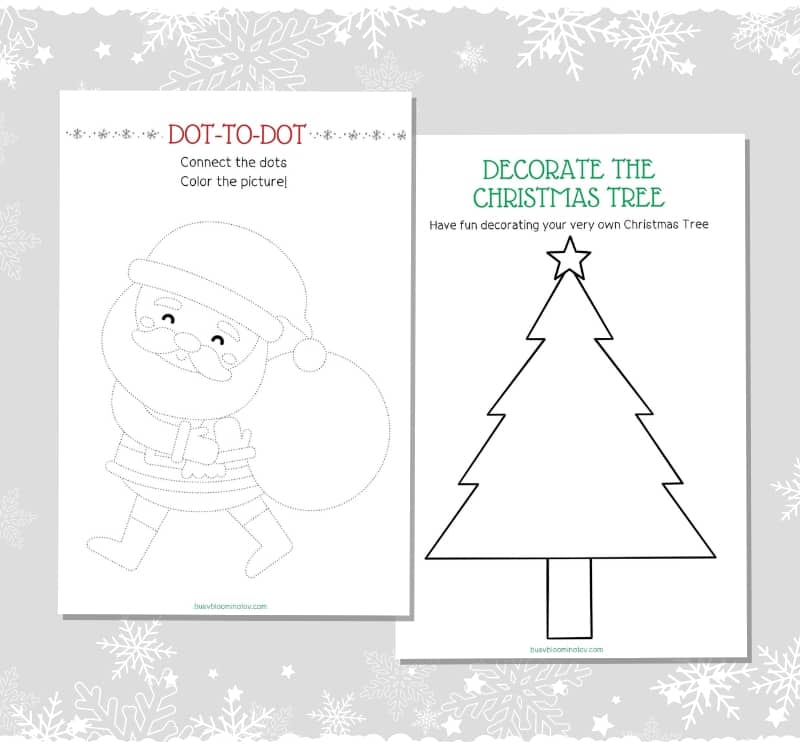 Coloring activity pages
If you're kids are into coloring, they're going to love this Christmas activity booklet printable. As well as the connect the dot coloring, there are two printable Christmas coloring pages. Plus, there's the cover page which needs some color adding.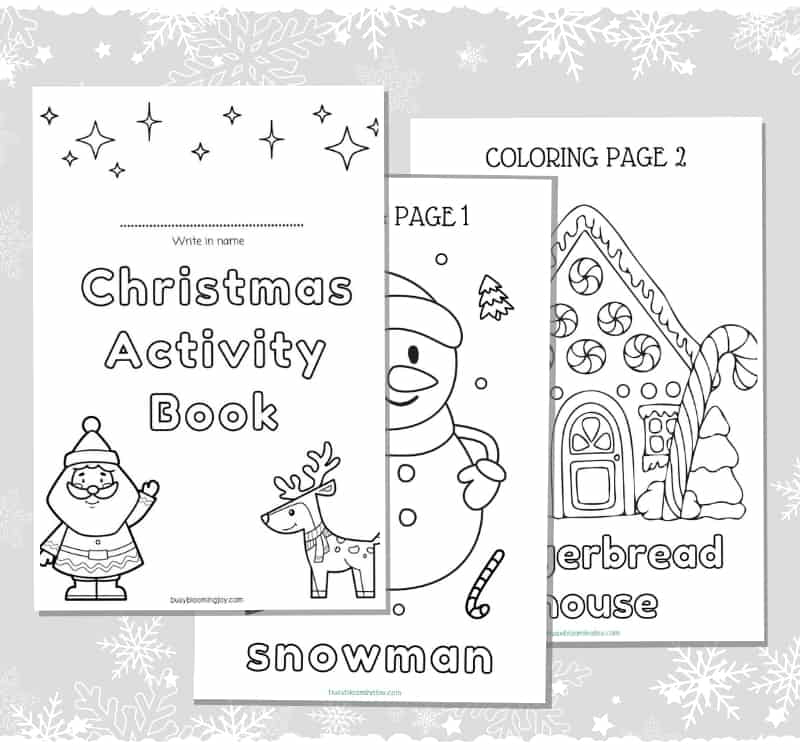 Christmas I-Spy activities
More colorful holiday fun with another printable activity that works on visual descrimination and attention to detail. For these Christmas I-Spy printable worksheets, counting is involved too. Good for those starting out on their mathematical journey.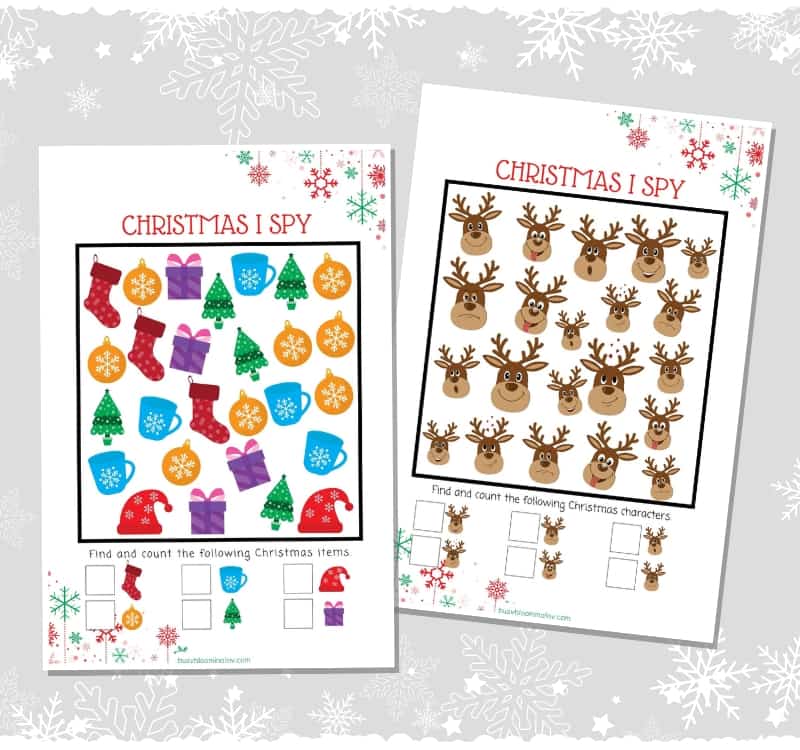 Word games
There are some fun activities in the activity booklet printable pack for more confident readers too. A Christmas word search for the festive season as well as a special message code breaker.
What tricky tongue twisters have those naughty little elves and his friends made up this time?!
(There's no answer key – I reckon even after a glass of wine or two, there will be a parent around that can figure it out!)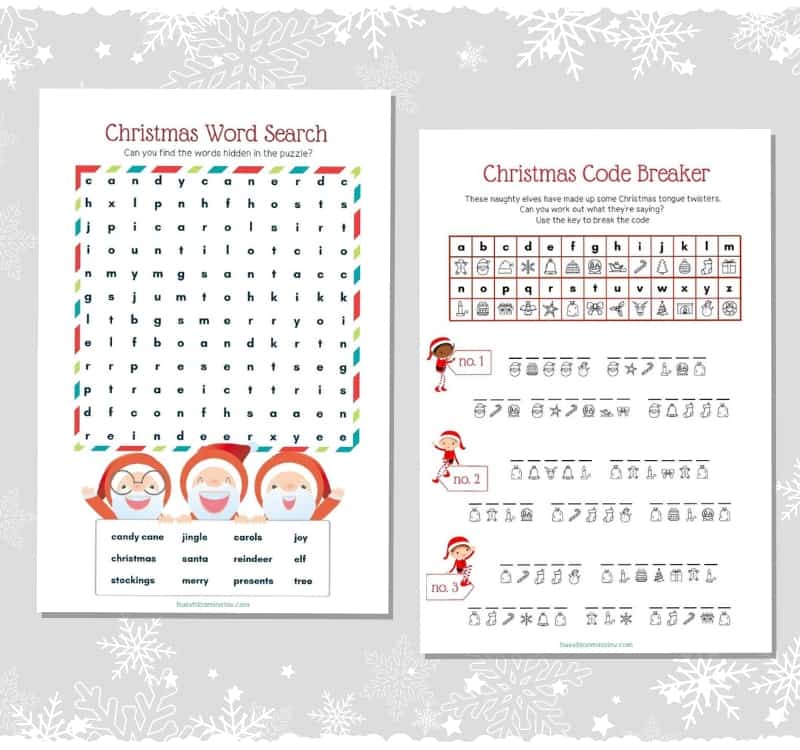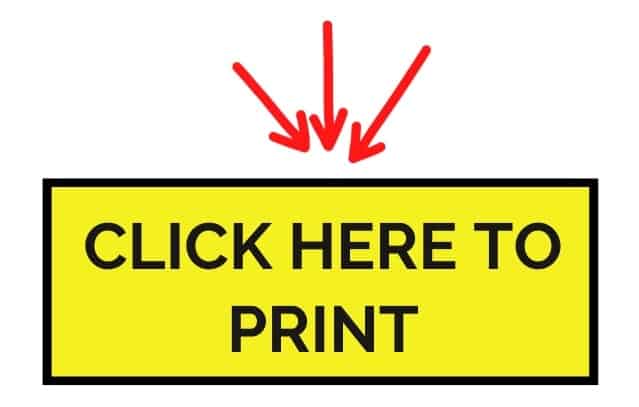 For fun festive crafts with little ones try these:
Ready to download your no-prep free printable Christmas activity book?
If you're looking for a holiday boredom buster and want to avoid too much tablet time while taking a break from the holiday festivities, this Christmas activity booklet printable has your name on it!
These free Christmas printables are a fun way to keep the kids busy and give you a little peace in the long wait for Christmas day.
They'll be a great resource for out and about too. This booklet will make the perfect travel activity this Christmas time.
Now you've got the kids sorted, what about some festive games to enjoy with the whole family? Be sure to check out our Christmas Light Scavenger Hunt Free Printables. Or how about a spot of holiday bingo?
Enjoy and merry Christmas!
Looking for more FREE seasonal printables for the holiday season? Try these:
FAQS on the free Christmas activity booklet printable
How Do I Print a PDF?
You'll need a program that supports PDFs, such as Adobe Acrobat.
Open the PDF by double-clicking the link.
You should see a "Print" button either under the "File" menu or in the toolbar. Click on it.
A print dialog box will appear. Select the correct printer and adjust the page range to the individual pages you want.
Once you've reviewed the print settings click "Print" to start printing.
Can I resell the Christmas activity booklet printable PDF?
You cannot sell any of the printables found on Busy Blooming Joy. You may use them for your own personal use, whether that's at home or at school. You can print them off multiple times but you can not sell them.
For more fun seasonal activities, try the following: