What better way for little ones to show their love for family and friends this Valentine's Day than some cute handprint art for toddlers?
Handprint crafts may be a little testing but are totally worth the blood, sweat and tears. Or should I say paint, dirty clothes and tears…
No really, they are worth i! Handprints add such a personal touch to any craft and make precious keepsakes too. There are plenty of toddler crafts I've made with my 4 little ones over the years that have had a few days or possible weeks on display. And then been swiftly dumped in the garbage. (Shhhh….)
But the handprint crafts will be treasured forever.
I hope you enjoy these toddler Valentines Day handprint art ideas. They're too gorgeous for words! They're also budget-friendly and use simple materials you probably already have at home.
Happy handprinting and happy Valentine's!
Valentine's flower handprint art crafts
I love freshly cut flowers. But they don't last and are expensive too. These flower handprint art ideas for toddlers to make will be around forever though. I don't know about you, but I'd love to get one of these handprint crafts this Valentine's day.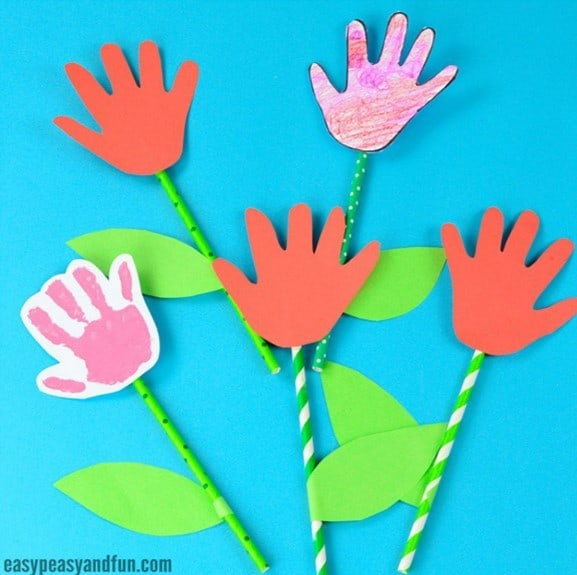 Toddler Valentines Day Handprint Art & Craft
Aren't these beautiful? A cute little handprint craft for toddlers to give out to friends and teachers this Valentine's day. They could write a sweet note on the back too.
Cutest handprint flower crafts from easypeasyandfun.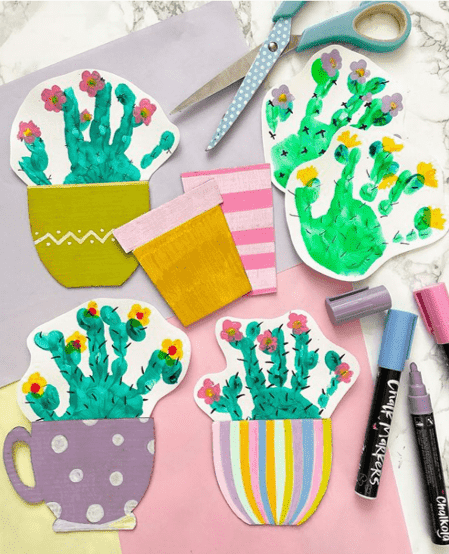 Cactus Toddler Handprint Art Idea
Rather than a flower, why not try some handprint cactus art with your toddler this Valentine's day? Oh, and don't forget to add a note like "Hug Me" or "I'm Totally Stuck on You". That's sure to get a giggle!
Cactus handprint art from raising_5.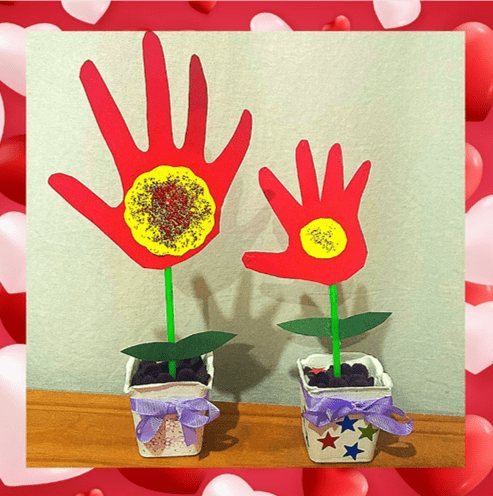 Handprint Flower Craft for Toddlers this Valentine's
How about putting your little one's handprint flower in a real pot? Don't worry, it's not real soil, but pompoms on top of rice, to give the base stability. It won't grow (of course!) but this toddler Valentine's day handprint art will be a wonderful remembrance of your little one's love for someone special.
Handprint flower craft from mummyto_2.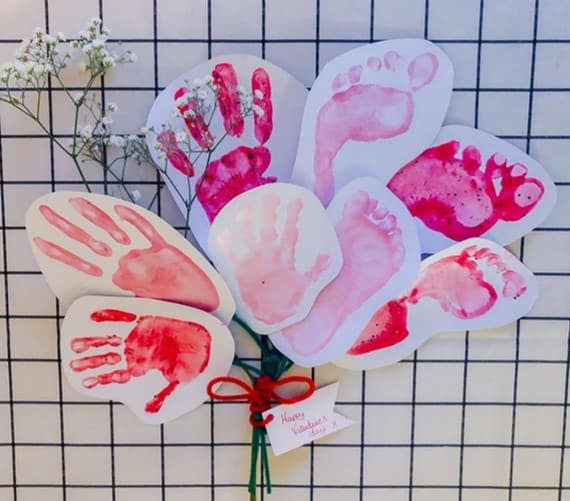 Toddler Valentine's Day Handprint (and Footprint) Bouquet
Here's a much easier way to do try some toddler handprint art ideas this Valentine's. Instead of cutting around each finger, cut a much larger area. This'll halve the time it takes and means you can create a huge bouquet of hand and footprint flowers.
Your toddler can also help with the cutting if they wish. What a gorgeous handprint art idea for Valentine's.
Valentine's day handprint and footprint bouquet from hayleyhiggins.
Sunflower Handprint Card Idea
How about a toddler-made sunflower handprint card this Valentine's? I love the message too. This one would certainly brighten up my day. What about you?
Handprint Sunflower art from play_discover_and_learn.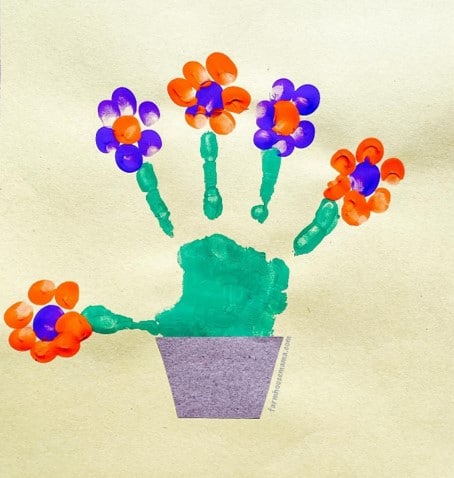 Flower Handprint Flower Art for Toddlers
Here's a different way to make a flower with your toddlers handprint. Each finger becomes a flower, just add the flower head once the handprint is complete.
Experiment with different colors and create some bright and beautiful toddler Valentine's Day handprint art.
Handprint flower art craft from farmhouse_mama_blog.
Toddler Handprint Art Ideas For Valentine's
Here are some cute handprint art projects to make with your toddler this Valentine's. Give them as gifts to loved ones or simply put them on display at home. There are so many gorgeous toddler handprint art ideas here to try this Valentine's.
Family Handprint Collage For Valentine's Day
Here's a gorgeous Valentine's Day handprint art idea for all the family to join in. And such a beautiful way to capture a moment in time, when your toddler's handprint was small enough to fit into your palm.
Family handprint collage from hilderhouse.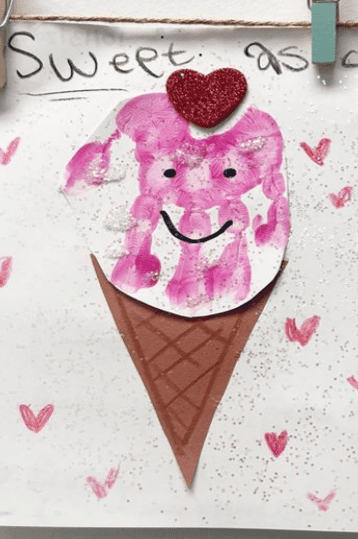 Ice Cream Handprint Art Craft
All kids love eating ice cream all year round. Day! So they're sure to love making this handprint craft this Valentine's Day. Use a glittery heart sticker for the cherry to complete the look.
Ice cream handprint art from craftswithmissjenna.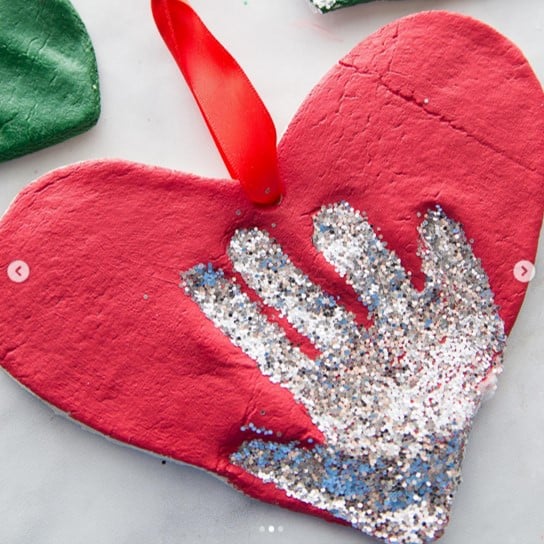 Salt Dough Handprint Heart Ornament
Here's another salt dough handprint art project, with glitter! Because glitter makes everything perfect, right? A cute toddler Valentine's Day handprint art project that'll look gorgeous on display at home. Bonus, you can also hang it on the Christmas tree!
Salt dough handprint heart ornament from bestideasforkids.
Toddler Valentine's Handprint Card Ideas
Are you planning to give out sweet homemade card this love season? Take a look at these toddler Valentine's Day handprint art ideas. Receiving one of these adorable cards decorated with a sweet handprint is sure to melt someone's heart.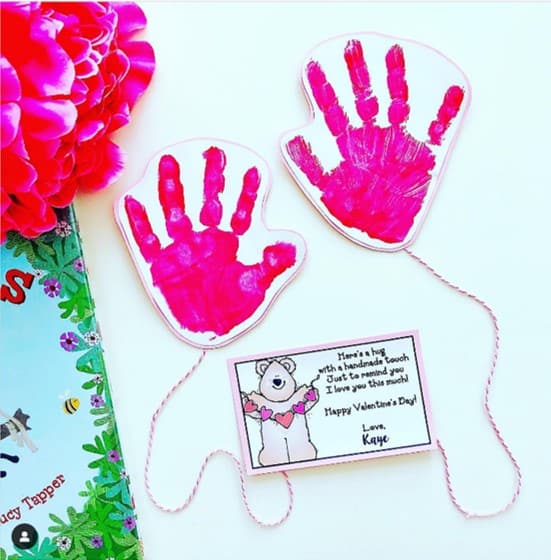 Handprint Hug with Note Card
Here's another gorgeous handprint art project for toddlers to make this Valentine's Day. What better way for your toddler to show someone how much they're loved. Young kids will be so excited to give this to someone special this Valentine's.
Handprint hug from little.miss.kaye.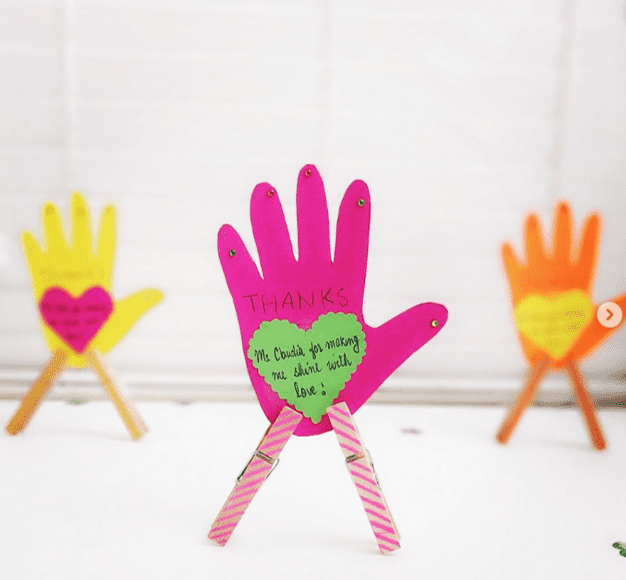 Handprint Note Card For Valentine's
How about sending cute handprint note cards out this Valentine's Day? A lovely card for Grandparents perhaps? Your toddler might need to dictate there message to you but this will be a fun toddler Valentine's handprint card idea to try,
Handprint note card from thejoysharing.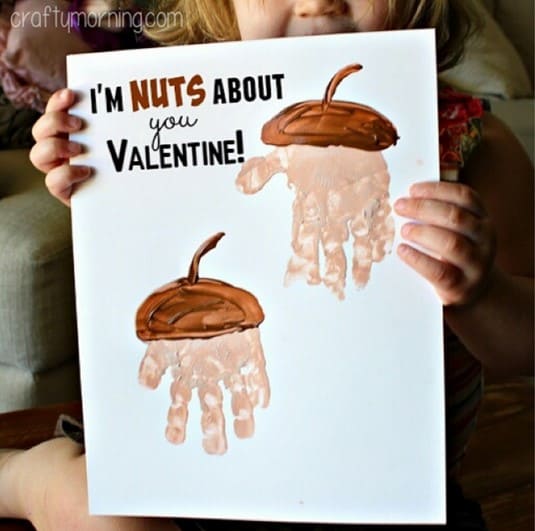 Nuts About You Valentine's Handprint Card
This toddler Valentine's Day handprint art idea may seem a little nuts… because it is! A cute handprint card that's not too tricky. Paint your toddler's hands brown, then print them onto white cardstock. Then paint the acorn hats to finish.
Nuts about you Valentine's handprint card from crafty_morning.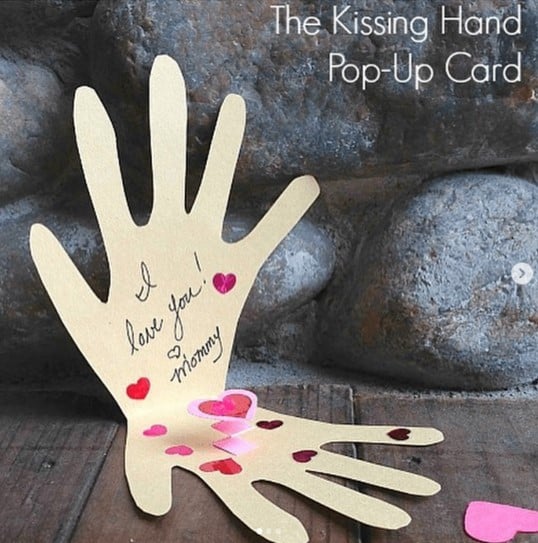 The Kissing Handprint Pop-Up Card
This toddler Valentine's handprint card idea was inspired by the storybook "The Kissing Hand". It has an accordion-folded strip of paper that displays a heart that pops up when the card is opened.
If you've read the book with your toddler, this'll be a great little handprint art idea to try with your toddler.
The kissing Hand pop-up card from buggyandbuddy.
Toddler Handprint Love Bugs & Other Animal Art Ideas For Valentine's Day
Who said Valentine's Day crafts have to be all hearts and flowers? They can be sweet little bugs or adorable animals too! Check out this list of cute and easy toddler Valentine's Day handprint art ideas that could also be made into cards too.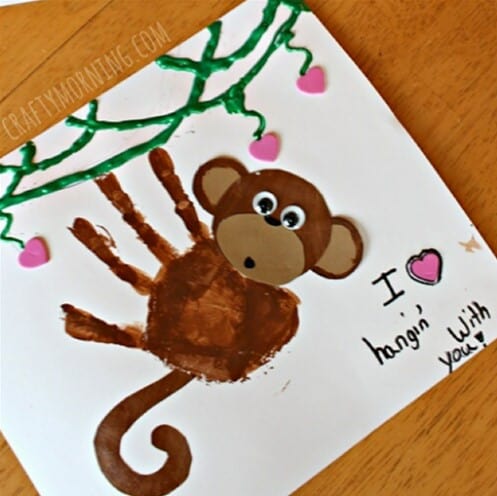 Toddler Monkey Handprint Craft
Here's the perfect toddler Valentine's handprint card idea for a cheeky monkey to make! I love the little message too – perfect for a loved on this Valentine's.
Handprint monkey valentine craft from crafty_morning.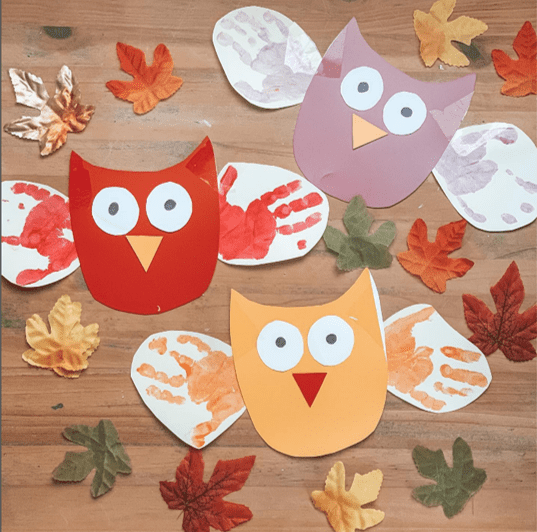 Owl Handprint Craft & Art For Toddlers
"Owl Always Love You"! Construction paper wings, printed with your toddler's handprints and you have a cute owl. Write a message on the back and your toddler will make someone's Valentine's Day very special. Such an adorable handprint art idea for toddlers.
Owl handprint craft from craftmonsterz.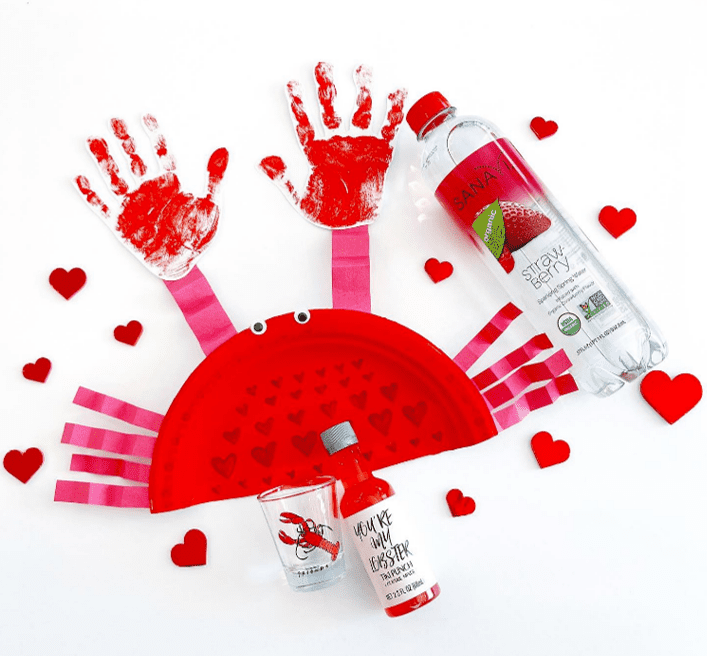 "You're My Lobster" Handprint Craft
If you're a fan of the TV show "Friends", you'll enjoy doing this Valentine's Day handprint art with your toddler. All you need are some basic crafting supplies: a paper plate, red paint and some googly eyes. And, of course, your toddler's hands.
Lobster handprint craft from theottawamama.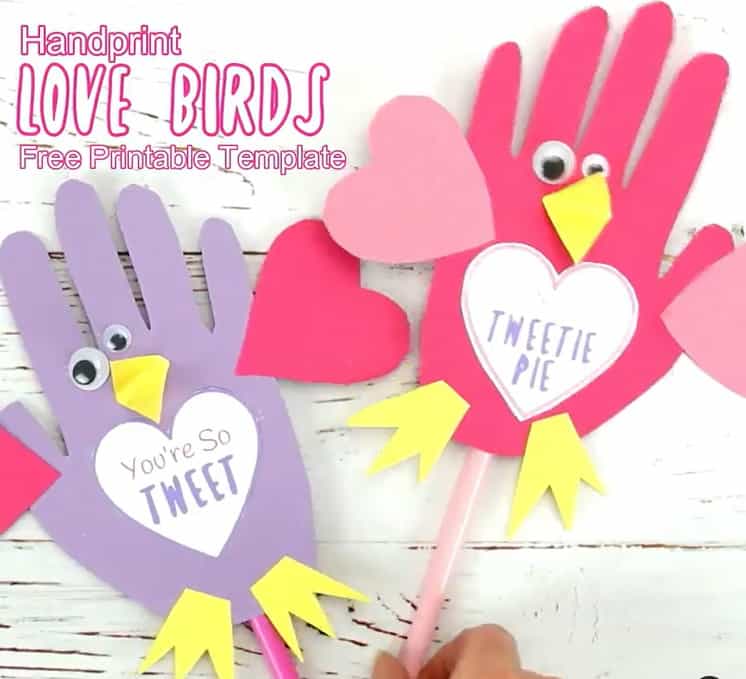 Handprint Love Birds Valentine's Art Idea
No doubt your kids will love trying this handprint art idea this Valentine's Day. Add a paper straw or craft stick and turn the love bird into a puppet. Your toddler is sure to love playing with them.
Handprint love birds craft from kidscraftroom.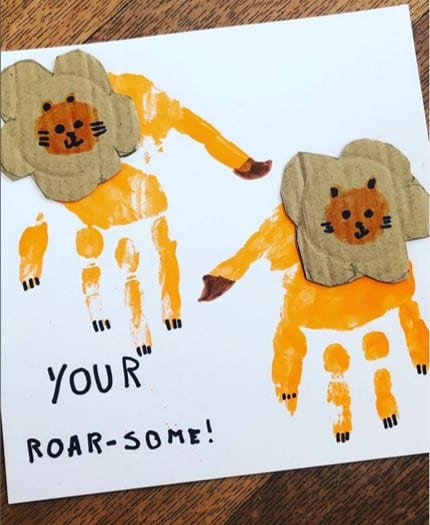 Toddler Handprint Lion Card Idea
Want to tell someone special that they're "Roar-some" or simply "A-Rawr-able"? Then try this toddler Valentine's handprint card idea. It'd be perfect for Father's Day or Mother's Day too.
Handprint lion card from ourtripswithtwo.
Toddler Valentines Day Handprint Art
I hope you're enjoyed these toddler handprint arts and craft ideas for Valentine's. They're perfect for little ones but older kids would enjoy them too.
From handprint card ideas to gifts and Valentine's Day-themed decor, they're are so many to choose from. Time to gather your supplies and get stuck in!
Looking for more Valentine's Day craft inspiration? Check out:
What about Mother's and Father's Day?
Here are some fun and easy toddler activities for indoors and out check:
Easter is just around the corner: