Inside: a bumper list of toddler lunch ideas for 1 year olds and older to make midday meals a breeze!
We all want our toddlers to eat well and to eat healthily, but when we are busy it can be difficult! No sooner have you cleared up breakfast, it's on to the next meal…
Help! What can I give my toddler for lunch?!
If you're all out of ideas, fear not! This list of 65 toddler lunch ideas for 1 year olds and above, is here to save your day. It will inspire, help you save time, and hopefully satisfy even the fussiest eaters.
You'll find plenty of toddler lunch ideas for picky eaters, cook ahead freezer friendly options, plus several no cook meals and cold lunch ideas.
If your little one has few or no teeth or is teething and is sore, there's a whole section of lunch ideas for a 1 year old with no teeth.
Most of these toddler lunch ideas for 1 year olds are in fact suitable and tasy enough for the whole family. They're also ideal lunch ideas, easily packed into a lunch box or snack pot for daycare or trips away from home.
This post may contain affiliate links. If you click on one and make a purchase, we may receive a commission at no extra cost to you.
What can a 1 year old have for lunch?
Ideally, your child should be getting a good variety of foods so for each meal try to offer a good split of fruit and veggies, protein, complex carbs, and a healthy source of fat.
Food for a 1 year old should still be soft and easy to manage. Most will have a few teeth by now but they are still learning the art of chewing.
You'll know your child's capabilities and how small they need food cut or how mashed it should be. Remember to avoid anything that could be a potential choking hazard, such as large pieces of fruit.
By the age of 1, your little one will be beginning to master the pincer grip, so it is a great time to introduce finger foods if you have not done so already.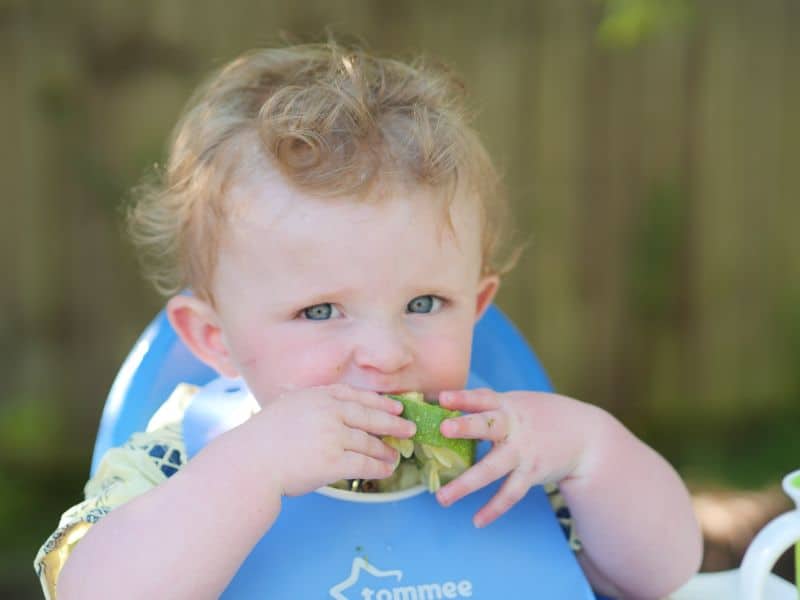 How much should my toddler eat?
On average a 1 year old should be consuming around 1000 calories a day, but this will vary depending on your toddler's size, build, and activity levels.
The American Academy of Pediatrics has a super useful guide on portion size and how much your toddler should be consuming per day.
Around the age of one, a child's growth slows therefore they don't need nearly as many calories as in the first 12 months.
And try not to worry if on some days whole meals are completely rejected. Keep an eye on the bigger picture, your child may have hungry days and days that they don't fancy much.
Tips for Serving Toddler Meals
The thought of coming up with something different every day to satisfy a toddler can be overwhelming. It is not surprising therefore that so many of us just default to what we know our children will eat.
I know that disheartening feeling when a meal you have spent ages preparing is just shoved across the table and not even tried!
(This happened to me earlier today 🙂 With one of the recipes on this list… I won't tell you which but I will tell you that it was totally delicious and I'll be trying it again, as per the second tip below…)
Here are some tips on how to handle the disappointment of rejected food and encourage healthy eating habits.
Offer a Variety of Healthy Foods
It's important to introduce your child to a good variety of food, not only with different nutritional benefits, but also textures and flavors.
Don't be Put Off if a Food or Recipe is Rejected
Don't stop offering something just because it has been rejected. It can take a while for a child to develop a taste for something so offer it on several different occasions.
Serve it in small amounts and do not put too much pressure on to eat it. Simply having it on the plate is a good start and the time will come when your toddler picks it up and eats it.
Ensure there is Always a 'Safe' Food
Always put something on the plate that you know your toddler will want to eat.
That way you know there is something they will eat, and hopefully it will encourage them to try the things on the plate that they are not so sure about.
Try and Offer the Same as the Rest of the Family
For your own sanity, try to offer your toddler where possible, the same as the rest of the family.
Of course, this may need to be adjusted to suit, but life will be a lot easier if you only have to cook one meal for everyone. It is also a great way to introduce your toddler to different foods and discourages pickiness.
Eat Together When Possible
I know it is not always possible to eat together as a family, but even if you manage
just
one meal a week, this can
really
encourage your toddler to eat well and try new things
.
Let Them Get Messy!
Toddlers are messy little beings and this is especially true when it comes to eating. Frustrating that it may be, try to see the mess as a part of their
healthy development
.
They're experimenting with flavors, when eating, but also with the textures of new foods as they navigate holding items and putting them into their mouth.
This is a great
sensory experience
for them and, while you don't actively want to encourage the mess, try to refrain from intervening and insisting on too much tidiness.
Stick To 'Safe' Meal Ideas When Your Toddler is Tired
If your toddler woke too early in the morning and is really tired by lunchtime, avoid trying new and different meal ideas. The same goes if they didn't nap well and/or are ill. These are the times to stick to tried and tested favorites.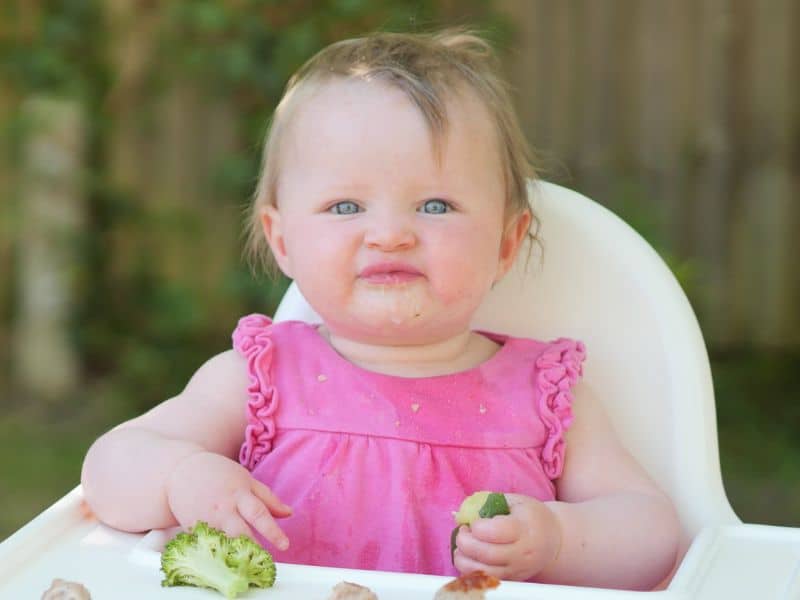 Tips for Making Easy Toddler Recipes
Life with small children is busy and tiring, especially if you're baby is still waking at night. Sometimes it can be difficult to find just 10 minutes in the day!
Here are some tips
to make feeding your toddler easier and less time-consuming
.
Freezer Friendly
Batch cooking will make your life so much easier!
If you are making a pasta sauce for example, make a whole batch of it and freeze what is not eaten in individual portion sizes.
On a busy time when you have no time to cook, take one out of the freezer, defrost and heat up. You have a quick and easy nutritious meal ready for your little one in no time.
Make Once, Serve Again
Some dishes may not be suitable for freezing however will be perfect for leftovers for the next day or two.
Most food will keep in the fridge for a couple of days so all you need to do is reheat and you have a meal ready to go.
Include Plenty Of Finger Food Options
Giving your toddler finger food gives them control over what and how much they eat. This is important to help your 1 year old develop independent and healthy eating habits.
There are plenty of easy toddler lunch ideas for 1 year olds included below that are ideal for little hands.
Quick Toddler Meals
Have a handful of quick and easy recipes or ideas to hand for when you have a hungry toddler who needed to eat 5 minutes ago!
I find if I have a tub of hummus, some cheese, bread or bagels, and some fresh fruit in the house, I can quickly pull something together that my toddler will love.
Healthy Toddler Lunch Ideas for 1 Year Olds
Below I have compiled a list of some of my favorite recipes for 1 year olds and above.
For me, it's all about keeping it as simple as possible whilst providing a nutritious and varied diet.
I've included some of my favorite recipes which I regularly use at home.
There are inspired and/or adapted over the years, from my favorite toddler recipe books and sites. Or have come from friends and family.
All the lunch ideas are healthy and nutritious, often packing in veggies that your toddler won't see or be able to taste!
You'll find easy one-pot meals, freezer-friendly dishes, no-cook lunches as well as some for the pickiest of eaters, which is where we'll start…
Toddler Lunch Ideas for PICKY EATERS
It can be difficult coming up with toddler lunch ideas for picky eaters, and especially tricky to ensure they have a well balanced, and healthy diet.
Mine haven't been particularly picky, but I'd hardly describe them as adventurous either when it comes to new tastes and textures. Vegetables are normally an issue when it comes to pickiness.
But even if your toddler loves their veg, it can be hard to come up with new and different ways to offer them.
Here are a some ideas for delicious midday meals packed full of veggies and nutrients that even the fussiest of eaters will (hopefully) love.
These toddler lunch ideas for picky eaters have been selected for their simple and familiar flavors and textures – hiding all sorts of healthy things they'd otherwise reject!
These recipes are also a perfect way to pack even more veg into the braver 1 year olds out there.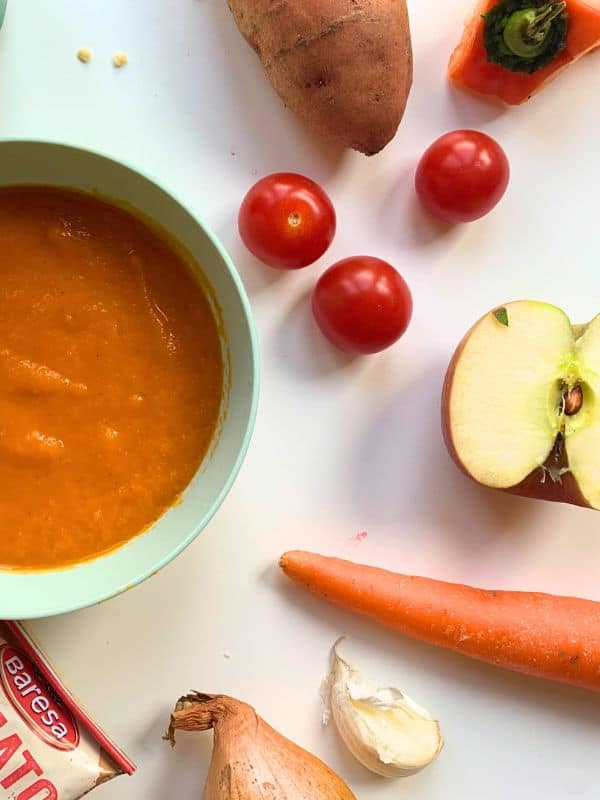 1. Red Soup
As toddlers, my older kids nicknamed this soup "red soup". The sweet potatoes, red bell peppers and tinned tomatoes mean it's a very vibrant orangey red!
It's a similar color to the infamous Heniz tomato soup and tastes pretty similar too. But is way healthier.
Ingredients:
1-2 tblsp olive oil or butter
400g sweet potatoes chopped
1 red bell pepper chopped
2 tins of tomatoes
2 tblsp tomato puree
600 ml veg stock
Method:
Cook the onion until soft before adding the rest of the ingredients
Simmer for 20-30 minutes until the vegetables are cooked through
Blend to a smooth consistency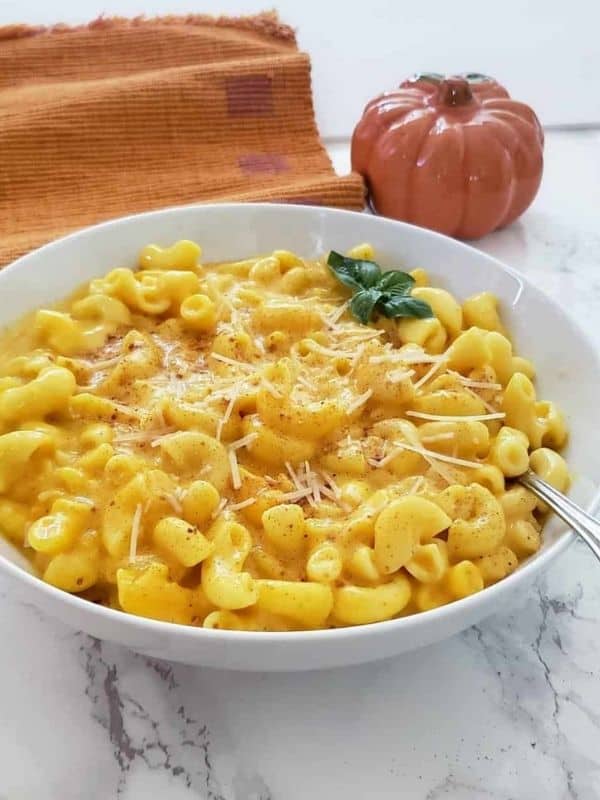 2. Butternut Squash Mac N' Cheese
The creaminess and comfort of mac and cheese, with the additition of a healthy and nutritious vegetable.
Butternut squash is a brilliant source of Vitamin A and C, as well as being full of fibre. But if you have a picky eater on your hands, you may struggle to get them to eat butternut as is.
This simple toddler lunch idea for 1 year olds is the perfect way to sneak butternut squash into your children's diet, without them knowing. It's delicious and perfect for a pasta-loving picky eater!
It's also great to cook with as it adds a smoothness and butteryness to dishes when blended.
Ingredients:
1 medium butternut squash
2 cups of macaroni
200ml whole milk
1 cup grated cheddar cheese
1 tbsp butter
Method:
Cut the butternut squash in half length ways, scoop out the seeds and place on a baking tray

Bake for about half an hour, until the flesh is soft

Whilst the butternut squash is cooking, cook the pasta as per the packet instructions.

Once the butternut squash

is cooked

, scoop out the flesh and blend it in a food processor or blender

Add milk, butter, and cheese and combine until you have a sauce consistency. If it seems a little thick, add more milk

Drain the pasta, add to the sauce and serve
Tip: This recipe will make enough sauce to allow you to freeze some for a quick and easy meal when you are in a hurry.
If you want to shortcut the prep of baking the veg first, Profusion Curry has a similar recipe, that uses pumpkin puree. Their delicious Pumpkin Mac and Cheese recipe is also cooked in an Instant Pot, meaning it's not only quick to prep but will be ready in minutes.
An ideal toddler lunch idea for a hungry 1 year old.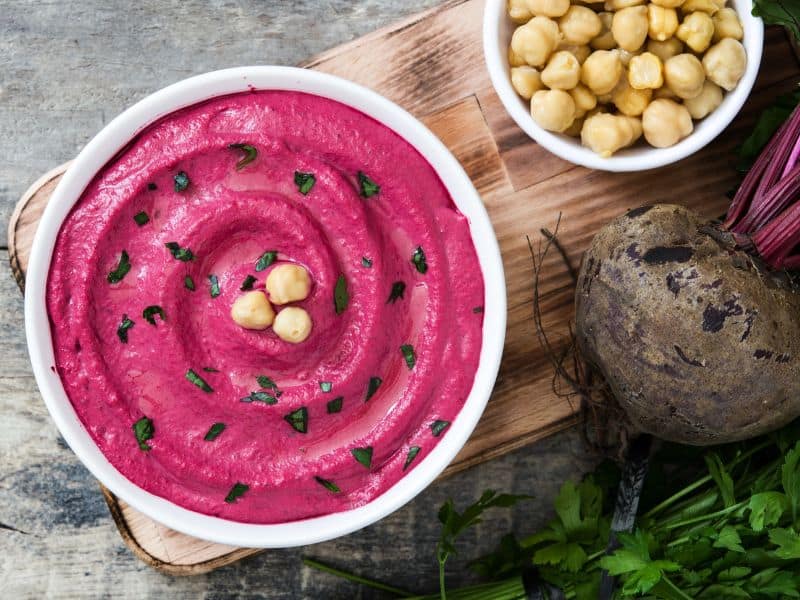 3. Beet Hummus
Toddlers love hummus – my kids would eat it with everything if they could! So why not boost the nutrients by adding beet, they'll love the color too!
Yummy Toddler Food has this really simple recipe for Homemade Beet Hummus. If you're short of time however, you could just mix cooked and blended beets into store-bought hummus.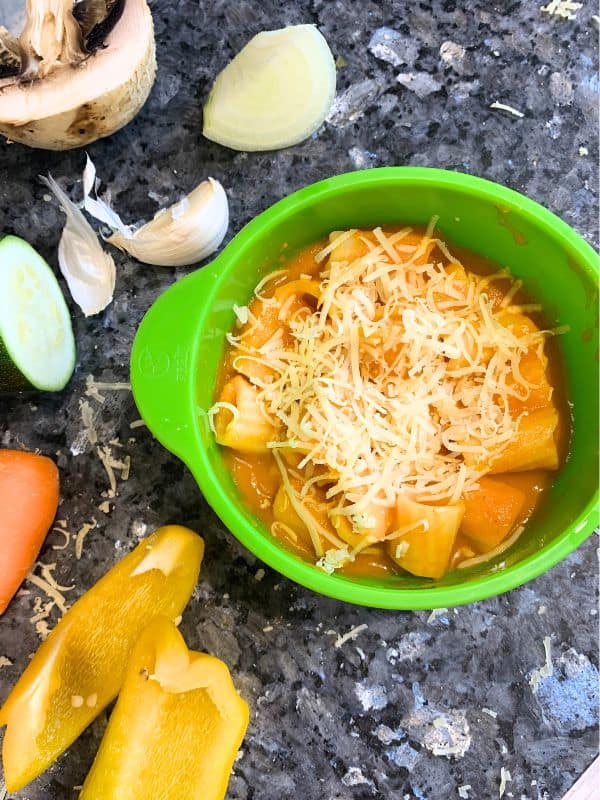 4. Hidden Veg Tomato Pasta
I always make sure I have a stash of homemade tomato sauce in the freezer. My kids love it and they have no idea how many veggies are hidden in it! Perfect to serve with pasta, as a meatball sauce, and even on a homemade pizza.
I like to use eggplant, zucchini, red pepper and carrot in mine, but really you could use whatever vegetables you have in the house.
The recipe below will make 1.5l of sauce. I like to use an ice tray to freeze the sauce after. Once frozen I move them to a freezer bag. This makes it easy to grab a few cubes at a time.
Ingredients:
Vegetables of your choice, chopped into small chunks (500-600g)
1 onion
2-3 cloves of garlic
1 tin of tomatoes
2-3 tblsp tomato puree
600 ml vegetable or chicken stock
1 tsp worcester sauce or balsamic vinegar
Method:
Cook the onion and garlic until soft before adding your vegetables
Cook for about 5 minutes until the vegetables are beginning to soften
Add the tinned tomatoes, tomato puree, vegetable stock and Worcestershire Sauce or balsamic vinegar
Leave to simmer until the liquids have reduced and you have a nice thick sauce
You can leave it chunky or blend, depending on your child's preference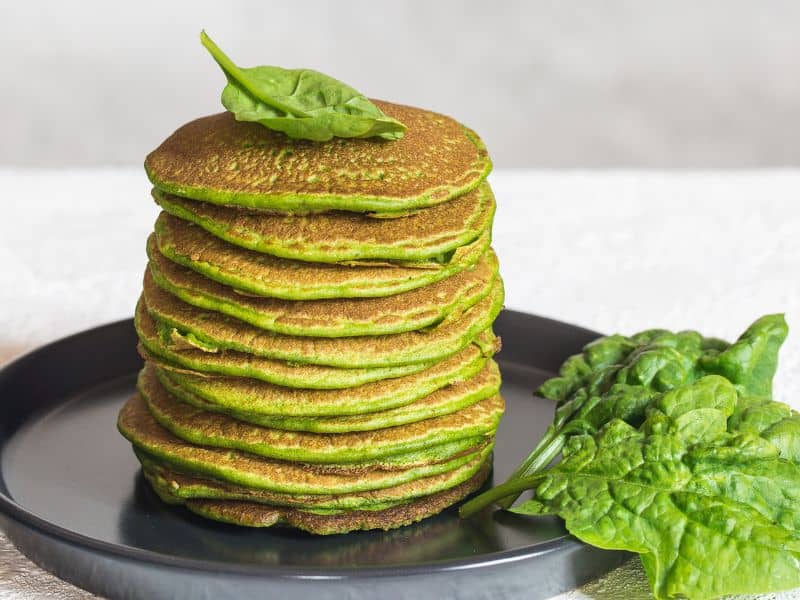 5. Spinach Pancakes
I don't know many children who don't like pancakes! In the Play Room has this genius recipe for Spinach Pancakes blending the spinach into the pancake batter.
This recipe fills the pancakes with mushrooms but for a picky eater, stick with a few favorites or leave plain.
Pancakes for lunch, what's not to love!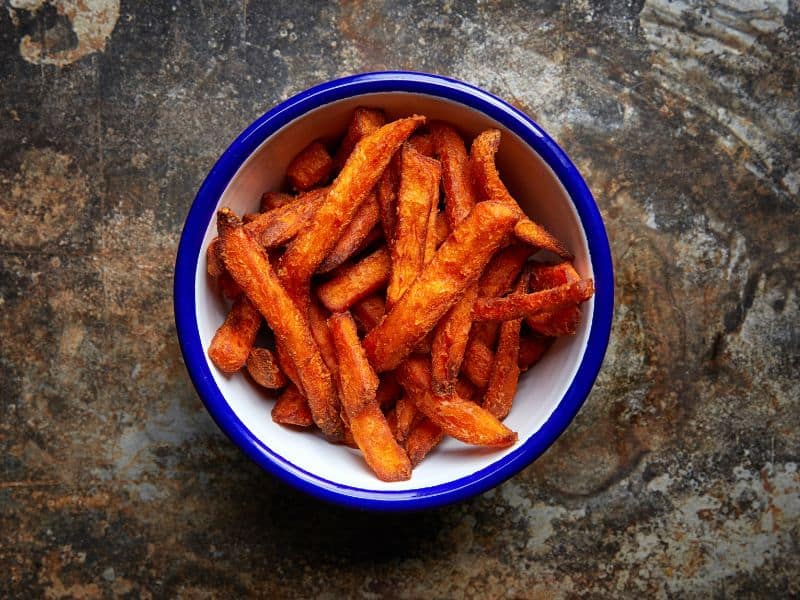 6. Sweet Potato Fries
The natural sweetness of sweet potatoes makes them a big hit with little ones. They are super healthy, and I find they go down best served as fries. There is something about fries that all children love and they're an ideal lunch idea for 1 year olds as they're easy to hold.
Chop your sweet potato into 1/2-inch thick pieces, approximately finger size. I keep the skin on mine, but if you think your toddler would prefer them without, you can peel them first.
Place on a baking tray, pour over olive oil and mix to ensure they are fully covered.
Bake in the oven for approximately 20-25 minutes, giving them a stir halfway through. They are cooked when they are golden brown on the outside, and you can slide a knife or a fork into them easily.
7. Peanut Butter Hummus
If your picker eater is a peanut butter fan then this one is for you.
This
Kid-friendly Peanut Butter Hummus Recipe
by The Spruce Eats
combines the delicious flavor of peanut butter with high-in nutrients chickpeas
.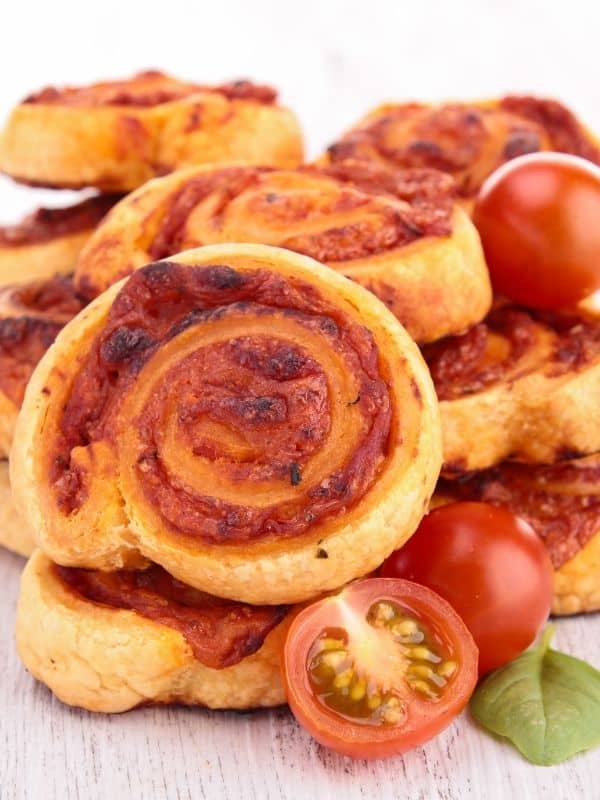 8. Pizza Pinwheels
Delicious pizza pinwheels are a favorite food in our house and are another great way to get some hidden veggies into your 1 year old.
This recipe uses my tomato sauce, see recipe above at number 8, which I pack full of vegetables.
Ingredients:
Pizza dough (homemade or store-bought, alernatively use puff pastry)
Homemade tomato sauce (see number X)
Cheese
Toppings of your choice
Method:
Roll out your pizza dough into a rectangle, ensuring you have an even thickness and shape
Spread tomato sauce over the dough. Next, add the cheese and toppings of your choice.

Sweetcorn and ham are our favorites, but this is also a great opportunity to get even more veggies in there with peppers, mushrooms, spinach etc

Roll up your dough, as tightly as possible and then slice into even slices
Place your pinwheels onto a lined baking tray, sprinkle some more cheese on top, and bake in the oven until golden.
These will keep in the fridge for a few days and can be frozen after baking.
9. Easy Bolognese Packed with Vegetables
Bolognese is the perfect place to hide lots of wonderful vegetables and your toddler will be none the wiser! You can finely chop vegetables or if your toddler still tries to avoid them, grate them either by hand or in the food processor.
This minimal-effort Bolognese Recipe by MJ & Hungryman is delicious. It is so versatile that you can add whatever vegetables work for you, and make enough to serve throughout the week mixing up what you serve it with.
It will freeze well too.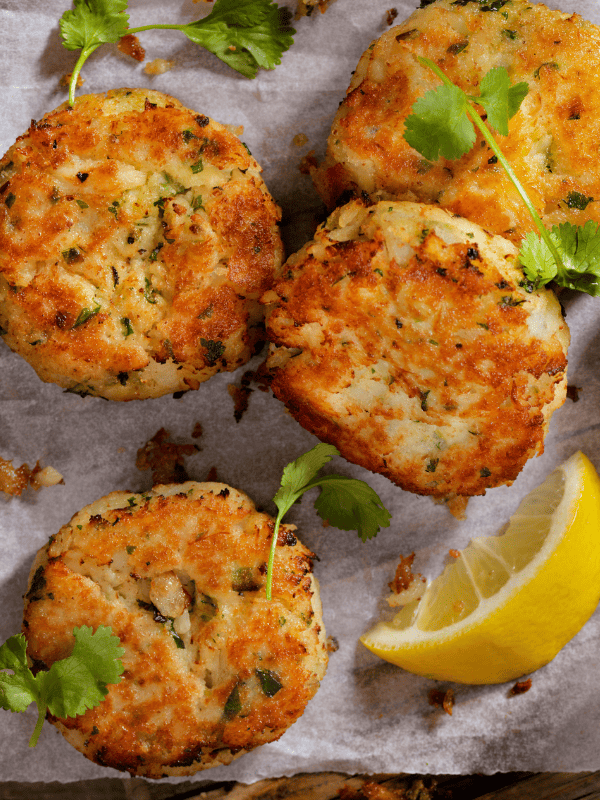 10. Fish Cakes
Your Kids Tables has a super simple fish cake recipe using cod. The texture is nice and soft and the flavor mild so these are brilliant for introducing fish to a pickier eater.
If your toddler is wary of bits, simply omit the parsley.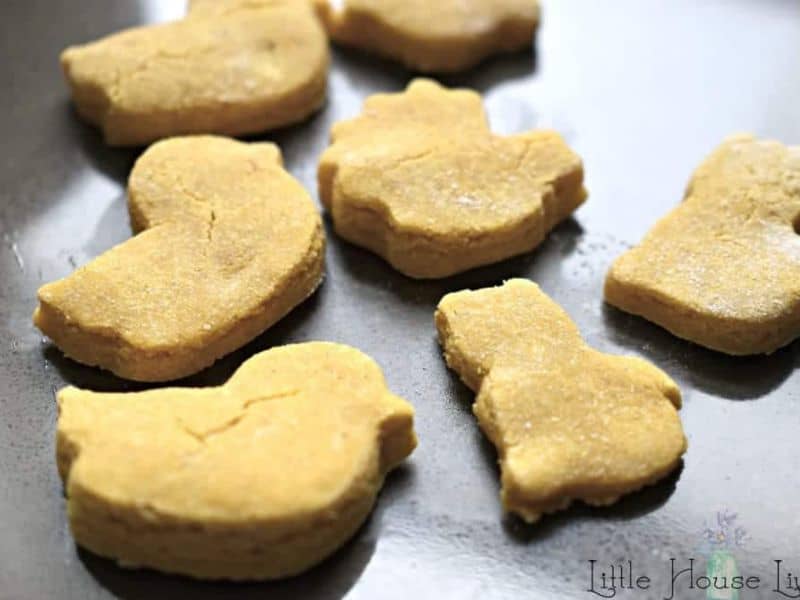 11. Soft Sweet Potato Crackers
Here's an ideal toddler lunch idea for picky eaters that like cookies and treats. These sweet potato crackers are soft, so easy to manage for little ones still with few teeth, no teeth or those that are teething.
If you don't have any sweet potato to hand, you can substitute it with butternut squash or pumpkin.
What a great way to get some nuritious veggies into a non-veg eater!
12. Banana and Blueberry Fritters
These fritters are so easy to make, and are a great way to get some fruit into a non-fruit lover. With just 3 ingredients, they can be whipped up super quickly.
Ingredients:
2 ripe bananas (the riper the better for natural sweetness)
1/4 cup of plain flour
A handful of blueberries
Method:
Mash up the bananas then add the flour and blueberries, stirring well until combined
Heat a drop of oil, I like to use coconut oil, in a non-stick frying pan
Drop in a spoonful of the batter mix, one at a time, and cook until browned on both sides
FREEZER-FRIENDLY Toddler Lunch Ideas for 1 Year Olds
I love having the freezer full of easy meal options for my toddler. Things I can quickly defrost and throw in the oven, or have on the table in minutes.
Soups and pasta sauces (coming up later) are ideal for the freezer – I always have a one or two of each stashed away for a quick dinner or lunch option.
There are plenty of finger food options suitable for freezing too. I like to have these on hand, so I can offer my kids healthy and varied alternatives to sandwhiches, dips and crackers, without the need to cook.
These freezer-friendly toddler lunch ideas for 1 year olds are ideal to pack into lunch boxes for daycare or trips out. Or can, of course, be used for quick and tasty lunches at home.
Cook them in large batches to keep you going for several months.
Several of these may taste better crispy and fresh out the oven, but don't worry about serving them cold for your 1 year old. Losing the crispness will make it easier for them to bite into and chew, particulary if they're lacking lots of teeth!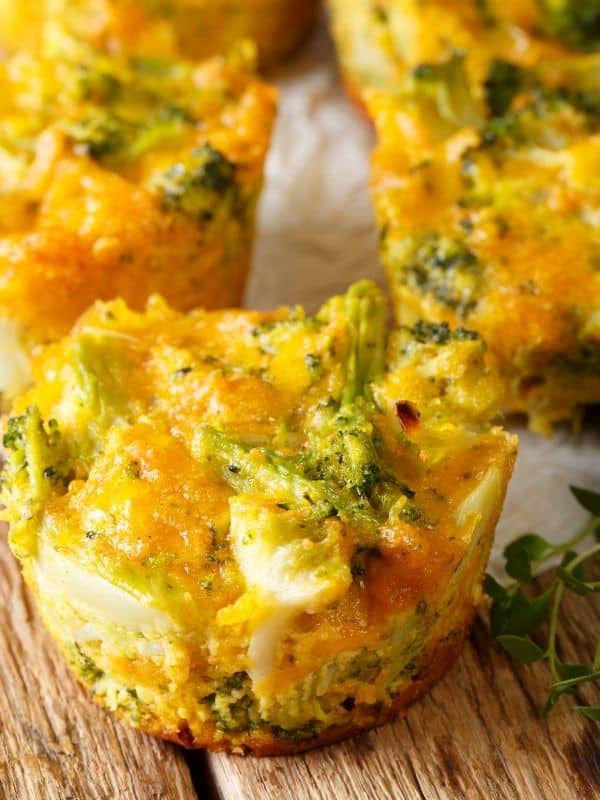 13. Broccoli Cheddar Bites
I was given this recipe by a friend when my eldest was around 1 year old and he demolished them! I've since found it a brilliant way to get vegetables into my pickiest eater (my second born).
I make a batch of them at a time and freeze them before baking. Then simply take them out of the freezer when you need, place on a baking tray and bake until golden brown (around 20-25 minutes), turning half way.
This recipe also works well with cauliflower or a combination of the two.
Ingredients:
1/2 head of broccoli
1 egg
1 cup grated cheese
3/4 cup of breadcrumbs
Method:
Blanch the broccoli for about 5 minutes before shocking it with cold water to stop the cooking process
Chop the broccoli up finely and mix with the egg, cheese and breadcrumbs
Press into small balls and then shape into cylinders
Place on a baking tray and baking for 18-25 minutes, turning halfway, until golden brown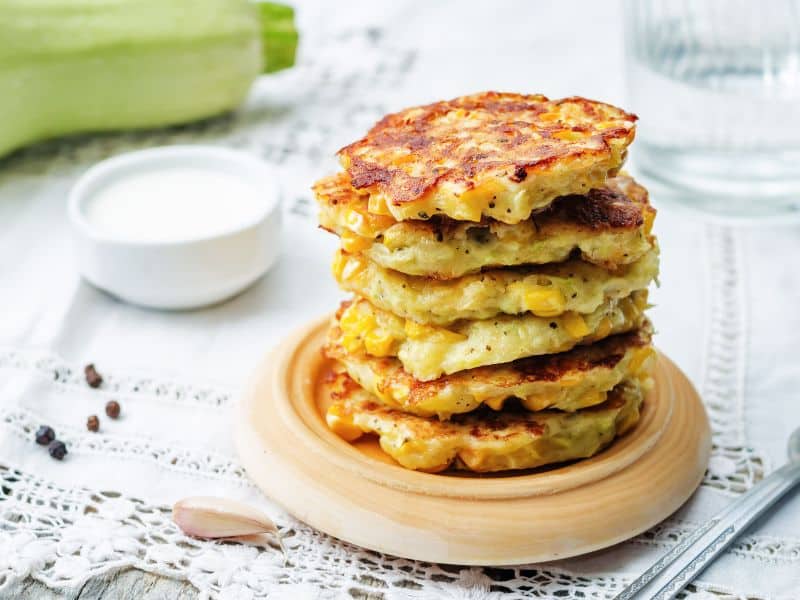 14. Corn Fritters
Sweetcorn has always been a firm favorite in our household and these fritters go down well. They are a great way to introduce finger food, can be enjoyed on their own or with a healthy dip, and are super easy to make.
Ingredients:
150g frozen sweetcorn
1 egg
2 tbsp flour
Method:
Cook the frozen sweetcorn before placing it in a bowl
Add the egg and flour and mix until you have a batter
Heat a small amount of oil in a frying pan and spoon the batter into the pan creating small fritters
Cook for a couple of minutes on each side, flattening with a spatula as you turn them, until golden brown in color
Once fully cooled these can be frozen. Simply defrost and warmed up before eating.
This recipe can be adapted to introduce different vegetables, and they work well with cheese too.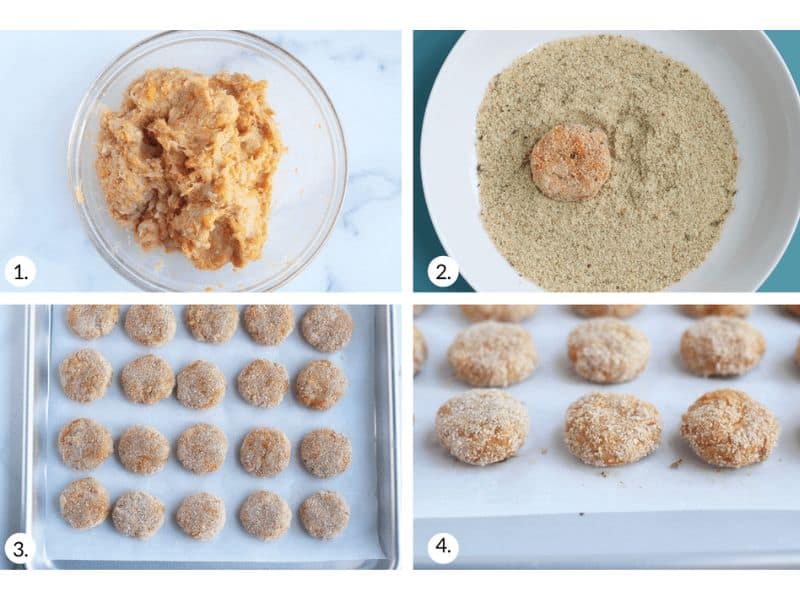 15. Homemade Chicken Nuggets
Chicken nuggets are always a hit with kids. This super easy Homemade chicken nugget recipe from Yummy Toddler Food is not only a great source of protein, but incorporates sweet potato too. An easy way to include a vegetable and adds to the flavor too.
This recipe uses ground chicken which is much easier for younger ones to manage, plus mashed sweet potato and breadcrumbs – super simple!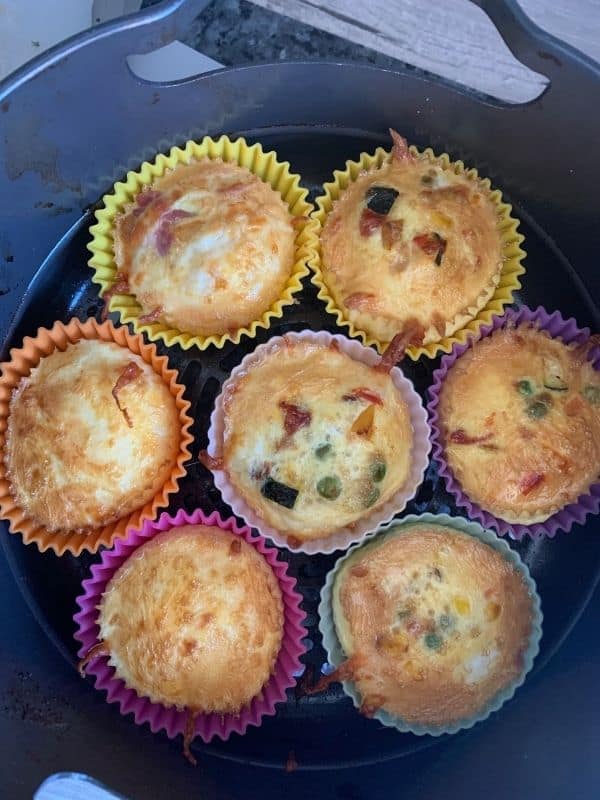 16. Egg Muffins
Egg muffins don't need to just be for breakfast. They make a great lunch for on-the-go or to send in a lunchbox to daycare. Breakfast for lunch – why not?!
Time to fish out your muffin tins and get baking!
Baby Foode has 4 Egg Muffin recipes filled with veggies, eggs, and cheese. They are freezer friendly so great for batch cooking, and you can mix up the filling to keep variety in your toddlers lunchbox.
TAKE PICTURE
17. Sweet Potato and Apple Fritters
My kids love these delicious sweet fritters – perfect for a lunchbox, or lunch at home, and they are freezer friendly so great to make in bulk.
Ingredients:
500g sweet potato, peeled, diced and cooked until mashable
2 large apples, grated
1 egg
1 cup of self-raising flour
Olive oil for frying
Method:
Mix together the grated apple, mashed sweet potato, flour, and egg until well combined
Heat the oil over a medium heat, and fry spoonfuls of the mixture until golden on both sides
These are delicious served hot or cold.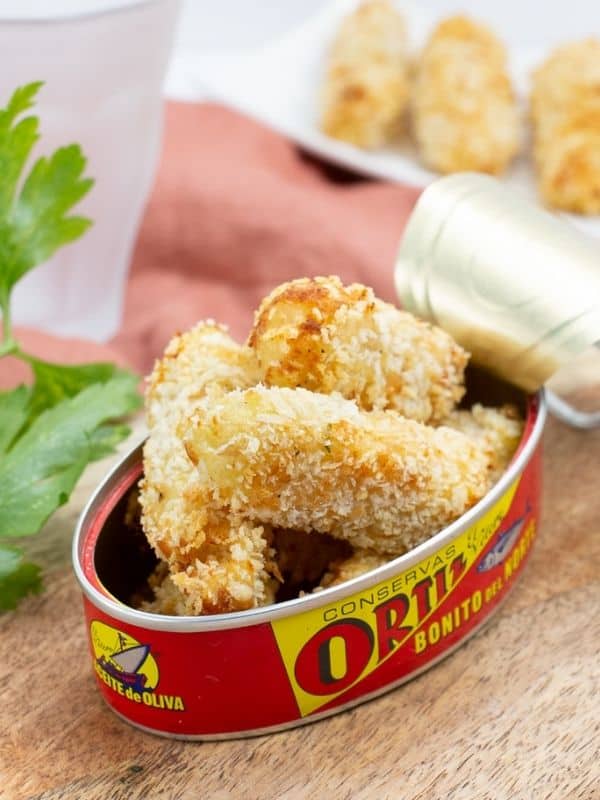 18. Tuna Croquettes
Croquettes are a great shape for finger food and these Tuna Croquettes from Little Nomad Recipes are healthy, delicious and easy to make.
This recipe uses an air fryer but they can be done in the oven if you don't have one.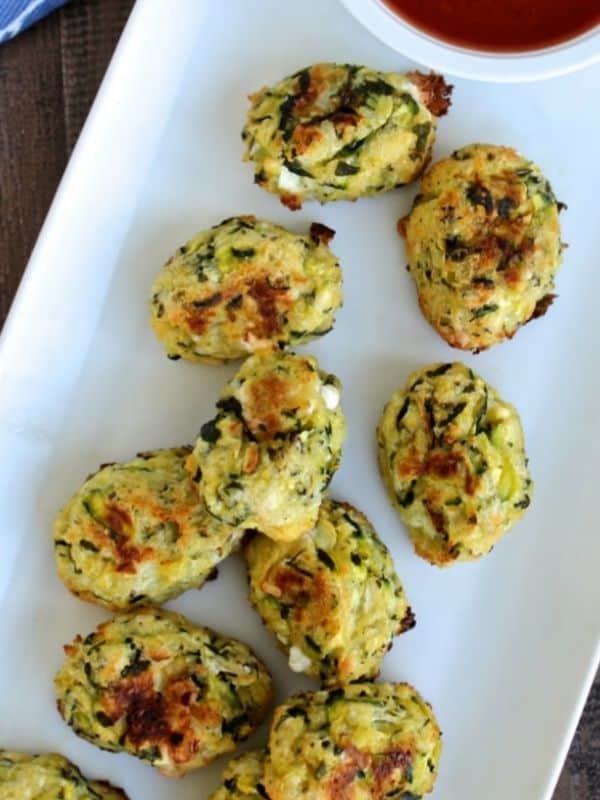 19. Zucchini Tots
Here's a healthy twist on classic potato tots and an ideal freezer-friendly finger food toddler lunch idea to try with your 1 year old. In place of potatos there's zucchini, packed full of vitamins, particularly vitamin C, and fiber.
These zucchini tots from The Foodie Physician are also baked rathern than deep fried making them a healthy option for all the family.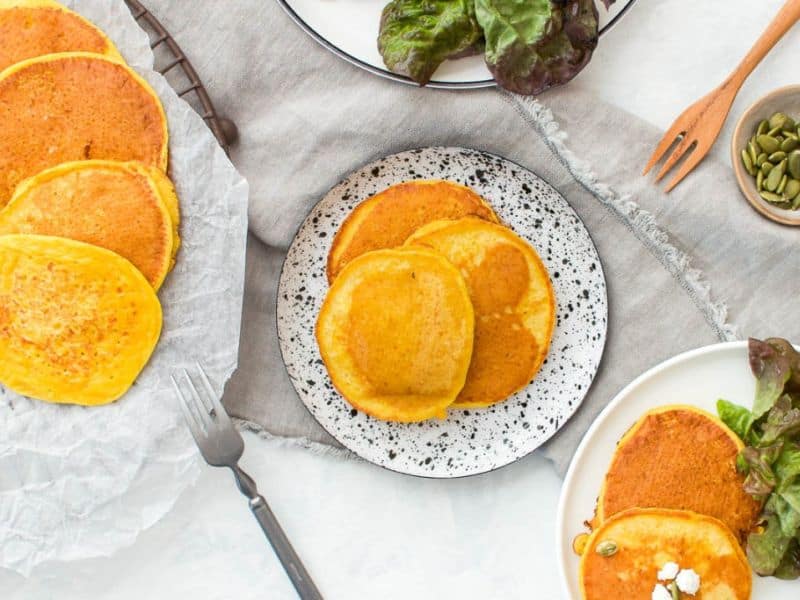 20. Pumpkin Pancakes
This super easy Pumpkin Pancake Recipe by Mrs Jone's Kitchen, is a super healthy toddler lunch idea for 1 year olds.
For an added bonus, they're freezer friendly, so perfect for batch cooking. Simply pop into the toaster to defrost and warm at the same time.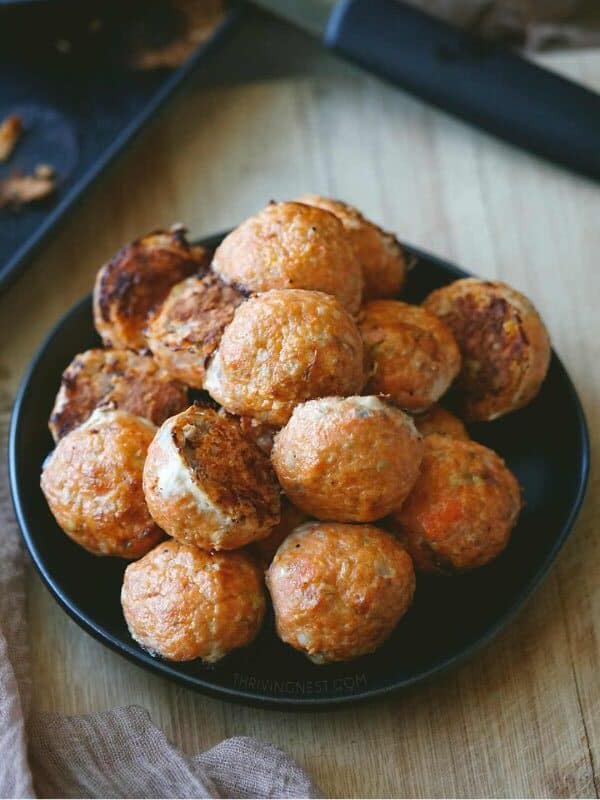 21. Salmon Meatballs
This Salmon Meatball Recipe from Thriving Nest, jam packed with omega-3s, is the perfect brain-boosting toddler lunch idea for 1 year olds. Another one that's freezer friendly too.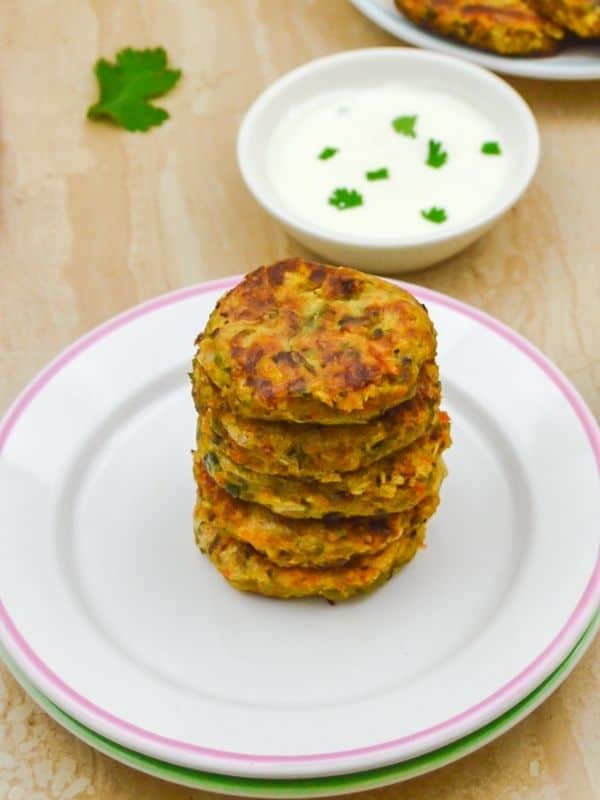 22. Chickpea Vegetable Patties
These vegan chickpea vegetable patties from Flavours Treat are packed full of vegetables and high in protein. They will introduce different flavors to your toddler, and freeze really well for an easy meal for your little one.
SOUP Toddler Lunch Ideas for 1 Year Olds
Soup is a go-to lunch idea for 1 year old toddlers in our house. For toddlers of any age in fact! Perfect for babies (great for weaning) and for those with no teeth too.
There are so many reasons to love soup:
you can pack in loads of veg and other nutritious ingredients
a great lunch idea for picky eaters: add sweetness and familiar flavours to foods they'd otherwsie reject
it freezes well: cook it in bulk, portion it into suitable containers for all those, "I need to eat NOW" moments
make it thicker by adding less stock/water and use as pasta sauce (similarly you can water down a pasta sauce to use as soup!)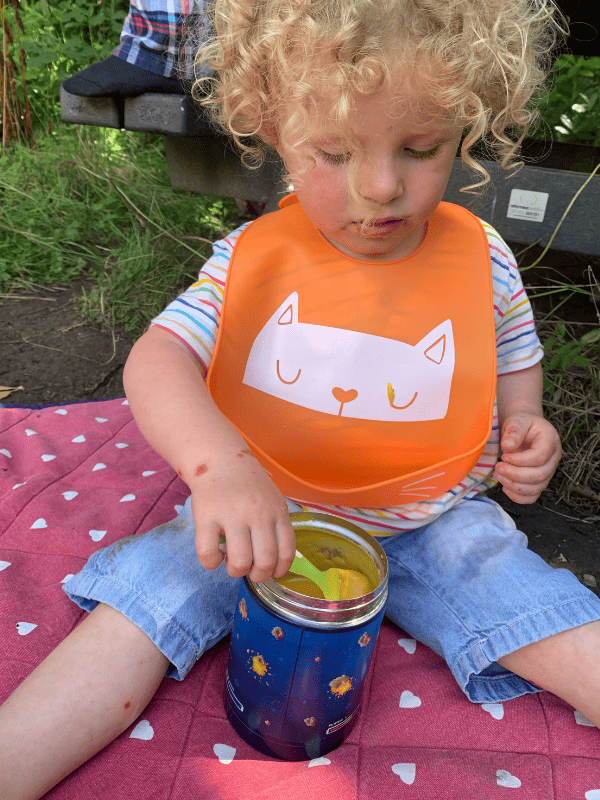 23. Butternut Soup
Purreed butternut makes an excellent first weaning food so if you started your little one on this, they're sure to love this soup.
My original butternut soup recipe, inherited from my mother-in-law, used potato. However, my Ninja recipe book inspired me to replace this with cashew nuts and I've never looked back (apologies to my MIL!)
The cahsew nuts give it a delicious creamyness, while also adding healthy fats, mangnesium as well as several other vitamins and minerals.
My twins, nearly 2, regularly have this soup for luch at daycare as well as when out and about (see picture above).
Ingredients:
1 onion
1-2 tblsp olive oil or butter
400g butternut (about half)
100g carrot (2-3)
120g cashew nuts
1 small apple
around 600 ml chicken or veg stock
Method:
Cook the onion in the oil or butter until soft before adding the rest of the ingredients
Simmer for 20-30 minutes until the vegetables are cooked through
Blend to a smooth consistency

24. Chicken Soup
Chicken soup is surprisingly easy to make and is a great way to introduce the stronger flavor of chicken to your baby or toddler.
Thriving Nest has this delicious chicken soup recipe that is perfect for little ones and can
be enjoyed by
the whole family
.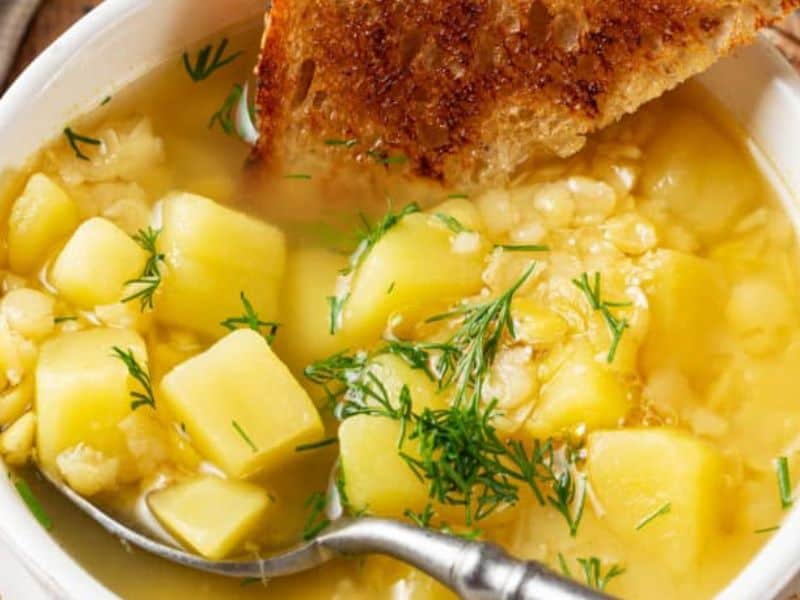 25. Split Pea Soup Recipe
Split peas are a fantastic source of protein, important for your growing toddler. This simple split pea soup recipe from All We Eat also has potatoes and carrots, making it nice and mild for developing taste buds.
You can leave it soft and chunky for a bit of texture or blend it into a smooth soup.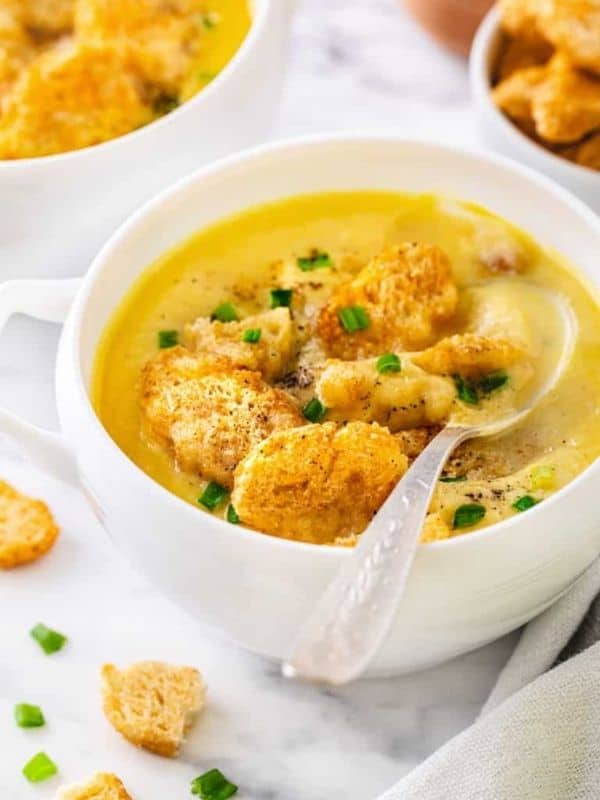 26. Cauliflower Soup With Cheese
Here's a tasty soup version of a classic comfort food: cauliflower cheese. Always a hit with all ages, no doubt this will be firm family favorite that can now include your littlest member.
For chilly winter days, this cauliflower cheese soup will make the perfect toddler lunch idea for your 1 year old.
Easy PASTA Lunch Ideas for 1 Year Old Toddlers
I don't know about you, but pasta is a regular go-to in our house. It's quick and easy to do, but it can get a bit repetitive if served with the same sauce every time.
Here are some easy toddler lunch ideas for 1 year olds that love pasta.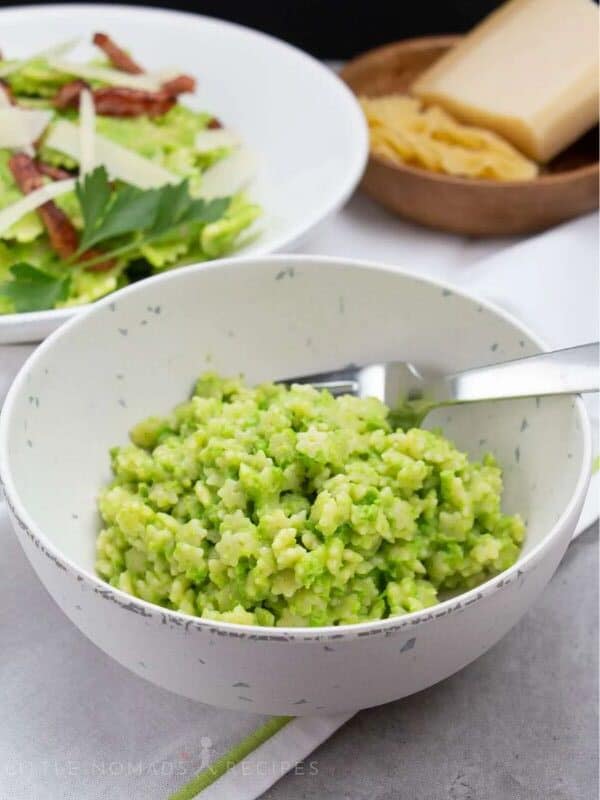 27. Green Pea Pasta
This Easy Green Pea Pasta recipe by Little Nomads is a great way to get some greens into your little one.
Simply cook some frozen peas, before blending with parmesan, a bit of olive oil, black pepper, and a dash of water until you have a pasta sauce consistency.
Mix with pasta of your choice and serve with some more cheese on top if desired.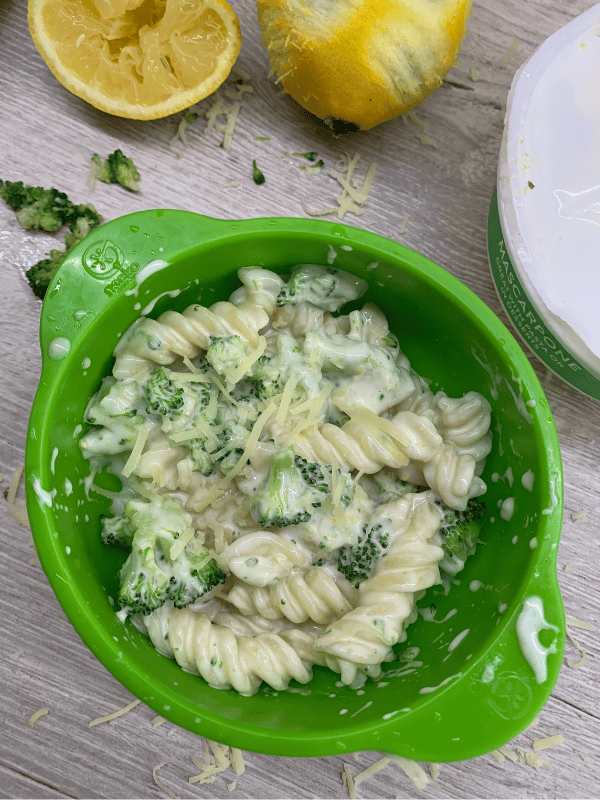 28. Creamy Broccoli Pasta
Yummy Toddler Food has this delicious and easy-to-make Creamy Broccoli Pasta.
The recipe uses whole broccoli florets but for fussier customers, cook the broccoli separately, and blend it up with the cheese sauce mix. A simple toddler lunch idea that your 1 year old will gobble up, as will the whole family!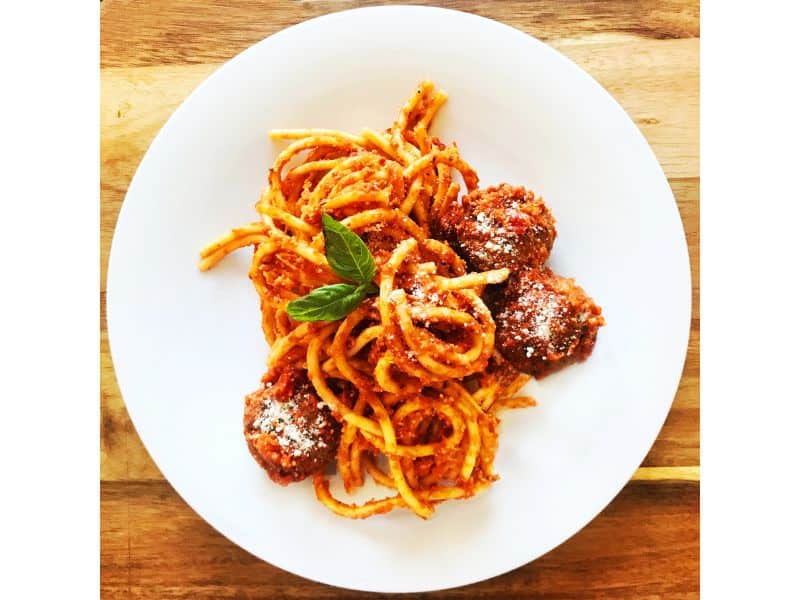 29. Spaghetti and Meatballs
I can't wait to try this Baked Spaghetti and Meatballs recipe from My Kids Lick the Bowl. No precooking is required, not even the spaghetti!
Making the meatballs is the most time-consuming. But, once that's done, you simply place them on top of the tomatoes, stock and spaghetti, cover and pop it all in the oven. No cooking or stirring required and, because this is a one-pot meal, there's minimal washing up.
This delicious dish will be great for the whole family and an ideal toddler lunch idea for your 1 year old. Simply cut up the meatballs into pieces small enough for your toddler to handle.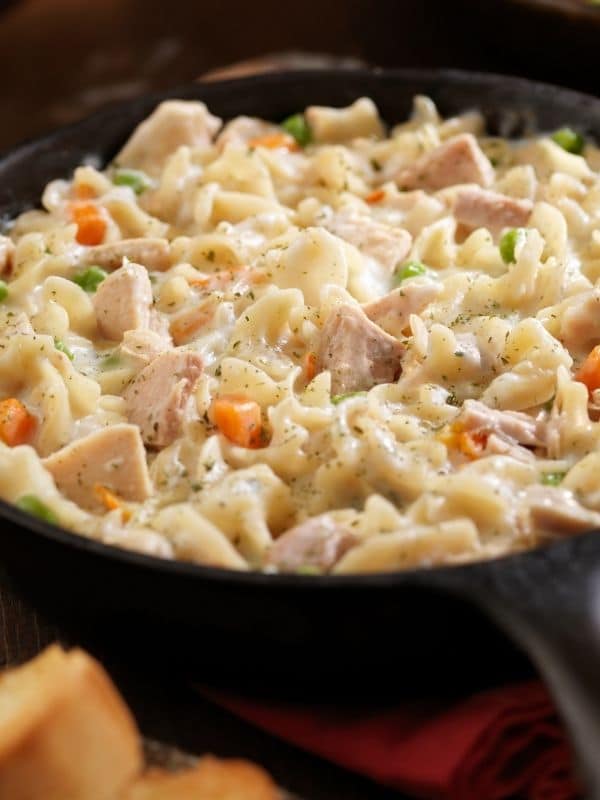 30. Tuna Pasta
Packed full of omega-3 fatty acids, great for brain development, tuna is a healthy choice and is really easy to cook with.
This really quick and easy Tuna Pasta Recipe from A Happy Home in Holland is a perfect for simple toddler lunch idea for 1 year olds packed full of goodness.
31. Salmon and Pea Pasta
I love this Salmon and Pea pasta recipe by Baby Foodie – another simple toddler lunch idea for 1 year olds that's quick and easy to get on the table, as well as being high in Omega-3s. Perfect for the whole family too.
You can use fresh or canned salmon, and mix up the veggies you add for variety. Use whichever pasta your toddler prefers.

32. Creamy Sweet Potato Pasta Sauce
This is a fantastic alternative to a tomato sauce and again can be made in bulk so that you've also got some to quickly grab from the freezer.
Roasting the sweet potato with onion and garlic gives it a delicious flavour and blitzing it up with milk makes it nice and creamy.
Ingredients:
2 sweet potatoes
4 whole peeled garlic cloves
2 onions
1 cup of vegetable broth
1 cup of milk
Parmesan Cheese
Method:
Peel and cut the sweet potatoes into 1/2 inch chunks and lay on a baking tray with the garlic cloves and the peeled and quartered onions
Toss in oil and roast in the oven for around 20-25 minutes until easily mashable with a fork
Place in a food processor/blender
Add the vegetable broth, milk and a handful of parmesan cheese, and blitz
Separate into individual portions to freeze
NO COOK Toddler Meals for 1 Year Olds & Up
We all need a few quick and easy toddler lunch ideas for 1 year olds up our sleeve. No fuss of cooking, and something that can be produced instantaneously.
These no cook recipes make great toddler lunch ideas for 1 year olds in daycare or for trips away from home.
Here are a few of my favorites: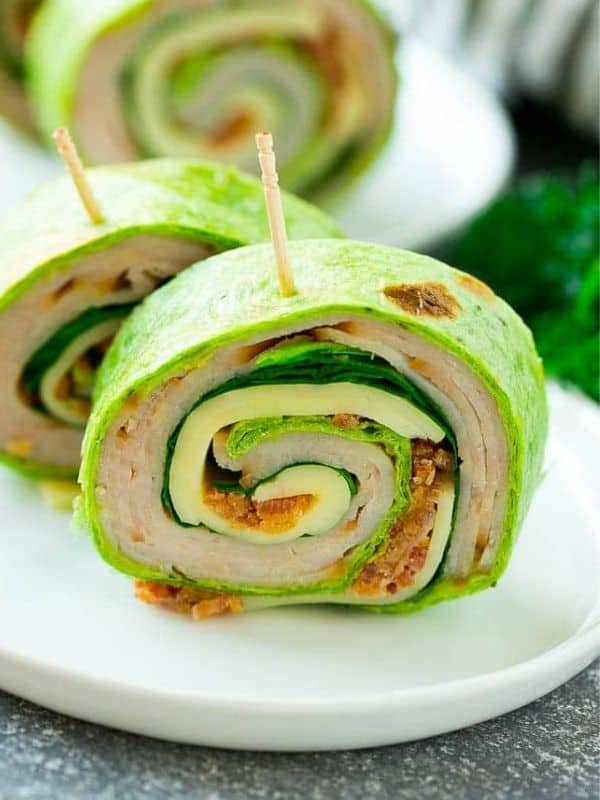 33. Wraps/Roll-Ups with Your Toddlers Favorite Filling
Wraps are brilliant for a packed lunch or a picnic, they travel well and can be filled with so many different fillings. An easy toddler lunch idea that's a simple alternative to sandwhiches – fill them with your 1 year olds favorite filling.
Some ideas include hummus, mashed avocado, thinly sliced turkey and cream cheese.
For a bit of inspiration, take a look at this Turkey Roll-up Recipe by Dinner at the Zoo.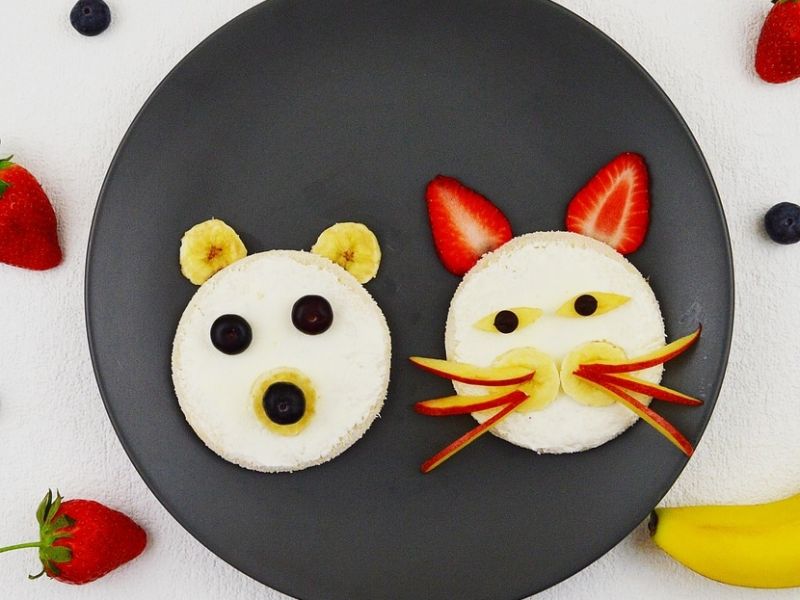 34. Cute Sandwhich Faces
OK, so this is just a regular sandwich, but cut with some metal cookie cutters into circles and decorated, but this is a more fun way to present them! The cookie cutters need to be quite sharp, decent quality ones to cut through the bread – try these.
It's also a super easy toddler lunch idea for your 1 year old that you can theme to the season. I love using the Christmas tree cookie cutter and then my toddlers can decorate their tree sandwhich with cooked peas and sweetcorn!
You can use whole wheat bread to get some healthier grains in.

35. PB & J Bites
A firm favorite, this is simply a peanut butter, or other nut butter, and jelly or jam sandwich, cut up into small squares. The nut butter is the healthier part of the sandwhich, but alone can be a little sticky and dry for a young toddler to manage.
The jam or jelly adds some moisture as well as a little sweetness. Try to use a sugar-free or low-sugar jelly or jam if possible.
36. Pasta Salad
I always cook too much pasta so there are leftovers for a quick pasta salad later in the week. This toddler lunch idea is perfect for daycare for a hungry 1 year old. It's nice and filling and you can mix up what you put in your salad to create variety.
A few ideas include tuna mayonnaise and sweetcorn, a selection of your toddlers favorite vegetables, either raw or lightly cooked. Good combinations are:
peas, red pepper and sweetcorn
carrot, cherry tomato and green beans
pesto, ham and cherry tomato

37. Hungry Hippos Pittas
How cute are these little hungry hippo pittas from Two Healthy Kitchens ?! What a fun toddler lunch idea for hungry 1 year old. You can add any fillings you want, but here some ideas to get you going:
Spread options:
peanut butter or other nut butters
nut-free soy spread
cream cheese
100% pure fruit jelly
grated cheese
mashed avocado
mashed banana
Sprinkle options
thinly sliced kiwis, grapes, strawberries or other fruits
coconut flakes
sliced almonds or other chopped nuts
chia seeds
38. Yogurt Tubes & Fruit Squeeze Pouches
I love these things! Yogurt tubes and squeeze pouches are perfect for picnics, snacks at home and are a great preschool lunch idea too.
39. Hummus and Avocado Sandwiches
The softness of hummus and mashed avocado make this an ideal toddler lunch idea for a 1 year old.
If your child struggles with sandwiches you could spread this on toast instead, and cut into easy-to-hold fingers.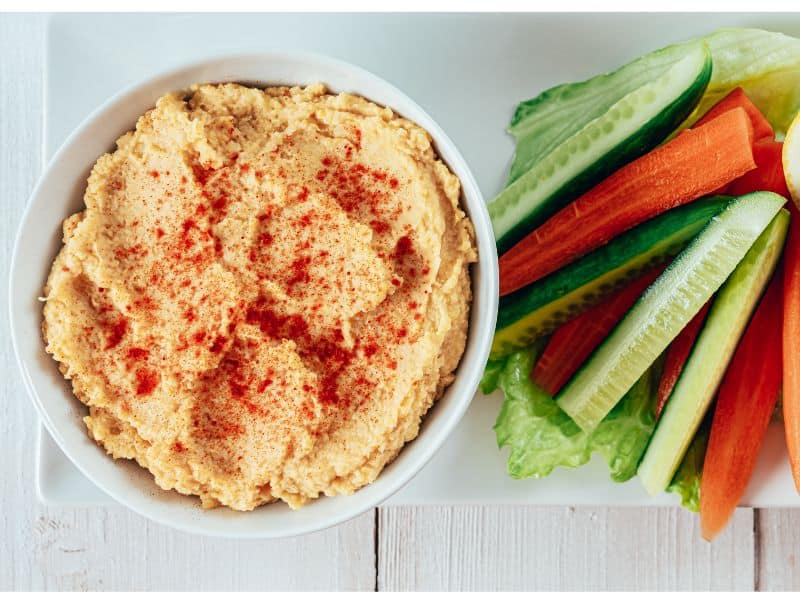 40. Hummus with Breadsticks & Raw Veggies
Most toddlers love hummus and it's a great source of plant-based protein. So for a simple nutritious toddler lunch idea for 1 year olds, try some hummus with breadsticks as well as cucumber, raw carrot and/or red bell pepper sticks.
Demonstrate how to dip the veggies and breadsticks into the hummus and your toddler will soon follow!
They probably won't be that successful at actually eating the vegetables and will probably only manage to suck and chew on them. But even by doing that they'll be getting some of the goodness. And in the process will be getting all that yummy hummus.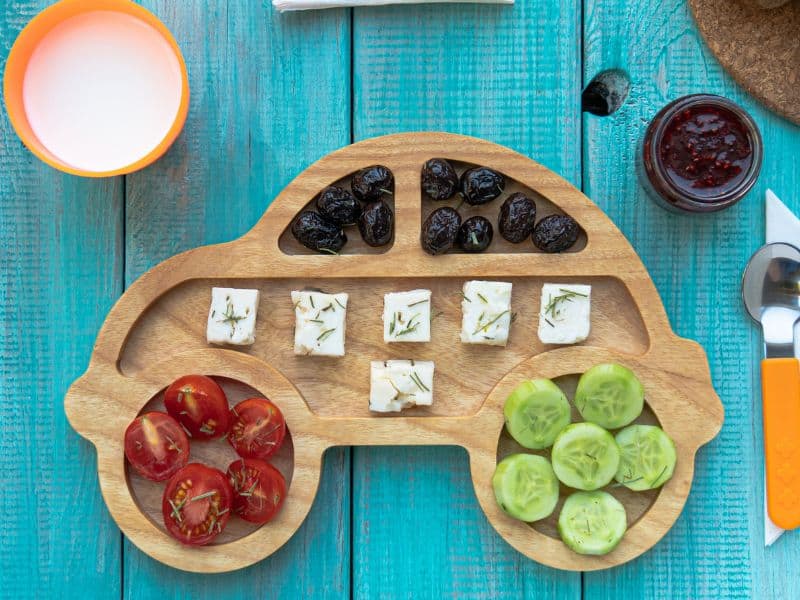 41. Snack Plate
The bonus of a snack plate is you can offer plenty of variety which can help interest even the fussiest of 1 year olds. You can also have fun with a cute car shaped plate and arrange it as pictured!
Some ideas for a snack plate include breadsticks, rice cakes, crackers, raw veggie sticks, hummus, cheese slices, cottage cheese, sliced ham or other deli meat, and a favorite fruit or two.
Love crafting with your little ones?
Bookmark these posts for later:
More QUICK Finger Food Toddler Lunch Ideas
Here are some more simple finger good lunch ideas for 1 year olds and up. They do need some form of cooking, with the use of toaster, frying pan or oven/airfryer. But are quick nonetheless.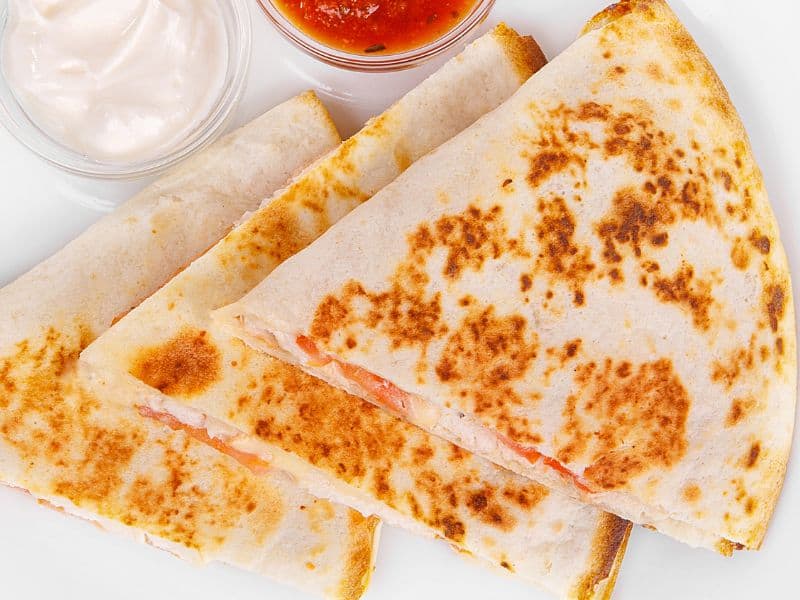 42. Quesadilla
My kids love a cheese quesadilla and I often make these as an alternative to sandwiches if we are packing a lunch to take out with us. Cut into strips they're also easy for little hands than sandshiches so make an ideal toddler lunch idea for 1 year olds.
They can be filled with a variety of fillings to suit your little ones tastes. The following work really well:
ham and cheese (our favorite)

pesto and cheese

cream cheese and avocado
Method:
Place a flour tortilla wrap in a skillet pan with your ingredients on top
Fold in half and cook on both sides until the outside is nice and crispy and the inside is deliciously gooey!
Allow to cool before cutting into small pieces and serving.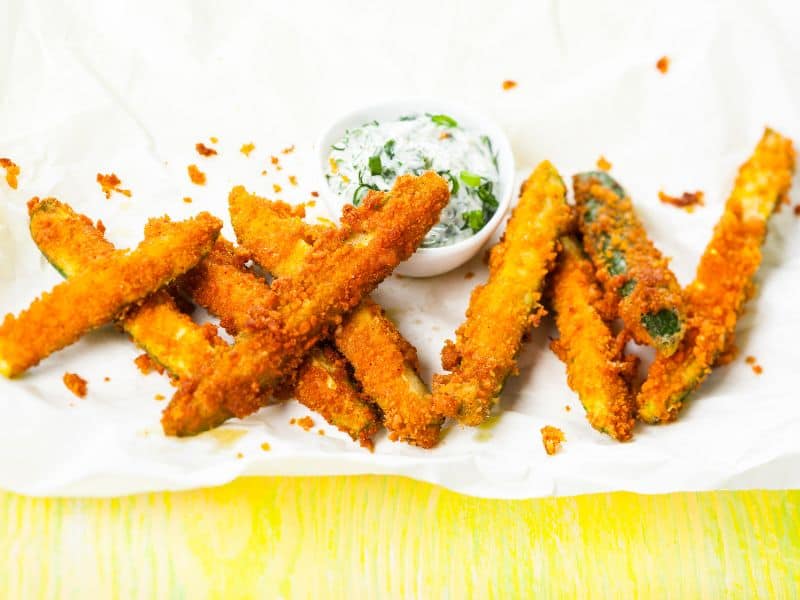 43. Baked Zucchini Fries
Crispy zucchini fries are a hit with the entire family. They're simple, healthy and delicious dipped in hummus or greek yogurt. If you're looking for a toddler lunch idea for your 1 year that they can eat independently, these are a winner.
Ingredients:
2 zucchini
2 eggs
flour
breadcrumbs
grated hard cheese
Method:
Cut the zucchini into 2 or 3 and then slice lengthways to make fat chips
Place the flour in one bowl, the eggs beaten in another, and the breadcrumbs and cheese mixed together in a third
Dip each zucchini fry into the flour, followed by the egg and then finally the breadcrumbs, making sure they are well coated
Place the fries on a baking tray lined with parchment and bake in the oven for 25-30 minutes or until golden brown, flipping halfway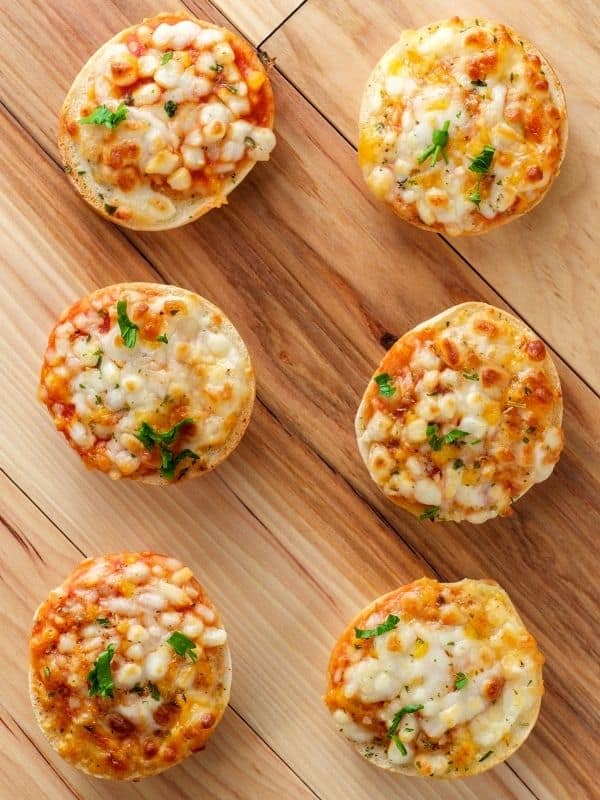 44. Homemade Pizza
Kids love pizza and making homemade pizzas are a great way to get your toddler involved in meal prep and cooking.
If you've got time, then making a homemade pizza dough adds to the fun, but not necessary. I tend to have a couple of store-bought bases in the house for a quick and easy alternative.
Bagels are a quick and easy alternative, as pictured. You could also use flatbreads or whole wheat tortilla wraps if you have them in the house.
Spread some tomato sauce or puree on the base, sprinkle with cheese plus toppings. Try finely chopped bell peppers, sweetcorn, ham and pineapple.
Then bake in the oven for 8-10 minutes until the cheese is melted and bubbly.
For a tasty alternative, try pesto instead of tomato sauce.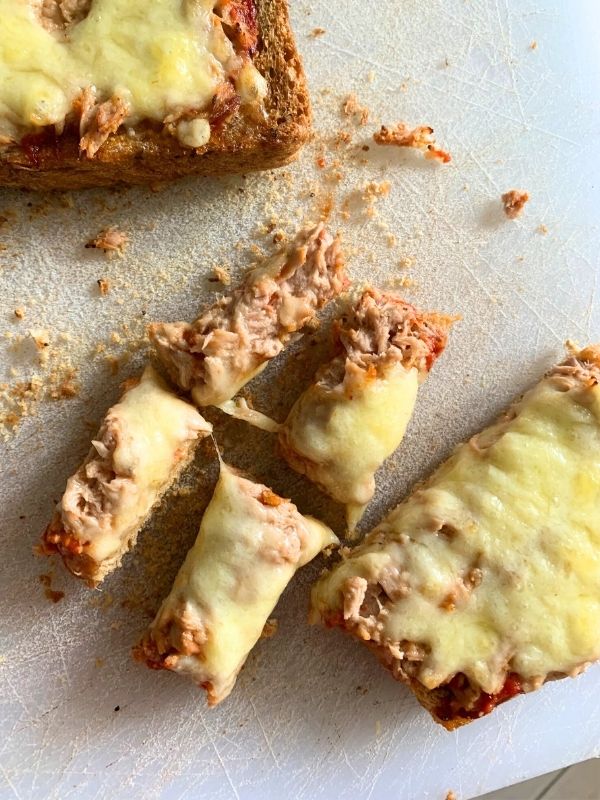 45. Tuna Toast Melt
Here's a junior version of a tuna melt, a tasty way to get Omega-3 and vitamin B12 rich tuna into your 1 year old.
Simply add a dollop of yogurt and tomato sauce to tinned tuna, spread onto toast and sprinkle with cheese. Then grill until melted, allow to cool and cut into toddler-sized slices.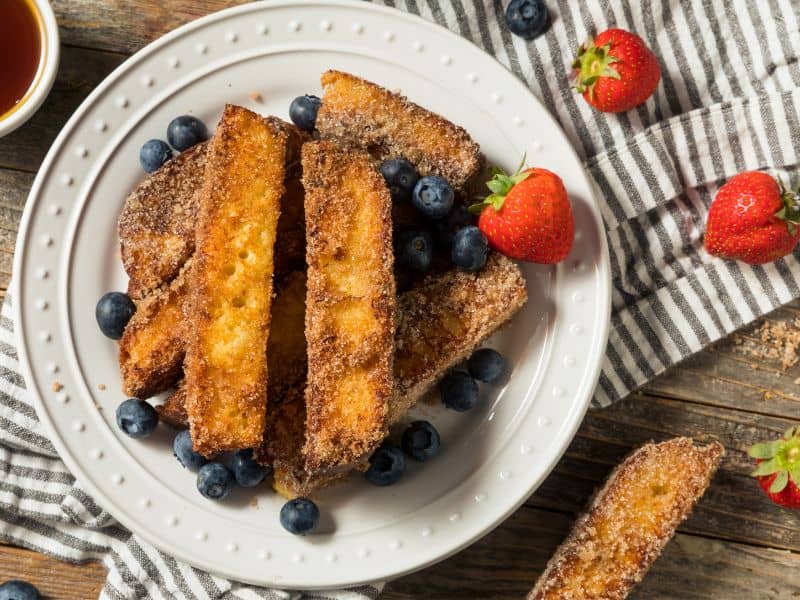 46. French Toast Fingers
Eggs are a great source of protein for toddlers and serving as French Toast is a good way to ensure your 1 year old actually eats some.
To make the French Toast, whisk up an egg in a bowl and dip a slice of bread into the egg, coating both sides.
Place the bread into a hot skillet with a small amount of butter and cook on a gentle heat until the egg is cooked on both sides.
It can be served as it is, but my children have always loved it with a bit of almond butter or maple syrup on top, accompanied by some fresh berries.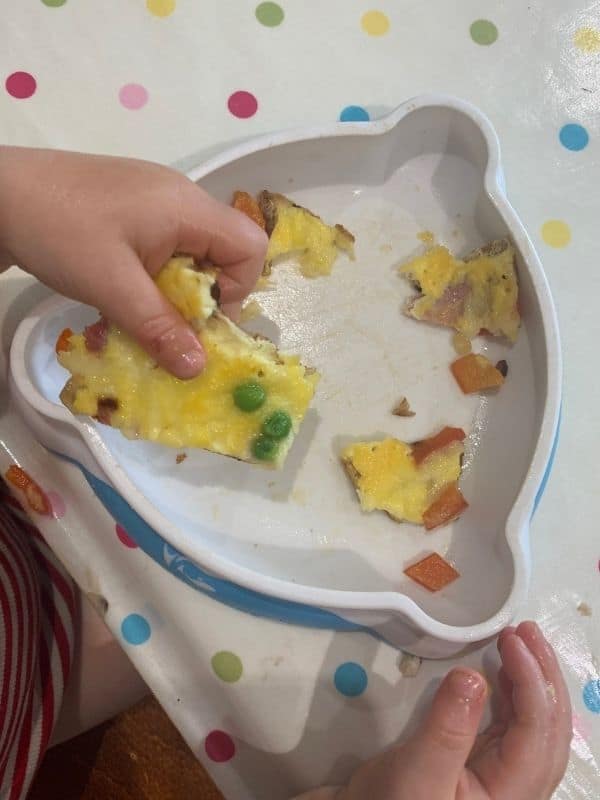 47. Cheese & Veg Omelettes
Omelettes are nutritious, quick, and easy to make. The options for fillings are endless, and they are perfect for little fingers getting to grips with finger food, and exploring textures and tastes.
All you need is eggs, milk, and butter plus the filling of your choice. Cheese and tomato works well, or you could add grated vegetables such as carrot or zucchini.
Once your 1 year old has progressed to foods with more texture, you can just chop vegetables into small chunks and add things like peas, sweetcorn, mushrooms, leeks, peppers, bacon and so on.
Ingredients:
1 egg
dash of milk (1 tablespoon)
fillings of choice (a small handful)
Method:
Heat a small non-stick pan until hot, add the butter followed by your raw veggies (or if using grated veggies, skip this step and mix them with the egg)
While the veggies are cooking, whisk up the egg and milk
Once the veg has softened, pour over the egg mixture, ensuring it covers the whole base of the pan
Sprinkle on the cheese
Turn the heat right down to allow the omellette to cook through without the bottom browing too much
Once the egg has set on top, remove from the pan
Served sliced into fingers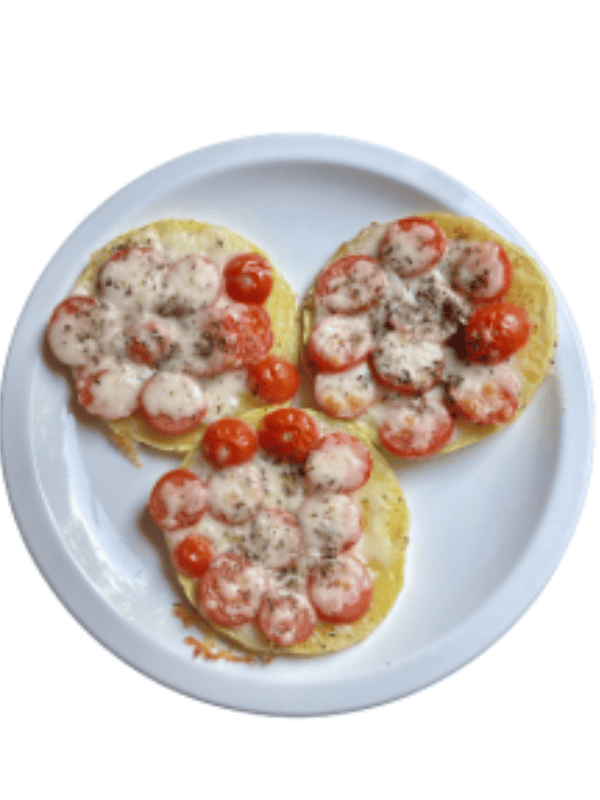 48. Butternut Squash Mini Pizzas
Your first reaction go using butternut squash to make pizza may be a little bit like mine: that sounds way to complicated and time consuming!
Think again. All you do for this butternut squash mini pizza recipe from Fluxing Well is slice the butternut into discs and add your toppings.
Another great toddler lunch idea that will appeal to all the pizza lovers out there.
Easy ONE POT Lunch Ideas for 1 Year Olds
One-pot meals are easy to prepare and these recipes all give you a good mix of protein, carbohydrates, and veggies.
These lunch ideas will be great for the whole family. Cook enough and there will be enough for another day.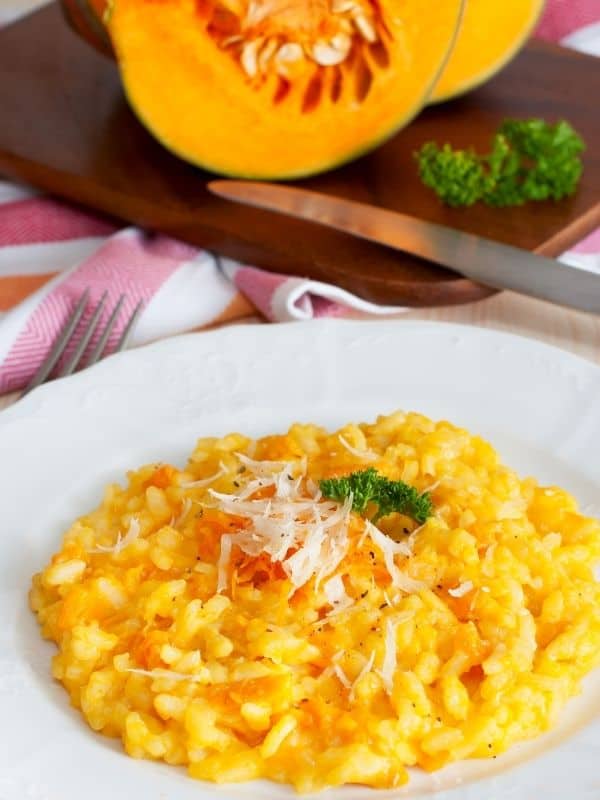 49. Pumpkin Risotto
I usually think of risotto as being quite laborsome, but MJ and Hungryman have this super simple Pumpkin risotto recipe requiring minimal stirring.
Using a vegetable puree like this is a great way to disguise the veggies that otherwise might be picked out!
50. Chicken and Carrot Couscous
Couscous is a really good lunch option for 1 year olds. It is soft and easy to eat and super quick to prepare.
This simple recipe uses diced chicken and carrot (cut them up small enough for your child to manage), tinned tomatoes, onions, garlic, broth, and a few mild spices.
Check out the full chicken and carrot couscous receipe here.
51. Mild Chicken and Veg Curry
Baby Foodie has this delicious Chicken and Vegetable Curry recipe. It uses a mild curry powder, a great way to introduce the flavors of a curry to your 1 year old, without the heat.
This toddler lunch idea is freezer-friendly too. So cook in bulk and you can rustle up a quick meal for your little one any time of the day.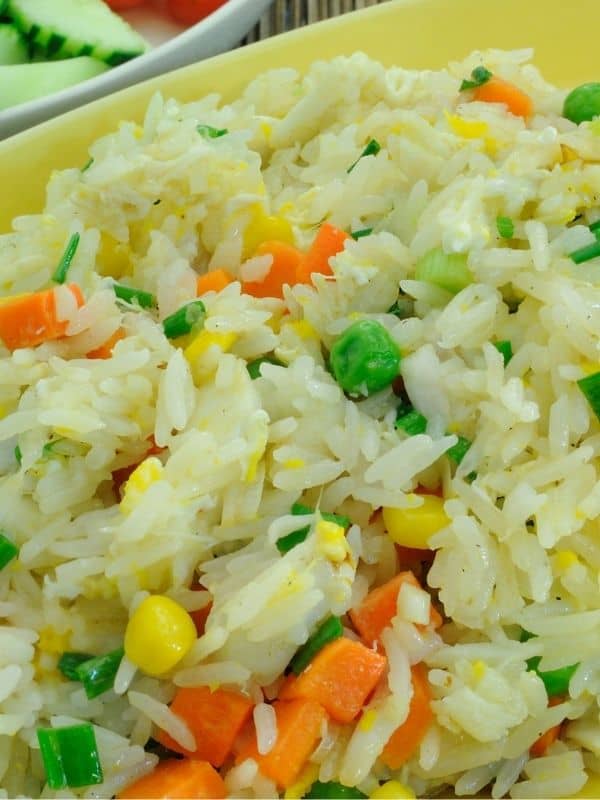 52. Veggie Fried Rice
This quick and easy recipe is a fantastic way to get lots of vegetables into your toddler and can be on the table in less than 10 minutes.
It works well with frozen mixed vegetables, chopped up small and ready to go, or if you'd prefer, chop up a selection of fresh veggies.
For the rice, I prefer to use microwaveable packs, I find using freshly cooked rice can make it quite stodgy. Brown rice is a great way to get some whole grains in.
Ingredients:
Frozen Mixed Veg
Garlic
Ginger
Soy sauce
Microwaveable rice
Method:
Stir fry the vegetables with garlic and ginger.
Once cooked add the rice and a splash of low-sodium soy sauce.
Cook for a few more minutes until combined and heated through.
You could easily add chicken to this if you wanted to add a protein or salmon would work well too. And for egg-fried rice, mix some scrambled egg through the veggie rice.
53. Peanut Chicken Noodles
Peanut chicken noodles are something I cook quite regularly in our house. It takes minutes to prepare, tasty and nutritious, making this dish and excellent toddler lunch idea for 1 year olds.
Ingredients:
1 Chicken Breast cut into thin strips
1/2 carrot cut into thin strips
1/2 onion cut into thin strips
1/2 pepper cut into thin strips
1/2 a small zucchini cut into thin strips
A large spoonful of peanut butter
Soy sauce
Noodles
Method:
Stirfry the chicken and once cooked through add the vegetables
Stir fry for a few more minutes before adding a good spoonful of creamy peanut butter and a splash of soy sauce
Cook for a few more minutes before adding your noodles (cooked as per the packet instructions)
You could go vegetarian here by skipping the chicken, and the vegetables can be substituted as per your preference. I do however think a good range of colors works well.
If you're short on time, chuck in some mixed veggies straight from the freezer.
Toddler Lunch Ideas for 1 Year Old With NO TEETH Or Teething
If your 1 year old has not yet had their first teeth come through, you'll need to keep their food on the softer side. The same is true when your little one is teething and has tender gums.
Soup and pasta are ideal options for a 1 year old with no teeth – see the lunch ideas above.
Here are a few more options.
54. Soft-Cooked Vegetables
Soft-cooked steamed vegetables are a great finger food option for the early weaning stages and for before your toddler's teeth come through.
Anything that your baby can easily hold, such as broccoli and cauliflower florets, carrot, zucchini, and parsnip sticks, work well.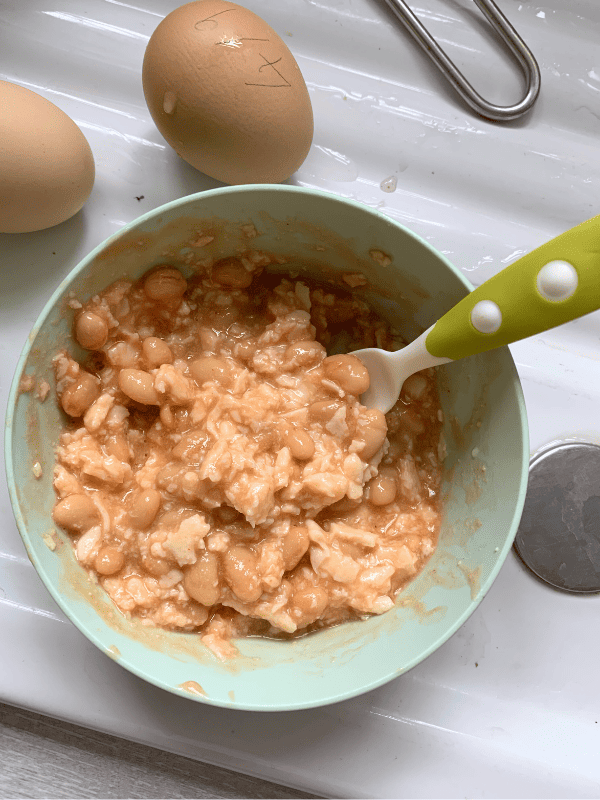 55. Scrambled Egg & Beans (Optional)
Eggs are a really easy go-to for a good source of protein for young toddlers, and scrambled egg in particular is easy to manage in the early days before teeth.
Simply whisk up an egg with a dash of milk. Melt some butter in a non-stick pan over a medium heat. Once melted, reduce the heat, add the egg mixture and stir until the egg sets.
Delicious served on its own, with toast fingers, or can be livened up with some tasty accessories. Baked beans and scrambled eggs is a hit with my twins! You can also try some herbs, cheese or a few finely chopped vegetables.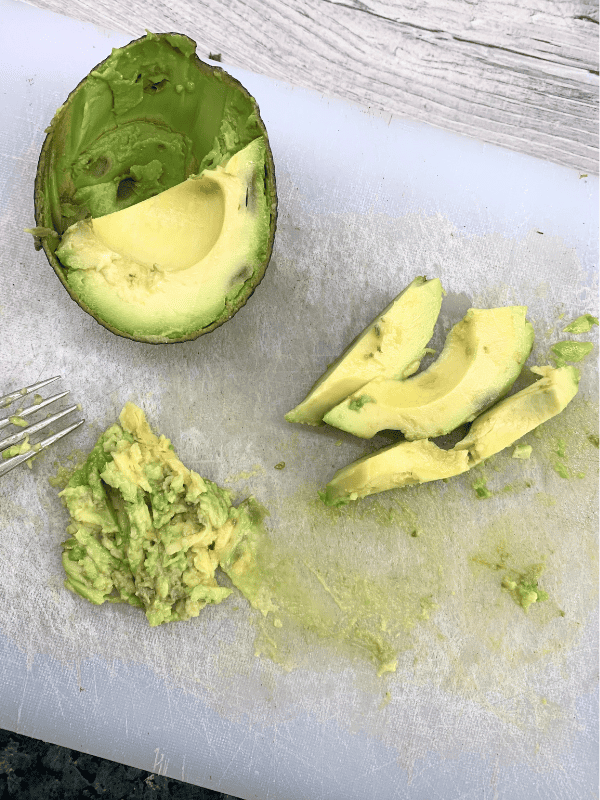 56. Avocado
Avocado is jam packed with vitamins, minerals and healthy fats, is soft and easy to eat and, let's not forget, delicious.
They're wonderful mashed and spread onto toast or crackers. You can also dip breadsticks, sticks of raw or lightly cooked vegetables or even fruit, such as apple slices, into mashed avocado.
But if your toddler has no teeth or is teething, leave as is. Simply peel off the skin and cut into strips for an easy finger food toddler lunch option. Or mash up and your 1 year old can use a spoon.
57. Toast Fingers
Toast fingers are an easy pleaser, are great when introducing finger foods, and are easy to manage for babies with no teeth.
Toast the bread lightly and spread with butter or something to soften it and your toddler will be away!
Here are some healthy and nutritious options to spread on top:
hummus
mashed avocado
smooth nut butter smothered
seed butters
cream cheese
Toast fingers are also great to dip into a soft-boiled egg.
58. Mashed Banana
Ideally you'd have something savory first, but if you're 1 year old is really struggling with hard textures when teething, mashed banana with a dash of full fat yogurt or cream has always been a winner in our house.
Once lunch is done, why not try some some fun activities:
Simple DESSERT Ideas for a 1 Year Olds Lunch
Desserts are often so full of sugar that it can be difficult to find something suitable for a 1 year old. Here are a few easy toddler lunch ideas for some naturally sweet fruit-filled desserts, that your 1 year old will love.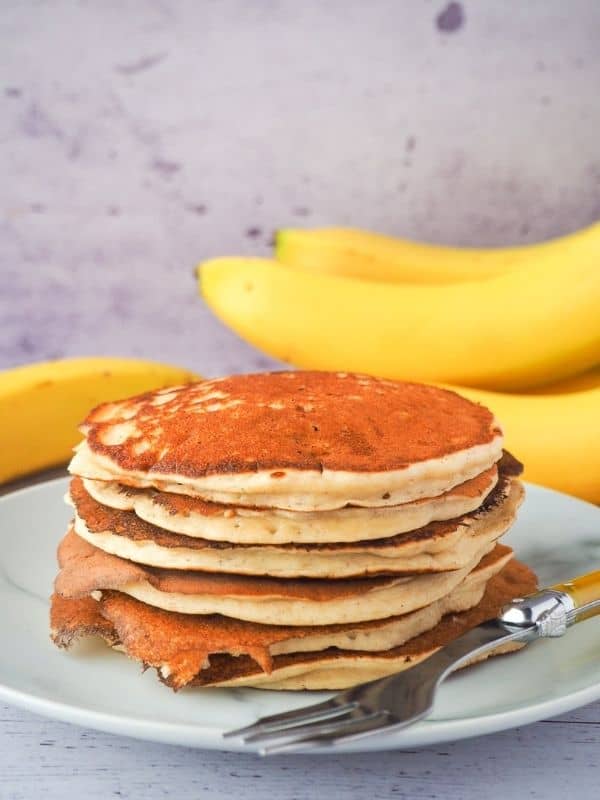 59. Banana Pancakes
Banana pancakes are a weekend breakfast treat in our house, but they also make a great lunchtime dessert.
Take a look at this Banana Pancake Recipe by Aussie Home Cook which can be served on their own, or with some yogurt and berries.

60. Stewed Pears
Pears are naturally very sweet and juicy so are perfect stewed. Delicious eaten on their own or served with yogurt or ice cream.
Keep Calm and Eat Ice Cream has this delicious Stewed Pear Recipe which uses cinammon and vanilla essence.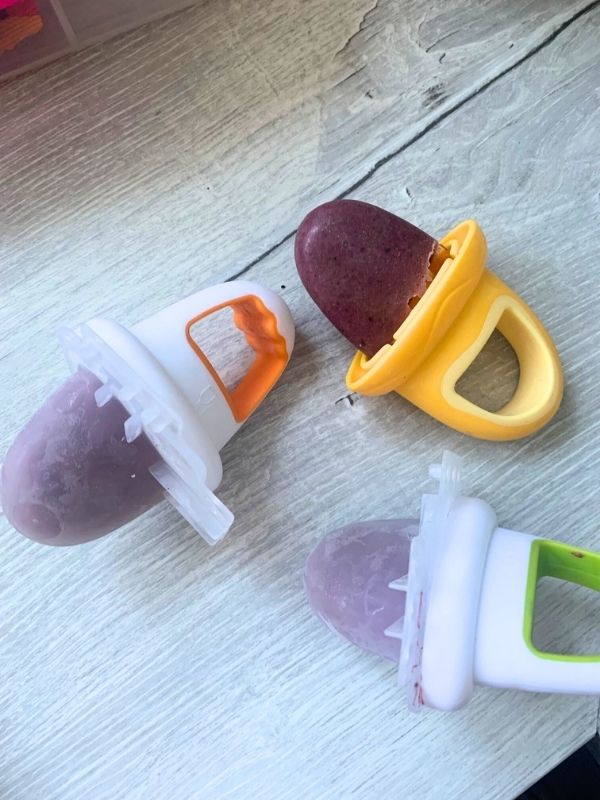 61. Homemade Popsicles
Children love popsicles, that's a fact! And with these homemade ones, you know that they are packed full of nutrients for a healthy dessert or treat that your toddler or even older children will love.
Homemade popsicles can be made with pretty much any fruit and even some veg (I often add spinach to mine), blended up and frozen in a store-bought popsicle mold. Some work well mixed with a bit of plain greek yoghurt and others are great just as they are.
Here are a few ideas:
The general rule of thumb with popsicles is that anything that makes a good smoothie, makes a good popsicle.
62. Banana and Orange Oat Bites
I love this recipe from My Fusser Eater. These Banana and Orange Oat Bites make a great healthy dessert or snack.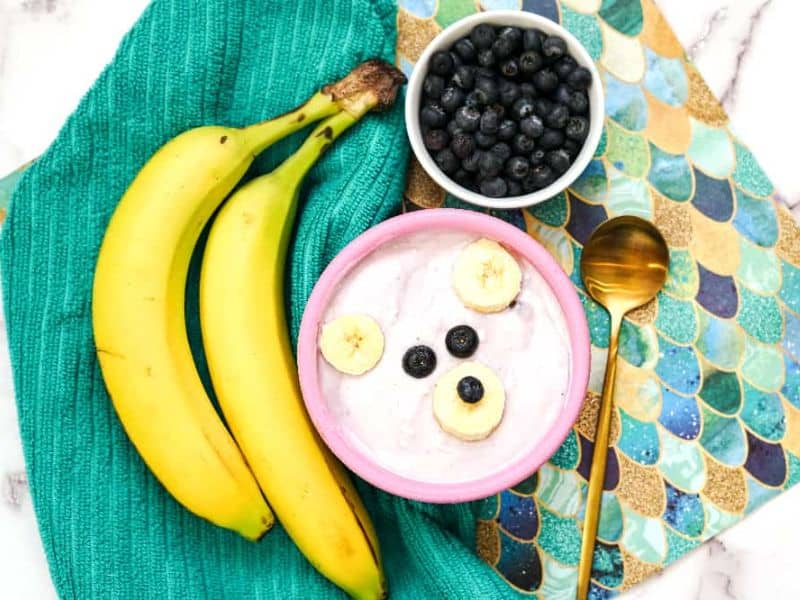 63. Yogurt and Fruit
Yogurt is high in calcium which is vital for healthy bone development, and is a delicious and easy option for dessert for a 1 year old.
Stewed fruit, like the pear recipe above, adds a delicious natural sweetness to plain yogurt. Apples and plums work well too.
Berries are also a great addition to yogurt – raspberries, strawberries and blueberries, with a squeeze of honey on top for added sweetness if needed.
Two kids and a coupon has this really sweet Teddy Bear Yogurt Bowl idea to add a bit of fun.
64. Sugarfree Banana & Raspberry Muffins
Yummy Toddler Food has this delicious and amazingly healthy Sugarfree Banana Muffin Recipe. They make a perfect pud for a picnic on the go, or a nutritious sweet treat to have at home after tea.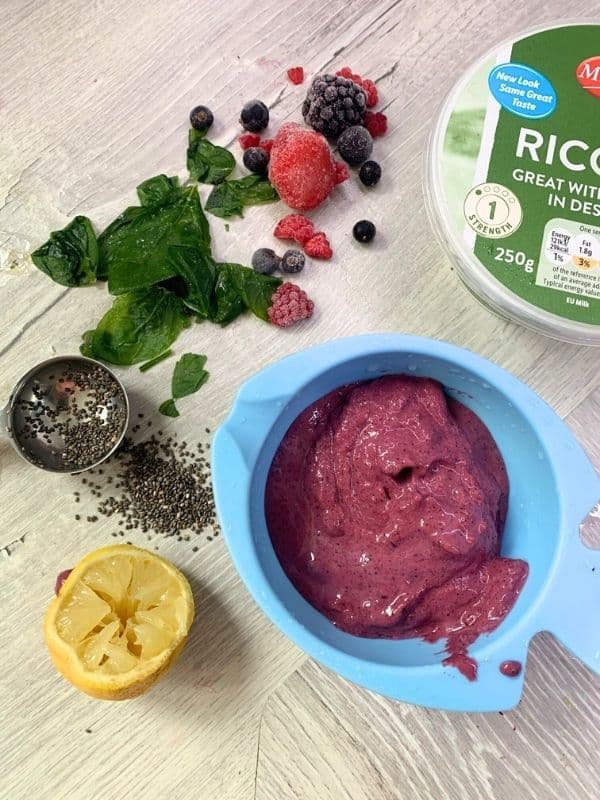 65. Smoothie Bowl
Smoothies are tricky and messy to eat for little ones. So try a smoothie bowl: just a thicker version, made by adding less liquid, and adding something to make it a bit more dense, like oat flour, ground almonds, some type of soft cheese and avocado.
Chia seeds are also a great thickener as they absort water and expand, giving them a gelatinous texture. They're highly nutritious too, packed with omega-3 fatty acids, iron, calcium, and antioxidants.
Using frozen fruit gives will give the smoothie bowl a sorbet like taste and all my kids love them and have done from weaning. They make a great toddler lunch dessert idea for 1 year olds and babies too.
Here's the recipe for the smoothie bowl pictured:
1.5 cups frozen forest berries
1 tblsp chia seeds
Juice of half a lemon
0.5 cups of ricotta
0.5-1 cup packed spinach (fresh of frozen)
1-2 cups of almond (or any) milk – enough to make it thick and scoopable
Whiz it up in your blender or smoothie maker, serve and freeze the rest in popsicle moulds.
What Are Some Easy Toddler Lunch Ideas for 1 Year Olds in Daycare?
It is so easy when preparing a packed lunch for your toddler for daycare to just default to the same old thing every time – in our house, it's ham or cheese sandwiches!
Of course, with a good insulated snack pot, you can send them in with soup, pasta and other hot one-pot meals. See the toddler lunch ideas above.
But here are some cold lunch ideas for 1 year olds ideal to pack into lunch boxes for daycare and days out.
Favorite Feeding Supplies for a 1 Year Old
Making mealtimes easy is not just about the food you serve your 1 year old but also the supplies you give them to tackle it with. I don't think you've seen mess until you've seen a kitchen post toddler feed!
So here are a few of my favorite supplies, aiming to keep more food and drink in the mouth, and less on the floor!
Plate
Having tried quite a few different plates, these WeeSprout Suction Plates are my absolute favorite.
They are made from 100% food-grade silicone and have suction cups on the bottom to hold the plate firmly in place. They are divided into 3 sections, helping to separate different foods.
Also microwave and dishwasher-safe – a must for me!
Sucker bowls
In my opinion, a bowl for a 1 year old must have suction! The green bowls featured in many of the photos above are no longer available, but there are plenty of similar options on the market.
These Munchkin Stay Put Suction Bowls have come highly recommended from a few different mom friends.
They come in a 3-pack with 3 different sizes and colors, are easy to stick down, and have a quick tab release for parental use. BPA-free, dishwasher and microwave safe, and most importantly are great for minimising mess.
Fork/Spoon
Self-feeding is an important developmental skill that requires practice for 1 year olds. These doddl forks and spoons are brilliant at aiding toddler's learning.
The short handles and grippy sides make the utensils easy to use and they support the transition to more 'adult' cutlery.
Sippy Cup
The American Academy of Pediatrics recommends fully transitioning from bottles to cups by the time your toddler turns 2. Sippy cups are a great place to start to aid the transition and can be offered to your baby with water as soon as you start weaning.
I love the Munchkin Miracle 360 Trainer Cup which mimics the action of a real cup and can be turned upside down without any spills.
Insulated Soup Mug/Snack Pot to Take Warm Food to Daycare
An insulated pot is a must have if you want to keep food warm for your toddler whilst out and about, or at daycare. My kids have always been a big fan of soup, so this has always been a fail-safe lunch option when out and about so an insulated mug is a must.
The Lunchbots 8 oz triple insulated thermos is a great size for toddlers, is leak free, and is perfect for any hot food.
Bib
Mealtime with a 1 year old can be messy, there is no denying it, so a good bib is vital. I personally love the full coverage options and this Tiny Twinkle Mess Proof Baby Bib is perfect for the job.
It is waterproof, tug-proof, machine washable, and has a food-catching pocket.
Christmas is around the corner!
Here are some of our most popular festive crafts, activities and free printables:
FAQs for this easy toddler lunch ideas for 1 year olds
How Do I Get My Toddler to Try New Foods?
The American Academy of Pediatrics has some great advice when it comes to getting your toddler to try new foods, including sharing meals together as a family, offering a good variety of food, and to simply keep trying.
Just because your toddler refuses once, doesn't mean they always will.
My favorite bit of advice however is to make food fun. Be creative, make the food eye-catching and lots of fun, and your 1 year old is much more likely to give it a go.
Toddler Won't Eat Veggies?
If your toddler won't eat veggies, first of all, don't panic! Getting your toddler to eat vegetables can be a real challenge, but don't give up.
There are some great toddler lunch ideas above that hide the vegetable element in the dish. This gives some peace of mind that your little one is getting some vegetables on board.
Do not however stop exposing your toddler to vegetables, in small manageable portions. There is a good chance that they will eventually try them, and it is important to encourage healthy eating habits.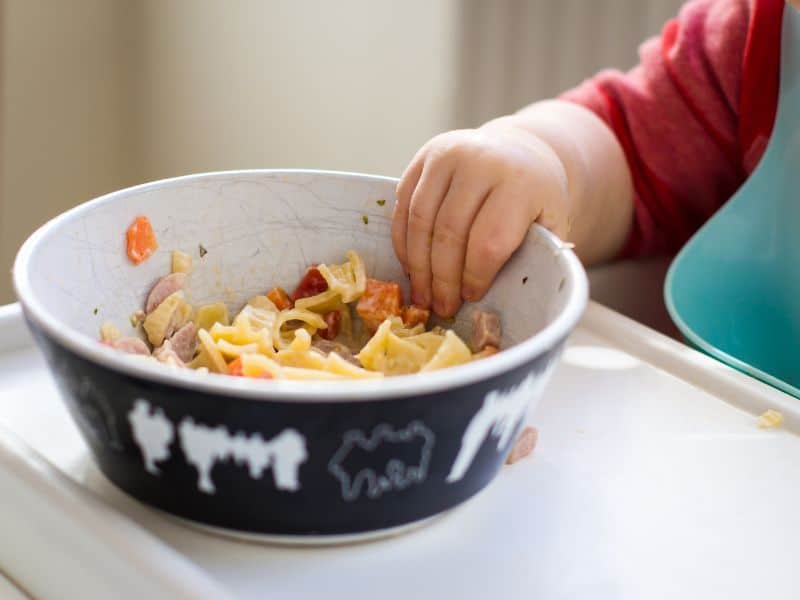 What is a Healthy Lunch for a One Year Old?
A healthy lunch for a one year old is a good variety of foods. So try to offer a good split of fruit and veggies, protein, complex carbs, and a healthy source of fat.
This of course is easier said than done sometimes, and the important thing is that a 1 year old gets a good variety across the day.
How Many Meals Should My 1 Year Old Have?
Your 1 year old should be having 3 meals a day and 2 healthy snacks between meals too.
How Much Food Does a 1 Year Old Need?
A 1 year old needs approximately 1000 calories a day to meet their nutritional needs, and support growth.
You will find however that your toddler's appetite will vary hugely from day to day so do not worry if there are days that they do not seem so interested.
Look at the bigger picture over a full week – a toddler's eating habits are far from predictable!
Feeling inspired for lunchtime with your toddler?
With all these fab toddler lunch ideas for 1 year olds you should be spoilt for choice! There are so many cold options, no cook recipes and make ahead freezer friendly ones.
Even a fussy one should be satisfied by some of the toddler lunch ideas for picky eaters.
Please do let me know which your favorites are and share any of your go-tos. I'd love to add them to the list!