Sensory bins keep little ones busy and engaged in the important task of discovering and exploring new sensations. Aka sensory play. Sensory bin tables for toddlers faciliate this desire and streamline the sensory play process for us parents too.
As always, there's a lot of choice. Sensory tables for toddlers come in a range of designs, materials, colours and sizes. It may be hard to decide which one will suit the needs of your child, your family and your home set up.
If you're looking to invest in a sensory play table for toddlers with dedicated sensory bins, we've got you covered. Then, following this list of sensory tables, you'll find some simple sensory bin table ideas to try once you've got your new table.
By the end of this list, you'll have all the info needed to get started on your sensory adventure with your toddler.
This post contains affiliate links. If you click on one and make a purchase, we may receive a commission at no extra cost to you.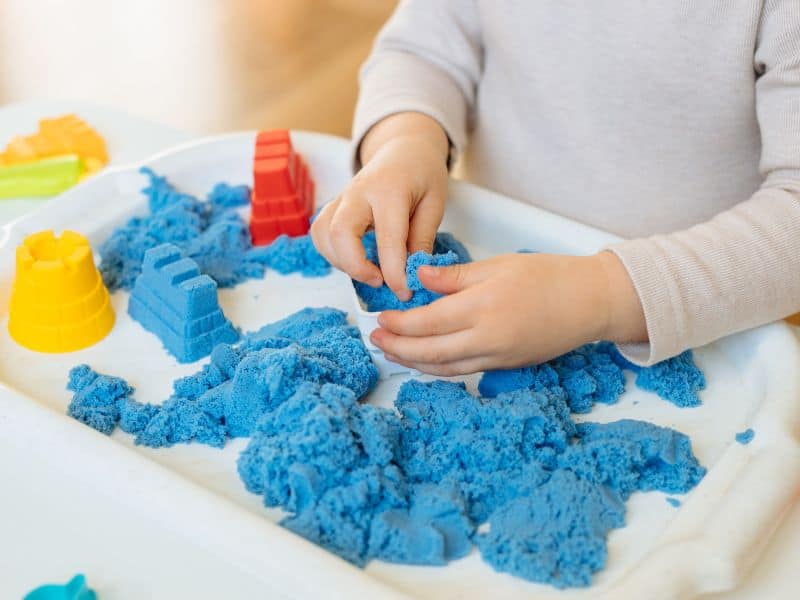 What Is A Sensory Table & What Is A Sensory Bin Table?
A sensory table is a purpose built play table for young children for the main purpose of sensory play.
A sensory bin table is this and more. A sensory bin table incorporates sensory bins or has a dedicated space for them. The sensory bins are normally within or on top of the table-top.
Place your sensory materials and other resources and then the messy play can begin! You can use them for all sorts of sensory activities and encourage your toddler to use all five senses while learning.
Sensory tables for toddlers, with or without bins, are intended to inspire kids to investigate materials and topics by touching and engaging with the objects and other materials. For young children, particularly toddlers, this is an open-ended, imaginative, and creative process.
Are Sensory Tables Worth It?
Sensory tables and sensory bin tables for toddlers are a great investment for your family. They're multi-use and accommodate creative and independent play for your children.
If you're looking for ways to keep your toddler engaged for longer than a few minutes and contain the mess, then a sensory table activity can do just that. From around 18 months old,
In case you're wondering, not all sensory play has to be messy of the wet and sticky kind. A sensory tables for toddlers can facilitate many minimal mess/mess free toddler activities as well.
You can, of course, make do without a purpose built sensory table. Simply place your sensory bin on the floor, toddler table or even your dinner table. However, the sensory bin is liable to be knocked, or perhaps thrown, off onto the floor. Then there's no avoiding clean up!
You also may be reluctant to take the plunge and buy a sensory table for toddlers if you're short on space. Do you really need something else cluttering up your play room, backyard or kitchen/diner (in our case)?
Many sensory bin tables also have a cover or alternate table top, allowing it to be used as a regular toddler table outside of sensory play. This effecitvely gives you two tables in one. If space is an issue, go for this type of sensory table for toddlers.
You'll also get a lot of years out of a good sensory table. Some of the best activities for 18 month olds involve sensory play. 5, 6 even 7 year olds also love and benefit from this type of activity.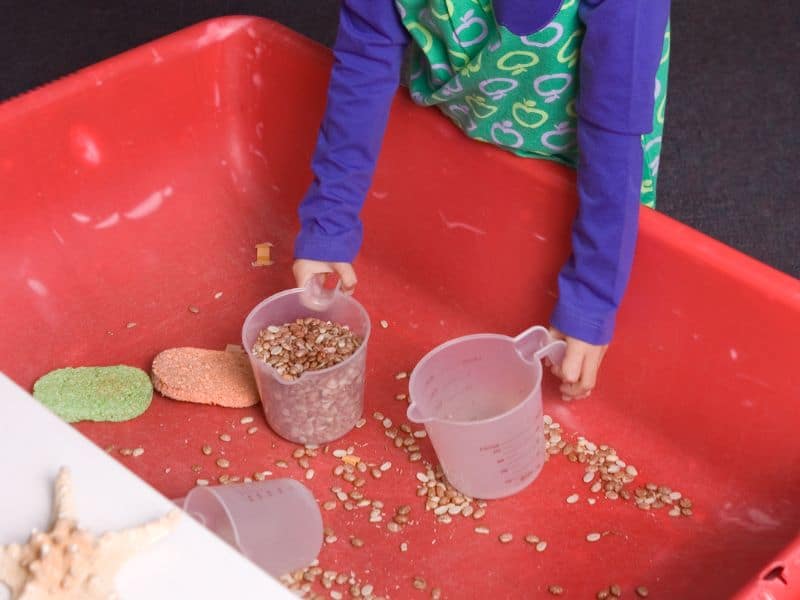 The Benefits Of Sensory Tables For Toddlers
Sensory tables for toddlers provide ways to engage little ones, help them to stay focused and use their imagination. They also learn about various sensations, and work on essential development skills such as problem solving and self-regulation while playing at a sensory table.
Explore the five senses
Sensory play and the use of sensory tables provide endless opportunities for your child to participate in the exploration of the five senses and learning through play.
Develop cognitive skills
Hands-on exploration is encouraged through sensory play. As they squeeze, pour, dig, and sift, children are building all the brain connections they will need as successful little learners, while still having fun.
Independent play
Since sensory tables are easy to use independently, they encourage open-ended and child-led play.
Fine motor skill development
The activities a child participates in using a sensory table further develop their fine motor skills.
Develop social & emotional skills
Communication, problem-solving skills, and learning to adapt to others' play styles will be taught through sensory play with peers.
Calming affect
A child's body and mind can be calmed and relaxed by engaging with soothing textures, smells, and sounds through sensory play.
Easy clean-up
Sensory tables make for easy clean-up and allow children to play with the same activities again and again.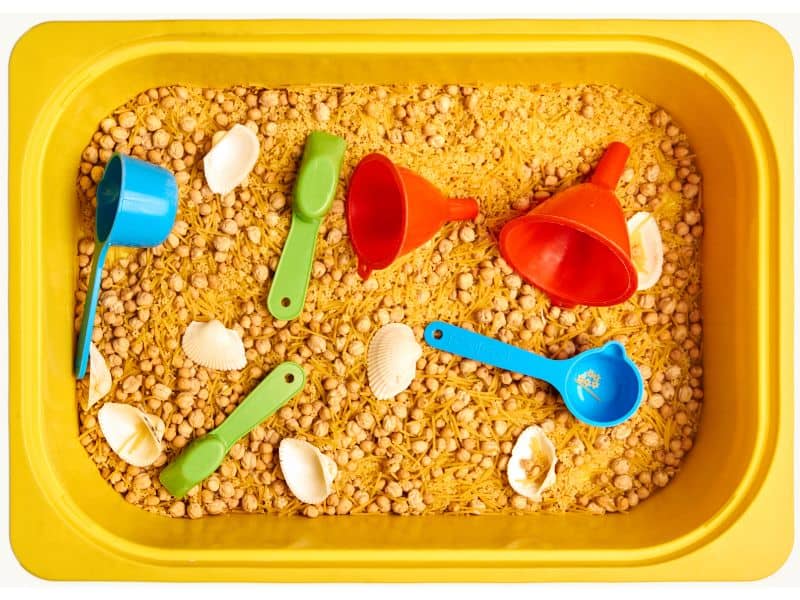 Things To Put In Sensory Tables For Toddlers
Sensory tables allow children to explore materials in a safe, designated place. Sensory bins typically consist of a base (filler), themed focus materials, tools to explore the bin with, and any additional items to make the bin more engaging.
Example sensory table fillers include dry uncooked rice and/or beans, ribbon, water, sand, kinetic sand, water beads, magnet letters, bottle caps, letter tiles, glass gems, edible materials… the possibilities are endless
Themed focus materials could be faux flowers, toys, craft poms, animal figures, plastic eggs, bunny erasers
Then add sensory bin tools, such as funnels, cups, scoopers, hand rakes, utensils
After the recommended toddler sensory tables you'll find some sensory bin table ideas which outline specific materials and tools to use to create fun and engaging activities for your toddler.
How To Make A Sensory Table For Toddlers At Home
Etsy has many digital downloads of detailed building plans for different types of sensory tables for toddlers. One of the most popular DIY sensory tables is made out of PVC pipes.
DIY wooden sensory tables are also a popular option. The list below includes some DIY sensory table for toddler options.
Indoor Sensory Tables For Toddlers
Indoor sensory play is engaging and developmentally beneficial for toddlers and helpful for us parents to keep those busy hands and developing minds occupied. It's very helpful to have a designated place for your child to engage in sensory play inside.
The various sensory tables for toddlers listed below will provide you with some direction in your search.
1. Ikea FLISAT Wooden Sensory Table For Toddlers
This Ikea FLISAT sensory table is one of the most popular wooden sensory tables for toddlers on the market. It's so functional, lightweight, and multi-use and pairs with the Ikea TROFAST bins and Ikea FLISAT stools. (They're not included but need to be purchased separately.)
This table has two flat white panels that cover the sensory bins so you can save the materials to play with from day to day and use it as a regular table in the mean time. or so it can act as a table top sensory bin.
If you already have some Ikea furniture compatible with the trofast bins, the Flisat sensory play table is a worthy consideration, but don't be too hasty. There are more fabulous sensory bin tables for toddlers to come.
2. Beright Children's Indoor Sensory Table for Toddlers
The Beright indoor sensory table is a dupe for the popular Ikea FLISAT sensory table but has one added feature: one side of the white flat top lid panel is chalkboard. Reverse it for fun chalkboard drawing activity.
To transform it from activity table to sensory bin table for your toddler, you can also purchase the Ikea TROFAST bins. However, rather buy the Beright-compatible bins which come in multiple sizes and colors and are collapsible for easy storage.
(You could also combine the Beright collapsible bins with the FLISAT table too.)
Like the Ikea FLISAT table, this one has rounded corners making it safer for little bodies. It's a fantastic sensory table for toddlers.
3. Desk Top Water Tray and Stand Sensory Table with Wheels
This desk top water tray and stand table is easy to move if needed, simply wheel it into another room or space for the activity. It has a fabric "basket" underneath to hold materials, tools, bins, or anything else you may need.
This sensory table does have a few downsides. It only provides one open bin (there's no lid) instead of multiple compartments and does not have the functionality to be used as a regular table.
However, it packs away easily so if you're short of space indoors, this sensory table for toddlers is a worthy consideration. Simply remove the plastic tray and fold up the sensory table frame.
4. 2 in 1 Toddler Wooden Activity Table & Sensory Table (inc Paper Roll)
This 2-in-1 wooden sensory & activity table is so efficient for all types of play and learning. It has an attached paper roll on the side for ease with arts and crafts. The paper roll really extends the play possibilities.
This multi-functional indoor sensory table for toddlers includes two reversible table tops: a flat tabletop panel and a building toys tabletop panel.
It comes with three compartments plus the large sensory bin/storage compartment that makes up the majority of the table. Use these to store toys and materials in and for your sensory bin items for sensory play.
You can cover all the compartments to make a single solid table top, just cover the small ones or just cover the large ones. Or for sensory play involving several different materials, leave all the panels off and use all the compartments.
5. Wonder Activity & Light Table – Best Sensory Table For Toddlers With LIGHTS
This Wonder One light table box for children is an incredible resource for young children of various ages and an exciting sensory light table for toddlers. It can be easily adapted to accommodate all early childhood ages and stages.
The main sell of this sensory table is the visual element. It has an inner light panel in the main compartment for exciting visual play.
It's also ideal for young kids of different ages, due to the removable and adjustable legs. For infants and young toddlers, you can remove the legs entirely and set the table on the floor as a box for them to play on. This would be such a fun sensory table for babies!
It can also handle sand and water play. It comes with chalkboard and dry-erase accessories and flat panels.
This light table fits well with both Montessori and Reggio curriculum play. Although it doesn't offer removable bins as others too, the light panel offers another sensory dimension, making it one of the best sensory tables for toddlers.
6.
UTEX 2-in-1 Kid Activity Table with Storage
This 2-in-1 activity table has a reversible panel top. One side is smooth side, flip it over to use with blocks and building pieces.
It's not a dedicated sensory table with built in bins. However, you can easily pull out the plastic storage drawers and place them on top of the table to use as sensory bins. The rest of the time, these drawers will be handy for sensory play materials and/or toys.
This is a larger table measuring 32.2 inches wide, 20 inches tall, and 22.2 inches in length. This means it'll easily accommodate multiple children.
Outdoor Sensory Table For Toddlers Ideas
Sensory play isn't just for indoors; an outdoor space for sensory play opens up the possibilities for fun! These outdoor sensory tables for toddlers will guide you as you search for the right fit for your family.
More outdoor toddler toy recommendations here.
7. Edxeducation Sand & Sensory Water Table For Toddlers
This Edxeducation sand and water sensory table is made up of one large highly durable clear plastic bin. It has a cover for the tub compartment and a plug for water play. The sturdy steel frame is powder coated, meaning it'll withstand all weathers rust free.
It can of course be used indoors but is better suited to outdoors, due to it's size. It's 43 inches long,versus the similar desk top water tray and stand table listed at #4 above which is 27 inches long.
Great for summer playdates outdoors or if you simply have lots of young children of your own. Some reviewers love this table so much they've even bought two, keeping one as a dedicated water table and the second for other materials.
With the robust lid placed over the sensory bin, you can also use it as a table for arts and crafts. It'd be great for finger painting and other messy sensory and creative activities outside.
8. Kidoozie Sensory Table – Best BUDGET Sensory Table For Toddlers
This plastic sensory bin table with lid can be used either indoors or outdoors, but is especially useful for outdoor play as it's durable to the elements.
It comes with a lid, meaning you can keep the contents clean and dry. This is handy to preserve sand and other sensory materials. Or you can empty it and store tools and other toys inside.
If you're on a budget, this is possibly the best sensory table for toddlers. It's currently available (March 2023) at under $25, whcih includes sensory play tools too.
9. Back Bay Play Picnic & Outdoor Sensory Table for Toddlers
This cute picnic come sensory table has an open compartment in the middle of the table. It looks like a regular toddler-sized picnic table which can be used for all sorts of activities as well as for eating snacks at.
Then remove the lids to reveal the inner compartments for exploration. Now you have an outdoor sensory table for toddlres with two separate sensory bins.
It also has an umbrella for sun protection meaning you won't have to move it to a shady spot on those bright, sunny days.
10. Step 2 Outdoor Sand & Sensory Table
This Step 2 outdoor sand table is marketed as a classic sand table, but you could use it however you desire. Fill it with sensory bin materials and use it for all sorts of interesting sensory activities.
It has one large main compartment instead of being broken up into multiple sections and it comes with tools to enhance play: two shovels, two rakes, and a bucket. It also has elastic straps on the side to close the lid and preserve play.
This is another sensory bin table with lid, which has molded-in roadways – which would create extra appeal for toddlers that love transport activities.
11. Children's Factory Neptune Activity Table
Best PRESCHOOL Sensory Table For Toddlers
This Neptune Activity Table is the rolls royce of sensory play tables for toddlers, with a ton of features and high quality construction. It has two sensory bin compartments under the lid with an interesting curved design.
With lid replaced, it's a fantastic painting table for toddlers and preschoolers alike, with inbuilt paint pots and slots for paintbrushes and other tools.
It's on wheels which can be locked to keep it from sliding around and each bin has a drain for easy clean up. Of course, all this comes at a price, currently at nearly $400 on Amazon.
Probably a stretch to use at home, but this is almost certainly the best sensory table for toddlers in a preschool setting.
12. Heavy Duty 4 Station Sensory Table For Toddlers
This heavy-duty sand & water sensory table for toddlers comes with a transparent lids to preserve play. It's made up of four large compartments and also has adjustable legs to custom-fit your child's height.
It also has rubber feet on the steel table legs to keep it from slipping and sliding as they play. This outdoor sensory table for toddlers is also available as a 2 compartment version, for a simpler, cheaper version.
13. Mud Kitchen Sensory Playset
Best Sensory Table For Toddlers For DRAMATIC PLAY
This Honey Joy kids' mud kitchen playset is a completely different type of sensory bin table for toddlers. It's marketed as a mud kitchen, for outdoor "cooking" type activities and pretend play. But cooking for a young child is nothing more than sensory play!
Simply use the sink area as the sensory bin and add sensory bin materials. This mud kitchen has to to be the best sensory table for toddlers for dramatic play.
Not only that, it offers oodles of storage for play kitchen equipment as well as all your sensory bin tools and materials.
KUB Original Hexacle Tuff Tray & Stand (UK only)
The Hexacle Tuff Tray & Stand is not number 15 as, for most of you, it won't be available. And I cannot understand why! This is an awesome sensory table for toddlers that seems to be only available in the UK.
It's simple, robust, versatile and is easy on the wallet too, at GBP 60 (under $100). Legs are adjustable so you can find the perfect height or remove altogether. Use indoors or outside.
It is more a sensory play tray, rather than table with sensory bins, and doesn't have multiple compartments. But if you're in the UK, this is a worthy consideration.
DIY Sensory Tables For Toddlers
Did you know that you can actually create your own sensory table for your child? These DIY sensory tables for toddlers may make for a fun project for you and an exciting new item for your child to enjoy.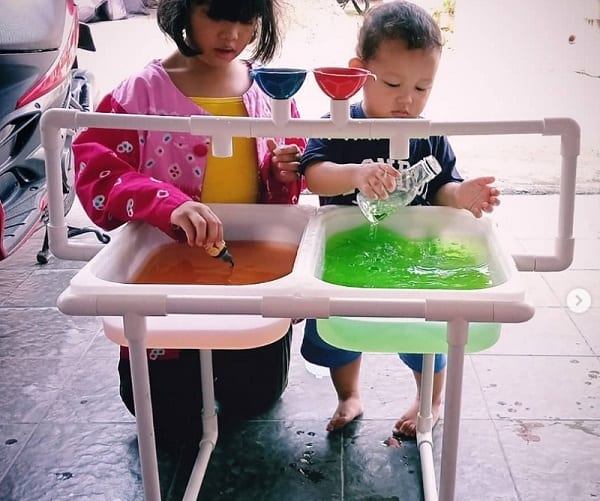 14. PVC Pipe Sensory Table
Create your own sensory play table for toddlers at home with PVC pipes! There are different versions with varying levels of difficulty so you can make a decision based on your skill set.
Etsy has some digital tutorials and build instructions you can follow.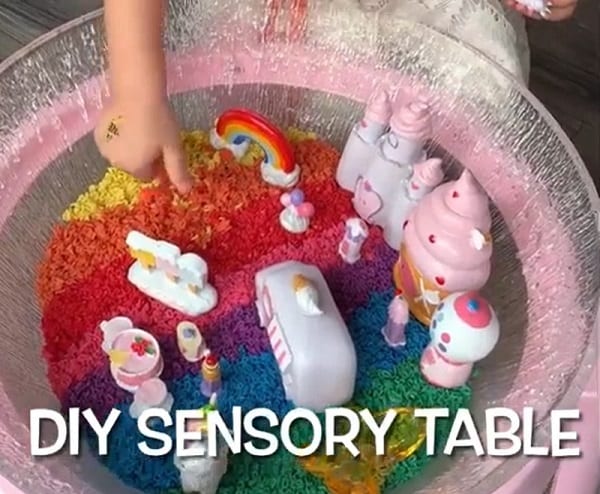 15. DIY Bowl and Table Sensory Table
This DIY bowl sensory table is such a genius parenting hack! All you need is a table with removable glass table top. You should be able to find one at a thrift store quite easily.
Simply remove the table top and in its place put a large plastic bowl. And there you have an easy DIY sensory table for toddlers.
Amazon also carries some ideas of a side table with a removable tray that would work for this DIY sensory table hack.
Table Top Sensory Bins
If you're still not convinced whether or not to go all out with a dedicated sensory table for toddlers, you can simply use a table top sensory bin on any table. This gives you a budget friendly and versatile option that won't take up too much space either.
Of course, with no legs, you can also use these on the floor, making them ideal for baby sensory play.
You can simply use a large shallow plastic tray or metal oven dish, but for a purpose-built and designed table top sensory bin, try these:
Inspire My Play Table Top Sensory Bin with Lid & Removable Inserts
This Inspire My Play Table Top Sensory Bin is cute looking and offers lots of flexibility. You can use it with the 6 inserts or remove them and have 1 large, deep sensory bin.
It's made from tough BPA-free plastic that's also FDA food grade, so perfect for taste-safe and edible sensory activities. It also has rubber feet to stop it slipping as your toddler plays.

KOOKAROO Montessori
Table Top Sensory Bin
In keeping with the Montessori ethos, the KOOKAROO Table Top Sensory Bin is made of natural materials. It has two main compartments: a large one for your sensory base or filler and other themed items and a smaller one for tools. This lovely wooden set comes with 9 Montessori tools.
Best Sensory Bin Table Ideas for Toddlers
Once you've purchased the best sensory bin table for your toddler, it's time to make plans for how to play with it. The sensory bin table ideas below will provide simple and engaging play for your toddler.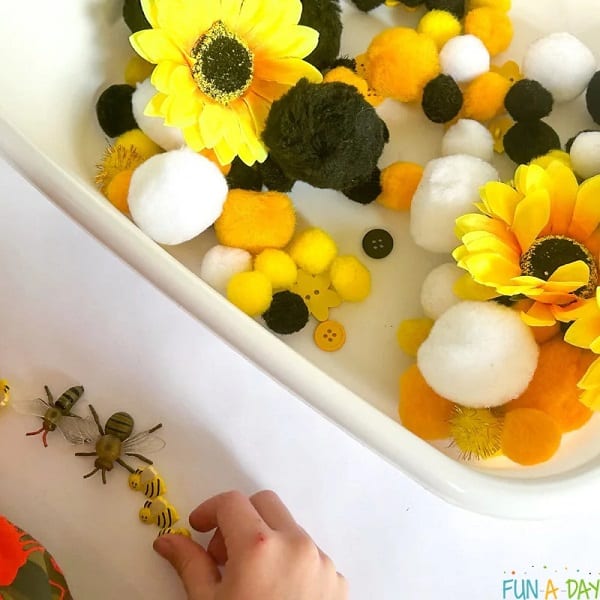 1. Bee & Flower Sensory Bin
This bee sensory bin idea by Fun-A-Day makes for an exciting and adorable spring or summer sensory bin. It's so easy to put together and will be fun for your toddler to explore.
The base of this bin is made up of black, white, and yellow craft poms. Alternatively, use any black/white/yellow materials you have on hand, such as ribbon strips or scraps of paper, pipe cleaners, feathers, cotton balls or anything else you can find.
Then add bee toys/figurines, buttons, artificial sunflowers, or any other fake flowers to the sensory bin table. Finally, add in tools to extend your toddlers fun, such as scoopers and cups.
2. Construction Sensory Bin
This construction sensory bin by The Salty Mamas is so quick and easy to set up and will appeal to little ones that love to dig. Pretty much every toddler, right?!
There are many options when it comes to the base materials. The picture abovel show dried beans/lentils as the base, but anything you have on hand, such as dirt, sand, gravel, pebbles, dried rice would also work.
Or turn this sensory bin table idea into a winter themed sensory play and add flour or moon sand or another type of fake snow sensory base.
Finish with some construction vehicle toys. It'd be nice to have a variety of vehicles in order to hold their interest longer. With younger children, start with a vehicle or two, then gradually add a few more. This helps to not overwhelm them.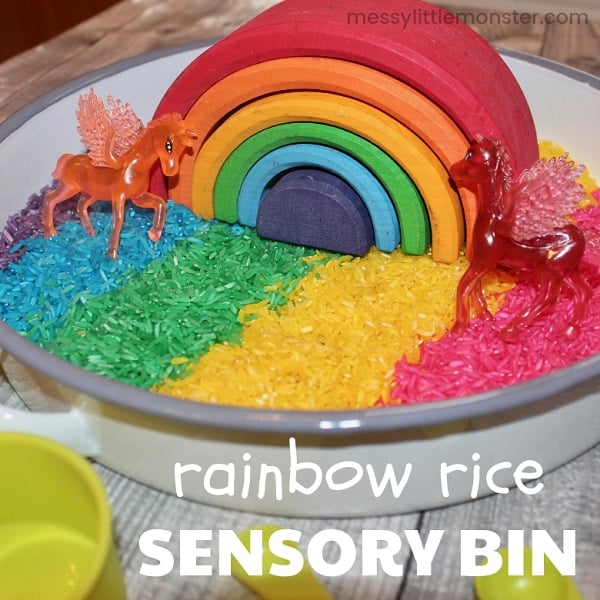 3. Rainbow Rice Sensory Bin
Sensory bins with a rainbow rice base can be used in so many ways! To make the dyed rainbow rice needed for this bin, you'll need uncooked white rice, food coloring, vinegar, and a Ziploc bag.
Combine the uncooked rice in a bag with the chosen dye color and a little squirt of vinegar. Then seal the bag, and shake it until all color is mixed through the rice evenly. Add more dye to make the color more vibrant if desired.
Use a separate bag for each individual color. You can make as many or as few colors of dyed rice as you want. Set each color out to dry in a tray or on a piece of parchment paper.
Once the colored rice is dry, it's time to play! Your toddler may well be content with nothing more than the rainbow rice in their sensory bin table. You can also add rainbow toys or perhaps some forest or farm animals.
To store the dyed rice, put it back in the Ziploc bag. Alternatively, if you have a sensory bin table with lid, leave it there for next time. You may be able to store the blue rice separately from the green rice etc, but it may be too well mixed by then!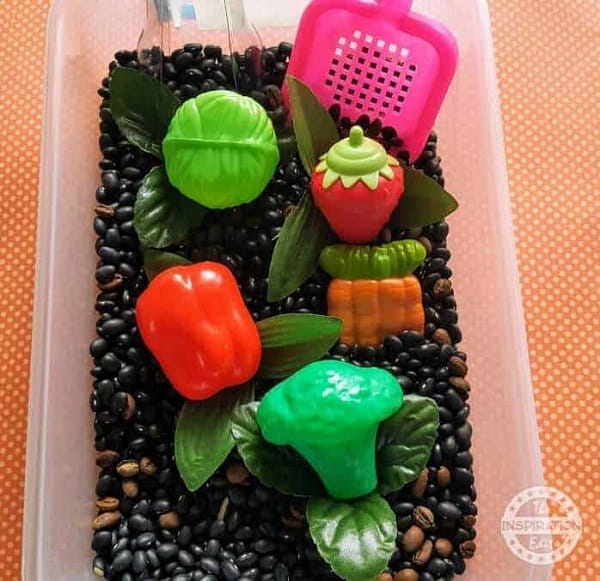 4. Vegetable Garden Sensory Bin
For this adorable vegetable garden sensory bin by The Inspiration Edit, use dry uncooked black beans. You could also use dried kidney beans, whole or ground coffee beans to represent the soil.
Then add play vegetables, faux leaves, sensory table tools, tongs, plus any other tools or gardening materials you want to add to enrich play.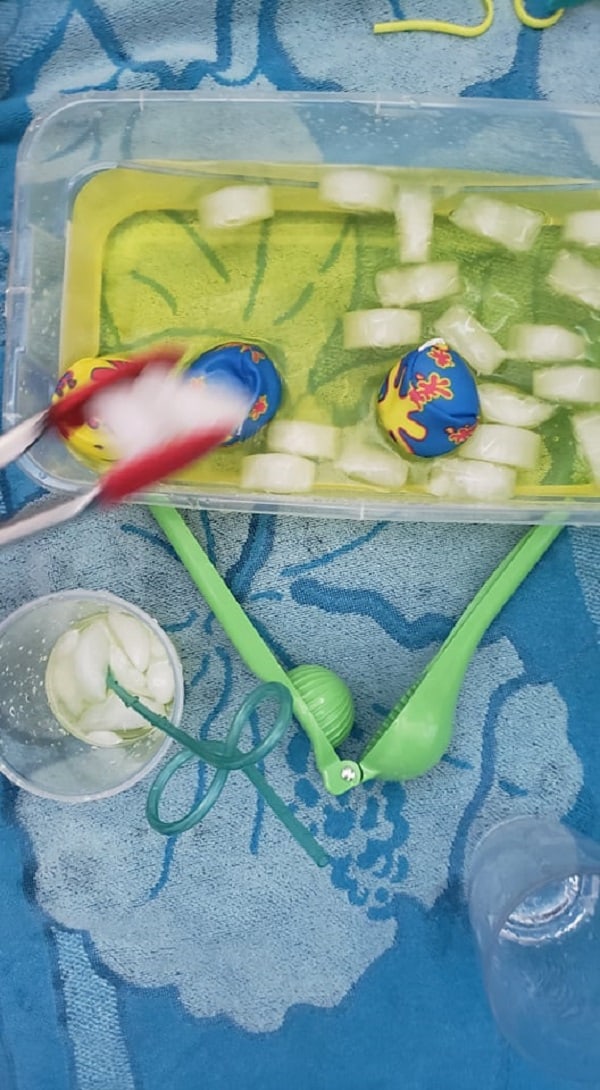 5. Squeeze-Your-Own-Lemonade Sensory Bin
What a fun, warm-weather sensory bin table idea, another one from The Salty Mamas. This squeeze-your-own-lemonade bin is a great way to explore water, perfect for a water sensory table for toddlers.
You will need food coloring to dye the water to look like lemonade. You could use actual powder lemonade if you want to add a taste element. Next you need a citrus juicer, and splash squeeze balls for water play to squeeze the water in the juicer.
You could also use real lemons if you desire. Your child will enjoy putting the splash balls in the juicer and squeezing all of the water out. For a super cold sensory activity, add real ice, reusable ice cubes, and some tools such as slotted spoons, straws, and tongs.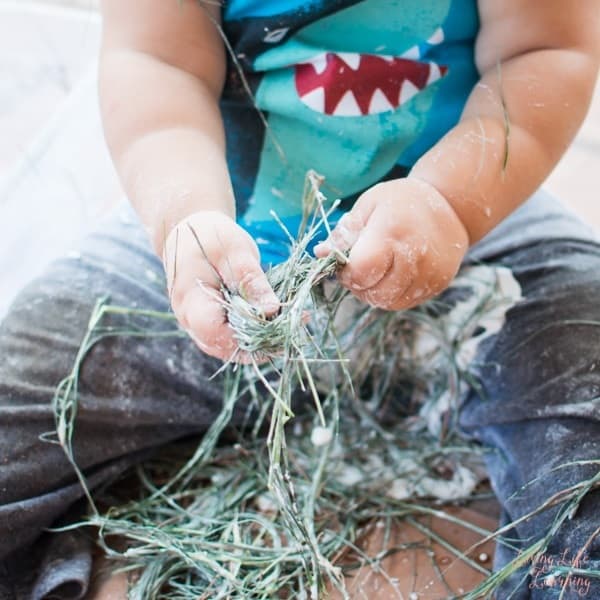 6. Goopy Grass Sensory Play
This creative goopy grass sensory play activity is best done outside since it can get quite messy. Any of the outdoor sensory tables for toddlers listed above would help contain the mess.
To make the goopy grass, you'll need cornstarch, water and real or artificial grass:
add grass to the sensory bin table
put cornstarch on top of the grass
add water until you get the desired consistency (the ratio of 2 or 3 parts grass to 1 part cornstarch works well)
then begin to add water
If you do play inside and some goopy grass gets on the floor outside of the bin, let it dry, and then vacuum it up.
The ingredients for this bin are natural and non-toxic so you don't need to worry if your toddler puts it in their mouth. It probably won't taste very good, but it won't be dangerous!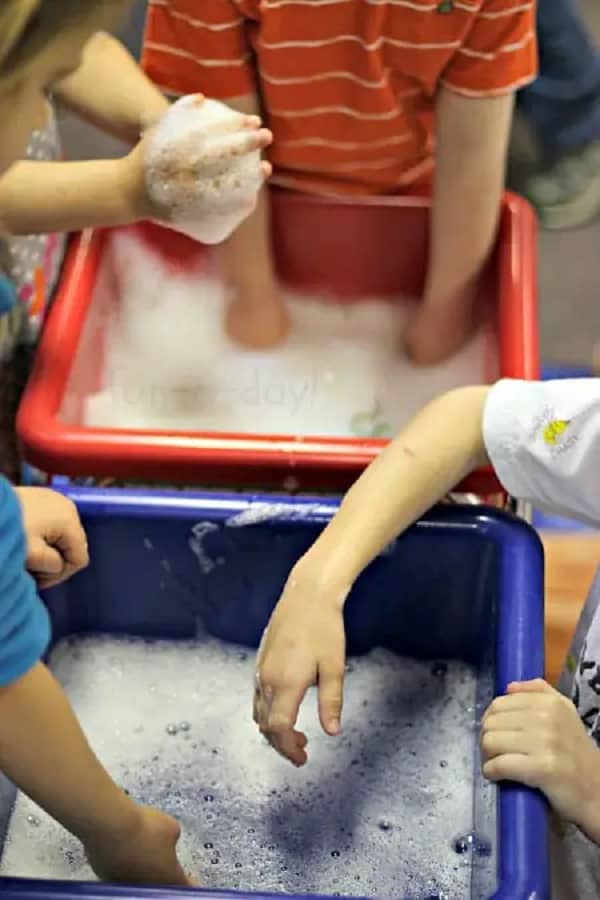 7. Scented Spring Sensory Bin
For this scented spring sensory bin, you'll need a flower or spring-scented shampoo, warm water, scoops, funnels, cups, and a good sensory table for toddlers with a deep bin. A waterproof mat would be helpful for underneath if you're indoors.
Simply fill the bin of the sensory table with warm water and add the scented shampoo (just a bit.) You can either mix it up ahead of time yourself or let your children mix it to watch what happens. Add tools, and maybe even faux flowers to enhance the springtime fun!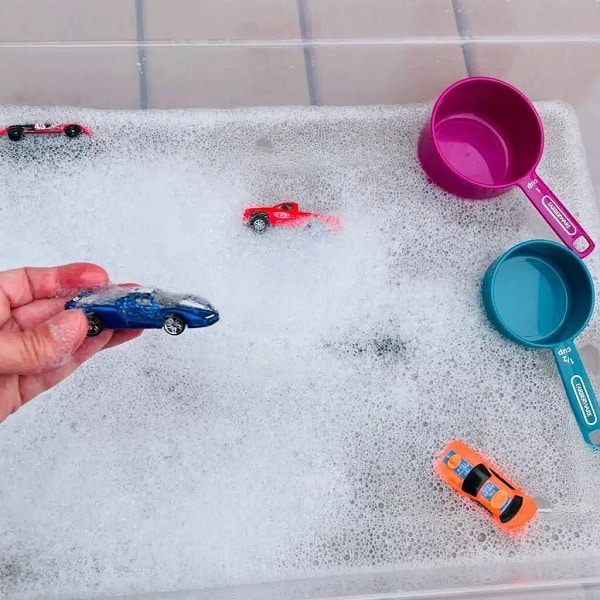 8. Car Wash Sensory Bin
This simple yet engaging car wash sensory bin will keep your child thoroughly entertained. Add toy vehicles and dish detergent to a water sensory table for toddlers.
Adding some tools such as scoops, cloths, and measuring cups will extend the fun. You could do this sensory activity outdoors or lay down a towel if playing inside.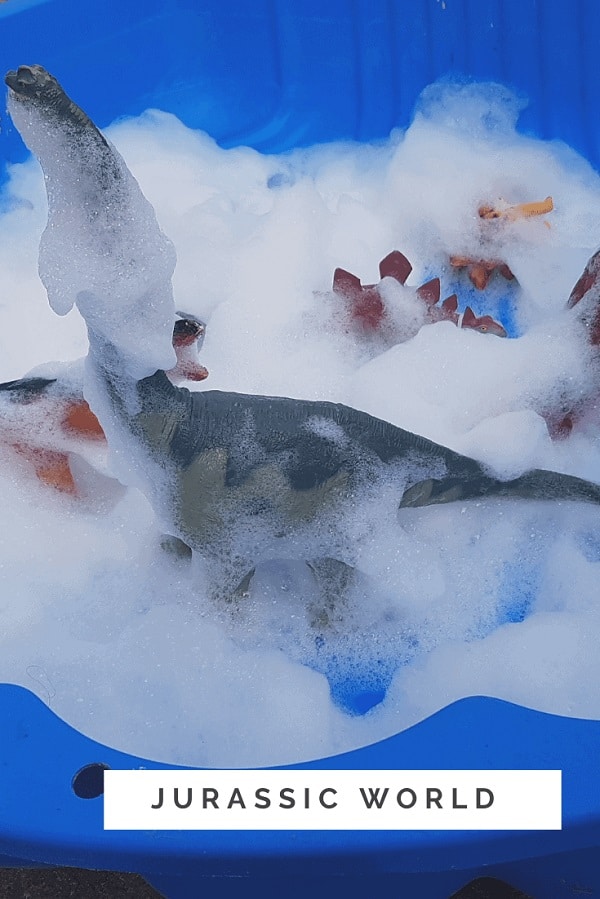 9. Dinosaur Foam Play Sensory Bin
Dinosaur activities are a hit with little kids! For this exciting Lil Tigers dinosaur foam play sensory bin, you'll need water, bubble bath solution, dinosaur toys, and a hand mixer or a whisk.
Begin by putting water in the bin of the sensory table for toddlers and adding the bubble bath solution. Use the mixer or whisk to create the bubbles, and add the dinosaur toys last. You could use food coloring to dye the bubbles for an extra visual element.
For more sensory play involving these prehistoric creatures, checkout 21 Fun & Easy Dinosaur Sensory Activities (inc Dinosaur Sensory Bin Ideas) For Toddlers.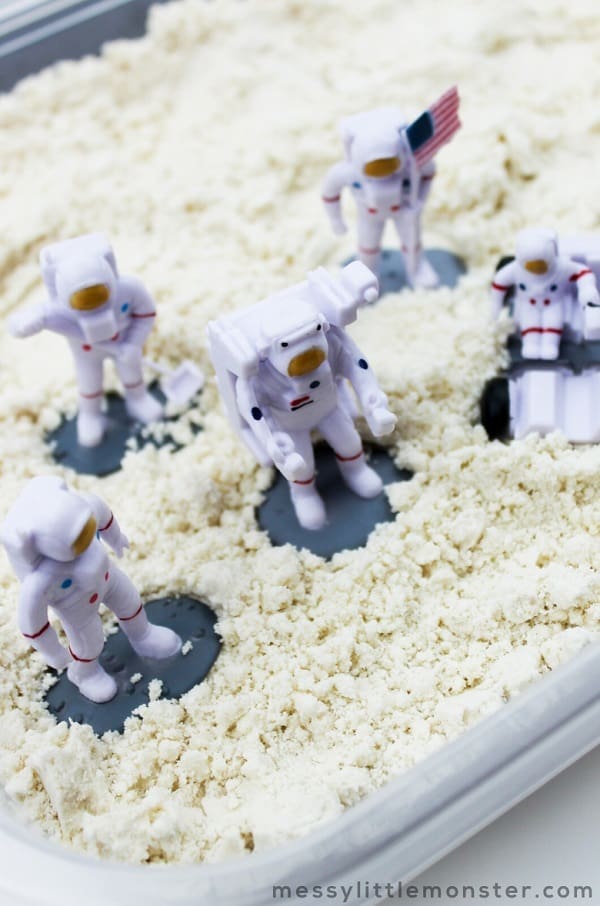 10. Moon Dough Space Sensory Bin
You can use moon dough or moon sand as a base for any sensory bin. The name is very fitting for this space-themed sensory play by Messy Little Monster. It's such a cute sensory bin table idea!
To make the moon dough, you will need 8 cups of all-purpose flour, 1 cup of baby oil, a large mixing bowl, and a mixing spoon. Simply add the flour to a large mixing bowl followed by the oil, and mix thoroughly. '
For the space-theme, add space toys to for your child to explore and play with. You could add glitter to the bin to make it interstellar!
For more themed sensory activities check out:
FAQS On Sensory Tables For Toddlers
You may have some unanswered questions regarding sensory play and sensory tables for toddlers. We've got you covered below.
Is rice safe for a sensory bin?
Uncooked, dry rice is safe for sensory bin use with parental supervision. The versatility of rice in sensory play makes it an excellent choice for any topic and any time of year.
You can adapt it for use in any season with any materials. Pair it with arctic animals for a winter bin, and add artificial flowers for a spring bin. You can also easily dye rice to customize your sensory bin.
How many cups of rice to add to a sensory bin?
It depends on how large your bin is, but 3 to 5 cups of rice in your sensory bin should suffice most of the time. With younger children, you may want to start with just a couple of cups of rice and add more over time so you don't overwhelm them.
You can also put the same few cups of rice in a resealable plastic bag to reuse over and over as long as it's not dirty.
At what age is a sensory table appropriate?
Determining the appropriate age for sensory table use depends on the size and height of the sensory table but, generally speaking, from 18 months sensory tables designed for toddlers will be suitable.
Sensory bins can also be played with on the floor if need be until your child is tall enough to use a purpose built sensory play table for toddlers.
How do you make a table sensory with Ziploc bags?
To make a sensory table for toddlers with Ziploc bags, simply fill multiple bags with materials of different, exciting textures. Then tape them to a tabletop or a flat surface for your child to explore in a mess-free way.
Taping Ziplock sensory bags to a table is a great introductory experience to tactile exploration and sensory play. This is an easy and safe way to make a sensory table for babies.
Ready To Try A Sensory Table With Your Toddler?
The world of sensory play may seem overwhelming initially. There are so many different ways to explore and products to consider. However, we hope you now have a better idea of the sensory tables for toddlers on offer.
Along with the sensory bin table ideas you should now have an excellent place to start some sensory exploration with your toddler.
Remember, it doesn't have to be perfect to be impactful. Be sure to have fun!
________________________________________
If you love doing crafts with your little one, be sure to check out some of these popular posts next: