If you're preparing for baby, or simply want to add a little je ne sais quoi to your little one's room, sprucing up the nursery with some beautifully decorated wall shelves is a must.
But where to start? There are so different types of wall shelves for baby's rooms and a million different ways to style them!
Here are some of our favorite baby shelf ideas to get you started. From nursery shelf decor ideas for baby boys and girls, to ideas specific to floating shelves and shelves with hanging or peg rails underneath, you'll find them all here.
This post contains affiliate links. If you click on one and make a purchase, we may receive a commission at no extra cost to you.
What do you put on a shelf in a nursery?
From picture frames, soft toys and baby books to baby birth plaques, trailing house plants and cute baby booties, there's so many things to choose from to decorate your nursery wall shelves.
Different types of shelves accommodate different items and in slightly different ways.
Shelves with a rail in front (say hello to the reinvention of Ikea's simple "spice rack shelf") are great for displaying books and picture frames, that may otherwise easily fall or be knocked off. With the cover on show, little ones can easily find their favorite book, promoting independence and in keeping with the intentional environment of the Montessori approach.
All sorts of other cute and fun nursery shelf decor can be displayed on regular shelves, floating shelves and picture ledge shelves.
Or why not try a shelf with pegs underneath, from which you can hang bits and bobs, and one or two gorgeous baby outfits. (The ones you can't wait to put on your baby for a photo, but having struggled to get them on, swear never to use them again…)
You can do something similar with a shelf with rail underneath (aka an Ikea spice rack shelf flipped upside down…)
The nursery shelf and decor ideas are sure to give you plenty of inspiration.
How can I decorate my shelf?
Try to vary the height of the items displayed to give the decorated wall shelves a more natural feel.
Create layers of texture, by mixing soft, fluffy toys with hardback books, for example. Or wood-framed pictures with fabric decor items. This will create interest and visual appeal.
You also want the nursery shelves and decor to fit in with your nursery theme. If you've gone bright, white and minimalist, echo that with a few simple items displayed on your baby's wall shelves. While an eclectic display of lots of different items might look right on a similar-sized shelf in a boho nursery.
Of course, colors are also important when it comes to decorating your nursery shelf. Coordinate colors with the rest of the room and for a more cohesive look, as a rule, less is more.
You could also hang your shelves on a feature wall painted a different color, or paint a block of color behind the shelf. This can give the shelves and shelf decor a whole different look, making items pop.
How high should shelves be in the nursery?
If you're creating a library wall that your little one can easily access, keep the lowest shelf about 16 inches high from the floor. The other shelves can be spaced 10 – 15 inches above or below, depending on the size of the books.
If you want the items to be accessible only to you and not your little one, the highest shelf can be at an average height of 72-78 inches. You can, of course, alter this depending on your height and comfort.
GENDER NEUTRAL Nursery Shelf & Décor Ideas
Here are some wall shelves and decor ideas for a baby girl or baby boys room, ideal too for boy-girl twins.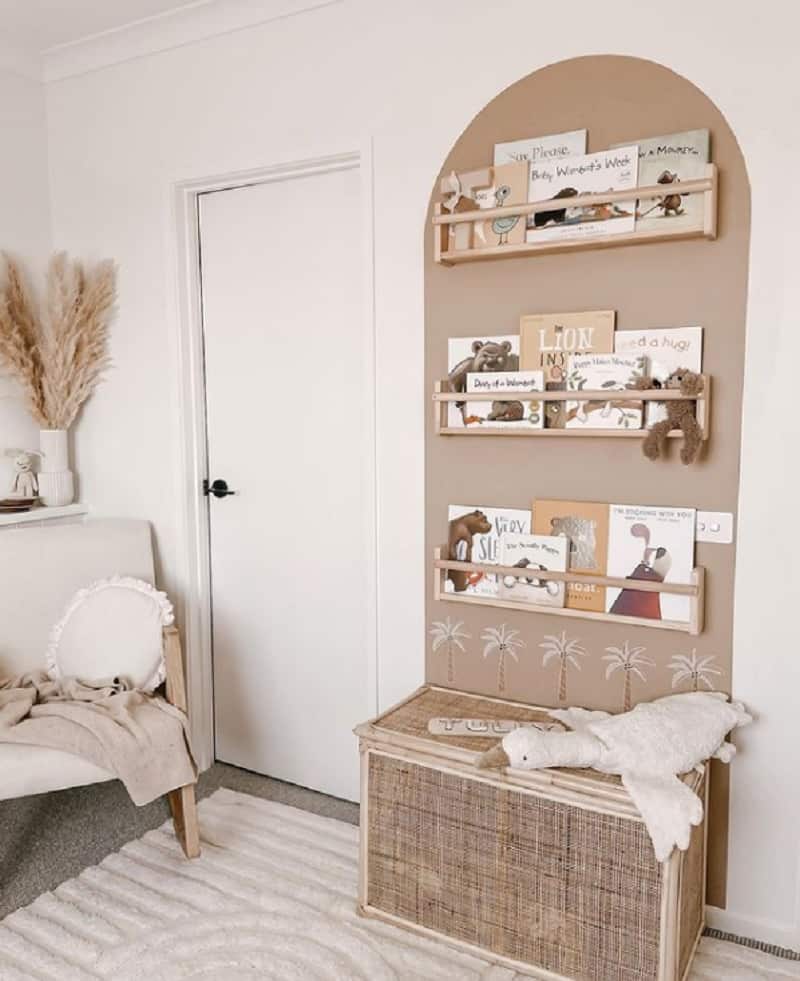 Boho style reading corner
Baby nursery shelf ideas like this one definitely inspire me for my next DIY project. The long shelves hold lots of books and the arch really highlights the space, it's such a clever paint technique. The paint pallet is also really rather gorgeous and would work equally well for boys and girls.
Replicate this nursery shelf decor and idea:
Flisat shelves from Amazon
Wild Palm decal from Wild Palm Collective
Letter name from Bambini Delights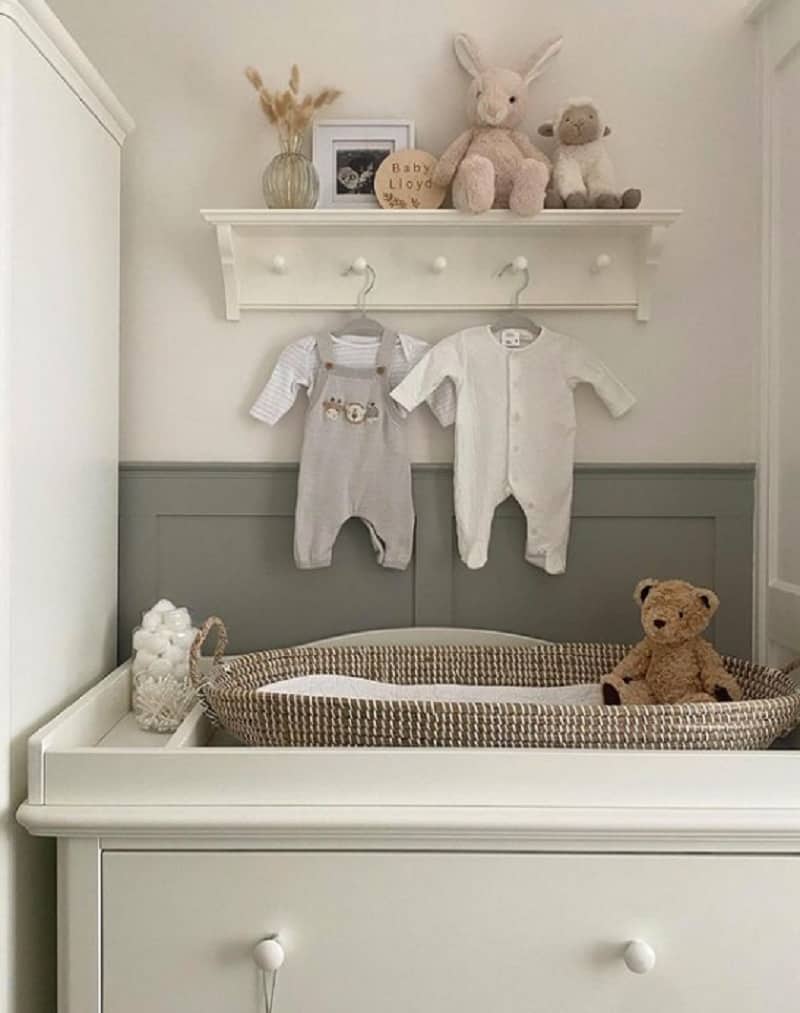 White is wonderful!
I love white, and anything in white wins my heart! A gorgeous quality wood shelf complete with peg hooks underneath compliments the wood paneling underneath. This is also such a great use of space, with the shelf gently tucked between two walls along with the change table.
Get the nursery shelf and decor here:
Shaker Peg Shelf from Furneco
Bashful cream bunny from Jellycat, Amazon
Wooden disc name from Willow & Griff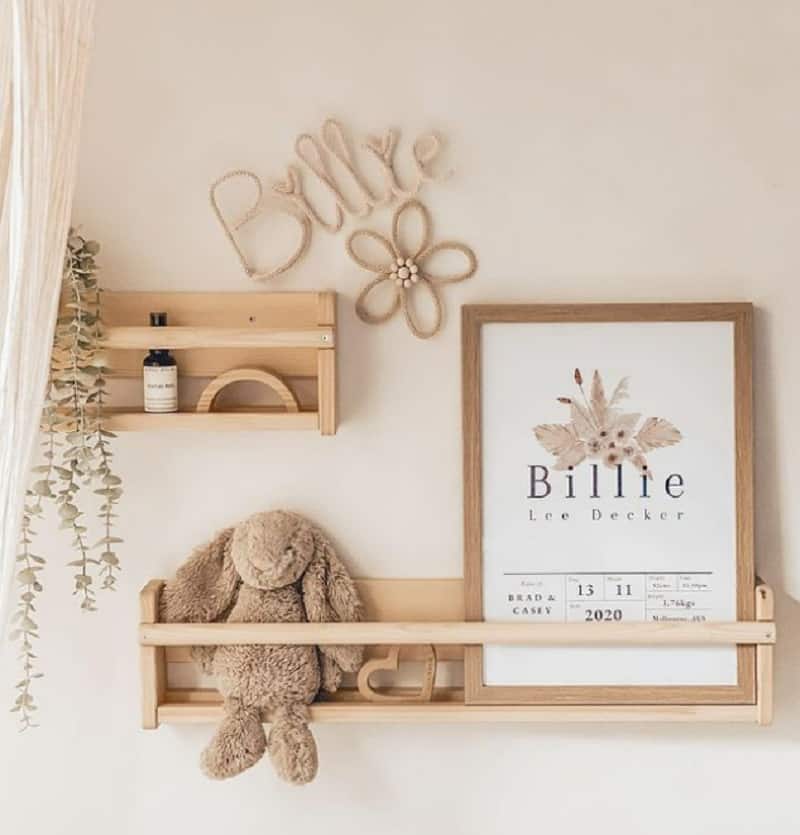 Pretty wood elements nursery wall shelf idea
This is a good example of staggered nursery shelves, using display shelves. The bottom shelf displays a framed birth poster while the top shelf holds smaller items. The staggered shelf look is tied together by the personalized name and flower wall decor. Isn't the result simple and beautiful?
Get the look here:
Flisat shelves from Amazon
Personalised birth posters from O Print.
Wooden heart teether from Little Moo Baby Boutique
Bashful beige bunny from Jellycat, Amazon
Wired name and flower from Knots by Teneal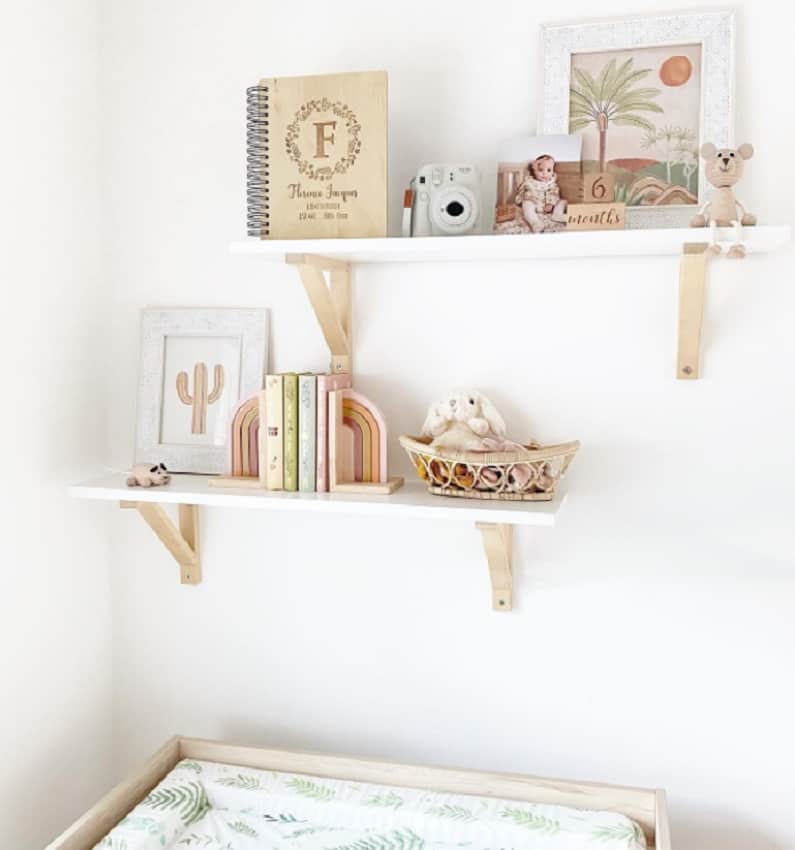 Sophisticated changing corner
These look like sophisticated shelves, but it's the gorgeous decor combined with simple nursery wall shelves that create the overall gorgeous look and feel. The rainbow book stand and the two little mice are truly eye-catching. Cuteness overload!
Replicate this nursery shelf decor idea:
Bergshult / Sandshult wall shelf from Ikea
Wooden bear sitting toy from Pine and Pear Co
Rainbow bookends from Habitat UK
Mini basket from H&M Home: H&m home, still looking for it
Rainbow stackable toy from Habitat UK
Milestone blocks from Little Daisy Dream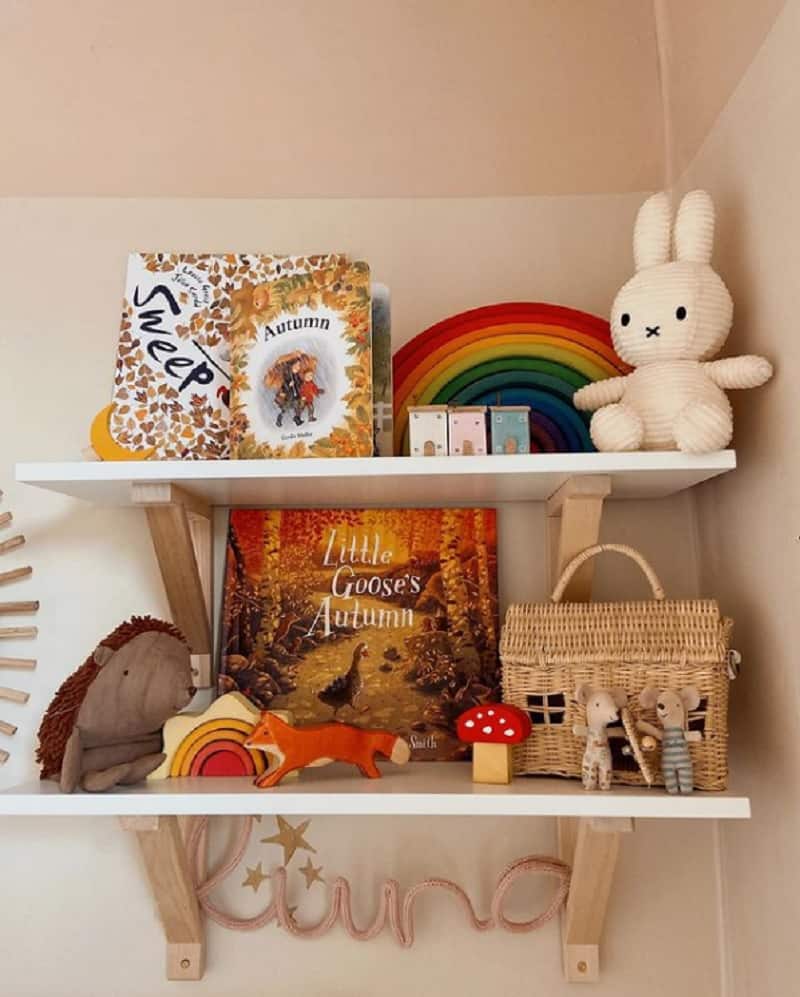 Fall-inspired nursery wall shelves
What a smart way to add Fall décor to your baby's nursery. The simple shelves look stunning and vibrant with all the colors of the season. These ones are a good example of how you can layer the shelves with smaller items in front of bigger ones, possible with deeper shelves like these.
Re-create this nursery shelf and decor idea:
Bergshult / Sandshult wall shelf from Ikea
Rabbit stuffed toy from The Toy Shop Robin Hoods Bay
Rattan casa clutch from Olli Ella
Wire name from Dotty's Home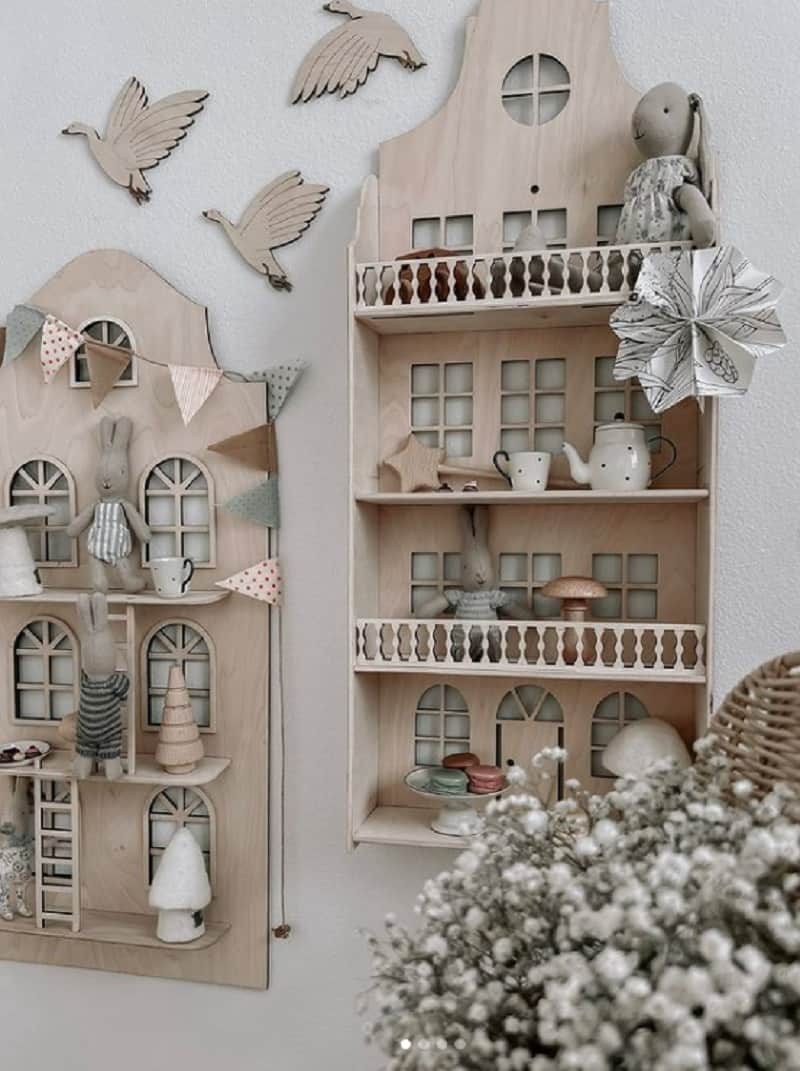 Vintage house nursery shelf
Display favorite trinkets, dolls and toy collections with this beautiful vintage house nursery wall shelves. What a unique nursery shelf idea with gorgeous decor to boot.
Find this nursery shelf and decor:
House shelf from Deugniet En Co
Bunting flags from A Vintage Childhood
Bunnies from Maileg
Play food and accessories from Maileg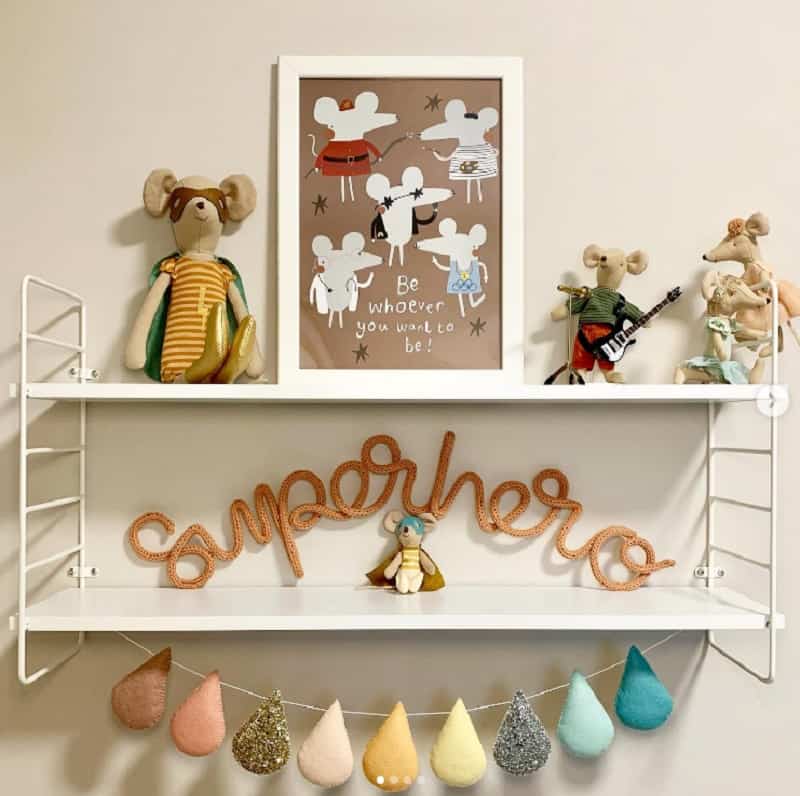 Superhero nursery wall shelf
What a wonderful theme for your baby's nursery. Not only is this nursery wall shelf decor idea unique, but it's sure to instill a sense of bravery and courage into your little superhero, who's sure to love playing with those adorable mice in time.
Re-create this nursery shelf and decor idea:
North shelf, white metal from Bloomingville
Springtime droplet garland from Velveteen Babies
Wired superhero from Hey Kiddo Studio
Framed saying from Studio Yaya
Small superhero mice from Maileg
Super hero maxi – girl from Maileg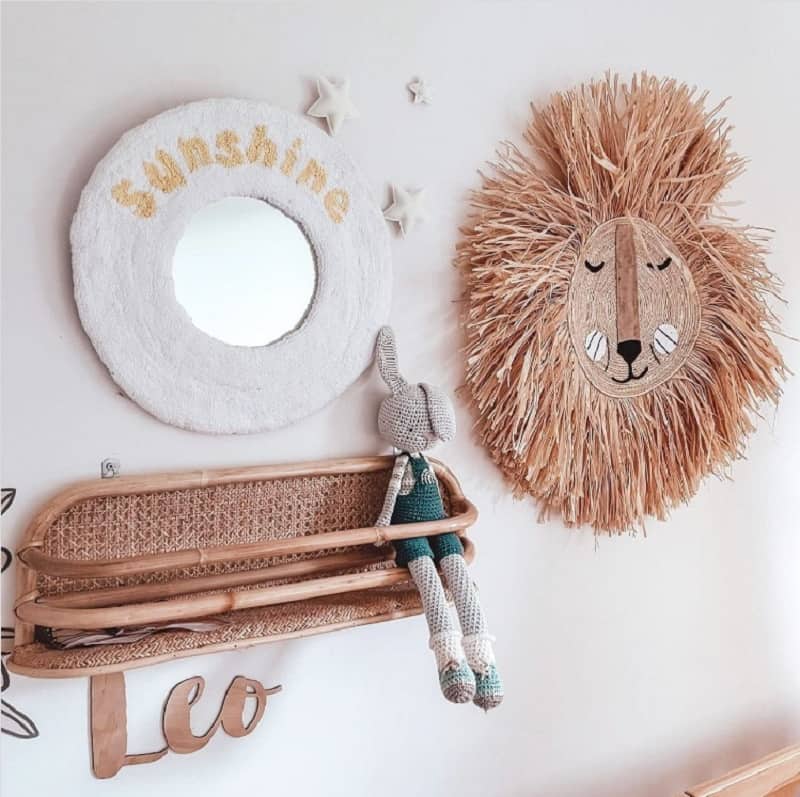 Jungle-themed rattan nursery shelf
This rattan nursery wall shelf works so well with the raffia lion so create a subtle jungle theme. I love the soft and fluffy sunshine affirmation mirror too.
To complete a similar look of this nursery shelf decor idea:
Rattan bookshelf from Arabella + Autumn
Mini Raffia lion Rumi & Fae
'Sunshine' affirmation mirror from Cowrie and Conch
Timber wall words 'script font' from Zilvi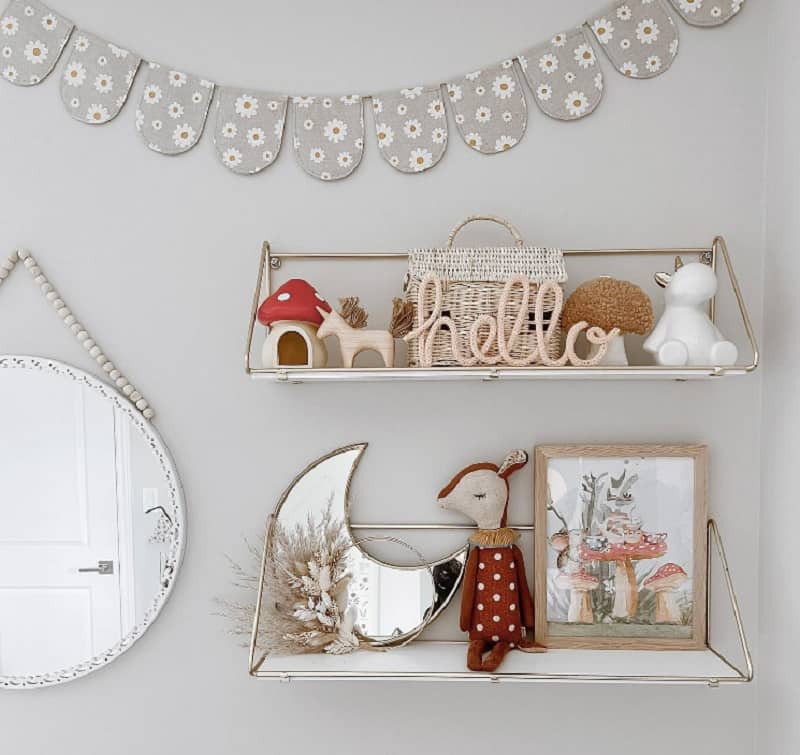 Whimsical woodland nursery shelf idea
A stunning gold wire shelf combined with the natural elements and woodland decor create a fairytale kind of feel, perfect for a neutral-themed nursery. The dark red of the deer and toadstools add some color to an otherwise natural and neutral palette.
Nursery shelf decor ideas to get the look:
Gold wire shelf from Bouclair
Wooden unicorn from Tateplota
Rattan casa clutch from Olli Ella
Moon mirror from Baba Souk
Bambi from Maileg
Nursery Shelf & Décor Ideas for BABY BOYS
Next up are some gorgeous nursery shelf decor ideas for baby boys.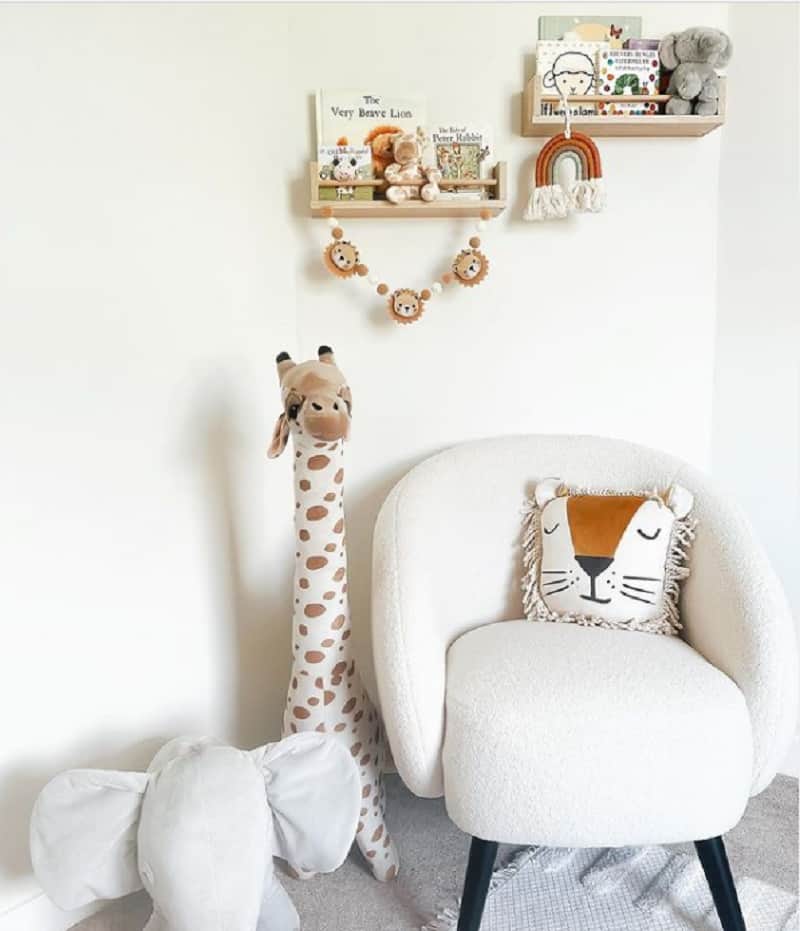 Simple safari-themed book nook
How adorable are these simple pine shelves with safari-themed decor, it's such an on-trend look at the moment.
These simple nursery wall shelves originated as spice racks in the kitchen and are now a popular choice for kids rooms and nurseries – the rail means books can be displayed easily, while keeping them from falling.
The cute dangling rainbow and lion garland are a nice touch to this creative book corner. It's one of the cutest baby nursery shelf ideas I have seen.
Replicate this nursery shelf and decor idea:
Classic nursery shelves from Amazon
Larry Lion Garland from The Nursery Hut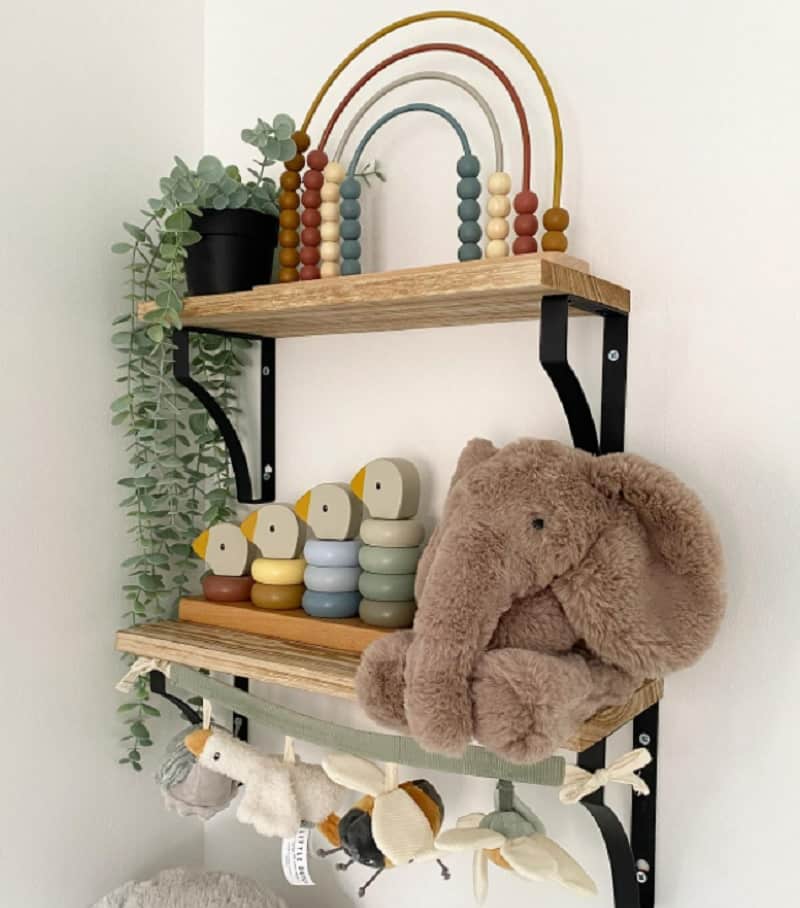 Industrial nursery shelves
For a rustic and industrial look, these might be your shelves of choice and will really liven up a small corner in your little one's nursery.
The toy chain shelf decor is such a great way to add hanging space to these shelves. Can you see the sage green element throughout? It really ties it altogether.
Get this nursery shelf and decor:
Similar shelves found on Amazon
Wooden abacus rainbow from Mabel and Fox
Stacker Little Goose Family from Mabel and Fox
Toy chain from Mabel and Fox
Smudge elephant from Jellycat, Amazon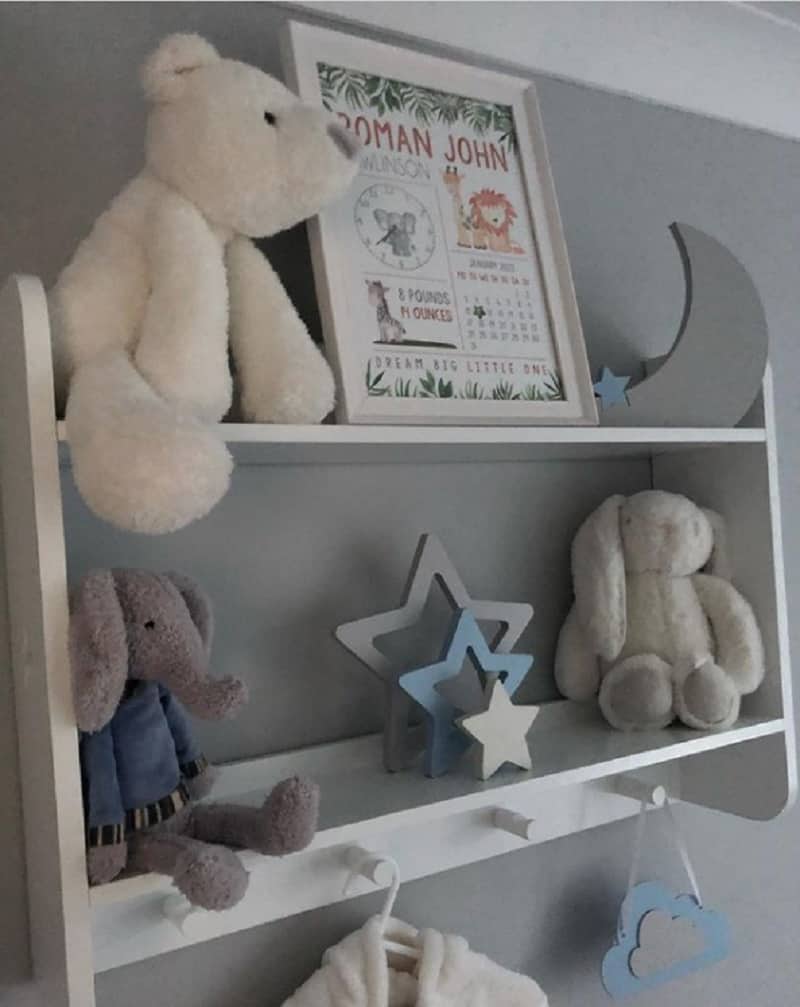 Blue and grey-themed baby boy nursery wall shelves
Such a lovely picture to inspire you for a little boy's nursery. The colors blue, grey, and white look picture perfect. The white and grey soft toys look so cozy contrasted by the clean and bright moon, stars and cloud shelf decor.
Replicate this nursery shelf decor idea:
Star Bright Shelves with Hooks from Great Little Trading Co.
Perry polar bear from Jellycat, Amazon
Nursery Jungle Safari Themed personalised new baby details from Pip andPea Designs
Personalised Light Grey Bunny Soft Toy from My 1st Years
Stacking stars, moon, hanging cloud from Treasure Box Studio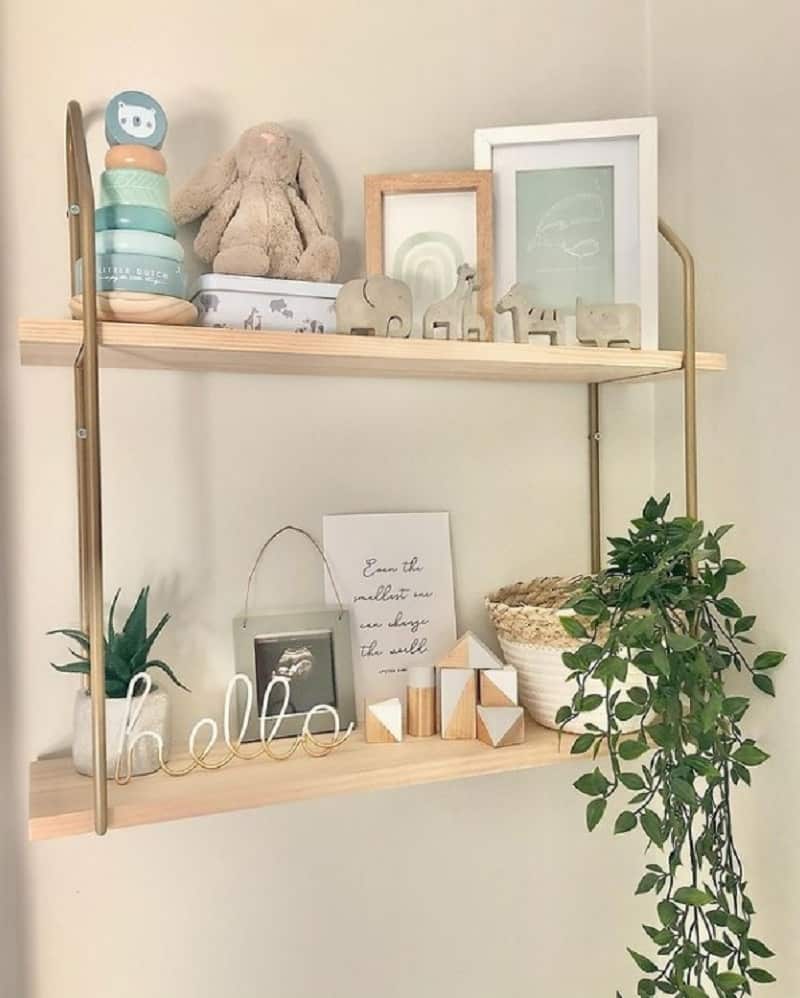 Metal and wood shelves with botanicals
Chic and a little unusual, these metal and wood shelves are complemented beautifully by the natural material and wood decor elements and the gorgeous trailing plant.
Find this nursery shelf and decor:
Vinto double wood & metal shelf from LaRedoute
Wooden animals from Concrete Gifts Co
Rocking ring stackers from Little Dutch
Bashful beige bunny from Jellycat, Amazon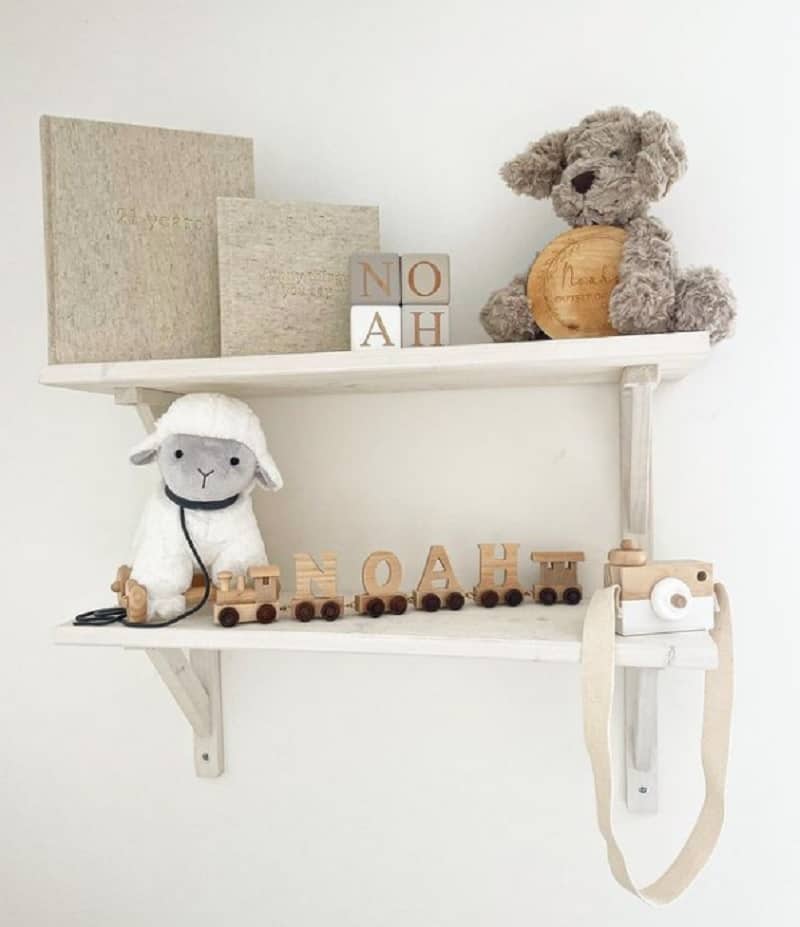 Nursery shelf decor idea to calm and soothe
The soothing color palette gives the whole look a light and relaxing vibe. No matter the chaos of the day with your baby, this sweet simple shelf idea will help fix it.
Replicate this nursery shelf decor idea:
Similar shelf from Amazon
Wooden camera from Little Baby Em
Wooden name blocks from Little Berry Button
Custom etched wooden plaque from Two Little Acorn Co.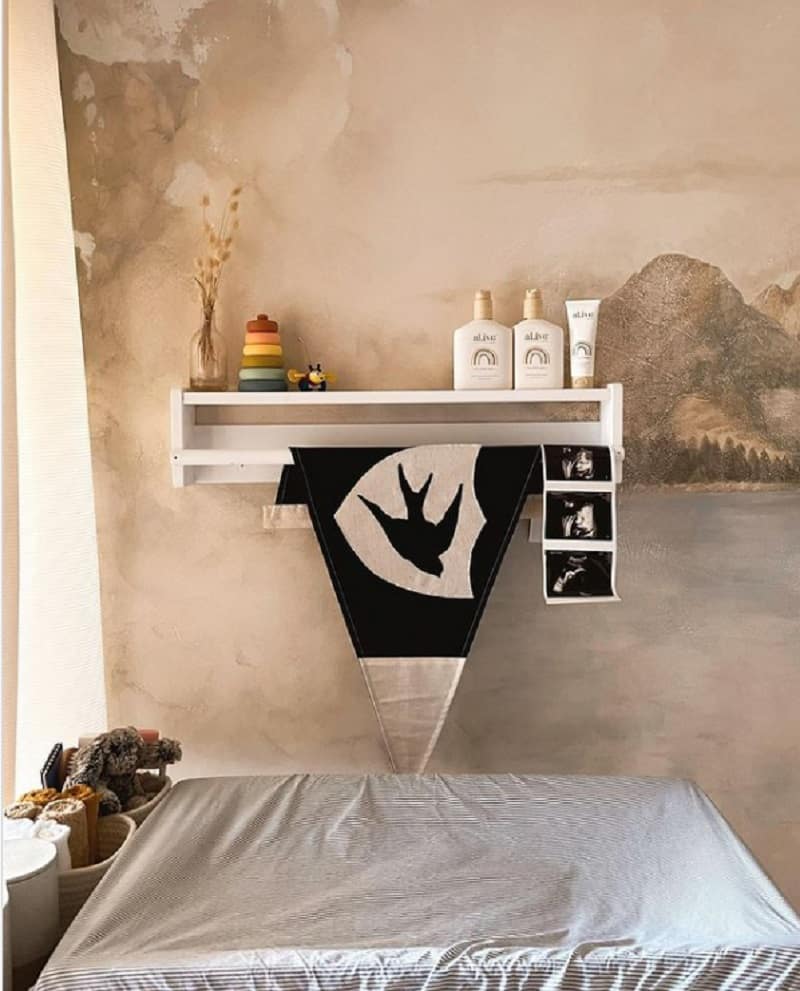 Nursery shelf decor idea to calm and soothe
Flip the wall display shelf over and the rail is now underneath and can be used for hanging, sure to come in handy above the changing mat. Minimal shelf deor is needed against that beautiful backdrop, isn't it divine?
Get this nursery shelf and decor here:
Flisat shelves from Amazon
Silicone stacker tower from Little Beach Road
Hope Pennant custom banner from Merchants of the Sea
Nursery Shelf Decor Ideas for Girls
There's something special about preparing a nursery for your baby girl's arrival, isn't there? So, here are a few baby nursery shelf decor ideas for your little lady to give you some inspiration.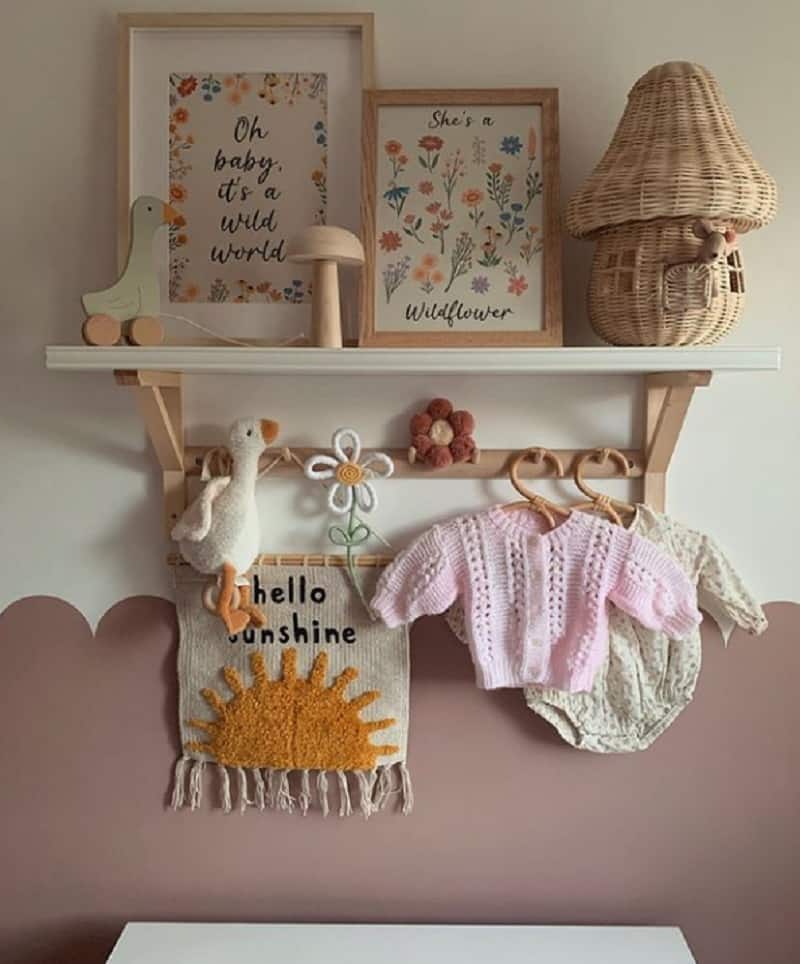 Wildflower-themed nursery wall shelf
I love this whimsical display of items with a floral theme perfect for your baby girl. The wildflower prints paired with the wood toys and the wicker mushroom (my favorite baby nursery storage ideas) are simply gorgeous.
The handy peg rail underneath furthers the look, making the space both functional and beautiful.
Get the look here:
Bergshult / Sandshult wall shelf from Ikea
Wooden peg rail from H&M Home
She's a wild flower print from Everly Rose Prints
Handmade Rattan Mushroom House from The Hoppi Hippo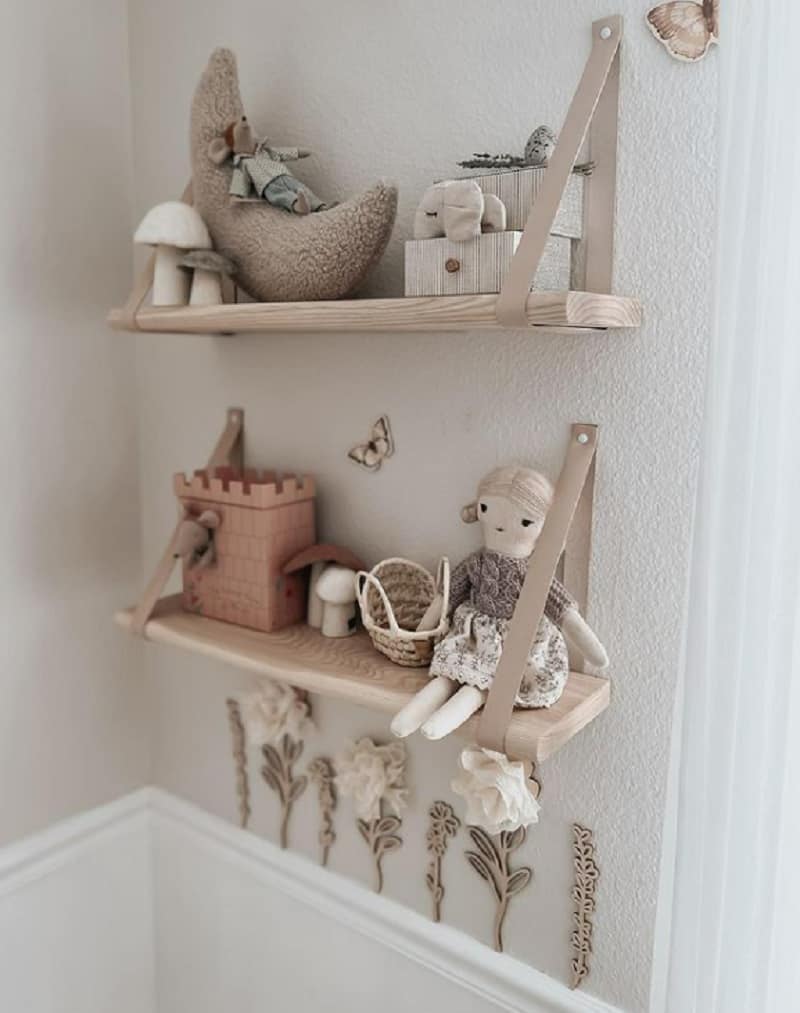 Chic hanging wall shelves for baby room
Oh, look at these dreamy nursery wall shelves, aren't they gorgeous!
Such a lovely neutral color pallet, with chic leather straps supporting the pale wood shelves complimented by cute little nick nacks. The 3D flower wall decals are a beautiful addition underneath. Divine.
Replicate this nursery shelf decor idea:
Leather strap shelves from Kroft Studio
Decorative felt mushrooms from Smallable Family Concept Store
Mari Doll from Smallable Family Concept Store
Secret Garden Sets from Lumi and Co
Maileg Mum & Dad Mice in Cigarbox from Scandi Nursery Decor & Toys
Linen rattle elephant from Love Momma Bell
Paper butterflies from Mrs Mighetto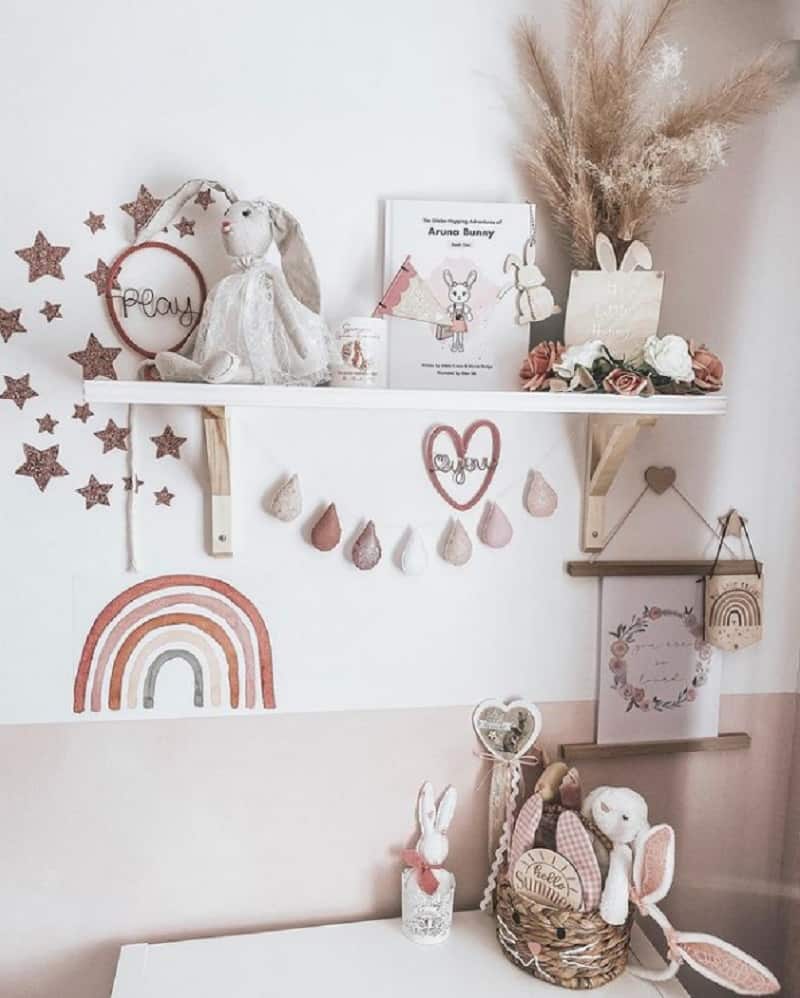 For the love of bunnies!
One of the cutest nursery shelf ideas for all the cute little bunnies out there! If your little girl is due in Easter, this is a must. A simple shelf with star wall decals adds a little sparkle to complete the look.
Nursery shelf and decor to get the look:
Bergshult / Sandshult wall shelf from Ikea
Glitter stars wall decal from Pretty Little Names
Boho personalized raindrop droplet garland from Baby Buntings Babi
Personalised wire balloon from Nearhouse Knits
Aruna Bunny Book One from Aruna Bunny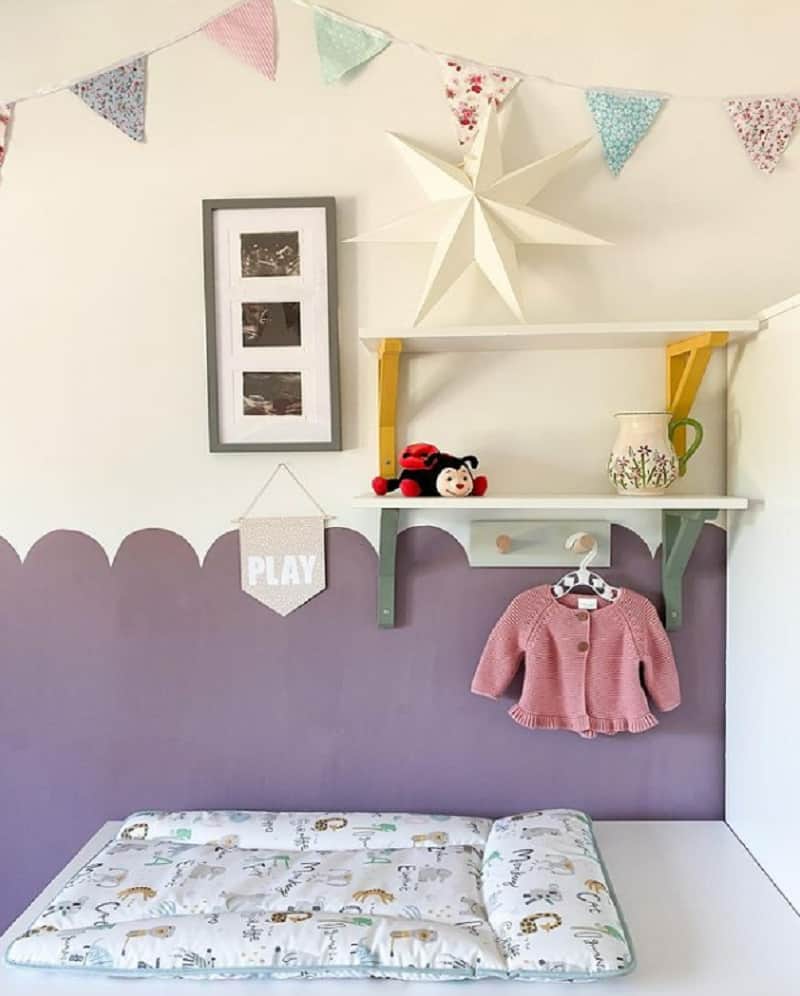 Colorful shelves over changing area
It really works to have extra storage space right above your baby's changing station. I love how the shelf brackets are colored in green and yellow for a playful look. The little peg rail adds convenience for hanging baby clothes. And the star on the top is such a great addition!
Replicate this nursery shelf decor idea:
Bergshult / Sandshult wall shelf from Ikea
Peg rail from Garden Trading Company
Play Pennant Flag banner from Highland Jungle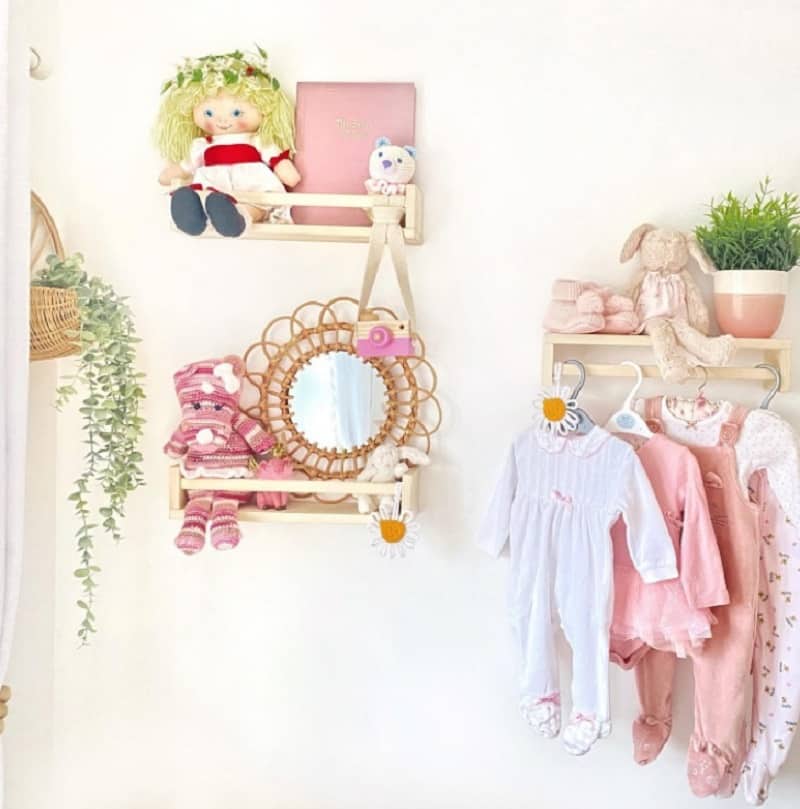 Pretty in Pink nursery wall shelves
After all, pink is popular for a baby girl's room! There are loads of gorgeous nursery decor ideas here – I can't take my eyes off the tiny wooden camera, the rattan mirror, and the crochet flowers. Too cute!
Find this nursery shelf and decor:
Flisat shelves from Amazon
Stuffed pink animal from Caths_crafts
Hanging flower from Shein
The Story of You, a Baby Memory Book from Memino
Wooden camera from Ebay or Amazon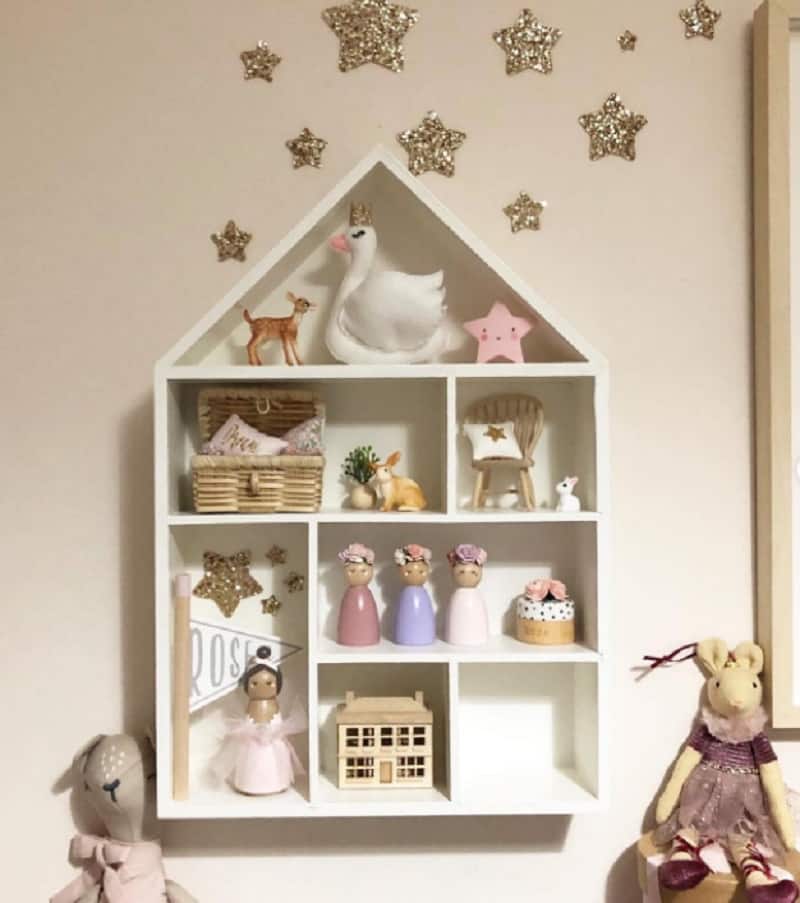 Beautiful white wooden house shelf
Of all the baby nursery shelf ideas, this one's a little different but fantastic! The house shelf beautifully fits all the wooden dolls and other decorative pieces. It's a storage shelving unit that packs a lot in and utterly unique.
Re-create this nursery shelf and decor idea:
White house bookshelf from Dunelm
Pink and purple flower girls set and Ballerina peg doll from Oh Sew Rosie
Personalised mini pennant flag from The Wood Cove
Gold glitter star wall stickers from Little Cloud Kids
Wooden dollhouse from Pretty Little Minis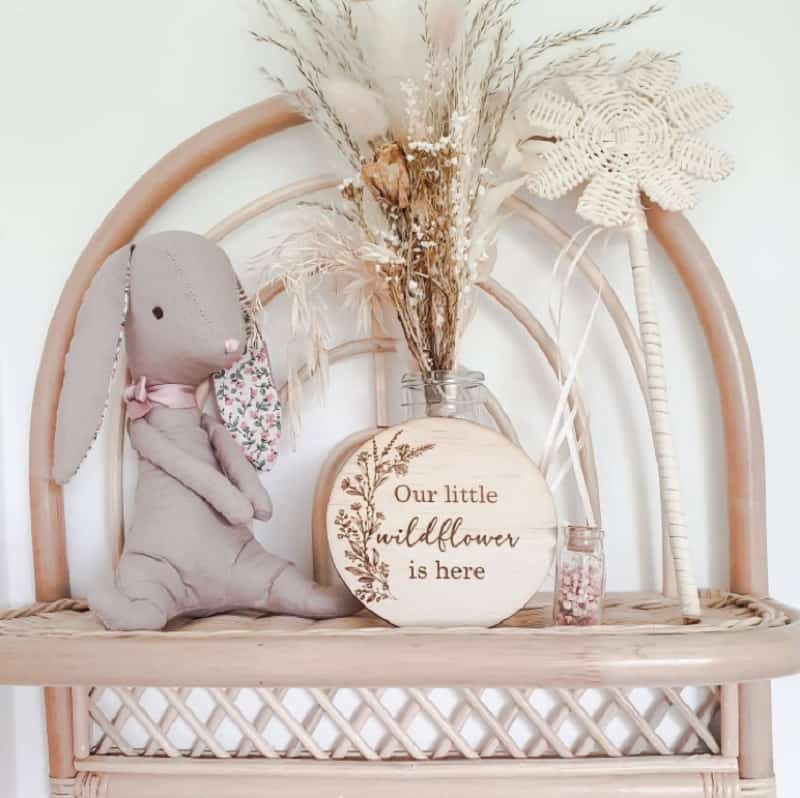 Vintage rattan nursery shelf and decor idea
How lovely is this handcrafted rattan shelf? Perfect if you want to add a nostalgic feel to your baby's nursery. Add a few vintage items or check the decor ideas below.
Get this nursery shelf and decor here:
The Lennon Shelf from Poppy's Little Treasure
Announcement plaques from Meecoh
Poppie the linen bunny and wildflower wand also from Meecoh
Floating Shelves Nursery Ideas & Décor
Floating nursery wall shelves are versatile and can be styled in endless ways. Have a look and decide for yourself!
Floating shelves for a neutral nursery
This nursery shelf décor and decor, is simply stunning. The decor is perfectly placed – note the variation in item height, texture and the neutral pallet of creams, mocha and beige throughout. And a berry-cute crochet lion on the end. So adorable! This has to be one of my favorite baby nursery shelf ideas.
Get the look here:
Forbena nursery floating shelves from Amazon
Wooden pull along giraffe toy from Little Berry Button
Lucky the lion from Little Berry Button
Stacking cups from Little Berry Button
Multicultural wooden doll set from Little Berry Button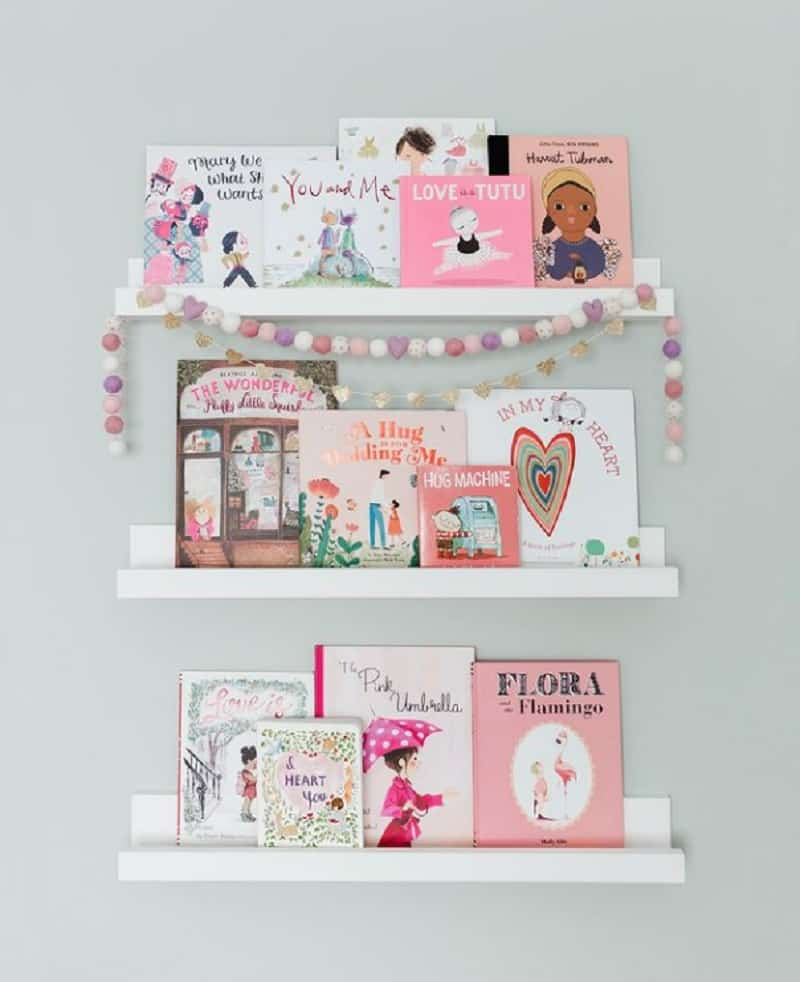 Heart-themed book nook
Floating picture ledge shelves jam-packed with pretty books make for a cute nursery wall shelf idea. Add the two sweet heart garlands and that's all the shelf decor you need for a functional yet pretty book nook. Be sure to hang the shelves so books are easily accessible to your little one when older, it's such a great way to encourage reading and foster independence.
Re-create this nursery shelf and decor idea:
Forbena nursery floating shelves from Amazon
Felt garland from The Yankee Peach
Glitter heart garland from Lynn's Mix
Harriet Tubman from Little People Big Dreams
Hug Machine book from Simon and Schuster
Nusery shelf idea under sloping ceiling
A clever use of decor elements from artwork and vases, to plants and other trinkets that accommodates and complements the sloping ceiling above. A peg rail installed under the floating shelf adds interest and hanging space.
Nursery shelf decor to get the look:
Similar shelf from Amazon
Similar peg rail from Amazon
Cactus (Själsligt) from Ikea
Wire flower from Curly Cubs
Darling, your magic sign from Flynn & Dot
Nursery Shelf Decor Ideas with Hanging Rail or Pegs
Nursery wall shelves with pegs and hooks not only look good but add a practical element. Here are a few shelf and decor ideas to help you incorporate them into your little one's nursery.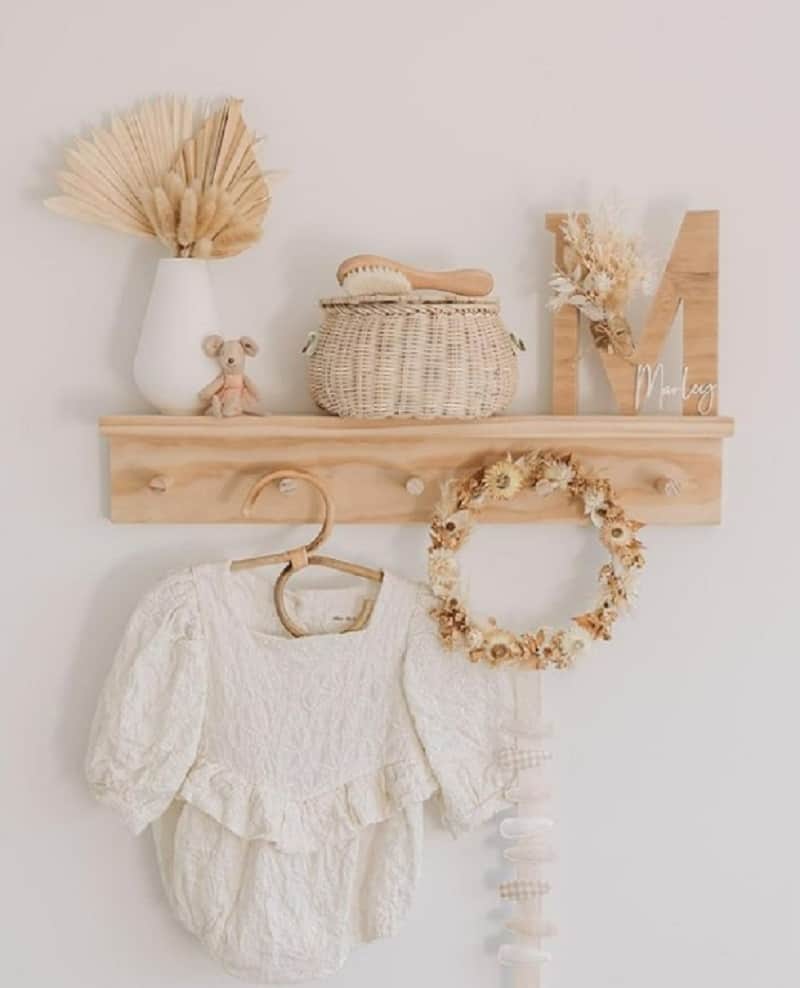 Simple yet practical peg shelf
If you're feeling nostalgic and love raw wood finishes, then you're going to love this baby nursery shelf idea. It's simply gorgeous and cleverly decorated, using classic design rules. There are an odd number of key decor items (three), of different heights with different textures and materials in either wood or white tones.
The vintage baby dress and rustic garland further add even more charm.
Replicate this nursery shelf decor idea:
Peg shelf from Hey Roo
Everlasting initial shelf mate from Little Keeps
Mini Chari rattan bag from Olli Ella
Ballerina mouse from Maileg World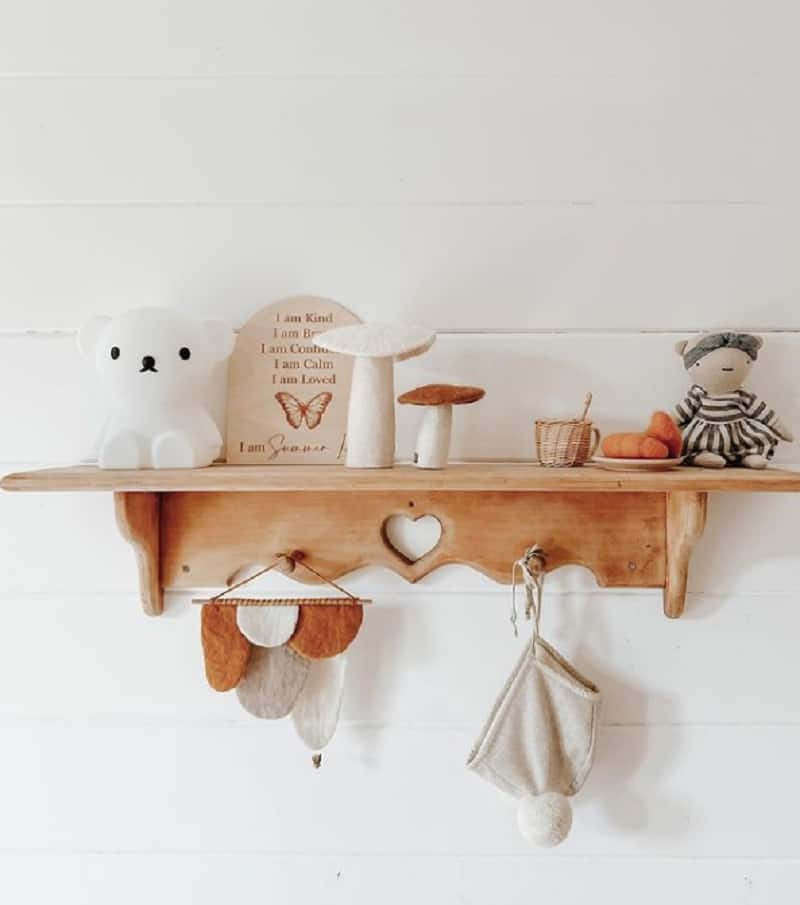 Rustic woodland decor nursery shelf idea
Out of all the nursery wall shelves, this rustic wooden one with cut out heart is my pick so far. I think it's because it reminds me of an alpine chalet. The shelf decor is gorgeous too – just look at the cute teddy enjoying a picnic with a rattan cup and felt croissants! There's a clever use of color as well, which brings it all together.
The shelf is from a market place find.
Get the look here:
Muskhane felt wall decor from Poème Lifestyle
Rattan tea cup from Juni Moon
Mini french croissant from Juni Moon:
Muskhane felt wool mushroom from K I D
MIFFY Boris portable night light from Little Bambinos
Affirmation plaque personalised from Ivy + Fleur Florist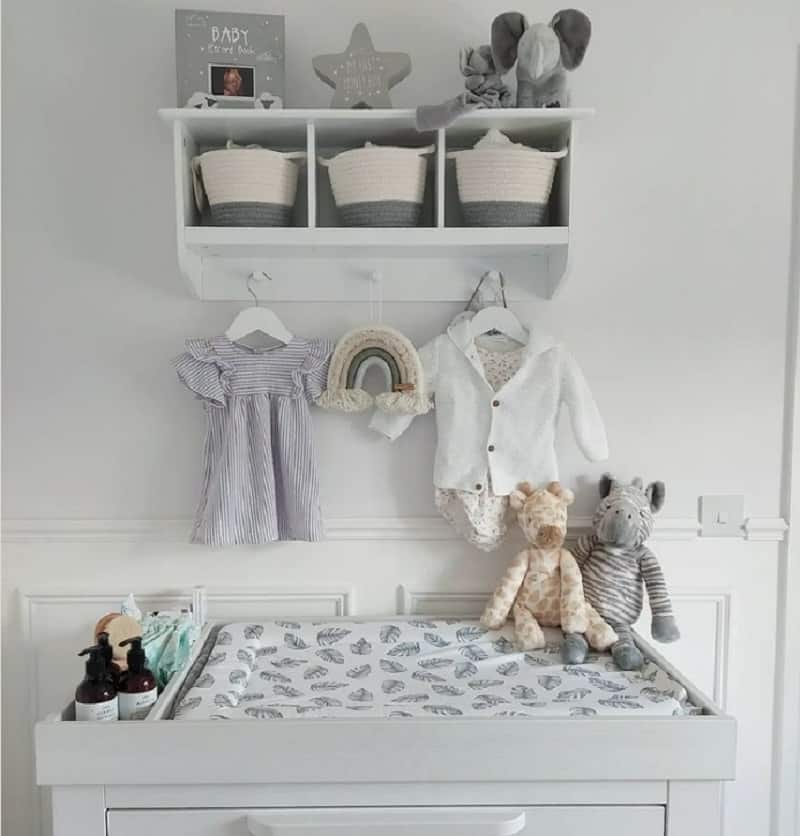 Grey and white changing station
Here is one of the most practical and functional nursery shelf and décor ideas. The shelf has large cubby holes, enabling some clever baby nursery storage that really looks the part. There are handy hooks for baby clothes and space no top for lovies and other pretty decor.
Re-create this nursery shelf and decor idea:
Pigeonhole wall shelf with hooks from Great Little Trading Co.
Rope storage basket, grey belted from Great Little Trading Co.
Baby record book from Next
Macrame rainbow from Rainbow in the Skye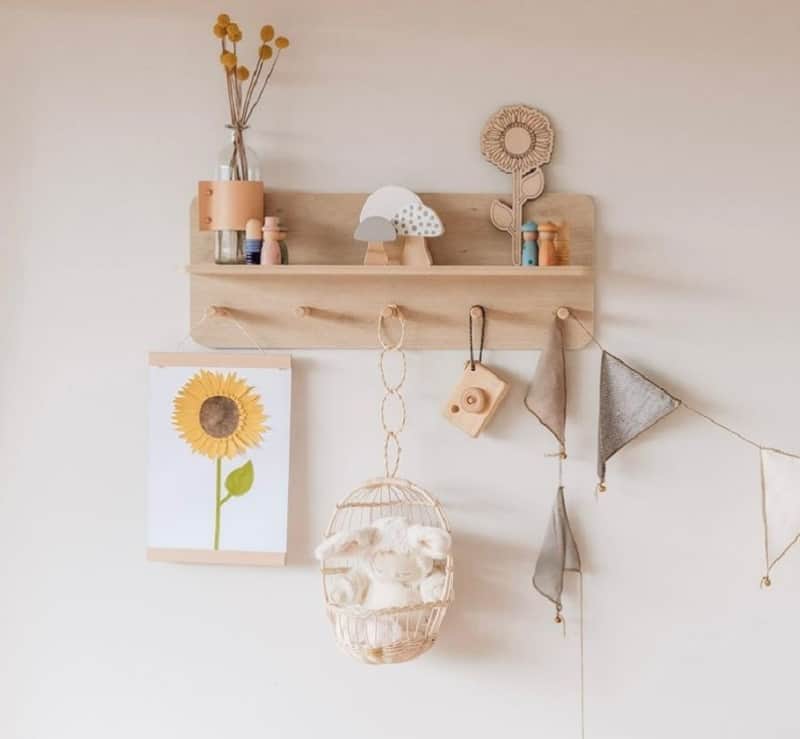 Modern wood shelf with pegs
A natural wood shelf with a clean and modern feel, decorated with simple wooden toys and ornaments. The beautiful hanging egg chair with bunny toy is my favorite of all the decor pieces in this nursery shelf idea.
Find this nursery shelf and decor:
Oak look shelf with hooks from Kmart
Wooden sunflower from Paper Lee
Sunflower A4 art from Paper Lee
Grapat Together from Forever Toys
Hanging doll chair from Pretty Snippets
Cozy Dinkum – Bunny Moppet from Raspberry Lane Boutique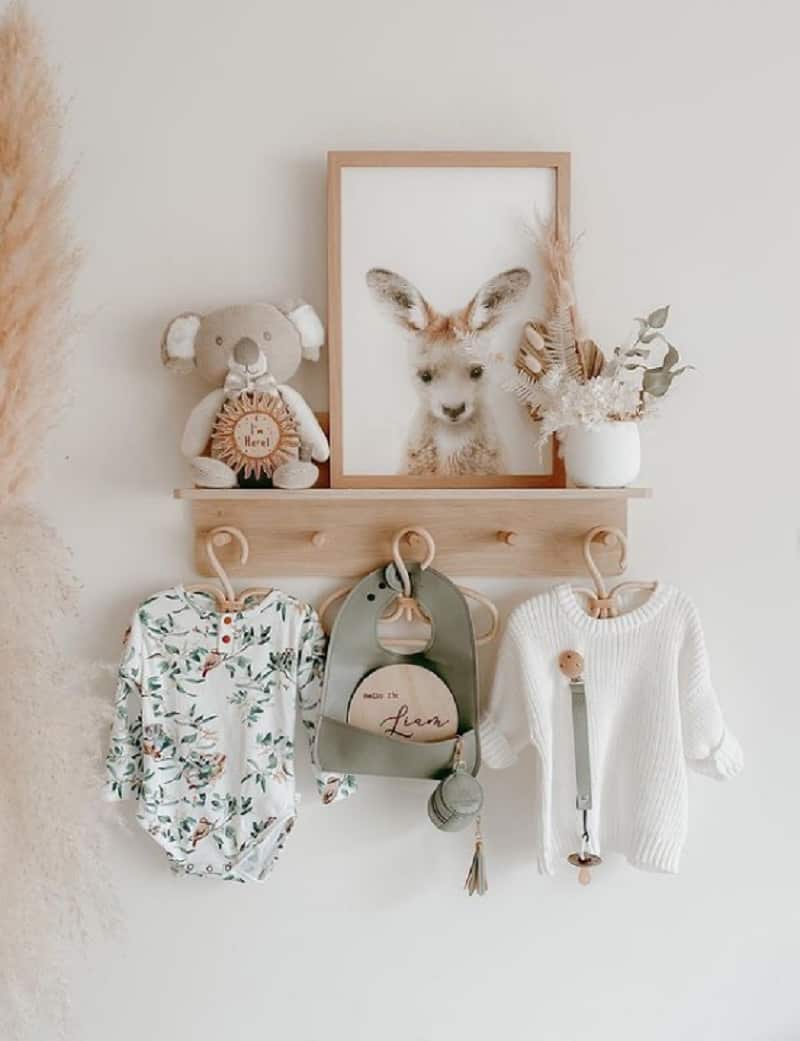 Australian bush-themed shelf and decor idea
See how easy it is to turn a boring space into something beautiful and functional? Baby essentials are hung from the pegs, simple decor on the shelf. Isn't the kangaroo gorgeous?
Re-create this nursery shelf and decor idea:
Oak look shelf with hooks from Kmart
Baby kangaroo print from the The Crown Prints
Sun milestones from Wattle & Wildflower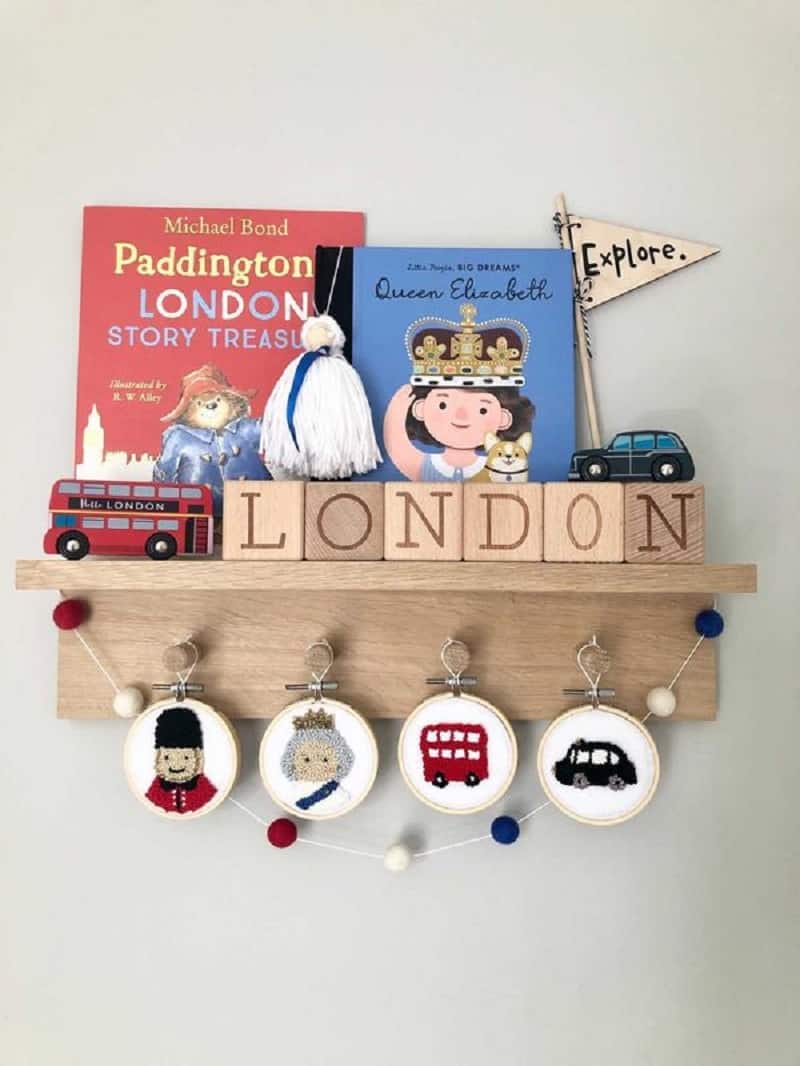 London-themed oak peg rail shelf
This solid oak shelf is a nice choice for the London theme and complemented by chunky wooden letter blocks. The punch needle embroidery hoops are certainly one of a kind – what a lovely and unique nursery shelf and decor idea.
Nursery shelf and decor to get the look:
Solid oak peg rail shelf from Tea & Biscuit Design
Bespoke punch needle nursery decor from Flossie & Bean
Flag explore from Claire and the Bear
Woodland Friends Play, build & stack blocks from Little Stories
Jubilee garland from Wooly Mama
London bus from Froglet Toys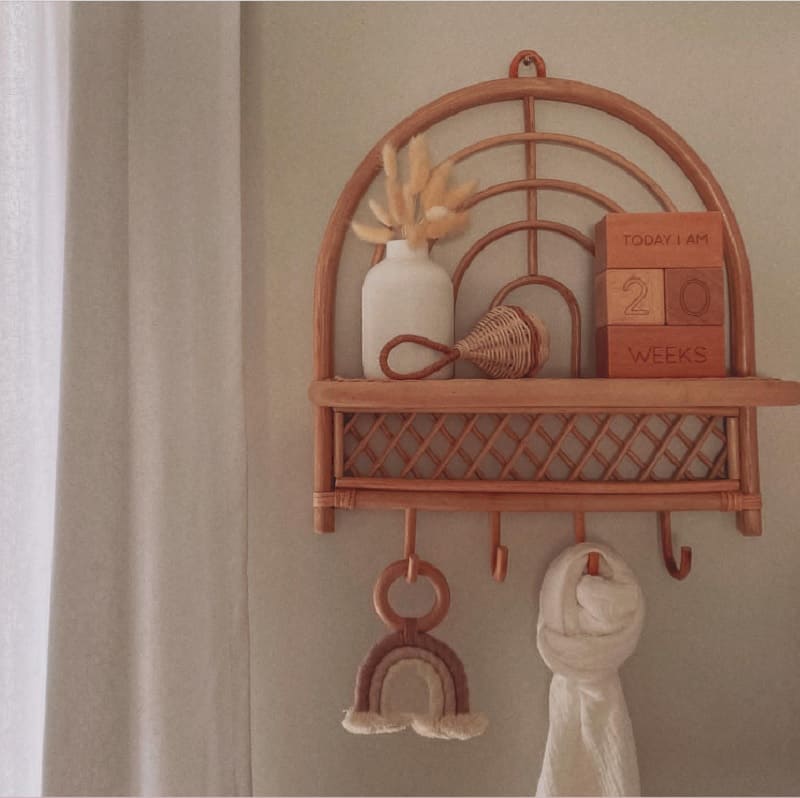 Beautiful rattan nursery shelf with hooks
Style a rattan shelf with classic tones, textures, and materials for a timeless and gender neutral look.
Get the look with the same nursery shelf and decor:
The Lennon shelf from Poppy's Little Treasures
Rattan Raya rattle from Olli Ella
Wooden age blocks from Kmart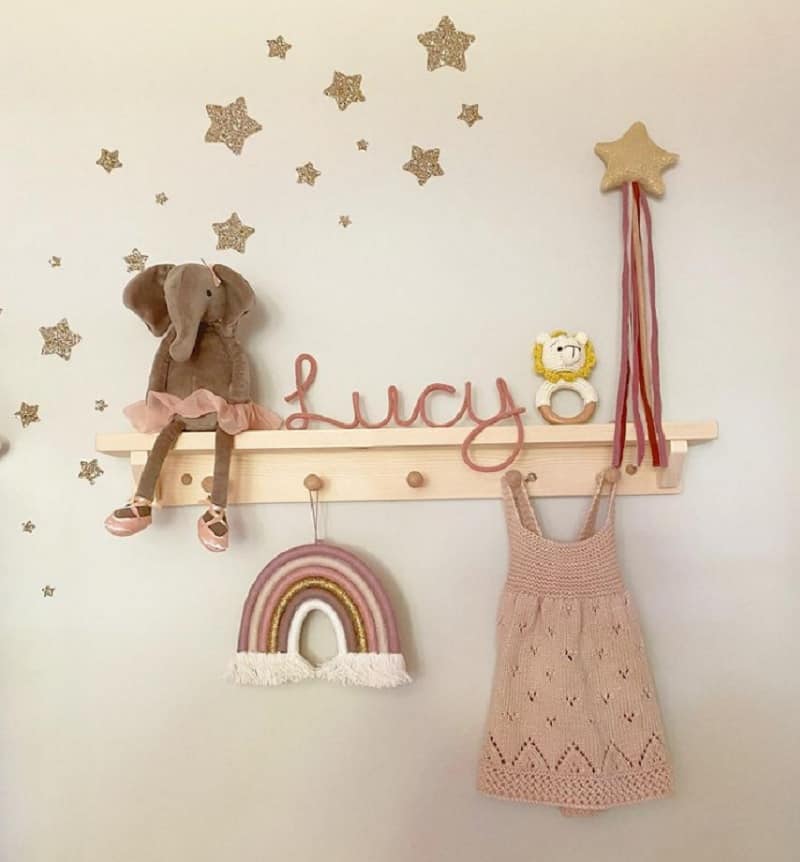 Starry skies nursery shelf decor idea
A palette of beiges, soft pinks and gold with the glittery star decal and wall decor create a sweet-looking nursery shelf perfect for a little girls nursery.
Nursery shelf and decor to get the look:
Solid wood peg shelf from Natural Wood Company
Dancing Darcey elephant from Jellycat, Amazon
Gold knitted wand from Avery Row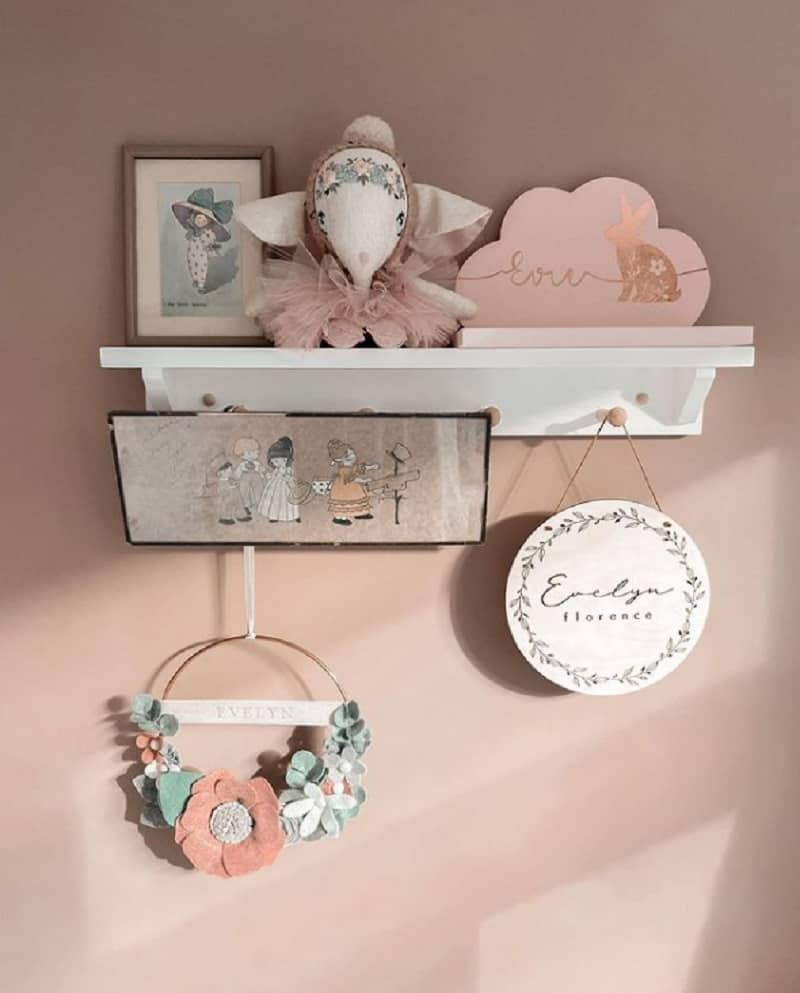 Sweet whimsical nursery shelf decor ideas
If there's ever a place for a whimsical shelf, it's the nursery. The decor artfully plays with design, texture and color to create a lovely space in a baby's room.
Get this nursery shelf and decor here:
Solid wood peg shelf from Natural Wood Company
Cloud shelf with name from Nuage Nursery
Handmade doll from Robin & Friends
Wood frame name from Far the Label
Floral hoop with name from Maggie And The Magpie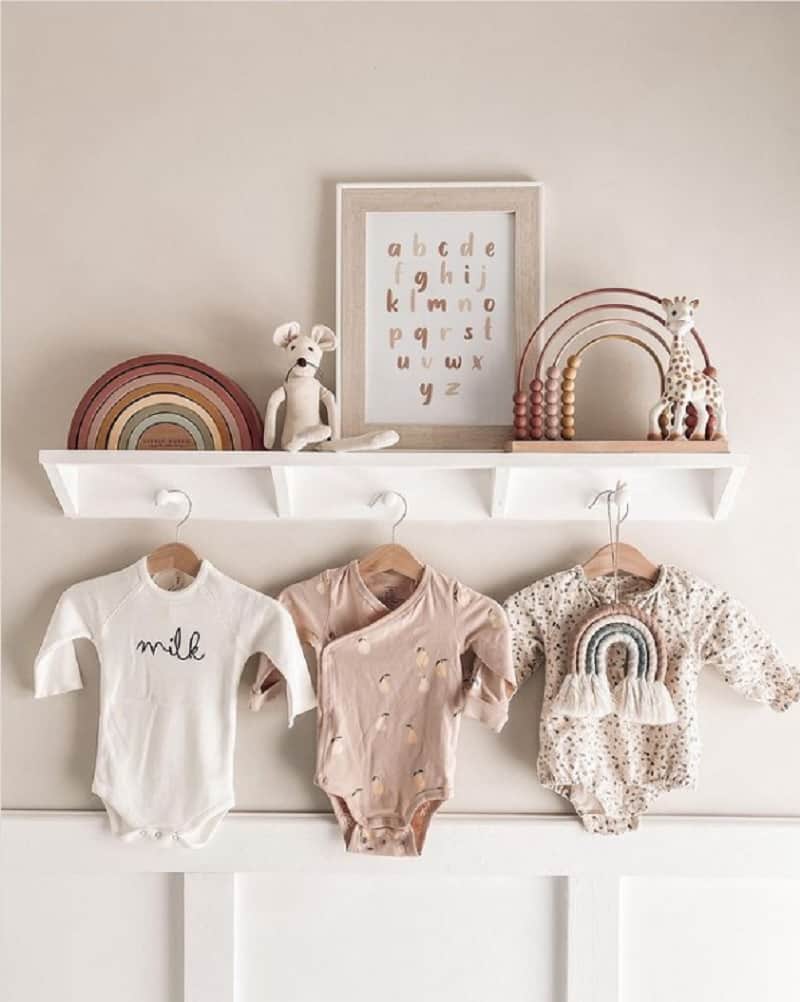 Natural palette nursery display
This solid white wood nursery shelf with unique hook design has such a quality look to it. Take a cue from the shelf decor styling; add earth tones for feelings of warmth and richness.
Nursery shelf decor to get the look:
Alphabet print from Heart Home Print
Rainbow stacker from Little Dutch
Rainbow Abacus pink from Little Dutch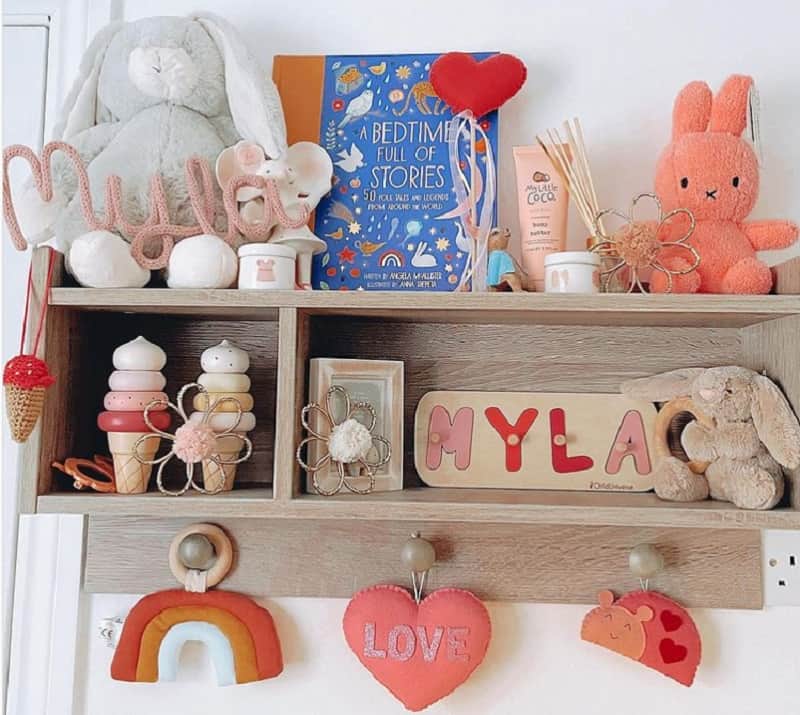 Some bunny loves you nursery shelves
Who doesn't want to try this nursery shelf idea in their baby's room – it's just so full of love!
Get the look of these nursery shelves here:
Franklin nursery shelf from Mamas and Papas
Wooden name puzzle from Child Universe
Knitted name from Willow and Marl
Wire flowers from Curly Cubs
Bedtime story book from Quarto Kids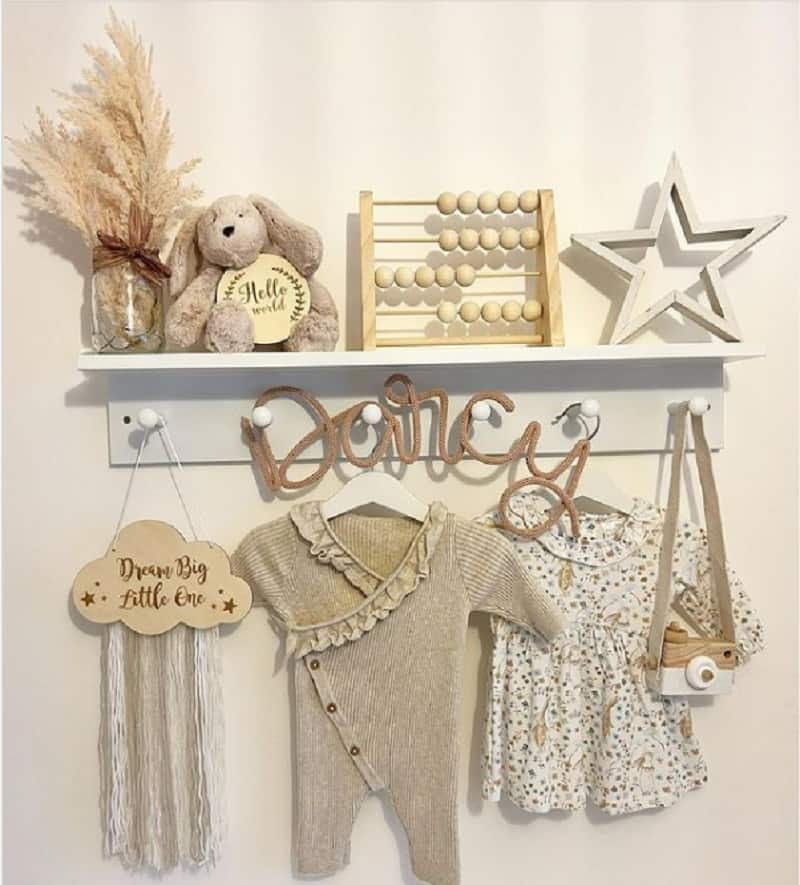 Sweet boho nursery peg shelf
A nursery shelf and decor idea with a gorgeous bohemian feel. The neutral palette and laid-back vibes with cool wood toys and wispy florals work so well together.
Nursery shelf and decor to get the look:
Shaker peg rail from Great Little Trading Co. Shelf
Wooden abacus from Etsy
Dream big little one engraved cloud wall hanger from Nursery Decor By Amanda Lewis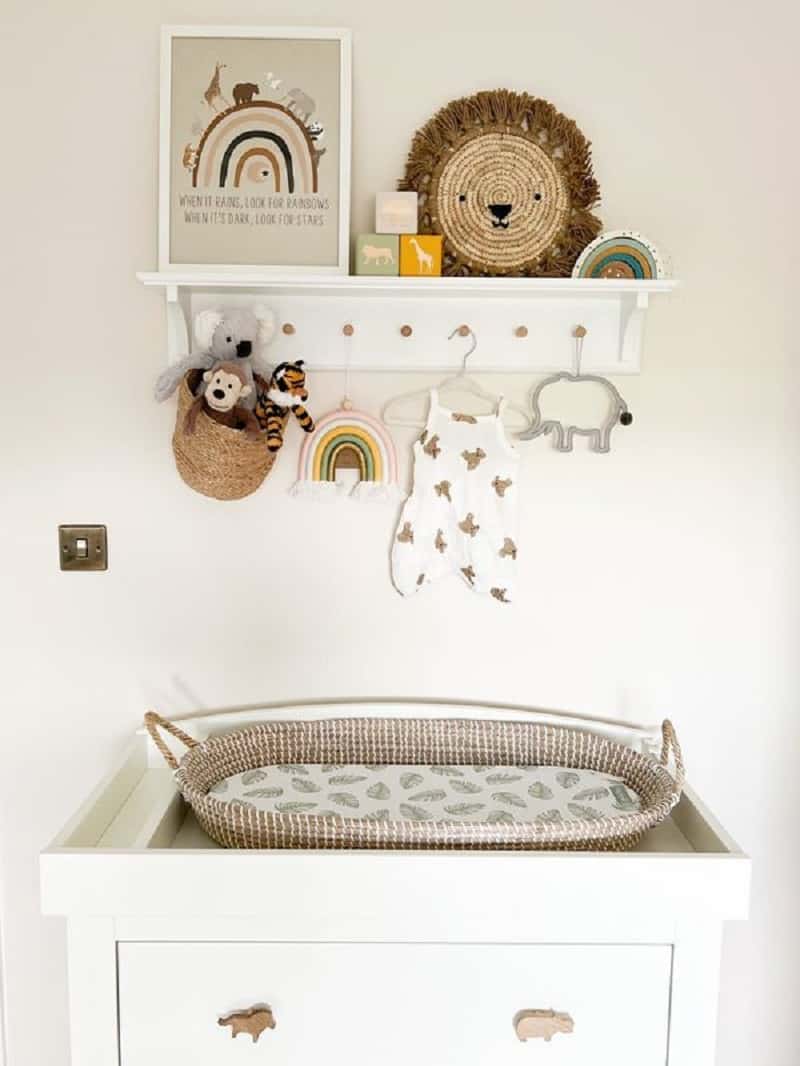 Going on safari peg-rail shelf idea
This safari-inspired nursery shelf decor adds lots of visual interest. It's the perfect combination of playfulness and style. How cute is the braided lion head?
Nursery shelf decor ideas to get the look:
Shaker peg shelf from Furneco
Braided lion head from H&M Home
Hanging elephant from Lala and Lula
Jungle safari baby blocks from Lu's Letter Craft
Animal rainbow print from Mother and Sun Studio
FAQS on Nursery Shelf Ideas & Nursery Decor
Where do you put books in a nursery?
You can store your baby's books in many interesting ways in the nursery. For example, you can use nursery wall shelves, cubes, wooden caddies, cloth book slings, rolling carts, wire baskets, and unique bookshelves to get your desired look.
How do you stagger shelves?
Staggered shelves impart an interesting visual appeal to a room. You can arrange three or five shelves in a nice staggered way by placing the shelves a little higher or lower from each other. For a vertical arrangement, place alternate shelves slightly out of line to get the staggered look.
How far should floating shelves be apart?
This really depends on the length of your shelves and the space you're installing them in. Floating shelves should be at least 12 inches apart to accommodate things properly. However, you can also keep it between 8-16 inches depending on the items you're keeping on it.
Have these nursery shelf and decor ideas inspired you?
Finding the perfect nursery shelf and décor might be a little tricky but hopefully, you've seen lots to inspire you. There are so many gorgeous ideas, do you have a favorite? Let me know in the comments. And, happy decorating!
Getting the nursery ready for baby? Check out these related posts:
Looking for new mom advice?