Looking for fun things to do at night with your kids? Then look no further. That precious time at the end of the day is perfect for some quality family bonding.
From night activities for kids at home to inexpensive family night ideas out and about, read on for plenty of inspiration on how to spend quality, fun time as a family in the evenings.
This post contains affiliate links. If you click on one and make a purchase, I may receive a commission at no extra cost to you.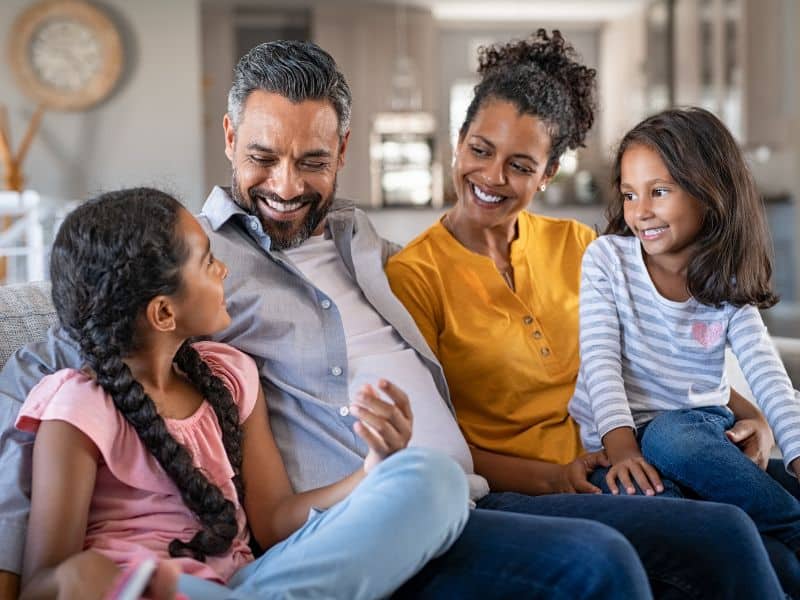 The benefits of planning a weekly family night
For many families, the evenings are the only chance we get to be together. And when we're busy it's very easy for time to pass without spending any actual quality time together.
Planning a weekly family night with one of these fun-filled activities is a great way to connect as a family, without any distractions.
Make family time a priority
Planning a weekly family night and organizing an activity to do together, is the perfect way to prioritize family time. Without this, it's far too easy for other things to get in the way.
With little ones at home there's no end to the number of chores that need doing and finding time to connect can get pushed to the bottom of the pile.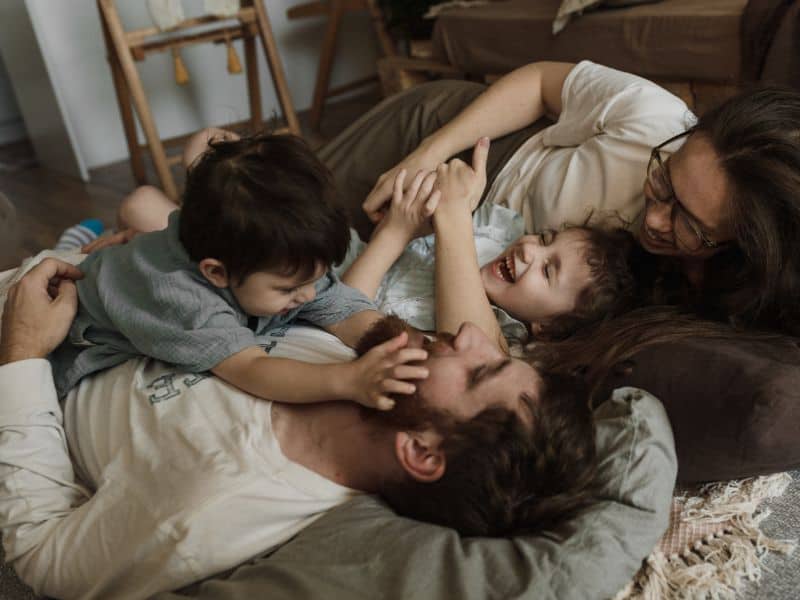 Make children feel connected
Connecting and giving your children the attention they need is super important on so many levels. Firstly, it is what makes them feel safe and secure. It is also vital for your child's self-esteem, can lead to better behavior and higher emotional intelligence, and generally helps children to thrive.
They'll become precious memories
And last but in no means least, there is no better way to create precious family memories, than spending quality time together doing some fun activities with the entire family.
How do you make a fun night for kids?
To make a fun night for kids you need to put aside all distractions, including devices, and give family night your undivided attention.
Start by putting a night in the diary and telling the kids you're going to plan a fun night and they will be super excited.
Next, you need to plan the activity – continue reading for plenty of fun ideas. And don't worry, family activities do not need to be expensive. There are plenty of free or inexpensive fun family night ideas in the list below.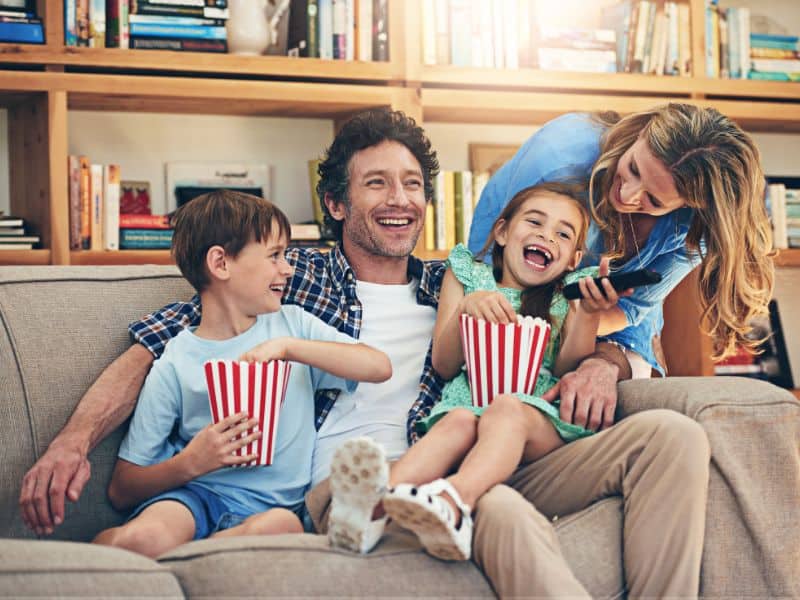 What can families do for a fun night?
For a fun night, families can do just about anything! The important thing is that whatever you are doing, you are spending quality time together doing it.
If you want to head out for some family fun, keep an eye out for what is going on in your local town. Whether it be a carnival coming to town, or the holiday light switch on, even the smallest towns often have fun things going on.
A family night however does not have to mean going out, you can have just as much nighttime fun spending quality time at home.
Whether you decide to stay at home indoors, spend the evening in the garden, or head out for some fun, we've got plenty of ideas below for things to do at night with kids.
Fun things to do at night with kids indoors
There are so many fun indoor things you can do at night with kids from the comfort of your own home. Check out this list of nighttime activities to try at home with the kids for a bit of inspiration.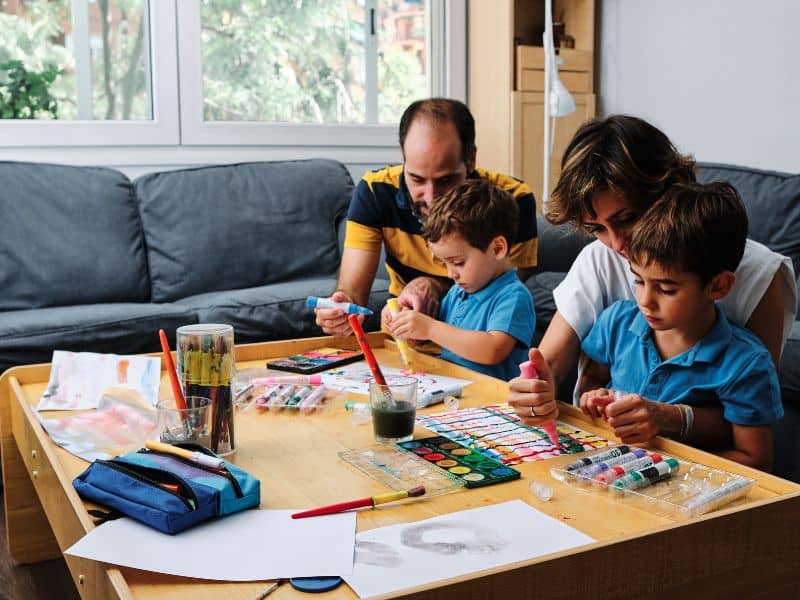 1. Family Paint Night
Painting can be incredibly relaxing so get the paints out and get creative with the family. You could go freestyle and make a unique design together or individually. Or you could choose to follow something online, like this simple tutorial to paint a Fall forest landscape.
Another alternative is to buy a paint-by-numbers kit. This winter city design is gorgeous and such a fun thing to do at night with kids indoors in the festive season.
2. Cooking Class
A cooking class is a lovely way to combine dinner prep and spending time together as a family. You could either join an online cooking class or teach the family how to cook their favorite dish.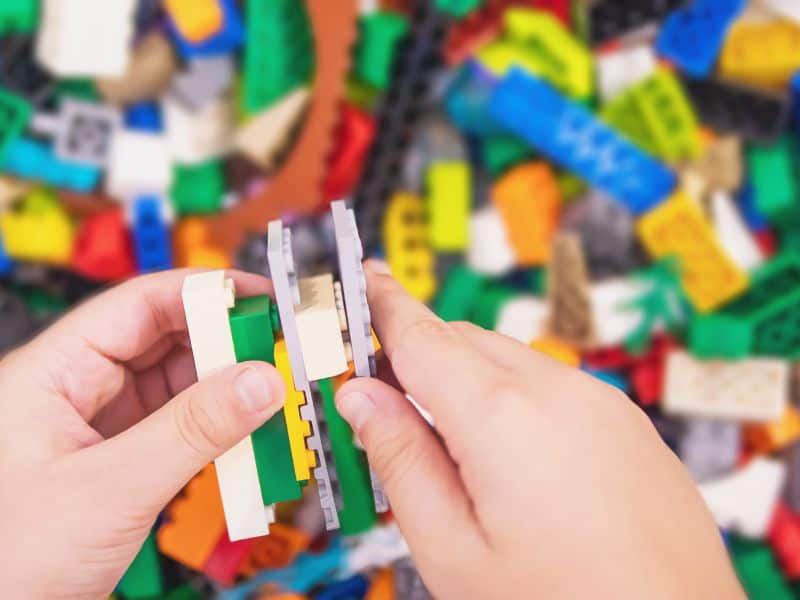 3. Build Lego
We love Lego in our family, it is fun and creative and we would all happily spend hours building.
Prep the snacks and either work on one build together or challenge every family member to come up with their own creation.
4. Craft Night
Craft nights are particularly adaptable to the time of year. In the run-up to Christmas try making some tree decorations. We have plenty of Halloween crafts for the spooky season too.
If you have a dino fanatic in the family, try one of our dinosaur crafts.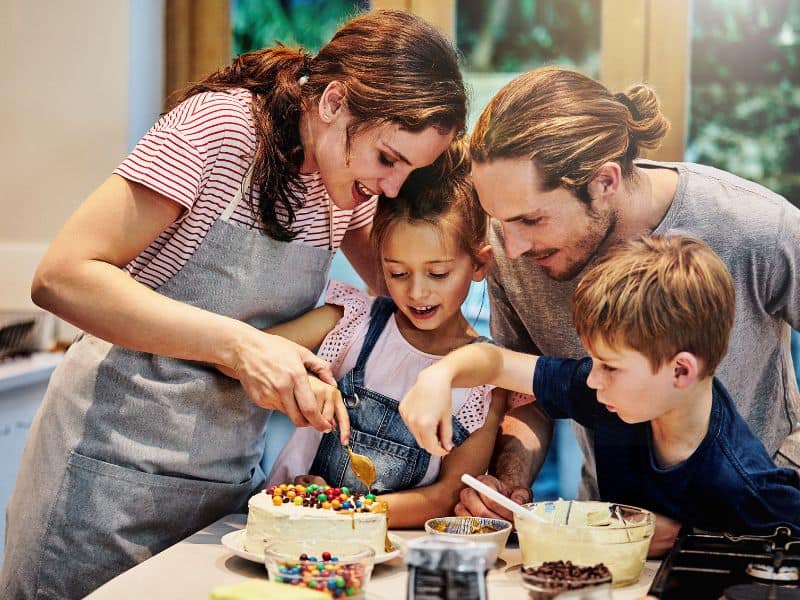 5. Baking Night
Grab the mixing bowls and your favorite recipe and you've got a fun-filled family evening.
Cookies or cupcakes are our go-to. If you want to minimise the mess just grab some plain ones from the store and get some fun bits to decorate them with.
Not only is this a fun thing to do at night with kids, you've got a tasty treat to enjoy at the end!
6. Put on a talent show
This one is bound to create an evening full of joy and laughter. Think singing, dancing, and magic shows – wherever your family's talents lie!
With a little bit of prep, some fancy dress, and some glitz and glam this will be an evening to remember.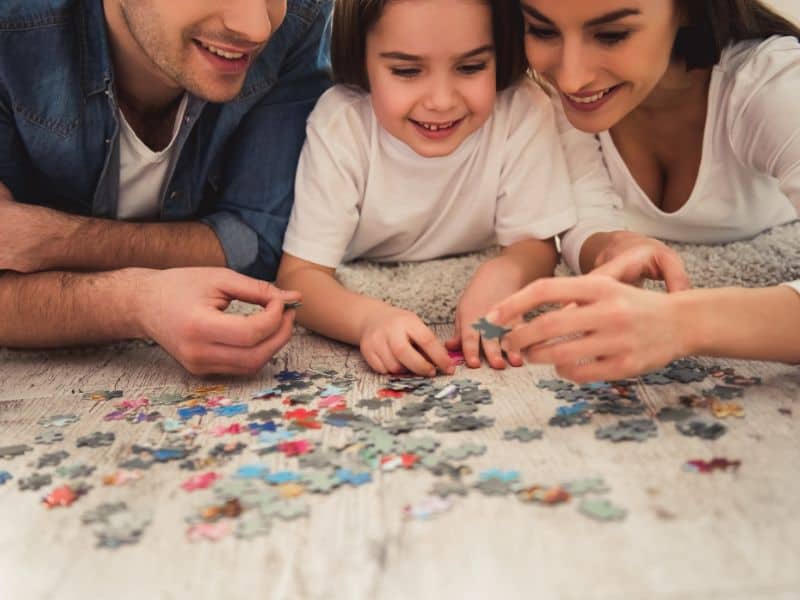 7. Puzzle time
Doing a jigsaw puzzle together is a lovely way to spend an evening. Grab a puzzle suitable for the whole family, and perhaps one that keeps you going over many family nights, and settle in for some teamwork.
Don't forget the kid's favorite snacks, and perhaps some music you can sing along to too!
8. Learn Something New Together
Family time is a great opportunity to all get together and learn something new.
Your children will love that you are a beginner too and that you are going through the learning experience together. There is no better way to show them that it is okay to be outside of your comfort zone and try something new.
What to do will depend on your family's interests. It could be something creative like sewing or knitting, you could head out and try a new sport or activity, or perhaps even learn a new language. Perfect if you have an overseas holiday coming up.
9. Eat a Meal from Another Country
I love the idea of country-themed dinner nights. It's easy to get stuck cooking the same meals so this is the perfect excuse to get adventurous and a brilliant way to introduce different flavors and types of food to your children.
Don't stop with just the food, make sure the drinks fit the menu and decorate the table and room too. Fancy dressing up? Why not?!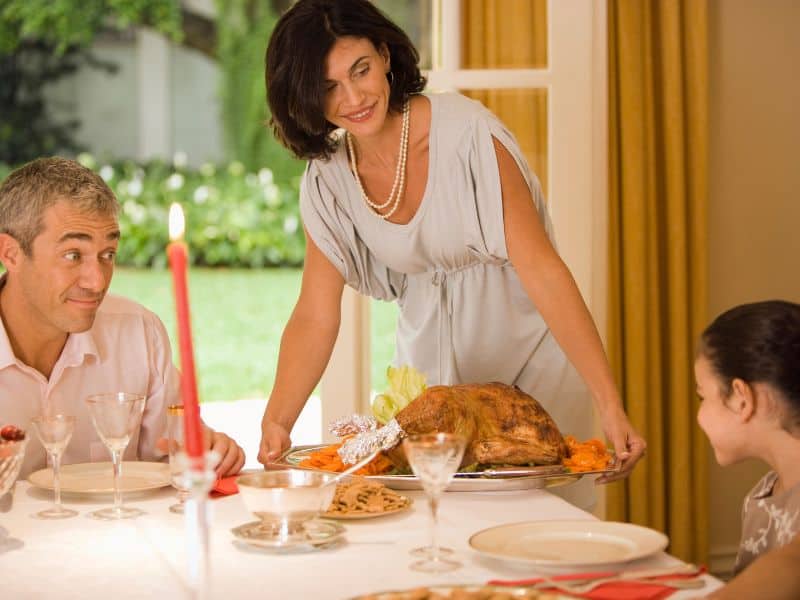 10. Formal Dining Night
Another dining idea is to make a formal dinner night. Send invitations, decorate the table, and instruct everyone to get dressed up.
The food doesn't necessarily need to be fancy but sitting around the table all dressed up together will feel special.
11. Do a Group Yoga Session
If you think everyone would benefit from a relaxing evening, try a family yoga session. There are plenty of online sessions for all levels that will be easy for everyone to follow along with.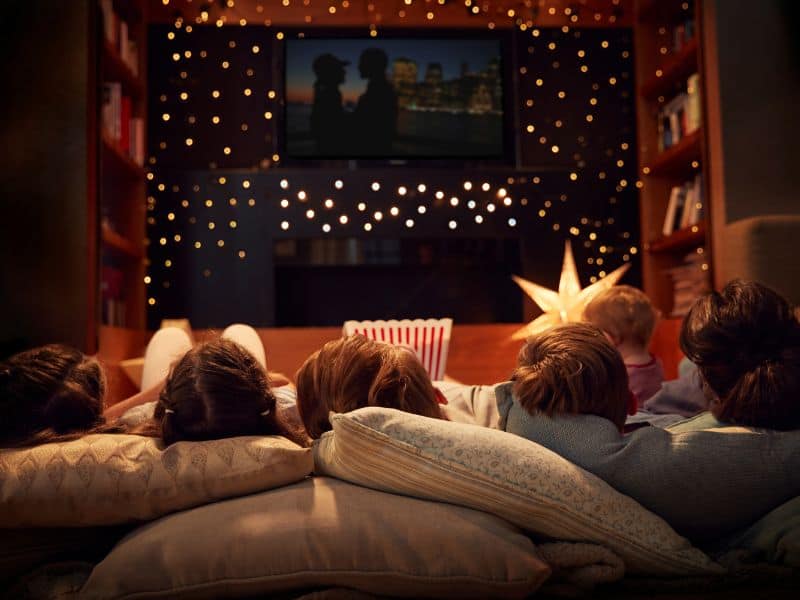 12. Family Movie Night
Grab a bowl of popcorn, cozy up on the sofa, and settle down for a movie marathon – the hardest part will be agreeing on the movie!
13. Have a family dance party
There is no better way to exhaust the family and relieve the day's stress before bedtime than music and movement. Dance party time! Let the kids take turns choosing the songs, turn the volume up, and have a good old dance.
Party decorations are not necessary but are an added bonus and can add to the occasion!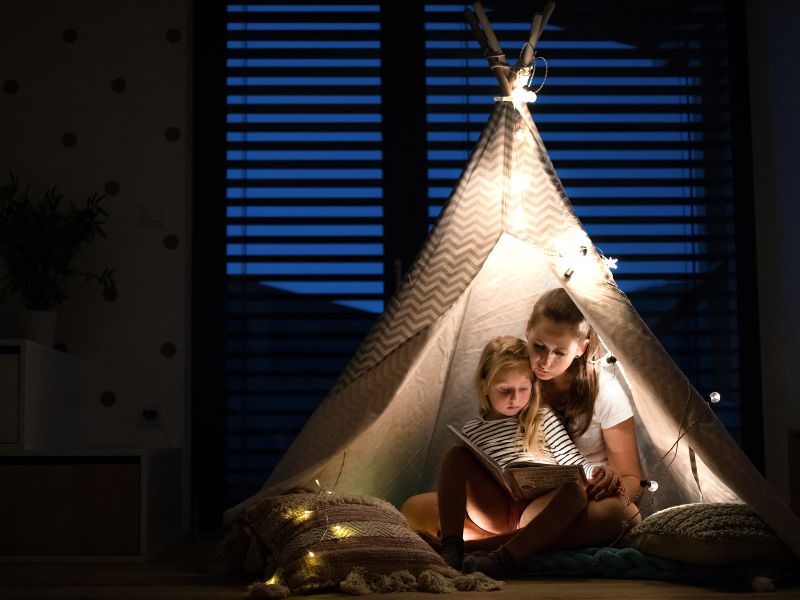 14. Living Room Camp Out
If your family loves camping but it's the dead of winter, here's a simple and fun thing to do at night with kids indoors. Pull the mattresses down, grab the sleeping bags and the camping snacks and settle in for a fun evening.
All the excitement of a real camping experience with the comforts of home!
Family Game Night Ideas
My kids love a family games night. Here are some favorites, including classic games and activity ideas for family nights with a competitive element.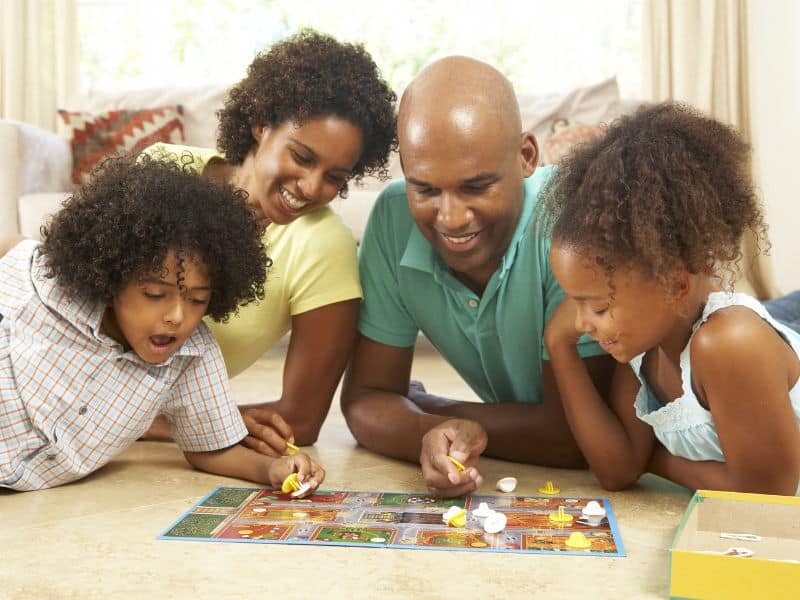 15. Play Board Games
Who doesn't love a board game! For younger children games like Snakes and Ladders, and Ludo go down well. As your children get a bit older you can move on to the classics such as Monopoly, Cluedo, and Pictionary.
To avoid arguments let your kids take turns in choosing the game.
16. Play Charades
Charades is such a fun game and perfect for all ages. You can buy Charades Cards or its easy enough to play without.
Split into two teams and take turns to give one player in the other team a film, book, TV show, or song to act out. The other members of their team must then guess what it is.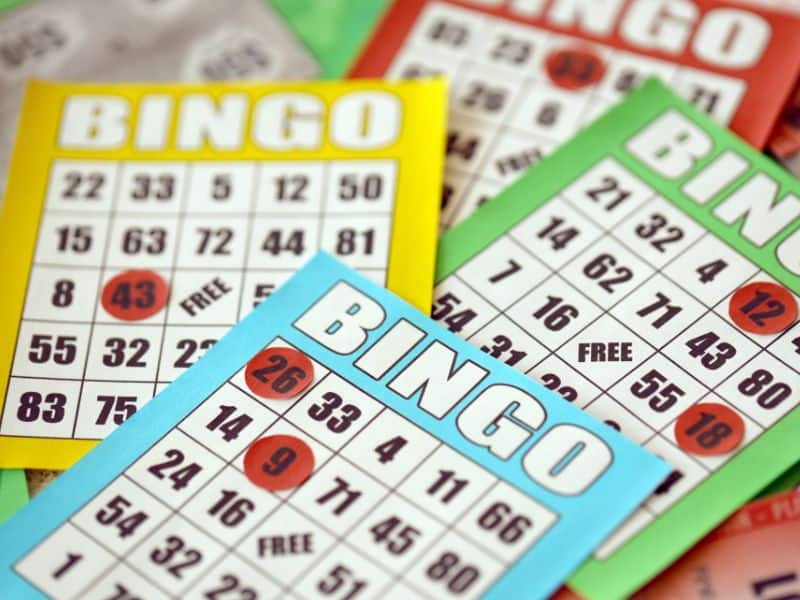 17. Bingo night
You can create your own bingo board using numbers, letters, words or pictures, or alternatively, buy a family bingo game. Great fun for all ages.
If you like this family night idea and Christmas is around the corner, why not try our free printable Christmas bingo set – just follow the link for instant downloard.
18. Play card games
Many families have their favorite card games that they love to play, and if you don't, now is a great time to start! Gin Rummy, Go Fish and Hearts are our top recommendations.
My kids have also just got into UNO which is a brilliant card game.
19. Minute-to-win-it-games
Looking for some fast-paced and exciting games to play with the family? Add some minute-to-win-it games to your nighttime activity repertoire.
Here are some ideas:
hula contest – who can last the full minute?!
tissue box shake – who can shake out the most ping pong balls from a tissue box fixed to their back in a minute?
chopstick pick-up – who can transfer the most peas from one bowl to another in a minute?
For more details and more minute-to-win-it games, there are more listed in this kids birthday party activity post.
For plenty more inspiration when it comes to kids activities try:
Outdoor things to do with kids at night at home
Fun things at night to do with kids at home don't need to be restricted to indoors. There's nothing better than a few outdoor activities if it's warm enough. Don't be put off if it's dark outside – that can be used to your advantage and add another dimension!
Here are some fun things to do with kids at night in the backyard at home.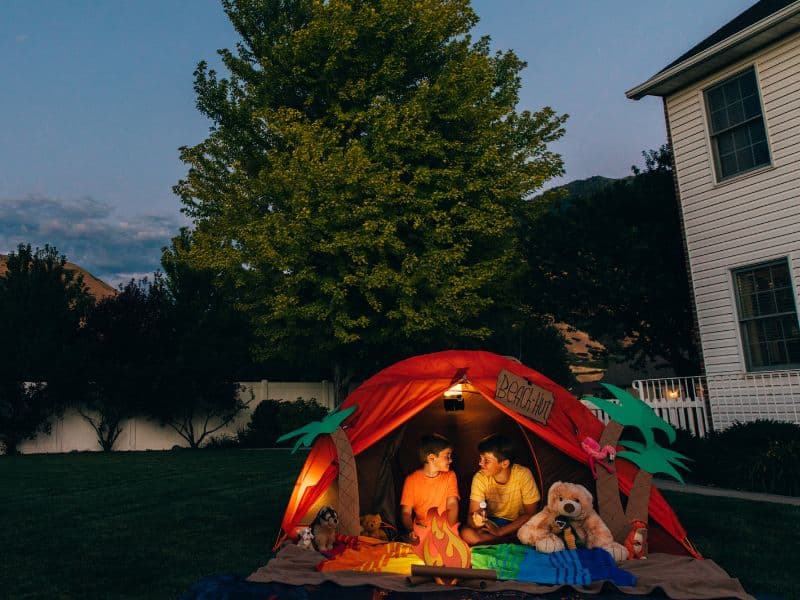 19.Backyard Campout
Another fun thing to do at night with kids that love camping. This one is a little more work than the indoor version, but far easier than the real thing!
Pitch a tent and create your own adventure in the backyard. Roast s'mores on a campfire, drink hot chocolate, play games, and tell ghost stories. Flashlights and comfy bedding for a good night's sleep are a must.
And if it gets too chilly, simply head back inside.
20. Nighttime Scavenger Hunt
Scavenger hunts are so simple and appeal to kids of all ages, adults too. So are an ideal thing to do at night with kids. They're even more fun to do in the dark.
Give them a flashlight and a list of things to find and off they go.
21. Flashlight Tag
This Tag meets Hide and Seek flashlight game is an old favorite. The person with the flashlight is "it" and the aim of the game is to spot the other players hiding in the dark. Once all players are found it is someone else's turn to be it.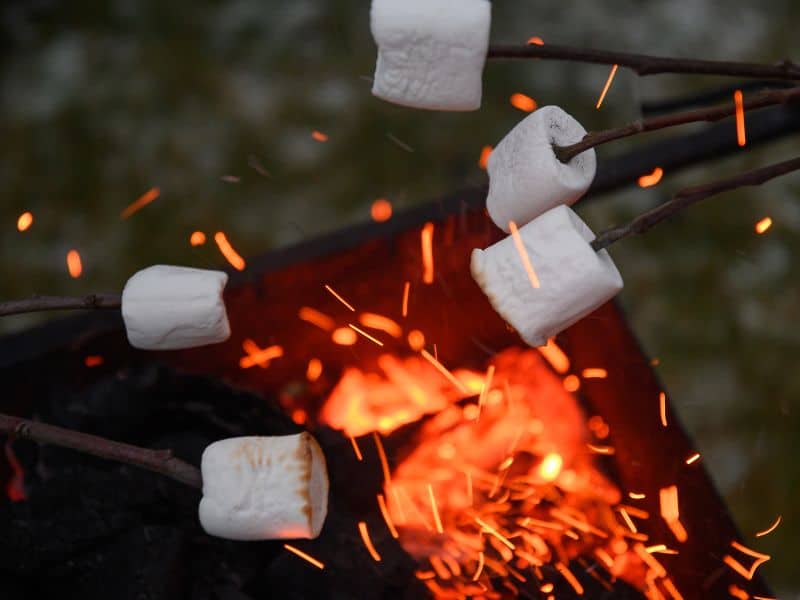 22. Build a backyard campfire and make S'mores
To me roasting marshmallows and making S'mores is such a treat. If you have a backyard fire pit then brilliant. If not you can use a camping stove or you can even get Smores Kits which come with a burner.
Whichever you go for, the kids will love it!
23. Cook dinner over a campfire
The joy of cooking on an open fire doesn't have to be saved for camping trips. Why not cook your dinner over your campfire at home? Grab some hot dogs or make up some kebabs and enjoy some backyard dining.
24. Backyard Hide and Seek
Add a new element to this favorite backyard game by playing in the dark. Kids will love the excitement of it and the fact that it's a little bit spooky!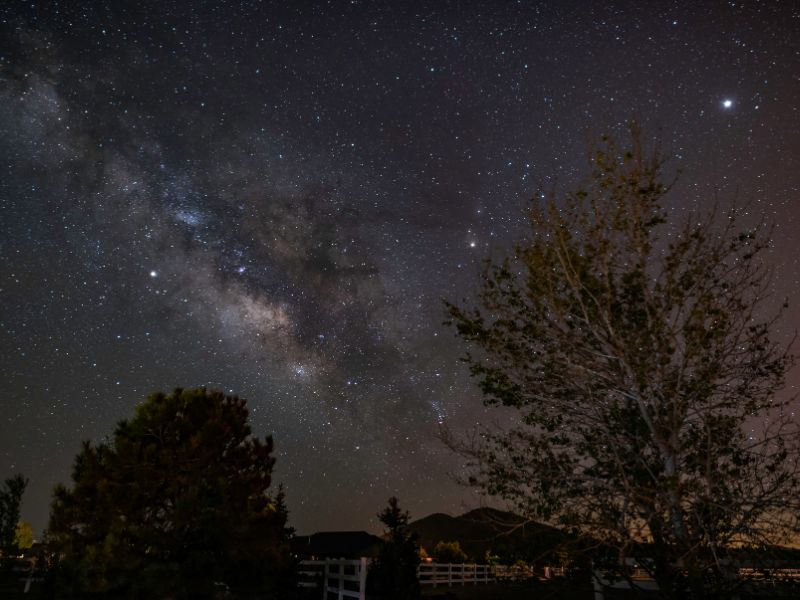 25. Stargaze in the backyard
Pick a clear night, turn off any lights, put a blanket down, and lie and watch the stars. Inspire your young astrologers by pointing out the constellations, and talking about what they can see in the night sky.
Getting a book on constellations is a great way for children to learn what they are looking for and build enthusiasm.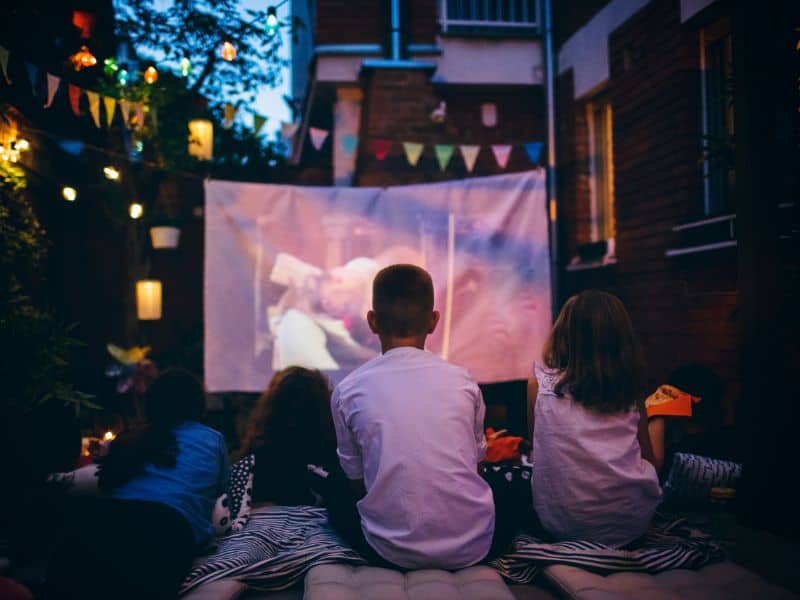 26. Backyard movie night
A great way to spend time together as a family on a summer night.
To set up an outdoor movie you'll need a portable projector and some speakers. If you have a screen then great, otherwise you can use a wall, or hang a plain white sheet instead.
Throw down some rugs, outdoor cushions, and bean bags. Or set up the camping chairs, prepare some special snacks, and settle down for an evening in front of your family's favorite movie.
Inexpensive Family Night Ideas When You Want to Go Out
Nights out with the family do not need to be expensive. In fact, they do not need to cost anything at all.
Here are some favorite ideas for family night activities for when you want to go out but keep it inexpensive.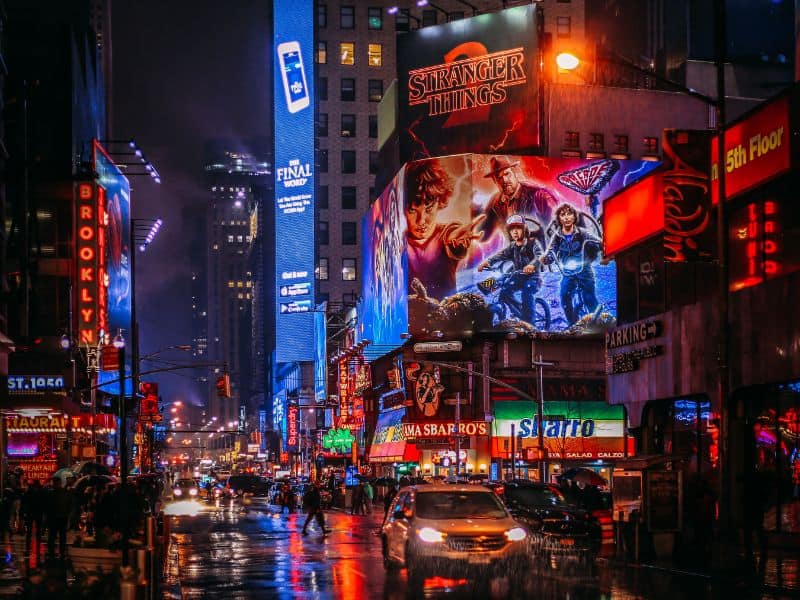 27. See the city lights
I love seeing the city all lit up at night and it's such a nice thing to do with the kids. Head up to a high point in the city, or on the outskirts of the city and marvel at all the twinkling lights. See which landmarks the children can spot.
28. Take a Moonlight Walk
Head to your local park or nature reserve and explore it from a totally different perspective at night. The kids will love listening and looking out for nocturnal creatures.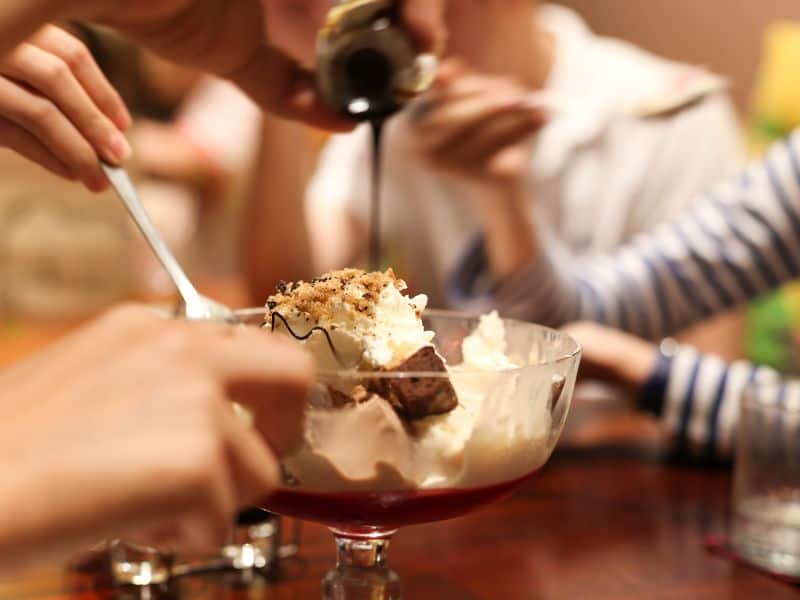 29. Go out for dessert
Like the idea of eating out with the kids but don't want to do a full dinner out? Then why not just head out for ice cream instead.
Enjoy dinner at home then jump in the car and head out for a super special sweet treat.
30. Picnic at the Park
Make the most of those long summer evenings by packing up dinner, taking some outdoor games, and decamping to the park. Enjoy some games together as a family before tucking into your picnic.
31. Bike Ride
Here's a fun thing to do at night with kids in the light summer evenings and a great way to burn off any excess energy before bedtime. Go for a family bike ride and explore your local park or neighborhood together on two wheels.
Looking for more cheap activities to keep the kids busy?
We have plenty of free printables available for instant download:
Other Fun Evening Outings & Activities To Do With Kids
Fancy a fun evening out with the family and don't mind spending a little bit? Check out these fun family things to do at night that are kid-friendly, and will be loved by kids and adults alike.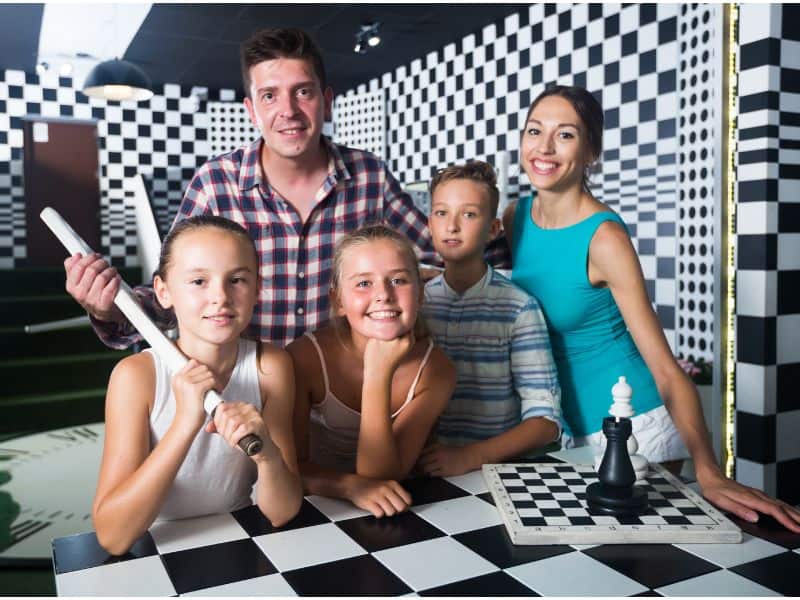 32. Visit an Escape Room
If you've never been to an escape room it is such an awesome experience! Play games and solve puzzles against the clock in order to escape the room. A brilliant way to get the family working together and you'll have so much fun.
Equally, for a fun thing to do at night with the kids at home indoors, set up your own Escape Room. Here are some DIY Escape Room Ideas to get you started.
33. Laser Tag
I don't know many kids who don't love laser tag, I have great memories of playing it as a child. Not only will you all have a brilliant time, you'll be well exercised too.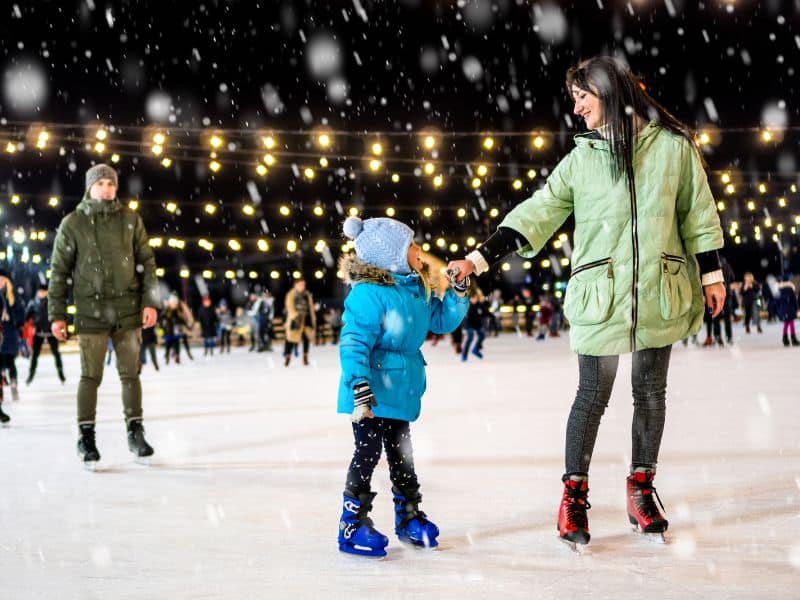 34. Ice Skating
Get your skates on and enjoy a family night gliding around your local ice rink.
Look out for outdoor ice rinks that pop up around Christmas time too, it is such a lovely festive activity.
35. Visit the Arcade
Have a fun-filled evening playing arcade games. Most arcades have something for all ages and is a great place for a bit of friendly competition.
36. Mini Golf
Mini golf to me says holidays! So why not take a little holiday for your family night and visit your local mini golf course? Perfect for warm summer evenings.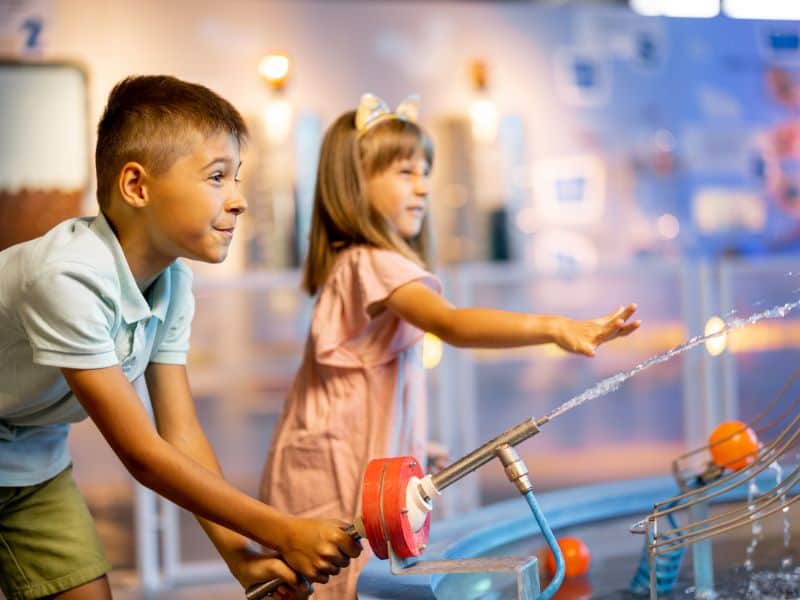 37. Museum Night
Look out for evening events happening at your local museums. Many put on family events after hours, particularly during the holidays, which are great fun and a lovely way to see the museum too.
38. See a Play or Musical
For a really special night out, keep an eye on your local theatre listings for age-appropriate plays for your family.
39. Check out an Outdoor Concert
Outdoor concerts are also great for families. You're outside, there's space to run around and a great atmosphere to enjoy live music together.
Some venues do special events for families, so look out for these.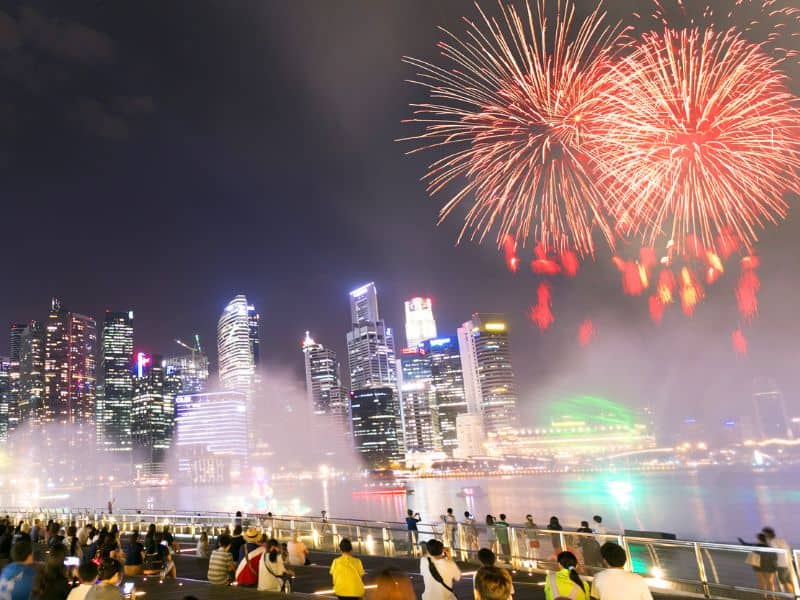 40. Go see fireworks
There is something about seeing fireworks in person that is so exciting, especially for kids. Keep an eye out for local celebrations with fireworks and head down to enjoy the spectacle.
41. Attend a Sporting Event
For another fun thing to do at night with kids get out and support your local team. The atmosphere of a live game is great fun and if you don't already, you'll soon have some budding supporters in the house.
42. Go to a local carnival
There always seems to be a carnival somewhere not far from me, it certainly wouldn't be too hard to find one for a family night out. There is plenty of family fun to be had with the games and the rides, and as it gets dark and the lights start to twinkle it can feel quite magical.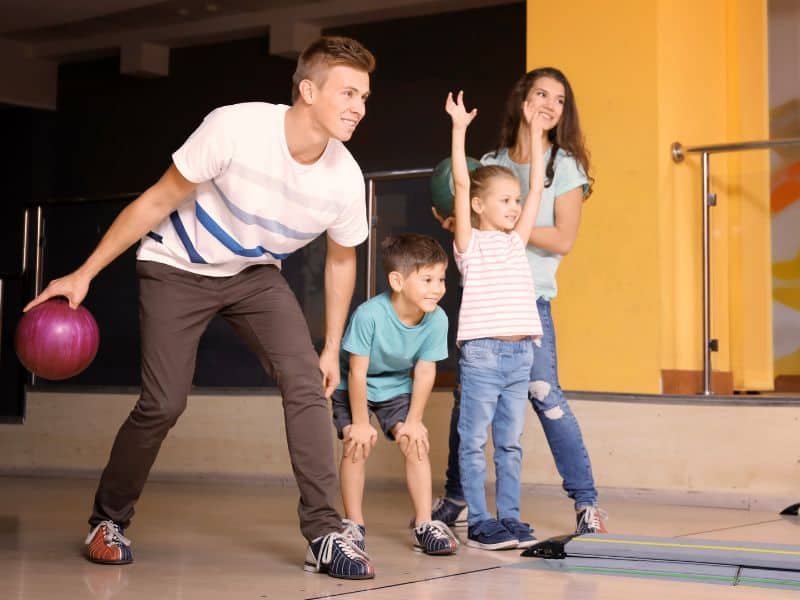 43. Bowling Night
This classic activity is such a fun thing to do at night with kids that the whole family will enjoy. The bowling alley is the perfect place for a bit of family-friendly competition. With the help of bumpers and ball ramps, kids can start at a fairly young age.
Look out for special themed nights too for some added entertainment.
Family Night Ideas With Toddlers
Family nights with young kids may look a little different but there is no reason you can't fit a few fun activities in before bedtime. Just be sure to wrap things up before overtiredness strikes.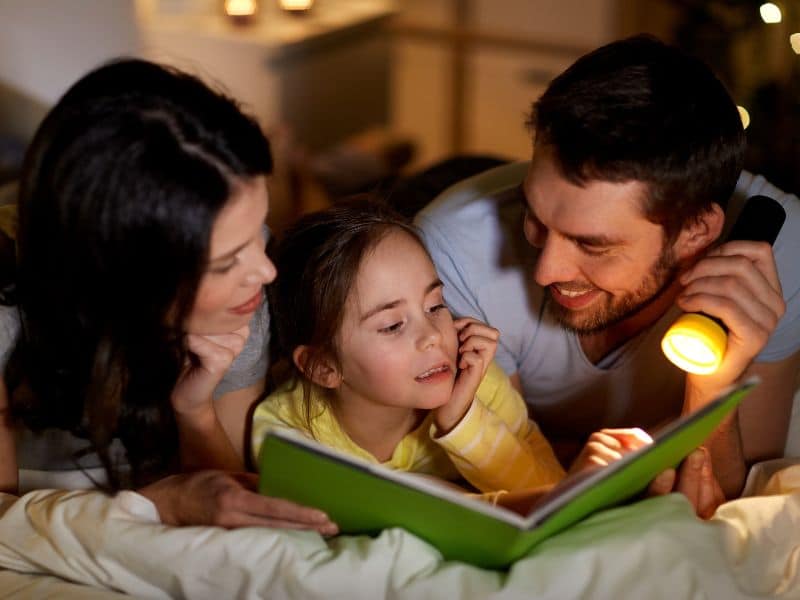 44. Bedtime story marathon & renactment
I know reading a bedtime story is pretty standard in most households, but rather than a quick one before bed, make an event of it. Snuggle down as a family, take turns choosing a book and for those well-loved books that everyone knows, choose a character each to be.
45. Do a puzzle
My toddler loves puzzles and loves nothing more than me sitting and doing them with him. Pick out a big one and work on it together.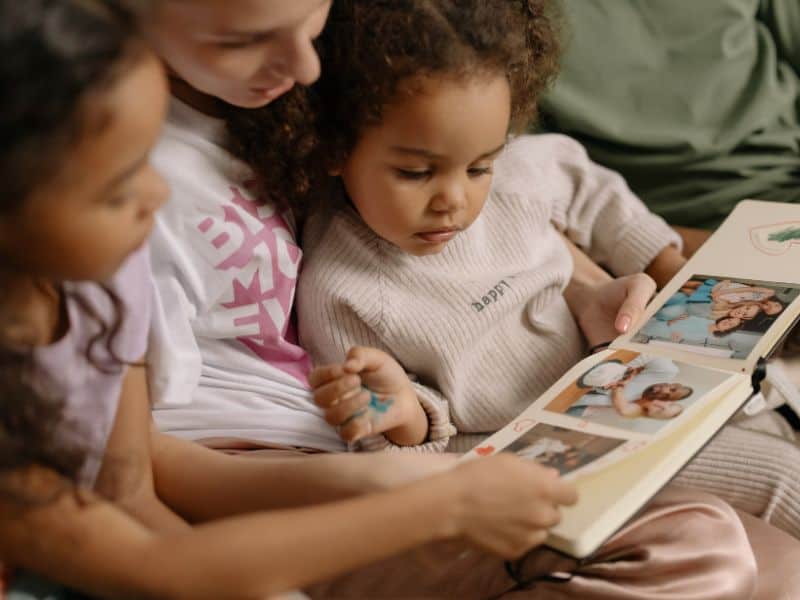 46. Look through old photo albums
This is one of my kid's favorite things to do! They particularly love the ones from when they were born.
Snuggle up on the sofa together and go through the albums. Your kids will love hearing the stories that go with them.
Another fun idea is to look through family videos instead.
47. Listen to music and have a sing-a-long
Listening to music is a lovely relaxing thing to do before bedtime. Put on your toddler's favorite tunes and have a little sing-a-long.
Not quite so relaxing, but toddlers also love a little dance party! Just start it early on so you don't rev your little one and go completely off schedule…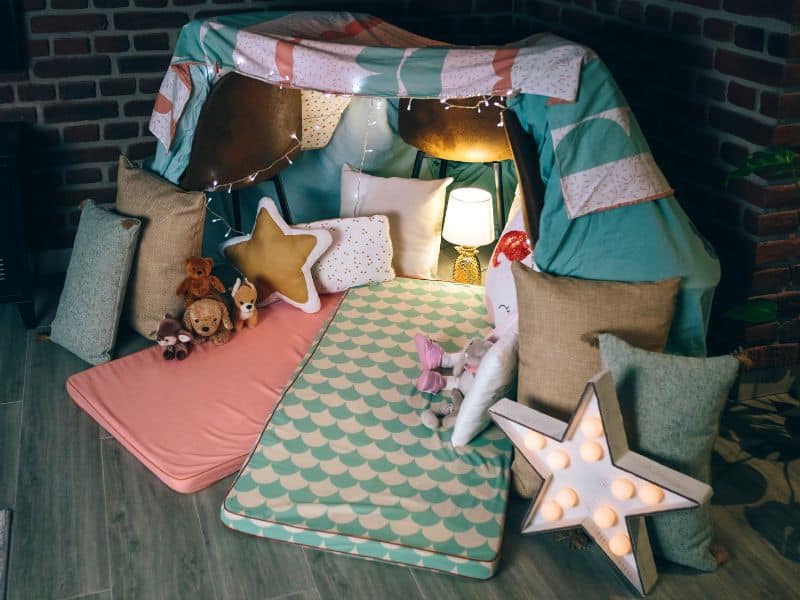 48. Build a pillow fort
There's something about pulling all the cushions of the chairs and sofas that kids love! It's a great physical activity for any time of day and particularly good at wearing out little legs.
Use chairs, pillows, blankets, and anything else you can to construct a fort. Make it cozy inside before climbing in and enjoying.
49. Have a picnic dinner
Whether you do it outside or inside doesn't matter. Pack a picnic basket, spread a blanket on the floor, and enjoy a picnic dinner at home.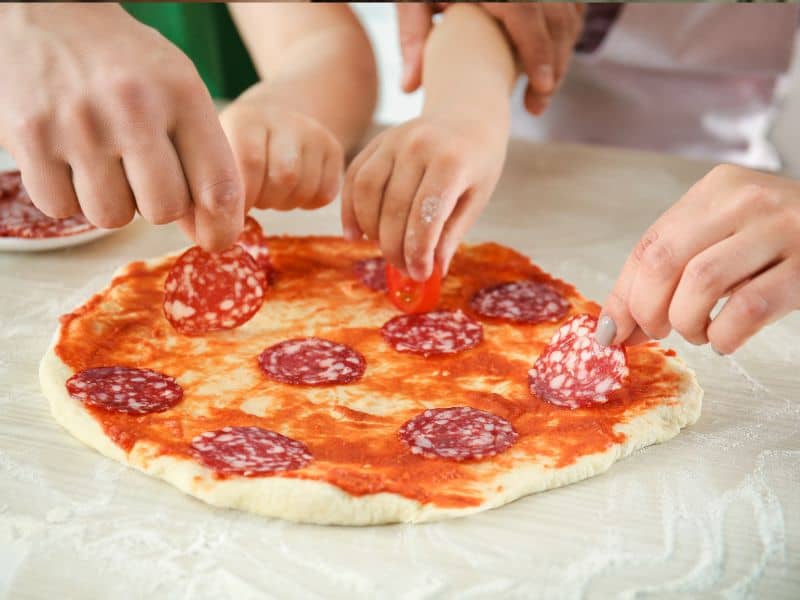 50. Make homemade pizzas
Most kids love pizza and they'll love creating their own even more. Get them involved with making the dough, or have the dough ready to go, whichever you prefer.
Put out a spread of toppings and let your toddler get creative before enjoying a delicious dinner.
51. Build Duplo in the bath!
Just like the bedtime story marathon, this is simply a way to extend part of your typical routine before bed. My kids have always loved taking reglar toys into the bath and it adds a totally new dimension to the lucky toy.
Building Duplo in the bath means you can make homes for mermaids or build boats.
My girls love taking their dolls in and giving their hair a wash…. such a fun thing to do at night with little kids.
For more activities for little ones for the daytime try:
The best things to do at night with kids
I hope this list of simple nighttime activities has inspired you with activities, ideas and all sorts of fun things to do at night with kids.
Wherever you live, whether you have older kids or younger ones, the options can be endless and do not need to be expensive. You should now have plenty of free and inexpensive family night ideas to choose from in addition to those that need a little cash.
Whatever you decide, your kids will love spending time together as a family and having fun.
________________________________
Christmas is around the corner! Time for some festive crafts and activities:
Here are some more ideas posts for other seasons: