Picking out a theme for your little one's nursery can be a daunting task. Especially in the throes of a million in other choices that comes with preparing for baby.
But forget woodland themes, rainbows and green nursery ideas. Classics though they may be, if you want something truly unique, a space-themed nursery is the way to go.
This post contains affiliate links. If you click on one and make a purchase, we may receive a commission at no extra cost to you.
Why Opt for a Space-Themed Nursery?
As parents, we want to give the whole world to our little ones. Wait, scratch that! Why not give them the whole universe? If you're a mom who is fascinated by astronomy or a dad that loves science and technology, going for an outer space-themed nursery is a fabulous idea. The space-theme may even create a special love and fascination for the universe and beyond in your baby.
Then there's the uniqueness – space-themed nursery ideas are a step away from baby blues and candy floss pinks. If you want a nursery that's edgy and cool or modern and chic, the dark moody blues and sleek blacks intrinsic to the space-theme may be just what you're looking for.
From a practical point of view, these dark colors can be conducive to a relaxing environment that can help your baby settle easily to sleep. However, it needn't be cold or dull. Different textures can create warmth and pops of color can invigorate.
Alternatively, go white and bright, with just a hint of far-off galaxies. This often works well for space-themed girl nurseries as it can feel tricky to create a feminine vibe in the cooler, darker tones.
Ready to blast off? Take a look at these space-themed nursery ideas and turn your baby's room totally out of this world.
Related post: 23 best nursery dresser organisation ideas!
Space-themed nursery for boys
The space-theme works perfectly for little boy's so when it comes to outer space-themed boy nursery ideas you'll be spoilt for choice.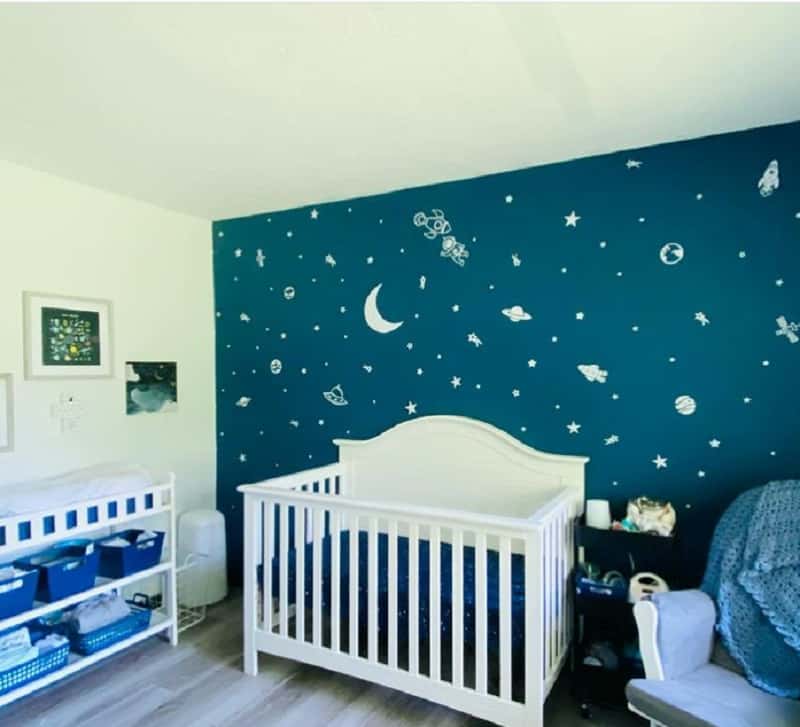 1. All The Blues Space-Themed Nursery
A blue-painted accent wall with space decals right beside your baby's crib will be a wonderful reminder to dream big and reach for the skies. I also love all the different blue hues – they work together perfectly. This is such a dreamy room.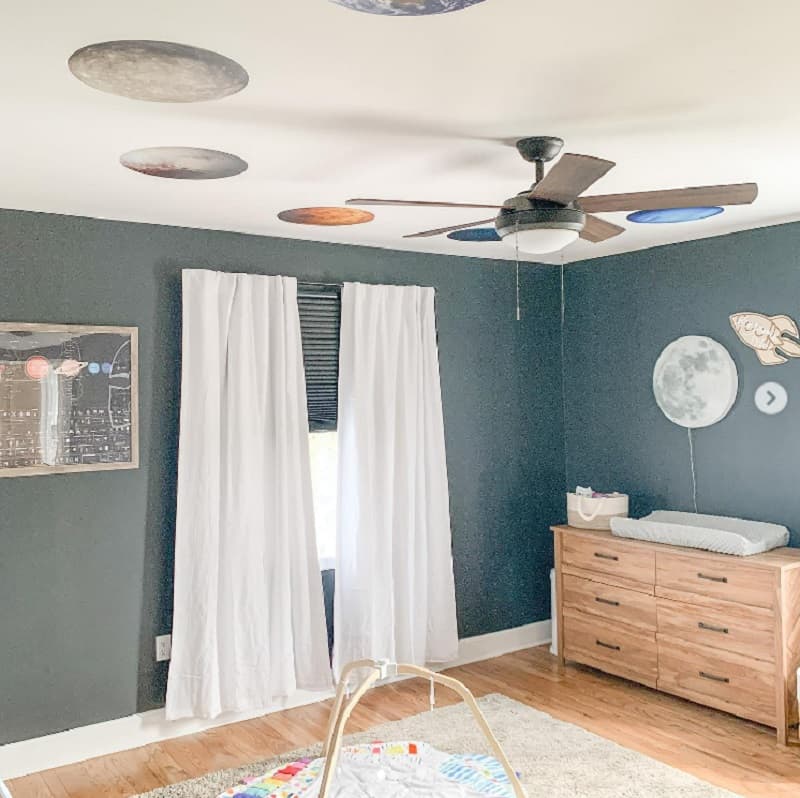 2. Moon And Star Gazing Nursery
Gazing up at this ceiling will be like looking directly into outer space, am I right? Your little one will be entranced – they can pretend to float into the universe.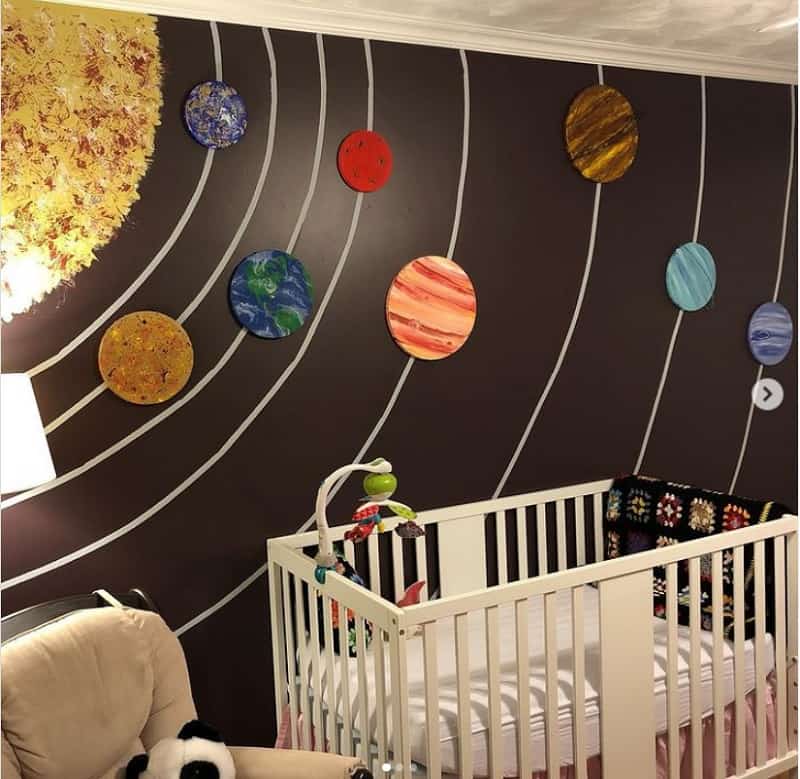 3. 2D Solar System Baby Room
This nursery really takes the space theme to the next level – all the planets and the sun are handmade! And the lucky baby that'll sleep in this nursery is sure to know all about the solar system long before he goes to school.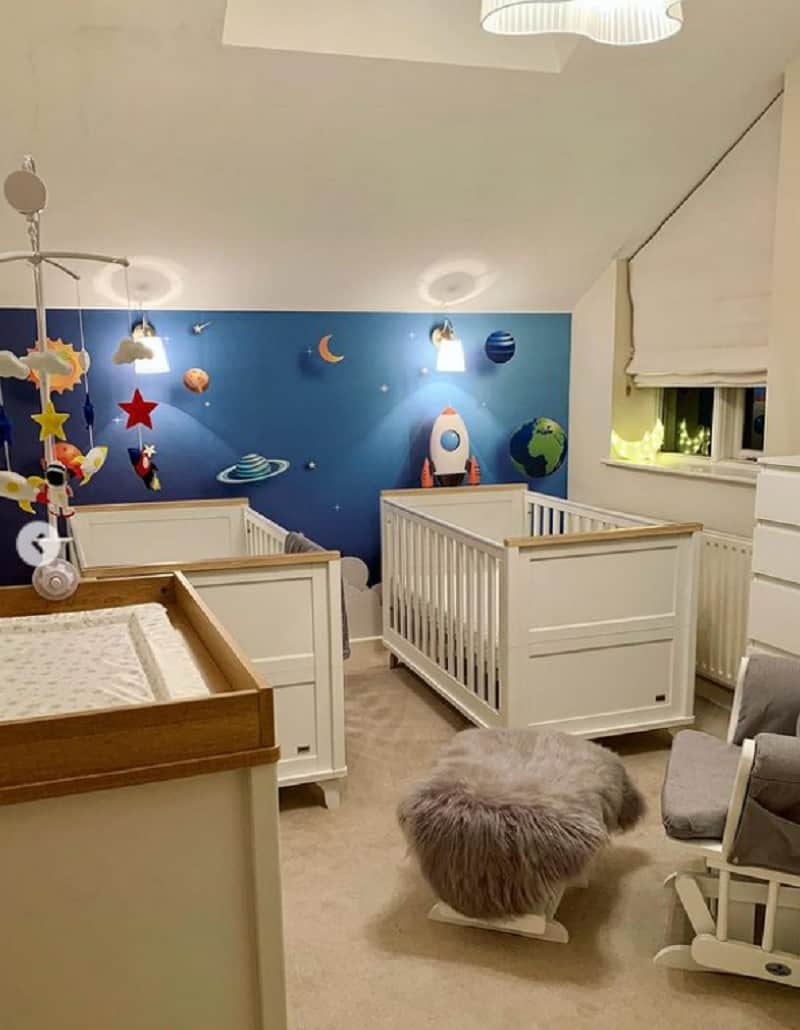 4. 3D Effect Outer Space-Themed Wallpaper
Here's another space-themed nursery idea with a difference. Check out that 3D shadow effect wall paper on the feature wall. The shadows on the planets and rocket ships really look like they're floating – amazing!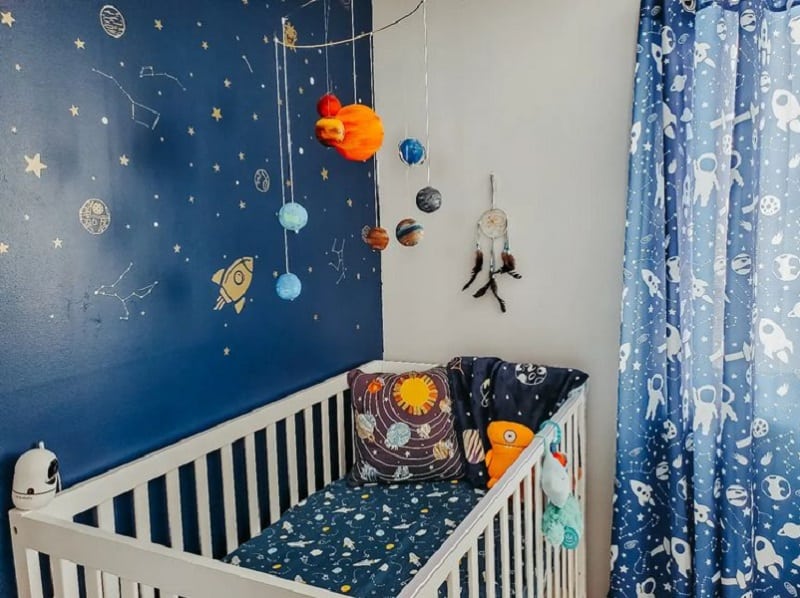 5. DIY Space Nursery Idea
In this space-themed nursery, the crib mobile and wall decals are handmade – that's one lucky baby to have such a talented mom. Each of the planets were painted and sewn by hand. The decals were designed, then turned into a cutting file to stick on the wall. Talk about a labor of love.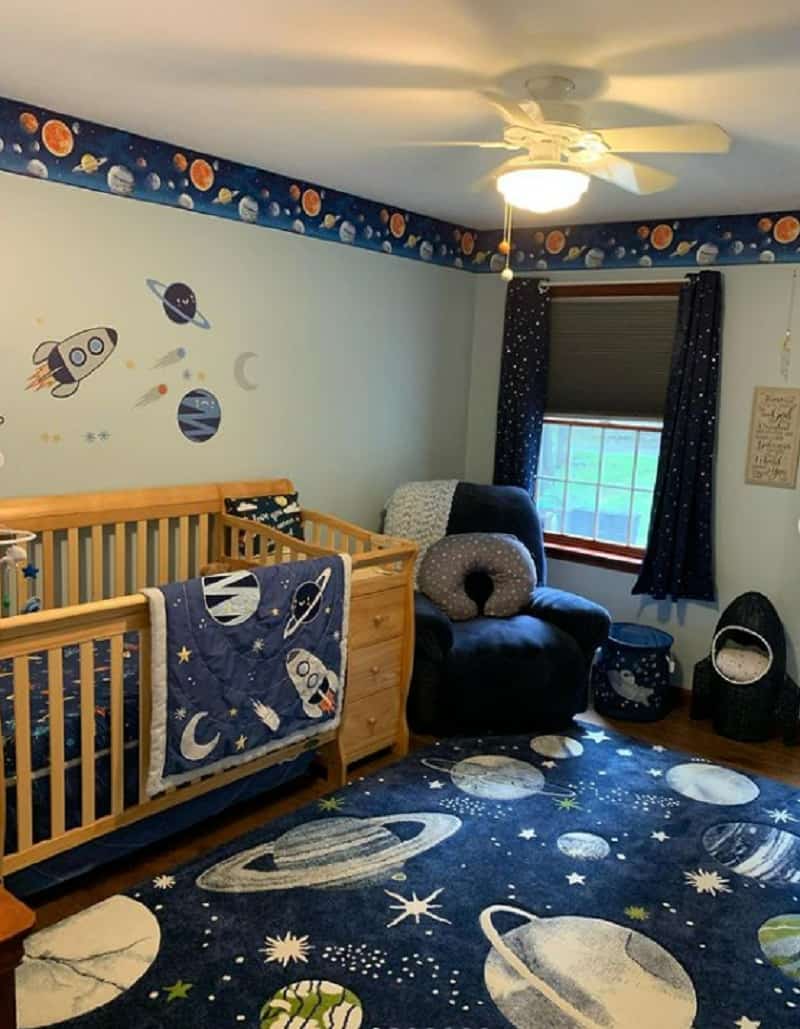 6. A Full Blast Into Space
Imagine stepping into this nursery – with a strong space theme from top to bottom. Complete with space-themed nursery bedding, carpet, wall decals and so much more, this will launch you into a whole new universe.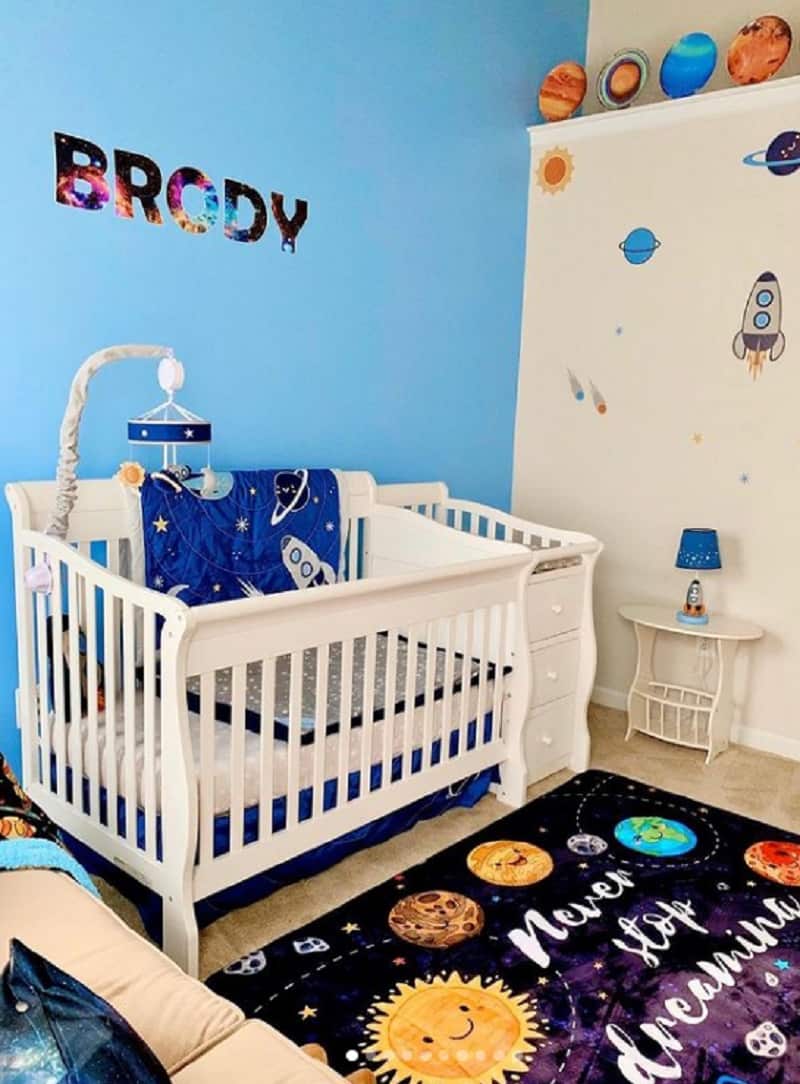 7. 5,4,3,2,1 Blast Off!
This space-themed nursery is like a clear blue day, perfect to send a rocket into space. I love all the different space-themed items – particularly the nursery rug, rocket ship lamp and decals.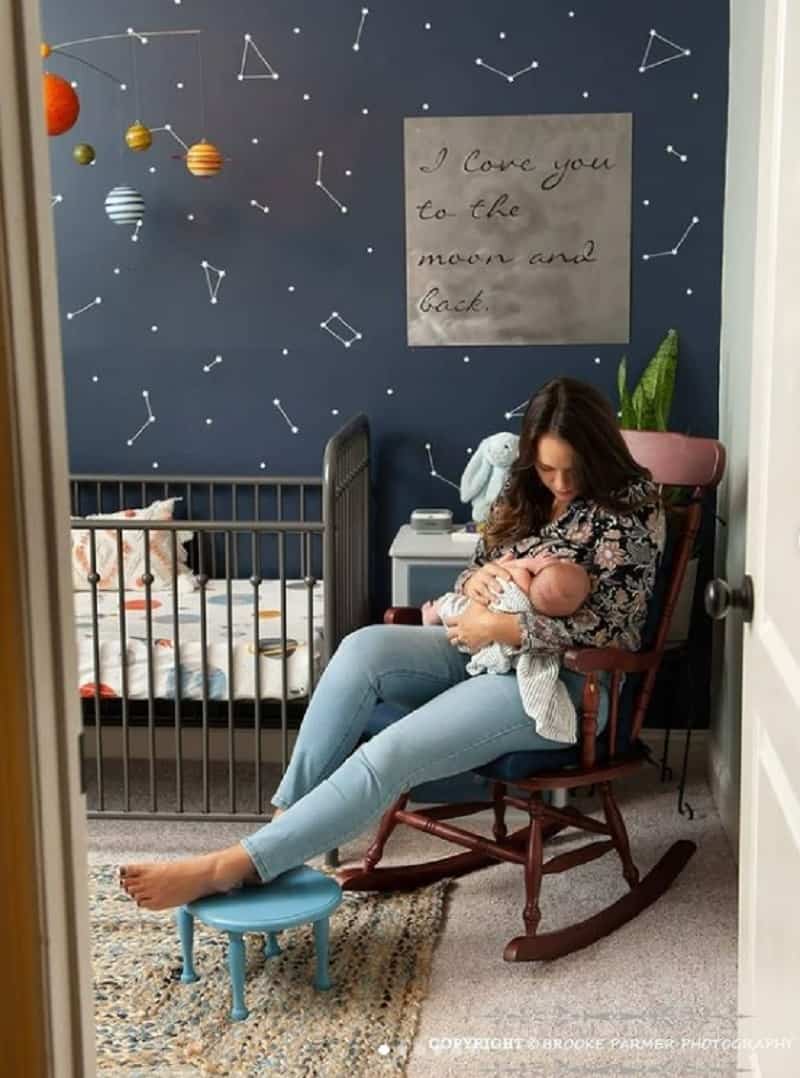 8. Mesmerizing Outer Space Nursery
How heavenly and peaceful is this nursery? The space elements are a little more subtle here allowing nursery furniture with a more vintage feel. This is my pick of the space-themed nursery ideas so far.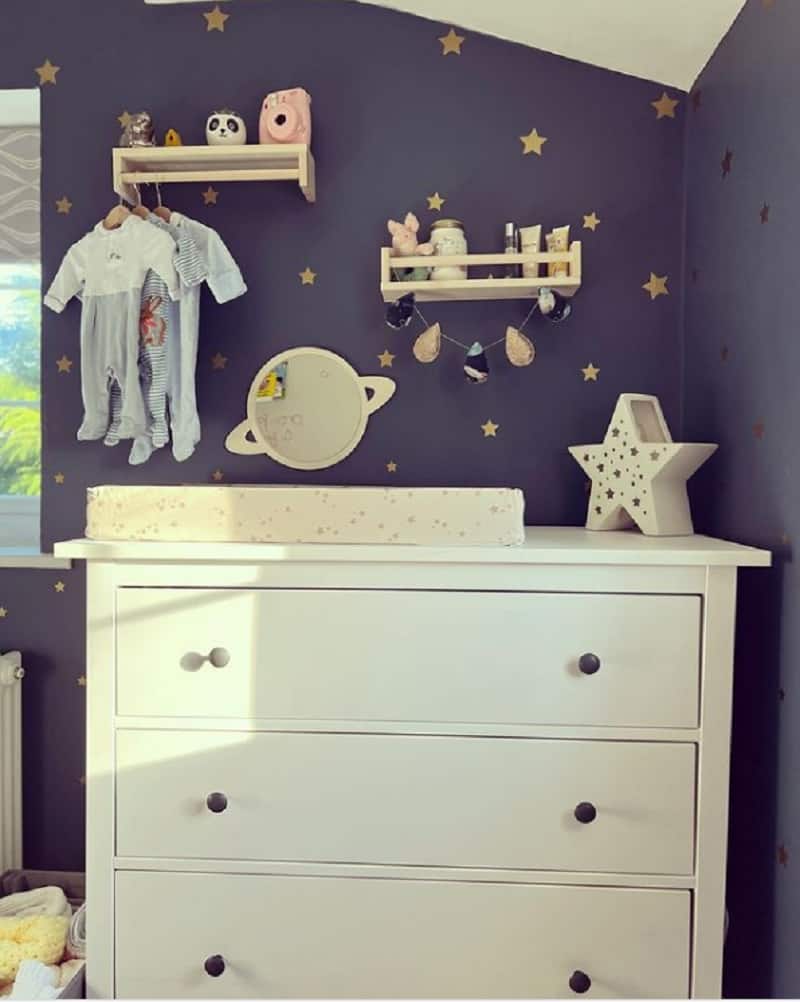 9. Moon And Stars Diaper Station
Another more subtle approach to a space-themed nursery with a simple planet mirror and star nightlight against a backdrop of silver stars.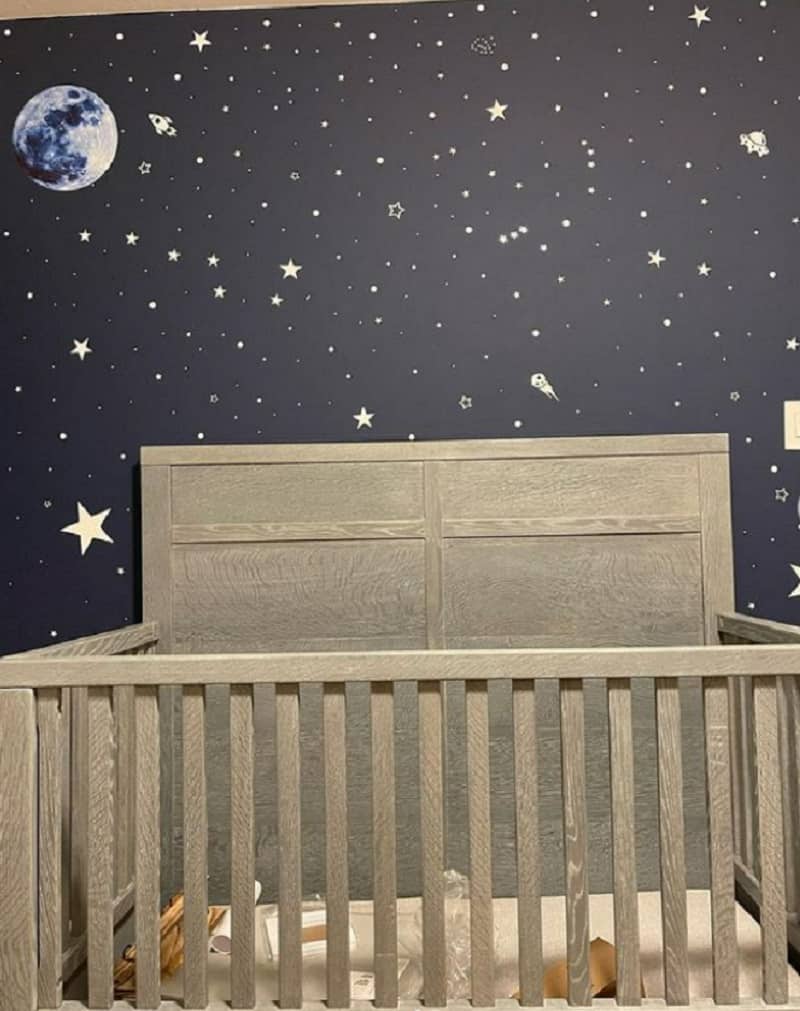 10. Wall of Stars
A wall full of stars takes center stage in this space-themed nursery. The pale wood adds a little warmth – this would work well for both a baby boy and girl.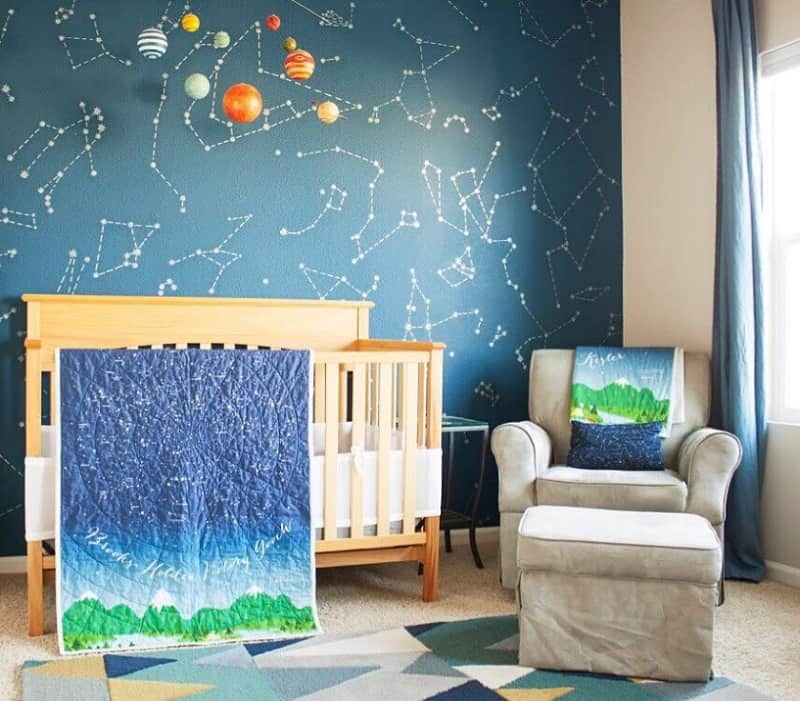 11. Perfectly Matched Constellation
The constellation wallpaper in this space-themed nursery for a baby boy creates a beautiful backdrop for that gorgeous wooden cot and geometric rug. I also love the blanket with all the different constellations labeled.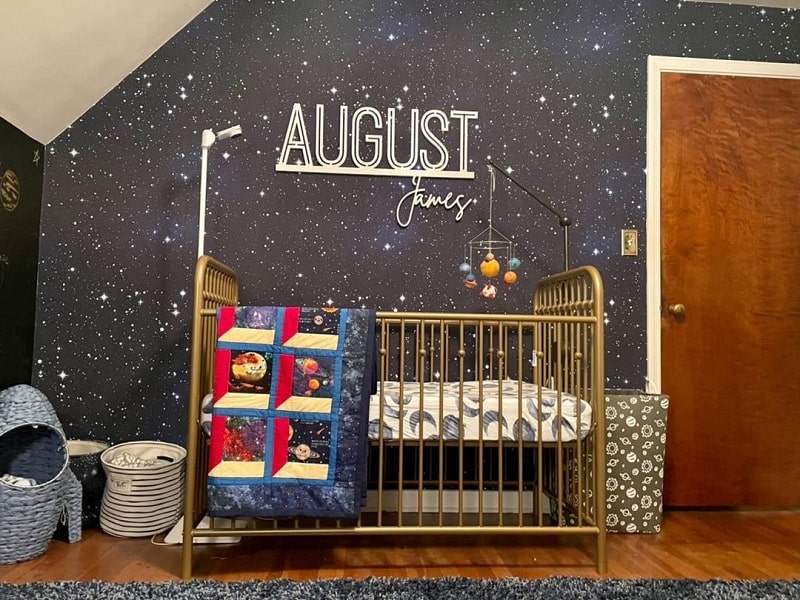 12. Galaxy Space-Themed Nursery
Doesn't this nursery make you feel like you're floating in a galaxy? That feature wall is truly mesmerizing! And check out the rocket ship laundry hamper, doesn't it look the part?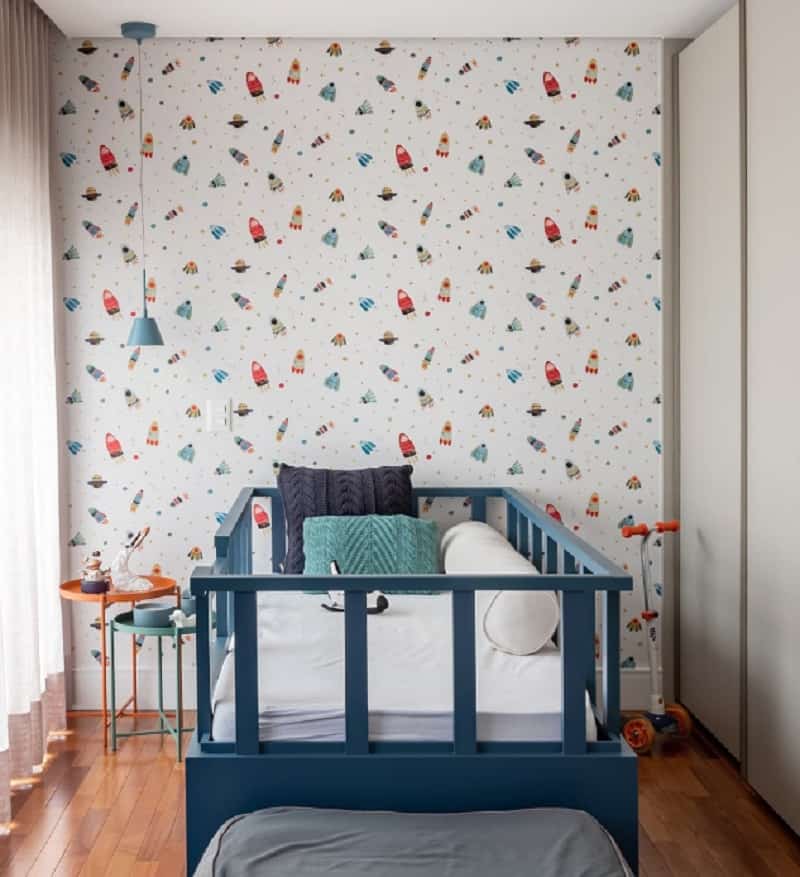 13. Vintage Feel Space-Themed Nursery
This space-themed nursery is elegant and playful with a vintage feel, in part due to the classic wallpaper – isn't it gorgeous? it's complemented beautifully by the simple yet colorful furniture. This one has the edge for me right now!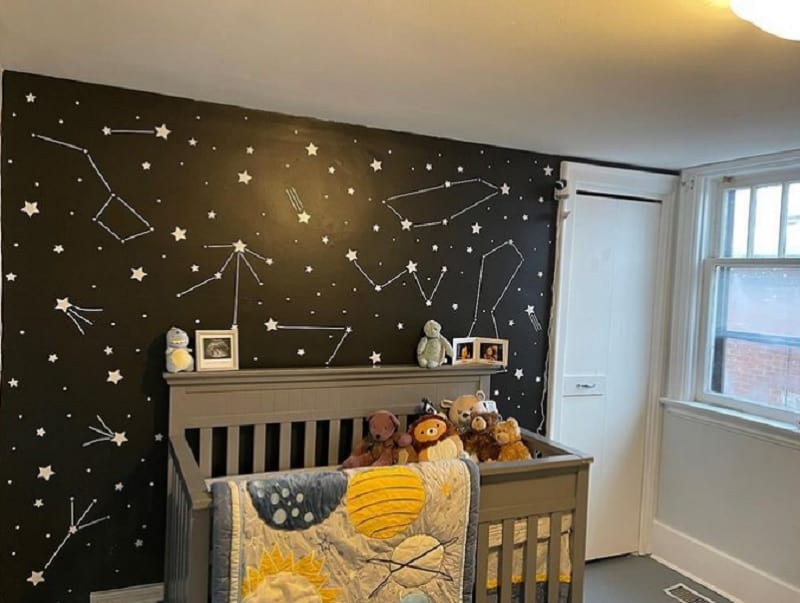 13. Stars and Constellations
Another outer-space-themed nursery idea with a big bold constellation statement wall – it really is quite eye-catching.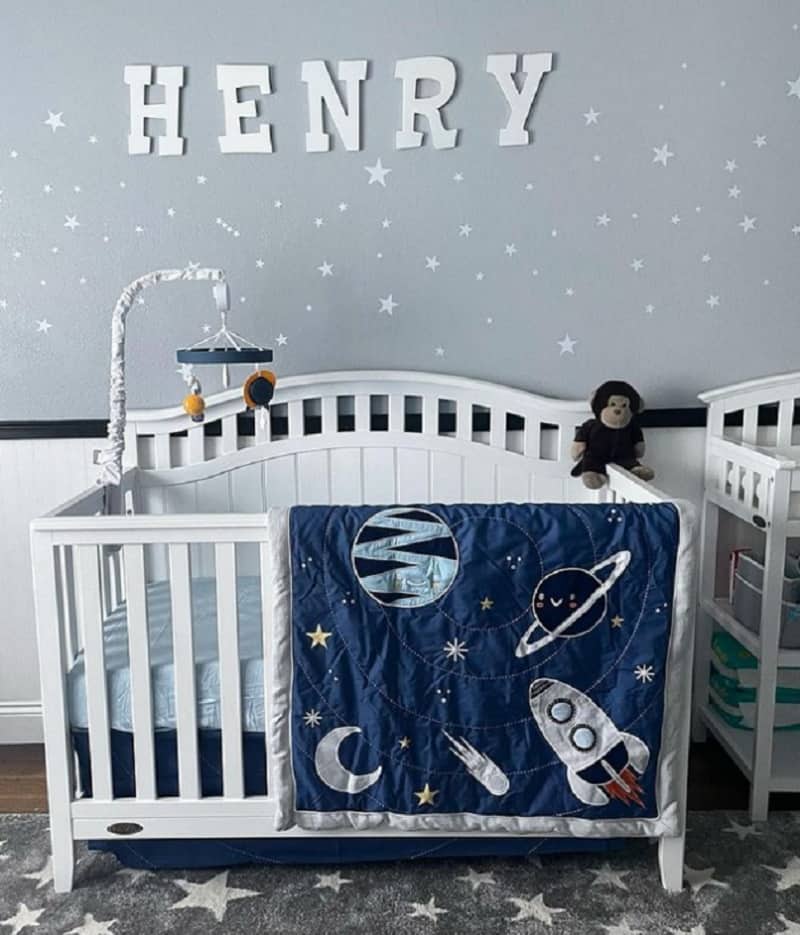 14. Constellation Accent Wall
The star decals on the soft gray/blue wall creates a lovely sense of calm in this space-themed nursery for a baby boy.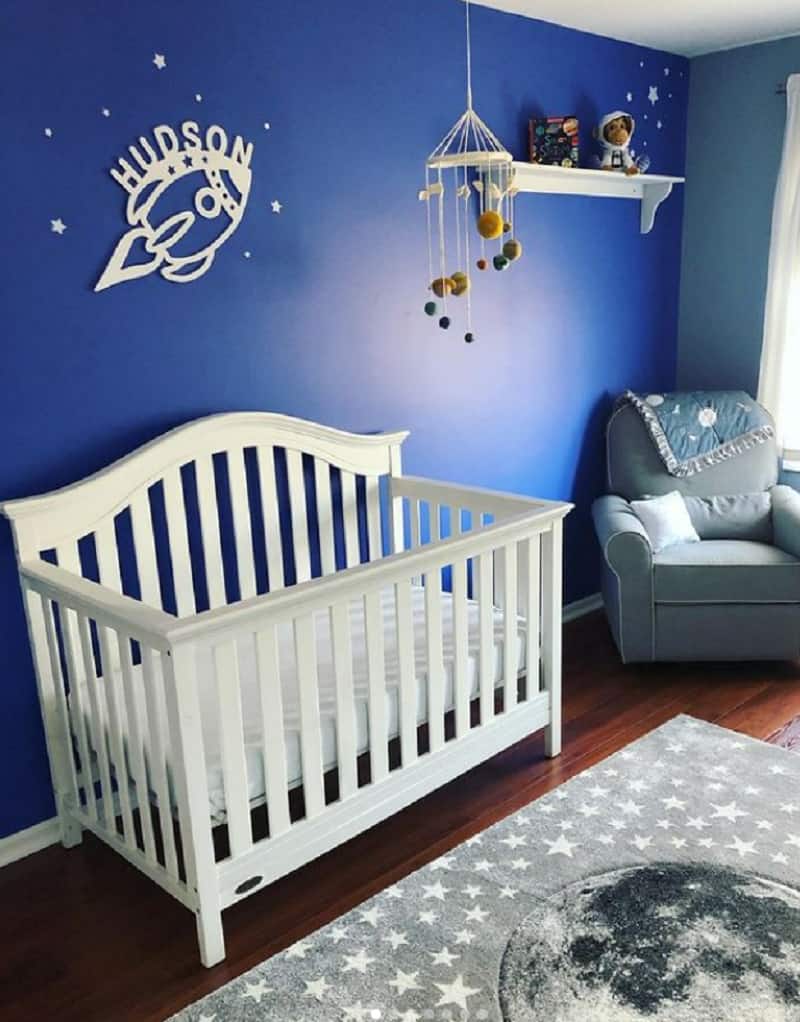 15. Space-Themed Nursery Carpet
Another perfectly clear blue day to launch a rocket, and I totally love that the rocket is personalized. Here the blue is paired with grey, not a common combination but it really works. The gorgeous moon and stars rug really compliments the other space-themed elements of the nursery.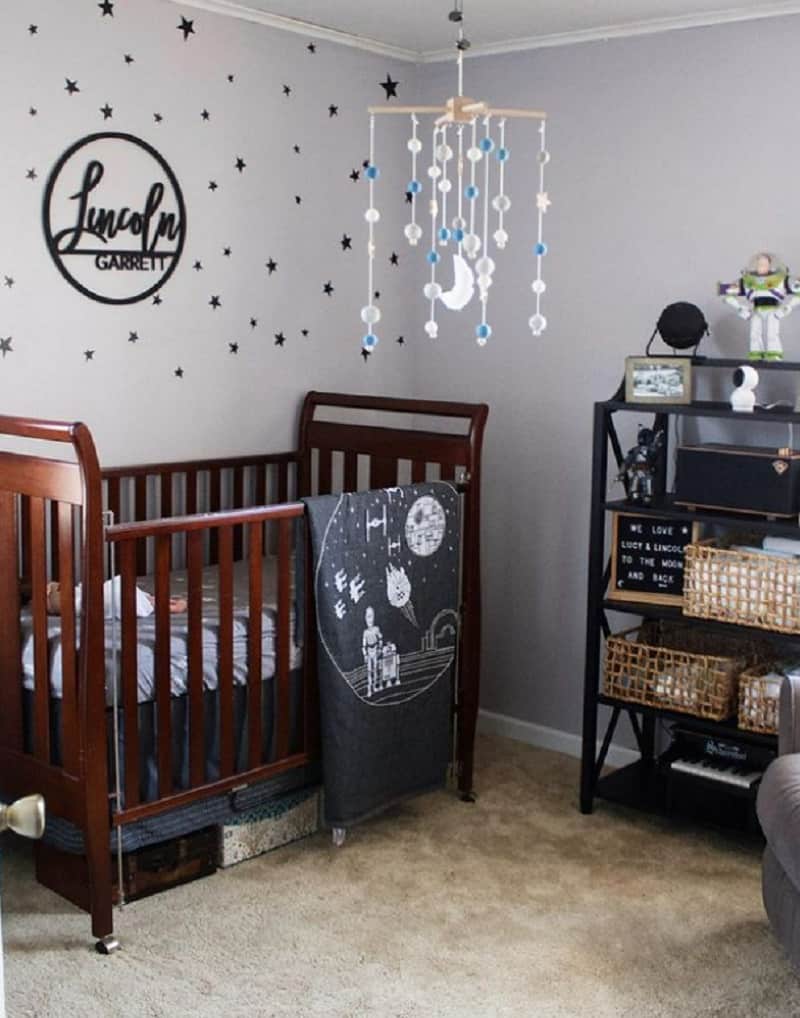 16. A Touch of Star Wars
Let the force be with your little one with this Star Wars themed bedding. It's the perfect addition to the celestial theme. Oh, and have you spotted Buzz Lightyear?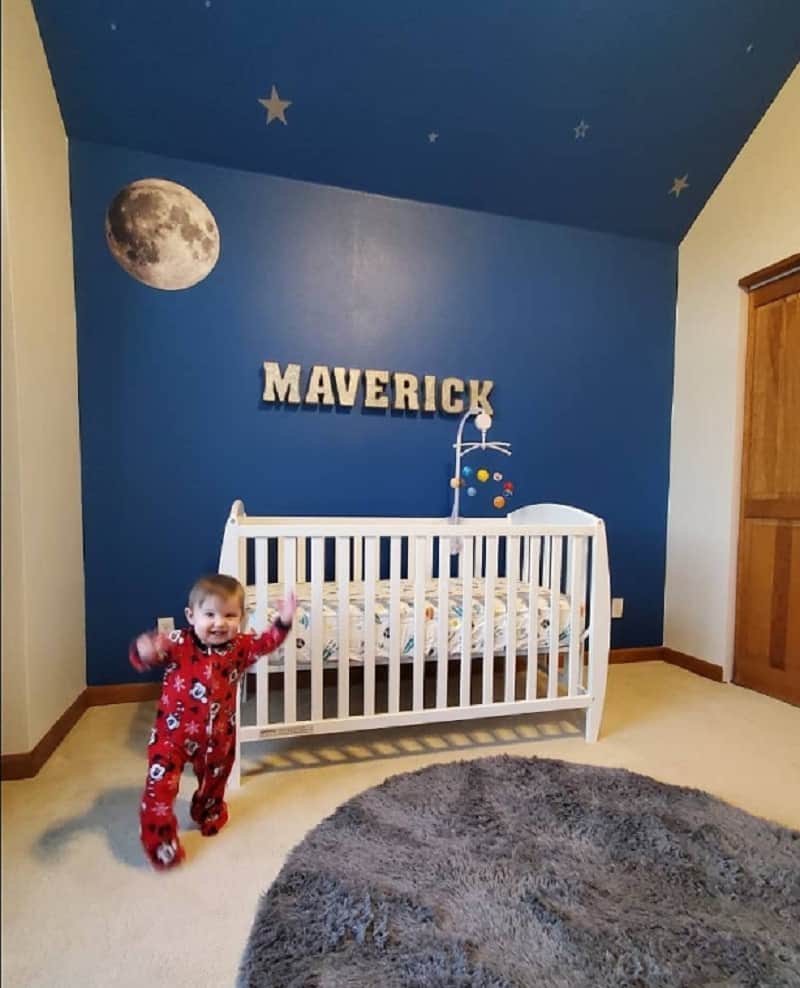 17. A Simple Space-Themed Nursery
The bold blue paint really makes a statement in this minamilst space-themed nursery. I love how the ceiling is painted the same shade, creating a virtual canopy over the crib. The giant round fluffy gray rug is surely the moon. Perfect to learn to moon walk on, right?!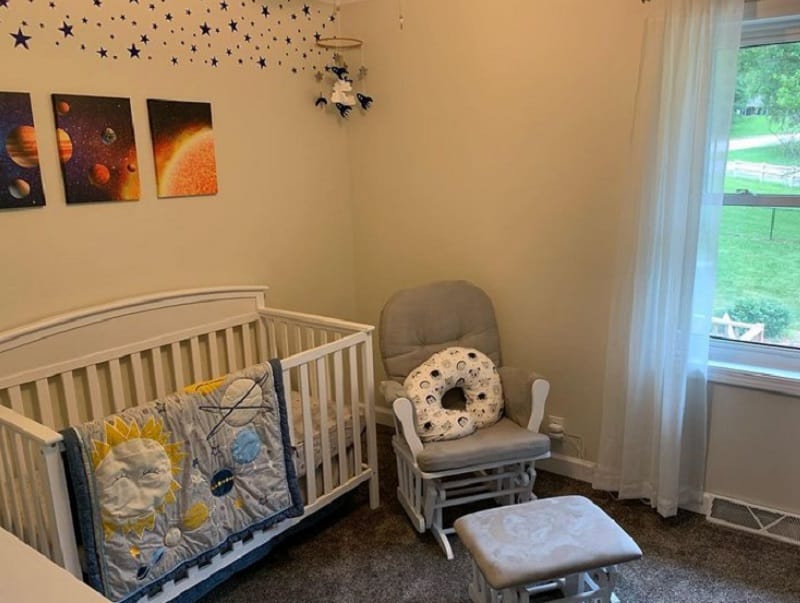 18. Simple Space-Themed Nursery
If you're not keen on dark paint or wallpaper keep it simple and stick with white, then add some outer-space artwork to create your feature wall, like in the space-themed nursery above.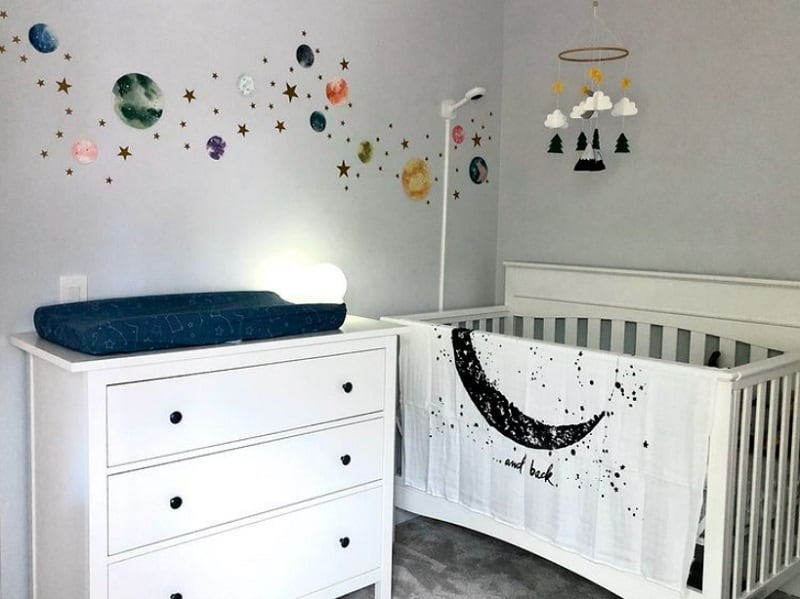 19. Celestial-Inspired Nursery
This celestial-inspired nursery is so calming, with it's white nursery furniture and minimalist decor. Get the look with watercolor planet wall decals and gold stars. They really do like they're floating above the crib and changing table.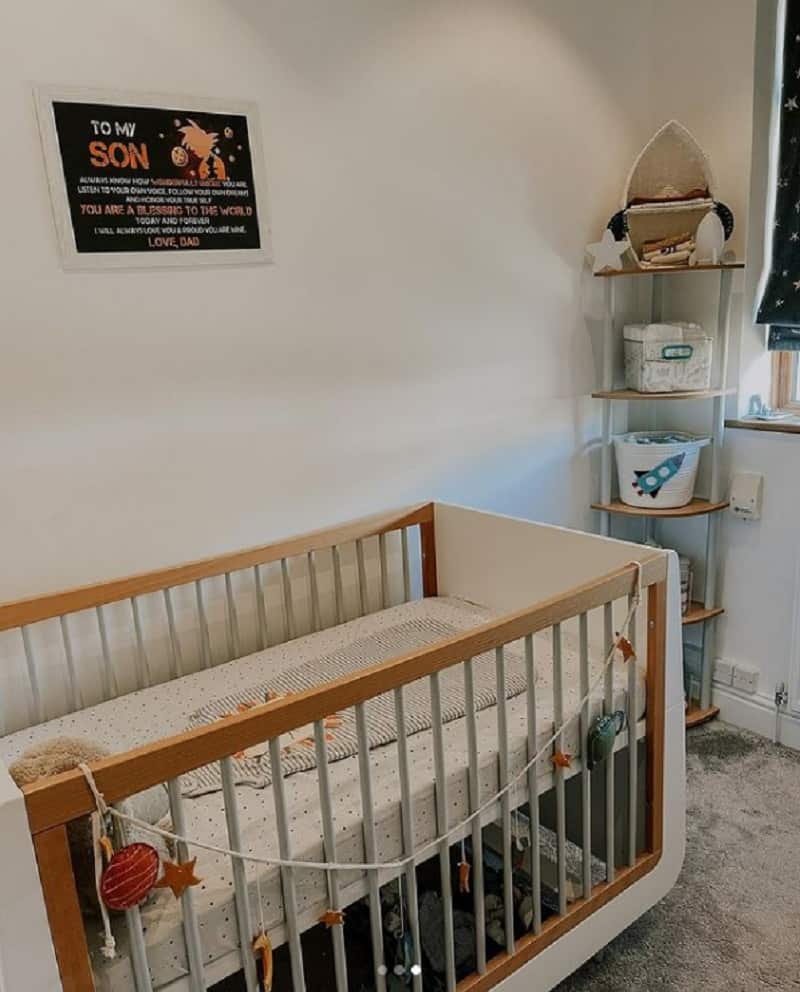 20. Minimal Space-Themed Baby Room
If you want to avoid a paint job, this space-themed nursery idea is worth a look – a few simple elements such as the rocket baskets and star garland hanging from the crib transform this white room into a nursery that's simply (and subtly), out of this world.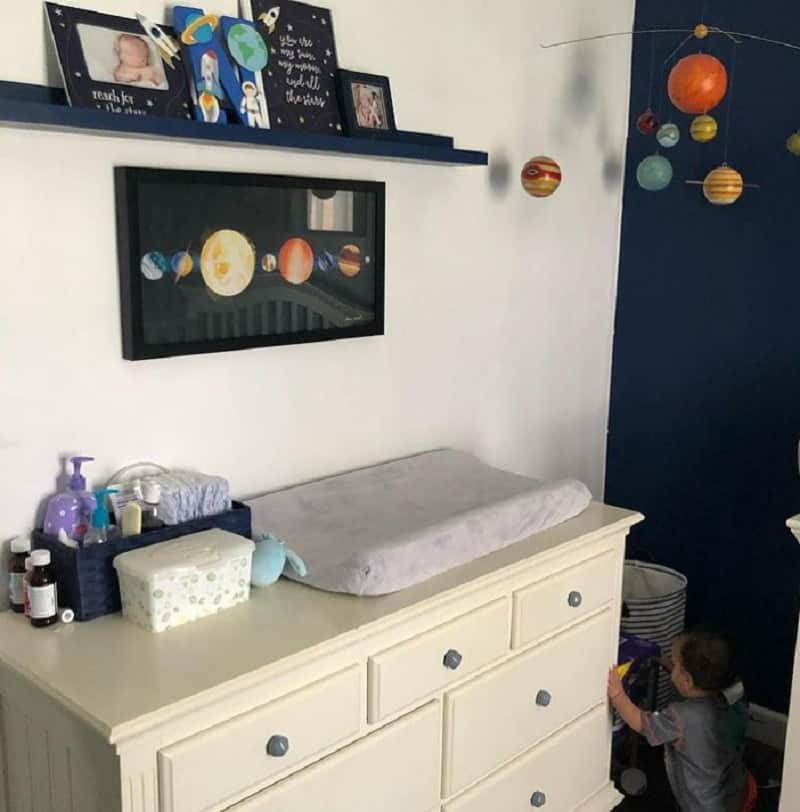 21. Space-Themed Changing Corner
How gorgeous is the planet artwork above the changing table – it really adds an element of sophistication. If you're looking for a space-themed nursery that'll grow with your child, this one may be for you.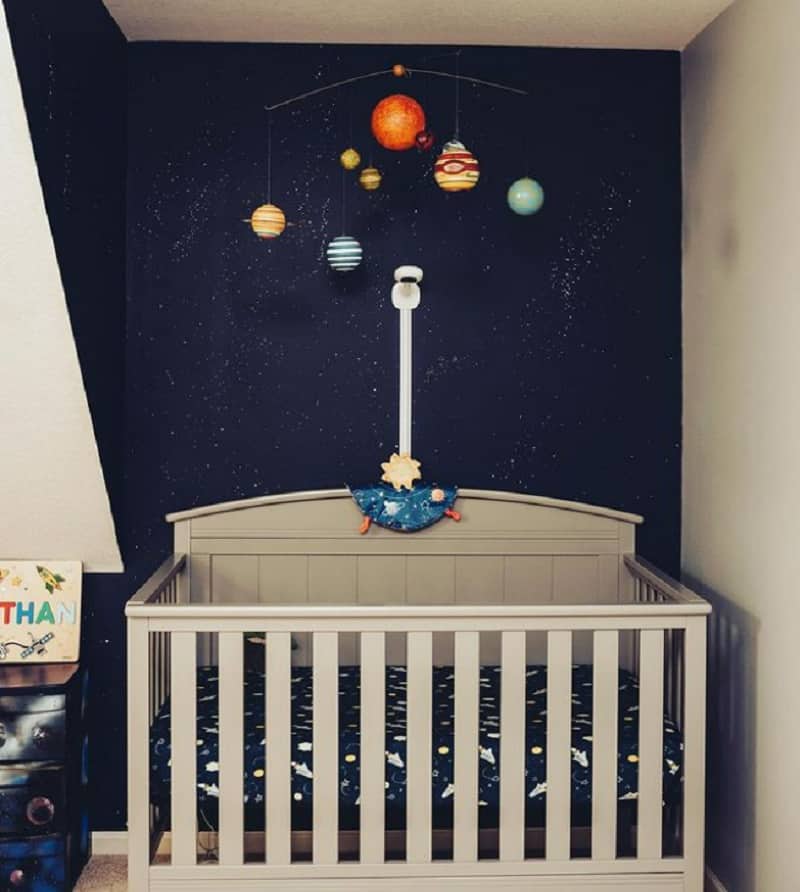 22. Simple Starry Wall
The beautiful hand-painted starry wall makes the perfect backdrop to the classic gray crib and mobile – those planets really look like they're floating in space. They also add bright pops of color against the navy and grey colorscheme.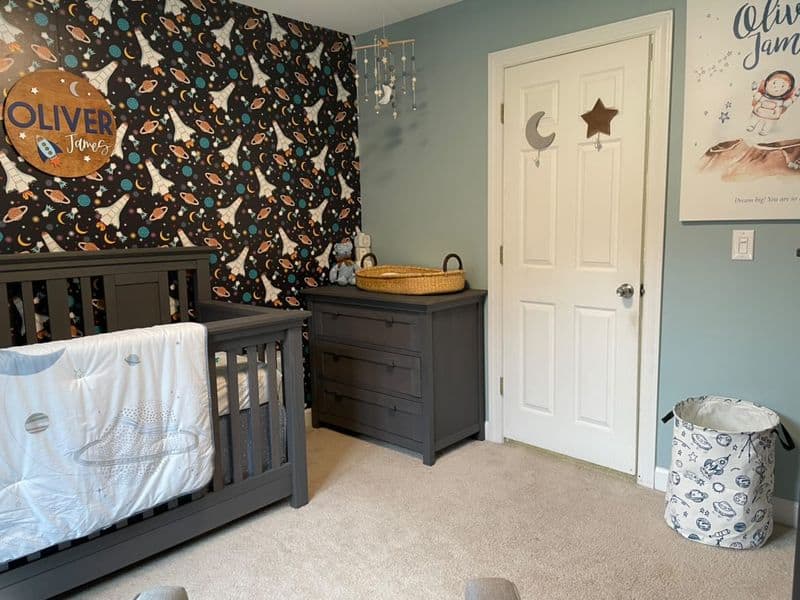 23. Outer Space Accent Wallpaper
A simple color scheme of charcoal and a warm aqua blue are brought together with the fabulous rocket and planet wallpaper. There's so much to like about this outer-space themed nursery.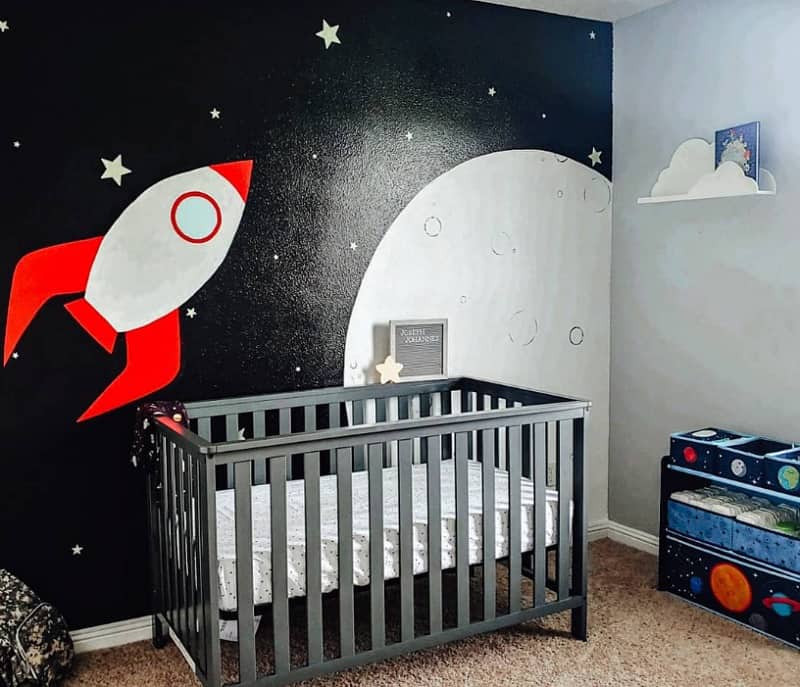 24. Fly to the Moon
If you want to go big and bold with that feature wall, here's a space-themed nursery idea you're going to want to try. Surely this statement wall will give your little one wings for some moon and space exploration!
Space-themed nursery for girls
Who said a space-themed nursery is only for boys? Girls can have their very own outer space-themed room too with just a touch of feminine, or simply more neutral, colors and accessories. Let's take a look at these space-themed girls nursery ideas.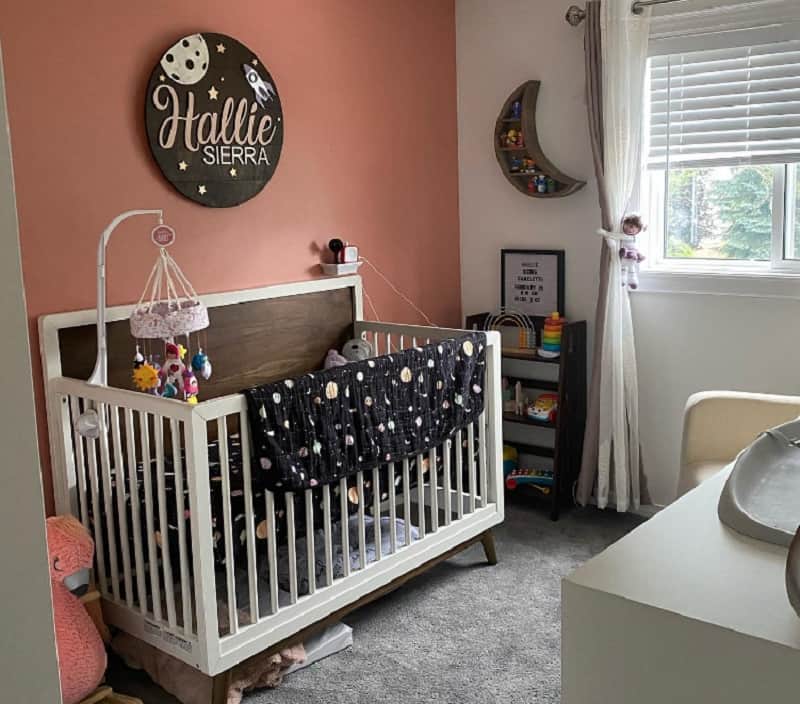 25. A Space-Themed Girl's Nursery
Here's one dainty space-themed nursery girls will love and adore. The dusty mauve accent wall contrasts nicely with the dark space-themed bedding as well as the more neutral tones in the nursery.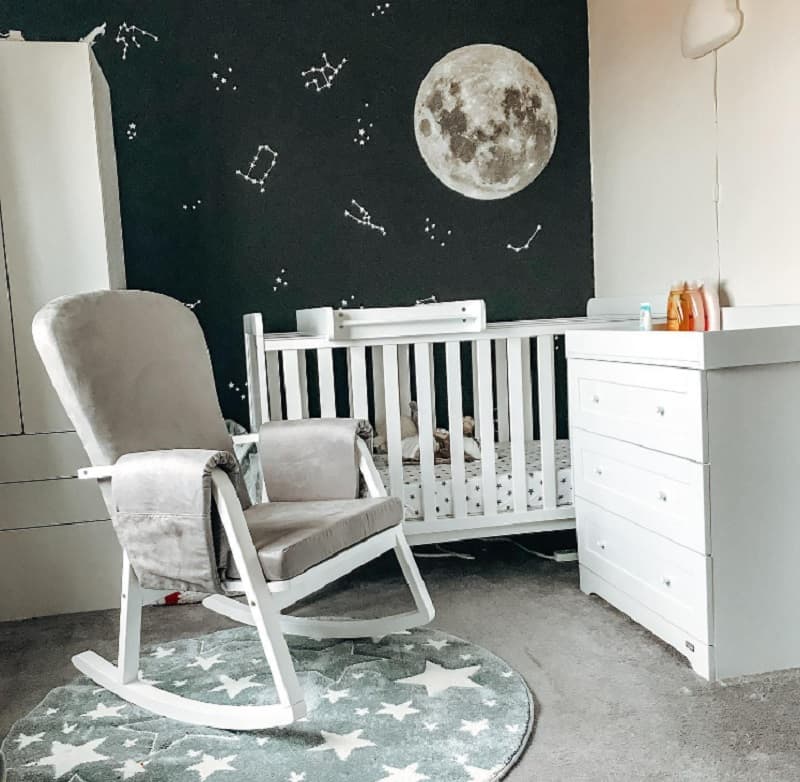 26. Monochrome Space-Themed Nursery
If you want to stay away from blues why not try this monochrome space-theme idea. Bright and white., with a few simple space-themed elements, it's perfect for either a boy or girls nursery.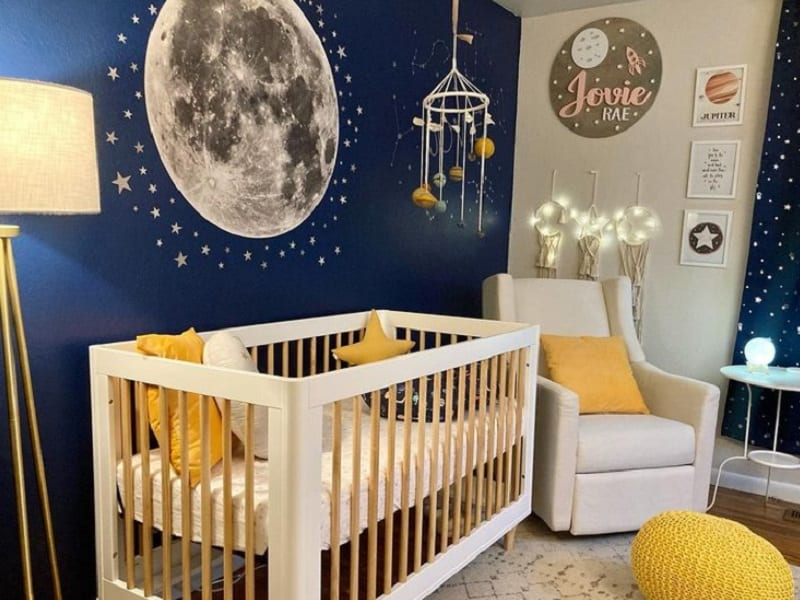 27. Space-Themed Nursery WithPunchy Mustard Accents
An oversized moon suspended above the crib and the mustard accents create a fabulous nursery fit for any wannabe astronomer. It's warm, it's whimsical and a delightful choice for a girls nursery.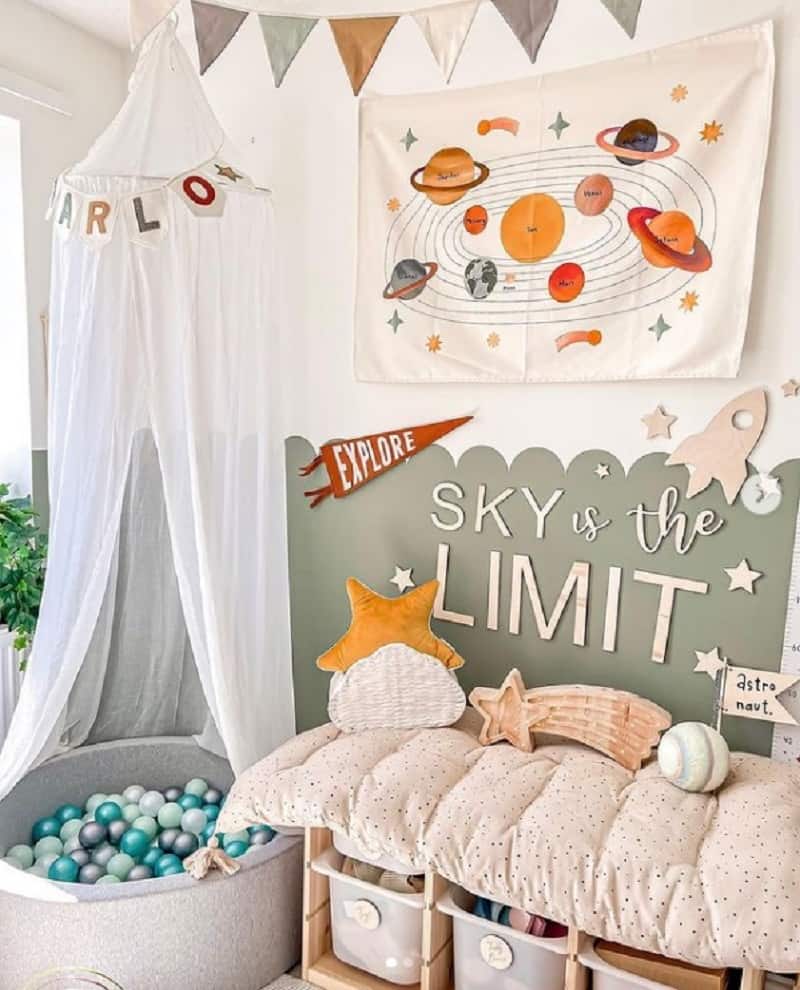 28. Sky is the Limit Outer Space Nursery
If you want to avoid dark colors and opt for lighter, more feminine colors for a little girl, here's a space-themed nursery idea you're going to love. The taupes, creams and sage give it a lovely warm and earthy feel.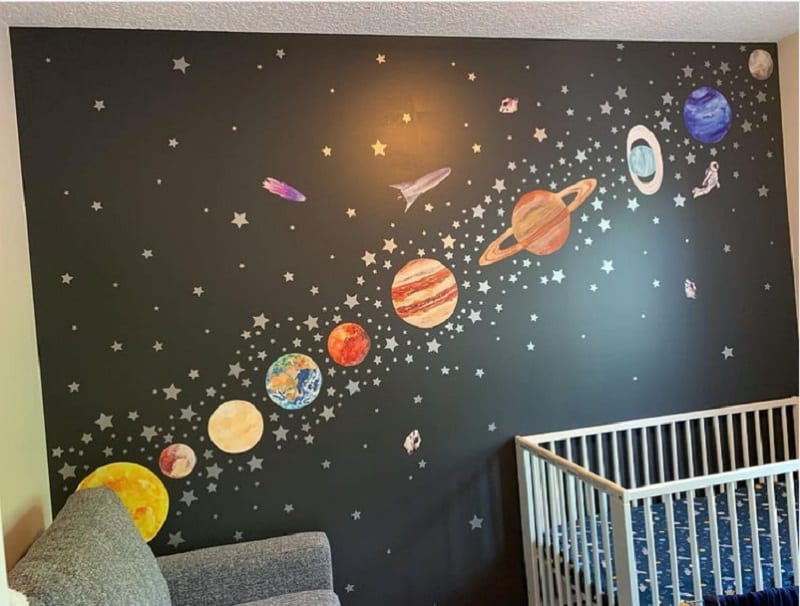 29. The Great Solar System Nursery
The beauty of sticker decals is that you can stick them wherever you like, so why not try the planets diagonally across the wall, like in this space-themed nursery?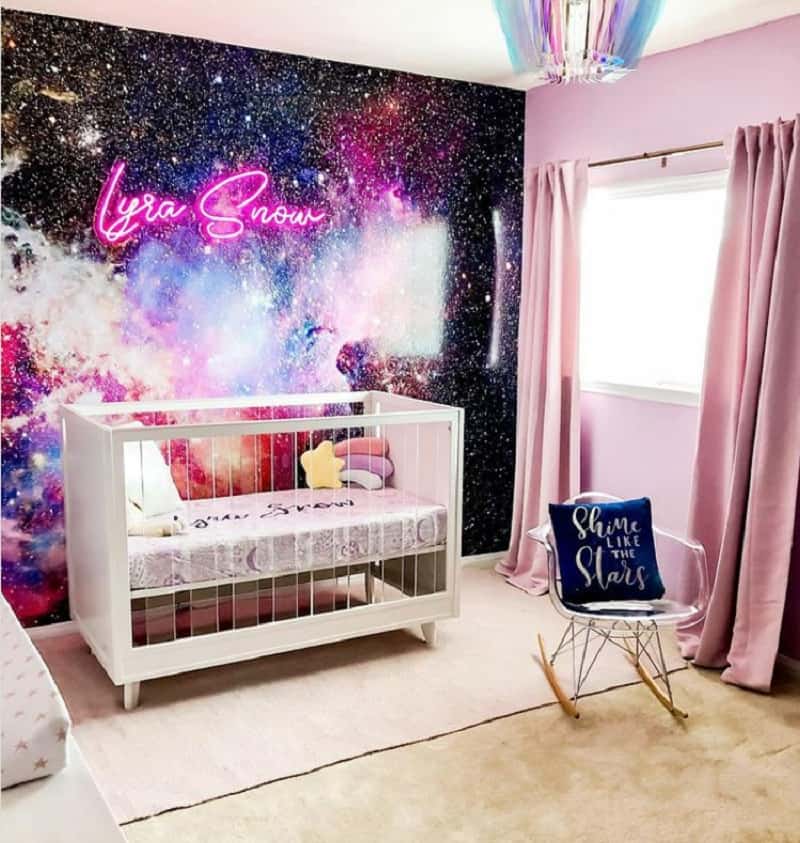 30. Galaxy Space-Themed Nursery for Girls
Here's a stunning galaxy accent wall perfect for a girl's space-themed nursery. It totally gives a WOW factor! It complements the pink paintwork, curtains and that gorgeous LED name light so beautifully.
31. A Purple Hue Galaxy Space-Themed Wallpaper
Another vibrant galaxy statement wall that's a little more subtle than the last but still really packs a punch with the gorgeous purple undertones. This one is paired with a gorgeous chalky blue creating a lovely soft and inviting look, just the ticket for girls nursery with a space-theme. Dreamy, isn't it?
Modern space-themed nursery ideas
If modern is your theme, take a look at these space-themed nursery ideas. With a mix of funky and fun and a contemporary look, they'll take you to a whole new level!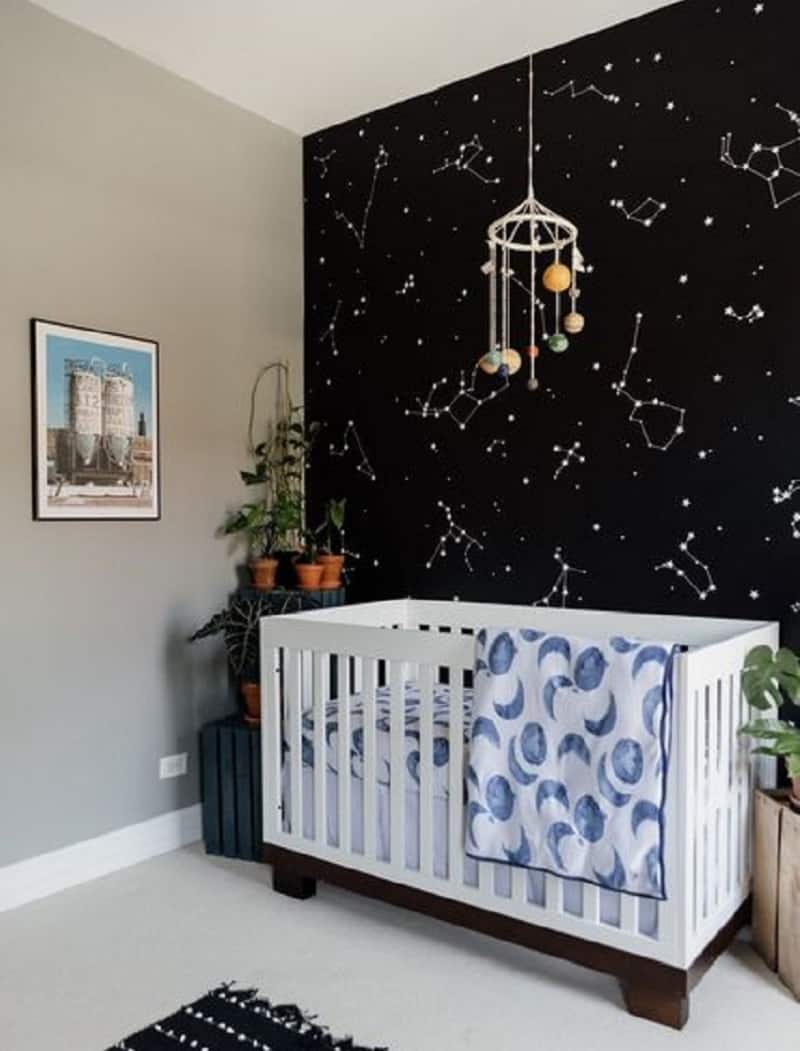 32. Beautiful Constellation Accent Wall
Another beautiful representation of the constellation combined with contemporary prints, nursery furniture and an injection of green from the plants giving this space-themed nursery a modern feel.
33. Funky Outer Space Feature Wall
From the sleek black and white cot to the oversized rockets and planets, here's a bold-looking modern nursery with a space theme. The muted blue and gray tones and warm wood flooring soften the look and bring it all together, creating a lively nursery that still feels cozy.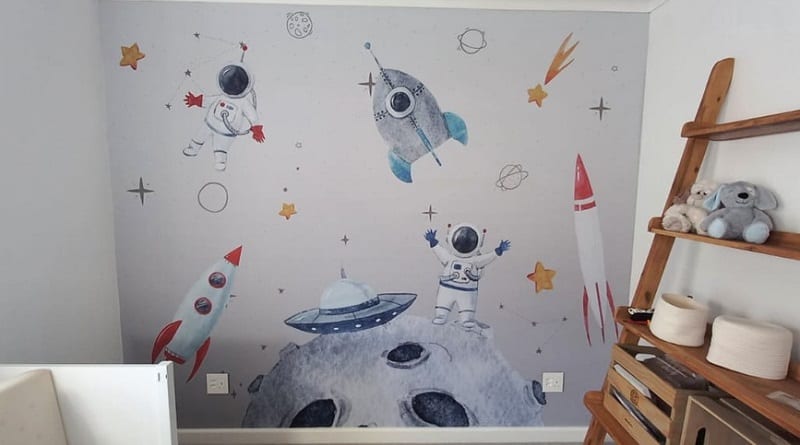 34. Watercolor Space-Themed Wallpaper
How about a modern space-themed wallpaper complete with astronauts? It's sure to bring out the explorer in your little one.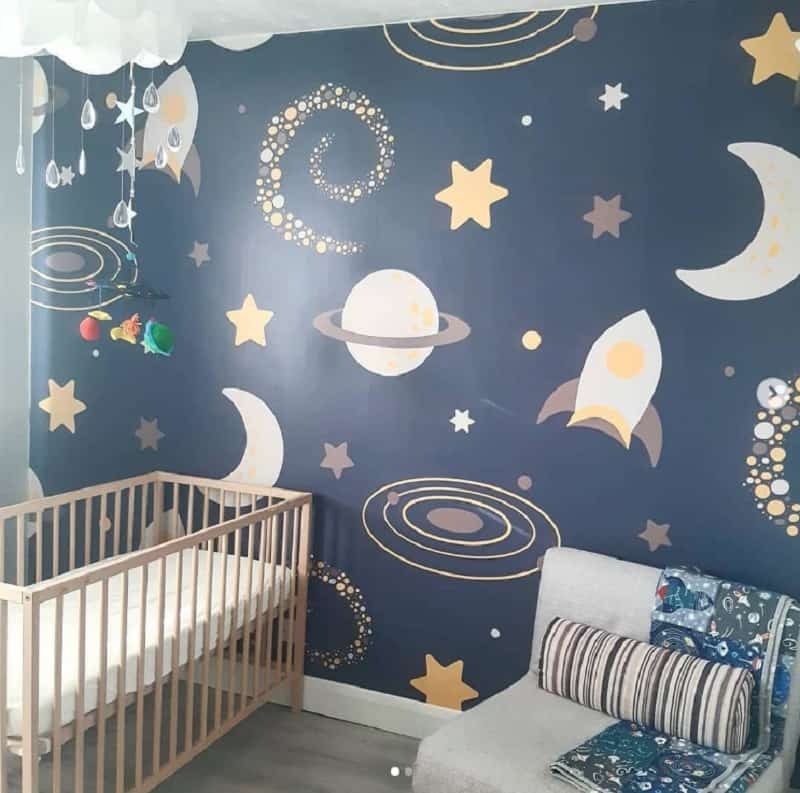 35. Out of this World Sticker Decals
It's the sleek minimalist design of the crib and contemporary chair combined with the over-sized prints on the wall that gives this space-themed nursery a modern edge. It's pretty funky and totally won me over to the modern look.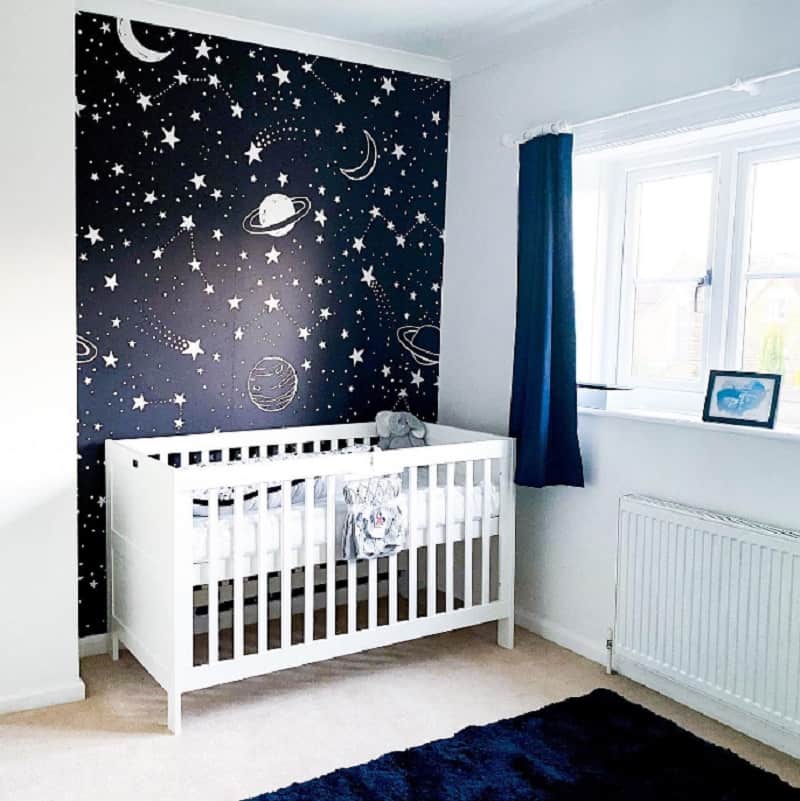 36. Navy and White Space-Themed Nursery
The stark contrast of the brilliant white and deepest, darkest navy create a modern space-themed nursery that would suit a boy or girl. It's simple, it's elegant, it's simply beautiful.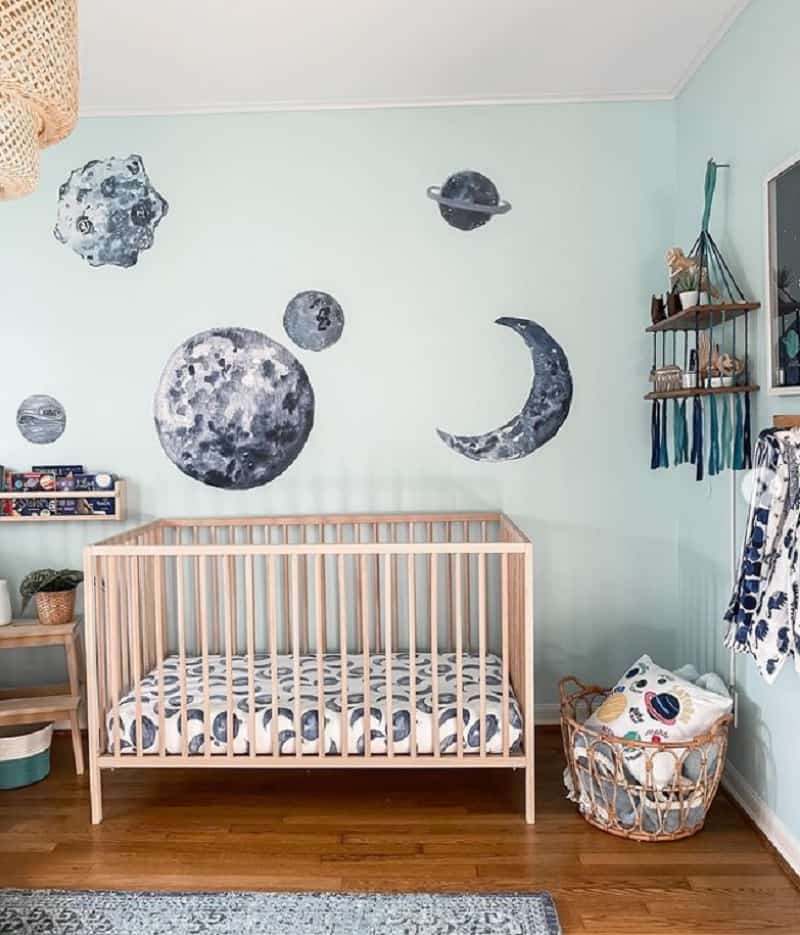 37. Natural & Rustic Space-Themed Nursery
This modern space-themed nursery combines minty green with pale natural wood finishes and rustic elements for an almost bohemian feel. It's certainly a step away from other space-inspired nurseries.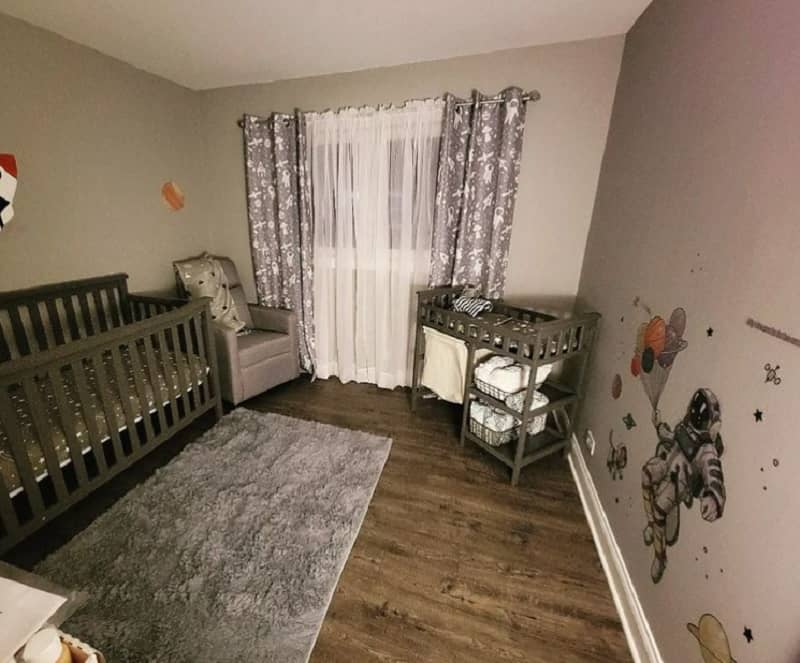 38. Greys and White Space-Themed Baby Room
Here's a simple and modern space-themed nursery idea that might inspire you. The highlight is the astronaut wall decal – wouldn't it look great above the crib?
Space-themed nursery wall decor and accessories
Decor and accessories can make or break the finished nursery – here are plenty of space-themed elements to pull the look together, the key is not to overdo it!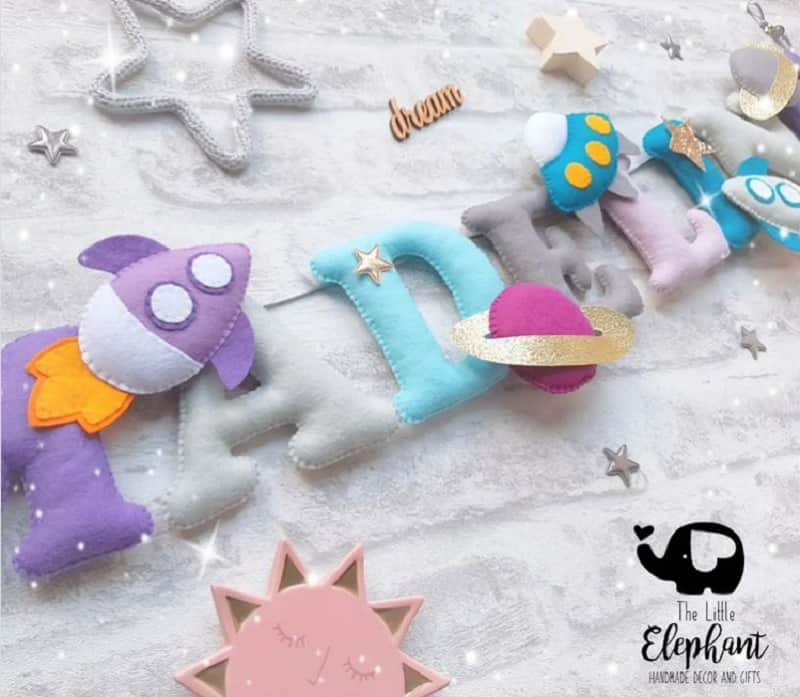 39. Outer Space Felt Name Garland
This felt name garland will be a wonderful addition to your space-themed nursery. You can even choose the colors to match the colors you go for in the rest of the room. Can you believe this is handmade? It's utterly gorgeous!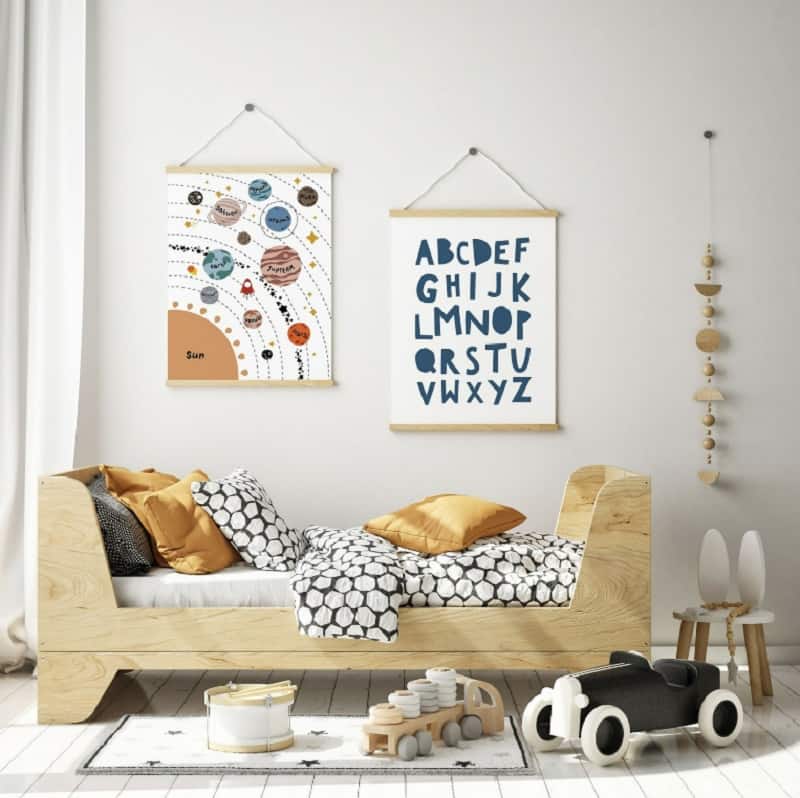 40. Cute Space-Themed Posters
If you want to add a subtle touch of the space theme, a simple poster or some artwork can do the trick.
41. Space-Themed Felt Decor
This space-themed decor made from felt will make the perfect addition to a simple modern looking nursery. The bright colors are gorgeous against the white paintwork and shelf but you could pick and choose the felt colors if you need to work with other colors in the room.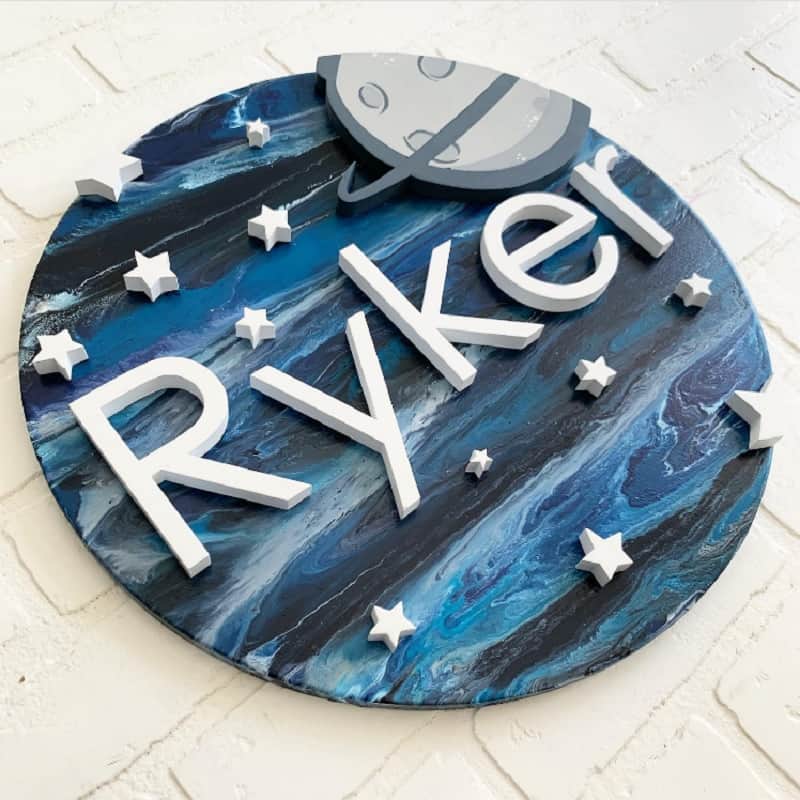 42. Custom Made Space-Themed Nursery Name Sign
If you want a more personalized look, take a look at this planet name plaque. What a great addition to your space-themed nursery.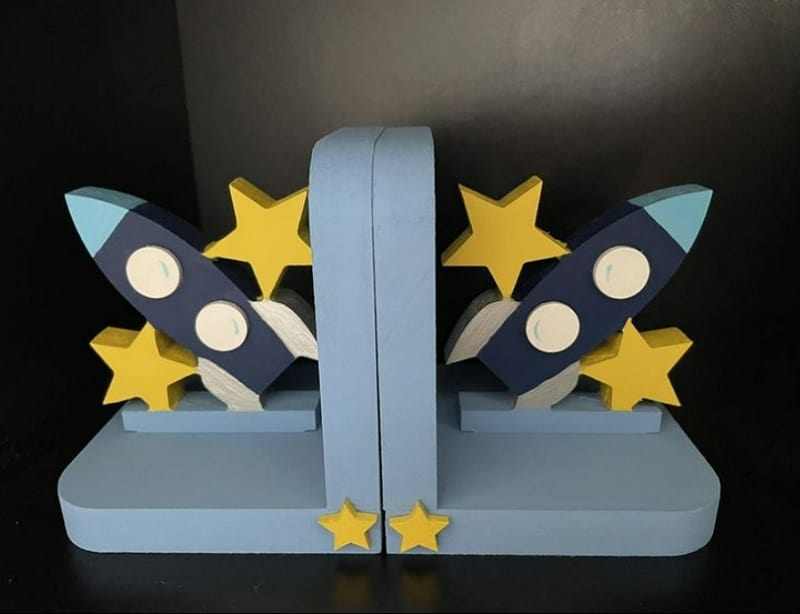 43. Rocketship Bookends
If you don't have a bookshelf, but still have a few books you want to display and organize, what better way than with these rocketship bookends? Simple, cute and practical too.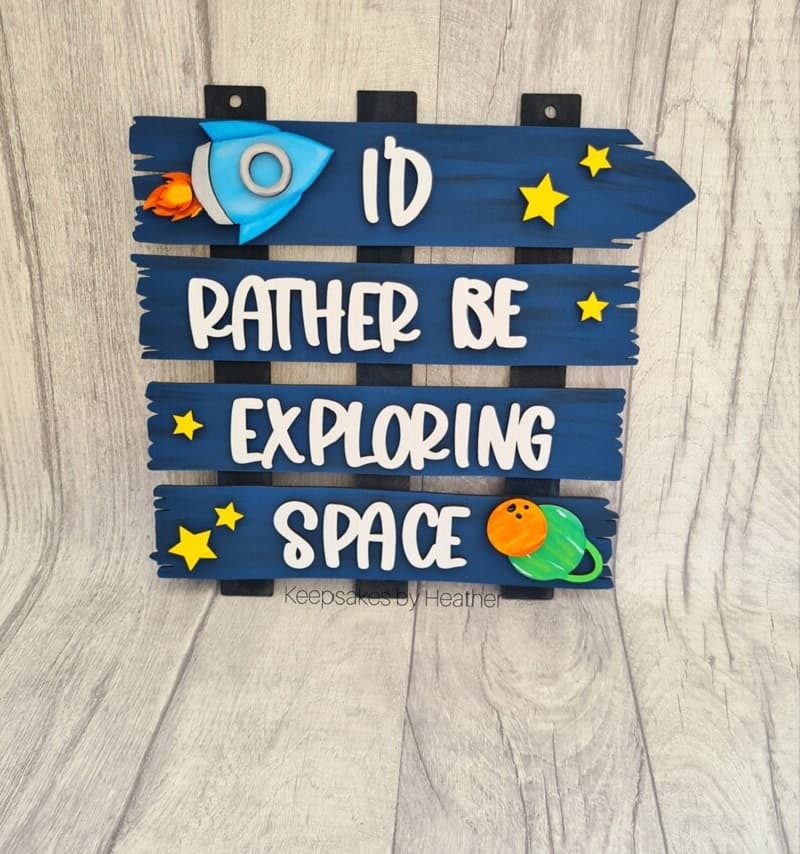 45. Hand Painted Space-Themed Plaque
This would be lovely hung on the nursery door, alerting anyone who enters that they're about to explore a space-themed nursery.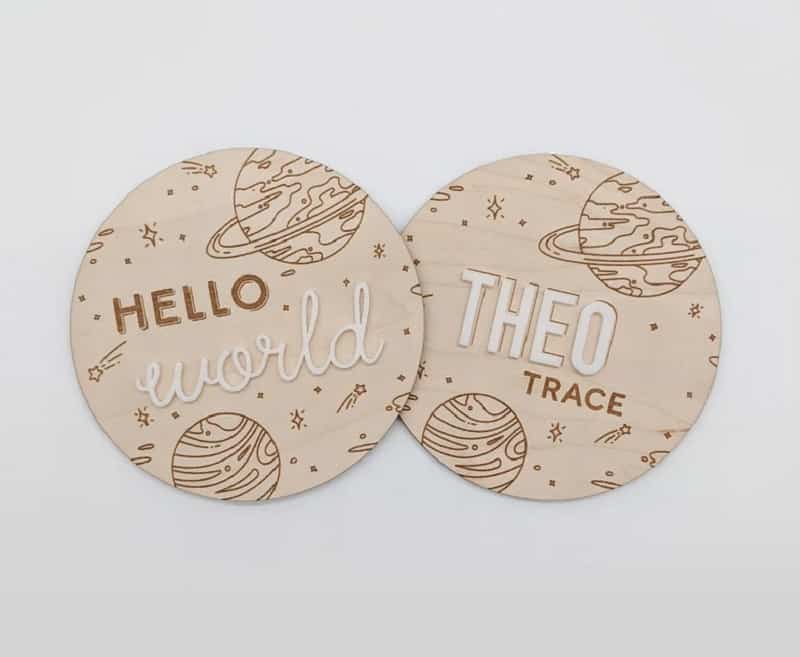 46. Out of this World Announcement Signs
Imagine using these wood signs to announce to the world the birth of your little one. It's going to one out-of-this-world photo opportunity, for sure.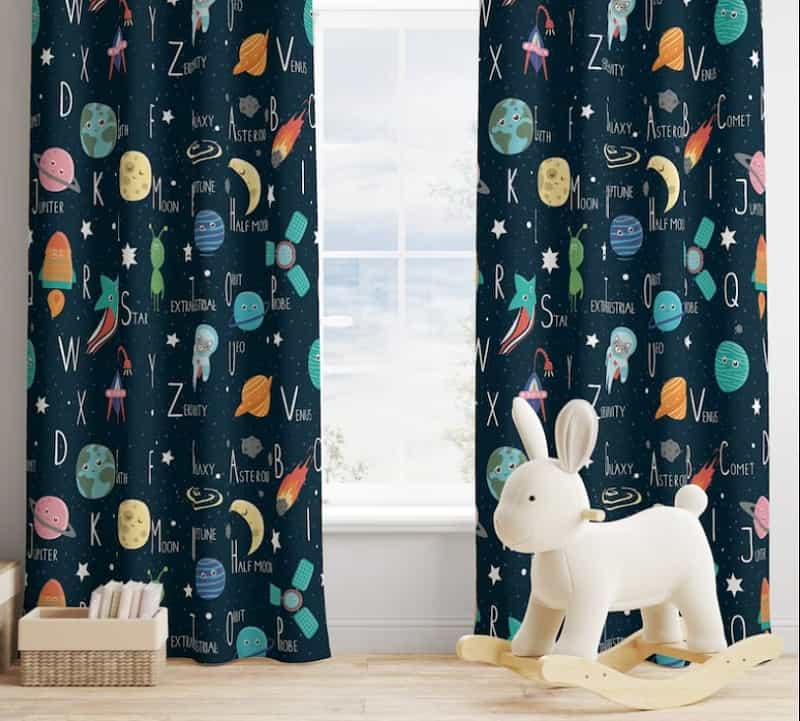 47. Alphabets and Planets Space-Themed Curtain
Open the curtains and take a look at the universe, or maybe just your backyard! Aside from the planets, spaceships and astronauts the design also has the alphabet complete with words related to space – something that'll help in their vocabulary as they get older.
Related post: 18 Best Blackout Shades/Curtains For Baby's Nursery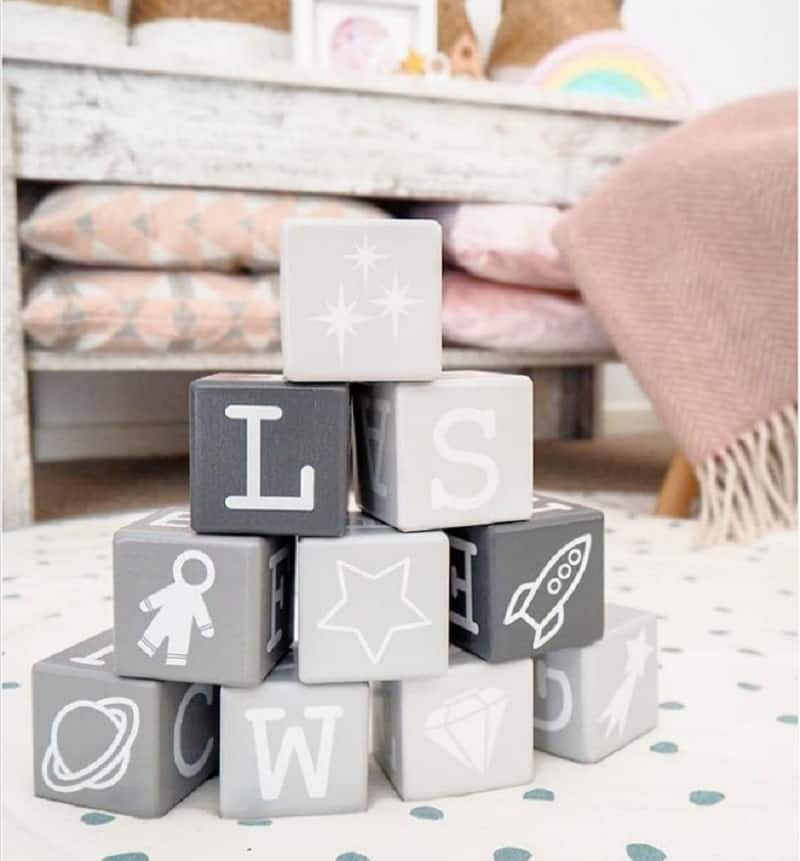 48. Wooden Space Blocks
These wooden blocks will look adorable in any outer space-themed nursery. The pale greys could work with so many different color schemes. Not just decor too, babies and toddlers love to play with blocks, building towers and then knocking them down – endless fun!
49. Space-Themed Crib Mobile
No nursery is complete without a crib mobile and this one should be a serious contender for a space-themed nursery.
Which of the outer-space-themed nursery ideas do you like the most?
There are so many gorgeous space-themed nursery ideas and what took me by surprise is the huge variety of different styles and options – you're surely be spoilt for choice.
Whether you want to keep the room minimal or go all out, consider all the different details: the space-themed nursery wall decor, curtains, bedding and soft furnishing. Whatever you choose, the important thing is to make your baby feel like they own the galaxy!
If you're busy preparing the nursery, you may like these related posts:
Prepping for your firstborn? Here are some handy posts:
My favorite topic – baby sleep!