The nursery dresser will house a lot of baby clothes and other baby paraphernalia. But what, where and how?!
From romper suits to pram suits, from sleepsuits to sleeping bags there are so many baby clothes to store in some form of organized fashion. Then there's all the other baby stuff. The diapering essentials, the breastfeeding supplies, teethers and toys… Just a few of the other things that need a home.
I love the idea of being organised, don't we all? Pre-kids I could get by with leaving most of my admin in the 'ideas' phase. But, oh my, with a baby on the way, and friends and family handing bucket loads of stuff to us and then a baby shower, I knew that had to change.
Figuring out exactly how best to organize baby's nursery became my mission. I'm not going to lie, it was a daunting task!
4 kids later, I've learnt a thing or two on the best ways to organize baby clothes in the dresser. Here, I'll share how to organize the nursery dresser with my best nursery drawer organization ideas.
Of course, the nursery dresser and closet are closely related when it comes to baby clothes organisation. Like many, I have a dresser in the nursery closet. It's a small dresser in a small closet!
(Then there's a much larger dresser in the nursery that acts as a changing table too.)
I recently shared my best nursery closet organization ideas. Some of the pictures from that post will also feature here too. But in this post I'll also give you a photographic guided tour on in each dresser, including what lives in each dresser drawer.
Hopefully, by the end you'll have figured out the best ways to organize baby clothes in the dresser and will be on your way to becoming a drawer organization pro!
This post contains affiliate links. If you click on one and make a purchase, I may receive a commission at no extra cost to you.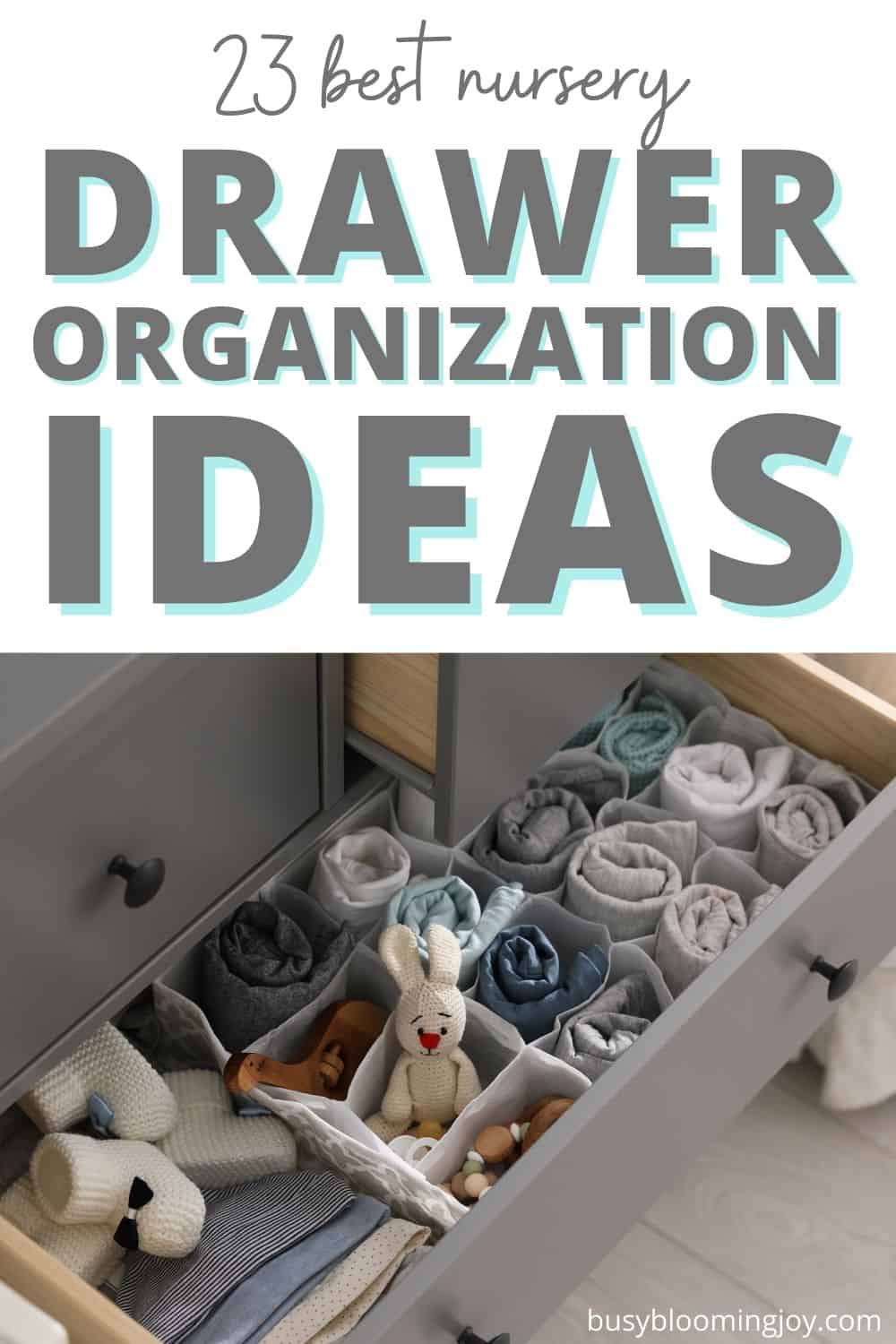 How to organize nursery drawers – tips to get started
#1 Gather all your baby clothes and other gear
Clear a big area, whether it's in the nursery, living room floor or bed. You literally want every baby item you've bought and been gifted in one place, so nothing gets forgotten.
If there are any clothes you want to wash, make sure these are included when you start organizing. Either wash them before you start organizing the nursery drawers or organize all the baby clothes and then wash them after.
I'd recommend washing any clothes that need it before you start. Part of the fun of organizing the dresser and closet is packing things away neatly and beautifully! This takes time and attention so you don't want to do it twice.
#2 Enlist the help of another mom friend if possible
If you're preparing for your first baby and you've collected a lot of hand-me-downs, there are bound to be things you come across that you're unsure about. When will baby need it? How often? Or maybe even, what is this or what do I do with this?
This can even be the case second or third time around if you've had a bit of a gap from your last baby! There are so many baby gadgets and gizmos coming onto the market.
A friend who's had a baby recently can be an invaluable source of knowledge.
#3 Sort baby clothes into sizes, then categories
This is an obvious but very important step. Sort baby clothes into size:
1 month
newborn 0-3 months
3-6 months and so on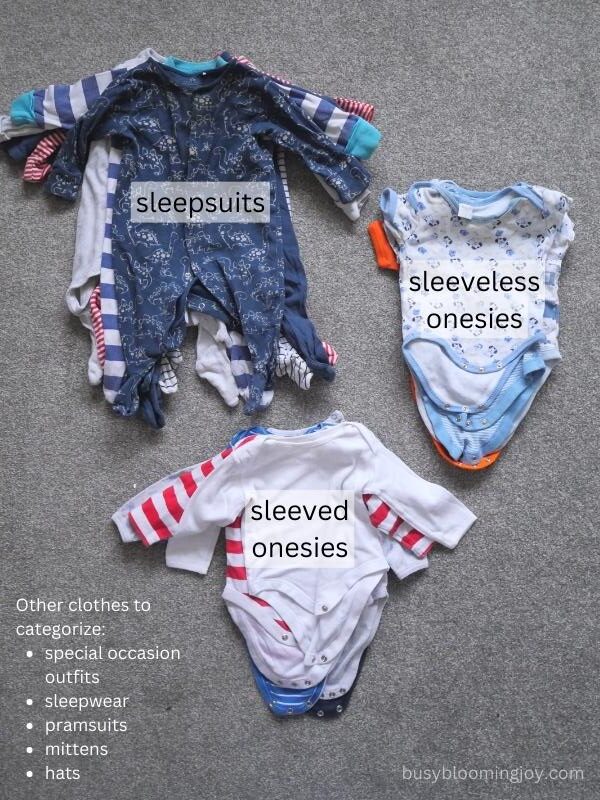 Then organise these baby clothes into type. I'd recommend:
sleeveless onesies
sleeved onesies
sleepsuits
matching sets & other special occasion outfits (dresses, skirtss, shirts, smart trousers etc)
hats
mittens
newborn sleepwear (sleeping bags, swaddles)
pram suits
#4 Pack next size-up clothes in labeled bags or bin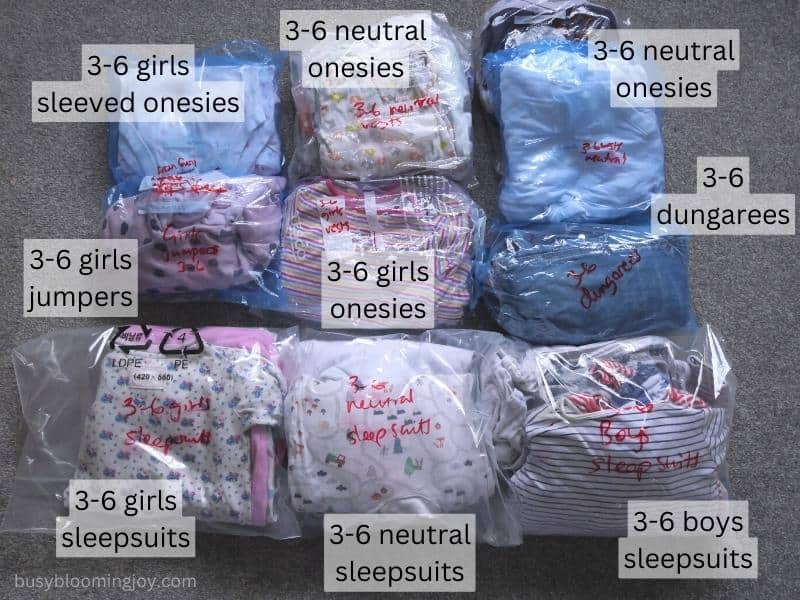 This depends on the size of your nursery dresser, but I'd recommend only storing one size of baby clothes in the dresser drawers at any one time. This probably means the tiny baby/up to 1-month size category if you're still pre-baby, unless you're doing a nursery dresser organization makeover.
Keep bigger clothes in bags or bins labeled by size (I used ziplock bags/small plastic bags normally used for food storage). Pack bags/bins away into a large box or bin somewhere that's fairly easy to access.
I packed the next 3 sizes on the top shelf of the closet, each size in it's own plastic box. The rest went in the loft.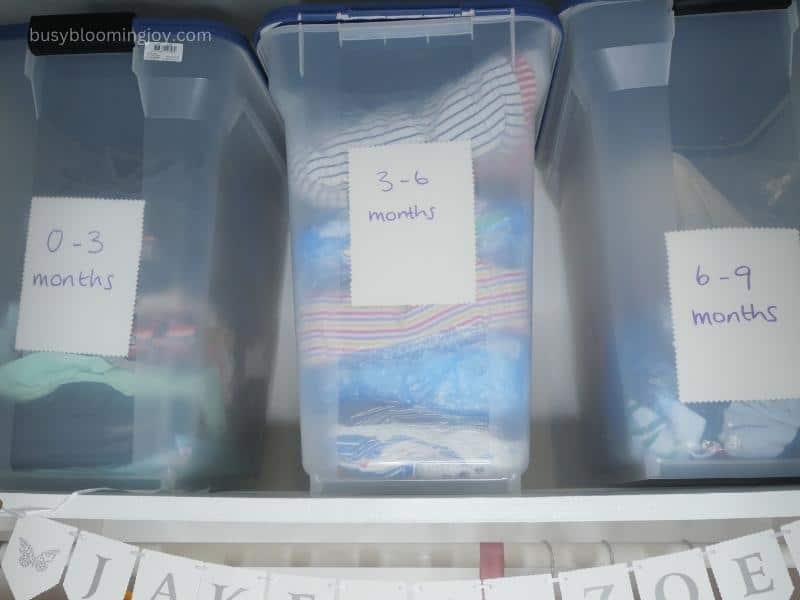 #5 Set aside baby clothes that aren't suitable
This includes:
baby clothes that are the wrong season
items you have too many of
baby clothes that are totally impractical
ones you simply don't like
Then do as follows:
WRONG SEASON
If you've inherited clothes that are the wrong season and plan to have another baby, these are the ones to keep and pack away in the loft.
TOO MANY OF
I'd recommend hanging onto these, but store them away from the other baby clothes (see nursery drawer organisation idea #18). Same goes for anything you're not sure about.
IMPRACTICAL CLOTHES
You may not know just yet which baby clothes are the impractical ones – this is where your mom friend should be able to help. You may have to wait until baby arrives to find out. There's also a bit of personal preference here too.
For my firstborn I tried and failed to get on with sleepsuits that did up at the back, newborn cardigans with buttons, leggings that needed socks and so on. cute outfits are often difficult to put on and don't look all that comfortable too.
So for subsequent babies I just stuck with onesies and sleepsuits.
Anything you're sure you won't use, donate, otherwise hang onto them as above.
Check out these newborn hacks for some tips on dressing your baby for function, over fashion – as well as a whole heap of other sanity-saving info.
Another option is to keep the impractical but cute clothes as special occasion outfits.
DON'T LIKE
Donate.
#6 Organise all other baby stuff into categories
I'd suggest:
breastfeeding supplies
diaper/changing supplies
bottles/sterilization equipment
newborn care (creams, thermometer, nasal syringe, calpol)
towels, blankets, sheets etc
miscenallenous
#7 Decide which baby clothes will go in the dresser drawers and which you will hang
My recommendation would be to store most baby clothes in the dresser drawers. Although it does look cute, you really don't want to be fiddling around hanging every item of clothing on hangers.
Simply hang special occasion clothes and matching two-pieces and pack everyday essentials into the dresser drawers.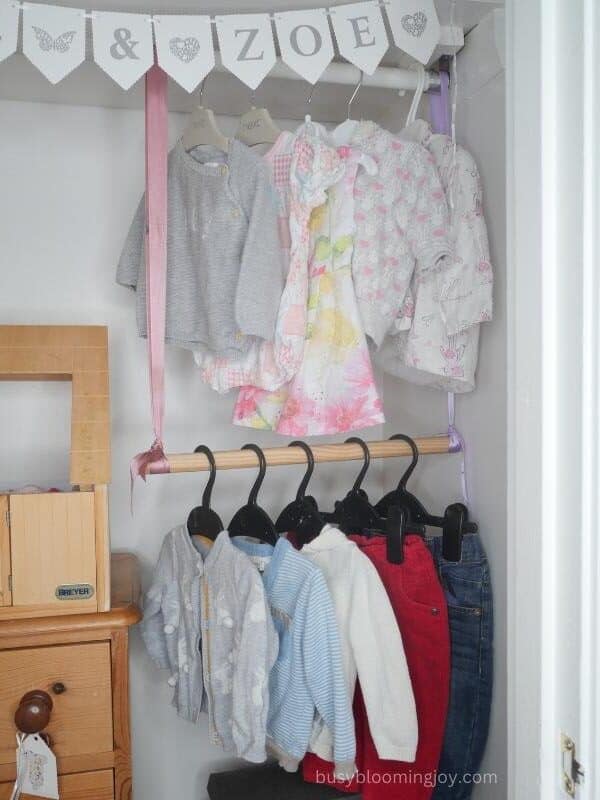 For a detailed look in the closet, check out this nursery closet organisation post.
#8 Decide which other items will go in the dresser drawers
This will depend on what other storage solutions you have available in the nursery. It'll also depend on how big the dresser is, how many drawers it has and how deep there are.
I'd recommend reading through the full list of nursery drawer organization ideas first as this will help you decide which items are best stored in which dresser drawer. And which should go elsewhere.
Once you're done organising the nursery dresser, why not take a look at these nursery decor posts:
Nursery drawer organization ideas for baby clothes
#9 Have a place for everything
You may have heard of the saying "have a place for everything and everything in its place". Good advice for any part of the house and one to live by when it comes to nursery drawer organization.
Each category of clothes needs it's own designated spot in the dresser drawers. Assuming you're going to hang special occasion clothes and matching two-pieces, then you'll need a place for each category of everyday essential baby clothes:
onesies
sleepsuits
mittens
hats
sleepwear (sleeping bags and swaddles)
The same goes for all the other items that are going to go in the dresser.
#10 Use drawer dividers to organize baby clothes within large dresser drawers
Baby clothes are small enough to quickly get in a muddle in regular-sized dresser drawers. It's not so bad when they reach a year old, but the tiny baby and newborn baby clothes are so tiny. (And too cute!)
To keep small items of clothing organized in the dresser drawers, you can buy drawer dividers and organizers. These divide the drawer into multiple small compartments. There are 2 main options:
storage baskets of varying sizes which you can insert into the drawer – these are good for very small items like socks and hats
adjustable separators that slice the drawer up into smaller sections – these are ideal for baby's everyday essential clothes
If you have a very small dresser for your baby's clothes you may not need drawer dividers or organizers. I have a narrow dresser with shallow drawers in the nursery closet. I'm not quite sure what it was originally designed for – you can't even fit an A4 sheet of paper in properly!
But it's perfect for tiny baby clothes. I definitely didn't need to make the drawers any smaller. However, in the bigger dresser that's also used as a changing table, it has been necessary to use drawer organizers, which I'll share below.
Here are my picks of the best drawer dividers for baby clothes:
Alternatively, why not DIY some drawer dividers for baby clothes.
#11 Label, label, label!
To keep everything in its place, labeling is the way to go. This will help you find things quickly without having to rummage. In time, of course, you'll be able to find things in the dresser drawers without needing labels, but other people probably won't.
There will be no excuse for your other half not to muck in and dress baby in the morning or get out clean clothes post a sponge bath or tub bath if everything is nicely labeled!
When it comes to labeling, it'll depend on exactly how you're storing the baby clothes and other items in the dresser.
The fabric drawer organizers are not easy to label. However, you can probably get away without labeling these. They will be housing smaller items like socks and hats. It should be fairly obvious what they are.
The main thing to label are the different baby clothes. Stickers or chalkboard labels work well. When you need to reorganise as baby grows, you can simply replace the stickers or wipe clean the chalkboard labels and re-write.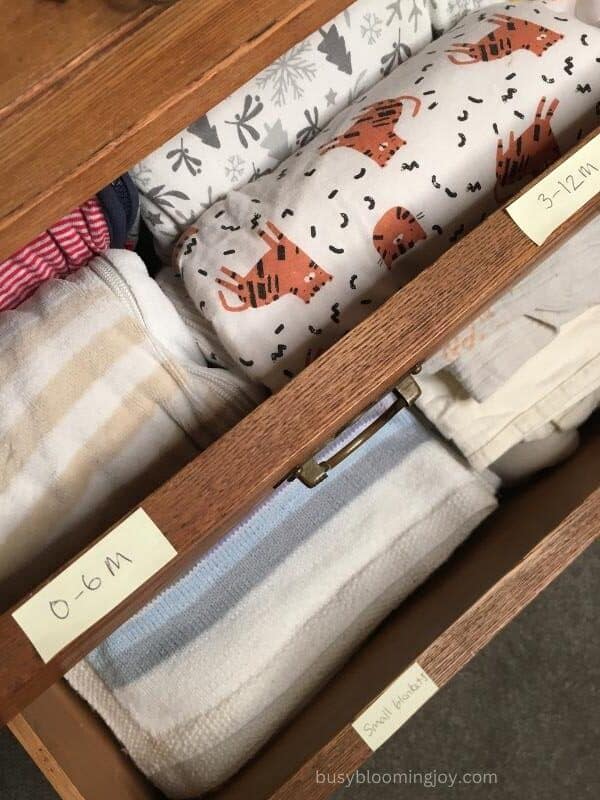 In the picture above, I didn't have the right size stickers to hand, so I cut a post-tit in half and used the sticky side. It was the perfect size to use on edge of each dresser drawer.
#12 Arrange the nursery drawers by the order in which you dress baby
This will depend on the size of each dresser drawer as well as how you intend to dress your baby. You may not know that yet either!
But assuming you want to keep it simple, and use onesies and sleepsuits as baby's everyday clothes (and sleepwear clothes too) then you could keep these next to each other in the same drawer of the dresser.
Then when it comes to dressing baby, there's only one drawer to open.
It may sound a little crazy to think that opening more than one drawer will be a struggle but, believe me, there will be times with a newborn when EVERYTHING is a struggle.  Especially those first two weeks with a newborn which are really hard.
#13 Prepack outfits into baskets or ziplock bags labelled with the day of the week
This is more for when baby is a little older and off to nursery and/or is in more than just a onesie and sleepsuit. Prepacking outfits will help you be super organized for the day ahead.
Simply organize baby's clothes for each day of the week, including hat, mittens and anything else they need and store in a labelled basket or ziplock bag. Place all the baskets or bags for the week in one of the dresser drawers ready to grab in a hurry.
This is one of my favorite nursery dresser organisation tips for when you have a busy school run to fit in.
Nursery drawer organization ideas
Like most of these nursery drawer organisation ideas, these tips depend on how big the dresser is and what other storage space you have in the nursery for clothes and other items.
#14 Store smaller things in shallow drawers, larger items in deeper drawers
This is a little bit Captain Obvious, but some things are only obvious if you know about them! Especially if you're in the late stages of pregnancy or suffering from mommy brain…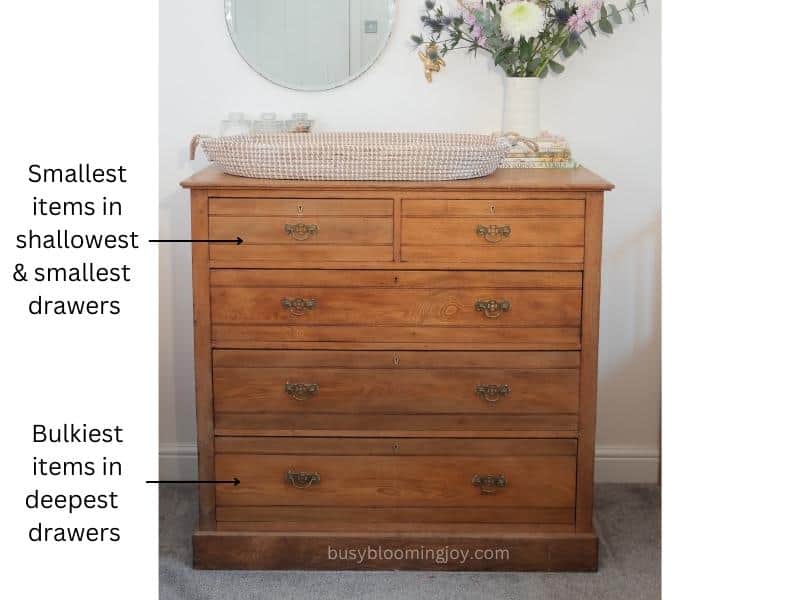 Large items of baby clothing will include sleeping bags and pram suits, both of which are very chunky once folded.
Smaller items will be the baby clothes themselves.
Then the smallest items will be baby accessories (baby bows etc), baby grooming supplies and essentials, teethers, baby lotions and creams, baby nail clippers etc. You'll probably still need some form of storage to keep all those bits and bobs organized within the drawer. (See nursery drawer organisation idea #18).
(Loving my vintage dresser? See the full tour of the twins' vintage nursery coming soon.)
#15 Ensure frequent use items are most easily accessible (ideally with one hand!)
The drawers that are the easiest to open and at the most accessible height, need to house those everyday items. Test whether you can open the drawer with one hand – often you'll have your baby in the other!
If you can't and have a very fussy baby who doesn't like to be put down, you may want to consider a caddy on top of the dresser or by the side where you can store a change of clothes.
Alternatively, you could move your everyday baby clothes to a hanging closet organizer making them easily accessible as well as neatly organised.
#16 Give careful consideration to what you store in the bottom drawer
Bending down to open that bottom drawer shortly after birth, during that 4th trimester could well be a struggle.
Nursery drawer organization ideas for diapering & other essentials
#17 Use the top drawer for diapering supplies
If you're using the nursery dresser as a changing table, then this one is a must. While you can have a diaper changing caddy on top of the dresser, those things aren't the prettiest.
Rather store your diaper cream, diapers and wipes in the dresser drawer tucked out of sight but close to hand. You can also fit far more diapers in the drawer than you can in your average diaper caddy, so won't need to refill it as often.
Then when changing your baby, open the drawer and everything is right there. Simply place the diaper pale to one side of the dresser (I removed it for the photos, so it's nowhere to be seen, in case you're wondering!)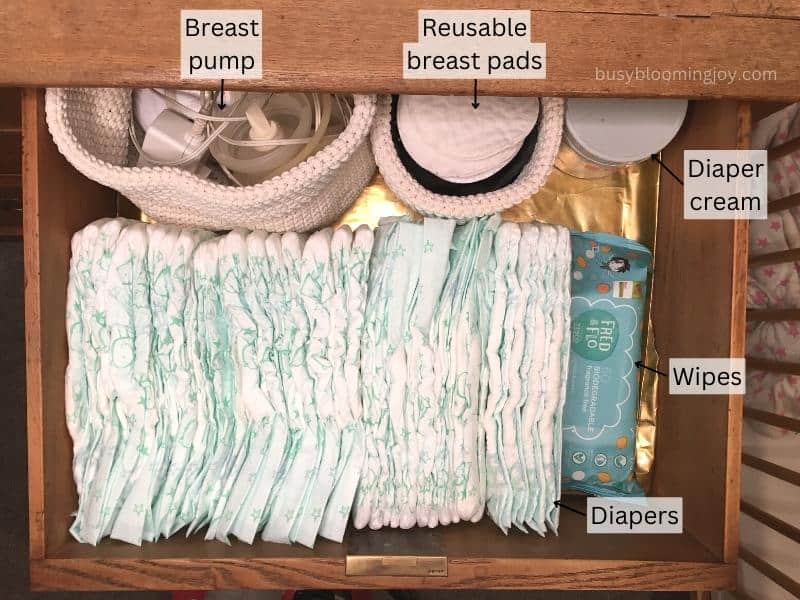 Even if you're not using the dresser as a changing table, you may find it works well to use one of the smaller drawers at the top of the dresser for all your diaper essentials.
#18 Organize essentials into dedicated storage baskets/bins (rather than drawer dividers)
It's difficult to know exactly which items you're going to need on a daily basis until you're in the thick of it. And the needs of your newborn will also change quickly. Some weeks you'll be trying every different teether you own, then you won't use them for weeks…
By using small storage baskets or bins you can easily move each one around to suit your needs. Simply take the basket of teethers out and downstairs for the time when they're in use. Pack them away again in the drawer when not.
You can do the same with medicenes, gas drops, creams, breastpads (if you use washable ones like I did) and so on.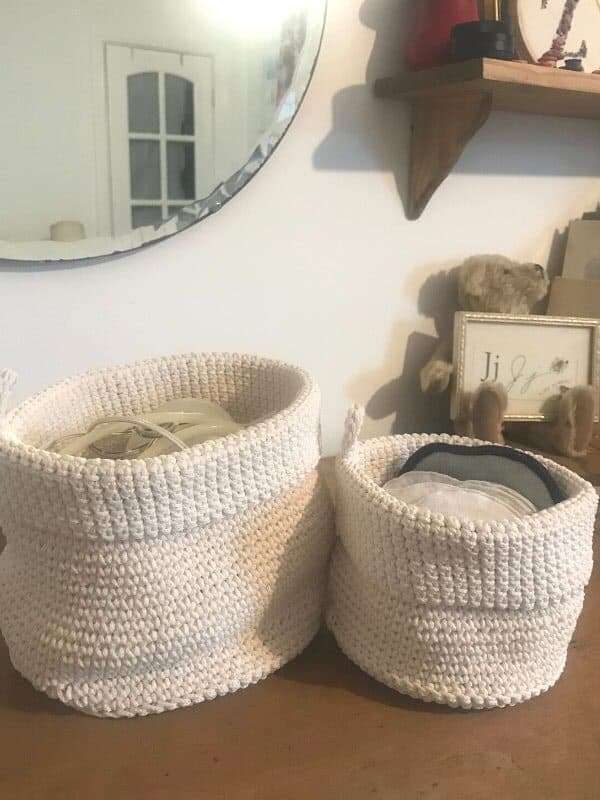 Here are my top picks of storage baskets and bins, that are both practical and also look pretty should you want to use them on top of the dresser or other parts of the house too.
White rope storage baskets – you can use these for storage in other parts of the nursery or house once you're done with them in the dresser drawers, they're gorgeous!
Cotton linen hanging storage baskets – not strictly to go inside the dresser, but I have some similar hanging storage baskets and love them. I have 2 in the dresser as drawer organizers and 1 hanging on a hook in the closet as hanging storage
#19 Display a few essentials in pretty storage units on top of the dresser
I have three lovely vintage glass jars on the top of the dresser. One is used for cotton wool, an essential newborn care item for the early weeks. Simply dip in warm water for sponge bathing, cleaning the umbilical cord and diaper changes.
I mainly used the bag of cotton wool in the bathroom but the stash in the nursery looks a lot prettier!
(The other two jars have the babies hospital wristbands andpotpouri, purely decorative.)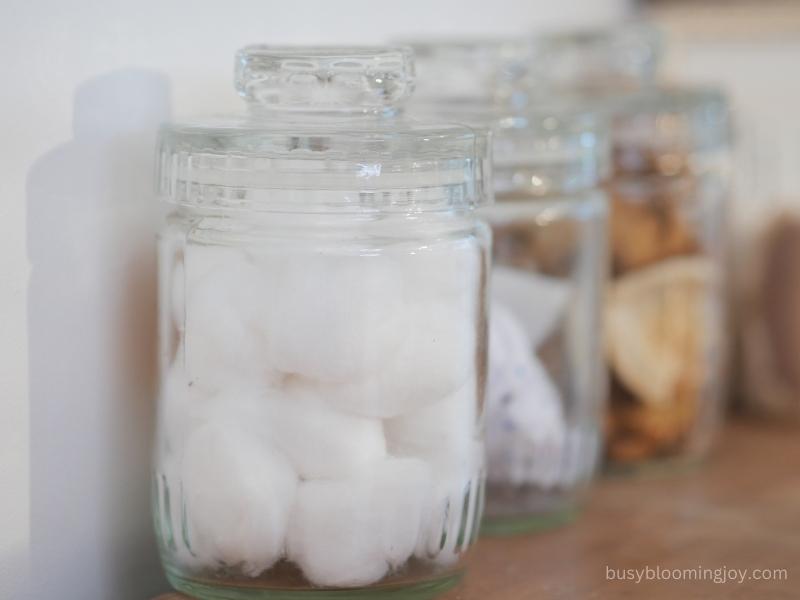 What you don't want to do is clutter up the top of the dresser too much, especially if you're using your dresser top as a changing table.
The best way to organize baby clothes in the nursery dresser
This is how I organized my dresser drawers when I just had the one dresser in the nursery, which was the case for my first two babies.
For the twins, babies 3 and 4, I had a second very narrow dresser, perfect for everyday clothes. So all those baby clothes went in there. Then all other items were as per the dresser organization ideas below.
So adjust these drawer organisation ideas to fit your needs and figure out the best way to organise your baby's clothes in their dresser.
#20 Reserve the top and middle drawers for everyday clothes and essentials
Hopefully one top drawer will be for diaper supplies, but you may have another, as I do. In my left top dresser drawer I store swaddle blankets – I love to swaddle.
(Swaddling helps settle a newborn and helps prevent the Moro reflex from waking them. It's one of my top baby sleep strategies and by far the best way to help a newborn sleep in the bassinet rather than your arms. I'd recommend a swaddle over a sleep sack for a newborn any day!)
So for me, swaddles are an everyday essential and live in the other smaller top drawer.
If I hadn't so many gorgeous looking swaddles (well, those are for two babies and did I mention I like to swaddle?!) I'd also easily fit burp cloths in there. Instead, these lived in a basket next to the nursery chair.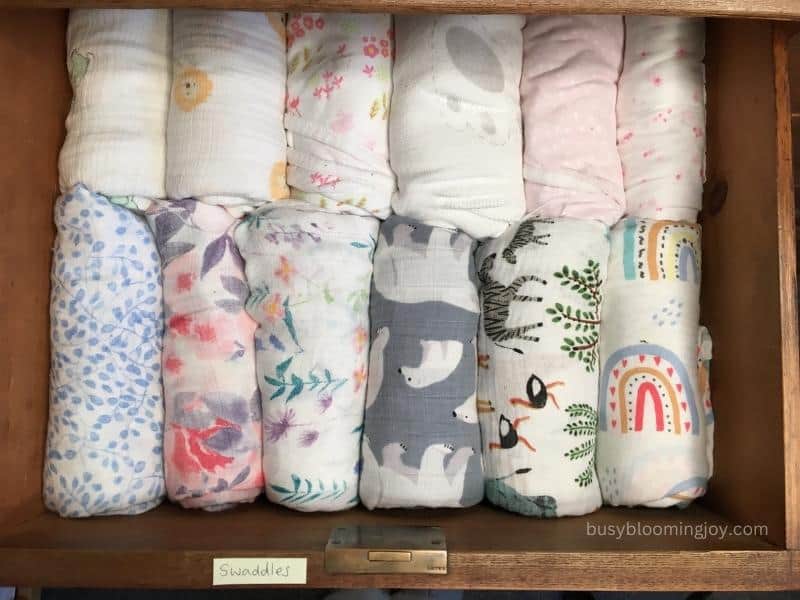 Middle drawers for clothes and/or other things you need access to day-to-day. The middle drawers will probably be at an easy height and a good depth for baby clothes.
Everyday clothes are onesies and sleepsuits, socks, hats and mittens. Plus swaddles and sleep sacks if/when you start to use.
Then there will be other things used frequently, like towels and bedding.
#21 Use the bottom drawer for miscellaneous items
This means you won't need to struggle low down on a daily basis. In the bottom drawer of my dresser I keep:
some baby clothes recently given as gifts (they really belong in the appropraite labeled storage box in the loft but they havne't made it there yet)
baby shoes
some current sized baby clothes that I have an excess of e.g. I already have 10 sleepsuits organized into the everyday clothes dresser drawer and that should be plenty
There are also often extra diapers in here too, that won't quite fit into the dipaer supply drawer, as well as extra wipes. Other random items frequently get stuffed in here too!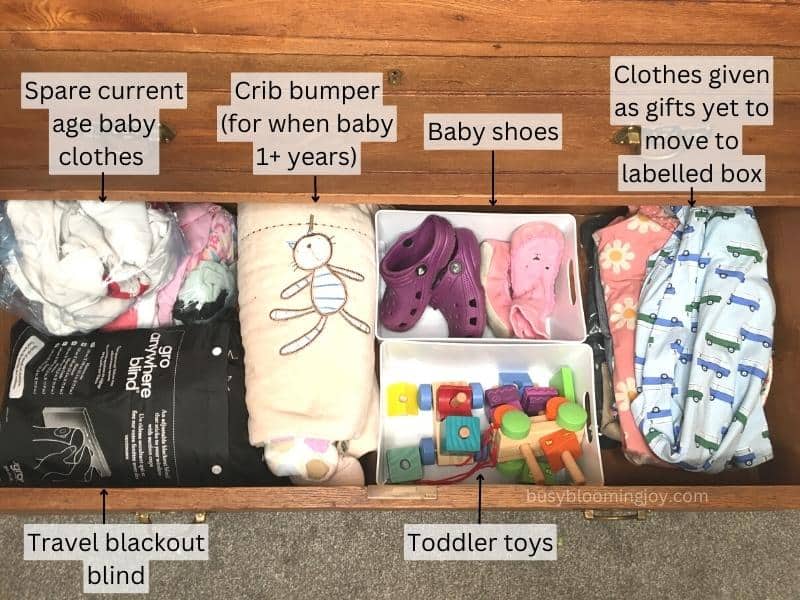 #22 Roll or envelope fold sleeping bags and swaddles
These items are large and bulky and best organized by rolling up or using Marie Kondo's infamous 'envelope', 'filing method' or 'file fold'.
Not only does file folding or rolling keep them packed well so you can maximise space in the dresser drawers, but it allows you to easily see all the different clothing items. Open the drawer and at a glance, everything is on nicely on display.
This is useful if you have different styles of sleeping bags and you want to quickly find a specific one.
The same goes for swaddles: you may find certain swaddles easier/preferable to use. However, the main reason for me was that they packed so neatly and looked so gorgeous! That's one beautiful and well organised dresser drawer if I do say so myself.
I personally found the easist method with sleeping bags is to fold them in half into a long thin rectangle, and then roll them, rather than fold. Same with swaddles.
Try each folding method and see which works best for you.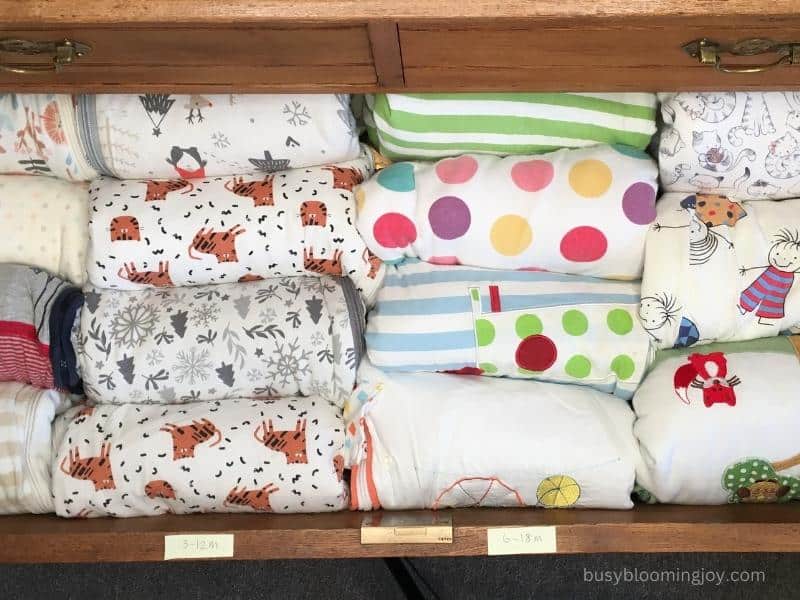 #23 Stack towels, crib sheets and blankets
Here, Marie and I differ. I think her recommendation for virtually everything is to use the file fold but it just doesn't seem necessary for these items.
To me, towels and sheets are much of a muchness – I have no preference which towel or sheet I use. Old school folding and stacking works is a little quicker and works just fine.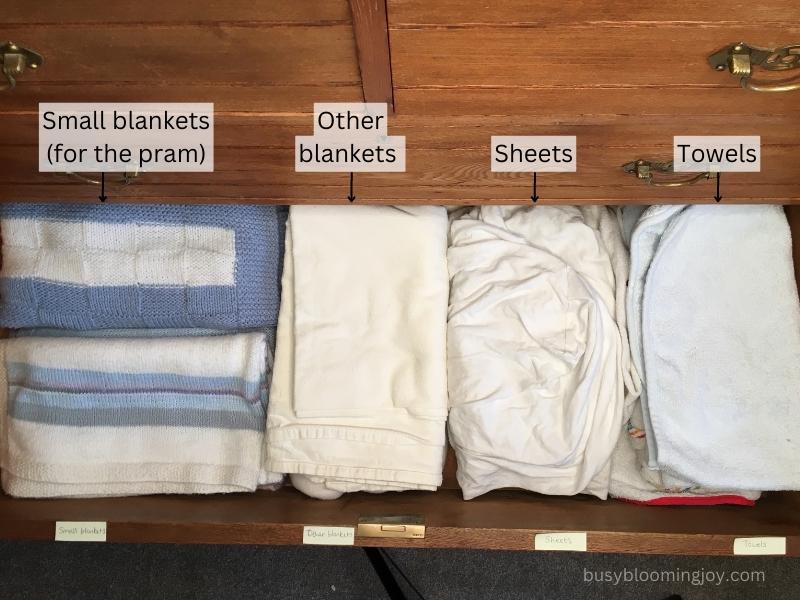 #24 For baby clothes, take your pick!
In my opinion, tiny baby clothes are too small and too much of a fiddle to roll and try to display. You'll be washing newborn clothes and putting them away again so frequently those extra few minutes rolling or folding may be better spent elsewhere.
I did have good intentions to roll or file fold baby clothes but it lasted no more than a few days. A simple fold, stack and shove into the drawer was enough for me! But I'll leave that one up to you.
A tour of our organized nursery dressers, drawer by drawer
The following pictures are for the two dressers in the twins' nursery. The contents of each dresser drawer have already been shared above, so this serves as a summary.
The main nursery dresser
This houses everything but their everyday baby clothes. A large dresser like this would be plenty big enough for baby clothes too, if the nursery was only for 1 baby. If this was the case, I'd free up a drawer for baby clothes by storing sleeping bags and swaddles in one drawer, using drawer organisers as necessary.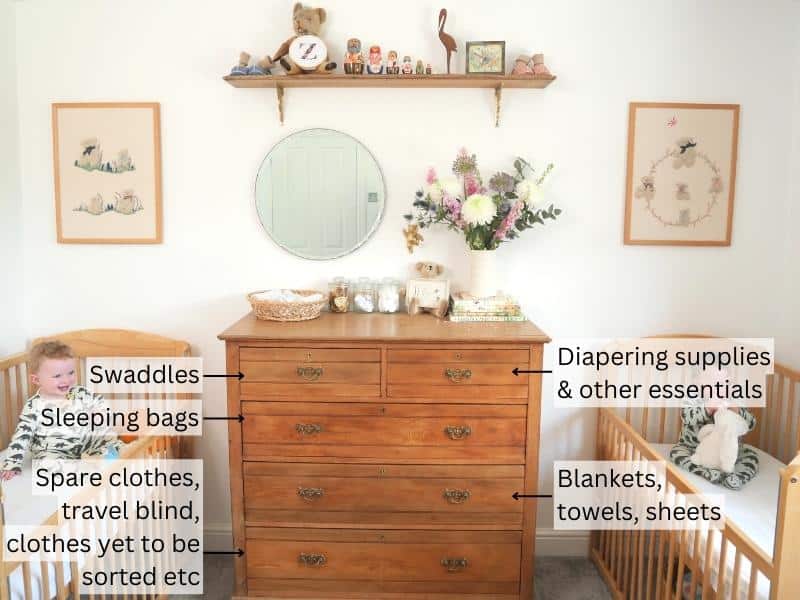 Smaller dresser in nursery closet
This is the narrow dresser with shallow drawers that's perfect for everyday baby clothes. I should think when the twins are a little older and start wearing clothes other than onesies and sleepsuits (eg T-shirts, trousers or leggings, dressers, cardis etc) and when their clothes are bigger, I'll reconfigure.
The bottom drawer was for spare/miscellaneous items. I've also marked up other items in the closet. As you can see there's very little dead space in the closet.
For more details, check out: 25 best nursery closet organization ideas in 2023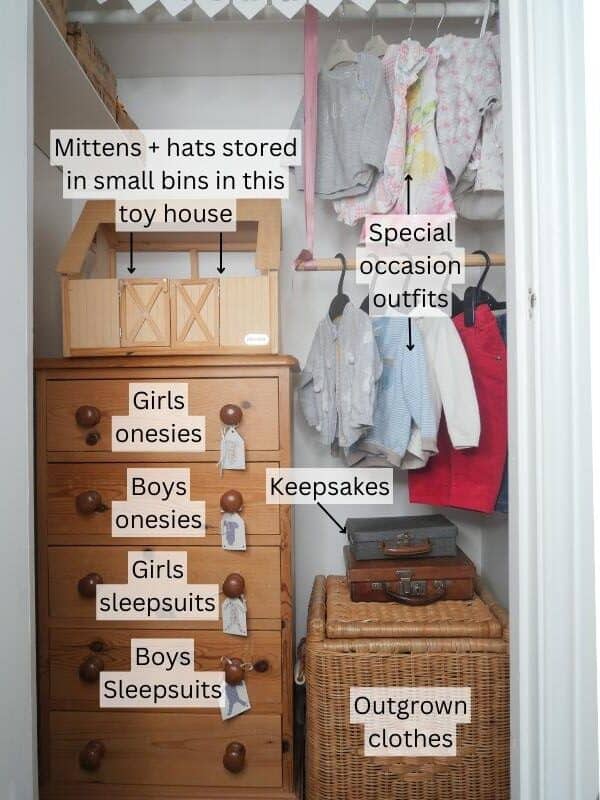 Are you ready to start organising your baby's clothes in the nursery drawers?
I hope all these nursery drawer organisation ideas have given you plenty of inspiration for a neatly packed dresser! You should now have a good idea on the how best to organise baby clothes in the nursery dresser that's both practical and looks good too.
And if you're in the throes of preparing for baby, I'd recommend checking out one of these posts:
FAQS on dresser drawer organization ideas
How do I store my next baby stuff?
Next baby stuff is best stored in large labelled storage bin, with a bin for each age and stage. Keep clothes sorted by category and store in labelled ziplock bags, within the bin. Bag up shoes, toys and other items in a simiar way.
What do you put in each dresser drawer?
This depends on the size of your dresser, each drawer and what other hanging and other storage space you have available in the nursery. You want to put smaller items and those you want to access more frequently nearer the top. Larger items and those you won't need as often lower down.
If you have a decent sized dresser I'd recommend the following for a 4/5 drawer dresser:
top drawer/drawers: diaper changing and newborn care essentials
2nd drawer: everyday baby clothes
3rd drawer: towels and bedding
4th/bottom drawer: spares, odd items gifted that have yet to be sorted, travel items
How do you organize a baby clothes drawer?
If your dresser has drawers significantly larger than the baby clothes, i.e. a single drawer will accomodate more than 2 small piles of clothes, then use drawer dividers or organiers. These will divide the drawer into smaller spaces allowing you to keep different categories of clothes separate.
What should you not put in a nursery?
This largely depends on the sapce you have in the nursery versus the space you have in other parts of the house. As a general rule, items for trips out that you use frequently should be stored near to the front door. This includes things like the pramsuit/puddle suit currently in use, everyday shoes/boots, baby carriers.
Baby bottles and sterilisation equipment in use are best kept in the kitchen while breastfeeding supplies may be better off in a separate breastfeeding caddy that can be moved around the house as necessary.
How should I store my nursery items?
If you get chance, sort all the next size up
Within the bin, within the nursery but can be fairly out of reach. The top shelf of the nursery closet is ideal. In this way you leave the most accessible areas for baby stuff and clothes currently in use, but the next baby stuff is still close to hand.
What do you put on top of a dresser in the nursery?
If you're using your nursery dresser as a changing table, then keep the items on the top to a minimum. As per #7 drawer organisation idea above, store your diapering supplies in the top drawer, to keep the top of the dresser neat and clutter free.
I'd also recommend this approach if you're not using the dresser top to change diapers. Display a few frequent use items in pretty storage units and add a few decorative items.
How do you organize baby clothes without a closet?
A nursery dresser should be able to accomodate the majority of baby clothes. Even if you do have a closet in the nursery, I'd only recommend hanging special occasion outfits and two-parters. Store everyday baby clothes, sleeping bags, swaddles and other items in the dresser drawers as per the ideas above.
How do you organize a baby changing dresser?
In your baby changing dresser you want to store diapers, creams, wipes and spare changing pad or mat covers. It can also make sense to keep other baby essentials here. Organize smaller items into storage units and keep them either in the top drawer of the dresser or on the top, if space allows.