There is so much to think about when preparing for your baby to arrive (congrats by the way!) that you may be wondering when to start buying baby stuff and what exactly do you actually need.
Pregnancy is exciting and the planning and preparation are all part of the excitement. It can be so tempting to rush out and start buying all those gorgeous things you've seen for the nursery as soon as you get a positive pregnancy test.
I love to be organized and am definitely in the camp of it is good to be prepared early. However, I soon discovered with so much to consider and so many options out there, that it pays to take your time. And 9 months is actually quite a long time!
So before you rush out and have everything bought in the first few weeks, read on for my top tips on what you need to buy and things you should start buying when you are pregnant.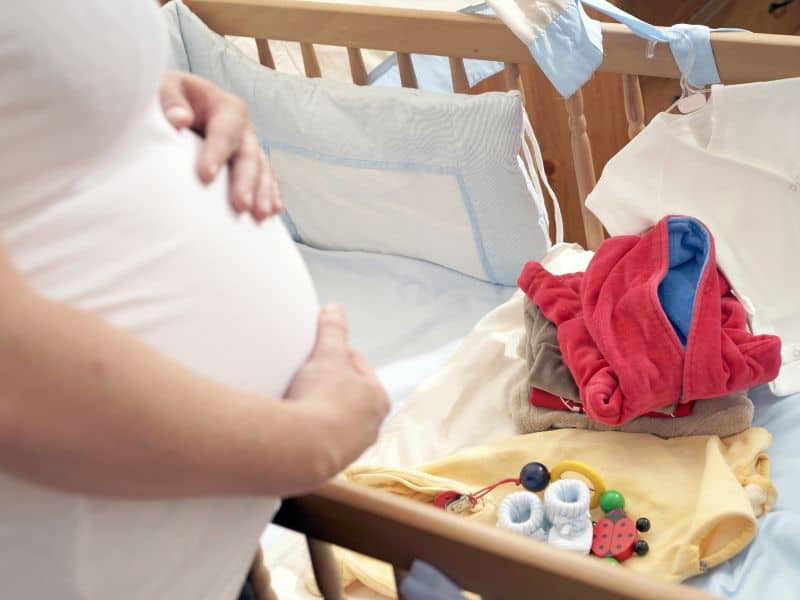 Is it bad luck to buy baby stuff early?
Or when is it safe to buy baby stuff and start organizing baby clothes?? I want to address this first. I'm sure you will have heard people saying that it is bad luck to buy any baby stuff in the first trimester, or it isn't safe to buy baby stuff in the first 12 weeks. This stems from the fact that there is a higher chance of miscarriage in the first trimester.
According to the Miscarriage Association, around 1 in 4 pregnancies end in miscarriage and most happen in the first 12-13 weeks of pregnancy. It is much less common for a miscarriage to occur after this stage.
I think it's unlikely that having any baby stuff in the house during the first trimester is going to be the cause of anything happening. However, if you're superstitious you may feel otherwise. The most important thing is to consider how you'd feel if the pregnancy did sadly end and you had already bought some things.
When is too early to start buying baby stuff?
So much of this decision is personal choice and how superstitious you are. You need to consider your own feelings if the pregnancy didn't progress and you already have baby things in the house.
For many people, this would be really difficult. And for that reason, you'll find that most people advise waiting at least until after the 12-week scan when the risks are significantly lower.
If you're itching to get shopping, perhaps use this time to research and plan instead. You'll be amazed at how many options there are out there, and how much there is to consider, even for the simplest of items.
Is 13 weeks too early to buy baby things?
If you want to wait until the risk of miscarriage decreases, then you'll be looking at starting to buy baby things any time from 13 weeks. Many parents like to start at this stage so that they can spread the cost.
My advice here though would be to think about how much space you have and how much space a lot of this baby gear takes up. You still have a long way to go, 6 months is a long time to have boxes of unused baby purchases lying around the house.
Is 20 weeks too early to buy baby stuff?
I'd say that 20 weeks is a good time to start getting organized. At this point, you'll have had confirmation that your pregnancy is progressing well. You may also know the gender of your baby which may help when it comes to clothes and nursery decor.
Hopefully, by 20 weeks any morning sickness will have subsided, you're energy levels are back up and you're feeling good and ready for a shopping spree!
You've likely spent hours researching some of the bigger ticket items with longer delivery times, like the stroller or crib. 20 weeks is a good time to start finalising your choices and placing those orders.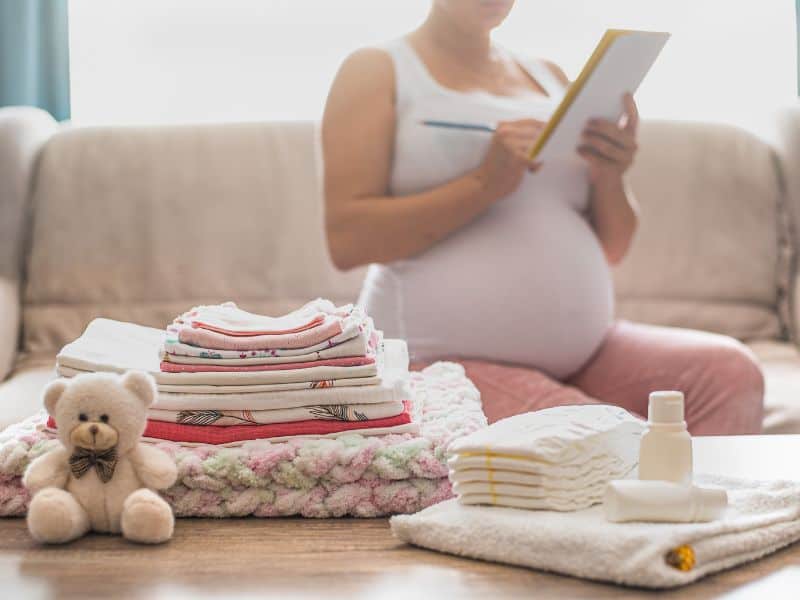 When do you need to start buying baby stuff?
You do not need to start buying baby stuff until well into your third trimester if that suits you better. Just remember that some babies do come early, so it's recommended that you at least have the basics by the middle of your third trimester.
Also, keep in mind there are some items that can take longer to arrive such as the car seat or stroller.
What to do before you start buying baby stuff?
In my opinion, this is the fun bit, the planning! I love to be organized and I love a list so I was in my element when it came to planning everything for my first baby. And it's a great distraction from the not-so-pleasant symptoms of early pregnancy.
Budgeting is super important. It is amazing how much you can spend preparing for your baby if you're not careful. Write a list of everything you think you'll need or would like to buy and categorize them into 'essentials' and 'nice to haves'. Spend this time researching different options and creating a budget.
Particularly in the first trimester you need to be thinking of yourself, so if you do feel the need to do some baby-related shopping, consider the following:
Pregnancy Vitamins
A waist expander for your trousers (maternity clothes can usually wait until the second trimester)
A pregnancy planner and journal to record and help plan for the next few months
A pregnancy and/or baby book to help guide you through the next unknown months
Download a pregnancy app – there are loads to choose from. I used the Ovia Pregnancy Tracker which tracks your baby's growth, gives you weekly updates on size and development, and even has a feature to help you choose your baby's name.
So when should you start buying baby stuff during pregnancy?
With my first baby, I started shopping towards the end of my second trimester and into the beginning of the third trimester. I had found out the gender at 20 weeks, which I always knew I would do, so I decided to hold off until after that.
We were also living in a small apartment so I didn't want to have too much stuff cluttering up the place too early.
Of course, everyone has their own considerations and you may want to start earlier to spread the cost further, but I would say around 20 weeks is a good time to start.
And prioritize the big ticket items that are essential, such as the car seat, stroller, and crib or bassinet. You'll find that a lot of the smaller stuff are 'nice to haves' or can wait until after the baby is born if needed.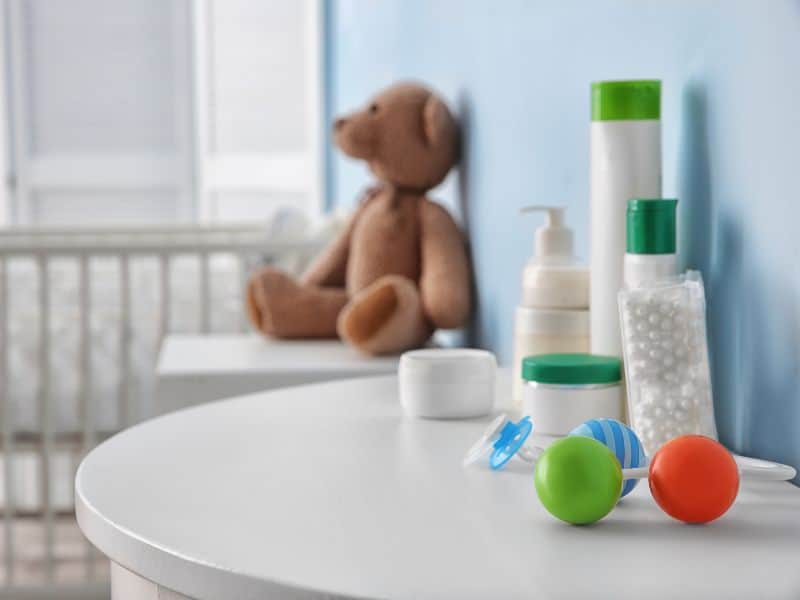 What do newborns actually need?
The answer is not a huge amount! You'll find my list of essentials further down this post, but essentially they need somewhere to sleep, something to travel in when you are out and about, some clothes, and diapers.
If you're not sure whether you're going to need an item or not, my advice would be to wait until after the baby is born, and you'll soon find out. We are very lucky that it has become super easy to pick up most things very quickly.
Things to consider when starting to buy baby stuff
1. Budget
It is no secret that baby stuff is expensive. You could spend a small fortune given half the chance, so it may be important for you to give yourself a baby budget and make sure you stick to it. A good way of doing this is spreading the costs, particularly of the bigger items, so you're not taking the hit all in one go.
It is also worth taking it slowly, doing your research, and finding out when the stores you are looking to buy from, usually have their sales. You can save a decent amount if you time it right.
2. Space
This is such an important thing to consider particularly when looking at what furniture to buy. Measure the space you are planning for the crib to ensure that the one you have your eye on will fit. And what about your bedroom where your baby will likely sleep for the first few months? Do you have space for a co-sleeper crib or will you need to go with a small bassinet?
Related post: Baby bassinet vs. Co-sleeper: 5 important considerations
Think about your space with every big purchase. Do you have space for a changing table or will you have to go with a mat you can put on the bed or the floor? And where is your stroller going to live once you are home? If you don't have much space, it may be important to have one that easily folds to keep in the hallway or in the back of the car.
Related Post: 15 best rocking chairs & nursery gliders for small spaces in 2022

3. Baby Shower
If you're planning a baby shower, it may be worth putting off some of your shopping until afterward, as you will most likely be showered with gifts from generous friends and family members.
And once your baby has been born, people love to buy a gift, particularly clothing, so buy too much in advance and you'll suddenly find yourself swimming in newborn outfits.
You could consider putting together a baby registry for friends and family to buy from. This way you know you are only getting the things that you need, and like.
4. Hand-me-downs
If you have friends or family with older children, it may be worth asking to see if they have any baby stuff they are looking to get rid of or are happy to lend.
Hand-me-downs are a great way to save money and items such as bassinets and bouncers are used for such a short period, that they're often still in very good condition.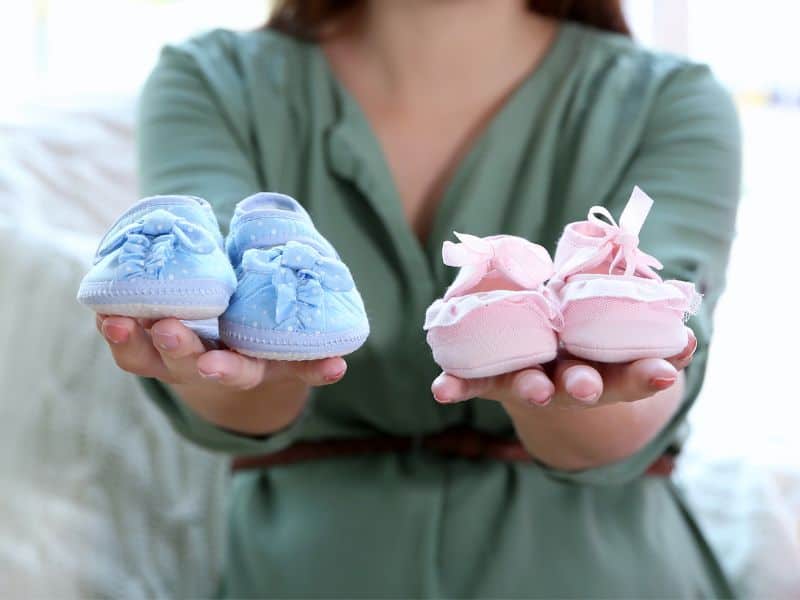 5. Baby's Gender
If you are not finding out the gender of your baby, make sure everything you buy is gender-neutral. If you're planning on finding out the sex, then it is probably worth waiting until after your 20-week scan to start your shopping.
6. Package Delivery Times
This is something to be aware of, particularly with bigger items such as the stroller or crib. Some will deliver quickly, but for others you could be waiting for several weeks. Make sure you check this before you place an order.
Top tips for buying baby stuff
1. Do your research
Research research research! Check out the different features and figure out which are important for you. Is it size, foldability, weight etc. And when you've narrowed down your choices, compare the costs of different products. You may find two very similar products with a huge price difference.
How do you find out whether a product is any good? Read the online reviews, visit comparison websites, and ask other parents. If you see someone with a stroller you are interested in, ask them if they'd recommend it or if they wished they'd gone with an alternative. Getting honest feedback on a tried and tested product will make such a difference.
My other recommendation would be to research what you actually need vs what's nice to have. I'll list below my essentials and a few things I wouldn't recommend buying before baby arrives, but this is another thing to talk to other parents about. There will be plenty who will tell you about the gimmicky baby that either wasn't used or simply didn't do the job intended.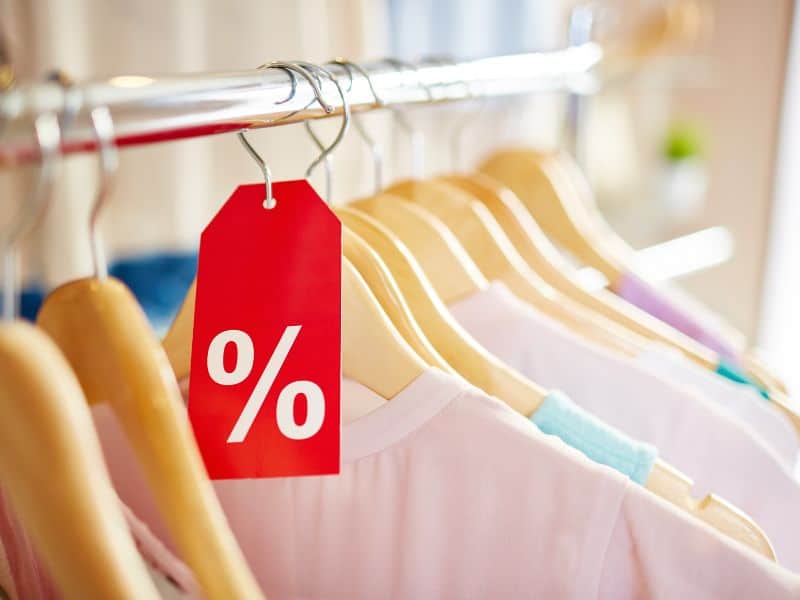 2. Watch out for the sales
Most stores will have a sale at least a couple of times a year, so do your research, and be ready to buy as soon as the sale starts. You could save yourself hundreds of dollars if you time it right.
3. Opt for easy-on, easy-off outfits
The chances are you won't be able to resist buying at least a few cute little outfits for your baby to wear in those early days. Pay attention though to how they fasten or how easy they are to get on and off, particularly in a nappy emergency.
I had a number of gorgeous outfits for my firstborn that were only worn once after I discovered how impractical they were!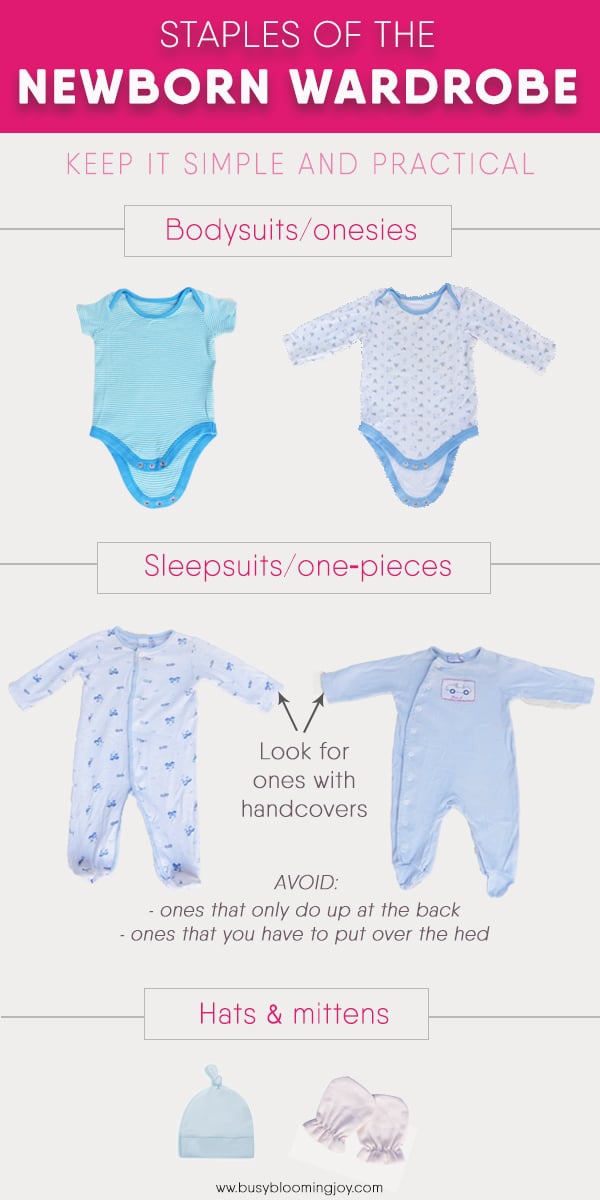 Above are really the only clothes you need for a newborn.
Things to start buying when pregnant
There are plenty of things I'd recommend you start buying when you are pregnant once you've hit the 20 week mark, or whenever you're comfortable. You're going to want to start with the bigger essential items that need more thought on and often have long lead times. These are things such as the stroller, car seat and nursery furniture.
Read on for tips on when in your pregnancy to start buying these essentials.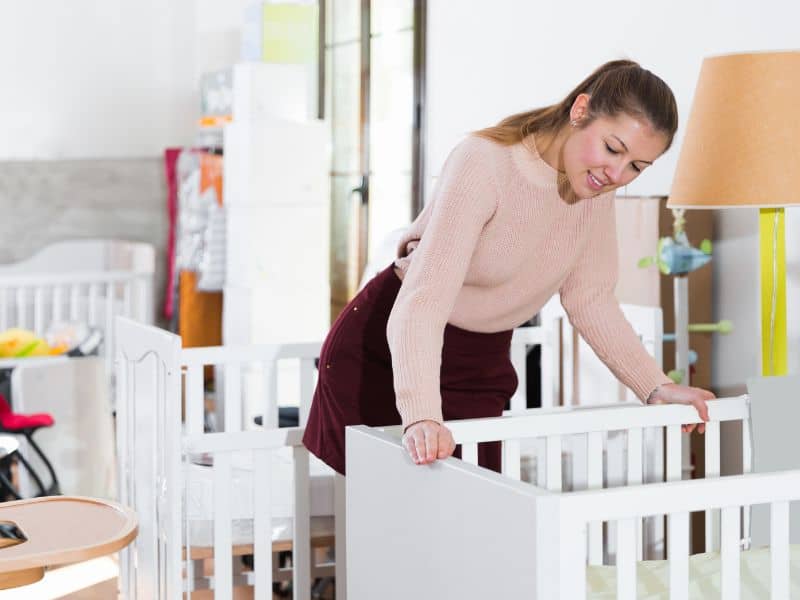 When to start buying nursery furniture
My favorite part of pregnancy is decorating and putting together the nursery. Even choosing the theme is fun and it's so easy to get ideas and inspiration online now.
From dark green nursery ideas to space-themed nurseries there are lots to choose from. It can help to make that decision before moving on to painting the walls (whatever the color, try to go for non-toxic VOC nursery wall paint) and buying furniture for the nursery.
Nursery furniture can have longer delivery times so bear that in mind when it comes to ordering. You may also find that you want to do all the hard manual work while you still have some energy!
Having said that it is also worth remembering that your baby won't actually sleep in their nursery for the first few months. If your furniture hasn't arrived, you haven't had the energy to build it, or you still have some bits to finish off, don't panic! It can wait.
At just over a year old, I'm still finishing off the twins' nursery… However, ideally you want the nursery done and dusted before your baby arrives, as I did for my first and second babies. So nursery furniture is high up on the list of things to start buying when pregnant.
However, perhaps you want to re-paint some existing furniture instead – check out our guide on the best non-toxic safe paints for your baby's crib and furniture. Again, ideally, have this done long before your due date.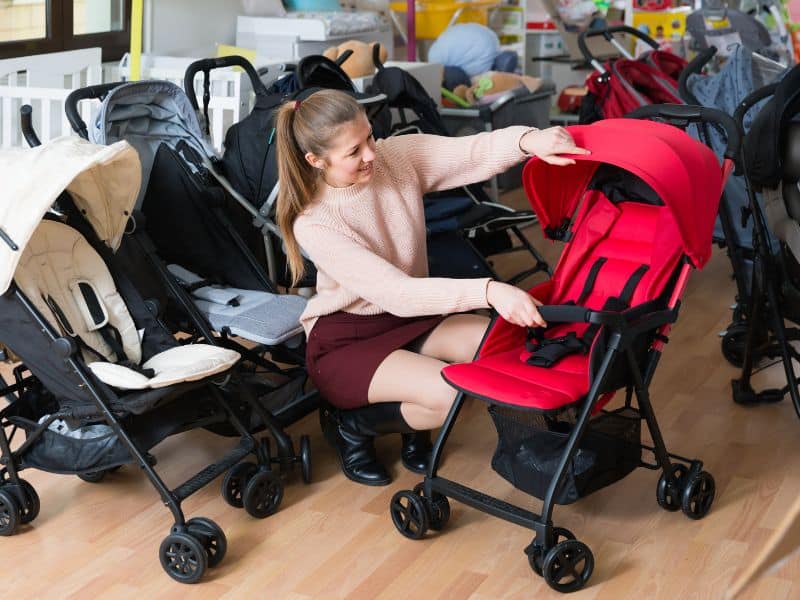 When should I get a car seat & stroller?
Your car seat and stroller are absolute essentials if you want to get out and about at all. If you're having a hospital birth then you're going to need to get that baby home somehow! So these are things to start researching and buying when pregnant, so you have them before the birth of your baby.
In case your baby makes an early appearance, I'd recommend having bought a car seat and stroller by the time you are 35 weeks pregnant at the very latest.
It's also a good idea to start your car seat and stroller research early in your pregnancy to give yourself plenty of time to choose the right one for you. In this way you can also utilize any sales that might crop up. Finally make sure you leave enough time for delivery, as these items sometimes have a long lead time.
What baby stuff should I buy first?
It is super tempting to go straight for the cute outfits and the gorgeous nursery decor, and although there is no harm in a few bits to celebrate your pregnancy, focus on the absolute essentials first: the car seat, stroller and bassinet.
Get the big things that take time to research and order, sorted first. Then if the budget allows, you can indulge in all the nice-to-haves.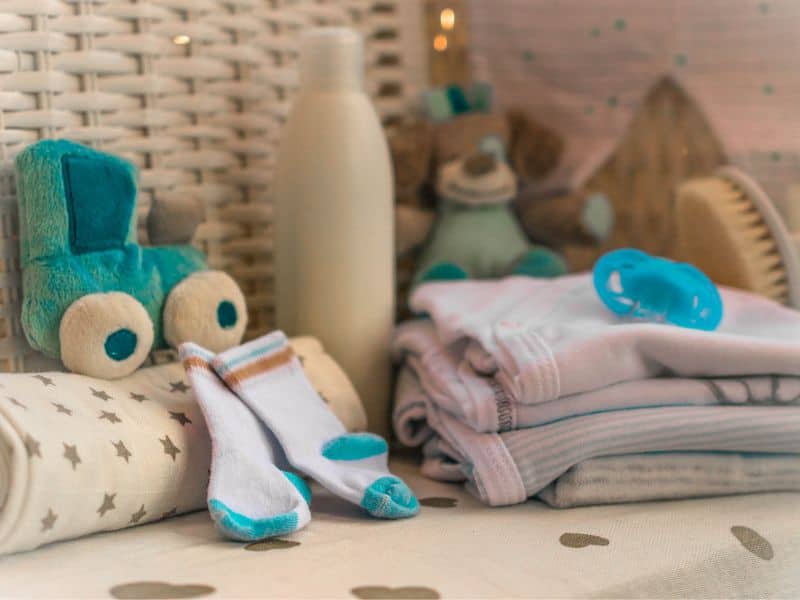 Essentials to ensure you have by around 35 weeks
Here are the things to start buying when pregnant – you need these before the baby arrives. As you'll see there is not a huge amount on this list – a newborn baby does not need much! Anything else can be bought as and when you need it and remember you are likely to be given plenty of clothes and toys as gifts.
Stroller
Car seat
Changing mat
Baby essentials – newborn diapers, baby wipes, diaper cream etc
Postpartum essentials for mum
Around 7 bodysuits/onesies and 7 sleepsuits/one-pieces (see infographic above)
A hat
Mittens
A pram suit if a winter baby
Night light – to avoid putting on main lights for night feeds
Muslins/receiving blankets
Bassinet & fitted sheets
Baby essentials to help baby settle and fall asleep easily
These may not pop up on every baby necessities list, but in my opinion these are essentials! They will help create a calm and soothing environment, helping to settle your newborn to sleep during the 4th trimester and moving forwards. Both attempt to recreate the environment newborns were so comfortable and settled in: the womb.
A white noise machine – to help recreate the noise of the womb
Swaddle blankets – the tight cocooning of a snug swaddle is similar to that of the womb (a swaddle is more suitable than a sleep sack for newborns)
These elements are two of several baby sleep strategies that will help your baby sleep through the night when developmentally able to, at between 10 and 20 weeks.
Other essentials that you will need, but can wait if necessary
A baby monitor – your baby should sleep in the same room as you at night and for nights for the first 6 months, so a monitor won't be needed until then
Nursery furniture – ideally have all the furniture sorted before your due date but there's no harm in finishing the nursery once your baby has arrived.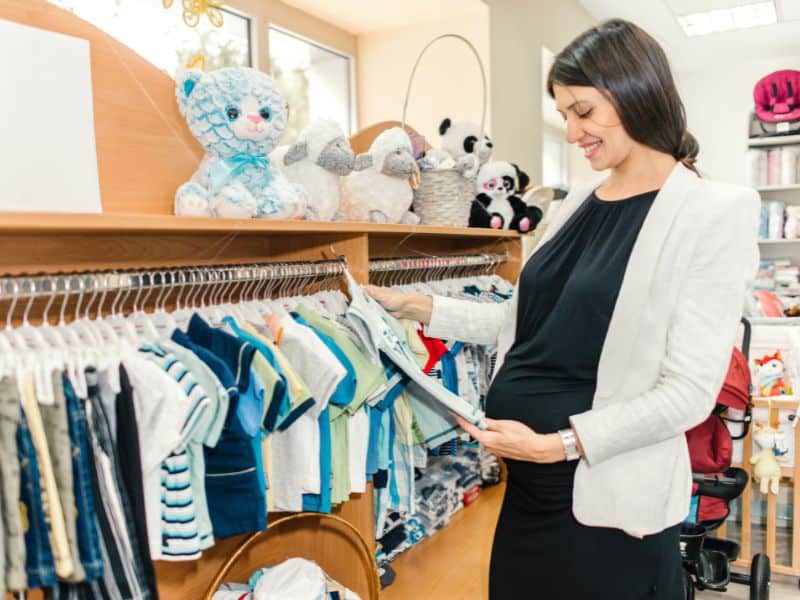 When is it too late to shop for baby?
It is never too late to shop for your baby, in fact, I am pretty certain you will continue to shop for your baby throughout those early weeks. As long as you have the key essentials before the baby is born, you do not need to worry.
You will no doubt keep discovering items that you decide you need, as you come across situations, and we are lucky we live in a world where anything can be sourced relatively quickly.
Things to research but hold off on until you know you need them
There are certain items that need a bit of research, but until your baby is born, you will not know whether you need them.
These are the items I would suggest being ready to buy if you need to do so quickly, but holding off until the need arises.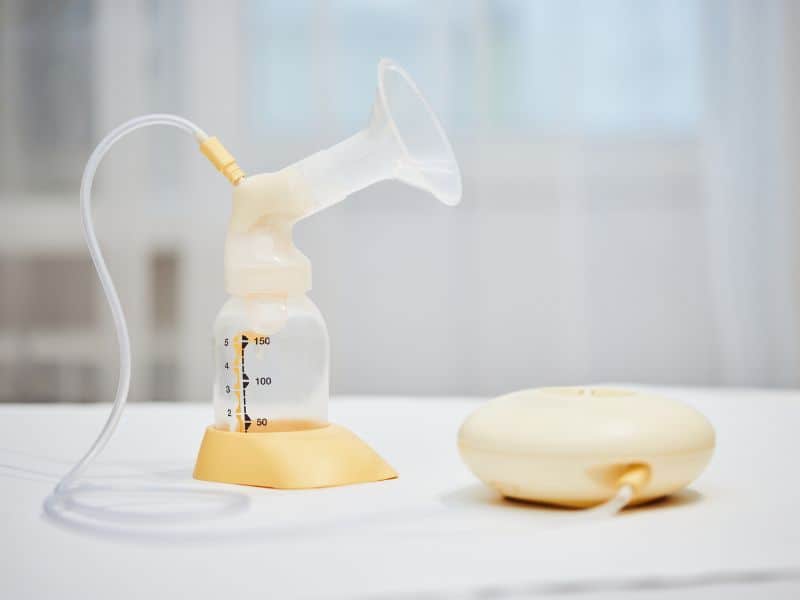 Breast pump
My advice would be to see how your feeding journey goes before you buy a breast pump. They can be expensive and you may find you do not need one.
Bottles & bottle sterilizer
Again I would wait and see whether you have a need for these before you go out shopping. It may well be that you won't make use of them, at least for the first few months.
Baby bath
Tub bathing is not recommended until the umbilical cord has fallen off, which will happen in the first week or two. Until then you'll need to learn how to sponge bathe your newborn with the umbilical cord still attached.
You can then move to tub bathing, but you don't necessarily need a baby bath. Some people swear by them, others think they're a waste of time. You can easily bathe your baby in a regular tub or sink, using just a shallow amount of water. So this will depend on your setup at home and how comfortable it is to do so.
I found our bath too deep to comfortably hold my son so I did end up getting a baby bath and it was useful for the first couple of months.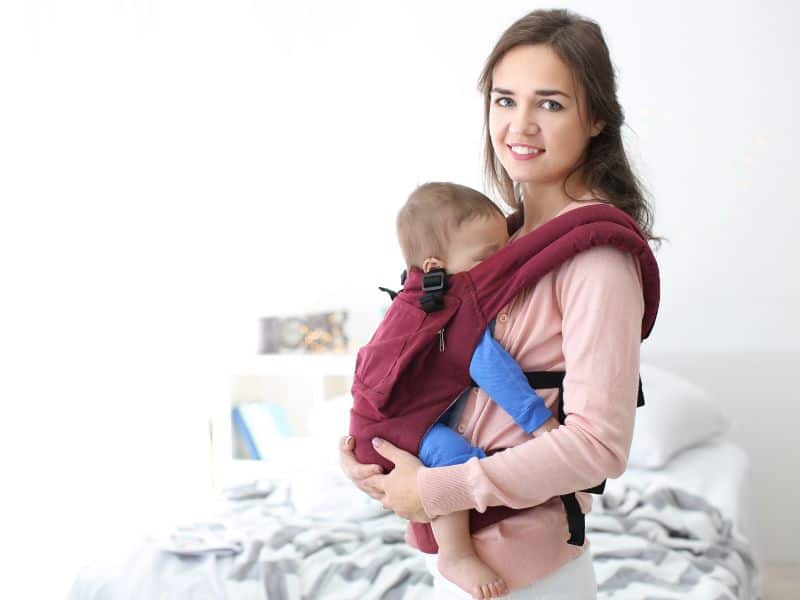 Baby Carrier
I would one hundred percent recommend buying a baby carrier, they are so useful, particularly if you have a baby that won't be put down.
However, I'd recommend trying one complete with baby to carry which probably means waiting until after your baby is born. This way you can try a few different styles and find the most comfortable one.
What NOT to buy for baby before it is born
There are plenty of baby items out there that are really unnecessary or unsafe for newborns. There are others you won't need until well after your baby is born or may not need at all.
Don't buy these things when pregnant!
Baby shoes
Totally unnecessary. At best they will be a decorate touch to your nursery decor.
Padded crib bumpers
They are not safe for newborns and are not needed.
Baby formula
It's worth waiting to see whether you need to give your baby formula before going out and buying it. Formula can be picked up very easily in almost all supermarkets.
Toys
It will be a good few weeks until your baby shows any interest in any kind of sensory toys or teethers, and this is the kind of thing that friends and family love to gift.
Too many newborn-size clothes and diapers
It is amazing how quickly they grow out of the newborn stuff, particularly if you have a big baby. It is likely they will live in sleepsuits at this age and if you do need more, they are very easy to pick up.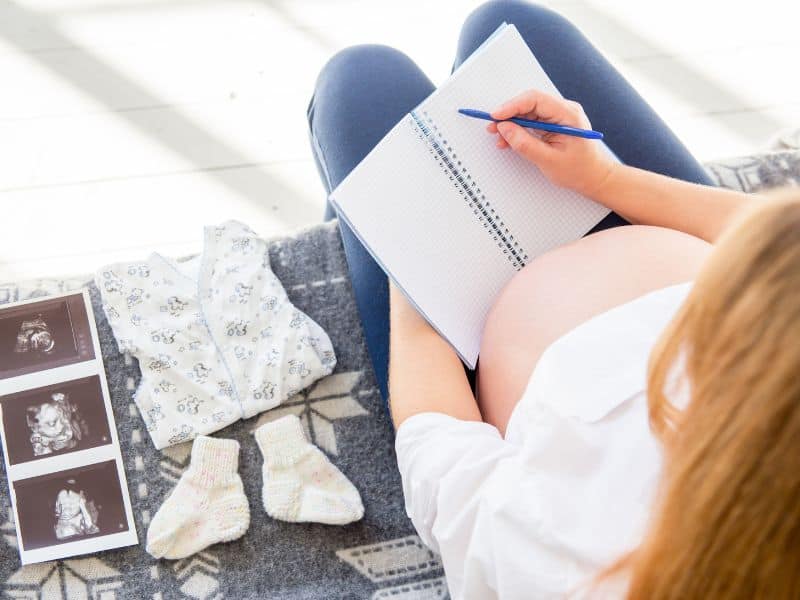 A summary of when to buy your baby stuff
The truthful answer is that there is no magic number of weeks that you should or need to buy your baby stuff. Most people tend to wait until after the first 12 weeks, when there is less risk of miscarriage. I waited until after my 20 week scan so I could make choices based on whether we were expecting a boy or girl.
Starting to shop around the middle of pregnancy is also a popular choice because this is when energy levels have picked up again after the first trimester.
Remember to do your research, and consider how you are going to budget and the space you have. Keep an eye out for sales, particularly for big-ticket items.
As long as you have the essentials before the baby arrives, you'll be fine, and if you get a surprise early arrival and are not prepared, send someone to the shops – most things that you'll need can be bought relatively quickly and easily.
FAQS on when to start buying baby stuff
When to start buying baby stuff in a high-risk pregnancy
This is a very personal thing, and everyone is bound to feel differently about it. Many will wait until the third trimester to start buying stuff, but that doesn't stop you from doing your research so you are prepared for when you feel comfortable to start shopping for your baby.
Should I start buying baby stuff whilst trying to conceive
This again is a totally personal decision. There is no right or wrong time to buy your baby stuff. Some may believe that it is bad luck and others have no problems with it, and will buy little bits as and when they see them.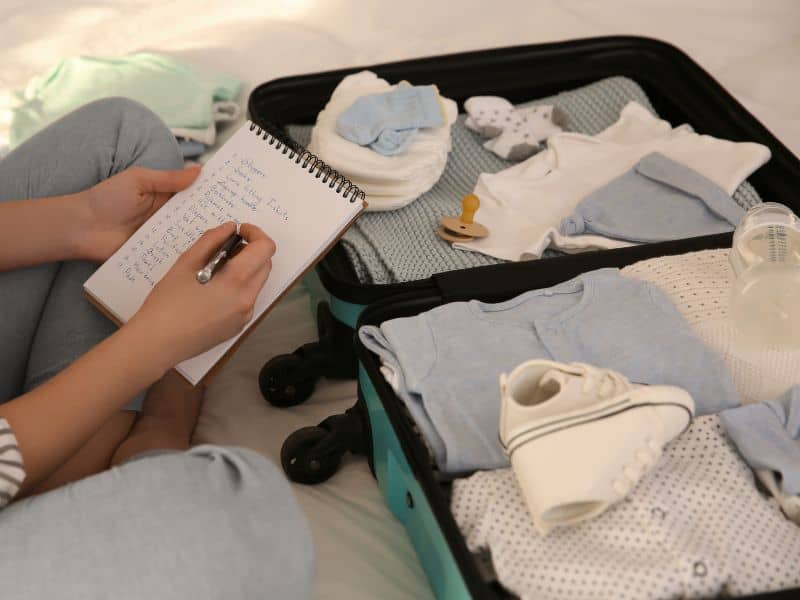 When should I start packing my hospital bag?
The recommendation is to have your hospital bag packed and ready to go at around 36-37 weeks pregnant. If you're considered a high-risk pregnancy, you may want to have it ready a bit earlier.
Start gathering everything together in the weeks leading up to this so that it isn't a mad rush at the end!
At what month should I start buying baby things
Around 5-6 months is a good time to start buying all your baby stuff. This gives you plenty of time to get it all together and is past the riskiest stage of pregnancy.
Of course some people like to start their baby shopping earlier and others perfer to leave it later, there is no set time!
Is it good to buy baby clothes before delivery
It is a good idea to have a small amount of clothes ready for when your baby arrives. Don't go overboard though, firstly you'll find that friends and family will often gift cute outfits for those first few months, and secondly, it is amazing how quickly they grow out of the newborn stuff.