Sprucing up the crib in anticipation of a new arrival? (Congrats by the way.) Or are you simply in the midst of a full nursery refresh with a toddler at your feet (you go girl!) Either way, not only do you want it to look gorgeous, it's got to be safe for your baby. So which paints are "baby-safe" and what does that term even mean?
Paints safest for baby cribs — and the whole nursery overall — are those that are free of chemical emissions. In that regard, natural paints take the prize. However, paints with little to no volatile organic compounds, or VOCs, can also be a safe option.
This article is your comprehensive guide on the best safe paints and spray paints for baby cribs in 2022. Stick around to read our top picks and learn all about baby-safe paints.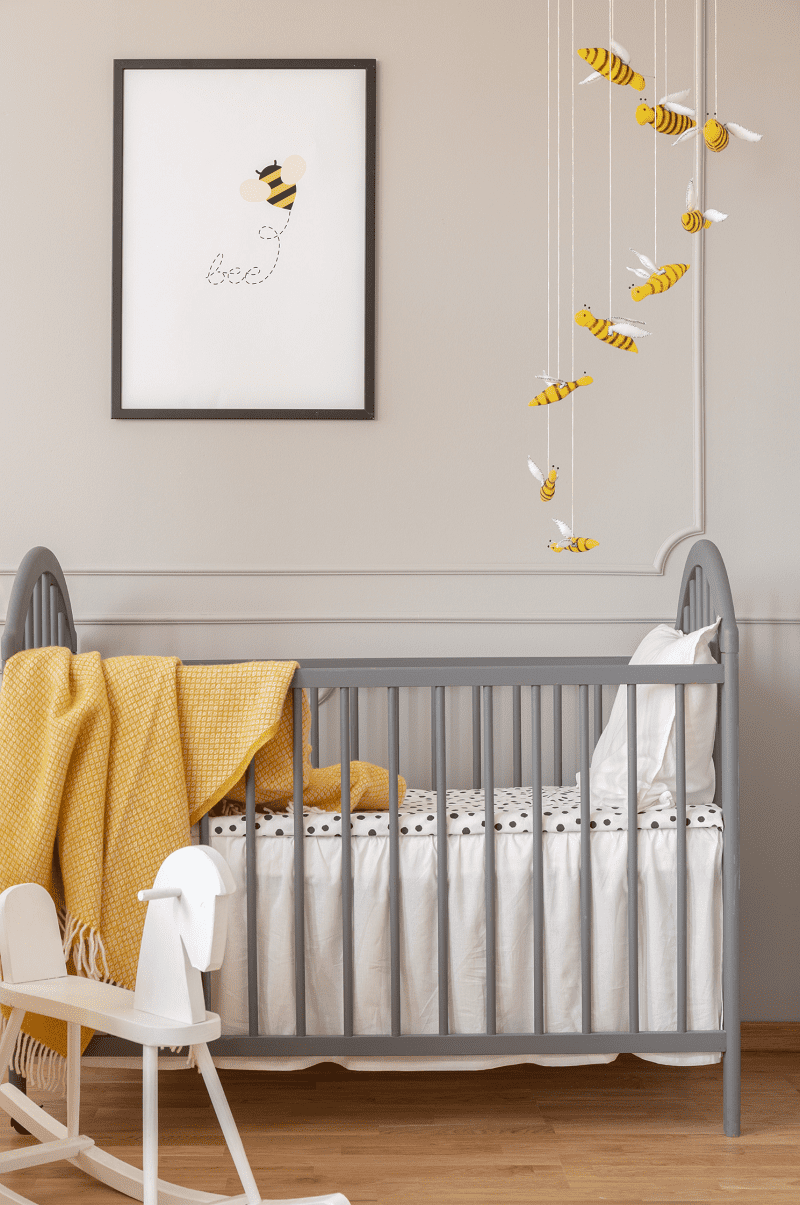 Is it safe to paint a baby crib?
You might even have been wondering, can I paint my baby's crib? Needless to say, you can. Providing the products and timing are right, it is safe to paint your baby's crib.
It is not a complex job and doesn't require an expert painter and decorator, just a steady hand and a bit of time.
Of utmost importance is your choice of paint. It needs to be low/zero-VOCs or made from natural ingredients. More on the specifics of baby-safe paints in a bit.
Secondly, you should paint the crib with enough time at hand for it to dry and cure, before your baby needs to use it. This will depend on which of the baby-safe paint options you go for.
Even low VOC paints can emit fumes as they dry – so follow the manufacturer's recommendation as a minimum before using the crib, or even having your baby in the same room as it.
What is it you want to avoid in paint?
It's only when you start researching the various types of paint suitable for baby furniture, that you see just how many options there are.
Let's start by talking about what you're trying to avoid in paint. This goes for any paint in your baby's nursery, or even in the rest of the house, for the health of the whole family.
Volatile Organic Compounds (VOCs)
Commercial paint contains thousands of chemicals, many of them toxic. Some of the harshest chemicals found in paints are volatile organic compounds, or VOCs. These include Benzene, Ethylbenzene, Ethylene Glycol, Toluene, Xylene, Hexane, Cyclohexane (source)
As the paint dries, these VOCs are emitted as gasses at high levels. This is the paint smell you're probably familiar with.
VOCs are dangerous to human health with several adverse health effects. They can cause short-lived issues like headaches and nausea as well as long-term disease, including cancer (source). VOCs also contribute to air pollution, just like cars do.
This is why for your own health, freshly painted rooms and furniture should be well ventilated for several days to allow the paint to "off-gas" aka fumes to dissipate.
However, even when the paint smell has gone, VOCs are still being emitted – paints can still off-gas for years after application, just at levels we cannot pick up. Although VOCs are then at safe levels, they're still present.

Other harsh chemicals
It's not only VOCs that are a concern. Paint pigments typically contain VOCs while thickeners, stabilizers and preservatives in conventional paints can also contain heavy metals, and other harmful chemicals.
In addition, some paints include antimicrobial agents to prevent mold growth or extend shelf life. Unfortunately these are normally toxic.
Beware also of "odorless" or "low-odor" paints. Additional chemicals can be added to remove the strong paint smell. Just because a paint is odorless, doesn't mean it's free from chemicals.
What kind of paint is safe for a baby crib?
So you want to avoid VOCs and other chemicals and find a safe non-toxic paint for your baby's crib, how difficult can it be? The term "non-toxic" is used for natural paints as well as low and zero-VOC paints, so let's look at these options:
Natural paints
These are made from natural materials, such as water, chalk, essential oils, and plant dyes. An example is milk paint, a popular option for a baby crib.
Natural paints don't contain any chemicals at at all and so are non-toxic and one of the safest options for your baby's crib.
Although natural paints have come a long way when it comes to performance, they don't have quite the same finish as chemically based paints and also are a little different to apply.
Low VOC paints
The clue is in the name! Levels of VOC are low, and much lower than paints used by our parents and grandparents, but they're still there in significant amounts. So low VOC paints cannot be correctly termed non-toxic.
EPA regulated low-VOC or low-odor paints
The Environmental Protection Agency (EPA) regulates VOC levels in a paint described as low-VOC or low-odor.
For interior paint, they allow:
250 g/L (grams per liter) for water-based paints (latex/acrylic)
380 g/L for oil-based paints
So although these paints are deemed "safe", they still have a considerable toxin levels.

Green Seal certified low-VOC paints
Green Seal, an independent organization for eco products, has much stricter standards when it comes to paint toxicity. Green Seal allows the following levels of VOCs:
50 g/L for water-based latex and acrylic paints
150 g/L for oil-based paints
A Green Seal certified paint will also be free from other toxic chemicals found in most conventional paints, including those that are classed low VOC by EPA standards.
Green Seal paints are certified for performance, including resistance to chipping and abrasion and washability.
There are also other third-party certifications, which differ by continent, country and even state.
Green Wise Gold certification means there will ultra-low VOC content of less than 5g/L, even after colors tints have been added.
Zero VOC or No VOC paints
Even zero VOC paint contains VOCs in minute amounts. A paint is classed as zero VOC if it has less than 5 g/L.
Of course, that doesn't take into account other potentially dangerous chemicals present, unless the paint is also certified by Green Seal or similar.
Again, zero and no-VOC paints can't strictly be classed as non-toxic, although they're far safer than conventional paints.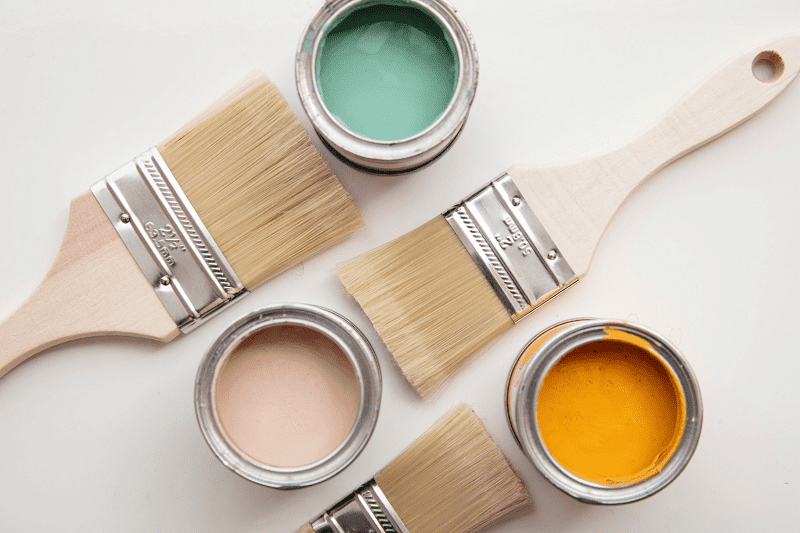 What's the safest paint to use for your baby's crib?
Natural paints have no harmful emissions so are the safest paint to use for your baby's crib.
A zero-VOC paint that is also free of other harsh chemicals will be a safe alternative. Paints with some form of additional certification that looks beyond the concentration of VOCs will be a good move.
Remember also to check any paint pigments you add to the paint for VOC levels. VOC pigments add a further 10 grams/liter, although this varies according to color. Darker hues will have a higher VOC content. Choose zero-VOC paint pigments if possible.
Do You Have To Use Special Paint For A Crib?
You don't need to use special paint as such. You just need to decide which of the safer paint options you want to go with and be sure to follow manufacturers guidelines when it comes to drying times.
What brands of paints are safe for babies?
Several mainstream paint brands have a limited selection of safer options, such as eco-labels, zero VOC and some kind of certification. However, there are some paint brands that specialize in these types of low-toxic paints.
For natural paints, choice is more limited. There currently aren't that many brands that manufacture natural paints. However, as the popularity of this type of paint increases, this is set to change.
Here are a selection of brands that offer the safer types of paints suitable for your baby's crib. The best paints for baby cribs recommended lower down are paints produced by these brands.
Natural Paint brands – true non-toxic paints and finishes
Tried And True – they have a wide variety of natural wood stains and sheens, formulated in linseed oil, colored by natural earth pigments.
BioShield – produce eco paints and finishes including solvent free clay paints and wood stains.
Zero VOC paint brands and those certified by Green Seal or similar
The following brands of paint have zero and/or low-VOC paints included in their range:
Best natural wood stains for a baby crib
A wood color and finish for the crib and other wooden furniture can look lovely in woodland and safari-themed nurseries, as well as those painted green. Check out these gorgeous green nursery ideas for inspiration.
So is this is a look you're keen on, a natural wood colored stain is a great option. Application and coverage is a bit easier than other natural paint finishes but the trickier part comes in preparing your crib for painting.
You need to start off with a bare, unpainted crib, which means spending an awful lot of time sanding! This not the best option for a crib that has already been painted and won't work well for repainting projects. If you want a crib with a natural wood finish, your best bet is to buy it in raw wood form.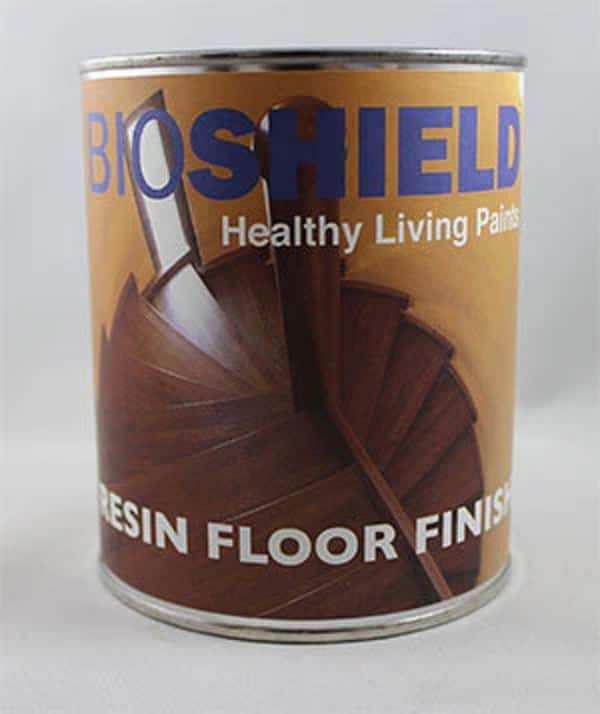 This is a water-based wood stain made from natural materials and doesn't contain biocides, meaning it's solvent-free and zero-VOC and healthy for your baby. It's also low-drip, fast drying and highly resilient to wear and tear (aka little grubby hands!)
Like any wood stain, due to their semi-transparent nature, the character of the wood will show through, highlighting the natural wood grain along with any sanding flaws.
Use a thinned-down coat of Aqua Resin Stain Finish as a primer, then apply two full strength coats. Allow 1-2 hours between coats – the time it takes to fully dry is dependent on the temperature and moisture content of the air.
It has a coverage of 120-150 square feet per liter, meaning 1.5L (just over a quart) should be ample to paint your baby's crib.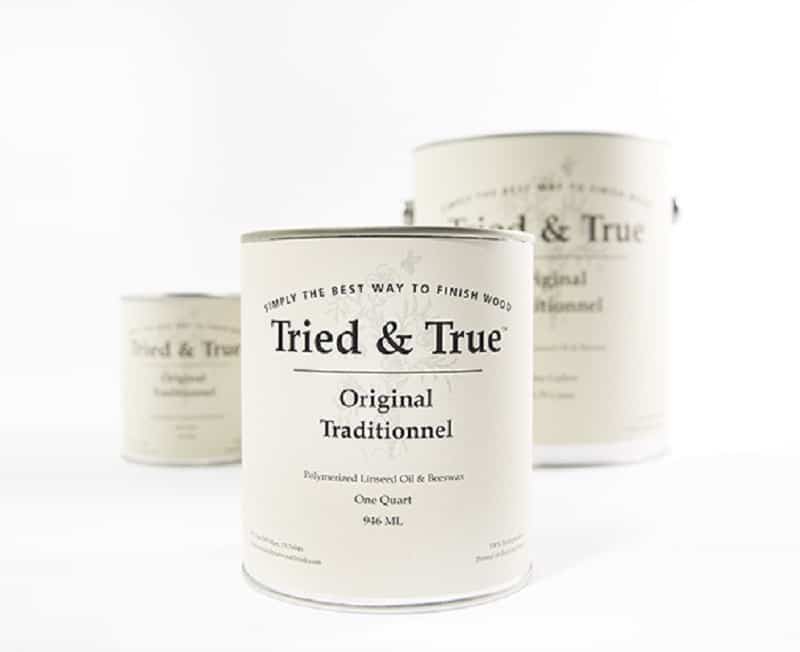 All the stains from Tried & True are made from natural materials, meaning they're free of solvents and contain no VOCs. They're all food contact safe and frequently used for wood chopping boards, salad bowls and cooking utensils, making them an ideal wood finish for baby toys and furniture.
Their Original Wood Finish blends linseed oil with beeswax for a soft sheen that's extremely durable and easy to clean.
All of the Tried & True range has incredible coverage of up to 1000 square feet per gallon! This means you'll only need a pint for two coats of the Original Wood Finish on your baby crib.
This has to be the best wood stain finish for a baby crib.
Best milk paints for a baby crib
Milk paint is a great option for a baby crib as it's free of VOCs and other harmful chemicals, and therefore truly non-toxic.
But, if you're anything like me, before I started on my quest to find the best paints for a baby crib, you may not know much about milk paint. So here's the lowdown.
Milk paint: it's advantages and disadvantages.
Milk paint was one of the first paints to be produced on an industrial scale. The basic recipe of casein (milk protein), lime (calcium hydroxide) has not changed much since it was first used thousands of years ago. Ancient cave paintings used milk paint.
It normally comes as a powder that you mix with water and you can add natural pigments.
Once dry it has a light sheen and a milky, washed look that shows the wood grain. It you're after a rustic, vintage or farmhouse feel, you can easily create it with milk paint.
Advantages
made from natural ingredients, it's eco-friendly and non-toxic
very thin consistency, means it dries in about 15 minutes
Disadvantages
multiple coats are normally needed
can be tricky to mix as it easily gets lumpy
short shelf life once mixed
less available so more expensive (however, milk paint is now gaining in popularity)
Here are two milk paint options that will work well for your baby's crib.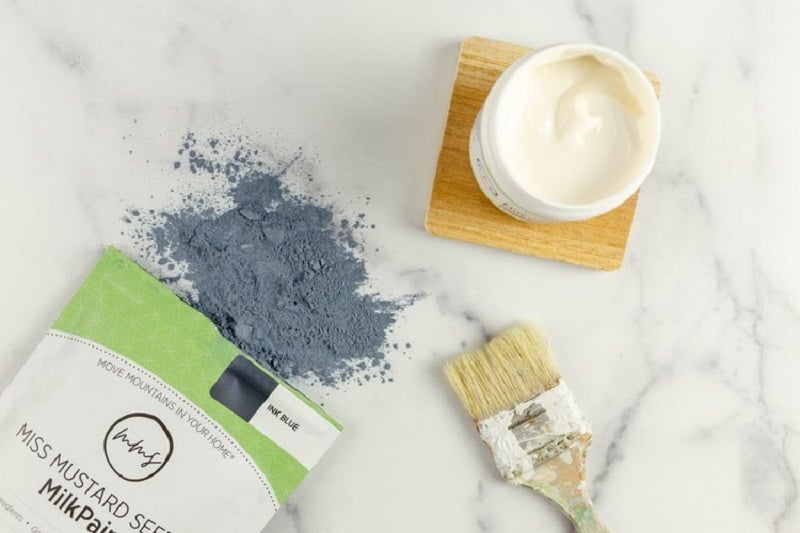 MilkPaint from Miss Mustard Seed's Milk Paint
Launched in 2012, Miss Mustard Seed's Milk Paint, is a relative young brand that proudly reveals it's MilkPaint ingredients as casein (milk protein), lime (calcium hydroxide), natural plant pigments and a plant-based filler.
It's organic and biodegradable, as well as non-toxic and food-contact safe, making it ideal for your baby's crib or other furniture.
Because milk paint doesn't have a built-in sealer, they recommend their Hempseed Oil as an all-natural topcoat.
To enable easier mixing and application, you can also purchase their non-toxic anti-foaming agent. To help bind the paint to glass, metal, lacquered surfaces as well as those previously painted, purchase their bonding agent.
They offer a total of 29 gorgeous paint colors, perfect for the nursery, baby crib and children's toys.
Their specific milk paint formula has a longer shelf life than most, lasting up to 2 weeks once mixed from it's powder form.
In terms of coverage, a gallon will cover 200-280 square feet, meaning you'll need around 3 quarts for 3 coats of the crib.
Although this type of paint requires more coats than others, drying times are super quick, less than 30 minutes, meaning you should be able to complete any painting project in a morning or afternoon.
Overall, this is a good solid option if you want to give milk paint a go on your baby's crib.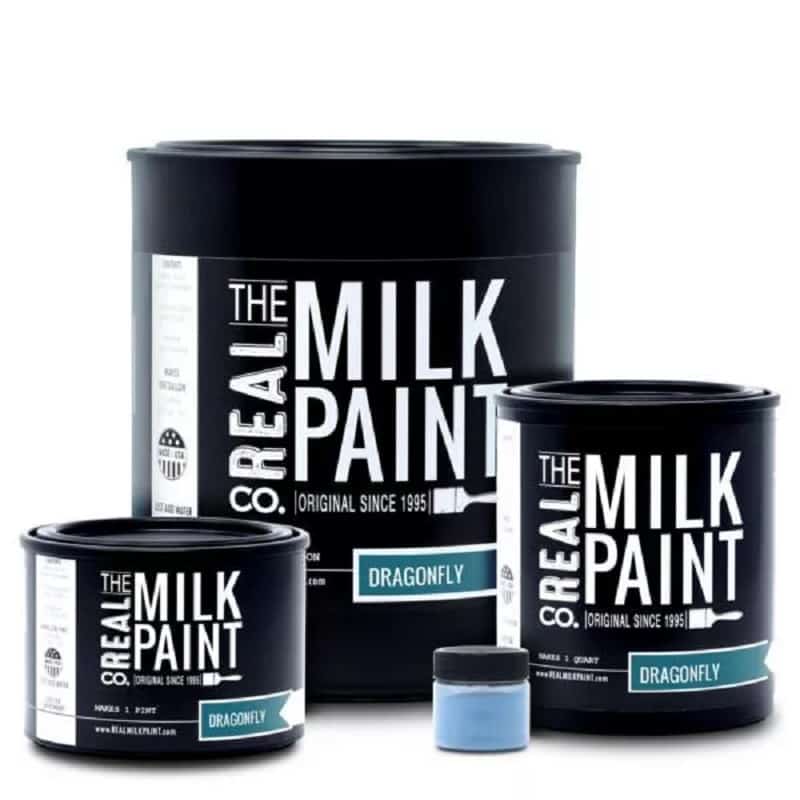 Real Milk Paint – from The Real Milk Paint Company
The Real Milk Paint Company was born out of a desire to refurbish antique furniture to their original finish, using traditional methods. Their modern day Milk Paint is non-toxic, organic, zero VOC, food contact safe and biodegradable.
For children's toys and furniture they recommend one of their non-VOC's water based top coats for durability and washability.
The Real Milk Paint Company also offer a non-toxic anti-foaming agent, for optimum mixability, and a bonding agent, to help bind the paint to non-porous surfaces and those previously painted.
It will also last up to 2 weeks if kept in the fridge and has similar speedy drying times and coverage as the last one, meaning you'll need 3 quarts for 3 coats of paint.
The Real Milk Paint Company now offers 56 shades of Milk Paint, and with all other things being equal versus the previous one, this has to be the best milk paint for a baby crib.
Best plant & mineral-based paints for a baby crib
Mineral-based paints are made from 100% natural materials making them non-toxic and a safe option for your baby's cribs.
However, paint application and coverage can be a little trickier and varies a lot by brand. Here are our top recommendations.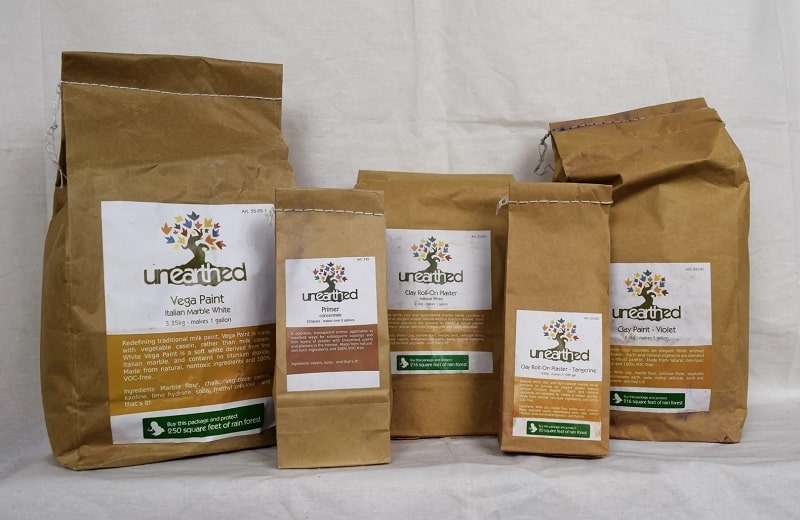 This is a plant-based paint that uses vegetable protein in an otherwise traditional milk paint recipe. Other ingredients include clay and Italian marble flour meaning it's not only 100% natural and non-toxic, but vegan too.
It's fairly slow drying, taking up to 24 hours, but one coat should be enough. It dries to a velvet matt experience and over time become increasingly durable.
It comes in bags in powder form like milk paint. A single 3.35kg bag makes 1 gallon, with an estimated coverage of 216 square feet, meaning you'll probably only use a quart of paint for the single recommended coat of the crib.
You could use the rest on other nursery furniture or why not paint the whole nursery? There are 24 pigments you can mix with the white base so you're sure to find colors to complement your nursery decor, or simply mix your own.
Like many milk paints, this one has a very short shelf life of just 24 hours once mixed from it's powder form.

If you want to give clay paint a go, BioShield is the brand of choice. They've been making their range of natural earthborn clays and pigments for 20+ years which are low-odor, non-toxic, no-VOC.
Their clay paints come in 48 different shades, from soft, pastel hues to richer, more vibrant ones, so you're sure to find the perfect color for your baby's crib.
However, clay paint is most suited to walls. It's a thick bodied paint and, after direct communication with BioShield, they stated that getting a smooth 'level' quality of finish can be challenging on furniture. It also needs to be used on raw wood or wood that has been sanded back to it's natural state which doesn't make for an easy repaint.
Brush marks are also fairly inevitable with clay paint, which may or may not be to your style.
A clear coat of #33 Aqua Resin Stain Finish is recommended for a more durable and washable finish.
BioShield estimate a coverage of 300-400 square feet per gallon, meaning you'll need two quarts for a baby crib, to apply the recommended 2 coats.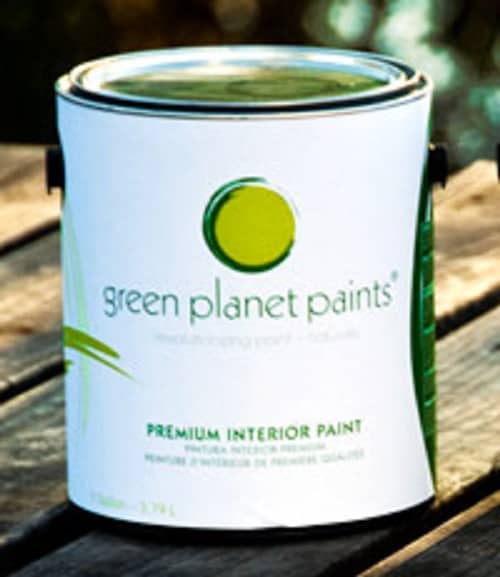 All the Green Planet Paints are made from minerals clays and plant oils. Not only are ingredients zero-VOC, they're also free of other harsh chemicals, including biocides and preservatives, making them safe for your baby's crib.
They're kind to the environment too, since the majority of the raw materials are made from the waste of other manufacturing processes.
This brand also boasts their own AgriColor technology: all their color tints are zero VOC as well as being 80% recycled bio content.
Their premium eggshell paint has an inbuilt primer for use on new and surfaces that are already painted, although gloss-painted cribs would need to be sanded to remove the sheen.
The Green Planet Paint eggshell paint is highly durable and scrubs clean with just soap and water needed.
2 coats is recommended, with a drying time of 1-2 days depending on the environment. Full curing could take up to a month, so you'd have to factor these timings in to painting your crib if you go with this paint.
With a coverage of 350-400 square feet per gallon, two quarts should be sufficient for the recommended 2 coats of your baby's crib.
With no need for a primer or topcoat and a washable, durable finish the Green Planet Paint Interior Eggshell Paint is the best mineral-based paint for baby cribs.
Best commercial chalk paints for a baby crib
Chalk finish paint has been all the rage for upcycled furniture, first developed by the now internationally acclaimed Annie Sloan.
Chalk paint has a chalky matte texture, is free of odor and dries in around an hour. Unlike milk paint, the wood grain won't show as it's a thicker consistency. However, by sanding, you can easily distress chalk paint.
Although it sounds a great baby-safe paint option for the crib, because the predominant ingredient is chalk, these paints are not necessarily non-toxic. You'd need to check that with the manufacturer.
The chalk paints below are well-known brands developed for their performance as a furniture finish rather than zero-toxicity. However, they are also ultra low in VOCs so if you already have some of this hanging about, these are a consideration for your baby's crib.
Just be sure to follow the recommended curing times before use
If you're unfamiliar with chalk paint, here are a summary of the key advantages and disadvantages:
Chalk paint advantages
it comes pre-made (unlike milk paint which needs mixing)
odor-free
dries within the hour
Chalk paint disadvantages
not necessarily non-toxic or zero-VOC
color customization is difficult – you need to mix different pre-made shades together
Chalk paint coverage
For good coverage, you'll need to apply 2 coats of chalk paint, which means you'll need around a pint or 0.5L for a baby crib.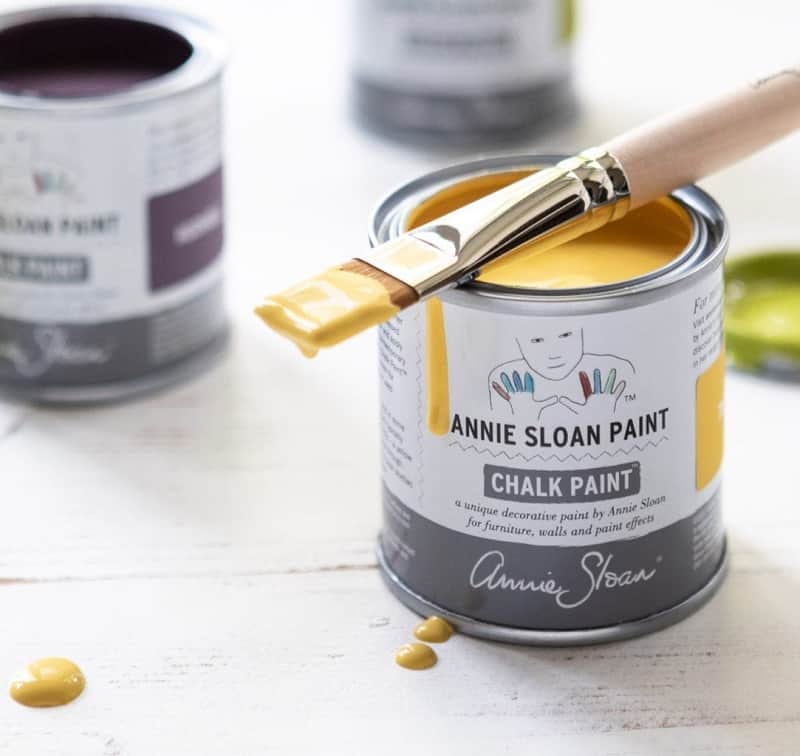 This is the forbearer of all other chalk paint designed specifically to upcycle furniture. You don't need to sand or prime before you start painting, however, the Annie Sloan Clear Chalk Paint™ Wax is recommended as a topcoat to seal and protect furniture.
Annie Sloan paints are ultra-low VOC, containing less than 5g/L and certified "Toy Safe" with an A to A+ score on the EU indoor air rating.
However, it's important to allow the wax to cure properly before using the crib, to ensure the few solvents present have evaporated, which takes 5-21 days. You can speed this up by ensuring the room is well ventilated and using an air purifier.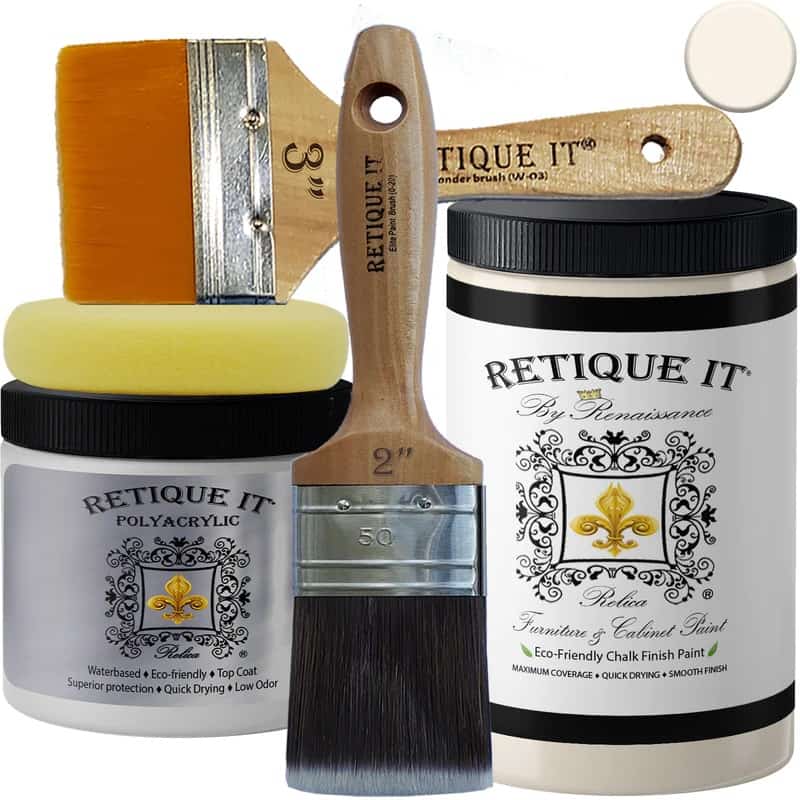 This is a premium chalk paint that boasts superb hide and excellent coverage, with a silky smooth finish. It's acrylic based, but hypoallergenic, ultra-low VOC and virtually odorless.
For an easier to clean surface, apply Retique It Polyacrylic, an eco-friendly, water-based top coat. Like the previous, be sure to allow sufficient curing time.
Neither are strictly non-toxic, but with such low VOC counts, are a good baby-safe paint option. With it's Toy Safe certification, the Annie Sloan option is the best ultra-low VOC chalk paint for a baby crib.
Best zero-VOC paints for a baby crib with eco-credentials
These paints are acrylic, water-based paints adapted from conventional paints to be zero-VOC. They're not natural, but when it comes to chemical content they're super low in anything harmful.
These are our top recommendations of the best zero-VOC paints for your baby crib based on their VOC content and other ingredients, green certifications as well as other factors like colorants and necessary primers.
If you're ever unsure or need to check specific ingredients of these paints or others, check on the SDS and data sheets that should be easily available on the sales page of each paint. I've trawled through many of these in handpicking this list of the best paints for baby cribs!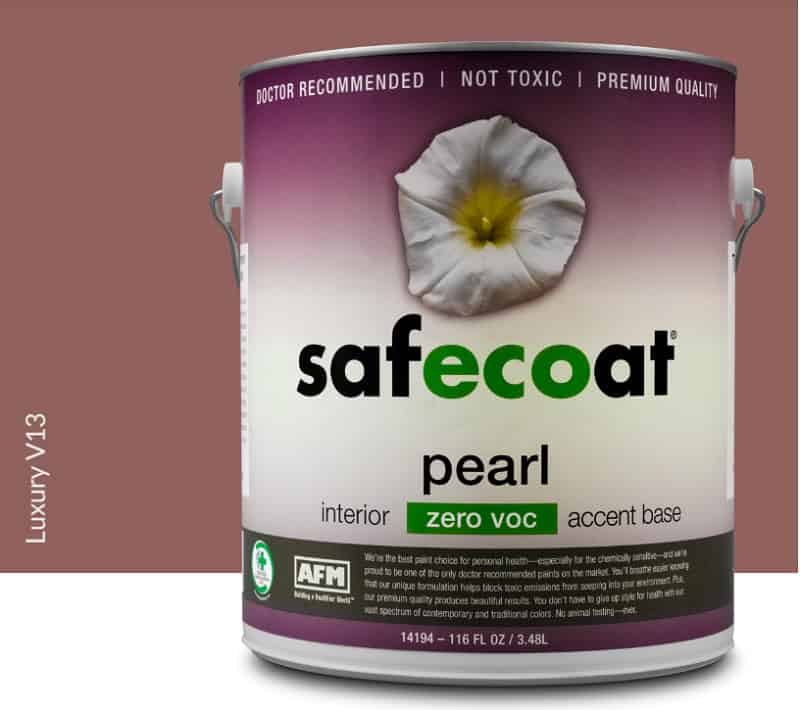 SafeCoat has zero-VOC paint in 4 different sheens and a variety of colors. They claim their products are "doctor recommended" due to the low toxicity of their paints which are designed for optimal
air quality indoors.
Although they're not certified by Green Seal or similar, SafeCoat paints are free from toxic mildewcides and fungicides that other zero-VOC paints often include.
For optimum results, prime surfaces first. However, although SafeCoat primers promise to be "low-odor", there's no mention of VOC levels, which implies they're present.
This paint has a drying time of 4-8 hours and, with a coverage of 350 square feet per gallon, you'll need 1-2 quarts to paint your baby's crib.
Overall, with an alternative primer, this zero-VOC paint from Safecoat is a good option, although not as good as others.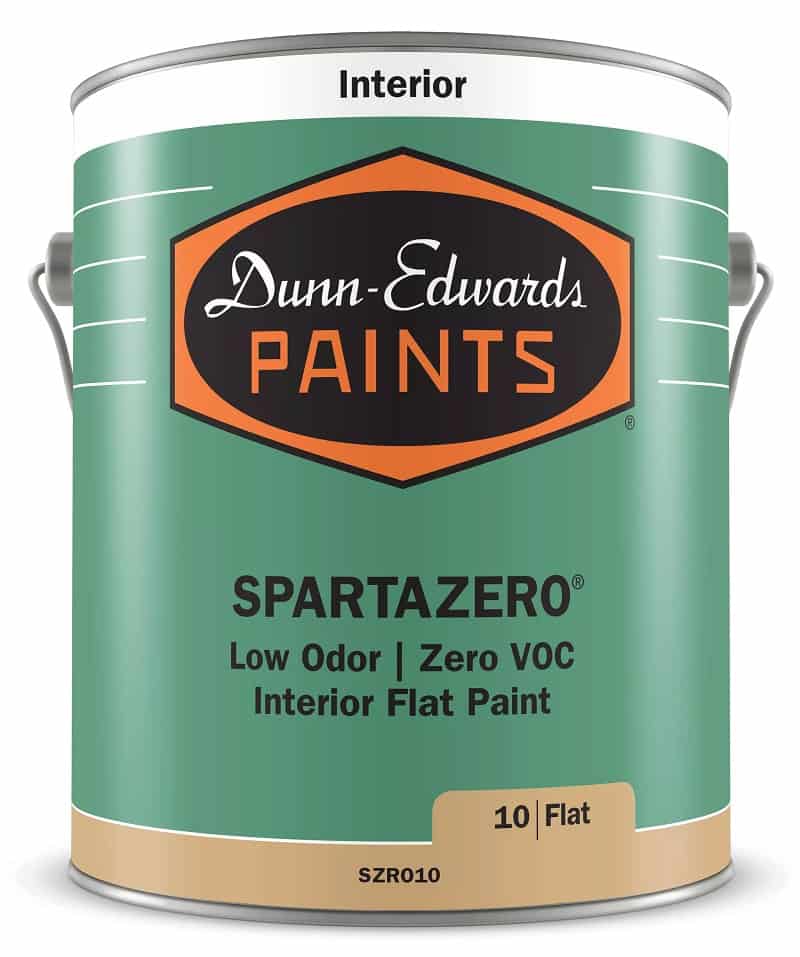 This a premium zero VOC interior paint with high durability and performance. According to the brand it performs exceptionally well on scrub tests. If you paint your baby's crib with Spartazero, it should be able to withstand multiple wipe downs needed with all those grubby finger marks!
You'll need to use the Ultra-Grip Premium multi-surface primer (ultra low-VOC) to the crib before painting.
This paint has a drying time of 1-2 hours and a coverage of 350–400 square feet per gallon. You'll need 1 to 2 quarts for 2 coats of your crib.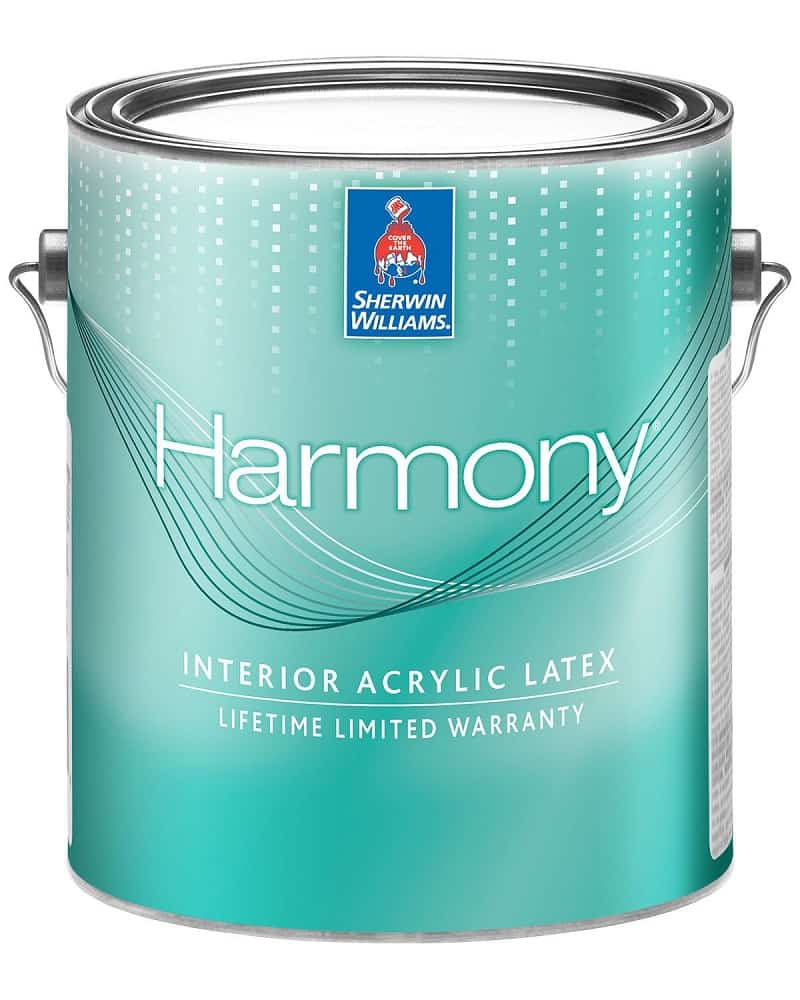 Not only is this paint zero-VOC, but it actually helps improve the quality of indoor air. It's Formaldehyde Reducing Technology* reduces the VOCs emitted from other potential sources, such as the carpet and furniture. In addition, it helps get rid of household smells by breaking down odor molecules that come into contact with the paint surface.
The Harmony range of paint does however, contain mildewcides and fungicides which probably means additional harmful chemicals have been added.
This paint comes in a variety of sheens and colors, tinted with ColorCast Ecotoner® Colorants that are free of VOCs.
The semi-gloss finish will be easiest to clean and the most durable, so is probably the best option for a baby crib.
When it comes to primers, Sherwin Williams don't offer a zero-VOC option, so you'll have to choose a different brand when it comes to prepping the crib.
This paint will be dry to touch in an hour, but should be left for 4 hours before re-painting. This paint has a similar coverage to the last 2 of 350–400 square feet per gallon, meaning 1-2 quarts will be needed for 2 coats of the baby crib.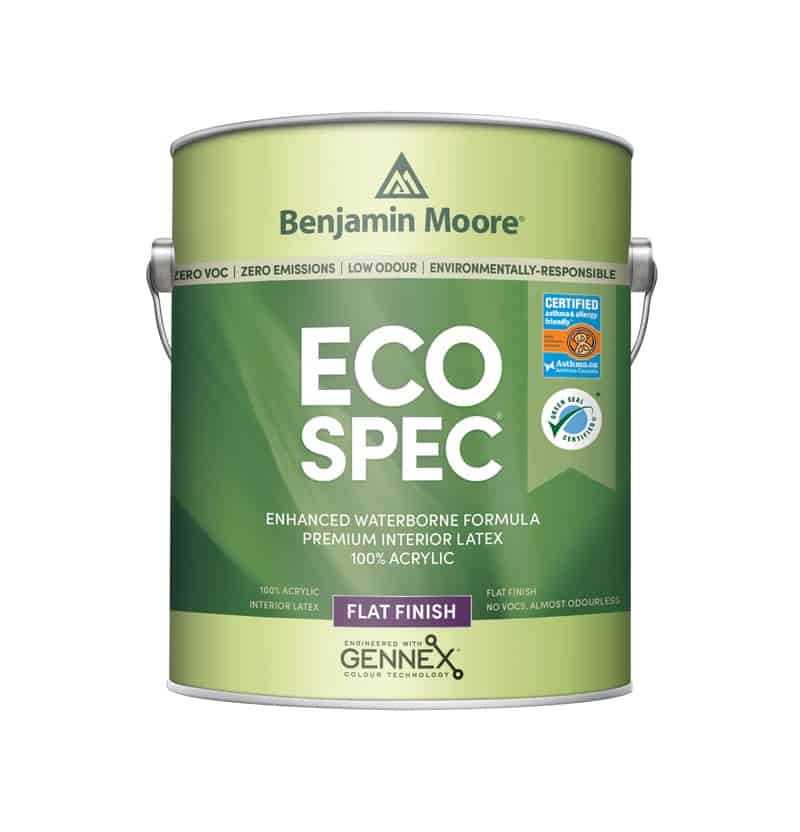 The Eco Spec range of paints is a great zero-VOC option for your baby crib. Not only is it Green Seal certified but it's approved by the Asthma and Allergy Foundation of America and Allergy Standards. If there's a history of allergies in the family and you think your little one might be affected, this paint is a serious consideration for the crib.
In terms of colorants, Benjamin Moore has zero VOC options, with their own patented Gennex colorant system.
The Eco Spec range also includes a primer and has flat, eggshell and semi-gloss finishes. The latter two will be more durable and easier to clean so perhaps the better choice of paint for a baby crib.
The Eco Spec paint from Benjamin Moore has a superior coverage to the previous zero-VOC paints. At 400-450 square feet per gallon, you should be able to easily apply 2 coats of the crib with just one quart of paint.
It's also quick drying, touch dry in 30-60 minutes, and can be repainted after a total of 2 hours.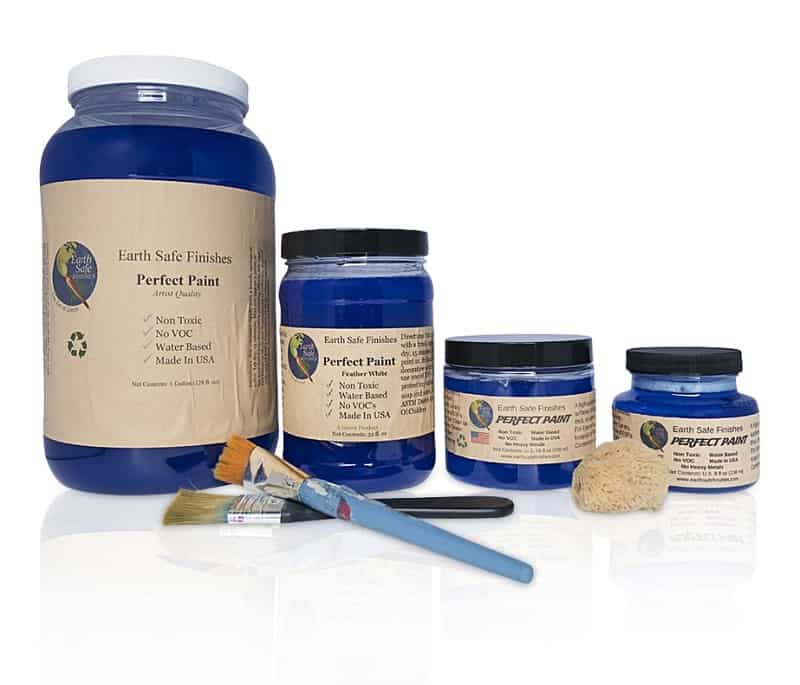 Earth Safe Finishes Baby Safe Finishes is an all in one basecoat, primer and acrylic paint. It dries in just 15 minutes to a smooth silky flat finish.
Not only is it zero-VOC, but it's free from these unregulated toxic ingredients – formaldehyde, ammonia, acetone, odor masking agents, arsenic, cadmium, heavy metals, methyl acetate, phalates, BPA, bioaccumulative toxins.
Although this isn't evident on their website, communication with Earth Safe Finishes revealed that they have a total of 7 third party certifications, including Green Seal. They're also the only paint brand to have ASTM D 6886 certification for VOC free ingredients.
Of all the zero-VOC acrylics out there, this is one of the safest products and has to be the best acrylic paint for a baby crib.
The Baby Safe Finishes range also excels with it's color options. Pick your paint color of choice for your baby crib from the gorgeous range of vibrant hues. Or if you'd rather mix your own, there are several zero-VOC colorants to choose from.
The Baby Safe Finishes range comes in small bottles suitable for crafts and decor, so for a crib, use their Perfect Paint, which is the same paint packaged in larger bottles.
With a coverage of 350 square feet per gallon, you'll need 1-2 quarts for 2 coats of a baby crib.
For durability and ease of cleaning, you'll then need to apply their Polyurethane Varnish Gloss.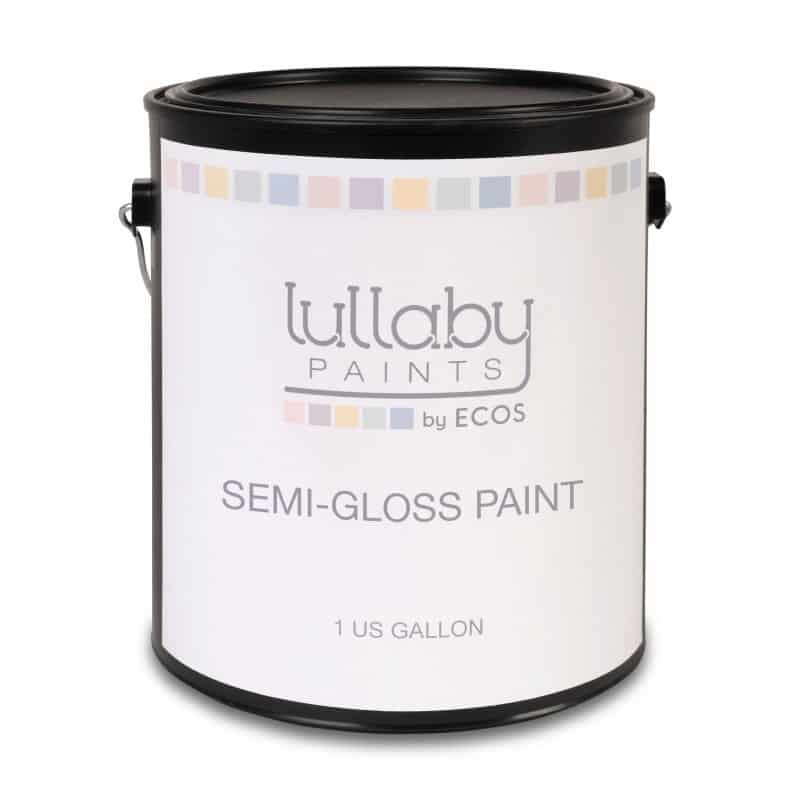 These paints were designed specifically with the nursery in mind. The Lullaby paint range includes matte, eggshell, semi-gloss and full gloss paints, as well as a furniture primer. The most suitable paint for a baby crib would be the semi or full gloss options.
The Lullaby paints have a highly durable finish that dries to a hard, washable film and you'll be spoilt for choice when it comes to picking colors for your baby's crib!
Unlike most zero-VOC paints, Ecos paints proudly share their full list of paint ingredients, meaning you can check for other chemicals besides VOCs.
Coverage is similar to other zero-VOC acrylics at 400 square feet per gallon so you'll need 1-2 quarts for the recommended two coats of the crib.
In terms of drying times, paint will be dry to touch in 30 to 60 minutes and you can repaint after 2 to 4 hours.
Rust-Oleum spray paints
Following extensive research into the best paints for a baby crib, I've seen Rust-Oleum spray paints recommended several times. On their website, Rust-Oleum spray paint claims to be, "safe for use on baby toys and furniture".
They go on to say that, "once the paint is fully cured, the solvents have evaporated and are no longer in the coating, making it non-hazardous". This is copy and pasted from this Rust-Oleum FAQ document.
However, it's not possible to easily find the VOC level of the spray paint, and the ingredients include the solvents, Acetone, n-Butyl Acetate, Naptha, Xylene. So VOCs are definitely present, meaning that even when the paint has cured these will still be emitted at low levels.
They do stock some zero-VOC primers but no zero-VOC interior paints currently.
FAQs on baby-safe paints for the crib
Now that I'm almost coming to a wrap with this blog post, I thought I'd answer a handful of frequently asked questions to clear any queries you may have in mind. So, let's hop in!
What Kind Of Paint Can You Use On Baby Furniture?
Is Zero-VOC Paint Safe For Babies?
Yes, zero-VOC paints are one of the top options to consider when it comes to safe paint. Babies and toddlers are highly vulnerable to the effects of the volatile organic compounds emitted from paint. This is especially true for little ones with sensitive skin and respiratory conditions. They must be kept away from VOCs for their safety.
With that said, VOCs are hazardous to children without health conditions or sensitivities, too. So, zero-VOC paint is one of the best options to go for.
Low-VOC paints can contain up to 50 grams of VOCs per liter, so you want to stay away from these when it comes to your baby's room and furniture.
Remember, even zero-VOC paints can have minute amounts of VOCs present.
The best way to proceed is by painting the crib ahead of time and ensuring good air ventilation around it afterward. This allows fumes (if any) to subside before your baby starts using it.
Is Chalk Paint Safe For Baby Cribs?
Yes, chalk paint is safe for baby cribs, provided you allow four to six weeks for the paint and wax to cure before using the crib. Chalk paint is water-based, and you can find them in natural and zero-VOC options too.
Is Latex Paint Safe For Baby Cribs?
This really depends on the type of latex paint you're using. There are a variety of latex paint types, and multiple brands offer low and zero-VOC options. That is to say, it all depends on the VOC content. You can check with the particular paint/brand — if the VOCs are low, you can go for it.
Is Sherwin Williams Paint Safe For Cribs?
Sherwin Williams' paints come in a vast variety, with a fraction of them being safe for cribs. Some of their products, such as Harmony, come with a zero-VOC policy and odor-eliminating technology — making them safe for baby cribs. Keep reading to learn more about this type of paint!
Does Dulux paint have a baby safe option for the cot?
Dulux has an ultra zero VOC paint that is LEED v4 certified. However, so far it's not been possible to establish exactly what the VOC content is. If you're considering Dulux for your baby's cot, then you'd need to make further enquires with Dulux.
How can I safely paint a baby crib?
Painting a crib isn't a technical task, but it's also not the same as the painting activities you do with your little ones. Here are general guidelines on how to paint a crib:
Gently sand the crib using sandpaper or a sanding sponge. Once done, wipe away any residue with a tack cloth.
Apply one coat of primer for optimal results. This is especially important if your crib is not already painted or if you're changing the color drastically. Allow the primer to dry thoroughly before proceeding to the next step.
Lightly sand the surface again, removing any dust with a cloth.
Apply paint with a high-quality brush, in the direction of the wood grain. Try to use even brush strokes.
After the first layer is dried, proceed with another layer of evenly-applied paint.
Allow the crib to dry for twice as long as the manufacturer recommends. Ideally, you'd do this in the open air. If you're letting it dry indoors, use a fan and open windows to promote good ventilation.
Spray Painting Vs. Brush Painting — Which Is Better?
Whether you spray paint your baby's crib or use a brush is up to you. Each has pros and cons.

Spray painting your crib
Here we're talking about using a spray paint gun to use the paint of your choice. No aerosol spray paints are zero-VOC meaning they're simply aren't any safe spray paints for your baby's crib or any other furniture.
Unless you already have a spray paint gun, this option will require a bit of investment. A good option perhaps only if you have other large painting projects on the horizon.
If you do go with this, there are some advantages. Spray painting is incredibly fast, can get into hard-to-reach corners, and offers a smooth finish free of brush marks. But it's also a messy job that you'll need to take outside or to the workshop.
Spray painting also uses more paint and works best with conventional paints.
Brush painting
On the other hand, brush painting offers excellent adhesion and uniform coverage. But it'd take you much longer to paint with a brush, and obstructions can make it difficult to access particular spots.
Giving your baby's room a full makeover? Consider green paint – here are some gorgeous If you're in for green paint — here are green nursery ideas to get inspiration from! to inspire you.
The most important choice, though, is the paint itself. Read on for the the best paints for your baby's crib.
How long should I wait after painting until the crib is safe for my baby to use?
Your baby crib will dry within the drying period recommended by your manufacturer. But our aim isn't only drying — we also want any VOCs (if present) to subside before the baby begins to use the crib.
So, you'd ideally want to wait at least 2 months before using the crib. This ensures the crib — and the environment and air of the room — are safe for your baby.
How much paint will I need to paint the crib?
The average crib has a paintable area of around 60 square feet (in paint-able area) – that's the figure you need to start with. The amount of paint you need will depend on both the coverage specific to that paint as well as the number of coats the crib will need.
Estimated coverage as supplied by the manufacturer and the number of necessary applications have been in included for each paint in this list of the best paints for baby cribs.
Painting a nursery while pregnant: Is it safe?
Painting while pregnant is not recommended, and you'd be better off asking a friend or family member to do it for you. But if that's not possible, you can take up the painting project yourself. Just be sure to be careful and follow these guidelines:
Use a zero-VOC or non-toxic natural paint, like one of the ones on this list.
If you go with a regular paint, wear a mask while painting and paint the crib outside if possible. If you paint it inside, ensure proper ventilation through open windows and use floor fans set at low as well.
Ask a friend for help to reach higher areas. Remember, you have to keep your feet on the ground and avoid using a ladder or step!
If you feel lightheaded or unwell during the process, stop right away. Listen to your body when it asks you to move away from paint.
How long do VOCs last after painting with a regular paint?
Most VOCs off-gas into the air as the paint dries. However, the process can continue for up to 6 months, with some VOCs lasting in minute amounts for years. That is why choosing a zero-VOC paint is essential for your baby crib (and, ideally, the rest of the nursery, too).
How can I paint a crib without sanding?
If you're giving your already-painted crib a fresh coat of similar-hued paint, you may not need to sand, but if the crib is much darker paint but still in decent condition, don't sand, apply a primer before painting.
However, if the paint work is in poor condition, then sanding scuffs and chips away is normally recommended. There are some low-VOC chalk paints on the list above that require minimal preparation of the surface, which means you can skip sanding and priming and dive right into painting.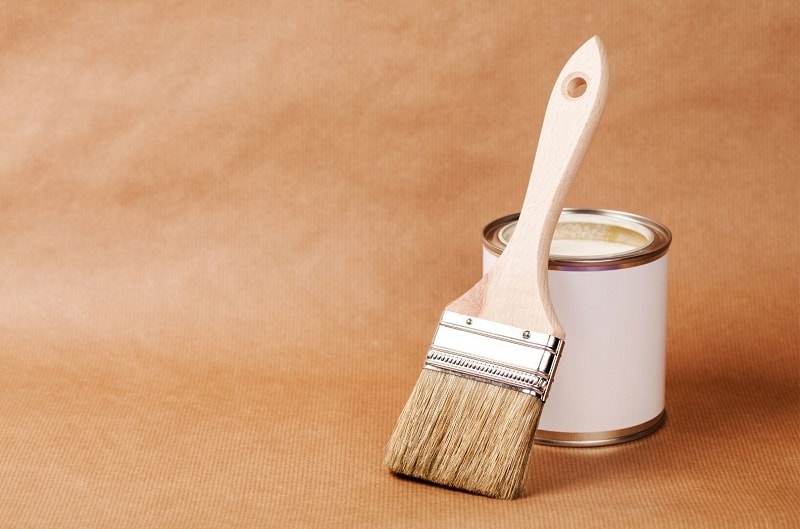 So what is the best paint for a baby crib?
Whether you're sprucing up your toddler's crib and nursery dresser for the new baby or giving a makeover to your 6-month-old's nursery, you should now be armed with the information you need to choose some baby-safe paint with zero chemical exposure.
There are some good safe zero-VOC acrylic paint options. These are the most similar to regular paints. Perfect Paint Baby Safe Finishes from Earth Safe Finishes took the prize for the best paint for a baby crib of this type. However, you may choose to go for a natural and 100% natural non-toxic paint. It's personal preference.
With longer shelf lives and superior performance, milk paints have come a long way. The best milk paint for a baby crib goes to the Real Milk Paint from The Real Milk Paint Company.
Mineral and plant based paints are also on the up. As a primer, paint and topcoat all in one, plus great eco-credentials, the clay based Premium Interior Eggshell Paint from Green Planet Paints would be the one to try.
Or if you just want a natural wood finish, the Original Wood Finish from Tried & True is the one to go for.
Whichever you try, please do share your experience below. I'm all about helping new mamas on their motherhood journey and would appreciate your input, too!