If you're looking for nursery ideas that are earthy and natural, you'll love this roundup of 75 gorgeously green nurseries. Whether you're drawn to dark greens or minty shades there's sure to be a color palette here that will inspire you.
My green of choice for my twins nursery is sage but I'm still not feeling brave enough to actually put it on the walls.
I've gone for the vintage look and I'm sure a dark hunter green or a lighter sage will work wonderfully with the warmth of the stunning old pine dresser I picked up at a flea market.
But I'm not that sure… if you know what I mean.
In compiling this list of green nursery ideas I've done a good job of procrastinating making a final decision, that's for sure!
Hopefully, by the end of this post, you'll be closer to knowing which shade of green to use and have more of an idea of the look and feel you want to go for. So take a look and get inspired!
Is green good for a nursery?
Will color affect my baby?
Colors will have very little effect on your baby as a newborn. At birth they only see in black and white and shades of grey; it's only at around 4 months that your baby's color vision will start to develop. However, when able to fully discriminate all the different colors, will color affect your baby?
There's evidence to suggest that colors can impact mood in adults and even evoke different physiological reactions.
Blue can have a calming affect on the brain in adults (source) and there's strong belief by some that light color therapy can be used to treat certain ailments.
However, this is not yet accepted by Western medicine; further research is definitely needed.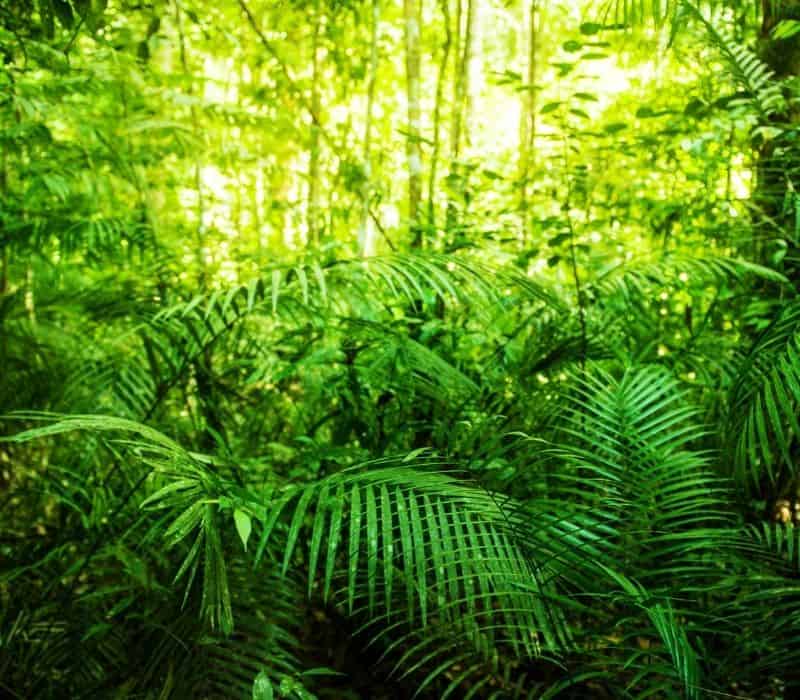 In terms of color psychology, red is an energetic color thought to evoke feelings of excitement, strength and boldness, while purple conveys royalty, luxury and elegance.
With a strong association with nature, green is thought to be calming and tranquil although some people find it a color that motivates. You can read more about the color meaning and psychology of green here.
Despite the association of calm with blue, as suggested by the research cited, blue is also often thought to denote coldness and sadness.
There's certainly no hard and fast rule when it comes to colors and environmental factors have a big part to play. experience and culture have shaped our feelings towards each color.
For example, purple dye was rare centuries ago and so reserved for royalty, hence its association.
So, for babies, color psychology will likely have little impact, perhaps none even. But, since we, as parents, will also be spending a lot of time in the nursery, choosing your nursery color scheme is still worth taking the time on.
What colors help babies sleep?
Since blue is thought to calm us as adults, it's perhaps the best color for promoting adult sleep. However, when it comes to your baby's sleep, your choice of color won't be as important, since there's as yet no evidence that babies are influenced by color.
For the nursery, the tone and depth of color will be more important. Avoid vibrant colors that may stimulate your little one's brain and suppress the sleep-inducing hormone, melatonin. Stick to muted colors and tones instead.
If you're looking for ways to ensure baby settles well at bedtime and sleeps long stretches, a solid bedtime routine and daily schedule are the things to focus on. These posts are a must-read:
Baby sleep strategies: How to help your baby sleep through the night in 10 steps (NO CIO)
Starting A Newborn Sleep & Feeding Schedule That You And Your Baby Will Love
How to get your newborn to sleep in a bassinet instead of your arms with 12 different tactics
Newborn sleep patterns: decoded and demystified for healthy sleep habits
So is green good for baby's nursery?
So we've established a few things: green is a restful color and has a strong association with nature. It can help to create a serene environment for parents but babies are unlikely to be affected since they're not influenced by color.
To promote sleep in babies, muted colors and tones are recommended; as long as you don't pick a neon shade, green falls into that category.
So in this respect, green is good for a nursery.
Green is also a gender-neutral color, which can be helpful if you're not sure whether you're going to have a boy or a girl or are having girl-boy twins, as I am.
Green is also a good color to choose if you don't want to go with the traditional gender-specific colors of pink and blue, but want some color in the nursery. It's a much better choice than yellow, orange or red, colors at the red end of the spectrum, that tend to be bright and vibrant and could stimulate your baby's brain when you're trying to settle them.
Which shade of green should you choose?
When it comes to choosing a shade of green, there are a lot of options out there. Do you want something sage-y? Minty? A deep, dark, hunter green? Or a light, pale green? It can be tough to decide.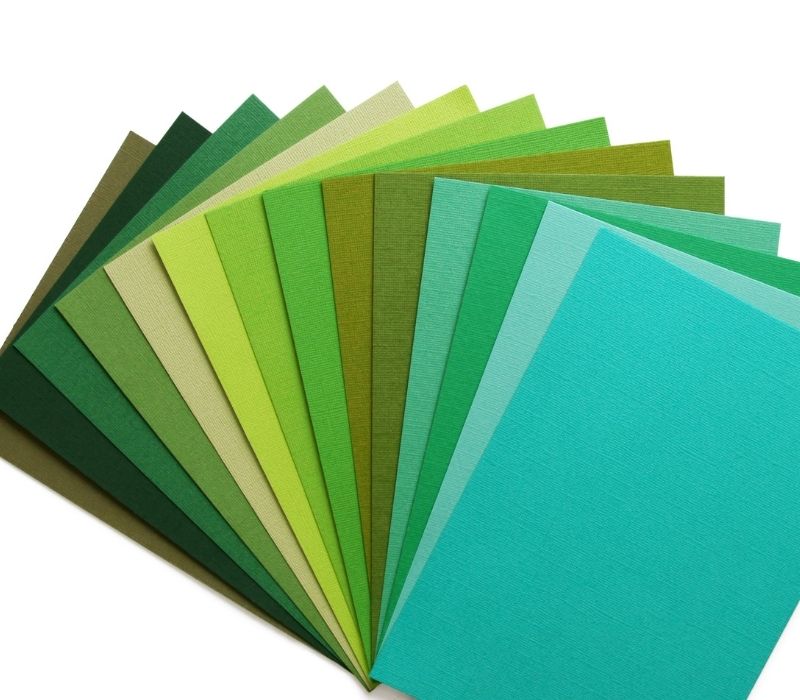 Fancy a sage green nursery?
For the ultimate in calmness and serenity, sage green is the shade to go for. It's a versatile color that can work in both traditional and contemporary spaces and it seems sage green is all the rage now, meaning plenty of choice in sage green paint colors.
How about pale green?
Pale green and lighter shade are a great option for a smaller nursery or one with little natural light, adding a soft green hue with a light airy feel.
What about a mint green nursery?
For a refreshing clean look, mint is a good choice, as long as it's in a pale tone that doesn't jump out and invigorate too much.
Or try a dark green or other stronger, richer shades like hunter green or olive
If you're feeling brave, dark green might be your choice for the nursery…Rich, bold and sophisticated, a dark hunter green will add a touch of drama. Or how about olive for a bit of depth and richness?
These dark green shades are a lot more grown-up, perfect if your nursery needs to be offered as a guest room on occasion, but be aware that dark colors can make a room feel smaller. If darker greens take your fancy, consider just painting a single wall of the nursery, or painting the top or bottom half of all the walls.
To help you decide, the green baby nursery ideas in the list below are categorized by shade of green, from sage green to dark green nusery ideas. So take a look and get inspired to create the gloriously gorgeous green nursery of your dreams!
SAGE green nursery ideas
When it comes to green nursery ideas, sage seems to be all the rage!
I'm not normally one to jump on the bandwagon, but I've also fallen for this particular shade of green – it just seems to have the perfect amount of depth and I love the natural look it seems to bring to any nursery.
Reminiscent of the African grasslands, this shade provides the perfect backdrop for a safari-themed nursery, so expect plenty of lion, monkey and elephant decor in this section of sage green nursery ideas. Enjoy!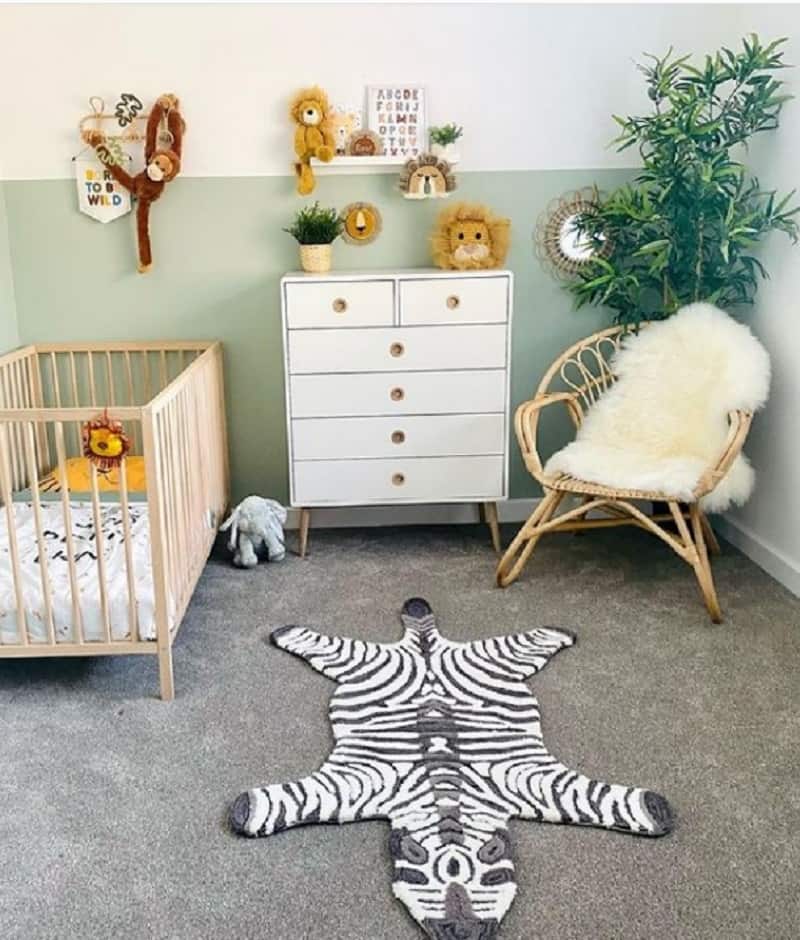 How adorable is this safari-themed nursery? I'm a little bit in love with the zebra print rug – ideal for the nursery since black and white stimulates visual development in newborns.
Paint brand and color: English sage by Wilko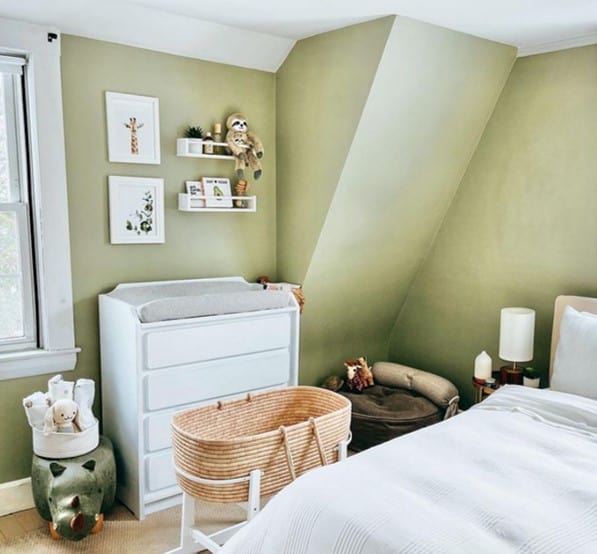 No room for a separate nursery? With a splash of sage green in your bedroom, creating a cozy nook for your baby has never been easier. This color is great for any room and will blend with not just baby accessories but your things too!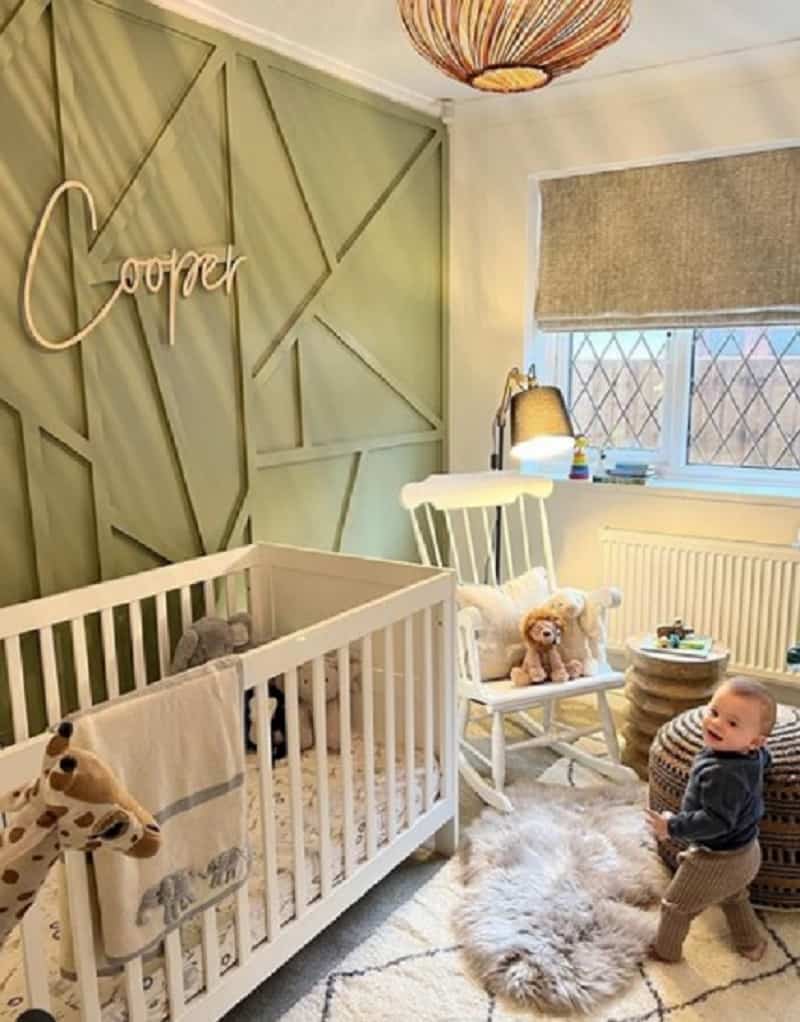 This one is just adorable —look at how that gold name sign just pops against the sage green wall. If you are looking to add a bit of pizzazz to the nursery, this shade of green compliments just about anything

Paint brand and color: Dried Sage by Dulux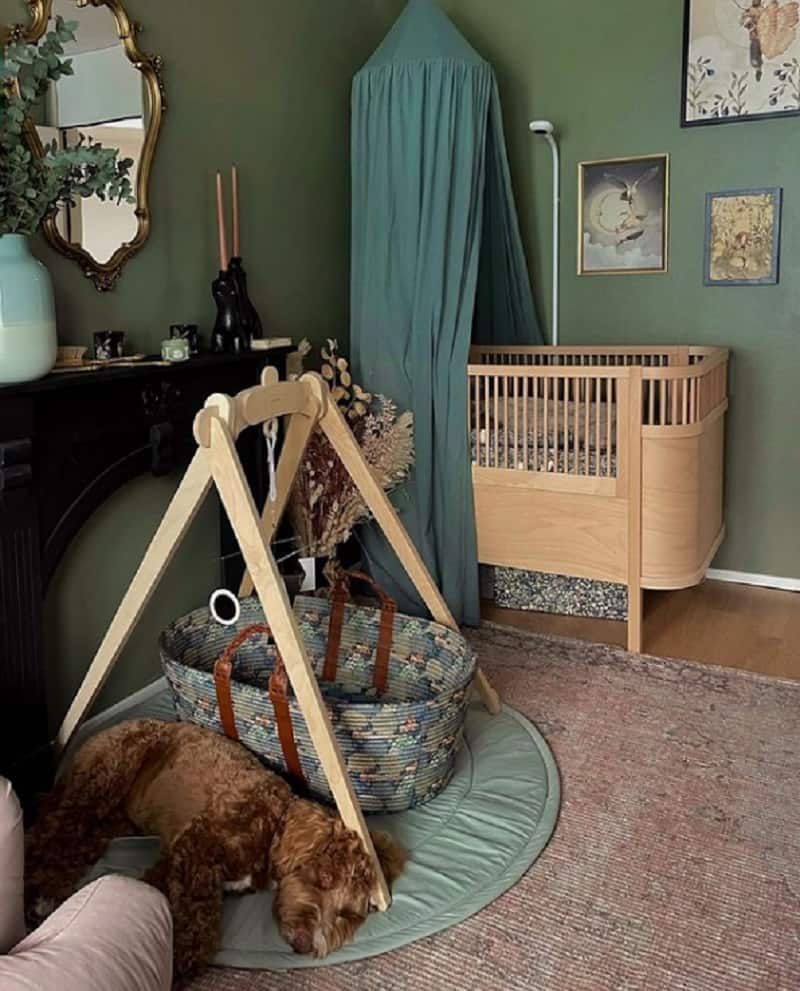 Here's a darker, deeper shade of sage in this classic green nursery. The old-fashioned fairy prints and the heavy gilt mirror give it an almost romantic feel, I'm a big fan!
Paint brand and color: Treron by Farrow & Ball
When looking at sage green nursery ideas, this room is proof that it doesn't have to be the central color. The majority of the room is white, with just a hint of green offering a bright and airy neutral gender space.
Paint brand and color: Sage Green by Crown Paints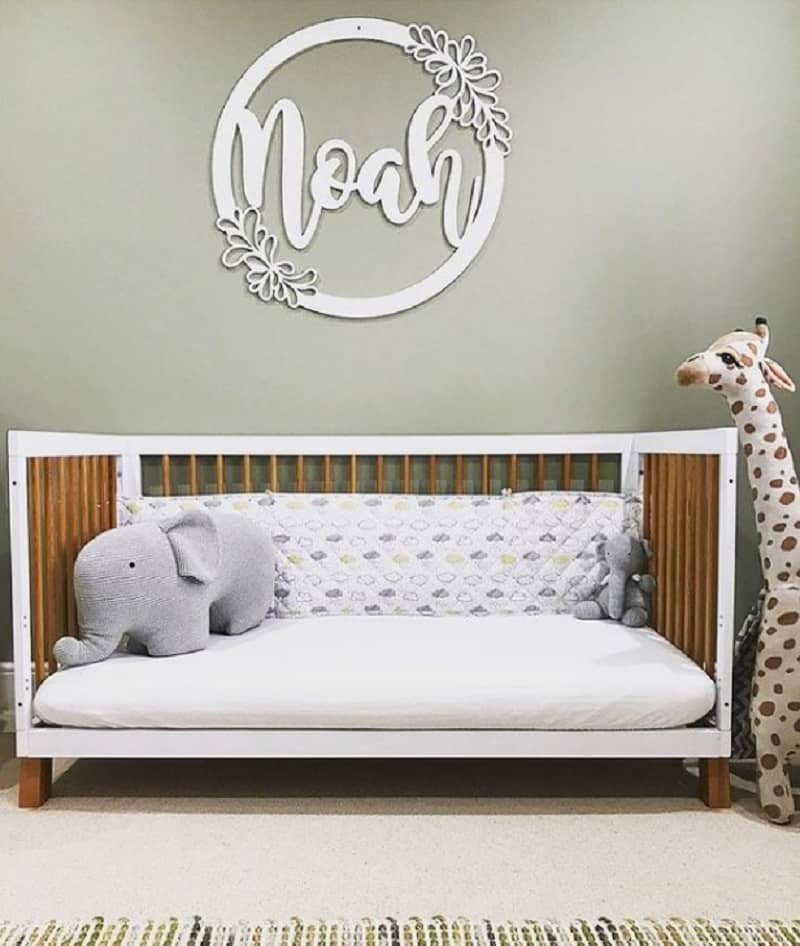 If you plan on painting the whole wall green, it'll make bright, white elements like this name sign really pop. And look how cute those stuffed safari animals against the sage green.
Paint brand and color: Overtly Olive by Dulux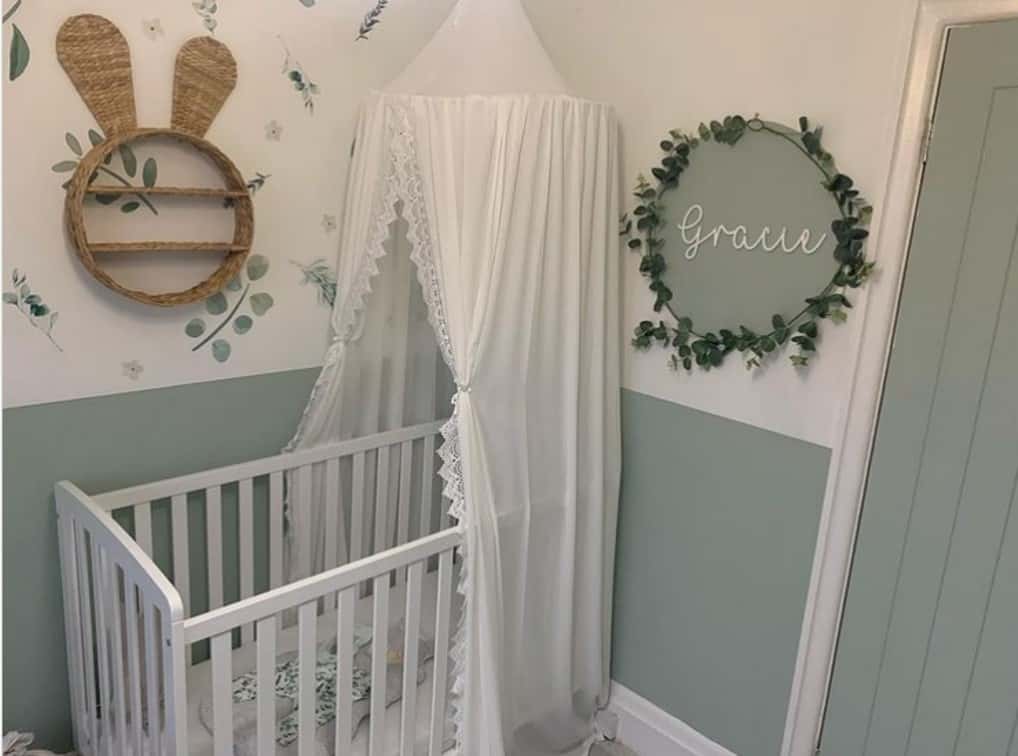 A regal touch for your little one? Yes please. Sage green is an excellent, gender-neutral color that can pretty much be incorporated irrespective of the decor. Doesn't that crib canopy look gorgeous with all the leafy elements?

Paint brand and color: Blue 03 Matt by Lick (Light blue with green undertones)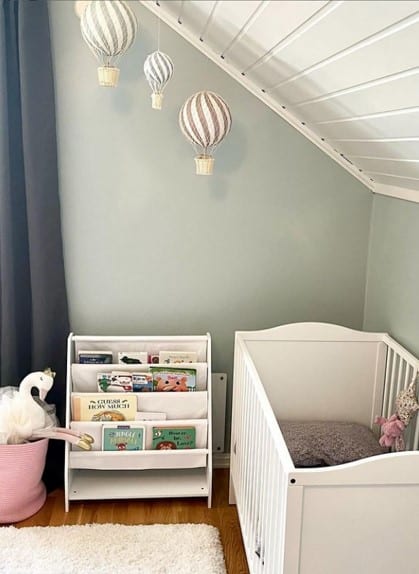 Those little hot air balloon wall hangings look amazing, don't they? Give this lovely nursery a bit of a vintage feel. I'm also loving the warm wood nursery floor and cosy fluffy rug – lots of different textures that work so well together.
Paint brand and color: Nordic Breeze by Jotun
Overly decorated nurseries with over-the-top accessories aren't for everyone. This is why this shade of green is ideal for a simple and minimalistic nursery. Just hang a few eye-catching pictures and you're good to go.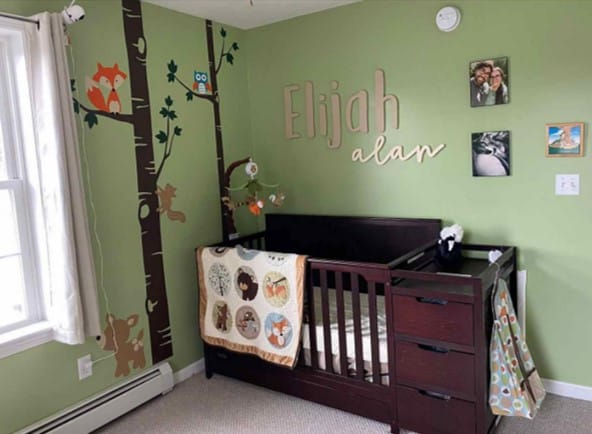 Moms, I don't know about you but I am loving the dark wood of the crib and diaper station. They work so well with the tree trunks of the woodland-themed wall decals. The sage green wall provides the perfect backdrop.
Paint brand and color: Sweet Grass by Behr Marquee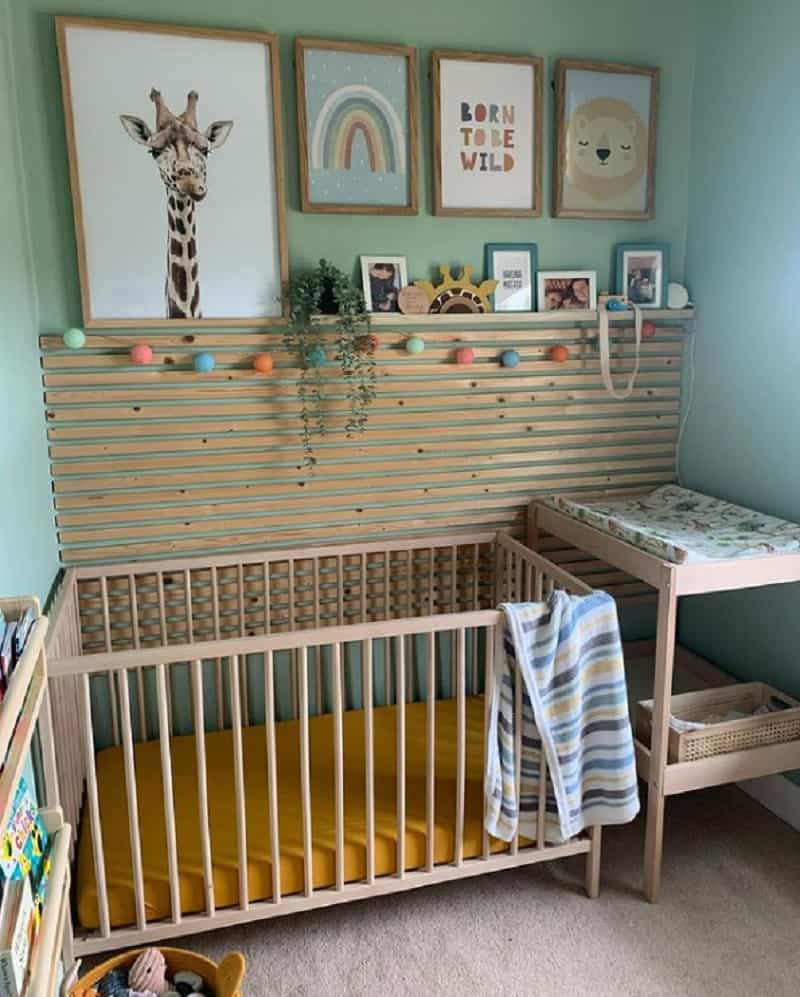 This is a sage green nursery idea with a simple, rustic feel. The light-colored furniture and picture frames work together seamlessly against the green, the perfect combination for this jungle-themed nursery.
Paint brand and color: Sage Green by Wickes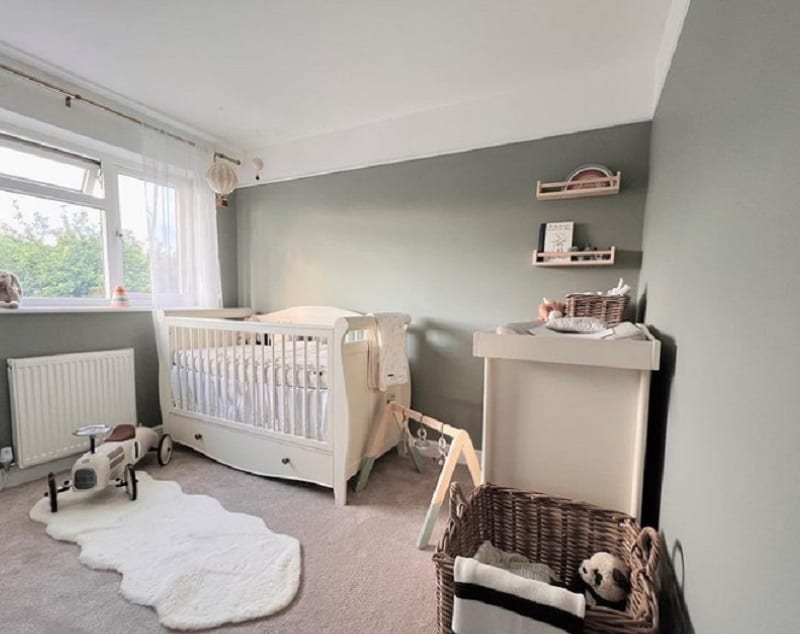 This sage green has an almost grey tint to it which could feel a little cold, but with bright white furniture combined with the natural textures of the sumptuous rug and wicker basket, it's anything but. That crib looks fit for a little King or Queen! And it's hard to tell which: this is neutral nursery inspiration at its best.
Paint brand and color: Pigeon by Farrow & Ball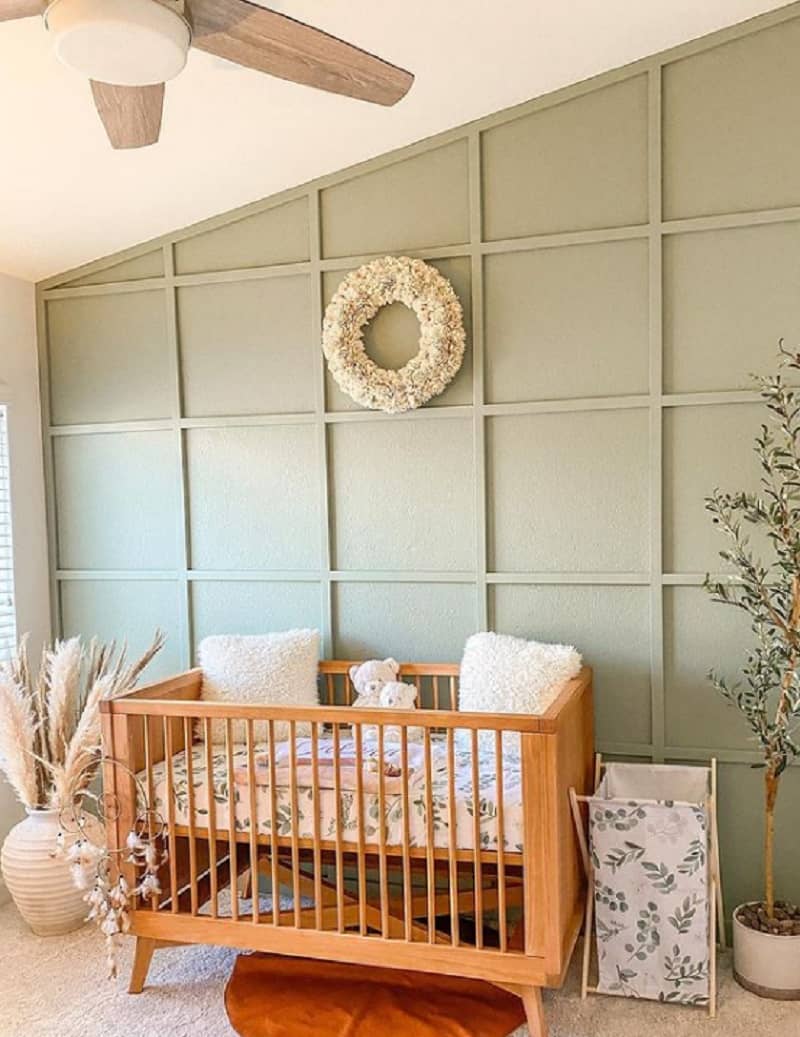 And last of the sage green nursery ideas is a real gem. Paneled green feature wall and some lovely natural, botanical elements. Another beautiful nursery!
Paint brand and color: Willow Tree in eggshell by Sherwin Williams
DARK GREEN and HUNTER GREEN nursery ideas
Here are some fabulous dark green baby nursery ideas, with plenty of deep shades, from hunter green to first green. If you are looking to make a statement, you might find just the idea right here. These deeper hues pair really well with other rich toned materials like leather and wood.
Go bright and light with furniture and accessories to create an inviting and cozy nursery space with a touch of drama.
Let's take a look at some dark green nursery ideas, shall we?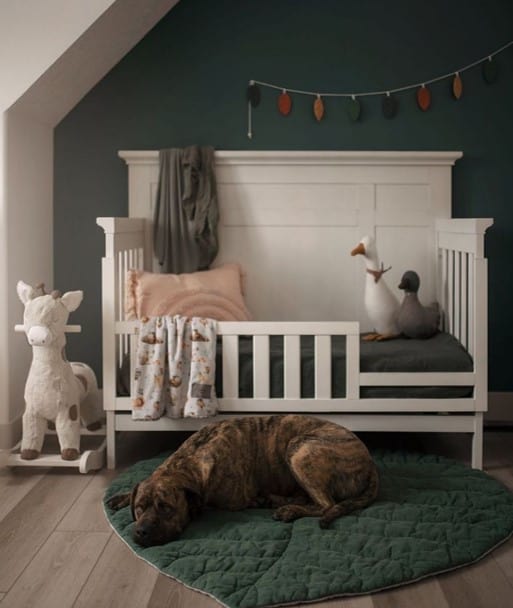 A beautifully deep and rich dark green to get started in this strikingly bold nursery. Combined with the white crib and bright charismatic toys it's a simple yet stunning combination! My only question is, is the dog real?!
Paint brand and color: dark blueish-green by Brooklyn by Behr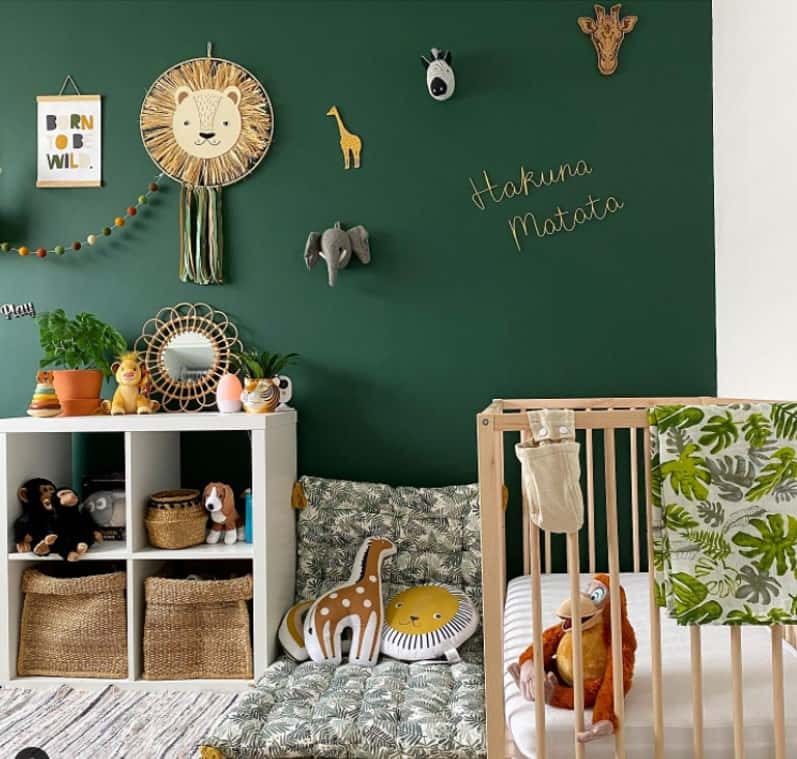 This adorable safari-themed nursery is a little bit boho and accessorized to the max. Everything in this room is gorgeous, especially the "Hakuna Matata" sign – simple words of wisdom that are hard to remember sometimes in those early months with a baby!
Paint brand and color: Galapagos by Valspar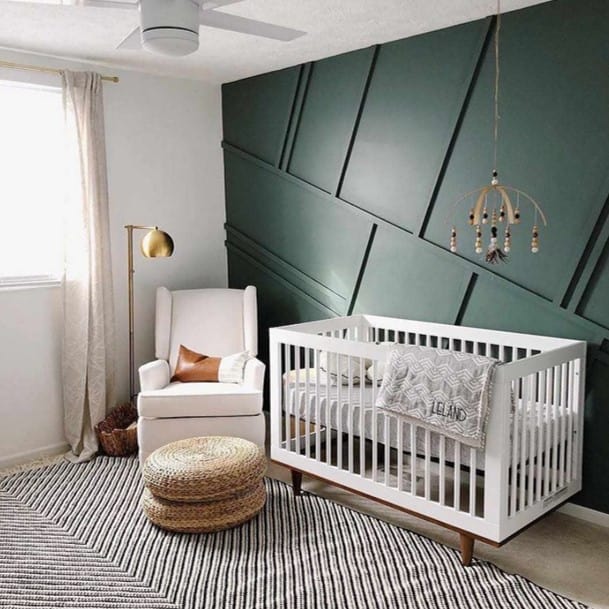 Gold accents in a studio green room? Ideal! Gold and green are such a winning combination. I love the baby mobile which looks a little like a beaded chandelier and the monochrome rug is to die for!
Paint brand and color: Studio Green by Farrow & Ball (Alternatives/Similar: Rock Bottom by Sherwin Williams Rock or Carriage green by Farrow & Ball)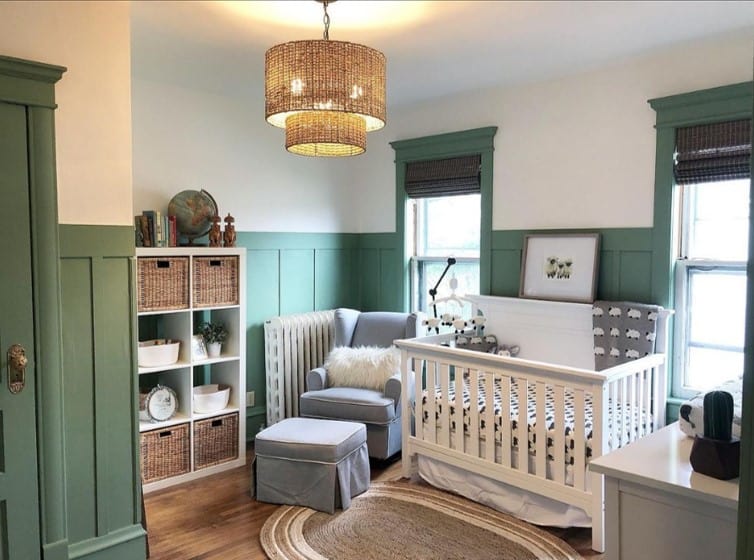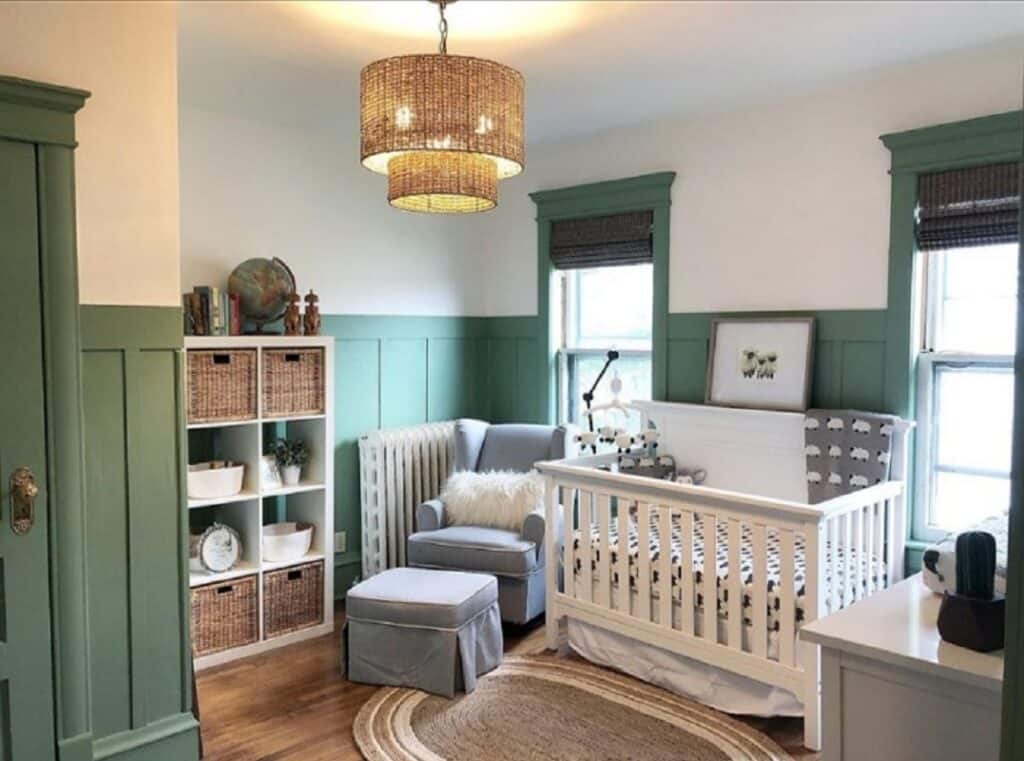 A simple green and gray nursery idea with the wicker baskets, rug and light shade bringing it all together beautifully. If you are looking for a bit of a natural-regal combination in terms of decor, this may be it.
Paint brand and color: Laurel Tree by Behr Paint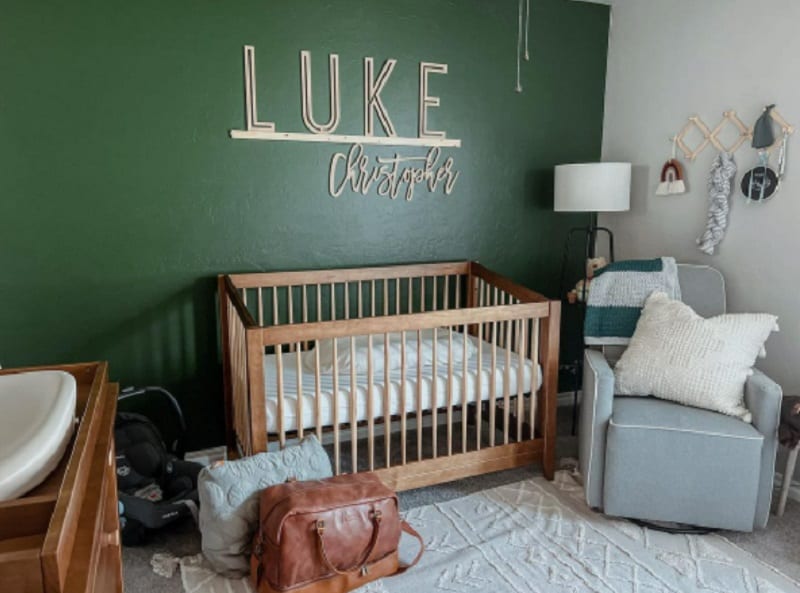 This color is called Woodland Lichen and true to its name, it instantly transports you to a land full of trees. It's no wonder the rich golden wooden crib and furniture goes so well against the rich dark shade.
Paint brand and color: Woodland lichen by Sherwin Williams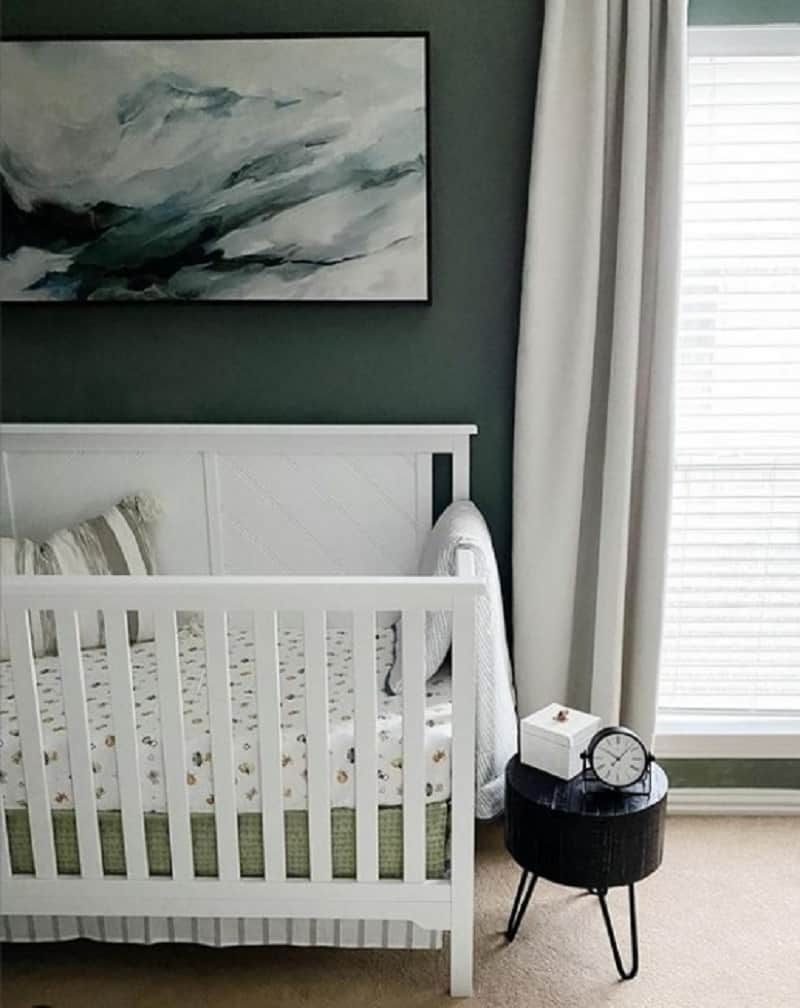 This dark green nursery idea, with the stunning art print above the crib and cream and beige shades, blend seamlessly together to produce an almost moody look. A grown-up sophisticated space.
Paint brand and color: SW Retreat by Sherwin-Williams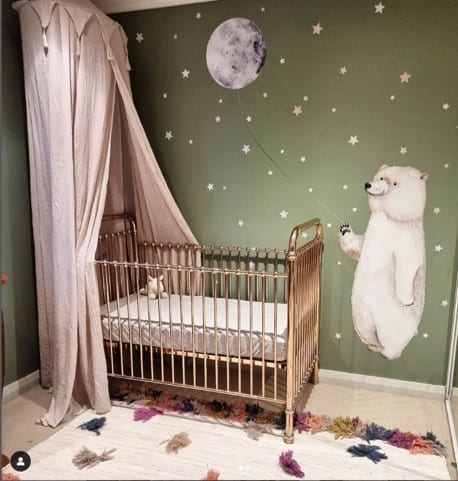 As far as dark green nursery ideas go, this one is my favorite. This gray-green shade looks great with warmer tones of yellow, mustard and copper. And how cute is that basket lamp? Another balanced room indeed!
Paint brand and color: Card Room Green by Farrow & Ball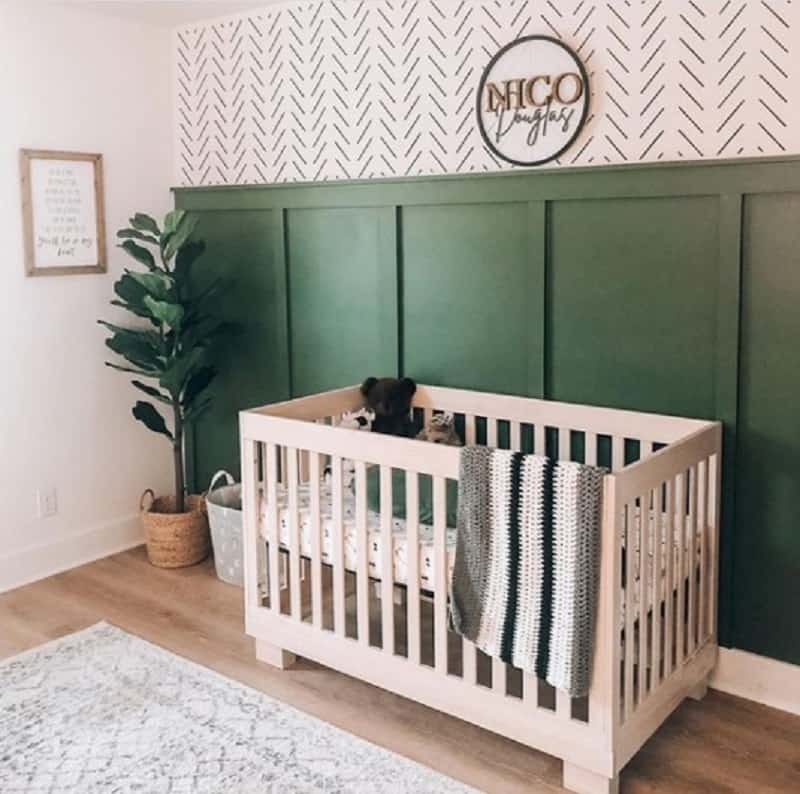 This particular shade of green has a lovely warn and rich tone. If you're looking to add bold accents this is a great color to go for. It looks wonderful paired with the light wood crib, wooden floor and patterned wallpaper.
Paint brand and color: Laurel Garland by Behr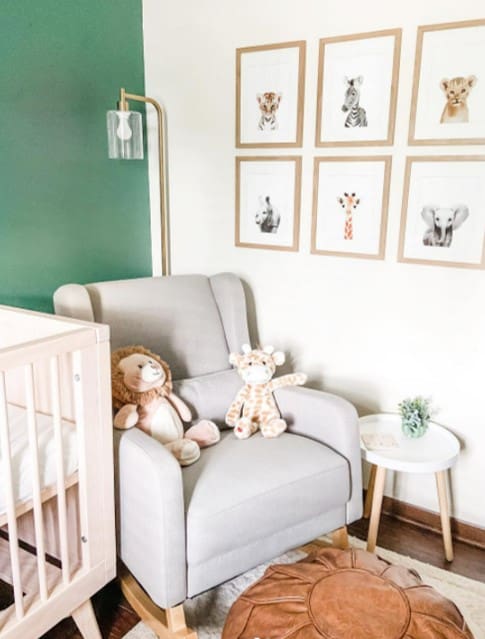 This forest green isn't quite as dark as other shades but provides a lovely contrast against the warm wood tones and pale grey glider chair. The hints of gold and ochre in the lamp and leather pouffe bring it all together.
Paint brand and color: Wilderness by Valspar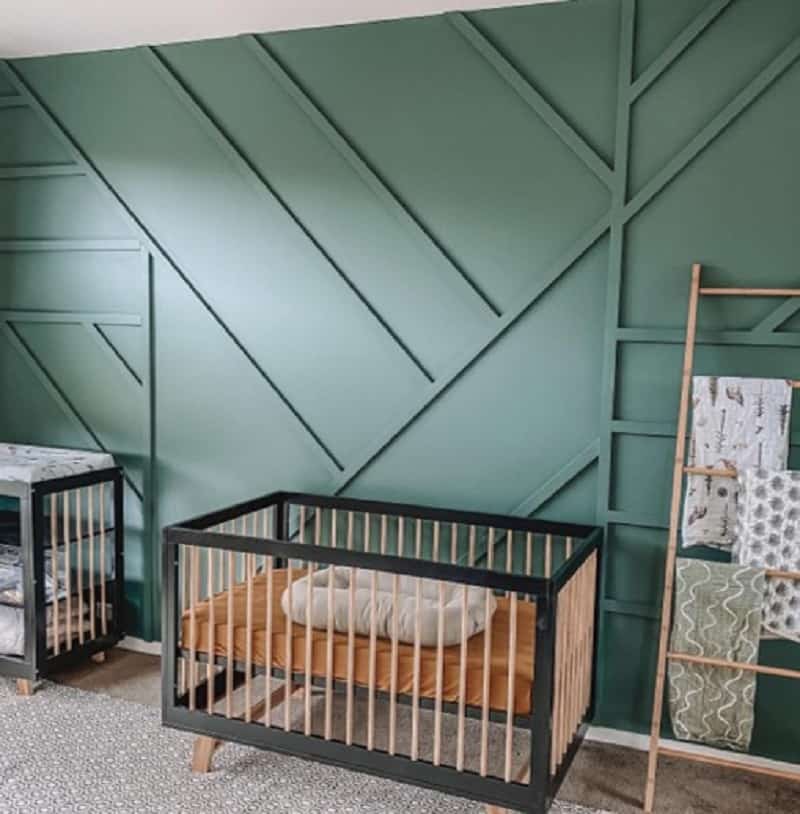 It can be hard to highlight a paneled wall; but not when you have the right shade. This dark green shade has hints of gray which works well with the black-framed cribs. The little clothes hanger against the wall just looks lovely, doesn't it?
Paint brand and color: Armada Green by Dulux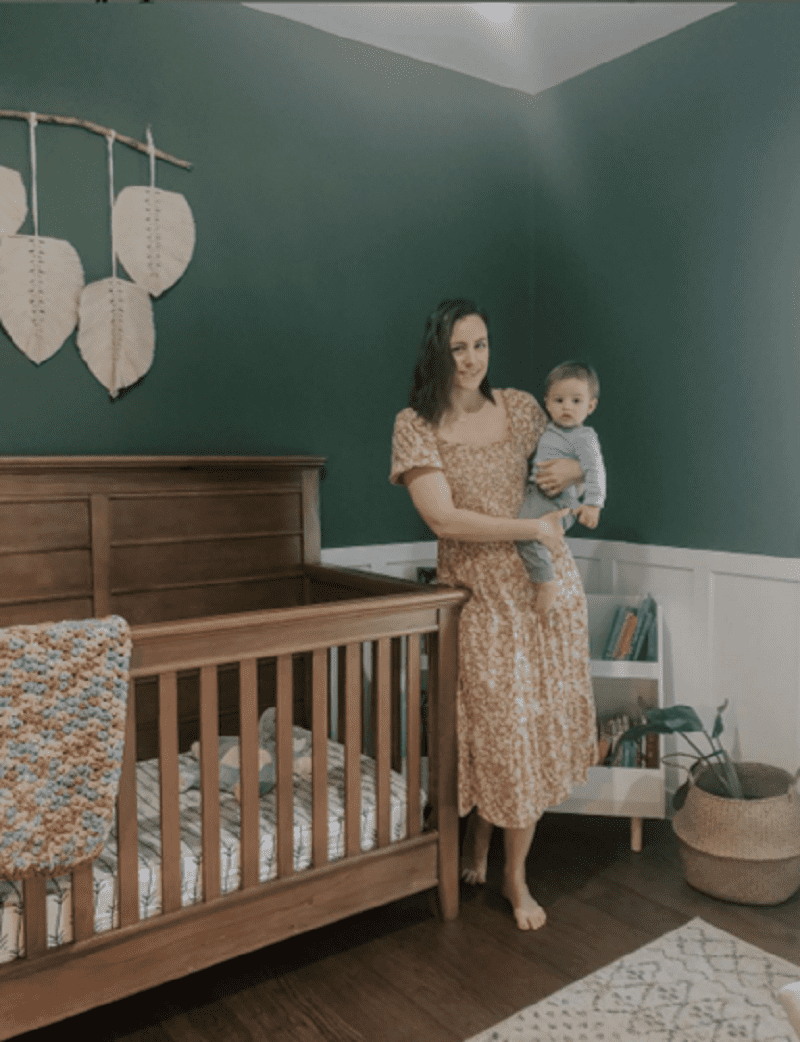 This is simplicity at its finest! A beautiful green nursery idea with warm wood and nature-inspired accents. I love the leaf hangings and that woolen blanket looks so cozy, perfect to keep warm during middle-of-the-night feeds.
Paint brand and color: Peale Green by Dulux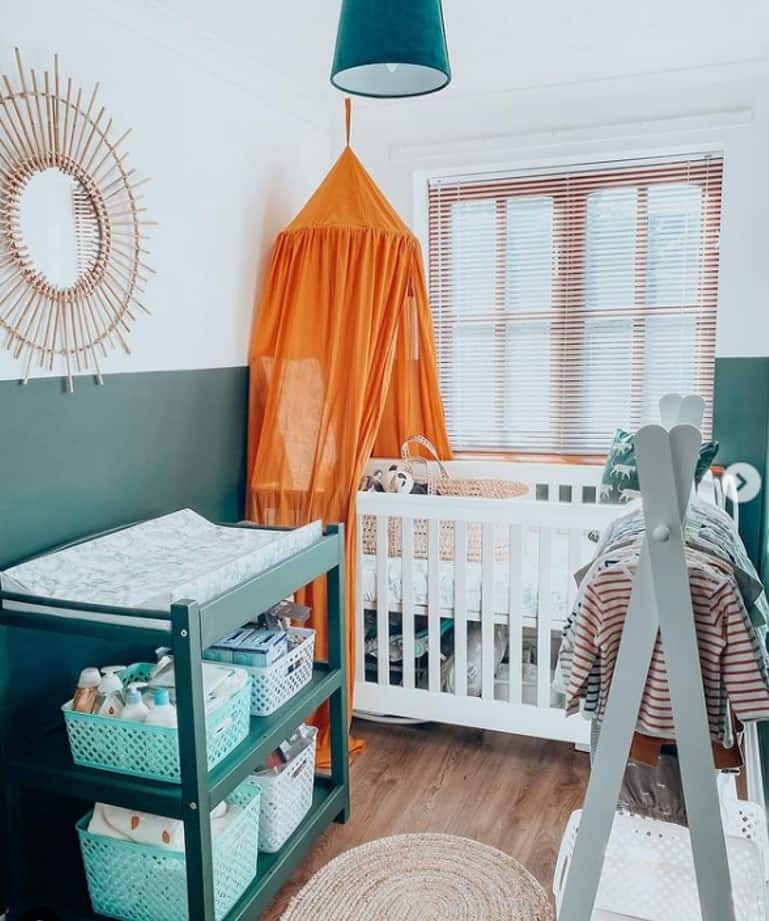 A dark green nursery idea that looks super bright due to mint green and bright orange accessories.  Such a practical-looking nursery – baby clothes will be easy to find and add to the look too.  (Check out these dresser drawer organisation ideas for more practical and cute ways to store baby clothes.).
Paint brand and color: Green 06 (dark holly green) by Lick green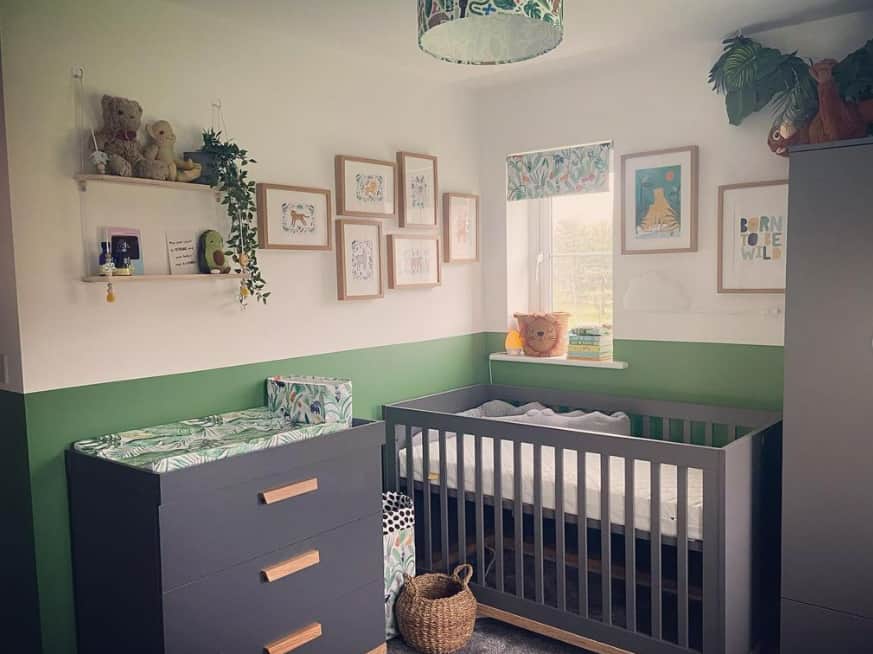 Here's another great example of a dark and light combination with this gray and green nursery idea. With the dark green color running along the walls, there are ample light-colored elements to balance the room. The botanical leafy elements and decor give the room a bright and almost tropical feel.
Paint brand and color: a swatch from Velspar at B&Q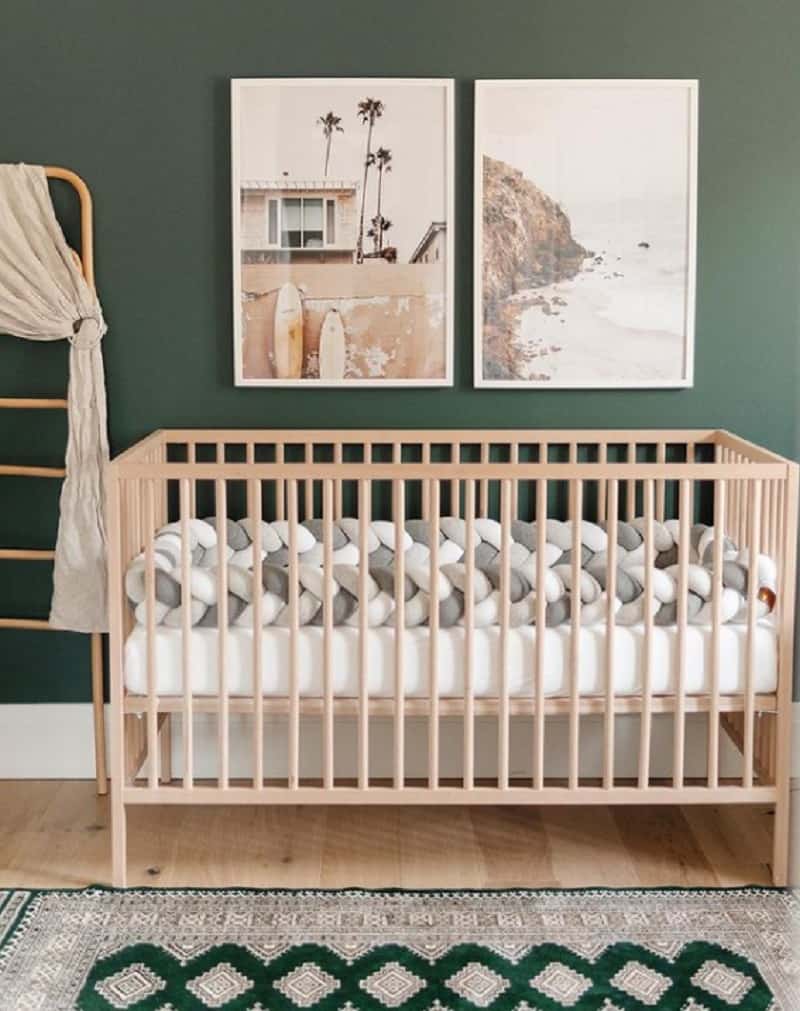 Paired with the warmth of the wood floor and pale wood crib, this shade of green is bold and dramatic. (And the perfect paint color to match the rug!) Overall this dark green nursery idea has a simple and sophisticated feel.
Paint brand and color: Hunter Green by Benjamin Moore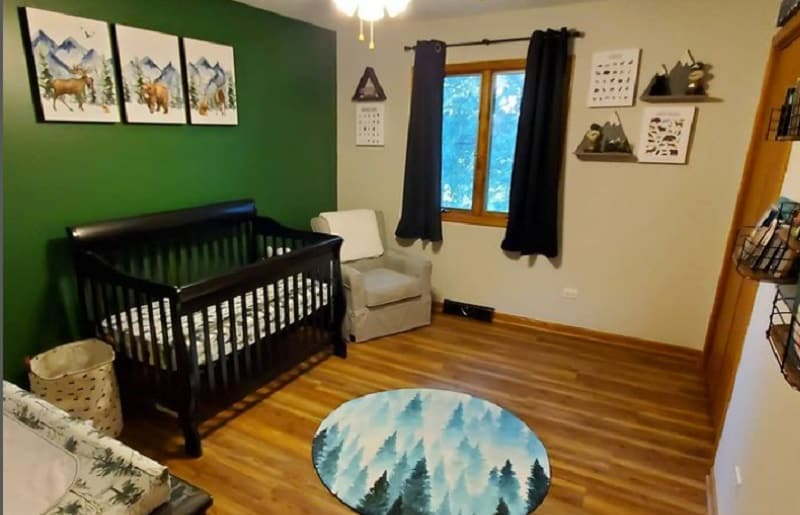 A dark green nursery idea with a difference, this one has black furniture and dark accents which comes together beautifully in a mountain theme.
Paint brand and color: Evergreen by Sherwin Williams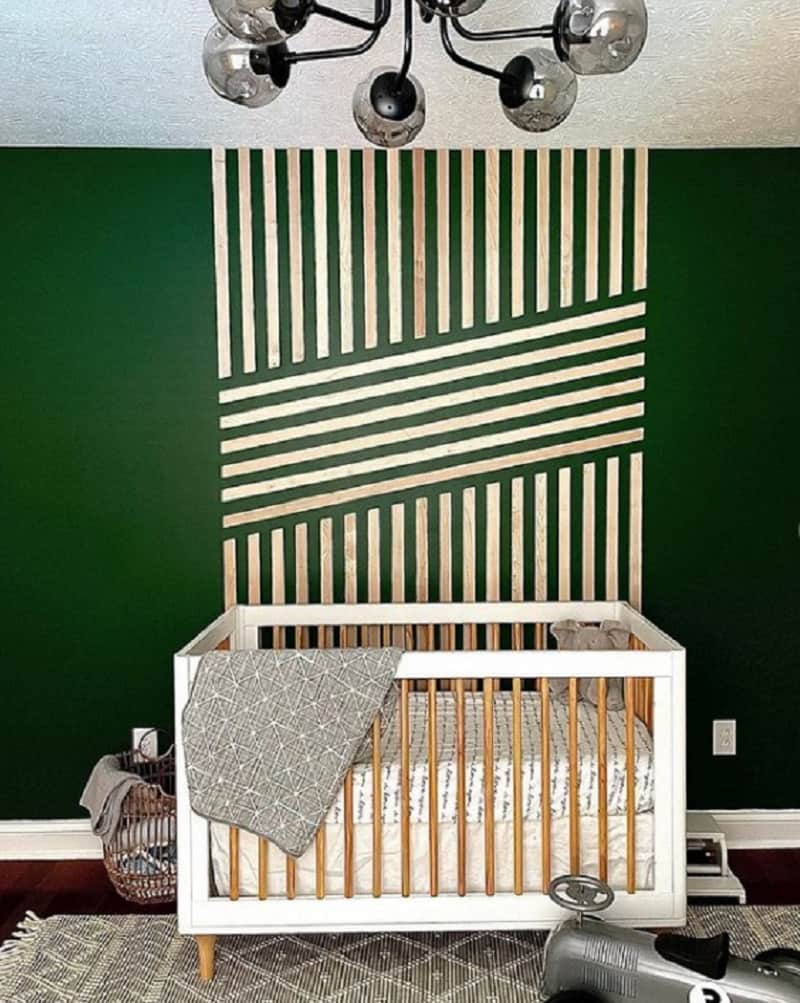 All I can say is stunning! This green statement wall really wows – it's as clever as it is beautiful, the pine spindles of this unique two-tone crib seemlessly blending with the panel strips on the wall.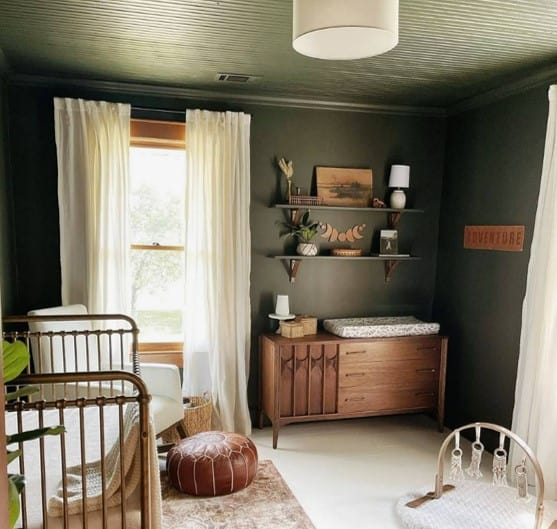 Doesn't this nursery just look oh-so-cozy? The walls, as well as the ceiling, are painted with a deep dark shade of green balanced well against the warm wood and copper tones. The pale beige carpet and rug and white curtains ensure the room stays light and bright. It's such a lovely mix of colors and textures. I'm also a little bit in love with the art deco nursery dresser and changing station.
Paint brand and color: Laurel Woods by Sherwin Williams
LIGHT, PALE & MINT green nursery ideas
Are dark green baby nursery ideas not doing it for you? Does sage green not fit with the rest of the interiors? Here are some light and pale green nursery ideas, including those fresh minty hues.
Lighter colors can make the room look bigger, ideal if your nursery is on the small side, and if you're not feeling quite as brave, these lighter shades may be the ones for you.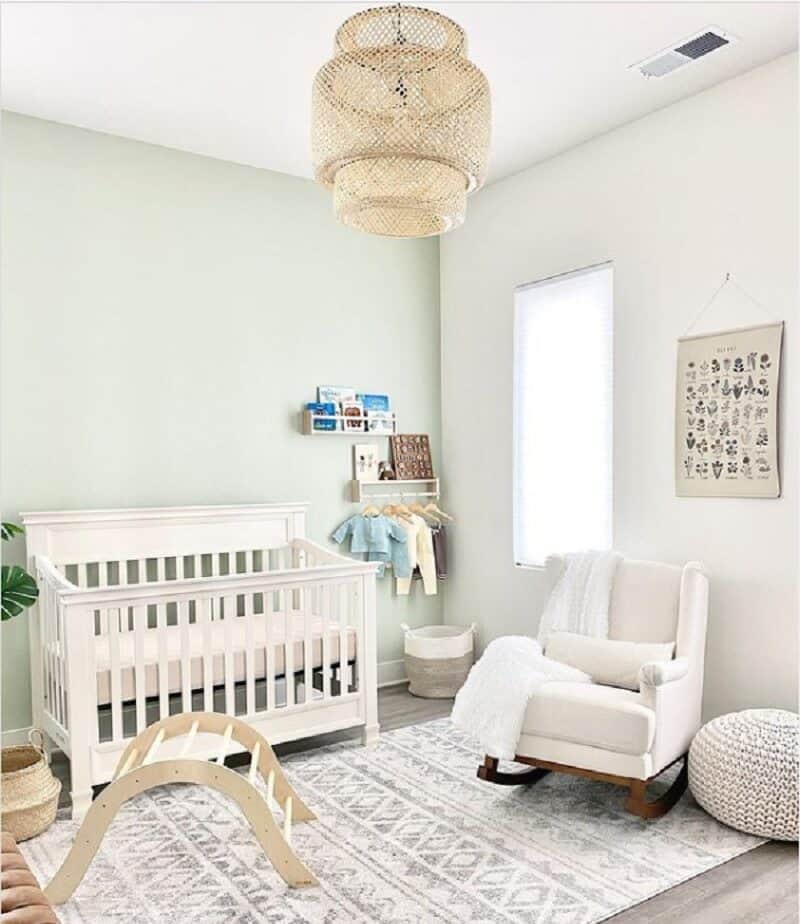 Two words come to mind when I look at this light green nursery: peace and serenity. This shade of green has a cool undertone making the room look bright, yet calming.
Paint brand and color: Liveable Green by Sherwin Williams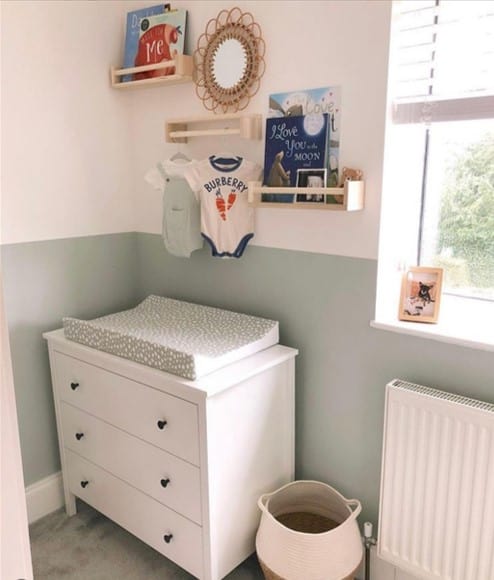 While the color is a light, pale green, the room is anything but pale. With the right accessories, like the lovely two-tone rope coil basket and staggered shelves, this little nook is practical yet beautiful.
Paint brand and color: Tranquil Dawn by Dulux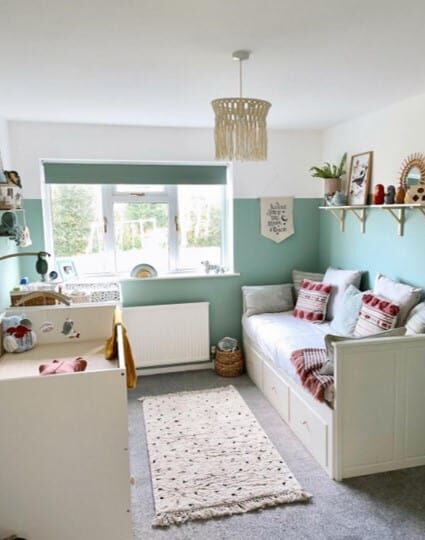 Here's a white and green nursery idea with subtle red accents, that oozes comfort, coziness and practicality. There's so much to love about this light green nursery.
Paint brand and color: Grey Patina by Valspar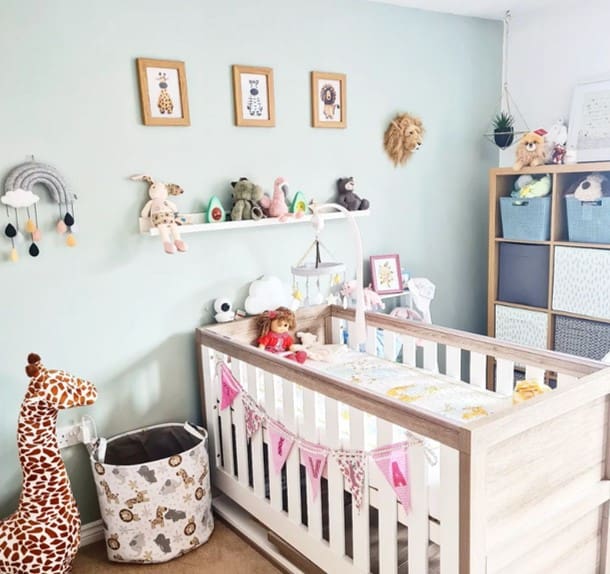 One of my favorite things about a light-colored wall is how easily it can be decorated. The pale green feature wall acts as the perfect blank canvas, allowing you to decorate and accessorize it with pops of pink, red, orange and blue. This lovely shade of green brings it all together so well.
Paint brand and color: Tranquil Dawn by Dulux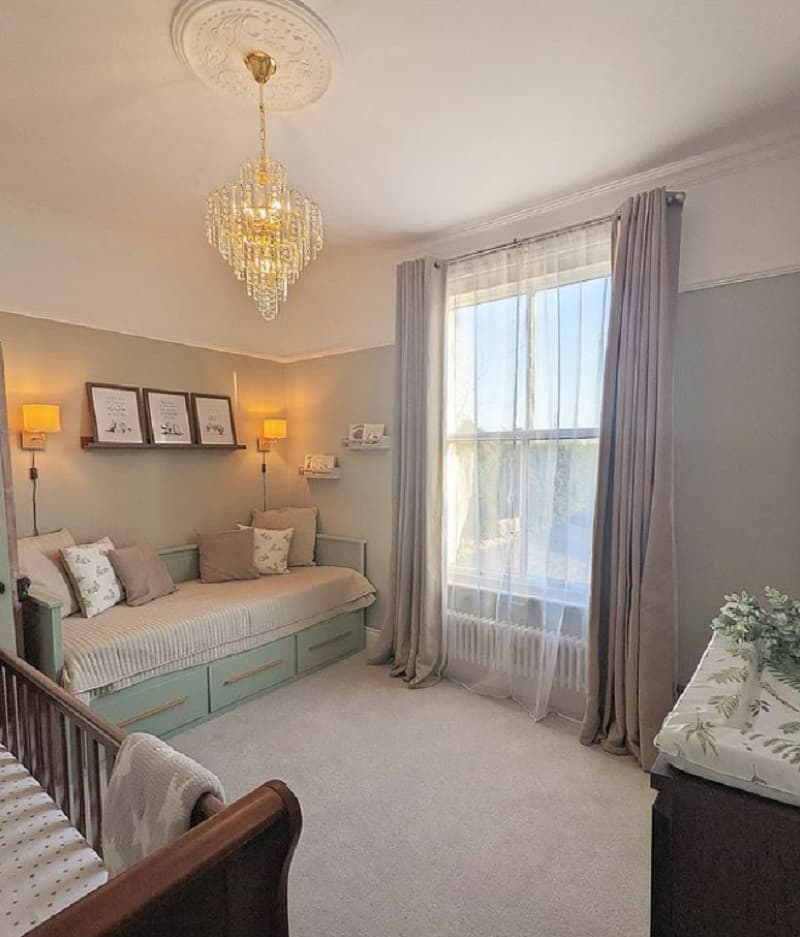 This sumptuous yet serene nursery has an almost boutique feel to it – just look at that gorgeous chandelier. if you're looking for a green and beige nursery idea, this one's a winner.
Paint brand and color: Mizzle by Farrow and Ball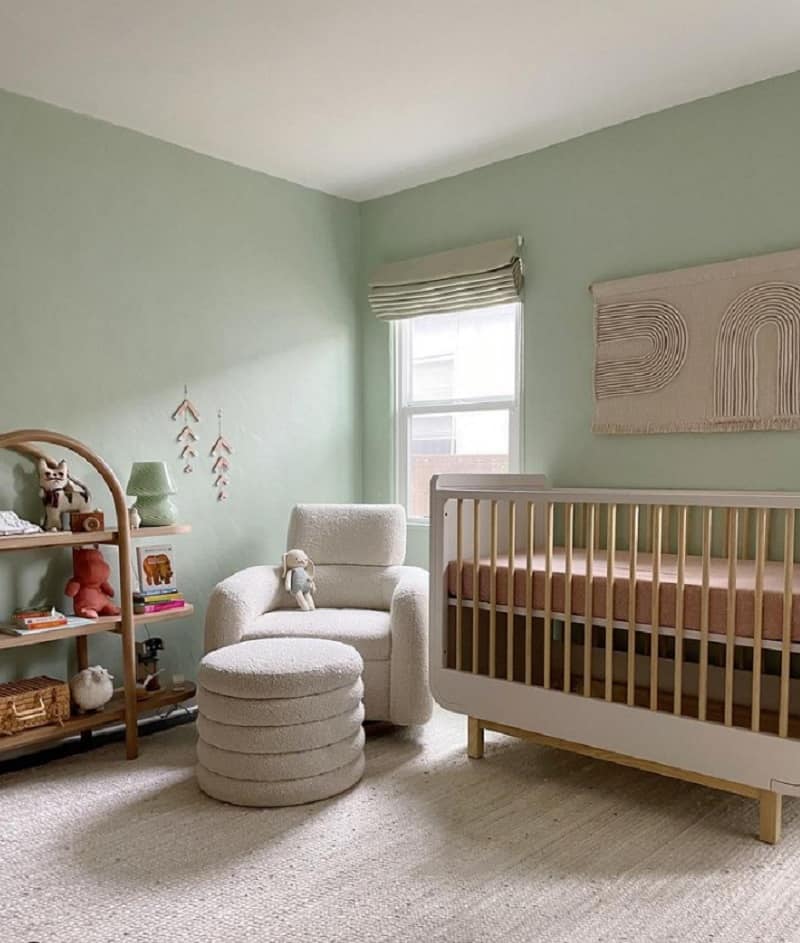 This pale green nursery has a little bit of a Scandinavian feel with that super stylish crib, combined with all those lovely soft, organic textures.
Paint brand and color: Palm by Farrow and Ball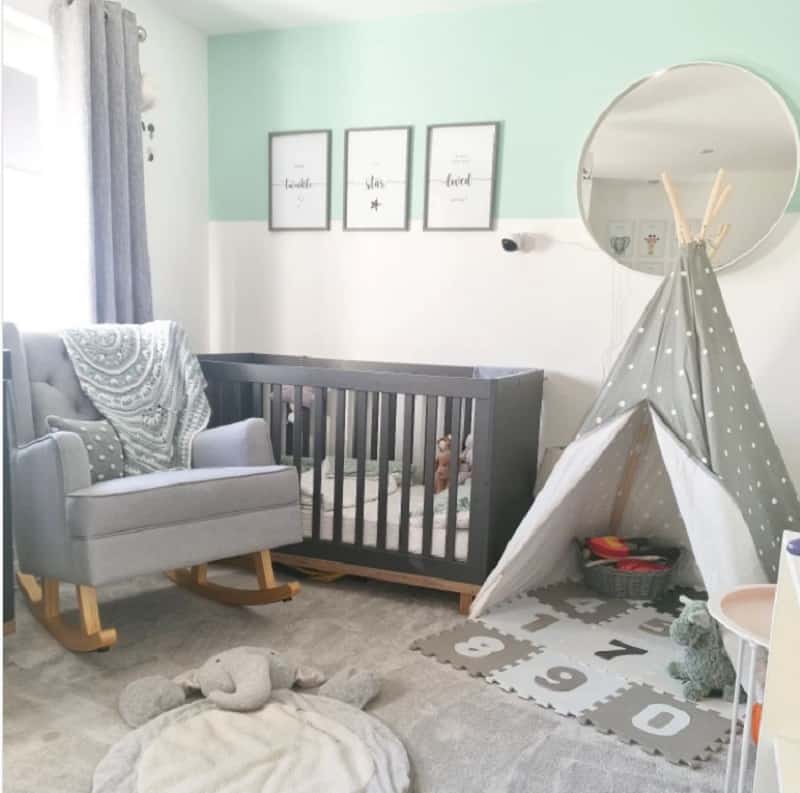 This fresh minty green and gray nursery has an uplifting alpine feel to it, though I can't put my finger on exactly why. Possibly it's the cool shades and sleigh styled of the rocker? Unusually, it's the top half of the wall that's painted green and it really works.
Paint brand and color: Witch's Brew by Valspar
OLIVE green nursery ideas
If you ask me, olive green is one of the most underrated colors for a nursery. It's one of the more sophisticated colors on the palette and extremely adaptable. Whether you are looking to create a dark and warm vibe in your baby's nursery or want something more neutral, olive green can act as the perfect base.
Let's take a look at some olive green baby nursery ideas for a bit more nusery inspo.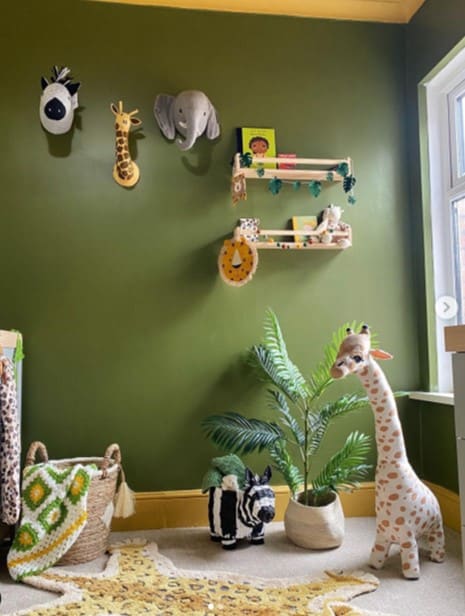 Here, the olive green wall is a great base for some animal themed wall decor. The wall decor pops against the dramatic shade, while the plant, basket and natural textures of the textiles just soften the look.
Paint brand and color: Bancha by Farrow & Ball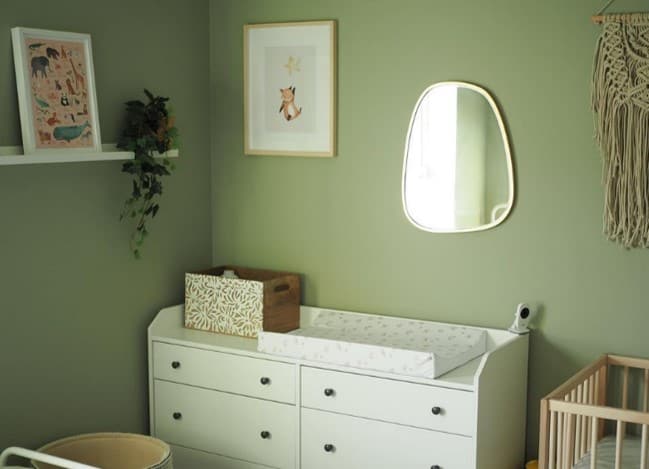 Olive green can really make a room look sophisticated and this nursery is the perfect example. While this nursery has all the things a baby needs, it can easily be adapted for older children and adults without the need to repaint.
Paint brand and color: Overtly Olive by Dulux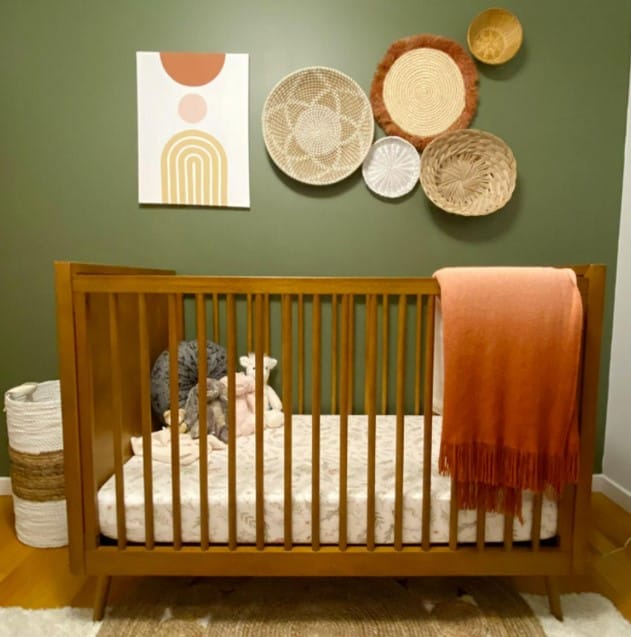 Another nursery that showcases the ability of olive green to create sophistication. These woven basket wall hangings add warmth, texture and depth, complimented by the textured floor rugs.
Paint brand and color: All about Olive by PPG
This olive green nursery demonstrates that black or dark blue aren't the only colors that can create a night scene. Look at that beautiful a starry night? However, for me, the stand out feature is that gorgeous copper effect crib. It's divine!
Paint brand and color: Secluded Avenue by British Paints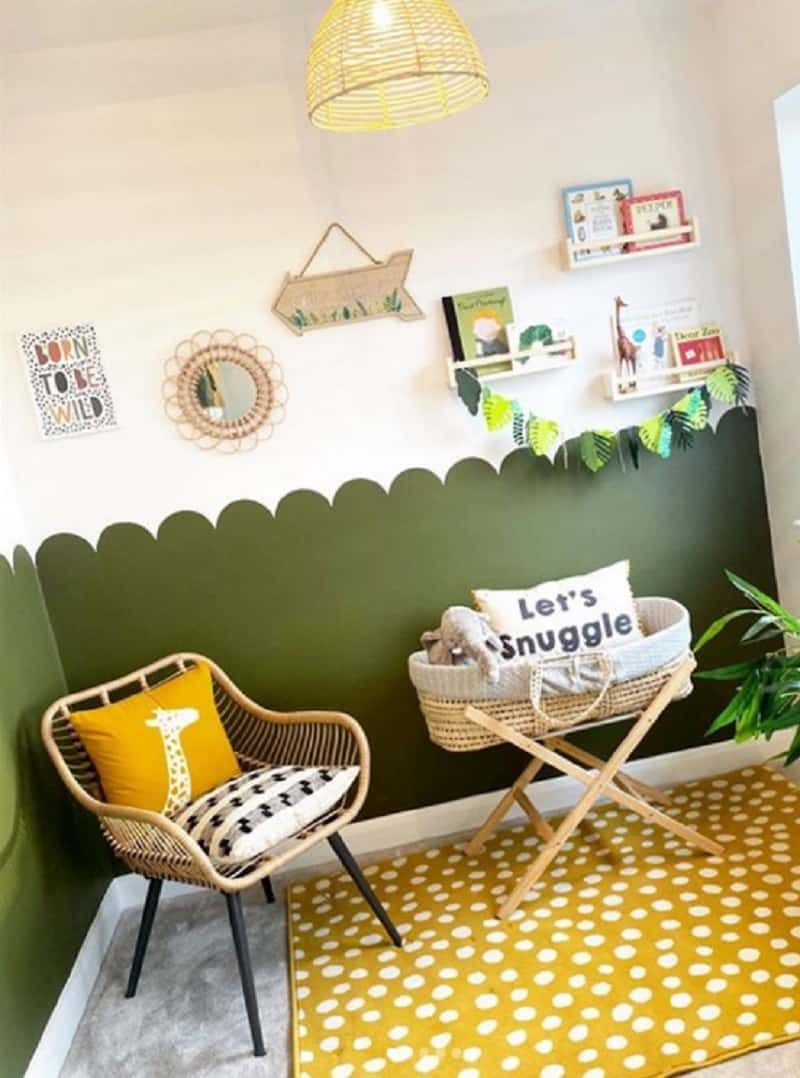 Here is another adorable olive green nursery with a few jungle elements. The bold mustard yellow accents really make a statement, don't they?
Paint brand and color: Bancha by Farrow & Ball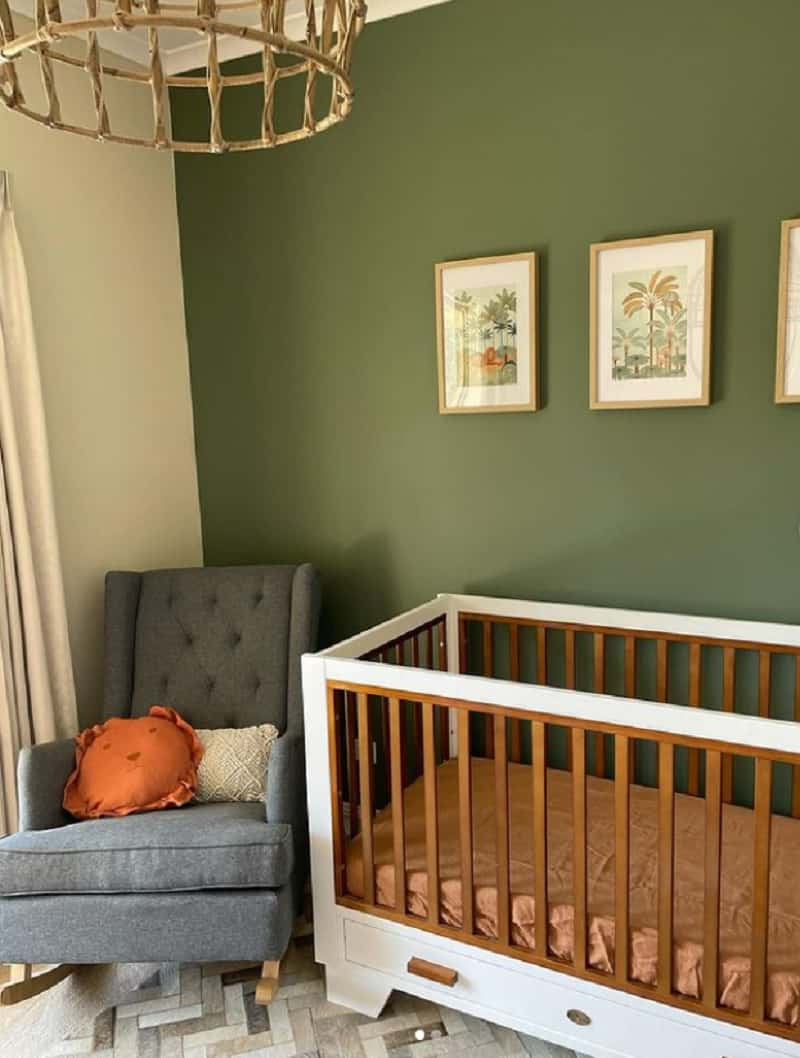 A dramatic olive-hued nursery with grey and copper accents which make it feel deliciously warm and earthy.
Paint brand and color: Daintree beauty by British paints
A subtle jungle element to this green nursery, with those lovely animal prints against that vibrant green wall.
Paint brand and color: Privilege Green by Sherwin William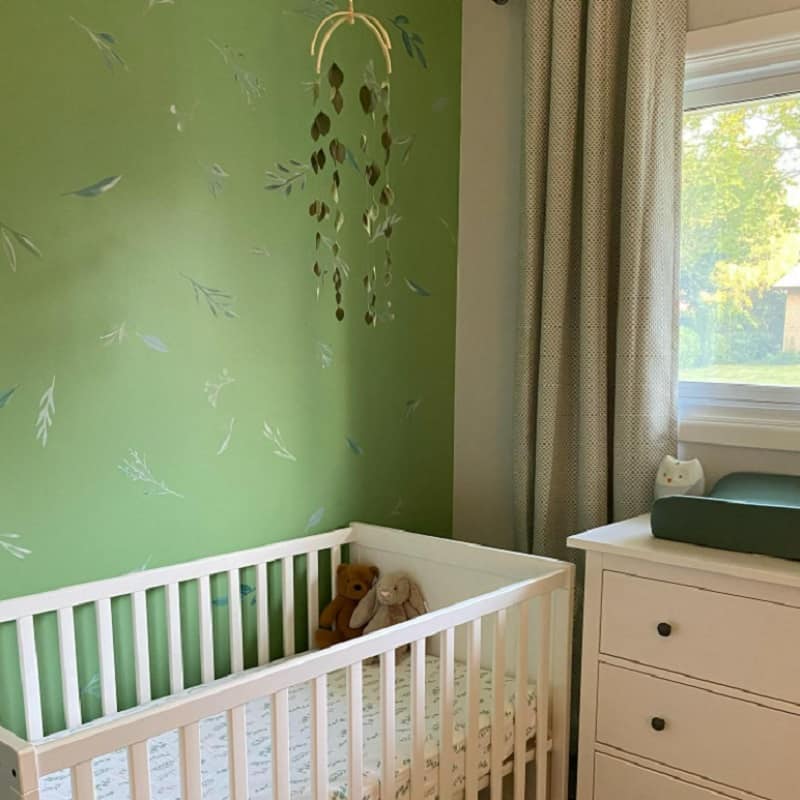 A botanically-inspired nursery, with leaves floating across the green feature wall, crib sheet and even above where baby will lie.
Paint brand and color: Pear Cactus by Dulux
Green nursery ideas with WALLPAPER
If you're a lover of pattern but still want to go green with your theme, this is the section for you.
Not only can you elevate the room with some gorgeous wallpaper, but you can continue and elaborate a theme. I hope you enjoy these wallpaper adorned green nursery ideas as much as I do!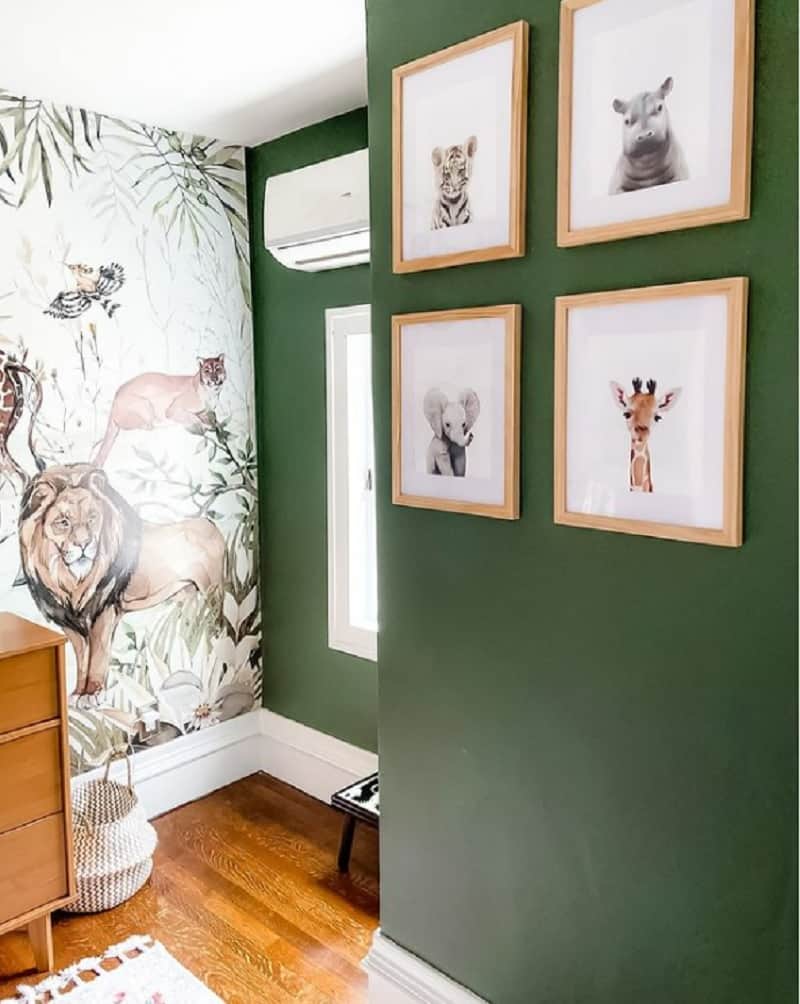 Safari-inspired nursery prints and a big bold jungle wallpaper pair so well with a gorgeous deep dark shade of green.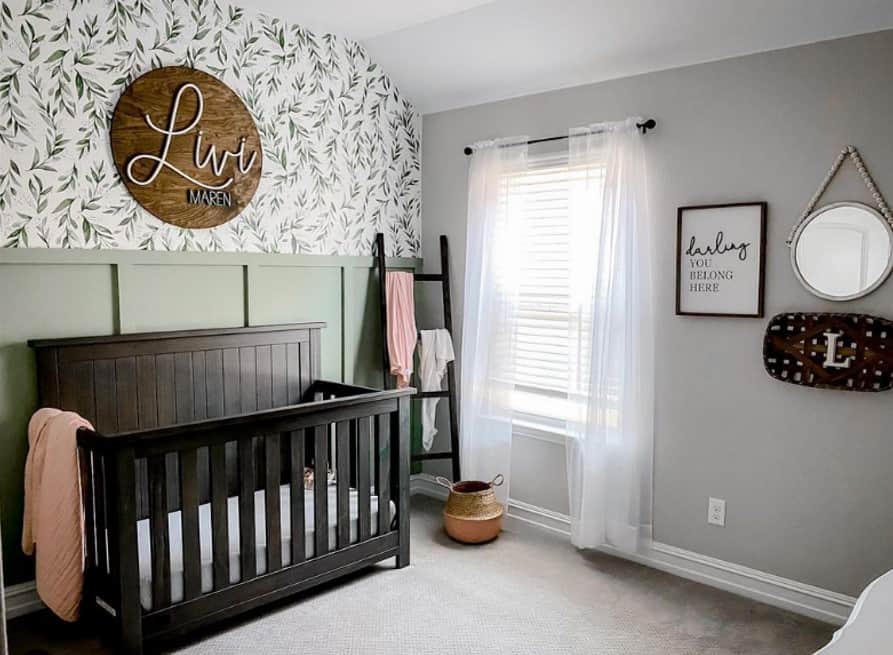 Leafy wall paper combined with the sage green panels creates a lovely natural feature wall in this bright and airy nursery.
Paint brand and color: Clary Sage by Sherwin Williams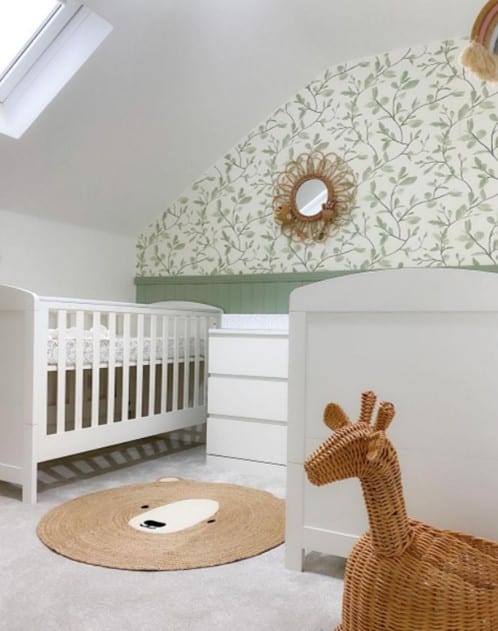 This wallpaper creates interest and detail to a simple white minimalist nursery. The sage green of the paneling is an almost perfect match to the green of the wallpaper, for a seamless feature wall.
Paint brand and color: Sage Green by Valspar Paint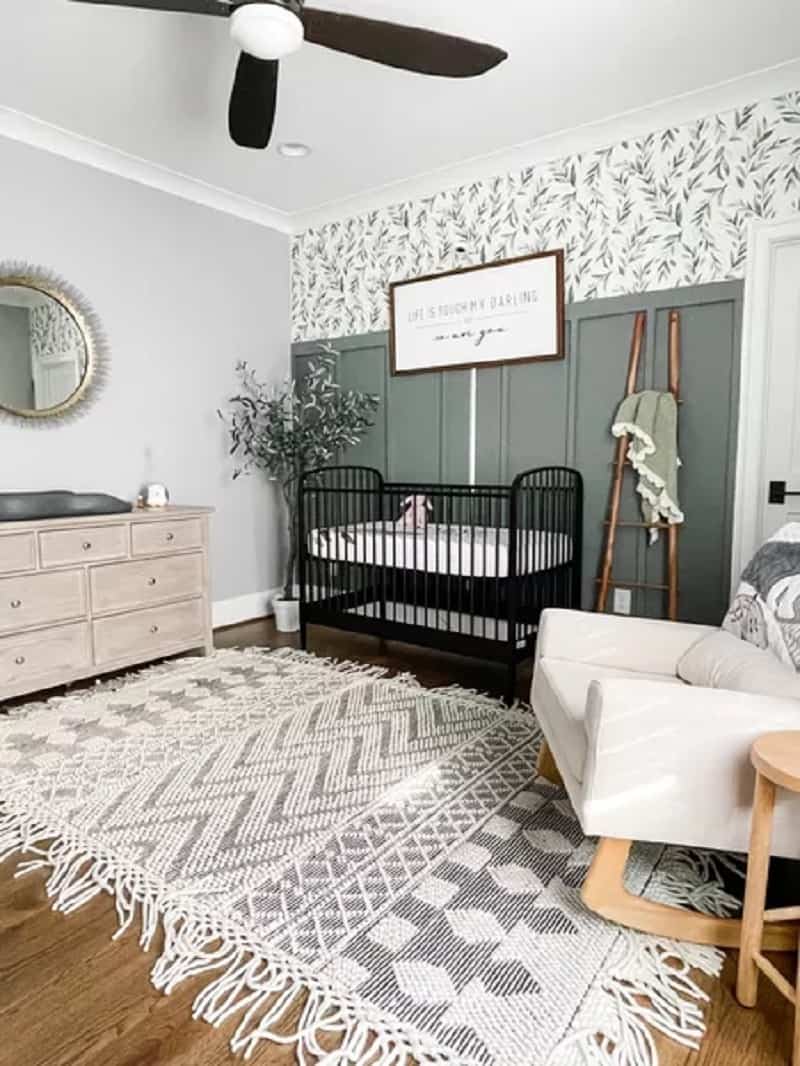 The small strip of wallpaper above the paneling is the icing on the cake in this gray-green nursery. It perfectly complements the monochrome rug and chic black crib.
Paint brand and color: Retreat by Sherwin Williams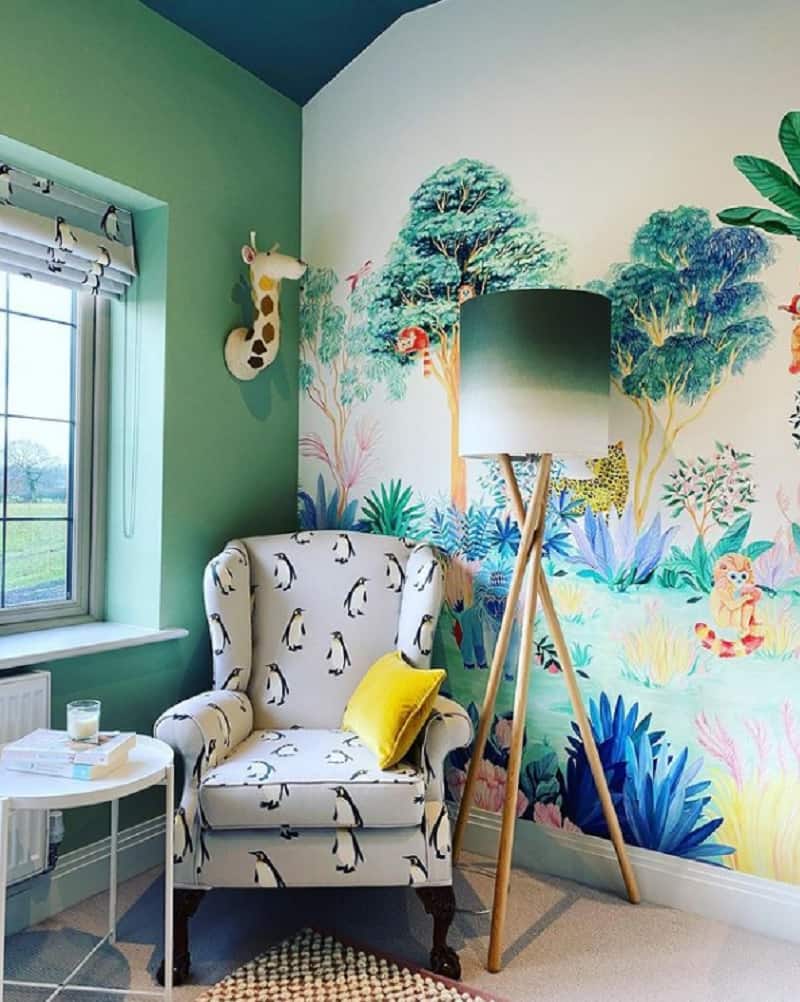 In this nursery, the full feature wall is wall-papered. Paired with the right shade of green and a statement wingback nursing chair, it's a cohesive and unique take on the safari theme.
Paint brand and color: Pea Green by Little Greene Company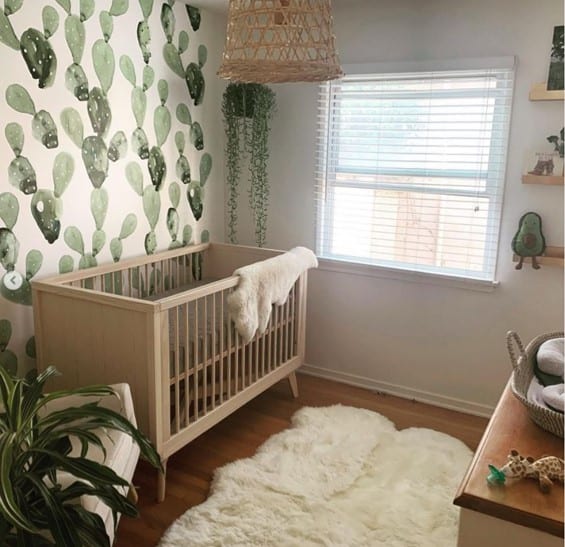 This cactus-themed nursery space shows how you can add elements of green without getting a paintbrush. It adds a lovely botanical feel complemented by the warm wood floor and accessories.
Cactus Wallpaper from Spoonflower (Etsy)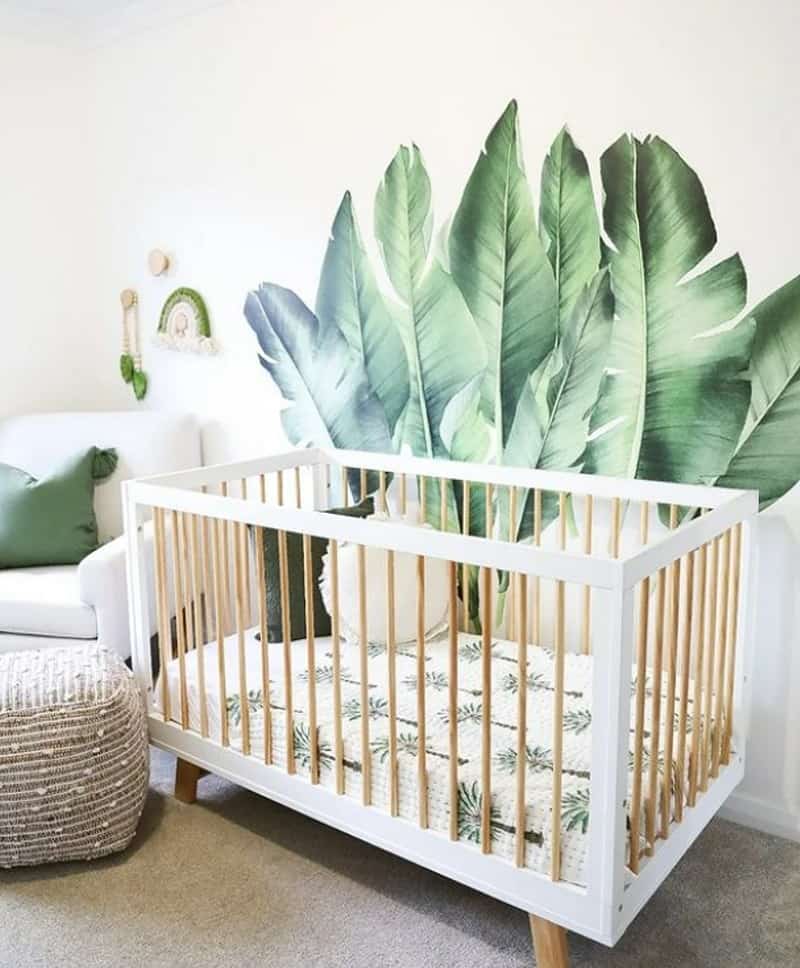 This tropical leaf wall decal makes a real statement behind the crib. A few green accessories complete the look of an otherwise simple white nursery.
Giant Tropical Leaves Decal From Rocky Mountain Wall Decals and Wallpaper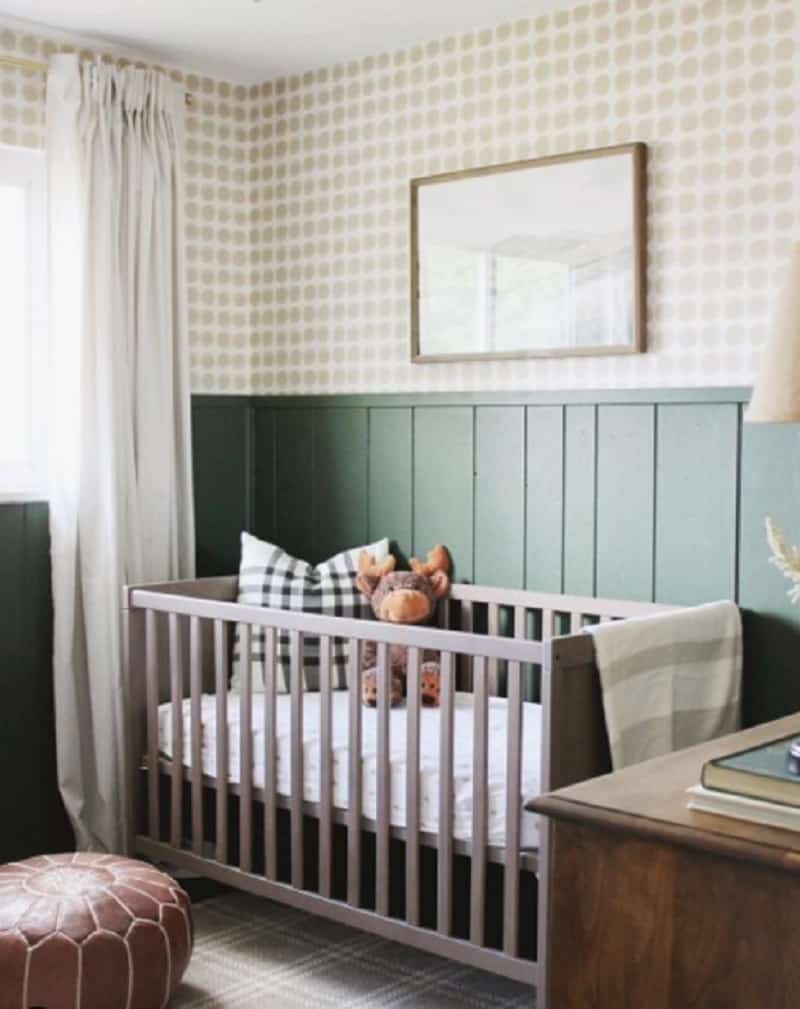 If you want to create a bit more depth to a green paneled nursery, a textured or graphic wallpaper can help. I love this simple, unfussy beige and green nursery idea, lovely for a baby boy.
Paint brand and color: Mixed two greens – Urban Garden and Woodland Lichen by Sherwin Williams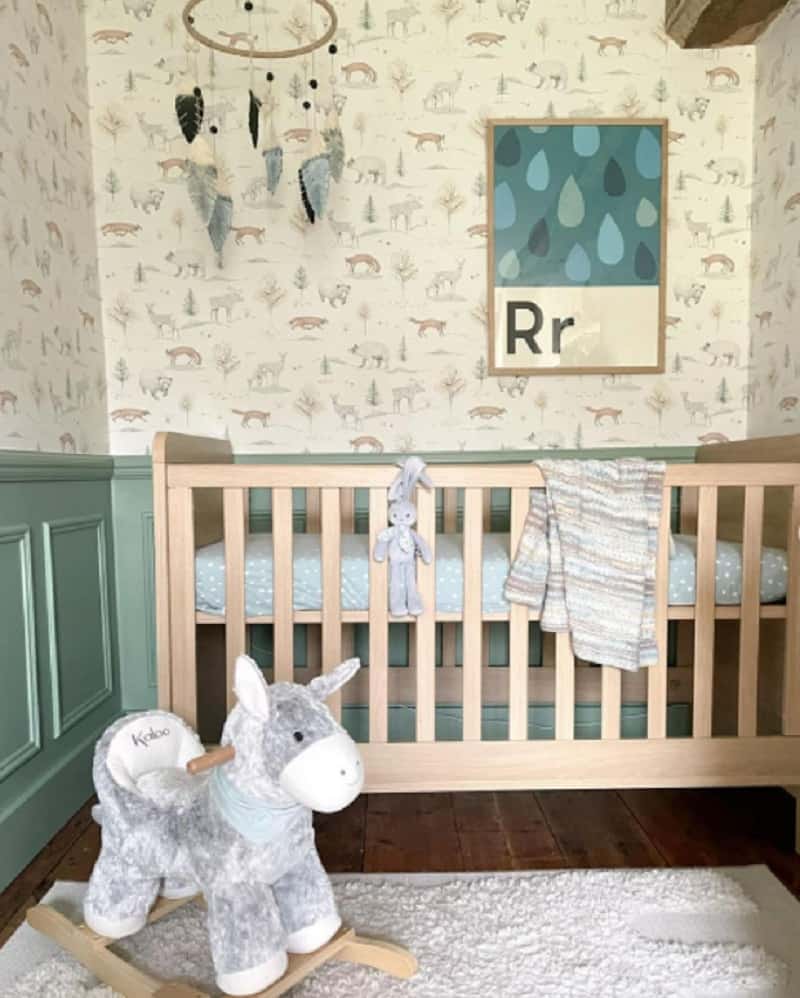 A whimsical woodland animal-themed wallpaper combined with classic sage green wood panels give this nursery a vintage feel. The leaf mobile is a lovely finishing touch.
Paint brand and color: Breakfast Room Green by Farrow & Ball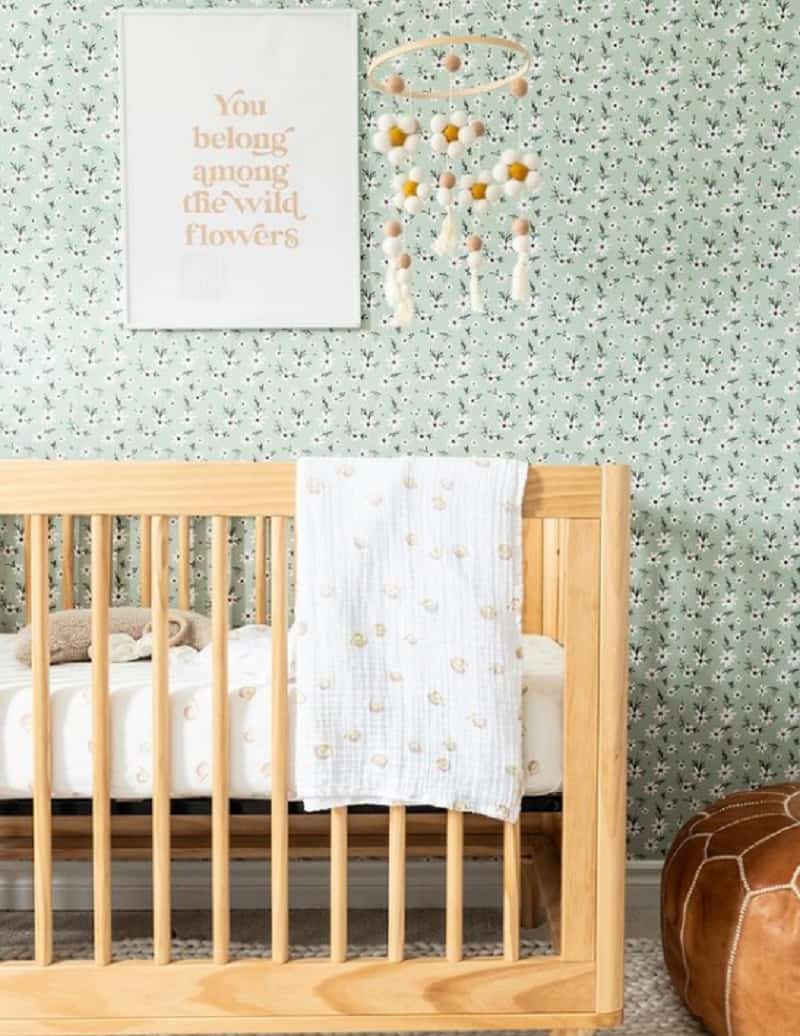 Got a wild child on the way?! Possibly, you're hoping not! But if you want to add a hippie vibe to your nursery, look no further. I'm not sure what I love more, the soft leather pouffe or the daisy chain wallpaper. Or perhaps the pompom flower mobile.
White Flowers and Co. self-adhesive wallpaper mural from Décor Imprimé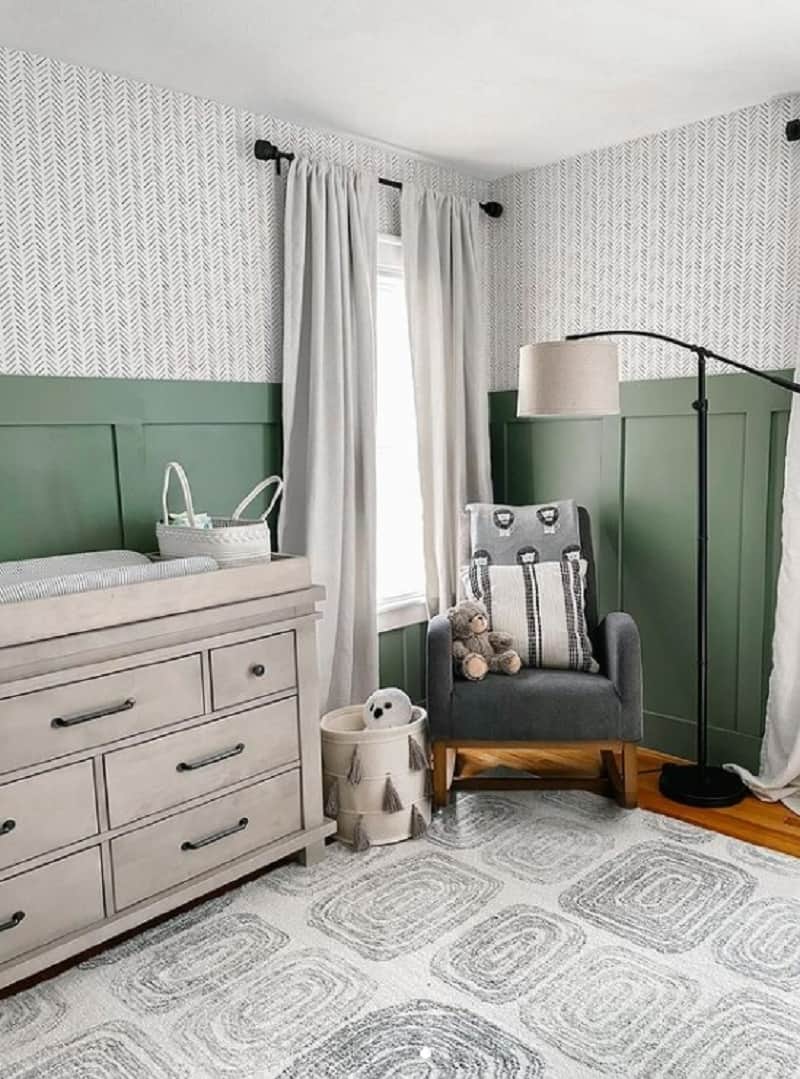 Another classic grey and green nursery idea with patterned monochrome wallpaper and complimentary rug, fit for a little Prince!
Paint brand and color: Dried Thyme 6186 in eggshell by Sherwin Williams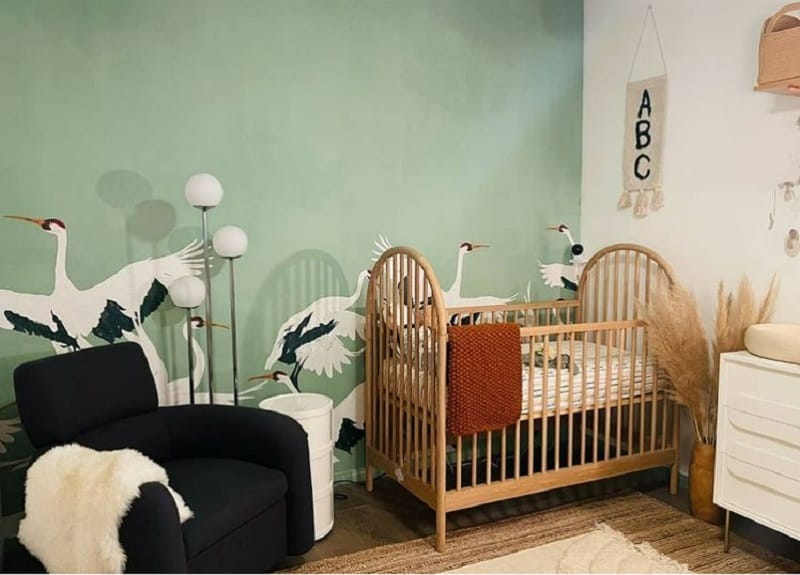 A unique and captivating green nursery idea – it looks like those storks are launching themselves out of the wall! Simply stunning and a little mesmerizing. There's certainly no need for any other decor on that wall. I also love the softness of the wood crib, accentuated by the unusual curved ends.
Wallpaper: Bird Wallpaper – Stork Green by Annet Weelink Design
OTHER shades of green that work for nurseries
There's been dark forest and hunter green hues, pale shades and green nurseries accompanied and complemented by wallpaper. Here are some more green nurseries, with shades of green that didn't fit with the others.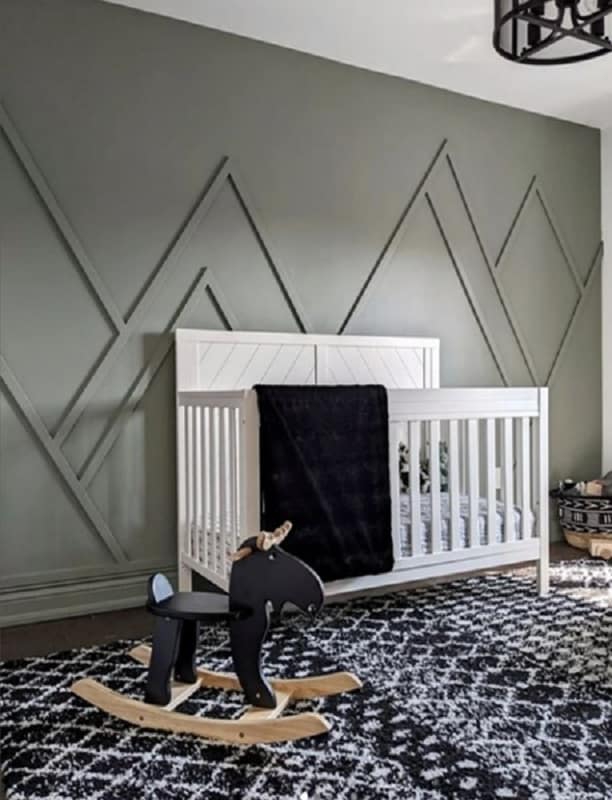 This dark gray green shade adds warmth and depth to an otherwise monochrome palette. Simple and so effective.
Paint brand and color: Carolina Gull by Benjamin Moore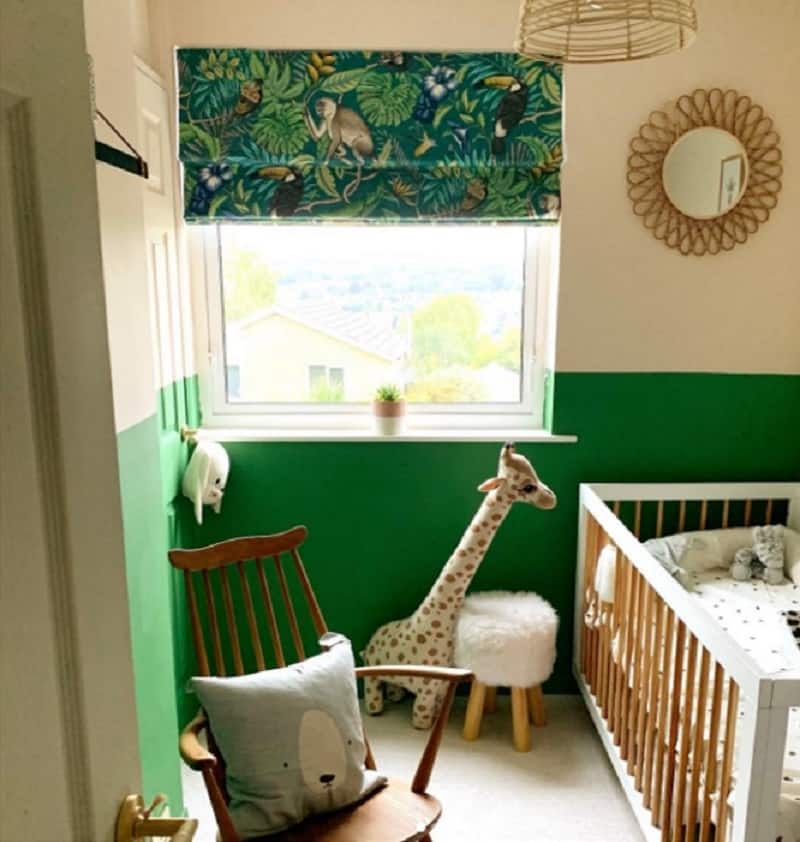 If you're looking to create a fun, vibrant room for your little one, this shade might be for you. Doesn't this green remind you of fresh grass after the rain?
Paint brand and color: Pink 02 and Green 07 by Lick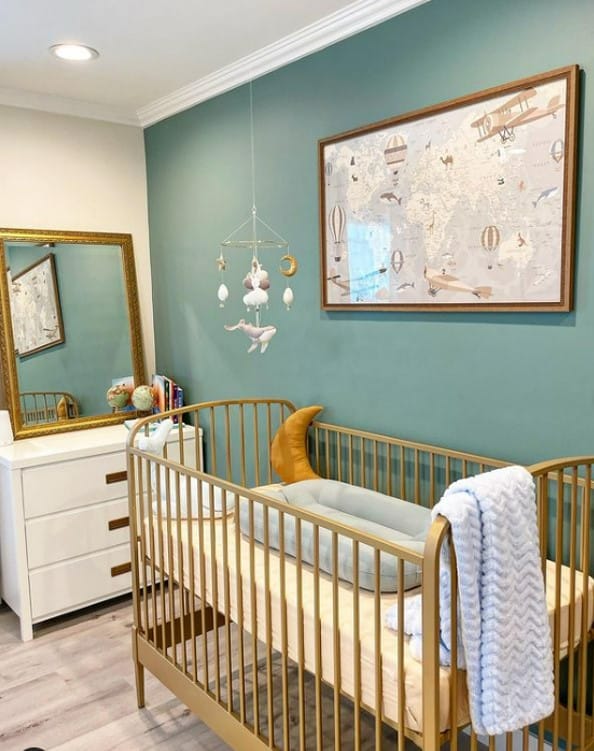 Here's a blue-green shade with gorgeous gold accents that add such an elegant touch. This one will work for a baby boy or girl – more inspiration for a neutral green nursery.
Paint brand and color: Valiant Blue by Sherwin Williams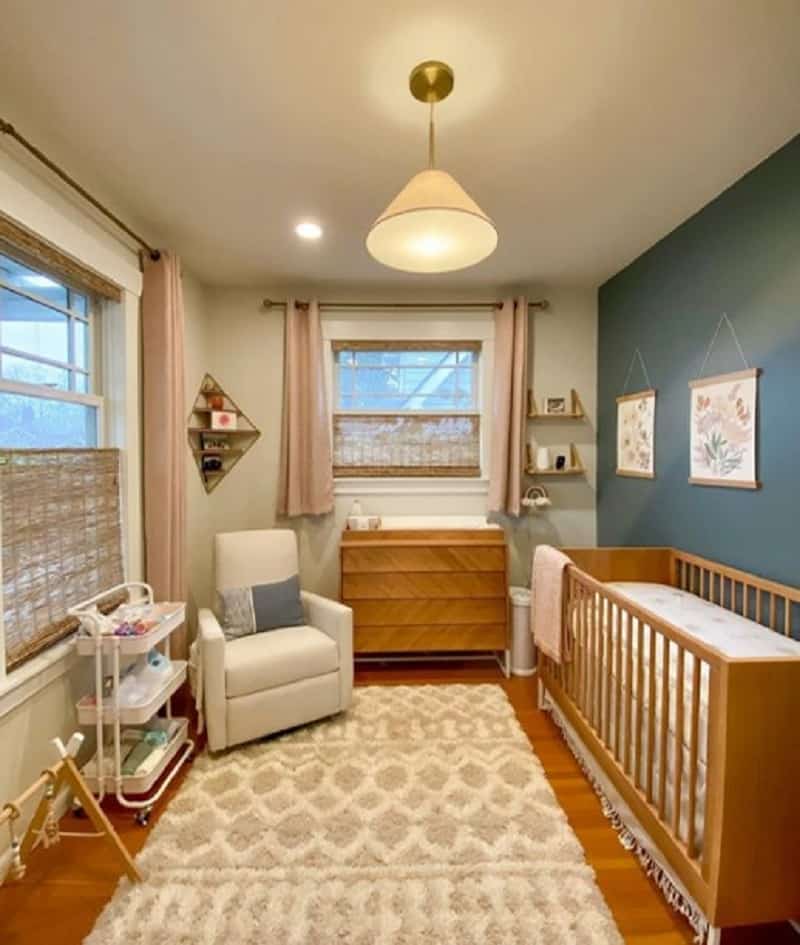 The feature wall in this nursery is another lovely blue-green shade. There are some subtle pink accents that combined with that lovely golden wood color, create such a warm and inviting space. The blue-green chair cushion matches the feature wall perfectly, bringing the look together.
Paint brand and color: Mixed Green and Blue to make this color. No brand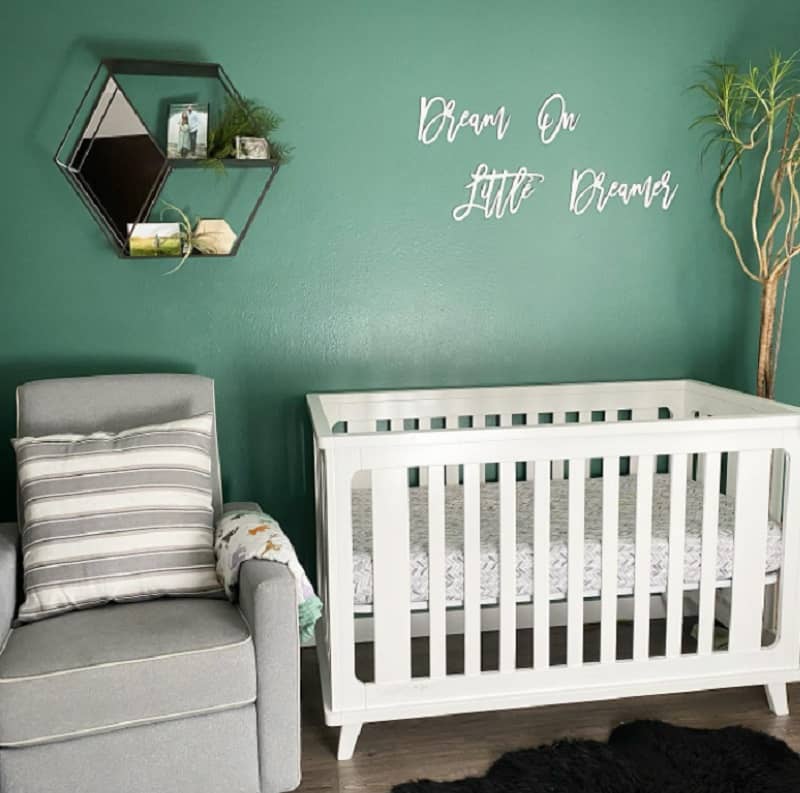 More green and gray nursery inspiration here – such a simple and effective color combination.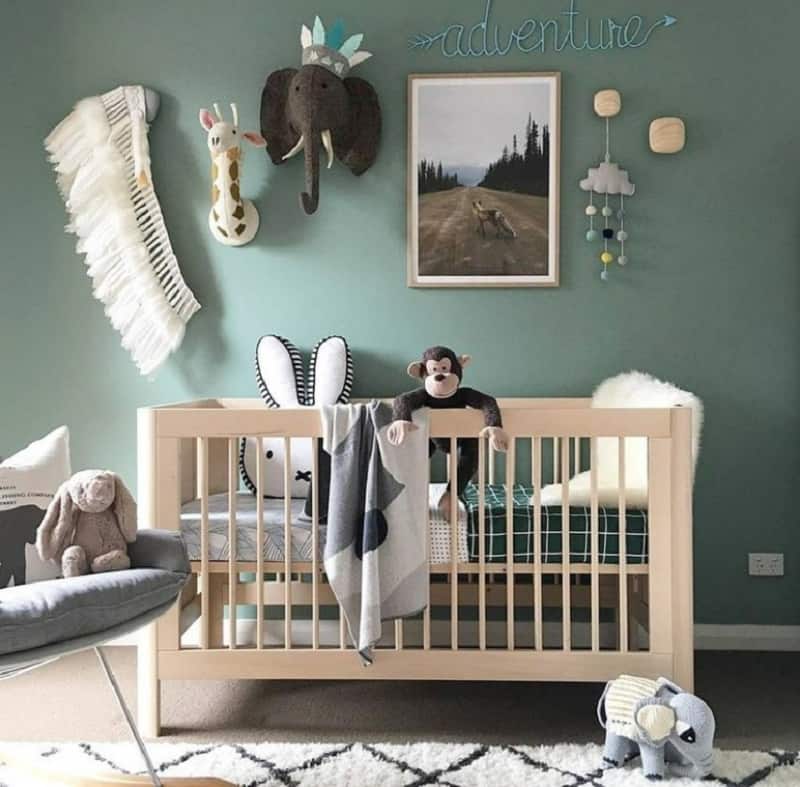 It's time to start monkeying around and have an adventure! A fun diversion from jungle-inspired nurseries with a gorgeous grown-up print taking center stage, this baby is going to be in for a ride.
Paint brand and color: Padded Leaf by Dulux
Baby girl green nursery ideas with FLORAL accents
Green is a very gender-neutral color but that doesn't mean you can't make it a little bit girly. Floral accents are an easy addition so here are some green girl nursery ideas with just that. Happy decorating!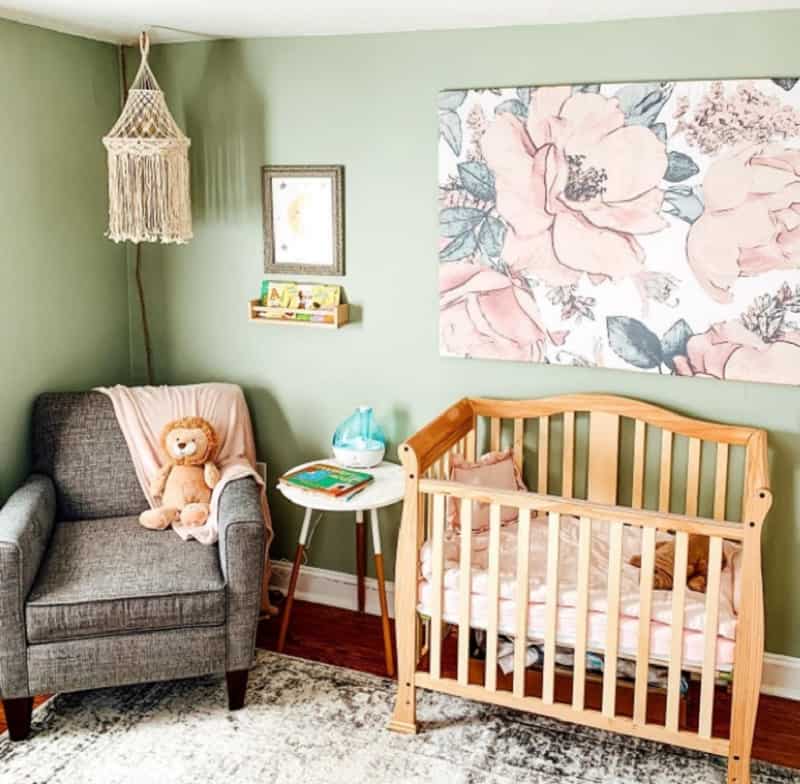 The floral print looks stunning against the sage green wall – it really is a statement piece.
Paint brand and color: Sage Green by PPG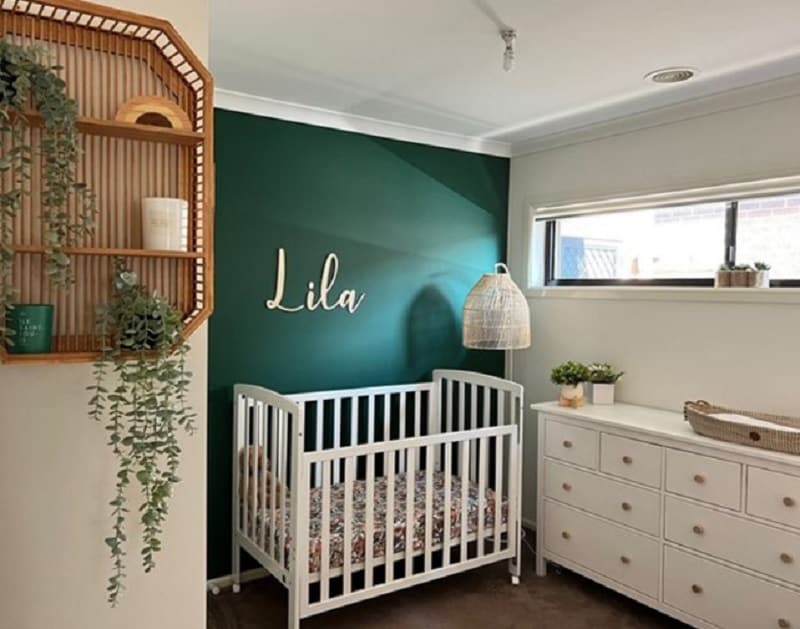 In this green nursery, the floral elements are added in the crib bedding and complimented by pot plants. The white furniture against the deep emerald wall has such a crisp and clean look. Beautiful!
Paint brand and color: Highland Green by Dulux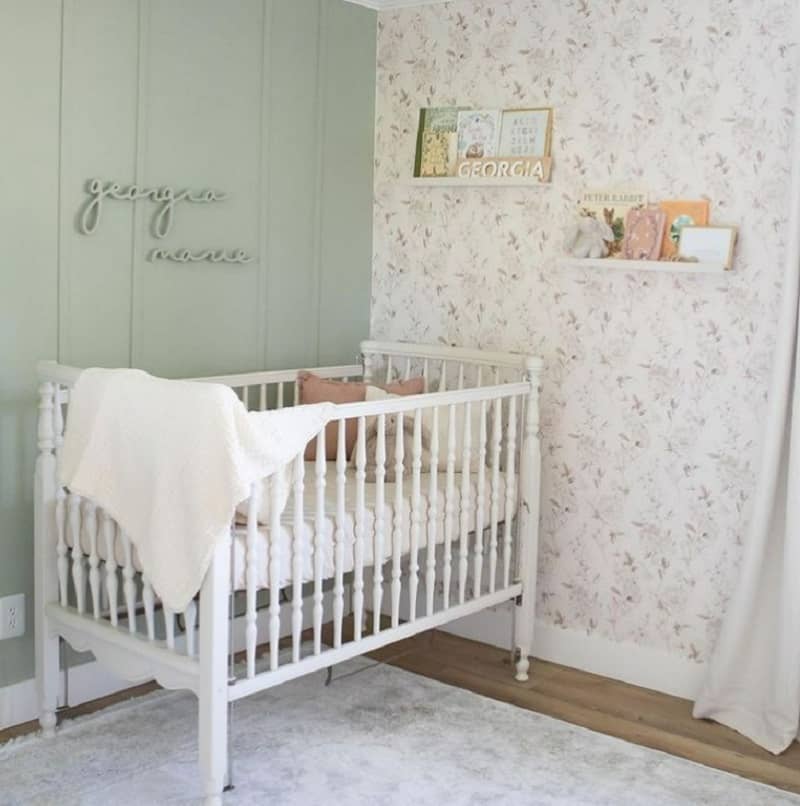 The sage green paneling and floral wallpaper look gorgeous in this baby girl's nursery. The soft pastel hues and white crib create an airy, light, and super elegant space fit for a little princess.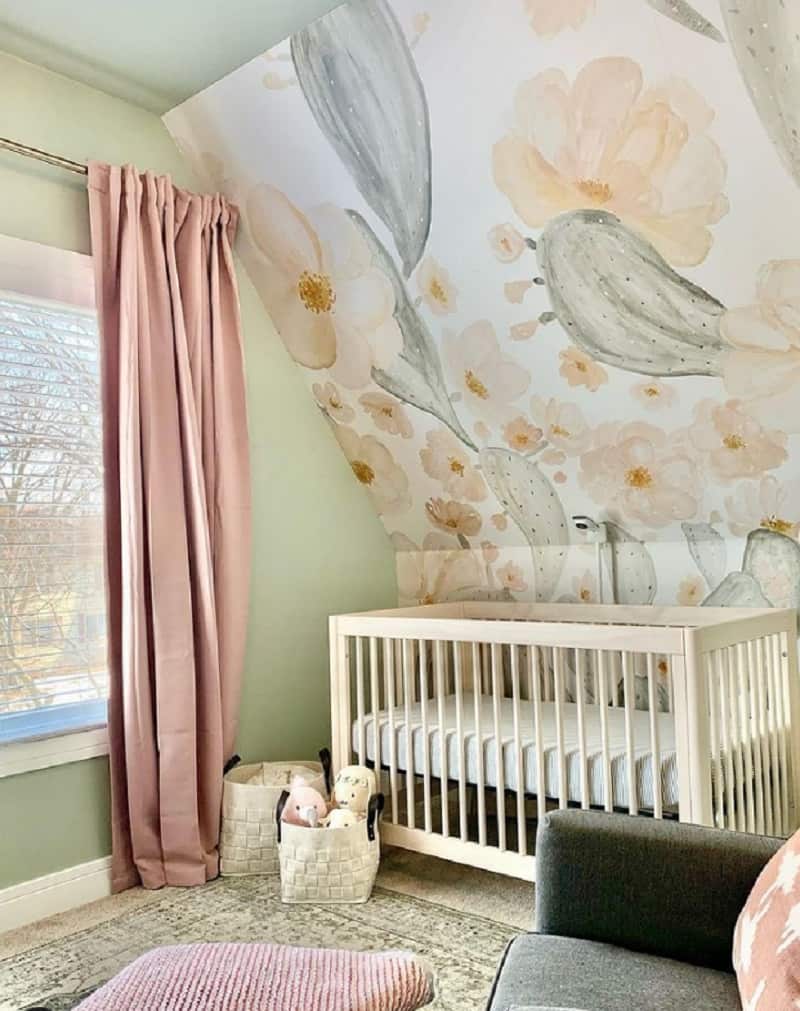 Your baby is sure to enjoy gazing up at this super-sized floral print, which has a canopy-like feel to it due to the sloping ceiling. The pastel shades and neutral furniture give it a grown-up feel, rather than simply baby girl.
Paint brand and color: Contented by Sherwin Williams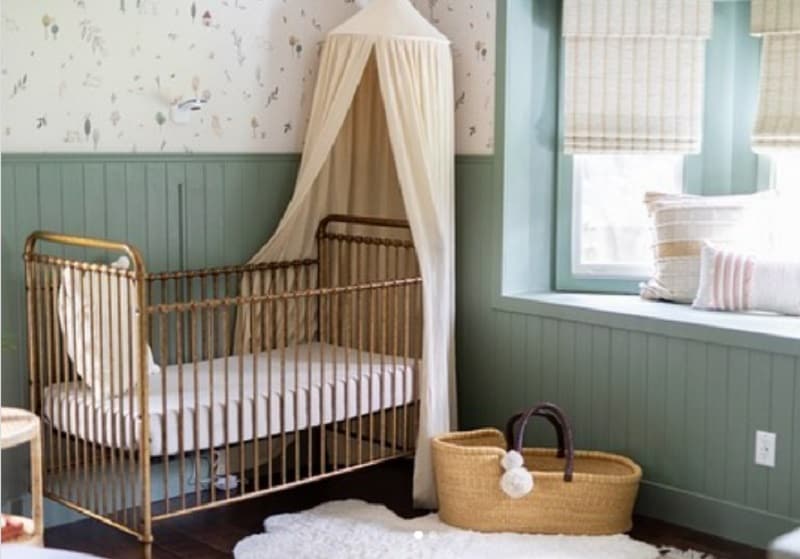 A subtle floral wallpaper helps create a nursery that's not overly girly. The way the sage green color continues on the window frame is a lovely look too.
Paint brand and color: Eden by Magnolia Line

Green nursery ACCESSORIES
If you've gone all out with green paint in the nursery, you might want to cool it on the accessories. But if you were a little less bold and went with a green feature wall or painted the lower half with a shade of green, then you might want to sprinkle in a few accessories in a similar shade.
From rugs to baby toys and even name blocks, these elements can add a subtle green accent and accentuate the overall look and feel of the nursery.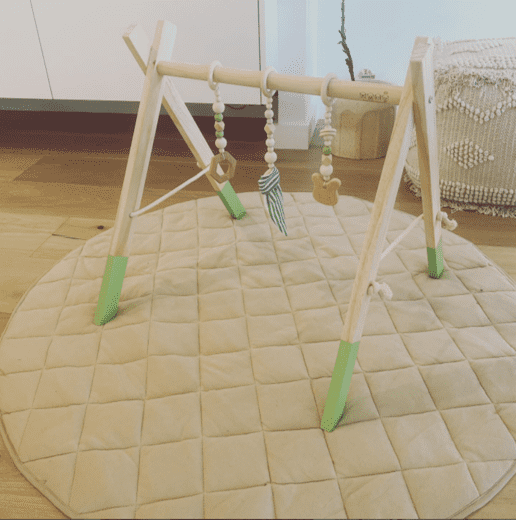 Baby play gyms are a must-have baby toy, helping motor skills as well as aiding visual development all while keeping your little one entertained. Here's one perfect for a green nursery.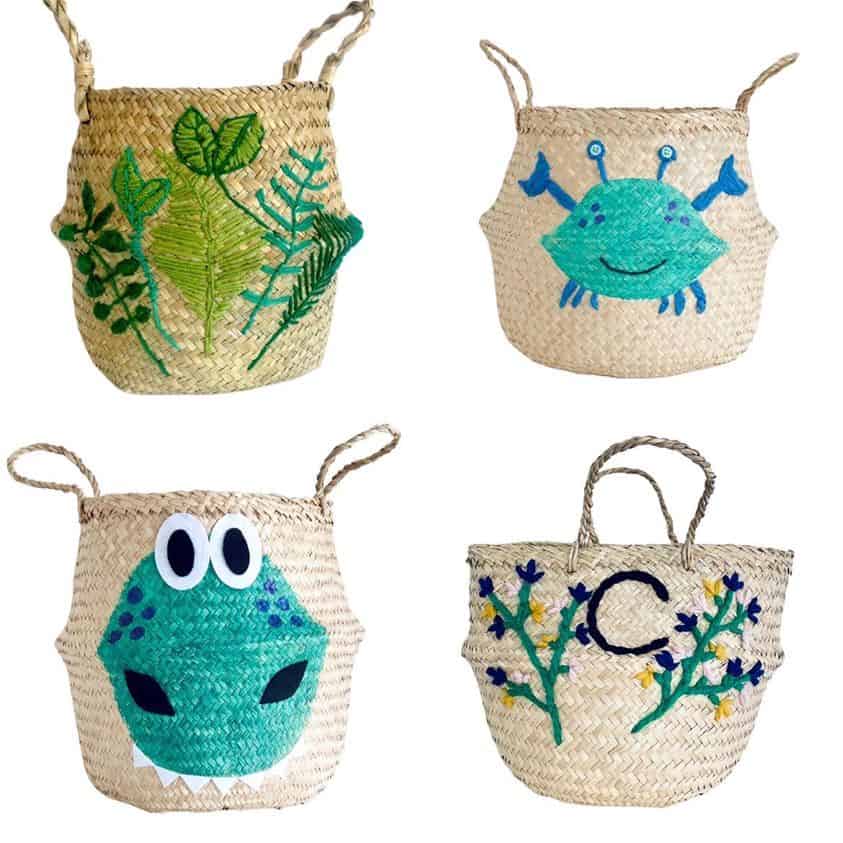 I am such a big fan of these baskets and for good reason. Not only are they spacious but you can use them for all manner of things. And look how cute these green-themed designs are? They'll be a great addition to the nursery.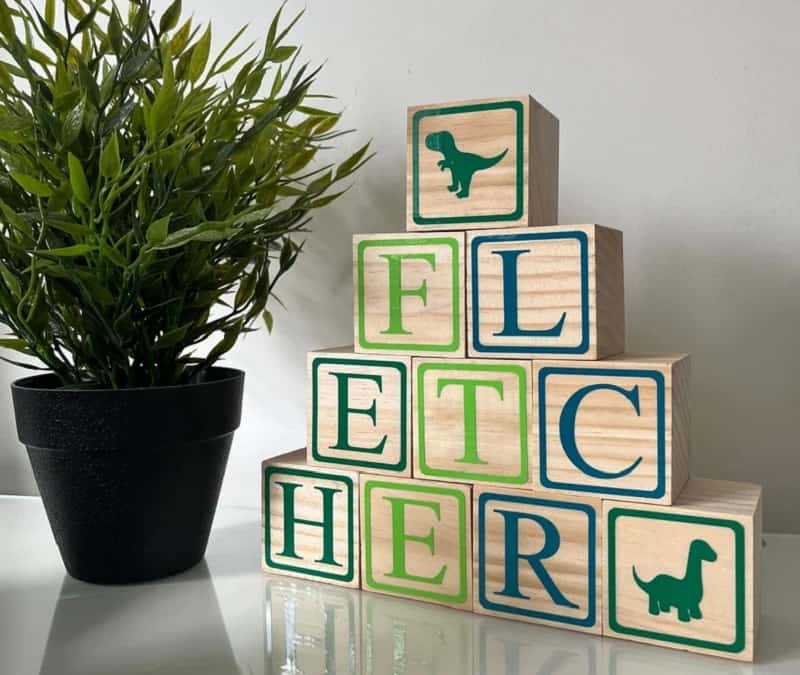 I am sure I don't need to elaborate on how lovely these alphabet and name blocks are for the nursery. A fun toy that looks good too. Just look at the tiny green dinosaur!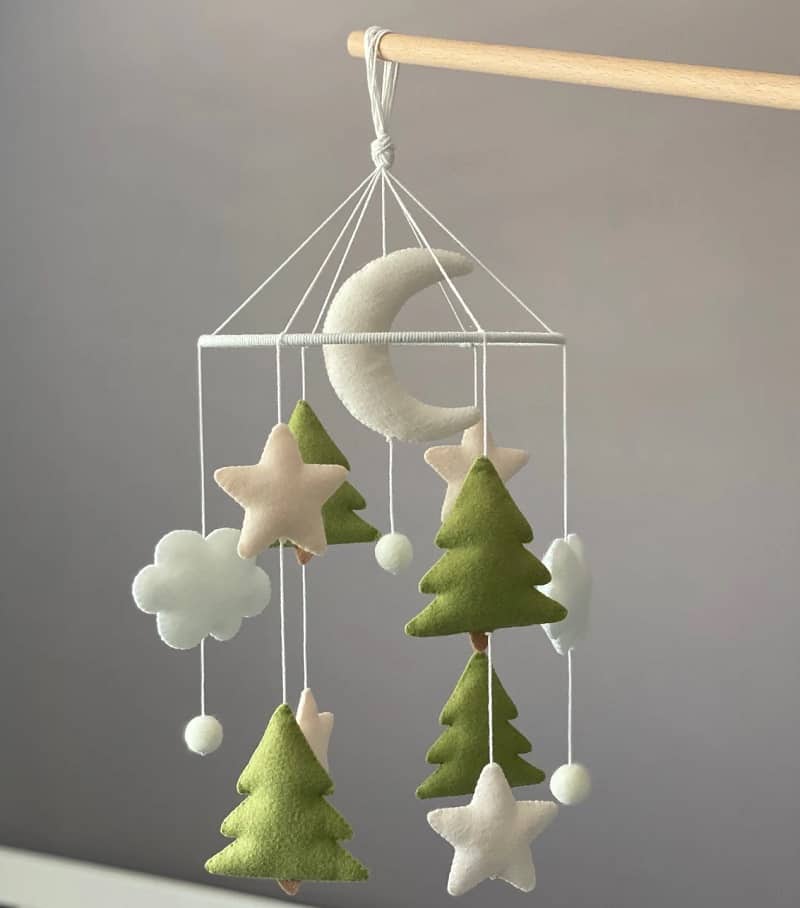 Baby mobiles can keep a baby entertained when having a diaper change and can add to the decor too.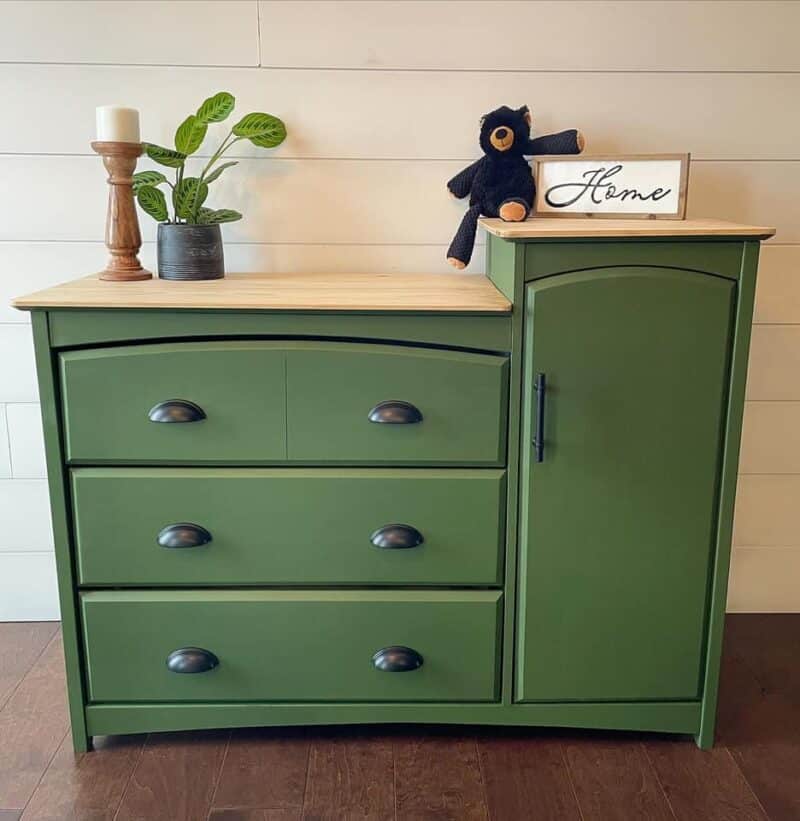 If you don't want to paint your nursery green, you could go for green accessories and furniture instead. Here's a practical and good-looking addition.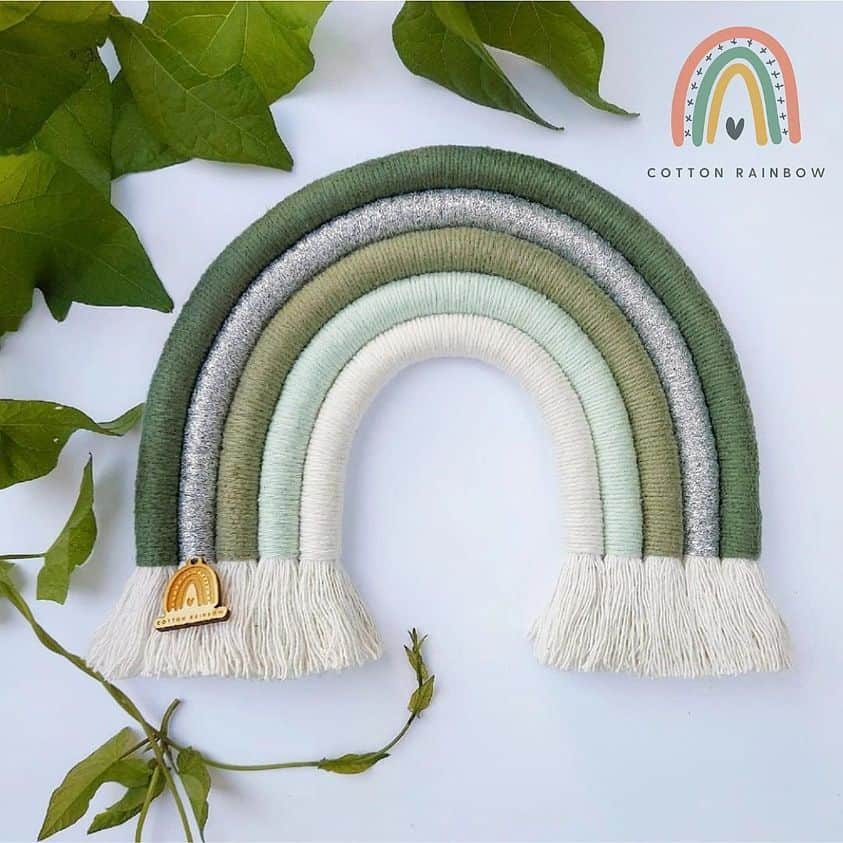 Gone are the days when nursery decor was gender-centric! Out of all the gender-neutral decor options, this one is probably my favorite. Whatever shade of green you pick for your nursery, this rainbow is sure to complement it.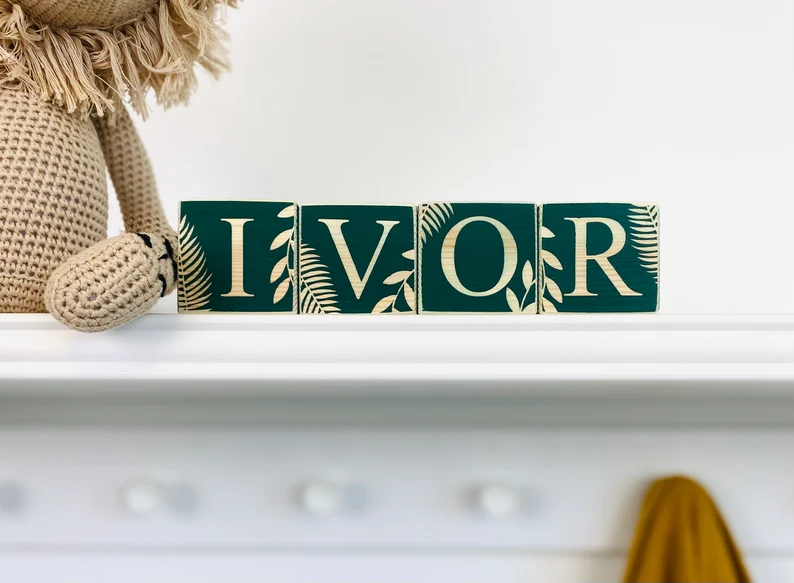 Name blocks with a botanical feel, perfect for your green nursery. Not one to miss no matter what theme you go for.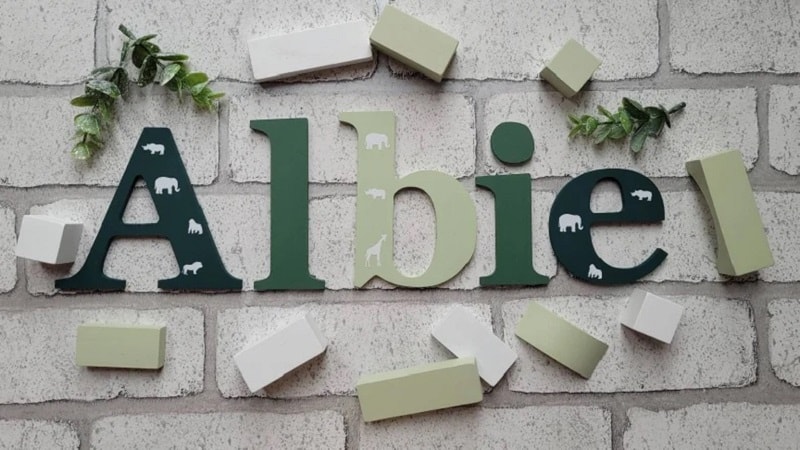 To go with your safari theme are these green wood name letters which will really stand out against a light white shade in the nursery.
Enjoyed this list of sage and dark green nursery ideas?
Not forgetting olive green and the lighter and minty shades! I have my favorites, which are yours?
Looking for more nursery inspiration? Check out:
15 best rocking chairs & nursery gliders for small spaces in 2022
25 best nursery closet organization ideas in 2022 (plus exactly how to organize babys closet)
18 Best Blackout Shades/Curtains For Baby's Nursery (2022 UPDATE)