Are you looking to add color to your baby's nursery? A rainbow nursery theme might be the answer. Rainbows are simple happiness, adding joy and playfulness to any room. Who wouldn't love that, right? No wonder rainbow nursery ideas are popular.
There are endless possibilities when it comes to rainbow nurseries. They don't all have to be bright.
Muted earthy tones can create a boho rainbow baby nursery, as can pastels and peachy shades. There are so many different styles and colors when it comes to creating a gorgeous rainbow-themed nursery.
And if you're not too keen on a huge room makeover, there are so many rainbow nursery decor ideas to try. You could try rainbow nursery wall decal, a rainbow print crib sheet, mobile and so on.
No matter which direction you take, here you'll find the most adorable rainbow baby nursery ideas for you. From the most vibrant colors to more subtle ones, plus rainbow-themed decor too.
This post contains affiliate links. If you click on one and make a purchase, we may receive a commission at no extra cost to you.
Rainbow nursery accent walls
A big wall free from windows it like a giant canvas. It's the ideal place to start your rainbow nursery theme. Turn it into a rainbow accent wall and bring the whole room to life! Here are some ideas perfect for both baby girls and boys.
1. Striped rainbow nursery accent wall idea
You can be quite creative with a rainbow-themed nursery. You can ditch the giant rainbow and go for large stripes in rainbow colors to create a colorful nursery feature wall.
14. Rainbow and hearts nursery wall
This baby girl rainbow nursery is simple and beautiful, fit for a little princess. To get the look pair bright white nursery furniture and minimalist decor with pastel shades.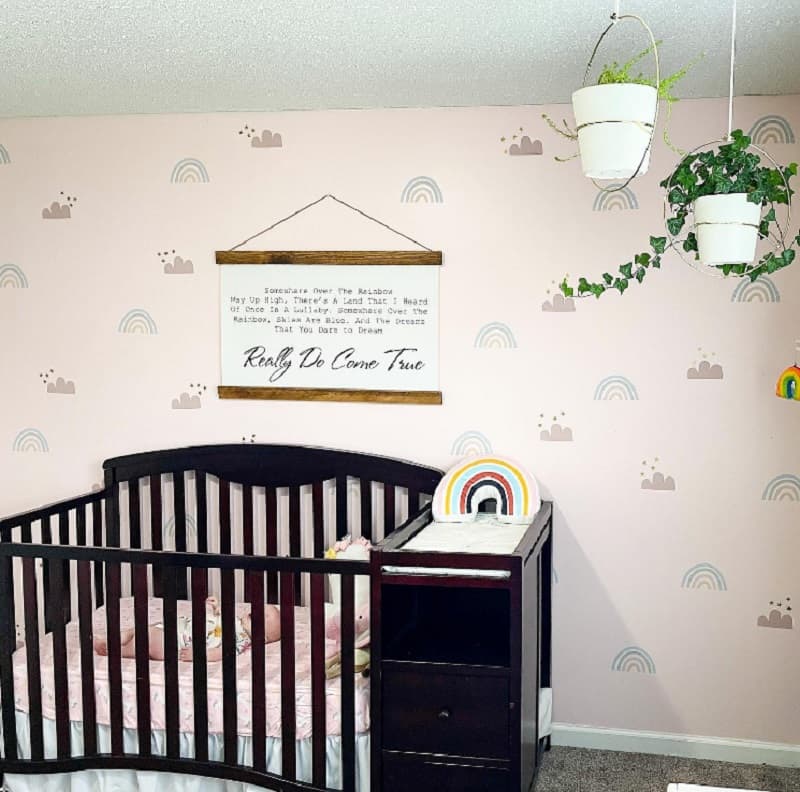 2. Pastel rainbow nursery wall decal
Rainbow nursery wall decals are a simple way to add interest without getting out a paint brush. Start with a plain white or light-colored wall and then add some cute rainbow stick-on decals.
I love the muted pastel shades of the rainbow colors – it really makes the dark wood cot stand out beautifully. Then add simple rainbow decor like pillows and a toy mobile.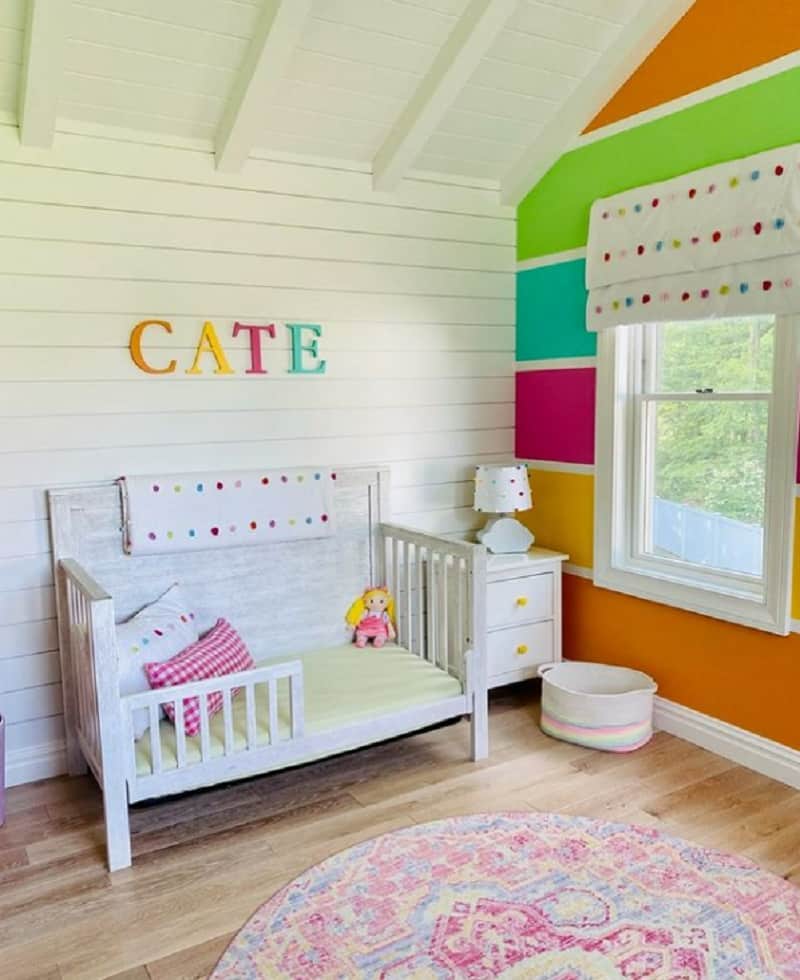 3. Punchy & bright candy-striped rainbow nursery idea
Another rainbow nursery accent wall with stripes rather than the traditional arc in gorgeous vibrant hues. Such a well coordinated baby room, with the colorful wood name and polka dot bedding.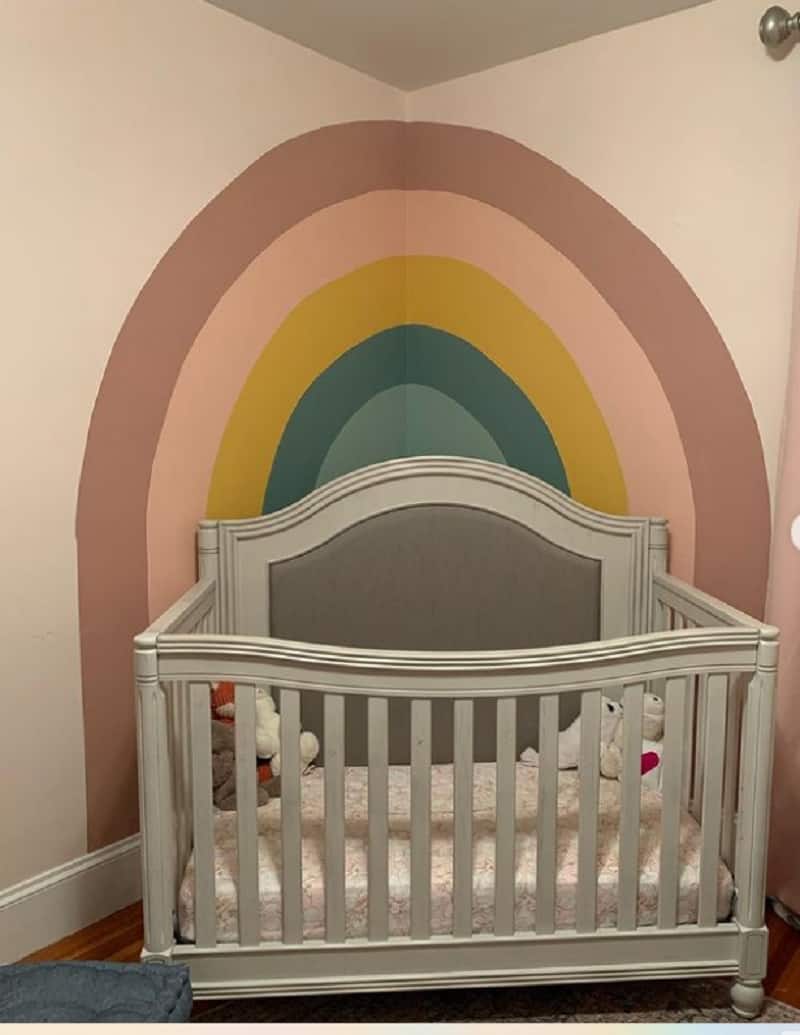 4. Corner wall rainbow nursery mural
Don't let a small nursery stop you. Even if you only have a corner to work with, here's the proof that you can still create a striking rainbow nursery accent wall and a lovely and inviting space for your baby.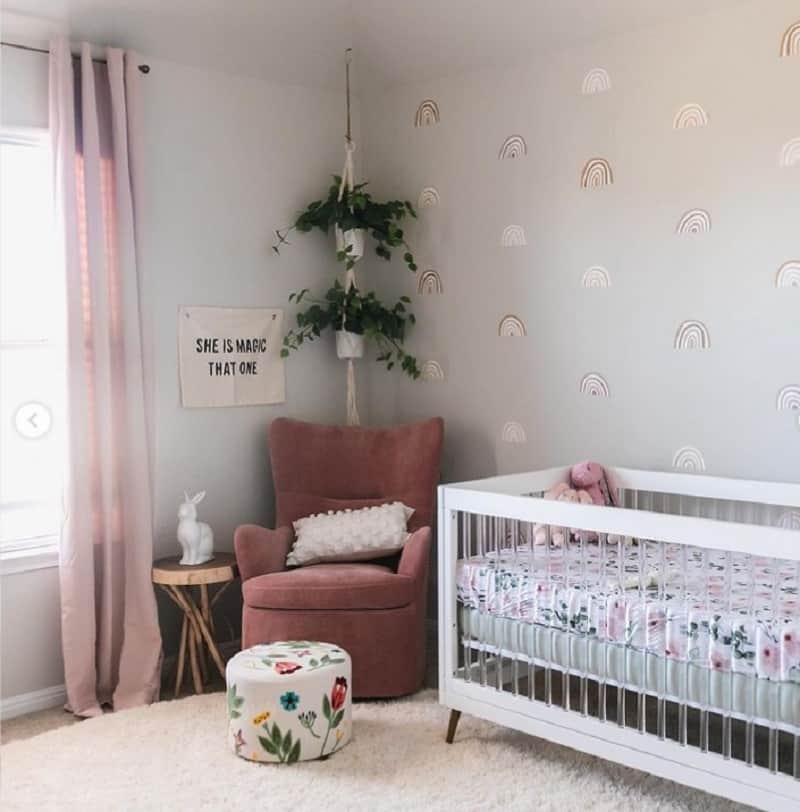 5. Florals and rainbows baby girl nursery idea
You may think that mixing rainbow and florals would be too much. This nursery says otherwise. Who wouldn't fall in love with this rainbow nursery theme with the mix of gorgeous floral elements? Combined with all those different textures, it creates a gorgeous and comfortable nursery. The perfect space for your baby.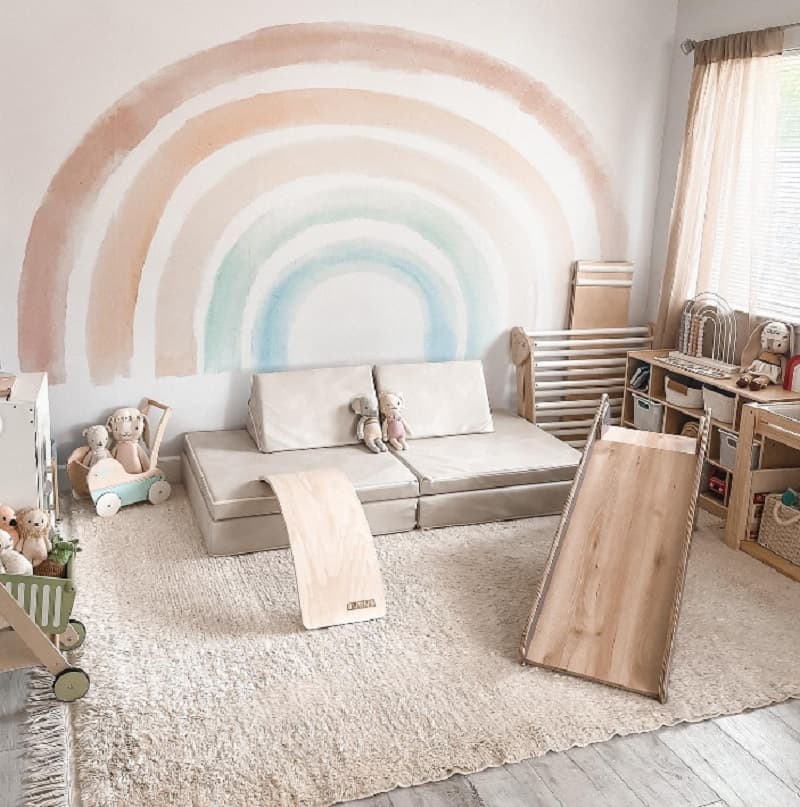 6. Dreamy watercolor effect rainbow nursery wall
I bet you're drooling over this giant rainbow wall mural, I certainly am. The pastel colors complement all the natural wood elements. What can I say, it's gonna be every child's dream come true to call this nursery their own. What fun they're going to have!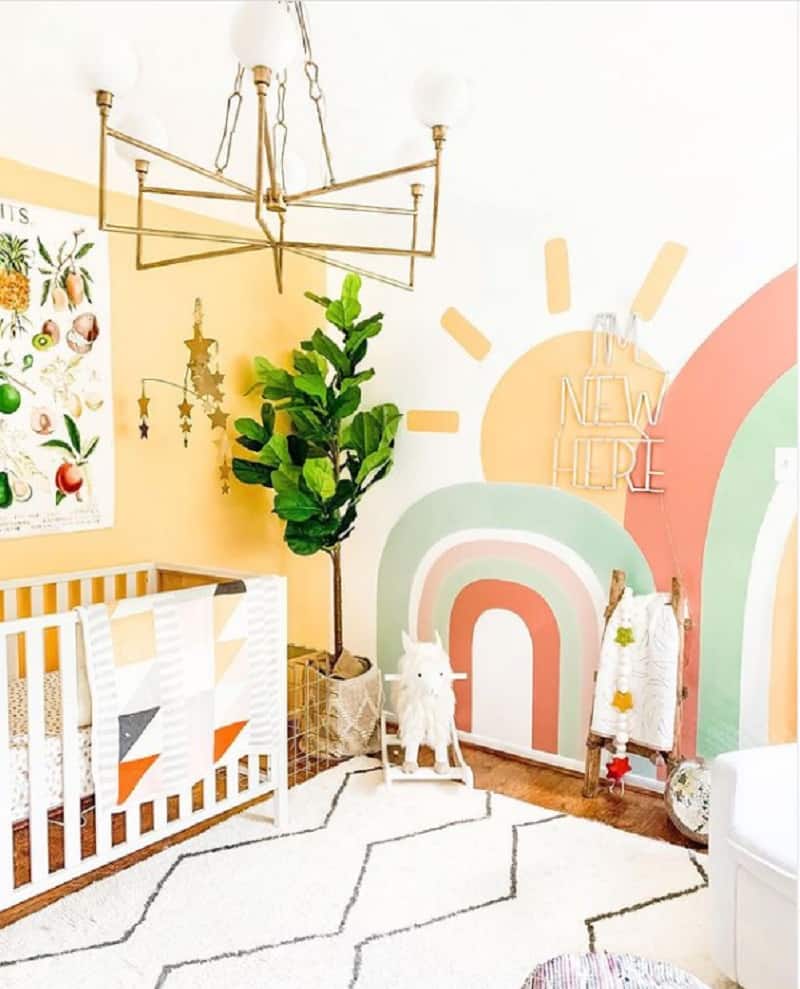 7. Bright and cheerful boho rainbow nursery idea
Not keen on the muted tones? Want to go big and bold with an eclectic edge? Try this vibrant boho rainbow nursery idea. It's so bright and uplifting. Between the sunny mural and the colorful painted rainbows, this nursery is sure to put a smile on your face.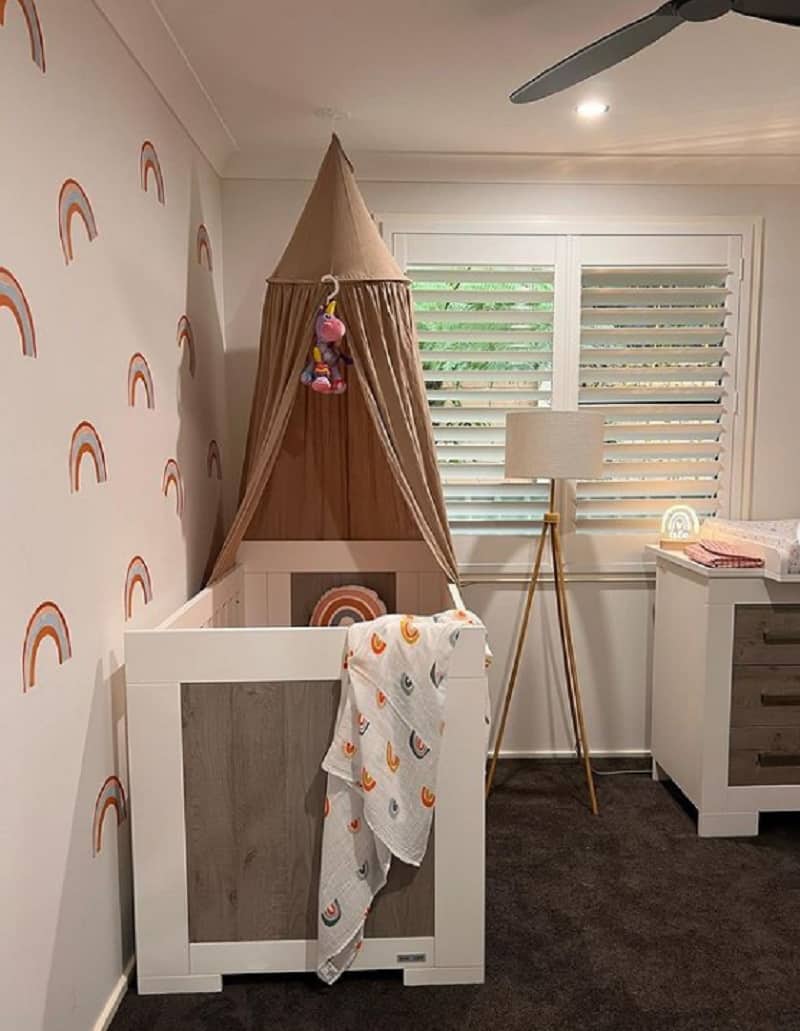 8. Modern rainbow nursery idea
Here's a very cohesive rainbow nursery idea. The rainbow wall decals match the canopy perfectly. Sweet and simple, this would make a lovely rainbow nursery for a baby boy.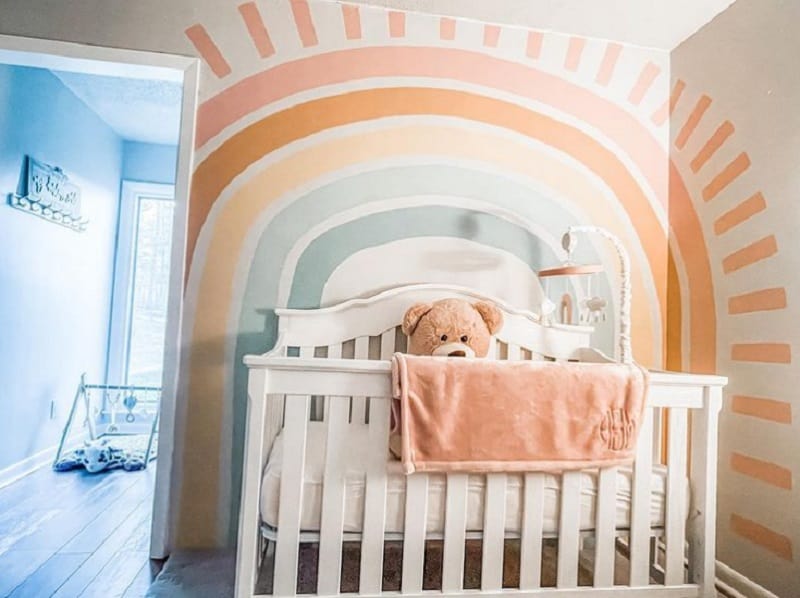 9. Sunny rainbow mural
Another small rainbow nursery not afraid to go big! I love the refreshing colors and the rays of sunshine peeping out from behind the rainbow. Rain or shine, this pastel rainbow nursery idea should brighten anyone's day.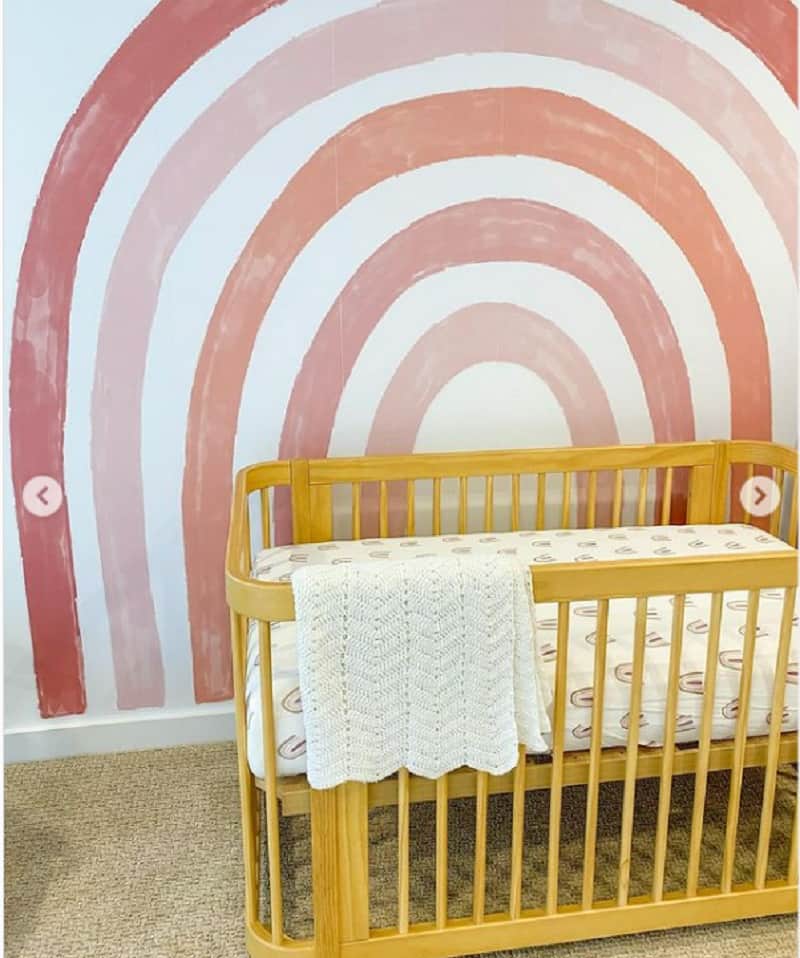 10. Muted pinks rainbow nursery wall
Why not choose different shades of the same color for the rainbow, as above. Then add another color to complement and create a unique rainbow nursery idea. (Grab the rainbow nursery wall decor here.)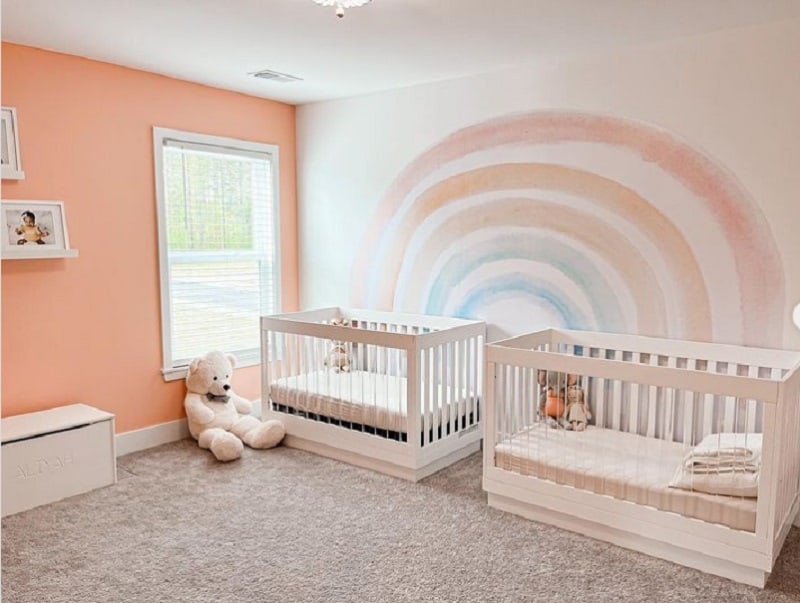 15. Peachy rainbow nursery idea for twins
If peach is your pastel of choice and you have two on the way (good luck by the way!) here's a rainbow nursery idea you've got to have a look at. It's almost like the one twin can join the other by following the path of the rainbow.
A gorgeous color palette and nursery fit for boys, girls or one of each.
Baby girl rainbow nursery ideas
Expecting a baby girl? Fortunately, there are baby girl rainbow nursery ideas for every taste. From pastels to brighter hues, here are some of the prettiest rainbow nursery ideas around, fit for your little princess.
Related post: 23 best nursery dresser organisation ideas.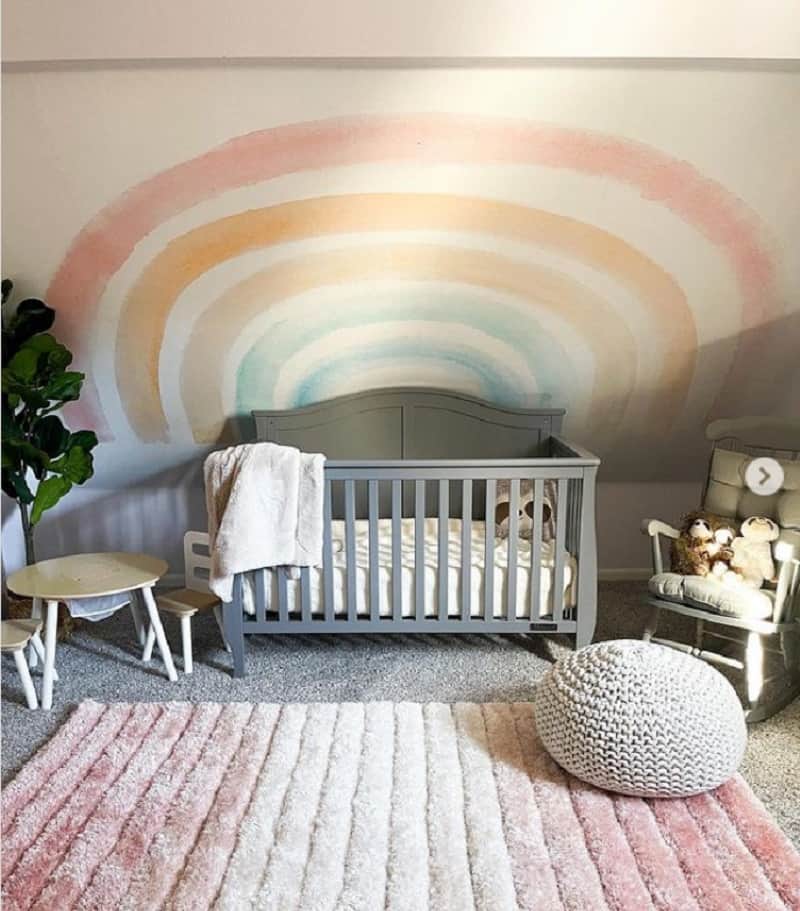 11. Pastel rainbow over the crib
This giant rainbow mural must have been a challenge to paint onto the slanted wall. It came out well, though, didn't it? This rainbow nursery is going to make one baby girl very happy!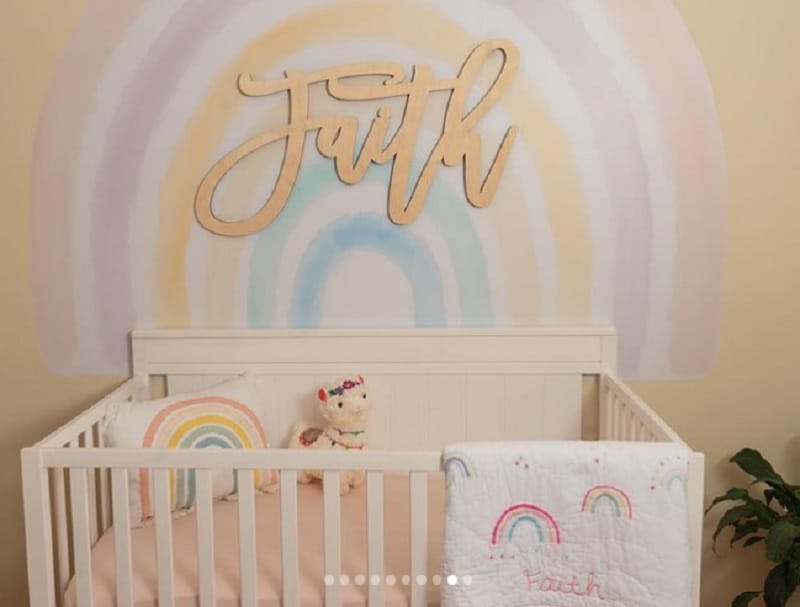 12. Watercolor rainbow nursery wall
What a lovely baby girl rainbow nursery – the addition of the name sign creates a lovely central focus above the crib while the simple decor elements add that feminine touch.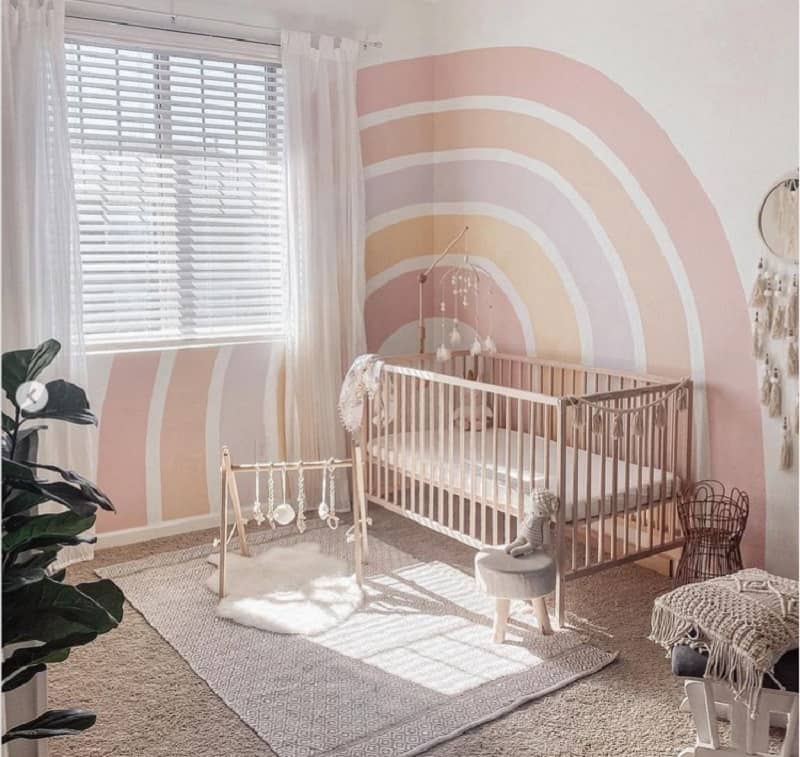 13. Pastel boho chic rainbow nursery
If you're a pastel color-loving mama, then this pastel rainbow nursery idea for little girls is for you. Paired with the pale wood furniture, the result is relaxed and simply stunning.
And what a clever idea to paint the rainbow across the two walls, so that it wraps around the nursery. This baby girl rainbow nursery tops the list for me so far.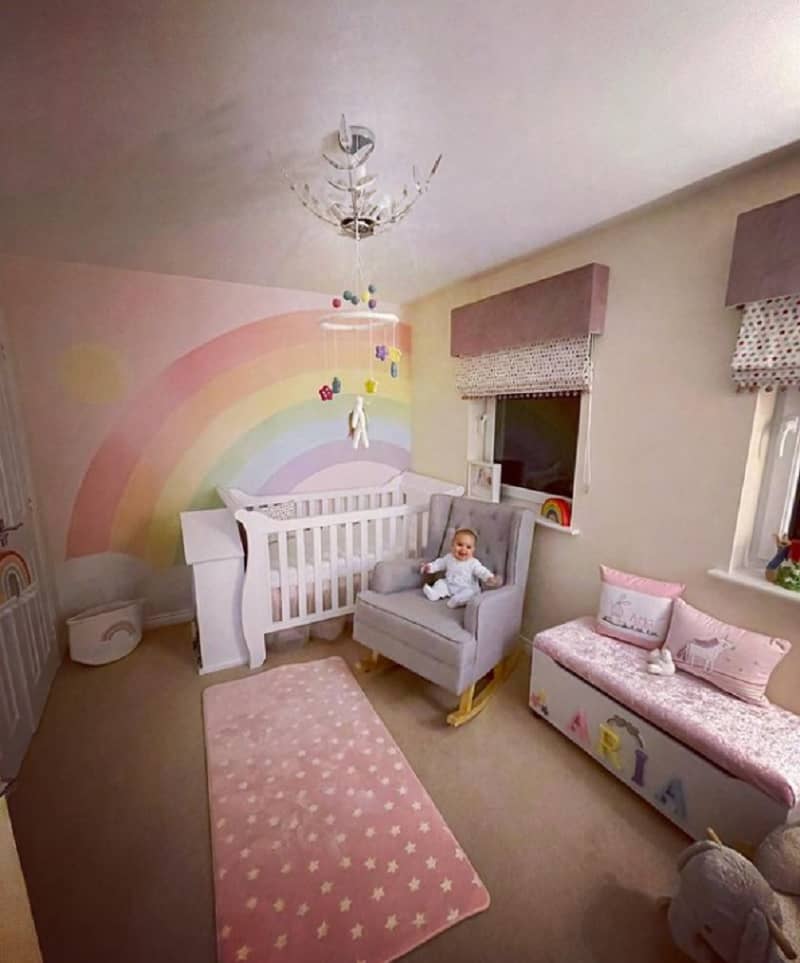 14. Pretty in pink rainbow nursery
Why not have the rainbow finishing over the hill and far away. It creates such a unique rainbow nursery accent wall as you ca see. There's no getting away from the fact that this is a rainbow nursery for a baby girl, with the strong pink theme.
The other rainbow colors dotted around the room create a balanced and inviting look – that baby girl is certainly pleased with her room!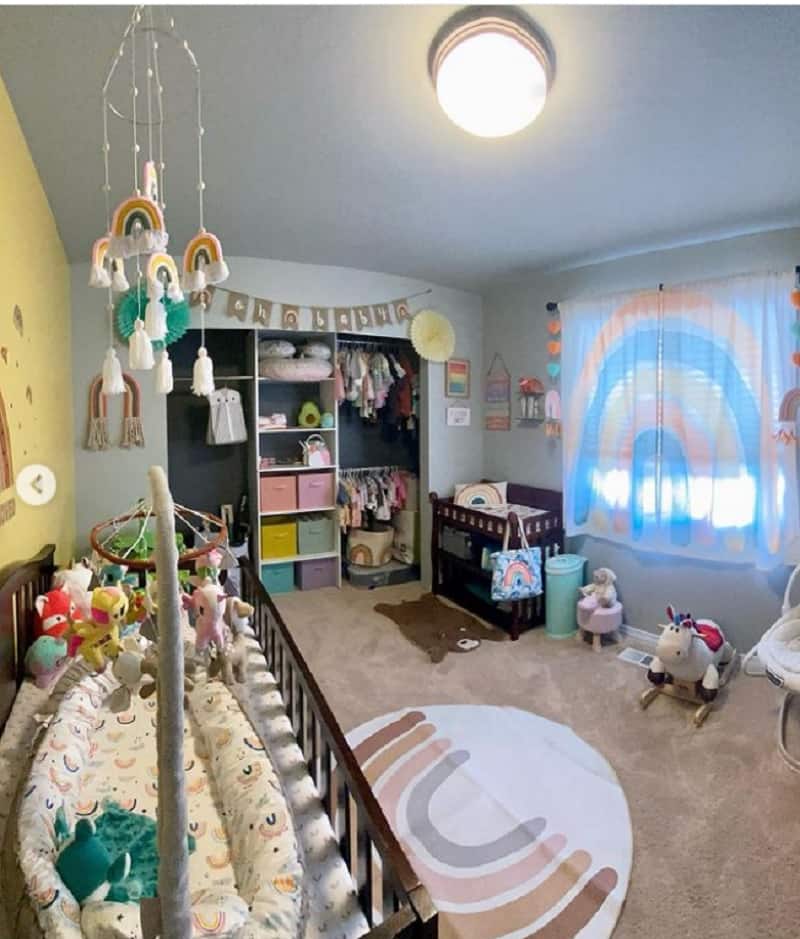 15. A nursery full of rainbows
This rainbow nursery idea illustrates how you don't need to redecorate or repaint the whole room. Rainbow decals, a rainbow rug and other rainbow-themed decor and accessories, like this rainbow baby lounger create a fully-fledged rainbow nursery. Amazingly cute, right?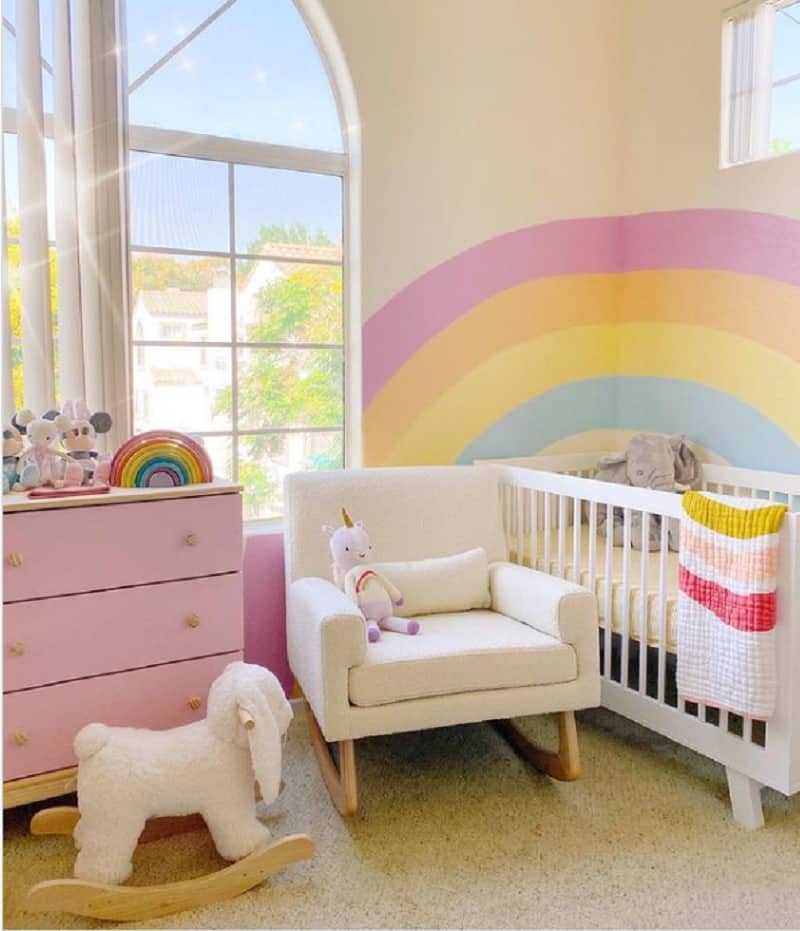 18. Candy-colored rainbow nursery idea for girls
If you like your rainbow colors sweet like candy, try this baby girl rainbow nursery idea. Every detail from the rainbow corner painting down to the rainbow stacker toy, unicorn teddy and other elements coordinate beautifully together.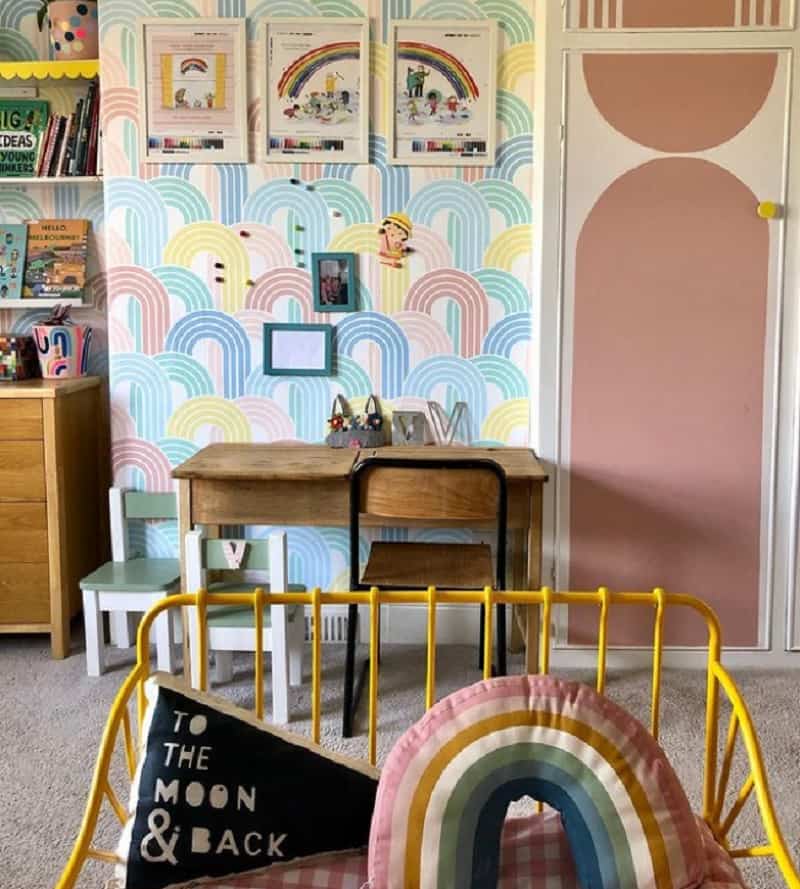 19. Eclectic rainbow nursery idea
There's a lot going on in this fun rainbow nursery, but it really works. It just proves that you don't have to stick to certain colors to create a gorgeous room. The mix of earthy tones and richer colors works and pastel colors of the wallpaper is held together by the strong rainbow theme.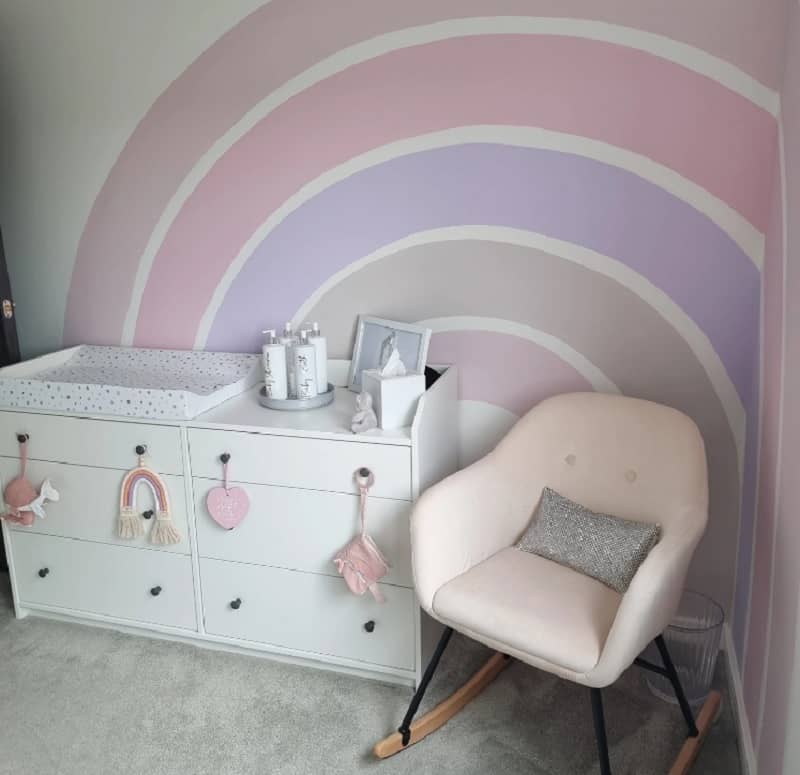 20. Sweet pink and purple rainbow corner wall
Thinking about recreating this lovely rainbow nursery corner wall? I don't blame you – just look how pretty and girly this room is. Baby girls are sure to love the pink and purple colors of the rainbow stripes combined with the silver decor elements. Such an elegant combination.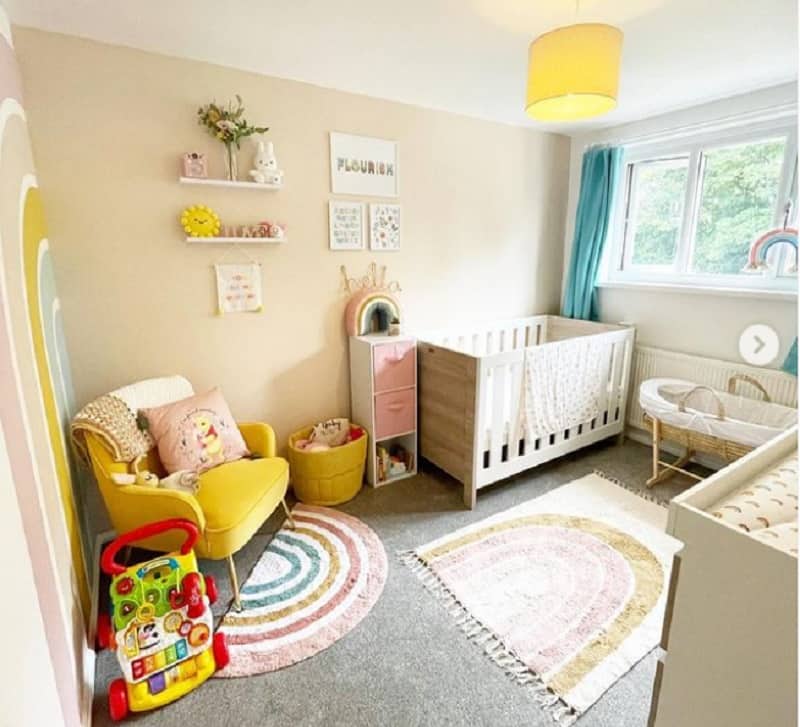 21. A nursery full of colorful rainbows
If you want to go all out, then take note of this colorful rainbow nursery idea. The rainbow mural, rainbow rugs, wall decor and bright furniture will give your little bub a fun and special space to grow up in!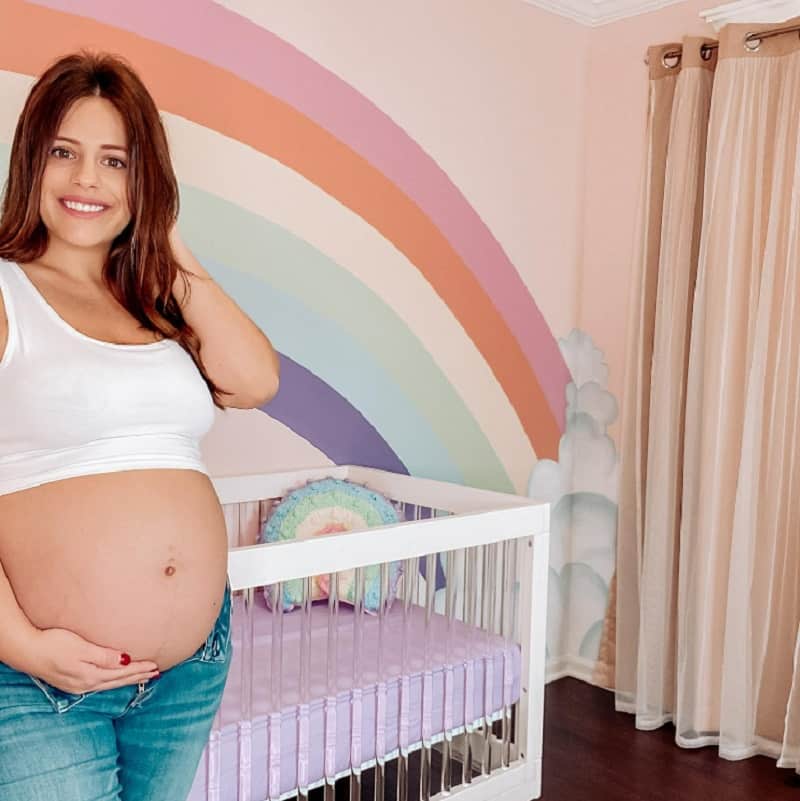 22. Somewhere over the rainbow
This rainbow nursery wall mural is as beautiful as this mommy, don't you agree? It's so well coordinated too, from the bold rainbow to the crib bedding. And how gorgeous is that rainbow pillow?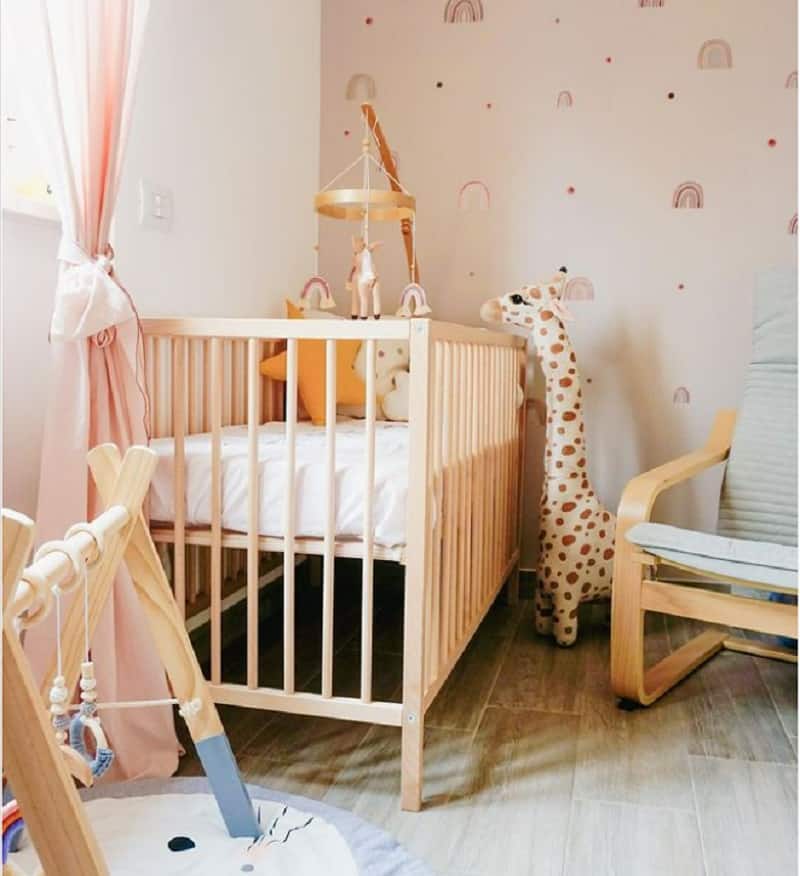 23. Rainbow & jungle-inspired nursery
This cute nursery illustrates how well the rainbow theme combines with safari elements. The key is to use colors with similar hues and tones. Here the look is flawlessly tied together with the warm honey-color and muted shades.
Baby boy rainbow nursery ideas
Before welcoming your bouncing baby boy home, create a bright and cheerful nursery with a rainbow theme. Or how about a fun boho rainbow nursery? Check out these baby boy rainbow nursery ideas for inspiration.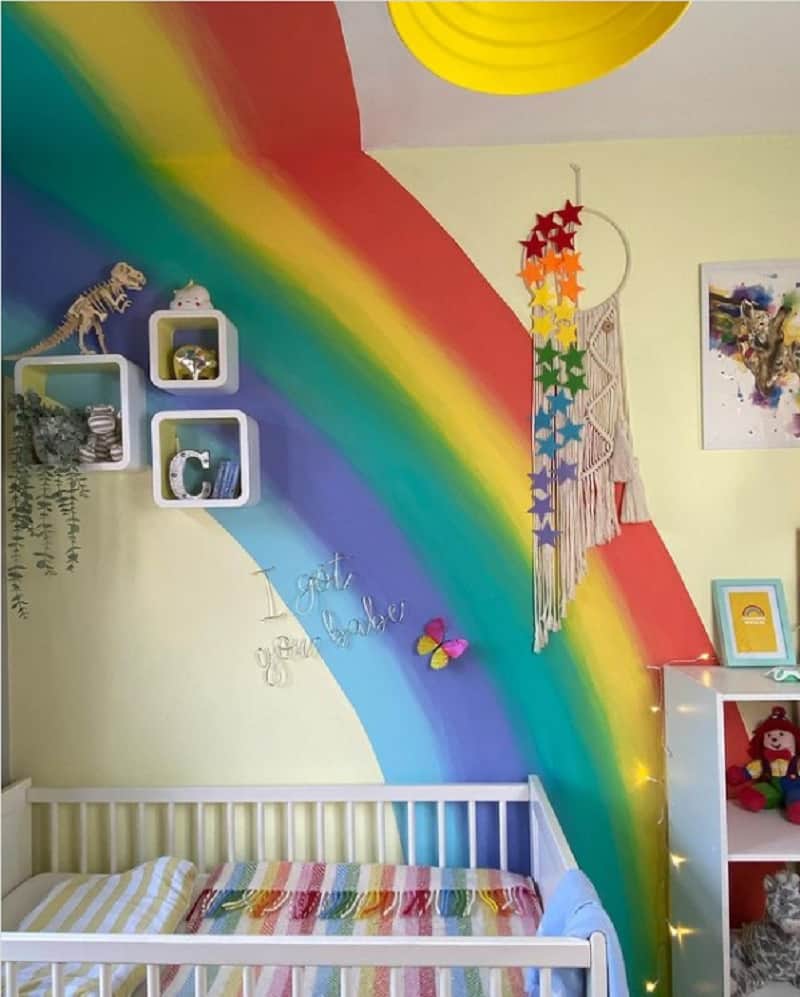 24. Bold rainbow baby room
A wonderful rainbow nursery idea exploding with color. It's like there's a pot of gold waiting at the end of the rainbow! There's a lucky baby boy loving this rainbow nursery.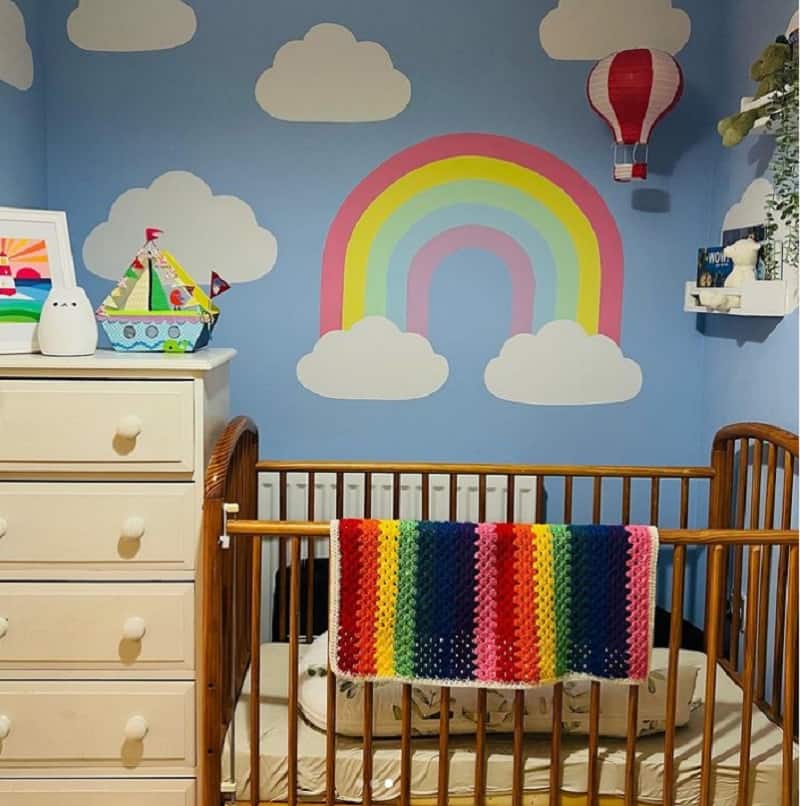 25. Rainbow & cloudy skies nursery idea
Going heavy on blue hues is a great baby boy rainbow nursery idea. A classic baby boy palette and transport elements, brightened by the bright pops of the rainbow mural and crocheted blanket. Simply gorgeous.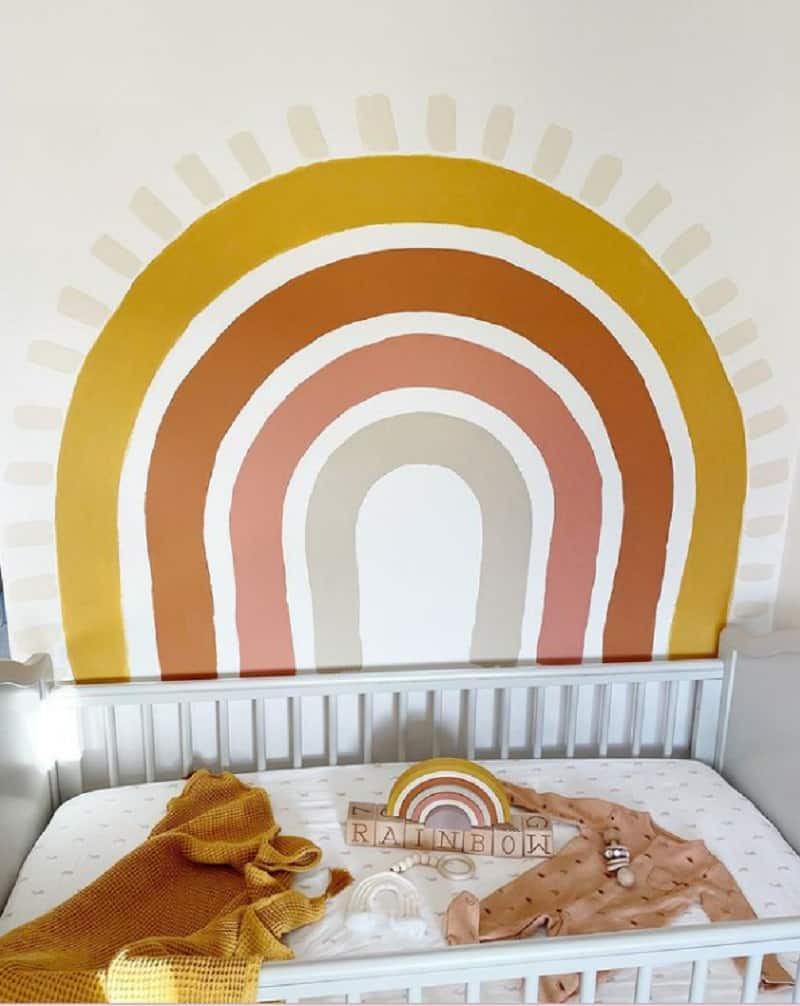 26. Fall inspired boho rainbow nursery wall
If fall's your favorite season, take inspriation from the gorgeous golden tones of yellow, orange and rusty brown. Combine with simple nursery bedding and decor in similar colors and you have a warm and inviting boho rainbow nursery fit for a baby boy. Although this could work equally well for a baby girl.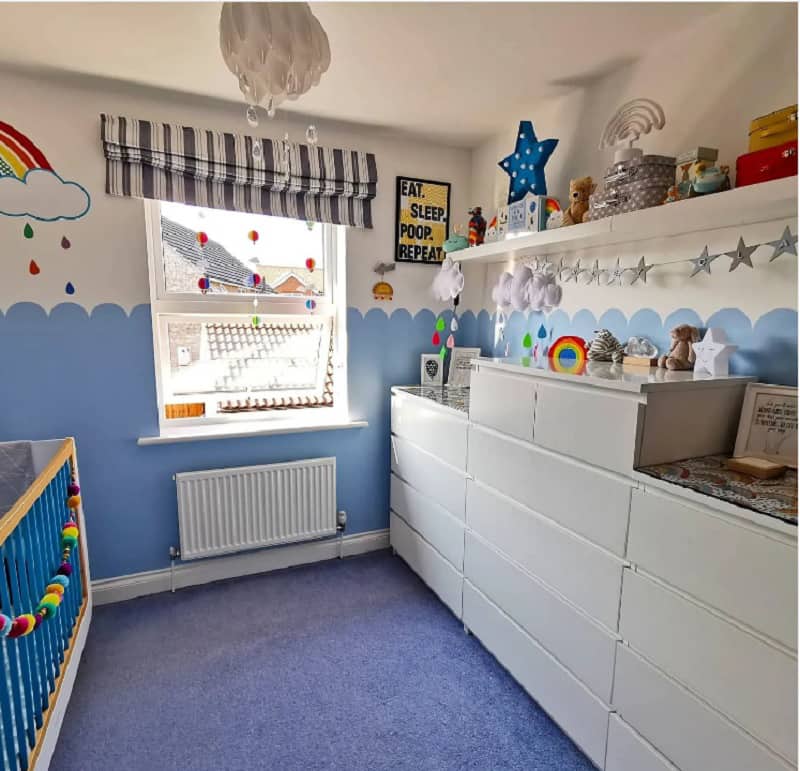 27. Two toned paint effect with rainbow theme
Classic colors for a baby boy with a fun and interesting two tone paint effect that divides the top of the room and the bottom. Add rainbow elements (how cute is that pompom garland) clouds and stars and you have a sweet baby boy rainbow nursery.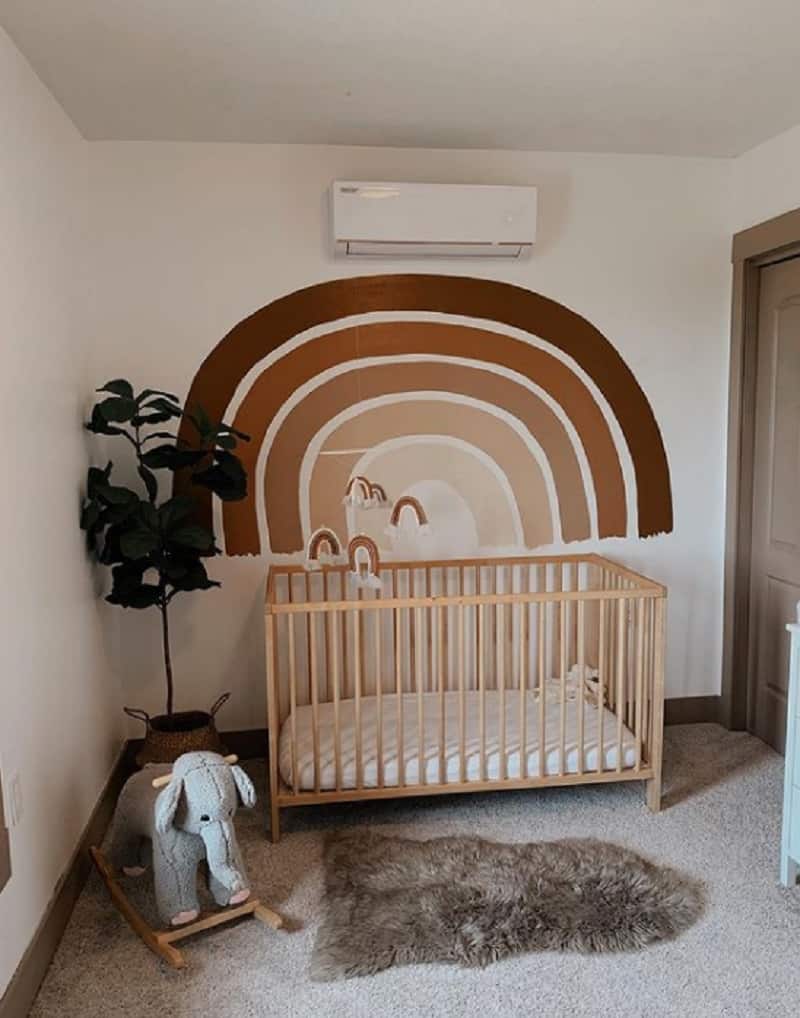 28. Earthy rainbow nursery idea for boys
If you looking for a nursery with earth tones and a boho, natural feel, try this rainbow nursery theme. The simple nursery color scheme of the rainbow combines so well with the pale wood crib, rocker toy and plant basket. The look is softened by the warm textures of the fluffy rug and wool carpet.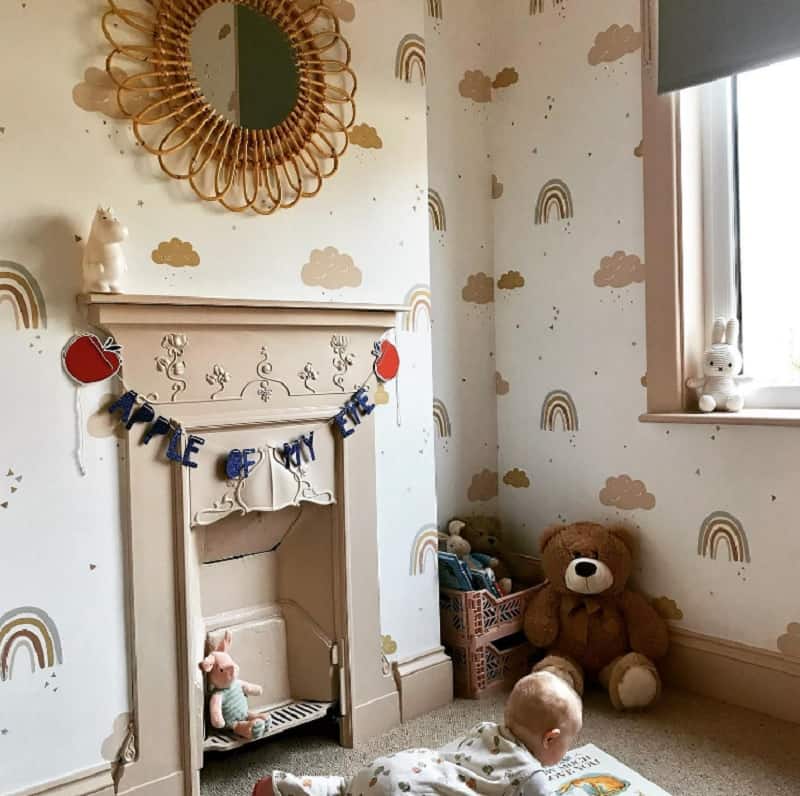 29. Warm boho rainbow nursery idea
Here's a rainbow nursery which illustrates how well this theme can work in a room with period features. The warm shades of the rainbow wallpaper work wonderfully with the neutral textures. The rattan mirror is the cherry on the top.
Rainbow nursery decor ideas
Looking for a colorful way to spice up the nursery and add a bit of rainbow pizzazz, without having to redecorate? Here are some rainbow nursery decor and accessory ideas you're sure to fall in love with.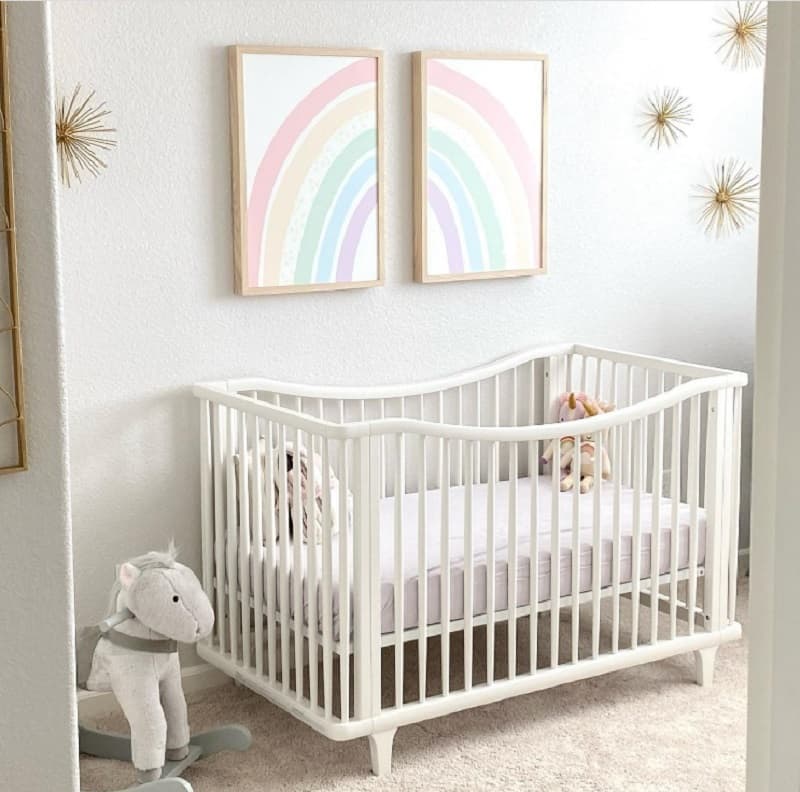 30. Rainbow nursery wall art
If going all out with the rainbow theme is not your thing, here's some simple wall art to add a colorful and elegant touch.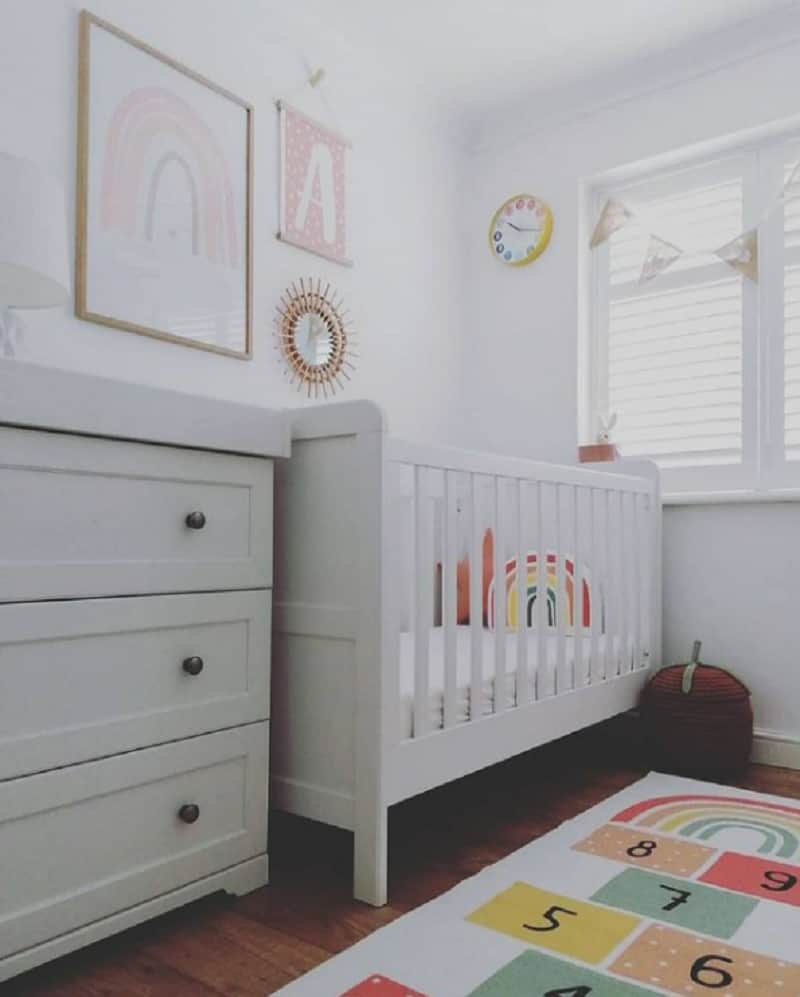 31. Rainbow decorations for the nursery
A subtle pastel colored rainbow pairs so well with the name letter canvas and rattan mirror to create a feature wall behind the crib. Add some rainbow-themed decor and rug and you've created a super sweet rainbow nursery. Simply switch out the decor when your baby grows out of rainbows without having to redecorate.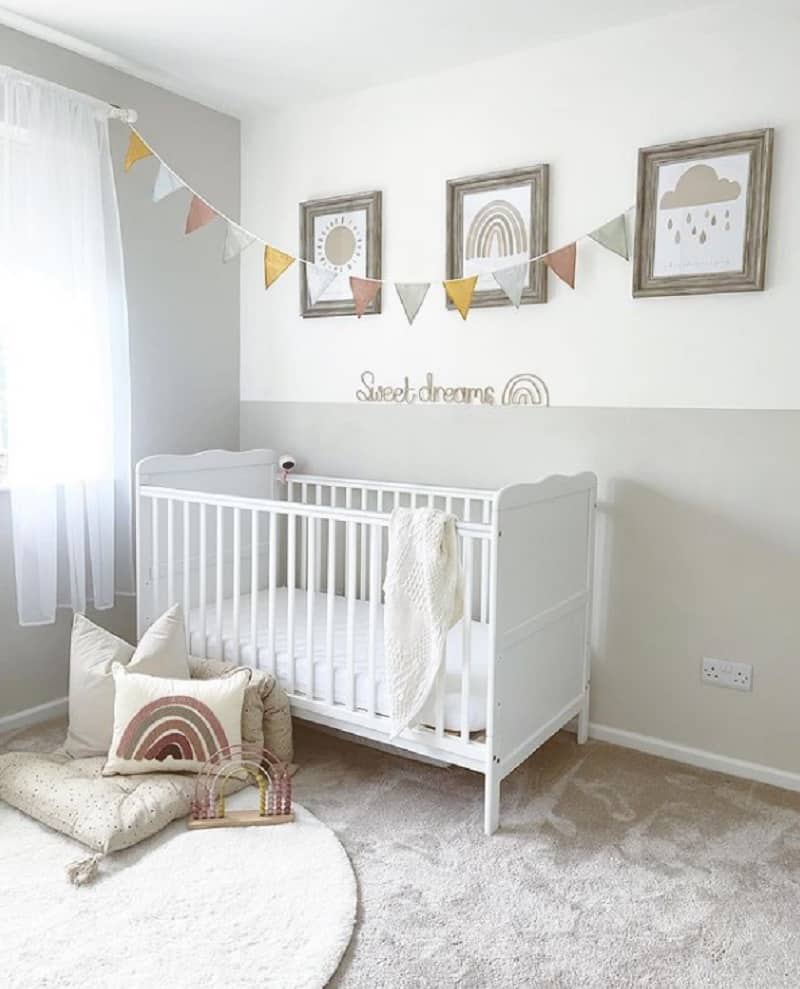 32. Neutral rainbow nursery idea
Looking for a gender-neutral nursery design with a subtle hint of rainbows? Try this chic palette of white and beige, with earthy accents from the simple rainbow elements and motifs.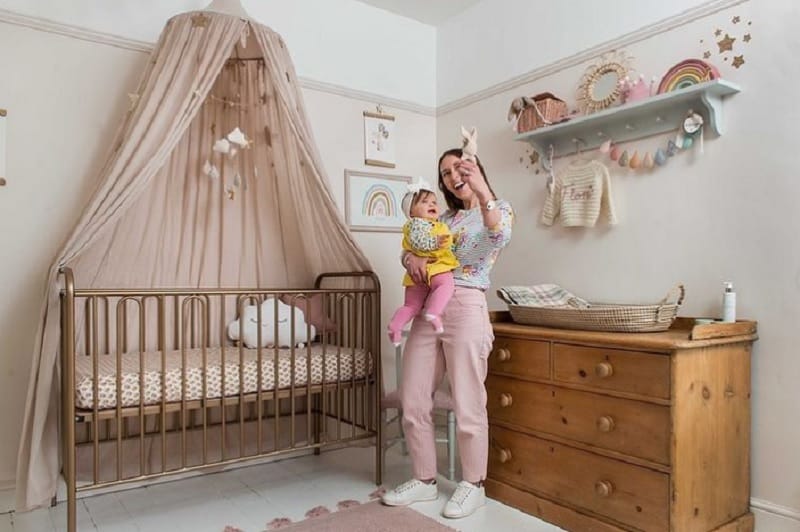 33. Whimsical rainbow nursery idea
Here's a gorgeous bohemian-style nursery with a touch of whimsical flare. This room is proof that you don't need big rainbows on the walls to transform the nursery into a beautiful themed space.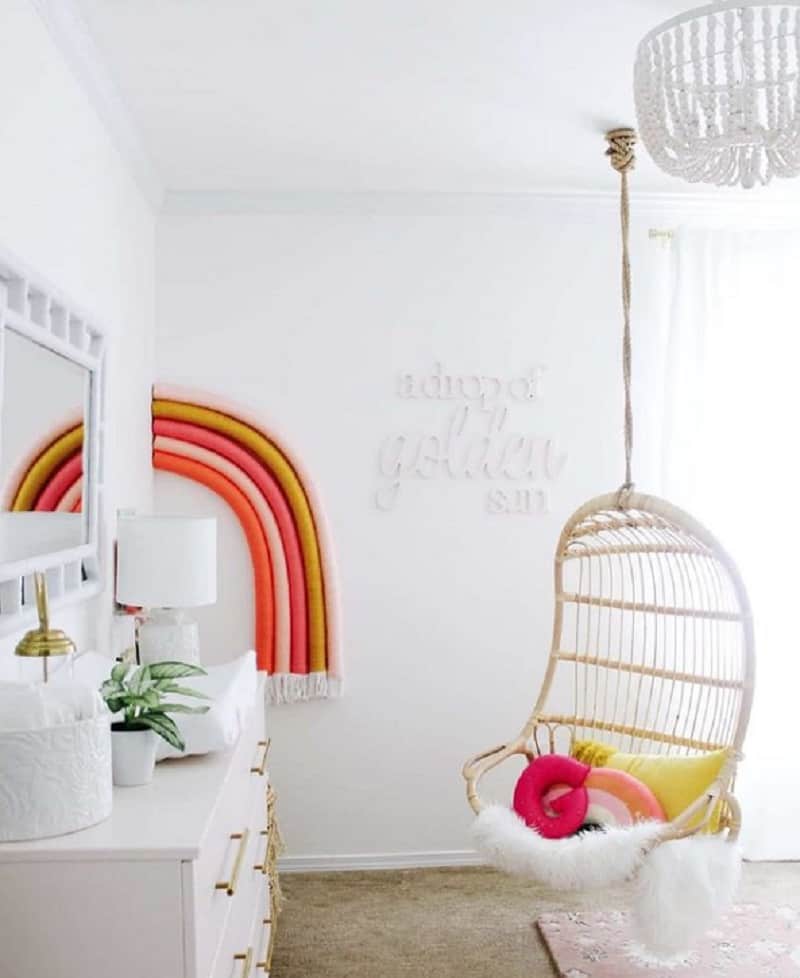 Source: Arinsolange
34. DIY rainbow wall hanging
Can you believe this rainbow wall decor is handmade? Doesn't it look stunning against the brilliance of the bright white nursery walls? The wall hanging is complemented beautifully by the brightly-colored swinging chair accessories and the gold handles of the diaper changing dresser.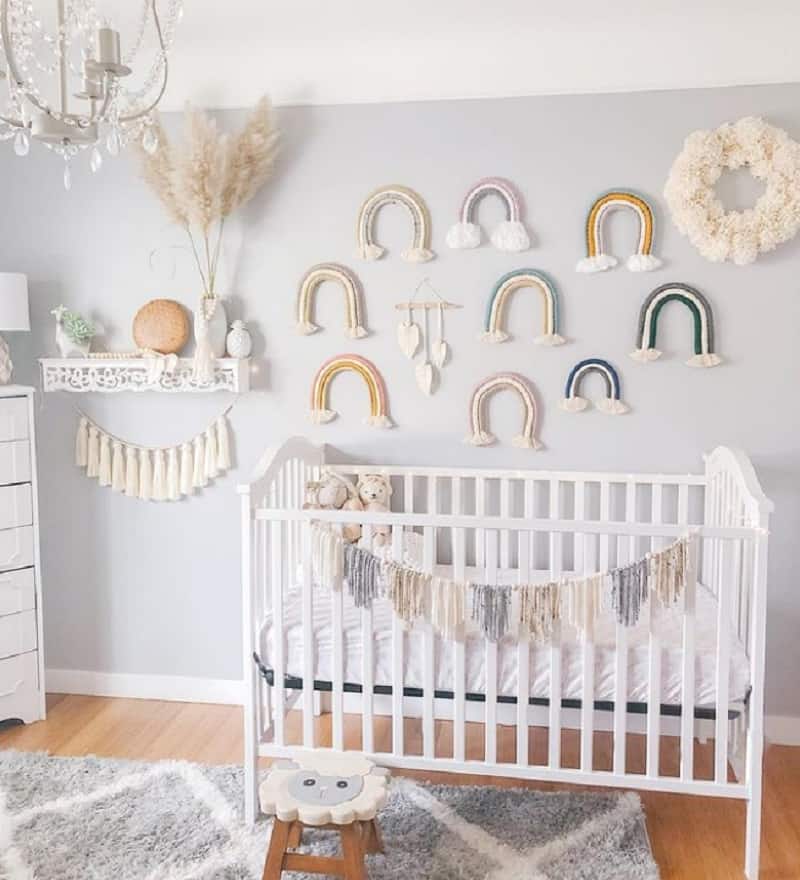 35. Hanging macrame rainbow nursery decor
These hanging macrame rainbow wall hangings are simply gorgeous – such unique rainbow nursery inspiration. Click here to see all the different options available from The Cozy Wall. You're sure to find the exact colors you want.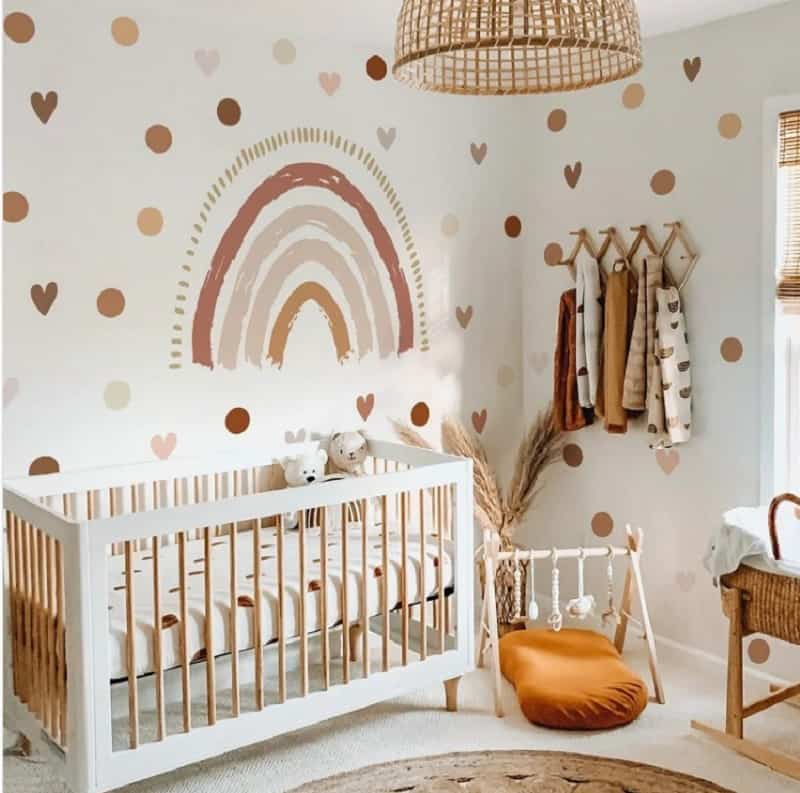 36. Boho rainbow nursery wallpaper
This rainbow nursery wall decal comes in different shades and styles, so you should be able to find one that'll fit the design of your nursery. They're easy to apply and remove too. In just a few minutes, you'll have stunning rainbow-themed nursery walls!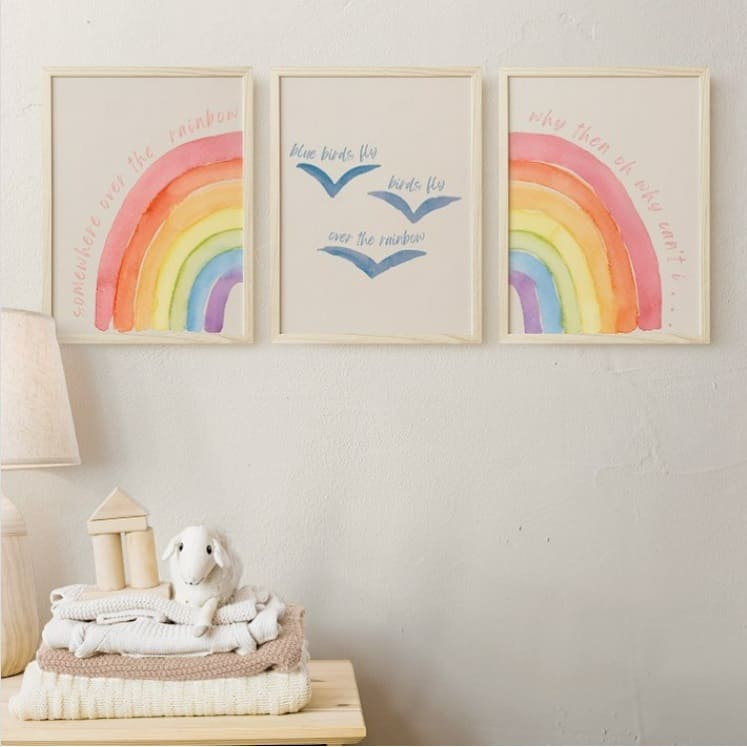 37. Rainbow nursery wall canvas prints
These framed watercolor wall prints could be the perfect addition to a rainbow-themed baby room. They look gorgeous pared with neutral and rustic fabrics and materials.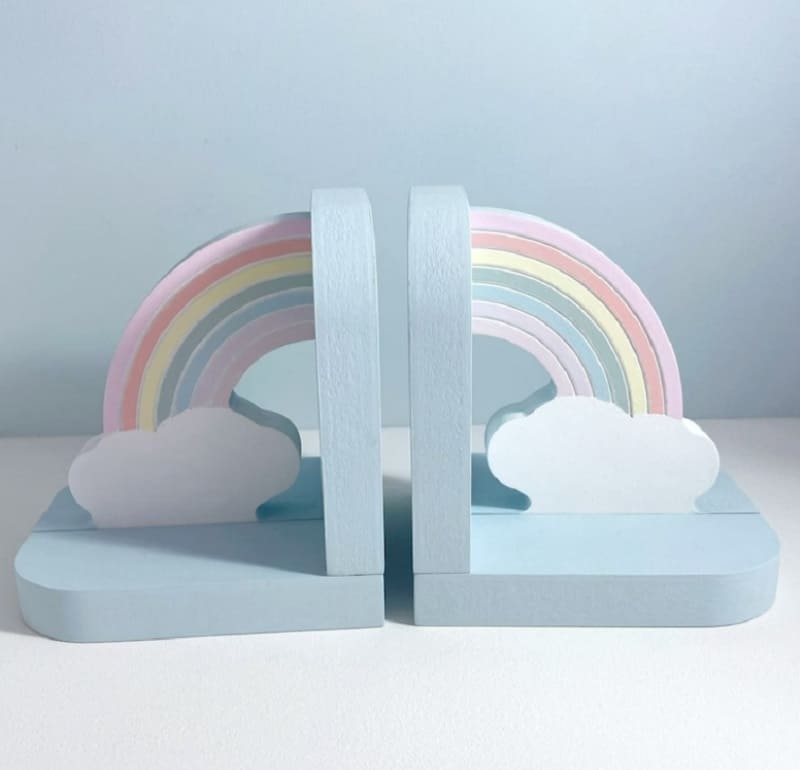 38. Rainbow-themed bookends
It's never too early to start your baby's book collection. Put them on display on the nursery shelf with these adorable pastel rainbow nursery bookends. A great idea to keep your little one's library organized – and cute too.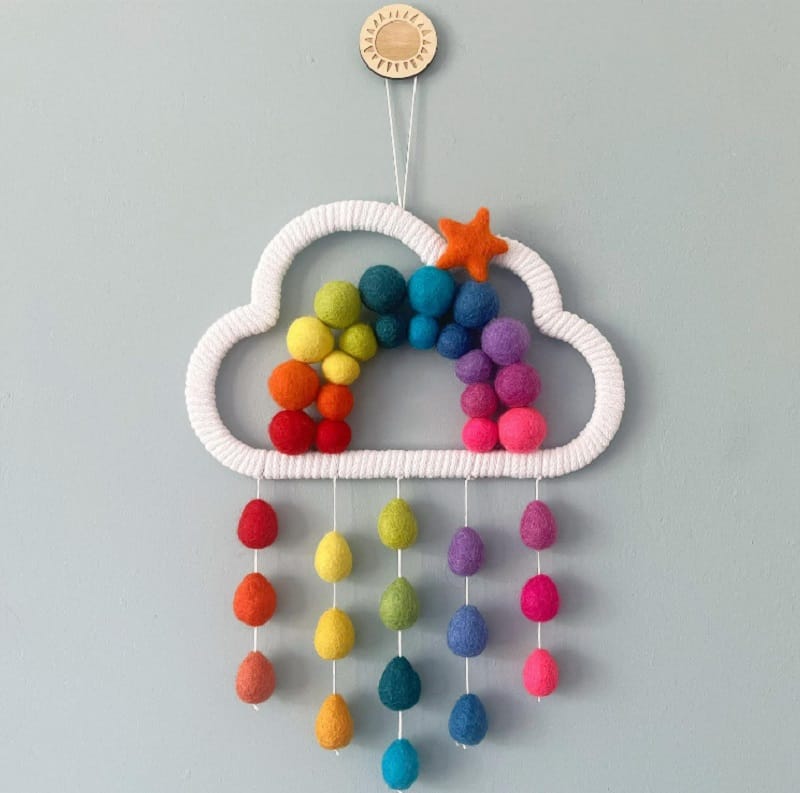 39. Rainbow cloud mobile wall nursery decor
Want to add a pop of vivid color to a plain white nursery wall? Add this super cute rainbow cloud nursery wall hanging. You could also hang it on the nursery door as a taster of the rainbow-theme to come. Such lovely rainbow nursery decor.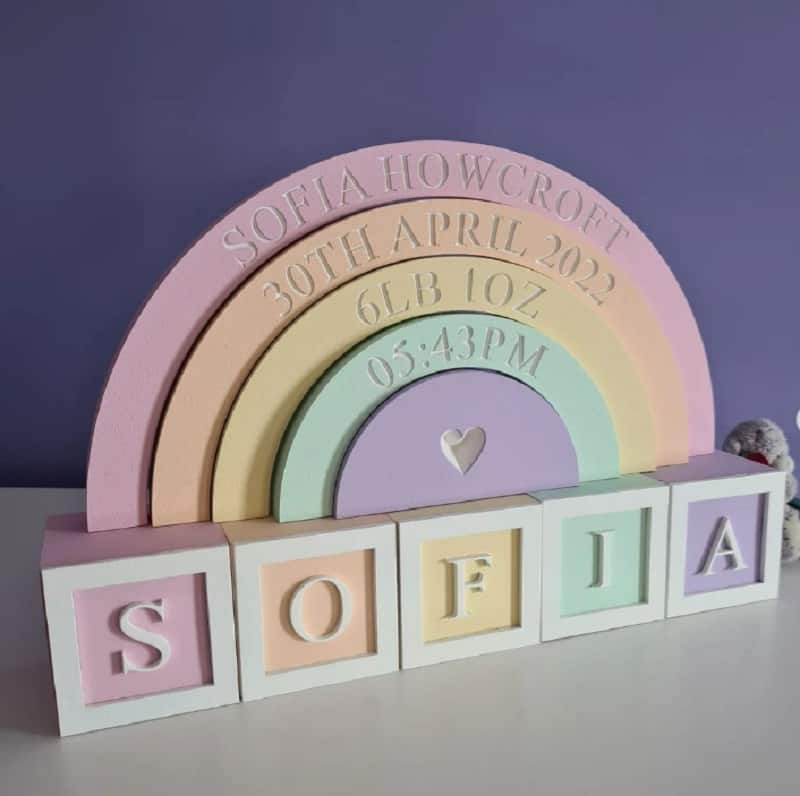 40. Personalized wooden stacking rainbow and blocks
I'm not surprised these rainbow blocks and birth details stackers are so popular. There's so much to love about this nursery decor piece.
First-off, they're simply gorgeous. Second, you can use them to display baby's birth details. And third, they serve as a functional toy too – great for open-ended play. Such a lovely educational nursery idea.
Wouldn't they make a lovely new baby gift? This has to be my favorite rainbow nursery decor. Click this link to order.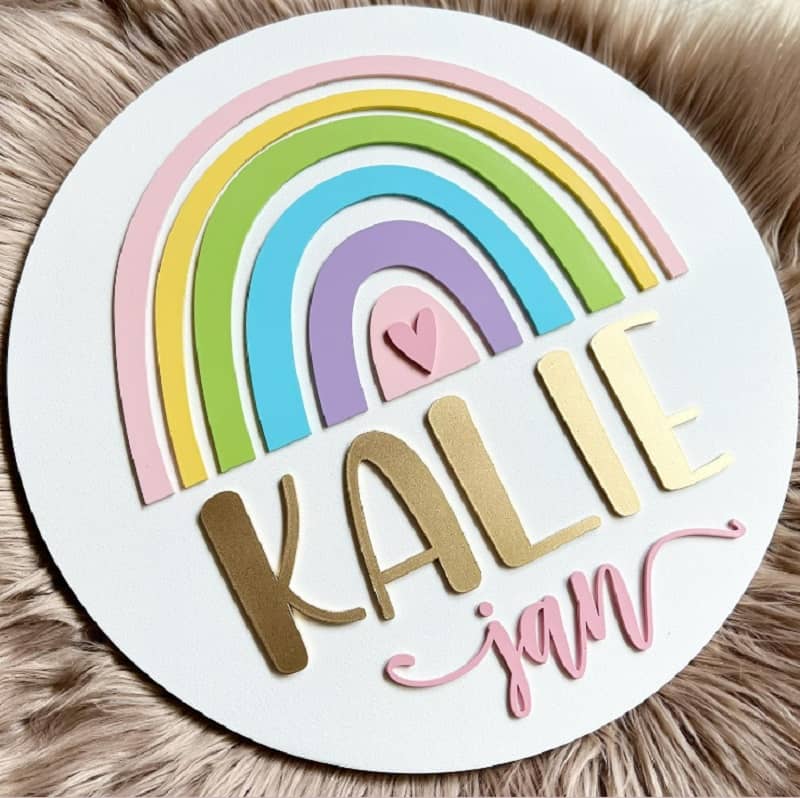 41. Rainbow name decor
How about getting a wooden rainbow sign personalized with your baby's name? Not only will it look beautiful on a shelf or hanging on the wall, it'll make a wonderful keepsake to treasure forever,
What's your favorite rainbow nursery idea?
Rainbows are a symbol of beauty and hope, so it's a lovely idea to bring this simple theme to your baby's nursery. And who knew there were so many rainbow baby nursery ideas out there?
From vibrant bright colors to earthy and rustic shades, from hanging rainbow wall hangings to giant painted rainbows wrapping around the walls you're sure to be spoilt for choice.
Before welcoming your baby at home, make sure that their rainbow nursery is ready for their arrival – cheerful, welcoming, and full of love! Which are your favorite nursery inspirations? It's difficult to choose, isn't it?
Happy decorating!
Looking for more nursery inspiration? Check out these posts:
Other posts to help prep the nursery:
Here are some tips to help you get ready for baby:
My favorite topic – baby sleep!