Inside: Traveling with a newborn by car or by plane may feel a little daunting. Find out when it's safe to do so here, plus the best newborn travel tips for air and car travel.
You may not be itching to travel with your newborn in the first few weeks after delivery, but needs must, right? Going to visit friends and family may leave you asking when is it safe to travel with a newborn by car or can newborns go on long car rides.
I wasn't exactly keen to leave the comfort of the sofa in the early days but we had long-haul flights to take with both my first two babies before the age of 6 weeks. So the question of when is it safe to travel with a newborn by plane came up pretty early for us.
Whether you're traveling with a newborn by car locally, further afield or by plane, first off you need to know when is it safe to travel and how to do so. What about during Covid times; is it safe to travel with kids during the pandemic?
All your queries will be answered here.
This post contains affiliate links. If you click on one and make a purchase, I may receive a commission at no extra cost to you.
When is it safe to travel with a newborn?
Most doctors will advise you to wait until your baby's immune system has fully developed or at least better developed before traveling. That means different ages for different babies.
When is a baby's immune system fully developed?
In this article, Dr. Sabella explains, "An infant's immune system doesn't mature until around 2 to 3 months old." That is for babies who are born full-term and have no other health conditions.
To be safe, if you want to travel with your baby any significant distance it's best to hold off until at least 3 months, but at the minimum wait until baby is 2 months old.
Like I said first up, we took long-haul plane journeys with our first two babies earlier than this, because it was unavoidable, but the advice is to wait until the 3-month mark.
Remember that if your baby is premature, they're developmentally behind so it'll take longer for their immune system to reach the maturity of a 3-month-old. If your baby was a month early, expect development around a month behind. In which case you should wait until baby reaches 4 months before traveling.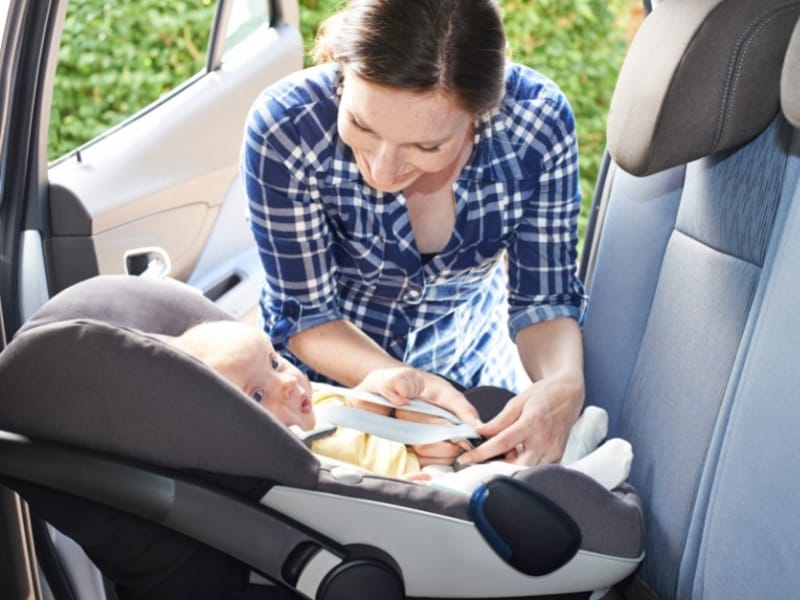 When is it safe to travel with a newborn by car?
When it comes to traveling with a newborn by car, short distances such as to local doctor's appointments and errands around town will be safe from birth as long as your newborn has no complicated medical issues.
For longer car journeys of an hour or more, stick to the guideline of waiting until maturity of the immune system, to be safe, 3 months plus.
Is holding a baby in a car illegal?
In the United States, it is illegal for your child to be held in any car, including cabs. They need to be in an approved car seat that is manufactured for their age and size.
In Mexico, it depends on the state. In the State of Mexico and in Yucatan children must be in the back seat in a car seat. But in other states including Baja California, Chihuahua, and up to 18 other states there is no rule stating children must ride in a car seat. So definitely check the laws of where you are visiting ahead of time.
If you are traveling in and around the UK, the only time a child is allowed to ride without a car seat is in a taxi or minicab, a minibus, coach or van, in emergency situations and when there is no room for another car seat. You can read more about the laws in the UK here.
Is holding a baby in a car safe?
Never mind what's legal and in what country, at the end of the day it's all about safety. Depending on the circumstance you find yourself in, you're going to have to make the call.
The best and safest practice is for your baby to always ride in an approved car seat and to never take your baby out while your vehicle is in motion.
You may be tempted to breastfeed while in the car for convenience or to keep your baby calm, but this would put your newborn at risk, should you have an accident.
Don't be swayed by comments from parents or grandparents, determined to remain stuck in the past; ignore comments like this: "In my day baby car seats weren't even a thing". (Thanks Dad.)
Roads are busier, cars faster, accidents and fatalities more common. Car seats weren't just invented to make more money from parents (though with the hefty price tag you might think so). Use them.
If you need to breastfeed or your baby is crying, it is best to take a rest stop, let everyone get out and stretch their legs and tend to your newborn.
What kind of car seat do I need for a newborn?
When traveling with a newborn by car, you'll need a car seat that has a five-point restraint system or harness and that faces to the rear. Rear-facing has long been recommended by the AAP and in some states in the US and in many countries, this is a legal requirement. This is because the majority of car accidents involve frontal collisions, meaning everyone in the car is thrown forwards. This is dangerous for a newborn with little muscular strength. Traveling rear-facing will spread the force of the impact across the whole back.
You can choose between an infant seat or an infant to toddler convertible car seat.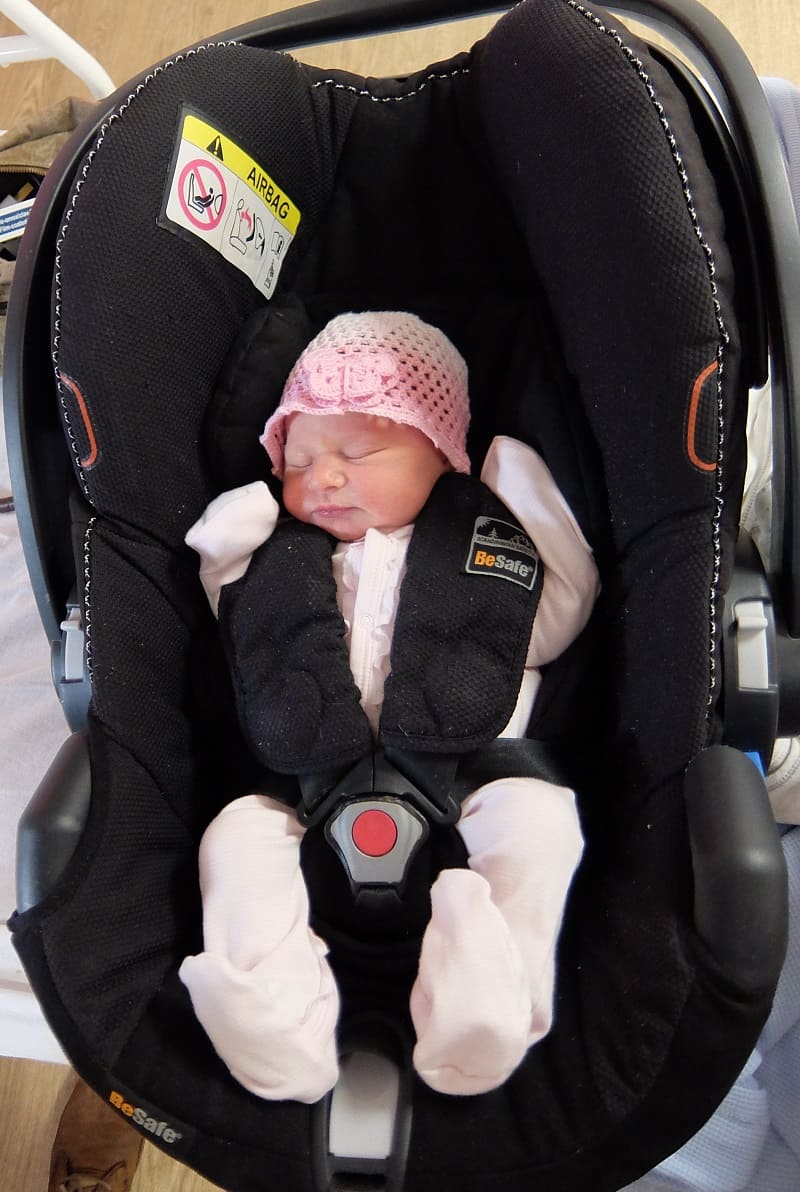 Infant car seats
These go down to the smallest weight, usually around 4 or 5 lbs, so if your baby is early or measures small, an infant car seat will probably be your best bet.
They typically have an upper weight limit of 30-35 lbs which usually means baby will be around 18 months old to two years old by the time they're ready for the next seat up.
Most infant car seats come out of the car easily (clipping on and off a car seat base that stays in the car) which is convenient for getting baby ready and all strapped in in the house. Some can be used as part of a "baby travel system", clipping onto the top of a push chair or buggy.
A convertible car seat
A convertible car seat is another option when traveling with a newborn by car. These start off as rear-facing car seats then when your baby is ready to move to forward-facing you simply switch the car seat around. It effectively grows with them.
While some convertible car seats go down to 4 or 5 lbs others will not be suitable until baby reaches at least 10lbs. Even with convertible car seats that are rated for small babies, the car seat may seem enormous around a newborn.
Either option will work, but most parents opt for an infant car seat at least for the first 6 or 9 months as they're a better fit and more convenient.
How soon can a newborn travel long distances by car?
If you are taking a long-distance trip, again, it's advised to wait until baby's immune system has fully developed at around two to three months old.
From a practical side, babies who are around 6 month old and have longer periods of happy wakefulness are easier to travel with than younger babies who tend to be less predictable.
How long can a newborn stay in a car seat on a long drive?
If you're wondering how soon can a newborn travel long distance by car, you may be a little disappointed by the answer.
Car seat manufacturers recommend that babies don't stay in a car seat for more than two hours in a 24 hour period. Doesn't get you very far does it?! Again these are just guidelines; use your common sense and do what you need to do.
Guidelines on length of trip when traveling with a newborn by car:
As a general rule, babies that are under four weeks old do not have the neck strength to hold their heads upright. Some babies may be a little stronger a little earlier, but this is the guideline to follow.
So in the first few weeks, when in the car seat, your newborn's head can fall forward and risk restricting their airway. Clearly this is dangerous.
Restricting car journeys to 30 minutes and only using a car seat when traveling with a newborn by car (rather than using it around the house, for example) is the best way to keep your baby safe. Even if your baby is asleep when they arrive at your destination, take baby out of the car seat. The safest place for a baby to sleep is on a firm, flat surface.
The two-hour rule is based on manufacturers' recommendations that babies should not be in a car seat for longer than 2 hours in a 24-hour span. This is a day-to-day recommendation. Occasional long-term travel can be done but with lots of breaks.
How do you drive long-distance with a baby? 15-30 minute breaks is an absolute must if being in the car for an extended period of time. Every two hours take a rest stop and get baby out of the car seat for 15-30 minutes, longer if possible.
During this break feed baby and allow her a little kick about on her back or put her on her front for some tummy time. Anything to give those limbs some freedom of movement, having been restrained in the car seat.
This is the best way to drive long-distance with a baby. The rest stops will make it easier on all of you and are healthier for a newborn.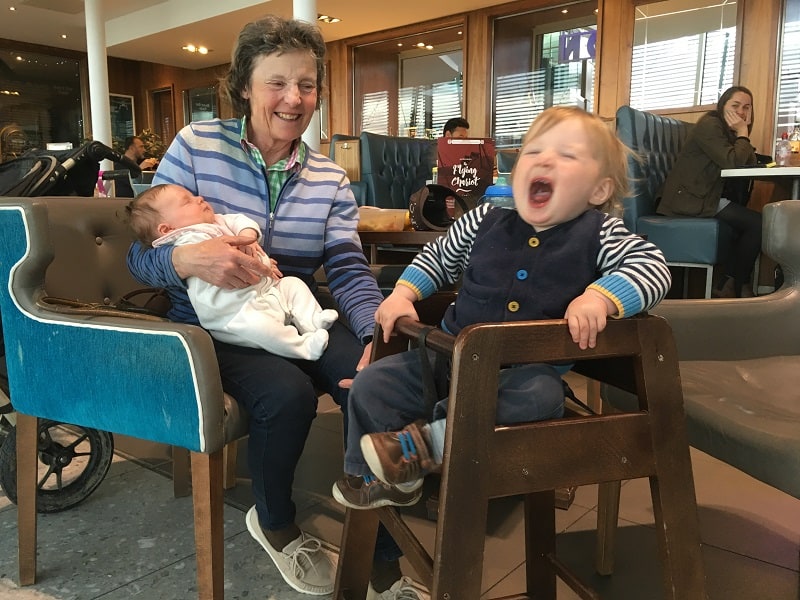 When is it safe to travel with a newborn by plane?
The guideline to wait to travel long distances until your newborn's immune system has fully developed is possibly even more important when it comes to air travel. Several hours confined in the small space of an aircraft with the AC pumping will expose your little one to a very unfamiliar variety of germs.
However, life goes on and this is not legally enforced…
How old does a baby need to be to fly?
Regulations differ by airline, but all of them will allow a baby to travel long before the 2-3 month mark, some as early as 1 week old. Some airlines will allow a younger baby to fly with a note from their doctor.
However, if you can wait longer, so much the better.
Do I need to get documentation to travel with a newborn by plane?
At a minimum airlines require a birth certificate or passport to fly. You may also need a doctor's note. If you don't have your baby's birth certificate yet, you need to take other medical documentation stating when the baby was born like a crib sheet, hospital discharge papers, and other medical paperwork.
Of course, this differs by airline, so check these details out before booking a flight.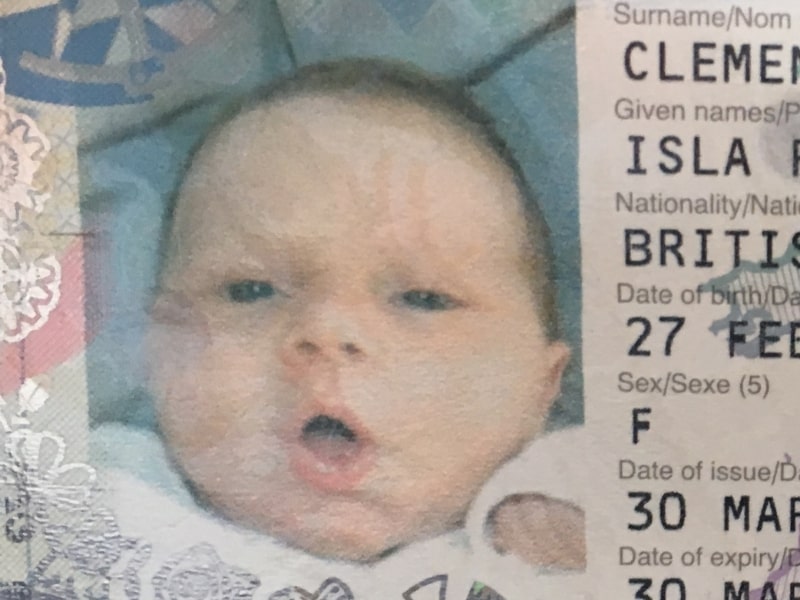 Does my newborn need a passport?
If you are traveling with a newborn by plane and crossing an international border, you'll need to get baby a passport. This involves a heap of paperwork as well as the challenge of getting a good passport photo where baby's eyes are open (which is often tricky with a sleepy newborn).
You can find the full rules for getting a US passport here at U.S Dept of State. In brief, you'll need:
Form DS-11 filled out by both parents or guardians
Birth Certificate or if your baby was born abroad, you need a Consular Report of Birth Abroad
If you are divorced or have an adopted baby you will also need to produce legal documents like an adoption decree or a divorce decree
Parents need to have an approved ID as well (bring the actual ID and photocopies of front and back of each ID)
Both parents need to be present or if not present you can find a list of workarounds at the Dept of State Website
Provide a photo of the child (but some places will take the photo for you) The best way to do this for a baby is to lay them on a white sheet or blanket on the floor. No one else (even a helping hand of someone) can be in the photo.
Even if you don't plan on traveling with your baby out of the country anywhere soon, getting a passport for your baby is a good idea.
What do I need to know about air travel with a newborn?
Having lived in Africa the last 8 years with family back in the UK, more than our fair share of air travel starting when they were just 6 weeks old (before the recommended age of 3 months).
Need-to-knows, plus tips and must-haves for traveling with a newborn baby by plane
I reckon we've learnt a thing or two about traveling with a newborn by plane; here are some things to know, before you book your flight.
It's going to be tough and a little stressful, but hopefully the reason for your journey will make it worthwhile
I'm not going to sugar coat it, traveling anywhere with a newborn, baby or toddler for that matter, will come with a certain level of stress and discomfort. Traveling with a newborn by plane is probably the most difficult of the lot. Other than being prepared, both mentally and physically, there's not much way around it.
You'll probably need to have your newborn on your lap with an infant seatbelt
This is not a legal requirement but enforced on an airline by airline basis. The first few flights we went on, I always used the infant seat belt, but after that, if it was optional, I never used it. Apart from the fact that they are such a faff to put on, I saw little point. Your firm hold will give your baby the maximum safety, far more than the seatbelt. There's no harm in putting it on but I cannot see how it would really add anything in the event of turbulence or an accident.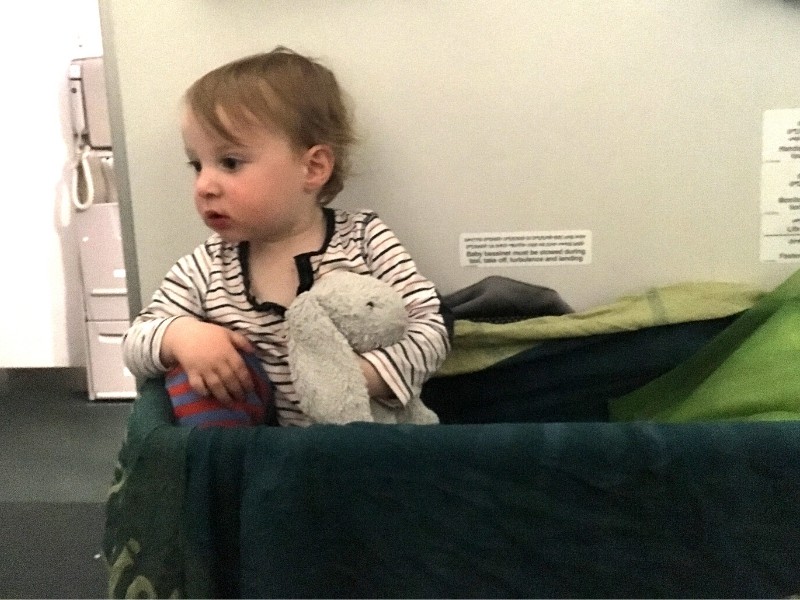 For long-haul flights, bassinets are normally available but need booking
When traveling with a newborn by plane, bassinets are normally available on long-haul flights but there aren't many of them and you probably need to book ahead. Don't forget as these will make your life a lot simpler.
Even if baby doesn't sleep in it, the bassinets are in the extra leg-room seats so you'll have much more space and the bassinet itself can be very useful to hold all baby's bits and pieces.
If baby will sleep in the bassinet, this will mean you can get some proper rest, but beware – as soon as the seat belt signs come on, you will be required to take your newborn out, hold her and/or put the infant seat belt on.
Many airlines will let you take your stroller to the aircraft door – ask at check-in
When traveling with a newborn by plane, you may be asked to check your stroller into the hold of the aircraft with your luggage at check-in. However, often airlines will allow you to take it all the way to the aircraft door.
Having the stroller with you while you're in the airport after check-in and going through security etc will make life so much simpler, not only to put your newborn in but also to help carry all your hand luggage/burp clothes, bottles and all the other baby gear you'll need close at hand.
Picking up your stroller after disembarking varies by airline as well as airport
Only a handful of times has our stroller been waiting at the aircraft door after disembarking. More often than not it'll be taken to the luggage hall to the oversized/awkward bag section, which is often tricky to find.
If you're going to be traveling with your newborn by plane regularly and this'll continue into the baby and toddler years, this travel stroller Babyzen Yoyo would be a worthwhile investment – it packs so small it'll fit into the overhead lockers of the aircraft. Pricey but you can you really put a price on baby gadgets that'll make travel so much easier? I think not!
A wrap or sling is essential to carry baby easily and safely without the stroller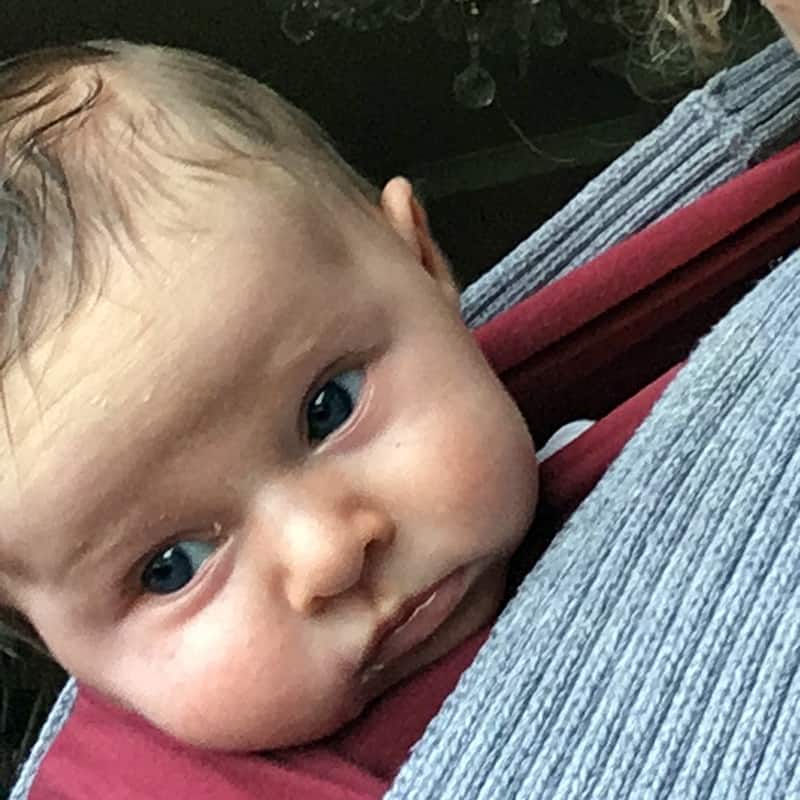 A baby carrier or sling will make navigating the airport a lot easier for the times when you don't have your stroller. Or if your stroller never appears at the luggage hall. (This only happened to us once and it did land us with quite a useful tiny travel stroller, but it was a big hassle reporting and claiming for ours and made for a delayed journey and very grouchy baby, and mommy for that matter…)
Recommended baby carriers/slings:
For tiny newborns, a wrap or sling is the way to go. This Sleepy Wrap Carrier is the one I'm wearing in the photo above.
When baby is a bit bigger, this All Seasons baby carrier from LILLEbaby is a great all-rounder, allowing you to hold baby in 6 different positions. Great for at home and when traveling with your newborn.
You probably won't be able to move your newborn to a different seat
The crew will ensure there's an infant life vest and oxygen mask at the seat you're booked into, so won't allow you to move seats or for your newborn to be passed to your partner in another seat mid-flight. This can be really frustrating! If you need to take a break, you're going to have to switch seats with your partner so your newborn remains in the same seat.
Take off and landing can give a newborn earache – nursing or a paci can help
Just like adults, baby's ears may be susceptible to the change in air pressure at take-off and landing. Sucking can help. So feeding your baby or offering a pacifier on landing and take-off can help.
The baby change facilities in the aircraft toilets are often very difficult to use – avoid using!
Avoid using them if you can by checking and changing diapers before boarding. In addition, if baby has a wet rather than a dirty diaper and you can be discreet (if you have a window seat and your partner is next to you) do a quick stealth diaper change at your seat.
Flight attendants should happily provide you with boiling water for a bottle – ask if you need
Don't be afraid to ask for this and anything else you may need.
Aircraft air conditioning can dehydrate – offer baby more milk
Because of the recycled air, planes are notorious for leaving people feeling dehydrated. But this is even more true for small babies so offer your baby an extra feed/more milk than normal. If you're nursing, you'll also need to ensure you keep up with fluid intake which may mean asking for or buying extra water when on board.
Some passengers will tut and look disapproving, others will be super helpful and sympathetic – just do your best
Whatever state you or your baby are in, just concentrate on the task in hand.
My super fussy reflux baby actually spat up into someone's shoes the one time – highly embarrassing – but we've laughed about this many times since.
Pack as little hand luggage as possible when traveling with a newborn by plane
This is really hard and I rarely managed without a huge bag of baby gear accompanying us into the cabin, but the less you carry, the easier it'll be.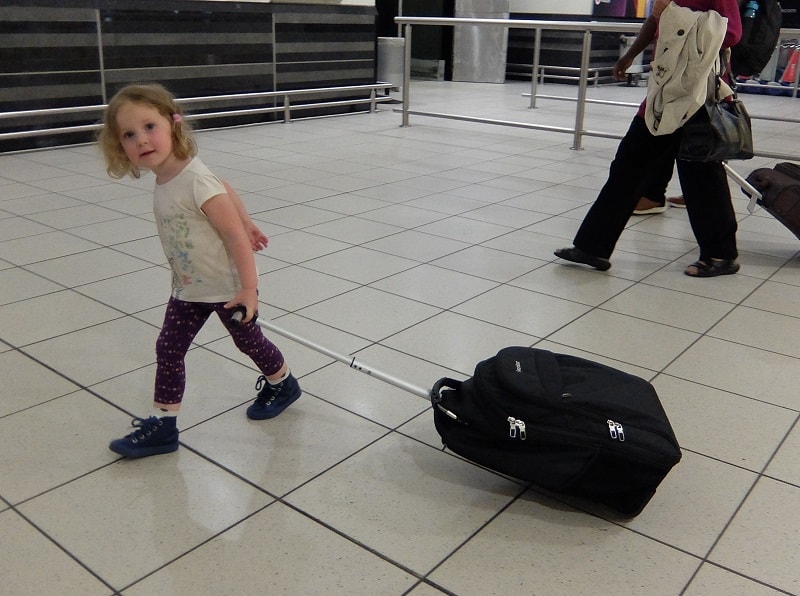 Swap your normal diaper change bag for an airplane carry on, either with wheels or backpack style
You either want to be hands-free (ie go for a backpack) or at not have to carry the weight of a bag (go for a wheeled bag). First prize – a bag that has wheels and can be carried like a backpack, like this one – pictured in the photo above.
If you're flying in the evening or overnight, try to carry out as much of baby's bedtime routine as normal before boarding
Take baby to a baby changing cubicle, wipe her down in place of a bath, give her a little massage or apply some lotion etc, change the diaper and dress in her normal sleepwear – all the things you'd normally do for bedtime at home. All these tasks will be quite a challenge on the plane, but while at the airport you'll have the time and space to do this at your own pace.
If this routine is familiar to her, it'll help settle her and get her body and mind in the zone for sleep. Then once you've boarded, all you need to do is give her that last feed before settling her to sleep.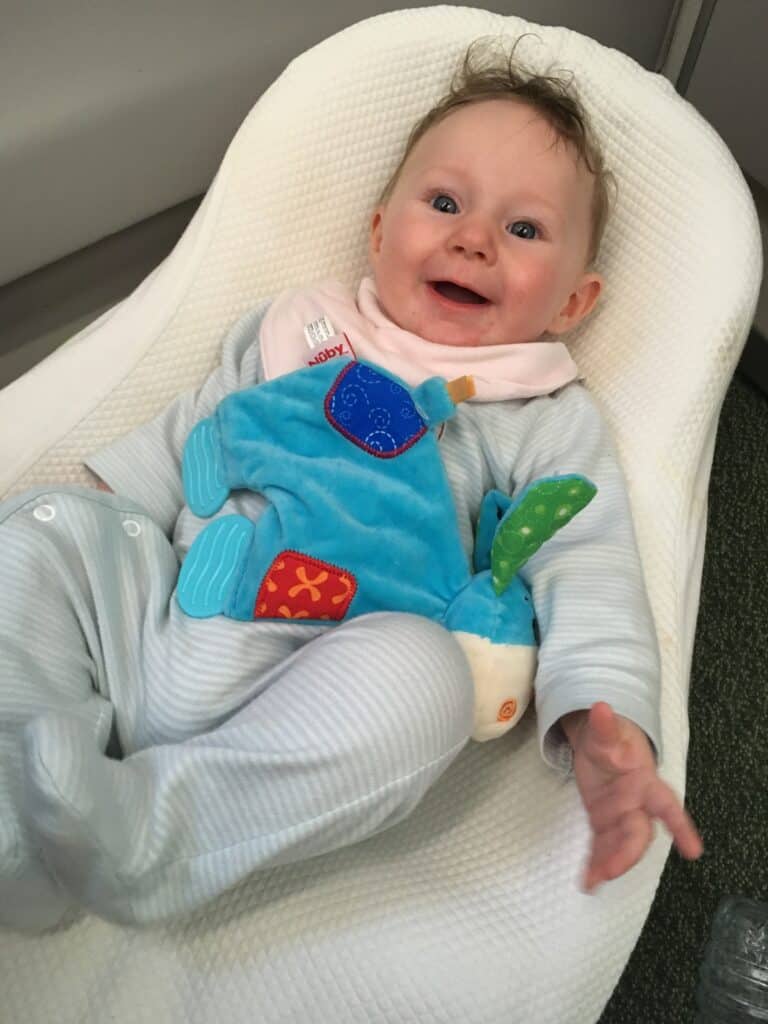 If you have some kind of sleep nest, take it! (Or consider buying one)
Not only can baby sleep in it when away, rather than a strange cot, these are soooo handy at the airport and on the plane, any journey in fact.
It means you can put your newborn down on the floor safely, whenever you need to. So if there are no spare seats or you want some hands free time. I even used it on the plane, instead of the bassinet, which was handy to put other things in. It easily squished into my hand luggage.
Try this sleep lounger/nest from Cosy Nation.
Accept help and ask for it if you need
Most flight attendants will offer to help – take it! You'll probably find other passengers will also be jumping in to offer to help carry things, pass you things or even hold your newborn.
Likewise, if there's something you need help with, ask.
General tips for traveling with a newborn by plane or by car
These tips are relevant for any travel away from home.
Try to recreate baby's home sleep environment as much as possible when traveling
Ensuring your newborn is in as familiar a sleep environment as possible will really help you all get a good night's sleep when away from home. As well as all your newborn's sleepwear, take the bassinet sheet with you, preferably clean but with a day or two's use. Newborns are very comforted by familiar smells, including their own smell, so a sheet and clothes with some use will make them feel more at home.
Related post: What's better: A swaddle or sleep sack for a newborn? (And swaddle sleep sacks – what are they?)
Try to stick to any routine you're normally in at home
Likewise, take your normal white noise machine or lullabies that you use at home and carry out the same bedtime routine while away, using the same baby products as normal. Again, anything to replicate the steps you take at home to settle baby.
If you do buy anything specifically for your trip, use it at home first
For your newborn, this further helps with the familiarity of anything you want to use while away. For example, if you decide you need to take a travel cot, get baby sleeping in it at home for a few weeks before going away
For you, it means you'll also become accustomed with how to use any new contraptions and devices. Some travel cots/Pack n Plays can be particularly challenging to put up and the last thing you want to do is have a battle late at night after a long journey…
In addition, most of the cheaper ones are heavy and bulky and not ideal for traveling with your newborn. If you're going to travel or stay away from home regularly, I'd advise investing in a lightweight and easy to assemble travel cot/Pack n Play like this one.
Understand, that despite your best efforts, your newborn will likely be a little unsettled while away
Expect your newborn to take longer to settle to sleep, perhaps more night wakings and/or a little clinginess.
Is it risky to travel with children during the Covid-19 pandemic?
With more and more people getting vaccinated and more countries opening up to visitors, travel is on the rise again. But is it safe to travel with children during the COVID-19 Pandemic?
The Washington Post recently released this article, where they spoke to Sahera Dirajlal-Fargo who specializes in pediatric infectious diseases and travel medicine in Cleveland.
Dirajlal-Fargo said that we know more this summer than last summer and we can make safe choices when it comes to flying. Shorter plane rides are better than long ones. Parents should try and ensure their children are socially distancing, keeping masks on if old enough, washing hands or using hand sanitizer frequently and always before eating, drinking or touching their face.
However, families with children who have complicated medical issues and deemed high risk are advised to stay home this summer.
Conclusion: Minimize travel while your baby is in the newborn phase
If you do find yourself needing to travel and wondering when is it safe to travel with a newborn by plane, the recommendation is to hold off until baby's immune system is more mature. This reduces the risk of illness and infection.
If you're wondering how soon you can travel with your baby locally by car, say journeys less than an hour, then as long as your baby has a well-fitted and approved infant car seat it's safe from birth. However, minimize these journeys and remember that 2 hours is recommended as the maximum a newborn should travel in the car in a 24 hour period.
When it comes to how soon a newborn can travel long distance by car (more than 2 hours) the recommendation is the same as air travel – when the immune system is better developed, at 2-3 months old.
If a long car ride with your newborn is unavoidable, make sure you take plenty of breaks – and remember, no holding your baby in the car – that's illegal.
Hopefully, you're a lot more clued up about traveling with a newborn by car and I hope the tips on traveling with a newborn by plane will be useful.