Wait up. Baby will keep waking a gazillion times a night until:
You swaddle. The right way.(You know, so it actually stays on to do it's job: keep baby snug and asleep)
Look, I know what it's like to settle baby to sleep only for her to wake what feels like nano-seconds later, just because the door slams or your toddler screams, the phone rings, the door squeaks… the list goes on right? It just doesn't take much to startle a newborn awake.
And all because… your swaddling sucks, quite frankly.
Or the thought of attempting origami around a living breathing creature is just TOO MUCH.
And choosing a fancy done-for-you swaddle from the gazillion on the market, well, where to start?
This is why it's critical that you:
This is why it's critical that you:
Head over to your inbox to find the email from Sarah Clemence – Subject line: "Yay! You're on the way to becoming a swaddle pro (and finally getting some sleep)"
Hit the pink "Take me to lesson 1 now" button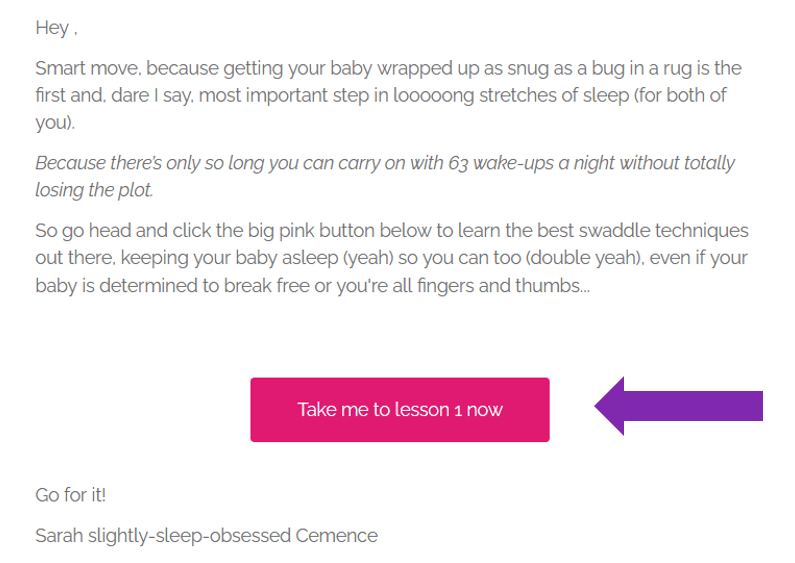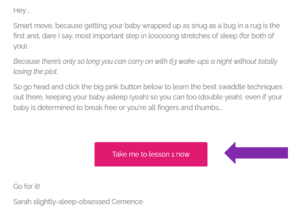 Watch the videos to learn exactly how to swaddle,  download the printables, then practice
Stop getting up multipe times a night to re-settle baby and get some much-needed sleep!
Be careful to check every nook & cranky of your inbox (including the spam & promotion tab) for:
Yay! You're on the way to becoming a swaddle pro (and finally getting some sleep)
If you don't see it after 5 minutes please email me at sarah(at)busybloomingjoy(.)com